When I saw that the creative talent behind today's bridal and bridesmaids looks was none other than Charlotte Sweet Williams of Sewn Right, I was thrilled!
If you happened to be at Most Curious in London earlier this month, you may have met Charlotte there, and you might also have seen that she was the winner of bridalNEXT; a celebration of fresh, emerging design talent within the industry.
Film by William Warr

+ Follow
Charlotte worked her magic for her friend's dreamy wedding dress and evening outfit, as well the bridesmaids' dresses, and created beautiful work that complemented the couple's timeless, romantic country village celebration.
This is the wedding of Sophie and Alexander Stevenson. Sophie is a freelance marketer for restaurant and pub groups, and Alexander works in telecoms as a Business Development Manager. Alexander is known to everyone as Pickle, as you'll see throughout this feature! This lovely couple were married on the 29 June 2019 at the Church of St. Peter & St. Paul, King's Sutton, Northamptonshire. This was followed by a marquee reception in nearby Capability Brown landscaped parkland, owned by a friend.
Fulton Photography

+ Follow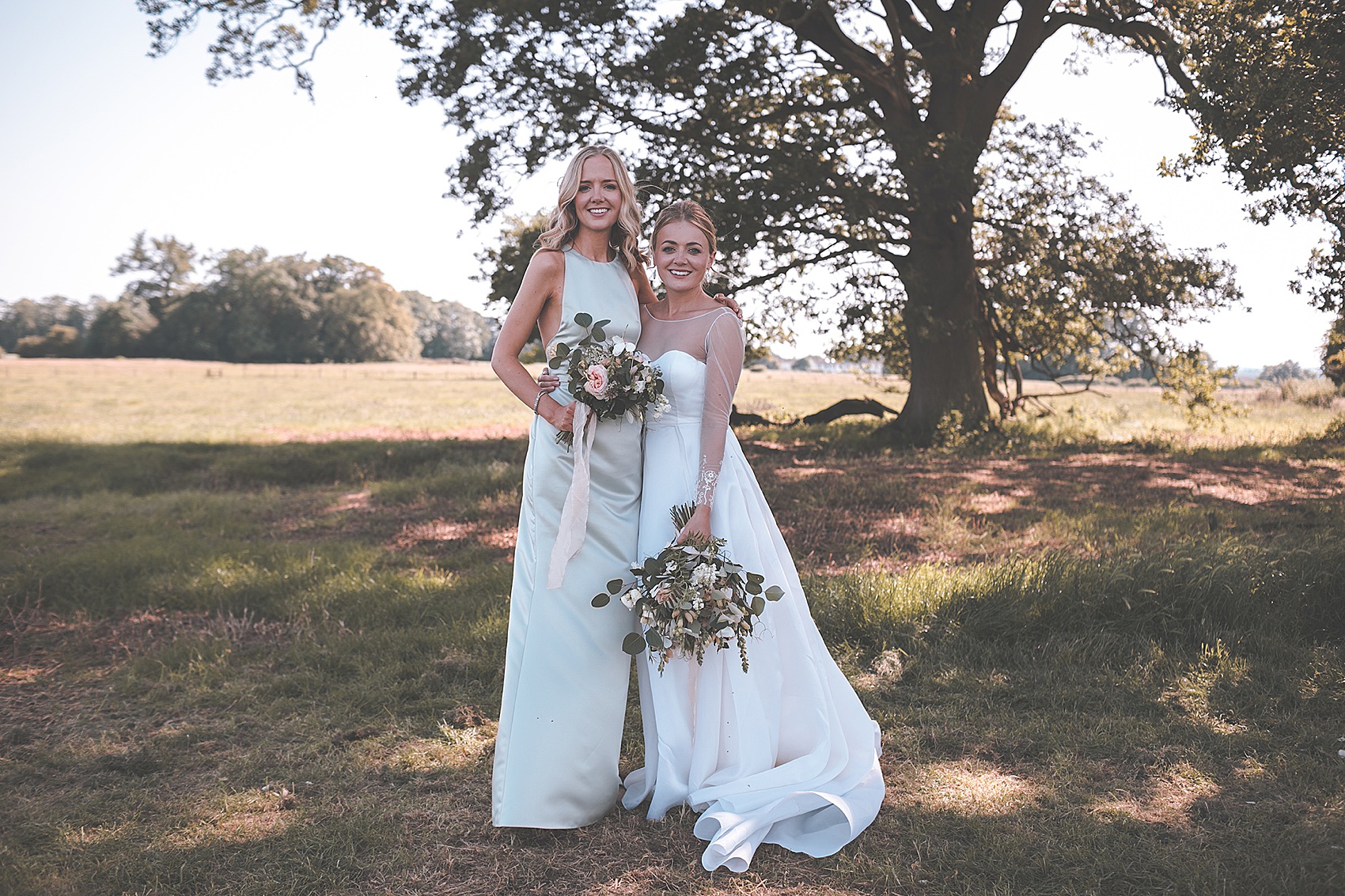 Sophie and her bridesmaids spent a lovely morning getting ready, and the bridesmaids wore washed linen dressing gowns from H&M, which Charlotte from Sewn Right then embroidered with their initials. Sophie wore a beautiful Italian linen robe by Once Milano, which was embroidered with calligraphy by Away With Words.
The bridesmaids wore elegant, bespoke dresses in pale sage green, made my Charlotte and the Sewn Right team after a fun design consultation, and they wore their own choice of shoes and accessories.
"It was important for me that they felt like a million dollars on the day, and with nine women of differing heights and figures, finding one style that made them all feel that way was going to be a challenge."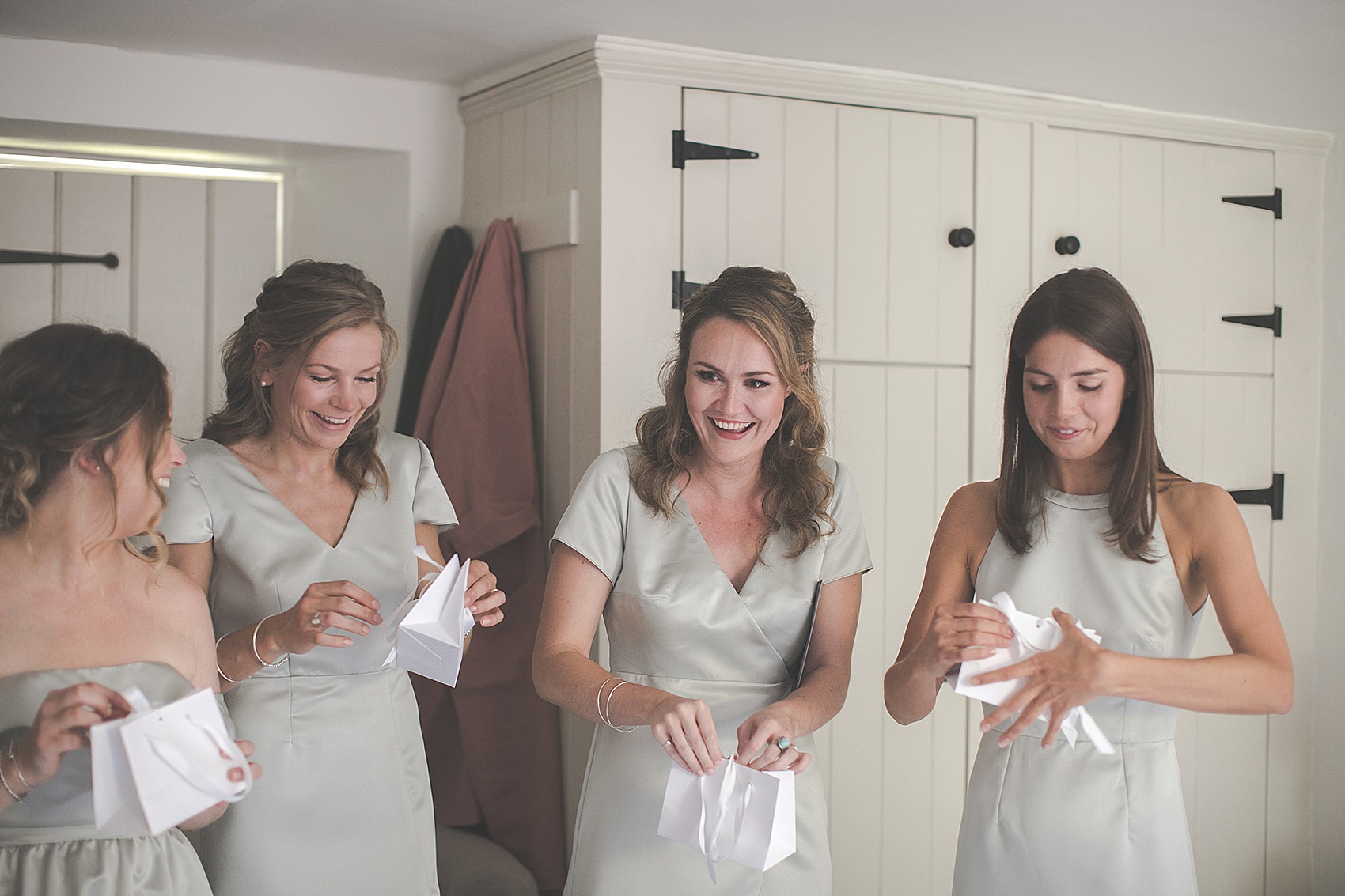 "We had a consultation day, involving lots of prosecco and sketching, where Charlotte sketched their chosen design, and then made them into a very gorgeous reality."
Sophie gifted each of her bridesmaids a pretty moon and stars necklace on the morning of the wedding, from Carrie Elizabeth Jewellery.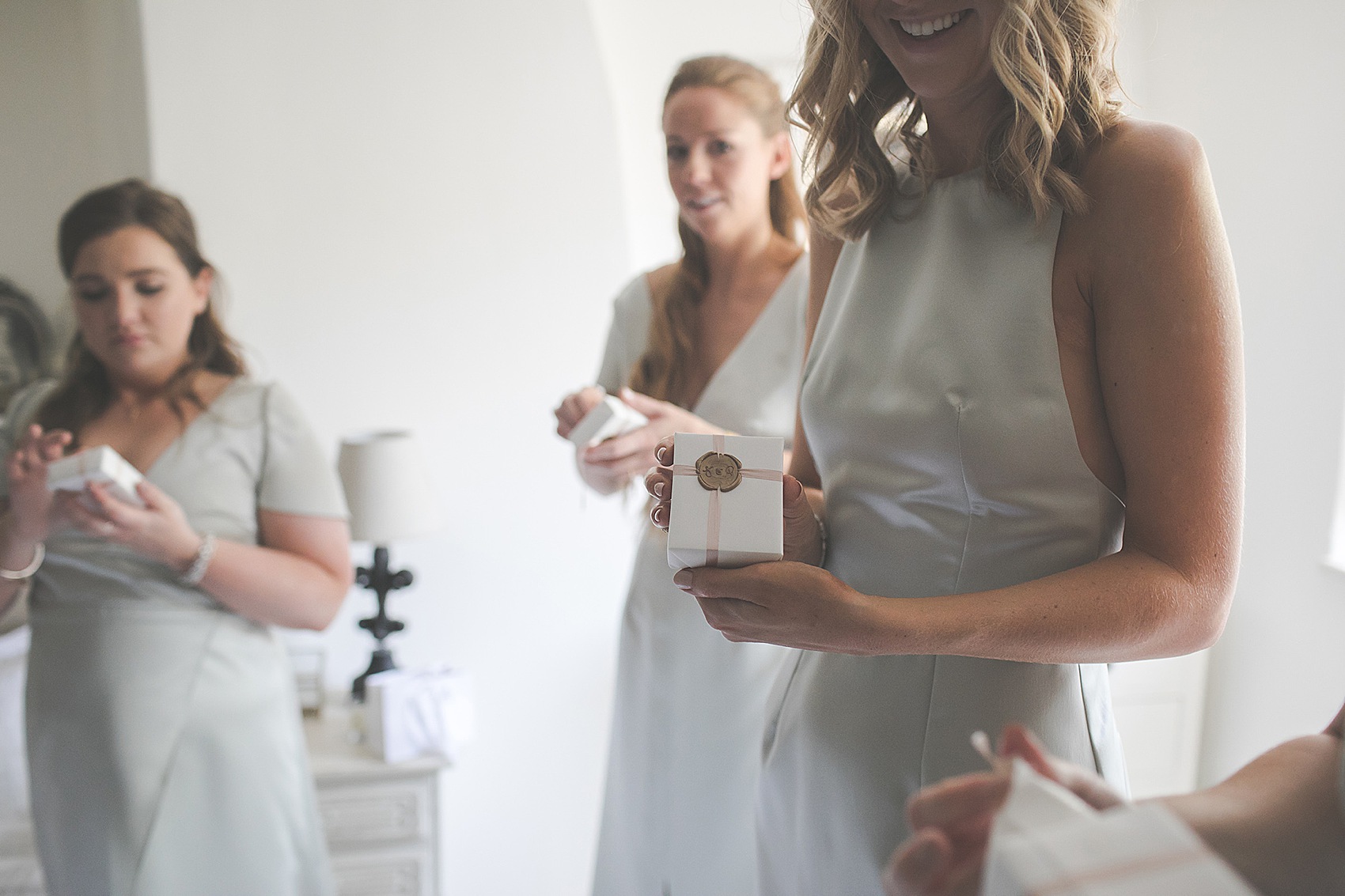 "Alice Derbyshire did hair and make-up for myself, my mother and my nine bridesmaids (with the help of her lovely assistant!). Her style is very natural,  which is what I wanted, as I'm not a huge make up wearer."
"I trusted her from the moment I met her. She wears minimal make-up herself, and is effortlessly gorgeous, which made me feel at ease that she knew what I was after."
"I wore Gypsy Water by Byredo, and Pickle wore Santal 33 by Le Labo. We both spent the day in Liberty shopping for our wedding scent, as we wanted a new smell that would always remind each other of that special day."
As I mentioned at the beginning of this feature, Sophie's exquisitely crafted dress was a bespoke creation by her good friend Charlotte, of Sewn Right; a classic silhouette in silk organza, with a sweetheart neckline. On top, Sophie wore a long-sleeved overlay made from fine tulle, with a bateau neckline, and delicate buttons and embroidery.
"I wanted a dress that was romantic, and moved gracefully, so we chose silk organza, with a slight train. The sleeves were embroidered with floral artwork created by Sophie Botsford for our stationery, along with our names and the date embroidered up each wrist, in calligraphy that featured across all of our wedding stationery by Away With Words Calligraphy."
"The back was a V shape down to the waist, with olive vines embroidered down the edge. It also had pockets, which I kept one of my late grandmother's handkerchiefs in, just in case. It was so magical to be able to wear something so personal, and created by someone that means so much to me." 
Sophie's cathedral length blusher veil was also made by Sewn Right, and she wore floral porcelain hair pins by Luna Bea Bride in her hair. To ensure she didn't sink into the grass at the marquee reception, Sophie opted for a pair of platinum lamé block heeled sandals by Stuart Weitzman.
"Along with my engagement and wedding ring, I wore my late grandmother's engagement ring; a peridot emerald cut ring, surrounded by diamonds, which they had made in Burlington Arcade in London. I also wore a pair of baroque pearl drop earrings, and a matching necklace in the evening, my wedding present from Pickle, from the jeweller in Hatton Garden [sadly, no further details supplied] who made my engagement ring, and our wedding bands."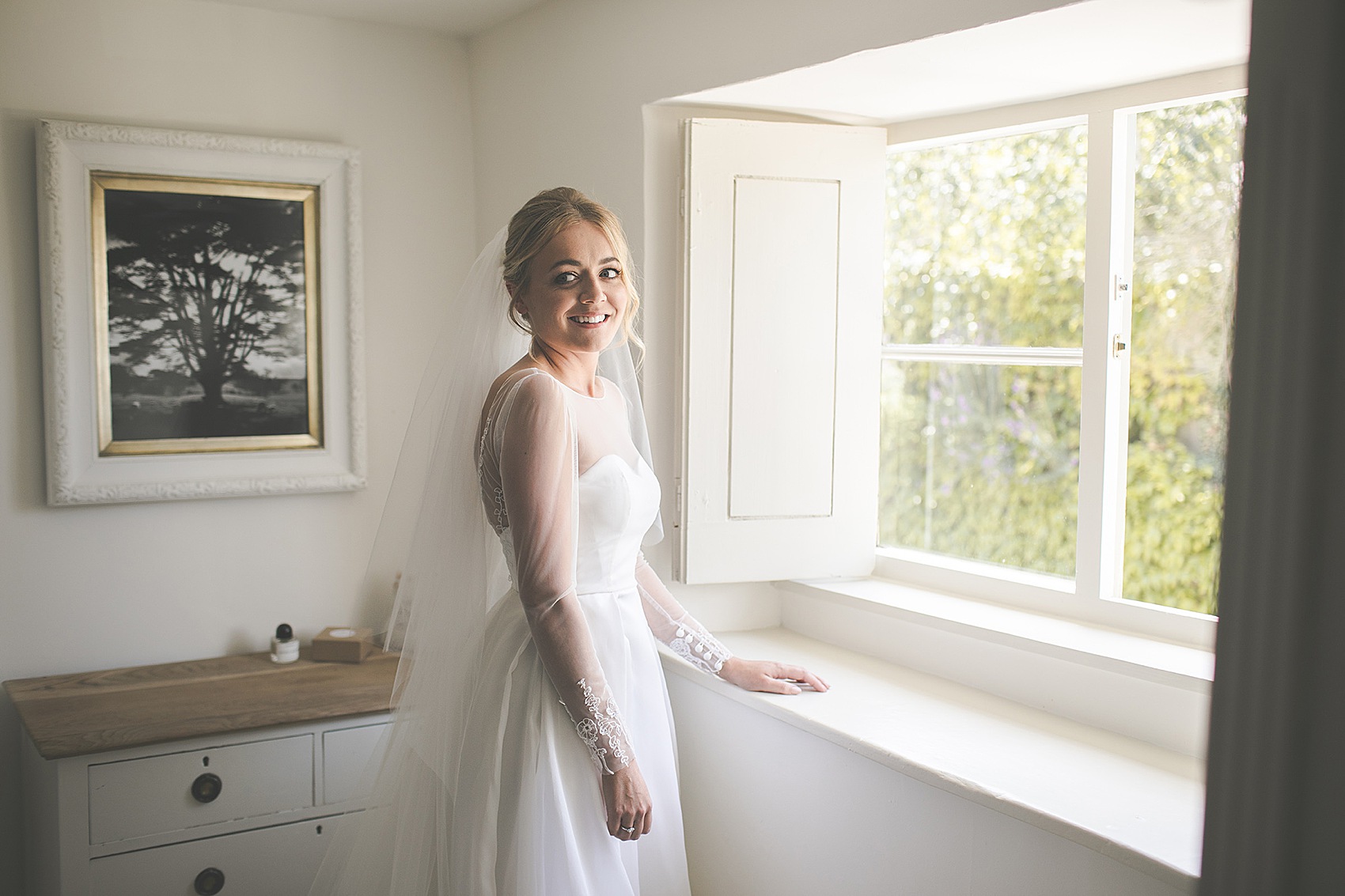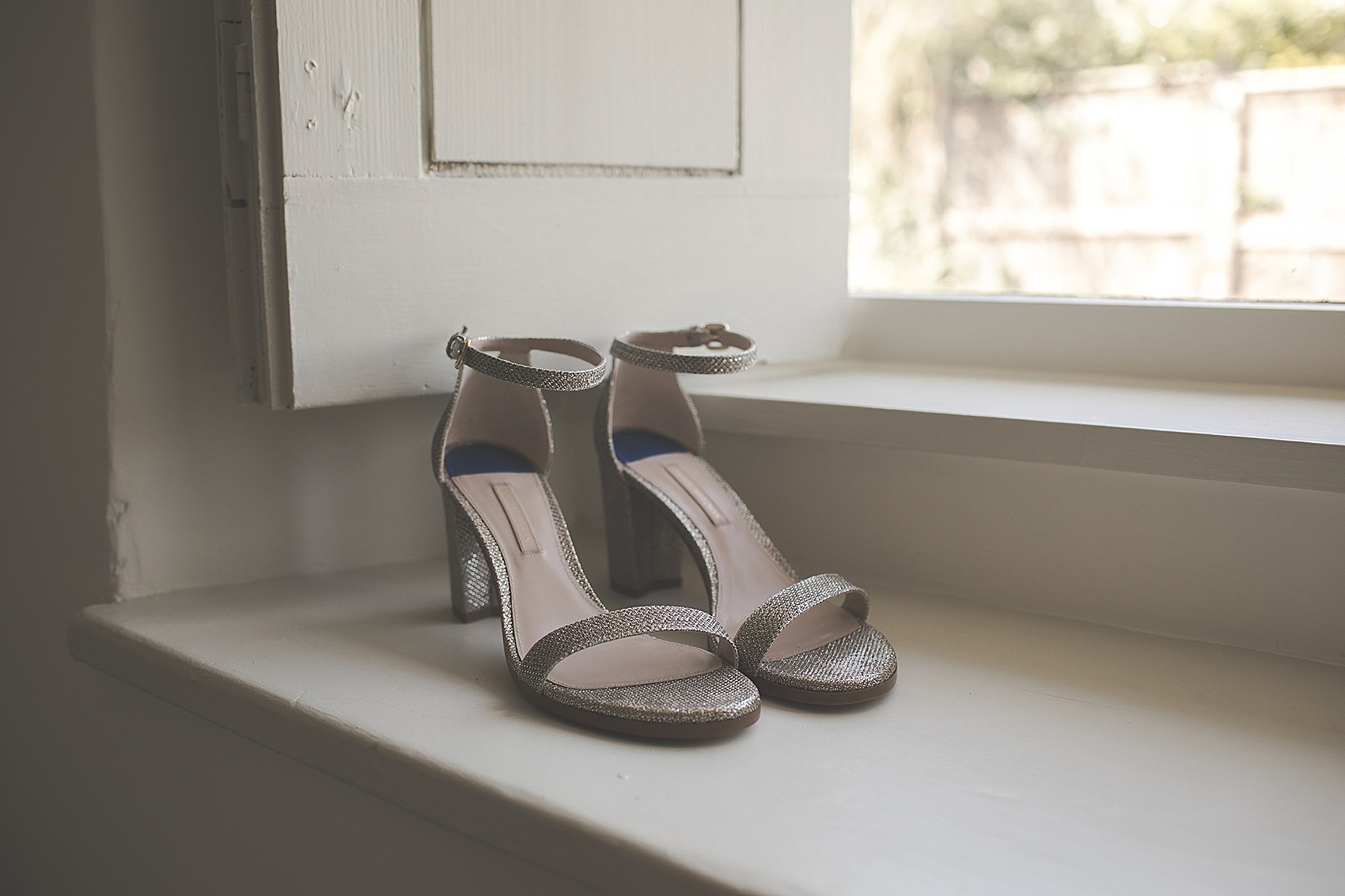 Bouquets were filled with a magical array of summer blooms, including softly blushing pink sweet peas with their curling tendrils, love-in-a-mist, white campanula and roses. They were made by Rachel at Green & Gorgeous, which is also a flower farm, too.
"I loved the idea of the flowers being fully homegrown and perfectly seasonal. The experience was great – you walk round the week before the wedding and choose which flowers you like. Rachel's style is very loose, whimsical and romantic – just what I like."
Sophie and Alexander first met through a mutual friend when Sophie was 19, and Alexander was 20, and became engaged on a trip to New York with friends in February 2018.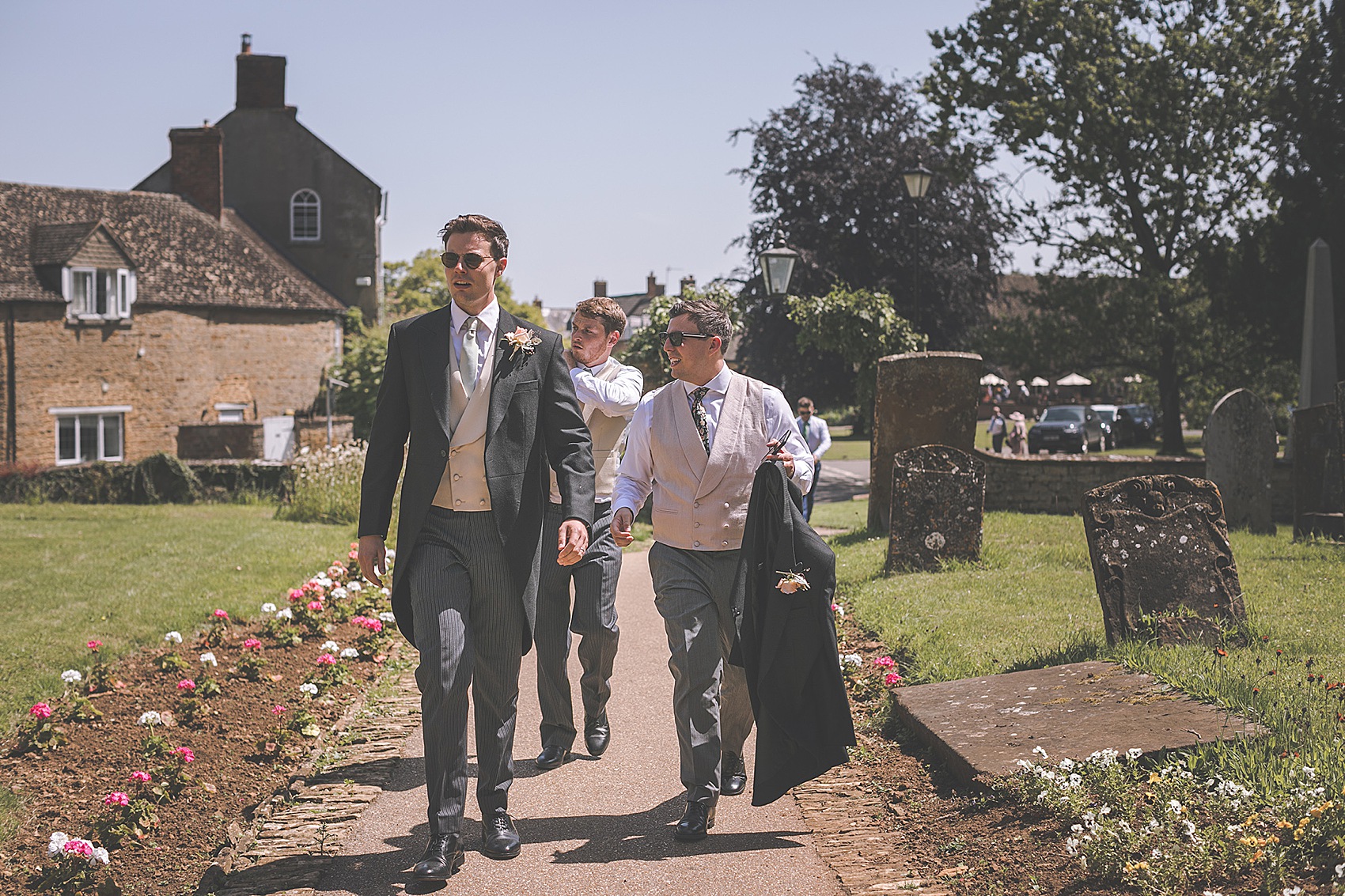 "This was perfect for catching me off guard, as I am notoriously hard to surprise. I had absolutely no idea, until the moment he was on one knee – and neither did our friends! It was so great to be able to celebrate all weekend with them, we really dragged it out!"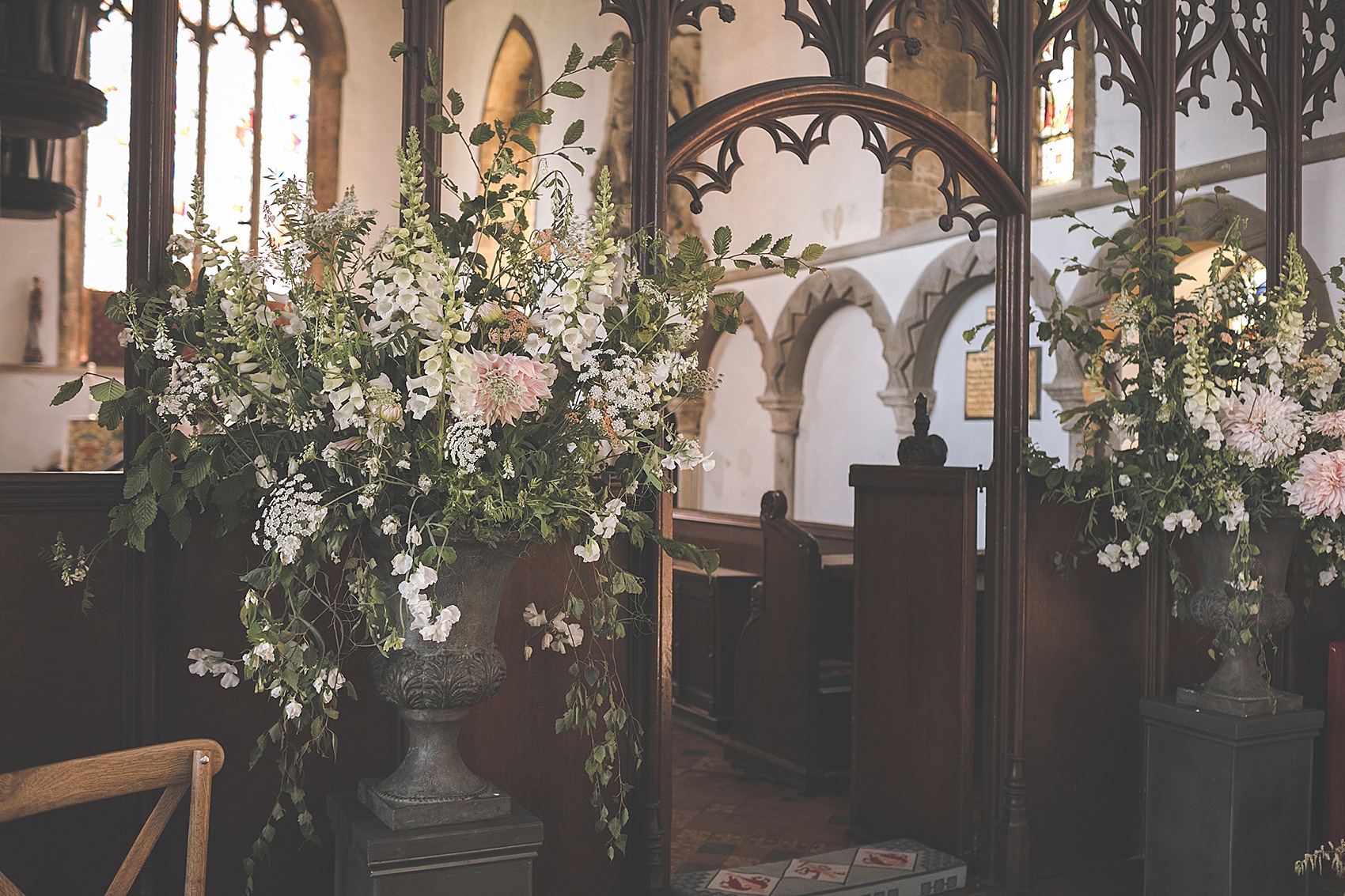 Pachelbel's Canon in D was played by a string quartet (sadly, no details provided) as the bridesmaids, and then Sophie and her father made their way down the aisle.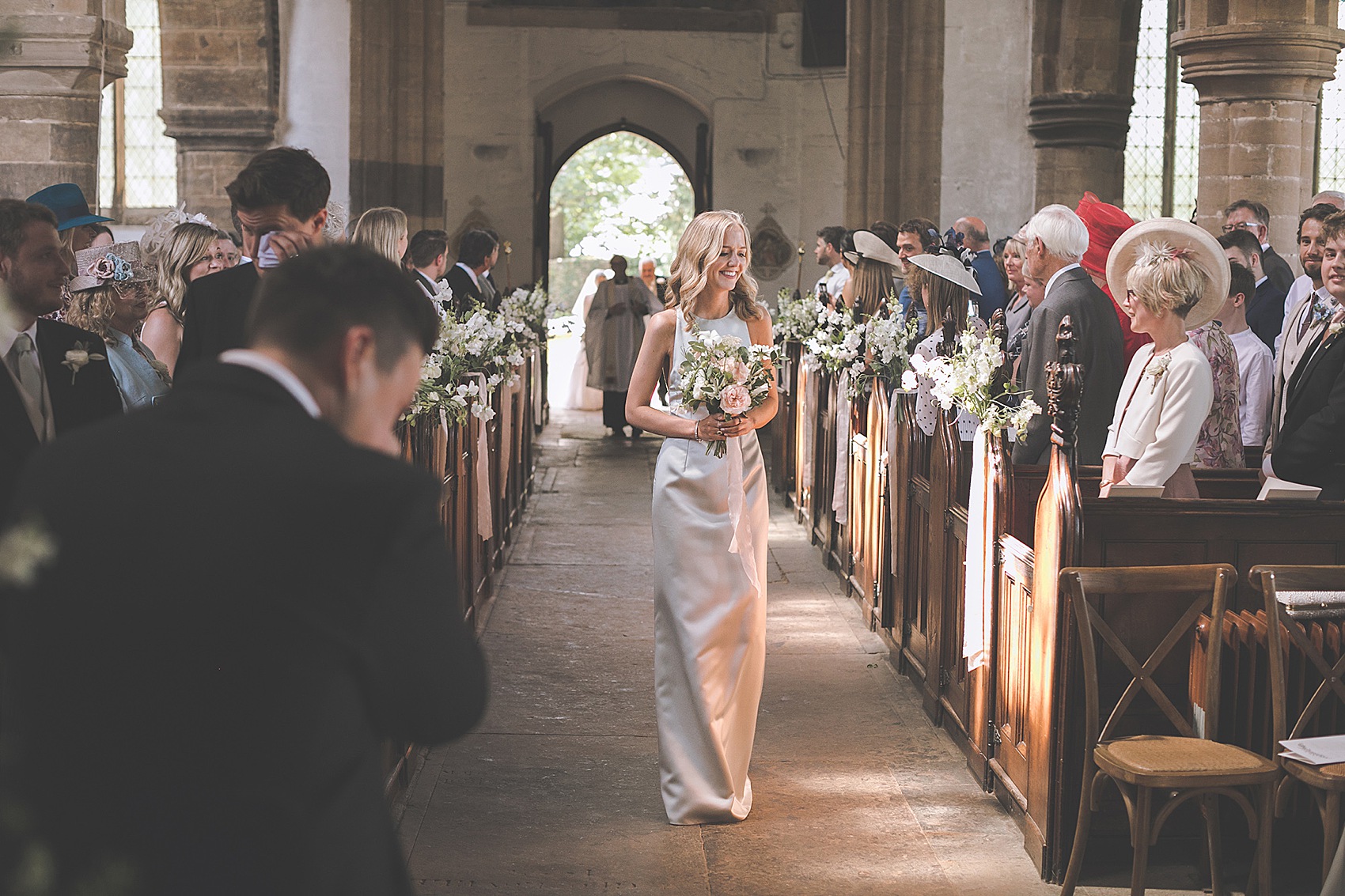 "My father walked me down the aisle, and managed not to cry. My bridesmaids all walked one by one before me, which I know many of them hated, but they all looked so gorgeous, I wanted them to have their moment! Pickle started crying at the second bridesmaid, and once he started he couldn't stop."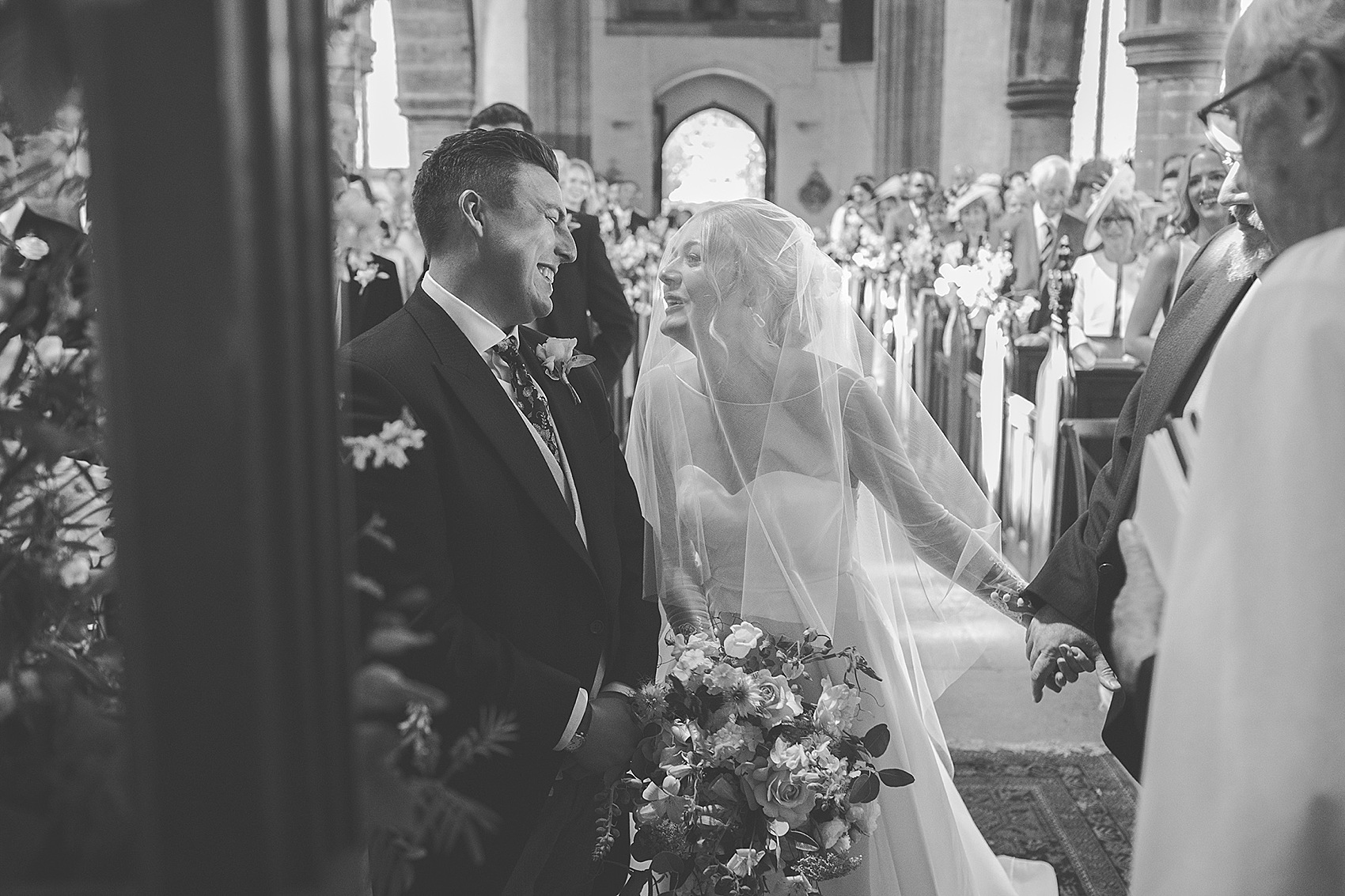 "I think seeing Pickle at the end of the aisle was my favourite part of the day. The aisle thing was very nerve wracking. I think, unless you're a celebrity, it's the only time in your life where you walk into a room and all anyone wants to see is you – which is quite overwhelming. Seeing him instantly calmed me!"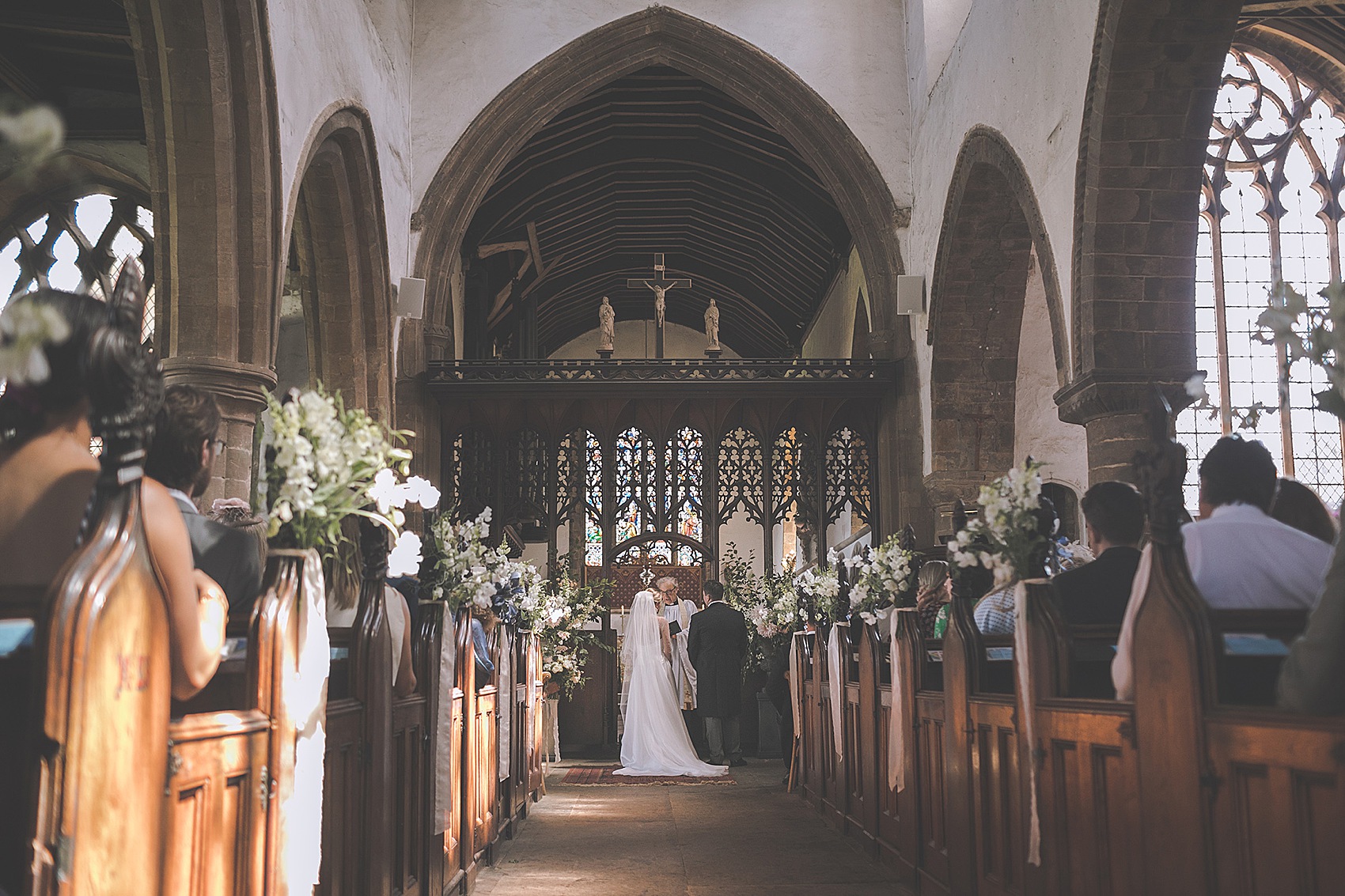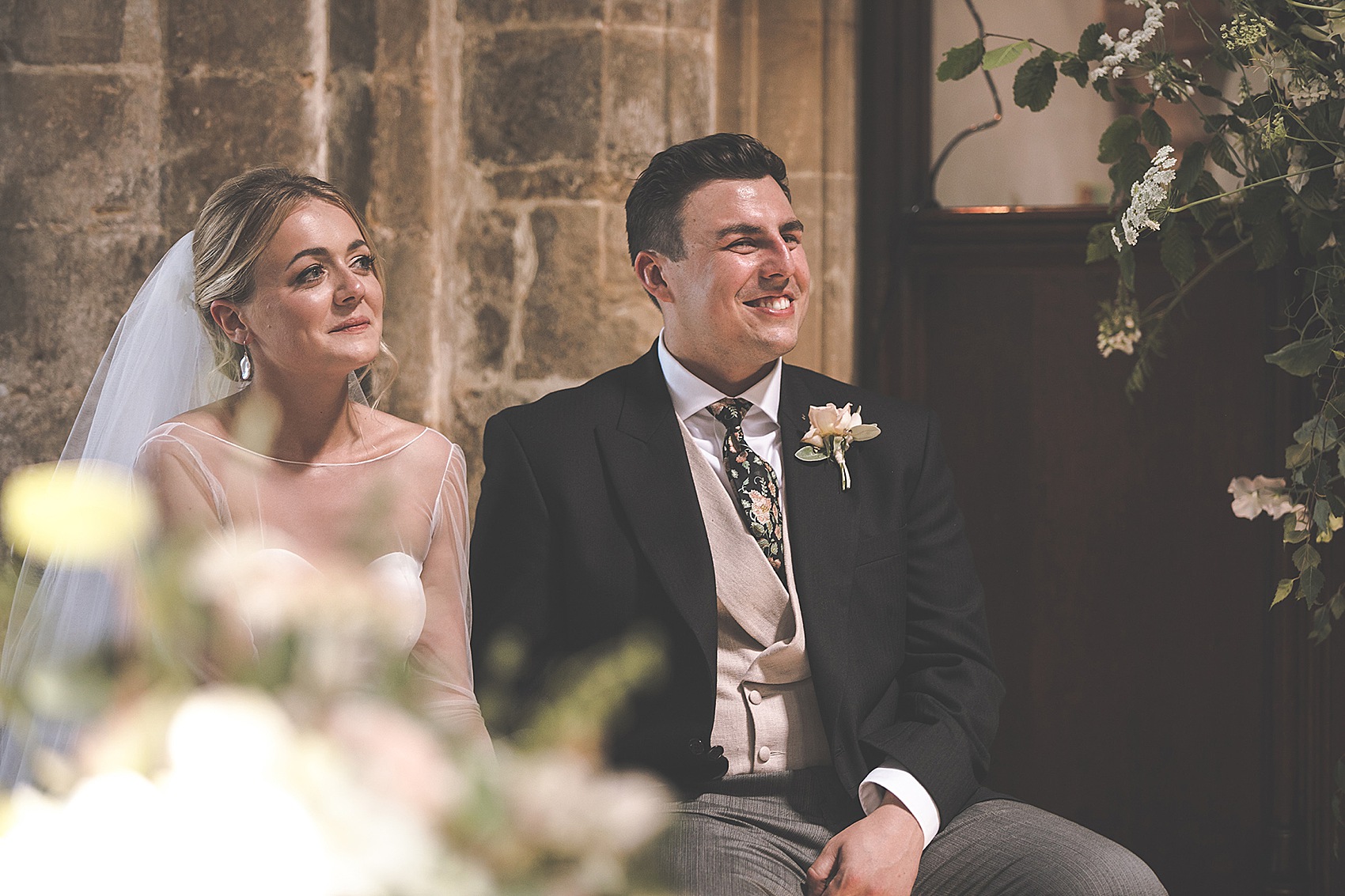 The couple made their vows to each other inside the flower filled church of St. Peter & St. Paul, and exchanged rings made by a Hatton Garden jeweller (sadly, no further details provided).
Sophie's wishbone shaped ring was made using diamonds from her great-grandmother's ring, which was a gift from her grandmother on her 18th birthday.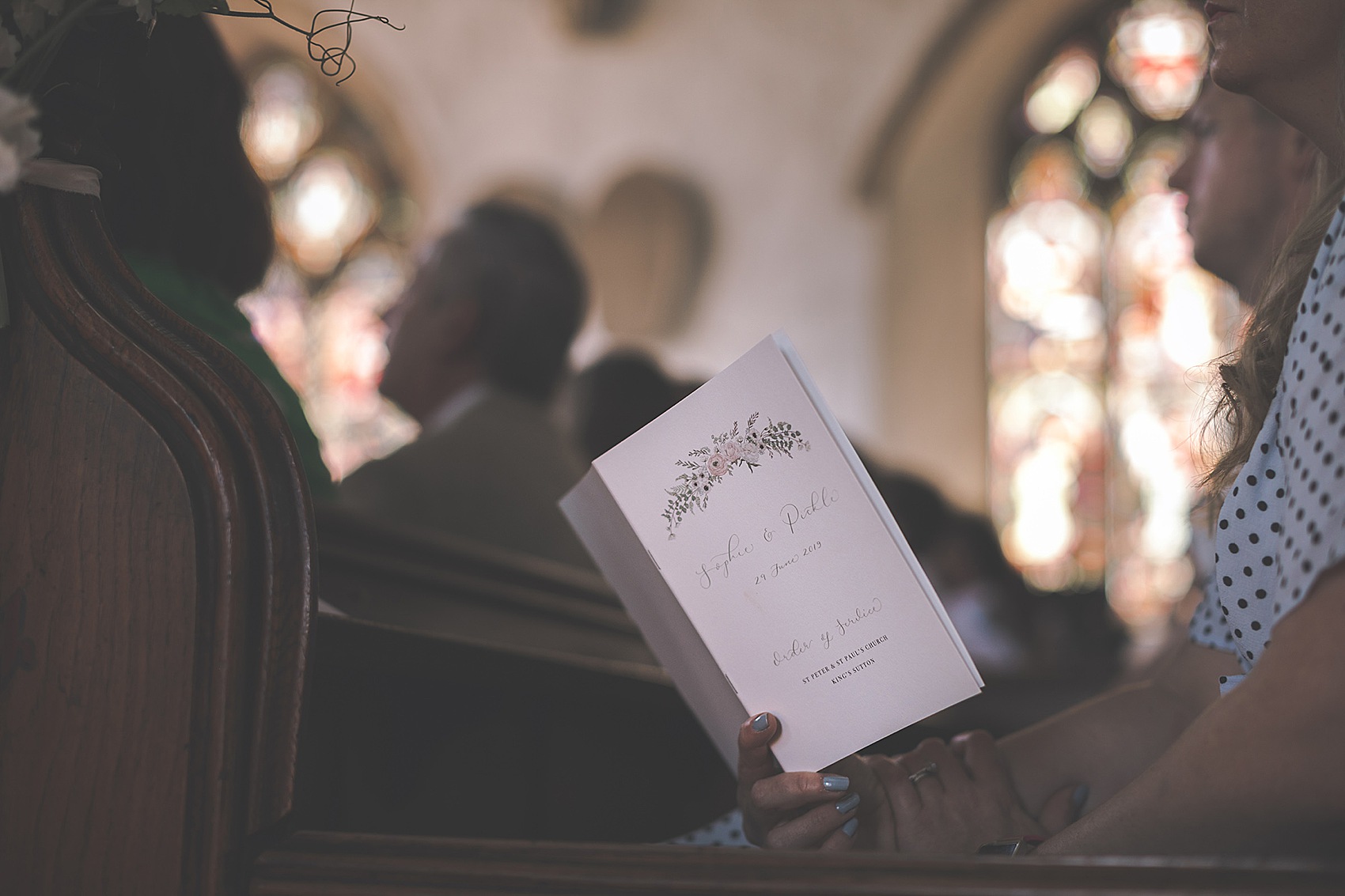 "We went for one Bible reading, which was 1 Corinthians 13:1-13, read by my mother, and one chosen and read by my bridesmaid Sophie, which was an extract from Captain Corelli's Mandolin by Louis de Bernieres, called Love is a Temporary Madness, which is really beautiful."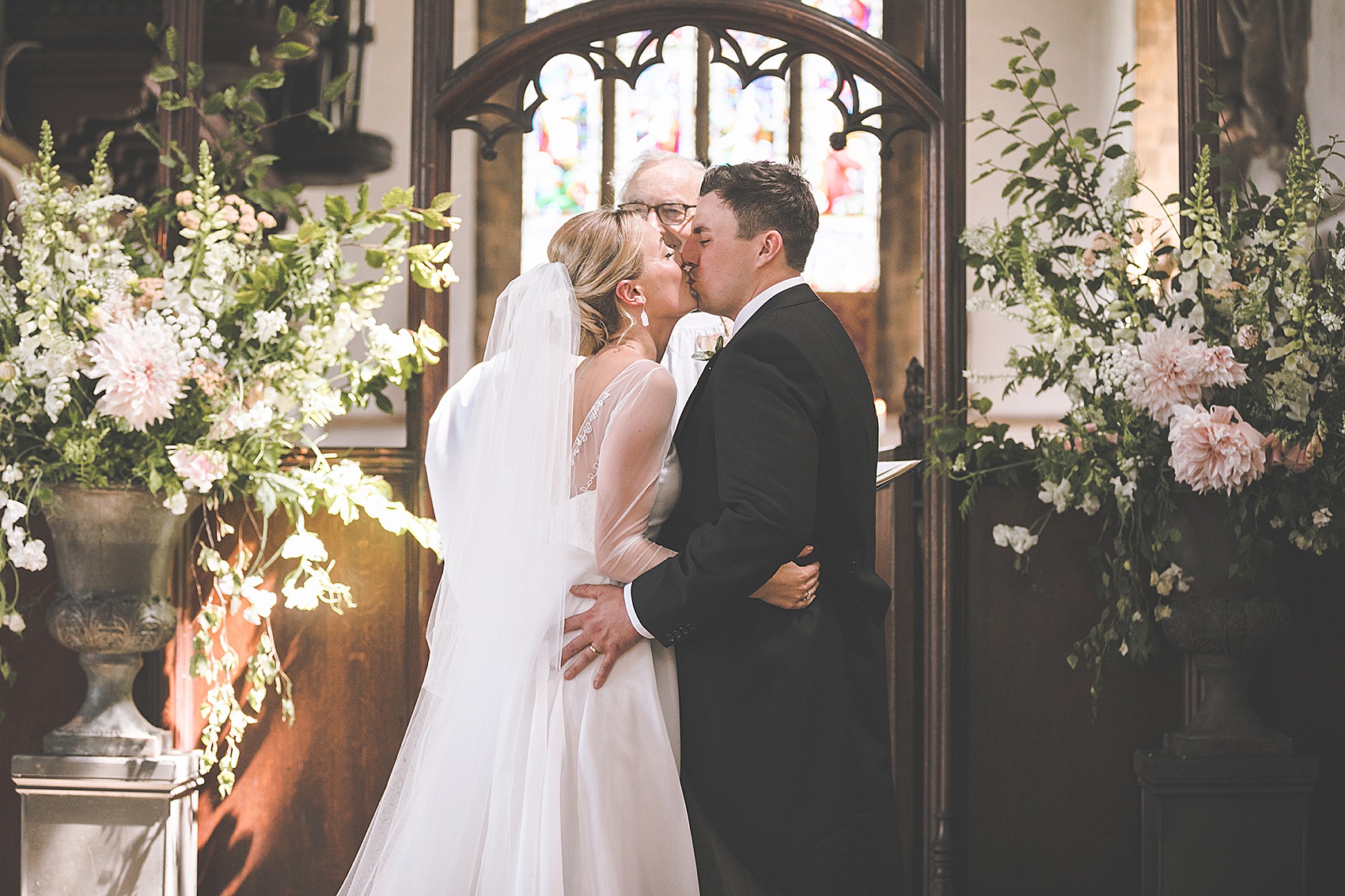 Confetti filled the air as the newly married couple walked out of the church, and Alexander looked smart in classic morning attire by Clifton Suits, owned by the father of the couple's friend, Ed.
"Pickle and most of the ushers had bespoke suits made, with a range of neutral and green toned waistcoats, as we didn't want them to all match. I spent years laughing with my parents about the tie my father wore on his wedding day; a peach and green floral silk tie."
"It's funny how trends come back around though. We were looking through their photos before the wedding, and I thought how perfectly it would match our scheme. He lent it to Pickle, who was going to make the call on the day, between that and the sage green one I had ordered him."
Without telling his ushers the story behind the tie, they unanimously agreed he should wear it! It was such a nice tie to my parents' wedding, who are still blissfully happy."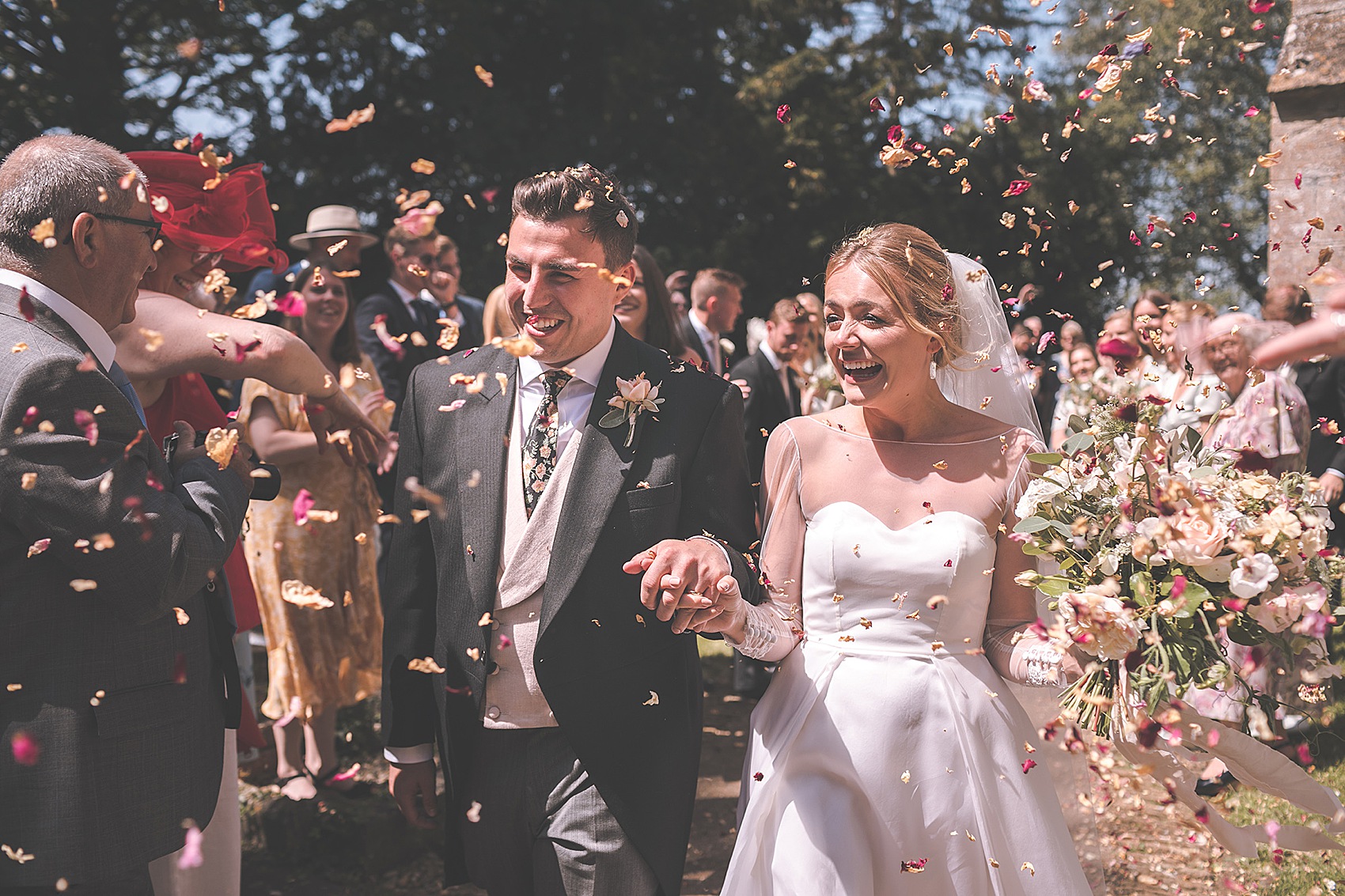 Sophie also sourced a very special vintage Cartier watch for Alexander; the same model worn and loved by his father for many years, which Sophie tracked down in Milan. With a new strap and a full service, it was ready to present, and now Alexander and his father have matching watches.
"I wasn't that fussed about having a car, as I was always going to walk to church, and was very happy to join the 1960's green and cream bus we had hired for the guests from Nostalgia Travel. However, a couple of months before the wedding, I spotted a gorgeous sage green Daimler outside my mother-in-law's shop in Woodstock, and fell in love."
"She happened to know the owners who lived a few doors down, and they very, very kindly agreed to drive us on the day. It was only when we were about to get in that I realised it obviously wasn't going to have air conditioning, so I spent the journey with my head hanging out of the window like a dog!"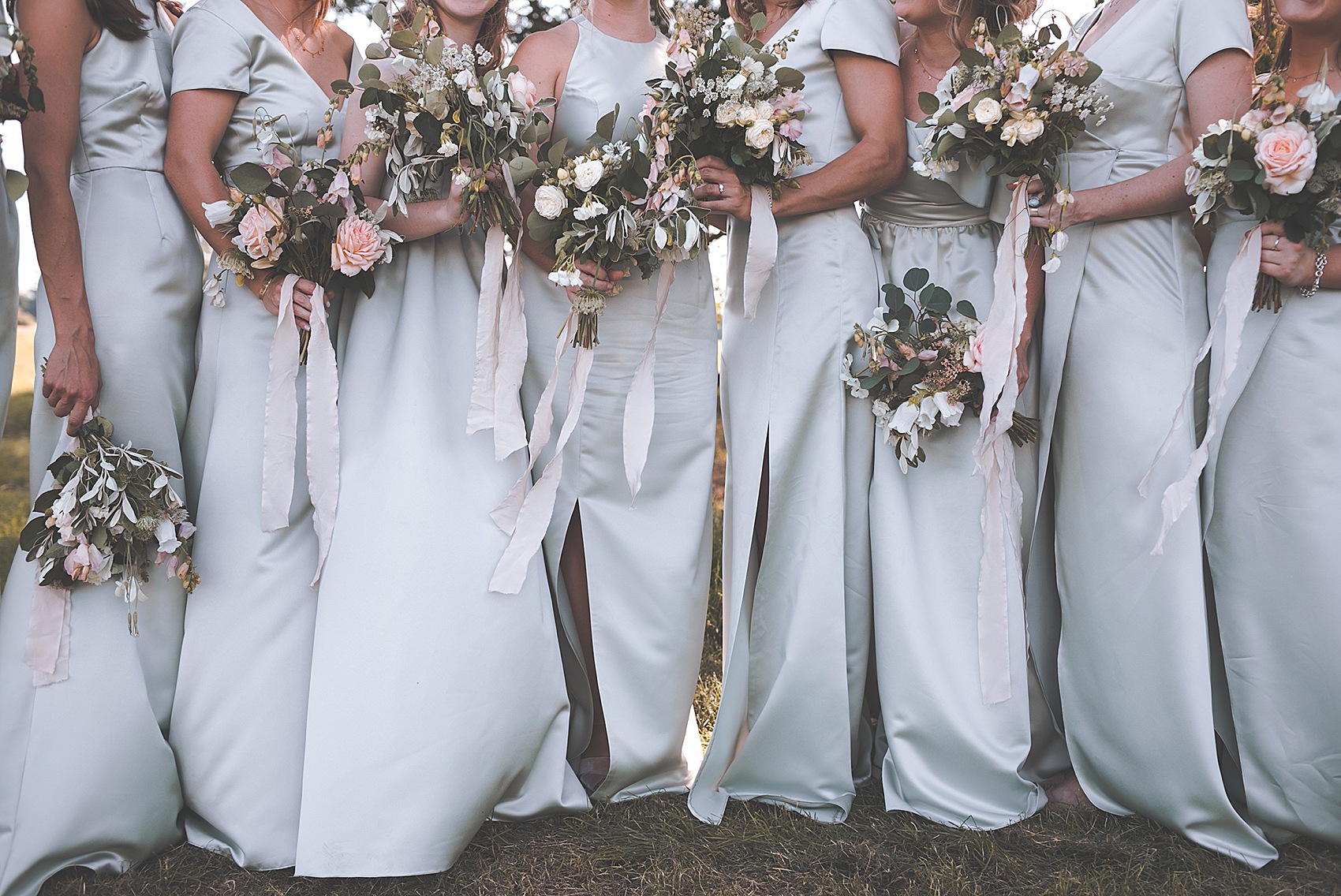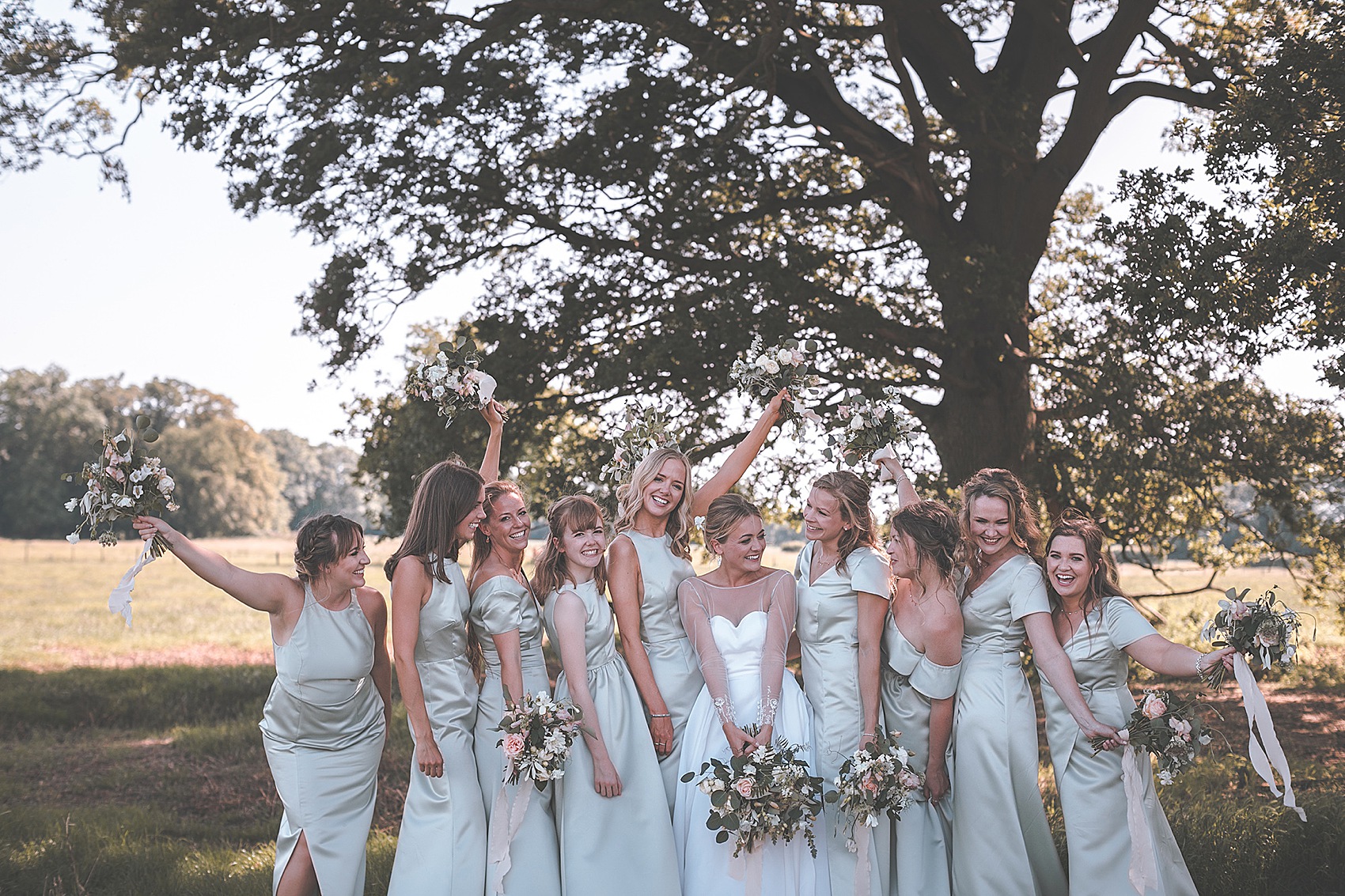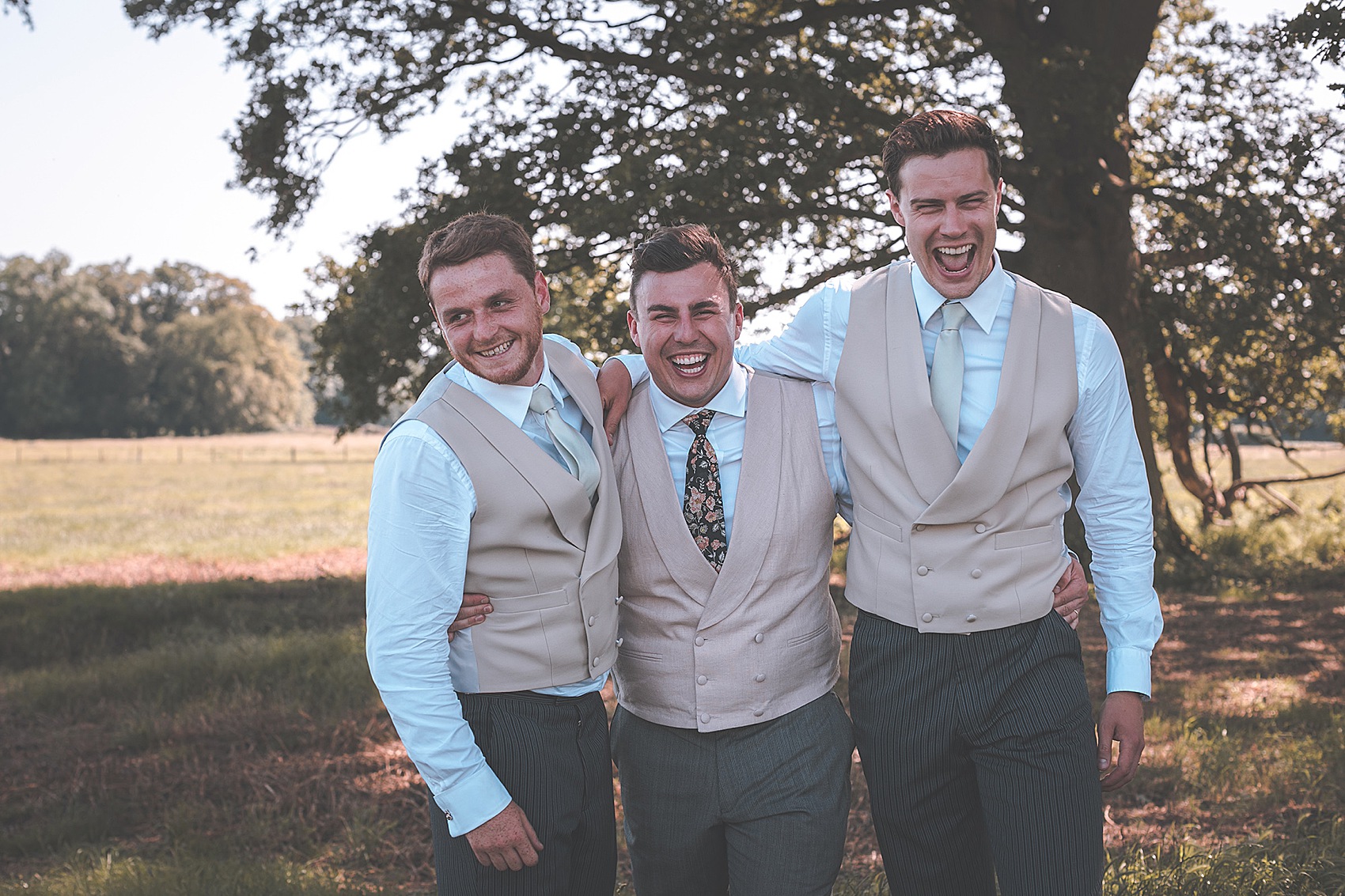 "We always knew we wanted a big, traditional format wedding, and knew that a marquee wedding was going to be the best way forward for 170 guests."
"It also meant we could have full control style wise, and we were not limited to the look of a venue. I wanted the look to be romantic and classic, but with a few twists and quirks here and there."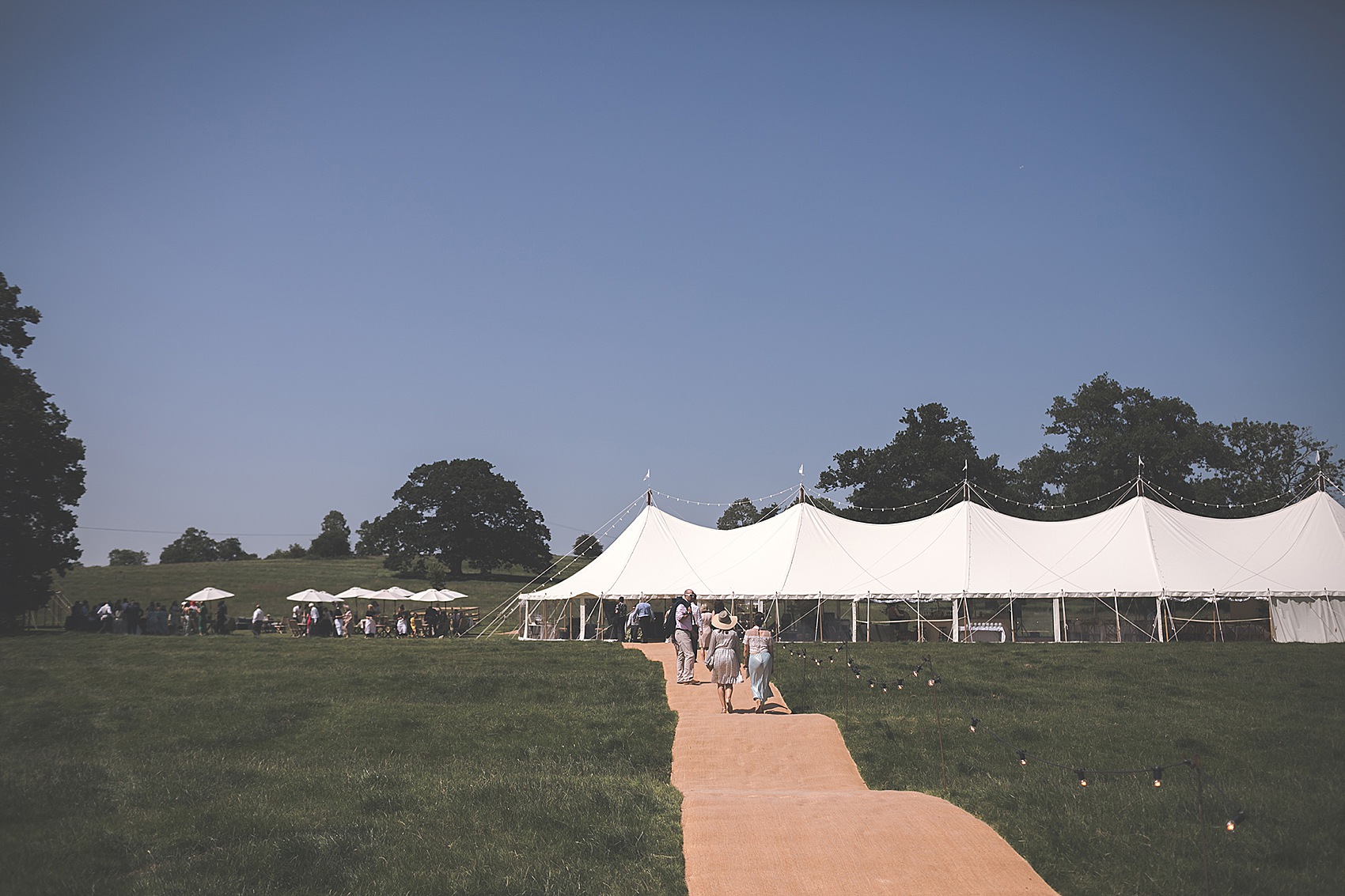 There was an idyllic, romantic feel to the reception marquee decor, with gorgeous silver birch, bay and eucalyptus trees hired from a local plant nursery (unfortunately, no details provided) and three olive trees from Palmbrokers.
"I do a bit of design through my work, so managed to cobble everything together myself using components designed by some amazing talent. Natasha at Away With Words Calligraphy hand wrote and digitised our names, which we used just about everywhere with some other key words, and the full menus, which were printed in sage on vellum, and then personalised with everyone's names."
There was lots of lovely linen used throughout the day, from the sage green guest book by Be Golden, to washed linen napkins from Also Home. Antique gold candlesticks (and lounge furniture) were from Anthology Vintage Hire, which surrounded lovely floral table centrepieces, and tables came courtesy of Couvert Bespoke Event Hire.
"For our save the dates and invitations, Sophie Botsford designed some gorgeous floral artwork, which I also used for the order of services. For the save the dates and invitations we used Papier for printing, and were really happy with how they turned out."
"My parents have recently started keeping bees, and very kindly offered some of their honey for our favours. We bought tiny 50ml jars, I designed some simple labels using Natasha's calligraphy, and made washed linen tops tied with blush silk ribbon. They took me hours and hours, but I was really happy with the result, and they didn't cost the earth."
Wedding feast caterers were The Little Pickle, and Sophie, Alexander and their guests sat down to enjoy charcuterie boards, followed by sirloin of beef served with salads, and to finish, delicious creme brulee.
"I will admit, the link between their name and Pickle's nickname is definitely what made us contact them, but they were absolutely fantastic. Ran by husband and wife, Alex and Jess, they make all of their own chutneys and pickles, and their fresh bread is what won us over."
"We had a custom neon sign made by Locomocean, who I spotted at an interiors trade show. They managed to use Natasha's calligraphy, and it now hangs on the wall in our kitchen."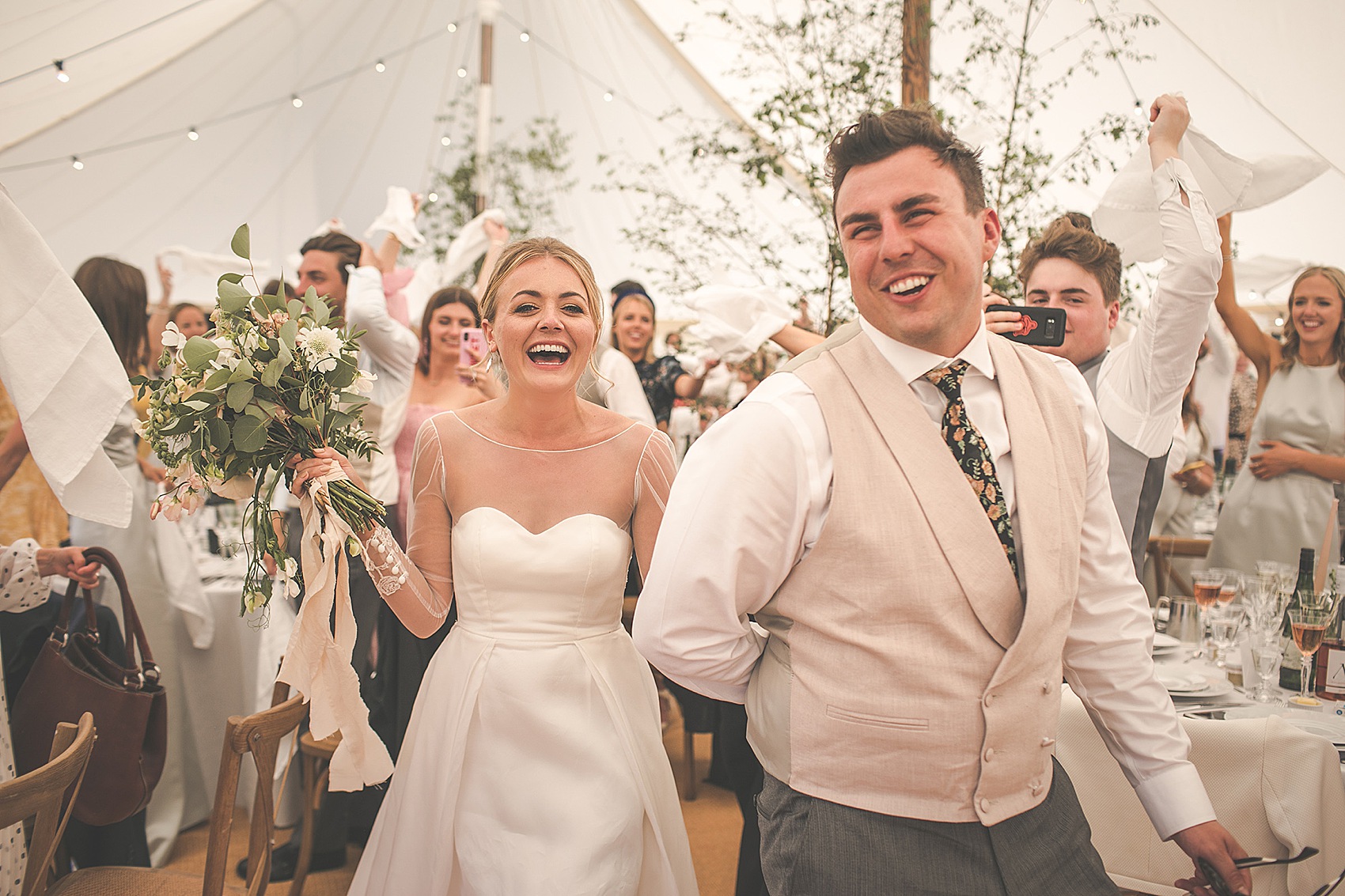 The couple's four-tier cake, iced with buttercream and decorated with fresh flowers from Green & Gorgeous, was also made by The Little Pickle.
"It stayed in the fridge until the very last minute, which was a good job, as the heat on the day was too much for it to bear, and it nearly collapsed as we cut it!"
"We also had The Alpine Pizza Co. for our evening food, as Pickle is a real pizza fan. They have a gorgeous converted horse box, and are really nice guys. They even did a Nutella pizza!"
Sophie and Alexander's photographer, Rebecca Fulton, was recommended to them by friend and film-maker, Will. I'm delighted to share her beautiful work here, which is filled with light and laughter.
"We had a pre-wedding shoot, which I couldn't recommend more to future brides, as being photographed is not something most of us are used to, and it really helped getting to know her in advance."
"By the time of the wedding, it felt like just having another friend in the room. Her style is very romantic, capturing all the special moments. Looking through them after was great – you can miss so much on the day as a couple."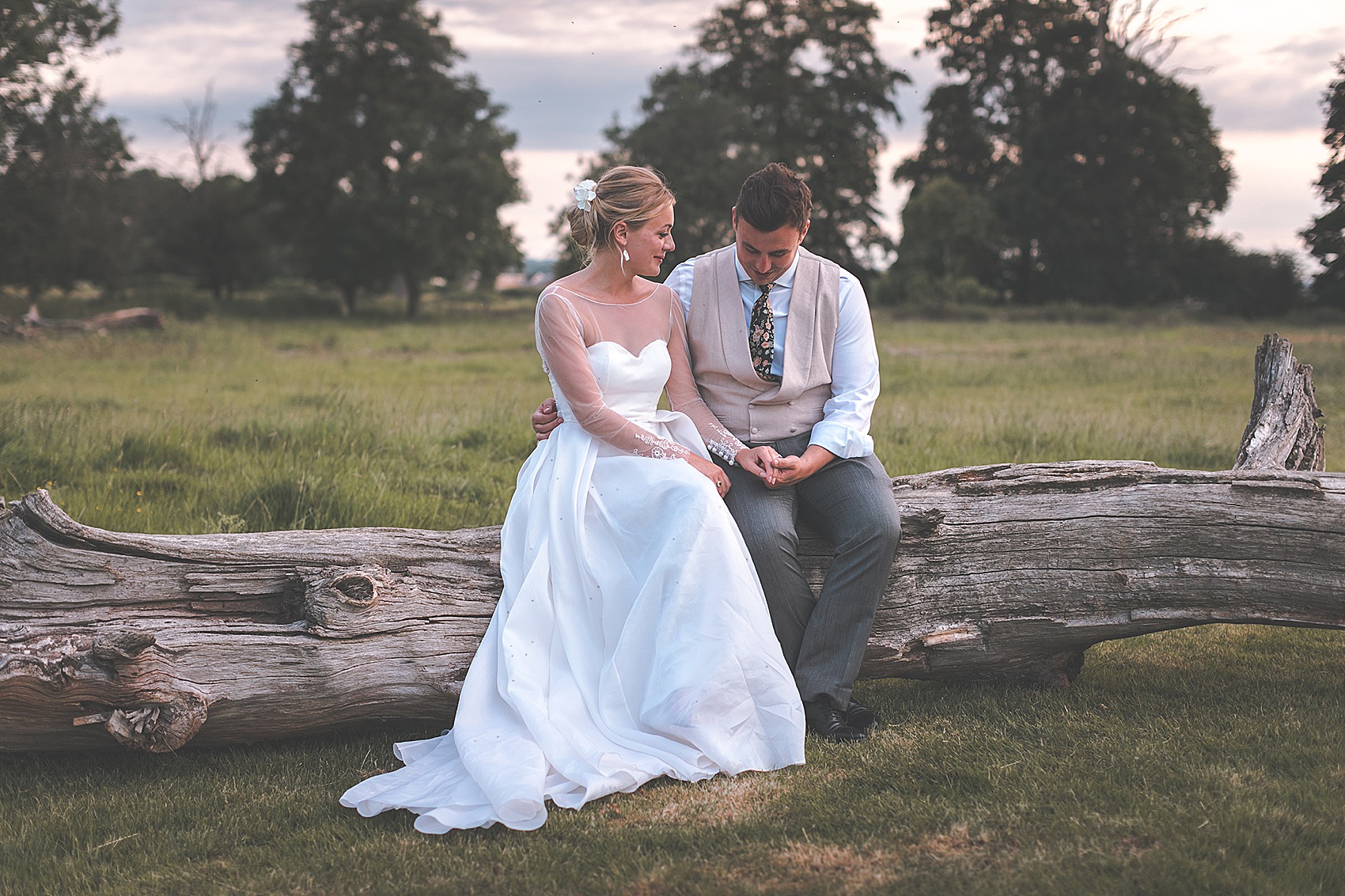 ""We are very lucky that one of our closest friends and usher, Will Warr, is an incredibly talented videographer, and has filmed some amazing weddings. Obviously we didn't want him working at the wedding, but one of his guys filmed the day on his behalf, and we couldn't be happier with the result."
"I have forever been his biggest fan, and don't think there's been one video I haven't watched, so having my very own is a dream come true. I think if your budget allows, having a videographer is definitely something to consider.""
After dinner, there was a very special first dance, which was a complete surprise for Sophie and Alexander's guests; Never Gonna Give You Up, sung live by none other than Rick Astley himself!
"Rick Astley is a close friend of Pickle's father, and was actually at the hospital when Pickle was born. He very kindly agreed to perform Never Gonna Give You Up as our first dance, and the band kindly learnt it to accompany him. I spent a good year palming off comments from friends and family who were saying 'Oh, how much fun would it be if he sung', replying with 'Are you joking! He's a very busy man!'"
"He performed the first verse a capella to allow us to do a bit of twirling, and when the chorus kicked in, the band joined, and the bridesmaids let off streamer canons from SFX Supplies. It was really magical, and we're very grateful."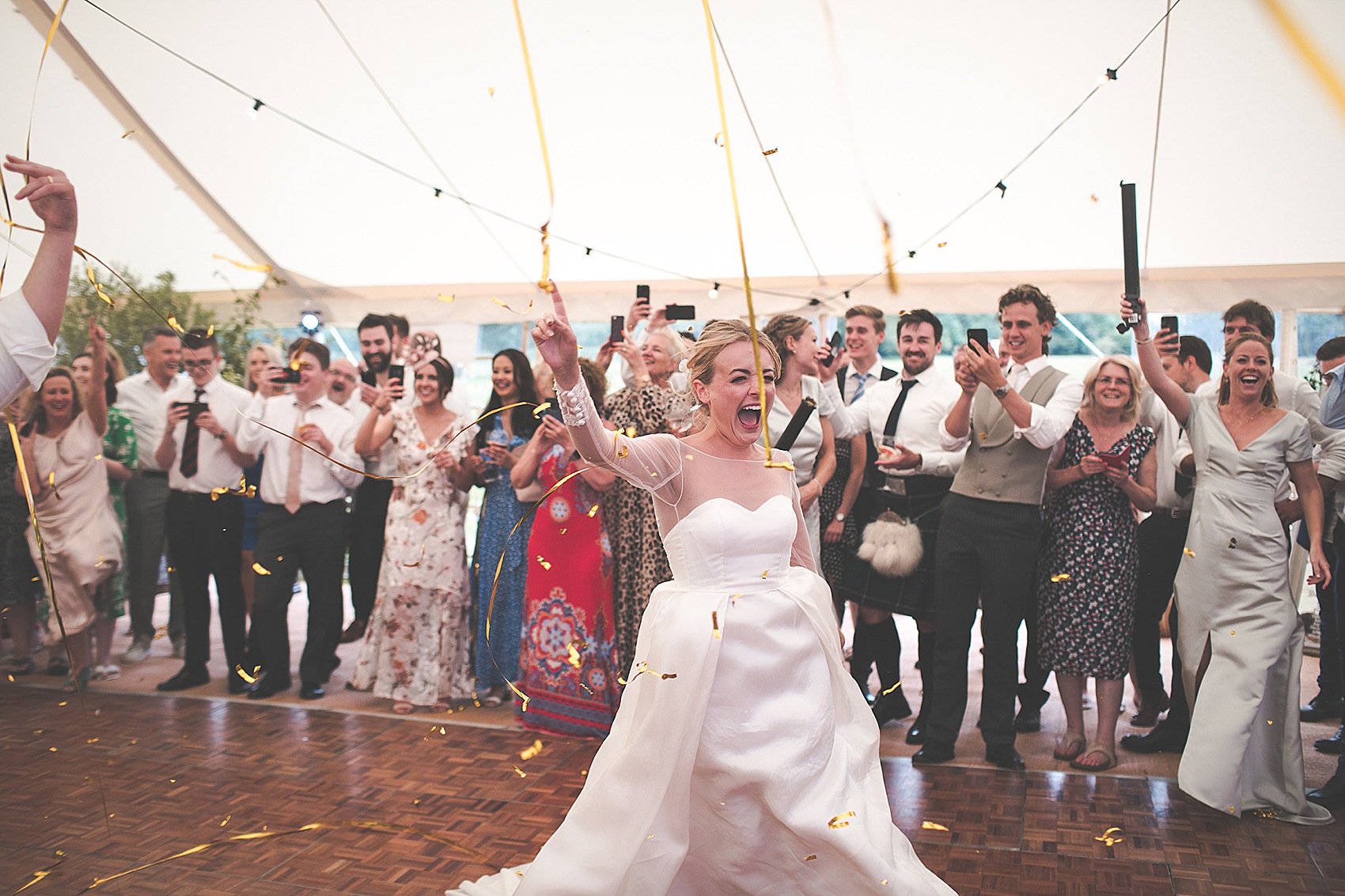 "Pickle's father is a record producer, so good music was needed or we would never have heard the end of it. He found City Funk Orchestra, a nine piece band with plenty of brass, who have played with the likes of Prince and Michael Jackson. They were phenomenal. They play lots of soul and funk; perfect for every age."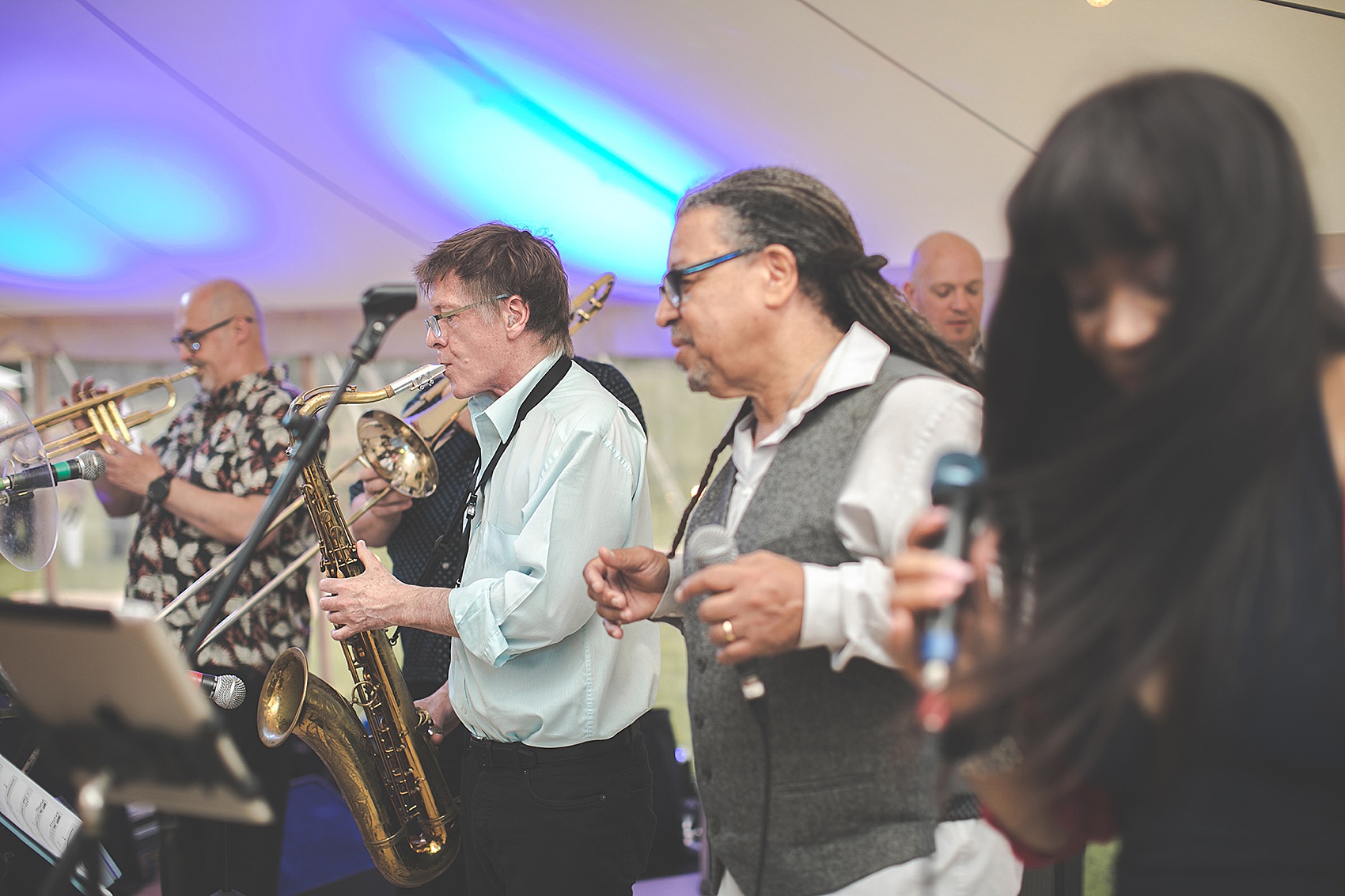 After their first dance, Sophie and Alexander both changed outfits for a fun evening of dancing. Sophie's simple, blush pink dress with wide shoulder straps and a circle skirt was designed and made by Sewn Right, which she wore with a hair pin by Tilly Thomas Lux, personalised with her new initials. Alexander wore a double-breasted suit of blush pink linen by Clifton Suits.
"We had Andy Saunders DJ after the band, who was very accommodating when at 1am, we asked him to carry on the party! He's a real cool guy, and great at working the crowd."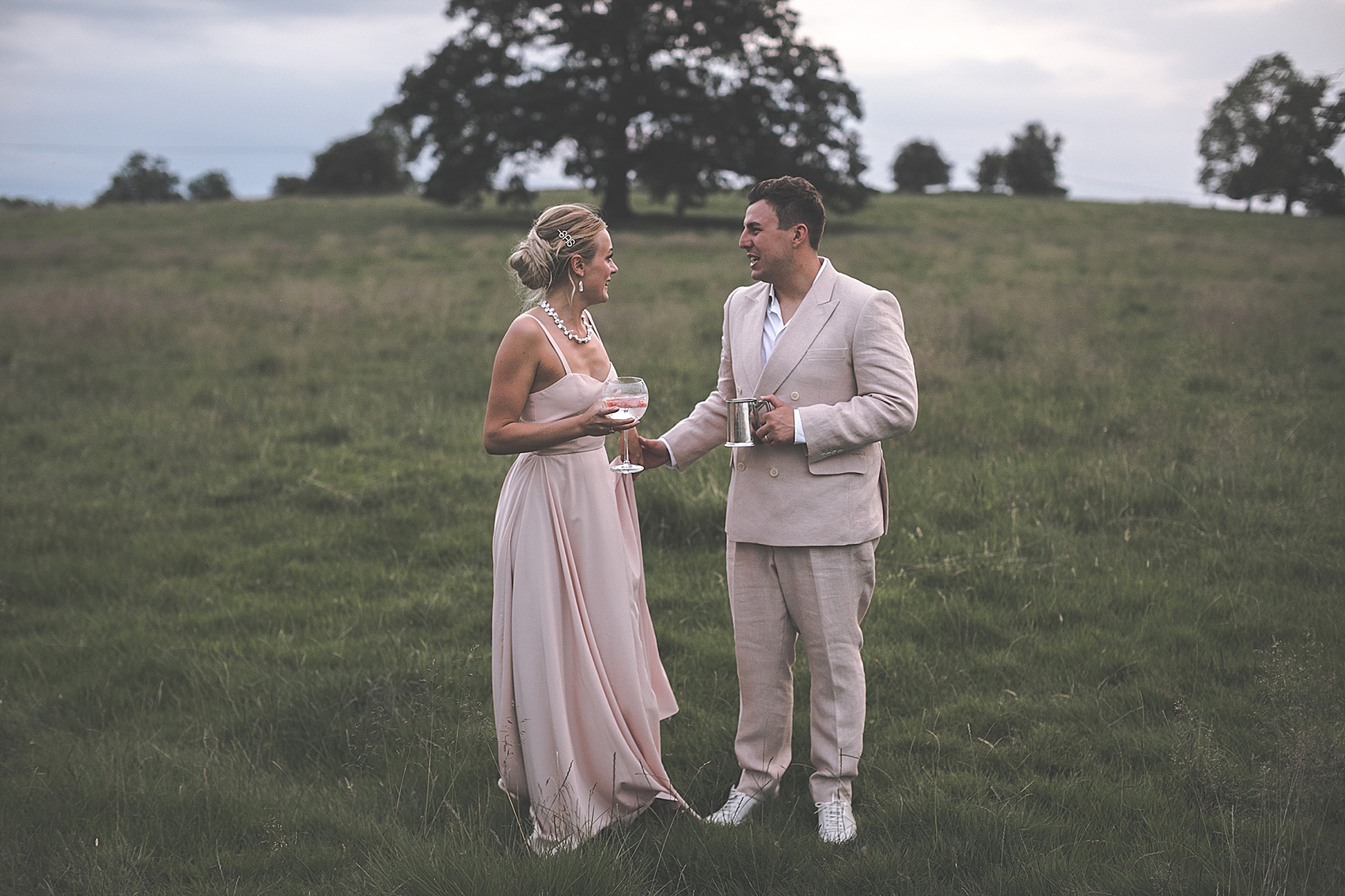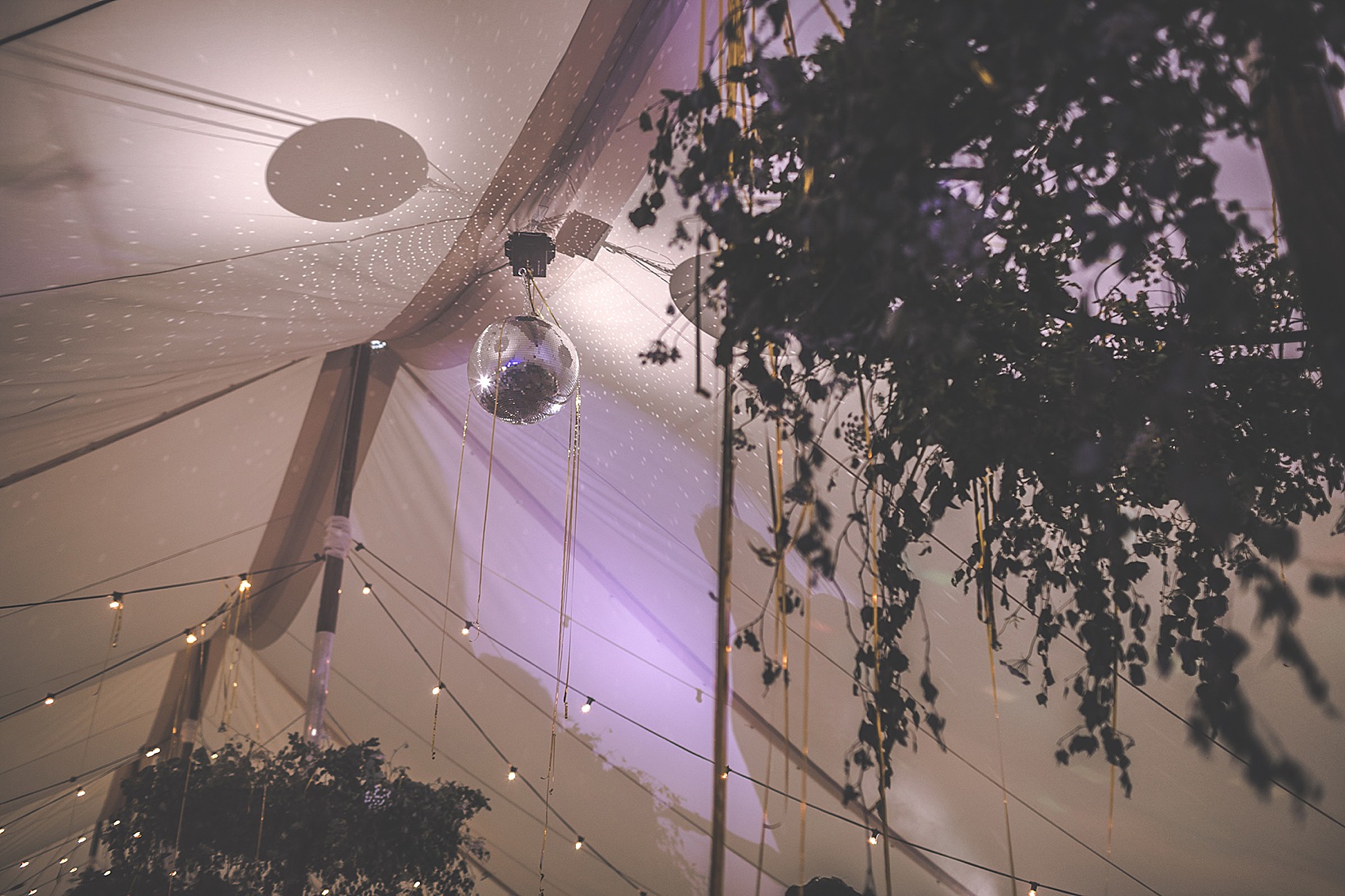 Words of Wedded Wisdom
"If you're having a marquee wedding, or a wedding not in a venue, try and keep the number of suppliers to a minimum. Having lots of suppliers can become chaotic, and it makes things much easier."
"If you want to make your tables look really special, but don't have the money to hire everything in, spend money on glassware over cutlery or crockery. Crockery is usually covered by a napkin, and the glasses will feature in a lot of photos. That being said, definitely get basic glassware for the bar – people really do not care by that point!"
"Anything you can possibly do in advance, do. The last thing you want to be doing the day before the wedding is tying bows on favours."
"Spend good time taking photos – at the time it seems like a bit of a chore leaving everyone, but you honestly won't regret it, you'll always want more!"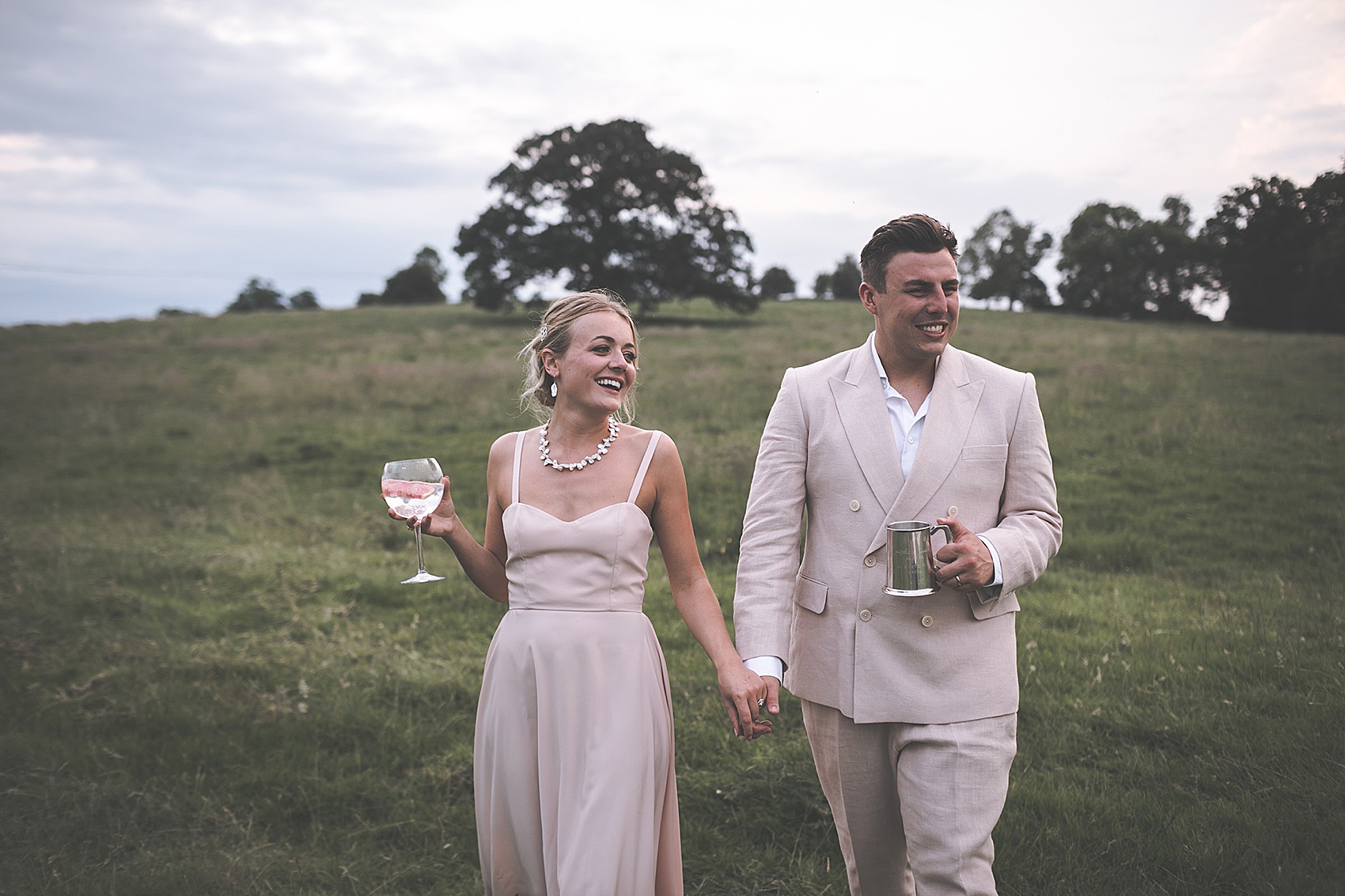 Sophie and Alexander, many congratulations and thank you so much. Readers, I hope you've enjoyed this glorious country wedding as much as I have, and Sophie, your Sewn Right dresses (and those of your bridesmaids) were beautiful. Huge thanks to our videographer Will Warr and his team, and Rebecca Fulton for her lovely, elegant photography.
With love,
Laura