In my dreams about the future, I sway between a small château deep in the French countryside and an Italian villa in the Tuscan hills. Today's wedding has got me leaning towards the first.
Not only is the quaint French town bewitching, everything about this elegant and refined wedding has captured my heart; herbs and botanicals, al fresco dining and a sumptuous Caroline Castigliano gown. Travel bloggers Stephanie and Nicholas travelled to Château de Cas, Saint Antonin Noble Val, France for their marriage on 28 July.
Film Andrew Kelly Films
Andrew Kelly Films was on hand to record the day on Super 8 film, a decision the couple were so glad to have made.
"At one point we weren't going to have a wedding video. I'd watched so many wedding days unfold on screen that felt like Hollywood films and was nervous about losing some of the authenticity and emotion as a result. On the other hand, I didn't want the mate of a second cousin who 'swears he's a whiz with a camcorder' filming a shaky version of the most important day of our lives. Thank goodness we found Andrew. He films on Super 8 which adds so much romance and peace to every frame and his videos are stunningly produced without editing out the emotion and energy. He captured the happiness, warmth and love of the day perfectly. Whenever we watch it back it makes us sigh."
Photography Karolina B. Photography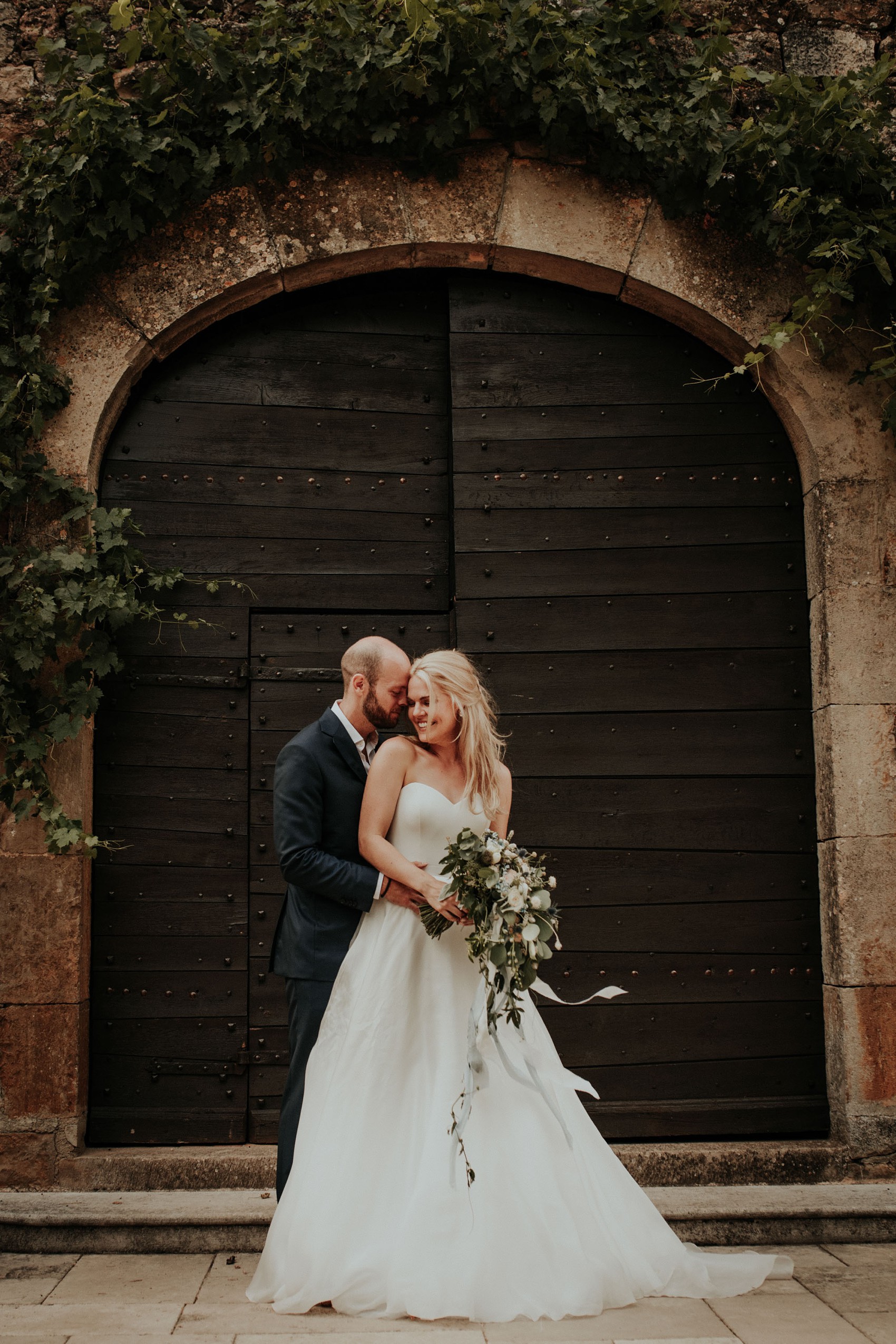 Drawn to its rich history and proximity to Stephanie's parents' home, the couple wanted a true celebration of the outdoors. Drawing on authentic French traditions and weaving them together with English elements, the elegant, sophisticated styling was set against the most gorgeous of white, greens, pale blue and soft dove grey palettes.
"My parents live close to Saint Antonin Noble Val. We wanted to celebrate close to home and bring our friends and family together somewhere that was significant and beautiful. Nick is a keen lover of history and the château has plenty, being 800 years old and still owned by the same family. We were charmed by it."
Befitting such a magnificent location, Stephanie selected a swoon-worthy gown by one of our favourite designers, Caroline Castigliano, who she found on these very pages.
"I wanted something classic, clean and unadorned but still soft and light. I was also very keen to find a dress by a British designer. I walked into the shop, gave the vaguest direction (no lace, sweetheart neck-line, light fabric) and was presented with the dress; a boned corset bodice, soft sweetheart neckline with a full, silk organza, A-line skirt. It was ethereal and classic all at once."
The fine, delicately-embroidered veil was her mum's and Stephanie added gilt Manolo Blahnik heels and her mum's aquamarine and gold teardrop ring. Her long blonde hair was styled into a romantic, tumbling style and caught back from her face. The final flourish was a splash of Ménage á Trois by Zarko Perfume.
"Both floral and rich, it's the perfume I wear every day."
"Nick bought me a pair of gold and white citrine drop earrings by Melissa Joy Manning at Liberty as a wedding present."
"My hair was by Charlotte Garvey at Be You Tiful. Charlotte was the perfect person to have with us whilst we got ready. Not only fantastically talented, she's wonderfully funny and unflusterable. My make-up was by Flo's Maquillage. Florence was superb, striking a perfect balance between photograph-ready and natural."
Stephanie carried a tumbling bouquet of foliage and exquisite blooms, arranged by Atmosfleur Créations.
"Lya and her partner make a brilliant team. He creates intricate metalwork like arches and sculptures which she hangs with beautifully-curated flowers and foliage. I wanted plenty of greens and whites with a touch of wilderness to tie in with the rustic side of the day and our surroundings. I gave her a very loose brief and she absolutely excelled, not only in the bouquets but also the floral arbour and our tree-like centre-pieces."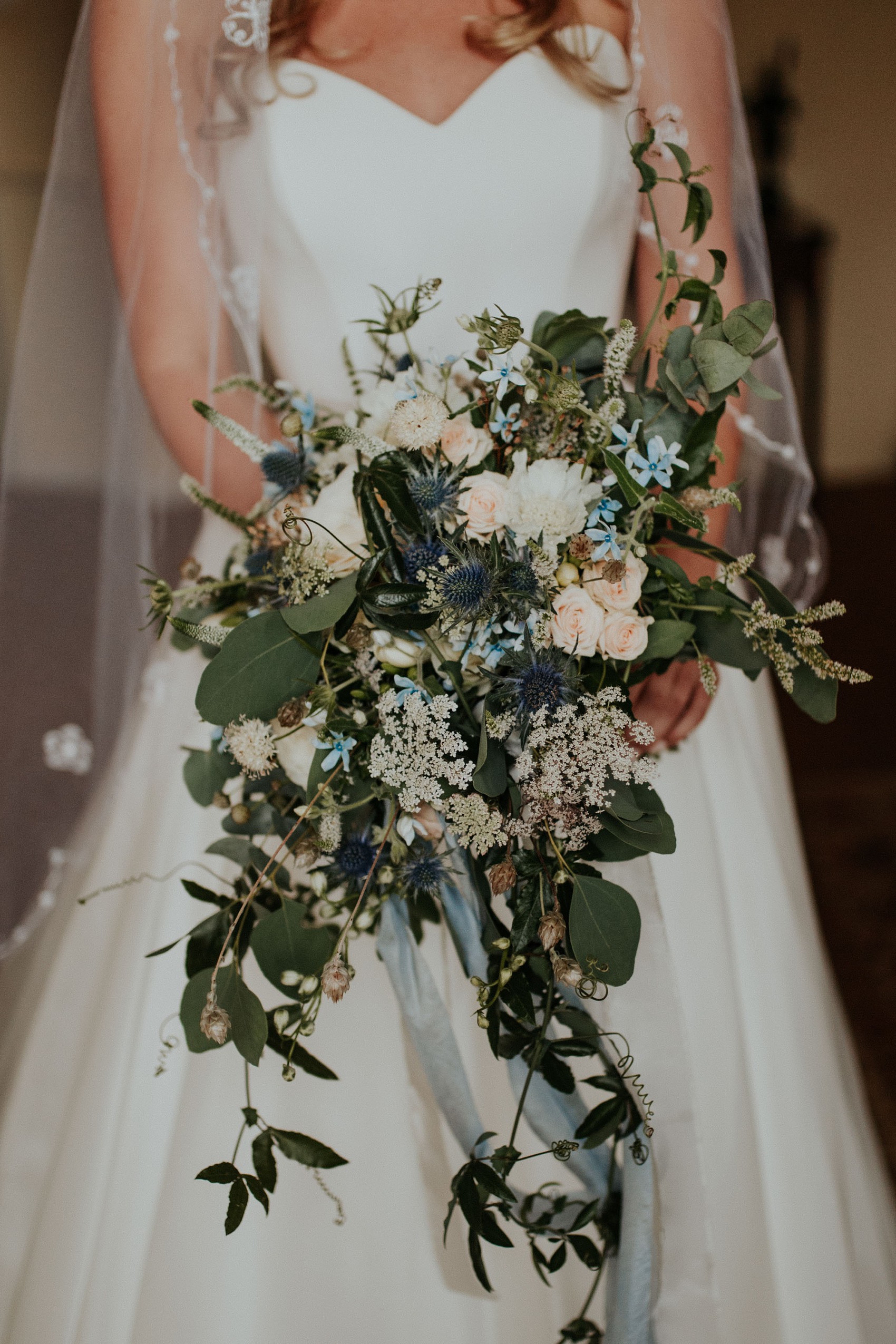 The bride was taken through the ancient, narrow streets to the château in a quintessentially French car.
"A white Citroen 2CV bedecked in flowers took me from where I was getting ready to the venue with my dad – classically French though a bit of squeeze in my dress!"
"We wanted to celebrate outdoors and the château had plenty of different spaces to host different parts of the day – from the ceremony on the steps to dinner under the stars. When we first entered through the gates, the sun was dappled through oak trees in the courtyard and we could easily imagine all our loved ones sipping drinks and resting near the fountains."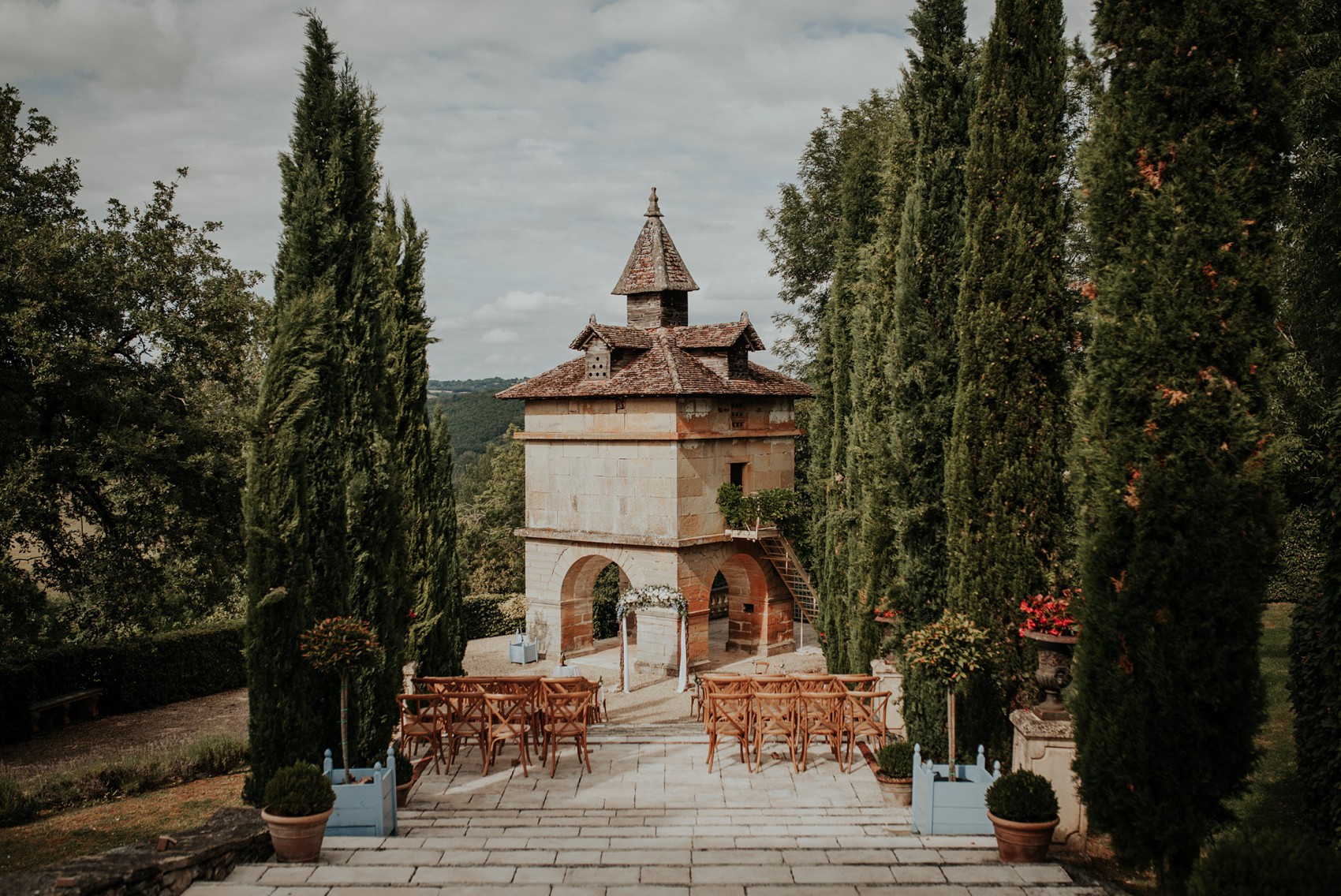 Wedding planner Hannah Nicolet of Noble Nuptials helped the couple to bring their vision to life.
"We wanted to ensure that the style and theme were authentic to where we had chosen to celebrate, as well as recognising our British roots. We pulled this through each element, from the palette to the decoration to the drinks. I'm a strong feminist so shied away from the super-traditional elements like being 'given away', veiling my face and refraining from speaking."
"Our palette was whites, greens, pale blue and soft dove grey. We had dinner outside and wanted the table layout to blend in with shapes and colours in the formal garden. We chose high oak and eucalyptus centre-pieces laced with lights; we wanted them to appear almost 'tree-like' to blend in. Bundles of rosemary, lavender and other dried herbs were arranged over wine crates and around a generous tiered cheese board – a nod to the region's wonderful wine and cuisine."
"Hannah and the team at Noble Nuptials made the planning easy, stress-free and a total joy. No detail was too small, no situation too tricky and no creative scheme too challenging. We could not have been happier to have had Hannah helping, co-ordinating and reassuring us."
For her bridesmaids, Stephanie selected pale blue, mid-length, silk gowns from Arket which they wore with nude heels from & Other Stories whilst the little bridesmaid wore a whimsical flower crown with her pretty white Monsoon dress.
"I bought all the girls gold flower stud earrings by Alexis Dove."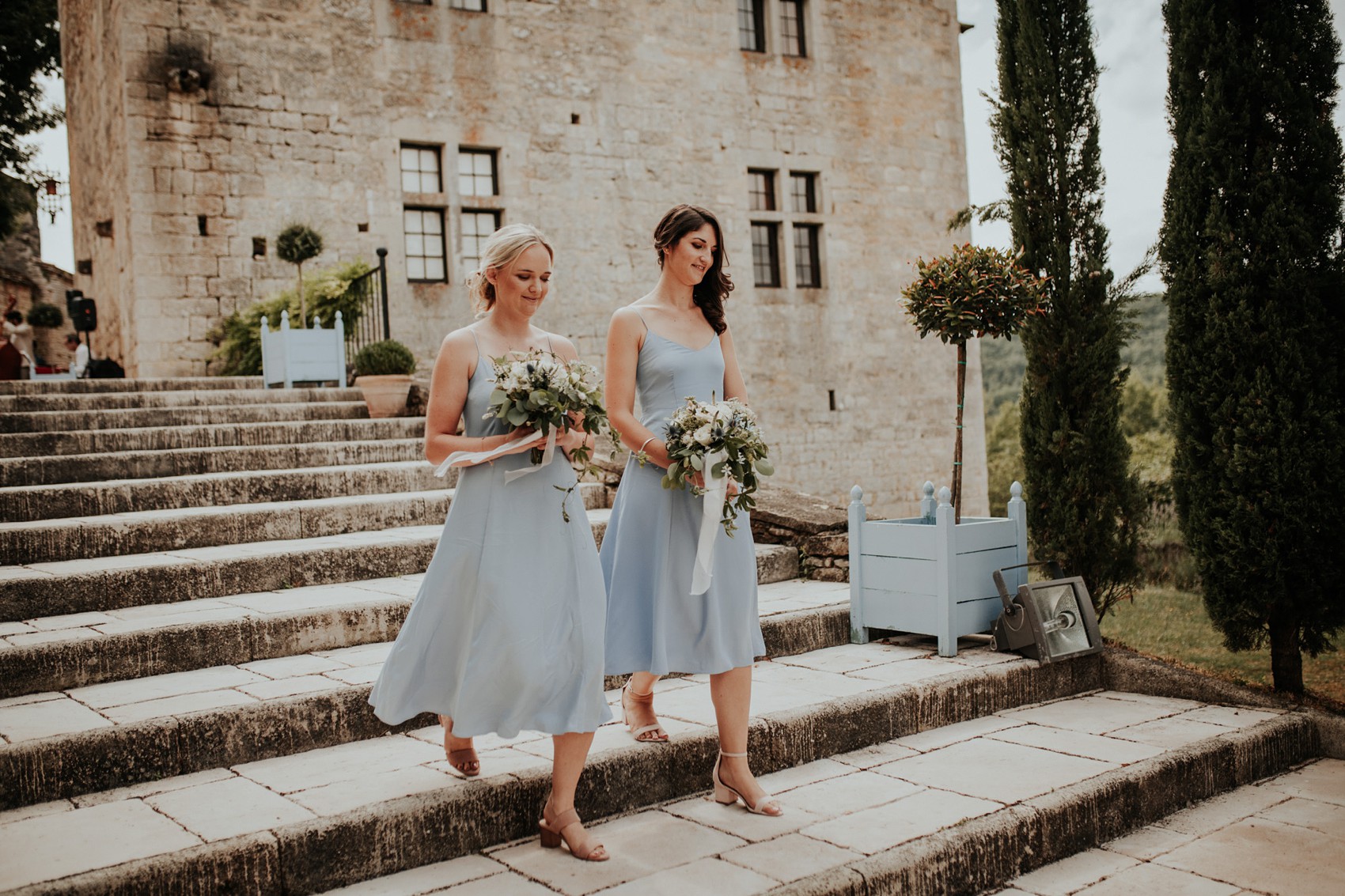 The couple met at Manchester University but didn't get together straight away.
"We knew of each other but weren't particularly close. The first recognition that we got on well wasn't until Nick left for South America for six months and I left for Melbourne. We had common ground as we were both on the edge of an adventure. We lost touch for a year until we both moved to London. We naturally gravitated towards each other, helped by mutual friends."
"After sitting next to Nick at a dinner hosted by his best man I realised I quite liked him – he'd completely captivated me by arguing on a whole variety of topics for most of the evening. As two slightly drunk contrarians, we obviously had a great time. After that, there were quite a few dinners and nights out that allowed what had sparked to grow."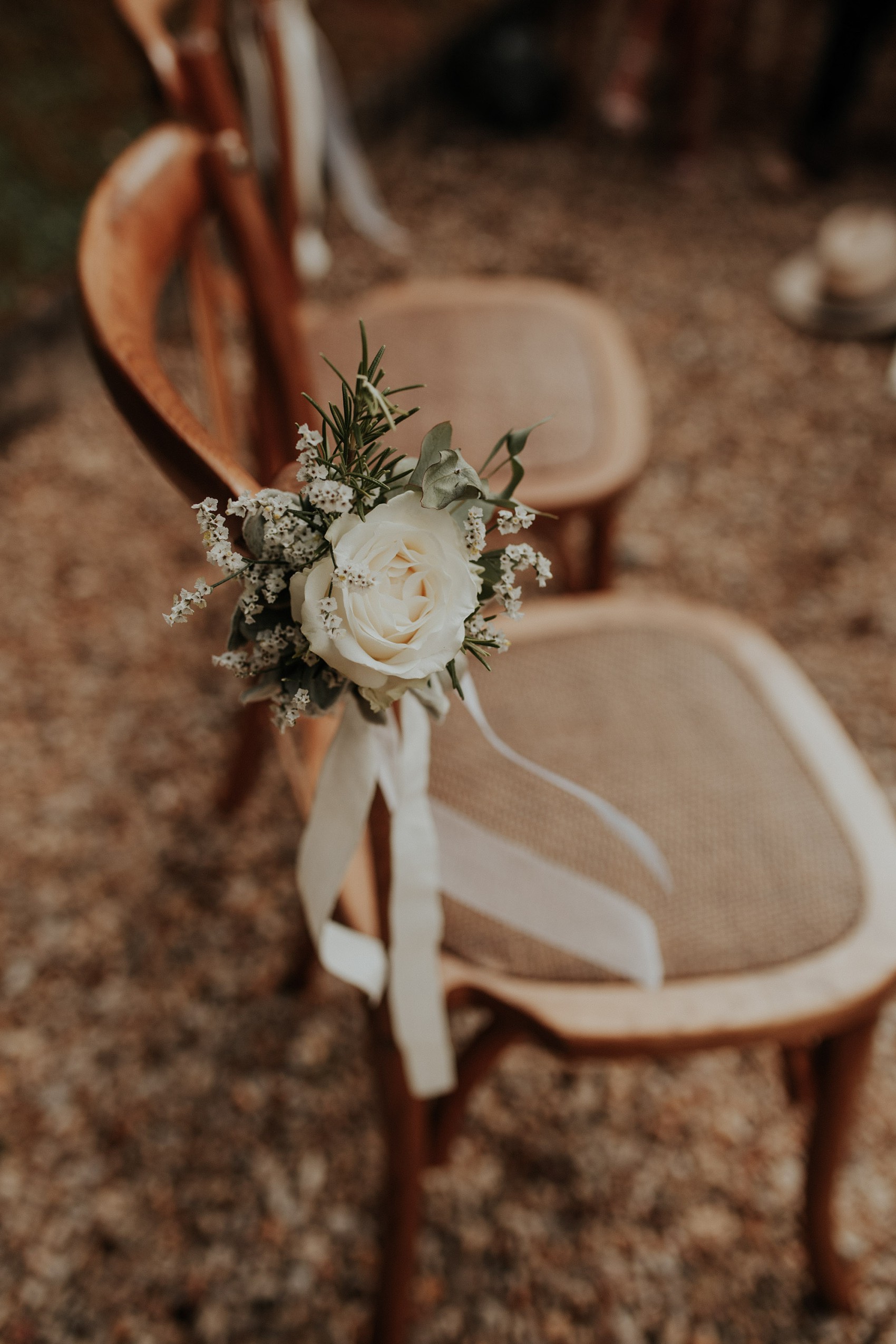 The ceremony was held in the château's beautiful gardens, dressed with rustic wooden chairs, posies of flowers and a romantic floral arch complete with tulle drapery. It was led by Diane Smith at SW France Celebrant and before the bride and her father arrived, Nick walked down the aisle with his mum.
"We had a chamber jazz band, La Lanterne Sourde, for our ceremony and cocktail reception. They played 'Moon River' as my father and I entered the grounds, Nora Jones' 'Come Away With Me' down the aisle and 'Mr Blue Sky' by Electric Light Orchestra as our processional music. They were completely wonderful. I kissed both my parents and then walked to Nick to meet him at the altar."
Nicholas totally rocked the continental look in an open-necked shirt and a bespoke suit from Suit Supply.
"The groom's party had blue and green Liberty-print pocket squares made by my mother. Each usher also had his initials embroidered on the cuff of his shirt. Nick bought them each a pair of garish floral socks to finish off the outfit."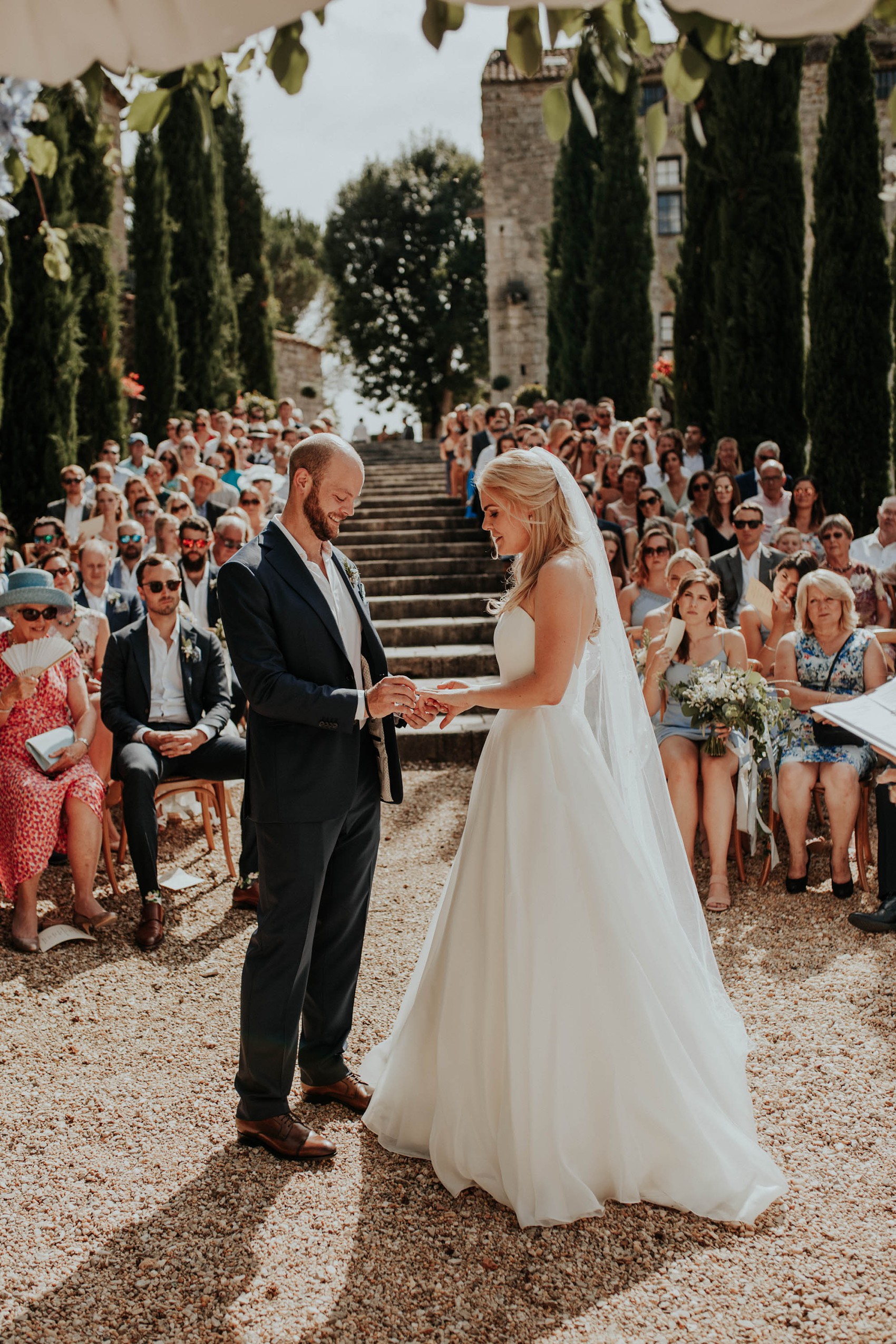 "We wrote our own vows. It was important that our vows and readings reflected our understanding of marriage, long-term commitment and love; that the reality of marriage is about two lives becoming intertwined and that the reality of commitment is about the active and constant choice we make to be together."
"It was important to acknowledge each other as individuals with strengths, weaknesses and dreams of our own whilst promising to stand together. Khalil Gilbran's poem 'On Marriage' could not have been more perfect and was recommended to us by Nick's mother who has a beautiful old copy of his work."
The couple commissioned Tamar Bijoux, a local artisanal jeweller in Saint Antonin, to make their wedding bands.
"Her studio is in view of the Town Hall where we signed our marriage certificate. They are hand-beaten gold with a natural edge (white for Nick, yellow for me), inscribed with each other's names and our wedding date."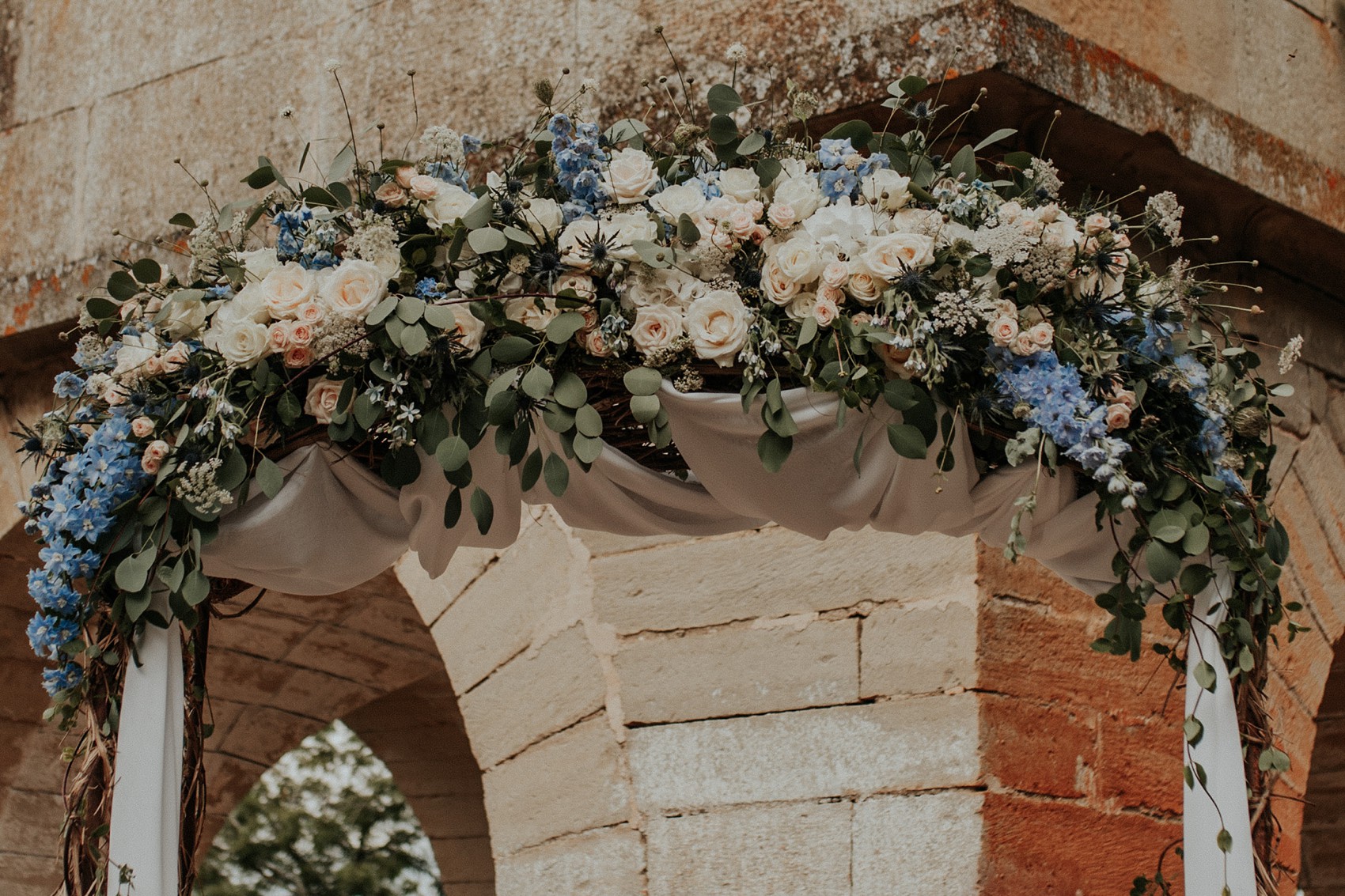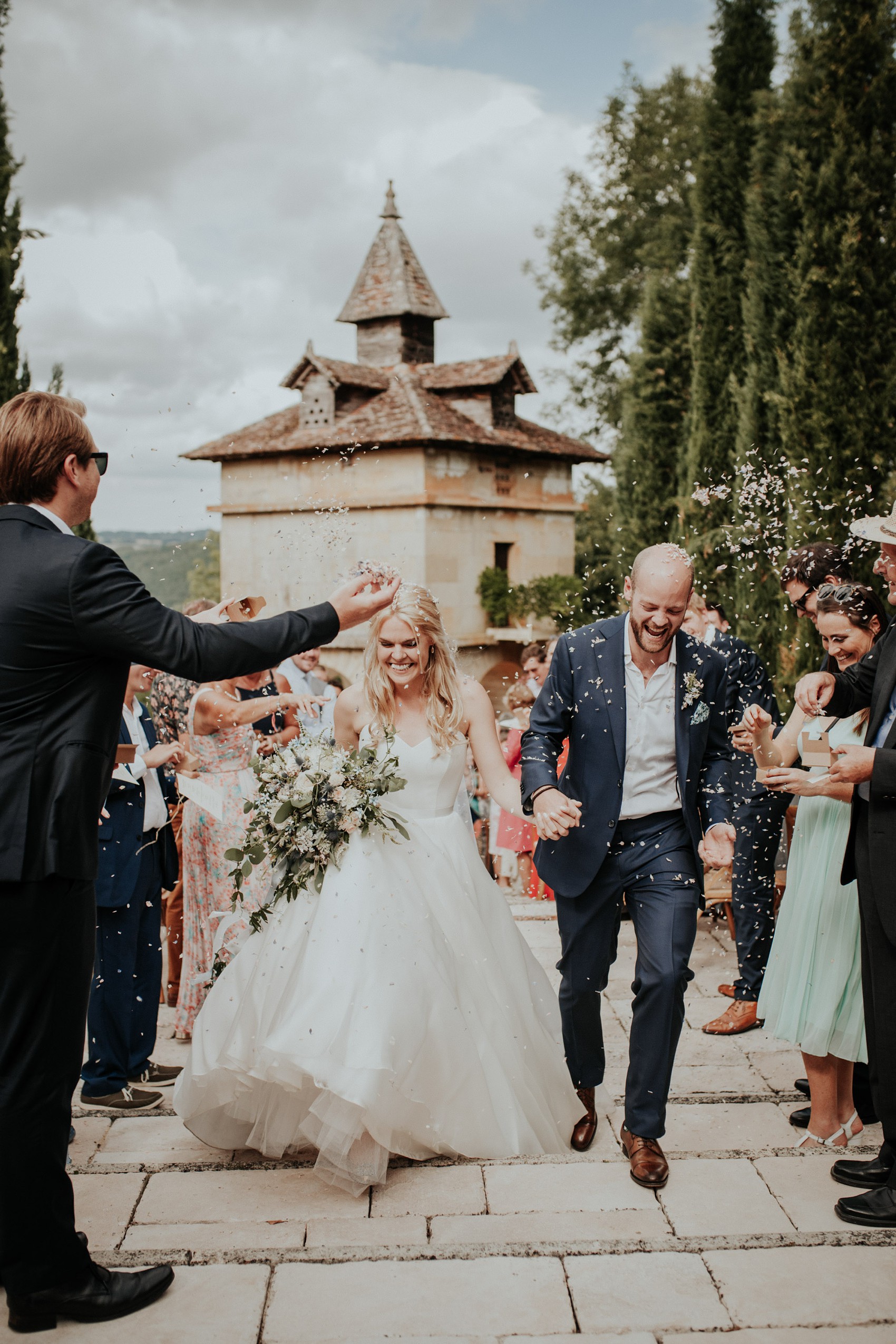 The ceremony led seamlessly in to the al fresco drinks reception and dinner. The couple put so much effort in to dressing the gardens, creating different areas for the guests to relax and play. The overall look seems so organic, complementing the venue's natural beauty.
"We used wine crates, bundles of dried lavender and herbs, wooden boards and accessories sourced and borrowed from local brocantes. Micro-fairy-lights were strung in the trees and bushes and hundreds of glass yoghurt pots held tea-lights. My mother made scatter cushions in Liberty-print fabric for the benches along the dance-floor."
"I sourced a beautiful antique chair, a side table and an old easel for a sketching station where guests could draw each other with pencils and felt tips. We also provided a pétanque set and converted the lower half of the hall in the grounds into a children-only space complete with duvets, mattresses, bunting, bowls of sweets and popcorn and a film projector."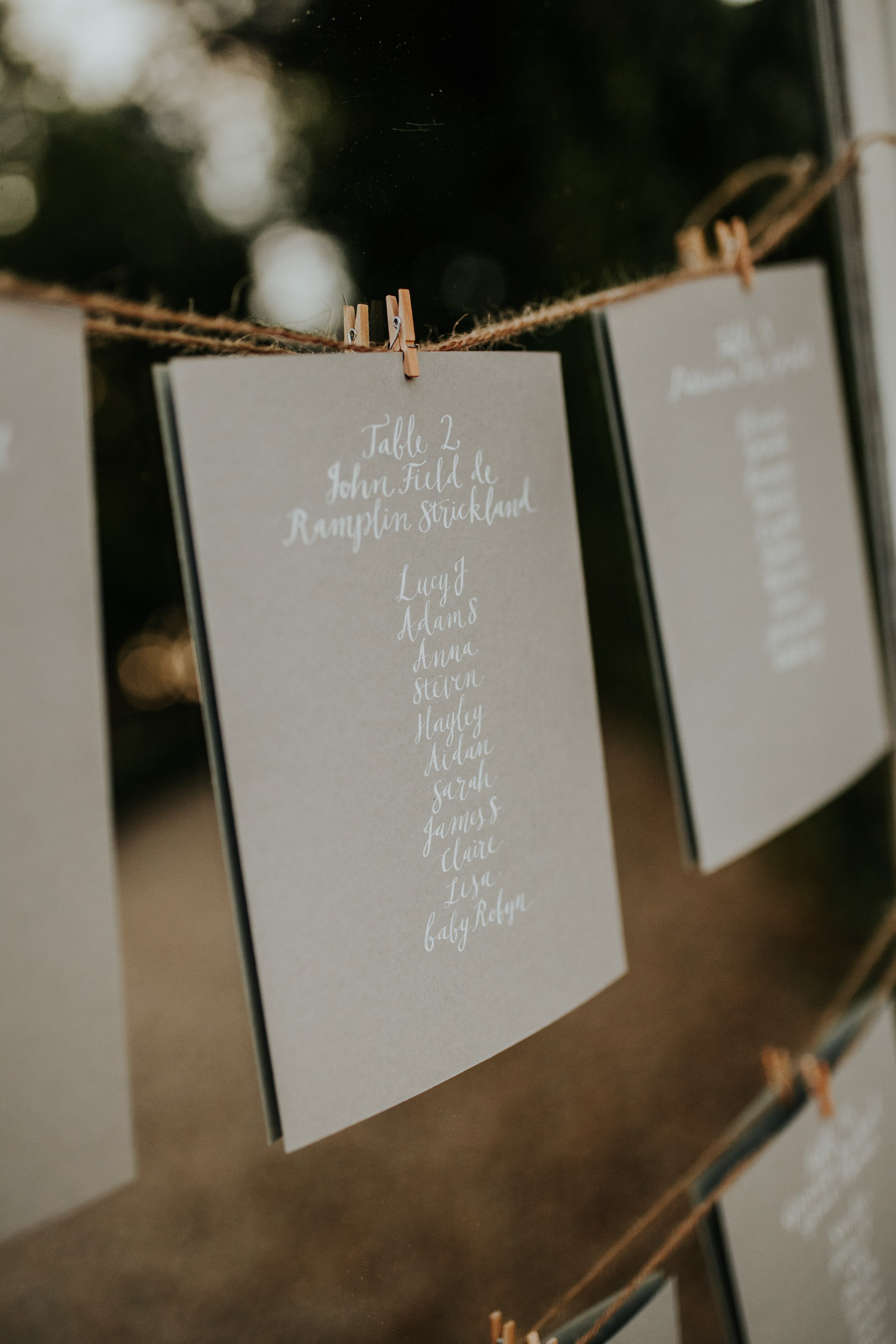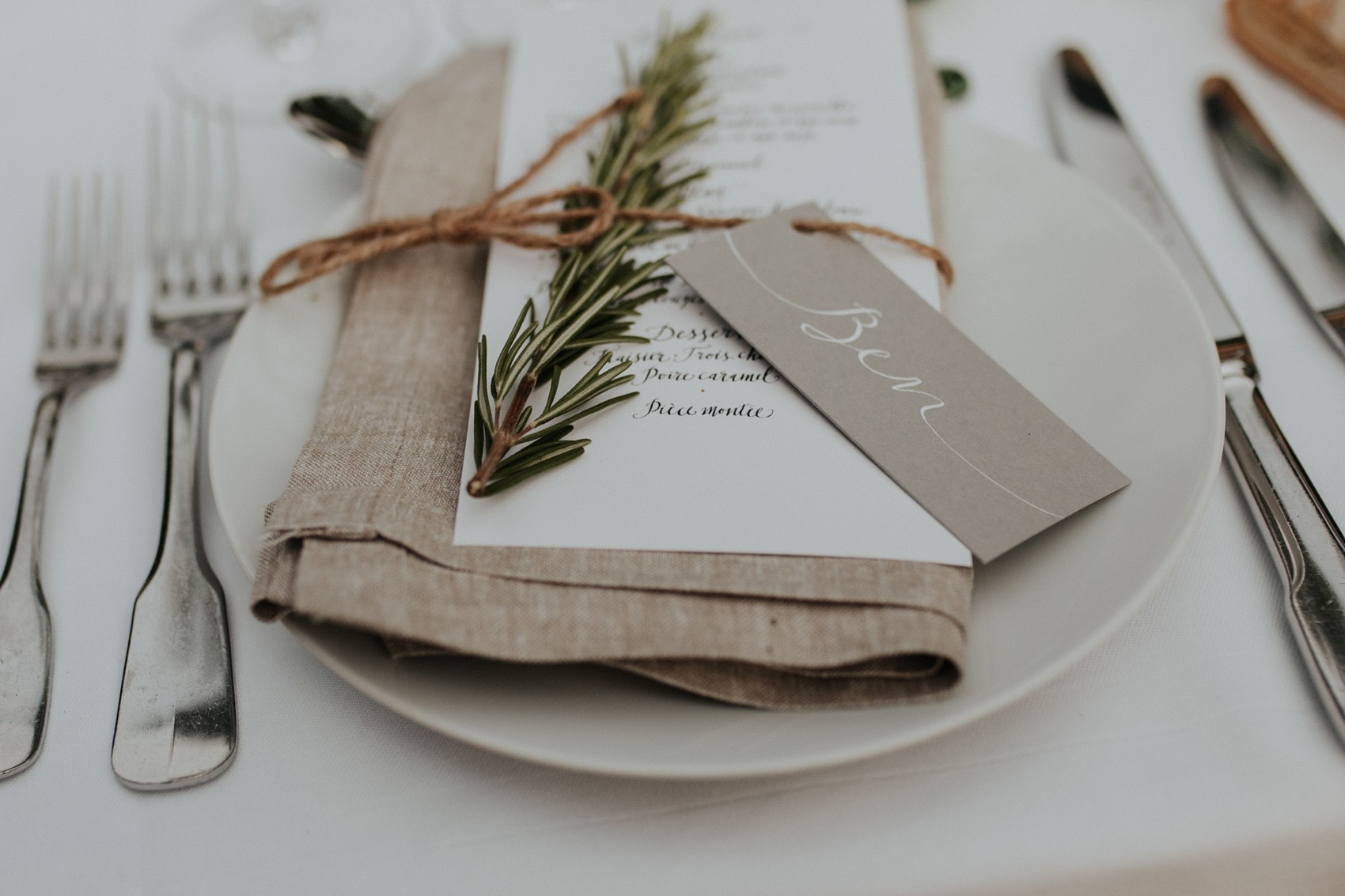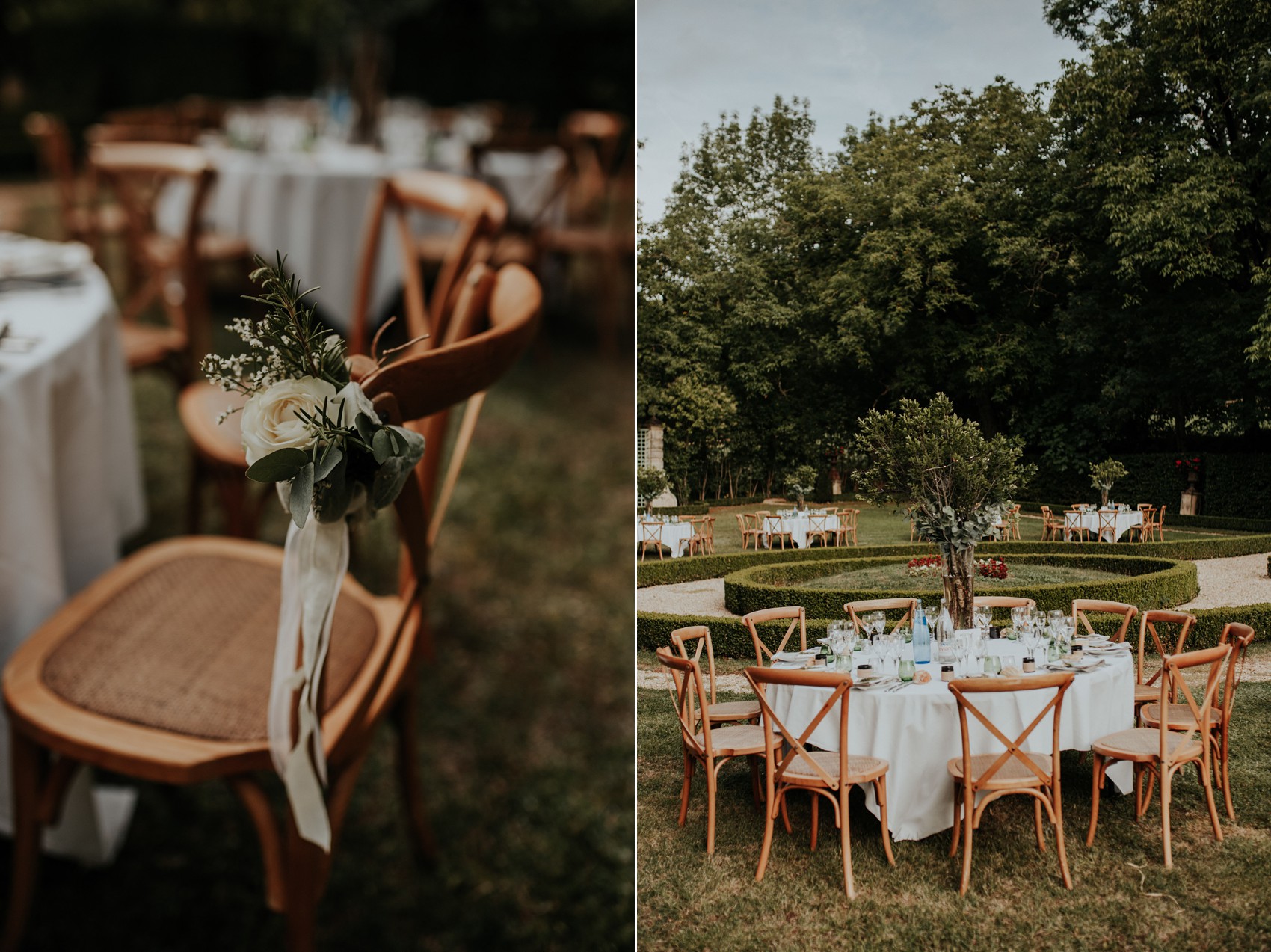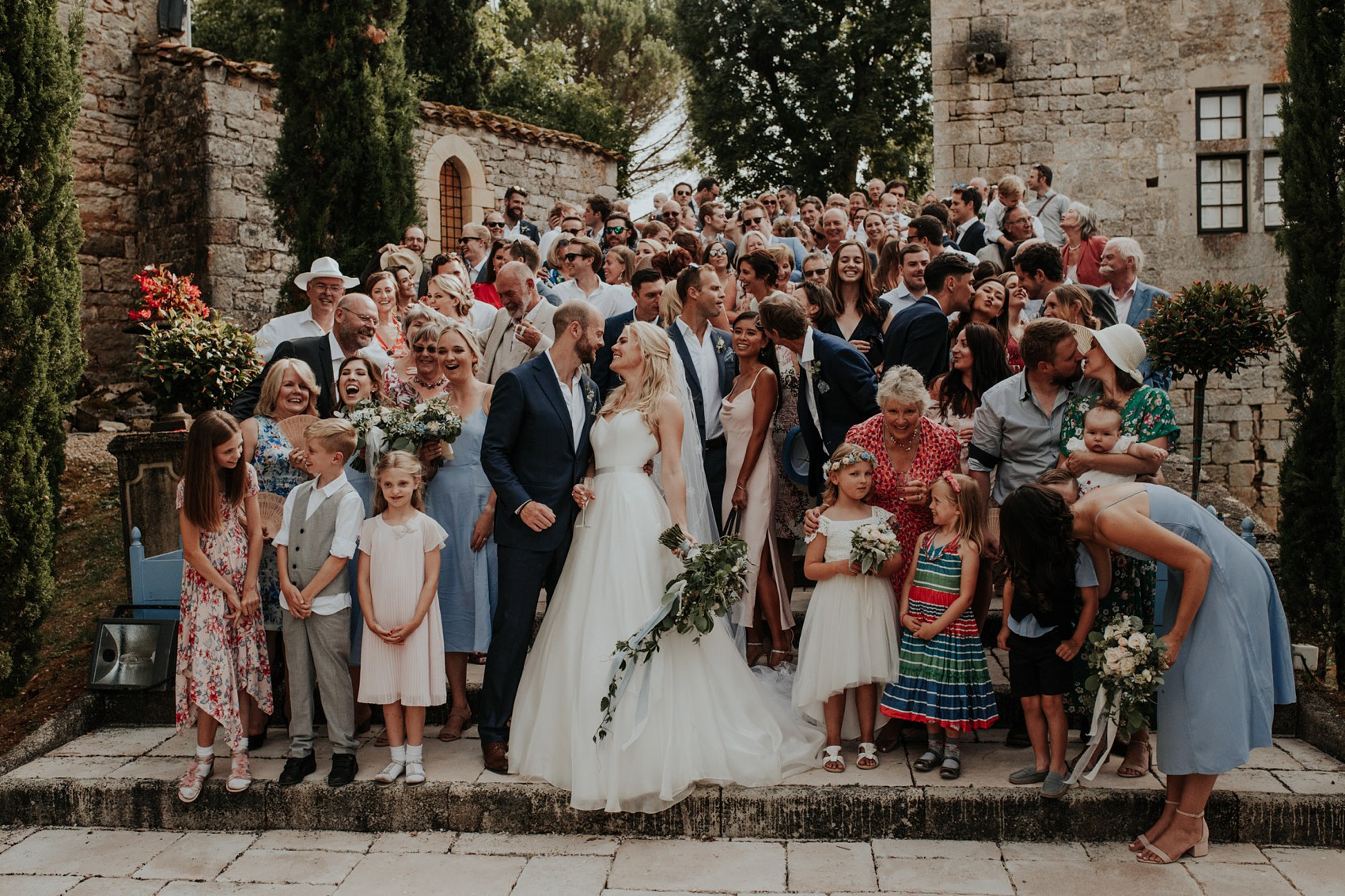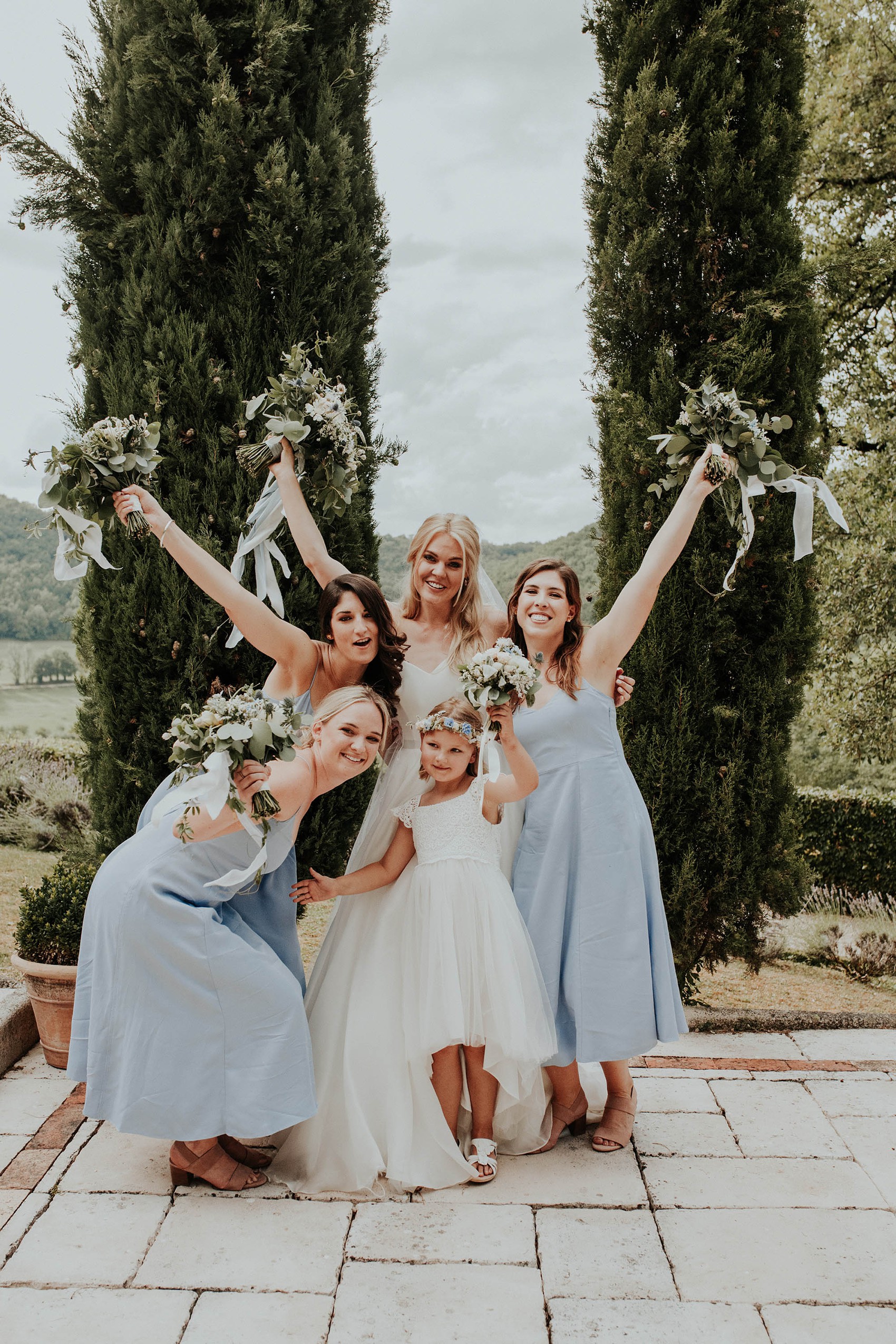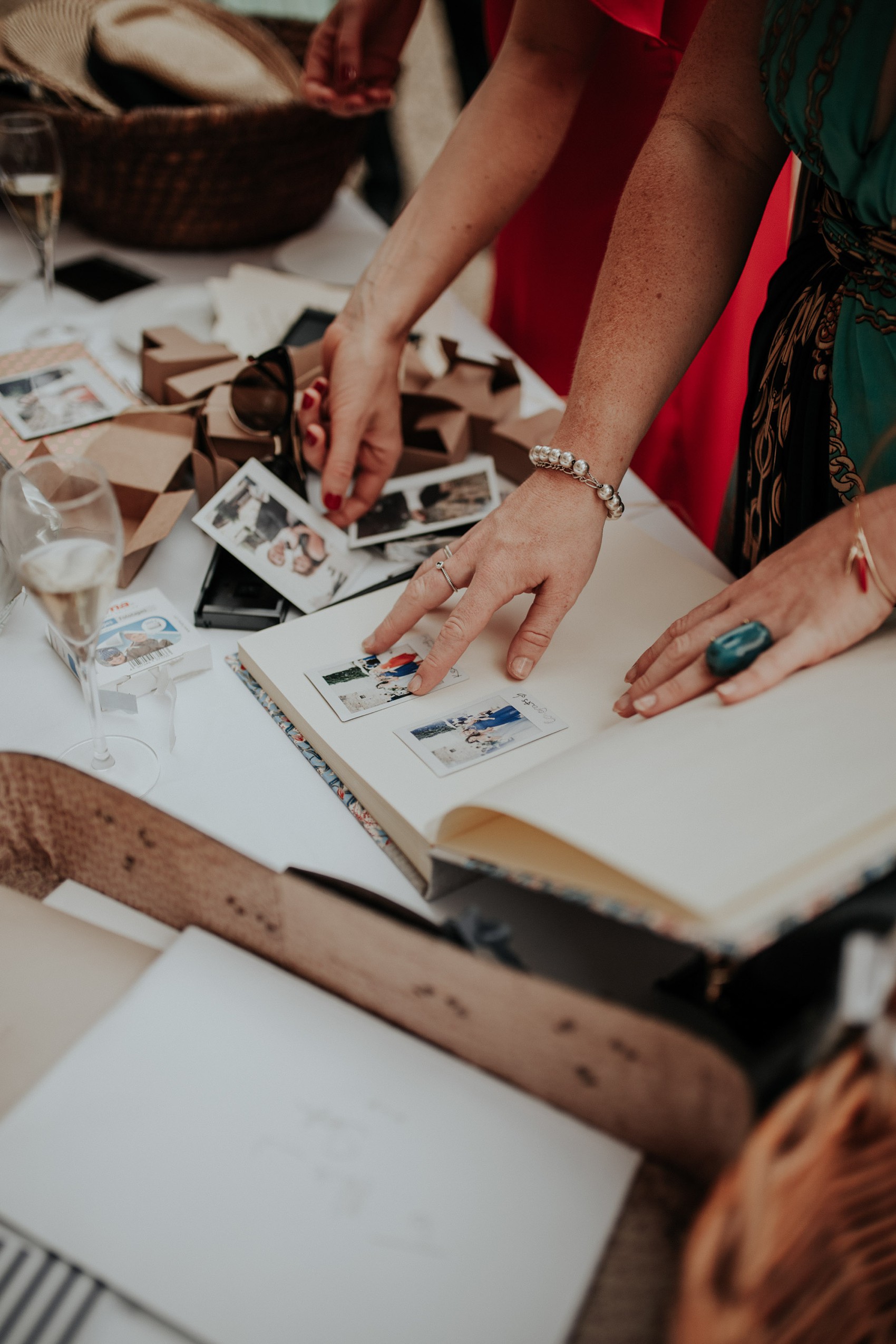 I've been blown away by the sheer beauty and timeless essence of these photographs by Karolina B. Photography. Her signature, fine art style encapsulates the dreamy, romantic day to perfection.
"Karolina was wonderful. She managed to capture so many details and was un-obtrusive whilst managing to ensure she got the shots that mattered absolutely perfect. The portfolio was filled with the warmth of the day and was delightfully extensive. Not only a great photographer but a lovely person, we couldn't recommend her more."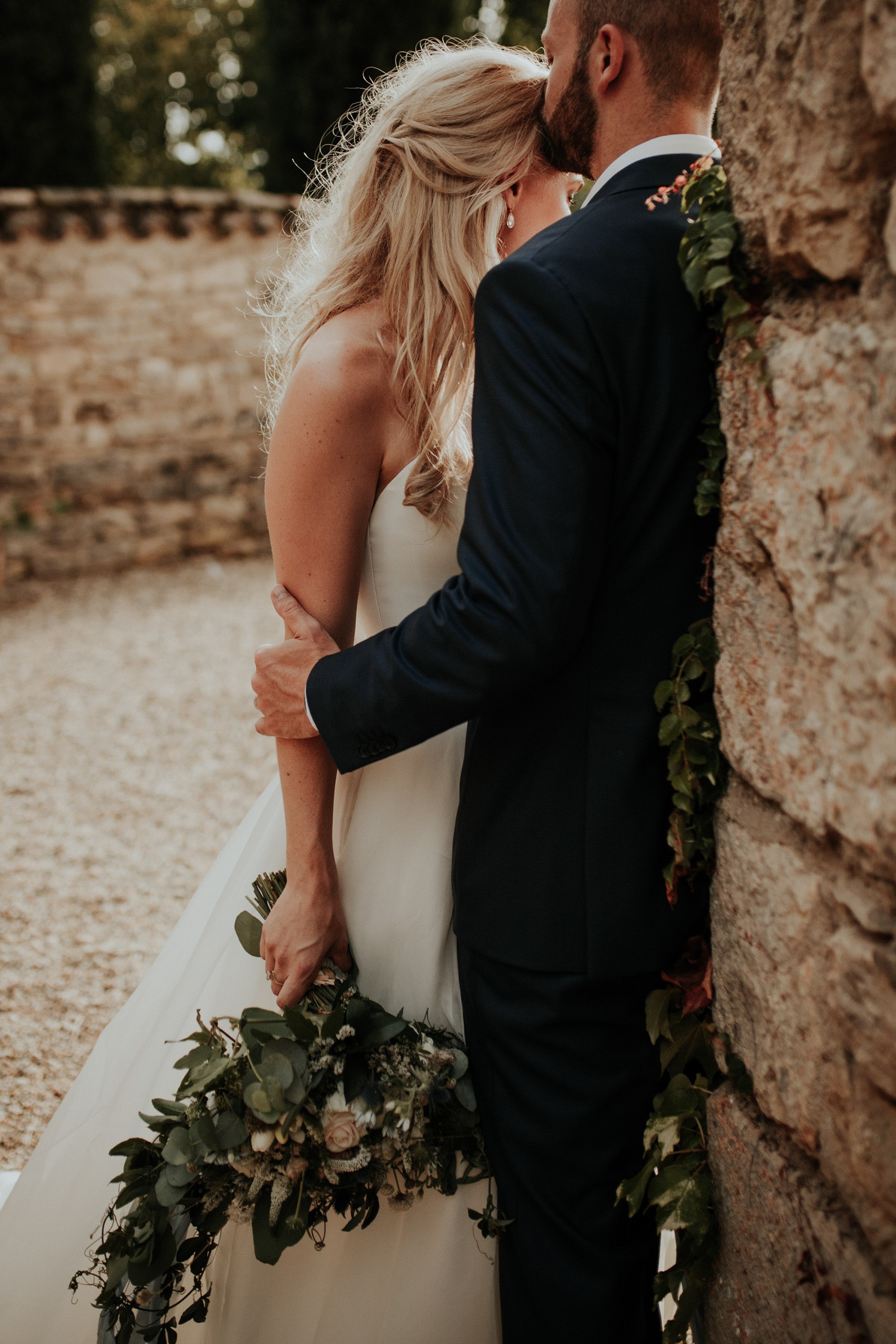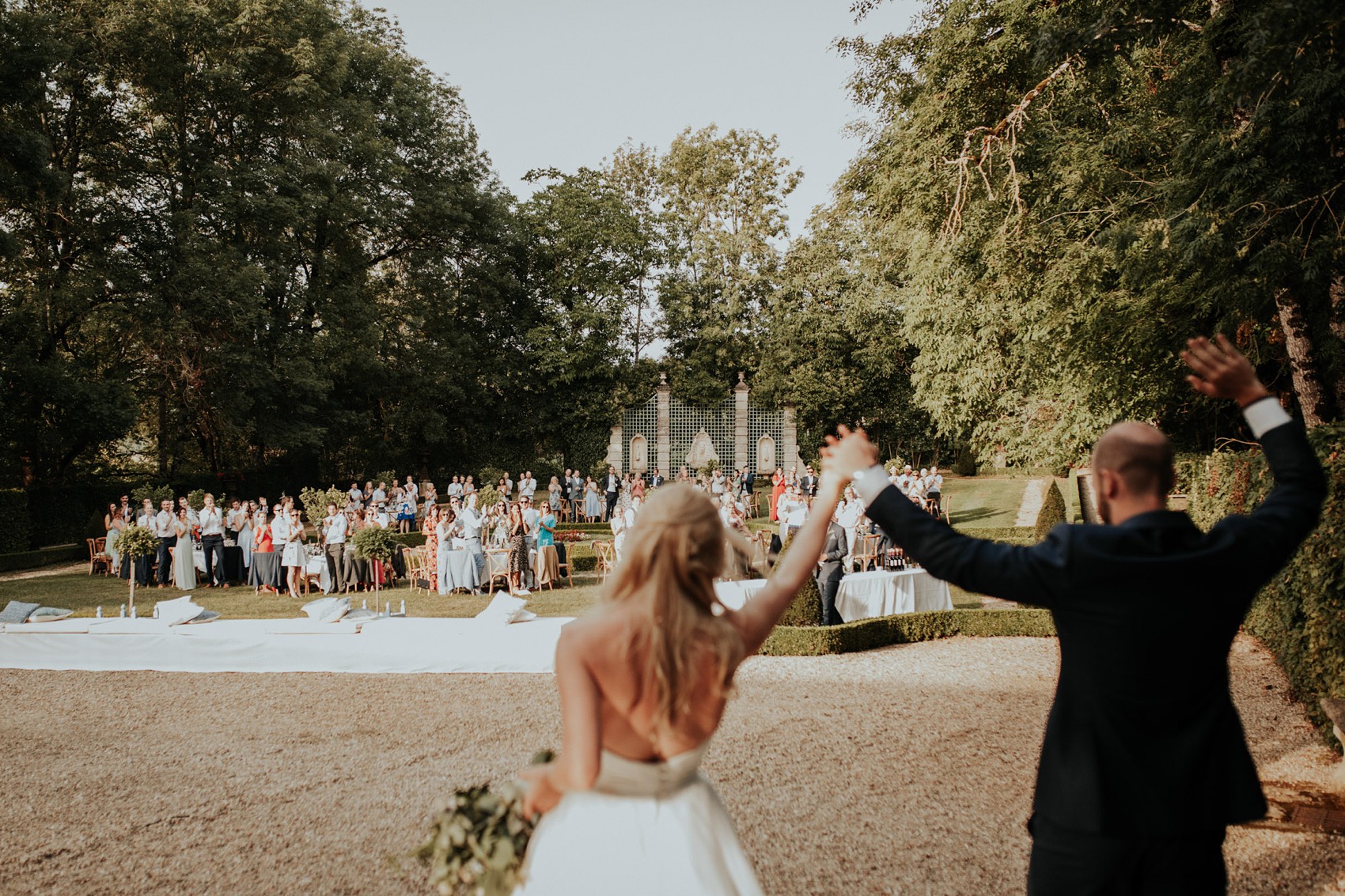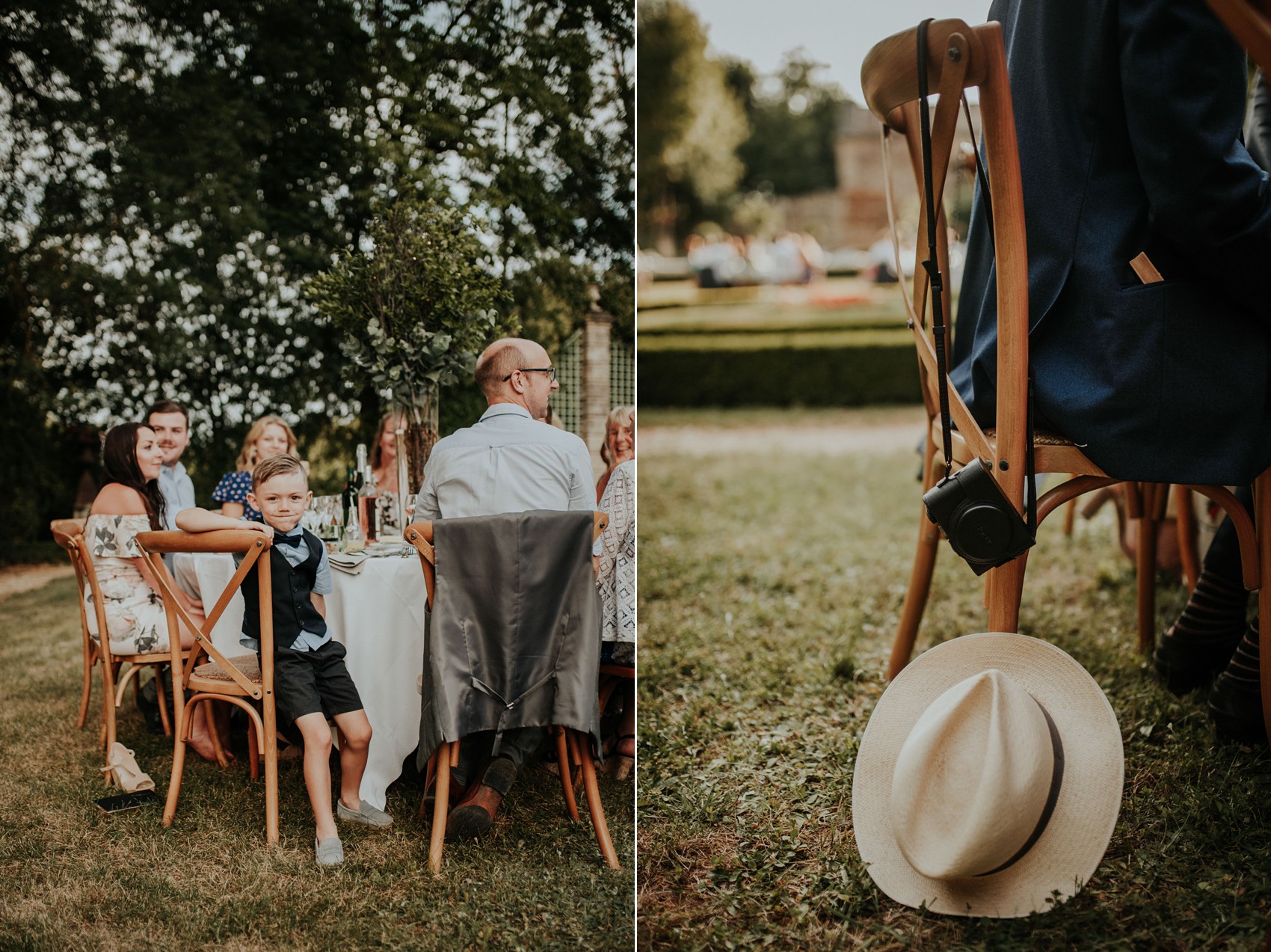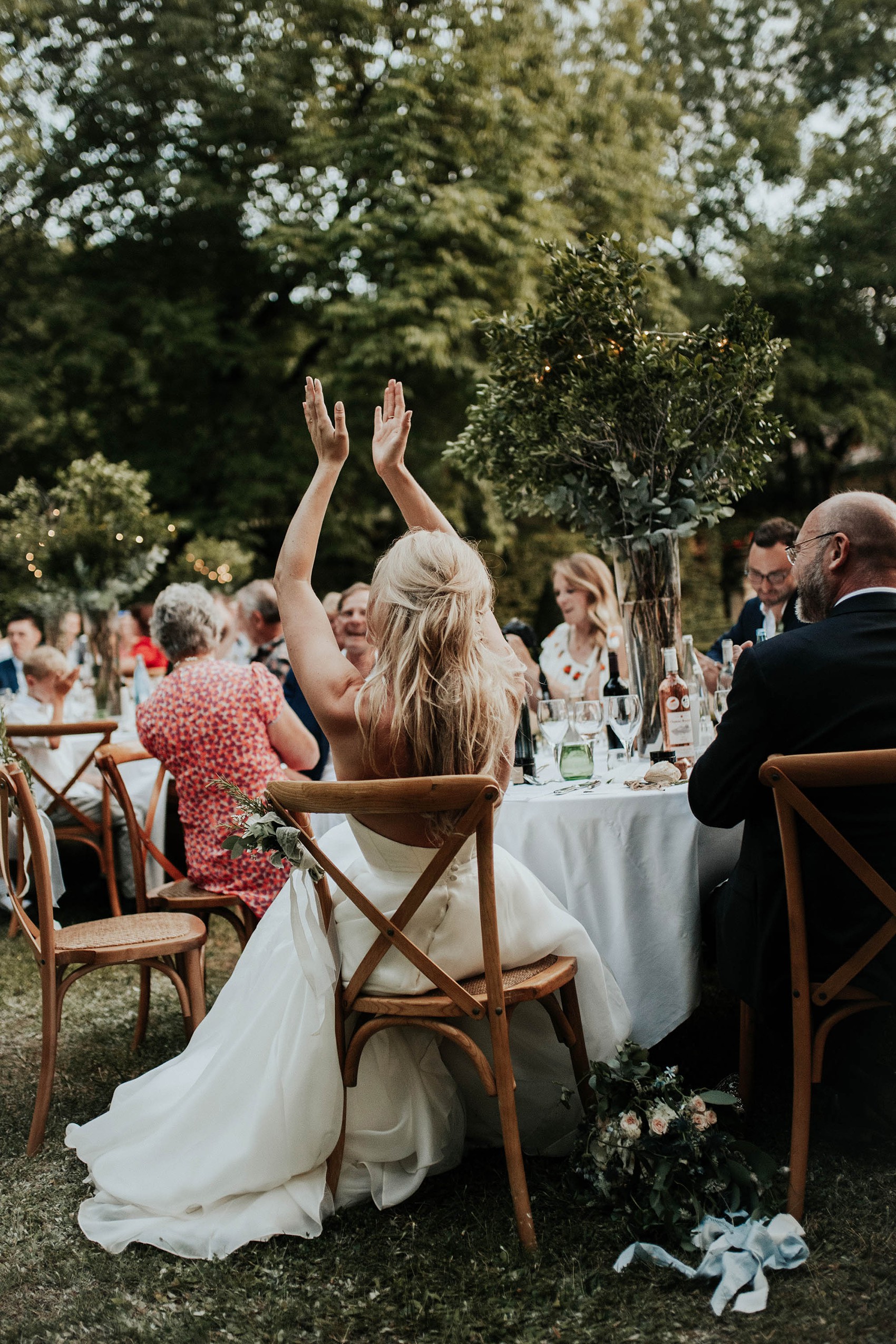 "I found a few beautiful pictures of old side-boards converted into bars and spent a fair few days trawling through local troc shops and brocantes to find a 'buffet' table big enough. We found one, painted it in dove grey chalk paint and removed the back so the bar staff had somewhere to store glasses and soft drinks. It turned out to be perfect and looked beautiful flanked by black iron candelabras. We also set up a secret tequila corner in the garden. We thought only our friends would find and take advantage of it but we saw our parents and their friends sneak off to take shots all night."
"I hand-made scented soy candles for each guest with jars from Baldwins and soy wax, wicks and different scents from Supplies For Candles. I picked three scents – one floral, one spice, one citrus – and spent several happy evenings designing and printing personalised labels."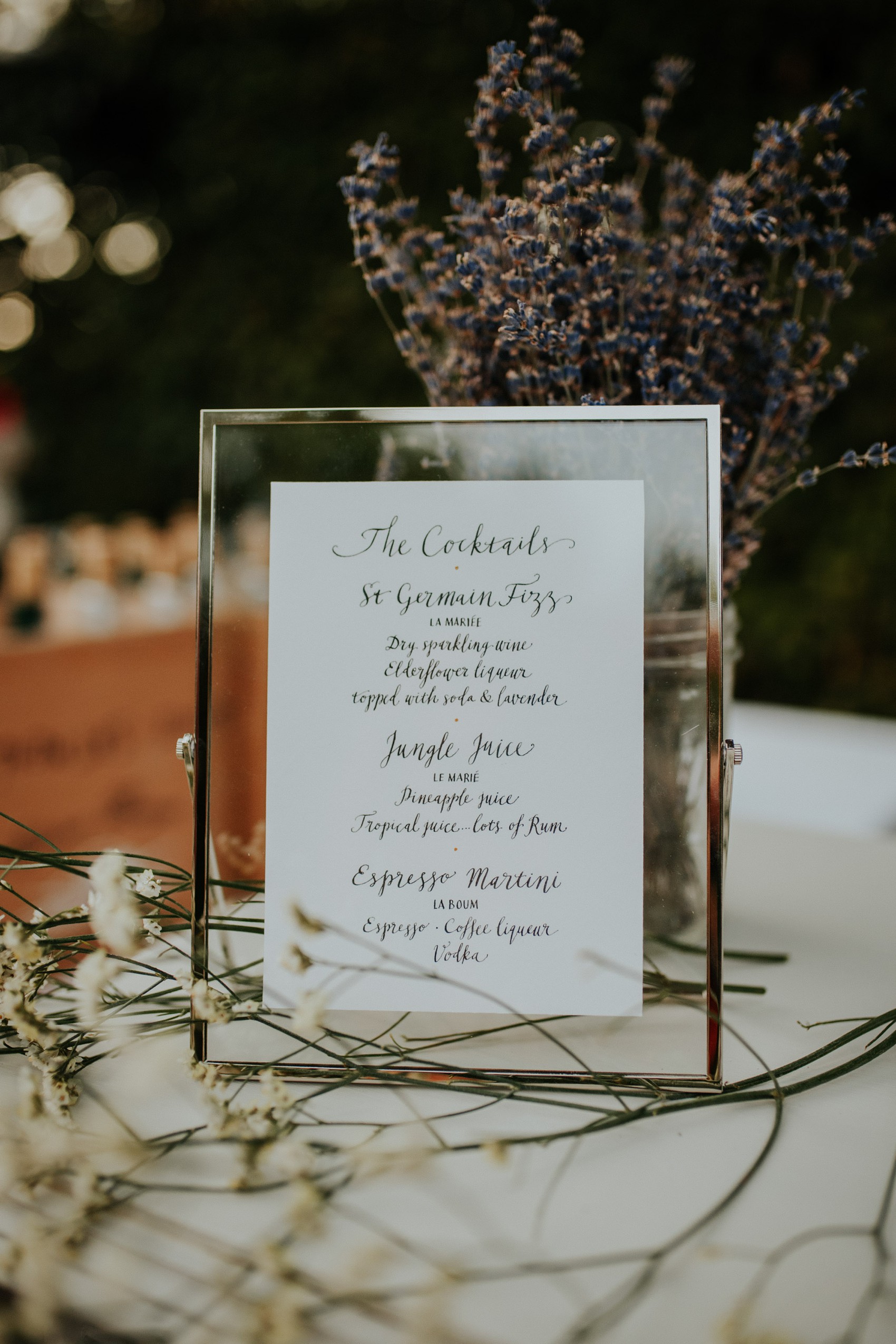 A French country feast was served al fresco as day turned to night.
"La Gamelle Gourmande did French country cooking and plenty of it, piled on platters for guests to share. She did not disappoint. We opted for an amuse bouche known as a Trou Normand (a 'Norman Hole') – a traditional middle course of calvados and apple sorbet and served a traditional croquembouche with coffee and espresso martinis after dinner."
"Our drinks were a Lavender and St. Germaine cocktail for France and Manchester Gin and Tonics for the UK with classic bottles of Orangina on ice as a throwback to our childhoods holidaying in the French countryside."
The wedding cake, topped with white sugar peonies, had been lovingly-made by Stephanie's mum and deserved a show-stopping entrance of its own.
"Nick and I had noted that the fan-fare of cake-cutting sometimes gets lost and we were adamant that wasn't going to happen after all mum's hard work. We arranged for it to be carried out after dinner with entrance music – the theme to 'A Space Odyssey 2001' (a favourite track of my dad's) – and fireworks. My mum cried with laughter. It was four tiers of classic fruit cake, red velvet, coffee and walnut, and lemon."
As night fell, the court-yard was transformed into a magical dance-floor, lit by fairy lights and candles. Nina Simone's classic 'Feeling Good' was the newly-weds' first dance song under the stars.
I must share the couple's gorgeous, personal idea for wedding gifts.
"We both love to read so we asked each guest for a copy of their favourite book with a little note inside. We have quite the library to get through as a result. I think people really enjoyed thinking about what they'd choose without worrying about expense. It's so interesting to see what people love reading!"
"We also asked for family or favourite recipes. Grannie's cookie's, brother-in-law's vegan chilli, great aunt's best chocolate brownies, cousin's perfect fish risotto… our repertoire has grown considerably and we love that they're hand-written and from the heart."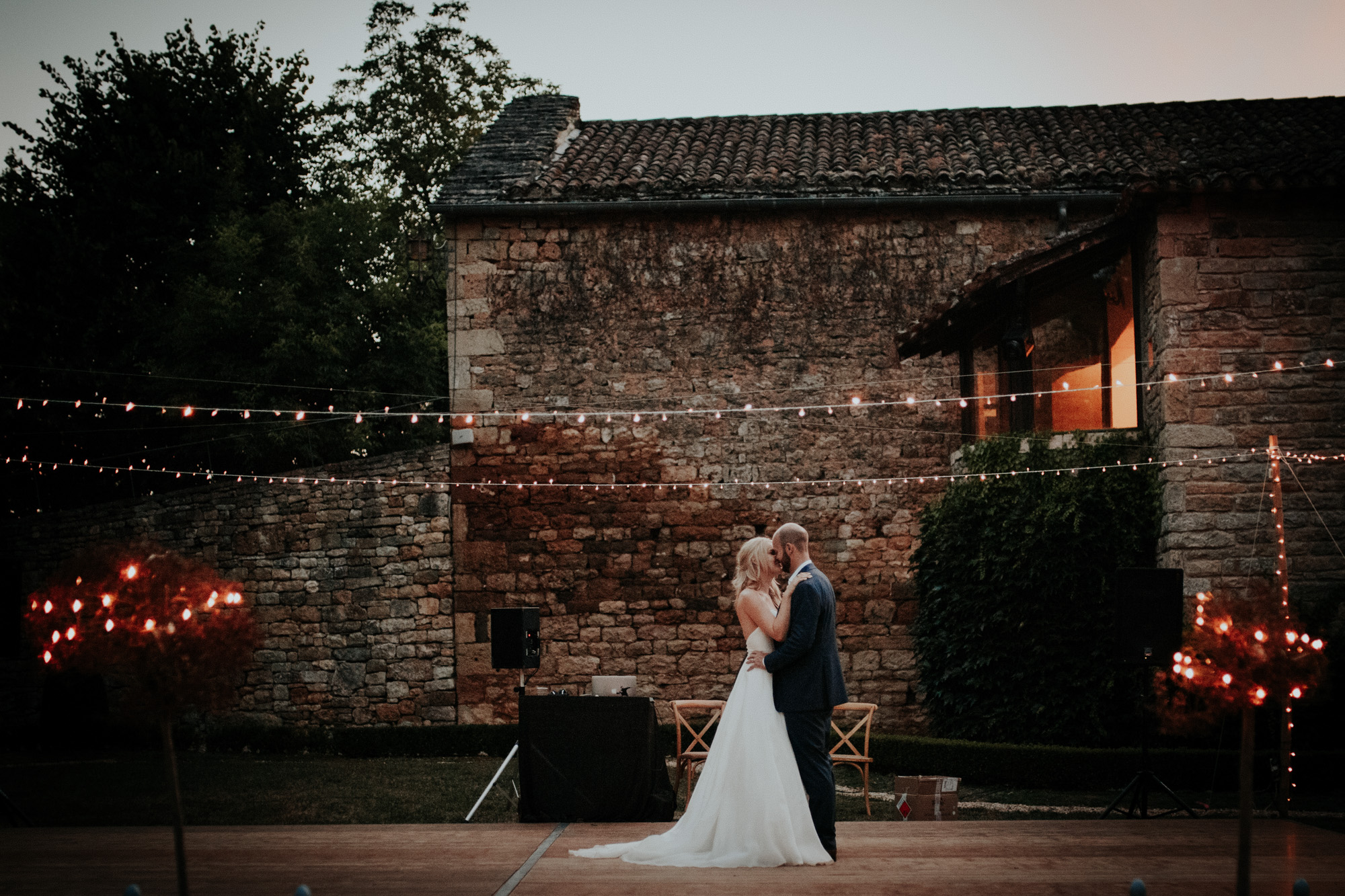 Words of Wedded Wisdom
"An email to parents about your plan for littles ones goes such a long way. We gave everyone the opportunity to let us know what they'd prefer for their kids, especially on food. We had a children's buffet in the hall (served earlier) but also asked parents to let us know if they wanted their kids to sit with them at dinner and eat from the adult options."
"A children-only space in the cool was ideal. Several child-minders watched the eleven children under twelve so their parents were free to relax. Kitting this room out was one of the best investments we made and it ensured our friends and family with little ones actually managed to enjoy themselves."
"When we started writing speeches we sent a note to our best people and parents asking for them to cover specific 'thank-yous'. We wanted to avoid repetition whilst making sure we had everyone covered."
"Think through your time schedule from your guest's perspective. As boring as it sounds we were absolutely regimented and were so much more relaxed because of it. We didn't want people waiting around, getting hot, thirsty, hungry, or bored. Knowing everyone was content was so much more relaxing and enjoyable for us."
"When writing your vows set expectations and limitations. We wanted to make sure one of us wasn't up there reading an essay whilst the other just listed three bullet points. We set a structure of 'Intro, four promises, close' and minimal free-styling. It prevented us waffling, repeating ourselves and helped enormously in the actual writing (which is always hard, regardless of how desperately in love you are!)."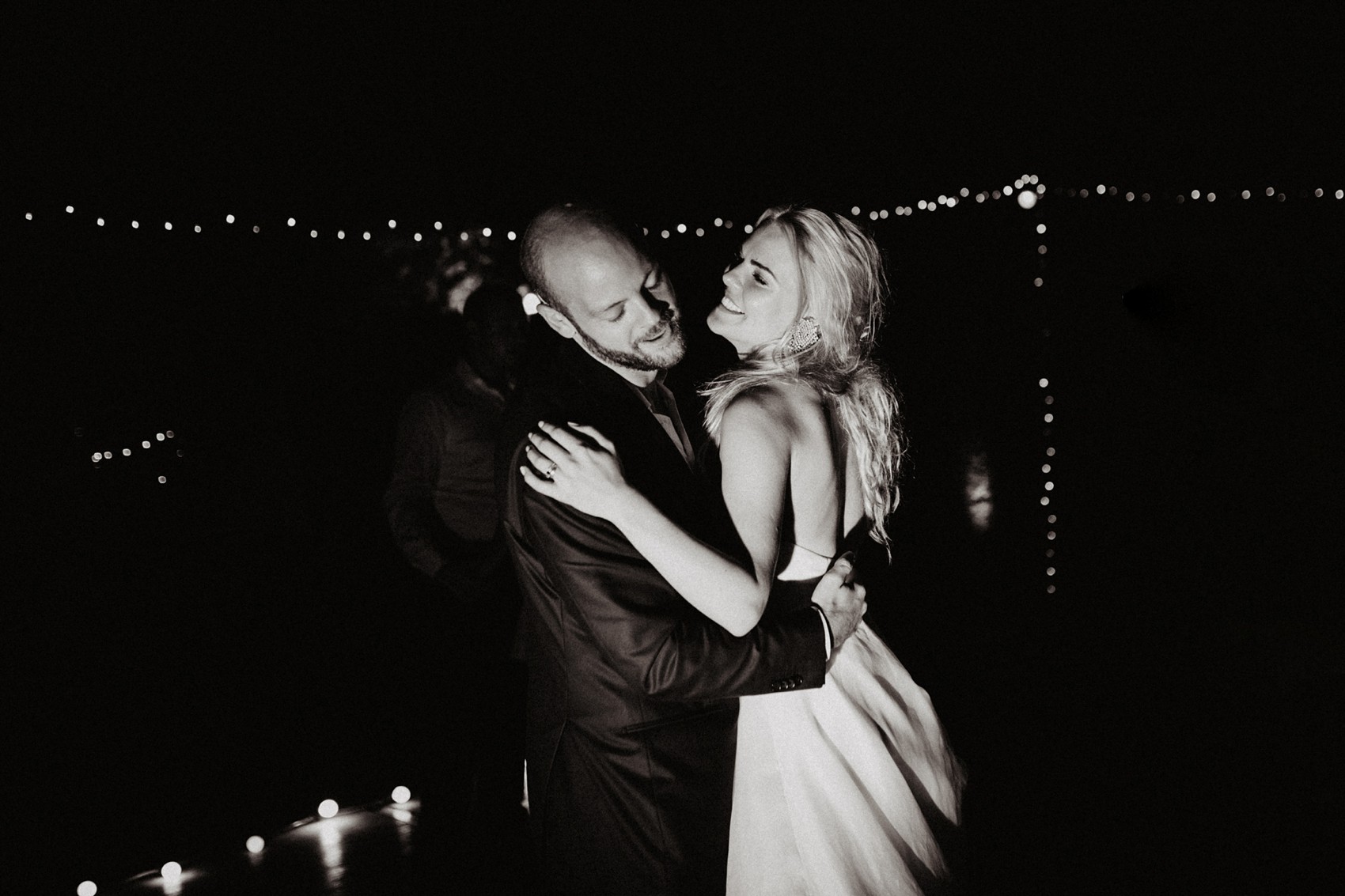 Is anyone else as madly in love as I am? Sending Stephanie and Nick so many thanks for sharing your beautiful celebration with us, and thanks to Karolina B. as well. For more dreamy French château weddings please take a look here or to see other brides in Caroline Castigliano gowns we have so many to share here.
Ele x