How is it the end of January already? Soon the sun will be getting warmer and there will be a noticeable change in the length of the days, and I'm already looking forward to the start of spring.
Today's wedding has already got me enthusiastic, as the photographs we are about to see are total blossom, flower and sunshine joy. Let's say hello to dentist Jeanne and firefighter Lee, who wed on 20 April 2019 in a humanist ceremony at House for an Art Lover in Bellahouston Park, Glasgow.
The day was infused with lots of stained glass colour, and took the style of the iconic venue, designed by Charles Rennie Mackintosh, as their inspiration. There were also some charming nods to Lee's Irish heritage and Jeanne's Scottish roots – think shamrocks and local, seasonal flowers – to create this glorious, modern look. They asked our own Little Book Wedding Directory members The Gibsons to capture the celebration in their signature crisp, modern, fresh style.
The Gibsons Photographers

+ Follow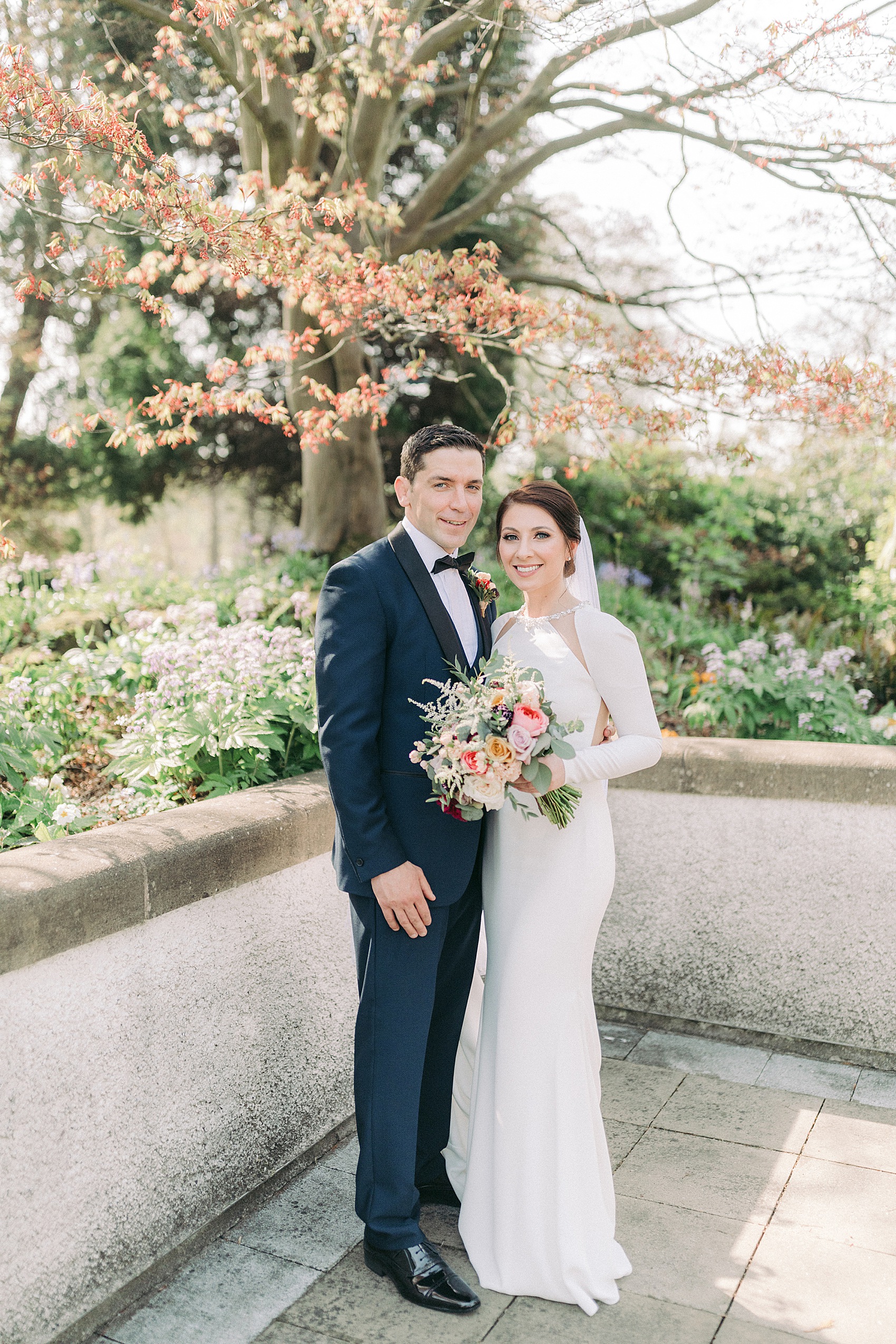 Jeanne had seen The Gibsons' work on Love My Dress, and also seen them in action at a few of their friends' weddings, so knew that their relaxed and modern approach would suit their intimate wedding. Please do check out their Little Book listing to find out more about this duo.
"I couldn't rate Chantal and Scott highly enough. We were absolutely over the moon with our photos."
"They did an engagement shoot with us to prepare us for the day which meant things ran really smoothly on the day and we were much less uncomfortable. They both helped us out a lot on the day, getting things ready in the morning, Scott fixed my dress and veil for me all day long."
"We were looking for natural shots as neither of us are very confident in front of the camera and we also didn't want to spend a really long time on the day having photos taken. Chantal and Scott were amazing. They took us aside for no more than 45 minutes and got better photos than we could have ever imagined."
The modern lines of Charles Rennie Mackintosh designs were echoed in the contemporary and clean style of Jeanne's Sottero and Midgley 'Arleigh' gown with its unusual cut-outs and illusion back. A discreet sparkle came from the jewelled neckline and back seam. She chose this figure-hugging gown at Annarose Bridal Boutique in Dundee.
"I knew I wanted something quite plain and with long sleeves, I never saw myself in a big princess dress of anything strapless – it's just not me."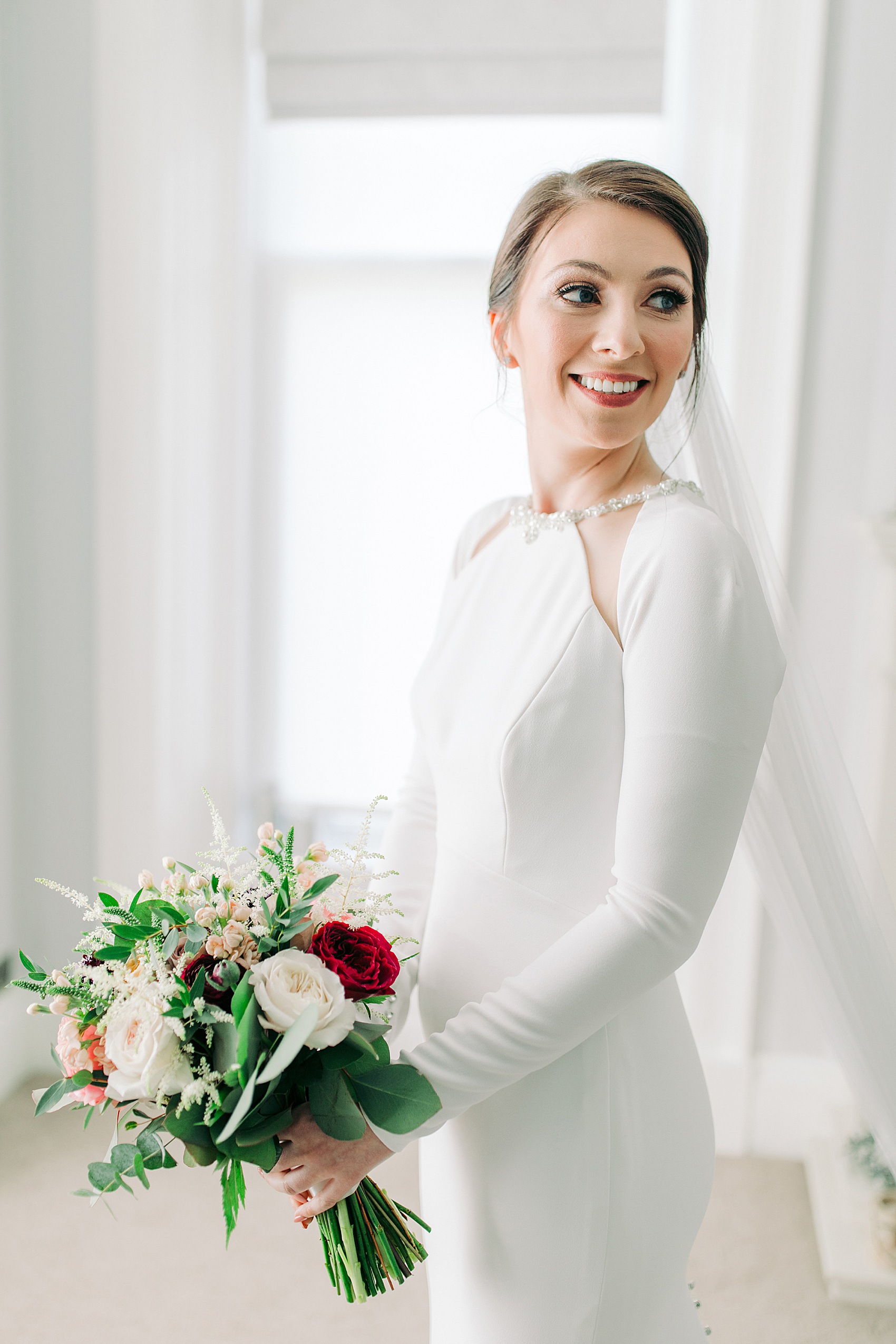 "The dress was posted on Facebook and I organised to go up to Dundee and try it on over Facebook Messenger. They were very accommodating and it was easy to arrange. The dress was in the sample sale and it was in perfect condition so I was really happy with it. It was the only dress I tried on. I got my dress altered by Alter Girls in Glasgow. My original alteration plans fell through and I had to arrange it really last minute. Carol worked a miracle."
The bride's accessories, including her simple diamond studs and porcelain, floral hair comb, were from Eden b. Studio. Shoes were from John Lewis and her scent was Charlotte Tilbury's Scent Of A Dream. Flowing behind her was her pure white veil, also from Eden b. Studio.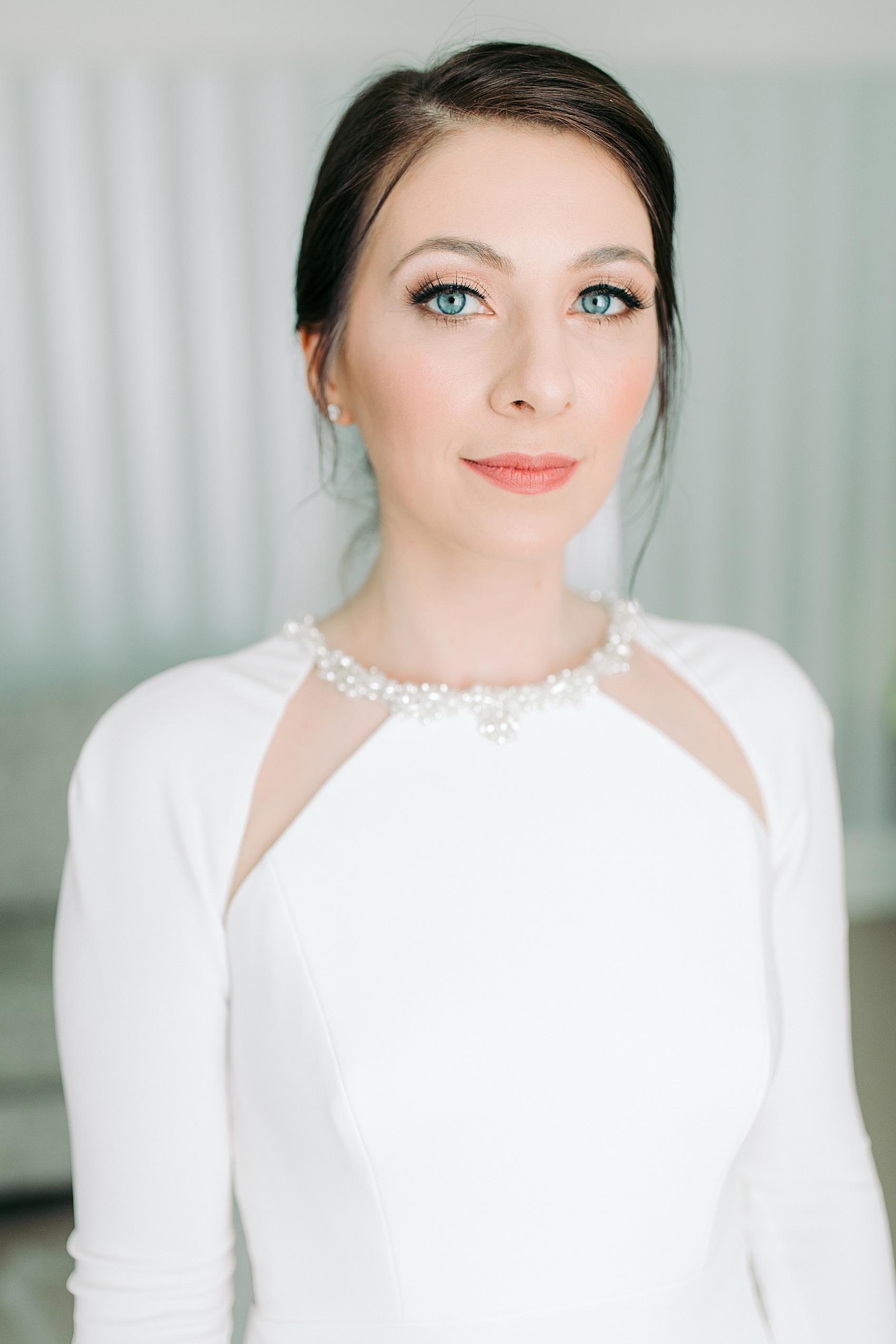 Echoing the diamond white of her gown were the flowergirls' dresses from JJ's House. To fit in with the Scottish location, her pageboys wore adorable little kilts and ties from Highland Cathedral Kilts in Renfrew. In these photos, it looks as if Jeanne thoroughly enjoyed the relaxed morning surrounded by her closest family.
"I loved sitting around in the morning getting ready with my mum, sisters and nieces. I didn't have bridesmaids. Instead my family were my bride squad."
"I bought my sisters' and mum's jewellery from Swarovski. We got my brother some socks from Gucci and all of the groomsmen hip flasks from Notonthehighstreet.com.""We thought that House for an Art Lover was a beautiful venue that was perfect for the small wedding that we wanted. Because I am from Glasgow and Lee is Irish we wanted to represent both cultures and the venue is perfect venue to represent Glasgow's style."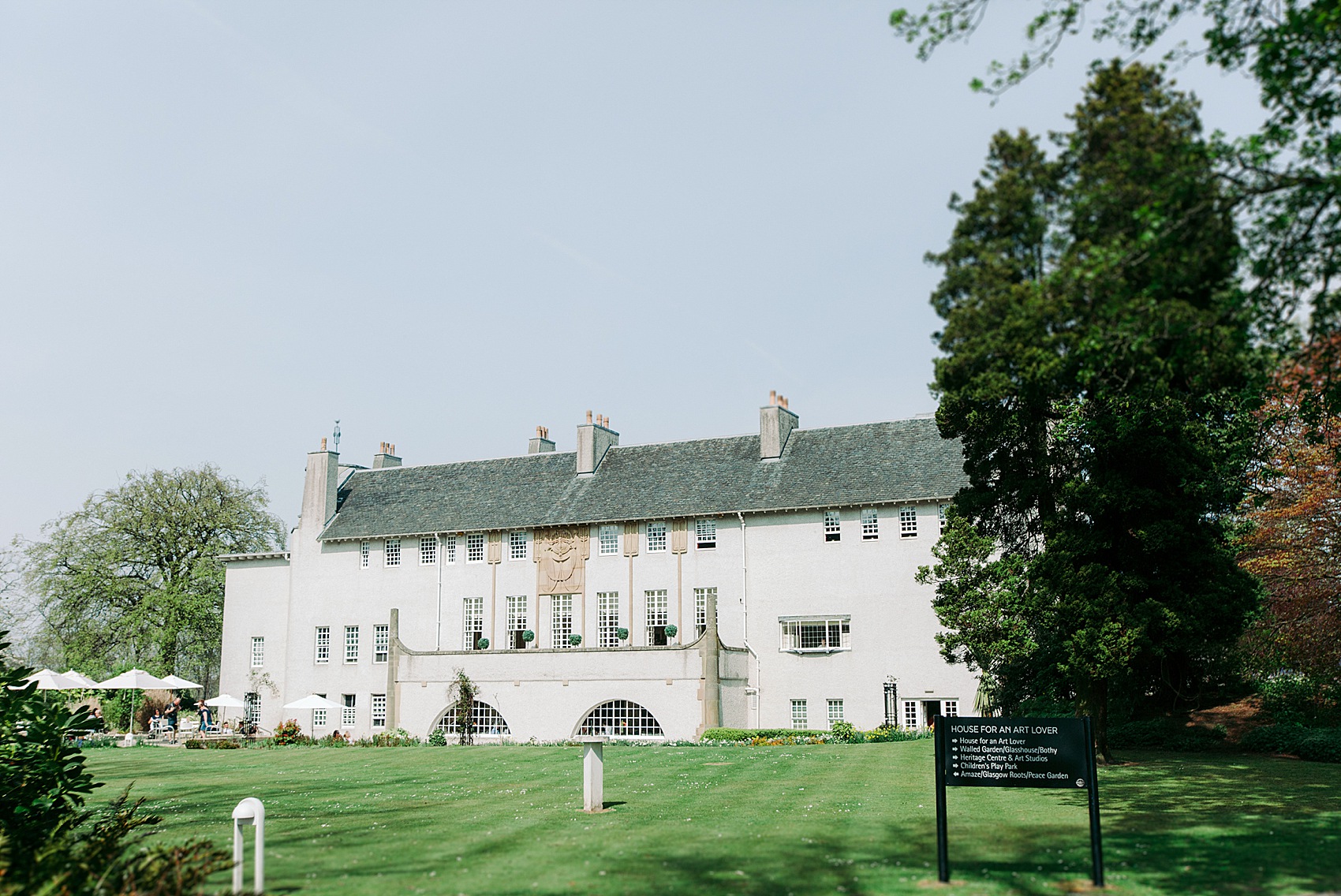 "We really wanted to have a lot of colour and I also love stained glass. We love the style of Charles Rennie Macintosh and we wanted everything to be in keeping with the style of the venue."
"We also wanted to introduce some Irish design so we had little shamrocks incorporated into the design and we had the lyrics to 'Ireland's Call' in a gold graphic outside the venue. We had ladders as part of the back drop for our ceremony as a nod towards Lee's job as a fire fighter."
The wedding day dawned bright and fresh and the House's gardens were in full blossom, making such a gorgeous location for a wedding. Jeanne travelled there in a car from Carrs Loch Lomond before walking down the aisle with her dad. There was musical accompaniment from vocal and guitar duo ByJune and the ceremony was led by humanist celebrant Anna Drysdale.
Lee looks so suave in his Hugo Boss blue dinner jacket with contrasting black lapels, an injection of colour coming from his bright buttonhole.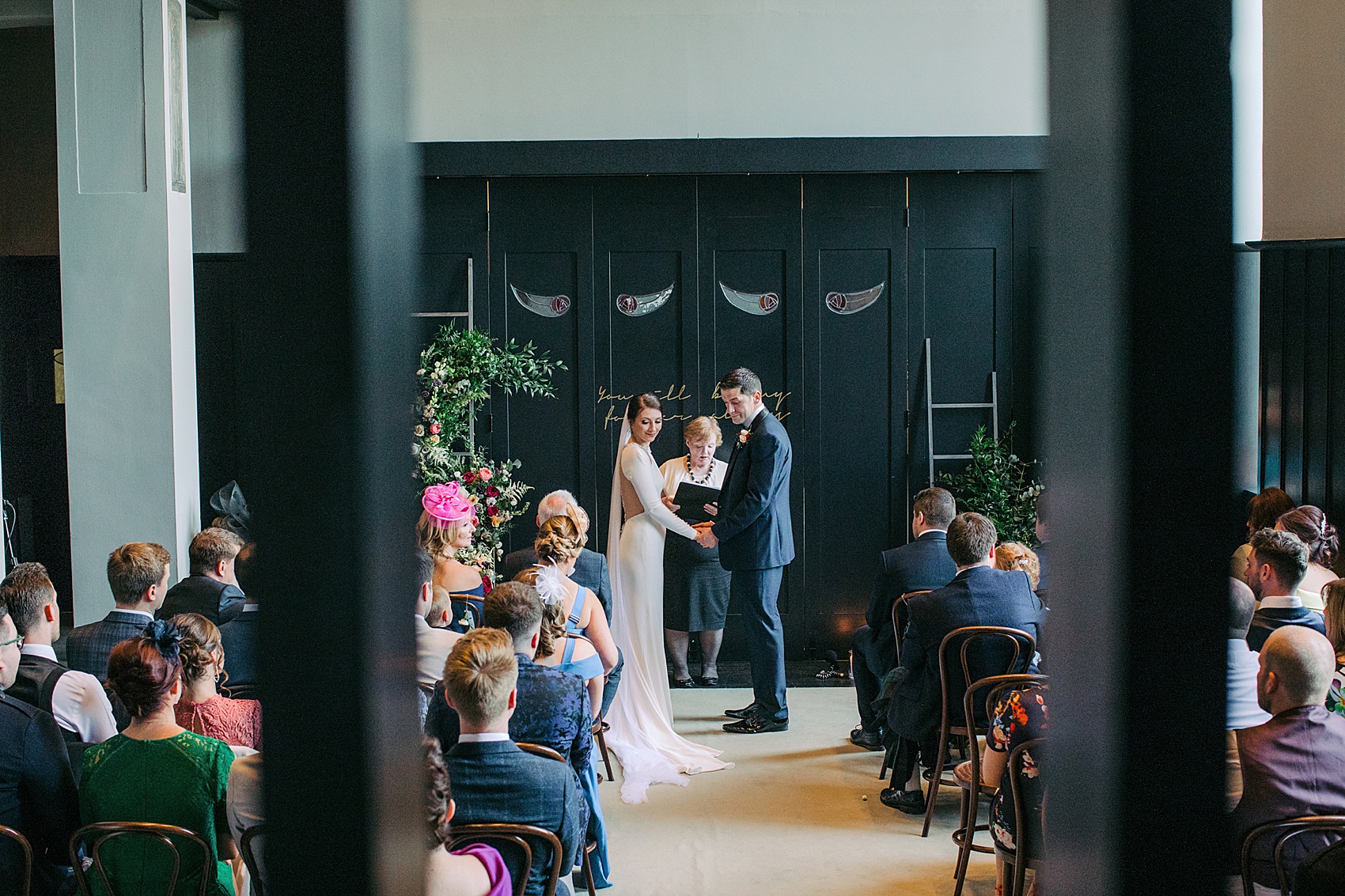 "ByJune kindly learned a version of a song for us and sang it while we walked down the aisle. The song was 'Can't Help Falling In Love' best known by Elvis. The version they sang was actually inspired by a cover sang in the movie 'Crazy Rich Asians'."
Lee and Jeanne wrote their own vows for a personal and intimate feel, but also ensured it was laid-back and relaxed.
"Anna Drysdale was excellent.  She kept in touch with us throughout our planning and made sure that we were prepared and knew what to expect on the day. The ceremony was very personal and relaxed like we wanted. Anna even volunteered to be a runner on the day if there were any last minute errands."
"My sister read 'The Bridge Across Forever' by Richard Bach: "A soul mate is someone who has locks that fit our keys, and keys to fit our locks. When we feel safe enough to open the locks, our truest selves step out and we can be completely and honestly who we are; we can be loved for who we are and not for who we're pretending to be. Each unveils the best part of the other…." It is a contemporary reading and we just felt it suited us."
"Lee's sister chose a reading of her own to read – 'How Falling In Love Is Like Owning A Dog' by Taylor Mali. It was perfect because our dog is our baby and because people found it funny, which made the overall ceremony more relaxed which we wanted."
The couple's rings were simple, made to order, wedding bands from James Porter & Son and after they were exchanged, the whole party spilled out in to the gardens to soak up the sun.
"It was such a beautiful sunny day that just being outside with our cocktails, listening to the girls singing and chatting to everyone was just the best. Lee and I made sure we spent a lot of the day together and we tried to soak everything in as much as we could."
As the guests relaxed in the sun with more music from ByJune, the couple had a few minutes to themselves for their sun-drenched portrait shots before moving back inside for a wedding breakfast created by the venues in-house caterers.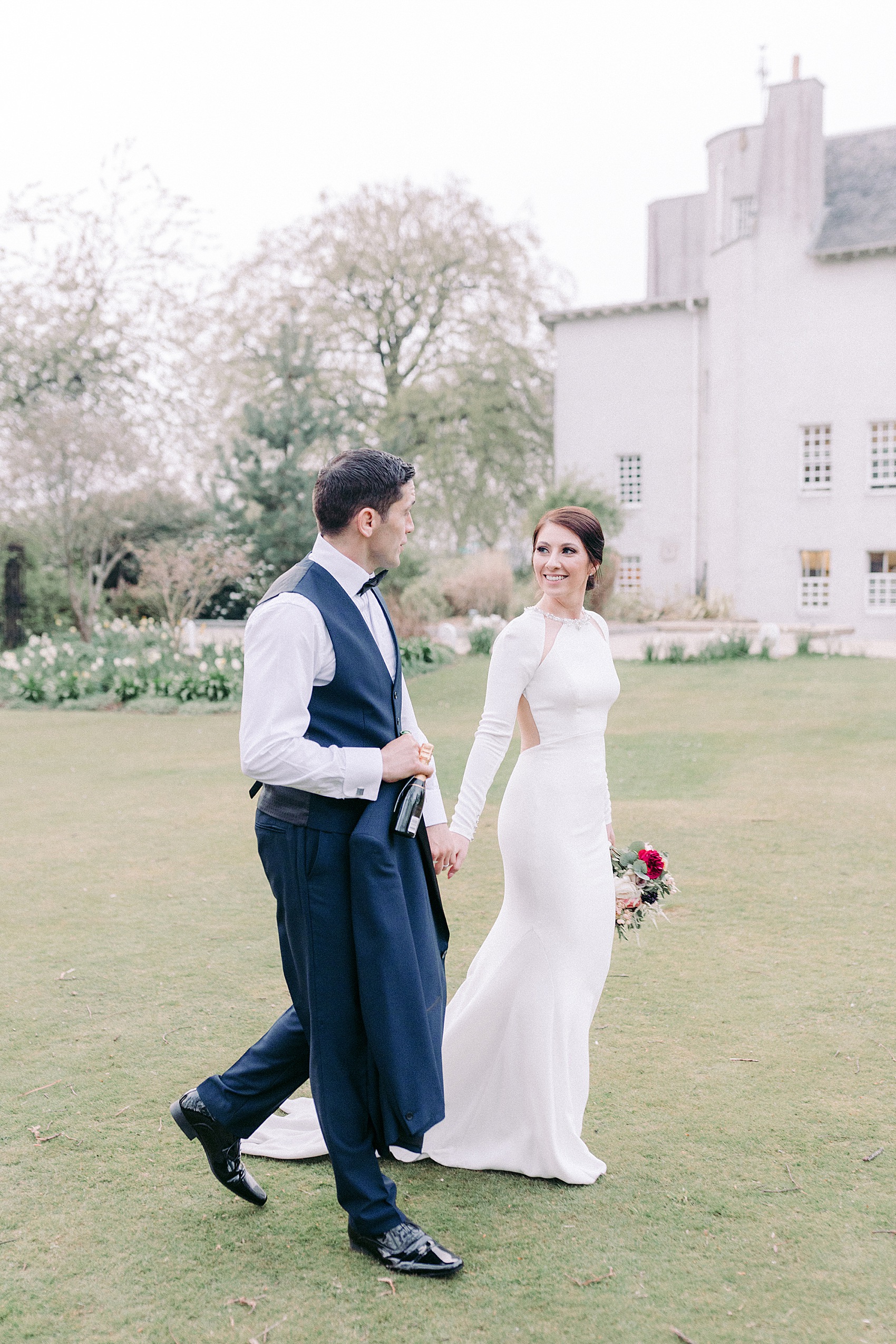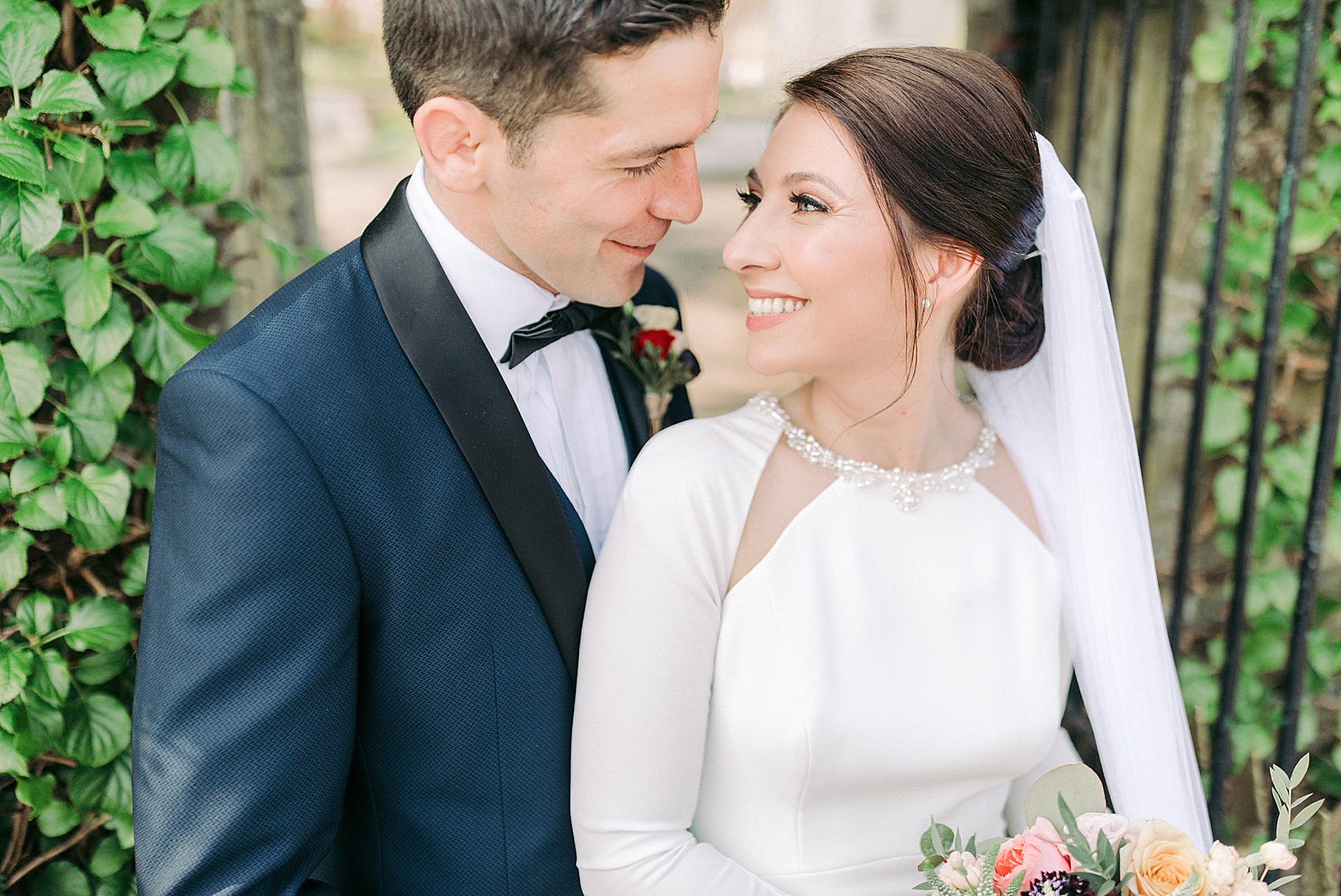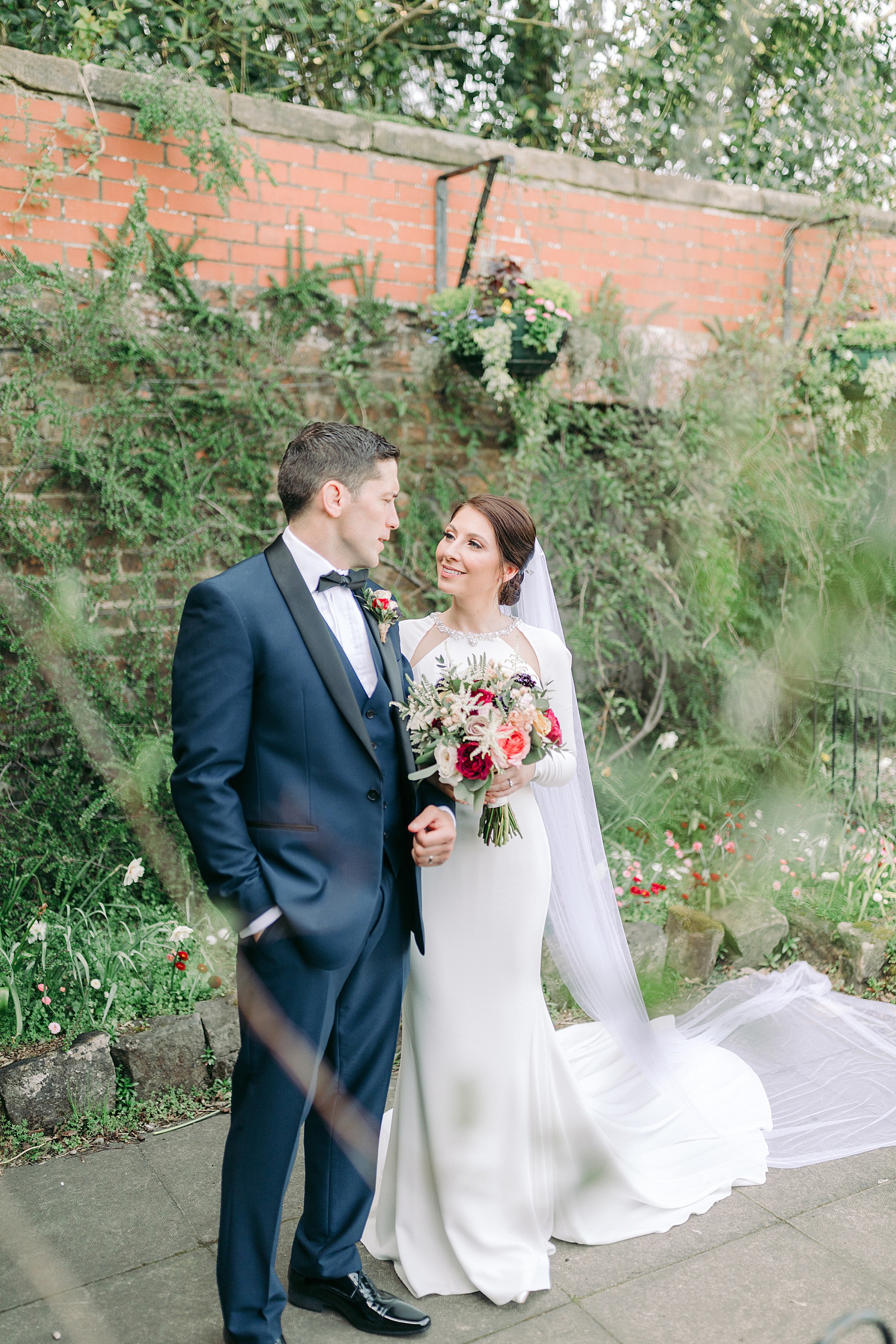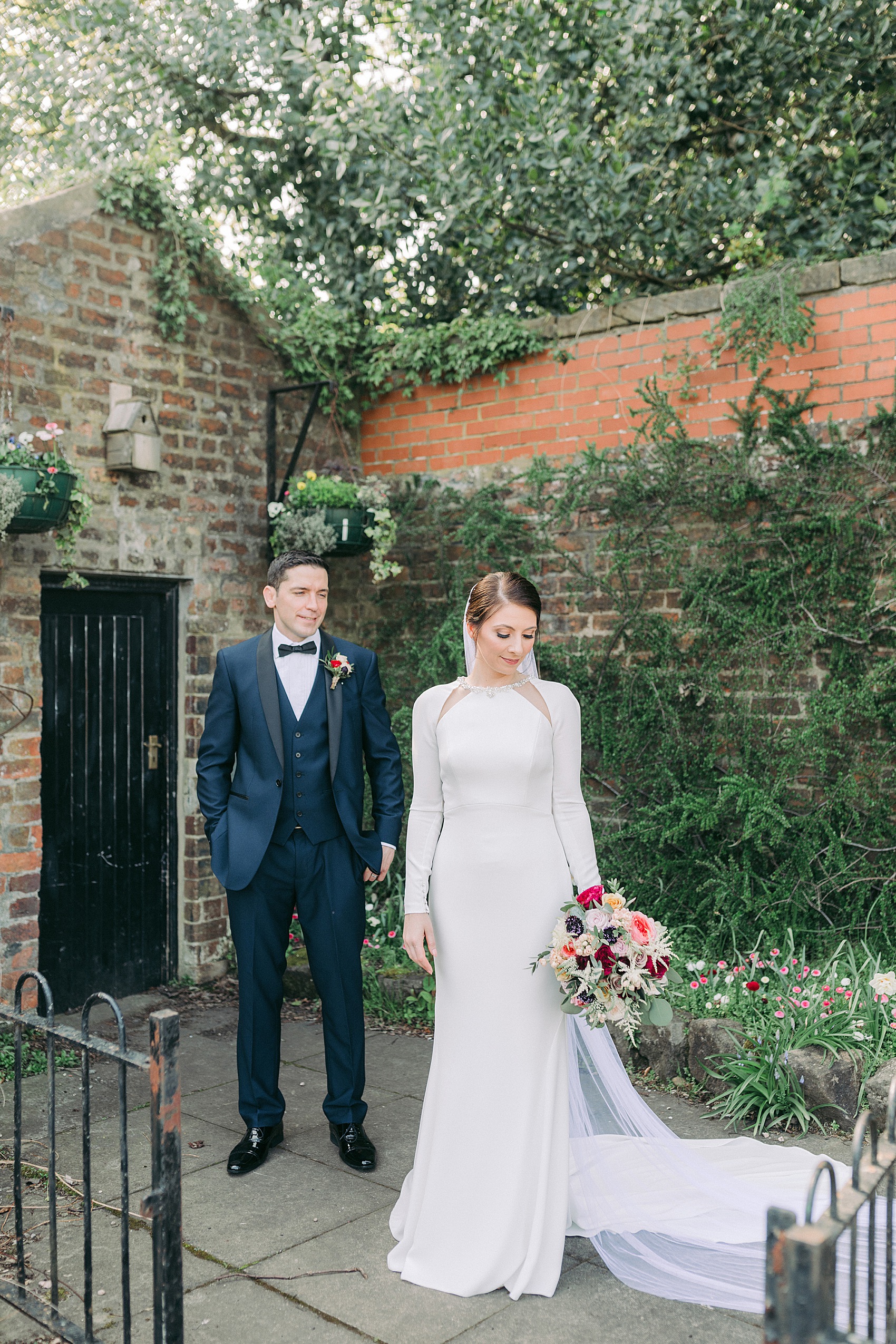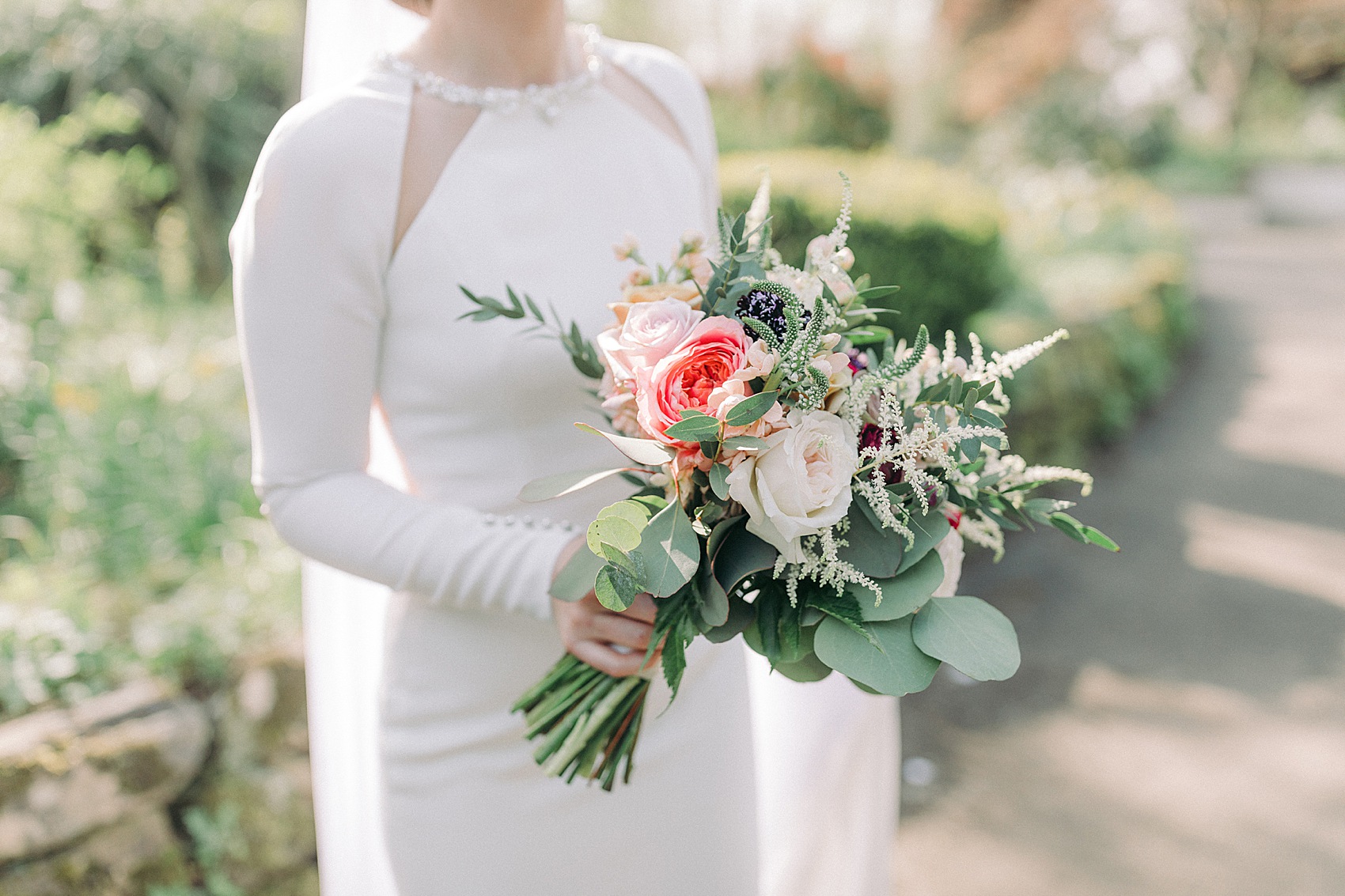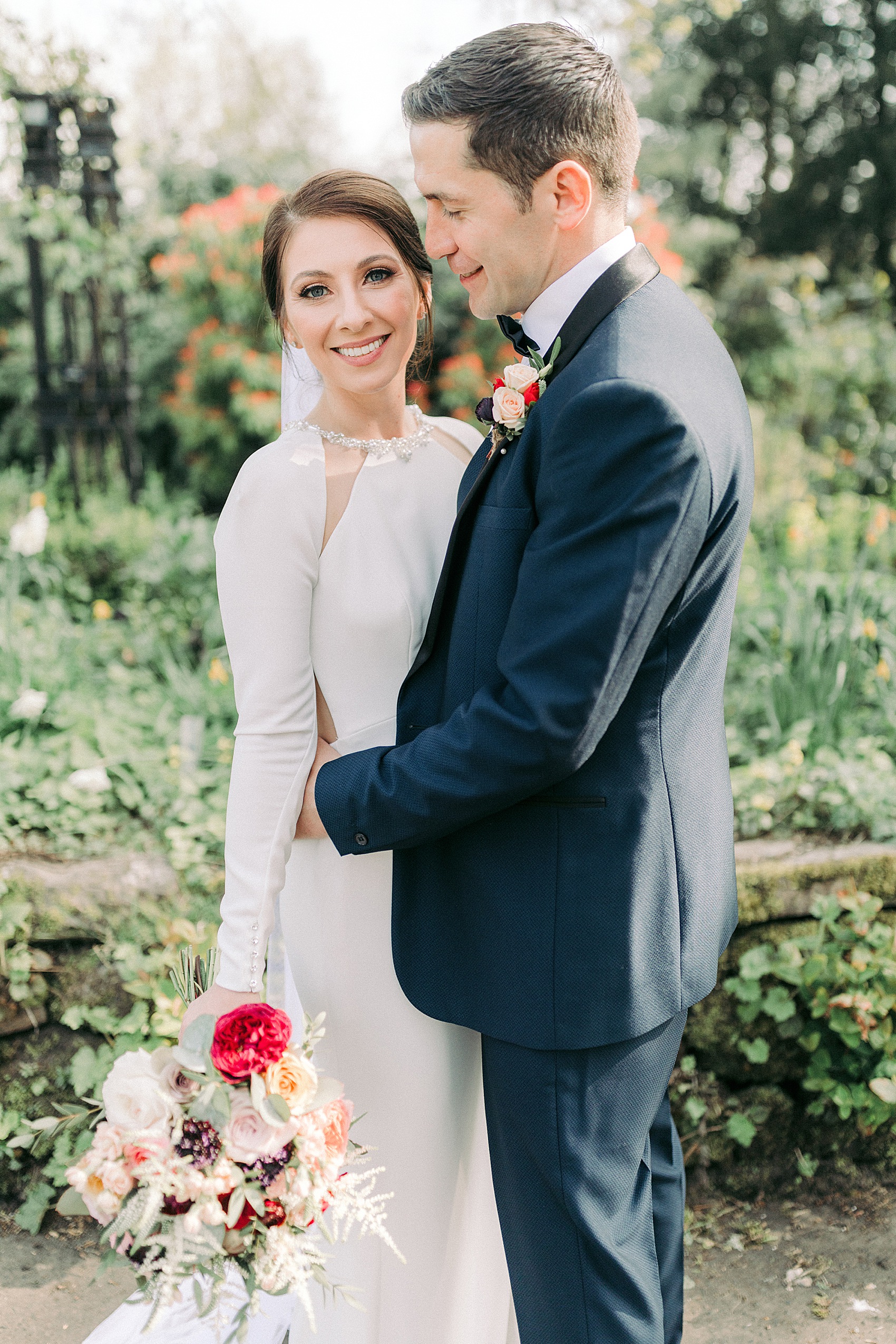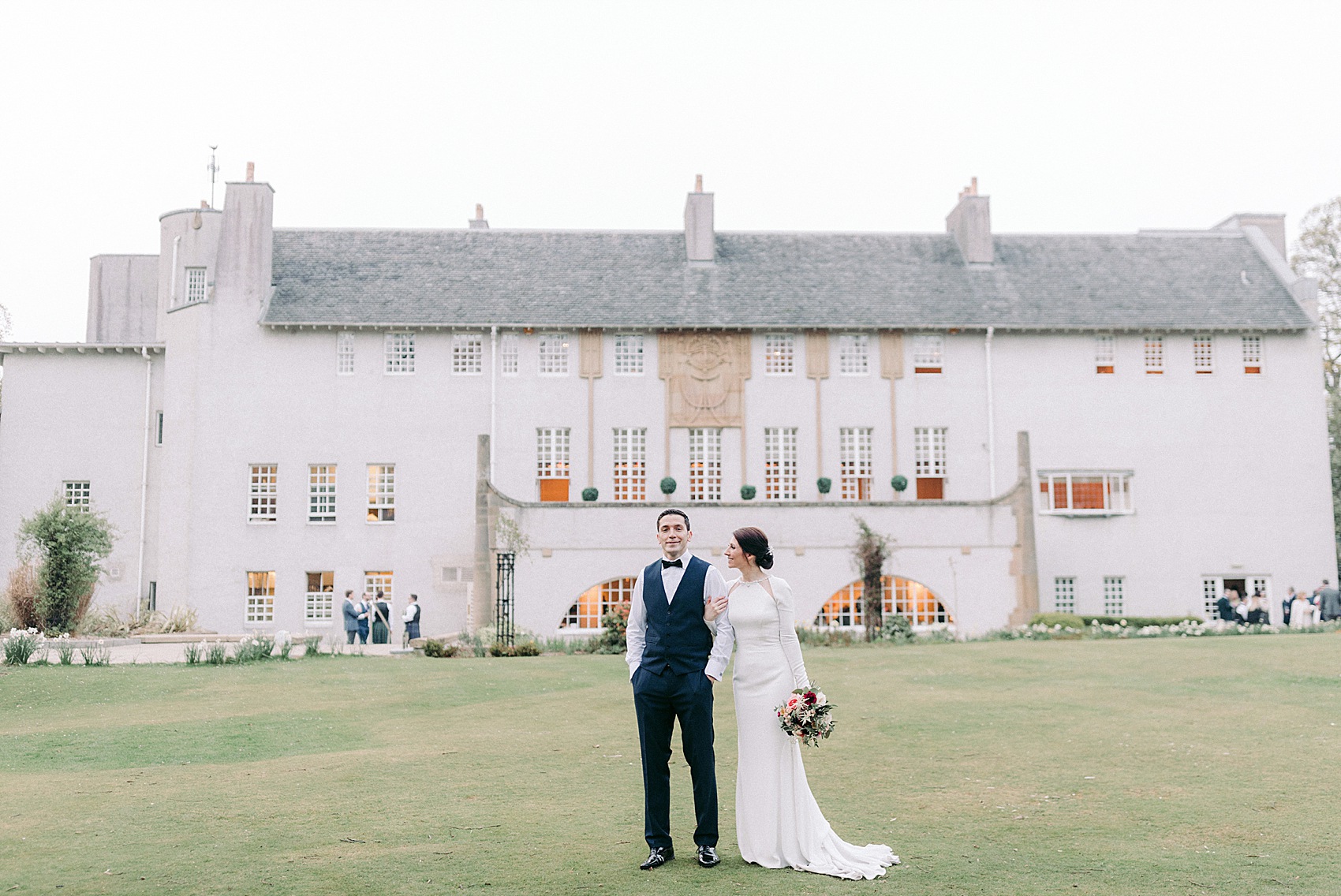 As you can see in these beautiful, beautiful photographs, flowers played a huge part in the decor for the day, and came courtesy of Betty Bluebell. My favourite elements are the table arrangements and the pop of coral. Raised up on tall, geometric stands, they really do channel Charles Rennie Mackintosh's style.
"We really love Emma's style. We used big soft flowers and seasonal Scottish foliage."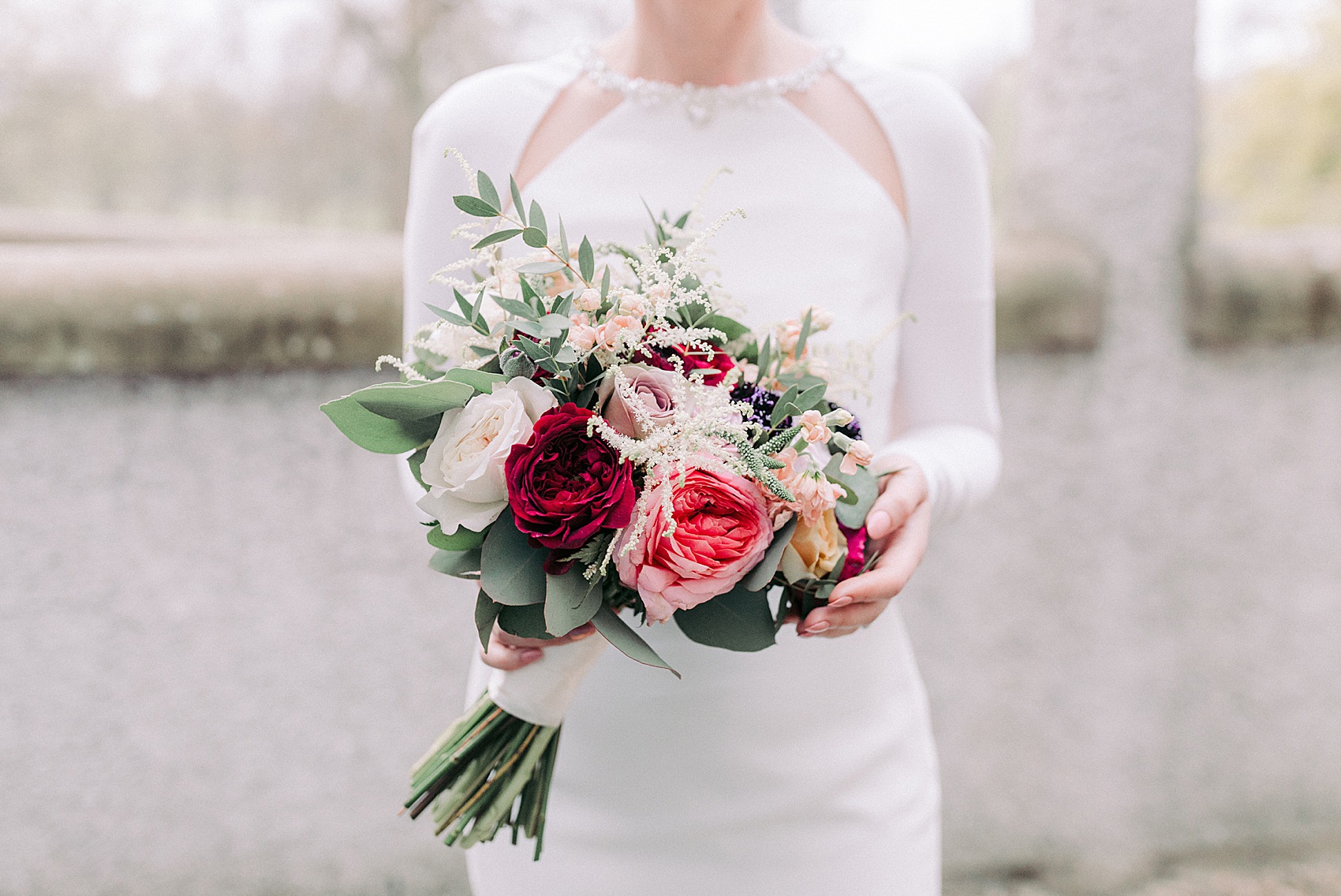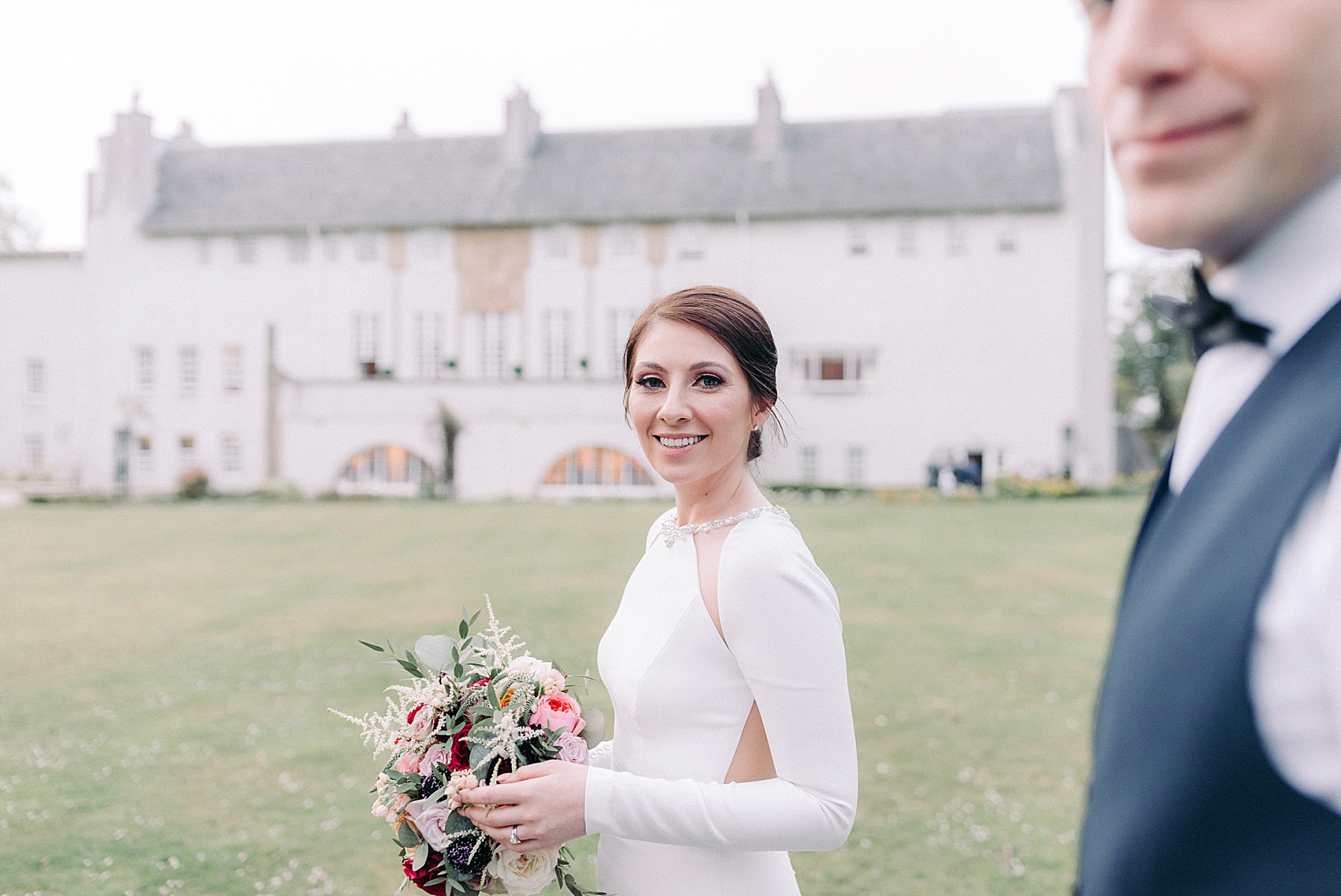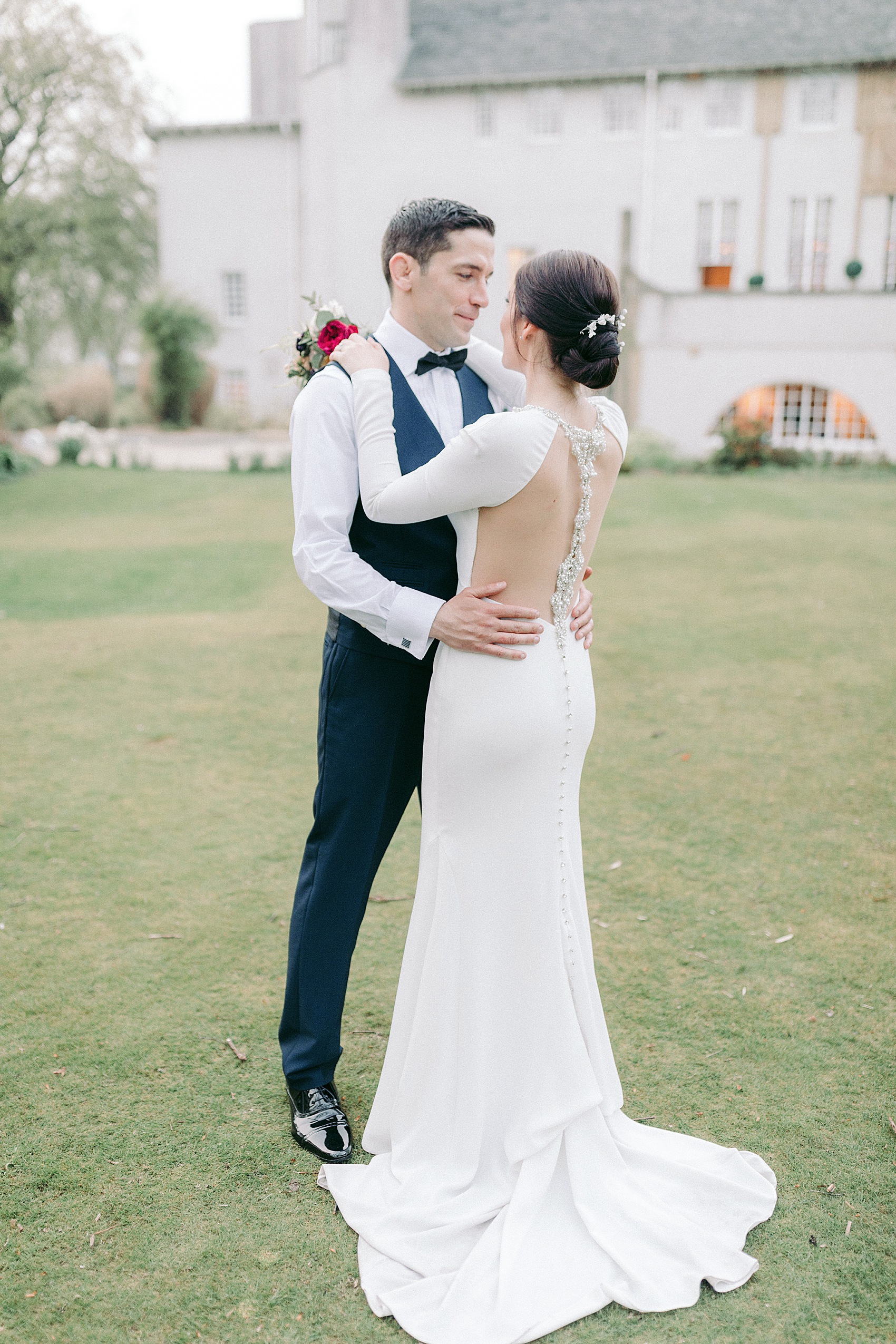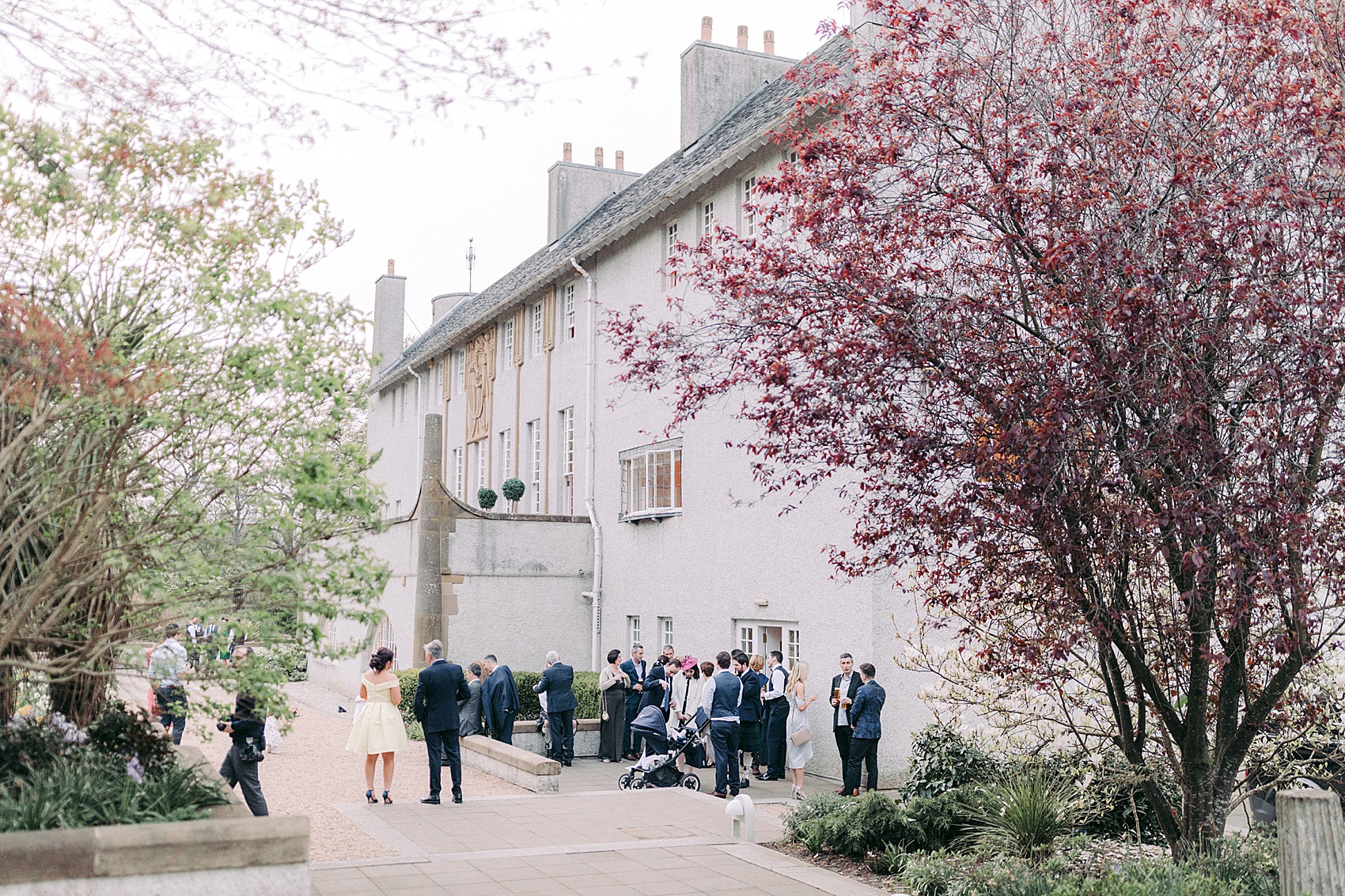 The couple worked with Lemonbox Studios as their wedding stylists, adding a few additional elements to personalise the venue.
"Lemonbox Studios did all of the stationery. Their attention to detail was phenomenal and everything tied in really well. We had a neon sign custom-made by Andrew Leaver for the evening reception. It said 'Happily Ever After' and now hangs in our dining room."
"During the meal we had Chris from Rusty's Travelling Piano Bar play the piano."
The dining room looks so light, bright and airy with those incredible flowers. As well as the neon sign, another focal point was the cake table, laden with goodies from The Little Cake Parlour.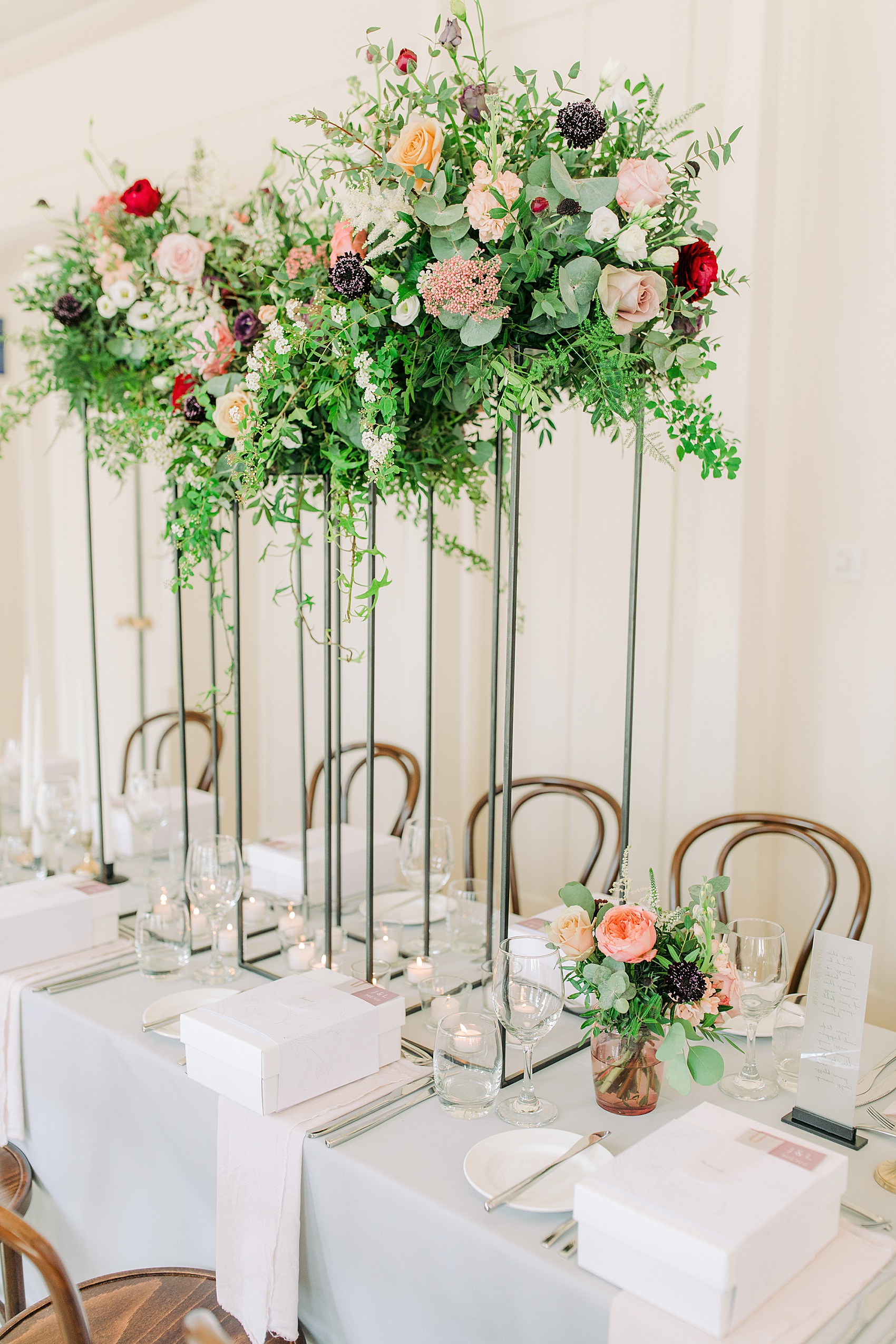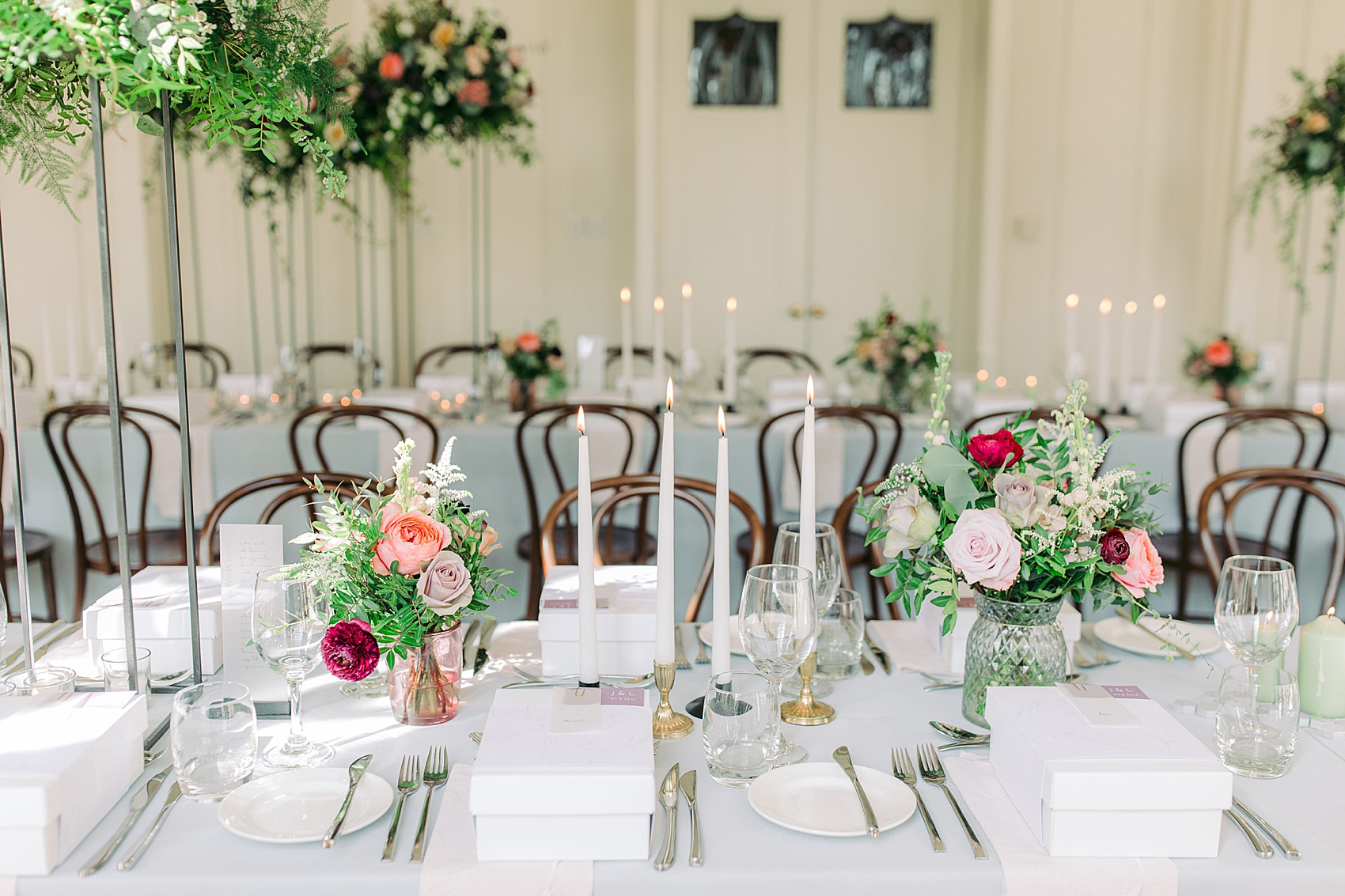 "Lisa made our wedding cake and lots of little cakes for our cake table. Lemonbox came up with a design using Charles Rennie Mackintosh influences and a thistle and a shamrock which we used throughout the wedding. Lisa was able to paint the design onto our cake and give it a 'stained glass' effect on a gold leaf base. It tasted incredible! We also had cupcakes, cake pops, peanut butter cakes, biscuits and lemon meringues that were delicious."
For a fun take on a first dance, the couple selected Rihanna's 'Umbrella'.
"We didn't want it to be too serious. Lee's brother Kyle is a fantastic musician and we were really happy that he agreed to sing it for us, even though he didn't really like the song choice much!"
For more Scottish vibes, there was an incredible choice of band for the evening reception.
"We had Sticks 'n' Kicks who were a trio of pipers and drums and our evening band were Killer City Sound."
Words of Wedded Wisdom
"We paid for everything as we went along so we didn't have huge balances to pay in the final weeks. This helped us to keep control of the money."
"Remember it's your day so do it your way because it's impossible to please everyone."
"Be as organised as you can so you can relax and enjoy the final weeks."
"If I could re-do it, I'd make sure I got myself a drink as soon as the ceremony was over and I would have tried to get to the cake table sooner!"
My gosh, Jeanne and Lee, what a beautifully intimate day. I've been blown away by the clarity and light of these photographs, and the simplicity and colour that they convey. Thank you so much to you two, and to The Gibsons of course, for sharing your wonderful April day with us.
Ele xx