Joy abounds in this glorious celebration we're sharing with you today, with a ceremony at one of London's most achingly beautiful re-purposed venues, and a relaxed pub reception.
Read on for a bride in gold sequins and lobster embroidered mules, bridesmaids in luscious burnt orange velvet dresses, a groom with a gold bow tie, and all the wonderful colours of autumn, with lots of Halloween inspiration.
Mark Wallis Photography

+ Follow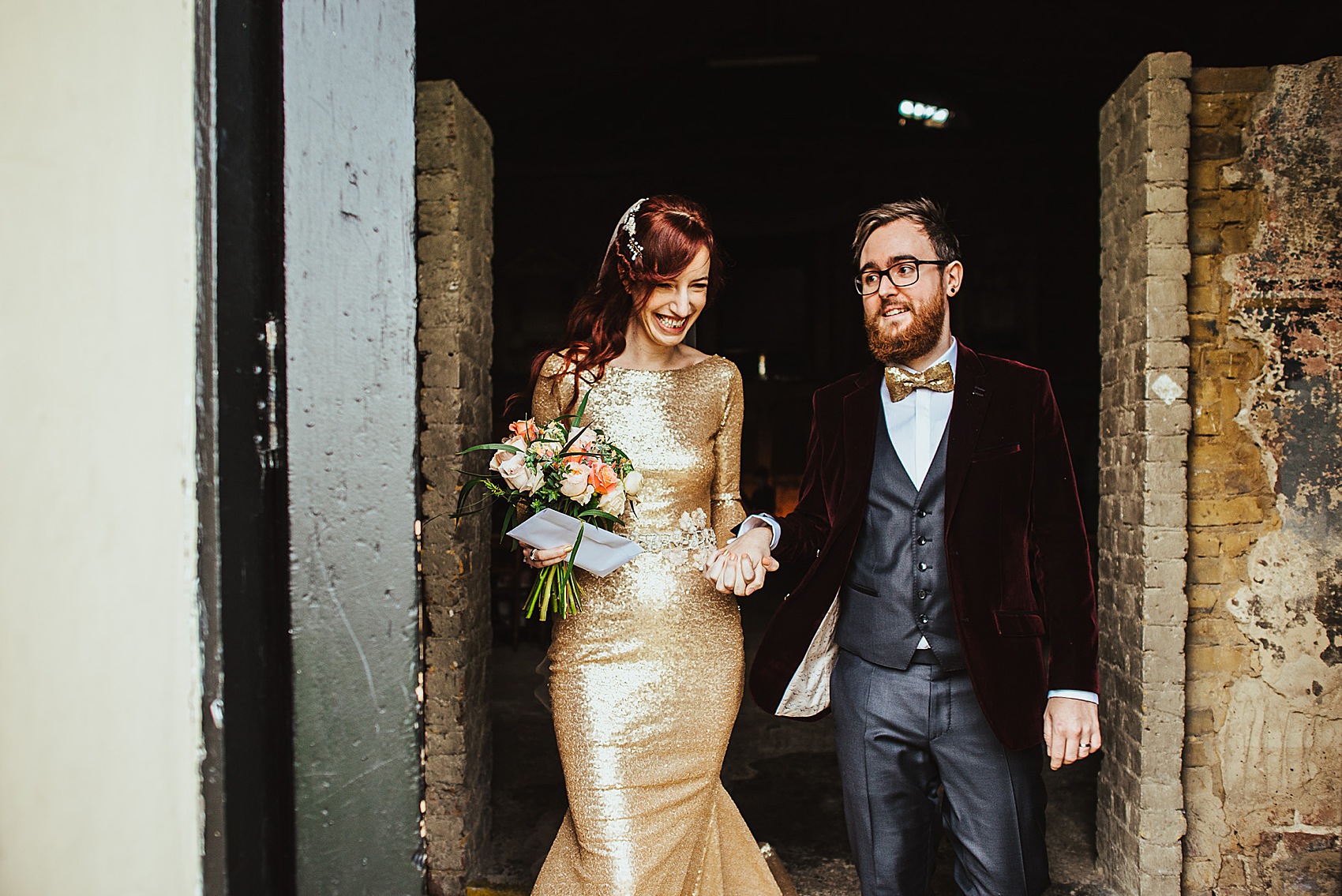 This is the wedding of garment technologist Rose and her love Matt, who is a lecturer. They were married on the 2 November 2019 at Asylum Chapel in Peckham, followed by a reception at the lovely East Dulwich Tavern, and first met via Tinder. They became engaged on top of a mountain in Lapland, and held their wedding almost exactly a year later.
I just love that Rose and Matt embraced the colour and drama of the season, and Rose's dress, which she designed together with Margo Stankova was an absolute showstopper. What incredible craft from Margo – a slinky gold sequinned gown with contrasting floral embroidery and embellishment on the cuffs and around the waist.
"I absolutely loved every minute of the process. We designed the dress together from scratch, Margo went out shopping for trims for the dress and sent me photos of everything she found that I could pick from. I went for fittings so many times (I've lost count of how many times!) and she was always so happy to see me and made sure all my requests were carried out, no matter how trivial they seemed."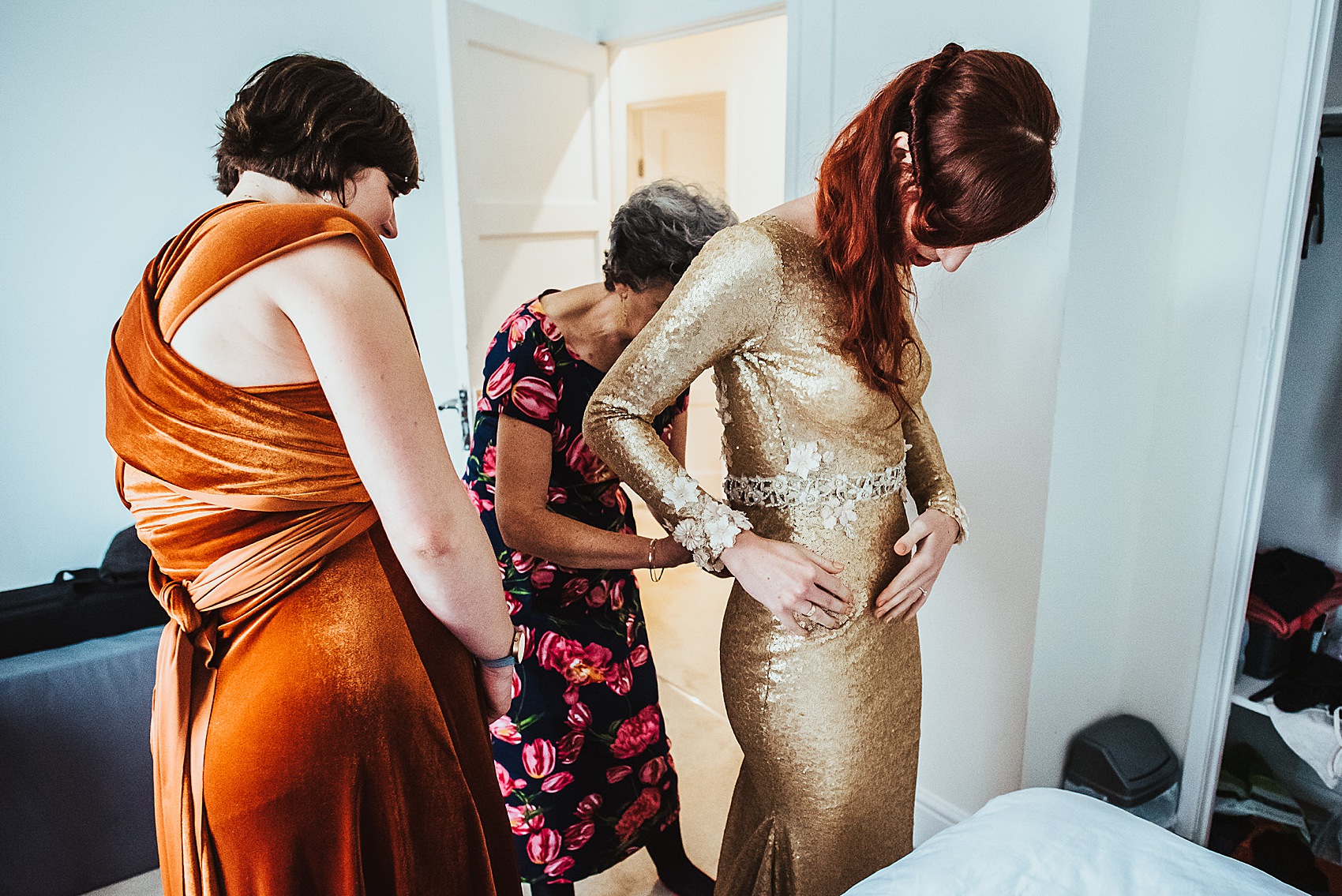 "I would definitely recommend Margo to any other brides, especially if you really want a one off, made to measure dress. I love that Margo is also based in South East London, which kept in with our local theme."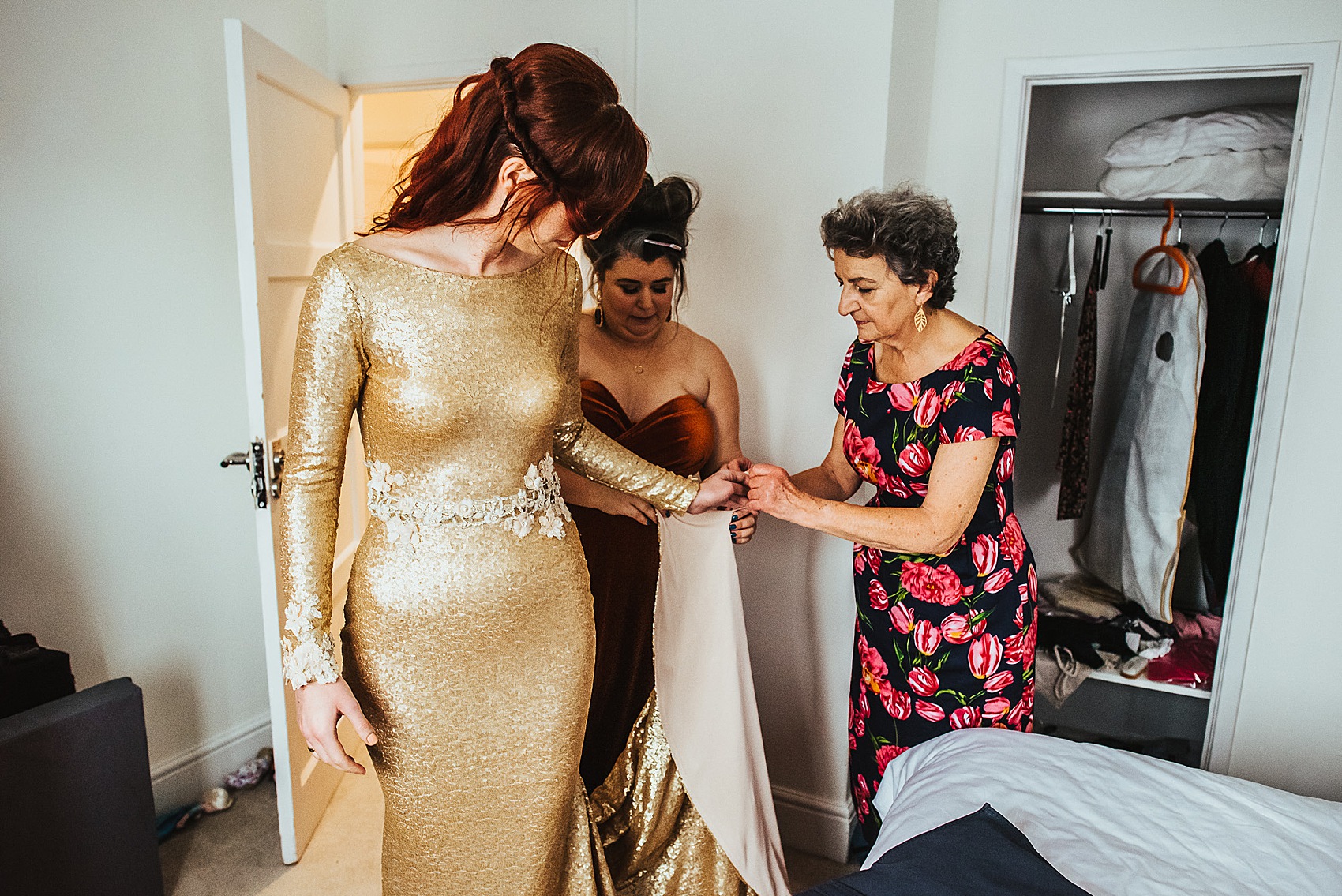 "I always knew I didn't want to wear any kind of white dress, and I thought when is there the chance to wear an amazing sparkly ballgown if not on your wedding day?! I wanted to look different, and ultimately I wanted to look a bit like a mermaid, which I think I achieved!"
Mules embroidered with gold lobsters were from Kurt Geiger, and the fragrance Rose wore was Jo Malone's Peony & Blush Suede, chosen for her by Matt.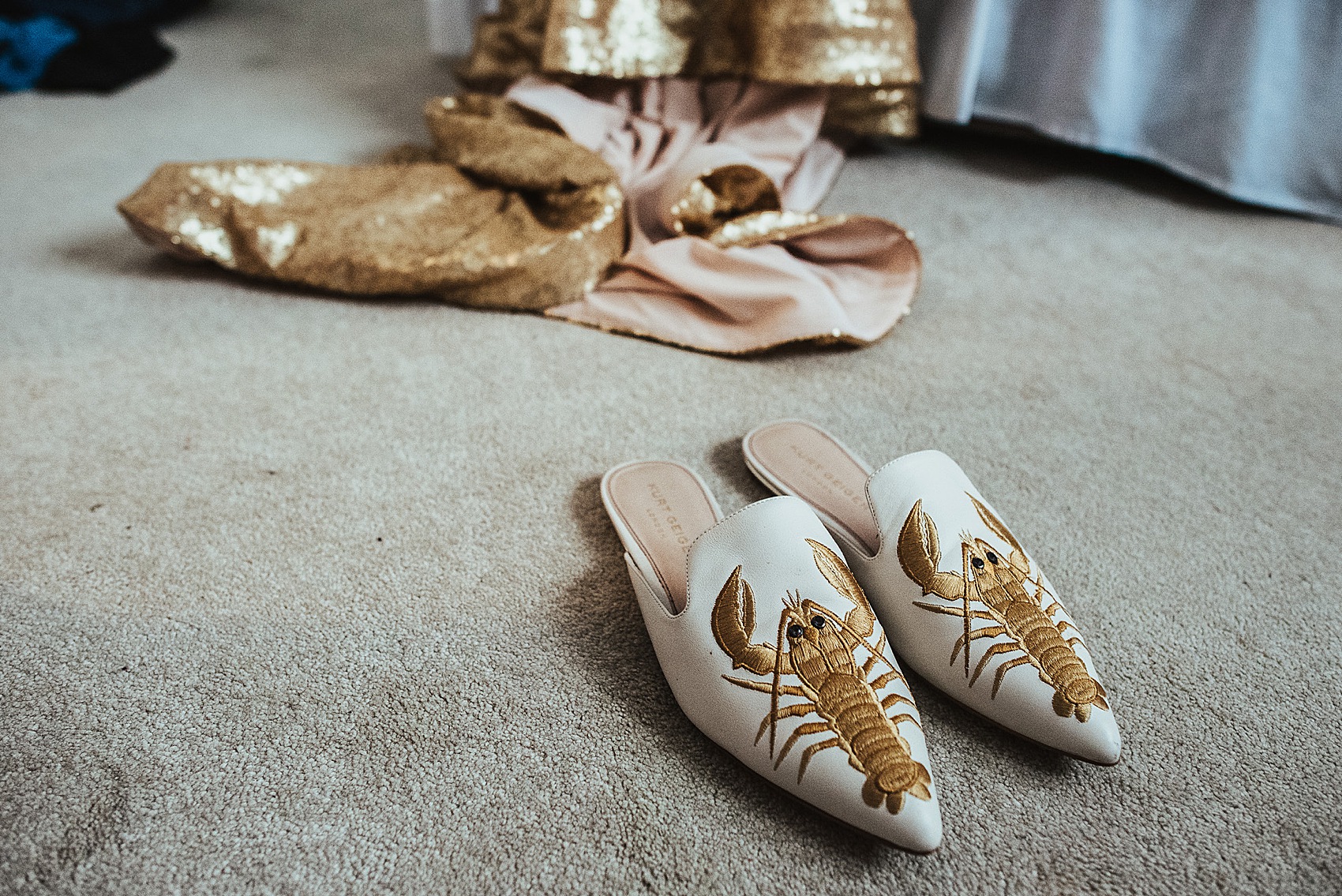 "Once we'd decided on a date (chosen as I didn't want to wait more than a year after getting engaged, and didn't want the hassle/expense of a summer wedding) I really got into Autumn/Halloween as a theme."
I love autumnal colours, and once I'd decided on a gold dress, this just seemed to make everything else fit. I've always celebrated Halloween, and this just seemed like a fun thing to incorporate into our wedding."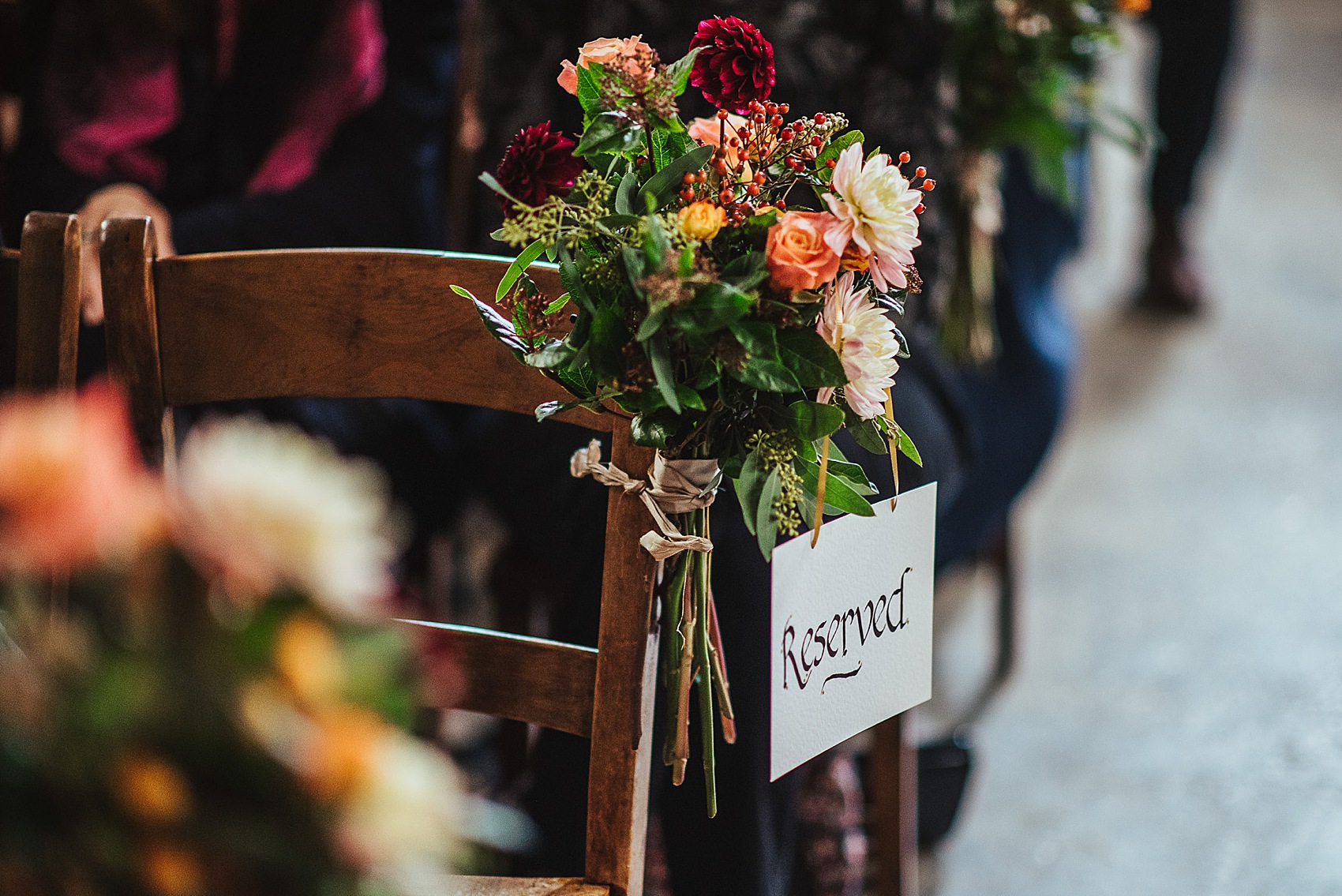 The former altar of the Asylum Chapel was covered in softly flickering pillar candles, and there were festoon lights strung across the beautiful old walls.
There were also lovely floral arrangements from Rose and Matt's local florists, Windmill Flowers, who also created a wonderful autumnal inspired bouquet for Rose.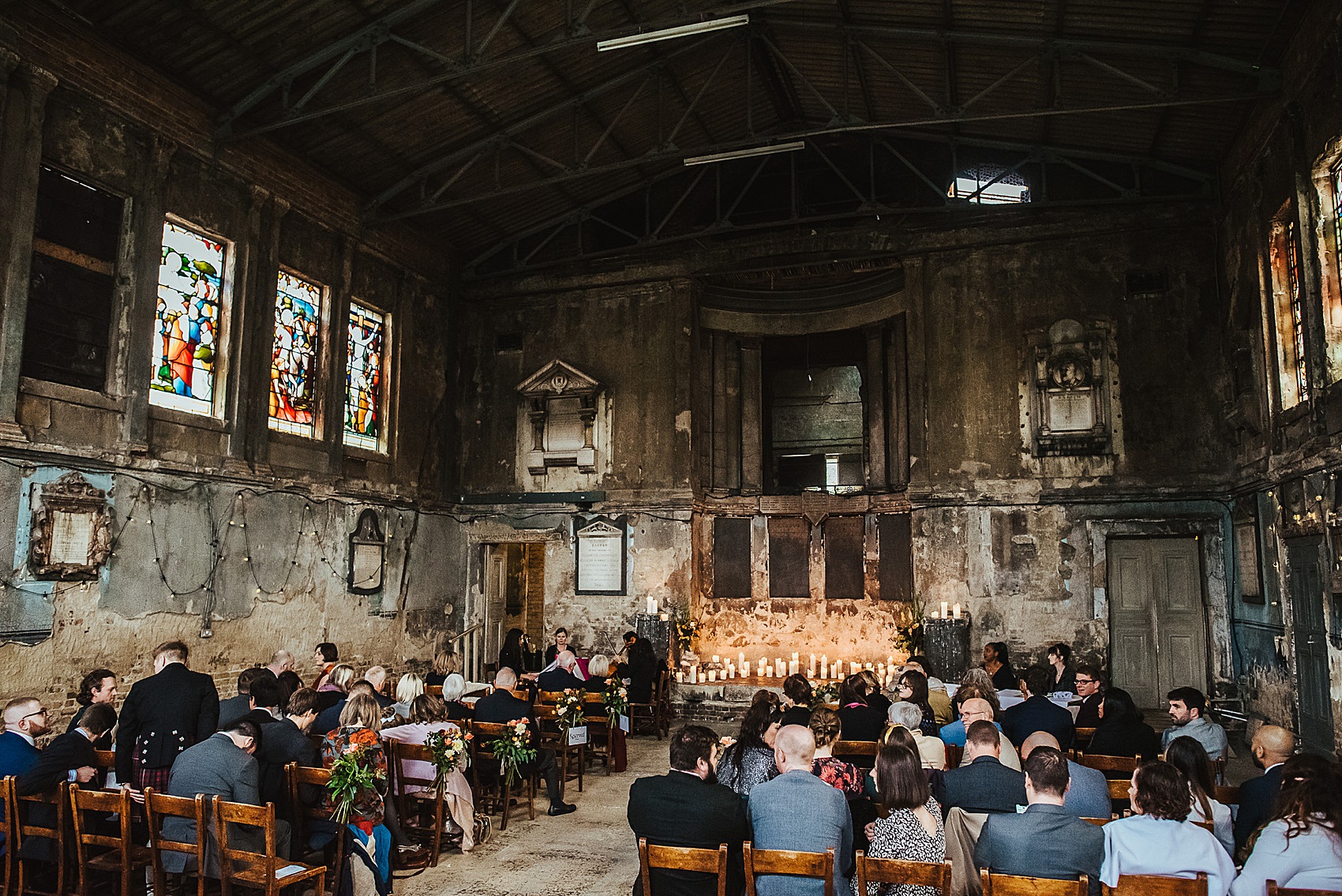 Rose's auburn locks were styled by Fabio Vivan, and her make-up was by Claire Carter. In her hair, Rose wore a a hair vine she made herself using offcuts of the floral trims from her dress, together with extra beads and pearls from a shop in North London. Margo Stankova also made a lovely, ethereal veil, too.
"The veil was much more traditional than my dress and made me feel much more bridal. I wasn't planning on wearing one, but as soon as I tried one on I just had to have one, they make you feel amazing!"
"I wanted burnt orange velvet dresses for my bridesmaids, which were really hard to find, but I managed to get them from Etsy (Valdenize Soares)  and was so pleased with them.
All the bridesmaids absolutely loved them, which I know is not something that's easy to achieve, and they all fitted beautifully, even the bridesmaid who was 9 months pregnant (yes we had bets on whether she would give birth halfway down the aisle!)"
Rose asked that each bridesmaid wore a faux fur jacket or coat, they wore their own shoes, and Rose also made them hair pins using more offcuts from her dress.
"We chose Asylum Chapel because I love churches and the idea of getting married in a church but am in no way religious, so this was the closest alternative I could find! It also happens to be very close to where we live and we wanted to keep everything as local as possible."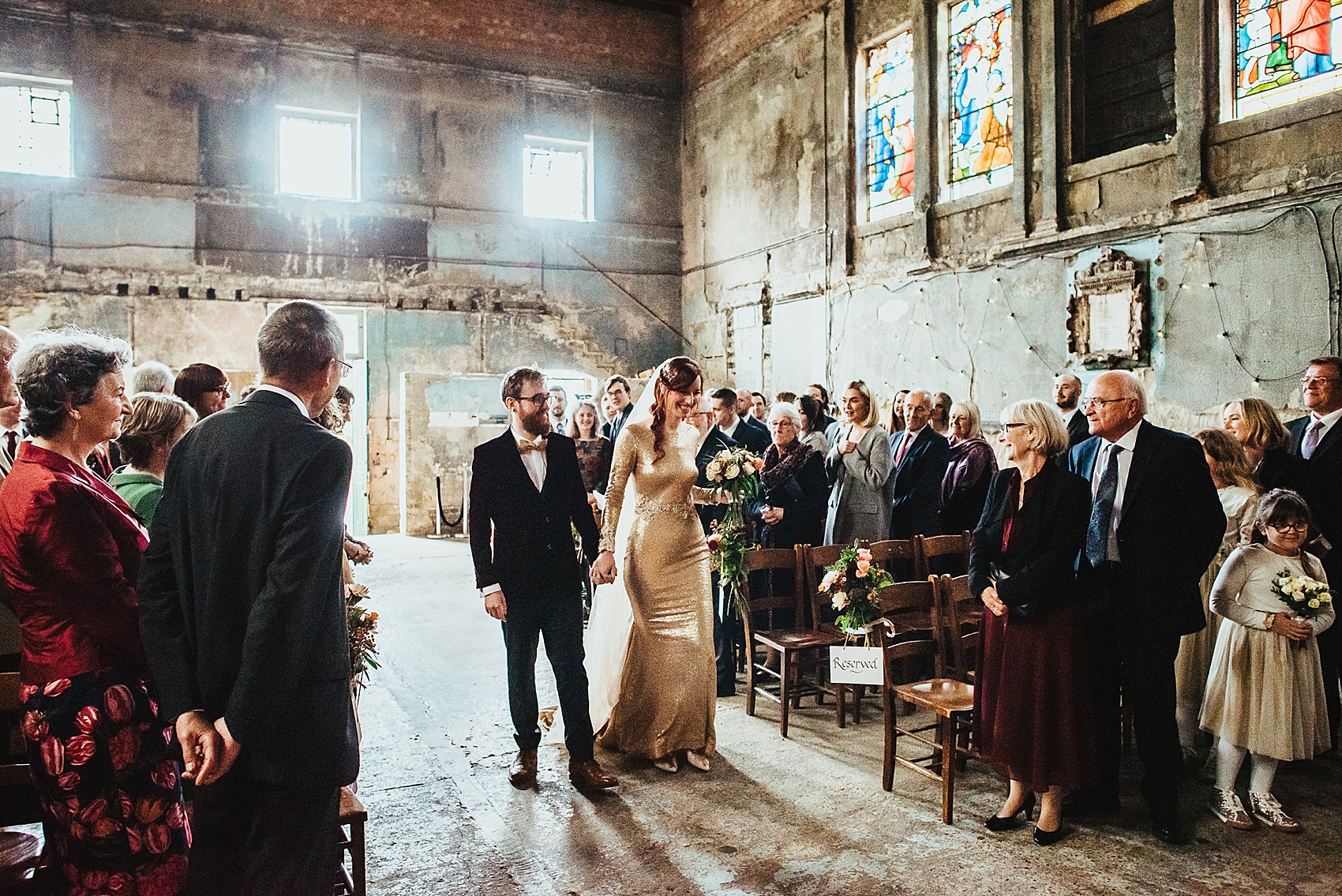 Matt waited for his Bride at the entrance to the chapel, and they walked down the aisle together as the Palatine String Quartet played Stand By Me by Ben E. King.
"Our rings were from Eric Ross. We chose them after visiting a lot of jewellers in Hatton Garden, as their customer service was the best."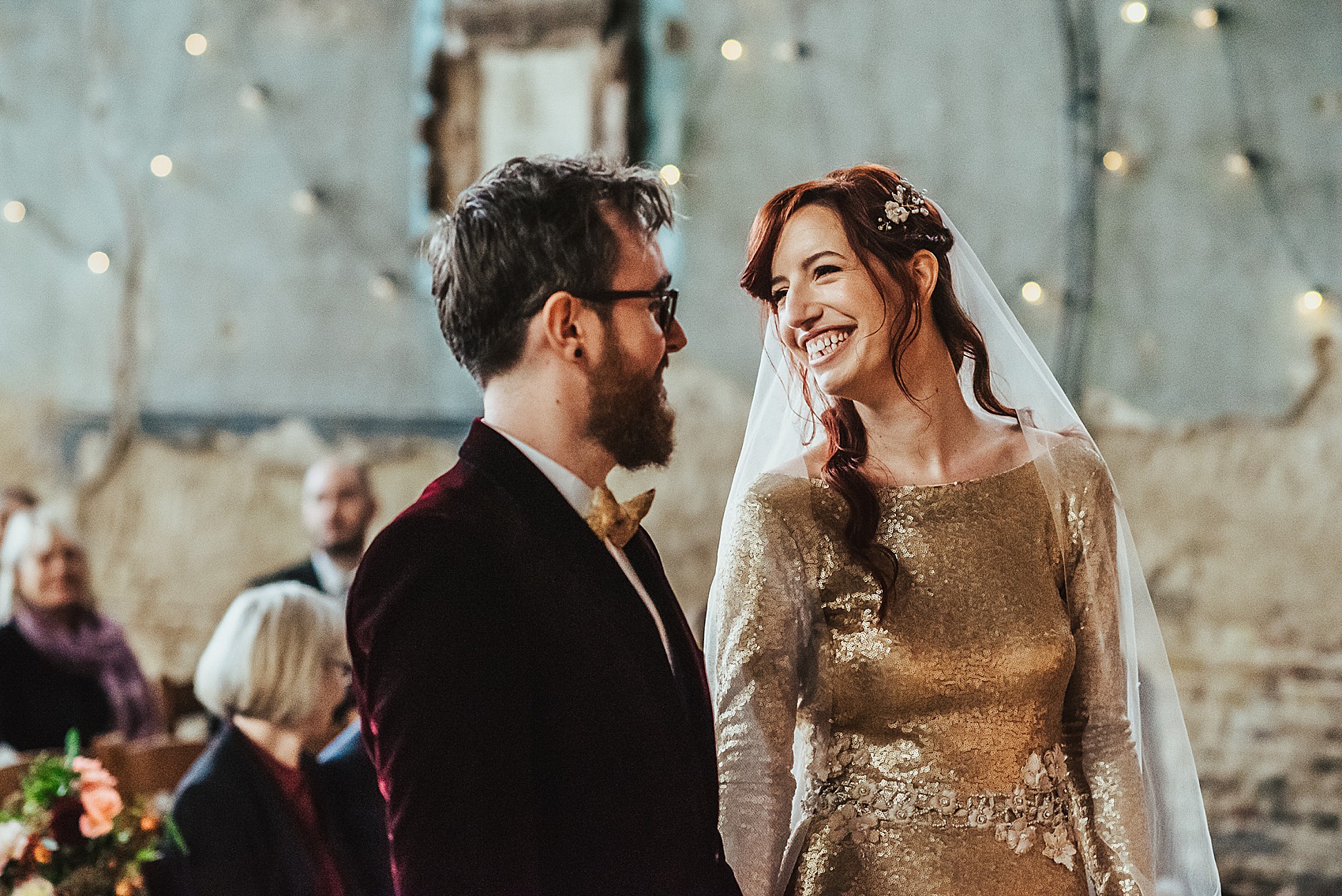 My wedding ring is my Mum's engagement ring but remodelled, and they were so helpful with the remodelling of the ring, making something modern but still keeping the essence of the original."
The ceremony was conducted by the Southwark Council registrar team, and Rose and Matt were able to write their own personalised vows, which they did the night before the wedding.
"We had two readings, one from the Best Man, and one from one of the bridesmaids. They chose their own readings (obviously also vetted by us). The best man chose the Apache Wedding Blessing, and my bridesmaid chose a reading from Fleabag ('Love is awful') which we really loved as it is so non-traditional."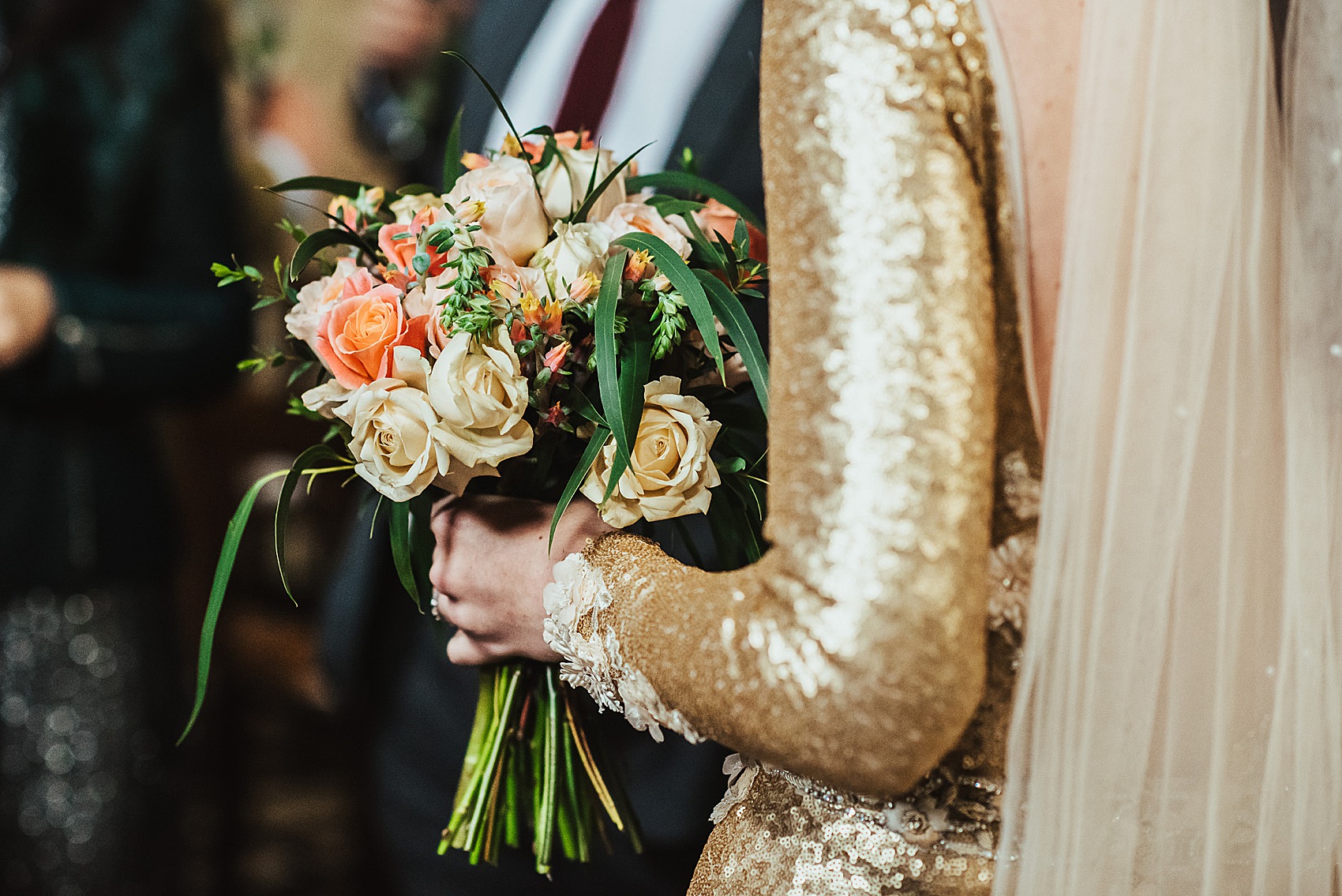 Post-ceremony drinks and snacks were enjoyed at the chapel, and Rose and Matt gave each guest their own personalised champagne flute, with their initials and wedding date painted onto each one.
"The flowergirls' dresses were mostly handmade by my Mum, and were worn with glittery high tops from Boden. My sister and bridesmaids crafted their flower crowns the night before the wedding, which they all loved wearing."
"I made Matt's bow tie from leftover fabric from my dress, and the Best Man's bow tie from leftover fabric from the bridesmaids' dresses. I'd never made a bow tie before and loved how they turned out!
Matt wore a Hugo Boss waistcoat and trousers, and a velvet jacket we bought at Camberry at Camden Market."
"We only looked at photographers who had experience of the Asylum Chapel, because it is such a unique venue. We also didn't want staged photos, so picked Mark Wallis because being a documentary style photographer means he doesn't like them much either!"
Mark Wallis did such a magnificent job of capturing so many enchanting moments throughout the day, from the smallest, heartfelt gestures to the big celebratory moments.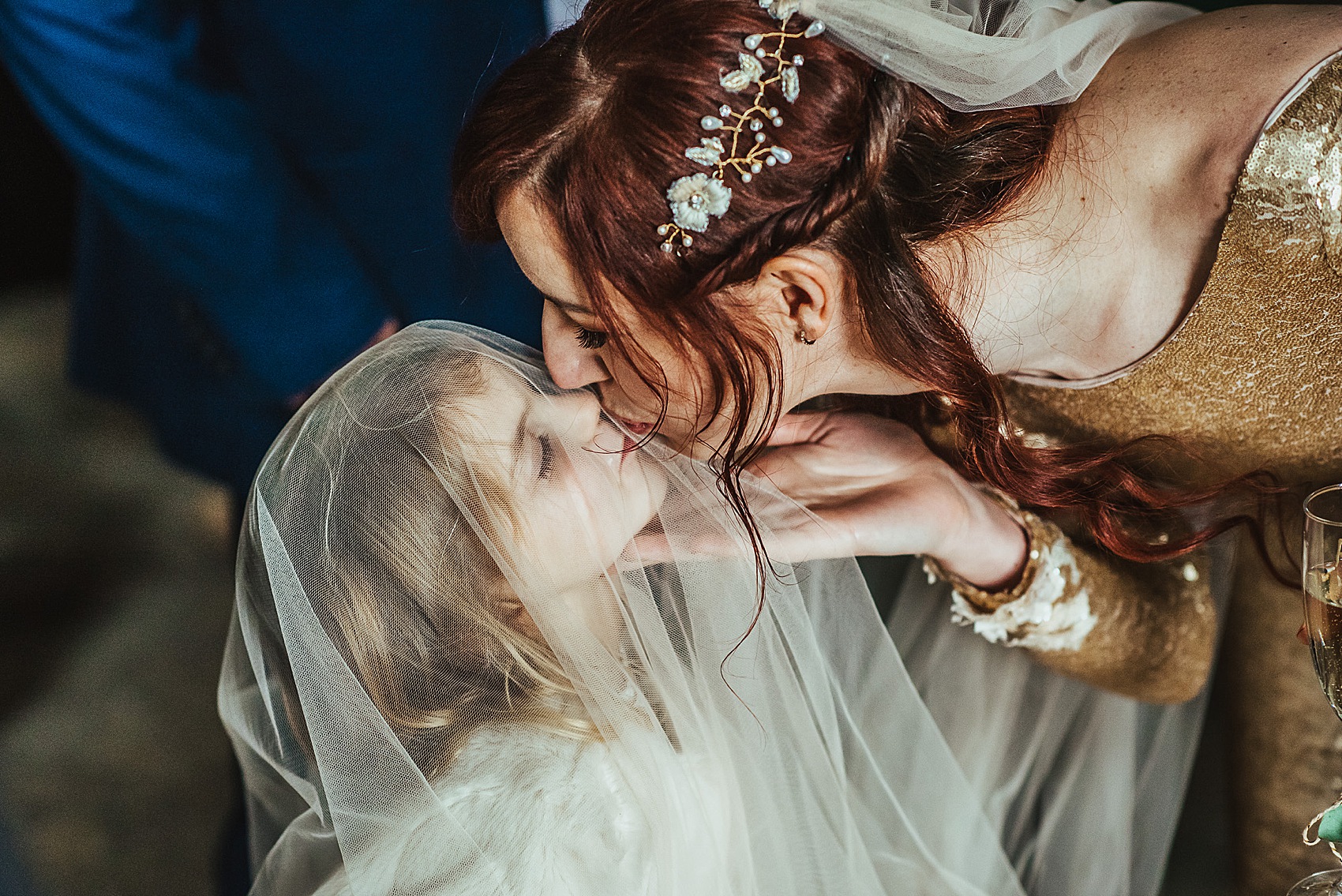 "Mark was really great on the day. He spent all day with us through to the dancing and managed to get photos of everyone. We're so happy with the photos we have, they are so natural and they really capture our genuine happiness on the day. We would definitely recommend Mark to other couples."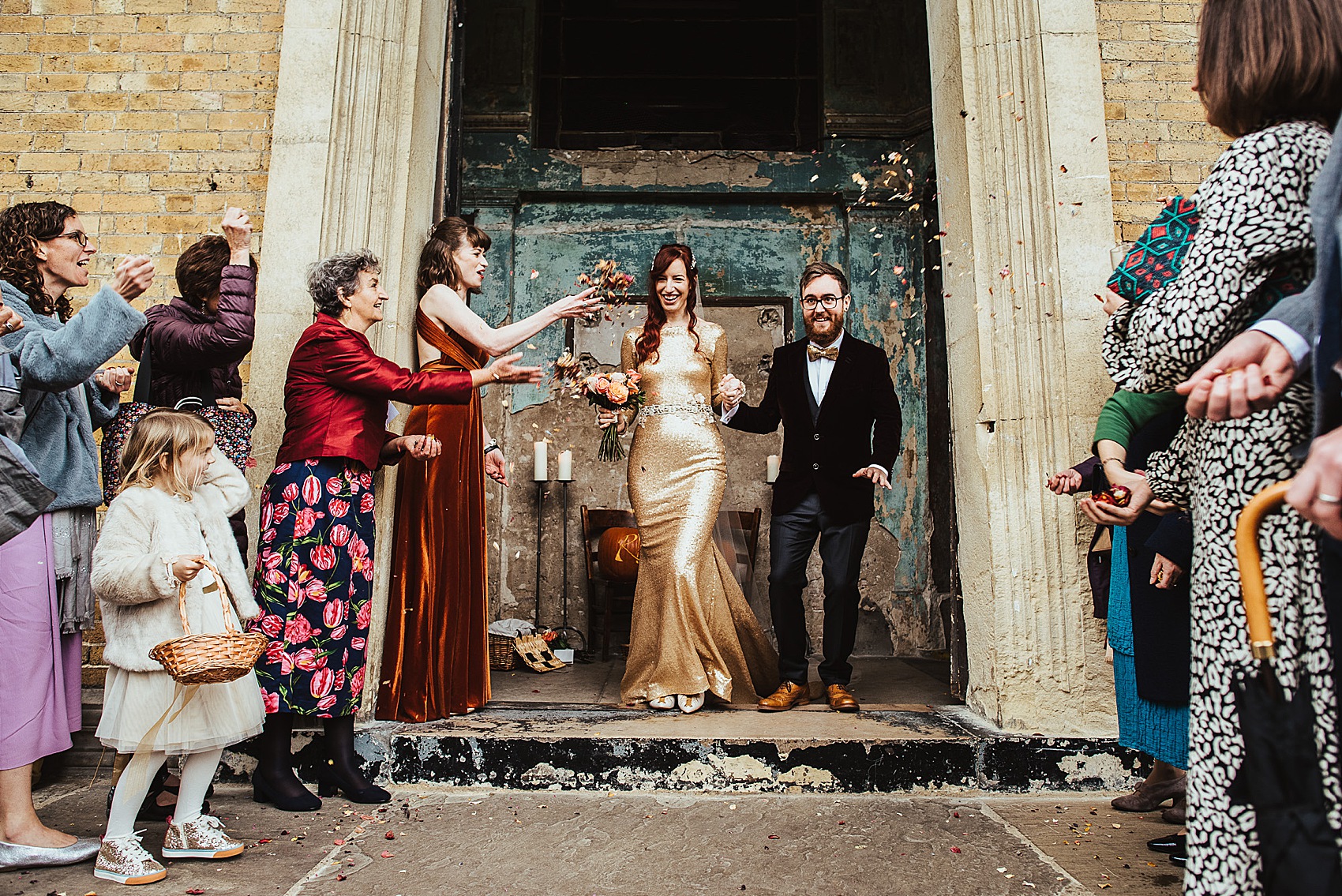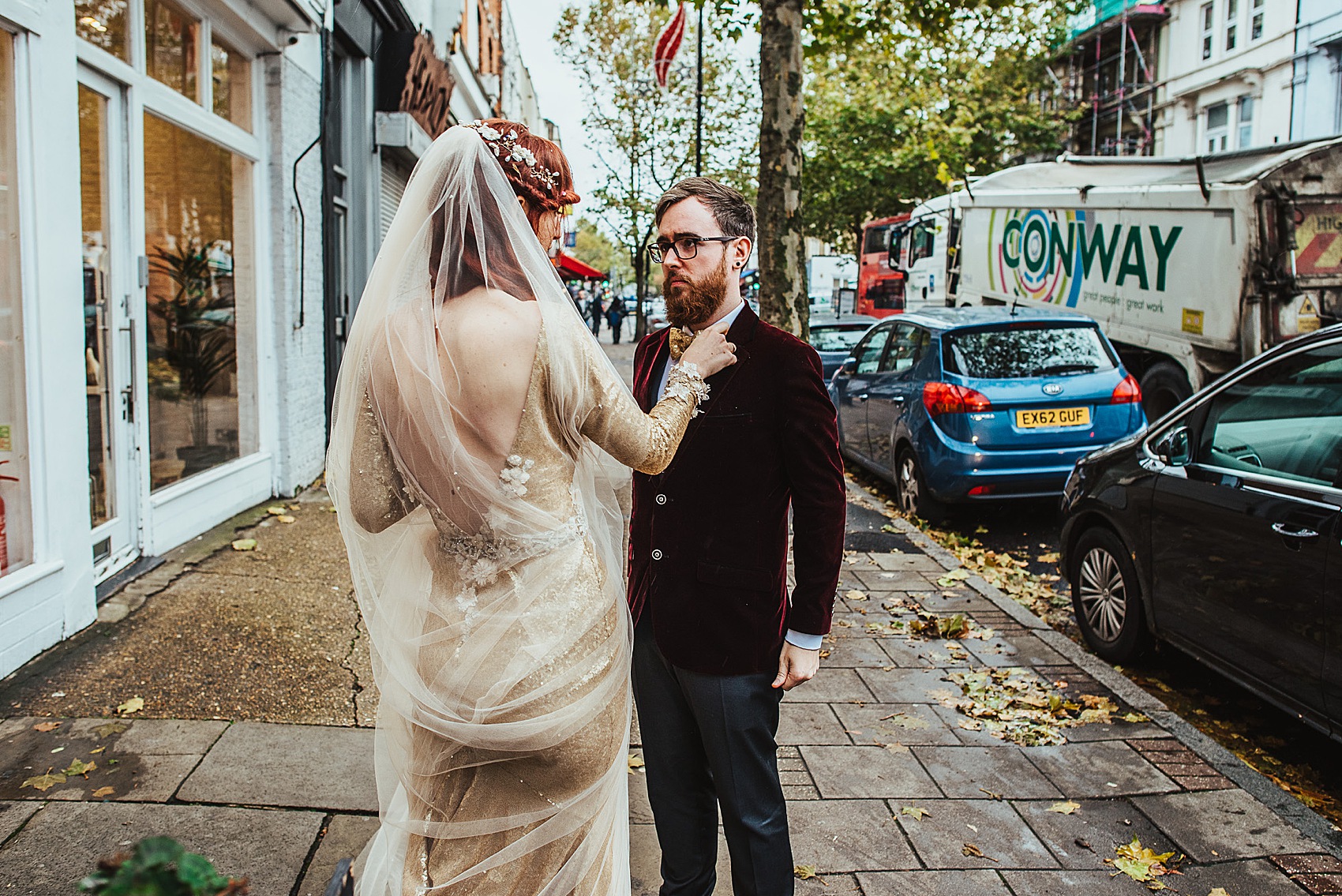 "We knew we wanted a pub reception and East Dulwich Tavern was one near to our venue with good food, and it was reasonably priced. We loved that we could hire the whole top floor, and that there are two distinct rooms upstairs, one for dancing and one for sitting down."
"We also loved the existing décor so didn't have to do too much to it."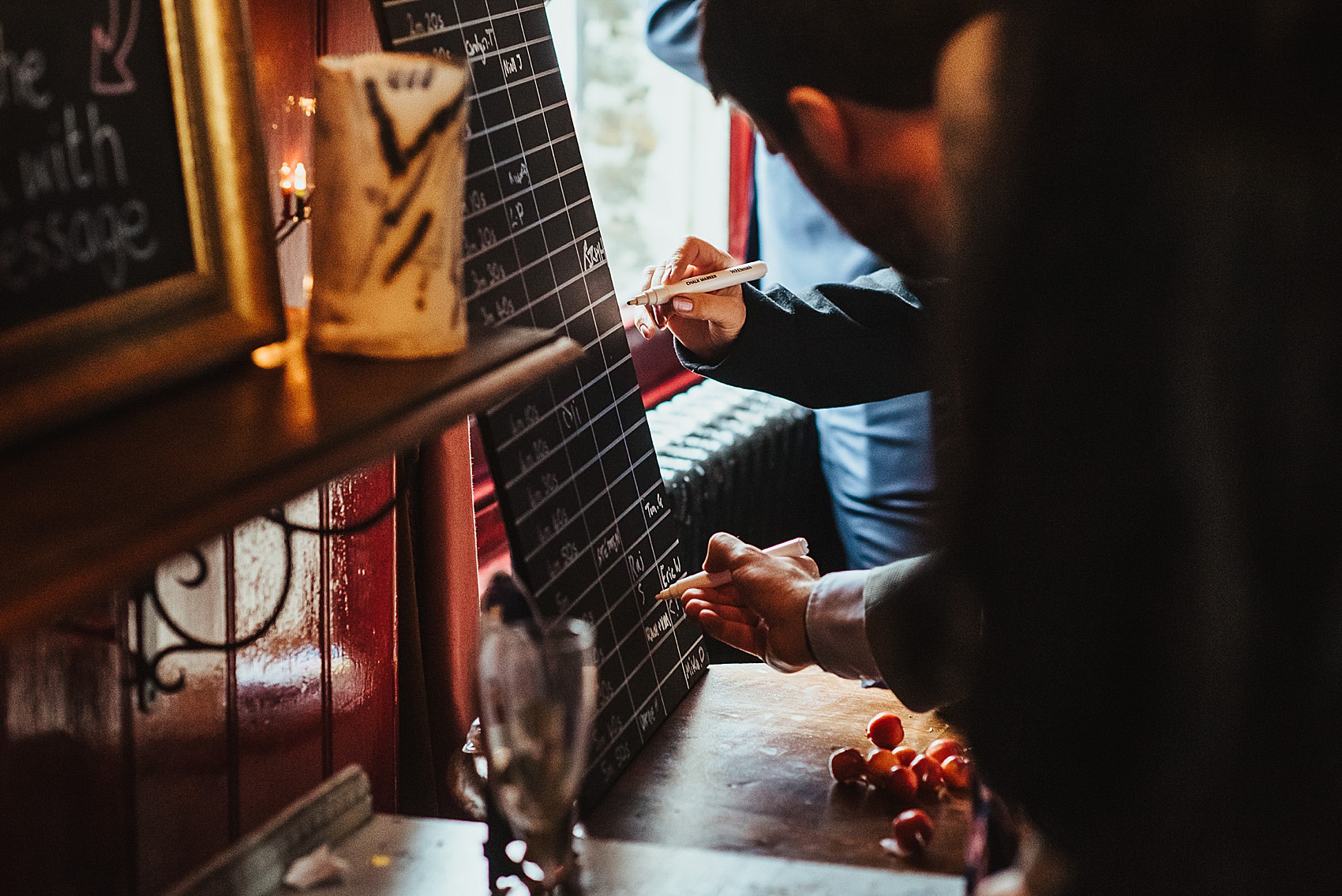 Over at the East Dulwich Tavern, the cosy reception room was decorated with fairylights, and on the tables, there were gourds that Rose had collected to tie in with the couple's Hallowe'en theme.
"One of my very talented bridesmaids carved two large pumpkins with our initials and the date. We also spent months sourcing vintage gold candlesticks for the tables – and encouraged our guests to take any candlestick they wanted at the end of the evening. They loved this and we didn't have many left! All pumpkins were sourced from Borough Market."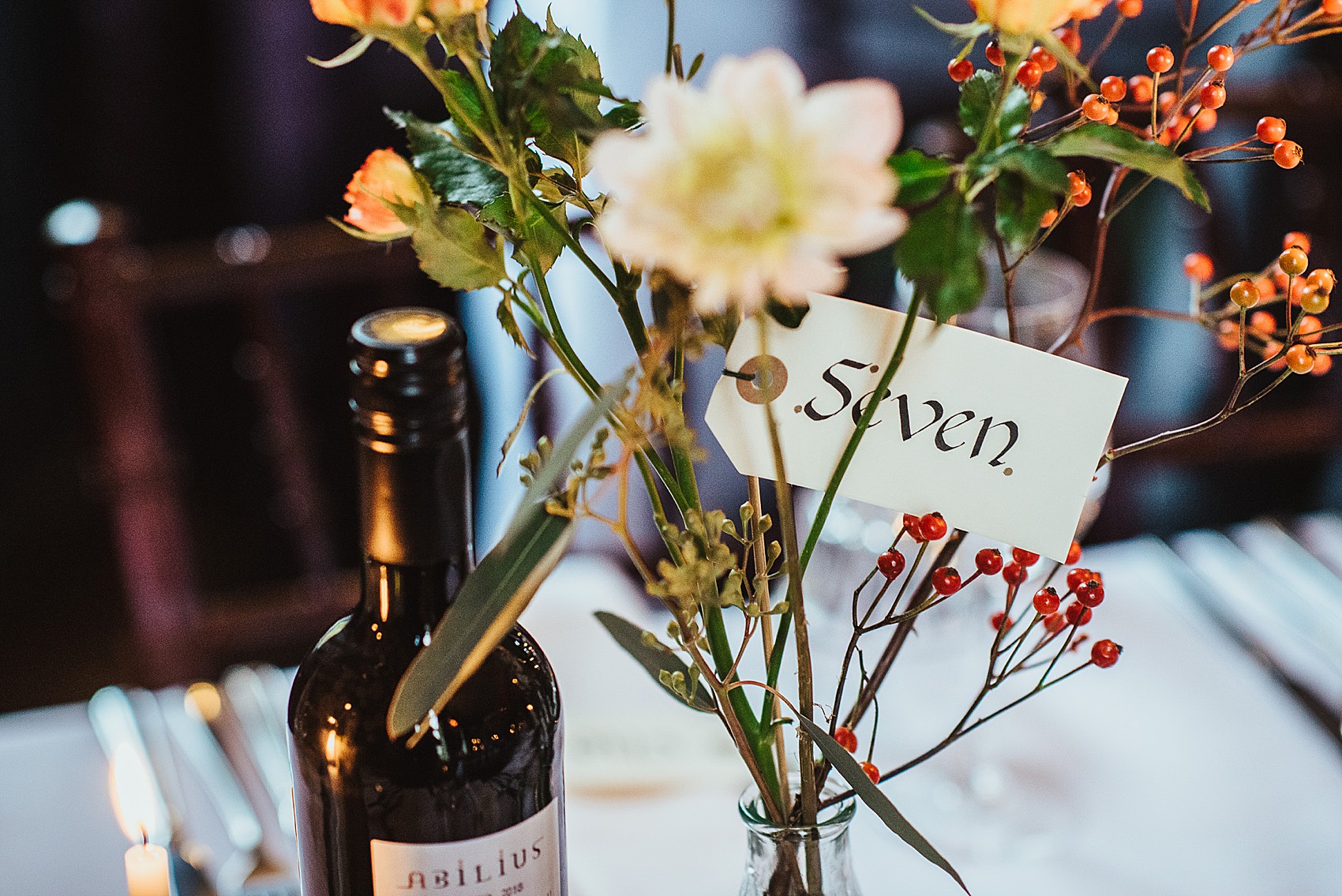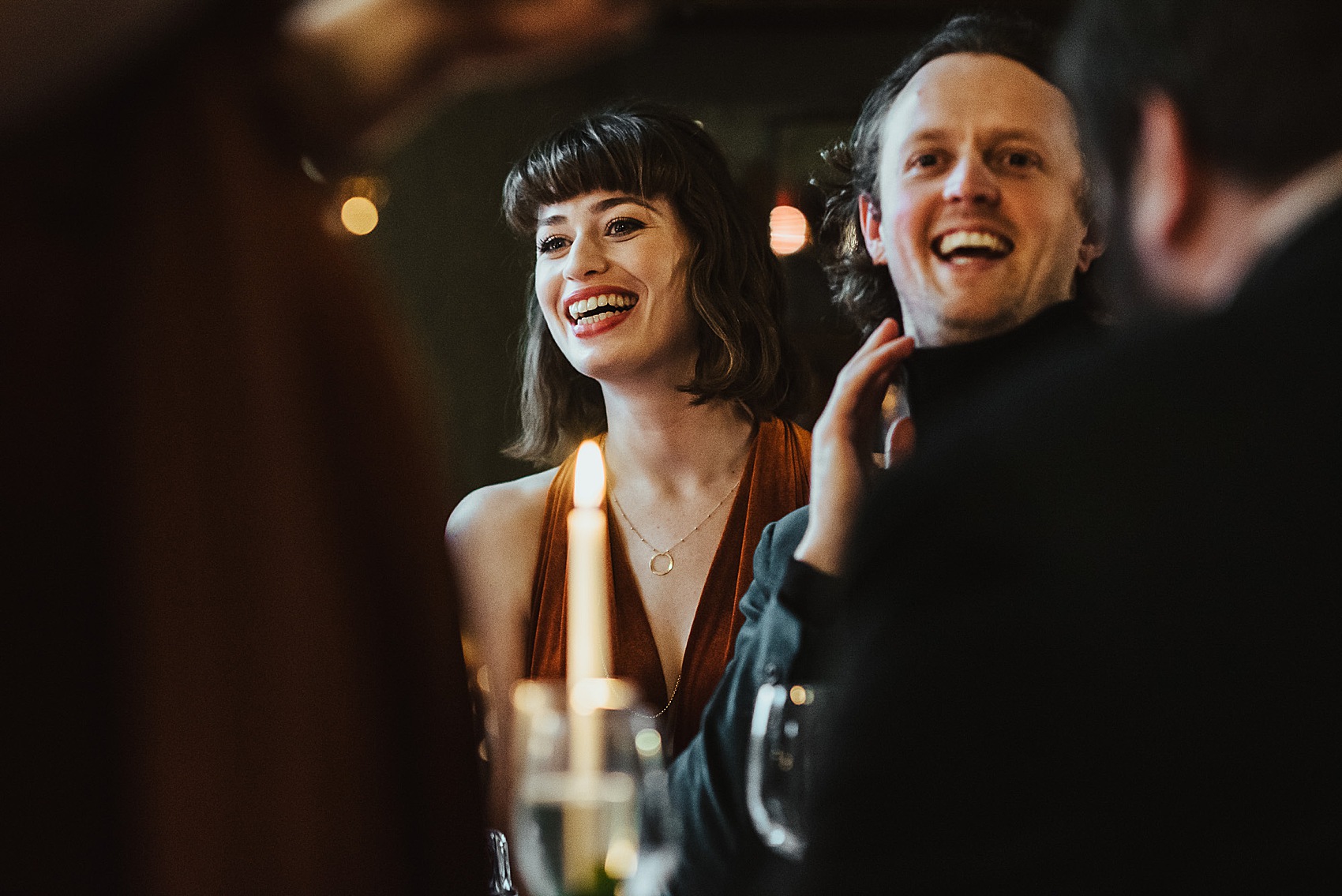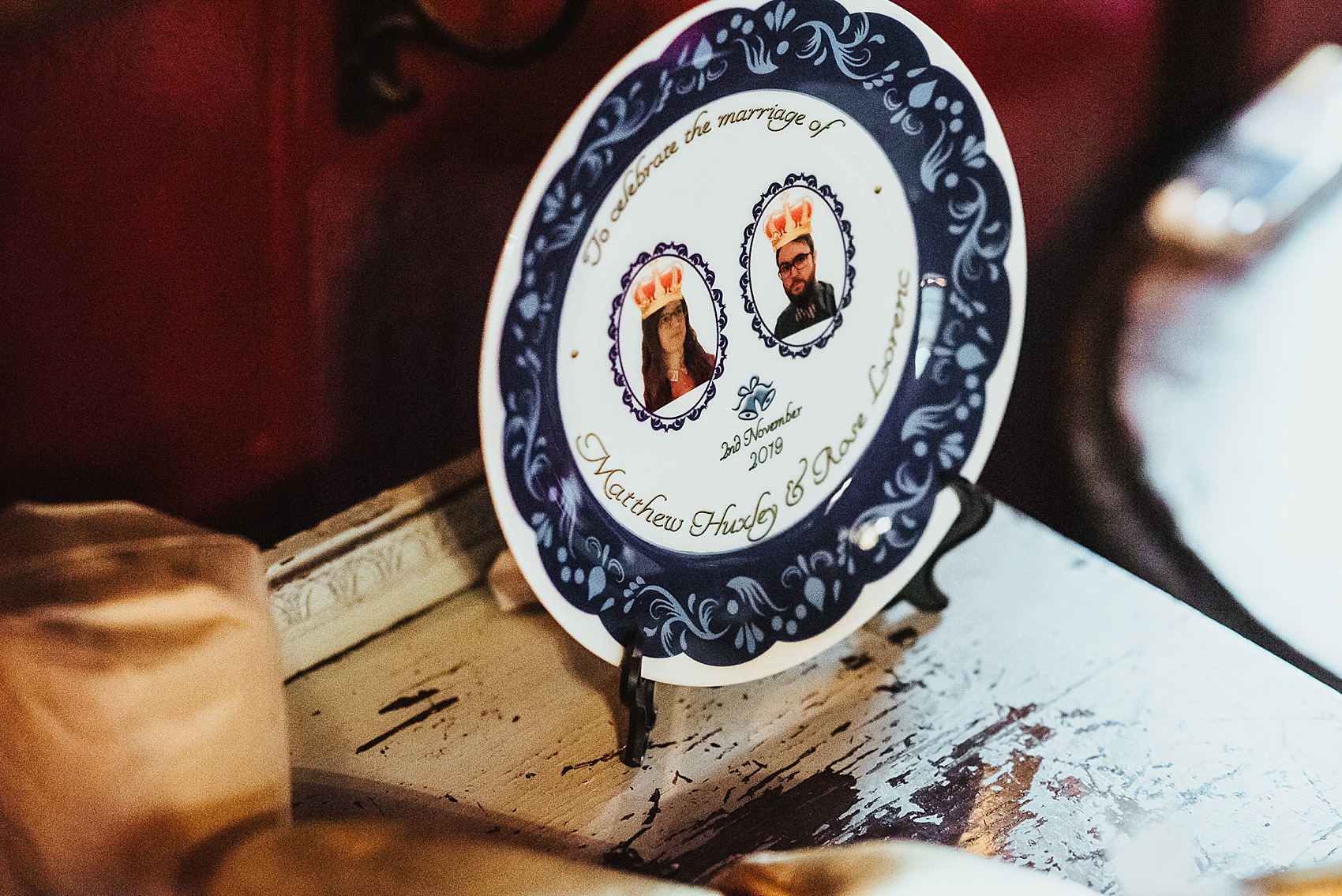 The East Dulwich Tavern team served up a delicious dinner for everyone, which included the most spectacular looking sticky toffee pudding, which was enjoyed before the evening's dancing began – with live music from John Bull & the Bandits, booked via Craft Music.
Rose's Mum hand lettered signage for both the ceremony, and for the table place settings, and the couple designed their own stationery, using Printed.com for printing.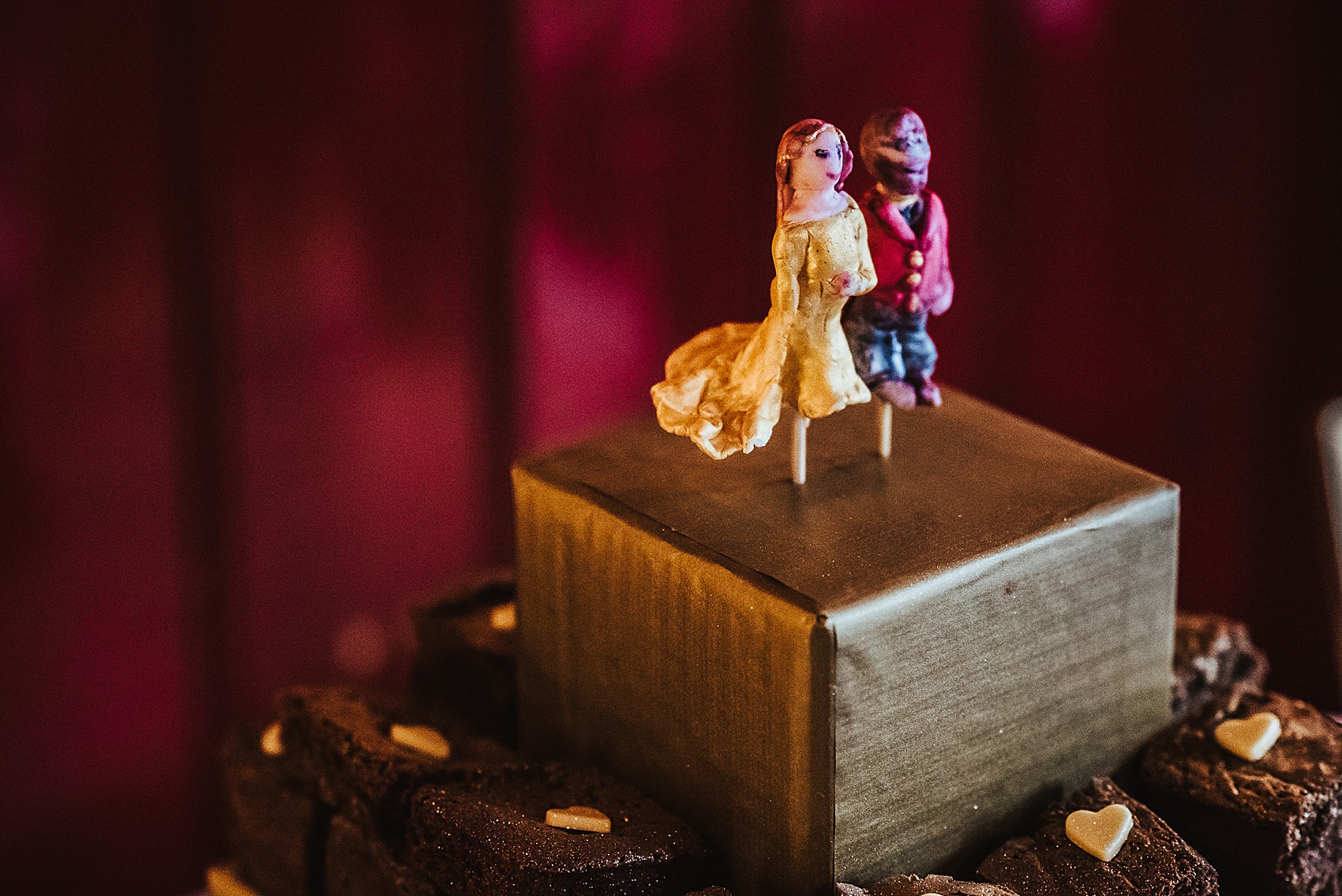 "My Mum made all the brownies for our cake – we never wanted a traditional wedding cake and we both love brownies! My Mum is a bit traumatised by the experience of making so many brownies, so definitely isn't going to go into business making them for other weddings! My sister crafted the bride and groom from icing to go on the top tier."
"We didn't want a first dance, so just let the band start playing and then encouraged everyone to get up and dance with us! It's impossible to choose a favourite part of the day, but the dancing in the evening has got to be up there."
Words of Wedded Wisdom
"Most importantly, don't stress! Think about what is really important to you – the dancing, the dress, the location? For us it was always about having a celebration and a party with our family and friends, and that kept us grounded through all of our decision making."
"Do what you want to do, don't do things because you think it needs to have that to be a wedding. Wear what you want, have it when you want – and have fun!"
Rose and Matt, thanks a million to you both. I love that you kept your day local to you, and were so inspired by Autumn and Hallowe'en, too. Many thanks to Mark Wallis for this glorious collection of images.
With love,
Laura