Something has shifted this weekend! After the most incredibly difficult week, it truly feels like there is an opportunity for us to collectively breath again. And I most certainly have breathed the biggest sigh of relief.
I hope if you're reading this, you're safe and well on this lockdown Sunday. I have something really lovely to share with you today that I hope will lift your spirits anyway; a pre lockdown wedding full of handmade and laidback joy.
Yolanda, a Costume Assistant for Film and TV married Drew, Assistant Cameraman for Film and TV on 18th January 2020 at Hampton Court House, London. The couple hired wedding planner Cherelle Joseph at Perfectly Planned 4 You.
The Chamberlins Photography

+ Follow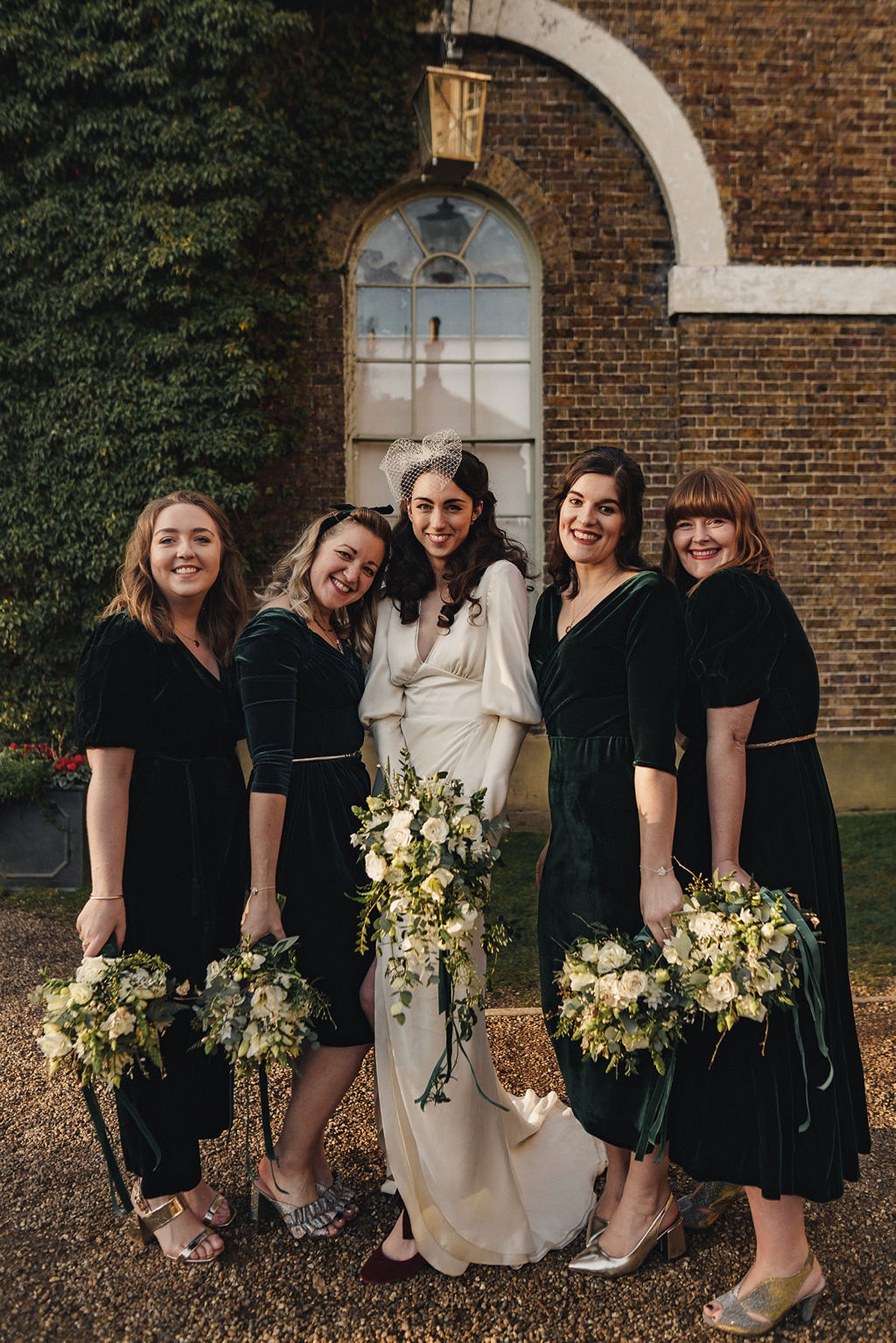 "We had one of the last 'normal' weddings before lockdown. Something we are grateful for every single day. We were able to have 150 of our favourite people in a fairly small venue, all hugging and dancing long into the night and the memories of this during such an unusual worrying time has been a huge comfort."
"We know we were very lucky, but to anyone who had to postpone their big day, whenever and however it may come about in the end, it will be even more magical and people will really appreciate being together again. They will all be dream weddings."
Join our mailing list now to receive occasional newsletters providing vital insight, updates & offers from our Little Book Wedding Directory members.
"My dress, along with Drew's suit, were actually designed by me along with a dear friend Adrian at Academy Costumes in London. After trying many dresses without finding The One, I realised that working in the Costume Department as a career had given me close contacts with some of the best makers and designers for the Film and TV industry anyone could wish for."
"I was very lucky to be able to call upon these friends for such a personal reason, and create the perfect dress for me." 
"While I didn't actually buy my dress from a boutique, I did visit a few in the lead up to the big day, one in London and one in Cambridge and I found the experience very pleasurable."
I felt extremely well cared for and having my Mum and Nan there to experience it with me was wonderful. I absolutely recommend this for any Bride-to-be as trying lots of styles will get you much closer to finding 'The One Dress'."
"We had a winter wedding and I wanted our outfits to reflect this in part. My dress had long, detailed sleeves, a high wrap detail at the front down to the small train, and a V neck front and back."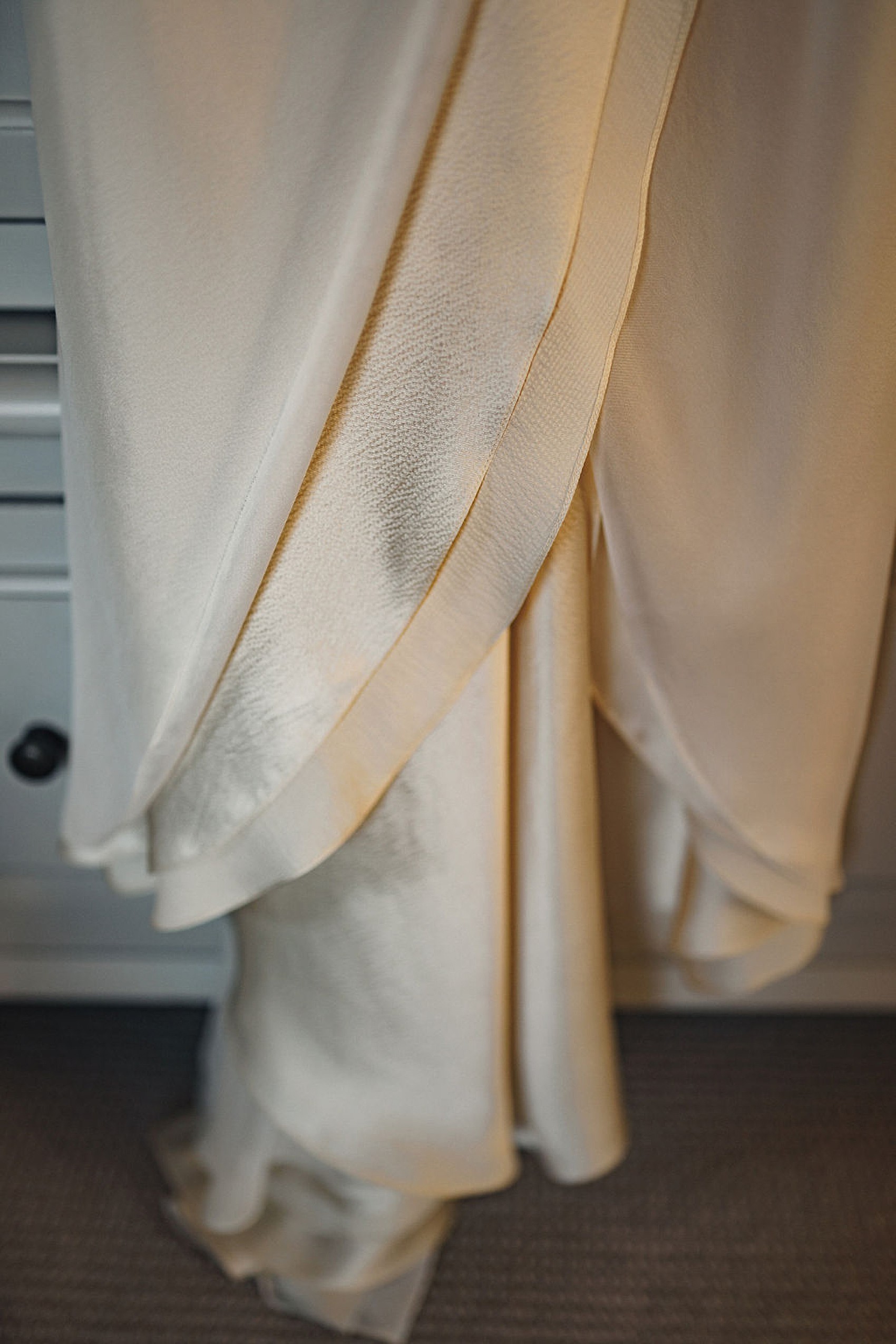 "It was finished off with vintage glass buttons. Every part of my dress was designed around my specific style and body shape, which really helped me feel confident on the day."
"What I loved most about what I wore, as well as what Drew wore, was how perfect it was for us. Obviously being able to design your own wedding outfits bespoke is wonderful, but just feeling the absolute best you've ever looked while also being totally comfortable throughout the day. Believe me, we hit the dance floor hard in these outfits."
"I had the most gorgeous deep red velvet court shoes with long wrap around ties for bows at my ankles. They were from Harriet Wilde and I chose them about a year before I even started looking for a dress."
"They are like a grown up pair of Wizard of Oz Ruby slippers and I love them."
"My only two accessories, other than in my hair, were a gold wedding ring I have worn for many years that belongs to my Nan and is very important to me, and a bracelet that Drew had left for me to open the morning of the wedding along with a beautiful letter that almost ruined my mascara."
"The bracelet is the Dinosaur and Baroque Pearl bracelet from Alex Monroe. Alex Monroe jewellery (and dinosaurs) have a very special place in my heart, this bracelet was limited edition Natural History Museum collection, Drew took me to see the dinosaurs there on our first ever date, so it really was a perfect gift and I loved wearing it on the day."
"My bridesmaids dresses were one of my favourite part of the wedding and I had nothing to do with them! I had chosen dark emerald green velvet as the colour for them, then my four wonderful, stylish bridesmaids Trina, Phoebe, Lauren & Helen all chose their own outfits."
"It couldn't have worked more perfectly. All four of them have different dress styles they feel most confident and gorgeous in and I wanted them to feel that on the day."
Visit the #WhatAboutWeddings website to find out how you can lobby for government support, be you a couple planning a wedding, a supplier or venue owner.
"They ranged from a new season v-neck jumpsuit from Whistles on my fabulous little sister, to vintage 1960's/70's/80's gems found on Etsy for the other ladies."
"Seeing them all dressed so wonderfully and looking happy made me feel so relaxed and I knew that they would be able to enjoy the day as much as I did, feeling their very best. Their shoes were all vintage, all different (like the dresses) and all gold or gold glittery. Just dreamy."
"My one colour choice for the day was the dark green velvet, it was the Bridesmaids dresses and the ribbon on the flowers and  buttonholes It's my absolute favourite fabric, there is something so elegant and decedent about."
"It brings up images of the amazing dresses worn in the Golden age of Hollywood, and velvet in fairy lights and candles looks almost liquid. It was perfect."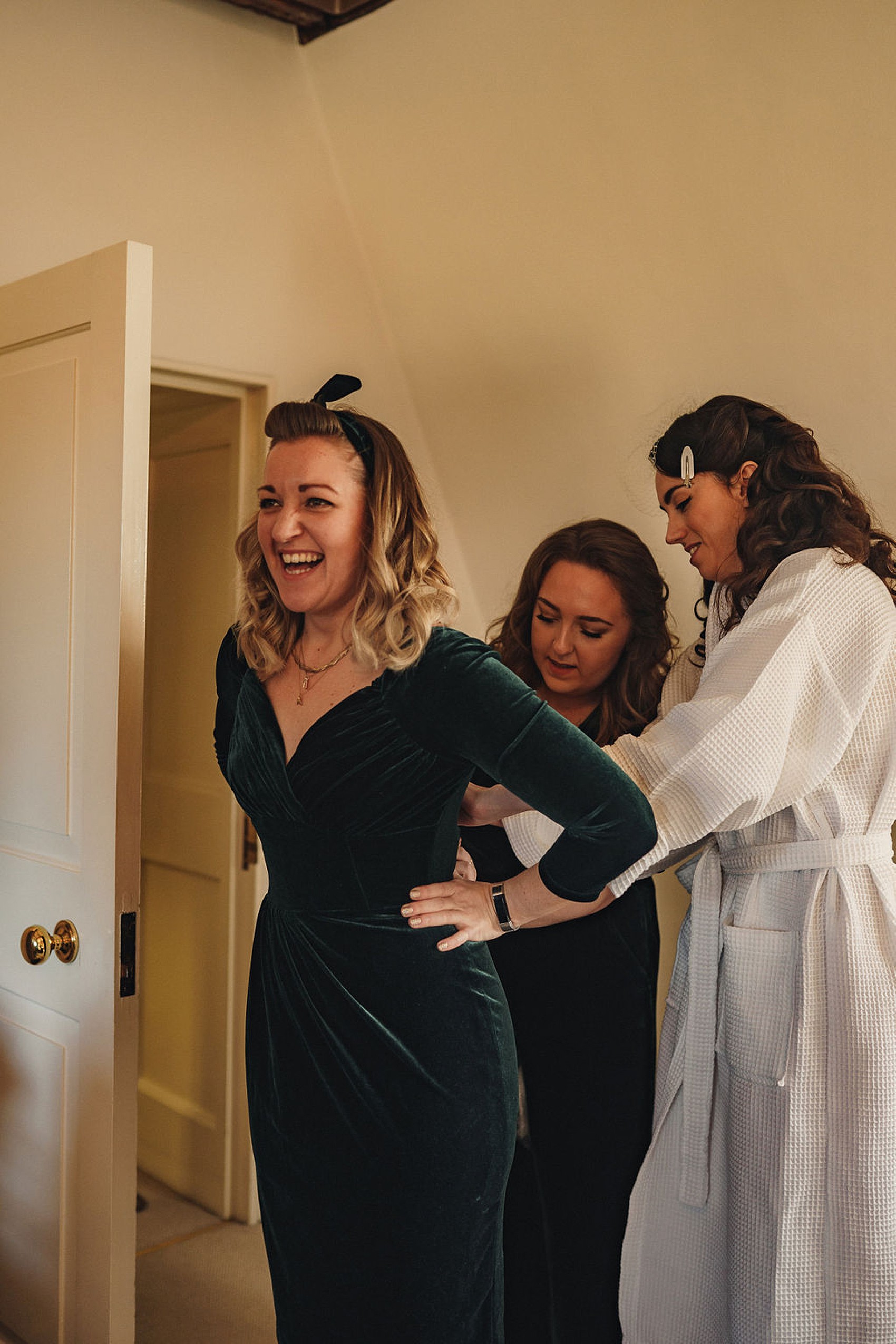 "My bridesmaids all wore their own choice of jewellery, one of my Bridesmaids famously wears lots of gorgeous vintage necklaces all layered up, so she had to wear them on the day too. The only matching element on the ladies was a rose bracelet I gave them all the night before, as a thank you for being so wonderful."
"These were Rose silver chain bracelets from Alex Monroe. I also gave one of these bracelets to each of our wonderful mums, my mum Debbie and Drew's mum Lorainne."
"Hampton Court House was on our list of 'To Visit' venues, as it is close to our home. We saw a few others around the area but the moment we walked through the main doors (which were the doors Yolanda ended up entering as the wedding music began) we knew it was 'our' venue."
"It was the perfect mix of traditional Georgian grandeau, and classy decoration, plus the two huge wood fire places, that were lit, totally sold us. The rest of the venue just made us more certain of how perfect it was for us."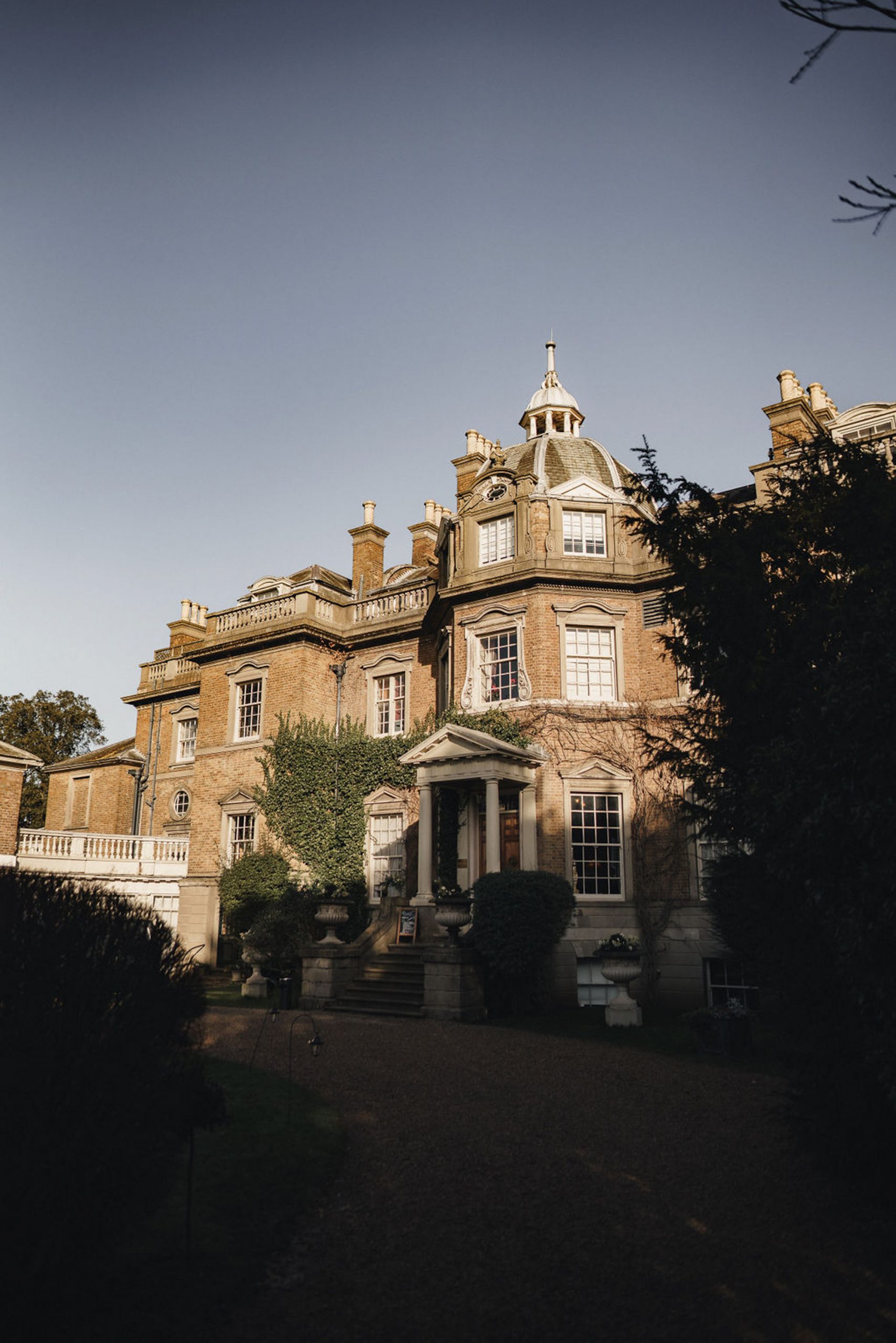 "Our florist was the dreamboat Steph Turpin at Fairy Nuff, Hampton Hill. We got her on quite late in the planning process, and she still created the most spectacular floral towers (which we moved into the conservatory in the evening)."
"Amazing floral candelabras on the tables, stunning boutonnières for the gents and the most beautiful bouquets for me and my bridesmaids."
"We know that Steph has done some high profile weddings in the past and she brought the same level of care and artistry to ours (with our slightly more modest budget!) Her arrangements are truly beautiful and I want to get married all over just to see them all again."
"I wanted a fairly minimal colour theme as the venue was so colourful. We went for a fair amount of greenery, eucalyptus, rosemary, jasmine etc, as well as solely white flowers; small white spray roses, white scented jasmine, white wax flowers etc."
"Steph then also added the genius final touch of some gold glitter painted tiny leaves that caught the light."
"We met while studying Costume Design and Film making (respectively) at the Arts University in Bournemouth, and both worked on a graduate film together. It took two years for us to actually admit we liked each other though."
"Two and a half years ago went on a winter holiday to New York, on our first night there, there was a huge snow blizzard, we went to the roof bar of our hotel bar (which Drew had requested be closed, unbeknown to me!)."
"We stood, looking at the Manhattan skyline and when I turned around Drew was on one knew in 4 foot of snow. The rest is history, it was a wonderful holiday."
"We were engaged for two years and 14 days before the wedding. We really enjoyed being engaged, so weren't in a huge hurry to get married, plus we wanted to save up, to have the best day, filled with all the people we wanted there."
"We both have a love for History and we knew we wanted a venue that would reflect this. Hampton court house was just perfect for us, as we had the ceremony as well as the reception there."
"The building is simply gorgeous, I recommend checking out the Shell Grotto if you are ever there."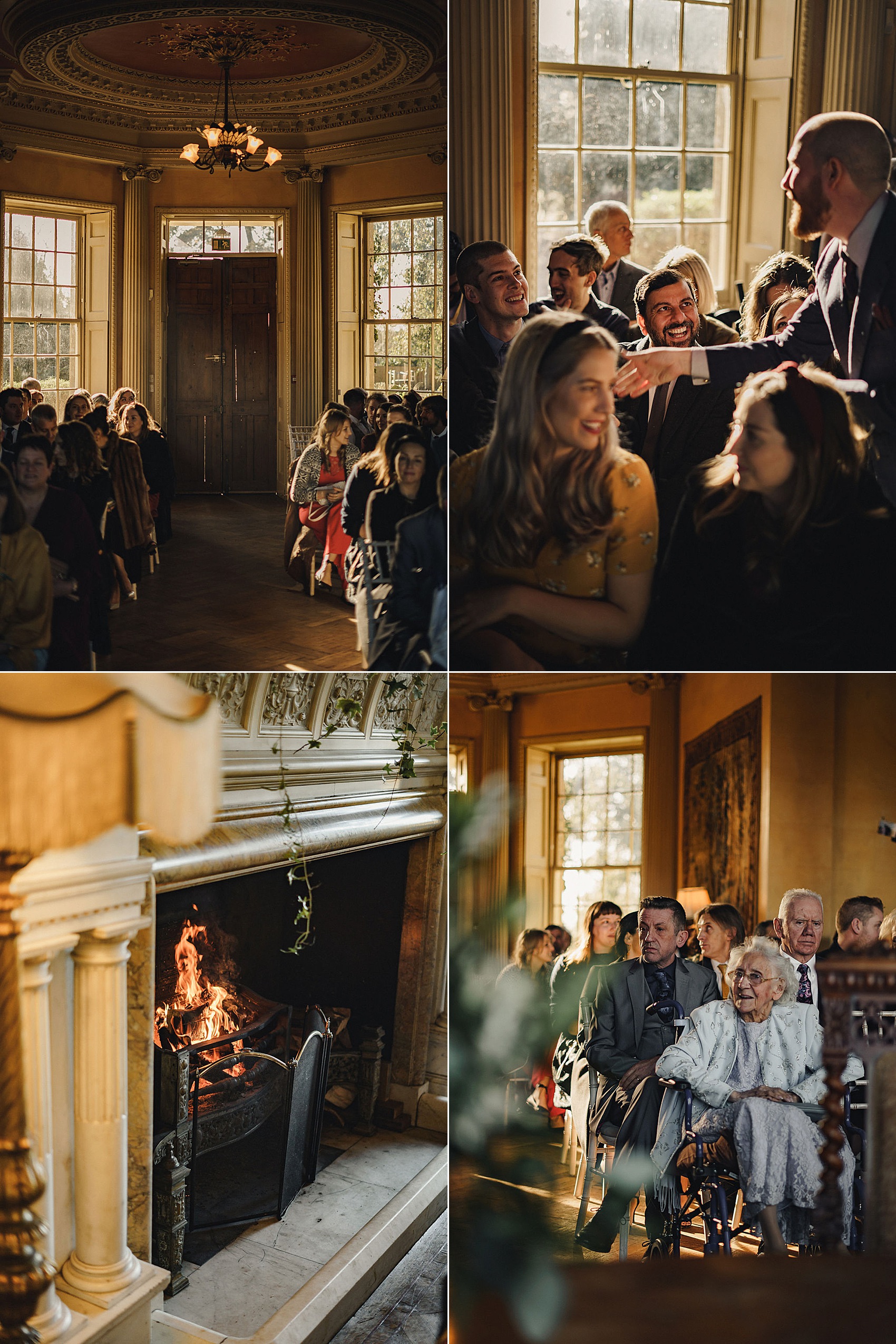 "The rest of our wedding had subtle hints to movies, our careers in this industry stems from our love of all things film, the costumes, locations, history etc and it was inevitable that some of that would come through on the day."
"I did wear a veil – I very nearly didn't, but my dear friend who did my hair and make-up gave me hers as 'something borrowed' and I fell totally in love with it."
"It was a 1930's net fascinator veil that just sat on the top of my head and covered one eye. Until I put that particular veil on, I really didn't think of would look right with my dress but I was very wrong."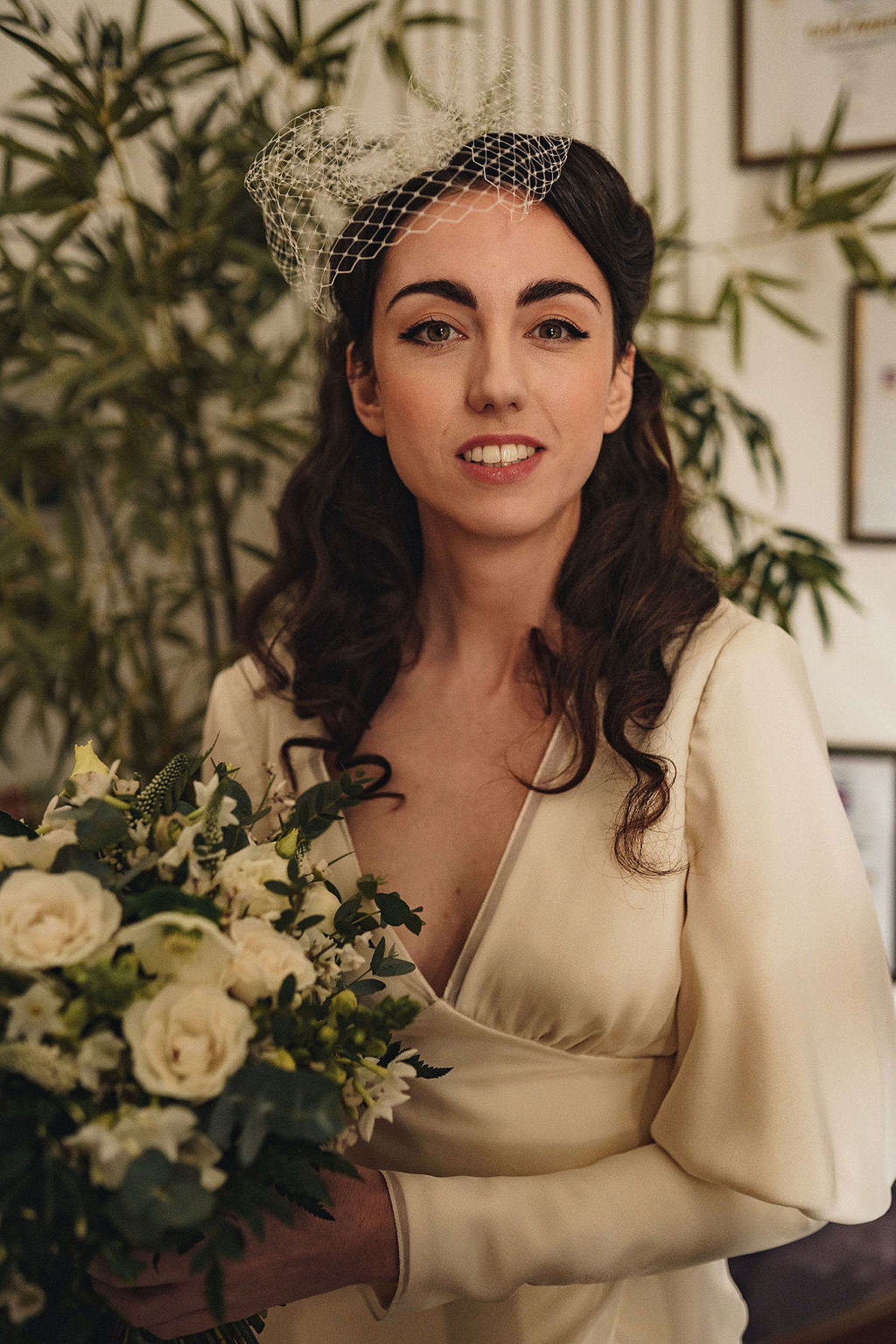 "Aside from my veil I had a Gold Victorian floral crown which I bought from 'BettyBigDay' on Etsy (who was a delight to deal with). The floral crown came with a golden floral boutonnière, and was around 150 years old. I put the boutonnière on the velvet sash on my flowers."
"I wore Chanel Mademoiselle, there was no reason other than its my preferred perfume and I love the smell, and so does Drew. Drew wore Penhaligon's Halfeti (Leather special edition) as it's Drew's preferred aftershave and I love how it smells on him too."
"Drew's suit was also designed and made at the supremely talented Academy Costumes. It was three-piece, in a fine navy wool with auburn check. The lining of his suit were 1950's pin up girl illustrations, chosen in part by me."
"Drew's fortunate enough to have not only the suit made bespoke but also his shirt."
"His tie and pocket square, also made, were both vintage silk. Drew's shoes were dark brown Loakes lace up brogue boots, which we felt were much more appropriate for a winter wedding."
"They also minimise the chance of an unwanted ankle flash when seated. However, should an ankle have been flashed, Drew was wearing the fabbiest socks, they had crabs with knives on them, from Socksmith. I love a jazzy sock."
"Drew was wearing his great-grandfathers gold pocket watch and chain, in the double breasted waistcoat. On the chain was a victorian onyx stone fob that I had given him as his wedding morning gift."
"Drew was wearing gold cufflinks and button braces from a period clothing company I use often for work called Darcy's Clothing LTD in Lewes. I cannot recommend them highly enough."
"An accessory that Drew wore was a vintage tie clip I gave him years ago, I truly believe an outfit is not complete without a tie clip. Therefore we also gave vintage tie clips to all our groomsmen and the two dads, along with handmade ties and pocket squares the same as Drew's. They all looked so smart, I was over the moon."
"My wonderful Dad, David, walked me down the aisle to The Prologue music from Beauty and the Beast (minus the scary narrator, and from the original animated version). This was played by a family friend, a renound jazz pianist, on the grand piano that was in the hall we got married in."
"It couldn't have been more perfect. I debated a more traditional aisle song but that prologue music has been all I wanted from when I was a very young girl dreaming of being a princess, and I got to walk to it when I was 28 and actually felt like one."
"Ironically, throughout this, my eyes were the only dry ones in the hall."
"Our vows were very short, they coincided with the giving of the rings. We were both nervous about speaking anything long in front of a crowd (Drew already had his speech to worry about!) and we tell each other how much we love each other every day."
"We chose the following:  I promise to adore you forever, take care of you always, you are my best friend, I love you."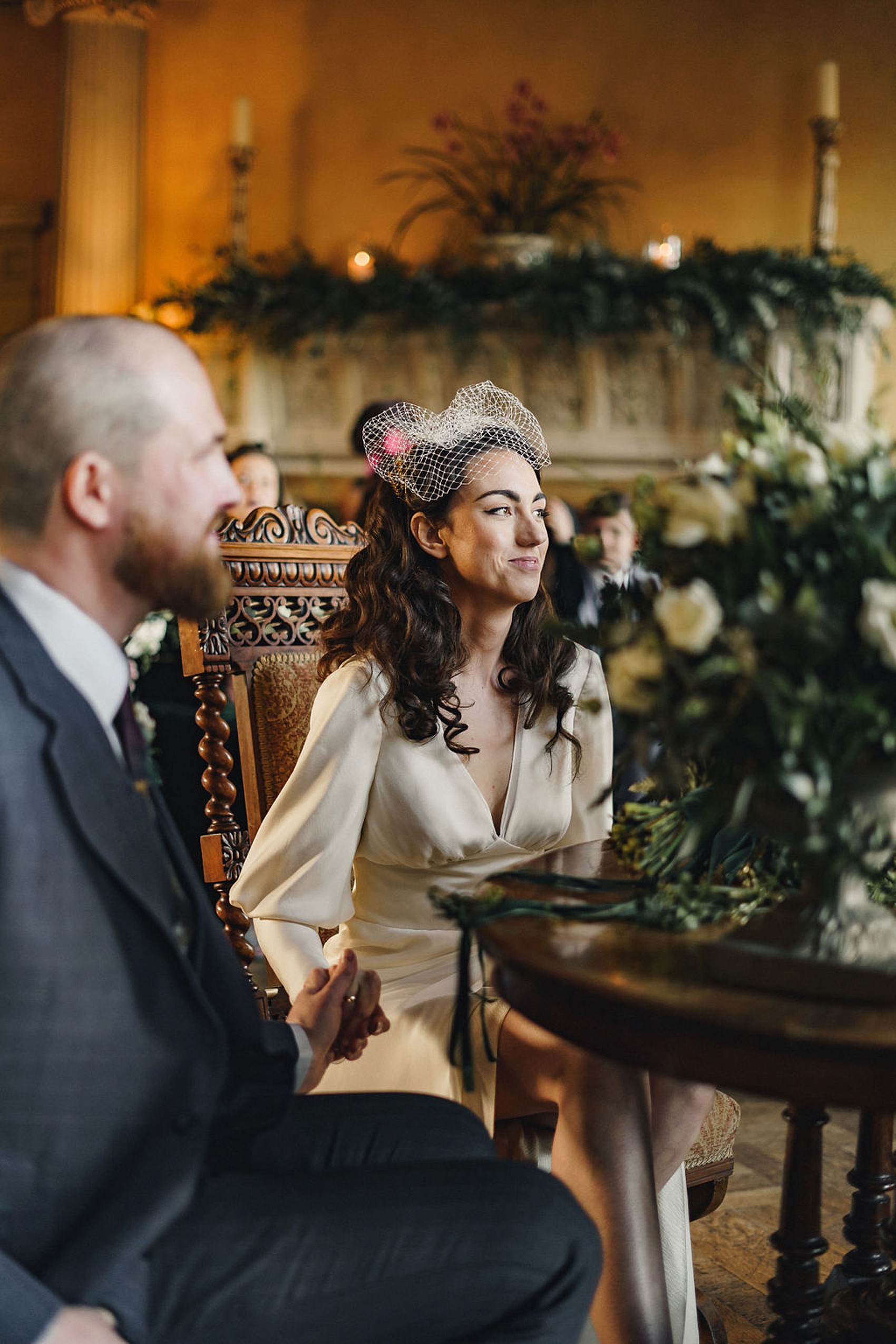 "Both mine and Drew's rings were Alex Monroe. Drew has a gold Heritage band and mine is a Rosa Vinea band that fits with my engagement ring. We chose Alex Monroe as his jewellery is just wonderful."
"I have loved everything he has ever brought out, I have a few necklaces from over the years and my absolute favourite item is my gorgeous engagement ring that Drew gave me."
"We had one reading, read by Drews father Bill. We chose Shakespeare's sonnet 116. The sonnet has always had a very special place in my heart. It's not soppy or flowery, it's just true."
Explore lots of more wedding readings here on Love My Dress
"Shakespeare lists all the ways that marriage and love are steadfast, not easy all the time by any means, and we don't stay young forever, but love is always present, he ends by saying 'if this be error, and upon me prov'd, I never writ, nor no man ever lov'd'. But he did write it, therefore man (and woman!) do love and have for all time.'  It's what we feel best reflected our marriage."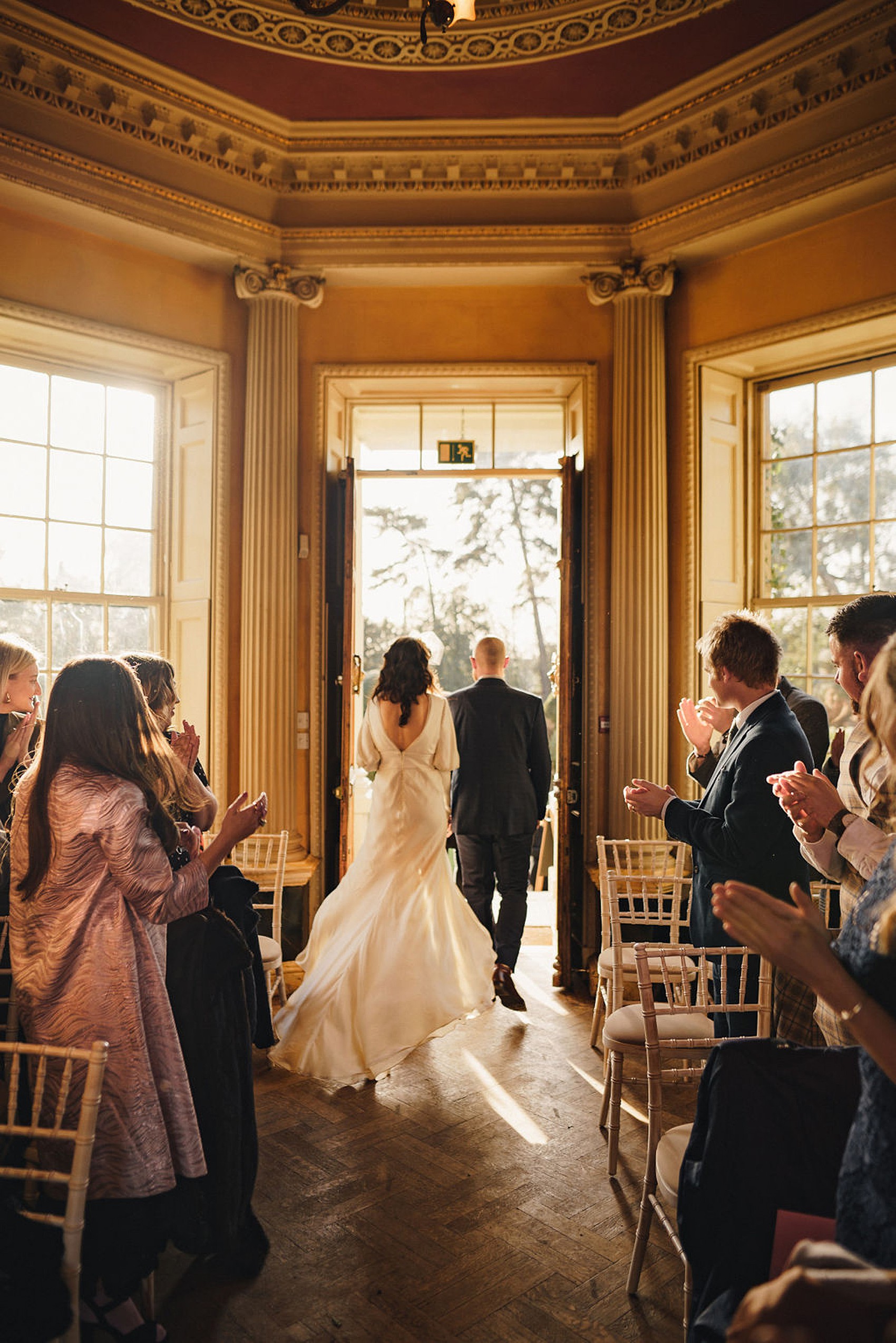 "I had a trailing bouquet, I wanted all the flowers and arrangements to look like they were still growing wild. They really were perfect."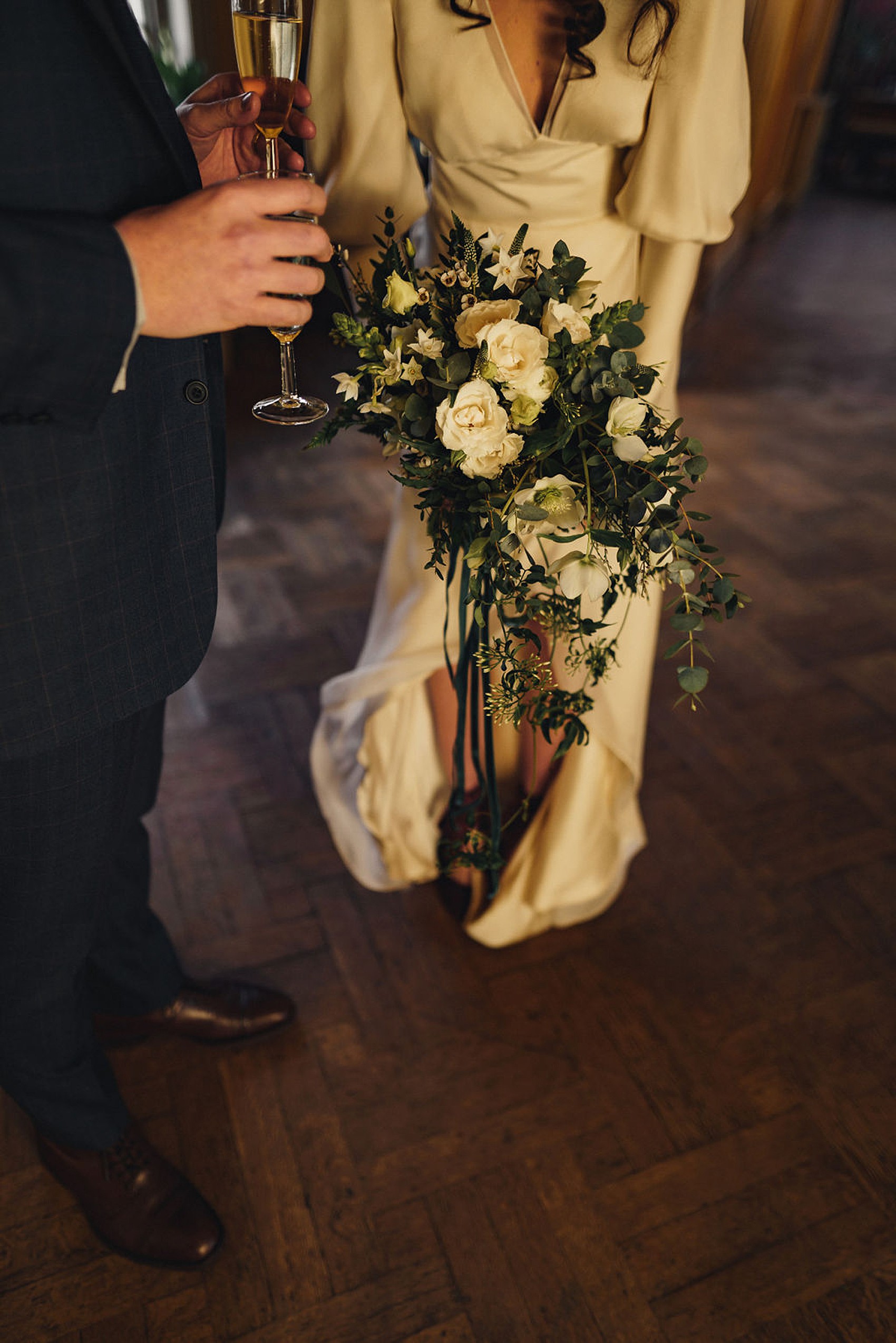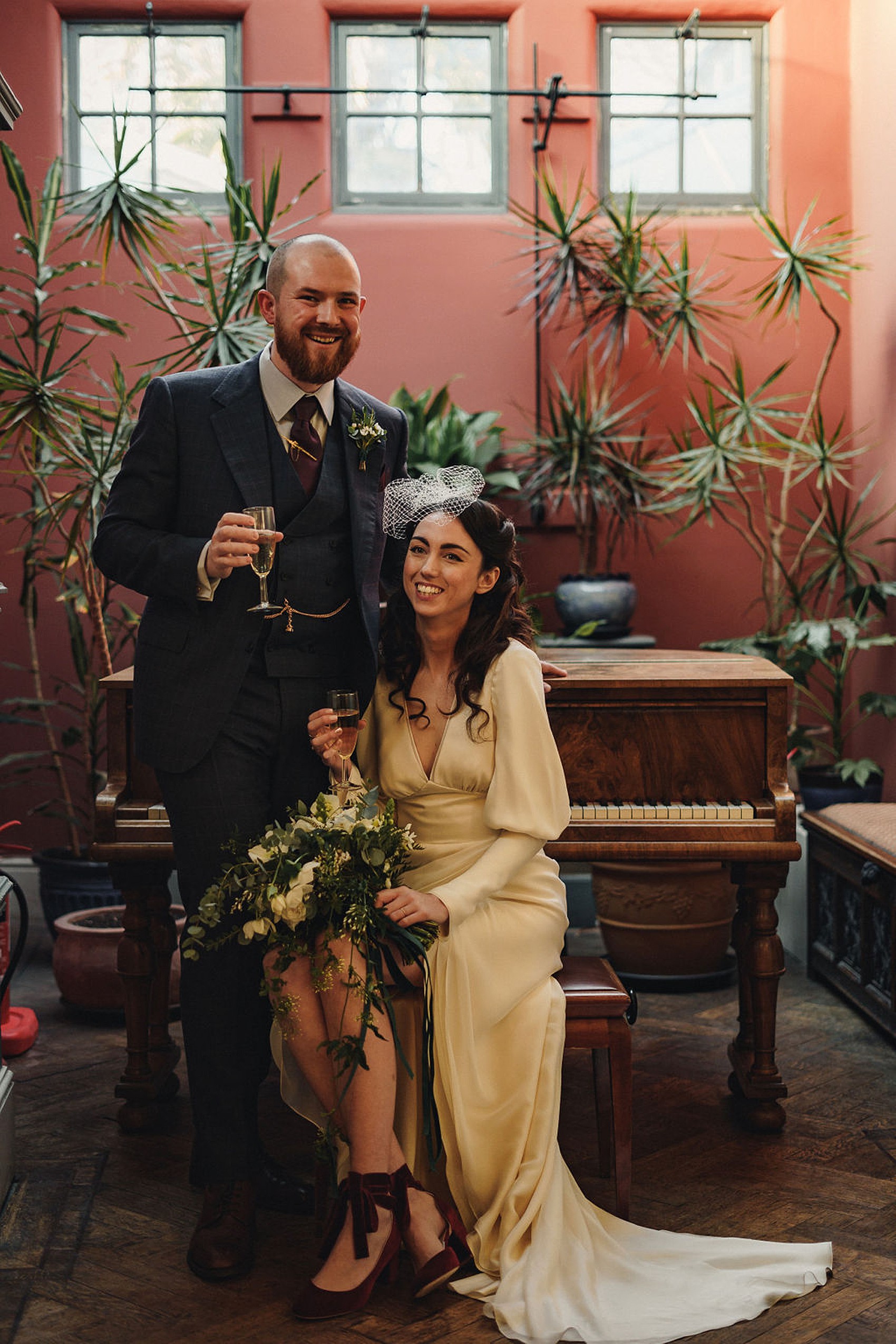 "We chose to have rice and bubble guns instead of confetti, which looked absolutely amazing the the glorious January sunshine!"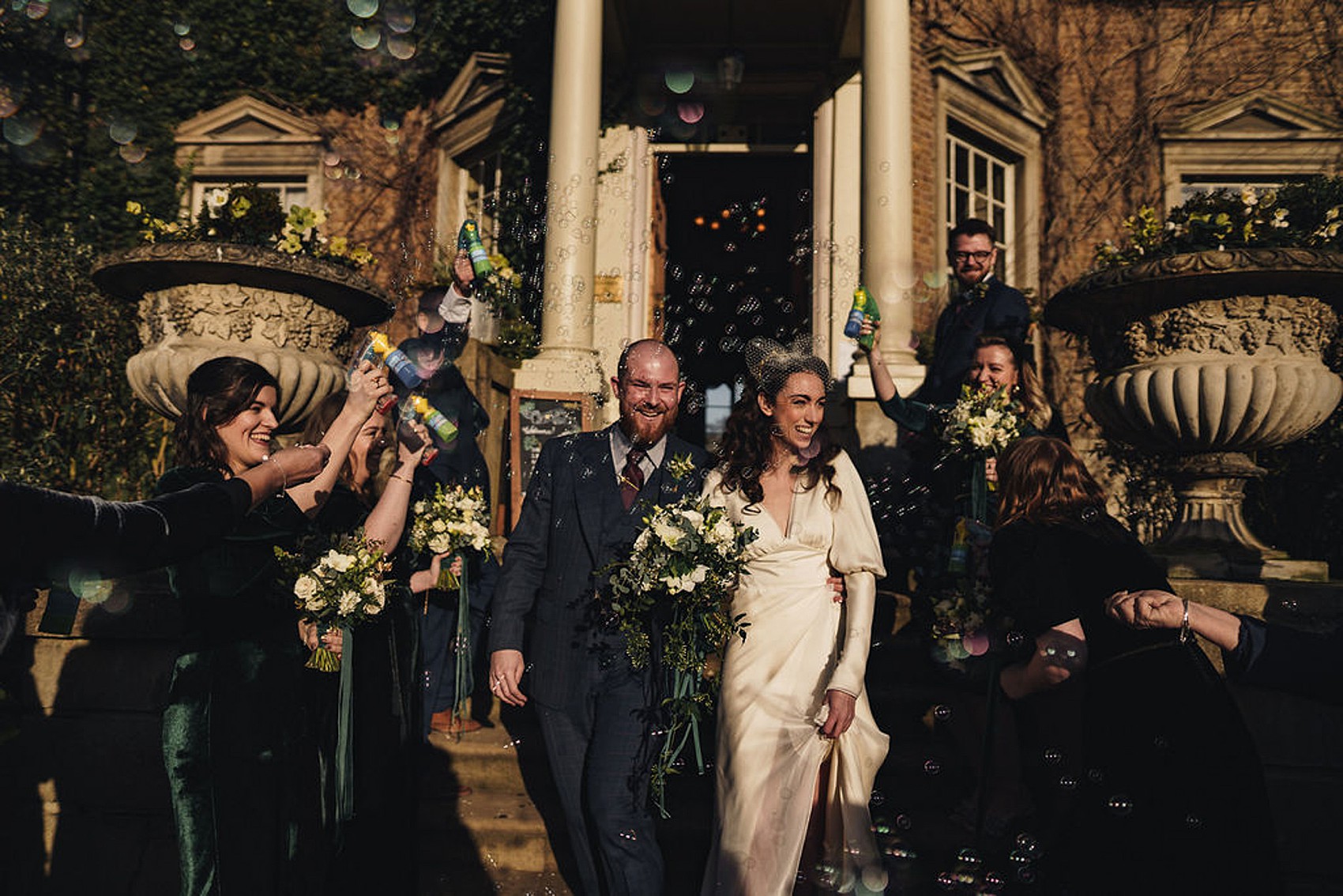 The couple hired husband and wife, London based alternative wedding photography team The Chamberlins to photograph their day…
"Our wedding photos speak for themselves quite frankly. We are still absolutely floored by how stunning they are. Everything we did ourselves to make the wedding perfect would have been wasted had we had different photographers. Will and Celle from The Chamberlins are absolutely spectacular photographers."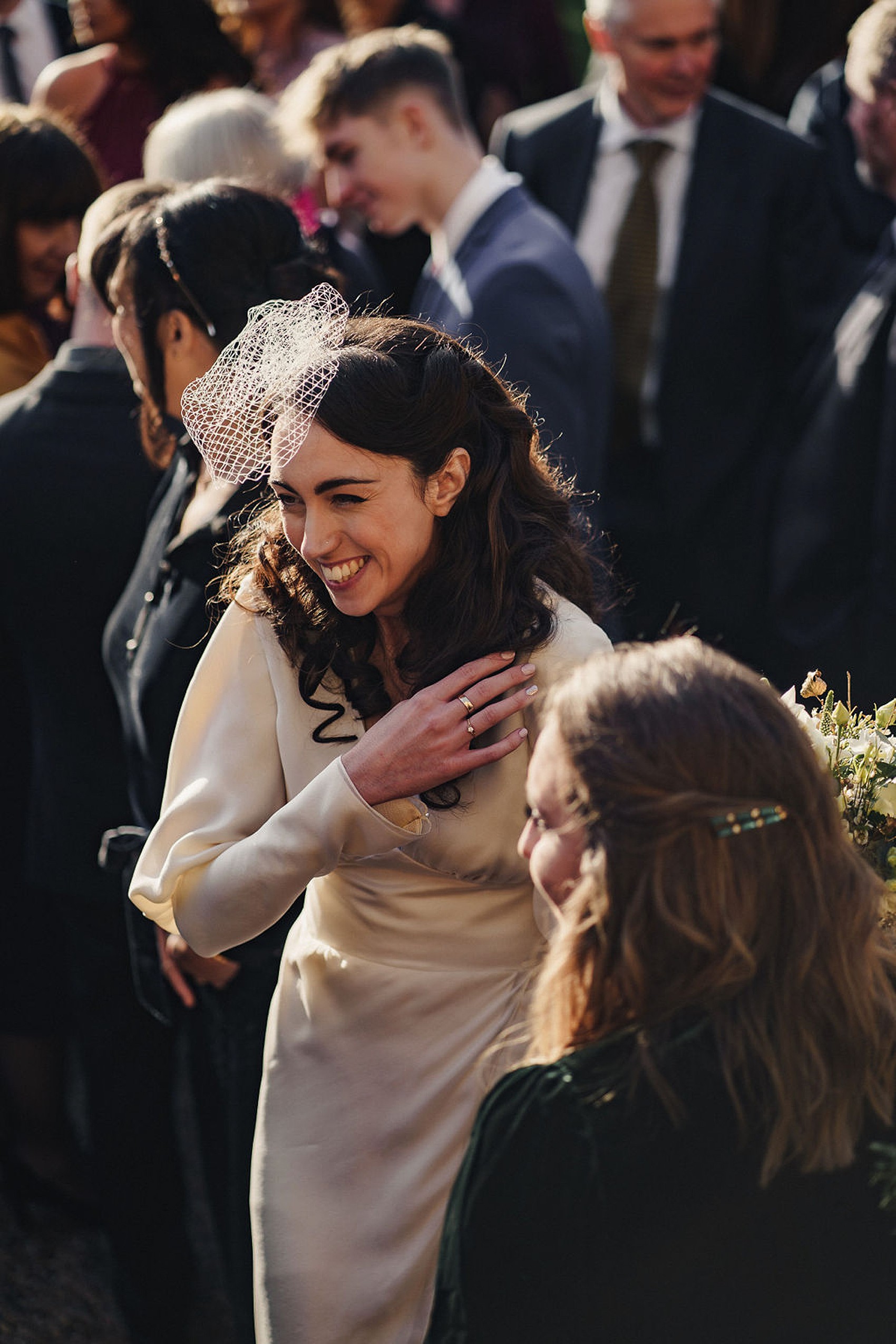 "Their poise and professionalism combined with fun, flair and general Beyonce levels of fierceness (Will included!) through the whole day created a set of photographs that make us, the venue and everyone else there look like something straight out of the movies. Which we couldn't have dreamt would be the case."
"We have looked at the photos endlessly since we were sent them. They have made us grin, cry, laugh… a lot… and we know that half of that was down to the two of them alone. We felt so at ease and they took the best photos of us there has ever been and surely ever will be! To have both mine and Drew's days documented from the crack of dawn has been so special to see and relive."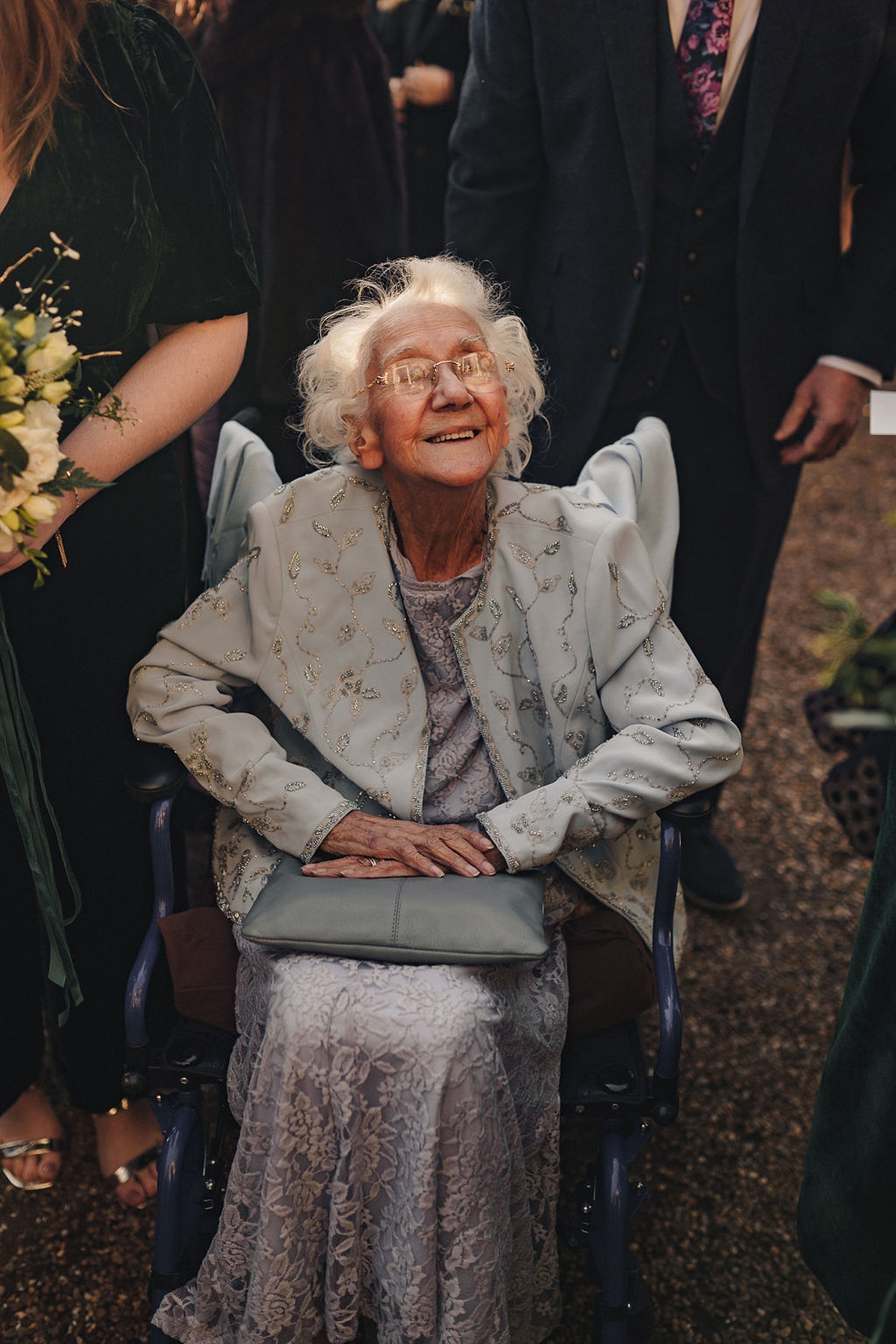 "Celle spent the morning with me and Will, with Drew. For us to be able to see each other right before we got married is so special and I would highly recommend two photographers to anyone getting married. The fact that Will and Celle are a married couple themselves who famously LOVE 'LOVE' and weddings, makes for photos filled with love."
"May it be physical, through hugs and kisses or a glance, or unspoken eye contact, caught by their lenses. Moments that would have been lost to time, but that we can relive over and over thanks to this photographic power couple. I personally think they should photograph everyones weddings, then everyone would have THE BEST wedding photos."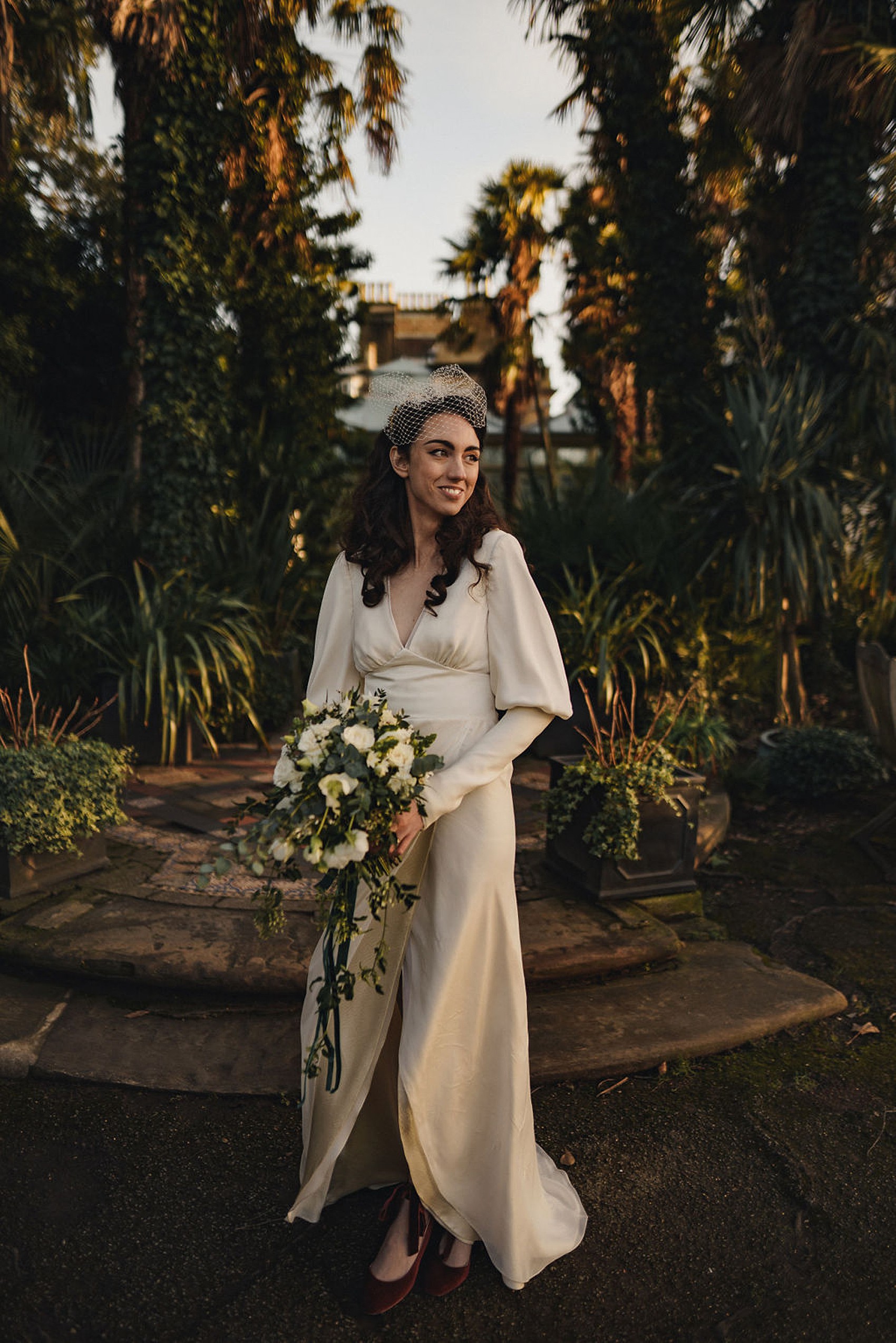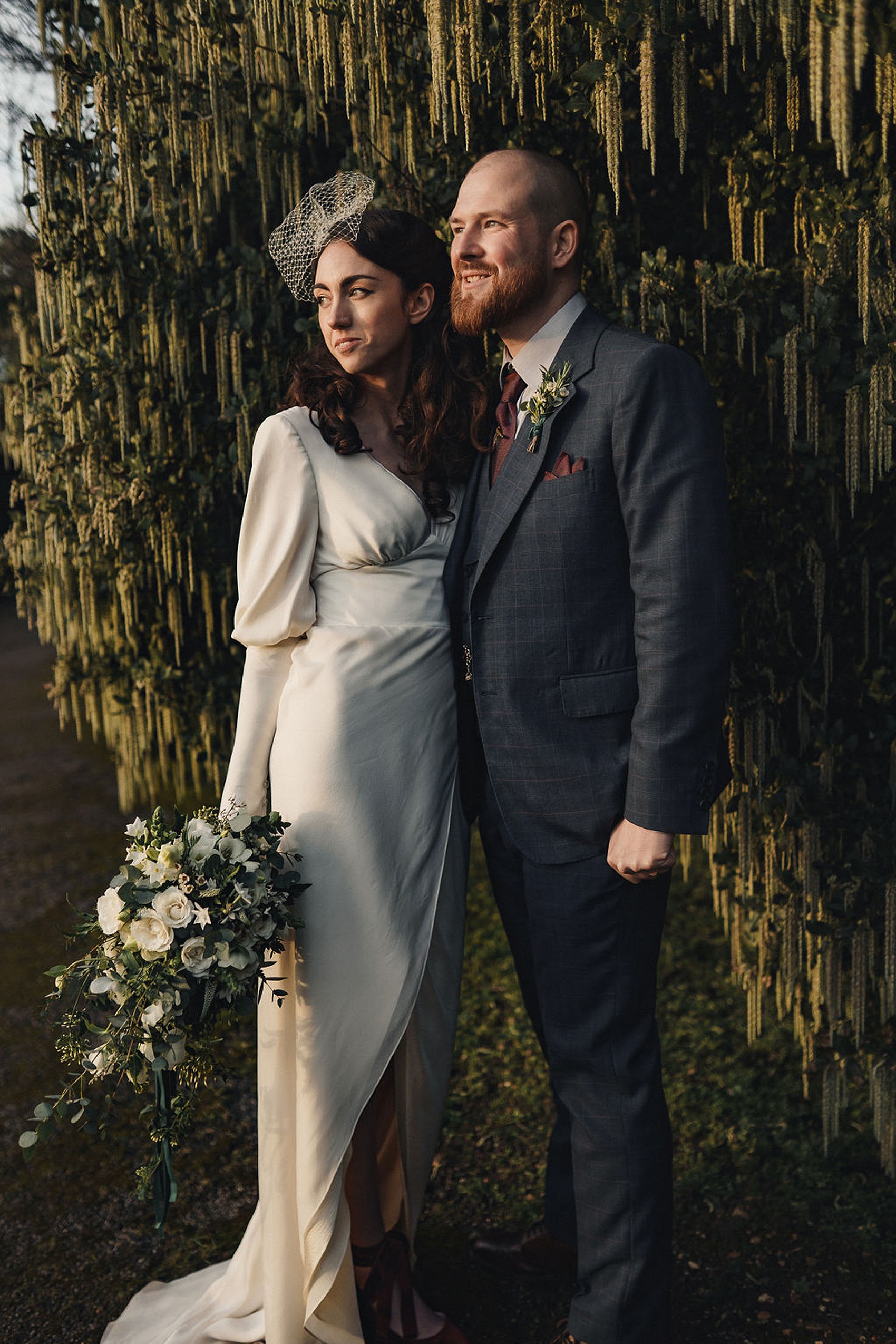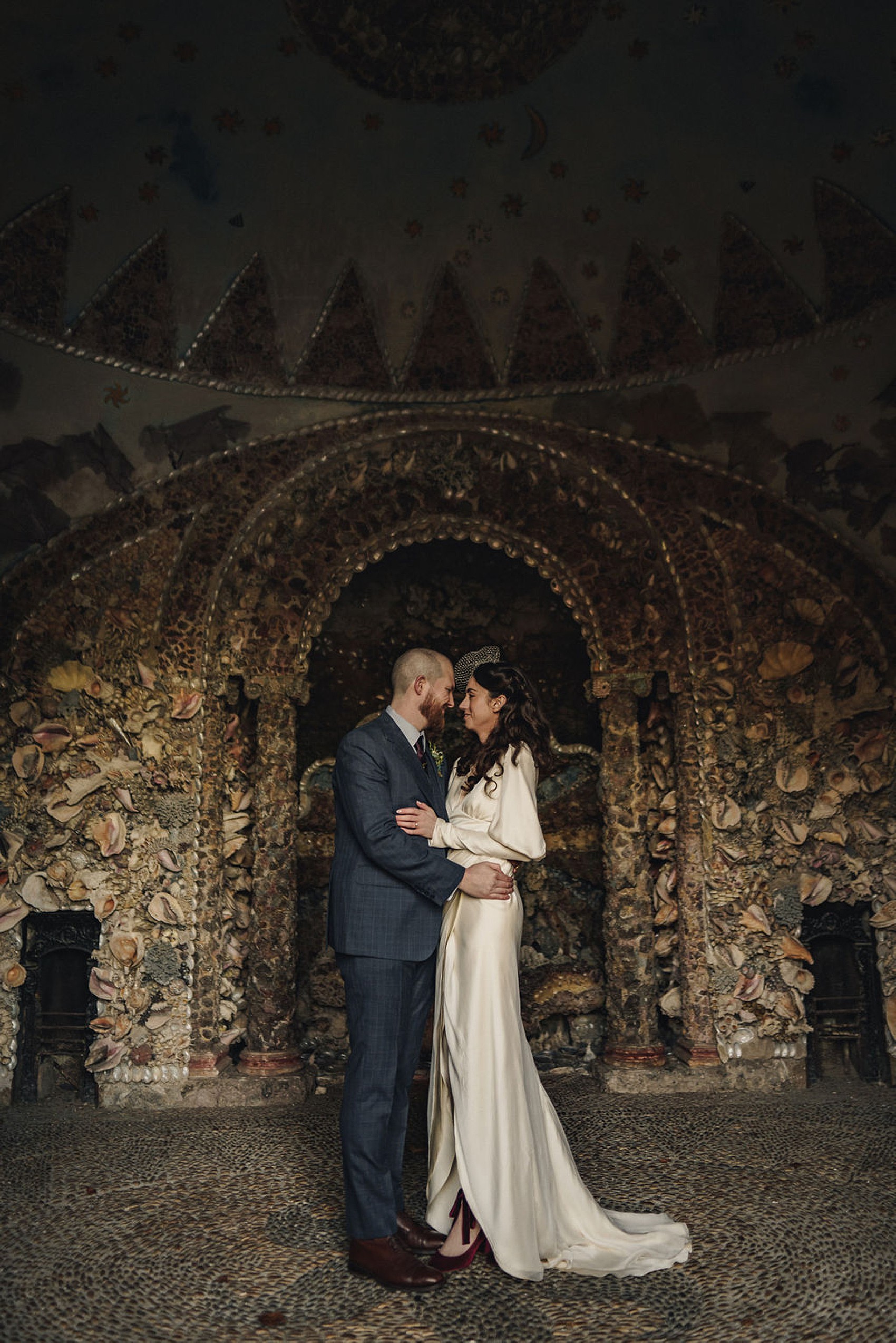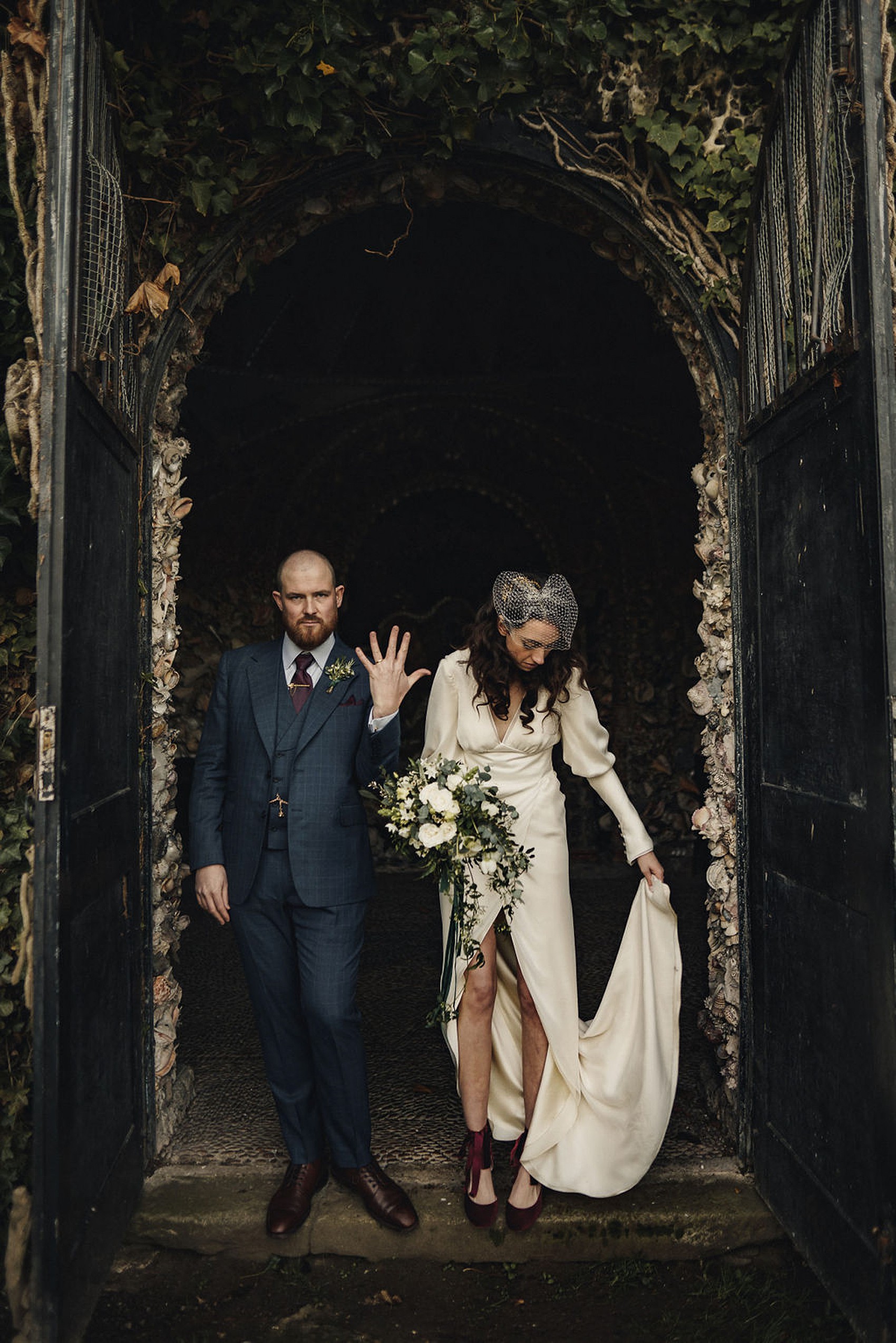 "Our wonderful stationary was designed by Gettin' Hitched Rock. We decided to use a website RSVP system, each guest got sent a unique password which, when entered into a personalised website opened up the menu, and loads of relevant info about the day, such as the address, hotels, travel ideas."
"We had the same theme (very similar to my flowers) for the invites, place name cards etc. We decided against an order of the day and menu cards as we felt it was unnecessary for our day. Our best touch, in my opinion, was the table chart. Each guest had their name on a business card, once they found their name, on the reverse of this card was a famous quote to one of 16 of our favourite films."
"Then they found the table with that film poster! It was a fun way to get people chatting."
"Our cakes (yes, plural, we couldn't choose!) were made and designed by highly talented cake maker Shona Darroch of Bakes By Shona. While still fairly new to the wedding cake game, she created an entire dessert and cake spread that was to die for and was demolished by our impressed guests."
"We had salted caramel cake, a raspberry and vanilla victoria sponge with Italian meringue icing and a criminally decedent chocolate cake."
Postponing your wedding to the winter months? Explore all our gorgeous winter weddings on Love My Dress
"We also had the most delicious vegan brownies from Shona as well that were gone before I even had a chance to sample. Shona provided all the cake stands and created a truly unforgettable spread. Highly recommended."
"We chose to have a selection of different cakes, almost resembling a cake stall at a fete, as we didn't want any to be leftover and we also had it as the dessert for our guests, and wanted them to have a choice of flavours. My only regret was not getting to eat enough of them all."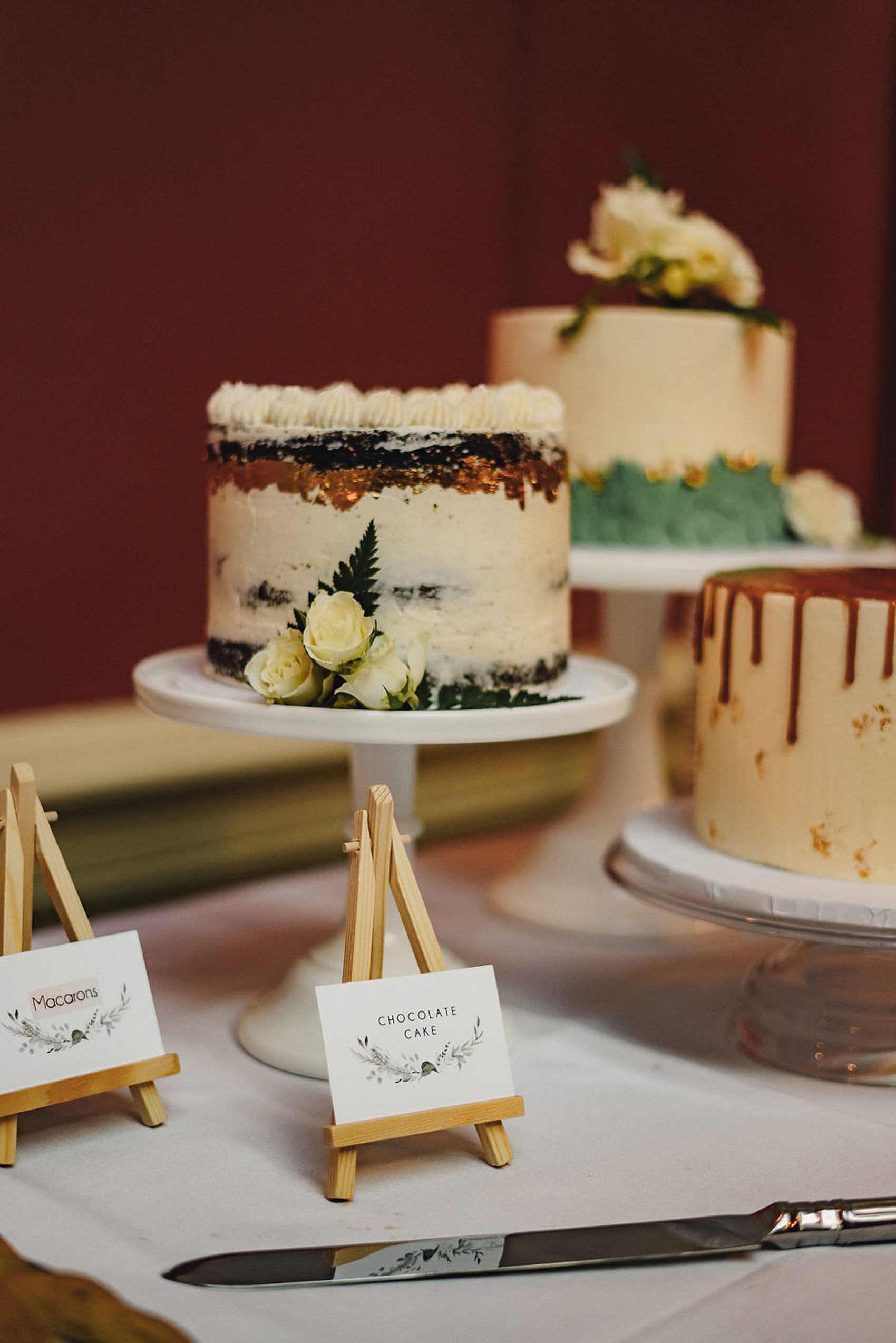 "Our wedding favours were double shot bottles on Carribean Rum (non alcoholic version for those who do not drink) and a concrete initial of each guests name, with gold detail, on each place setting."
"Mine and Drew's favourite holiday together has been Cuba and we have wonderful memories of drinking warm rum under the stars, so part of Drew's speech was for all to take a shot, this went down much better than we expected."
"The Concrete letters were made by my Sister and my Mum, my sister has a small Etsy shop selling gorgeous concrete pieces so I just had to utilise her amazing work. And everyone loved having something personal to take home (we see them on all the mantlepieces and windowsills)."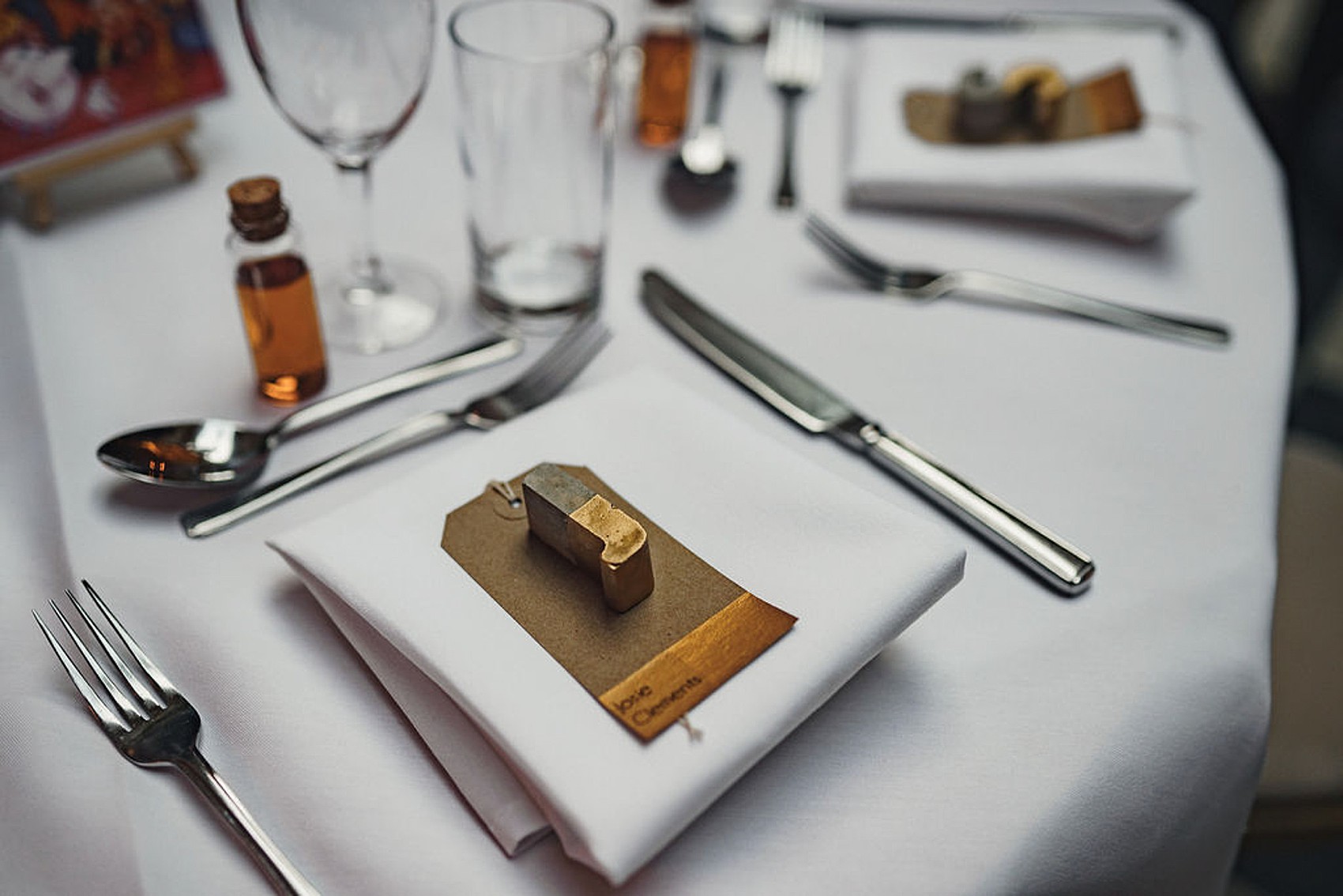 "For decor, we stayed fairly minimal as the venue itself is so decadent and gorgeous. There were fairy lights aplenty in all rooms and The flower arrangements totally stole the show."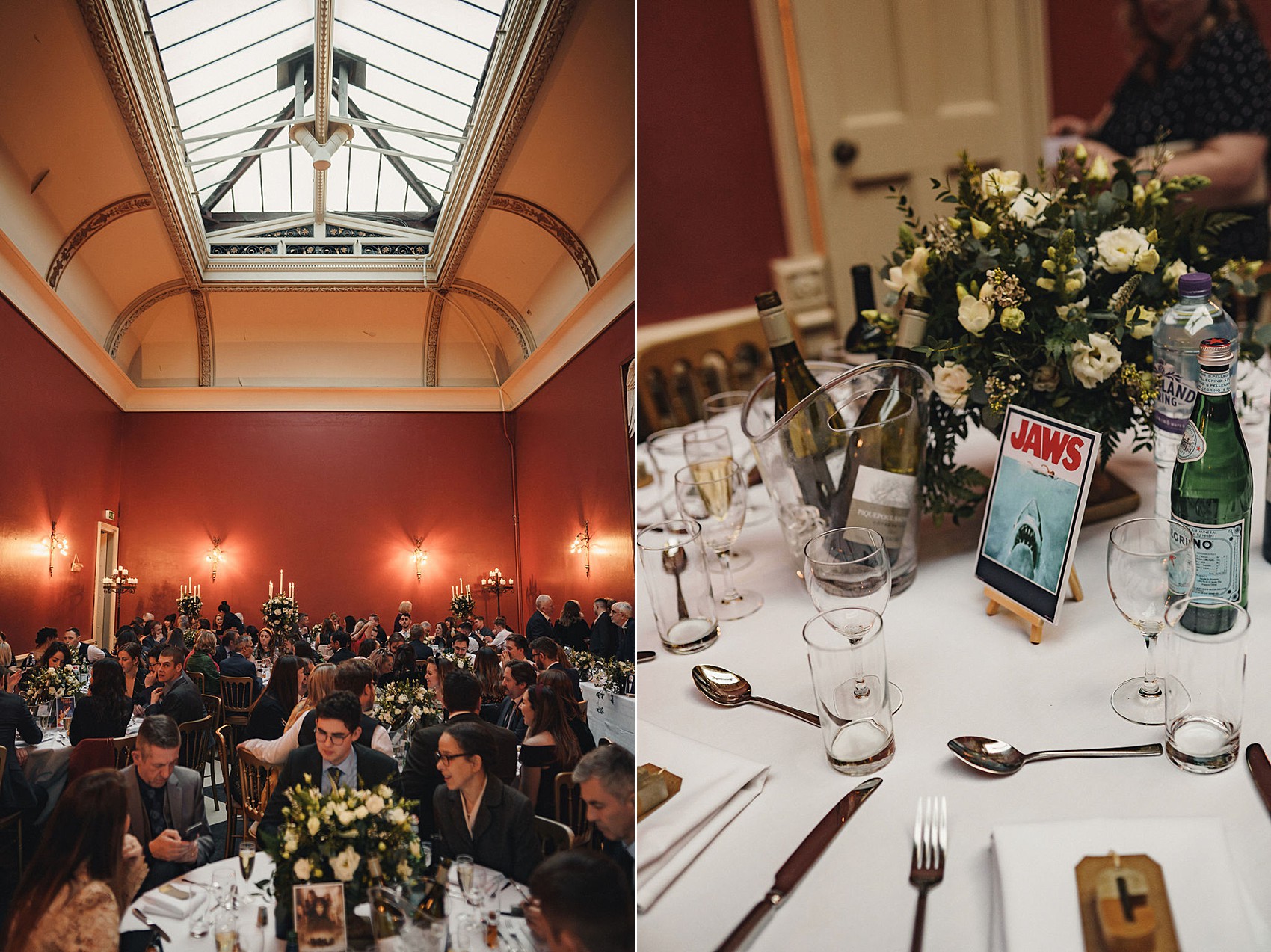 "Our first dance track was slightly unorthodox! It was 'Songs of Love' by The Divine Comedy.  Lyrically it's a gorgeous song, one that both Drew and I have loved our whole relationship, it just so happens to also be the theme tune to the TV show Father Ted."
"We couldn't have chosen a better first dance track to represent us. It's a song about love, is easy to sway/dance to (neither of us are 'dancers'!) and it made the whole crowd around us smile and laugh a little."
"Our surprise of the evening was the fabulous Heavy Beat Brass Band, They are completely wireless, an eight-piece brass band who play all manner of covers from classic love songs to a Snoop Dog mash up."
"They played two 45 minutes sets throughout the evening and quite honestly made our evening."
"We have had endless enquires about the Heavy Beat Brass Band as they truly made the day. Plus they were an amazing bunch of musicians to boot!"
"To see my break dancing 12 year old cousin, the girls I lived with at University, my FABULOUS 90 year old Nan and all the rest, all dancing and having the time of their lives to the same music played by a brass band was just the most amazing sight."
"Our original budget was around £20,000. Our overall spend was about £35,000! We had saved £20,000 up ourselves in the two years of engagement and are then extremely lucky to be gifted some money from relatives that meant we could truly have the day of our dreams."
My biggest worry was having to reduce the guest list to afford the catering, and this was something I was not willing to do. We did spend a lot on the wedding, but we were also very hands on with a lot of elements so saved money in other places."
"Our brilliant DJ was from Londons DJ, we were given an online portal months before the wedding where we could compile a list of songs we absolutely wanted played, and ones that we really didn't (no YMCA, sorry!). The DJ then did the rest, mixing songs from all eras and genres in a way that meant the dance floor was NEVER empty."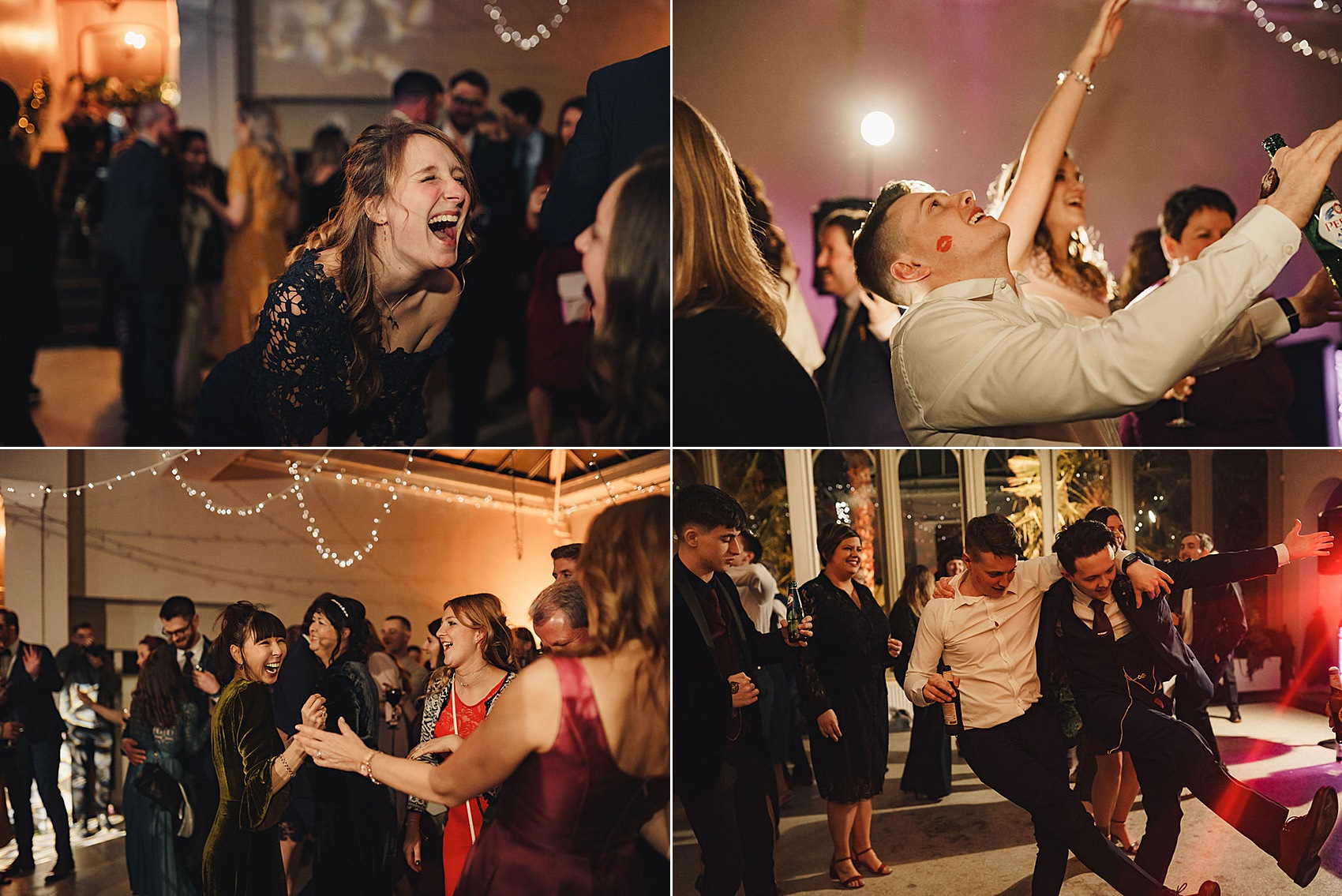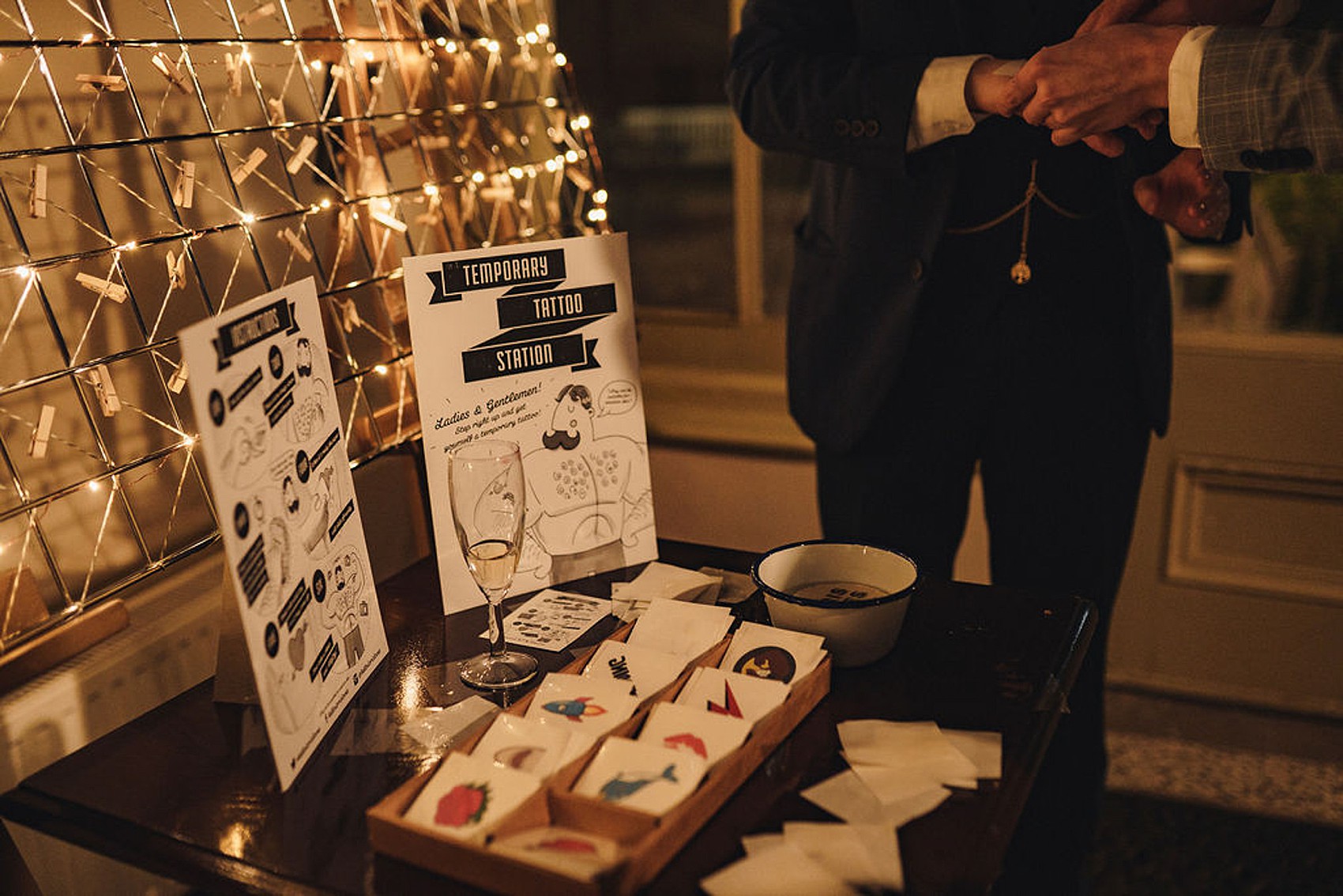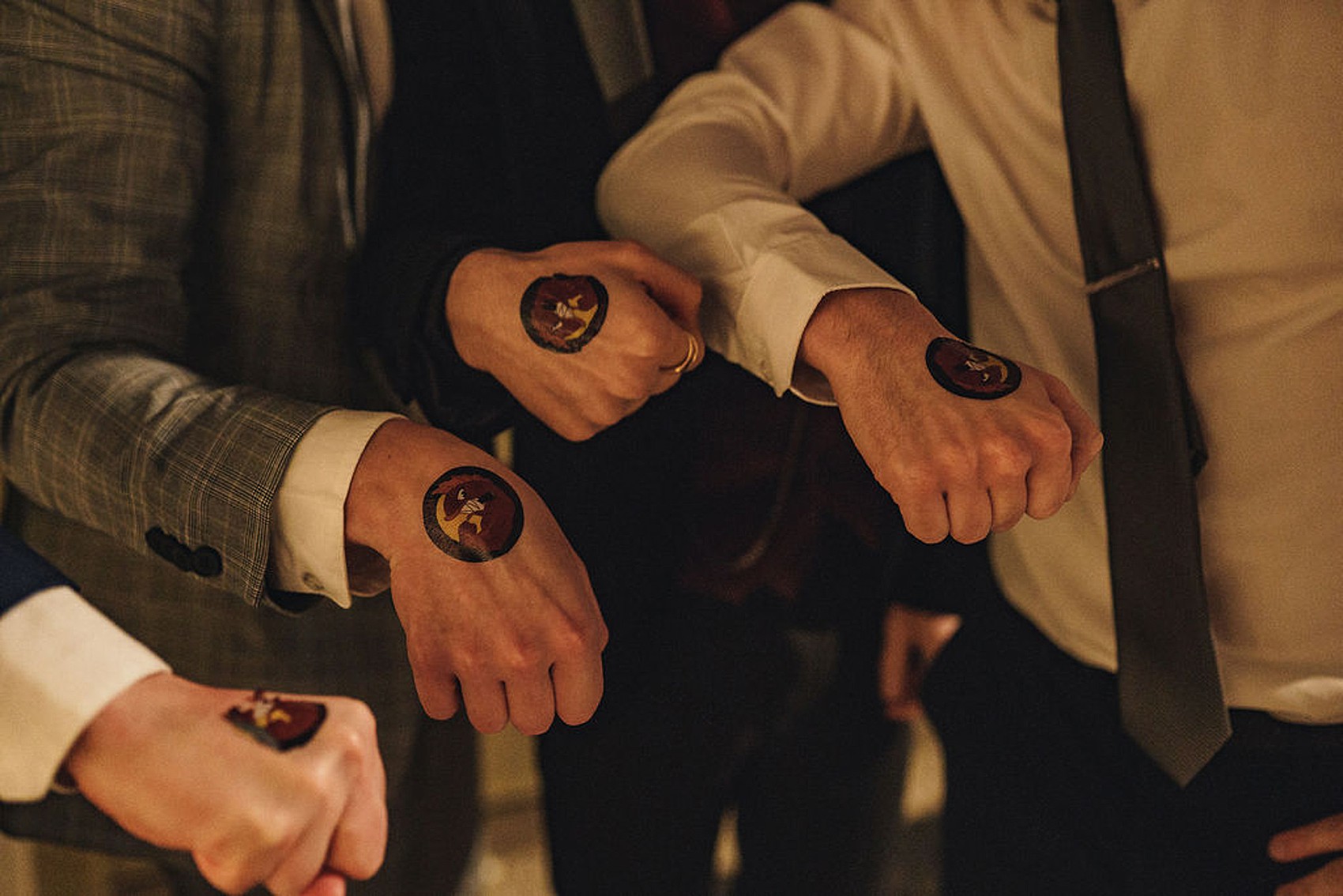 The couple truly struggled to select a favourite moment from the day…
"We have tried to answer this question 100 times over, and we just can't pick one thing; the entire day, from the moment we woke up and saw the January frost on the park in the brilliant sunshine, to midnight, when we turned into mice and pumpkins and staggered back to our hotel room, cold pizza in hand, were just beyond perfect. We really cannot highlight any particular point as every single second was a highlight. Truly."
"Our amazing caterer was Celia and her team at Delightful Dining. They were so good at realising our dream wedding menu, from delicious canapés to the extremely crowd pleasing pie and mash for the main meal, we are STILL getting guests talking about those pies! Their waiting service throughout the whole day was flawless."
"We also had Dough and Deer Pizza Van for our evening food, Wood fire cooked pizza's out of the back of a Land rover, next to the dance floor at 9pm went down very well indeed."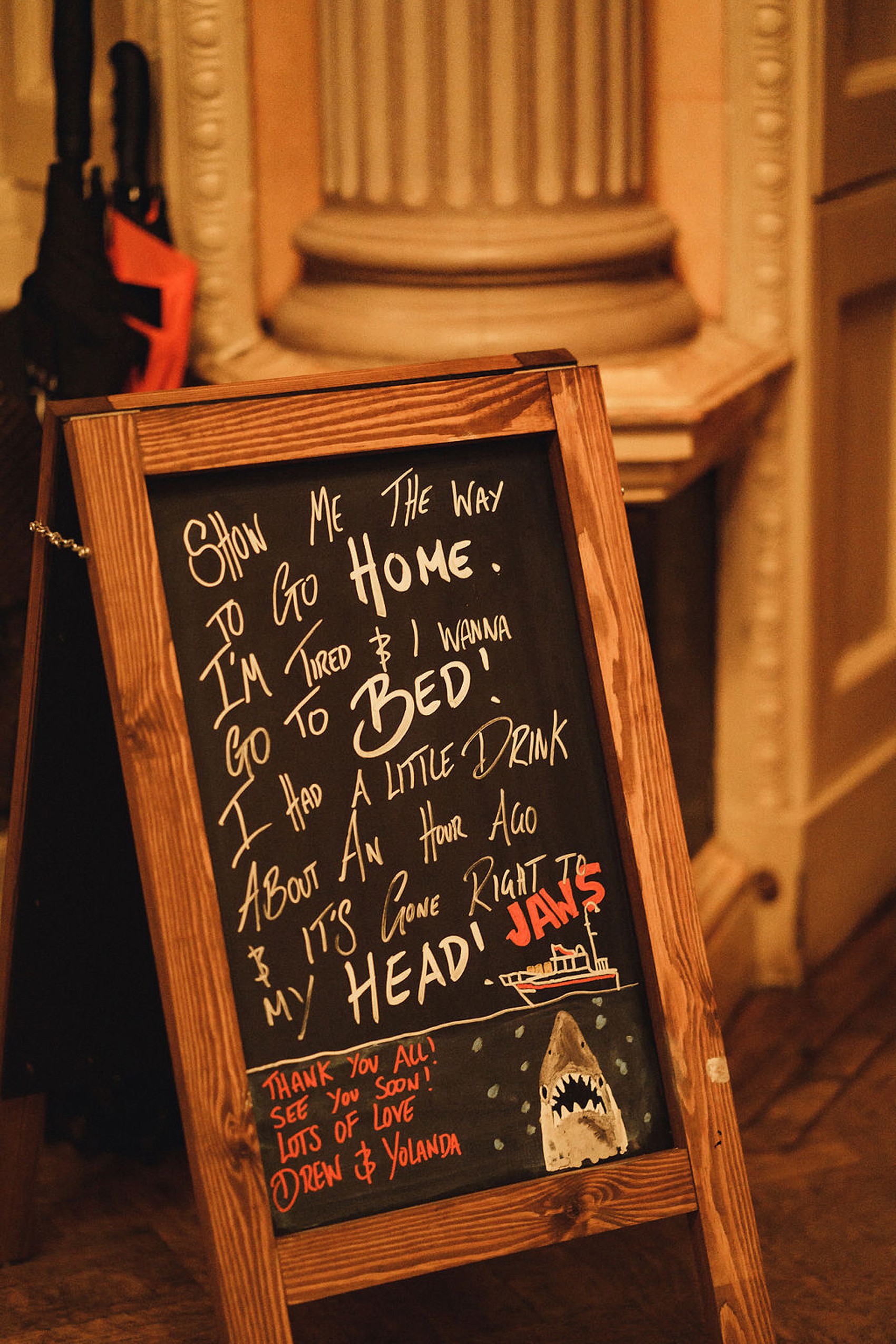 Words of Wedded Wisdom
"Have a January wedding! Its totally magical, good weather is always a happy surprise, and its generally cheaper!"
"Do not worry about the day flying by! You were there, you won't have missed anything and as the saying goes 'time flies if you're having fun' which for us means we had THE MOST FUN day of our lives."
Eat breakfast – even if it is nibbling a little bit of bagel every 20 minutes while your bridesmaids remind you to! I struggle to eat when i'm nervous and you will inevitably be drinking champagne from 7am till you sit down for your meal, you need something to soak it up! I am very grateful for the constant nudging by my ladies."
"Wear what makes YOU feel like a gosh darn goddess. If its long sleeves and velvet shoes, brilliant. If it's a red jumpsuit and trainers? perfect. Your partner-to-be will cry when you walk down the aisle even if you're in a binbag, because you will be smiling the biggest smile you've ever smiled and your heart will be about to burst out of your chest. That is what makes a beautiful bride! The dress is a wonderful accessory to your smile."
Discover and support talented independent wedding suppliers and venues in our Little Book Wedding Directory
"I have always adored weddings, I've not been to that many in my life, but I've always loved seeing two people who love each other, surrounded by people who love them. I also always found it fascinating to see what dress, venue, decoration, music, food people choose on their own day."
"I think now that we have had our own day, I will find any future weddings I attend even more fun, I'll also truly appreciate how nervous, excited and happy the bride feels throughout the whole day. Thinking it about it now still makes my heart glow."
"I wish I had believed people beforehand who told us that the day flies past you, and you need to try and relish all of it. It absolutely did fly past, and I would do anything to do it over and over again."
"If I could do one thing differently it would be to eat more cake before it all disappeared, but the fact that our guests enjoyed it so much made me so happy, I almost didn't mind missing out – almost."
What a gorgeous wedding, full of love and joy and so much information and insight generously shared by the bride – thank you so much Yolanda.
Love Annabel X