Take one glorious Georgian manor house, set in acres of green Somerset countryside, and add an enchanting array of details; wildflowers, trailing ivy, feathers, candles and fairylights, and you have all the makings of a truly magical wedding celebration,.
One in which our couple took William Shakespeare's A Midsummer Night's Dream as their main inspiration. Producer Victoria, and Sam, who is a focus puller in film and advertising, were married on the 8 June 2019 at the exclusive use, family run Pennard House, Somerset. You'll find lovely Pennard House in our directory of trusted wedding suppliers, Little Book.
Tom Halliday Photography

+ Follow
"I grew up in Bath, so Pennard was close by. It was so important for me that we got married outside (both the legal part and the blessing) and Pennard offered a beautiful spot in the garden. The venue itself gave us the perfect balance of a bohemian venue with tipis, fields and forest, with the elegance and convenience of the house and coach house for the reception."
"I'd also always had an enchanted woodland theme in mind, and Pennard seemed a great fit for this. It's at the back of the Glastonbury Festival site, and Sam had been going since he was 15, so the area had always been a special place for him."
Victoria looked like fairy queen Titania in her blush pink embellished dress by Justin Alexander, which she chose at North London boutique, Angelica Bridal.
"I'd always had an image of the overall look of what I'd wear; something which gave an ethereal feel, so I needed the dress to be able to complement a flower crown, cape and large wildflower bouquet. For me, it was not just about the dress, it was all the elements coming together. The dress had a beautiful long train, and the detail and blush embellishment on the top half of the dress made it feel so unique to anything else I had seen."
On her feet, Victoria wore Rachel Simpson's lovely 'Isabelle' shoes, and for jewellery, family heirloom pieces and a pair of bespoke feather earrings by Vera Black.
The dress was paired with a dreamy, gossamer light cape by Britten Weddings; a cathedral length, bespoke commission using the same silk tulle and leaf lace of their 'Cali' veil.
"Britten Weddings happened to be local to where my parents live. Having a cape felt unique, and lent itself to the ethereal feel. I then requested the embroidery detail; I had leaves and feathers, which complemented my theme. It was cathedral length to make a sweeping statement."
In keeping with the wild enchantment of the day, Victoria added a crown of roses, eucalyptus, sea holly and delicate waxflower blooms to her hair. All the day's exquisite floral arrangements, in shades of softest blush, cream and blue, were made by Jodie from Walled Garden Weddings.
"I had a cascade wildflower and pheasant feather bouquet, with flower crowns for myself and the bridesmaids. Jodie made the day for me due to her talent, dedication and skill."
"She also provides and styles her flowers with no floral foam, coming up with innovative ways that are better for the environment and more sustainable, which is such a win."
The bridesmaids wore pale mint green multiway dresses from Debenhams, customised the way they liked, and worn with their own shoes and jewellery, and fresh flower crowns by Walled Garden Weddings.
Sam looked smart in a blue three-piece suit by Ted Baker, which he wore with a Reiss tie, and printed pocket square by Ted Baker. Sam was supported on the day by his groomsmen, and Best Man and brother Jake.
Victoria's luminous make-up look was created for her by Elle Hitchens, and her braided, boho hair was styled by Evie Smith.
"Both these girls made myself and the bridal party feel incredible. They both have a great energy as well, which is so important when you're locked away in a room for hours getting ready with your friends."
"There was so much singing, and just such a great few hours leading up to the ceremony, making me feel totally at ease."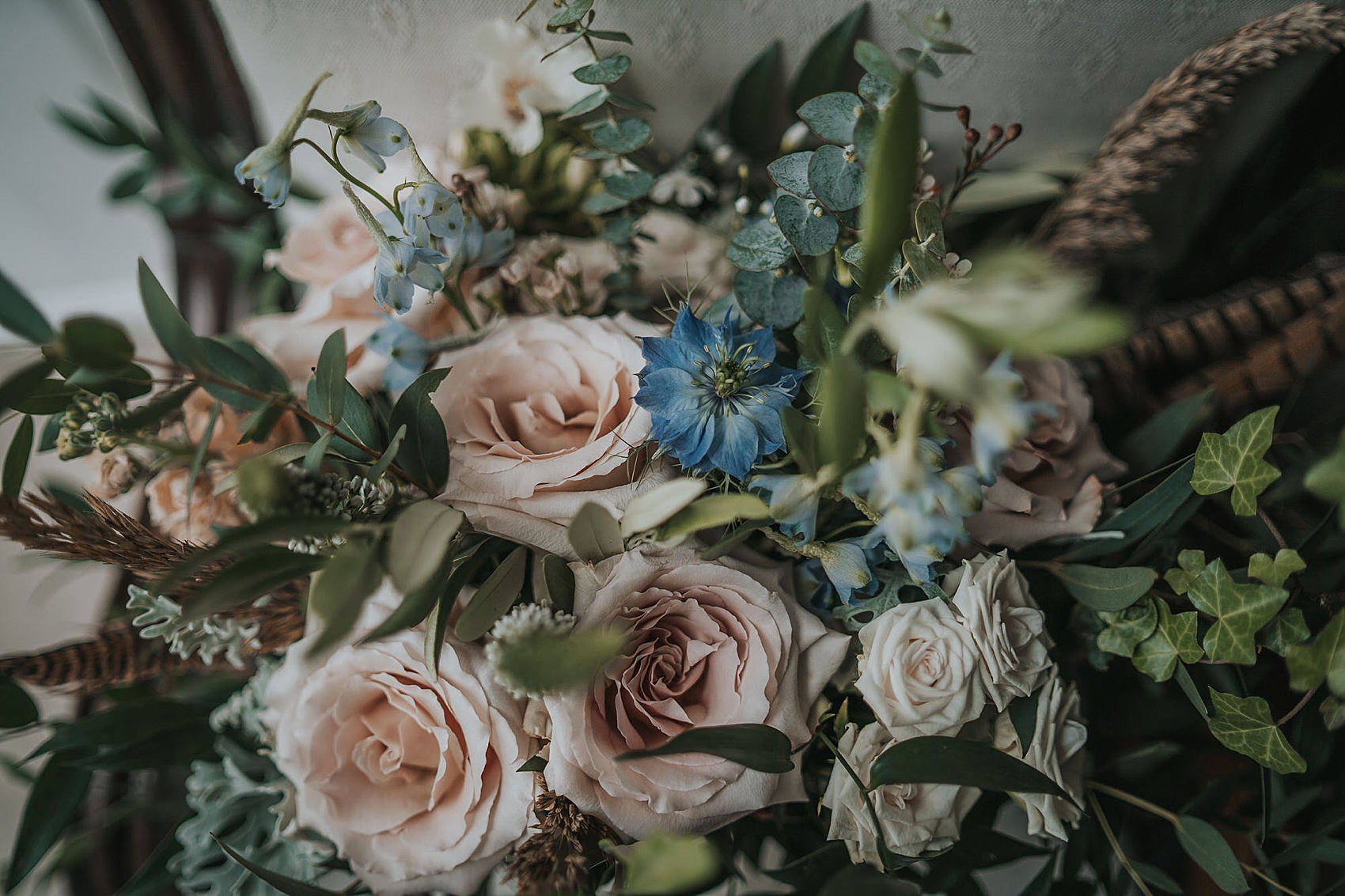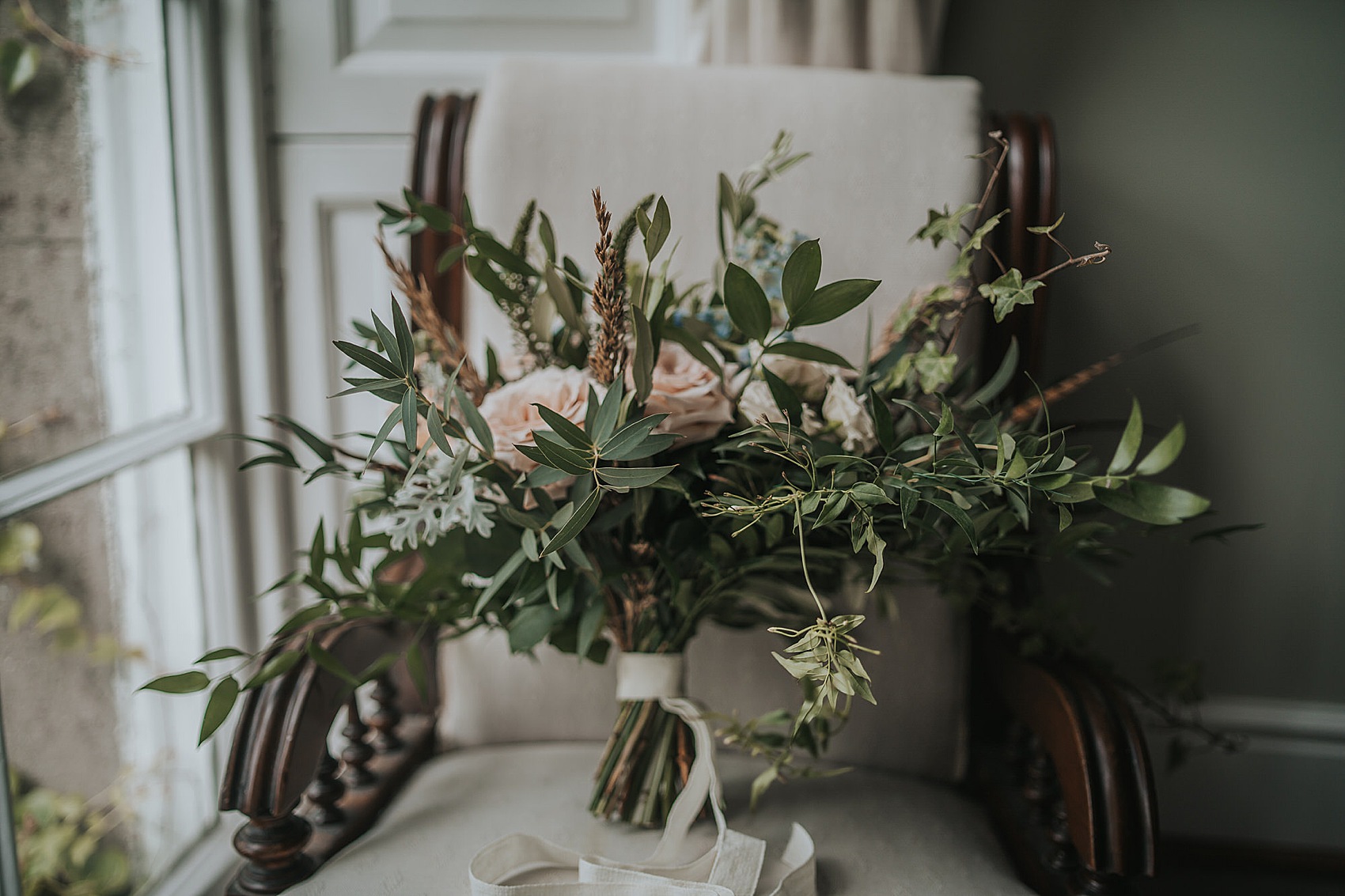 Victoria had always wanted to get married outside, close to nature, and the couple were able to do this at Pennard House, beside a beautiful gazebo covered in rambling roses.
There, they exchanged their vows in a civil and humanist ceremony with celebrant Pamela Woodford.
"We first met through work on a shoot and got engaged in Goa, India, two years before our wedding."
The couple's wedding rings were from Queensmith Master Jewellers in Hatton Garden, with Victoria designing her own. During their ceremony, these were blessed by their parents (what a lovely idea) along with handfasting with ribbons.
"The weather went from rain to hot sunshine three or four times throughout the course of the ceremony, resulting in a huge rainbow over us by the end. It really felt so enchanting and unique. We had so many beautiful aspects to the ceremony, as well some brilliant readings, so it truly was special and so personal."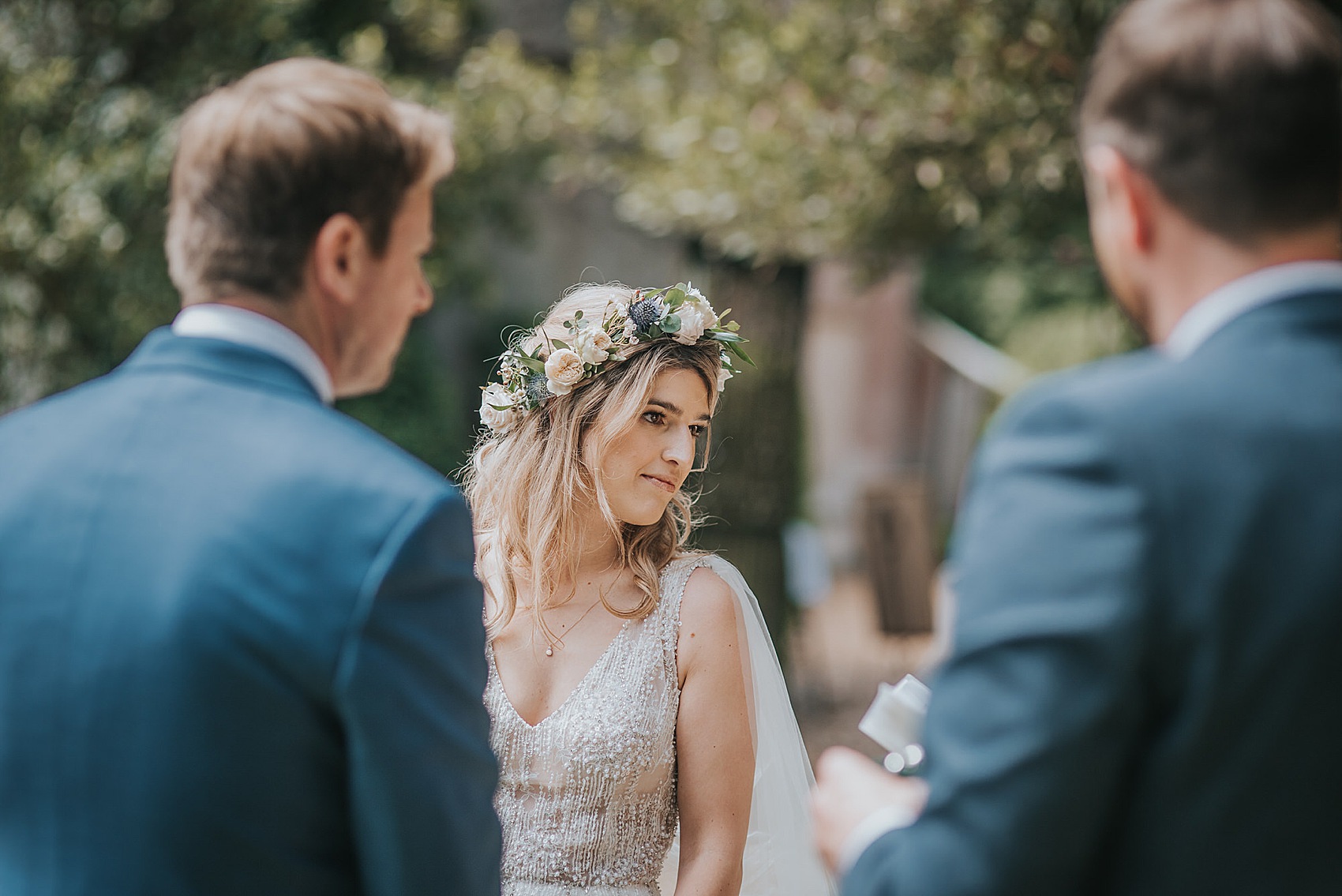 The aisle was lined with more incredible flowers by Jodie at Walled Garden Weddings, seeming as though they were growing right from the ground, and together with her dad, Malcolm, Victoria walked to meet Sam and begin the ceremony.
"Despite having a bad weather option inside, I was adamant we would get married outside, and was not going to let the weather stop us! When I walked down the aisle, it was bright sunshine, but within moments there was torrential rain, with all the guests having to put up their umbrellas, which got lots of laughs."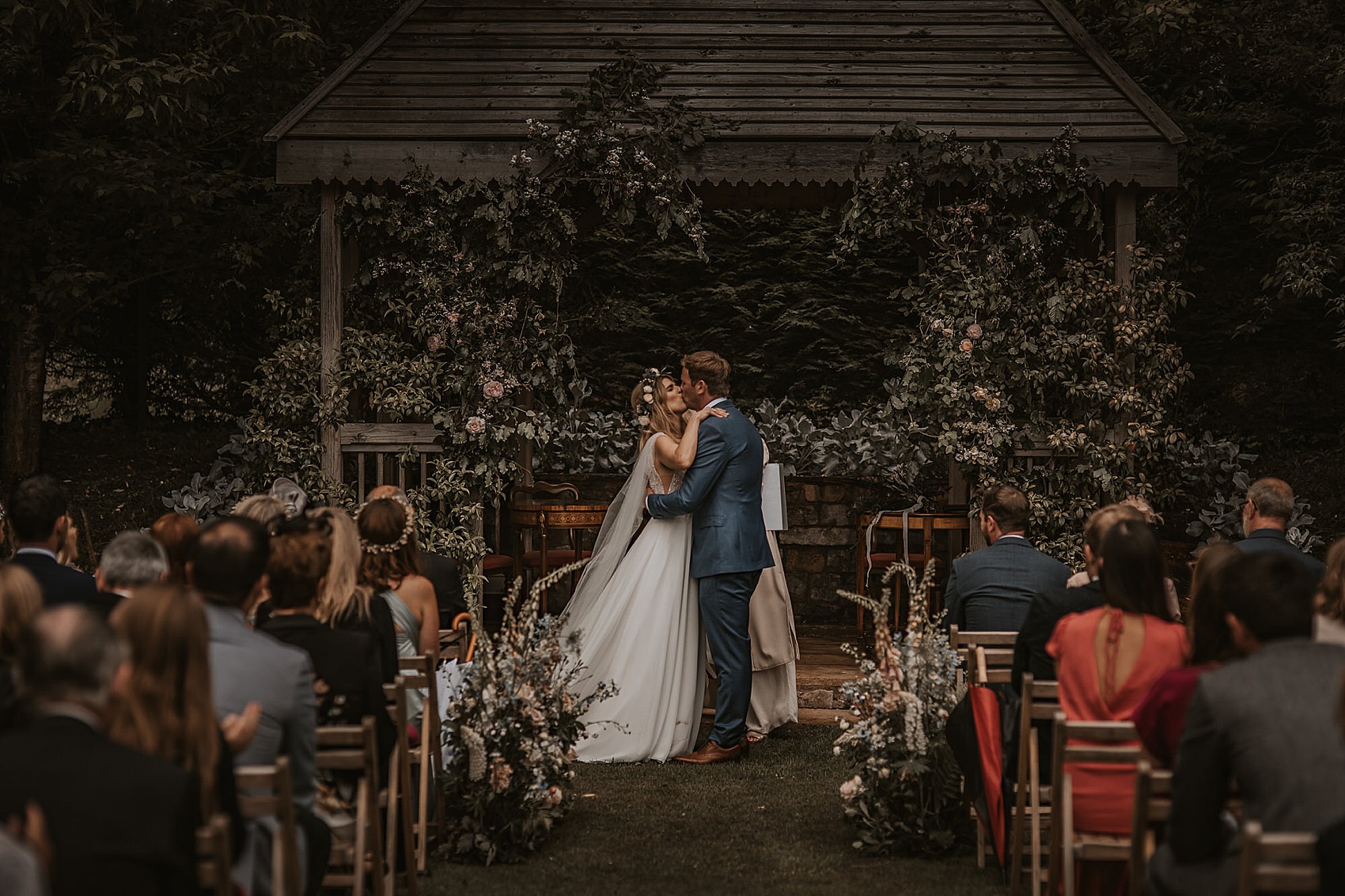 These dramatic changes in the day's weather were beautifully captured by photographer Tom Halliday, and I'm very happy to share his striking, wonderfully composed work for the first time on our pages.
"Tom has such a unique style, and his photos are incredible. We always wanted someone who managed to capture the character, light and feel of the day, which Tom did perfectly. He is so talented at what he does, and this really shines through in all his shots."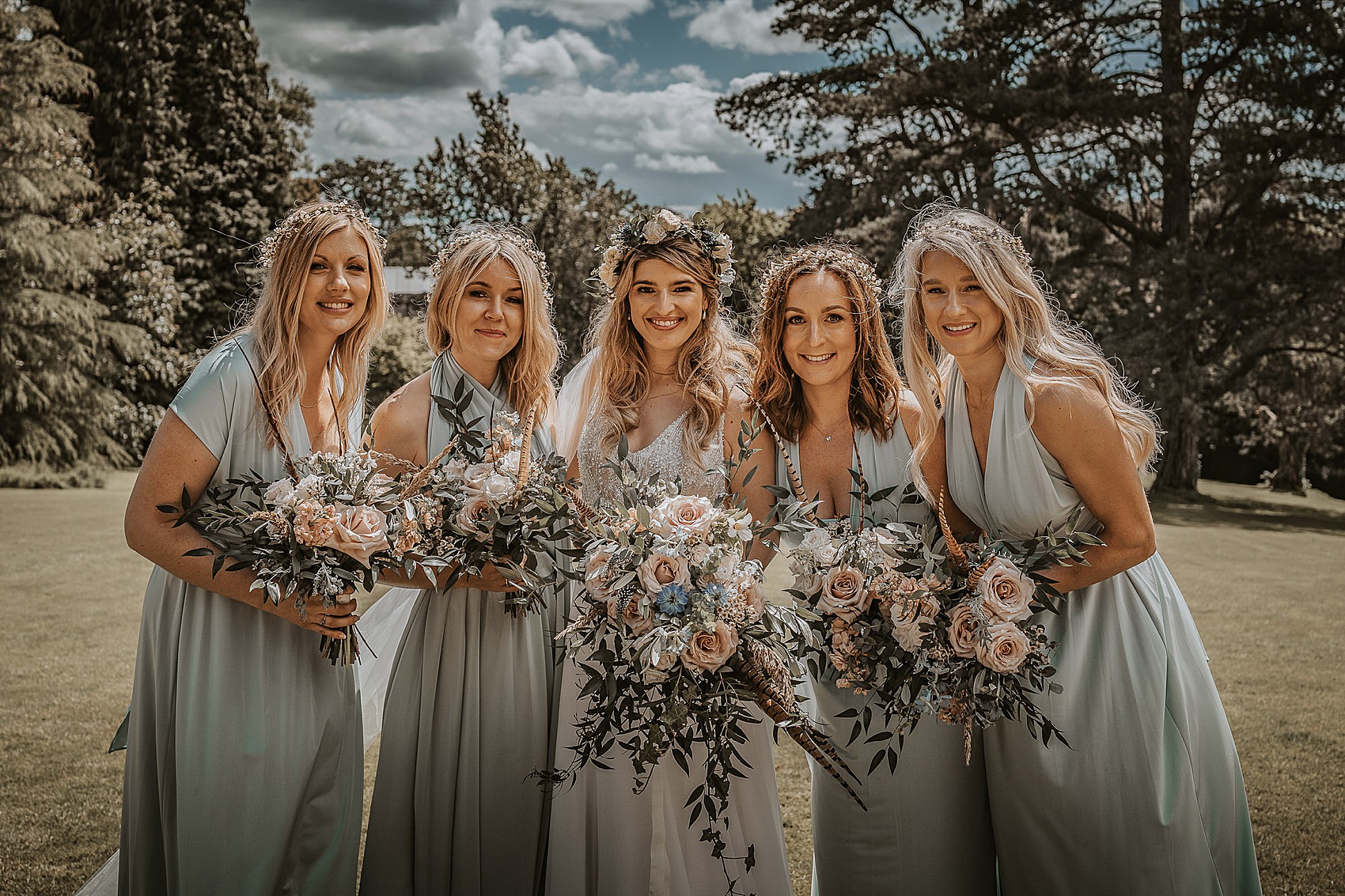 "His shots look so beautifully art directed, but this is all achieved naturally, simply and efficiently by him. On top of this, he just brought the most amazing energy to our day. One of the loveliest chaps we've had the pleasure to meet, he was brilliant from beginning to end."
Guests enjoyed post-ceremony Aperols, as Victoria and Sam walked together through Pennard's bewitching woodland.
Over at the converted, eighteenth century Coach House, the space was decorated beautifully for the couple's wedding feast.
"The wedding breakfast I styled as if being caught up in A Midsummer Night's Dream, with ivy canopies, brass candlesticks, fairylights, feathers, and beautiful watercolour calligraphy artwork."
In the months leading up to the wedding, Victoria collected lots of decor items, including antique candlesticks and books, fairylights, bell jars, lanterns and candles, which all came together beautifully.
"I also called upon Keeping it Vintage for the bigger props, signs, additional table props, and the mirrored calligraphy table plan. They drove all the way from Devon, and were so fantastic with such a great range of props and furniture to hire."
Gold tipped white feathers from Pipii were placed onto each dinner setting, along with seed favours courtesy of Wildflower Favours.
The wedding breakfast was catered by Wild Fork West, and began with antipasti platters, followed by roast Persian spiced lamb shoulder, mixed herb potato salad and green leaves with chick peas and pomegranate, or chick peas with burnt aubergine. For dessert there were strawberries, elderflower cream and meringue.
The elegant, watercolour stationery was by Gretel and Ginger, with other pretty, nature inspired stationery by Summer Lane Studio.
"Jodie from Walled Garden Weddings is the most talented florist I've ever come across. Jodie has a very natural style, which fitted perfectly with the look and feel I was going for. I knew straight away she'd be able to nail the brief. She was creative, adaptable, brought in the freshest, most beautiful mix of wildflowers, and styled them flawlessly."
The couple's delicious, semi-naked lemon and elderflower cake was made for them by one of Victoria's best friends, and in the evening, there was street food from The Little Taquero.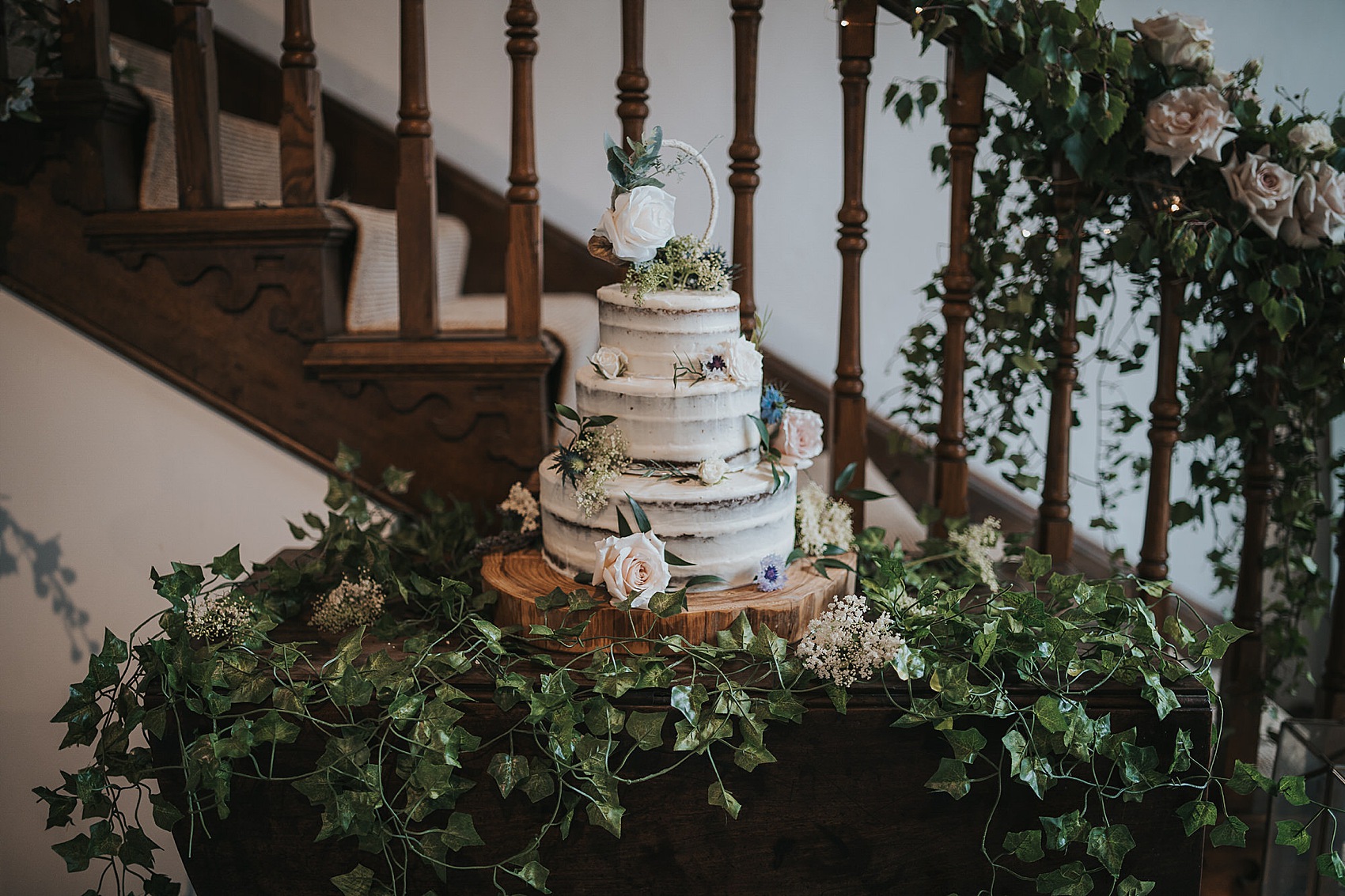 "Flowers and foliage were such a crucial part of the day for me. They played a huge part in the styling of the venue; wildflowers up the aisle, and ivy canopies for the wedding breakfast and staircases."
As the sun went down on a brilliant day, there was time for a bouquet toss, before an evening of dancing, with live music from The London Street Band.
Words of Wedded Wisdom
"I didn't have anything to worry about on the day (other than the weather!) as I knew I'd brought in such great suppliers. These are the people who are running the show, so if you've got the right team, they won't let you down. I was very lucky that they were all so talented, but also from the get-go, they understood my brief, so when it came to the day, we knew everything was in safe hands."
"It is such a cliché to say it's the best day of your lives, but it really is and it is over in such a whirlwind, so it was so great for us that we had a brilliant photographer and videographer to capture both the things we experienced at the time, as well as the things we had missed."
"I also knew the photos were what we'd have for life, so they needed to be right – and our photographer, Tom Halliday, was just simply spot on, so we had no doubt we'd get everything we wanted and more."
"If there is a particular aspect that's really important to you (for me it was the flowers, both in terms of my styling, as well as for the venue's decor) spend the time finding the right fit and people on the same page as you, as this made it for me. If it's something that really matters to you, don't compromise. Our florist Jodie at Walled Garden Weddings was on another level, and for me, tied everything together with her beautiful bouquets, crowns and displays."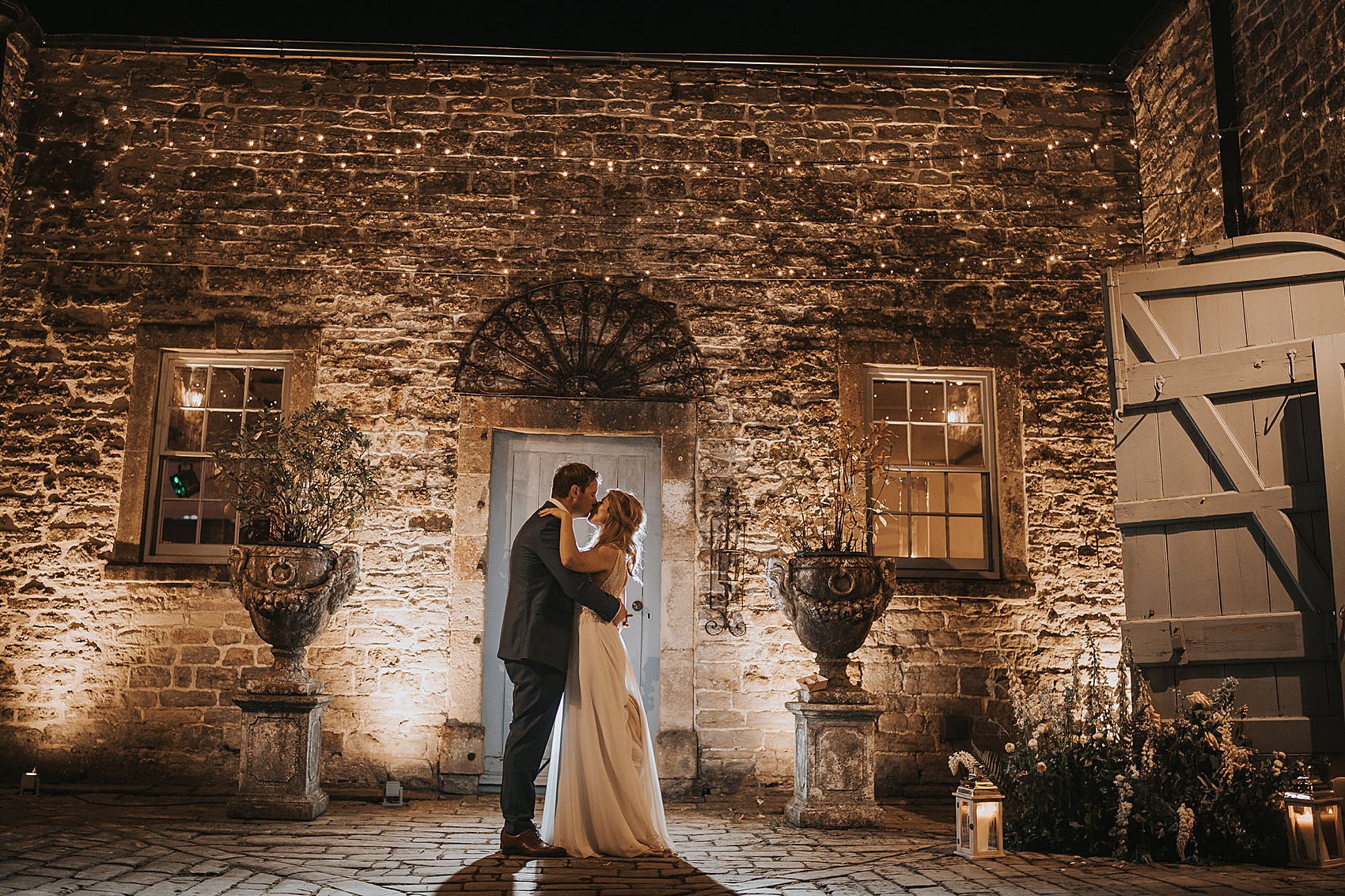 Well, wasn't that every bit as magical as it promised to be?! Victoria and Sam, thank you so much, and thanks also to filmmaker Callum from Pretlove & Co., and Tom Halliday for these exquisite images.
The enchantment of A Midsummer Night's Dream has provided plenty of inspiration for both real weddings and bridal fashion we've featured over the years here, and can all be enjoyed here.
With love,
Laura