Hello lovely ones, today we are privileged to share this modern, romantic wedding with you that took place at one of London's most quirky charm-filled hotels.
This is the wedding of bride Nurani and her groom Sanmeet, who works in banking operations. They were married on the 5 September 2020, after postponing their original August wedding day due to Covid-19 restrictions. Nurani is an Education Recruitment Consultant and disability advocate – you'll find her on Instagram @girl_rollin_about_town – where prior to her wedding,  she shared the most fun and gorgeous 'bride on wheels' inspo and now regularly documents her super stylish lifestyle, fashion and travel experiences.
Eye Jogia Photography

+ Follow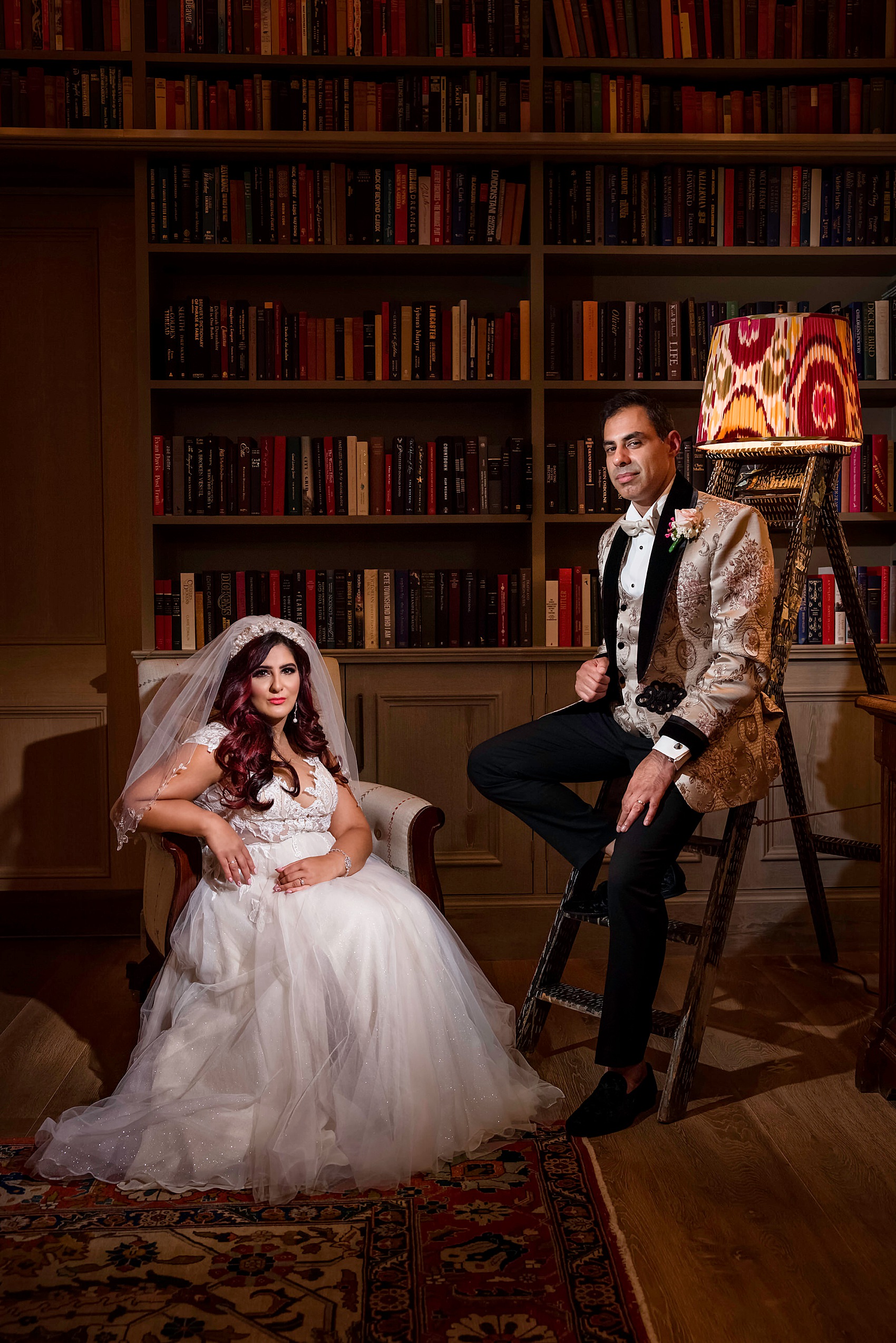 These beautiful images were taken by the London based Eye Jogia Photography, and the wedding planned to perfection by SW Events.
"We met on Tinder, where we both swiped right. Sam messaged first, we had a long phone chat the following night where we discovered our Dads were born in the same town, and we had a few mutual friends. The following night we met for a drink and the rest is history."
Learn more about SW Events – a London based luxury Asian wedding and event planning business.
"Sam surprised me with a trip to Fuerteventura where he proposed (I had no idea). He proposed on 17 November 2018 at a Michelin starred restaurant in the hotel we were staying at."
"There were a dozen red roses on the table and a violinist. We had been engaged around 21 months before our wedding on 5 September 2020."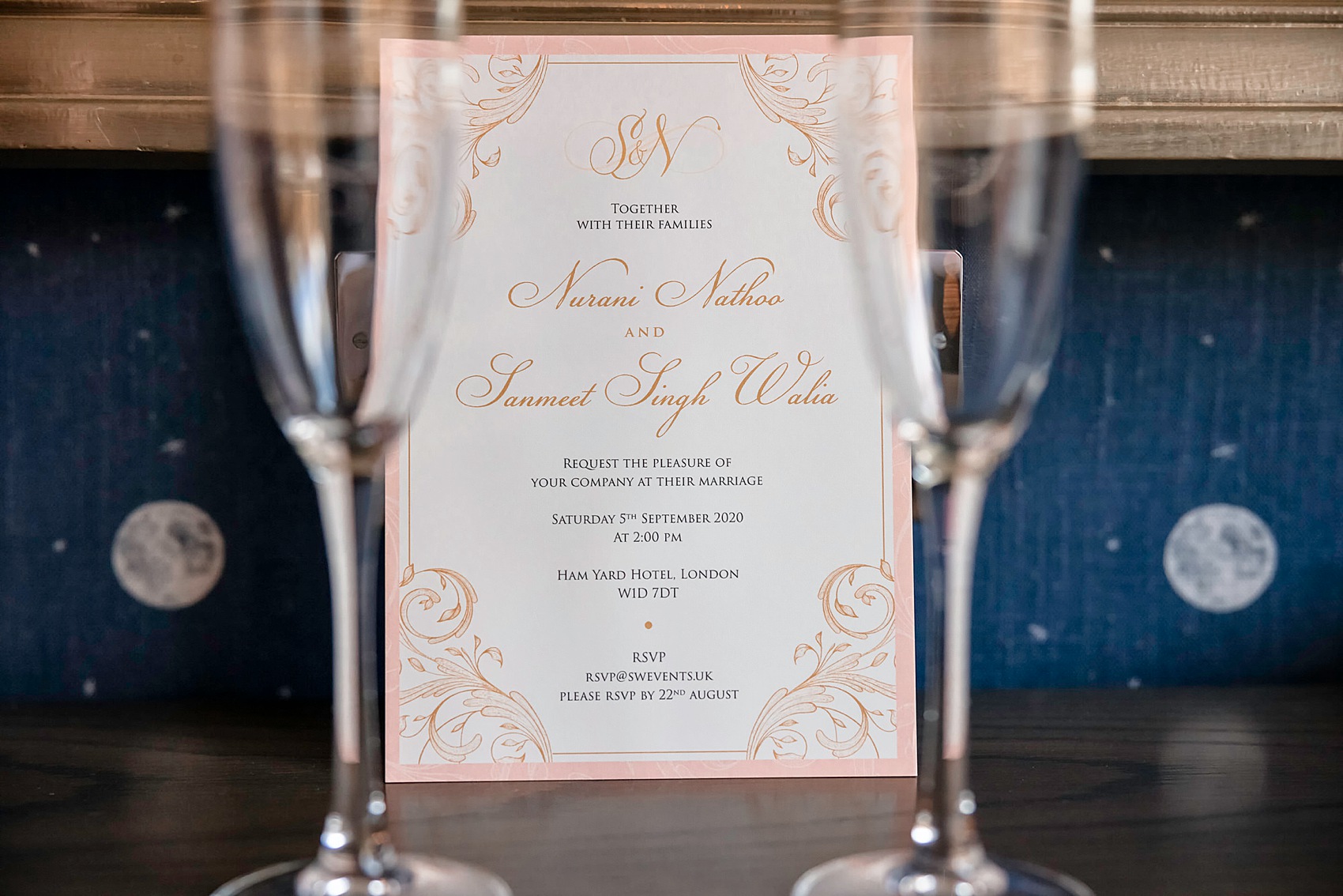 I'm so pleased that Nurani's exquisite pearl headband and silver and pearl jewellery were by our Little Book member, Victoria Percival. Victoria makes the most magical pieces, from statement designs like the pretty pearl headband worn by Nurani, to jewellery, crowns, and even hair jewels.
"I always knew I wanted some kind of pearl jewellery from Victoria Percival. I found her on Instagram."
Victoria Percival

+ Follow
"She then made me a bespoke bracelet to match the earrings.Aside from that, I wore a sterling silver and Montana sapphire Tiffany ring that Sam bought me last Christmas. I wore it as my something blue."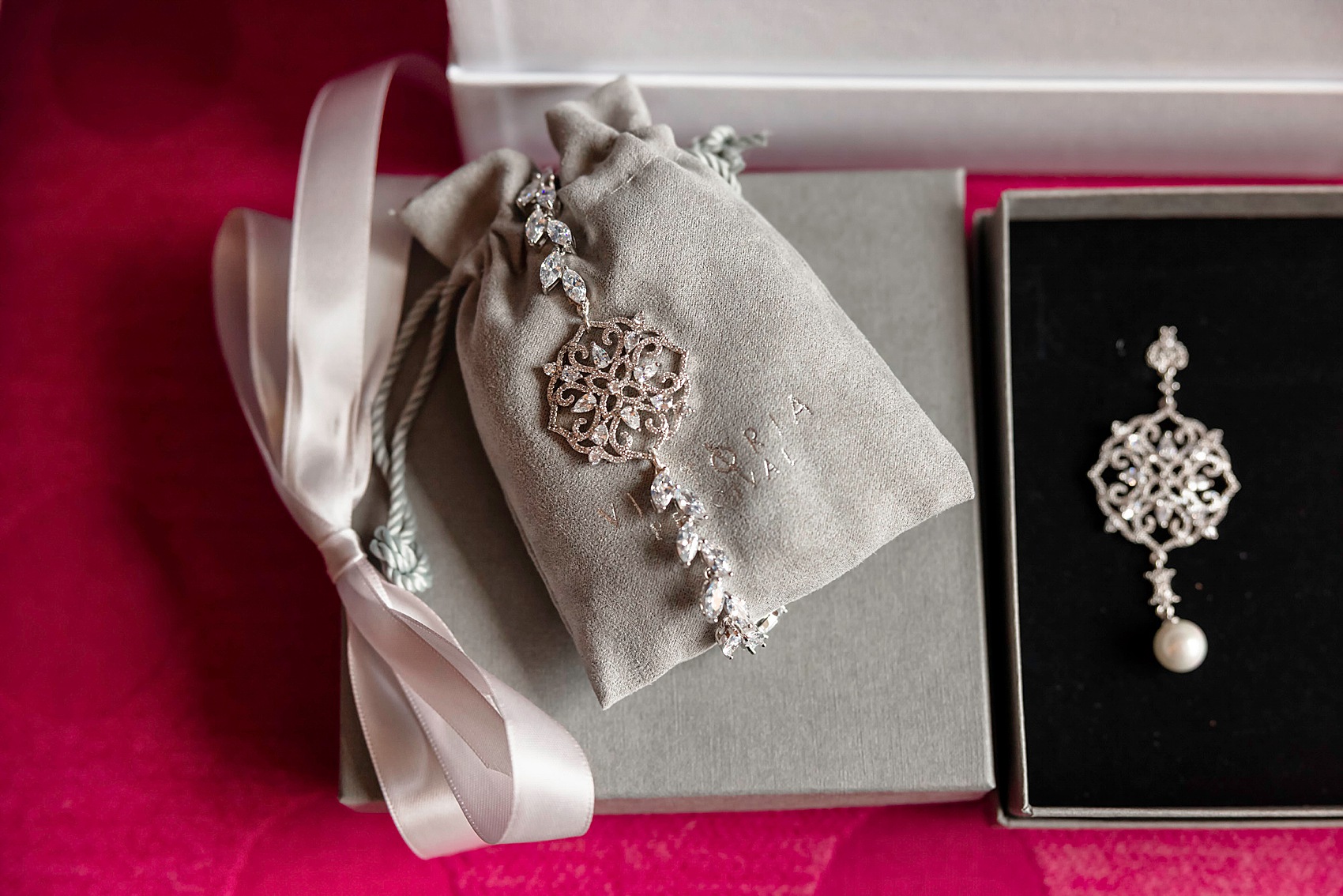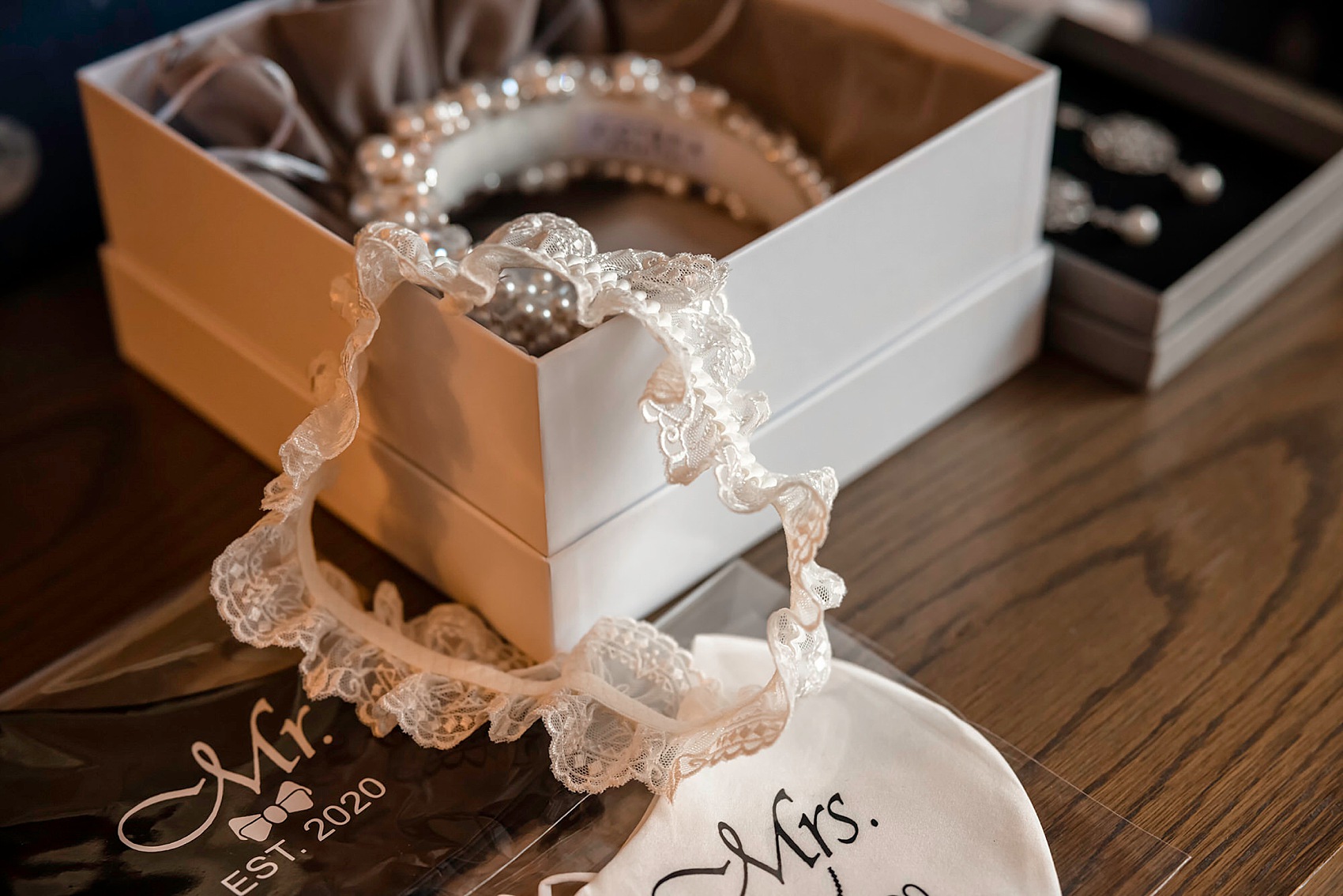 I love the soft and subtle shades of blush pink and champagne in Nurani's chosen dress by Galina Signature. Together with the embroidery, sparkling embellishment and tulle overlay, the whole effect was ethereal and fairytale-like.
"My experience with David's Bridal (Stratford) was outstanding. I actually had to purchase a second dress three weeks before the wedding. I had gone down the bespoke route for the original dress, and unfortunately it didn't quite go to plan – so I needed a Plan B."
"I decided on a Monday three weeks prior to the wedding that I had to get a new dress. I called both my bridesmaids in a panic. My bridesmaid, Kate said 'Let's do it!' I called David's Bridal around lunchtime, and had an appointment for 6 pm on the same day. They booked me in for a longer time slot so I would have enough time to pick out a dress."
"Although we had to wear face masks, I did not even notice as they made the experience so, so special. The store is excellent for wheelchair access, with a lift to access the upper floor where the dresses are, and really spacious changing areas. My stylist was Madi and she was amazing. She was so bubbly, happy, patient and just so helpful."
"Due to my previous experience, I had an idea of what I wanted. Madi took my friend and I down all the aisles and asked us to pick out whatever we liked. I picked out a total of 6 dresses to try on. Madi had a mask/ gloves on, and she was on hand to help me with the dresses. My friend has seen a dress in the window, saying that was the one."
"It was the first one I tried on, and I ended up choosing it. I went back a week later to be measured for alterations, and a week later the dress was ready. The seamstress was exceptional, with outstanding knowledge of altering a wedding dress for a wheelchair user. The experience was so, so special, and the store has such a great variety of wedding dresses that I would definitely recommend it to other brides."
Stay in the know – join our mailing list.
"My favourite colour is white so I was so excited about picking out a white dress. However, once I tried on a few dresses with some colour, the all white dresses made me look a little washed out. I ended up going for ivory and a sort of blush/champagne."
"Prior to going wedding dress shopping, all my Pinterest images were of fitted dresses with long sleeves, but I ended up going for something completely different. It gave me the princess/ romantic vibes that I was after. I love the subtle bling and glam of the dress. The top half was adorned with over 4,000 beads, and the skirt glimmered with sparkle."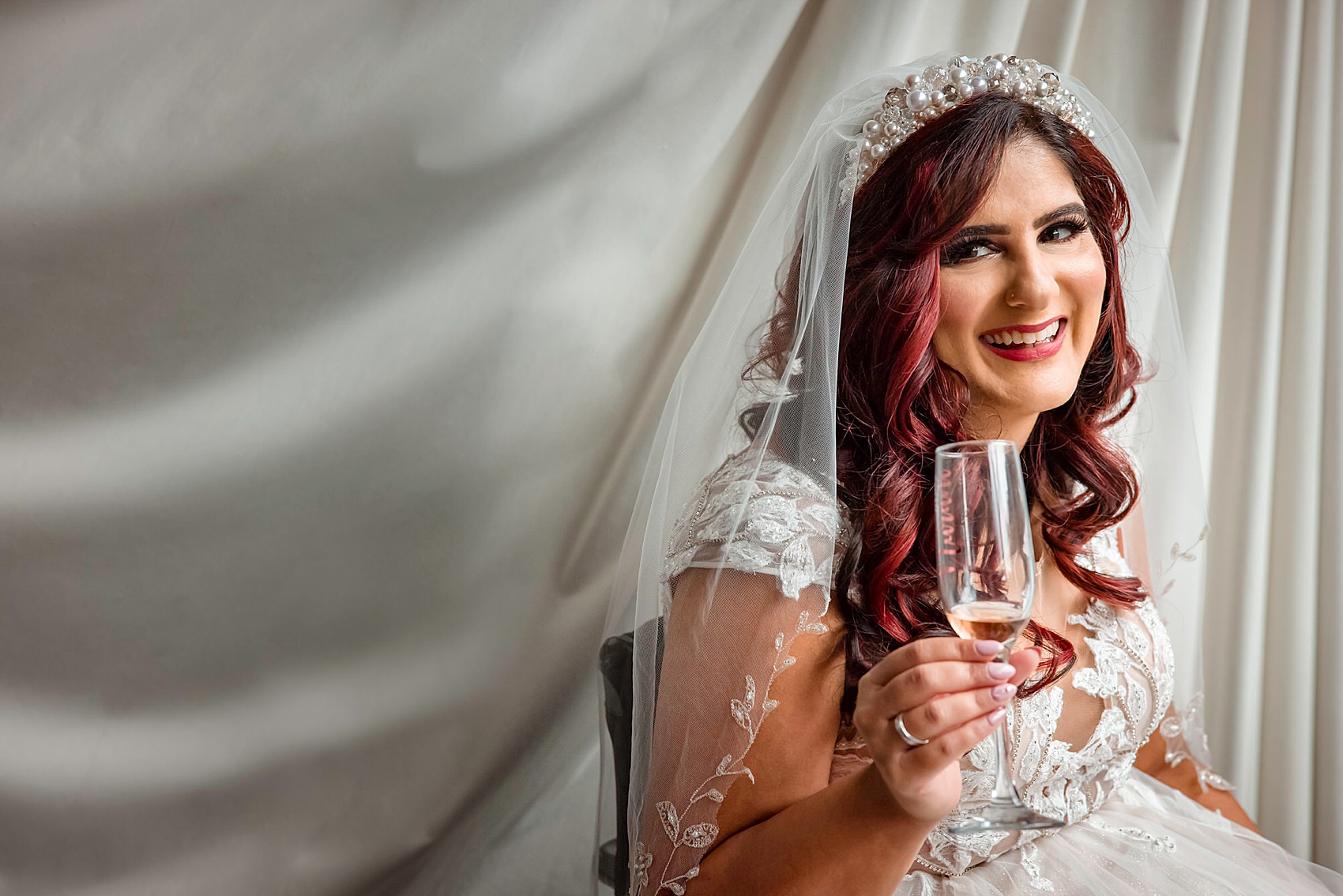 Glamorous hair and make-up for Nurani was by Suky Gill, and her shoes were sparkly gold pointed flats with champagne coloured bows by Jimmy Choo.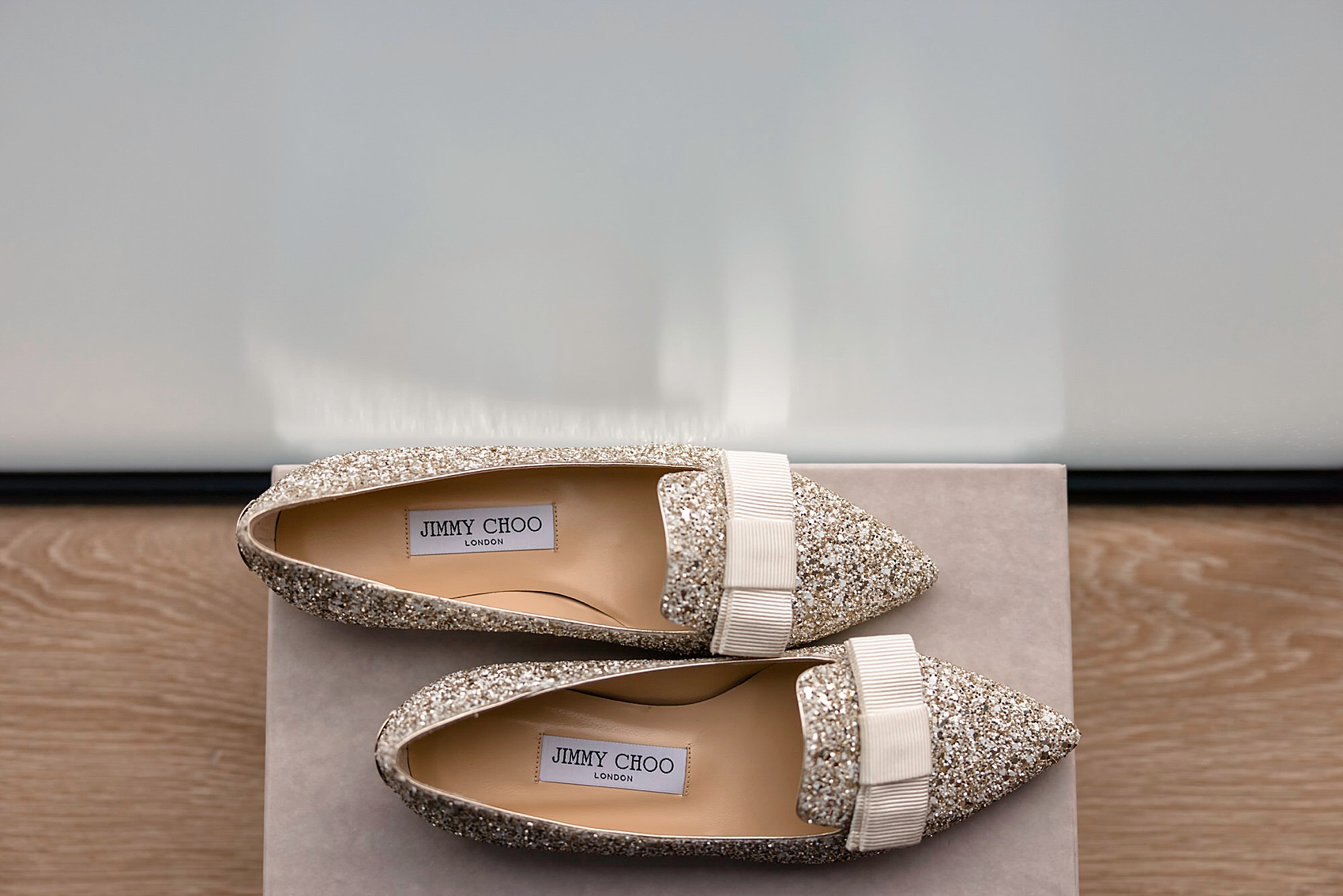 Sanmeet put together a truly splendid Groom outfit: a floral motif, champagne silk brocade tuxedo with black velvet lapels, cuffs, frogging and buttons, with a matching waistcoat from Mochee, worn with black trousers by River Island.
His classic white shirt was from Hawes & Curtis, and bow tie was from Swagger & Swoon. On his feet, Sanmeet wore shoes by Magnanni.
The couple wed at Ham Yard Hotel in Soho, London, and amazingly rescheduled and organised their day in just 4 weeks!
Kiss-met Designs created an elegant suite of stationery for the couple, which included a welcome sign, infographic and love story board, personalised menus, and table numbers placed on mini-easels.
"Due to the Covid restrictions, we had to change our venue. We wanted somewhere in London that would be fairly easy for all our guests to get to."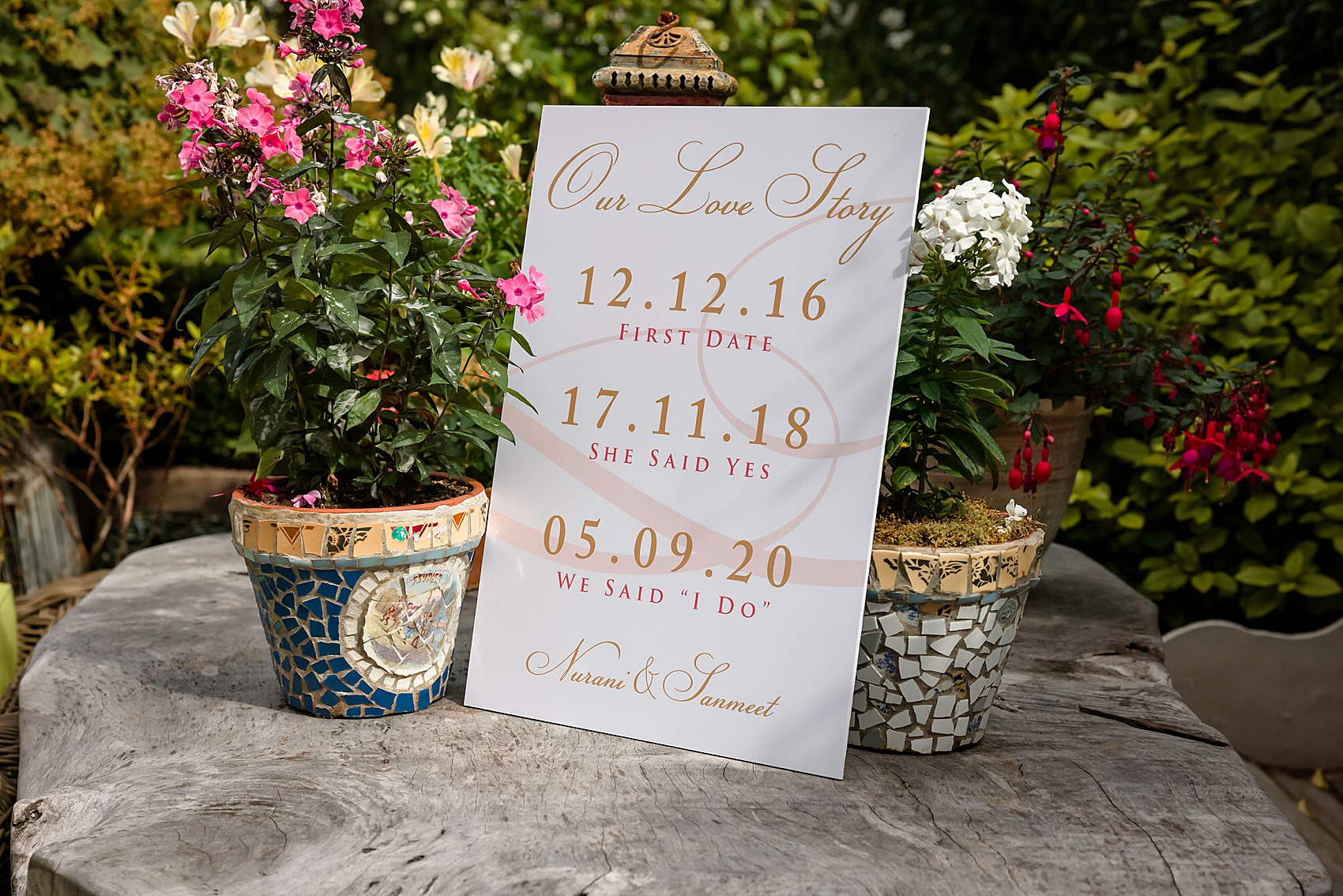 "We wanted something quirky, unusual and glam to match our personalities.We also did not want somewhere too big for our small guests numbers."
"Our wedding planner, LaToya at SW Events suggested the Ham Yard Hotel, we looked it up online and fell in love. Our original wedding plans included having our civil ceremony outdoors, so when the Ham Yard said we could have the ceremony on the rooftop terrace, this sealed the deal for us. It is also a stunning venue with minimal décor required, so this also made it very appealing."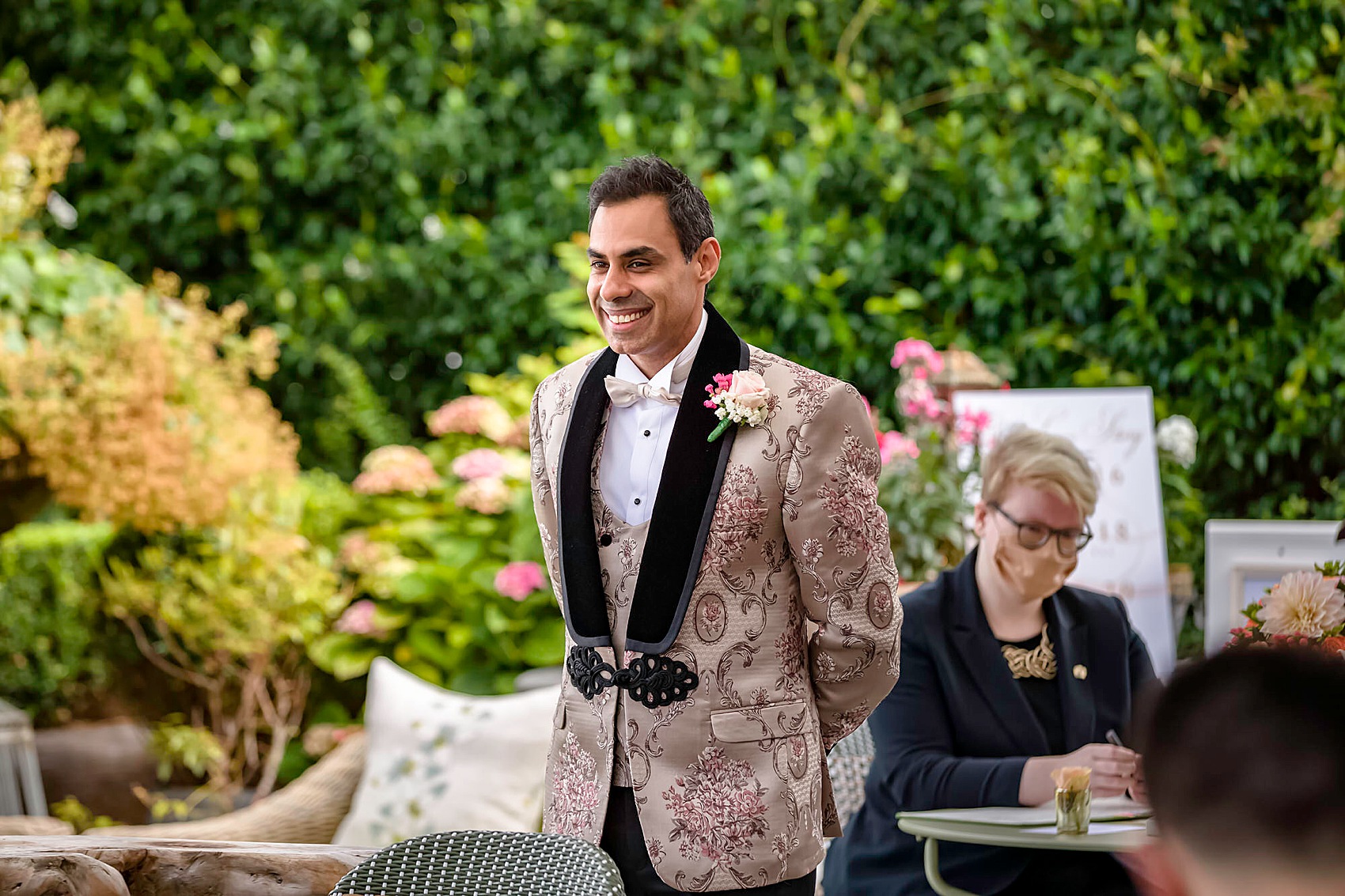 Nurani completed her look with a David's Bridal veil edged with a pearl embellished botanical design, and Jo Malone's Peony & Blush Suede cologne.
Peonies are her favourite flower, and she knew as soon as she smelled that particular perfume, that it should be worn on her wedding day.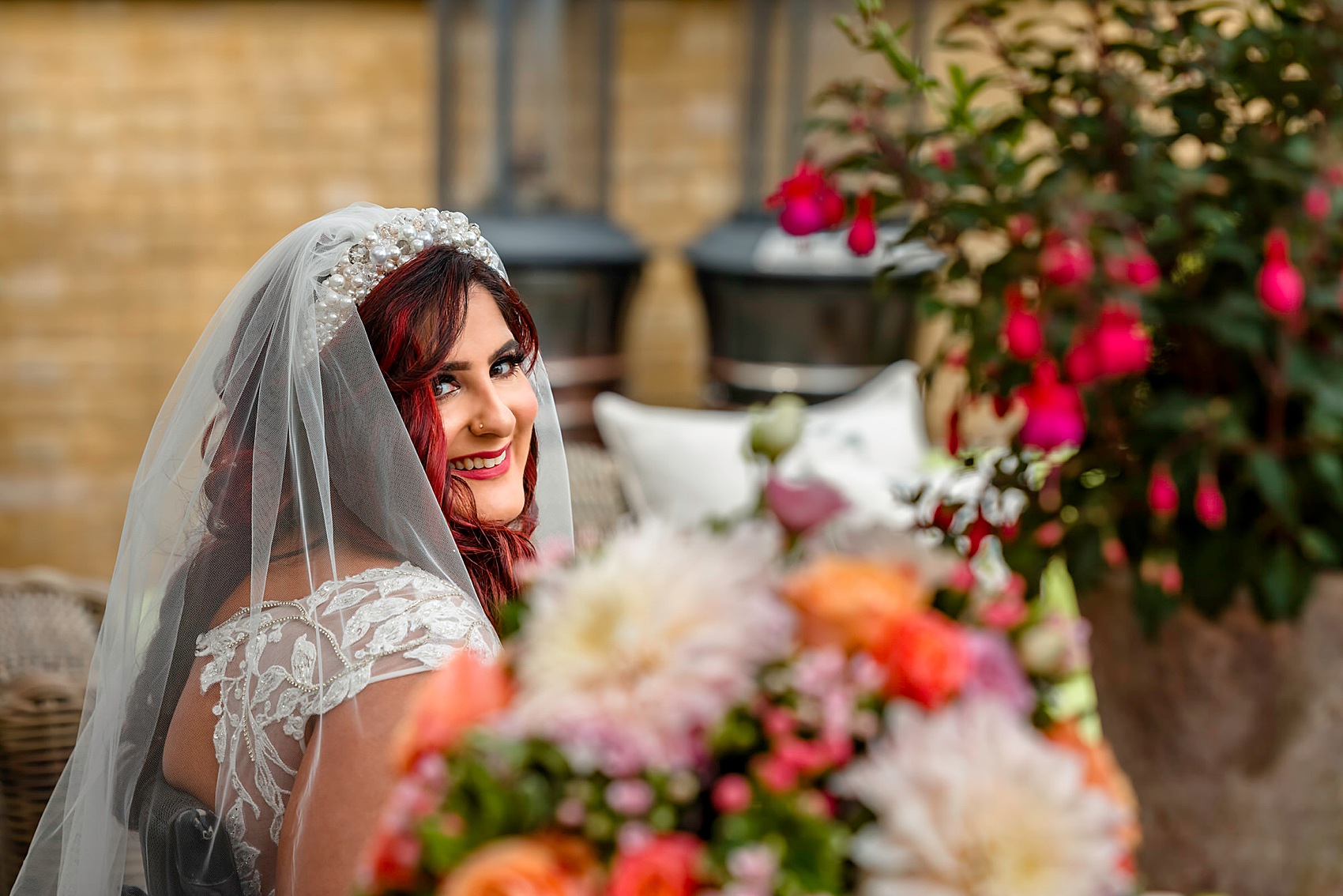 "My brother wheeled me down the aisle to Can't Help Falling in Love by Hayley Reinhart."
"Our original wedding date was the 8th August 2020, but we decided to postpone until next year. Our wedding was going to be held over three days, kicking off with an intimate day with family and friends for the pre-wedding religious festivities at the Mercure Hotel in Watford, followed by two days at North Mymms park where we would have had a welcome lunch, Henna (Mehndi) night, civil ceremony, Nikkah (Islamic Wedding) and reception."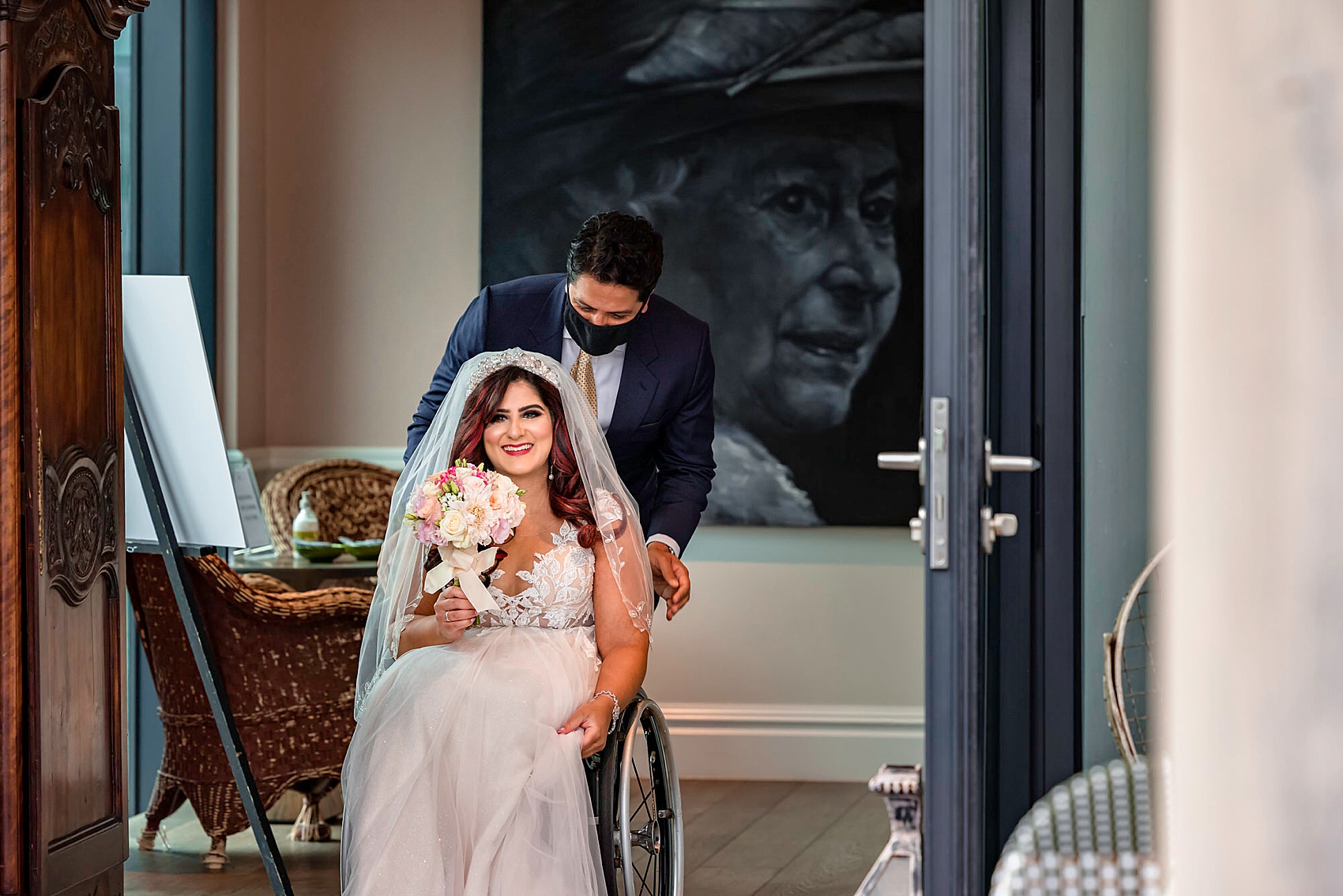 As their parents were unable to fly over for their wedding, Nurani and Sanmeet decided to hold their Indian wedding next year, and went ahead with their civil ceremony with a smaller number of guests.
"In terms of procedures, we were limited to 30 guests including registrars, the photographers and ourselves. We had to ensure that for the ceremony, drinks reception and afternoon tea, all the guests stayed/were seated in the same household/bubbles groupings.
"All guests had to wear a mask for the duration of the ceremony. We were not permitted a live singer (which was part of our original plans), no first dance and no confetti."
"We had to ensure there were hand sanitisers available for the guests. We had to remain seated, apart from when we had our photos taken with the guests."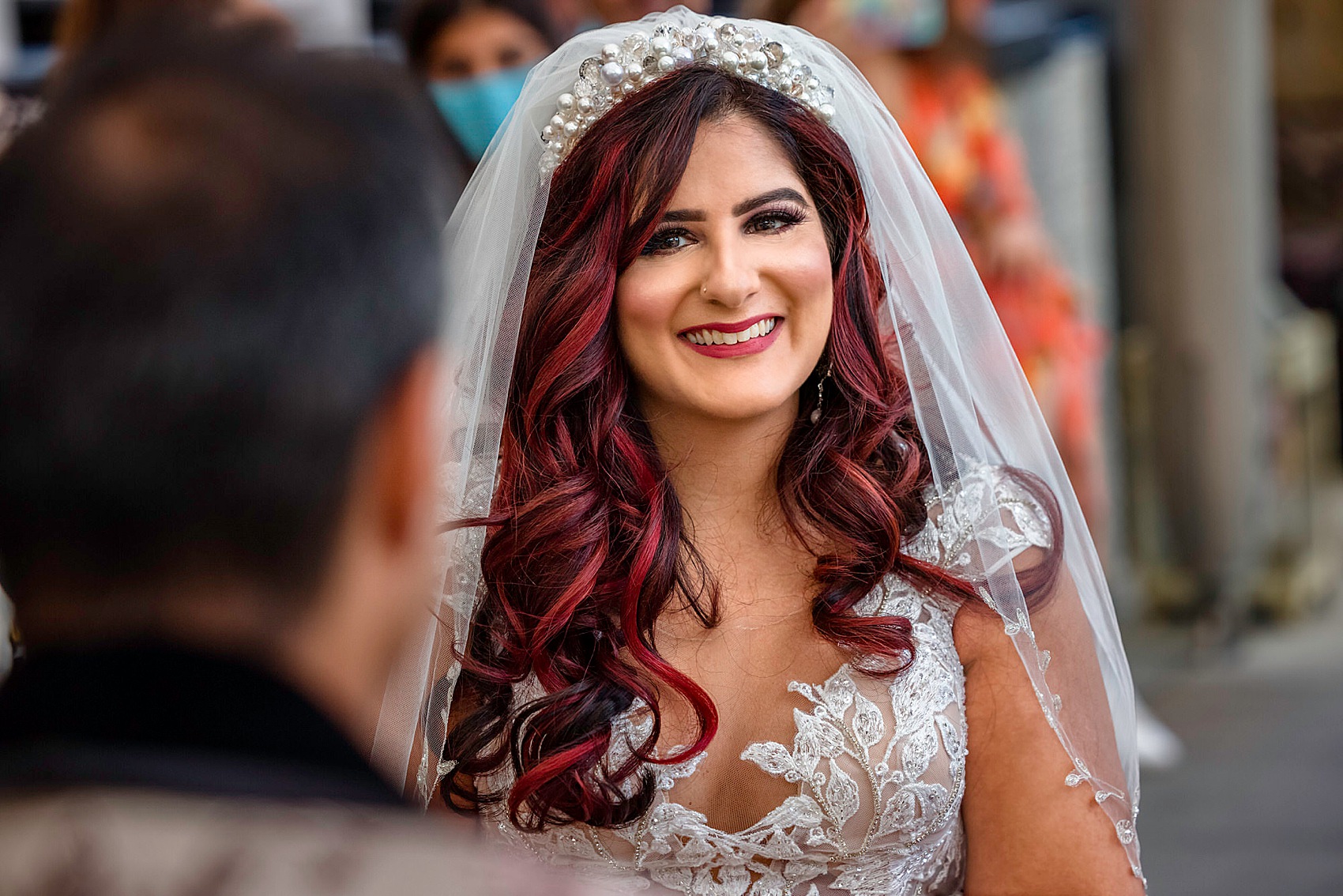 The couple's ceremony was heartfelt and emotional nonetheless, and they solidified their commitment to each other with rings from Lionel J. Wiffen in Hatton Garden. This is where Sanmeet also designed Nurani's engagement ring together with Lionel.
"A close friend and colleague of Sanmeet had recommended Lionel. Lionel had designed and made such an exquisite engagement ring that we knew we also wanted to purchase our wedding bands from him."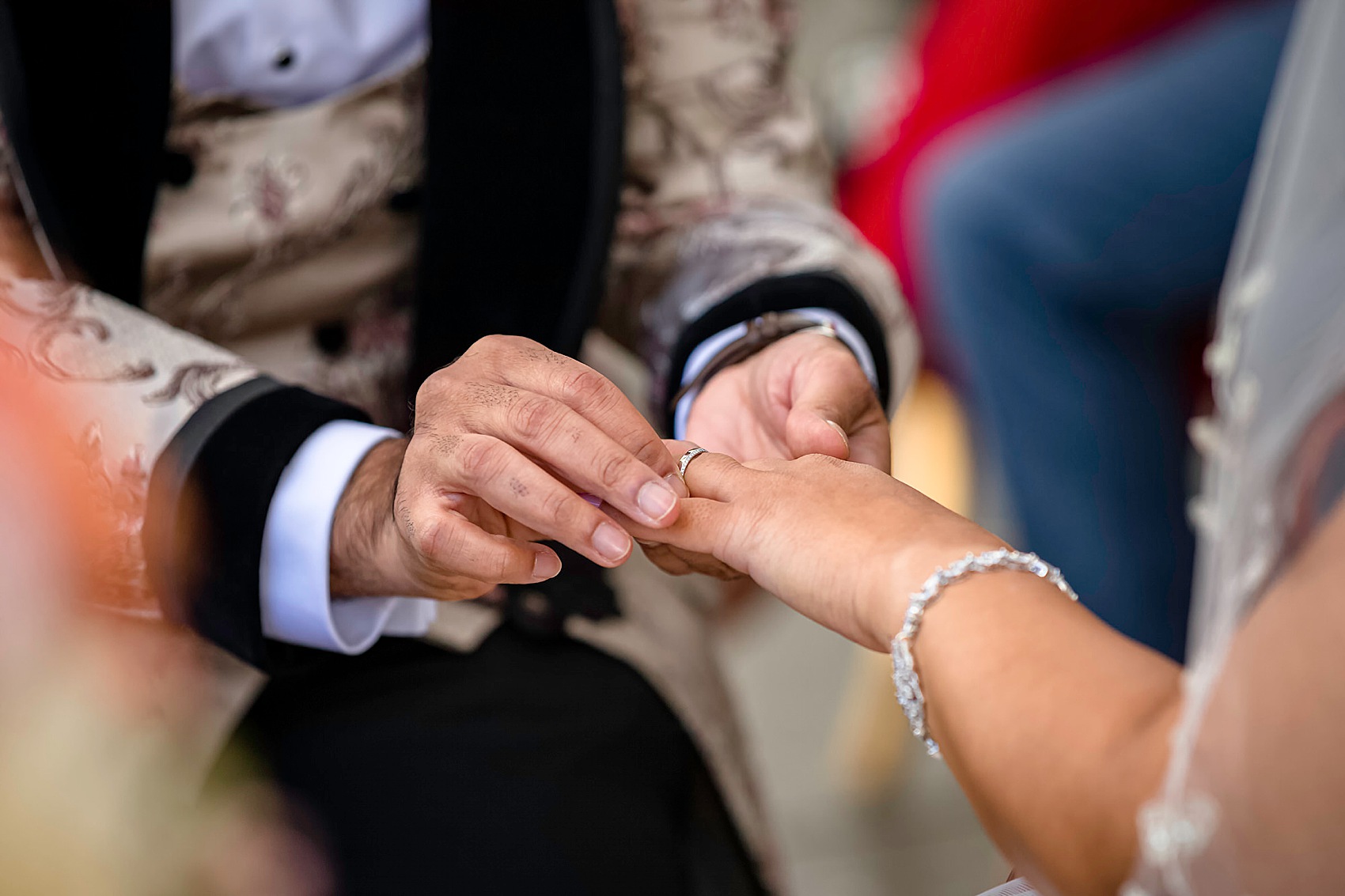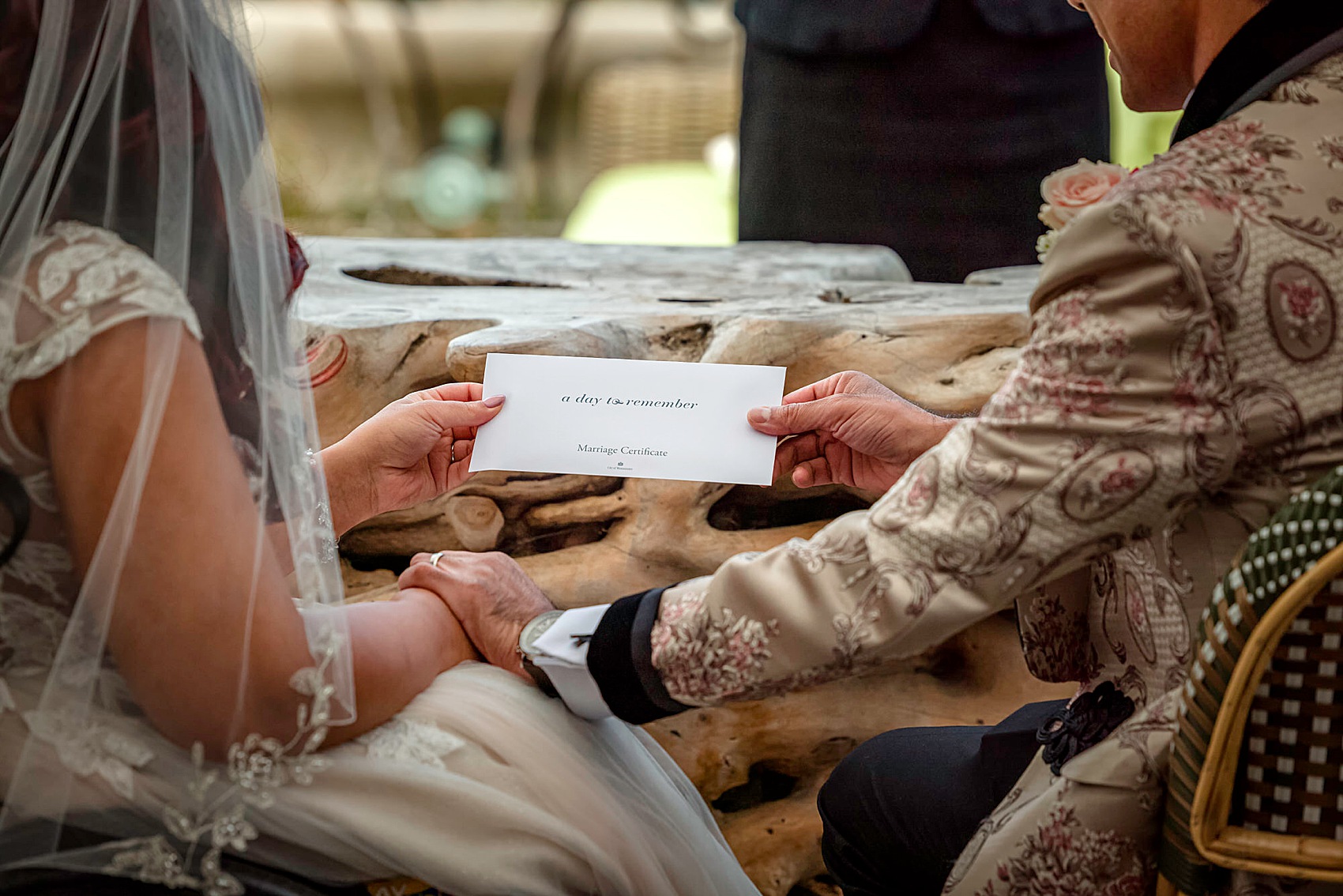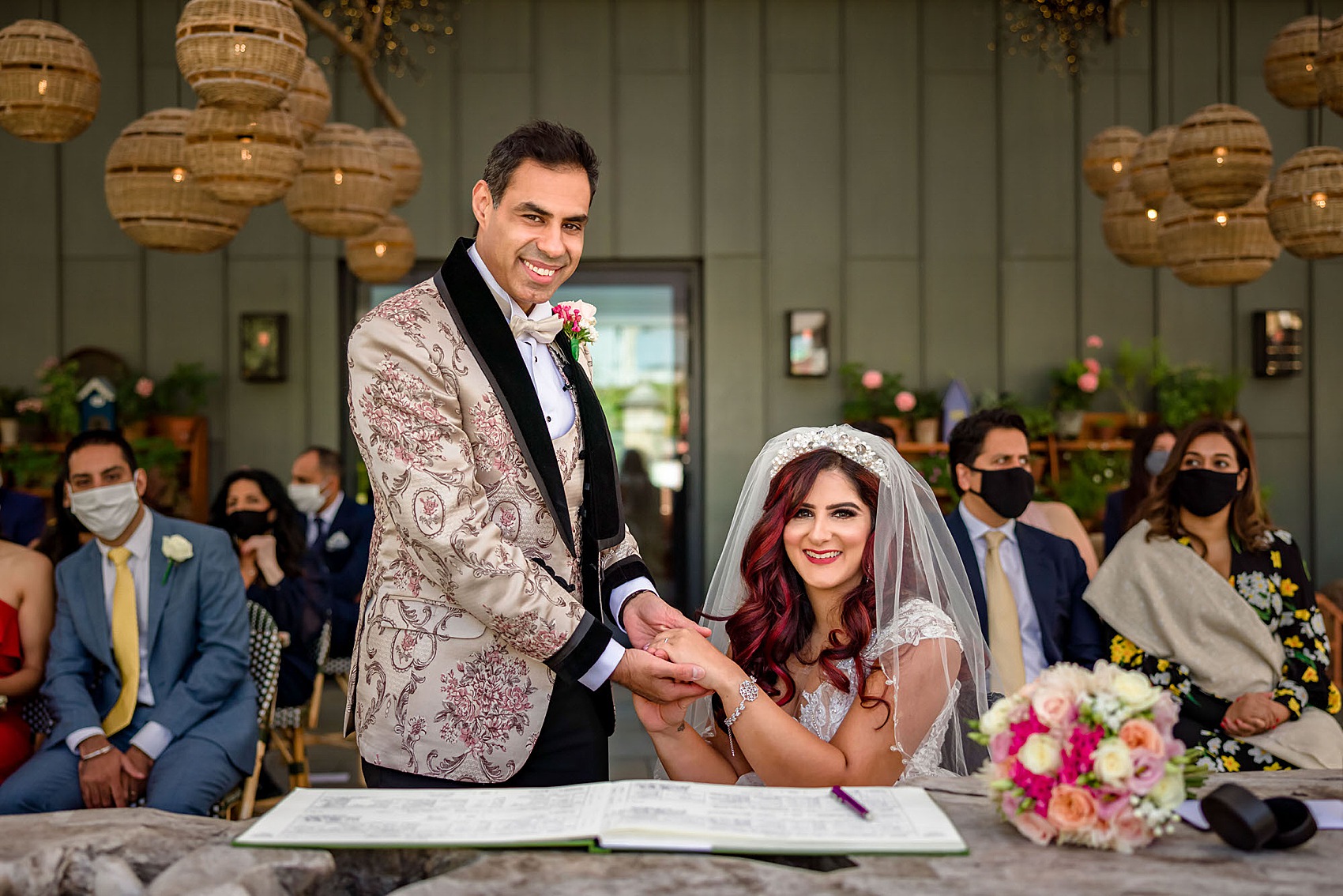 Wedding favours were monogrammed love notes, with personalised messages to each guest, along with boxed up slices of wedding cake.
"Ajay Patel at SW Events helped us source the mini cake boxes on Amazon. These were floral in design and blush pink, so matched our theme perfectly."
After drinks on the rooftop of the hotel post-ceremony, the celebrations moved to the orangery for a delicious afternoon tea.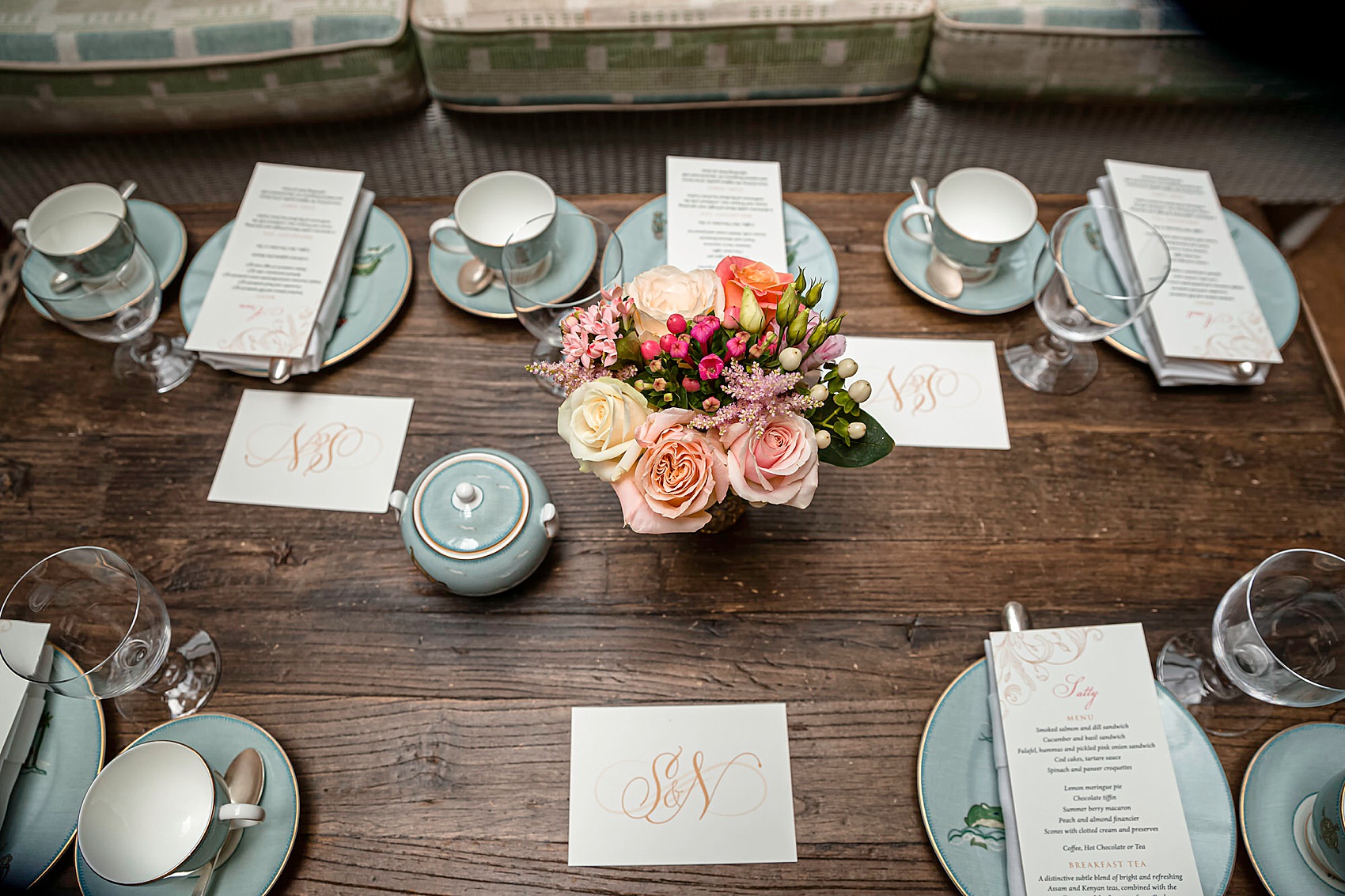 All of the beautiful flowers on the day were by U-Floria, who created a bridal bouquet of ice-cream hued beauties like roses, Cafe au lait dahlias, hypericum and lisianthus.
"We wanted a romantic wedding theme with fairytale vibes. I really wanted florals to be a focus for the day, including having fresh flowers on the wedding cake."
"This included having some kind of a garden backdrop (hence we originally chose North Mymms) but then the Ham Yard Hotel was so perfect for our theme with their rooftop. Colour-wise, blush pink resonated with me for a romantic theme."
Nurani and Sanmeet's gorgeous wedding cake, adorned with fresh flowers and sugar pearls was made by Nurani's super-talented niece, based upon a suggestion by their planner LaToya, from SW Events.
"We were conscious that we did not want a big cake with so few guests, and so LaToya at SW Events suggested a barrel cake. She sent over some photos for inspiration, and the size was perfect for what we had in mind. We were originally going to order the cake from a bakery, but were delighted when my niece offered to make it."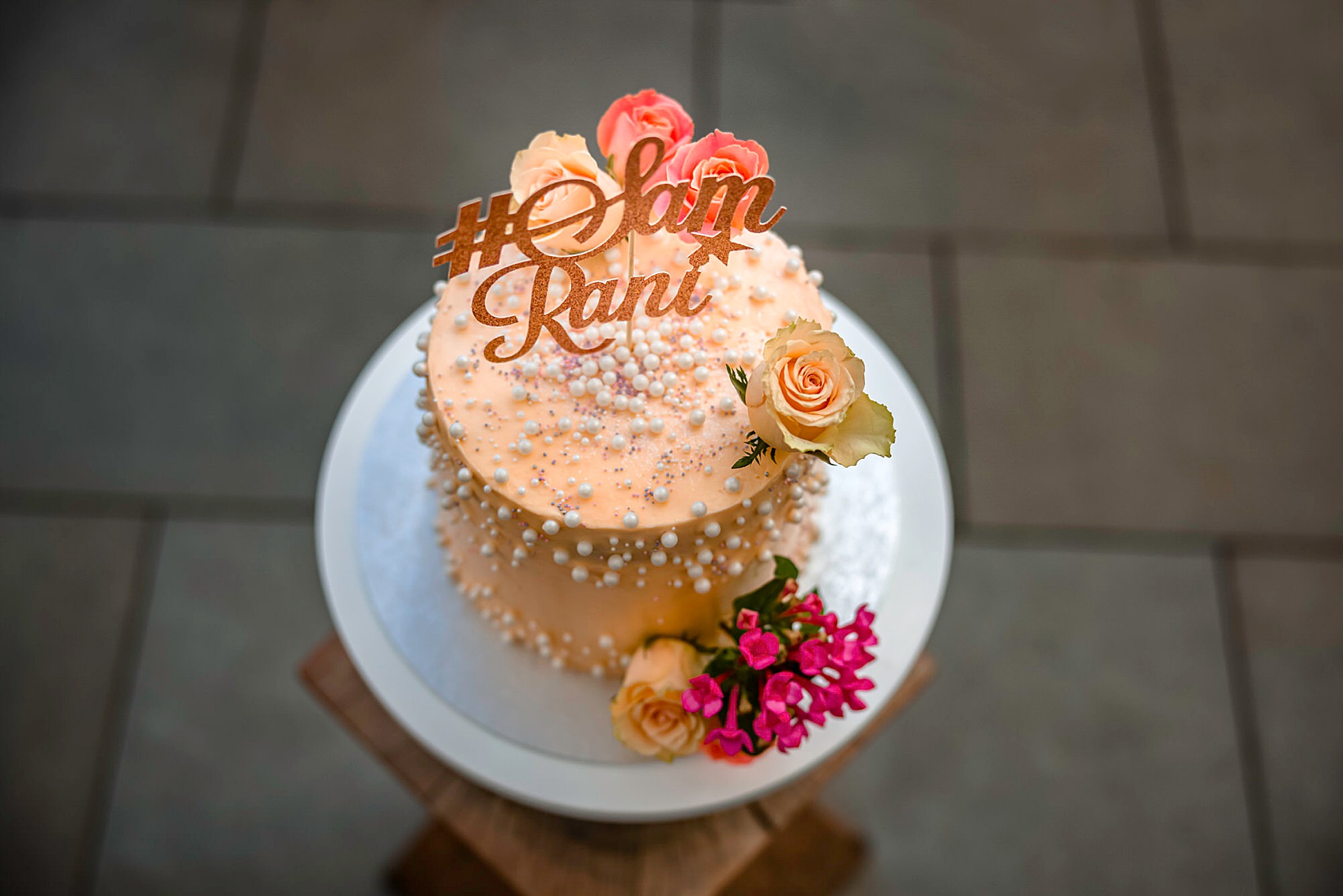 "She sent me a few images and there was one with pearls on it, and I chose that one to match the pearls in my accessories and the beading on my wedding dress. In terms of the flavour, we wanted a neutral flavour that we knew the majority of the guests would enjoy, and since it was still summertime (just about!), we wanted the cake to be light, fresh, and above all, delicious."
"We originally wanted a champagne twist on the classic Victoria Sponge but also wanted my niece to feel comfortable and confident in making it. In the end, we opted for Victoria sponge with vanilla buttercream and jam."
During their afternoon tea, Nurani and Sanmeet took the chance to exchange specially written vows that they didn't have the opportunity to say during the ceremony [due to COVID restrictions in place at the time]. Here, they have very kindly shared extracts with us to enjoy.
"Sanmeet to Nurani: 'I remember when we first met. I was so nervous and you just looked so beautiful (as you do now) in that bouji fur coat of yours! You were so confident and funny – when we parted company that night, I was sure you wouldn't want to see me again. But I wasn't going to give up because that day you set off a spark in my heart, which soon turned into flames of love. That same flame warms my heart today and always.'"
"Nurani to Sanmeet: 'Sam, you have taught me what real, deep, unconditional love is. You have taught me to be stronger, braver and fearless every single day. You praise me in a way I never thought was possible. You have taught me that I am not here to be average but to be awesome, and I strive for this every day.'"
These beautiful images of Nurani and Sanmeet's day were taken by Eye Jogia Photography, and they perfectly capture the luxurious romanticism of the couple's day – a real joy to behold.
"We first came across our photographers on Professional Asian via Facebook, and we had booked Sanjay and Roshni Jogia for our big fat Indian wedding in August 2020. When we decided to postpone and just have our civil in September this year, there was not a doubt in our minds that we still wanted Eye Jogia."
"Sanjay is so creative, his images are stunning with such attention to detail that we knew Eye Jogia were the only choice for us. I remember the first time I spoke with Roshni on the phone. She was so positive, caring, and had such a passion for weddings and love."
"When we met, it was like we had known each other for years. When we saw other couples' albums, Sam and I said 'We want our photos to look exactly like that.' We loved how each set of photos told such a special story."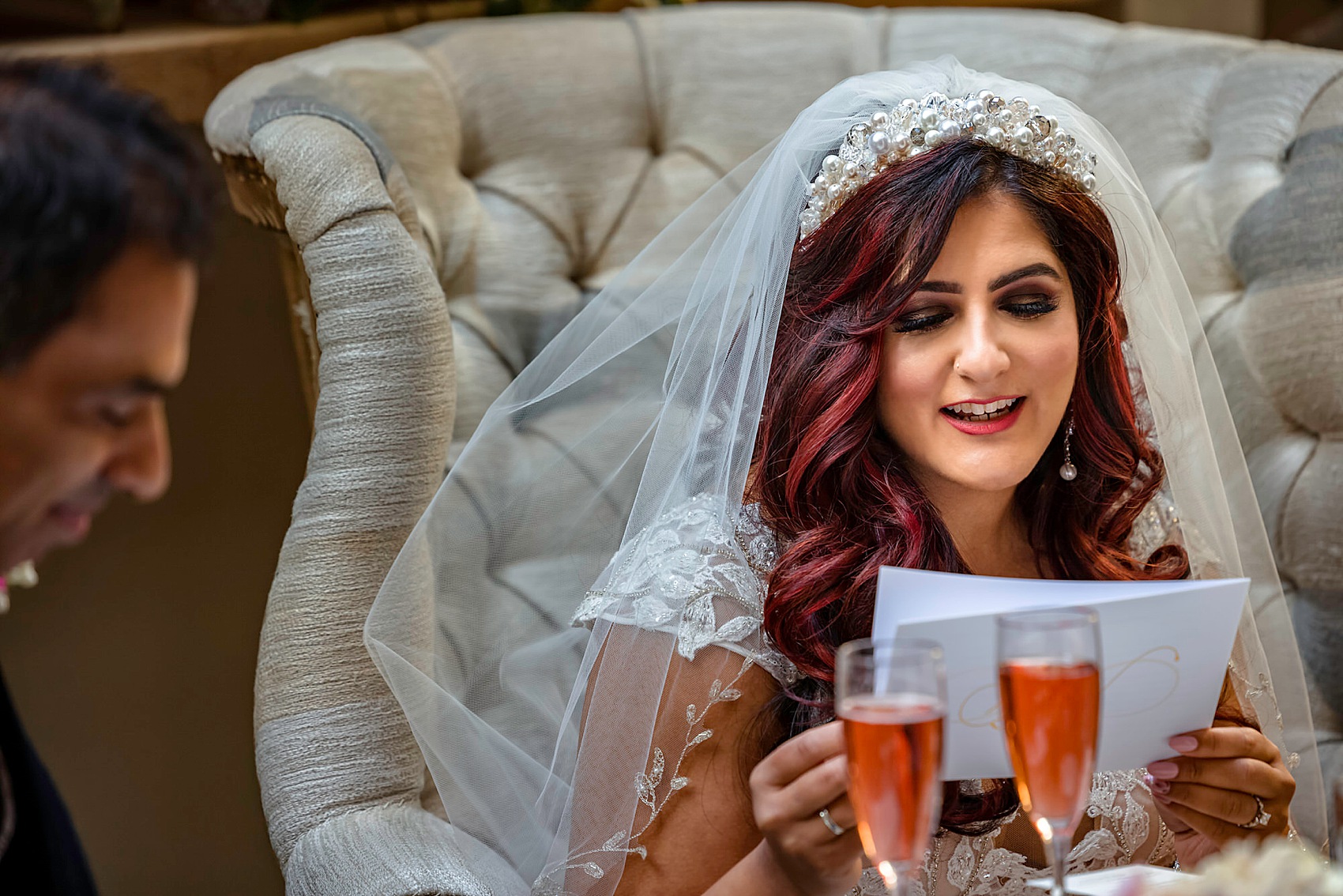 "There were a lot of precautions that had to be put into place for our Covid micro wedding but this did not impact Eye Jogia and the way they worked with us. They made us feel so special, and the entire experience was full of so much love and happiness. They didn't rush us at any point and kept us calm throughout."
"When Sam and I received the set of teaser photos from our civil wedding, we were blown away. We wish we had recorded our reactions as we were gushing at every single photo."
"We were left speechless – all the details from the day and our reactions were captured beautifully. For Sam, the photos brought back all the emotions and joy from the wedding. We now cannot wait to choose the images for our album and relive our special day again."
"Eye Jogia are absolutely the photographers to go for if you want stunning images that will be with you for a lifetime. After all the wedding celebrations, photographs are all you're left with, so I would recommend investing, and I definitely recommend choosing Eye Jogia."
"We cannot wait for them to capture our bigger wedding celebrations next year!"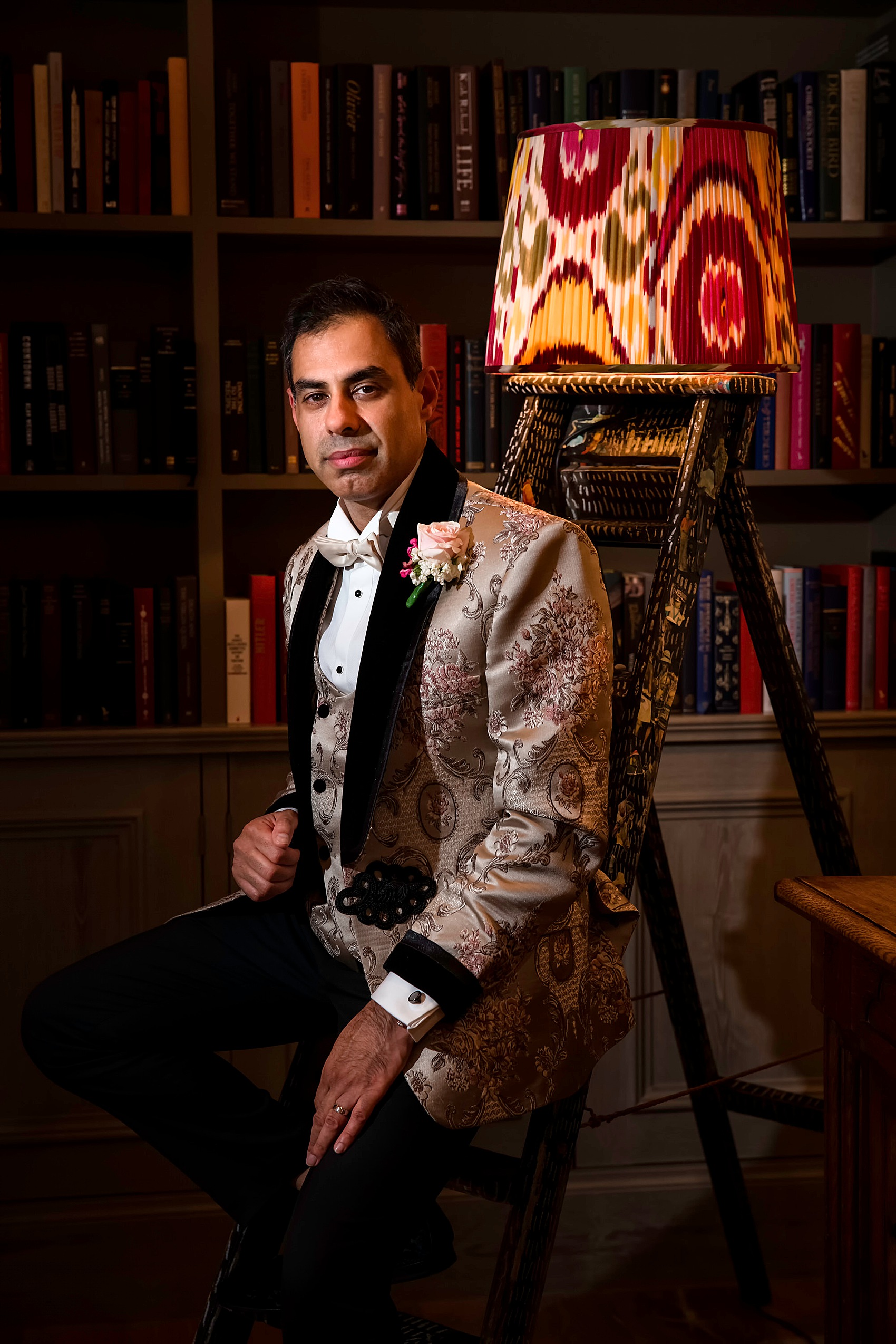 Words of Wedded Wisdom
"We are so lucky that we managed to have our civil wedding, but we are yet to have our Indian wedding, which we have had to postpone – so we can relate to other couples who have had to postpone."
"I think the most important thing to remember is that you have each other, married or not. Whatever struggle you may be going through, flip it so that it is a positive."
Stay in the know – join our mailing list.
"For example, we told ourselves that the postponement meant that we could enjoy being engaged longer, and that we had extra time to plan our dream day."
"Remember (if you're planning a wedding during Covid) your guests will be your nearest and dearest and it will be intimate, so a great opportunity to focus on the finer details of your wedding day."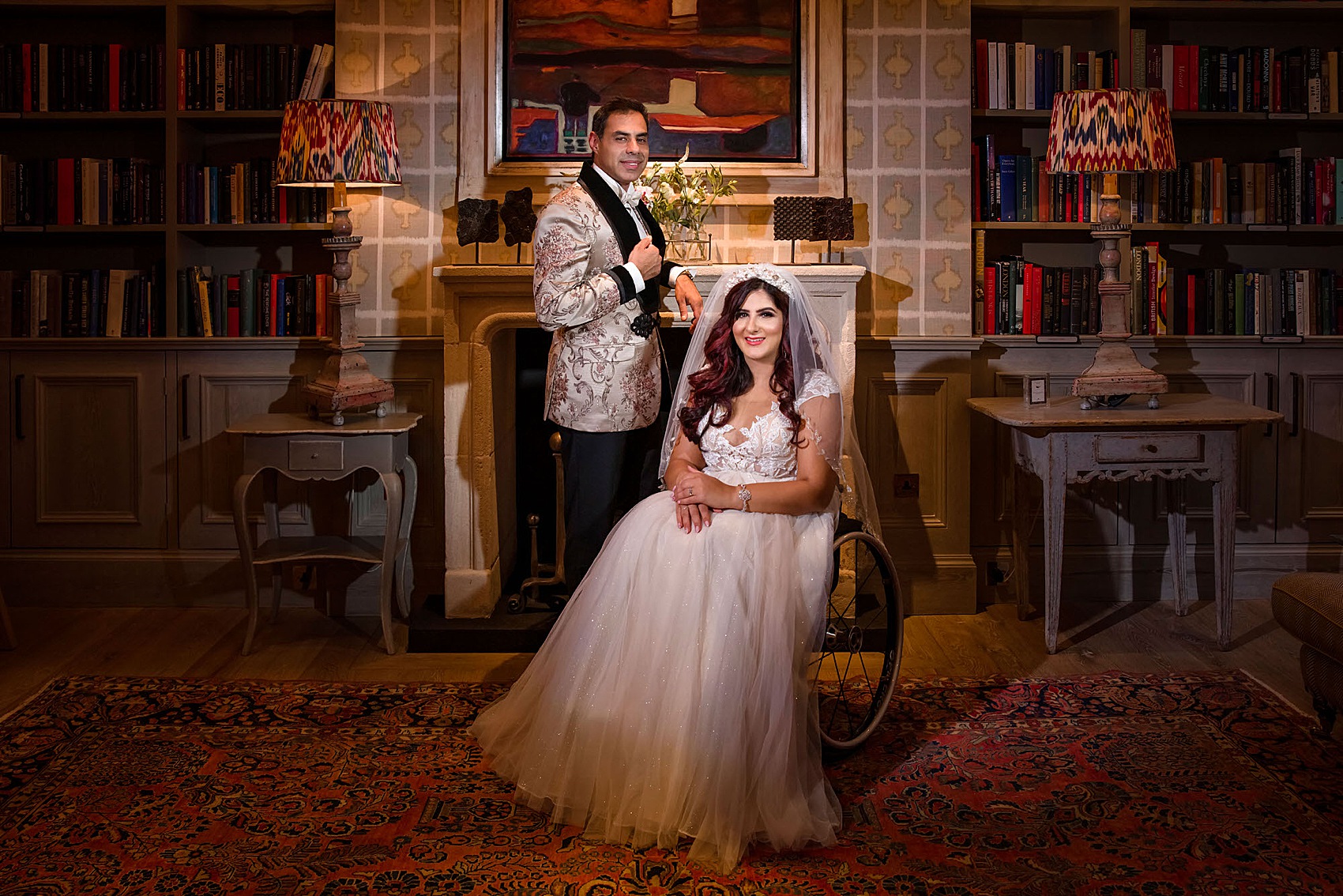 Congratulations Nurani and Sanmeet! It's been so wonderful to share your day with our readers, and we wish you all the very best for your Indian wedding celebrations to come.
Our love and thanks to Eye Jogia for these beautiful images and to LaToya Patel of SW Events for submitting this beautiful wedding to Love My Dress.
Love,
Laura