Come to the woods with me today for a breathtaking wedding, where our couple and their guests were surrounded by the lush, natural beauty of trees in the peak of summertime.
This is an idyllic escape, and a beautiful celebration supported along the way by two of our wonderful Little Book Wedding Directory members, Megan Elle Photography and Heart Aflutter Bridal Boutique, where our Bride found her glorious floral lace dress.
Delirious Weddings

+ Follow
Elena and Mark work for the same company, where Elena works in corporate responsibility, and Mark is a client advisor. They were married on the 13 July 2019 (after a legal ceremony on the 11th) at The Dreys – a family run events and glamping venue set in 80 acres of woodland (the beautifully named Squirrel Wood, no less) in Kent.
Stay in the know – join our mailing list.
Elena and Mark were guided by the principles of equality and feminism when planning their day, and ahead of the ceremony they enjoyed a first look, which was captured in all its lovely glory by their photographer Megan Elle.
"We chose Megs because she was recommended by a friend who used her the year before."
Megan Elle Photography

+ Follow
Megan also beautifully captured the natural splendour of the couple's woodland setting. I feel like I could step right into these images, they are so full of magic and atmosphere.
Videography for the couple's day was by Delirious Weddings, and you can follow this link to their website to enjoy the films created for Elena and Mark.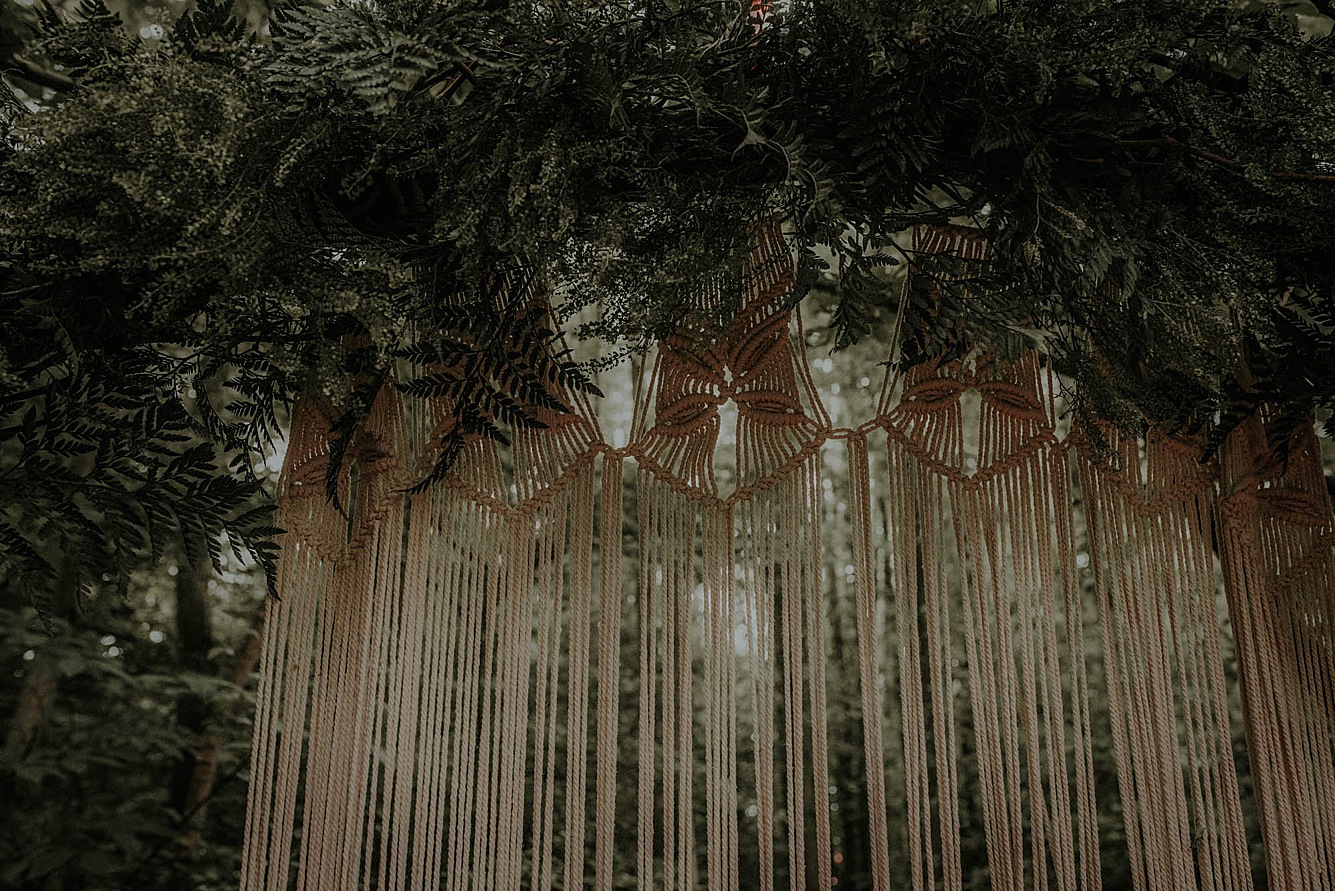 "We chose our venue because it matched perfectly with what we had always envisaged. It was relaxed, beautiful, felt at one with the elements and beautiful nature."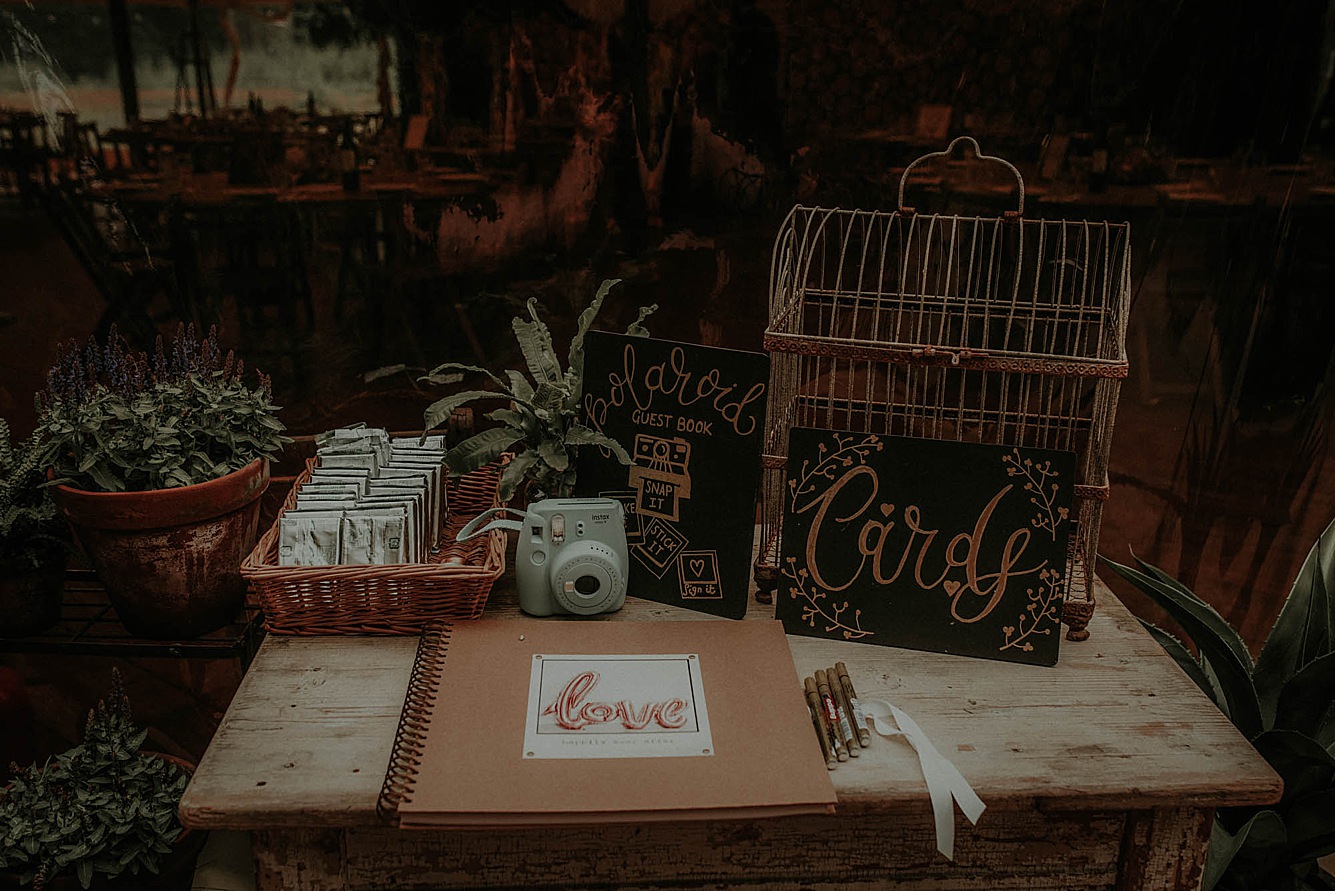 "The first time we saw the venue and were driving through the tree lined driveway into the forest, and then walked into the woods that was lit up with fairy lights – we fell in love. Everyone told us that we'd know when we found our venue – and they were so right!"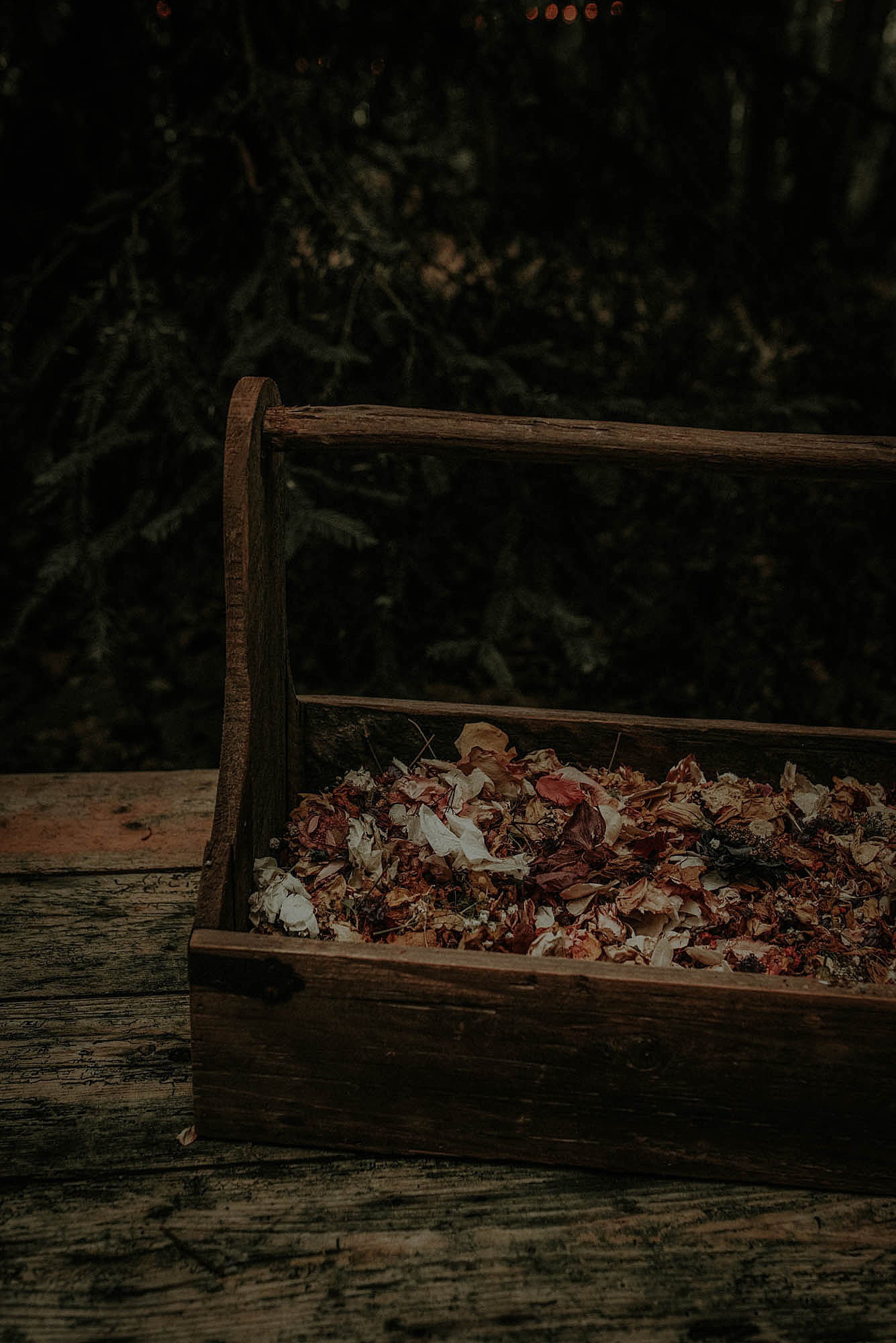 "Mark's suit was from Beggars Run – navy blue trousers and a white shirt, burgundy Ted Baker boots, a green velvet jacket and waistcoat and an emerald green tie. He had a green pocket square. He wore G and W cufflinks – the initials of our newly combined name."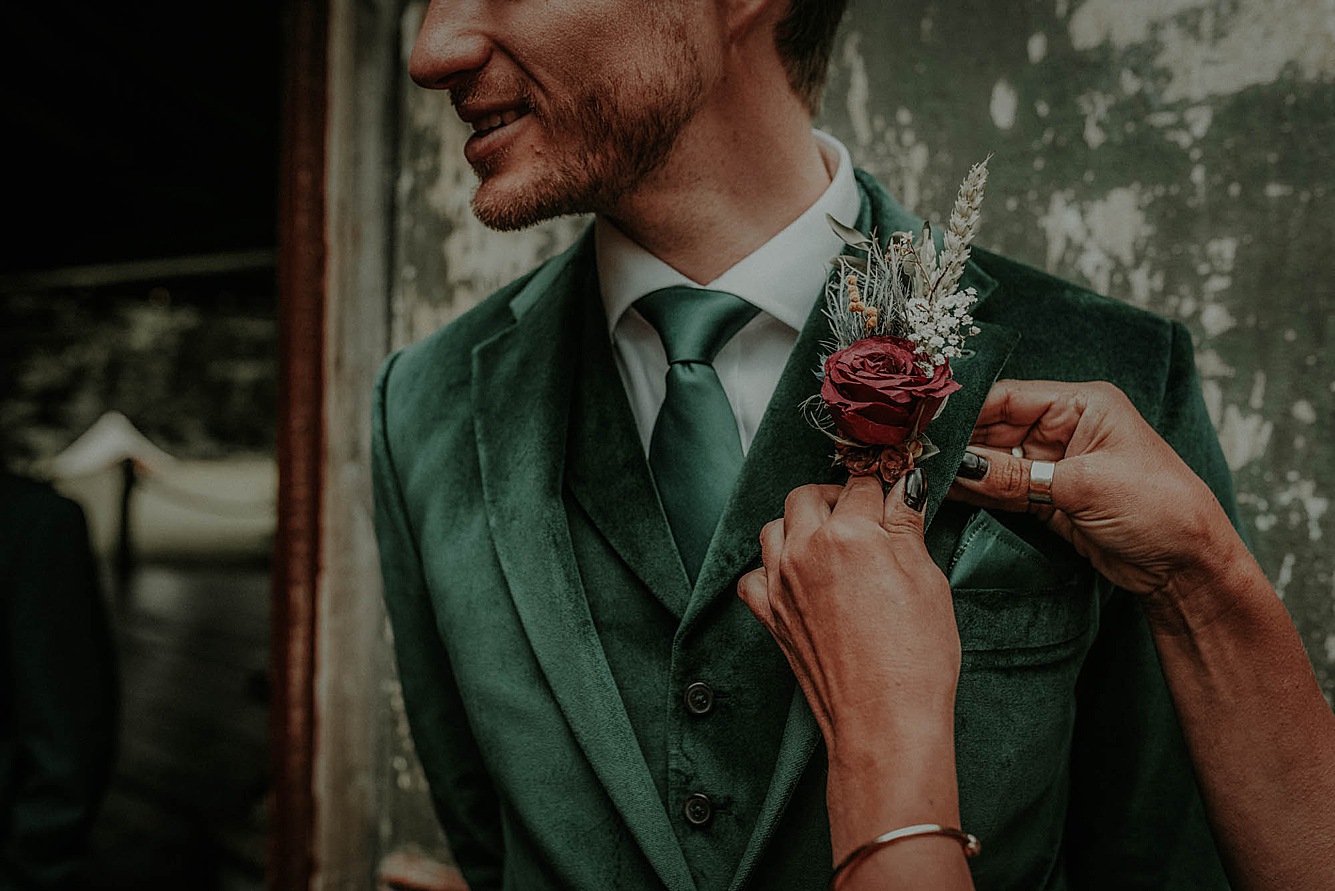 "Mark and I met at work. Mark proposed to me on the morning of my birthday celebrations with a gorgeous ring from my fave jewellery shop – Zoe & Morgan. I had also got Mark an engagement ring that I was able to give to him straight after mine!"
"We had been together for 3 years before we got engaged, planned the wedding in one year, and have now been together for four years in total – we recently celebrated our 1 year wedding anniversary."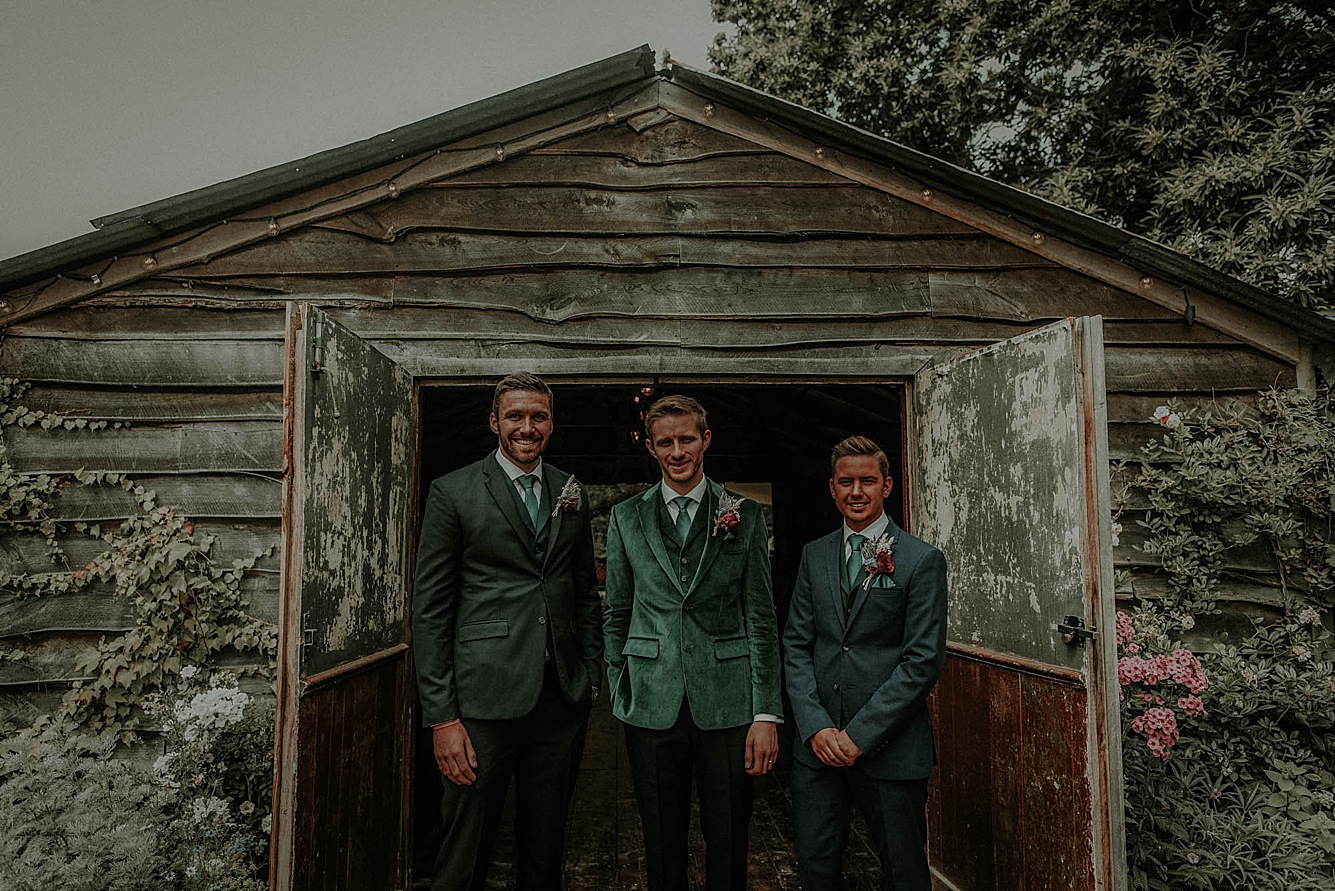 Elena's knockout dress was the 'Jasmine' by Laudae, and crafted from delicate yet striking jasmine flower motif lace with a super sexy silhouette. Elena made her choice at East London boutique Heart Aflutter, whose intimate private studio setting makes for a calming and enjoyable place to be inspired.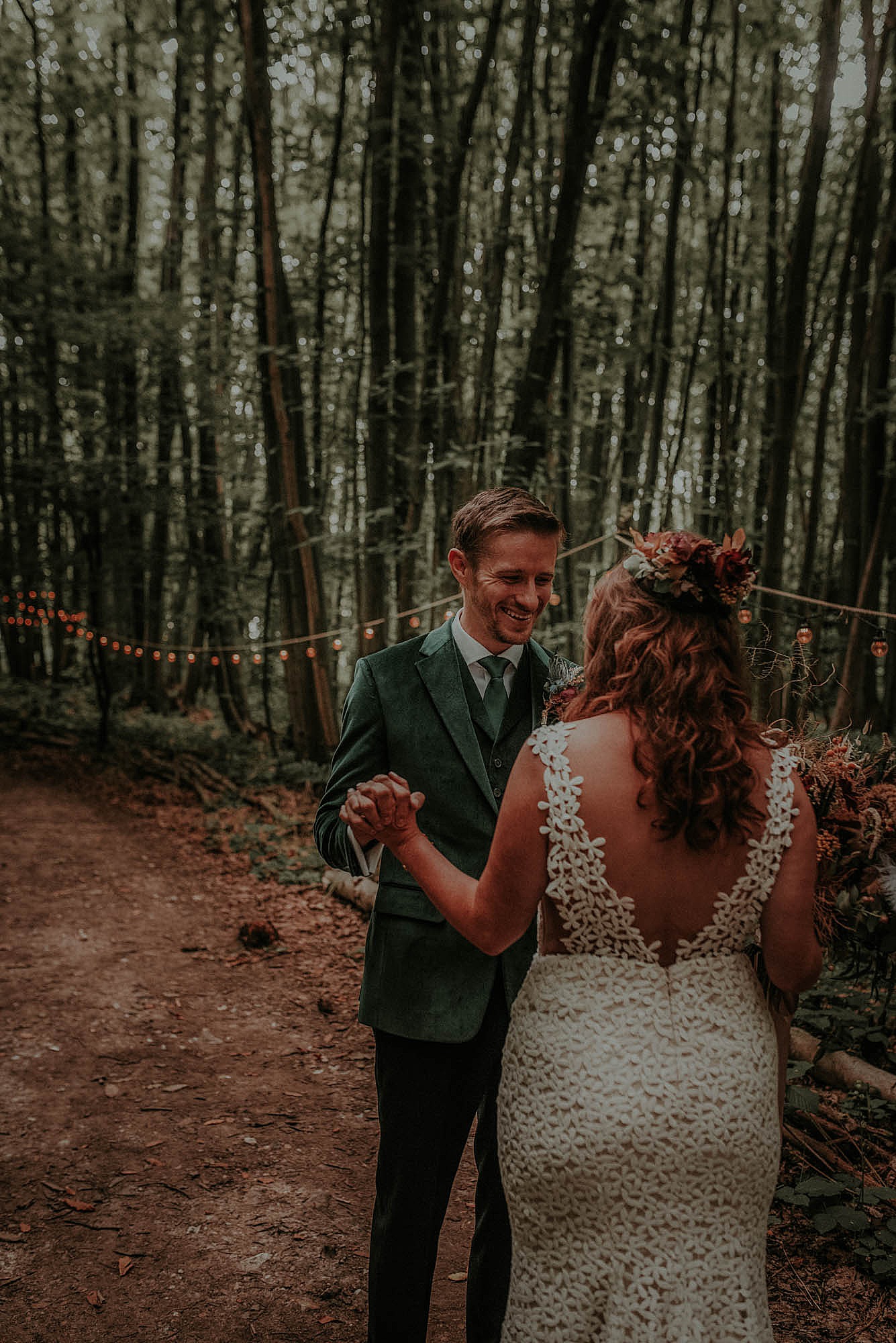 "I had the most fantastic experience at Heart Aflutter,. They were so confidence boosting, gave me great tips for accessories,  and were so kind and so helpful – I loved it."
"I wanted to feel confident and sexy, and not hide that fact that I'm curvy or have boobs! I wanted to feel comfortable and relaxed in my dress."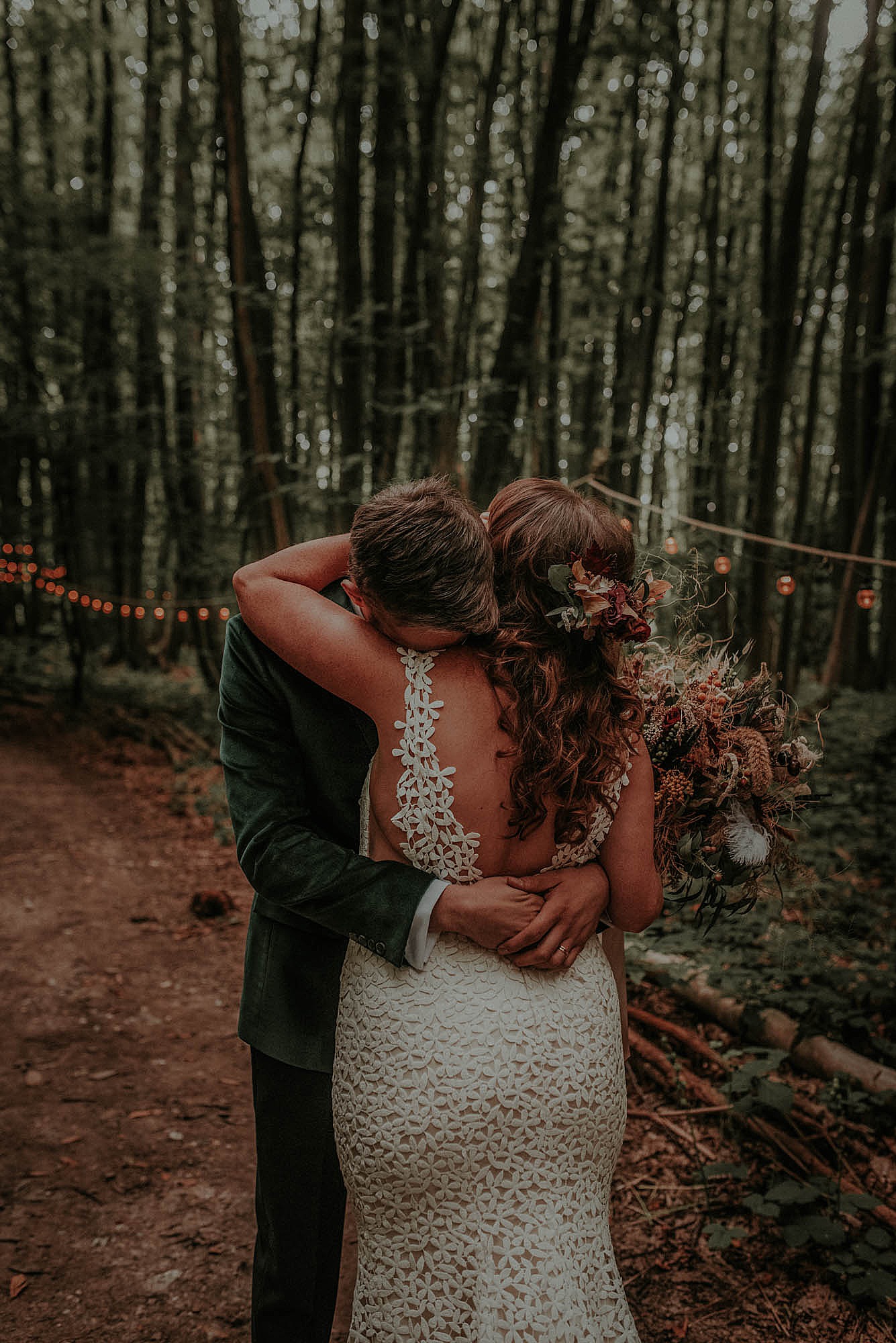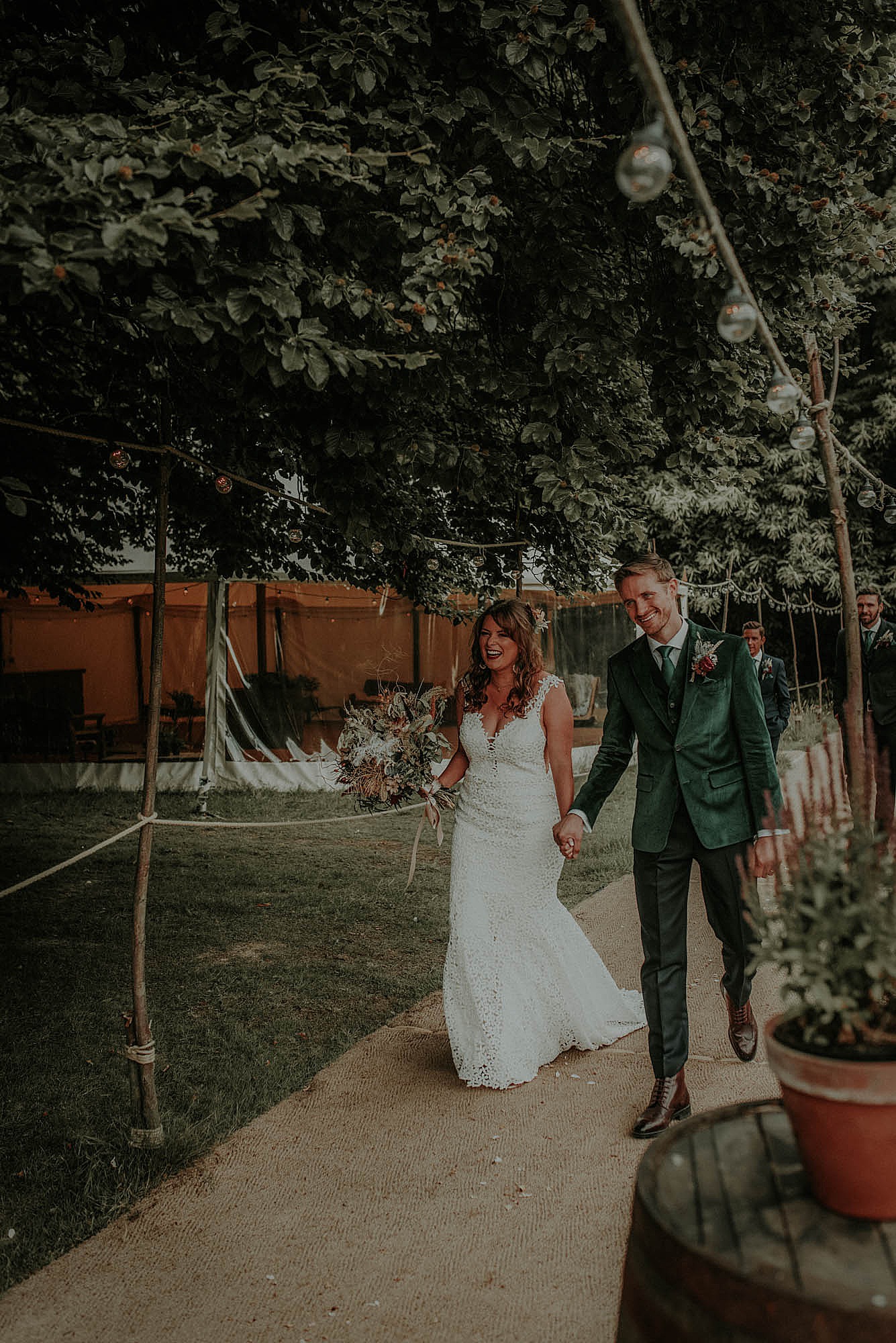 "Me and my bridesmaids wore matching bracelets, and I wore a layered necklace that my hen ladies gave me the night before. Jenny Ojo made our faces look pretty, and Summer at Michael Van Clarke styled our hair."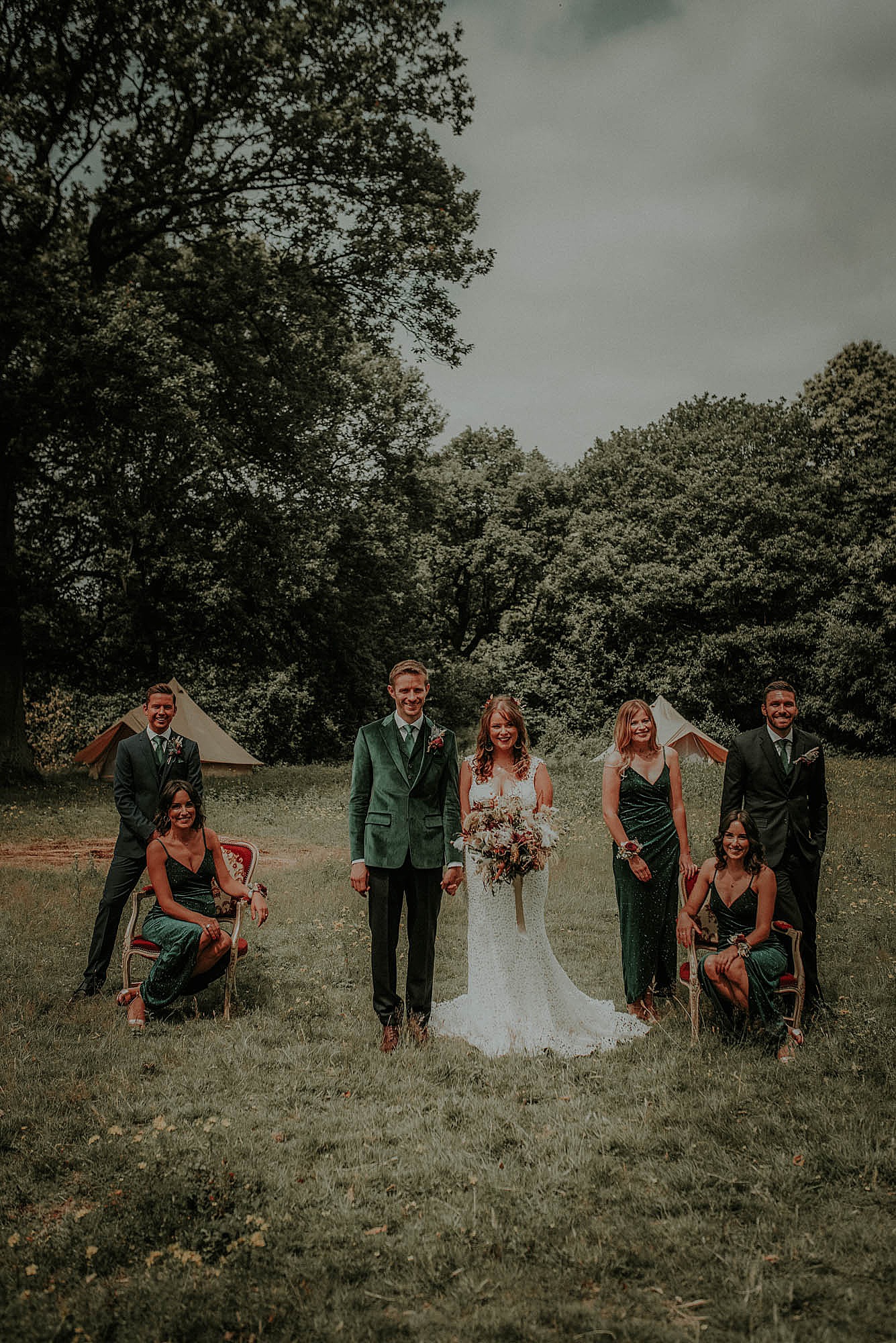 The bridesmaids looked wonderful wearing sparkly velvet wrap dresses from Quiz in a shade of lush forest green to complement the woodland setting, together with bracelets from Rachel Jackson, gifted to them by Elena.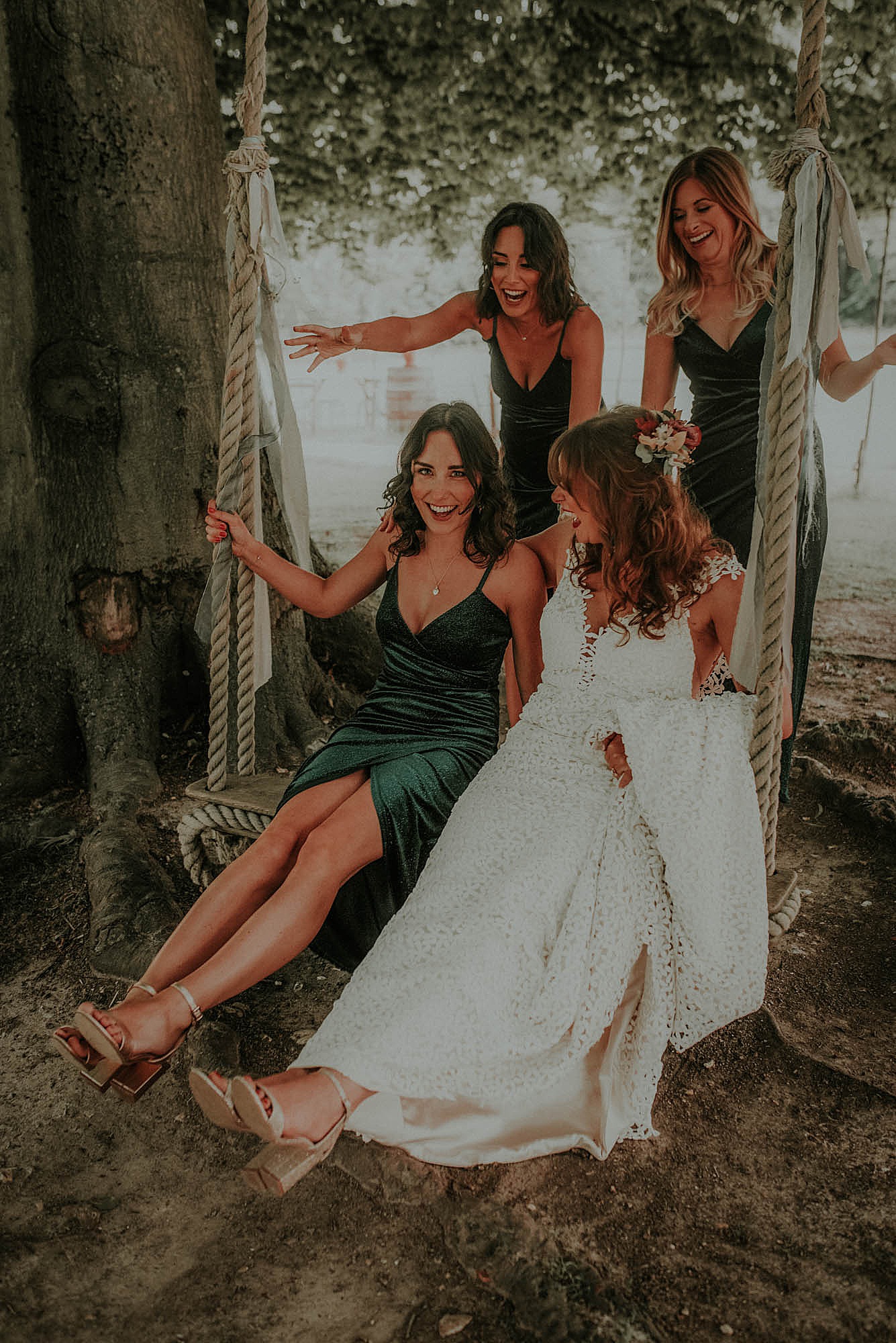 In the year leading up to the wedding, Elena's Mum painstakingly dried flowers from her garden to use in her daughter's bouquet, hair, and all around the venue.
The flowers were arranged with the help of Sue Davies Flowers and Garden, and the whole effect was rustically beautiful – filled with so much texture, and softly muted colours.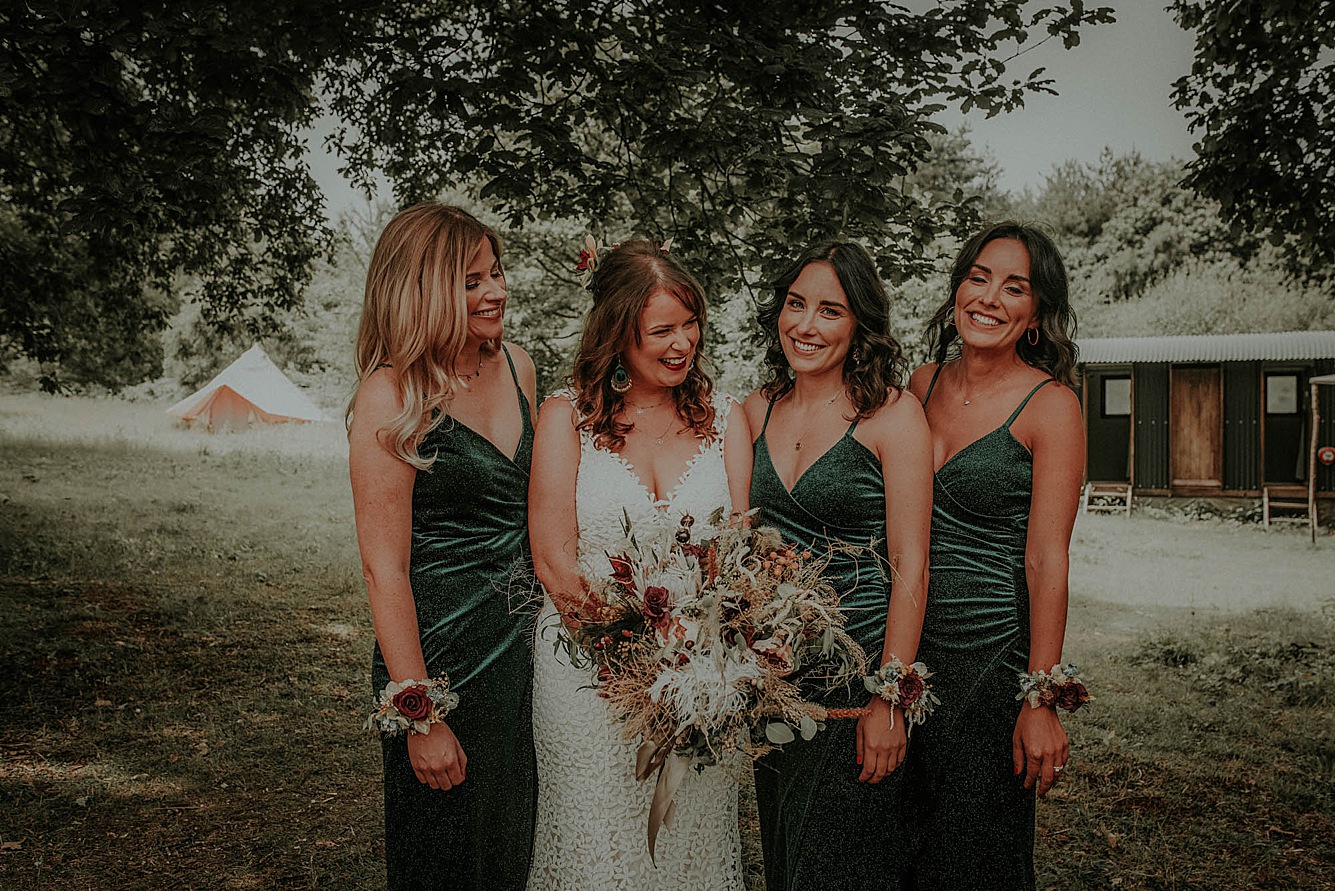 "My Mum's efforts were incredible. She worked incredibly hard for an entire year to collect and dry flowers for our wedding – she isn't a florist but is so creatively gifted.
We're beyond grateful for her contribution to our day."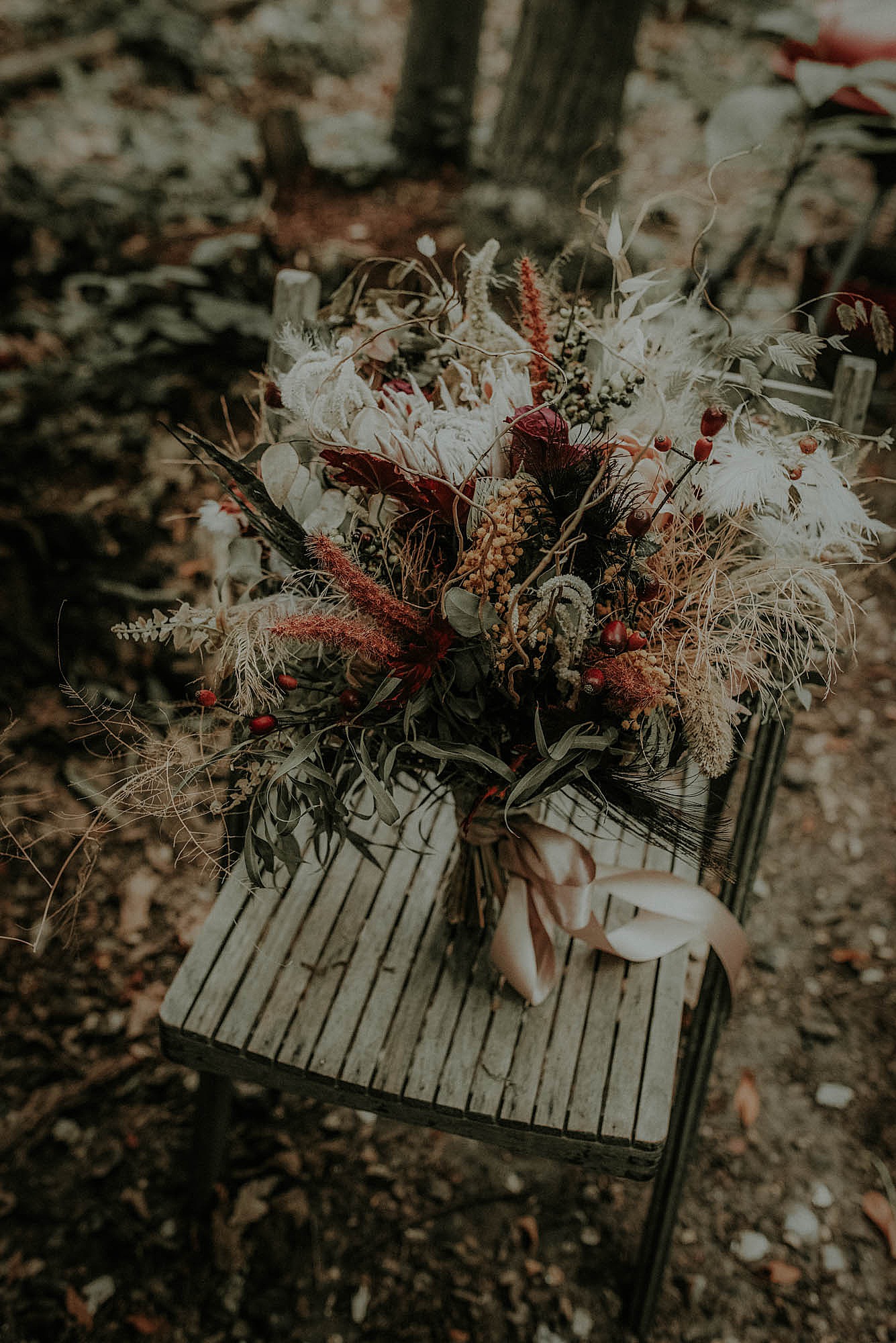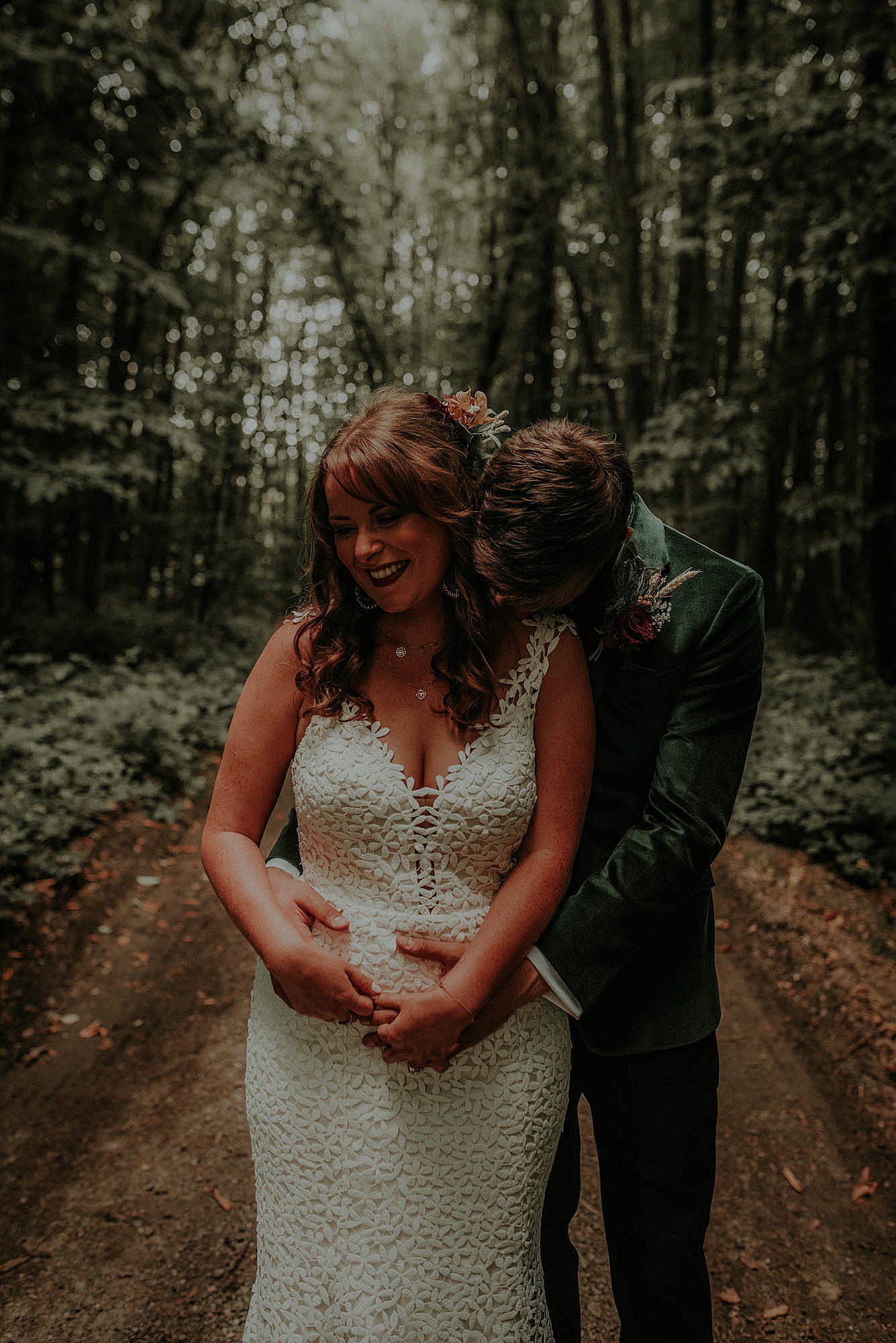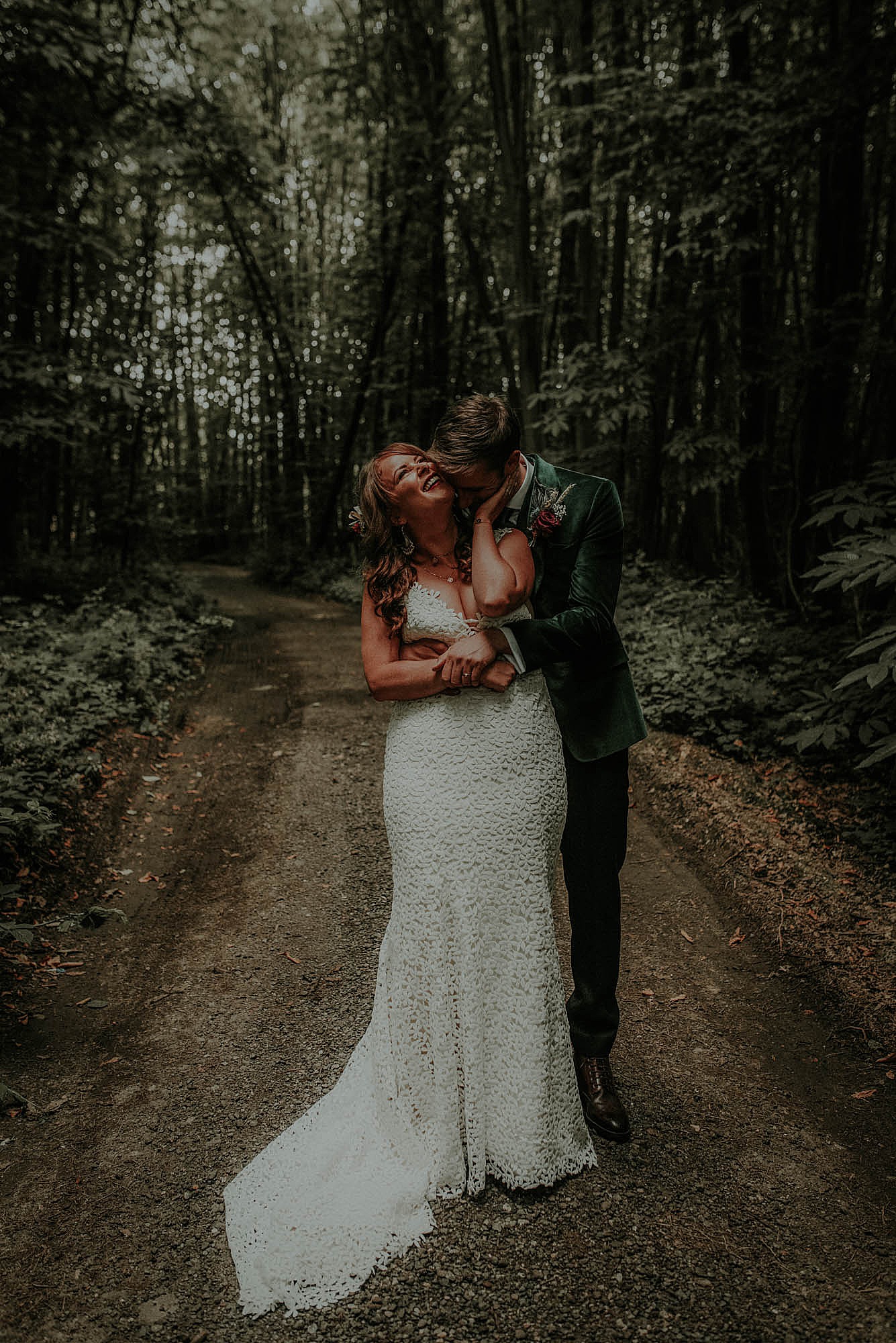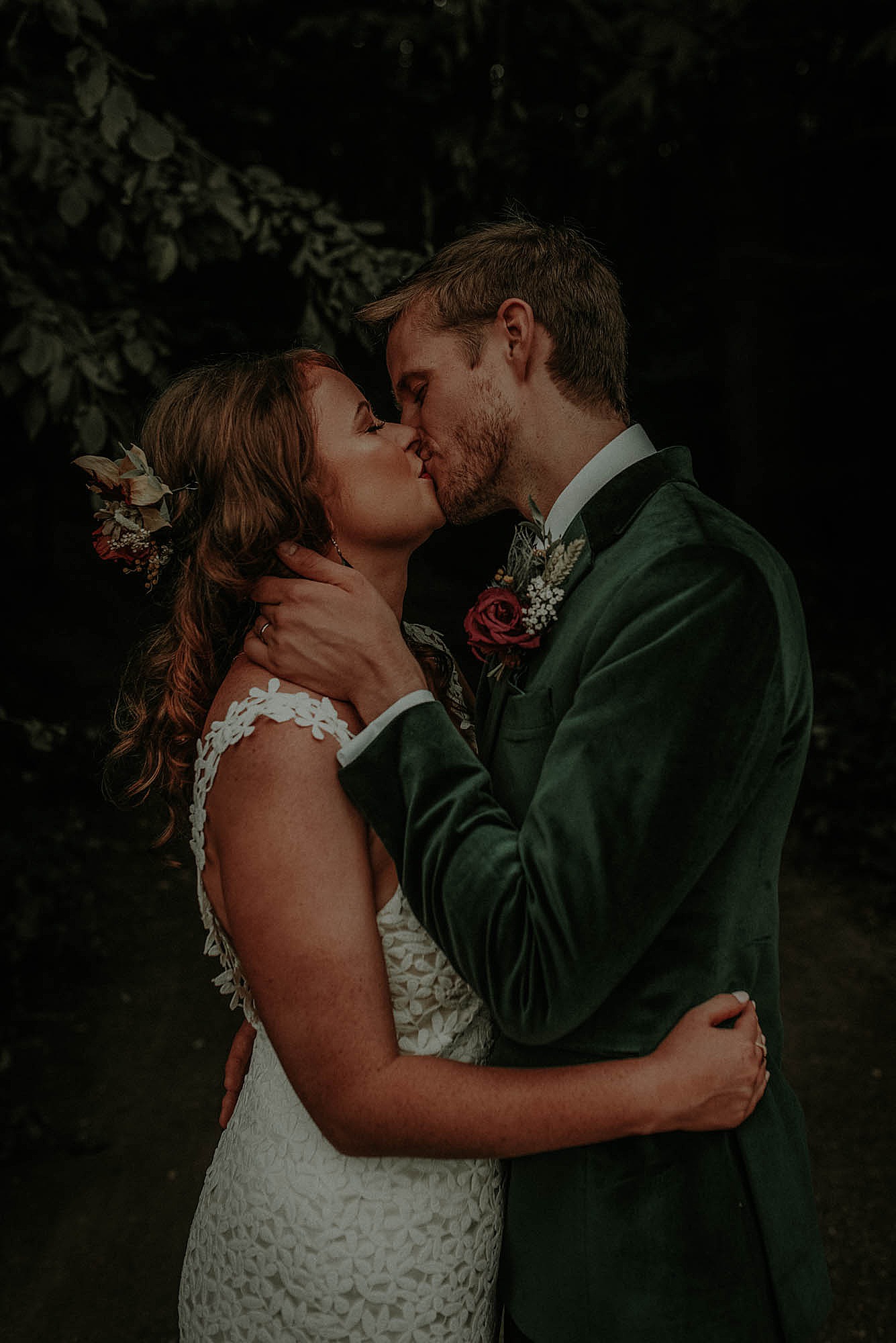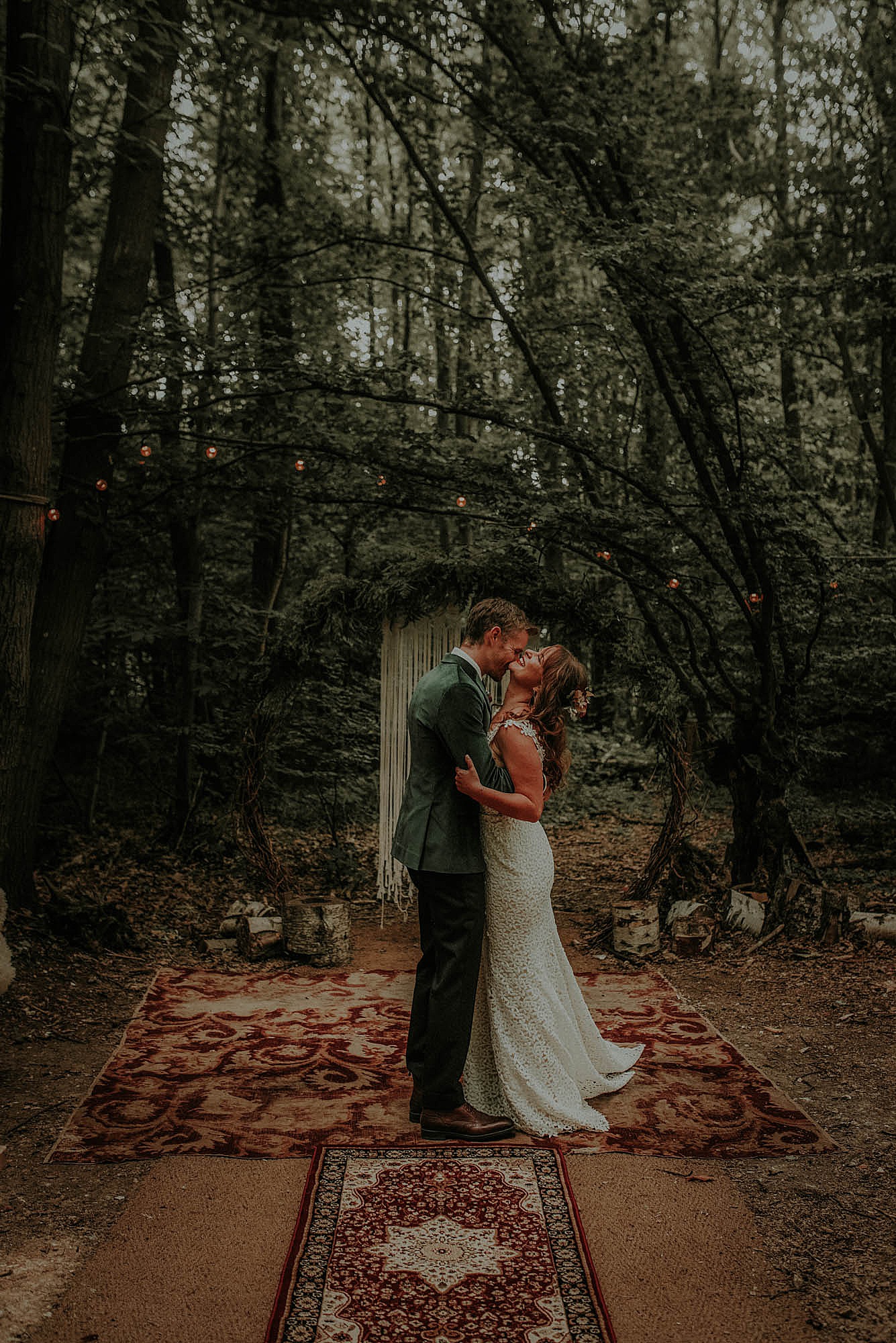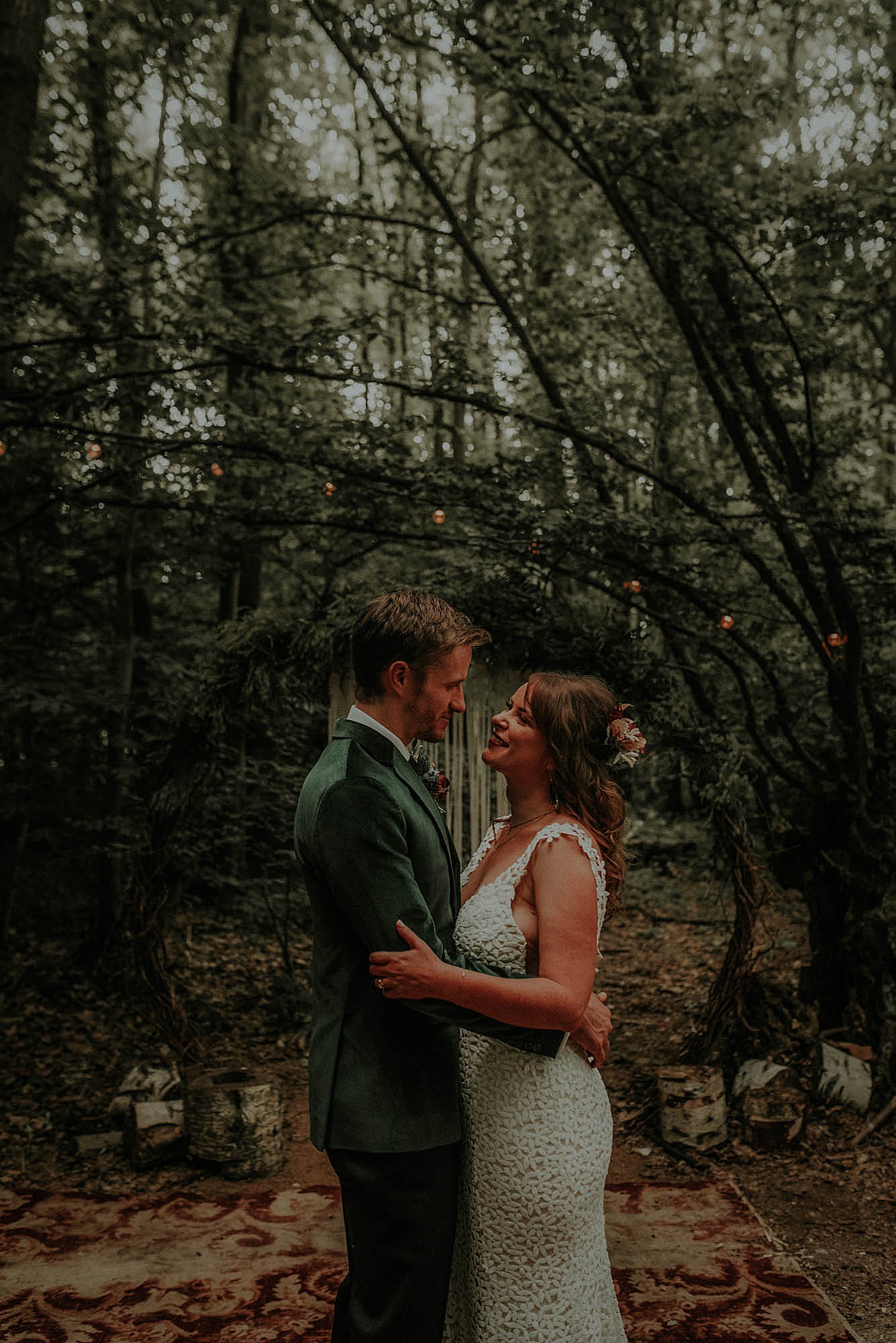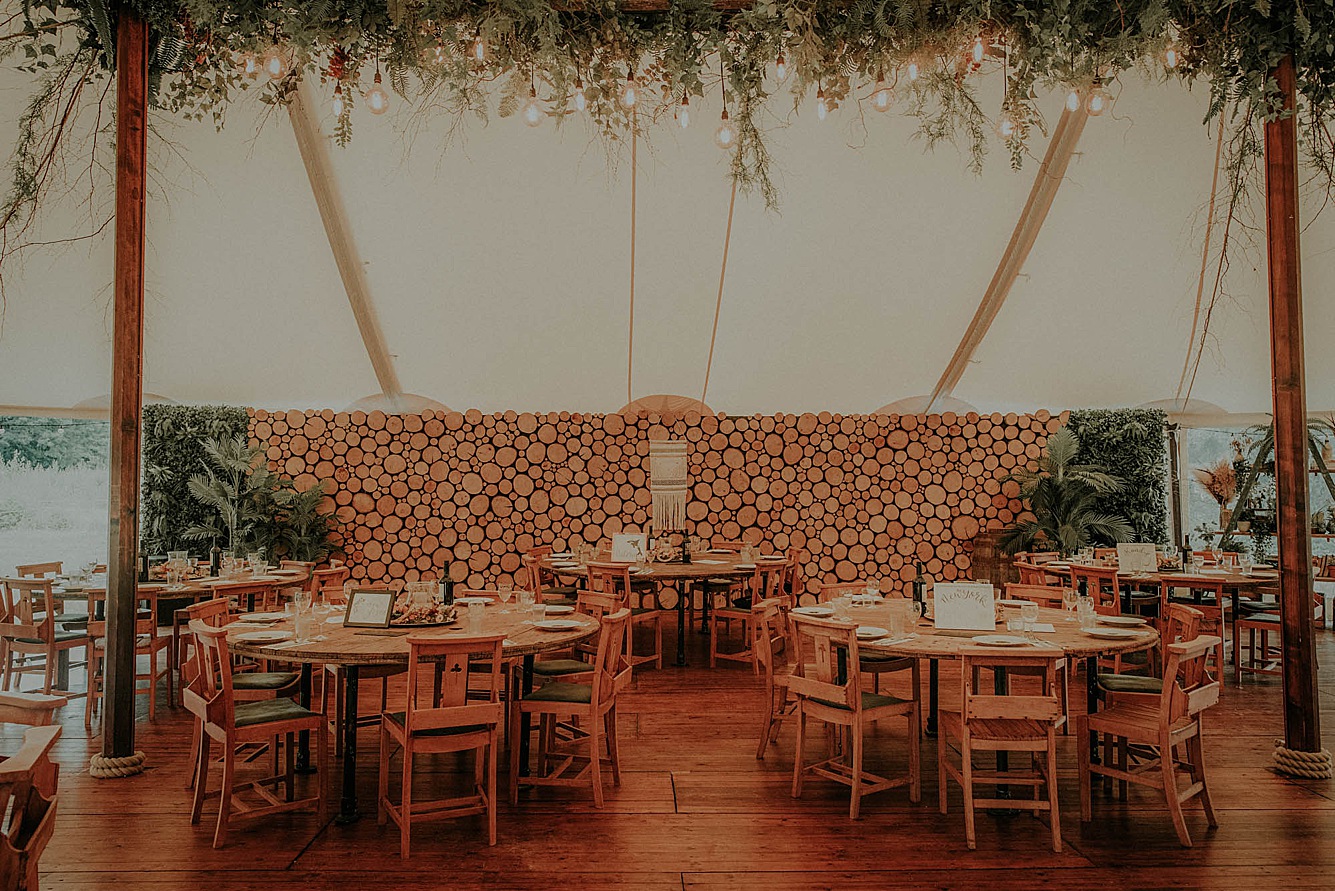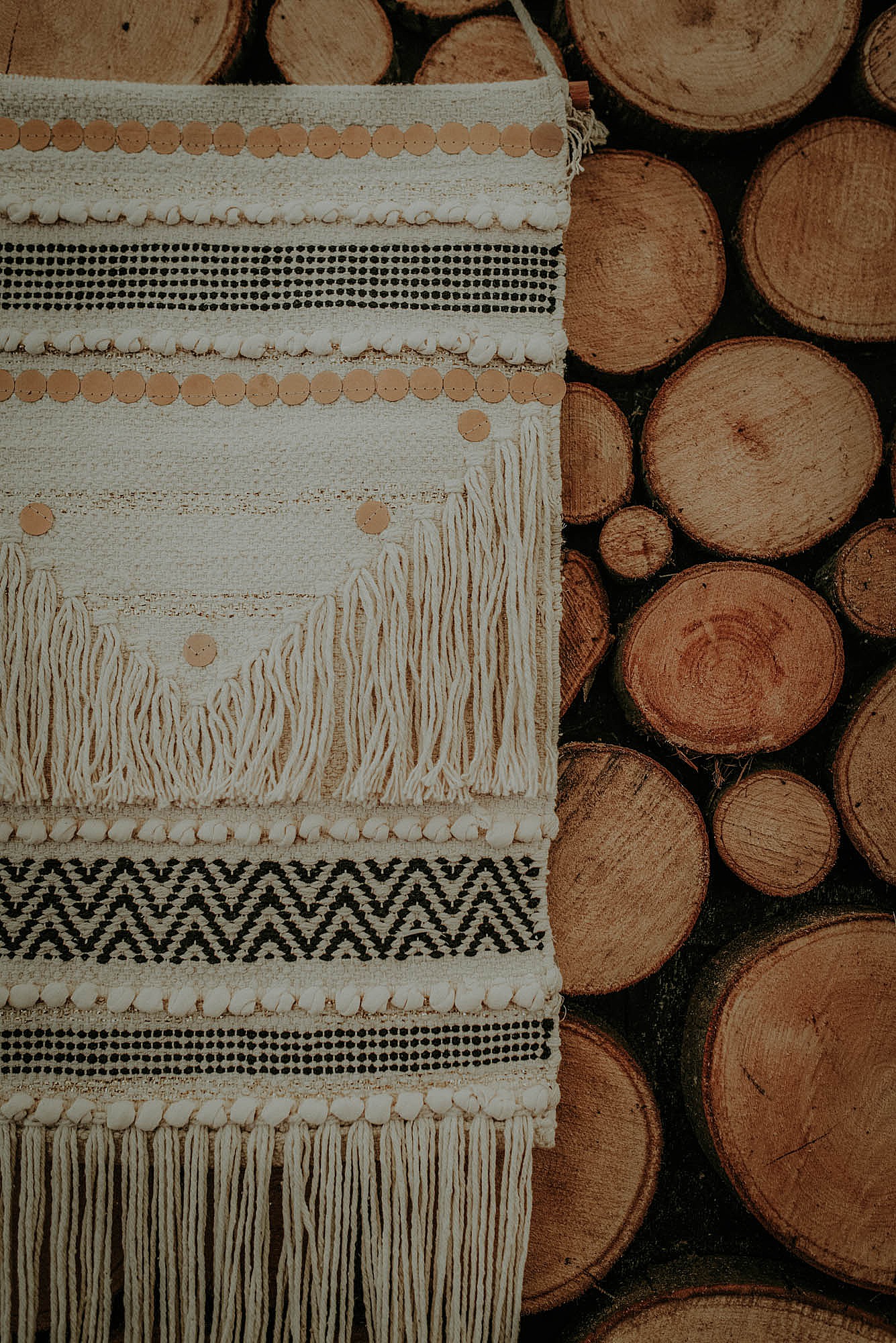 Bridal shoes were from Kurt Geiger, and Elena's fragrance was a combination of two Jo Malone perfumes gifted to her by Mark.
She also wore colourful statement peacock earrings, which her sister bought whilst on holiday in Bali, and a sapphire ring belonging to her Mum, which was a gift from Elena's grandfather.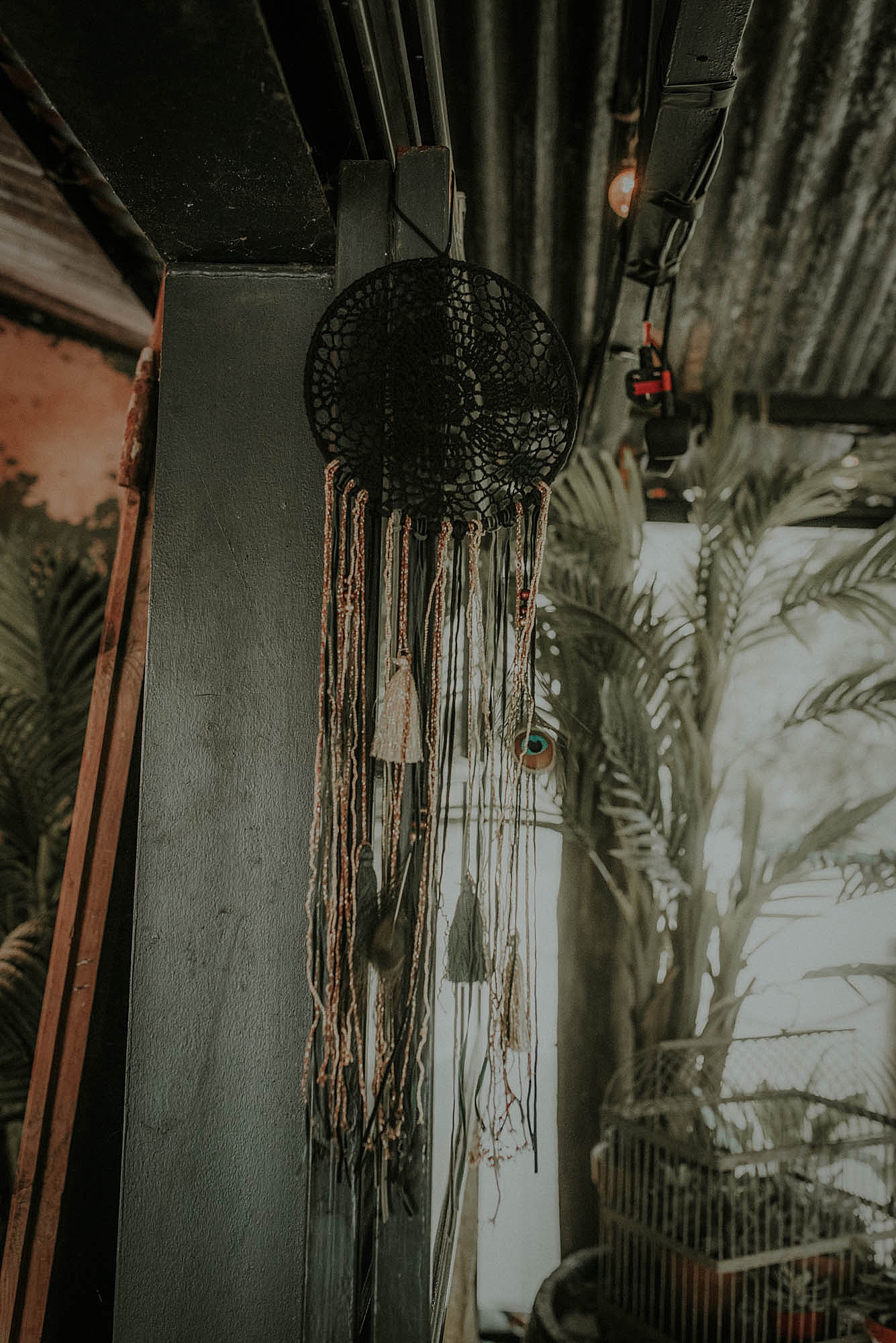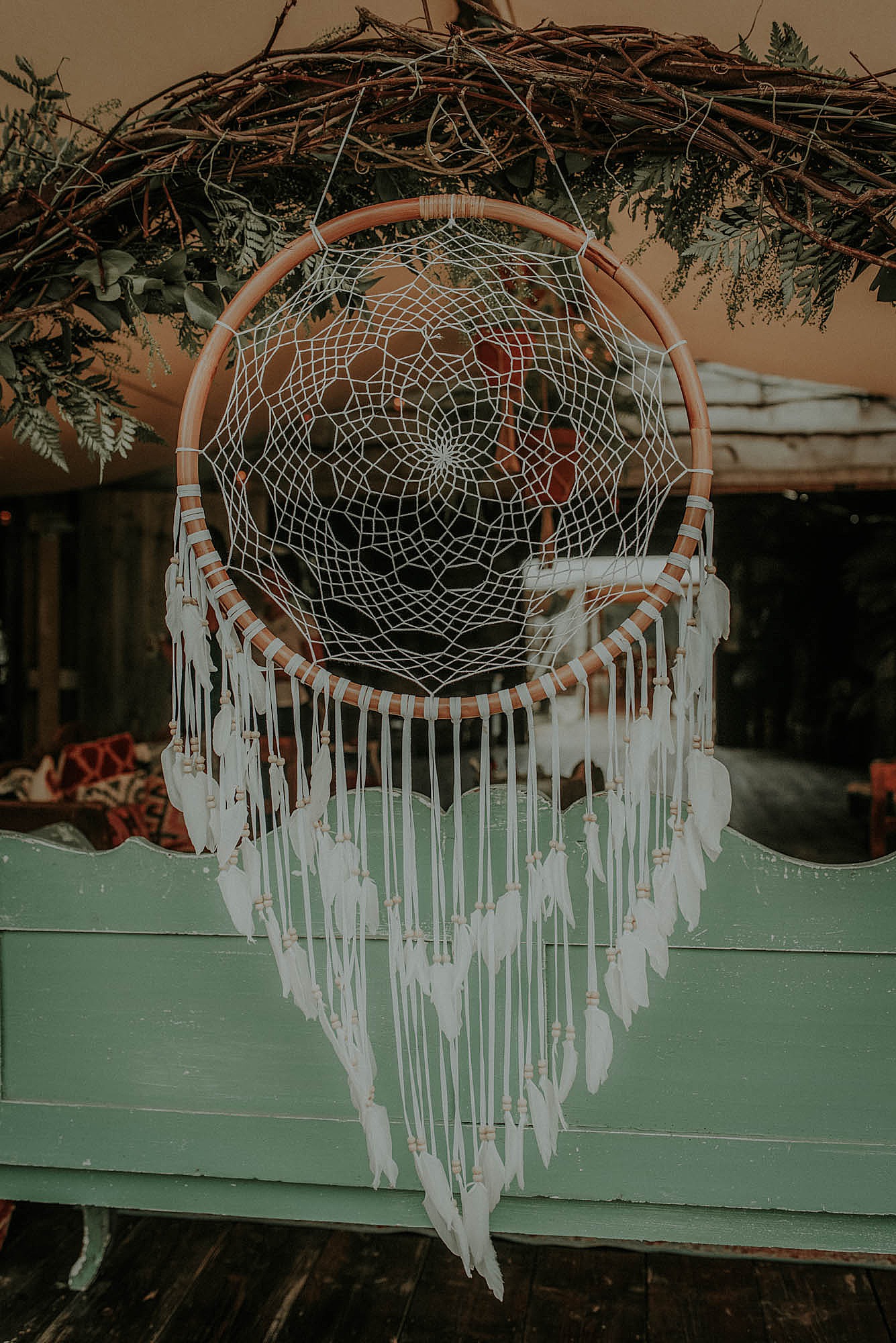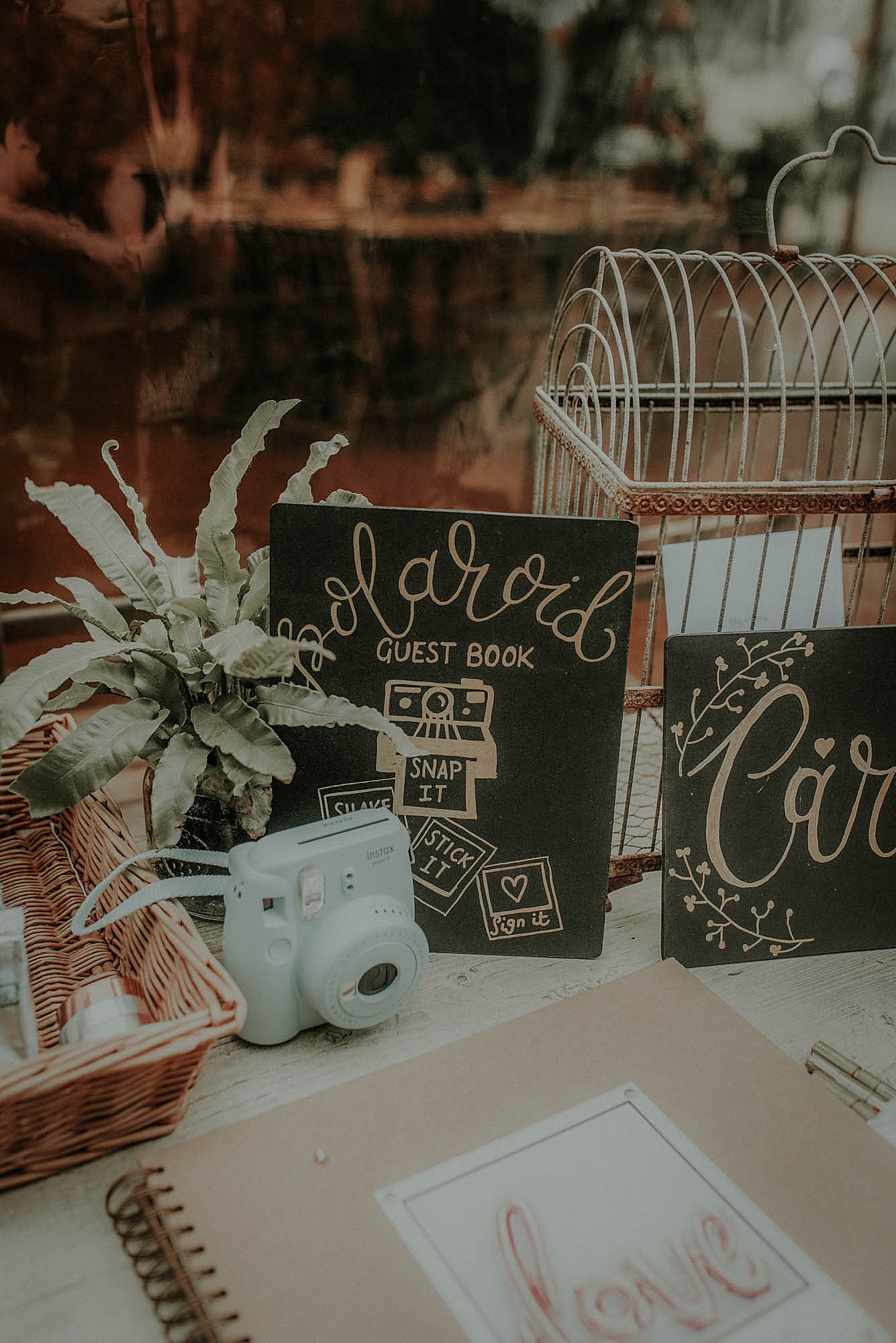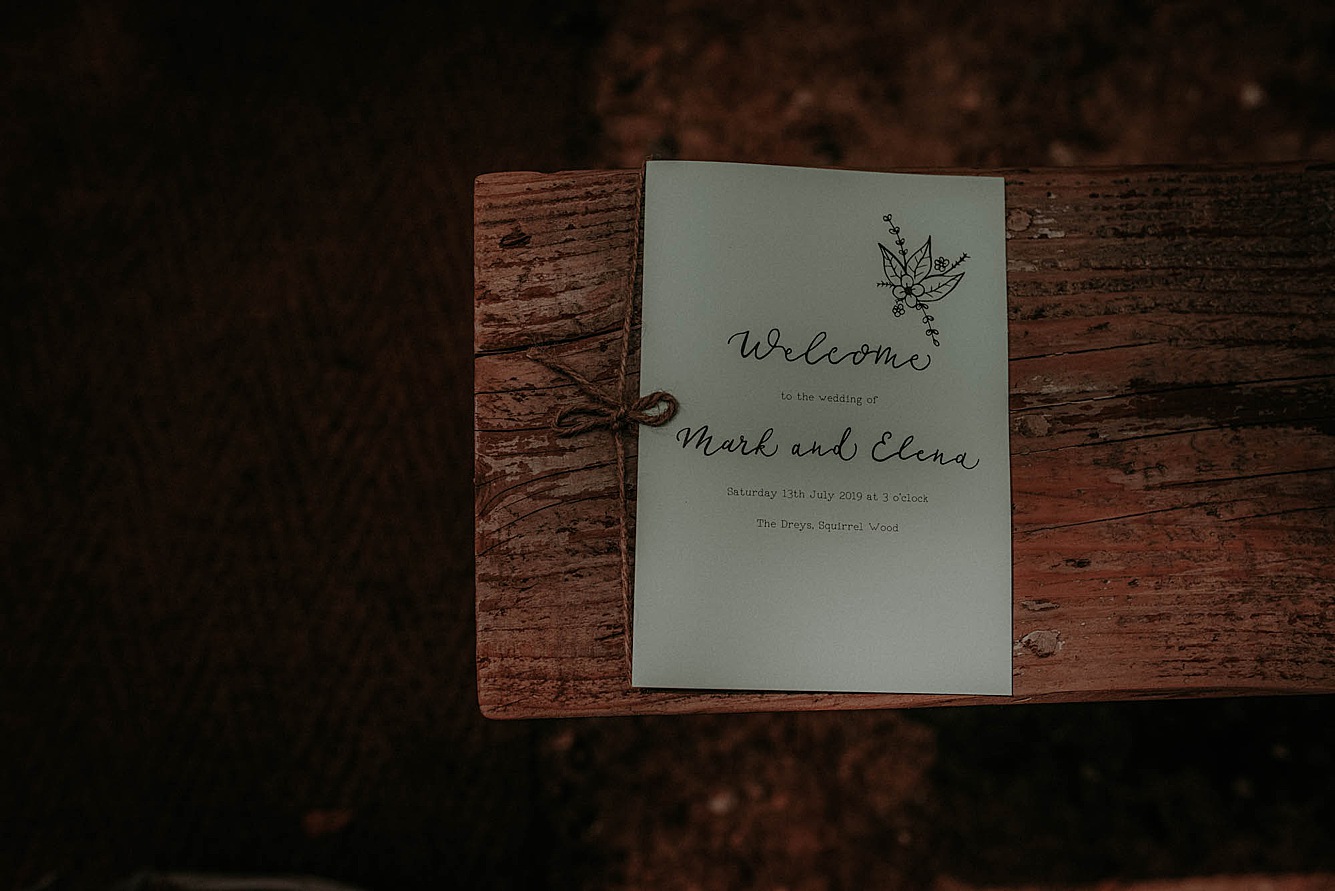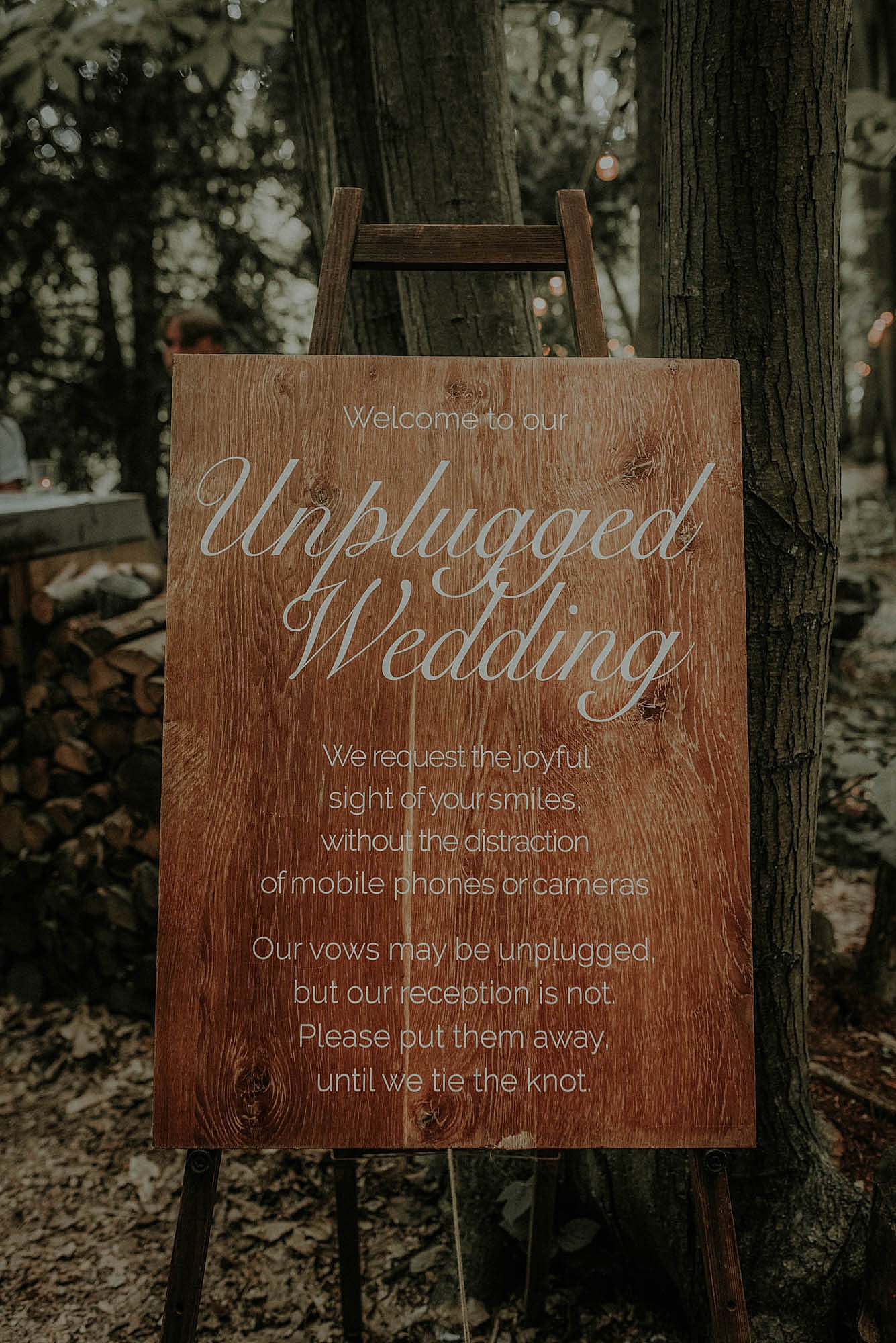 Elena's entrance music was All of Me by John Legend, and she walked down the aisle together with her Dad, where Mark was waiting with their celebrant Katie Keen from True Blue Ceremonies.
"We wrote our vows ourselves. Here's a snippet from my vows, and Mark's too: 'You are my best friend, my favourite person and I will love you always. I promise to be there for you through thick and thin; to love you and take care of you no matter what. I promise to be by your side and have your back, no matter what comes our way.'"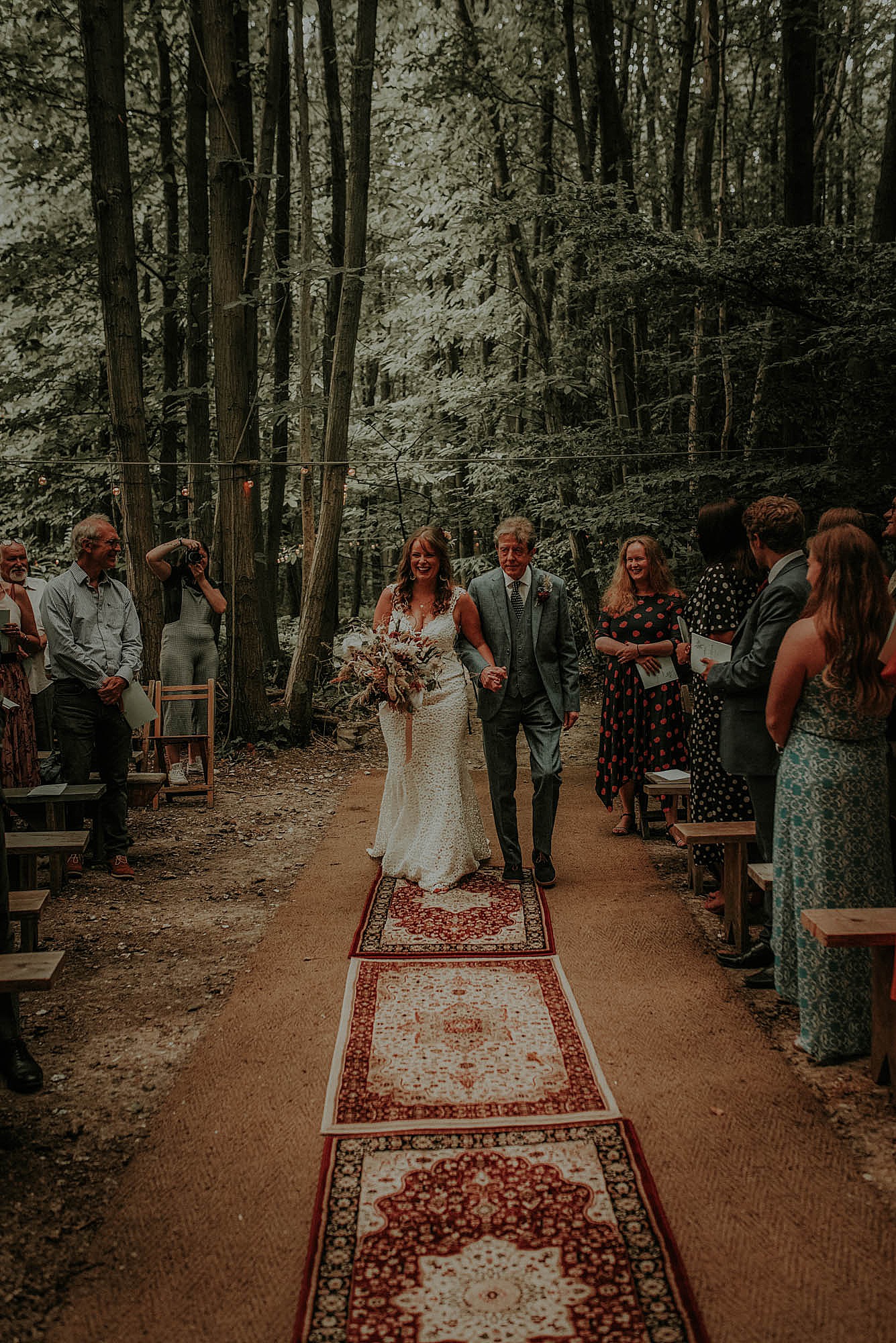 "'Today as I stand here, opposite you, my love, my best friend and my equal, I know that there is no team mate in the world who I am better matched to, and I can't wait for everything that we are yet to do together."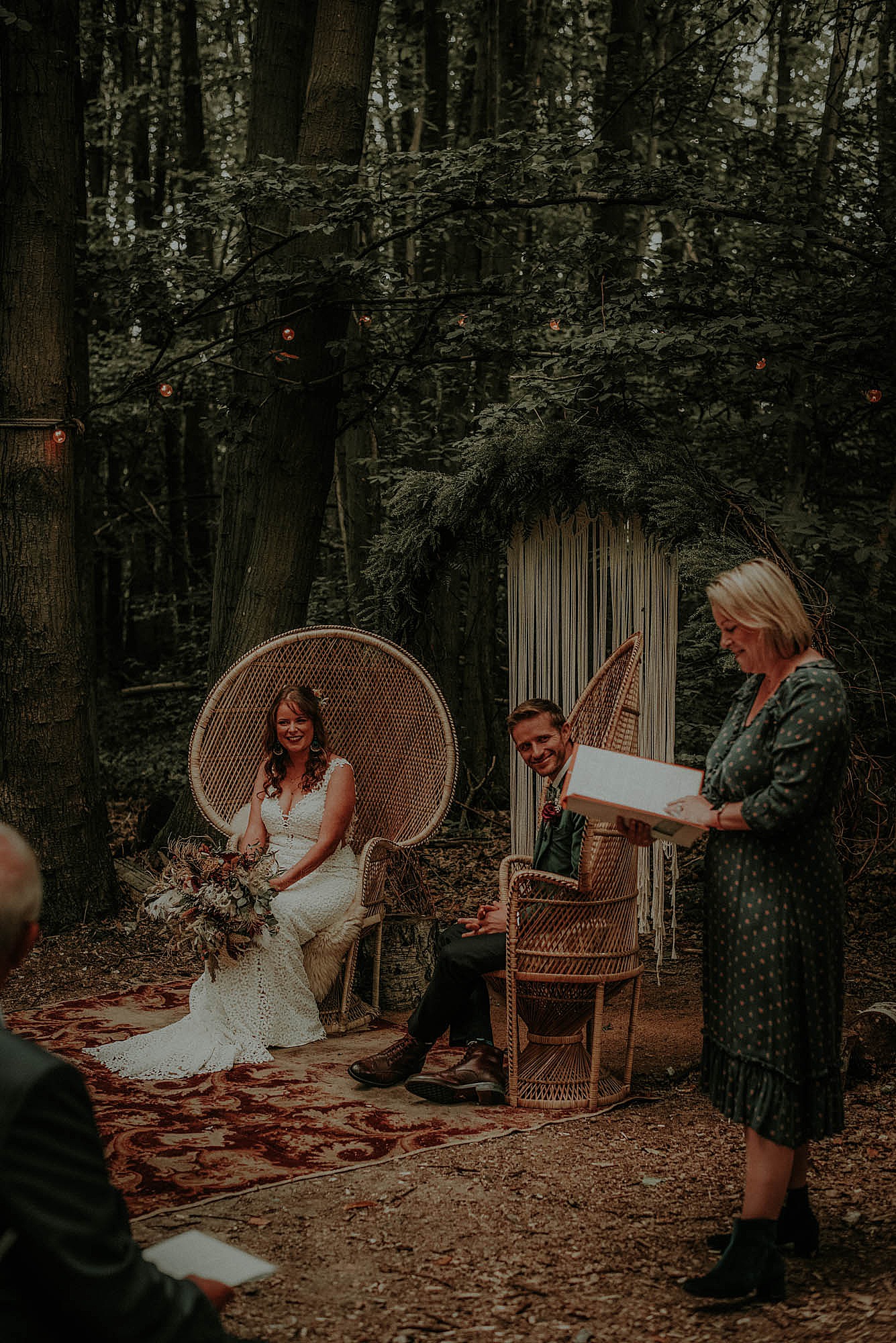 "I love you today and for all our days. I have looked, and I cannot find another way of expressing just how much I care about you. Other words fall short, in depth, meaning and in sentiment, and so I am left with this little phrase: I love you.'"
"'Today and forever: I promise to make you laugh and laugh with you, I promise to encourage you and inspire you to be the best version of yourself, I promise to respect you as an individual and as my equal, I promise to always make you feel loved, confident and secure. I promise to turn toward you and not away from you in times of struggle, I promise to always make our family's love and happiness my priority. I promise to always care about your day, starting with how you slept the night before.'"
Find & book suppliers we love & recommend, in our Little Book Wedding Directory
"'I promise to appreciate everything you do for me and our lives. I promise to tell you every time I miss you, I promise to support and stand by you with any difficult life decisions. I promise that you are stuck with me for the rest of your life. I promise to never forget that you're the best man on the planet. I promise to never take you, our partnership, and our love for granted. I promise to be your friend, your love and your partner for all the days of our lives."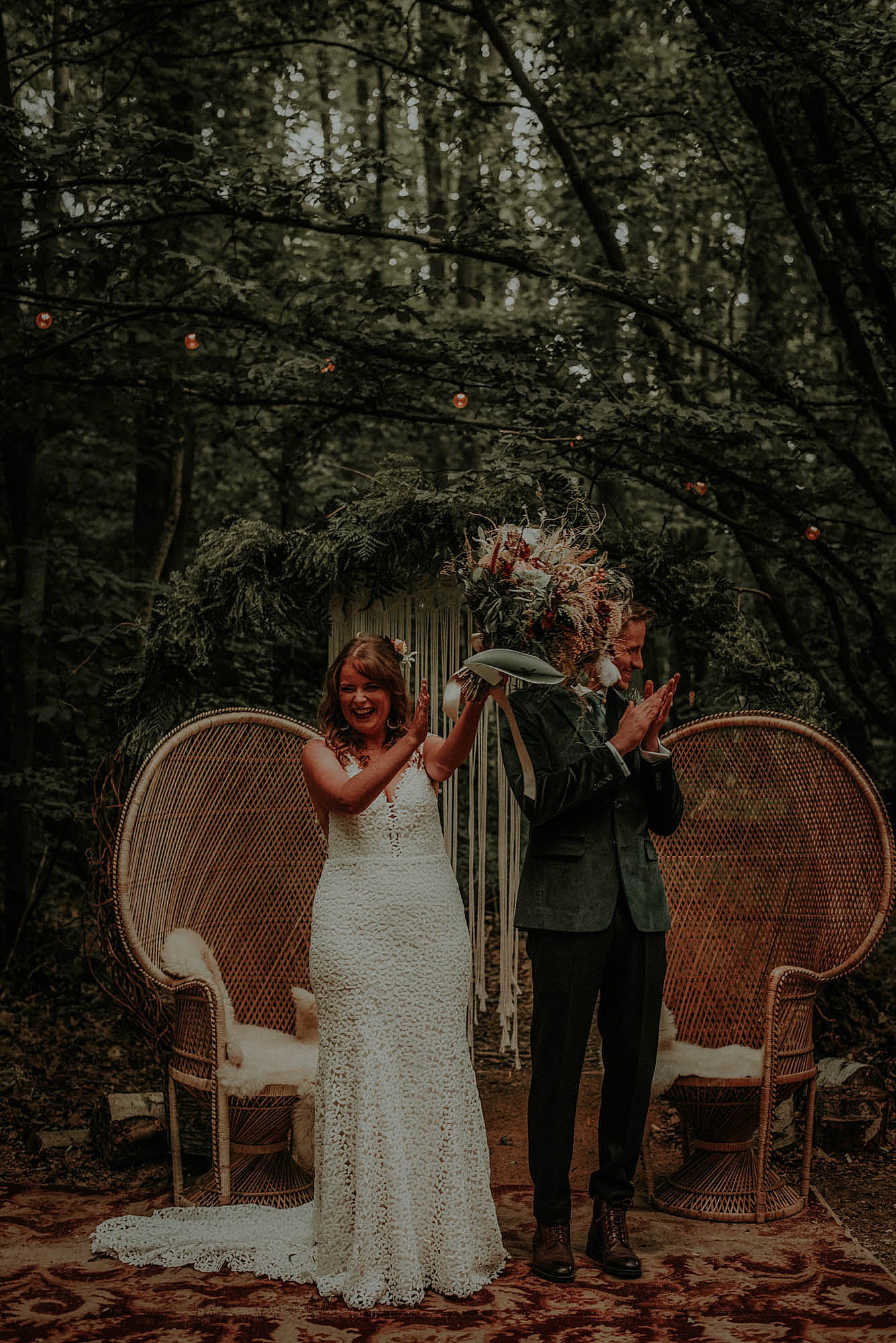 What a completely enchanting setting Elena and Mark chose to exchange their vows; shaded by the trees, with beautiful, boho adornments like macramé and crochet hangings, festoon lights strung through branches, and vintage rugs on the woodland floor. Elena's Aunt Dee read the lyrics to Bruce Springsteen's song, If I Should Fall Behind.
"Mark wore his engagement ring from Tiffany & Co., and his wedding band from H. Samuel, and I wore beautiful emerald and diamond rings from Zoe & Morgan."
One of the couple's favourite aspects of their day was the part of the ceremony where everyone sung Stand By Me by Ben E. King.
"We loved that the venue was set up as a wedding space, so we didn't need to hire out a marquee etc., but we got to personalise so much of the day and still make it a very DIY wedding."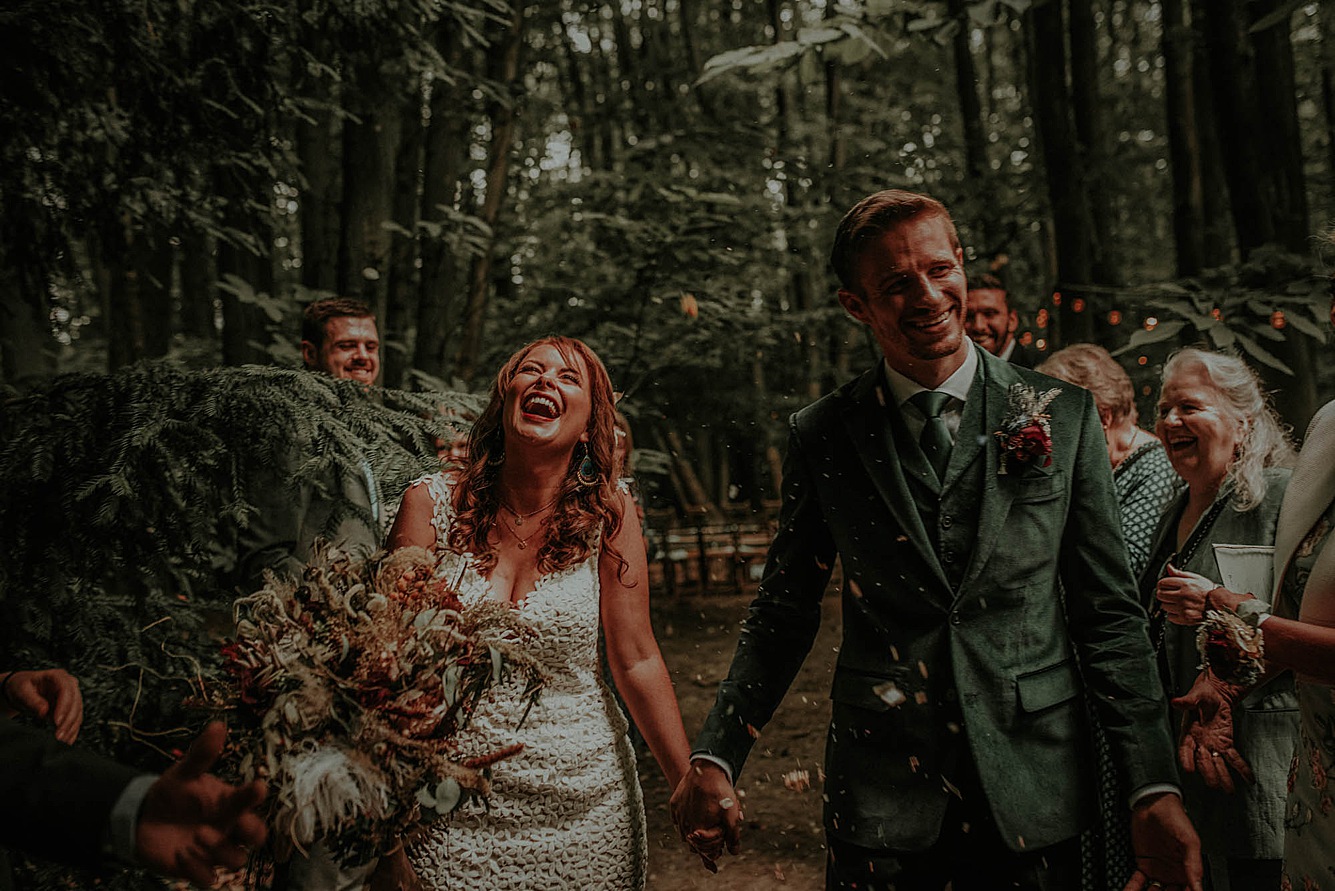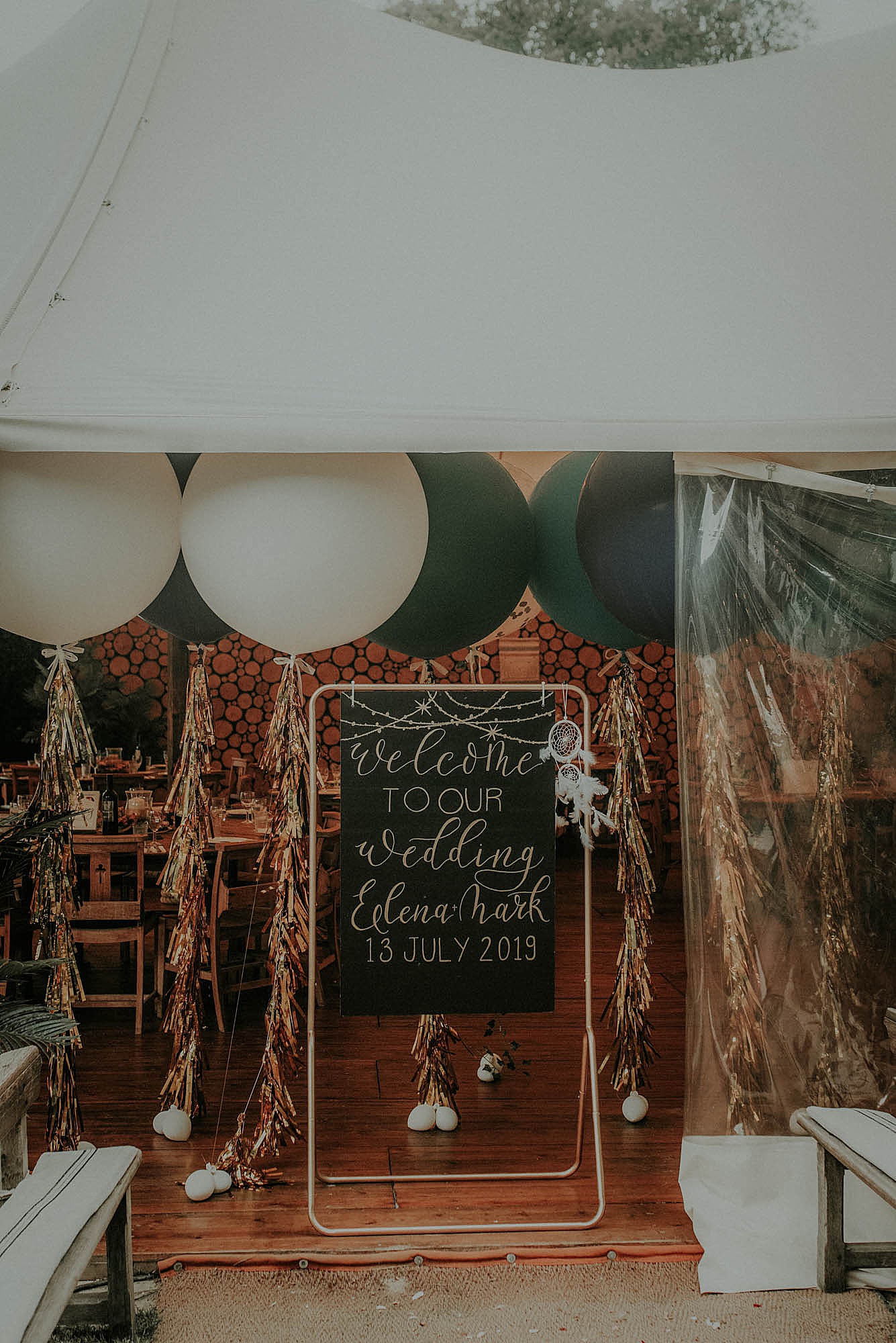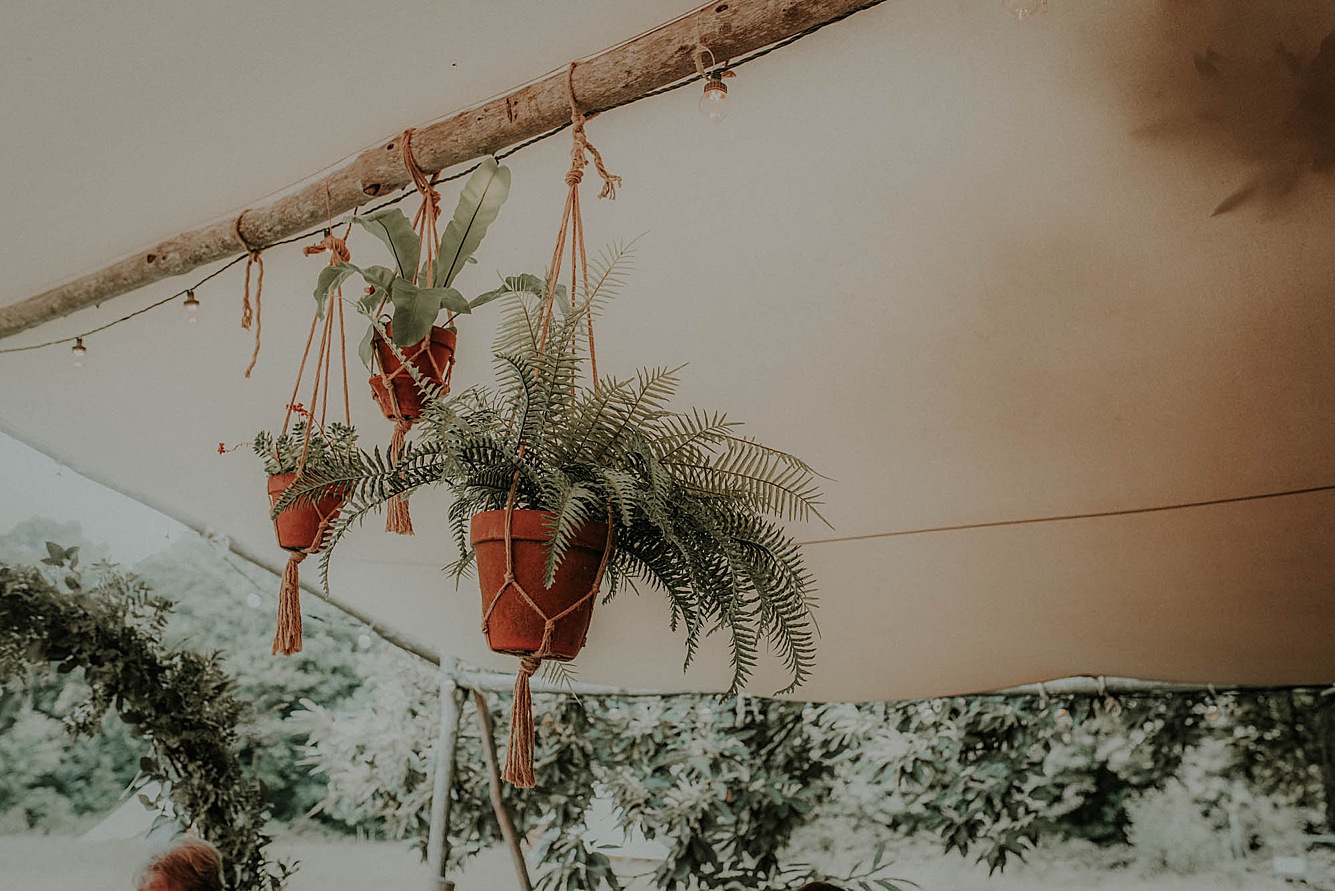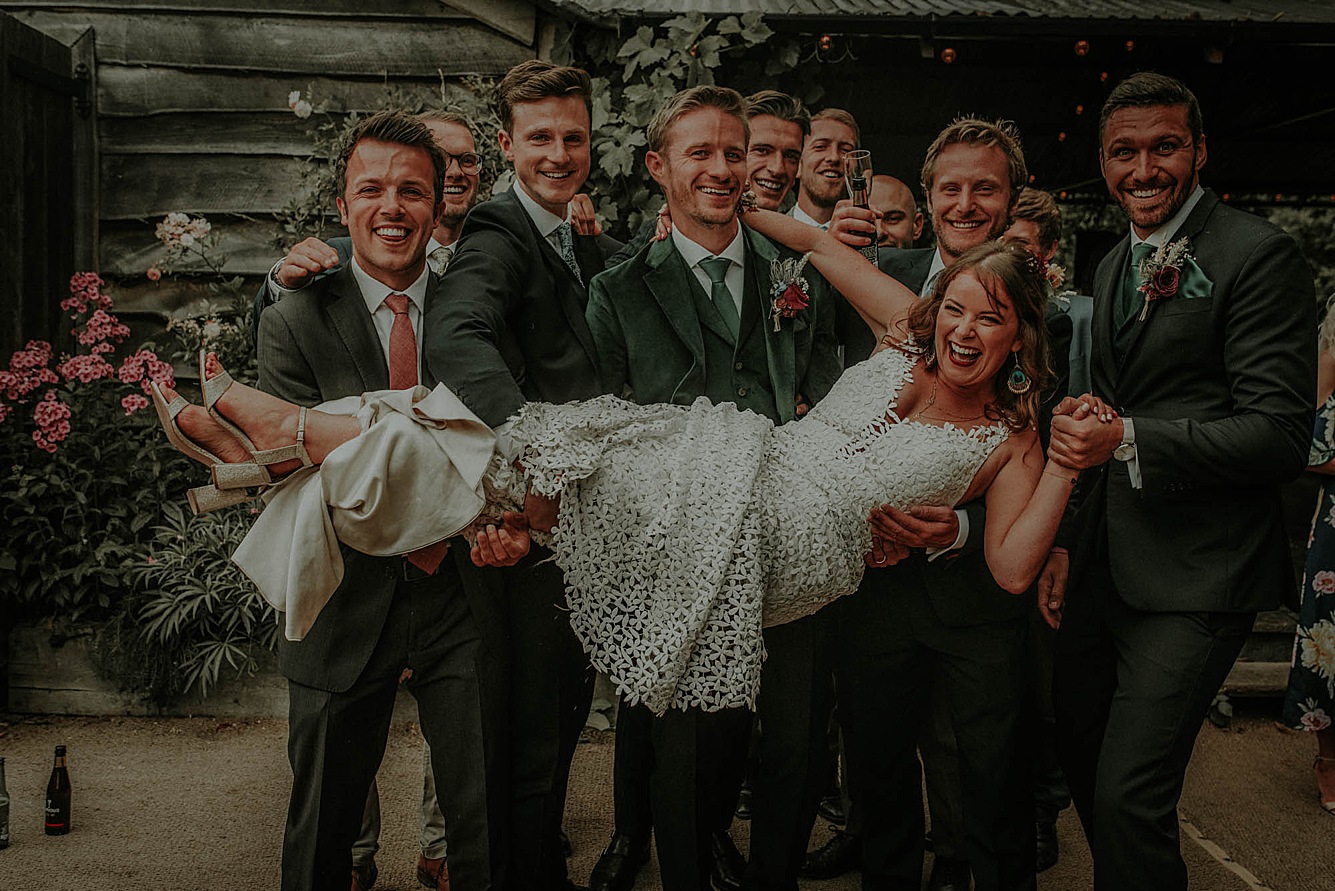 There were so many spectacular spaces at The Dreys for Elena, Mark and their guests to relax and have fun, from seating on the grass, to a beautiful wooden lodge, and the stretch tent where they held their reception. After the ceremony, loved ones mingled and chatted whilst enjoying drinks and canapes.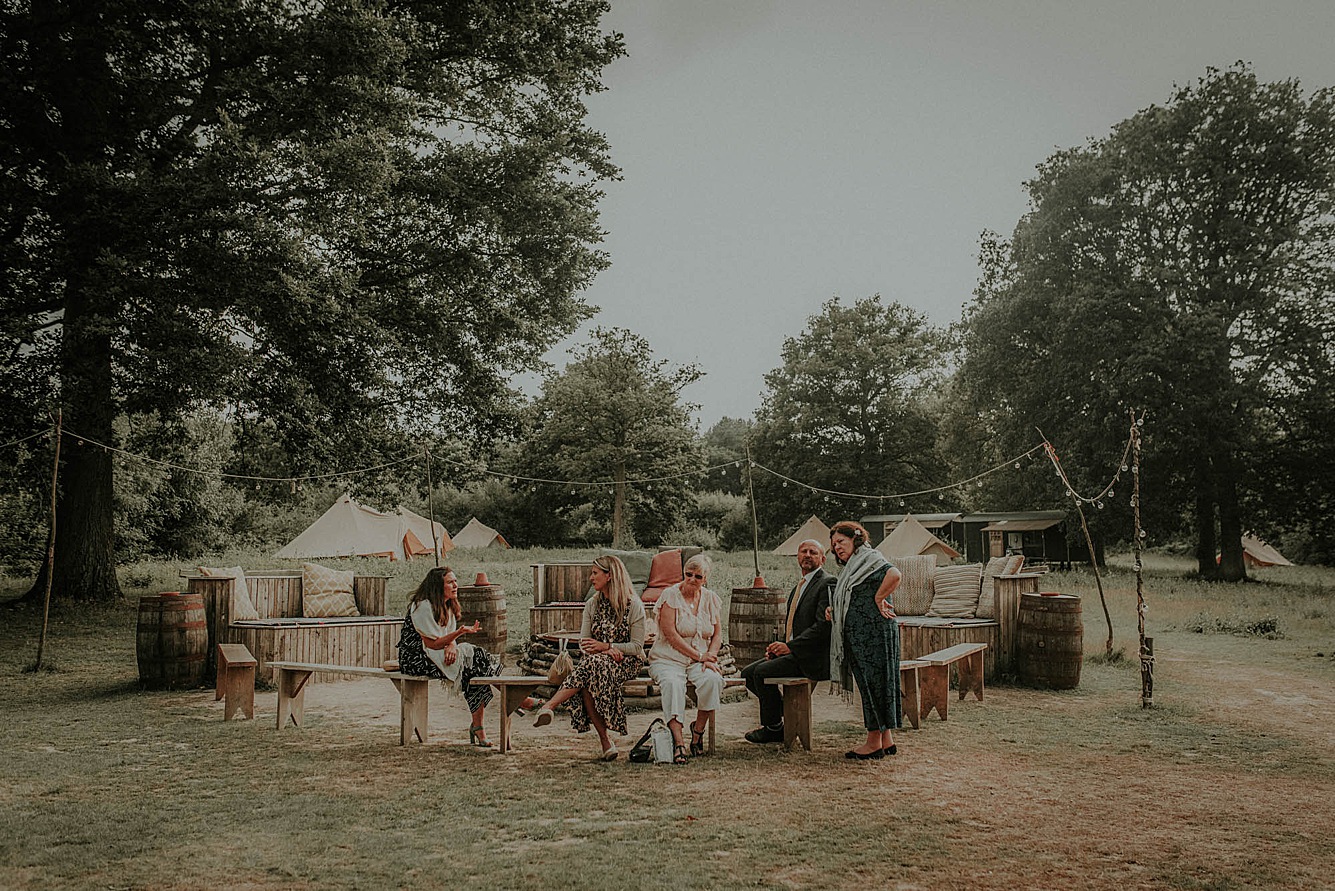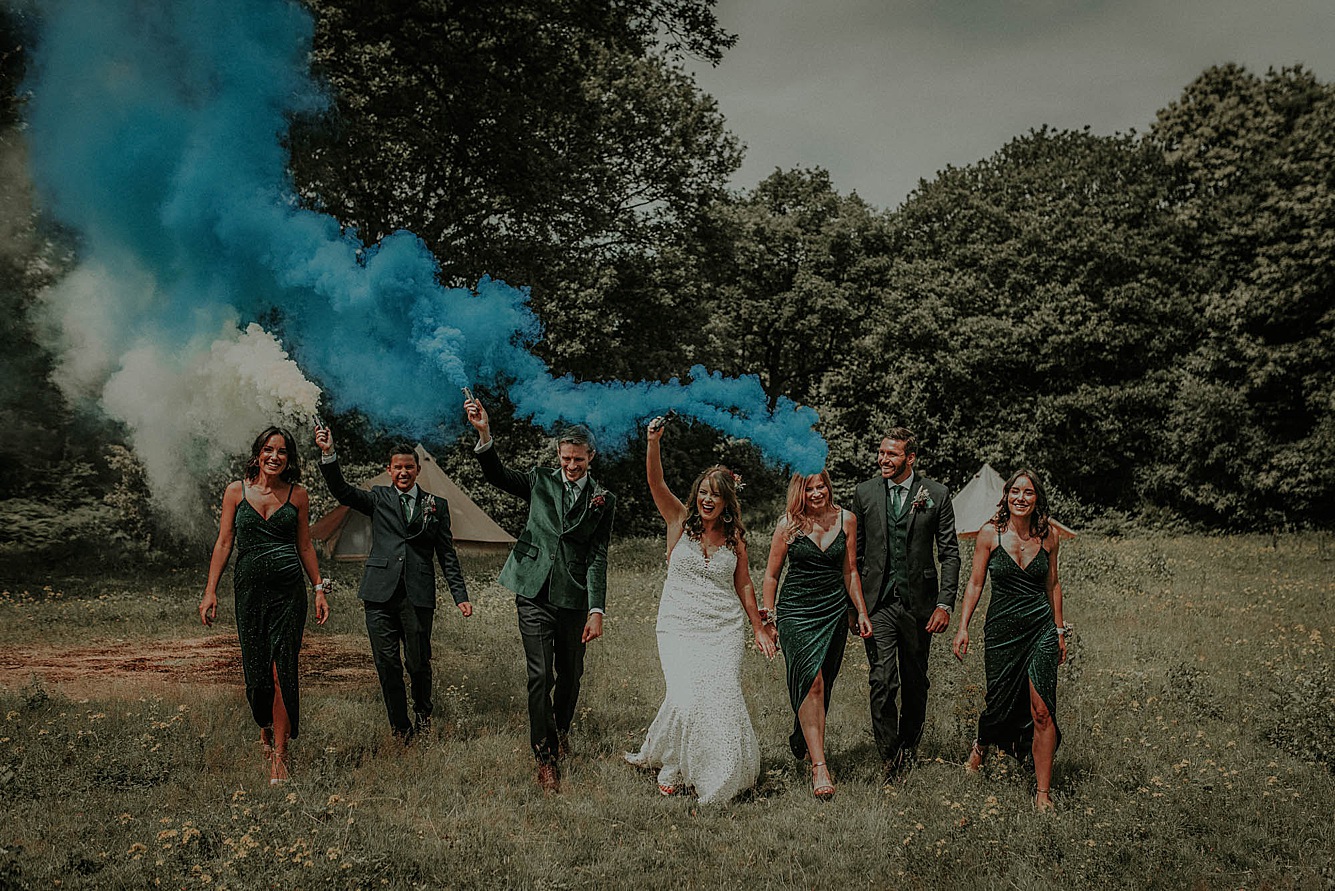 For their wedding feast, Elena and Mark decided on two delicious options: wood fired pizza from Soho Gourmet, and mac and cheese from Mac to the Future. Instead of a wedding cake, they ordered cheeses from Marks & Spencer instead.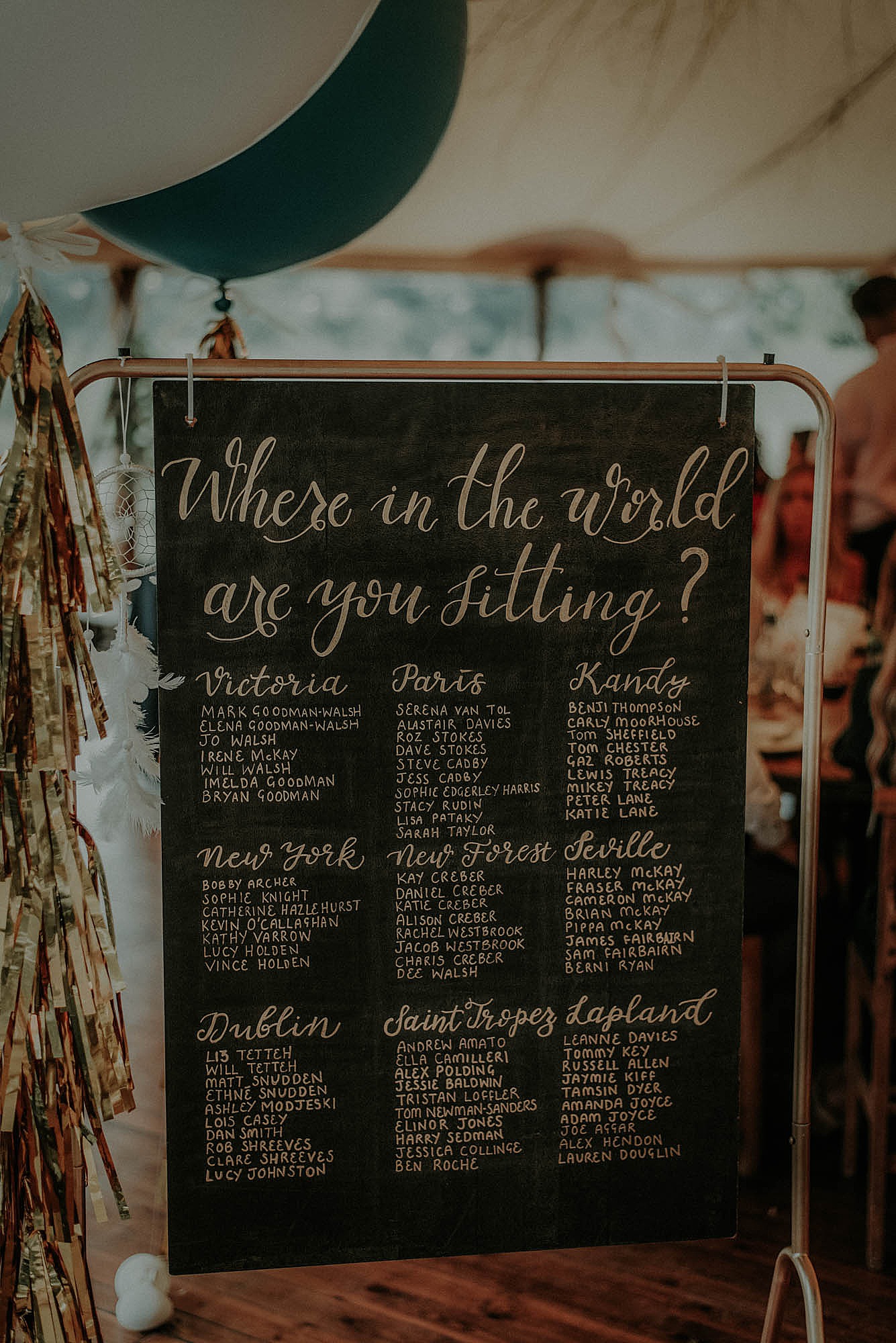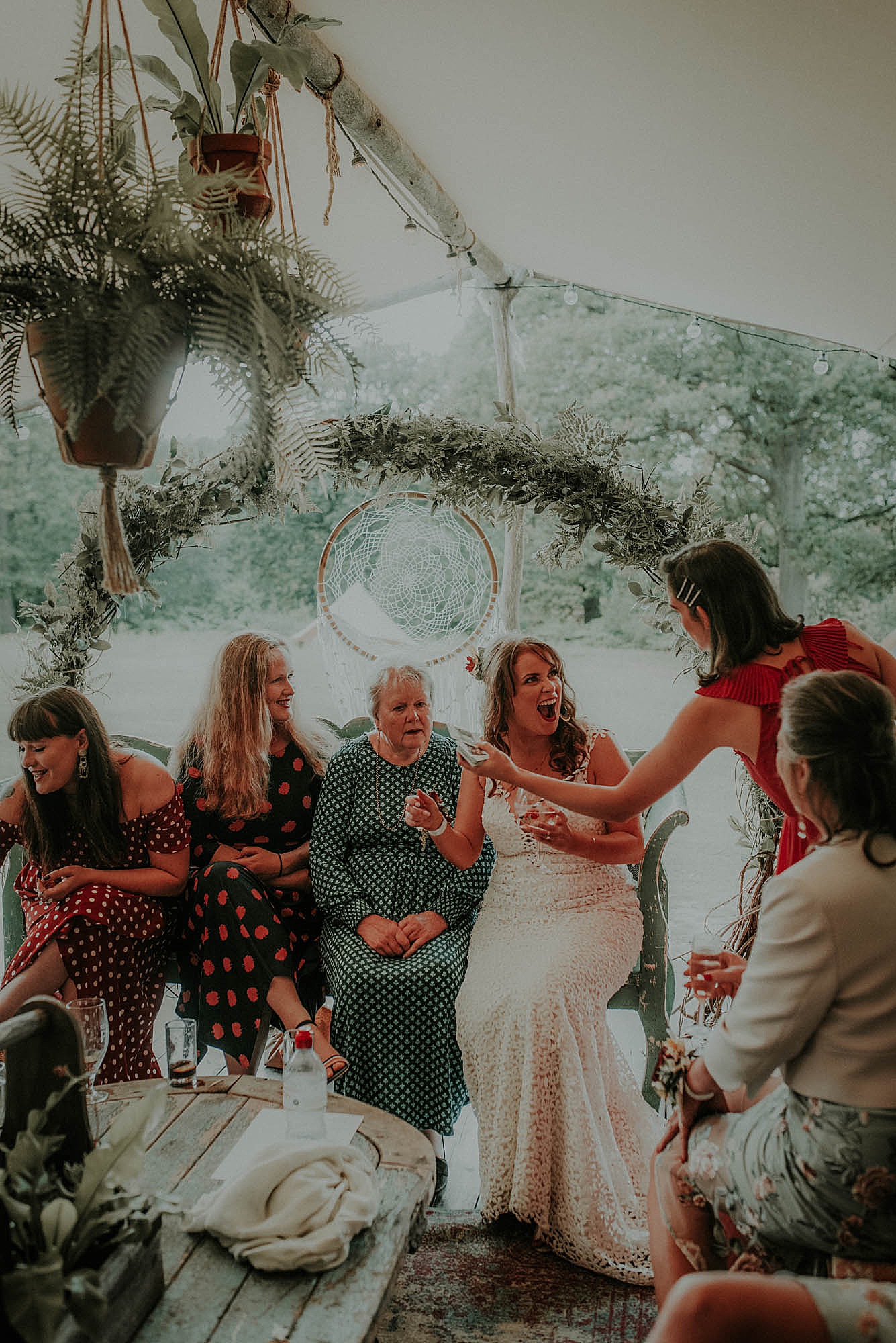 "I made the stationery, and my friend Tom who is a graphic designer helped me pull them all together. I learned calligraphy especially and made the menus, table signs, order of service booklets, table plan, betting dinner games, quizzes, etc."
"This was really hard work and took a lot of motivation and support from Mark to keep going, but it is now a new skill I will have forever!"
Table centrepieces were more of Elena's Mum's lovely dried flowers, together with candles and gold painted horseshoes for luck.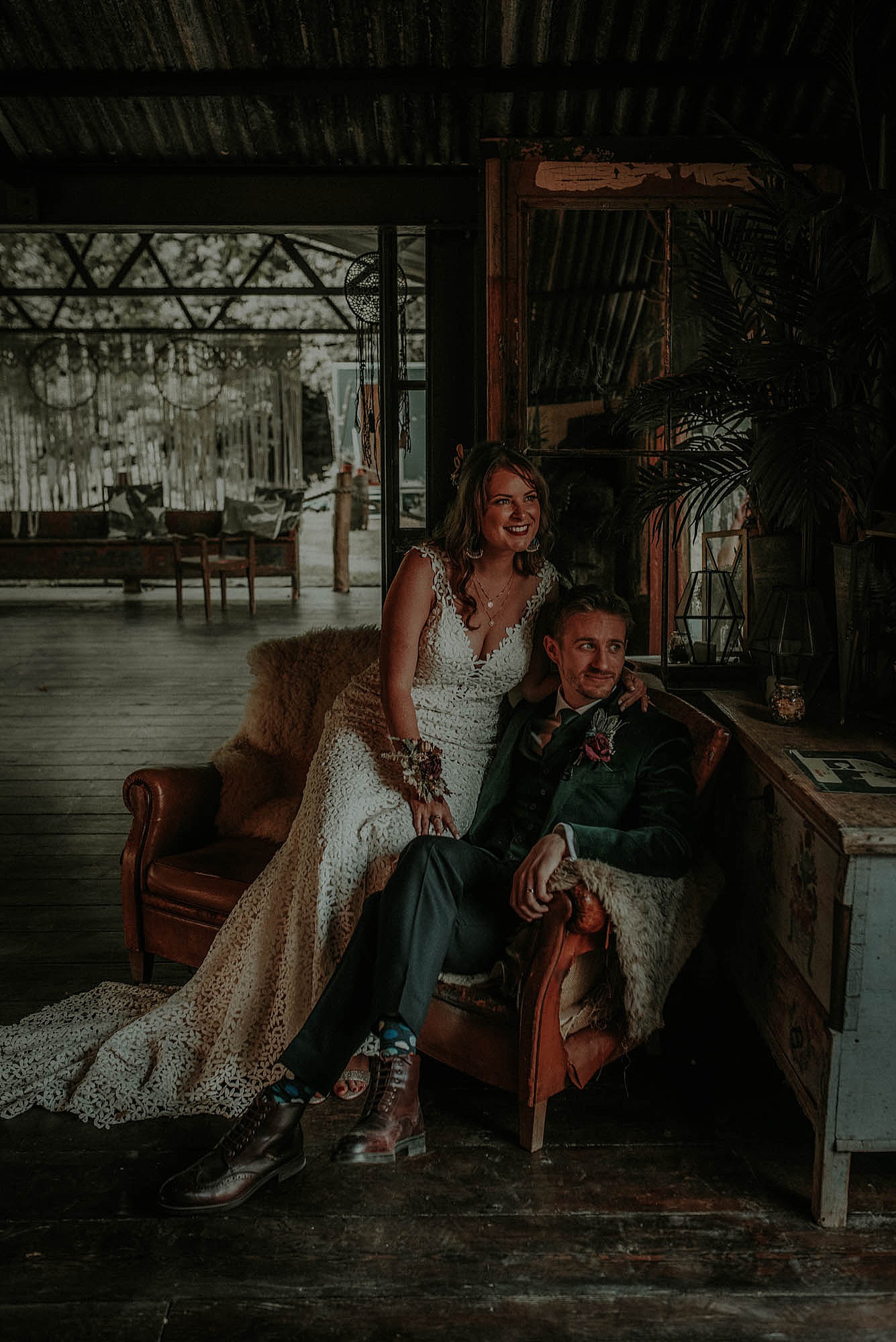 Potted plants were dotted around, and macramé hung from the reception marquee, and at the entrance were green and white balloons with sparkly gold strings.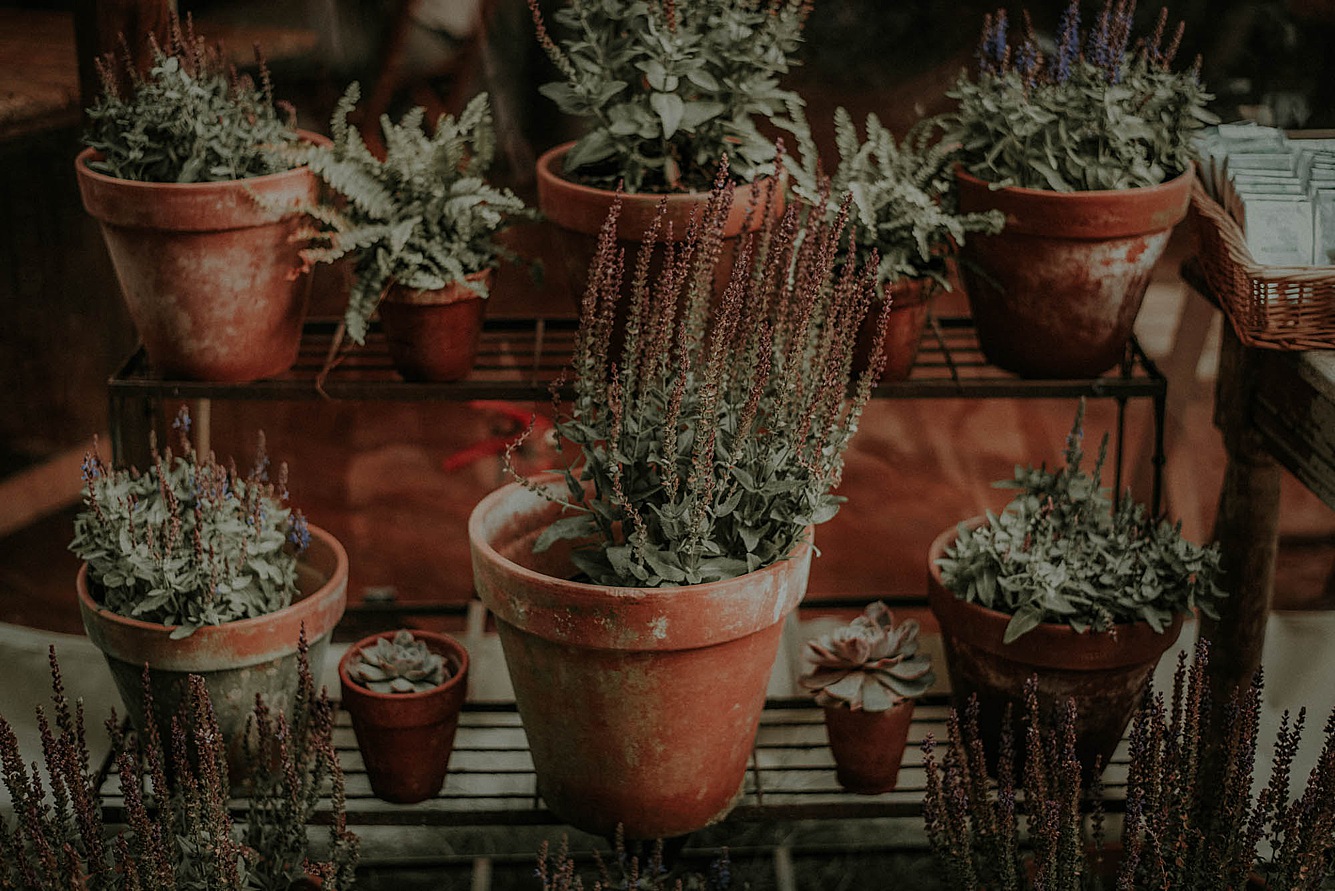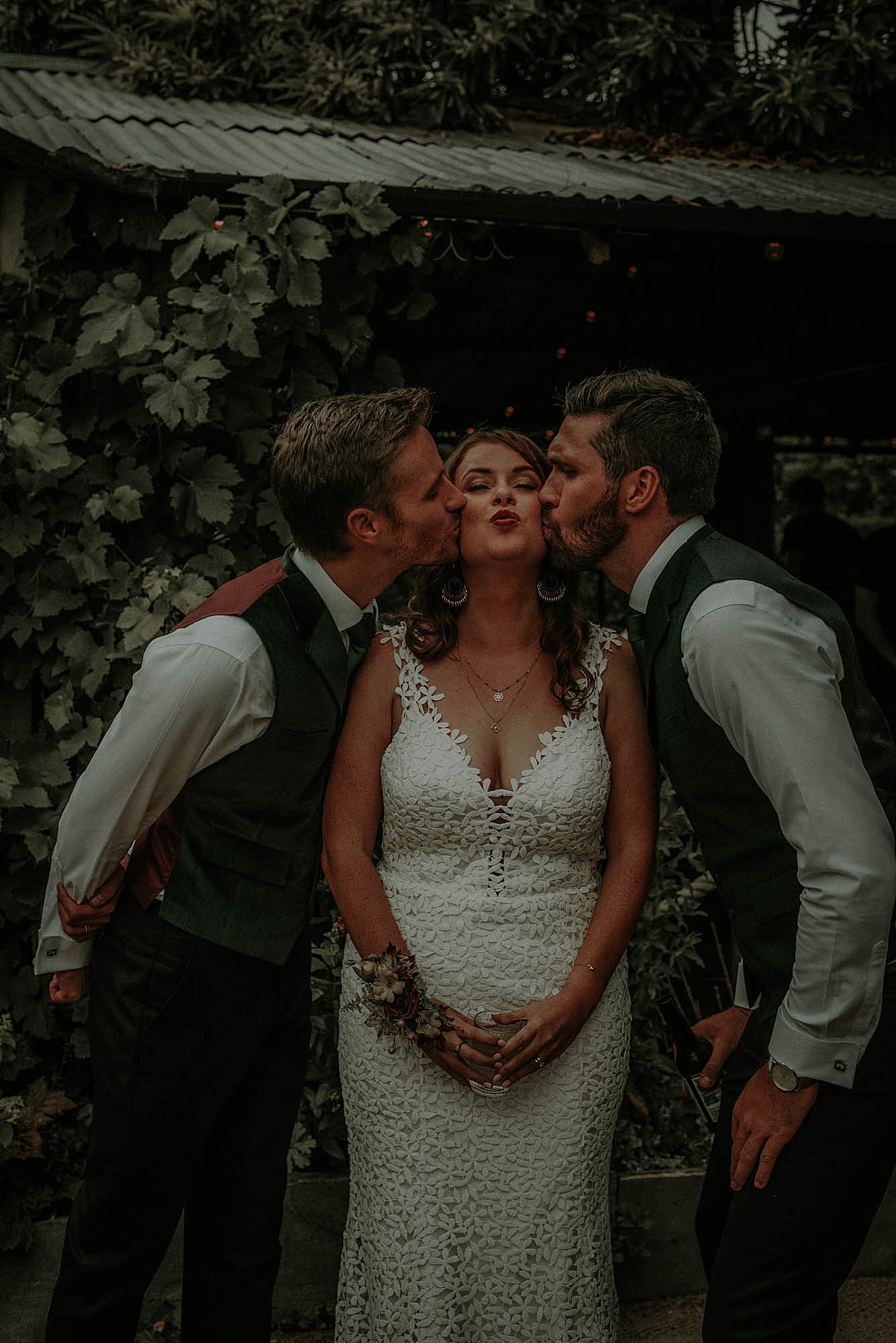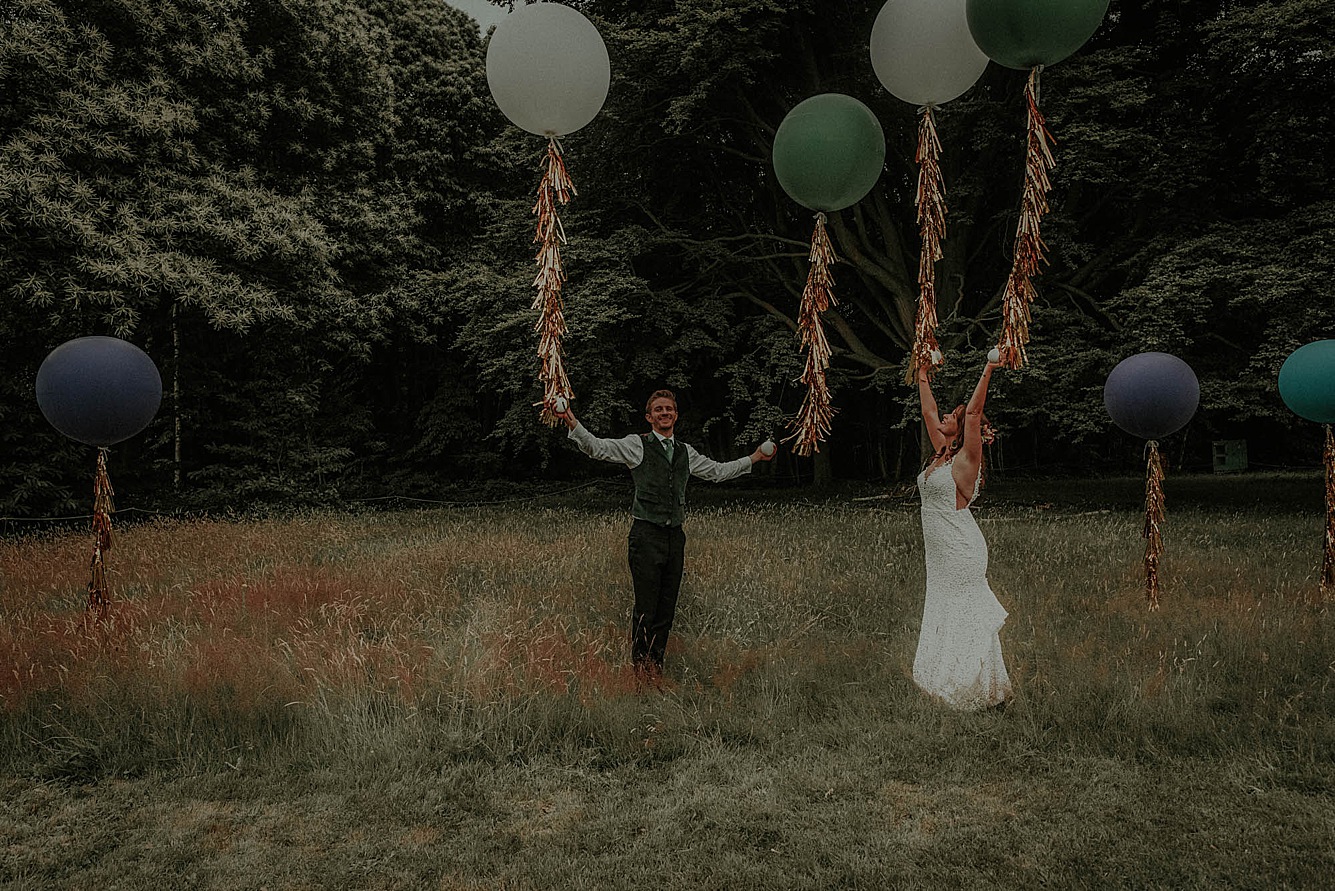 "The speech betting game we played was really fun, and so was our couples quiz – we got great feedback on these. The fireworks and the band were also are best bit – oh, and the food…and the speeches!"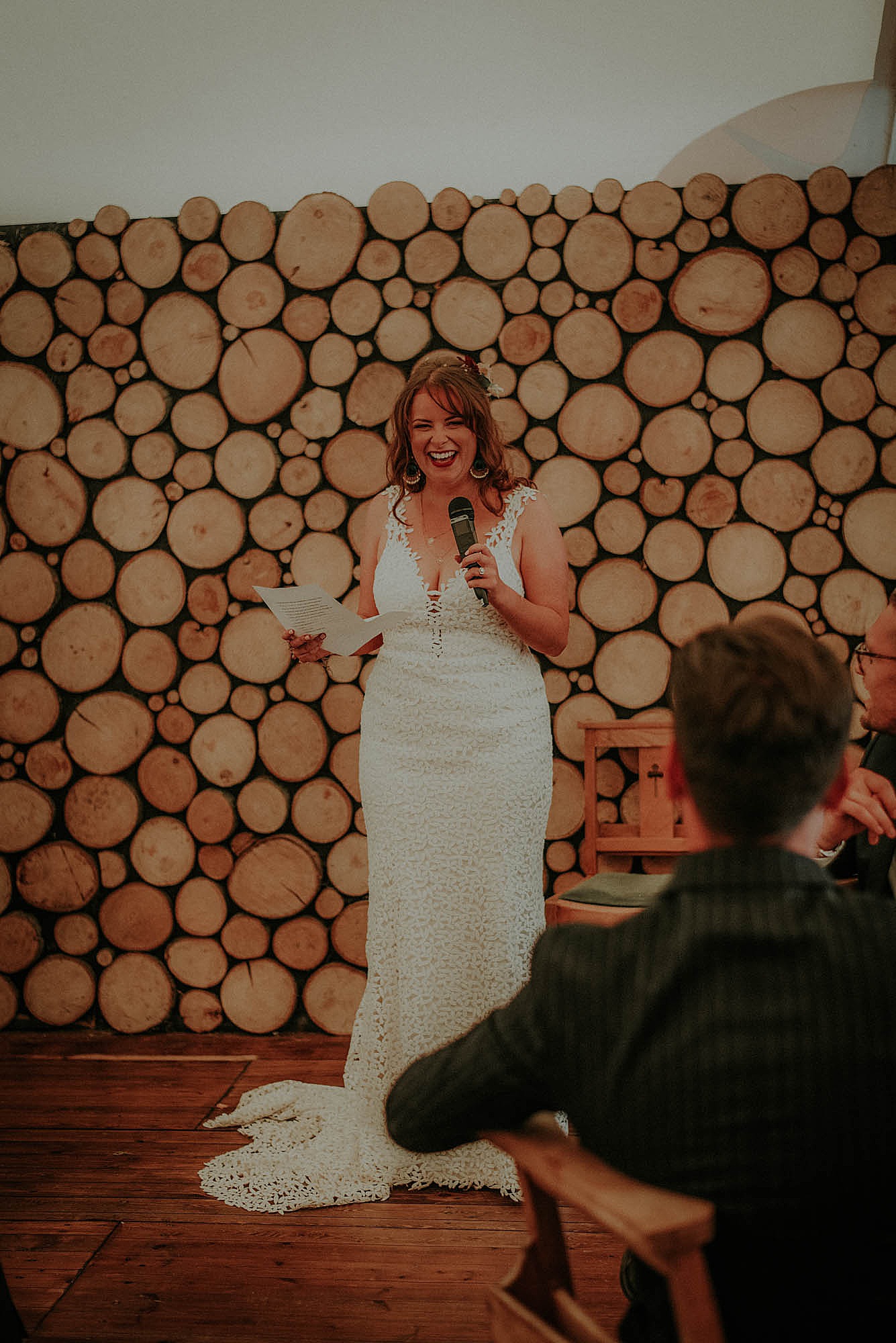 "We gave everyone a green agate stone, which I had painted the outside of gold, and then I wrote their names on in a gold pen. This also served as a table place holder."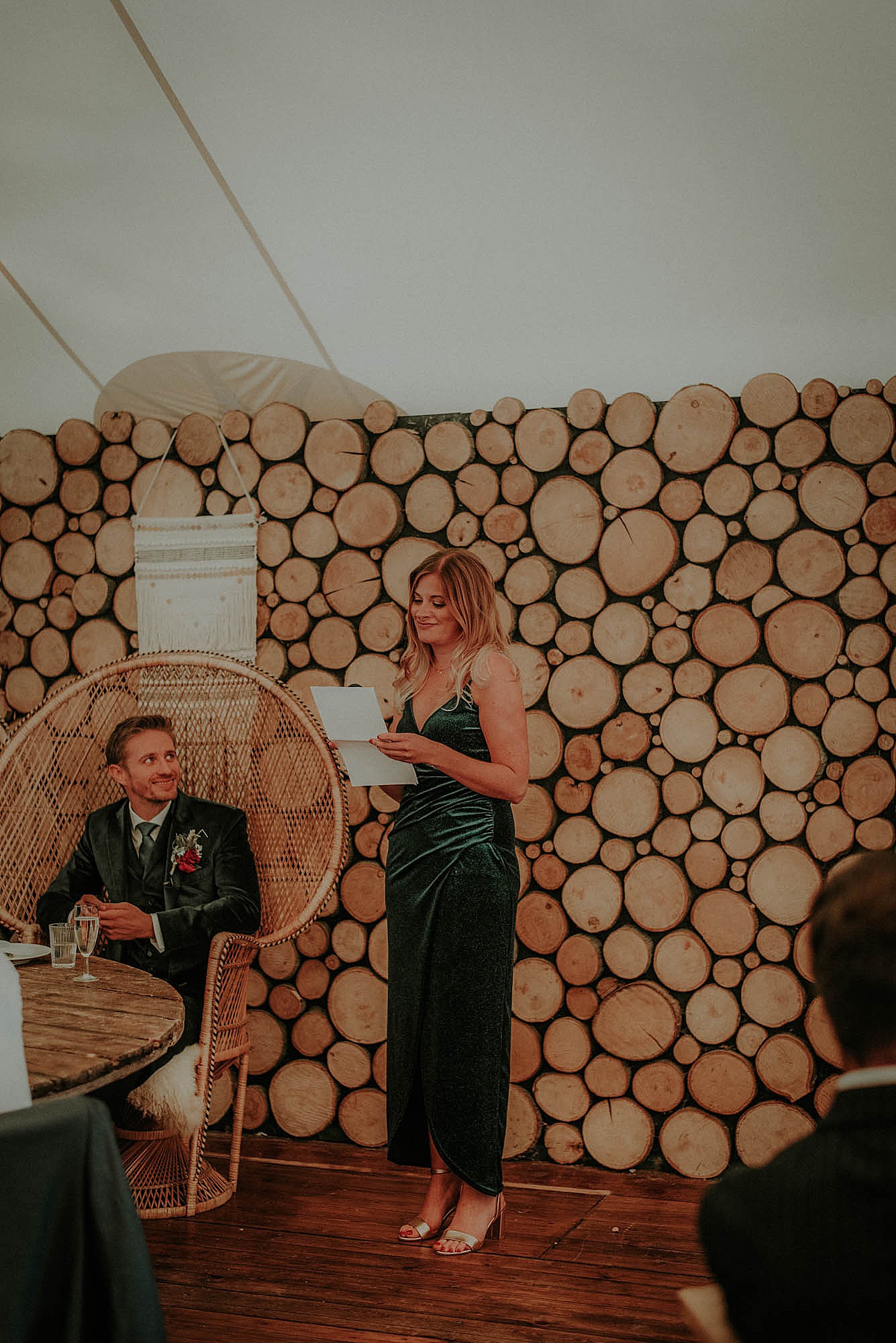 As evening fell in the wood, live music began a night of merriment, courtesy of band Fake Tan, and the newly married couple took to the dancefloor for a spin to Everywhere by Fleetwood Mac.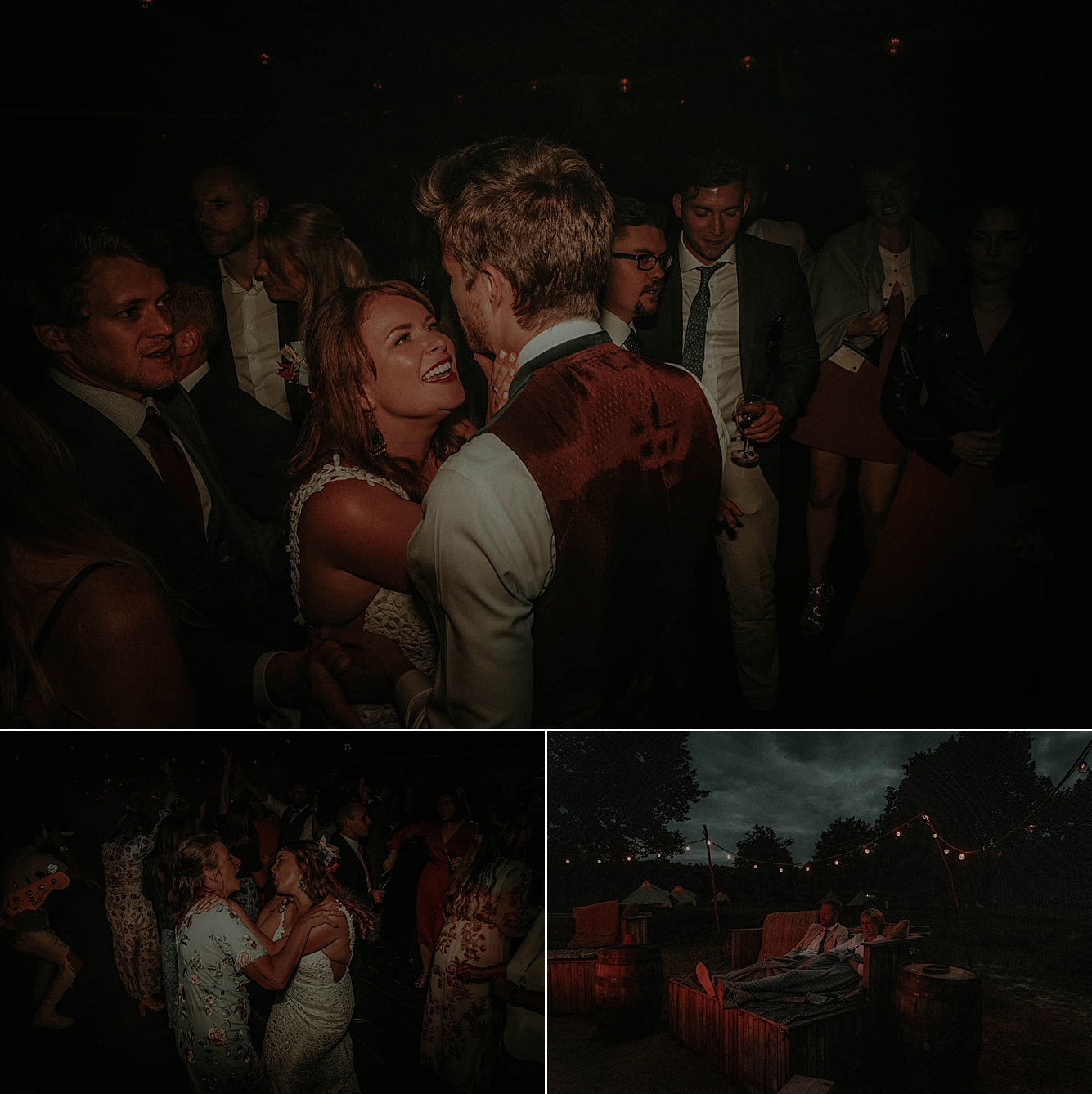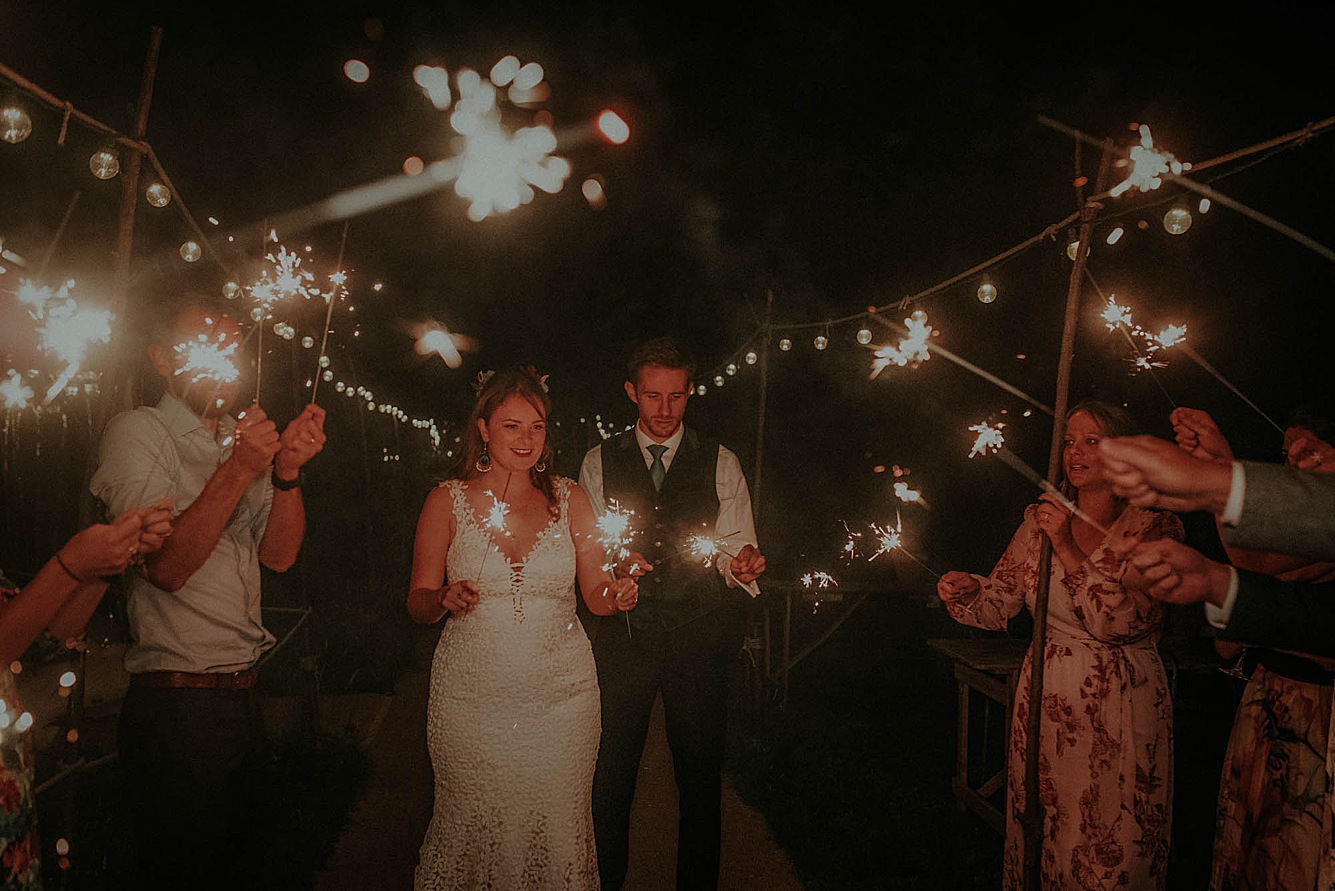 Words of Wedded Wisdom
"Do what you want, not what other people want! It's your day, focus on what you as a couple want, and don't try to just make everyone else happy."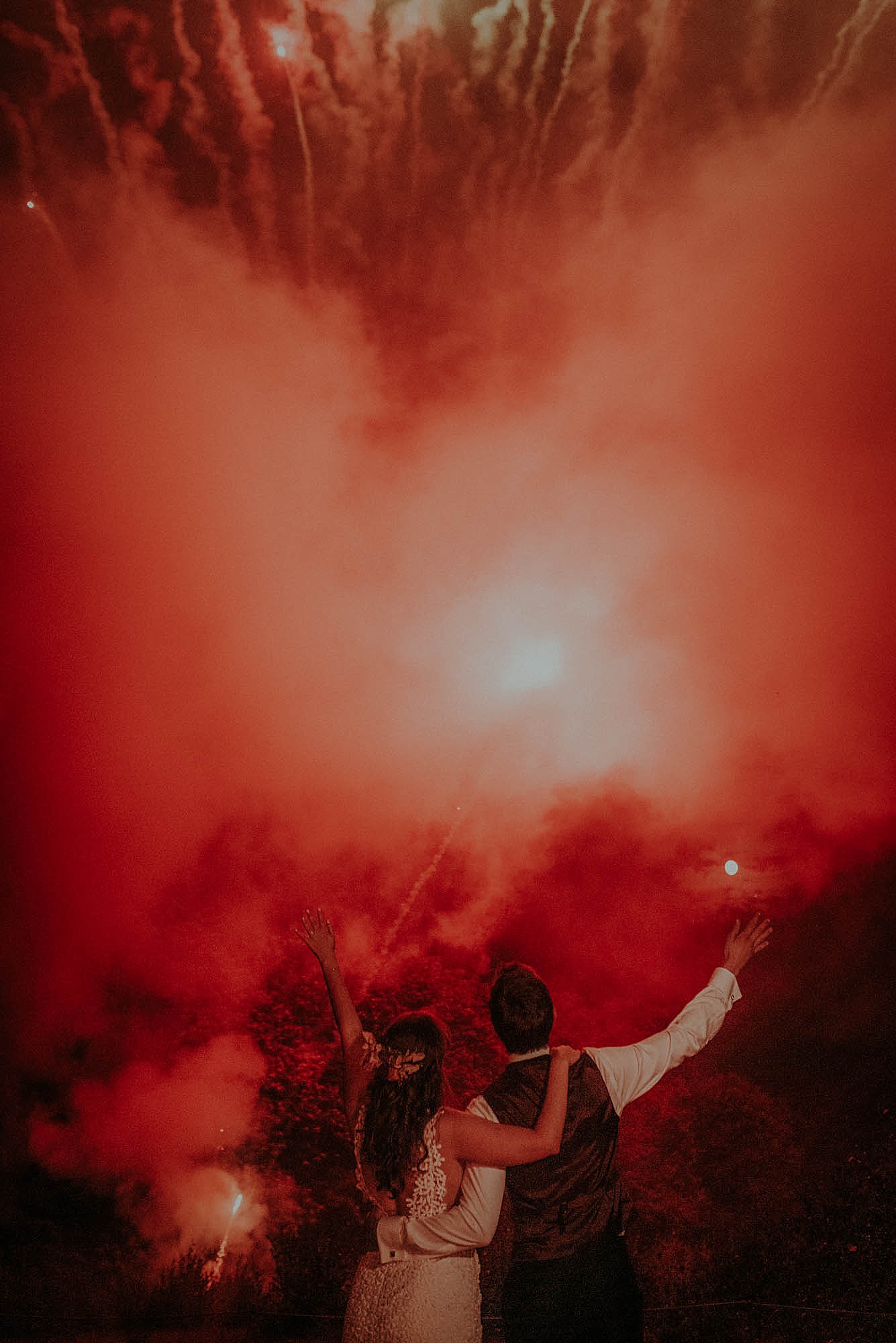 That was so lovely, thank you very much Elena and Mark, it's been a pleasure to share your day with our readers. Huge thanks to Megan Elle Photography for these gorgeous images, too.
Make sure you take a look at Megan's other work on our pages, too!
Love, Laura