Lovely people, I have a feeling that if you're in search of DIY and homespun celebrations, then you're going to be completely inspired by the wedding I have to share with you today.
On the 24 May 2019, doctors Maya and David were married at Gildings Barns in Surrey. They held their ceremony outside, sheltered by the Granary, before enjoying their reception inside one of the venue's wonderful, larger, timber-framed barns.
Images by Manon Pauffin Photography
This is a bright, late spring wedding, filled with sweetly personal, homemade touches celebrating the cultures and heritage of the couple, with colourful bunting and beautiful floral arrangements by the bride. It's also a day where a whole host of creative friends and makers came together to lend their combined talents to the decor, cakes, rings, make-up and entertainment, too. Enjoy!
"We knew we wanted a relaxed feel, which the barn lent itself too. I love wildflowers and colour, and wanted that to show in our wedding. We did lots of arts and crafts in the run up to add as many personal touches as possible. I am mixed race, and gave a nod to that with bunting handmade by David, Orita (David's mum) and myself from beautiful fabric I picked up in Tanzania. David is Jewish, and we gave a nod to that with the breaking of the glass, too."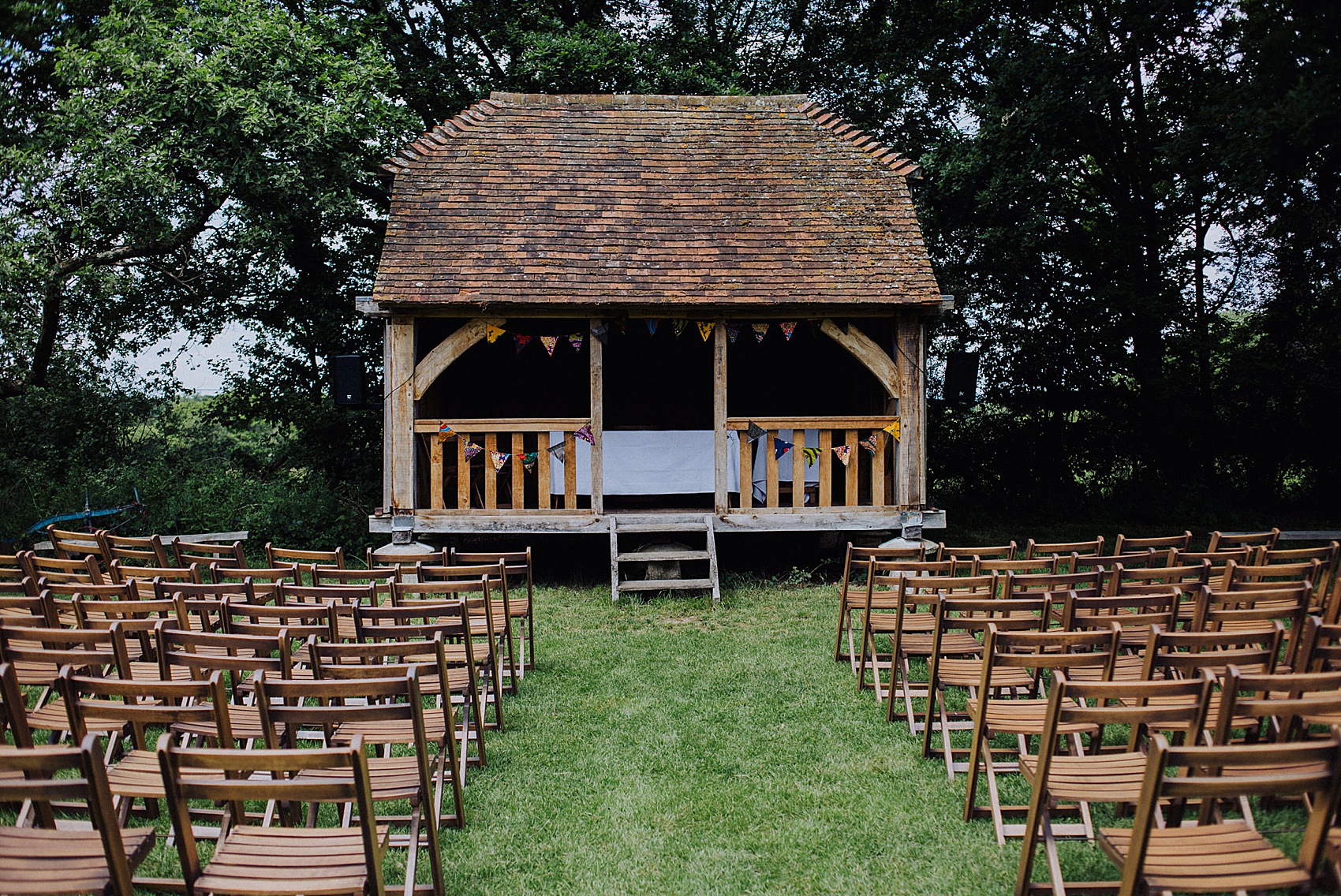 On a day out to London with friends, Maya found her perfect wedding dress; a soft blue-grey dress from high street favourite Phase Eight, embroidered with cheerful, colourful, sequin wildflowers.
"The dress I chose was perfect for me; I knew I wanted something with a bit of colour, something that I would feel comfortable in for the whole day. I particularly loved the sequin detail and tulle skirt."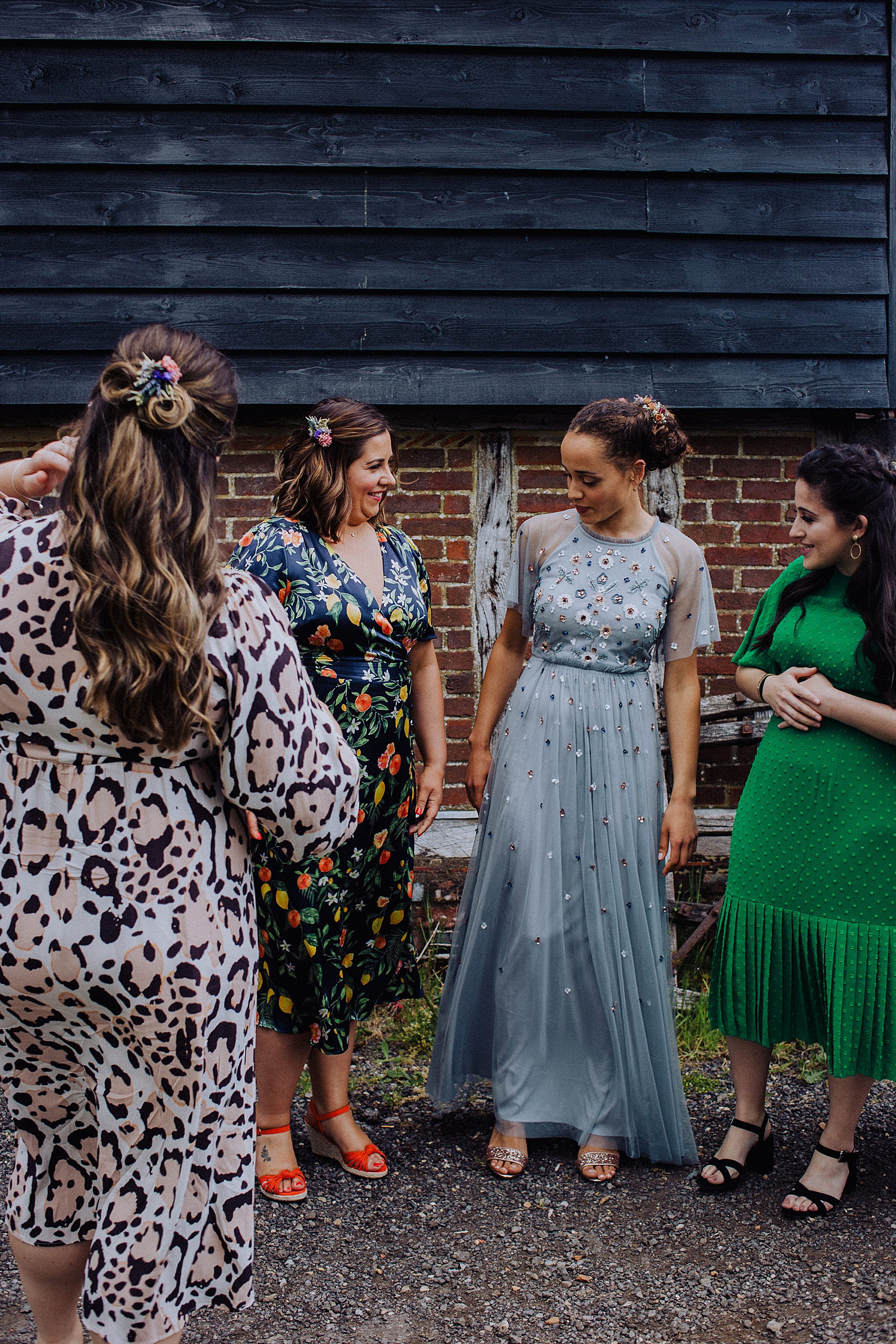 The bridesmaids wore their own outfits, and I love what they each went for; polka dots, floral and leopard prints in bright and striking colours. In their hair, they each wore dried flower hair clips from Florence and Flowers.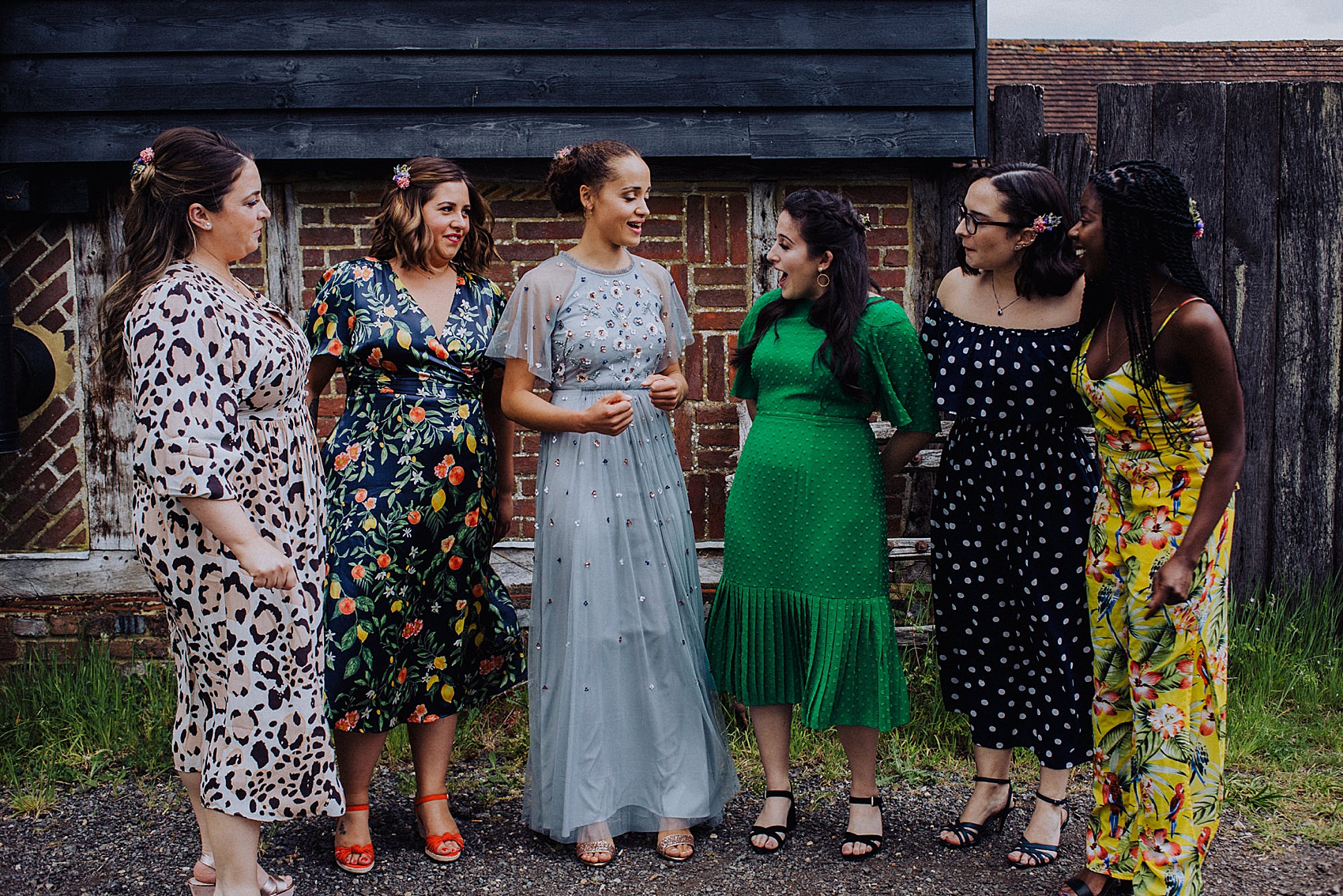 Brighton-based Emily, of Brush and Blush styled Maya's hair and added pretty dried flowers, which Maya found at Lotus Floral Art. A radiant make-up look was created by Maya's good friend, Laura Betteridge.
What I love about Love My Dress are the real weddings features. It made me feel more comfortable about my choice of a non-traditional dress; seeing other women doing their own thing on their wedding day. I also really appreciate that there's diversity represented, something which I struggled with as a woman of colour when planning our wedding.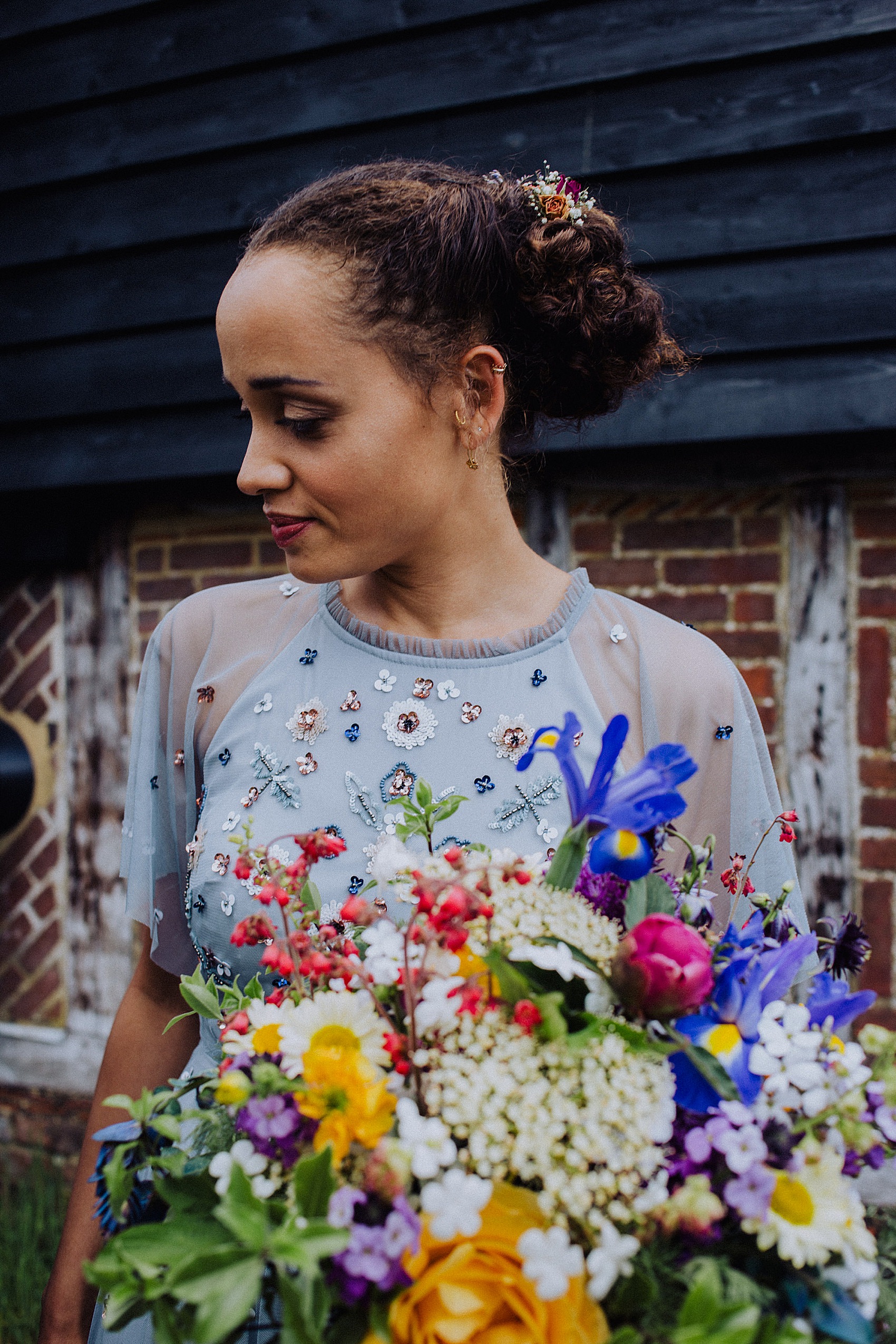 Maya also wore sparkly sandals from New Look, a pair of earrings given to her by her parents when she was a child, and to finish, Burberry's Her Blossom perfume.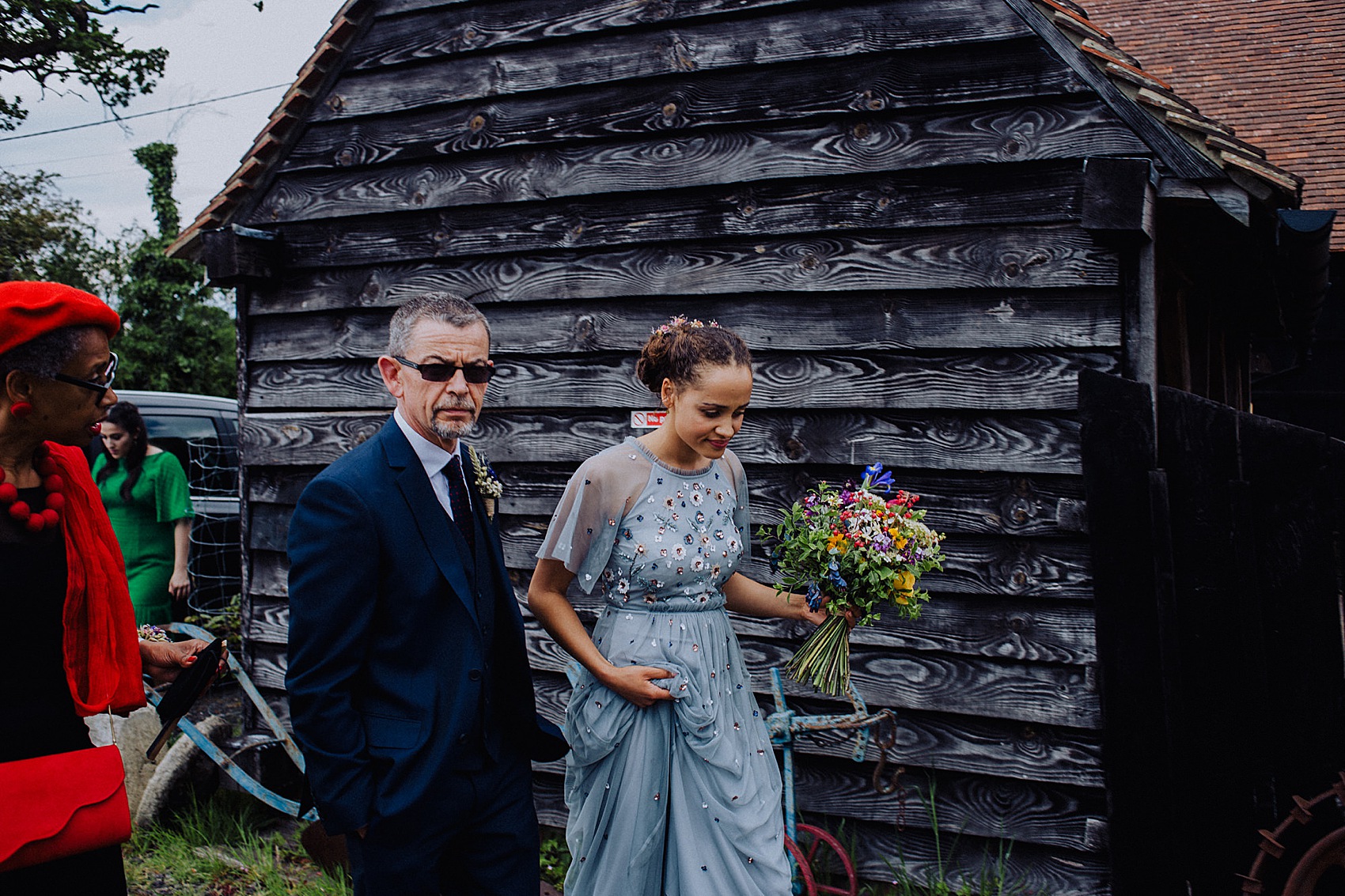 To the sounds of Al Green's beautiful song, Let's Stay Together, Maya was accompanied down the aisle by her super-stylish parents.
"We got engaged about 18 months before we got married. We went to Skye on a short holiday, and we love walking, so we hiked up Bruach na Frithe one day, which has some of the best views across the island."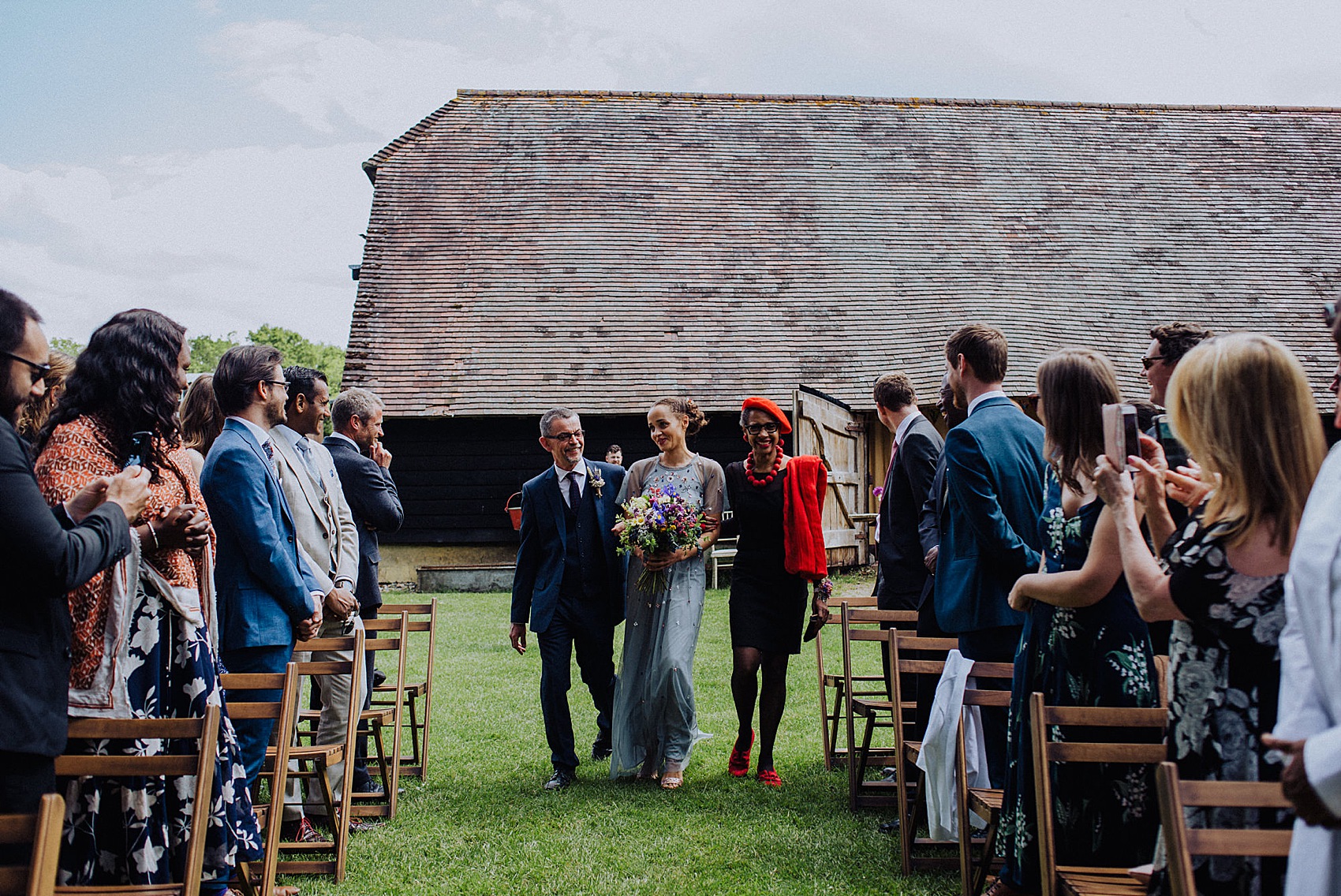 "It took 3 hours to get to the top, by which time we were in the middle of thick cloud with nothing to see past our own arms! On the way down the clouds cleared and David told me he had a surprise for me. When I turned around, there he was with a ring!"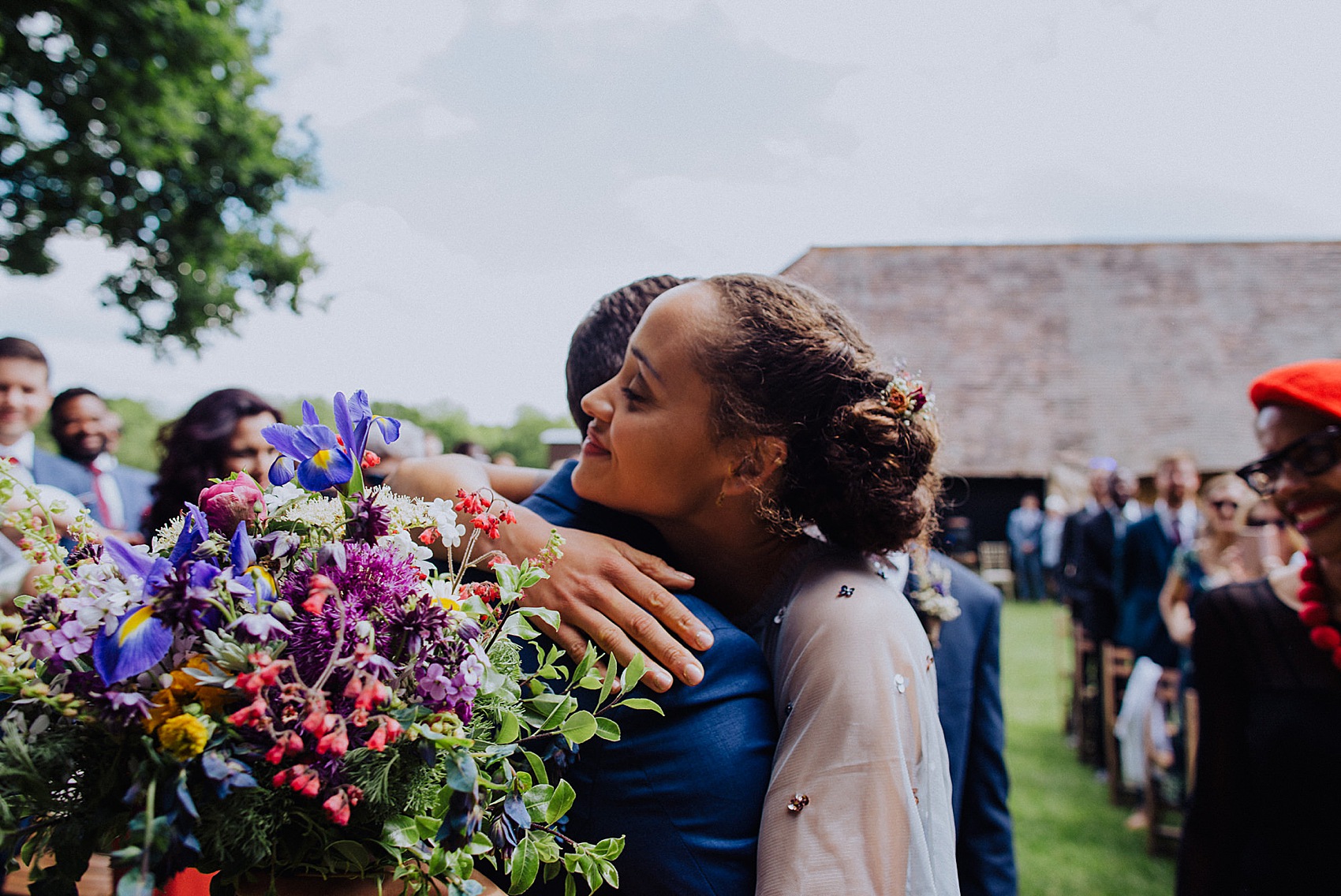 "We met at our first job working at Lewisham Hospital. We worked on the same surgical ward. I'd love to say our eyes met over a drug chart or something equally as charming, but I was convinced he fancied my colleague, and he thought I didn't want to talk to him!"
"We ended up on a night out together and got talking into the early hours. I persuaded him to ask me out, and we went on a date the next week."
Maya's engagement ring was a bespoke creation by David's friend, jewellery designer Imogen Belfield, and here David shares the story of how the ring, and their wedding bands, came into being.
"I chose Imogen as we were friends and I love her designs. Maya is not traditional, so I wanted to create an engagement ring that matched who she was, and something she could wear as a fashion item as well. The process of deciding on the design and what precious stones were going to be incorporated made it feel more special, as it was a personal gift, and I got to be involved in the whole process."
"Deciding to work with Imogen again for the wedding bands was a no-brainer. Firstly, she is incredibly talented, and also she was able to come up with a dual band that could be incorporated around Maya's engagement ring. I also loved the idea of my band matching the theme we had created."
Together with these rings, the couple made their vows to each other in the shade of the venue's lovely old Granary, which was decorated with the colourful bunting made by Maya, David and his mum. Loved ones also delivered very special readings during the ceremony, which were kept as a surprise.
"We were very lucky that my aunt (who I see as a second mum) and David's sister did two lovely readings. My aunt wrote a beautiful reading, which we have framed in our flat, and Liza read the Apache Blessing."
"The run up to the wedding was a very difficult time for us for personal reasons, so it was an emotional and very special ceremony for us. It was so nice to see so many smiling faces of some of our nearest and dearest walking down the aisle. It's just such a special feeling to know everyone there loves you and you love them, and that they want the best for you."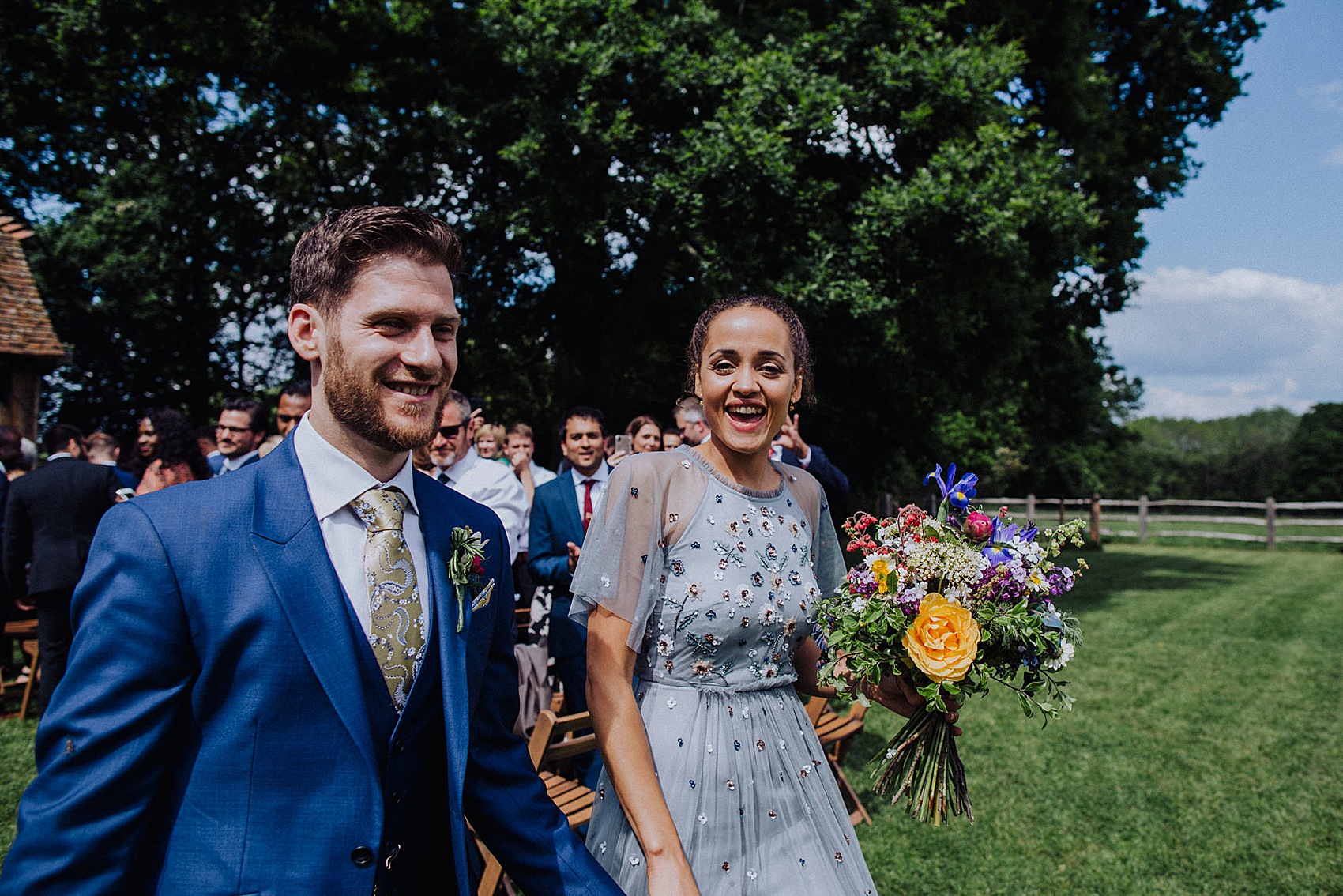 I'm in awe of Maya's amazing floristry skills, which she honed at a day course for wedding flowers by Blooming Green Flowers, before hand-picking and creating her vibrant bouquet, which included roses, peonies, irises and daisies, as well as lots of other wild beauties.
"I had such a lovely time! I really liked that they strive to ethically grow their flowers, for example, by not using pesticides. The day before the wedding my mum and I picked flowers in the Blooming Green field in the sunshine, which was a calming way to spend a couple of hours."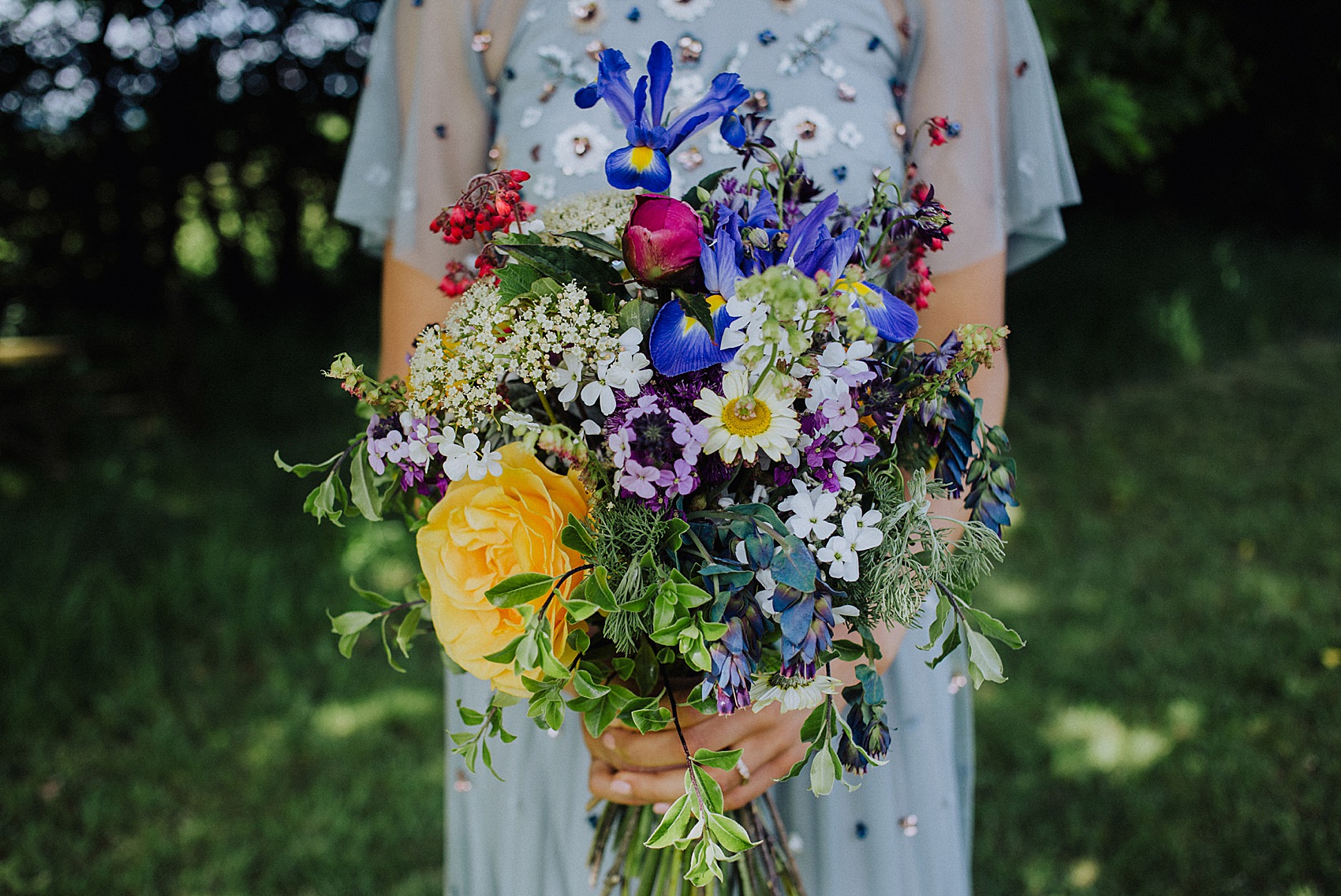 The couple took some time together for a walk with their photographer, Manon Pauffin, who captured so many heartfelt and intimate moments throughout the day. It's a treat to share this magical collection of images with you today.
"Manon was so great from the start. We met for a coffee to get to know each other, and we immediately knew we wanted her. We had a couples session before the wedding to get used to the camera, and despite feeling very awkward, she got some amazing shots which we'll treasure."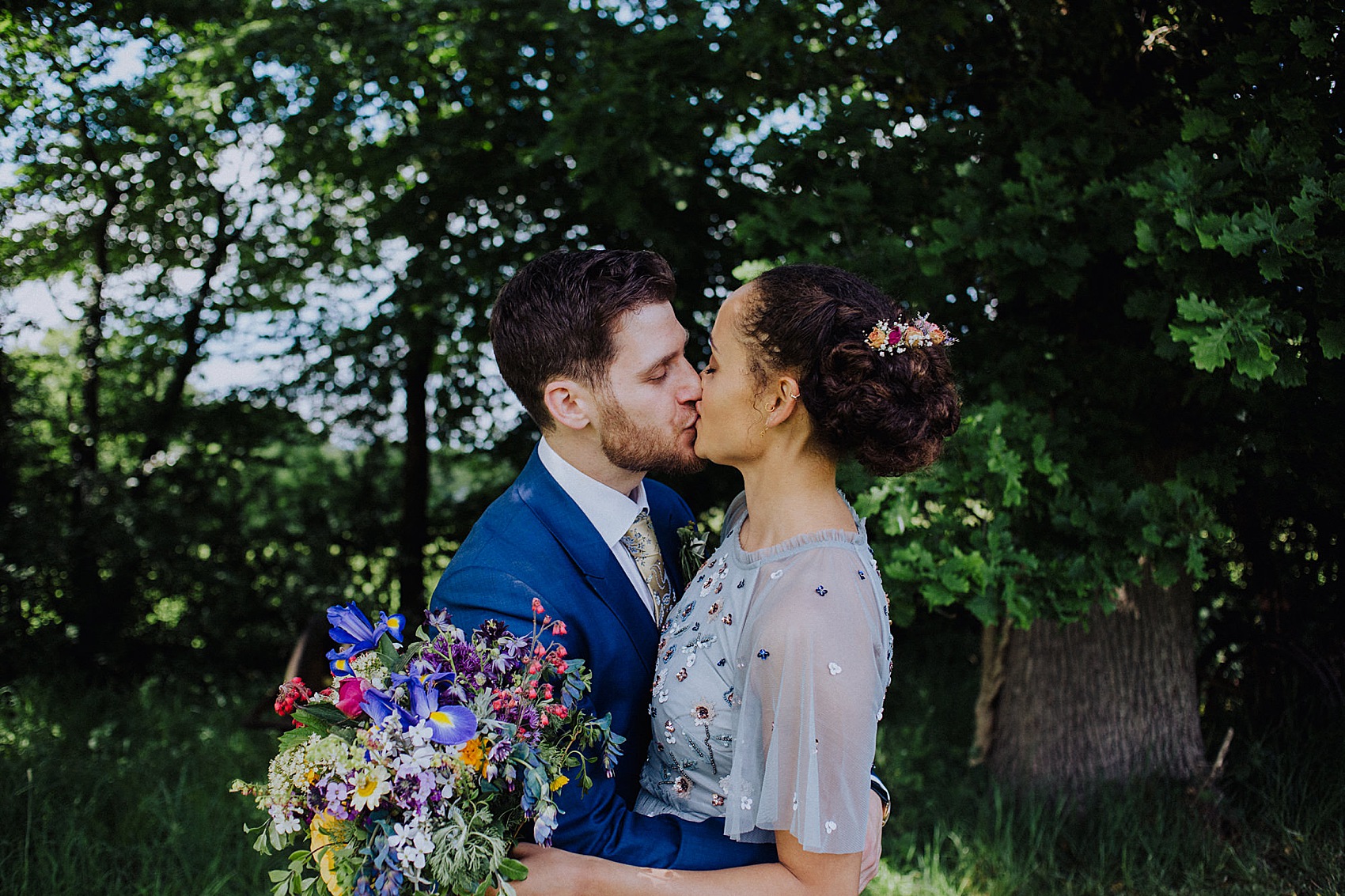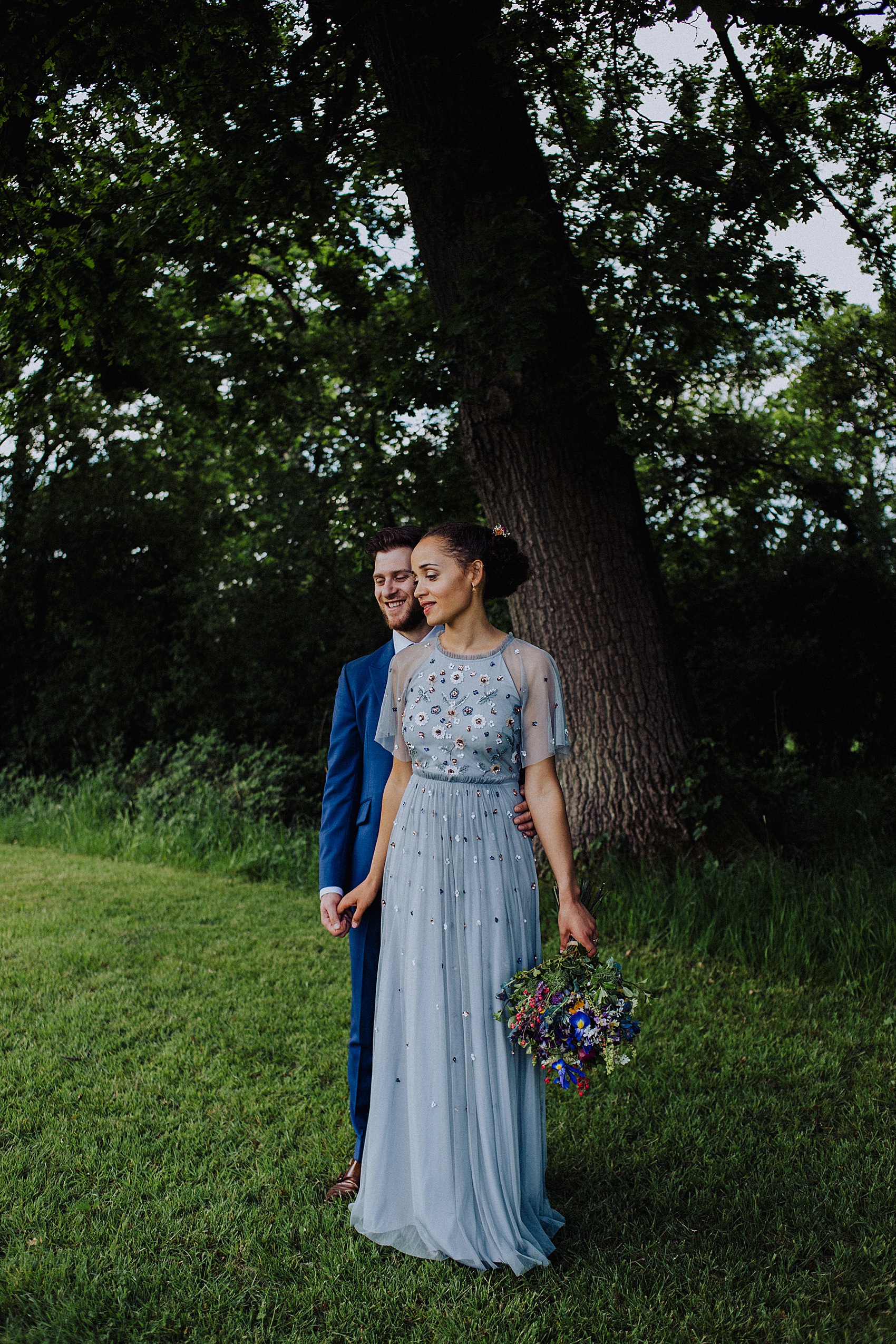 "On the day, Manon was perfect, got our friends and family where they needed to be with a smile, whisked us off for some time alone, and danced the night away with our friends! We cannot recommend her highly enough."
David looked smart in an impeccably tailored blue, three-piece suit by Gresham Blake, worn with a classic white shirt, cufflinks by Rachel Jackson, and a pale yellow and blue printed tie from The Tie Store. On his feet, he wore monk strap shoes from Kurt Geiger, and in his waistcoat pocket, a Mount Royal watch from Pocket Watch.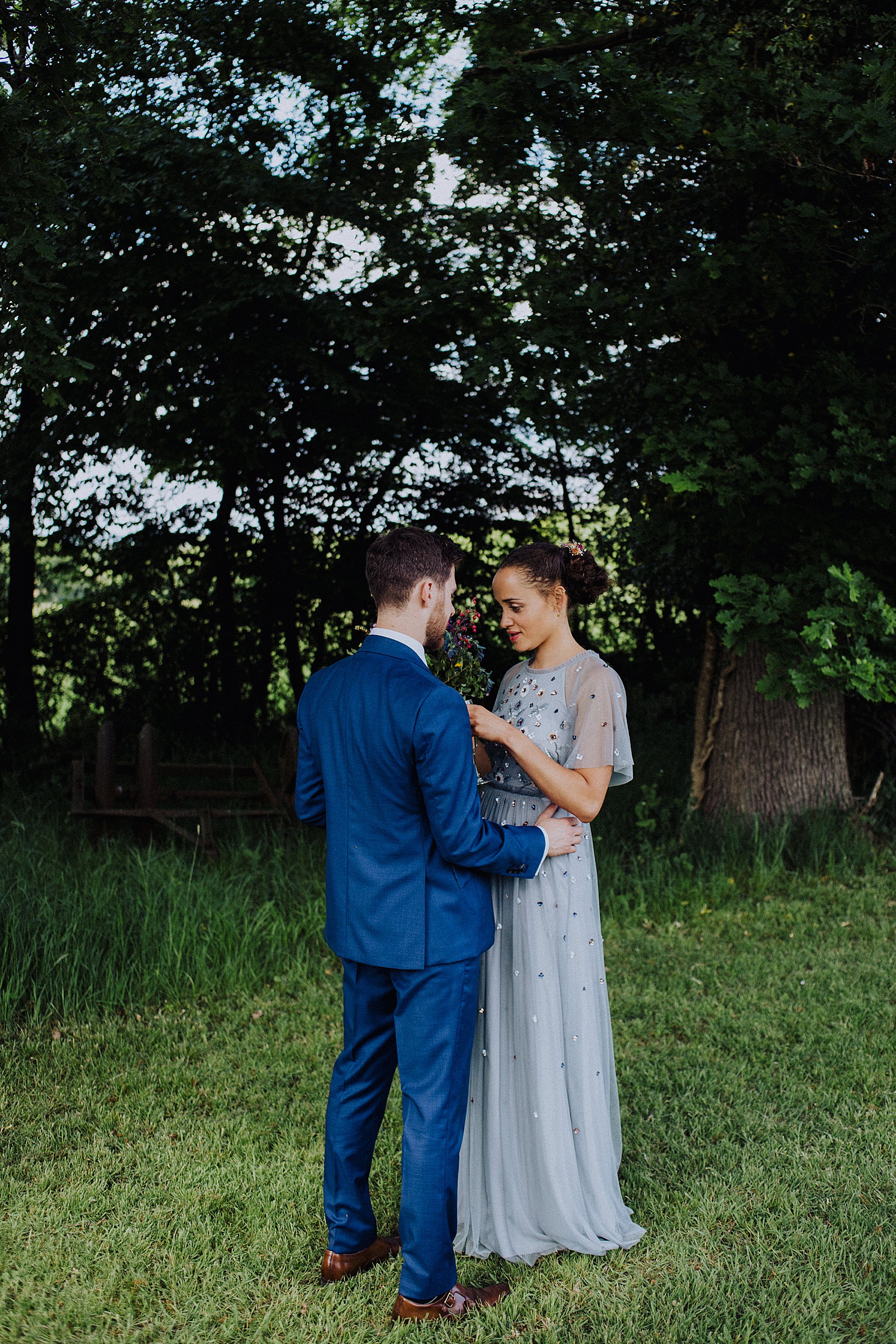 The Best Man and groomsmen wore blue suits to complement David's, as well as ties and pocket squares from TieObsessed, and dried flower buttonholes from Florence and Flowers.
Stationery and on-the-day signage was handmade by Maya and David, with a personalised travel world map from Foxy Fox, sourced via Etsy. Inside the reception barn, the charmingly higgledy-piggledy timbers were decorated with festoon lights from Not Your Average I Do.
"Gildings was perfect for everything we wanted. It has character and beautiful outdoor grounds. Add to that the staff, who were wonderful from start to finish, and it was a winner!"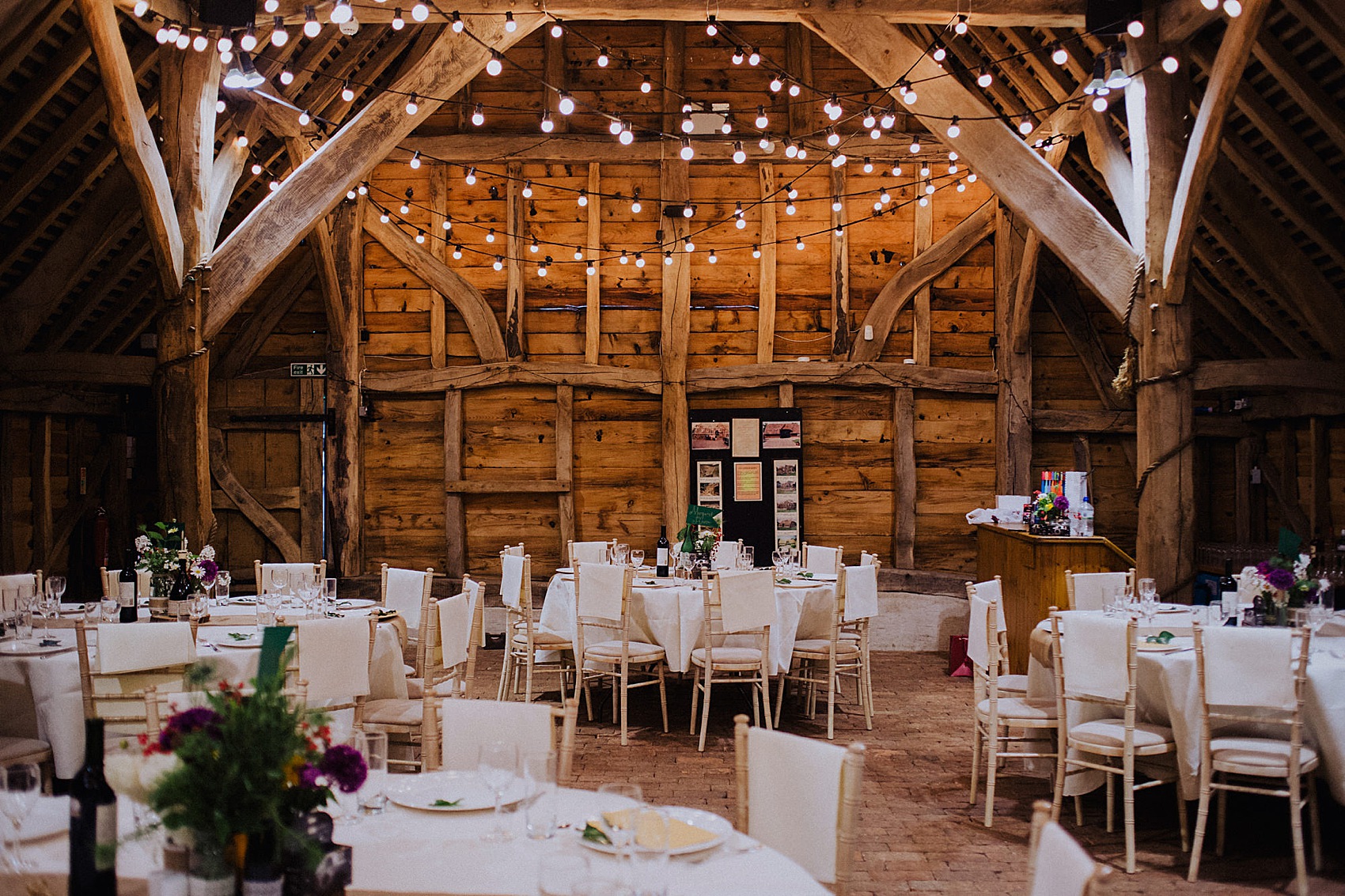 The ceiling was strung with more bunting and hoops of greenery, and on the tables, there were colourful floral centrepieces set on top of sliced logs together with lots of candles.
There was a separate table for gifts and cards, with a traditional red post box, and a jar for guests to leave their date ideas and advice on marriage. The wall beside it was decorated with Polaroid snaps of the happy couple and their travels together.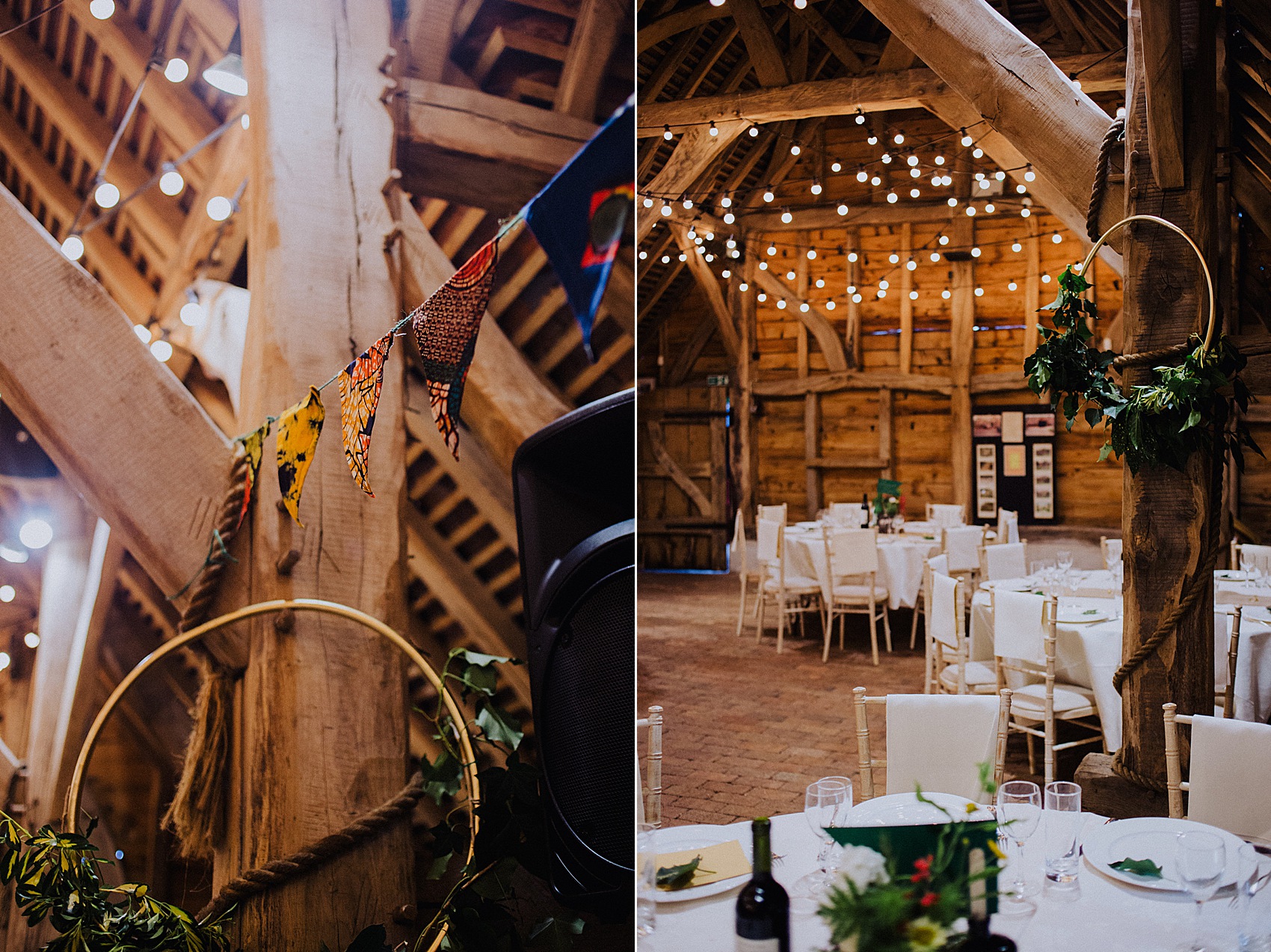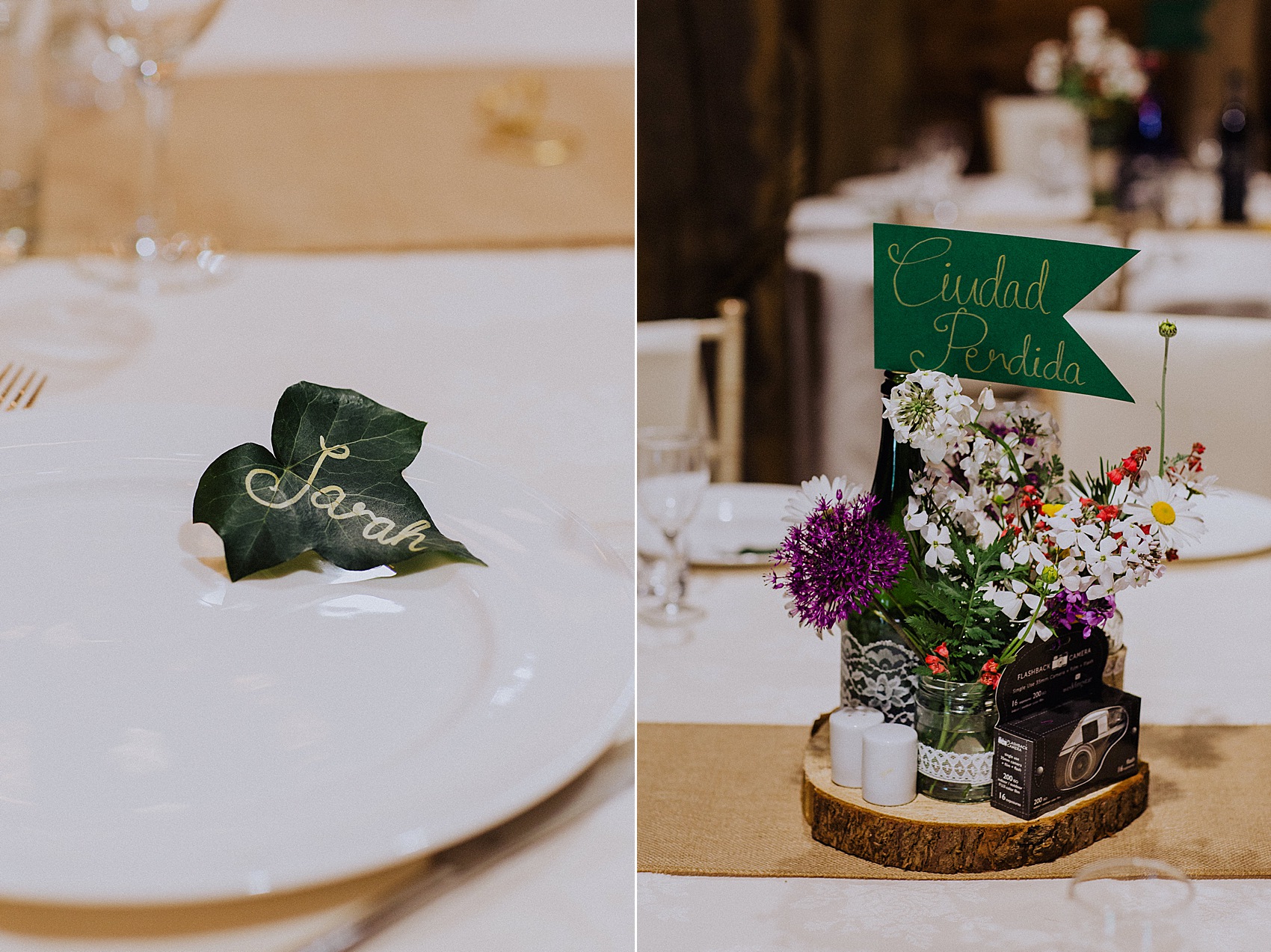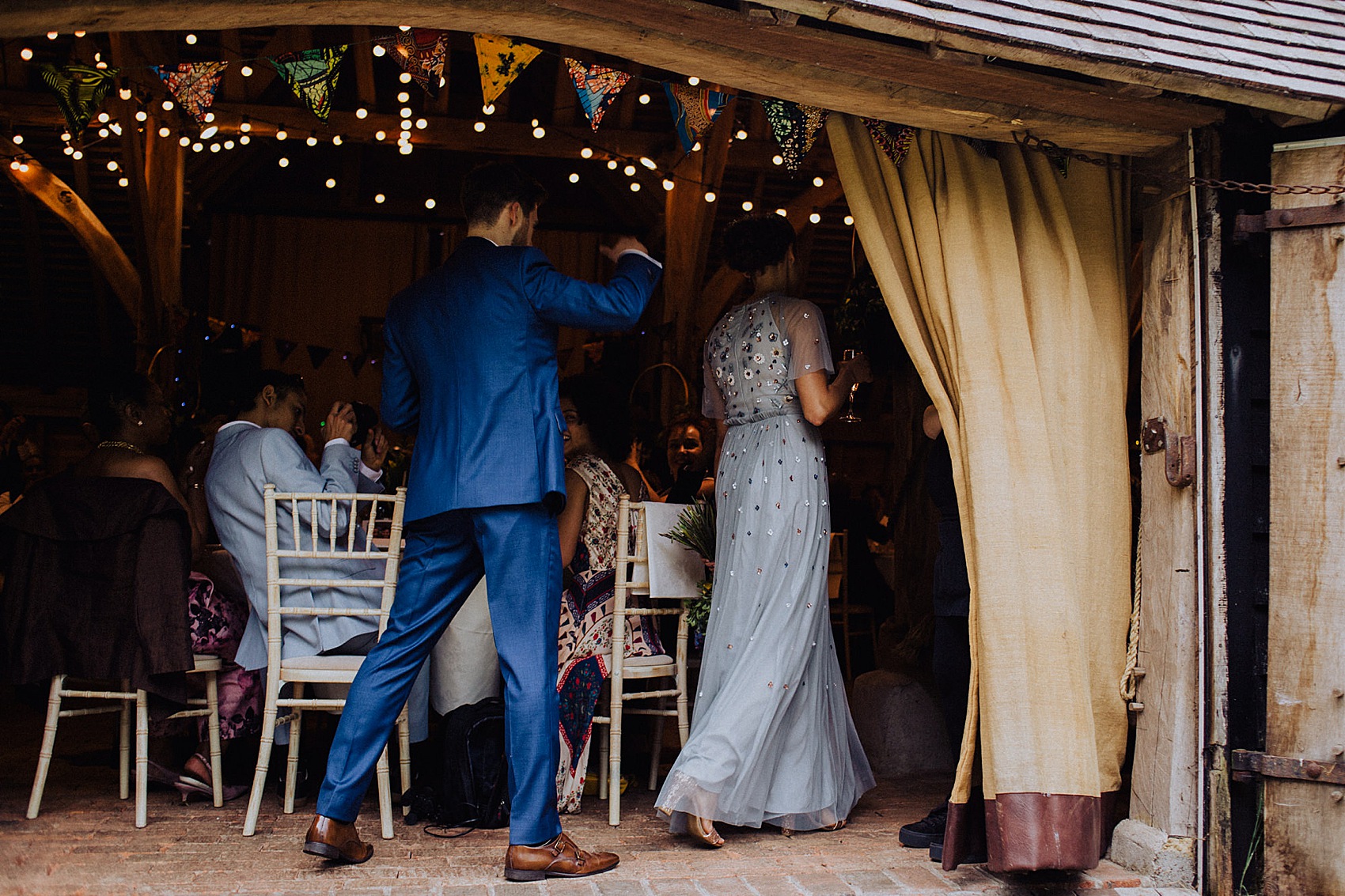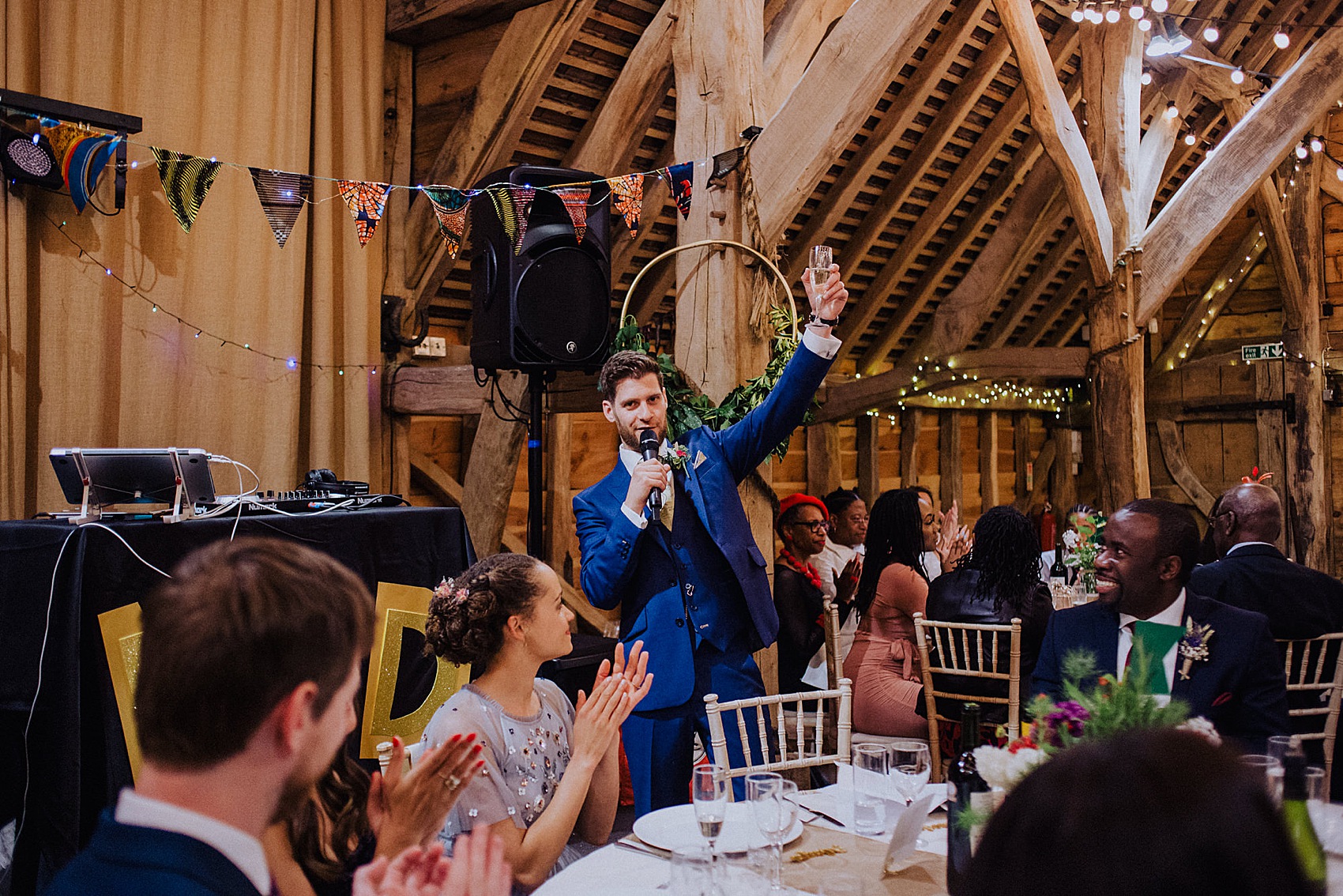 The wedding feast came courtesy of family-run caterers, The Wheeler Estate Wedding Catering, who also laid on a delicious table of doughnuts and pastries for dessert.
"Myself and my very talented chef friend Guy Betteridge made the cakes. We made a red velvet, a carrot cake and a Victoria sponge; all crowd pleasers."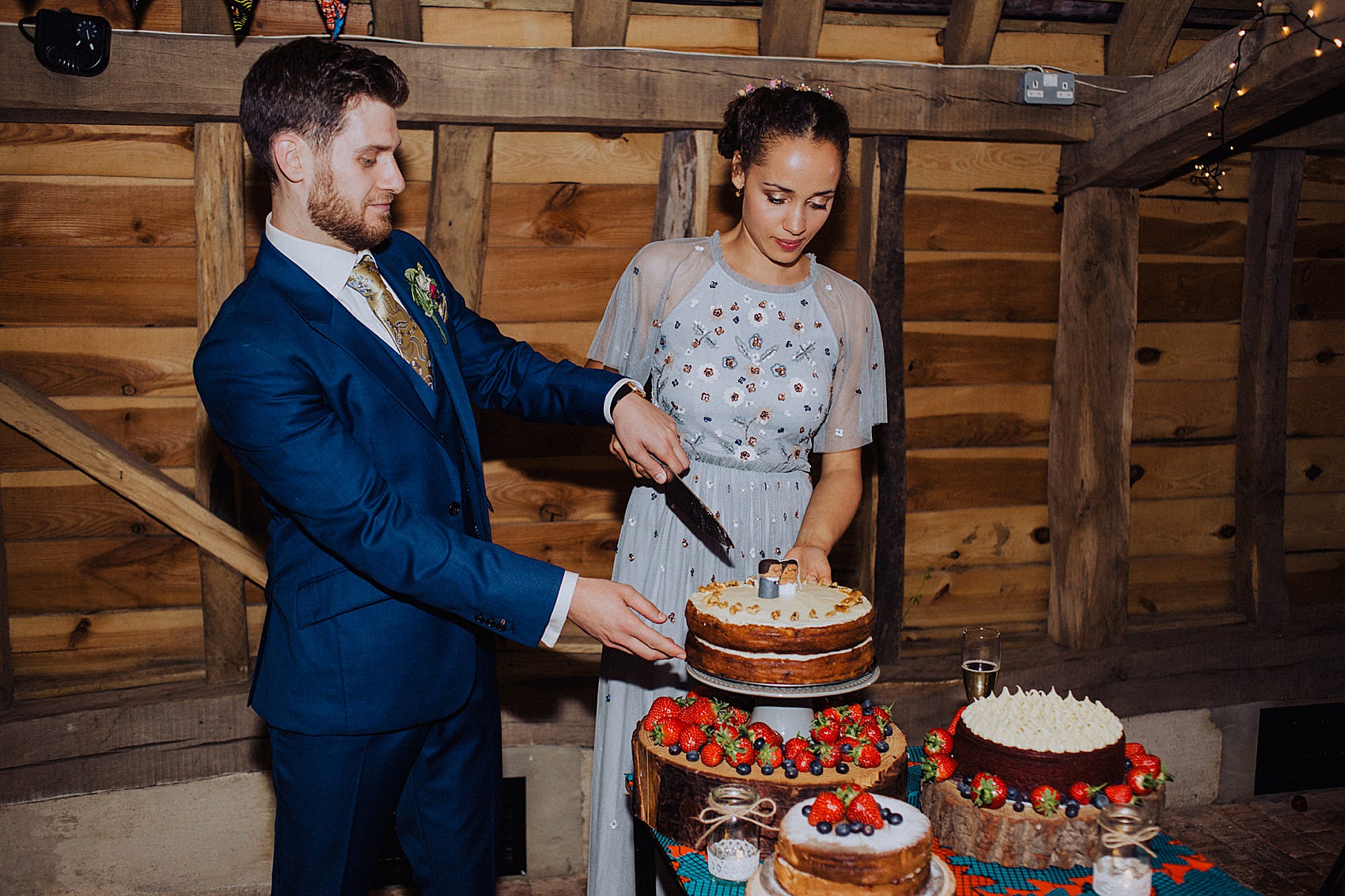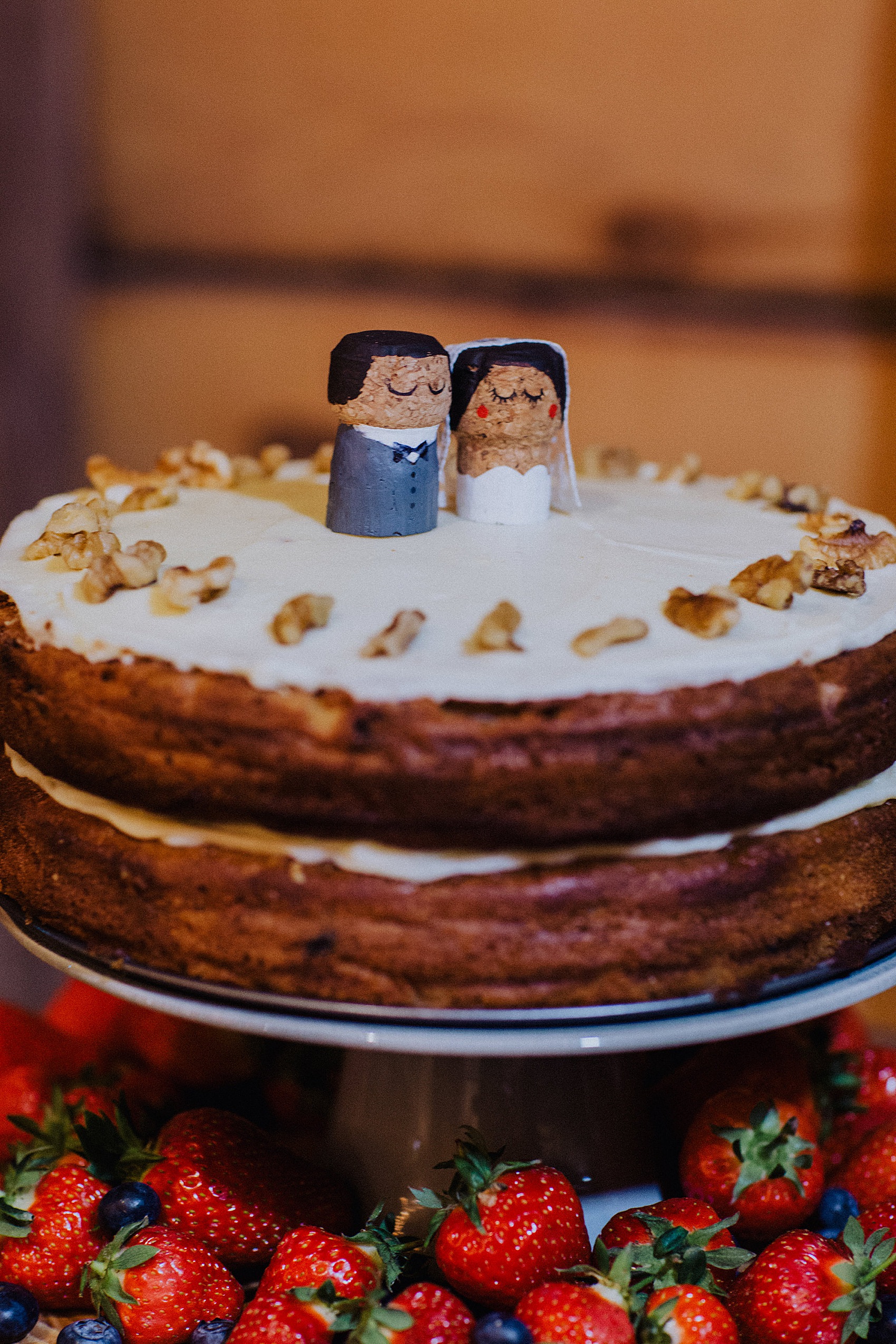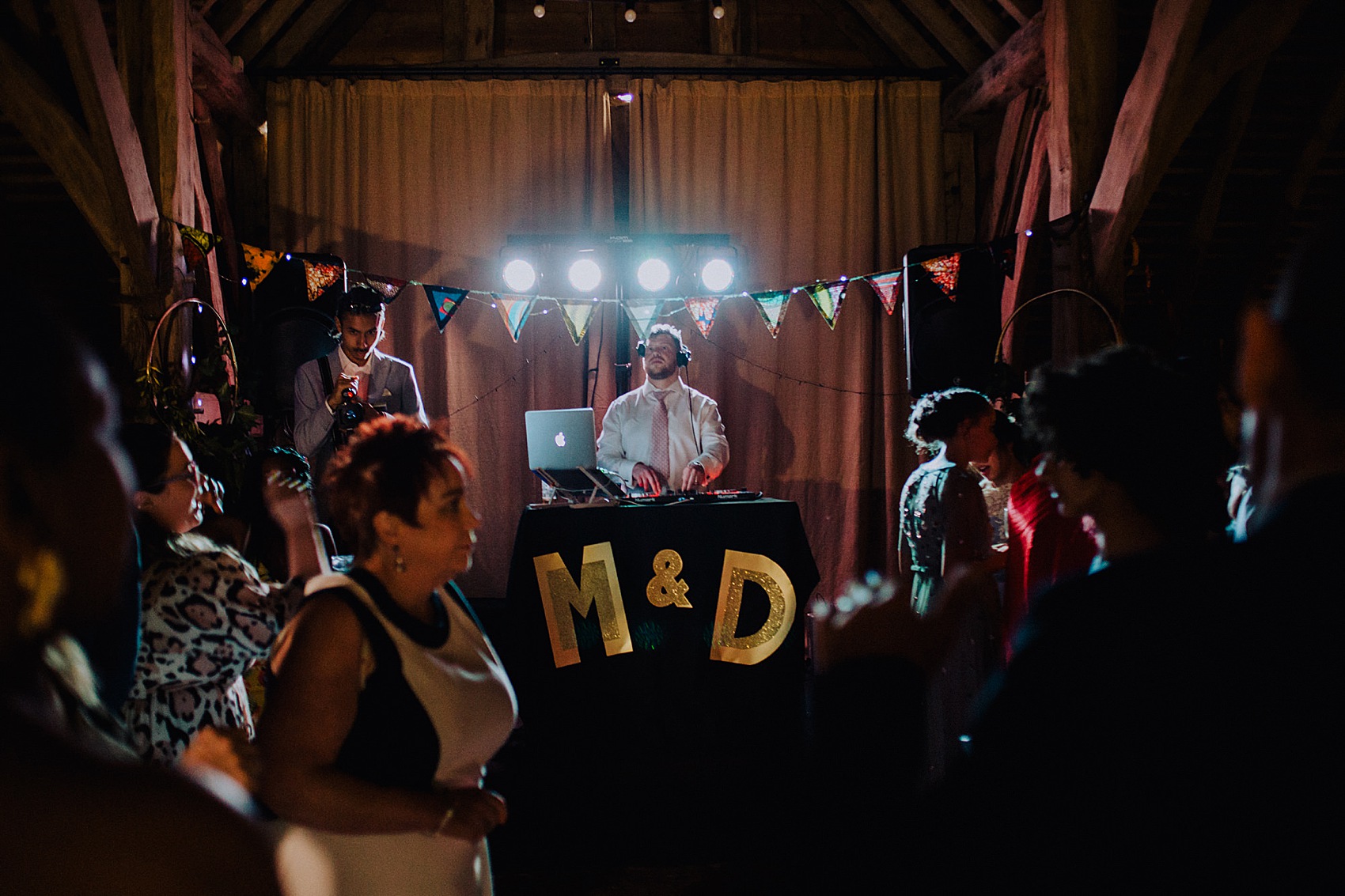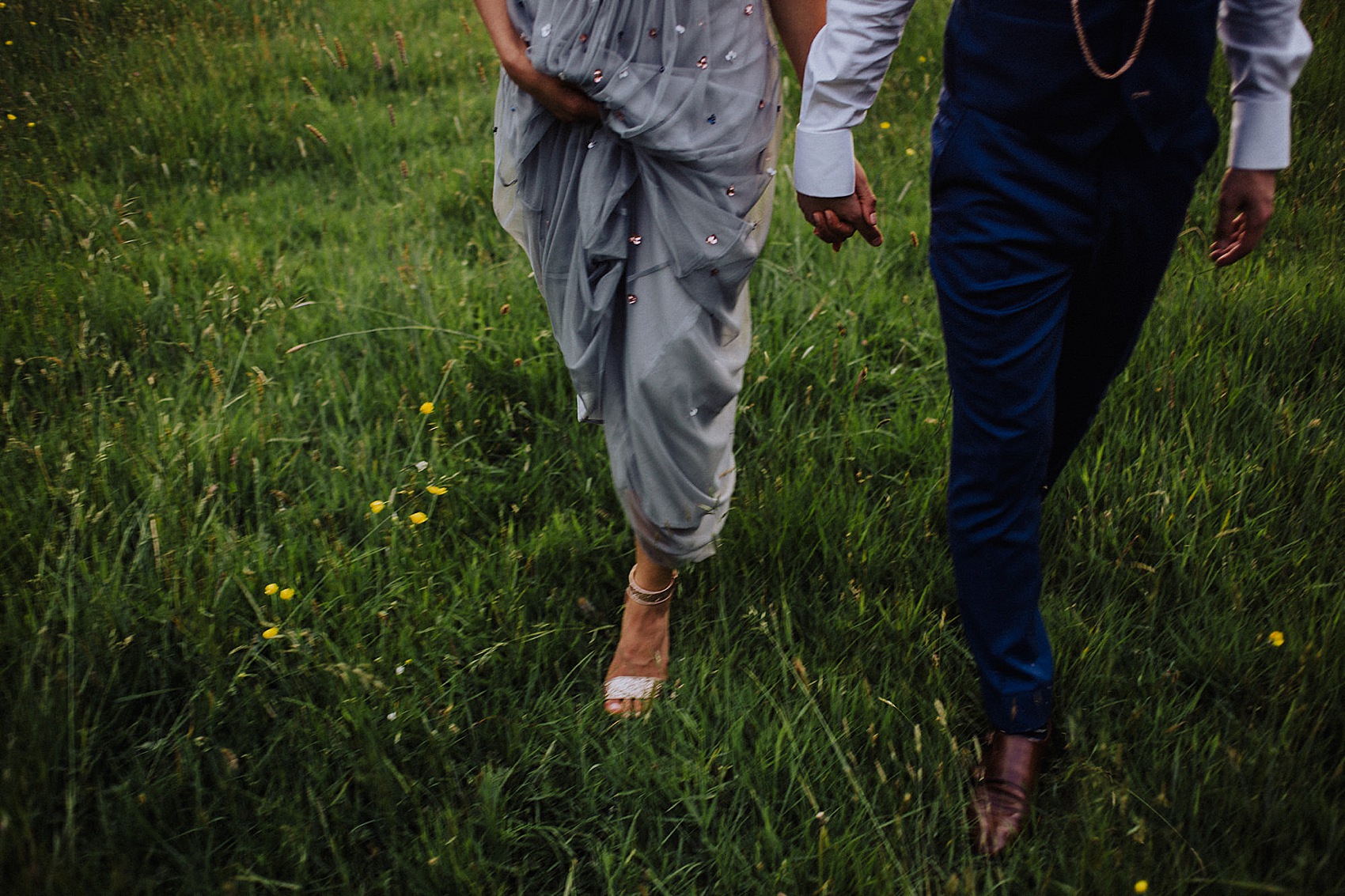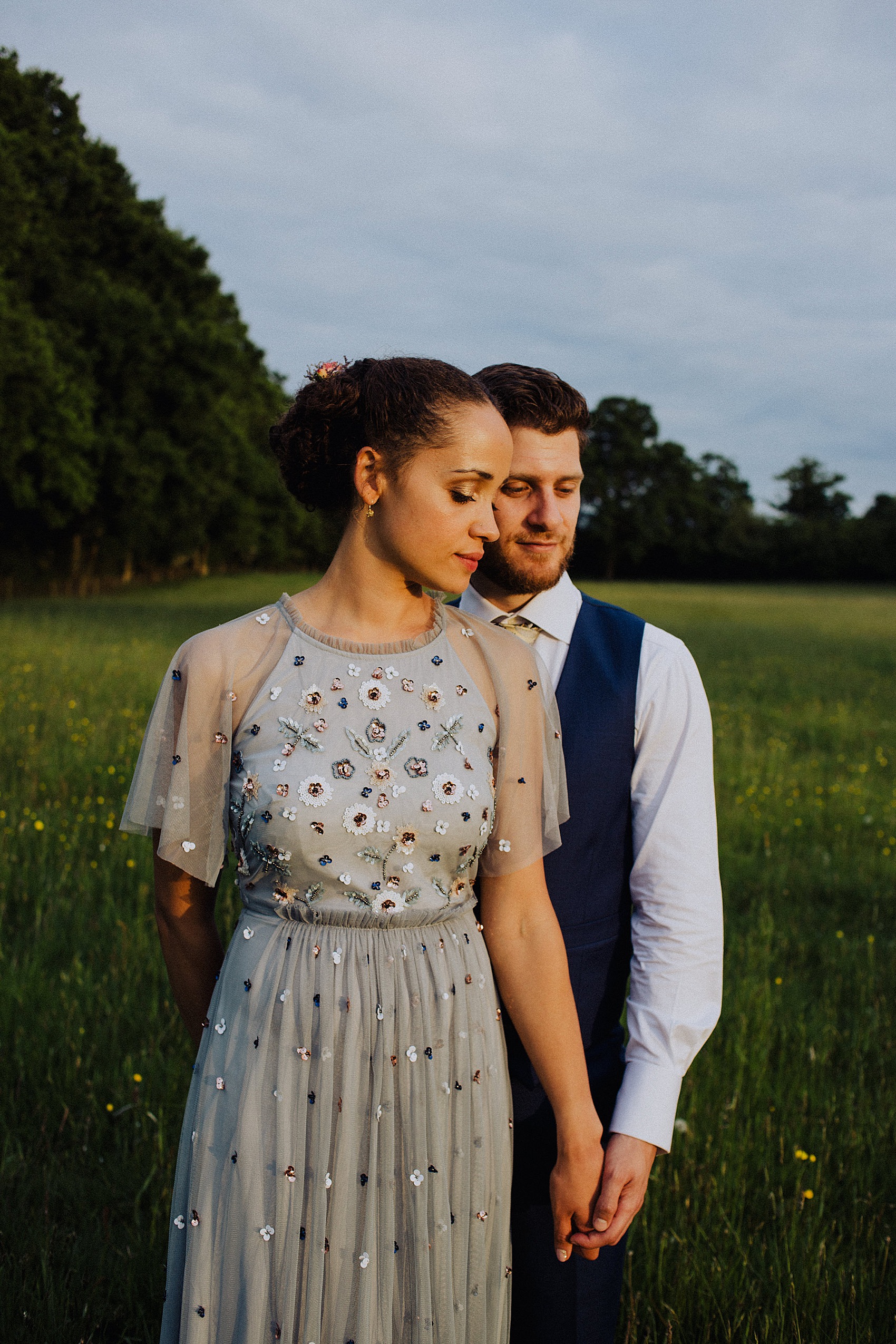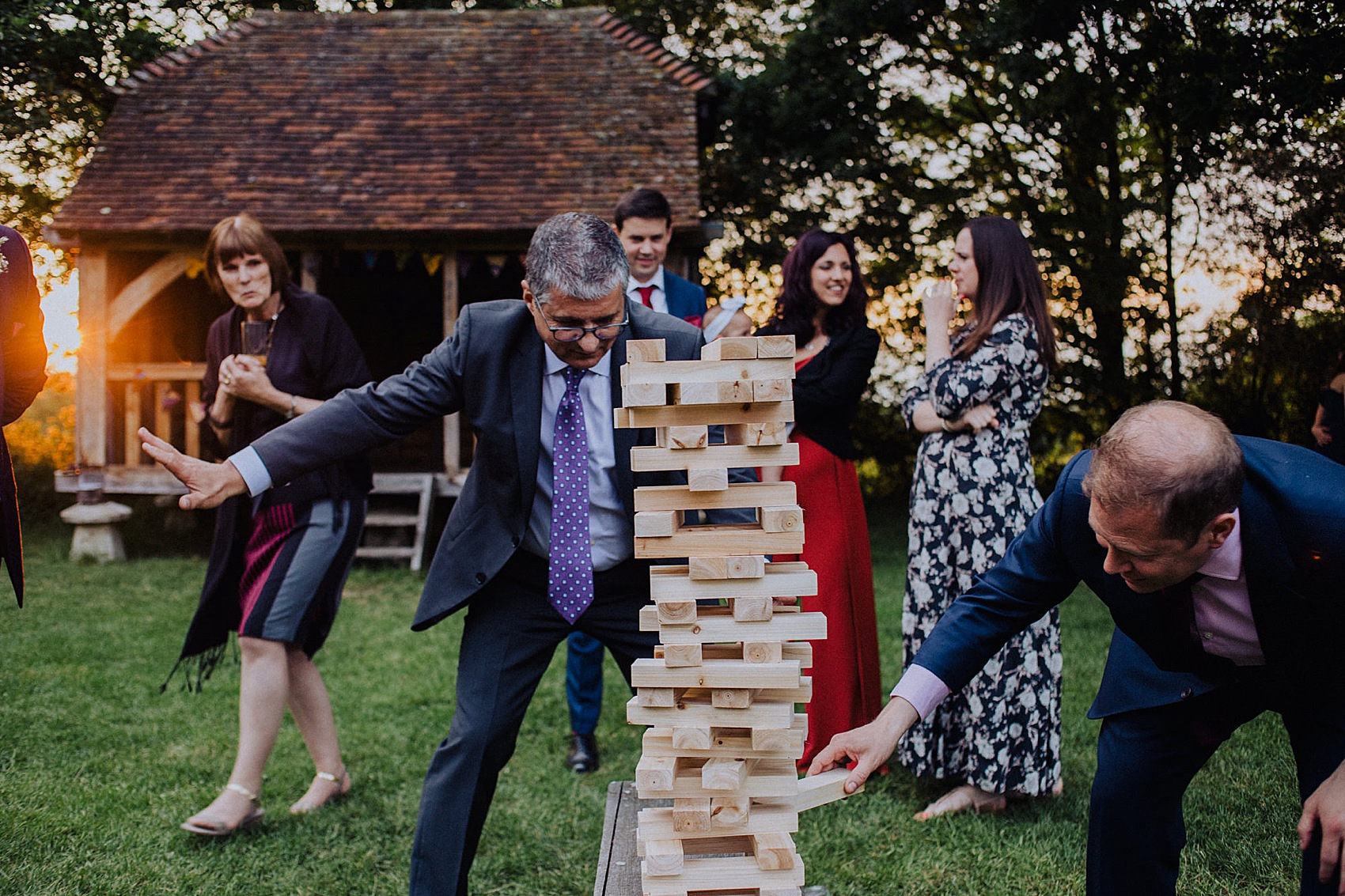 Rather than a first dance, Maya and David instead decided they wanted to commence the evening merriment by having everyone up on the dancefloor. There was singing from friend Senam Agbesi, and DJ sets from James Braid, Alex Morton from Innersoul Music, and Zak Butcher.
"Our other favourite part of the day was the party! We were lucky enough to have close friends DJ for us, so all of the music was exactly to our taste. We had so much fun."
Words of Wedded Wisdom
"I would say just do what's right for you and your partner. I had a lot of quizzical looks when I said I didn't want to wear white, but it wasn't for me so I didn't do it and I loved my dress! I think stamping your personalities on the wedding with little things that make it personal, enjoying the shared moments when creating the décor and planning things like the playlist make great memories from the whole experience."
"I know everyone says this but don't sweat the small stuff. Nobody will notice if something from the décor is missing! Before the day, delegate responsibilities to your wedding party so you can relax in the moment."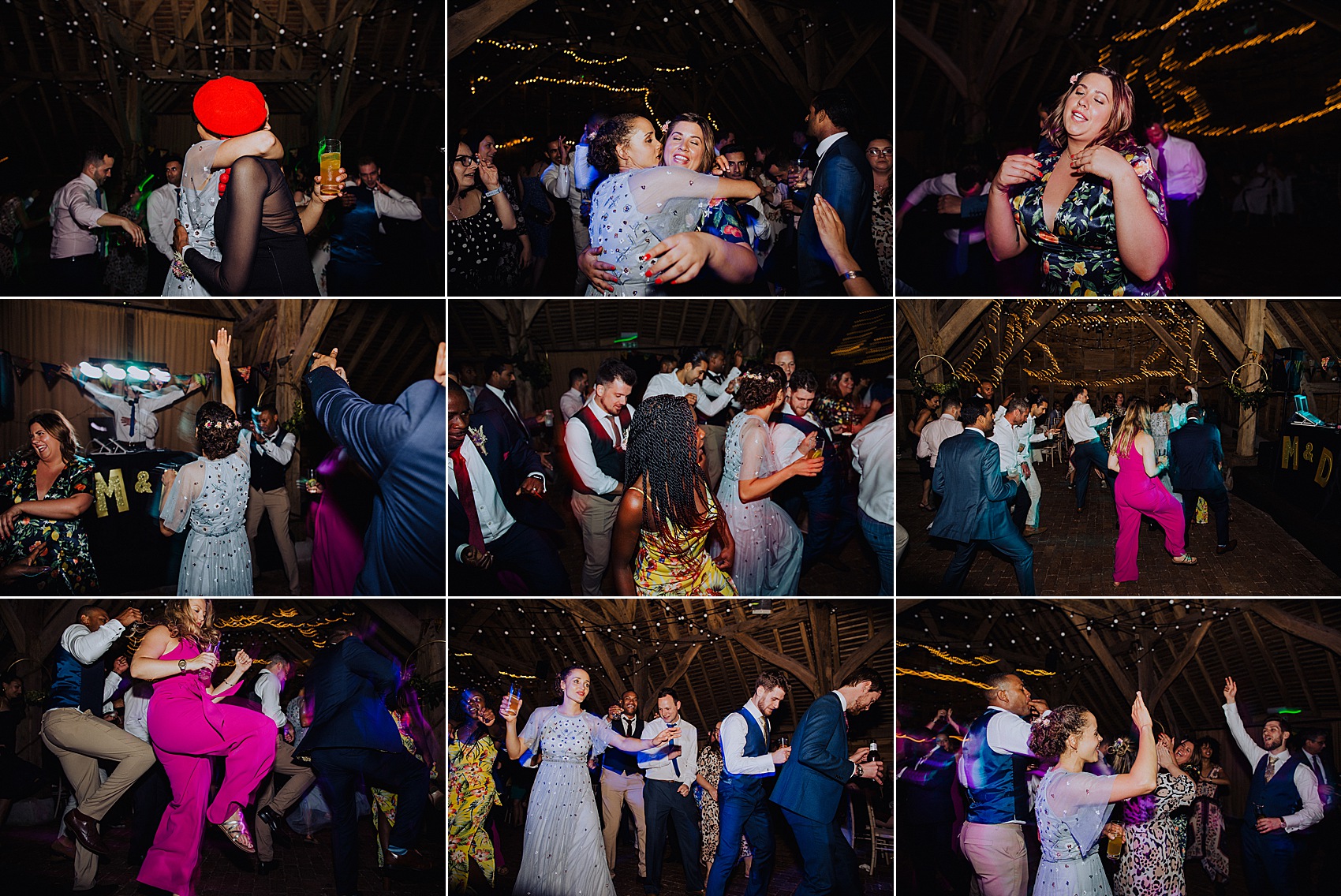 Maya and David, all the very best wishes to you both, and of course – thank you! I've loved all the details, showcasing some incredible design and crafting talents. Maya, I also think it's marvellous that you found Love My Dress to be such an inspirational and inclusive space, too.
Huge thanks to photographer Manon Pauffin for her images, and if, like Maya, you're on the lookout for a wedding dress that isn't white, do take a look through our real weddings featuring dresses of all different colours, here, as well as other non-traditional weddings here, and finally, brides in jumpsuits and trousers here.
Until next time.
Love,
Laura