As 2020 wears on, we're getting used to seeing things done a little differently, especially when it comes to weddings. Here at Love My Dress we've heard countless stories from brides and grooms, and suppliers, who have had their plans disrupted.
So, it's heart-warming to see people pull together now to celebrate life and love, and make these gatherings even more special. Please meet Danielle, who works in fashion merchandising for a jewellery company and Ben, a precision engineer, who wed on 8 August 2020 at their local church, St Mary's Church, Bocking, Braintree, Essex having rescheduled from 9 May.
I'm sure many of you will identify with the couple's predicament; they made the choice to wed in a small, romantic and intimate ceremony this year and celebrate in style next year with a vow renewal and big party in 2021.
"We were originally supposed to get married on 9 May but made the tough decision back in March to postpone our wedding to next year when it became apparent that things were not likely to be able to take place as we had planned, if at all. Some of my family, including my grandparents and two of my cousins who I was having as bridesmaids, live in America and as soon as flight restrictions were put in to place and they were going to be unable to come, it no longer felt right to go ahead."
Gemma Giorgio Photography

+ Follow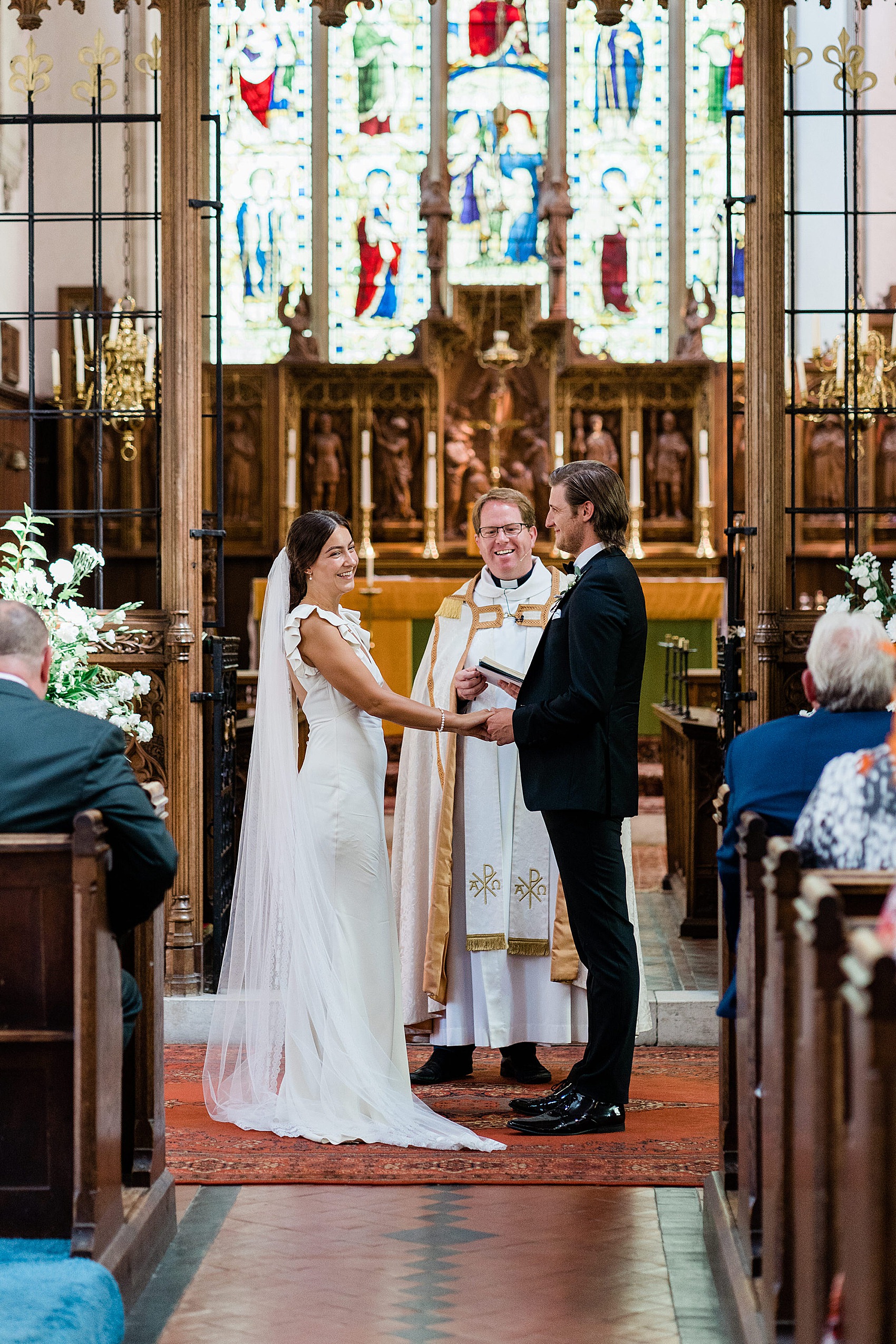 "Off the back of having to postpone, it got us thinking how we could make the most of the situation. I suggested the idea of an intimate legal ceremony this year in the church as we had planned and then having a vow renewal and party next year. We had originally hoped that this might be how we could mark our original wedding date. However, when this wasn't possible we agreed on as soon as we were able."
"This turned out to be 8 August which is the date we had originally hoped to marry (I have a thing about numbers and eight is my favourite/lucky one!) but couldn't as it was fully booked. Things sometimes really do happen for a reason!"
"As well, we both have elderly grandparents (Ben's grandad is 95) and it was really important that they were able to see us get married. They are both religious and so for them to see us get married in the church meant the world."
With such tricky circumstances, I'm so gratified to hear that Danielle found Love My Dress a wealth of information and support whilst she planned her day. If you're in a similar situation and haven't yet found our Covid resources, then please head over there for information on intimate, Covid-secure weddings, creating alternative celebrations and much, much more.
"Your articles around Covid and postponements offered invaluable support and were a massive help, providing reassurance that we were not alone in the situation we had found ourselves in. Aside from the 'C word' and when I was planning my original wedding, I must have viewed nearly every blog post. I love looking at what everyone else has done and drew so much inspiration, even for smaller details which I had overlooked."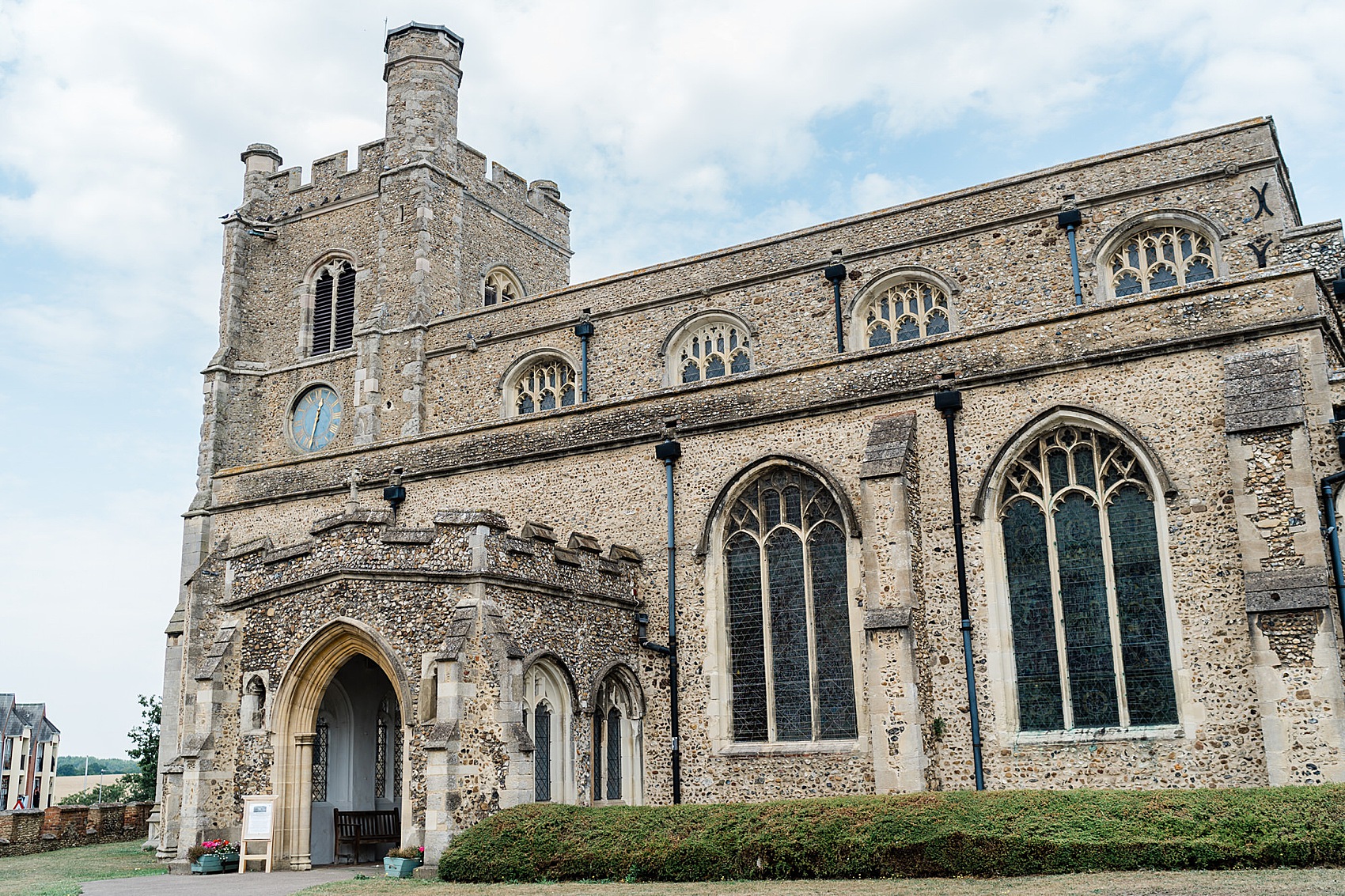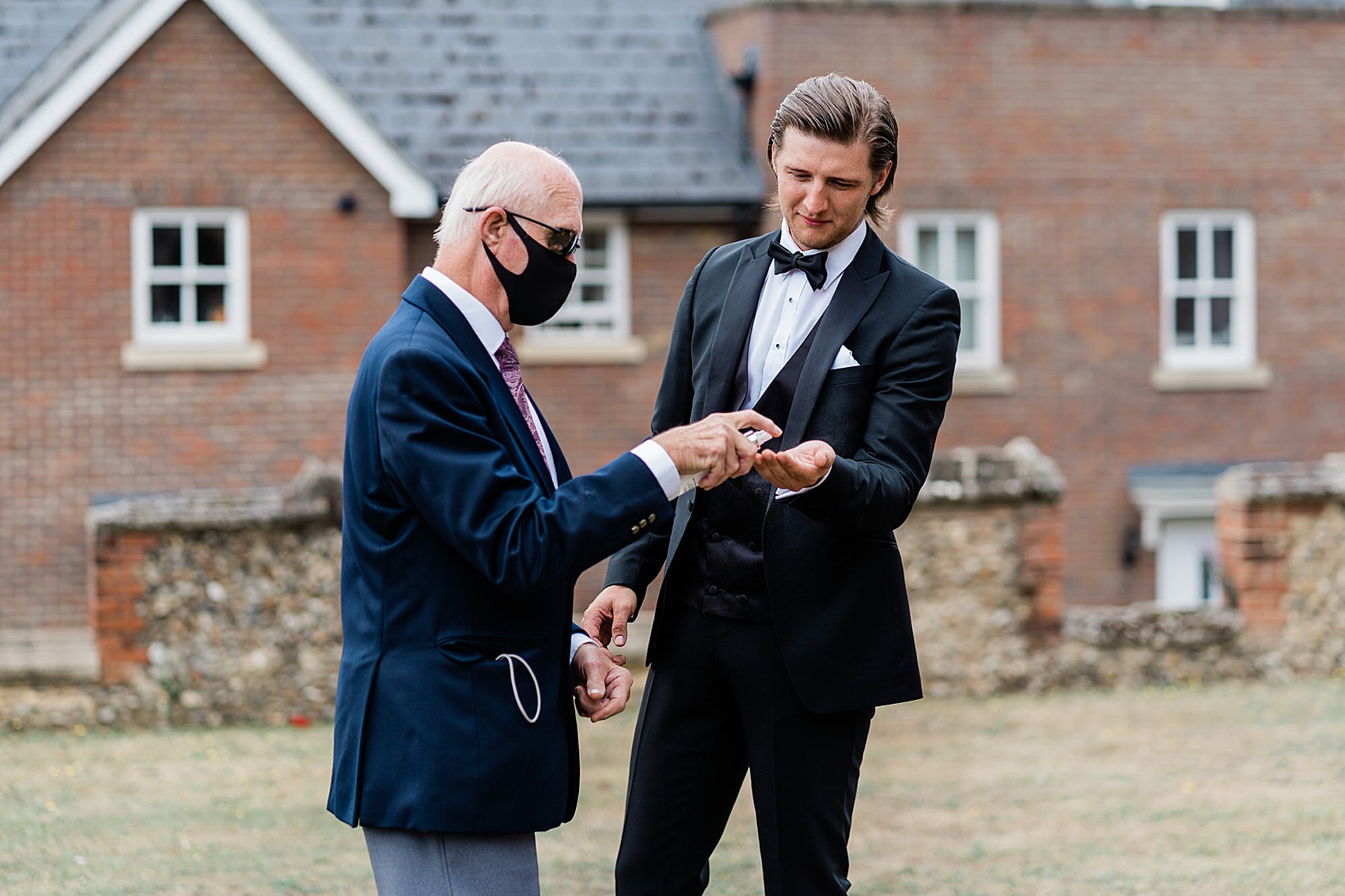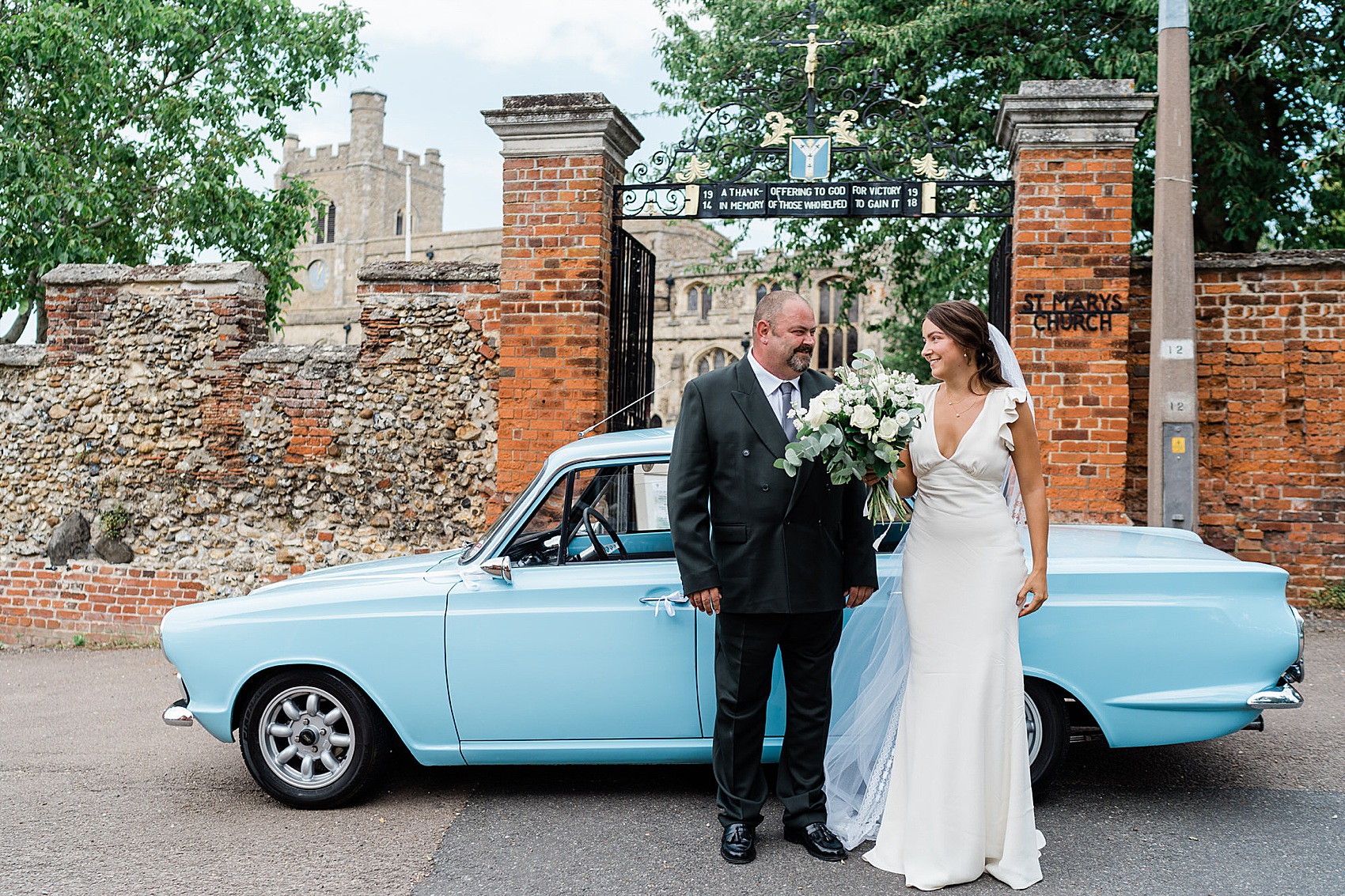 There had to be some advance planning to keep the bride, groom and their guests safe, but Danielle has taken a philosophical approach and I adore her socially distanced photos.
"In order to keep everyone safe, each family or bubble sat together in the church. Thankfully the church itself is large so it was really easy for everyone to keep their distance. Hand sanitiser was at the door for everyone to use, although my grandad bought his own and made sure everyone was in supply before they reached the church! We also opted to forgo traditional group photographs to ensure we could practice social distancing. These are actually some of my favourite photos and will be great to look back on to remember all that was taking place the year we got married."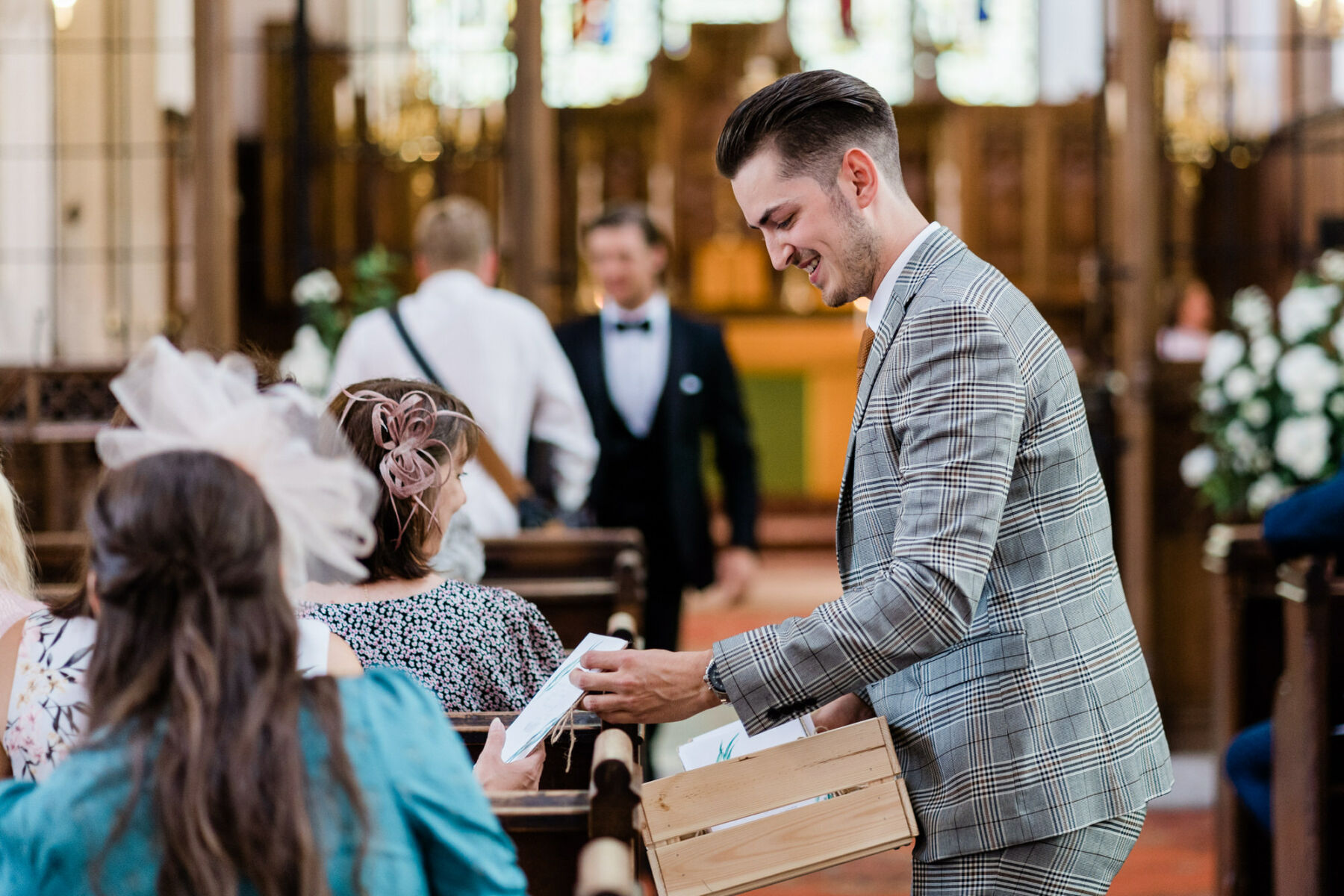 The bride chose to save her original dress for her 2021 celebration and ordered this floaty white beauty online, from Ghost London. Its simplicity is so elegant and I love those flippy sleeves.
"I ordered my dress online and couldn't fault the service. The dresses arrived the next day and the returns process was really simple. I would recommend them to any bride looking for an affordable wedding dress option. My dress was a last-minute purchase as I wanted to save my dress I had already bought for next year."
"After extensive googling and failed success elsewhere, I finally came across Ghost. I was after something which was affordable as I had already spent out for my actual wedding dress, but equally wanted something that gave me the same special feeling. For high street dresses the quality was nice and I fell in love with the design. I am generally very clean/plain in my style choices which this dress covered but with added details like the tie up back and frilled sleeves which made it feel more special (and was me being slightly more adventurous!)."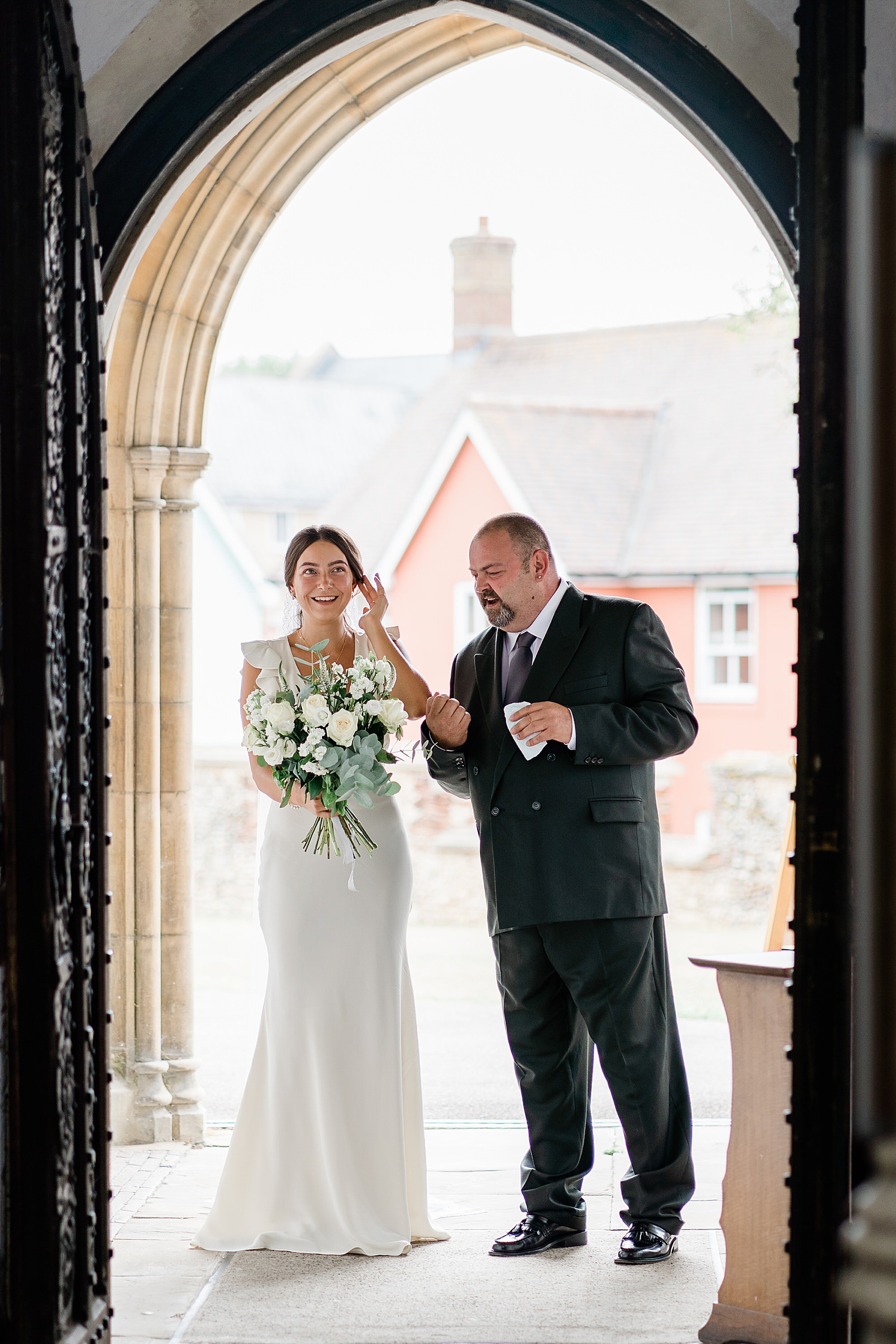 The couple were brought together by a mutual friend back in 2012 and chose to wed in their local church, St Mary's Bocking near Braintree, its size being wonderful for a socially-distanced day.
"Our first encounter was on a night out back in early 2012 and I guess, as they say, the rest is history! We got engaged in October 2018, so were engaged just shy of two years before we were finally married. St Mary's Church is our local church and is absolutely stunning, Rod is the vicar there and we went to a christening he carried out once where he made a 'The Lion King' reference whilst holding the baby at the fountain and we just knew he was the man we wanted to marry us. He is amazing, and everyone commented on how great and welcoming he was."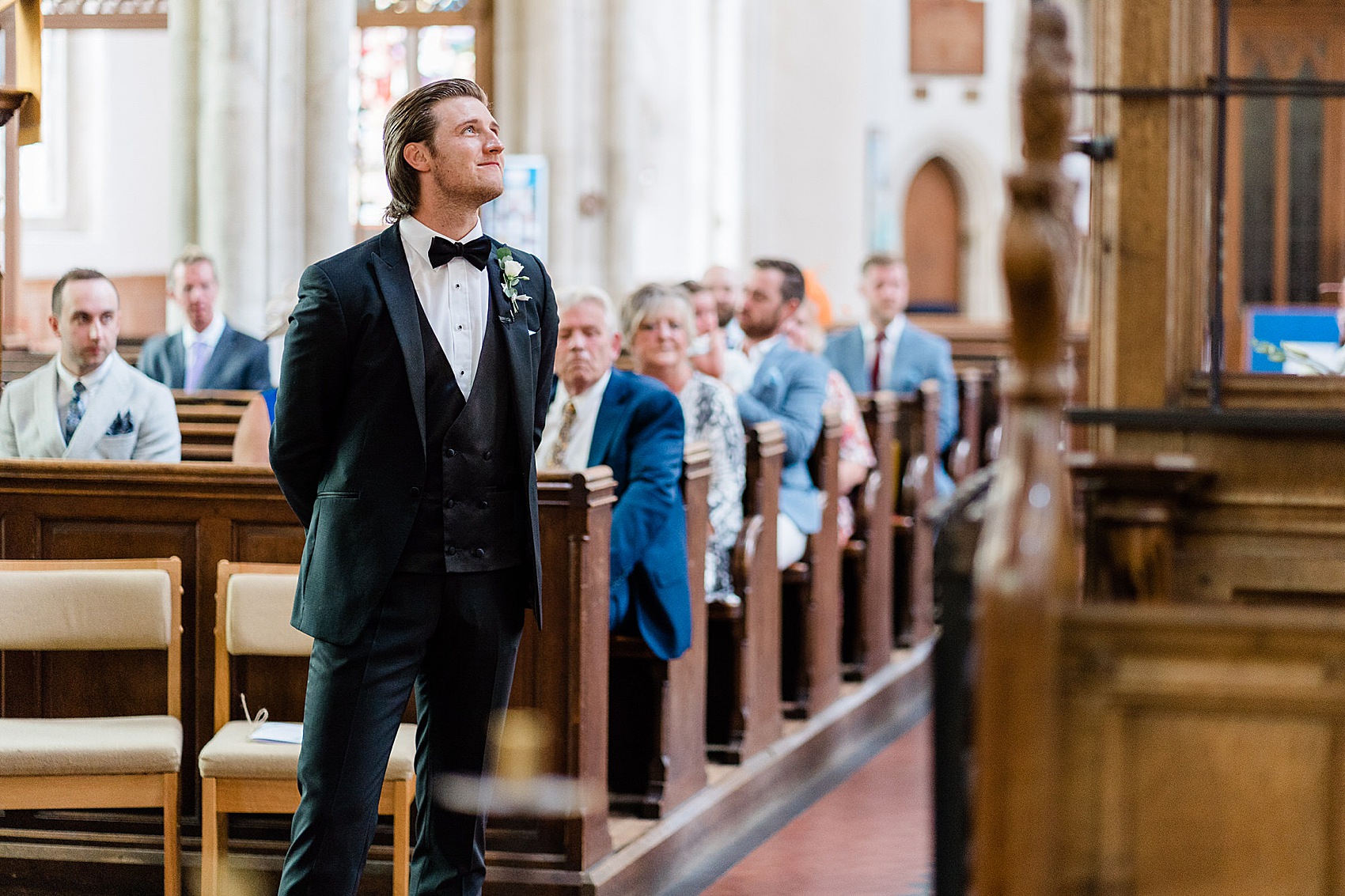 In a super-special touch, the bride added her grandma's veil, which pooled behind her so beautifully.
"The veil was a last-minute addition the week of the wedding and was my grandma's! It is 53 years old but you can't tell as it was as white as the day she wore it. It's one of my favourite decisions I made as it finished the dress perfectly, and I feel so special as to having been able to wear it."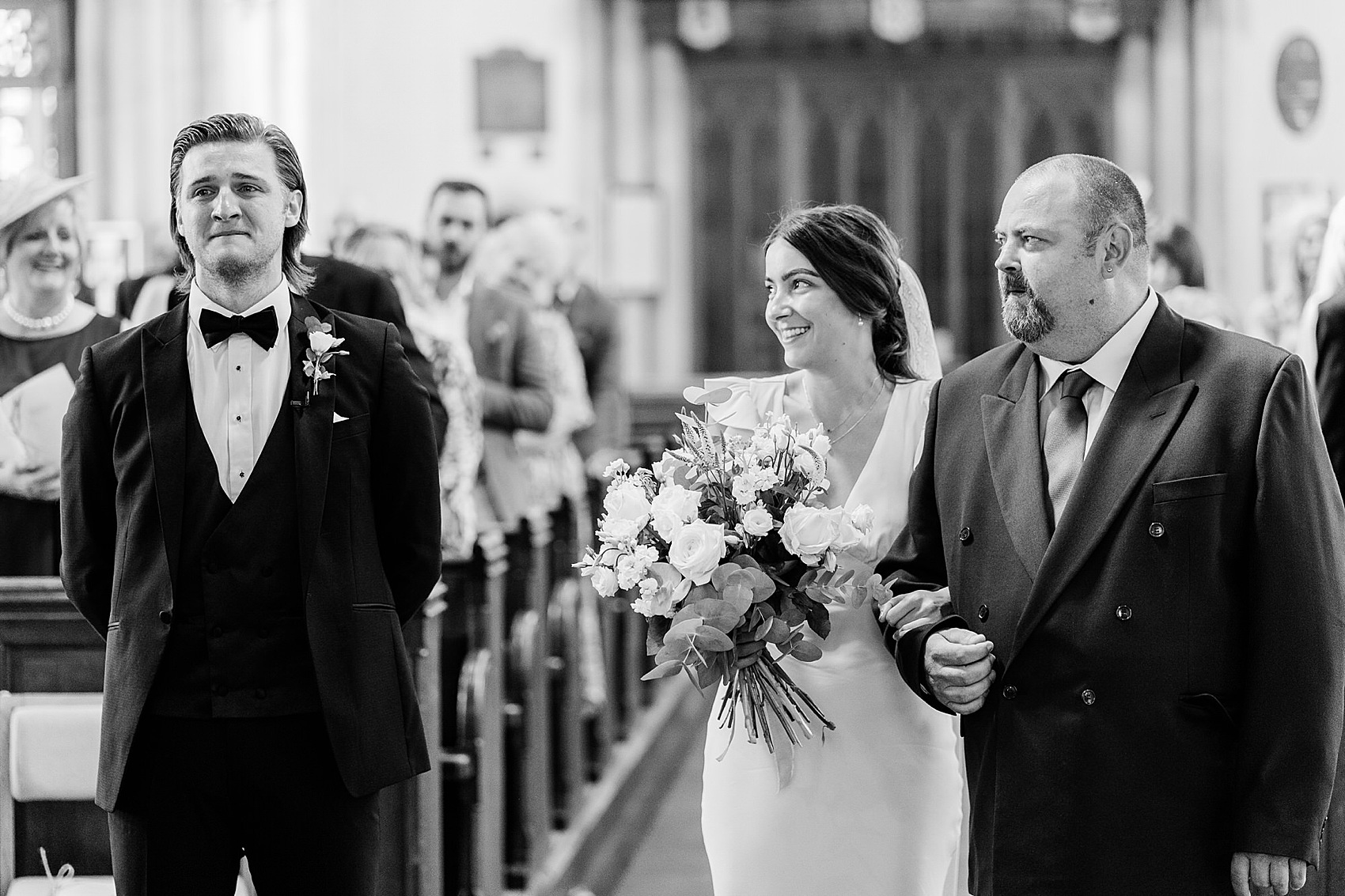 The bride entered the church with her father to Pachelbel's 'Canon in D' before wedding Ben in front of their guests.
"One of my favourite parts was being able to see Ben as I was walking down the aisle. I was extremely nervous so being able to see his face helped calm me. And, the point when I realised it was finally official and that we were now husband and wife, after what felt like a lifetime of waiting! The sense of relief was second to none."
The readings were especially poignant given the circumstances.
"We had 'Corinthians 13' and the line 'Love is patient' really resonated with the day. We also had 'Love is a temporary madness' from 'Captain Corelli's Mandolin' by Louis de Bernieres. Both readings were planned for our original ceremony and we liked them so much that we chose to keep them."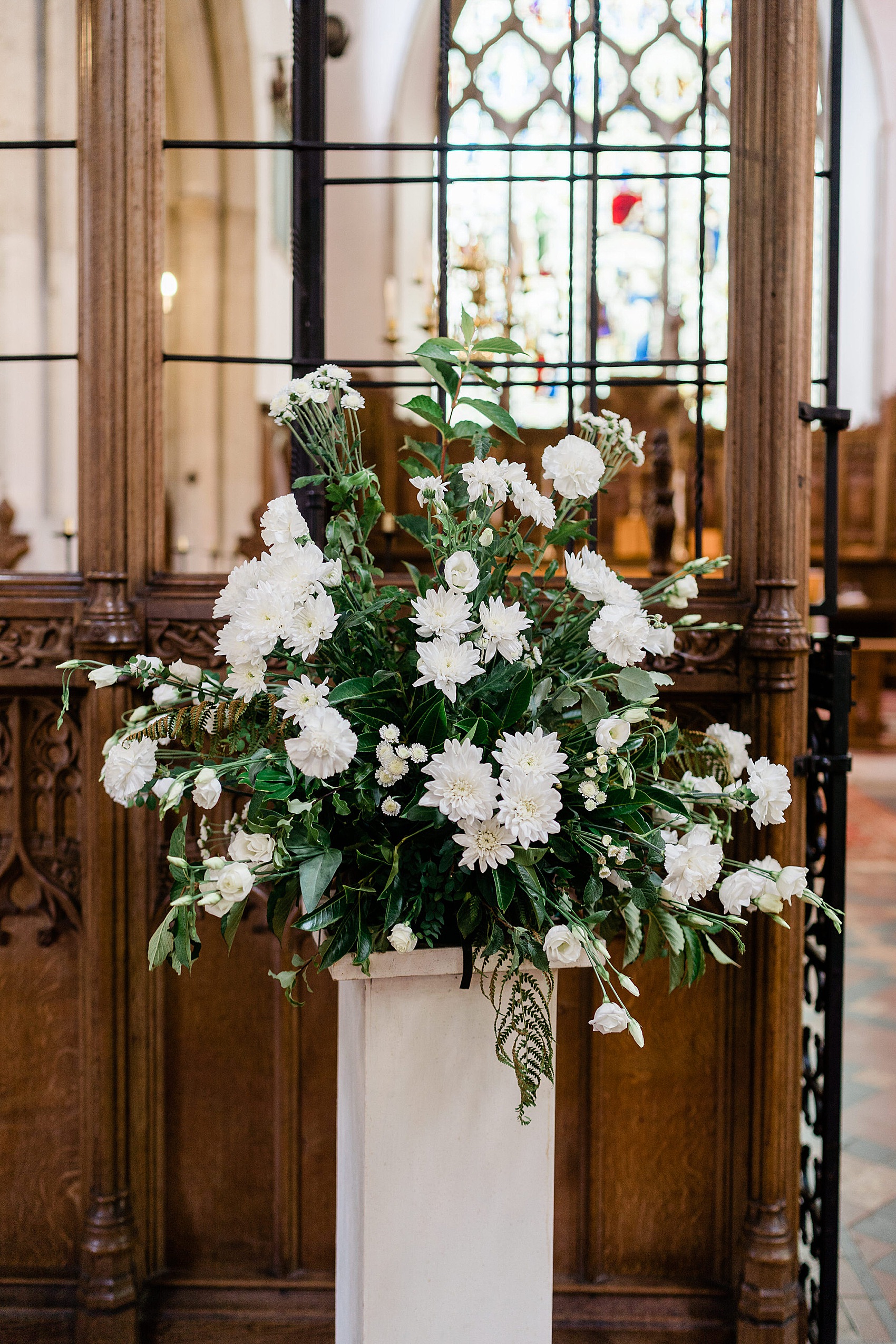 "Both talk about the importance of a deeper love that goes beyond lust and after being together eight and a half years they were a perfect fit. Ben is massively in to film so I expect that next year, outside the restrictions of a church wedding, there will be movie passages instead."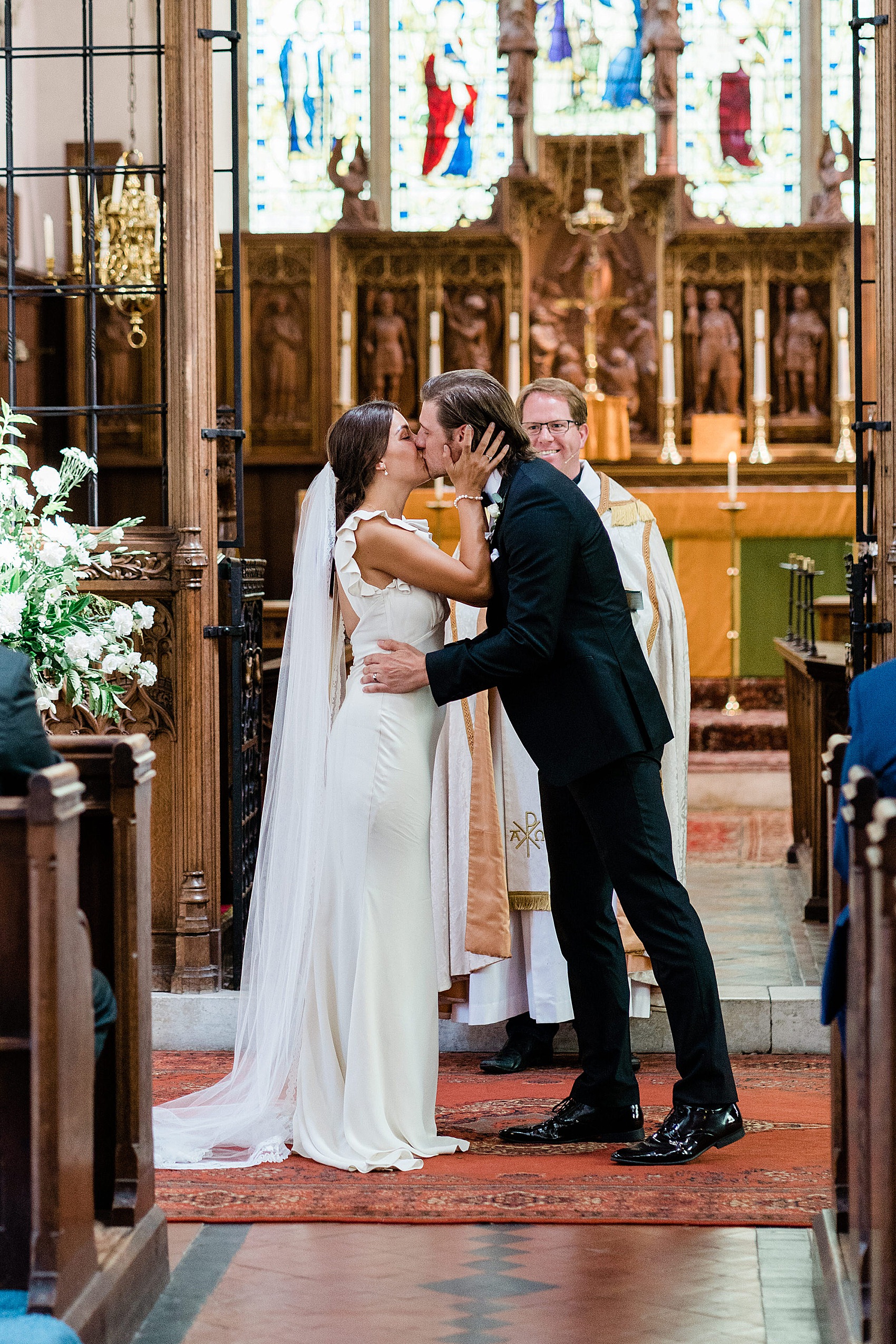 "My ring was from Beaverbrooks and Ben's was from Goldsmiths. They were both chosen due to having rings which we liked available to order – no sentimental or personal reasons I'm afraid."
Discover the best wedding suppliers an venues in our Little Book Wedding Directory
After the ceremony, the church grounds and the surrounding Essex countryside, arable crops at the height of summer ripeness before harvest, made a glorious backdrop for the couple's photographs.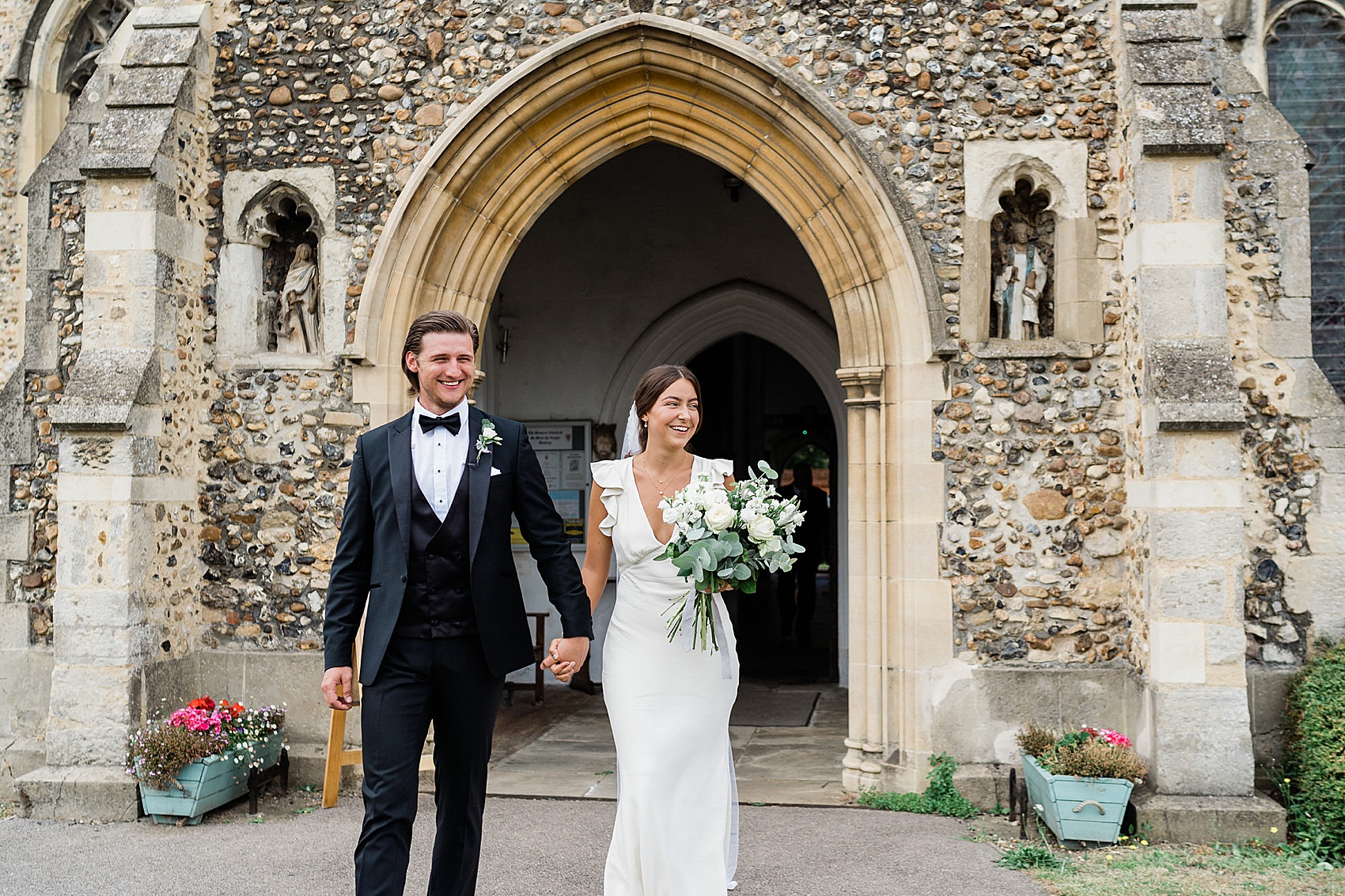 Danielle called upon school friend and talented photographer Gemma Giorgio Photography to capture the ceremony in her signature romantic, timeless style, perfectly complementing the romantic and elegant vibe of the couple's day. With such light-filled photo, I can't wait to see her take on the bride and groom's 2021 celebrations.
"I know Gemma as we went to Sixth Form together and were in the same art class (and we also went to the same primary school). I had been following her page since she started up her business and just knew that when it was my time to get married there was nobody else for the job."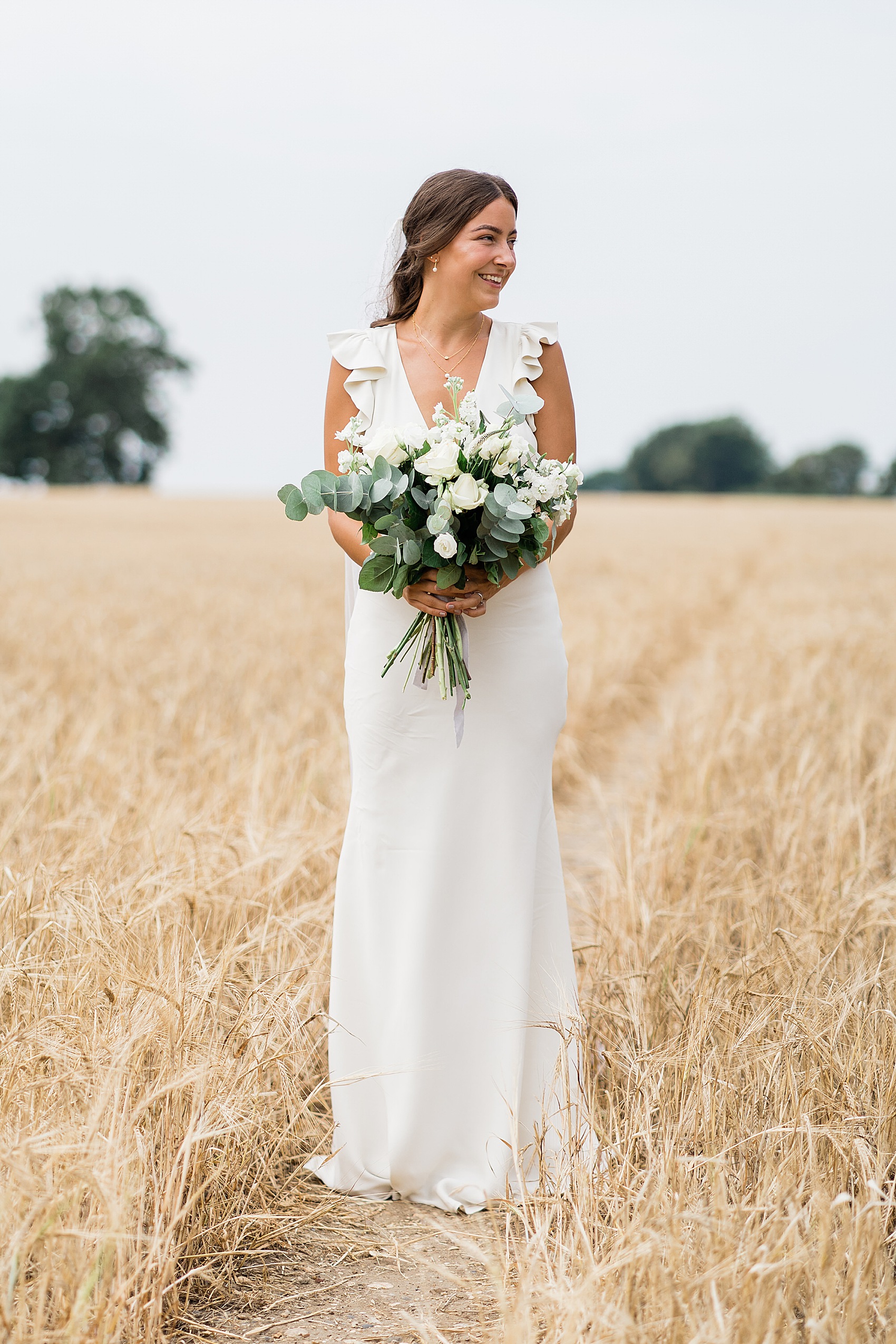 "The beautiful airy and bright style of her work is what drew me in, alongside her ability to take the most amazing candid photos – great for an extremely camera-shy pair like Ben and I. Gemma also includes an engagement shoot in her package which is invaluable as it helps shift any nerves ahead of the day and helps you to relax in front of the camera. I couldn't recommend her any more highly and can't wait for her to capture next year."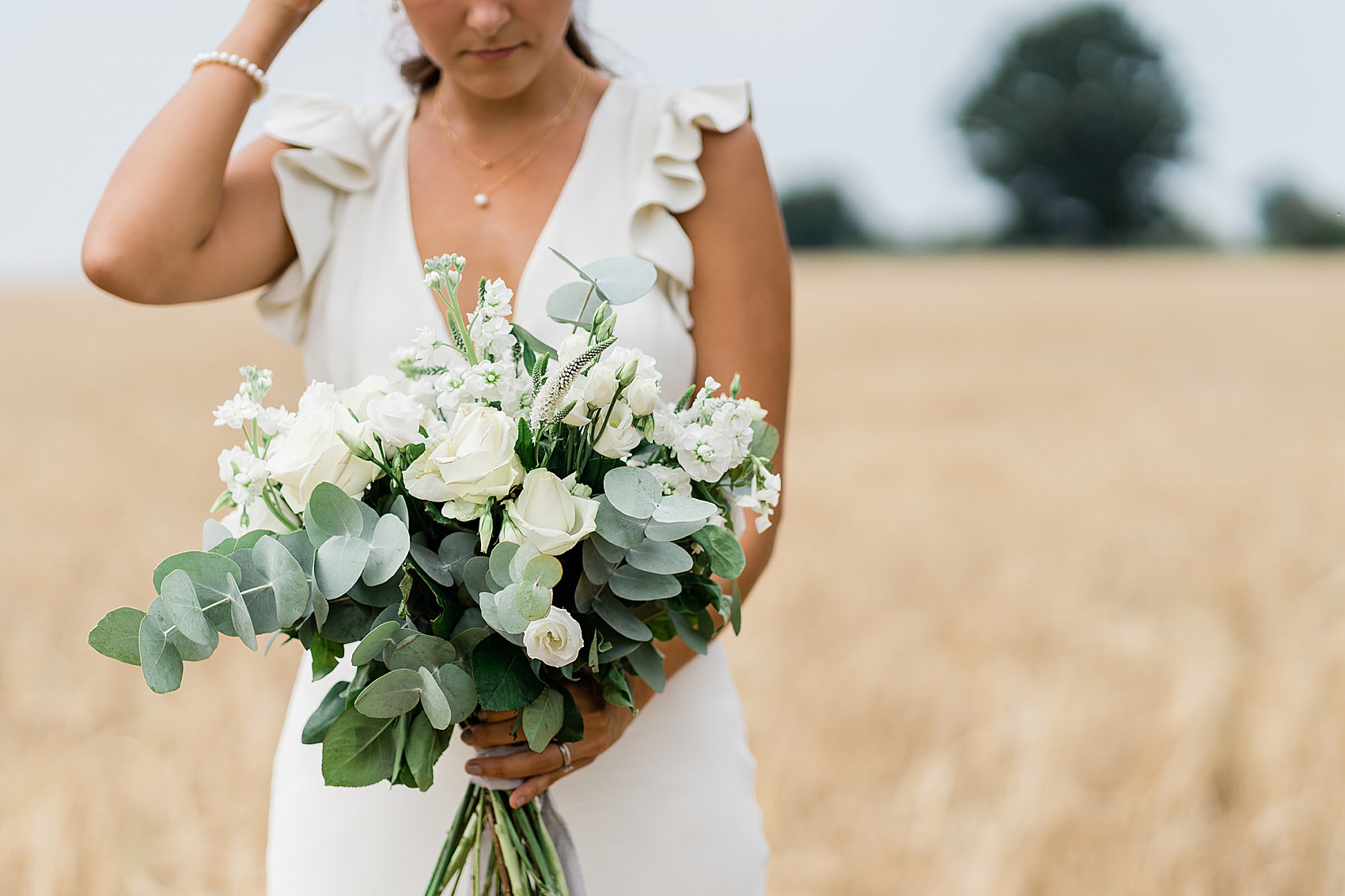 Ben and Danielle also used a videographer, Inline Film, who live-streamed the wedding; what a great way to make sure everyone could be involved.
"His work is amazing, I had to pull out my best powers of persuasion to convince Ben we needed a video and now it's his favourite thing to watch. We had James live-stream the wedding, which meant that my family in America were able to watch alongside family and friends who we were unable to invite due to the restrictions in place and not wanting people to have to travel far."
"Everyone was so thankful for this opportunity and it meant they felt like they were there and a part of it. I definitely recommend anybody planning this type of wedding to look in to this."
Matching the bride's classic, elegant look, Ben looks wonderful inn his black tuxedo from Anthony Formal Wear.
"We cannot thank the guys there enough. All of the original suits for Ben and his groomsmen were from them too, and they were super helpful, going above and beyond to sort a suit in the midst of all going on, ensuring that Ben felt safe throughout the process."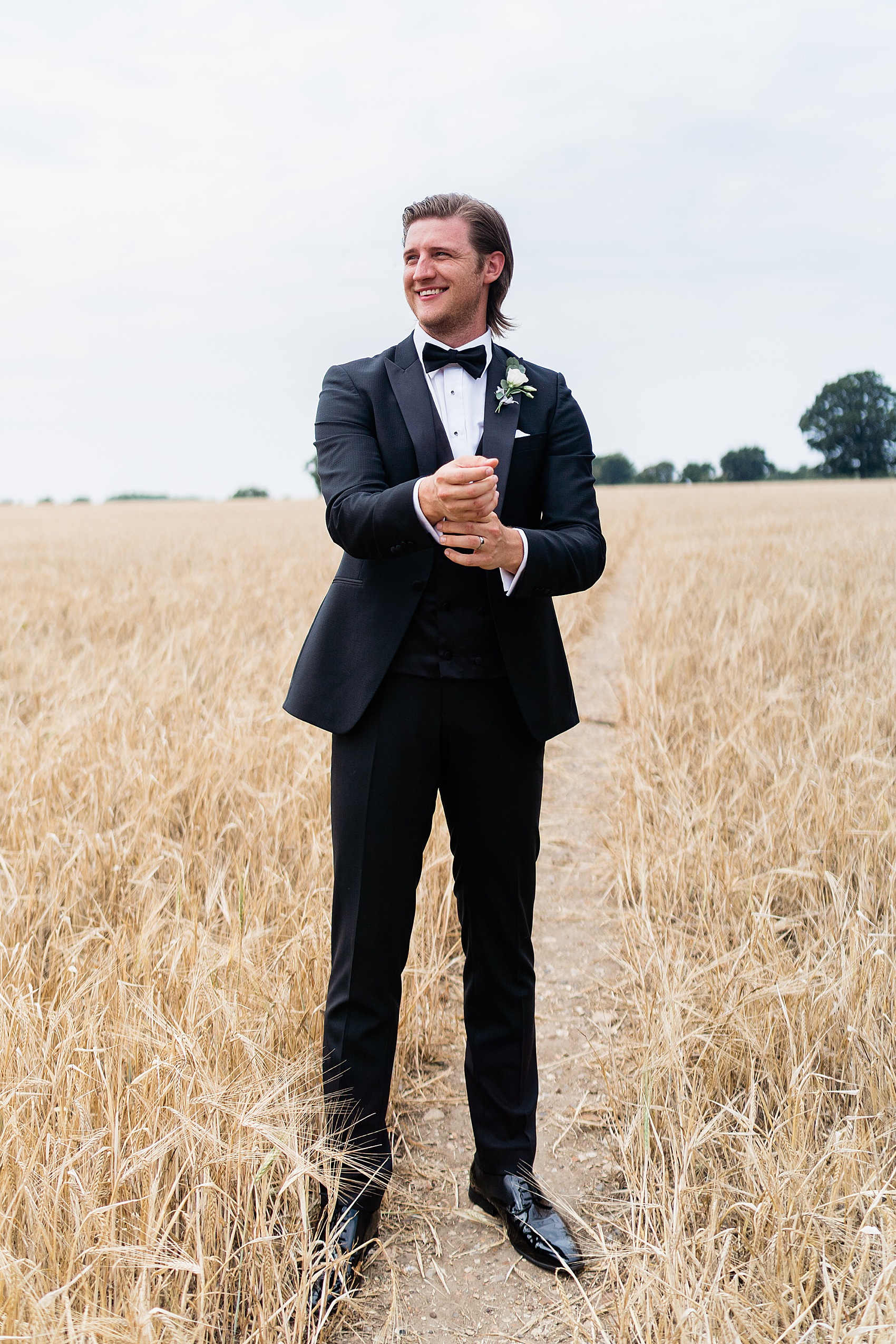 Danielle also wore gold and pearl jewellery from Orelia, Topshop shoes and classic scent from Jo Malone; Honeysuckle and Davana.
"This wasn't the wedding perfume I had in mind but it is my signature scent so felt obligatory to wear for the big day."
She nailed her wedding look, pulling her hair back into a chic ponytail and perfecting her dewy make-up. The final touch was her big, blowsy bouquet of seasonal white blooms and lush foliage.
"The flowers I used for my bouquet were actually flowers Ben had sent me as a wedding gift. The flowers I had planned to use wilted in the 32-degree heat so, a last-minute decision on leaving for the church, I switched bouquets and I'm so glad that I did! He ordered them from a website called Floom and the florist was The Flower Folk. They are based up near Newcastle, so with us being in Essex they had quite a journey!"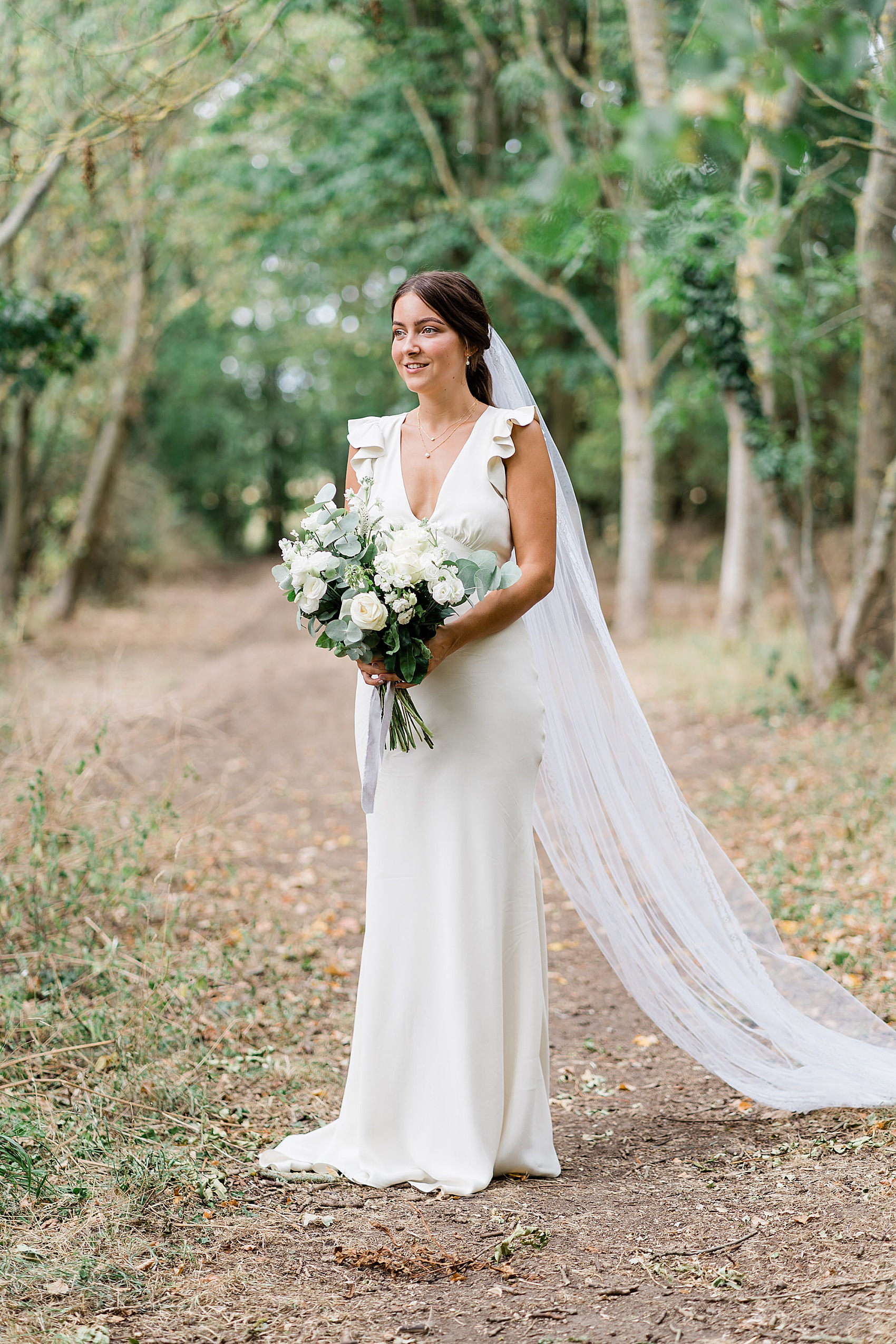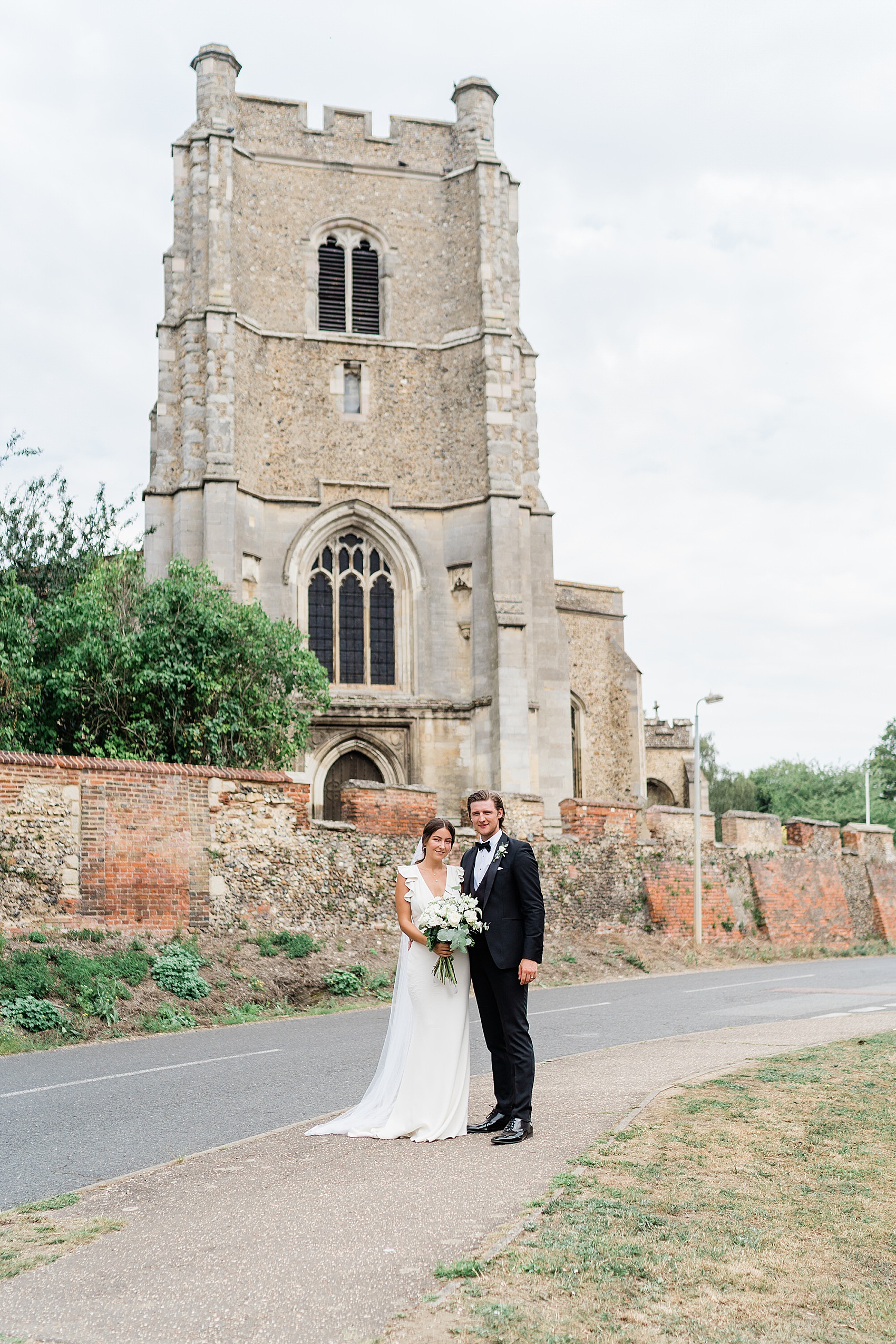 "With Covid restrictions and short notice to hire, a family friend very kindly offered to take us in his pride and joy – his Ford Cortina Mark 1 – which turned out to be perfect."
Words of Wedded Wisdom
"With all the options that are open to us today, it is important to not lose sight of what the day is truly about – you declaring your love for one another to your loved ones."
"If you can, try and find room in your budget for a videographer. It is by far one of the best decisions we made and everyone loves watching it."
Join our mailing list for occasional but vital updates + exclusive offers from our Little Book members
"And, enjoy and take in every moment as it really is true what everybody tells you – the day flies by so quickly."
"There is nothing that I would have changed about the day, except maybe the weather being a few degrees cooler but you cannot win them all. It was just the positive day which we needed this year and I am so glad that we did it. There was never any set budget as it wasn't the main wedding. I reckon all in all it cost around the £1500 mark, with the bulk of that being assigned to the cost of getting married in a church."
Danielle and Ben, I'm so glad that you were able to marry this summer, and have such a great celebration to look forward to next year. I thank you so much for giving our readers hope and inspiration that, even when plans don't turn out as you expected, what really matters – love – can still be honoured in such an intimate and romantic way. It's been a real delight to share your work again too, Gemma Giorgio, and see your romantic images on Love My Dress once again. To you both, I hope you have a fabulous vow renewal and celebration in 2021.
With love
Ele xx