Well my lovelies, what a truly grey and miserable day it is here today. If, like me, you'd like a welcome fix of summer joy then you are most definitely in the right place.
Today's wedding combines some of the things I love most about late summertime; time in the great outdoors with friends, the sun setting over open fields and fun and frolics along the riverside.
Through The Woods We Ran

+ Follow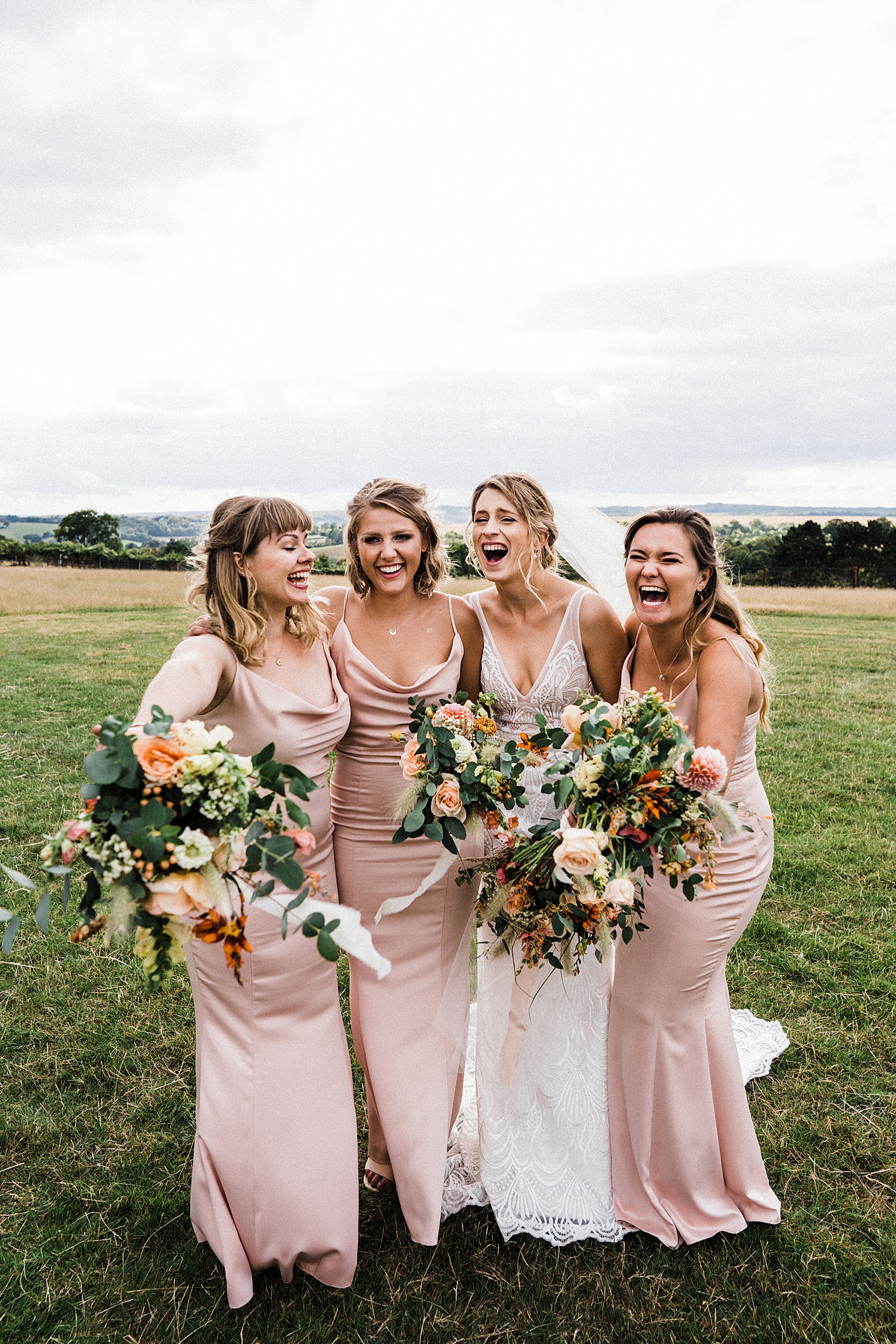 This is the wedding of interior architect Katie and commercial property developer James, who wed on 28 August 2019 at Henley on Thames Town Hall with an elegant DIY sailcloth tent reception afterwards at Fawley Fields, near Henley, Buckinghamshire. Katie grew up near locally and James was living in Henley when they first started to date, back in 2010, so they were keen to return there for their relaxed and summery day with their nearest and dearest.
I'm so delighted to hear that Katie found her totally divine, modern gown at Heart Aflutter Bridal, who aim to provide all brides with fuss-free glamour for all shapes and sizes. This incredible backless, plunge-neck gown with its appliqué detail the is 'Harlie' by Made With Love Bridal, an Australian designer whose designs are modern yet timeless, and fit each body to perfection.
We're so proud to say that both of these suppliers are members of our Love My Dress Little Book, and you can see more of Made with Love Bridal's pieces here and get details of Heart Aflutter Bridal Boutique here.
Made With Love Bridal

+ Follow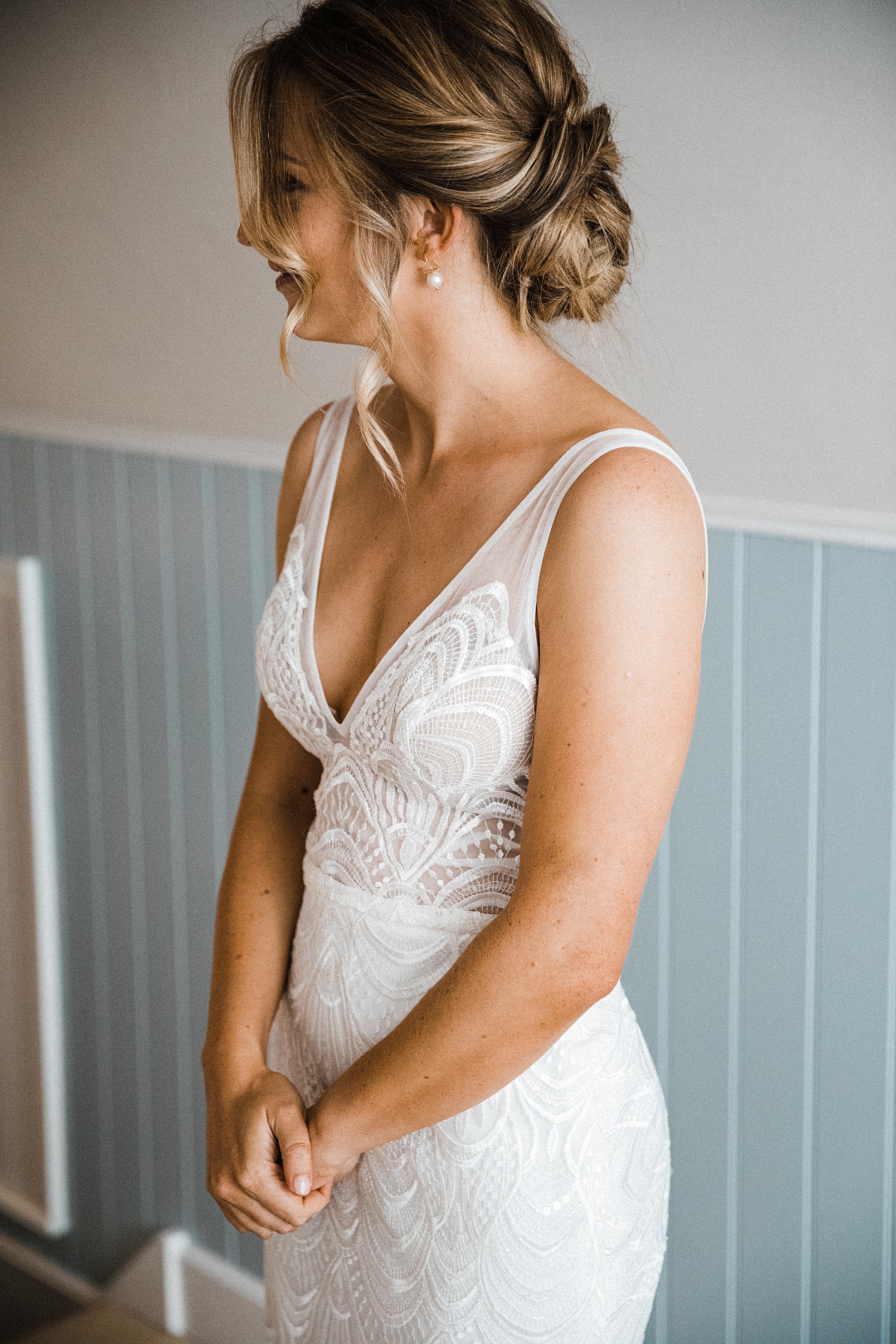 "I already knew I wanted the Harlie dress by Made With Love and there just happened to be a stockist three minutes from my office. They were so helpful and made the experience so fun. I knew I didn't want a big dress and I wanted something I would be comfortable in all day. The Harlie was the first dress I tried on and I just knew it was the one. We went through the motions of trying on others but none of them felt like 'it'."
Katie's alterations were made by Miki Fukai at Studio 62 Workshop and she added a chapel-length veil, also from Heart Aflutter Bridal. In her hair, she had little white flowers and she wore a simple pair of pearl earrings from Oliver Bonas and ASOS shoes.
The bridesmaids wore super-elegant, fitted gowns in oyster pink from Next, with ASOS shoes and their own accessories. The bridal party was made to look polished and elegant, yet still natural, by Be You Weddings.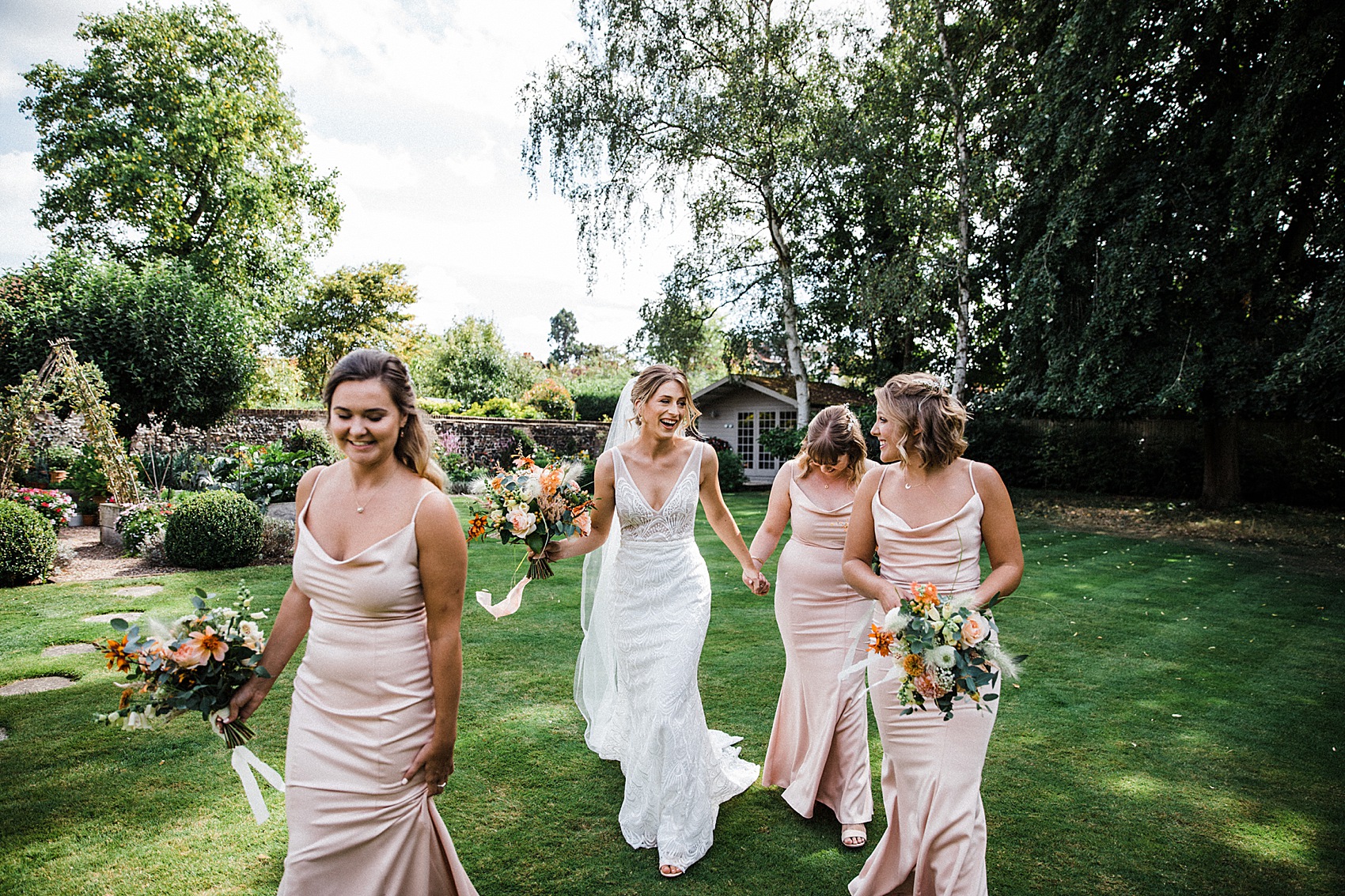 Helping them create their outdoorsy vision was Lucie Ann Weddings & Events.
"We hired an on-the-day coordinator so that we could totally relax, knowing that everything behind the scenes was taken care of. Lucie was phenomenal and to this day we still say she was the best investment we made for our entire wedding. She and her staff worked tirelessly to make sure we had our perfect day."
James chose to stand out in a sophisticated tux from Suit Supply, tailored by Escalot London, whilst his friends were in suits and apricot ties – just lovely for the late summer day.
"We met very unromantically in 2010 on a night out in Reading. James proposed in March 2019 and we decided there and then we didn't want to wait very long to get married."
Join our mailing list now to receive occasional newsletters providing vital insight, updates & offers from our Little Book Wedding Directory members.
"We also knew we'd like an outdoor summer wedding, so did a Doodle poll with our nearest and dearest and set the date for August 2019, leaving us five months to plan."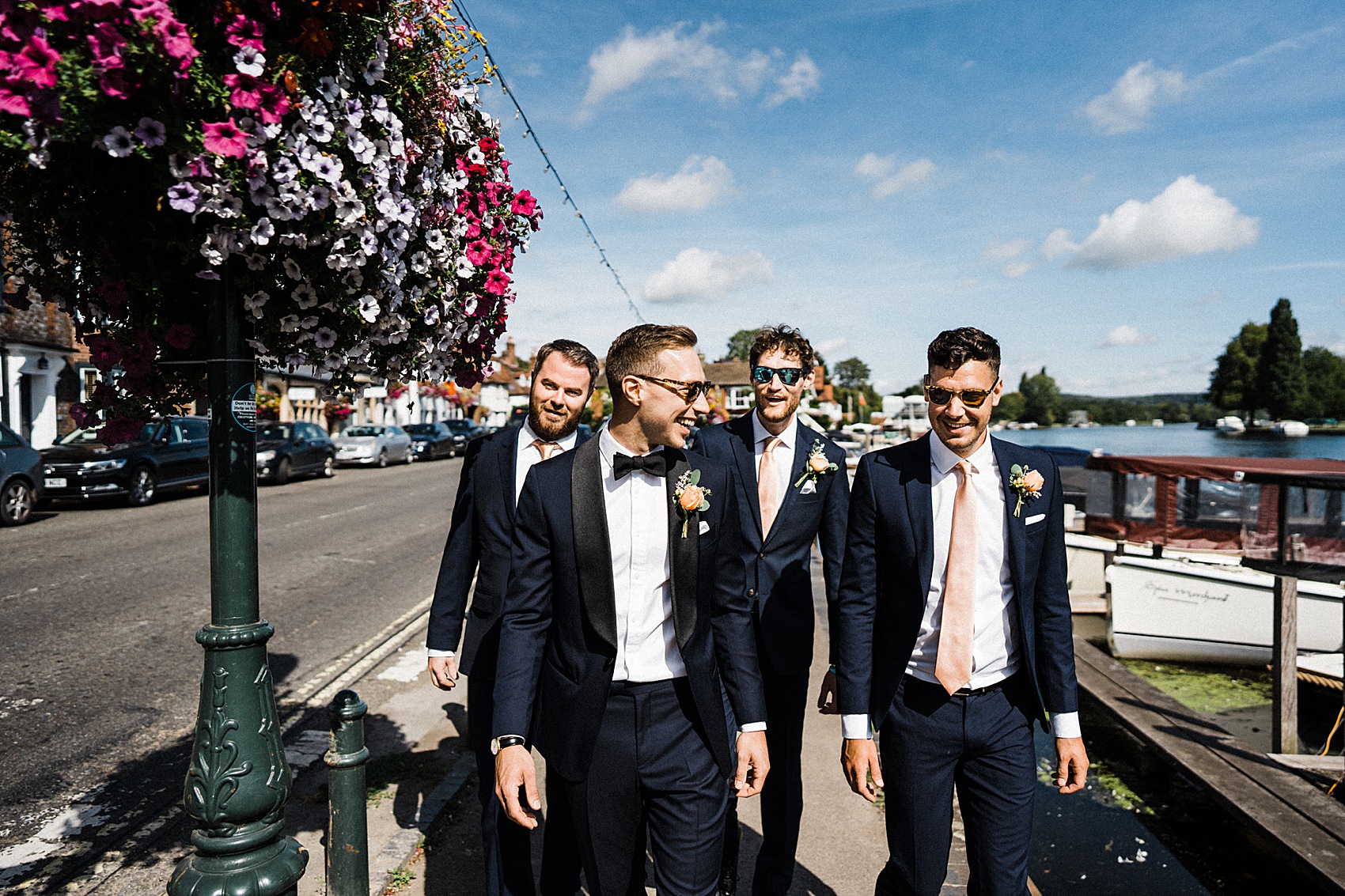 "We wanted a relaxed, summery feel. We weren't going for any style in particular, just a party in a field with all our mates. I did a mood board early on with a colour scheme, a flowy dress, outdoor rugs, flower arrangements, a Sperry tent and some countryside."
We didn't really stray from that mood board much."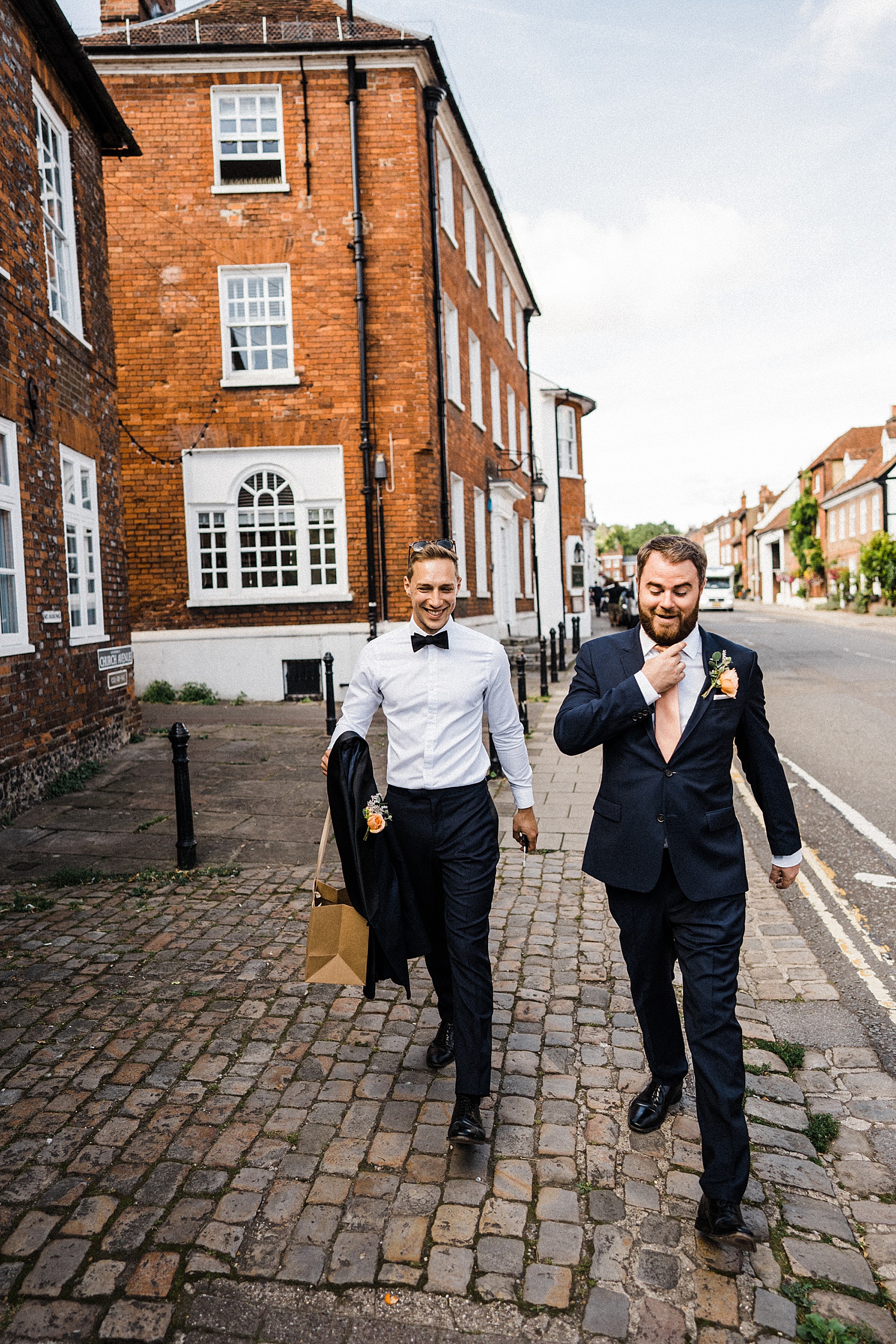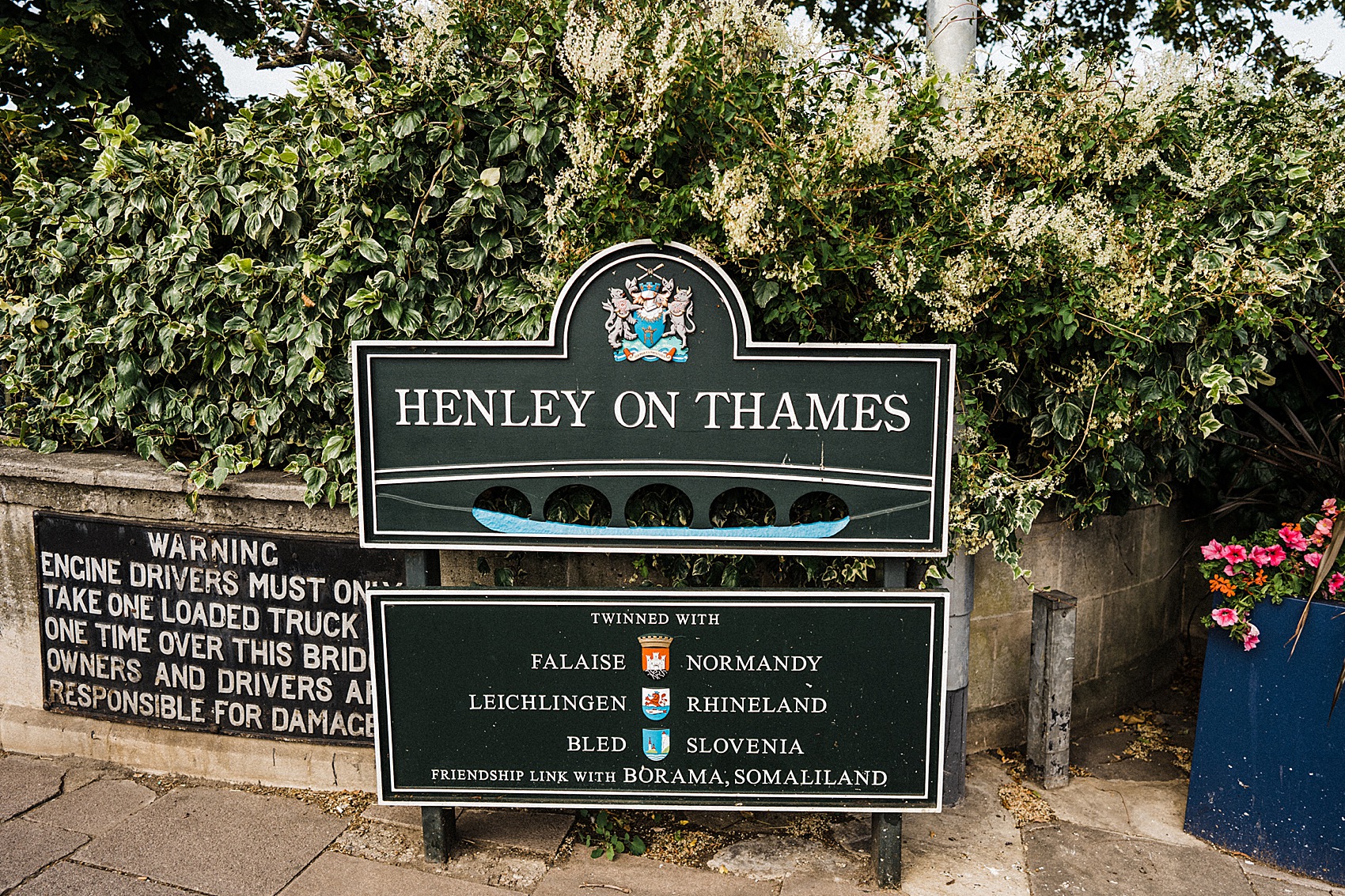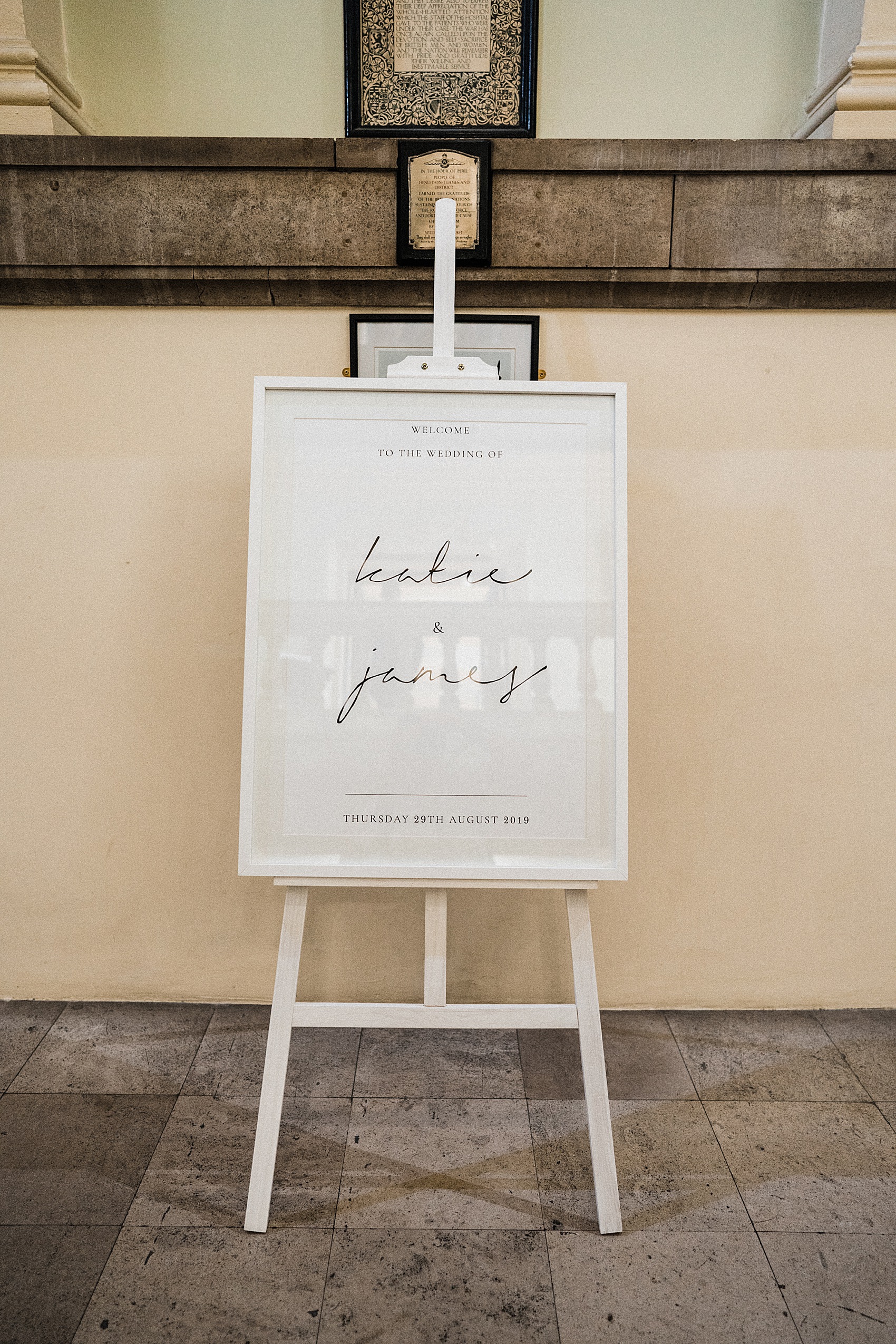 I almost forgot to mention the sublime seasonal flowers, put together by the aptly-named Green & Gorgeous Flowers.
"The flowers speak for themselves I think! Rachel grows all of her flowers herself and creates stunning loose and non-formal arrangements. I've always loved her style and she was the first person we thought of for our wedding flowers."
"We had our colour scheme of apricots, peaches and blush pink with splashes of grey and Rachel did the rest! The week before we got to go to the farm and pick the flowers we'd like to include."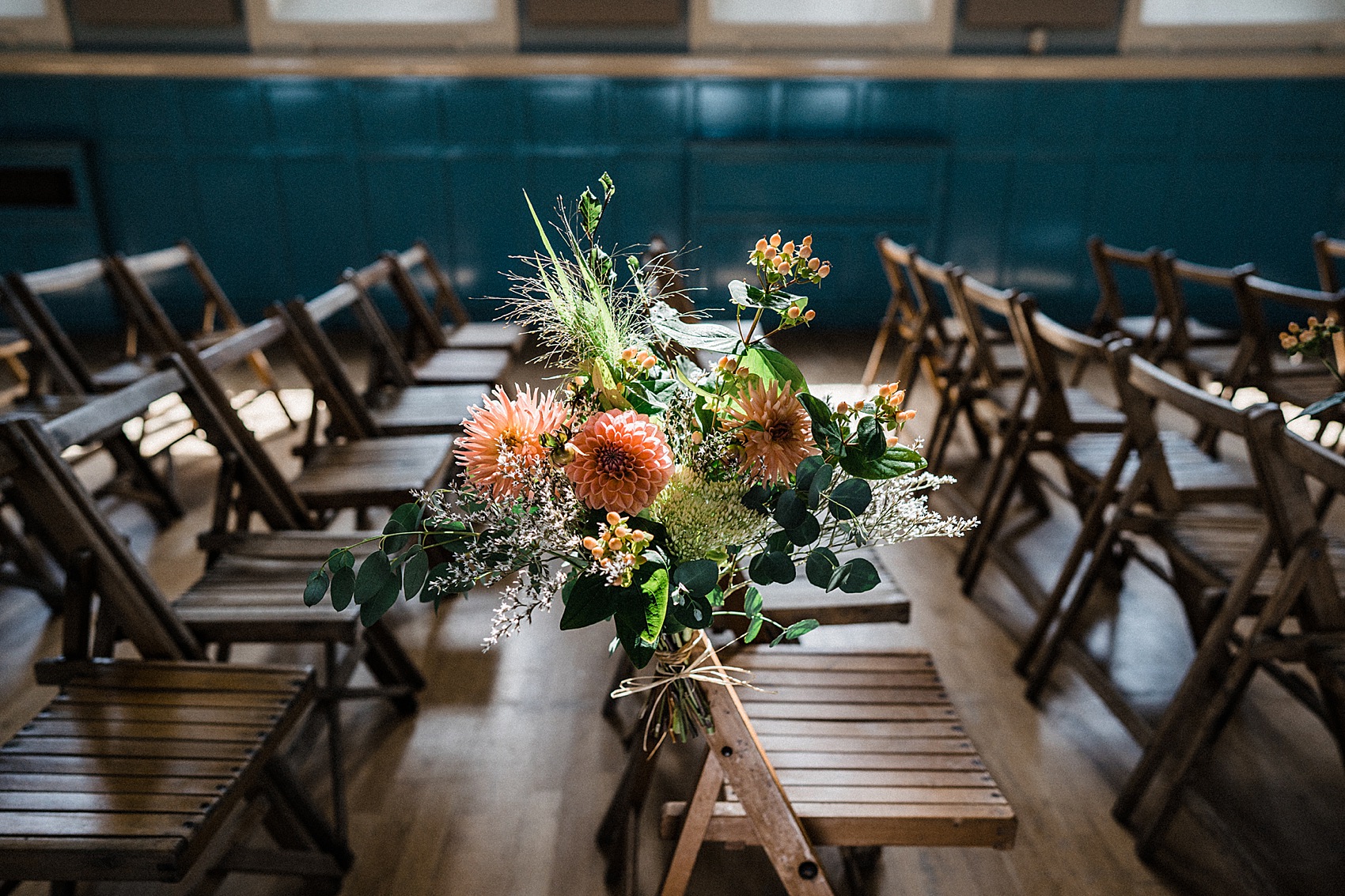 Henley Town Hall is such a beautiful venue; look at the gorgeous, gorgeous blue of the walls. The styling of the room was perfectly matched to the couple's vibe with its simple wooden chairs and floral arrangements.
The bride travelled there in her parents' vintage MG before walking down the aisle with her dad as 'To Build A Home' by Cinematic Orchestra played. By the way, just check out that beautiful train as she enters the Hall.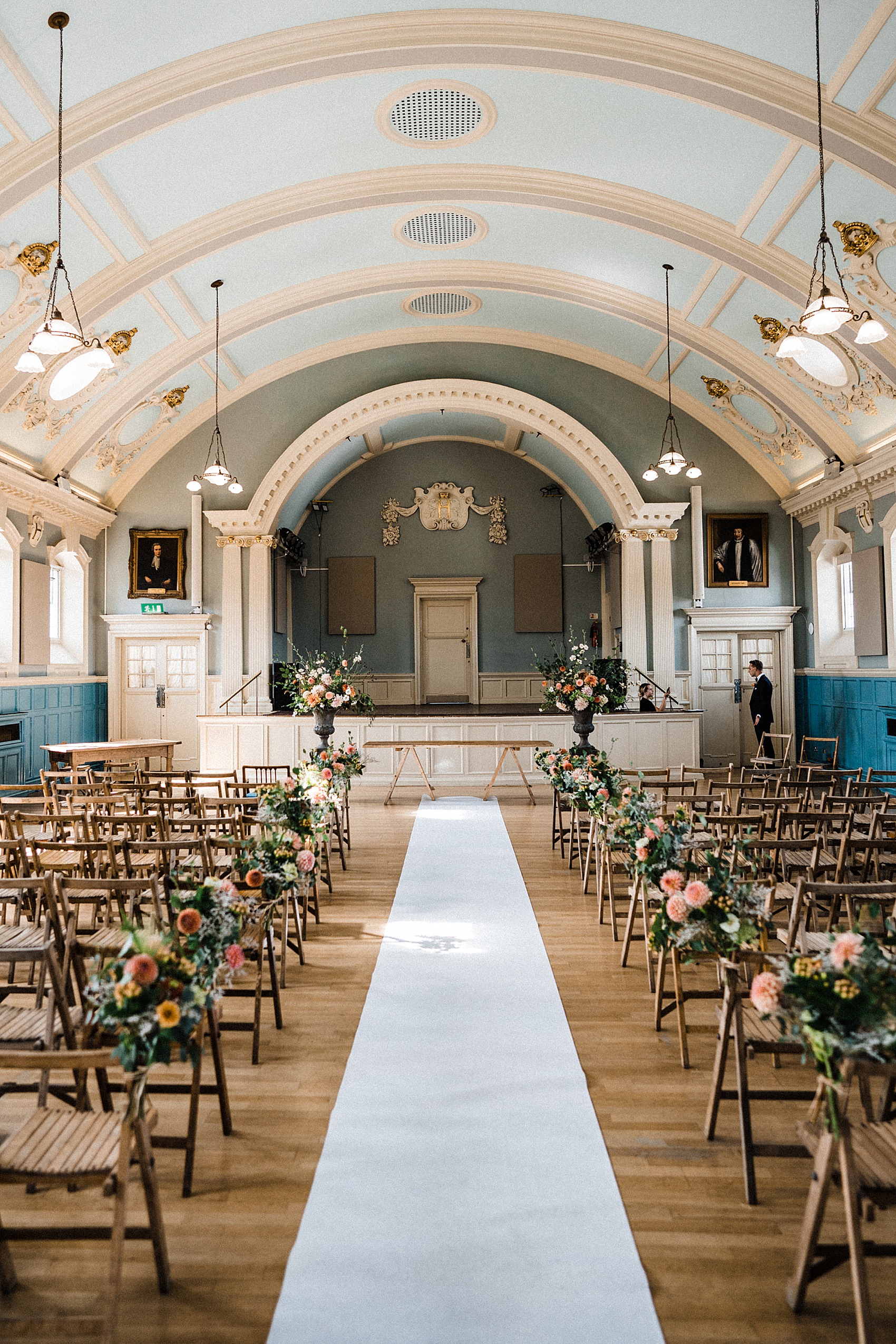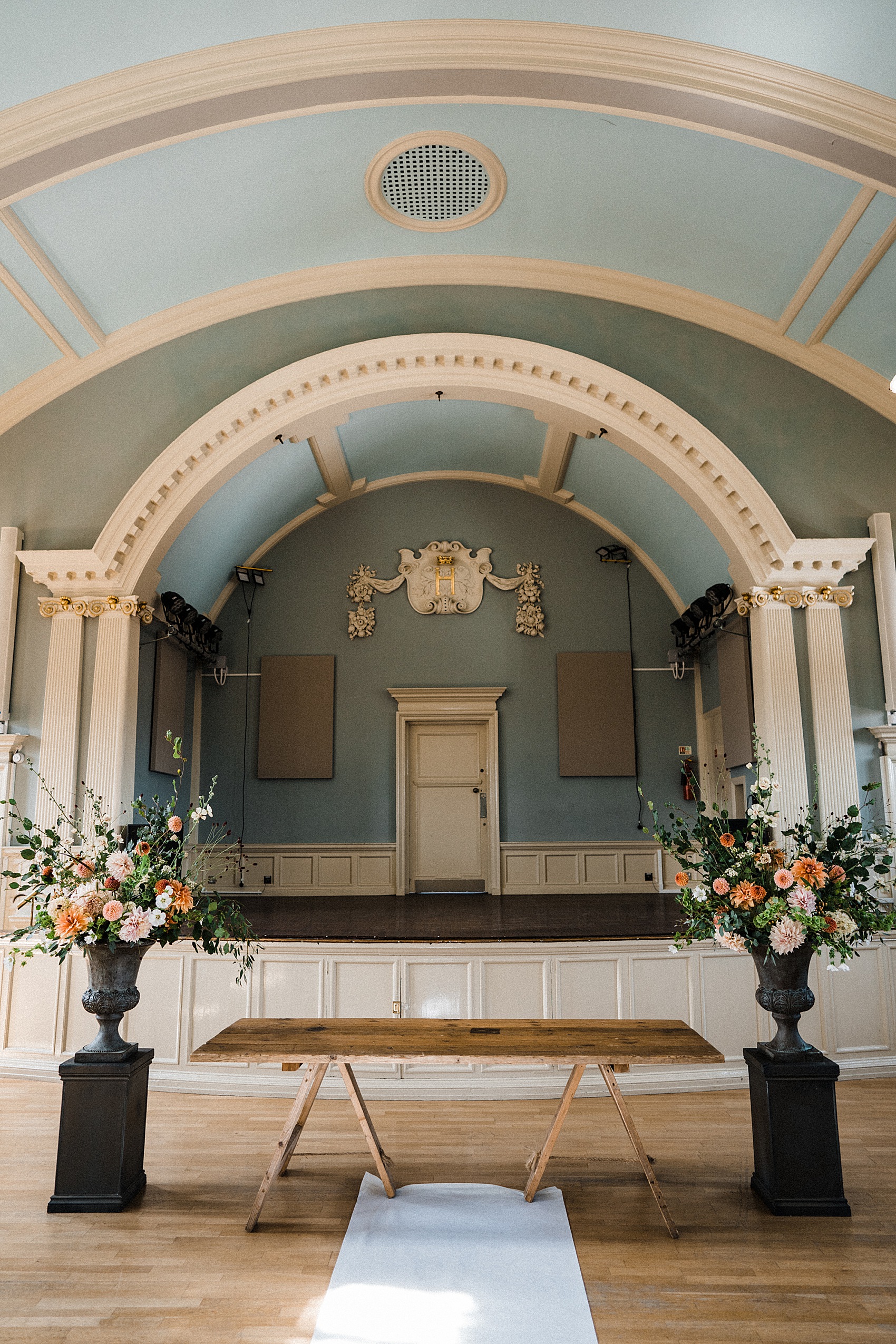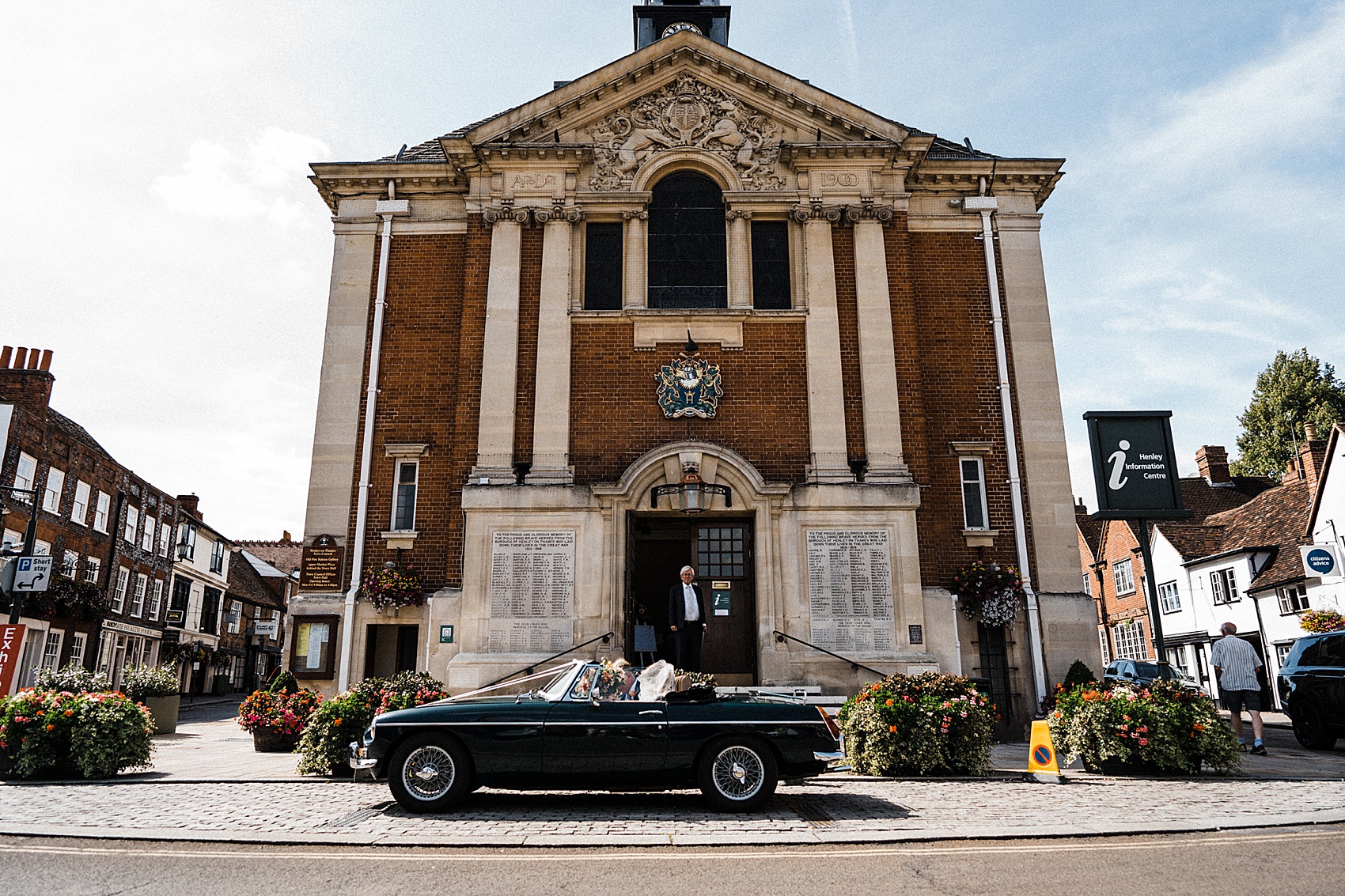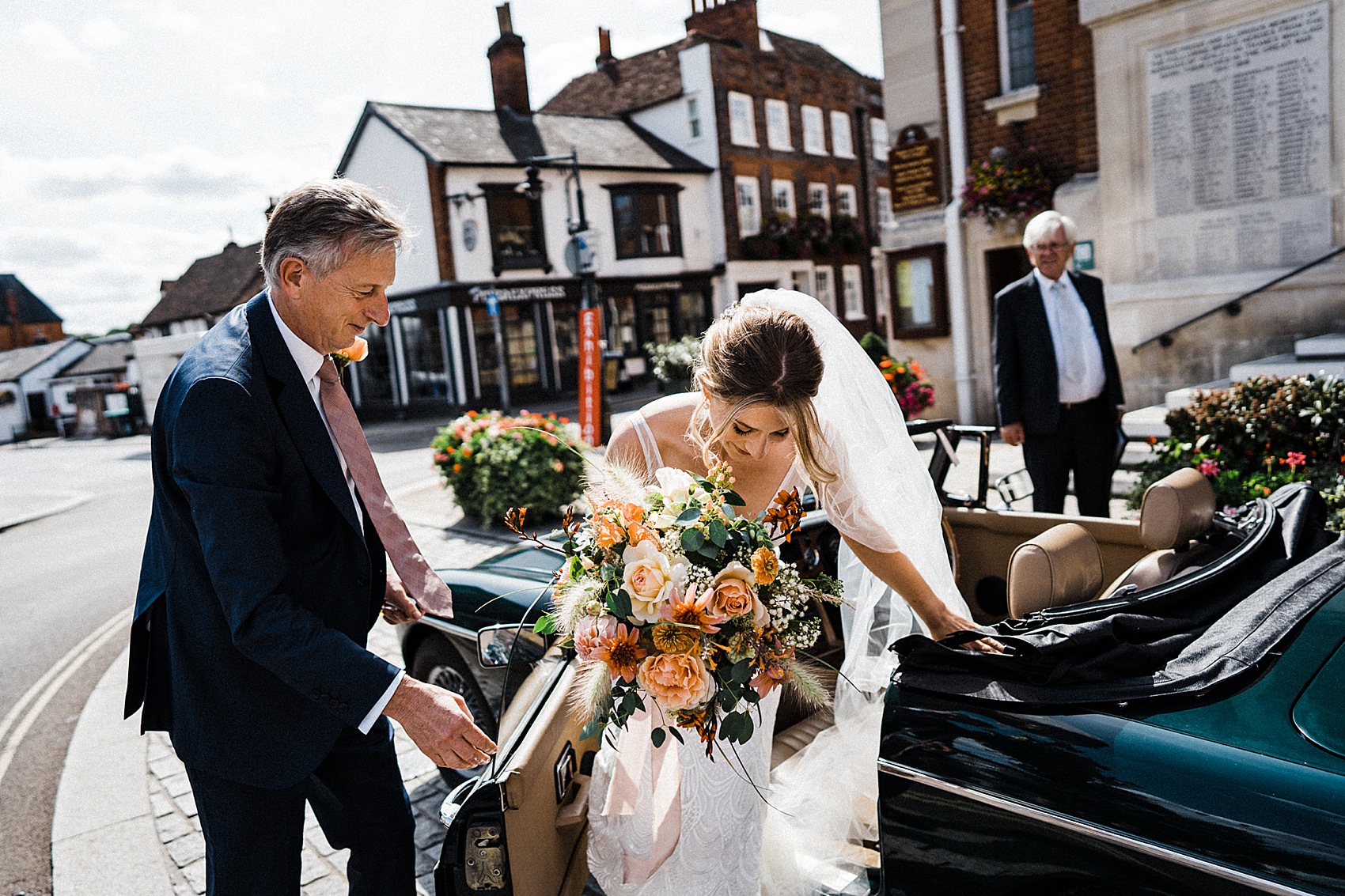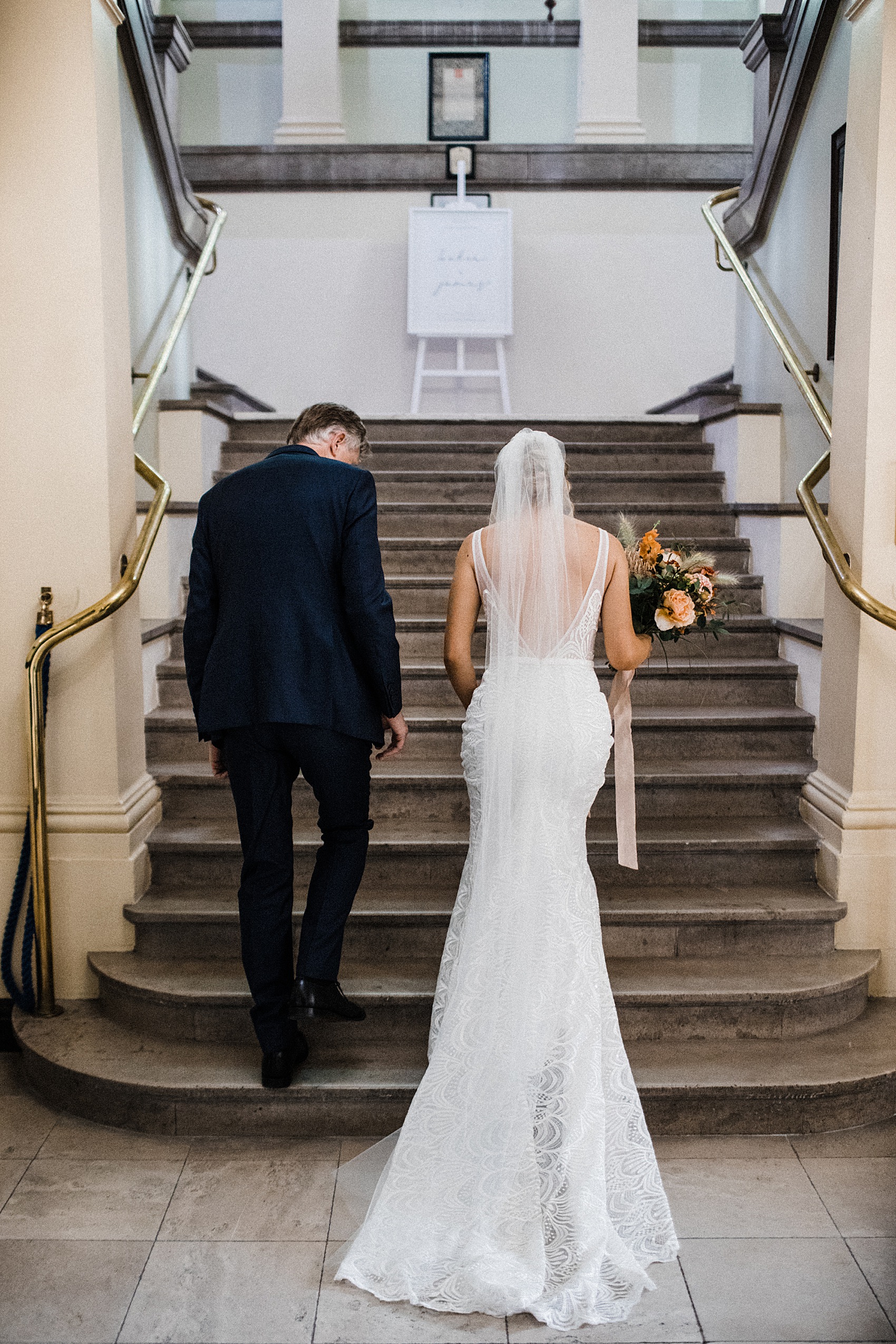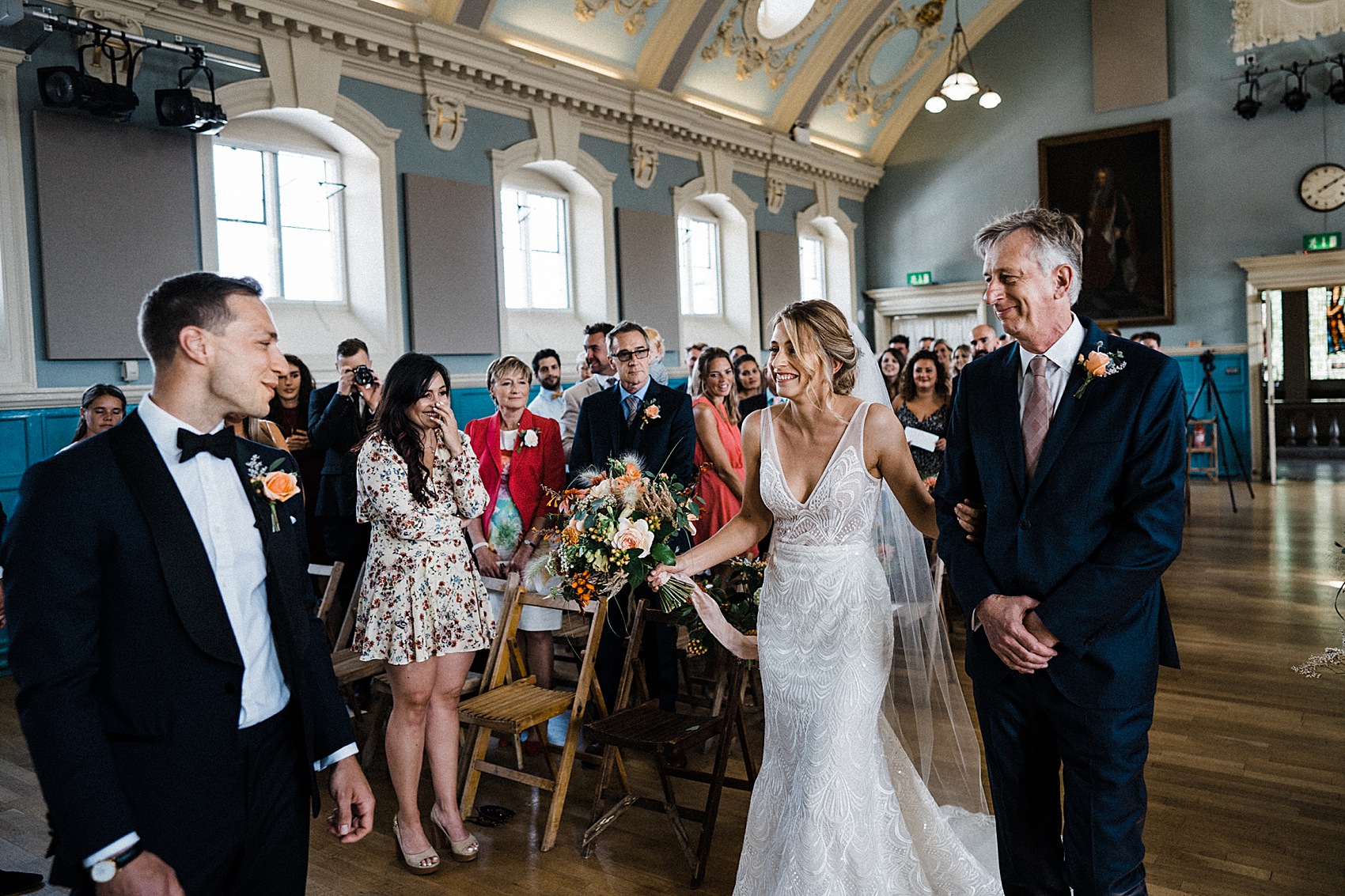 "We tailored our vows a bit, picking a choosing the words from the set list that felt most meaningful to us. We had two readings by our friends. The first was a speech by one of the best men about the two of us."
"The second was a passage from Dolly Alderton's book 'Everything I Know About Love'. We tailored it so it applied to us as a couple."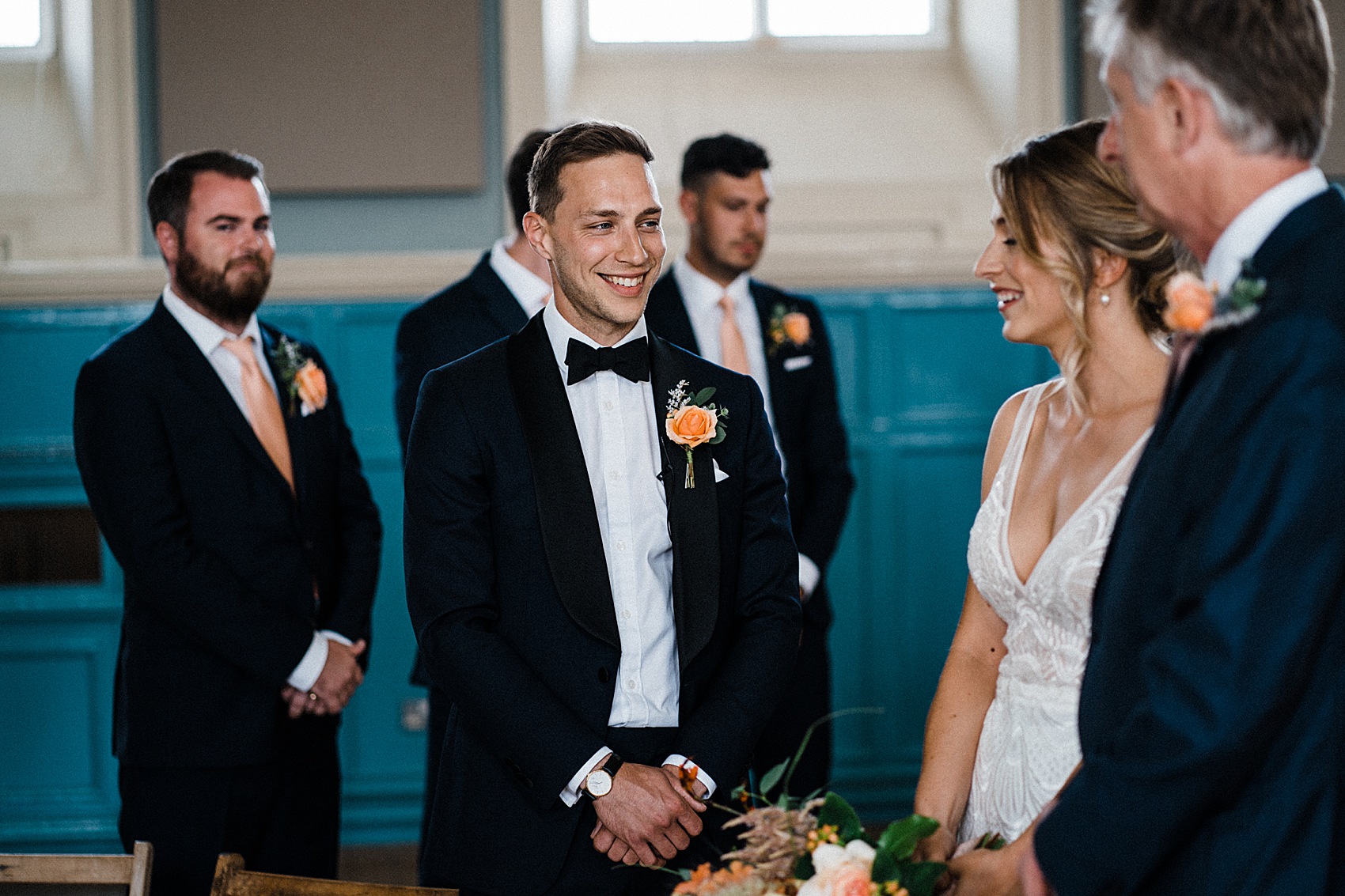 The bride chose her ring from Etsy, whilst James is already on his second ring following a honeymoon mishap.
"My engagement ring has a micro pavé diamond band and I was looking for something which matched. James wanted something simple and timeless. We actually lost his Fraser Hart ring on our fourth day of being married in the sea on our honeymoon, so not that timeless after all. We try not to think of it as an omen."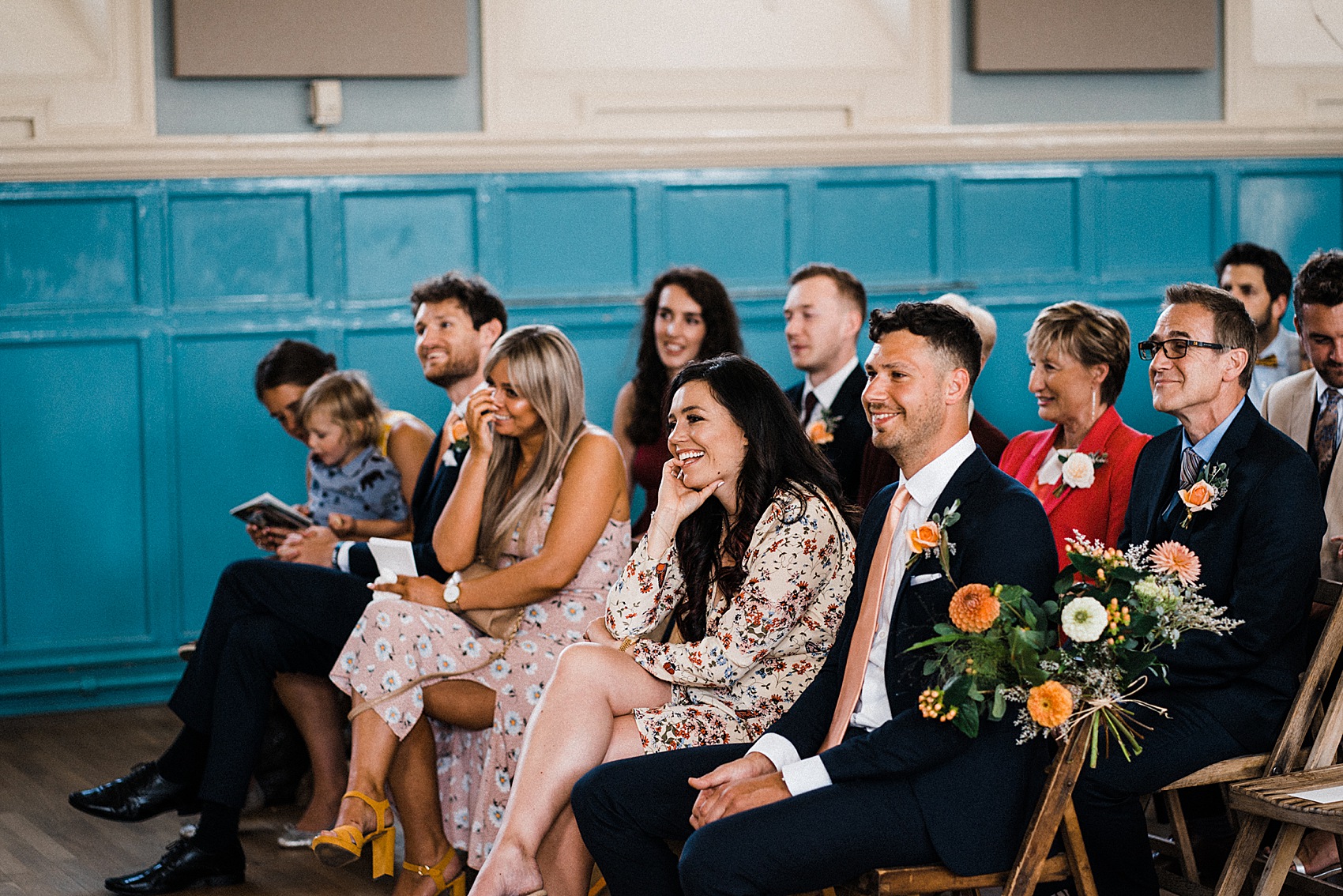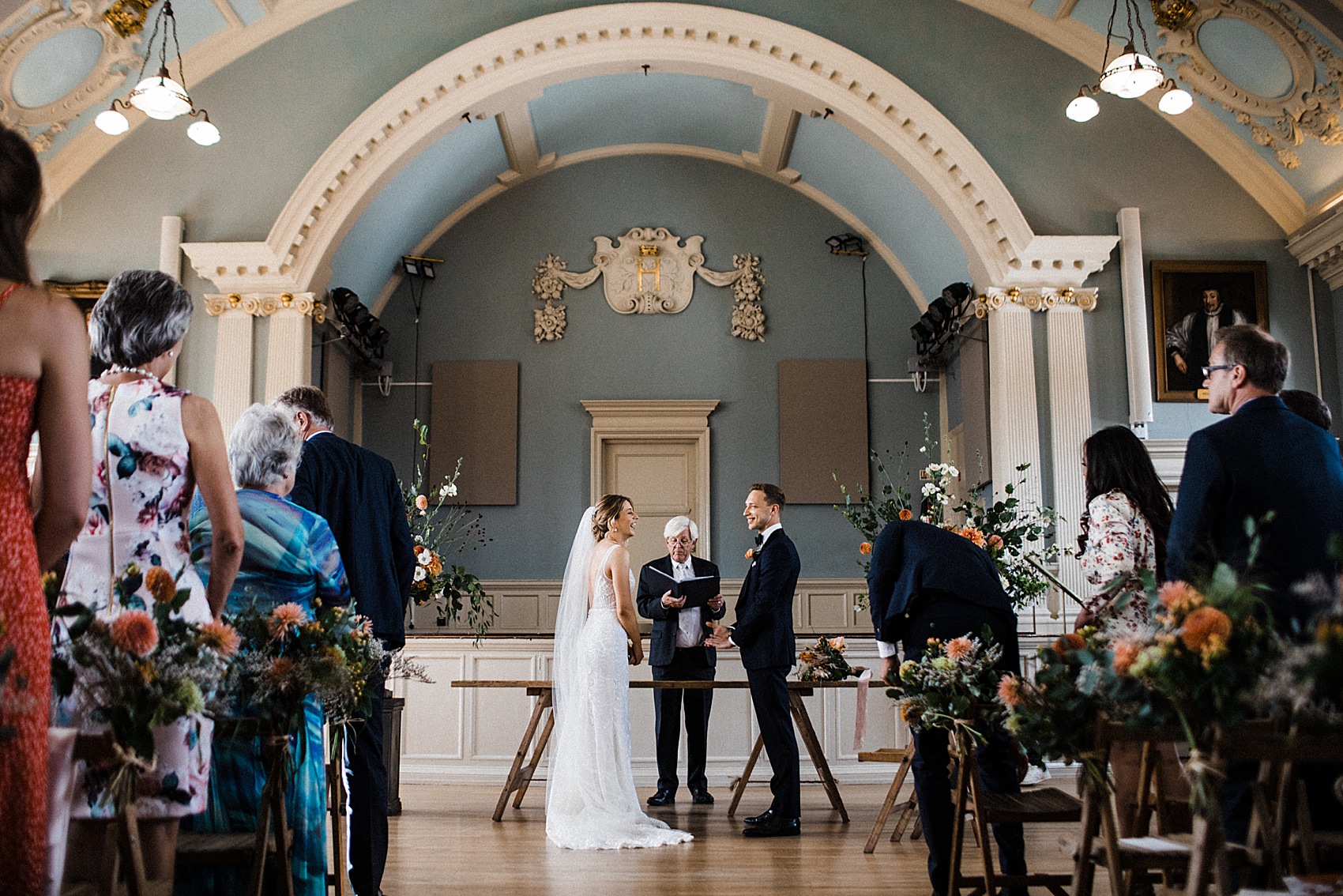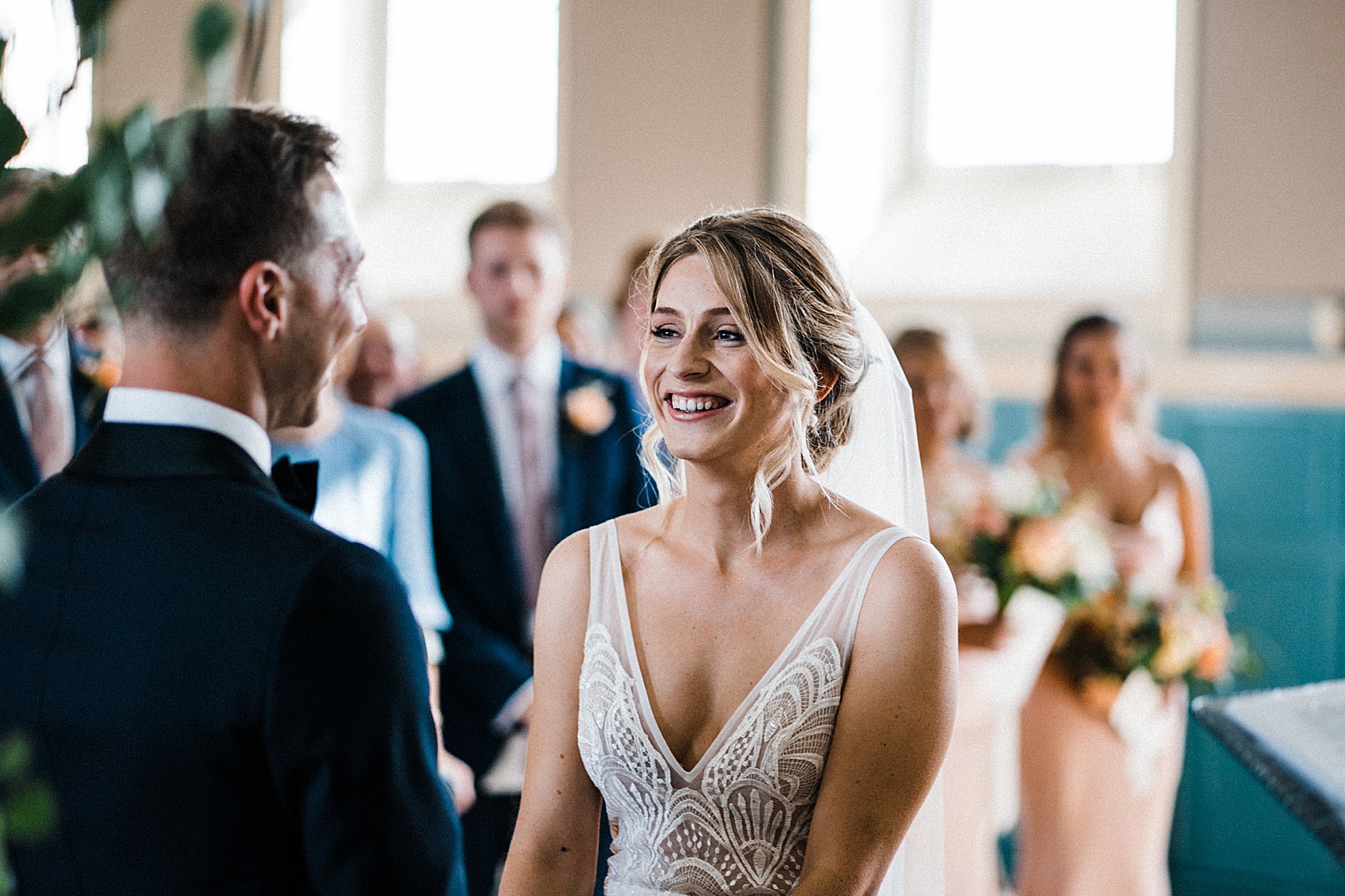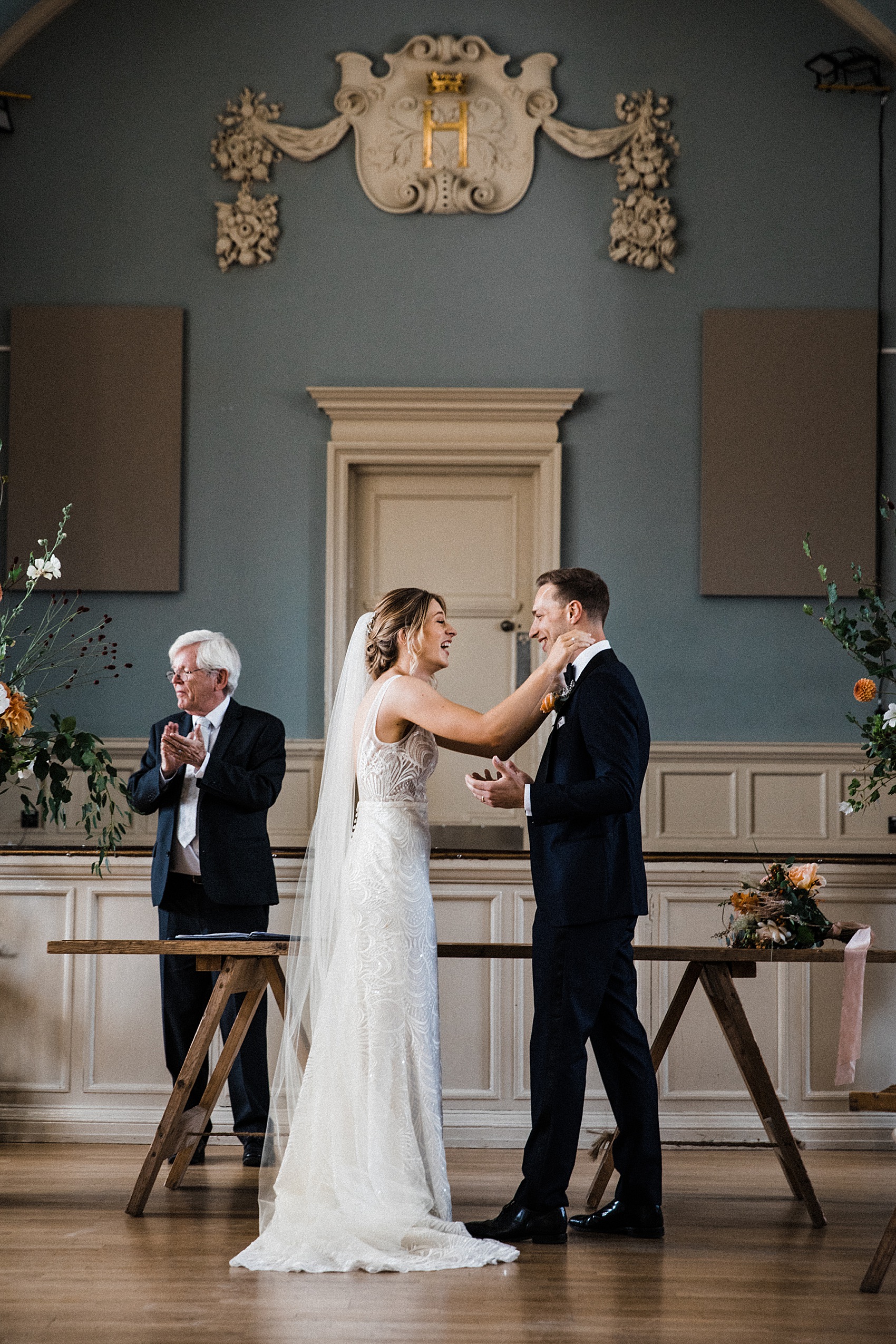 After being declared husband and wife, the newly-weds hopped into the MG, which Katie's mum had decorated with 'Just Married' décor whilst they were in the ceremony (with the help of friends).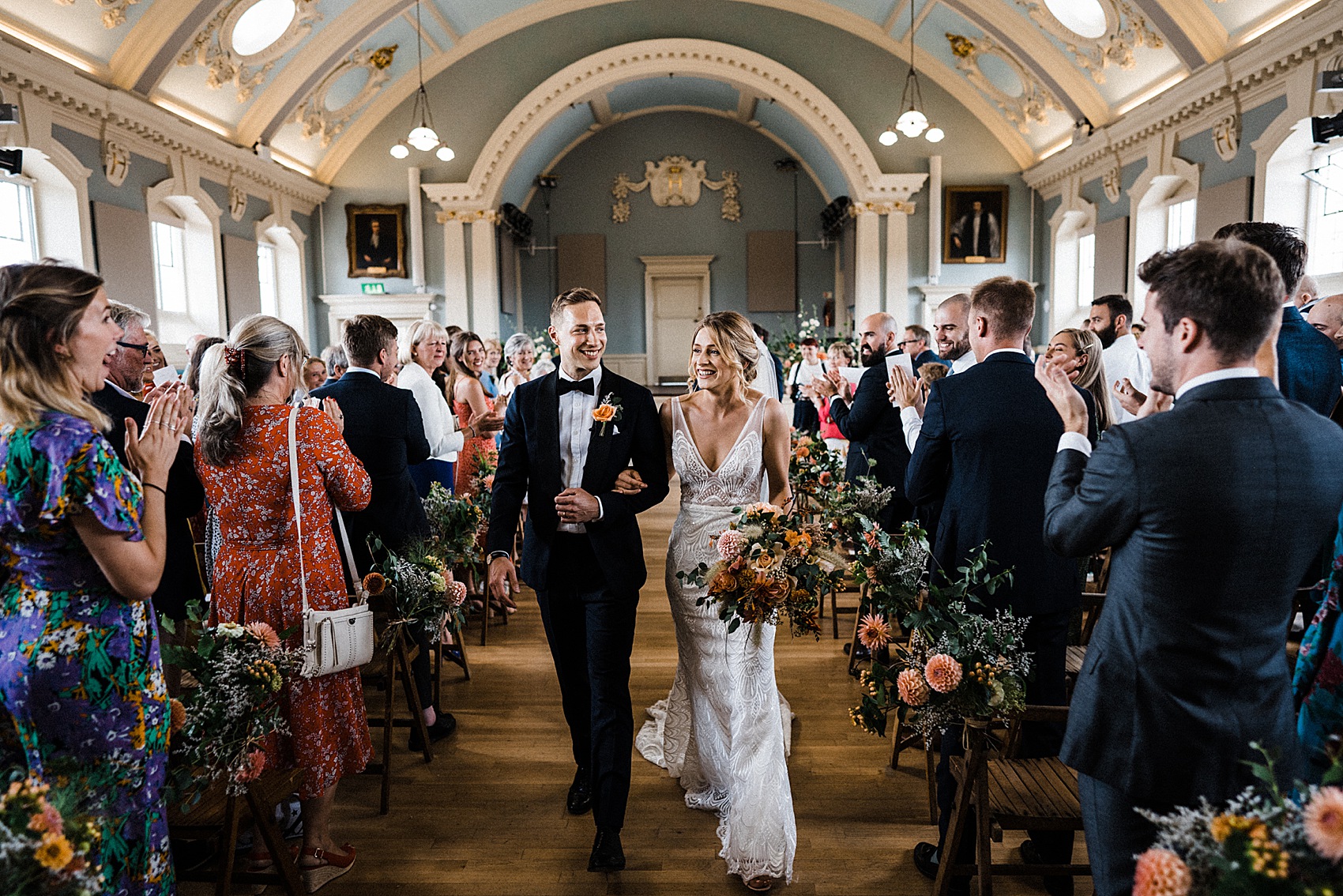 The bridesmaids took a VW camper, and the entire party travelled over to Fawley Fields for the delightfully-styled reception held in these wonderfully breezy sailcloth tents.
I've had the absolute pleasure of sharing work by Through The Woods We Ran before and I remember their fantastic eye for detail and all those natural and unexpected moment. It's so good to see their modern and style in full force in this set of images, and I just love how they pick out the beautiful hues of the flowers and Henley Town Hall.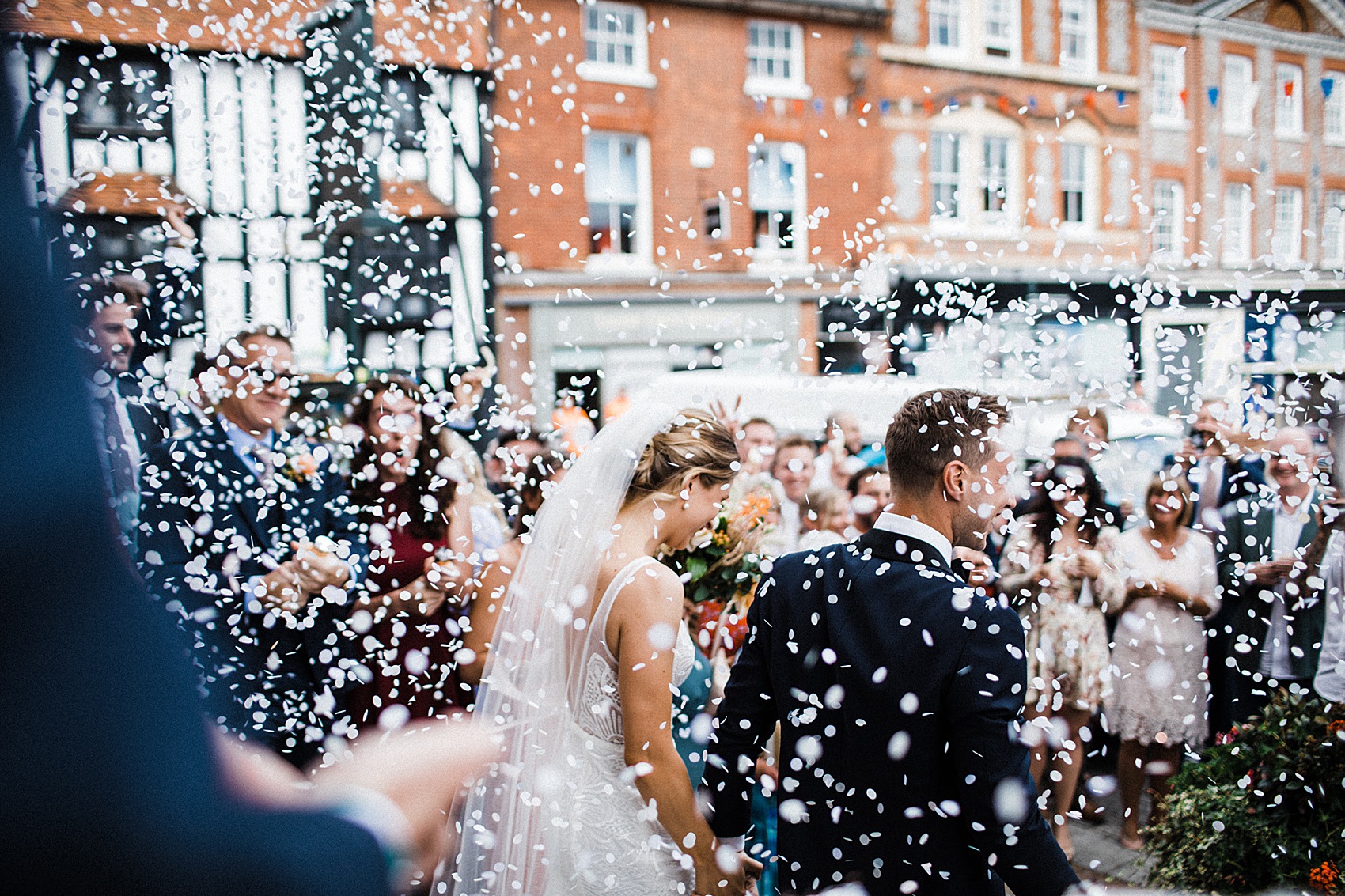 "Initially our photographer who was a friend of a friend pulled out the week before, so we had a couple of days of frantically ringing around trying to find another photographer. Although stressful at the time, Through The Woods We Ran were able to squeeze us in THANK GOD and it was the best thing that could have happened because they are amazing."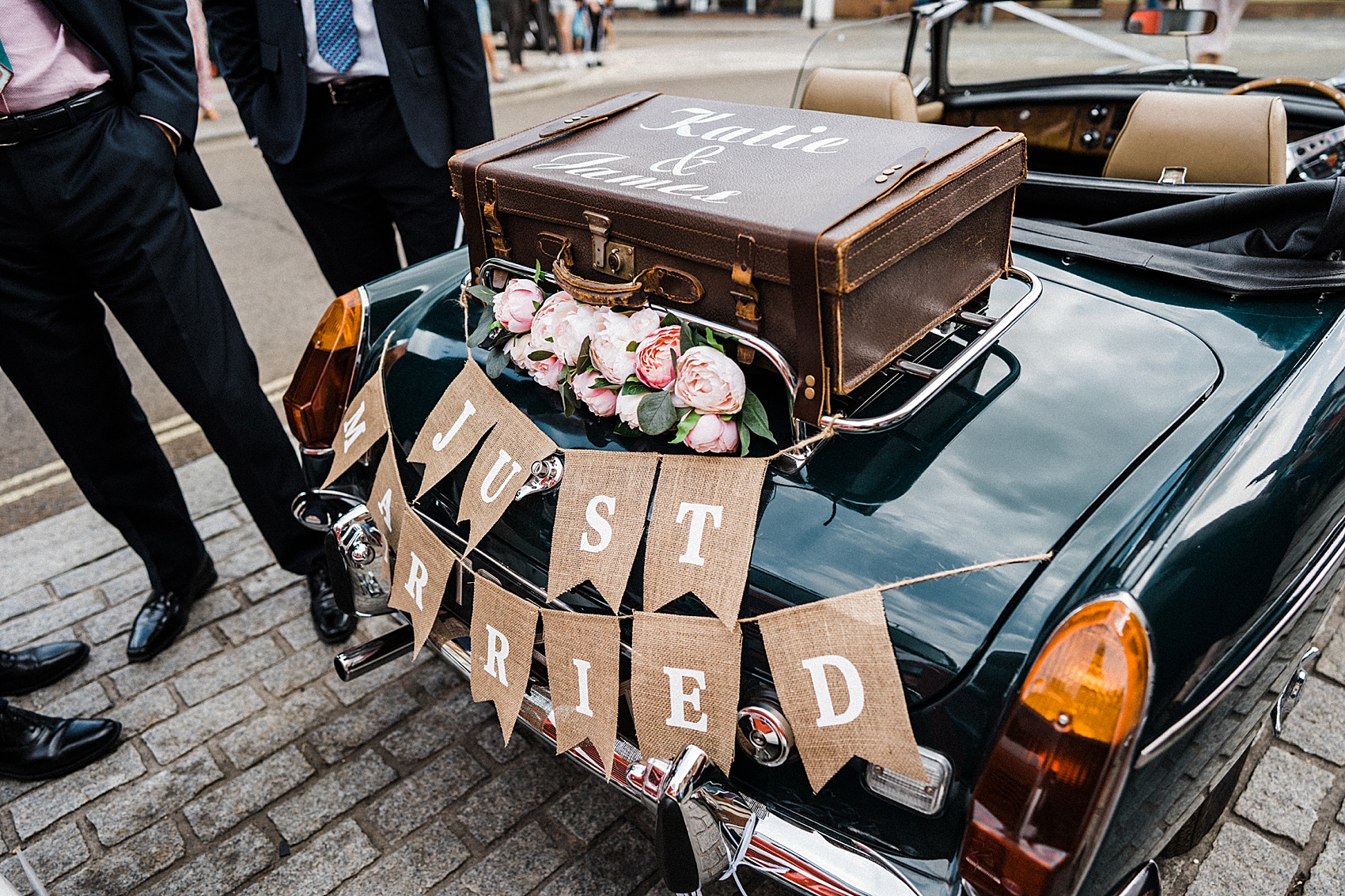 "They instantly got what we were going for, which was candid, non-formal shots that captured the feeling of the day. The photos they got are a million times better than we ever imagined, they totally tell the story of the day and bring back all of the memories. They were also great to have on the day – so fun but not remotely invasive (perfect for a camera-shy bride)."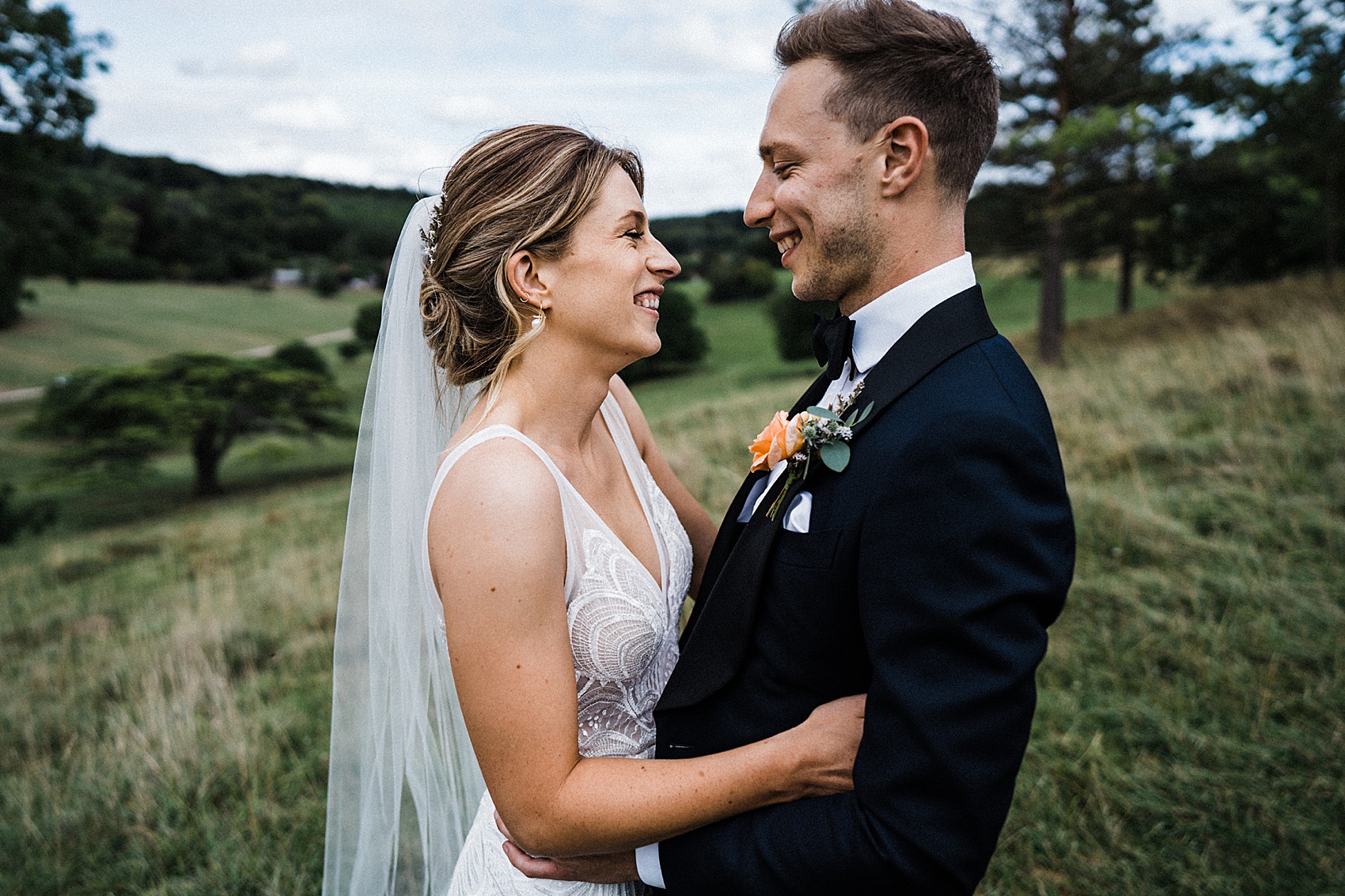 "South West Occasions have a beautiful tent and are wonderful and helpful. We found them via Marquee Bookings who were also brilliant and did all the legwork of pulling quotes together for us."
Over to Katie for more details about how the look was pulled together.
"Starting with a big empty space was pretty fun as we could create all the different areas we wanted. We were keen to have a bar area, long tables for the dinner and a lounge area next to the dance floor."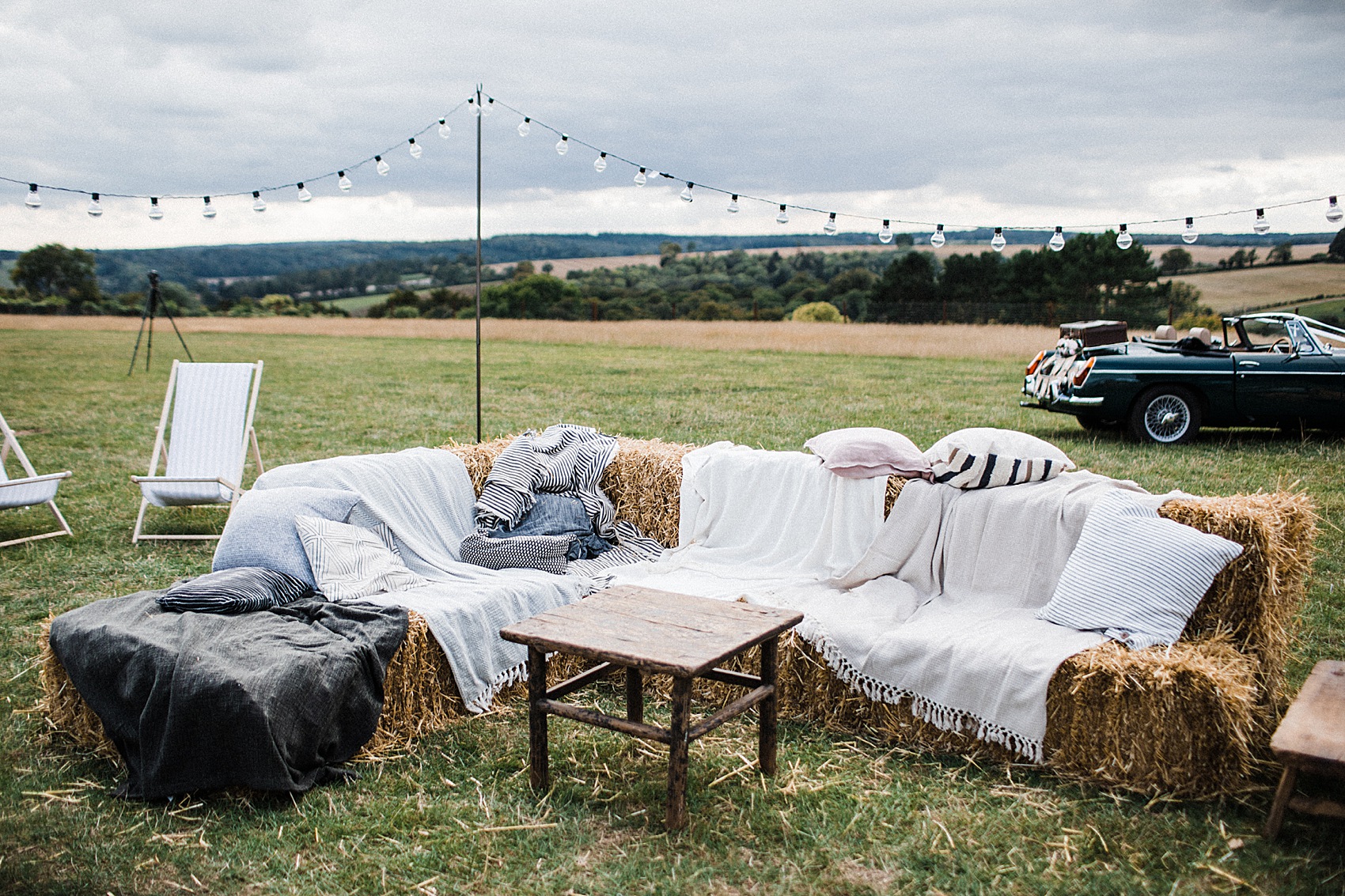 We planned the space so that everything in the marquee was centred around an enormous circular bar which James and I spent the week before the wedding making."
Neither of us are particularly handy so that wasn't without its challenges, but it all came good in the end and worked so well in the space. We sold it after the wedding to a local marquee company."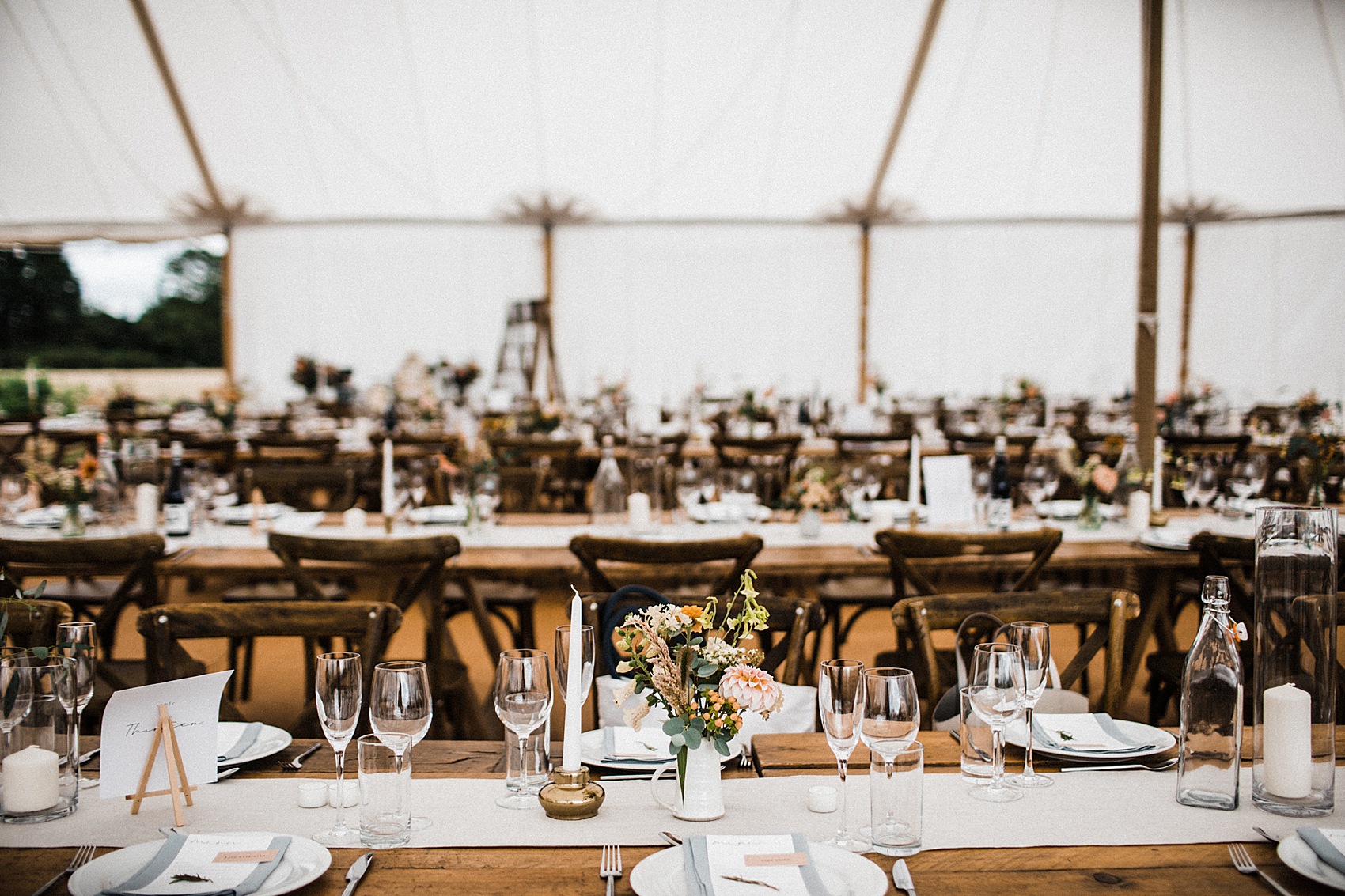 "We hired all of the furniture from Virginia's Vintage Hire. They have such beautiful pieces and their customer service was outstanding. Outside we had hay bales covered in rugs, fire pits and festoon lights. In the copse, we hung lanterns and hammocks and it was totally magical. A lot of the decoration we bought and have since resold on sellmywedding.com."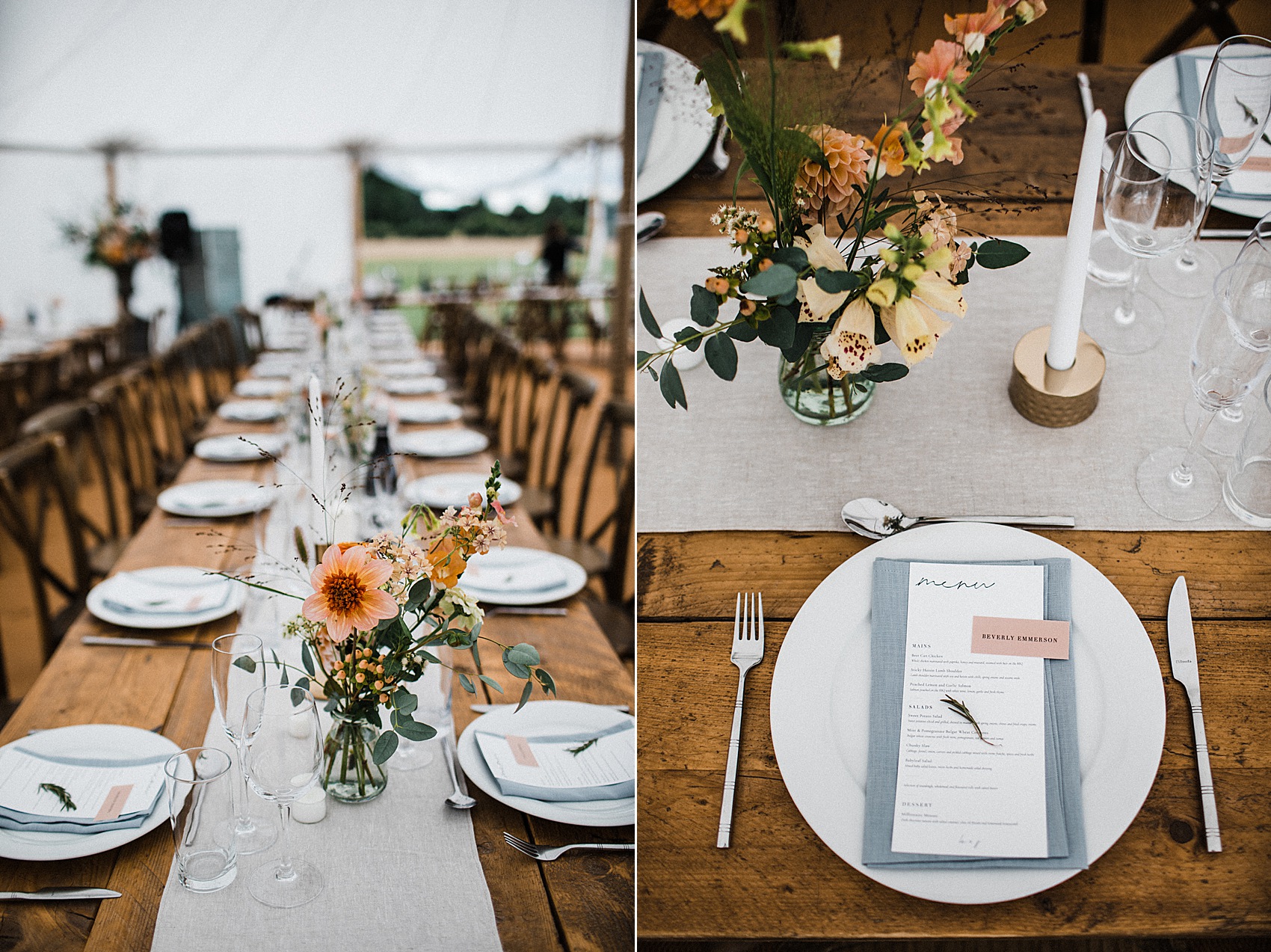 Before sitting down to dinner, provided by Dublicious Food, the newly-weds headed out to the open fields for some beautiful, breezy portrait shots. Meanwhile, their guests chilled out around the tents; just check out those hay bale sofas.
"We wanted sharing plates as we didn't want anything too formal. Dublicious Food created an amazing summer menu of salmon, chicken and lamb – the perfect British summer food and an insane chocolate dessert. All the drink was Majestic and Tesco (sale or return)."
The pretty, tiered wedding cake came courtesy of a friend.
"Our unbelievably talented friend Francesca made our cake as our wedding gift and it totally blew us away. We gave her our colour scheme and our favourite flavours and she produced the most spectacular cake we've ever seen. She handmakes all of the individual sugar flowers and they're the most gorgeous, intricate works of art we're still marvelling at them a year later. She definitely deserves a special mention."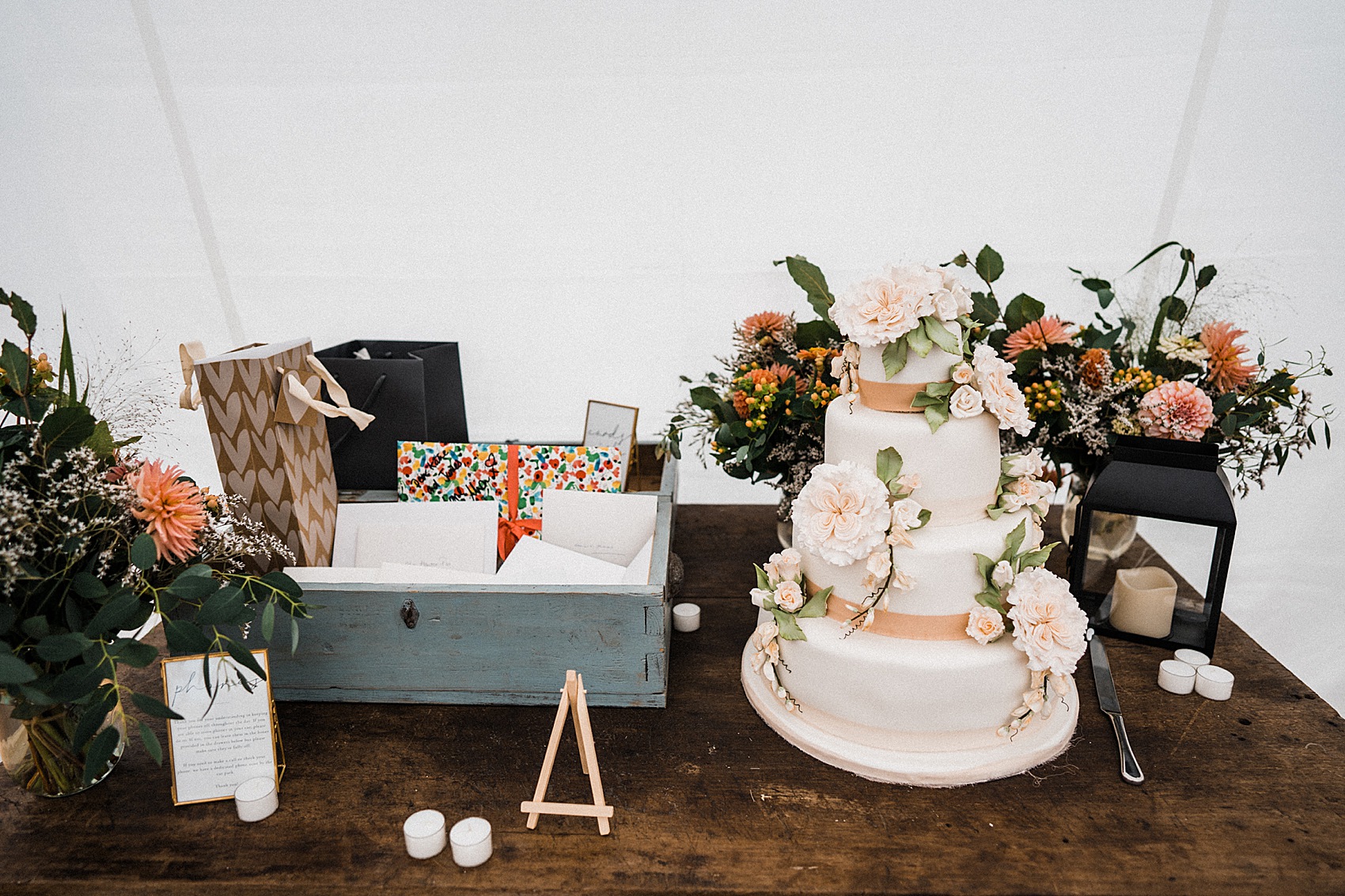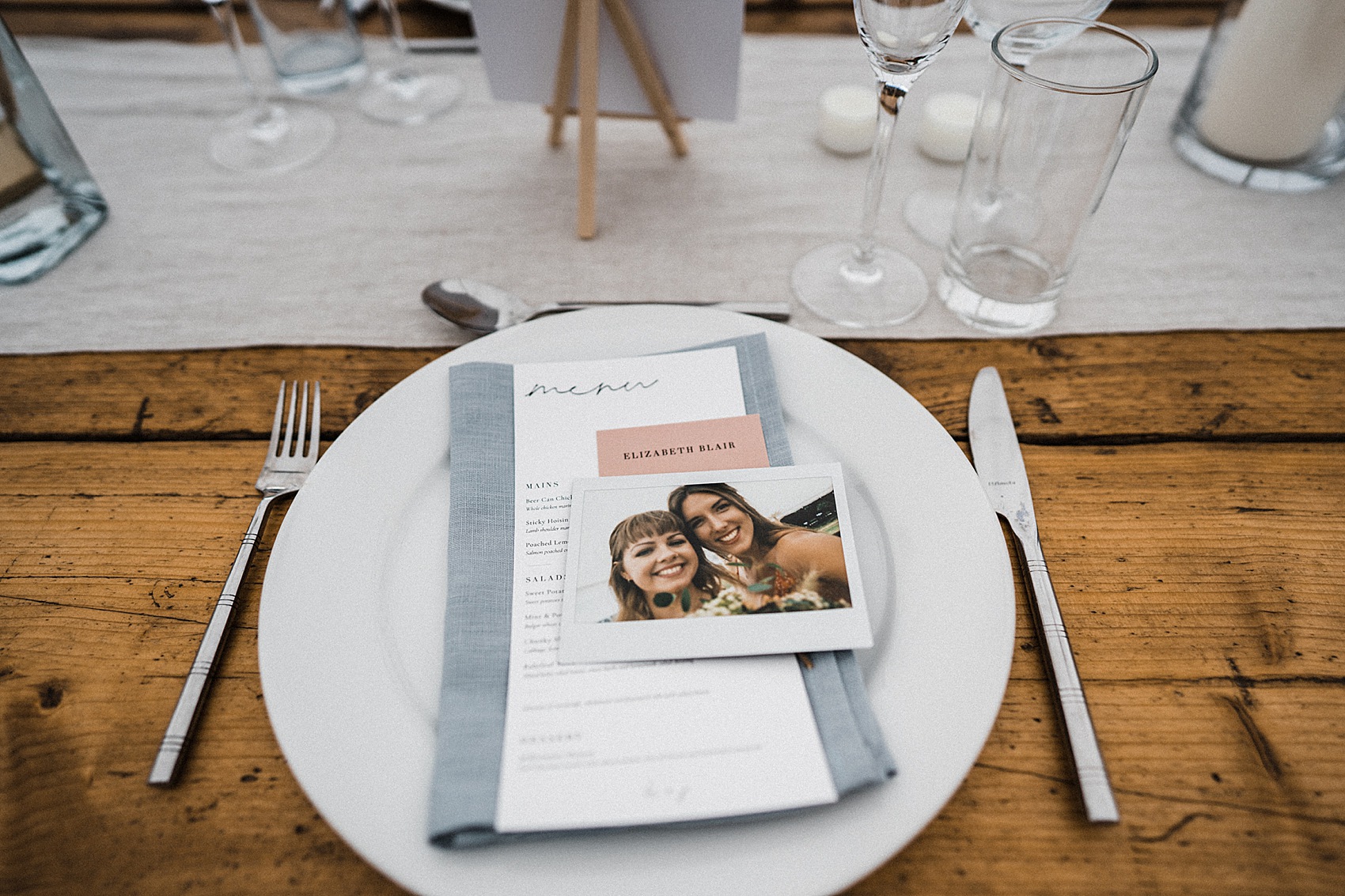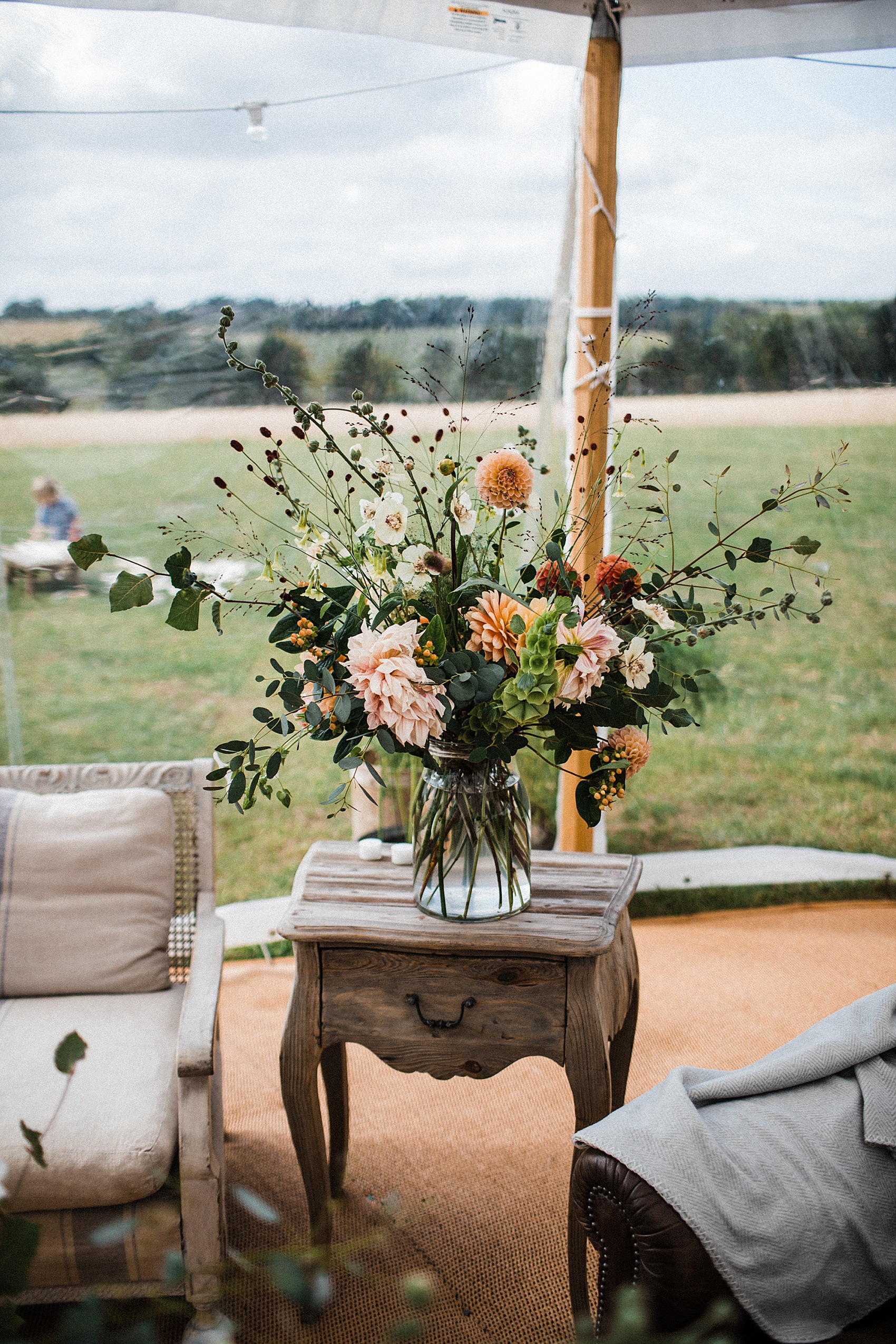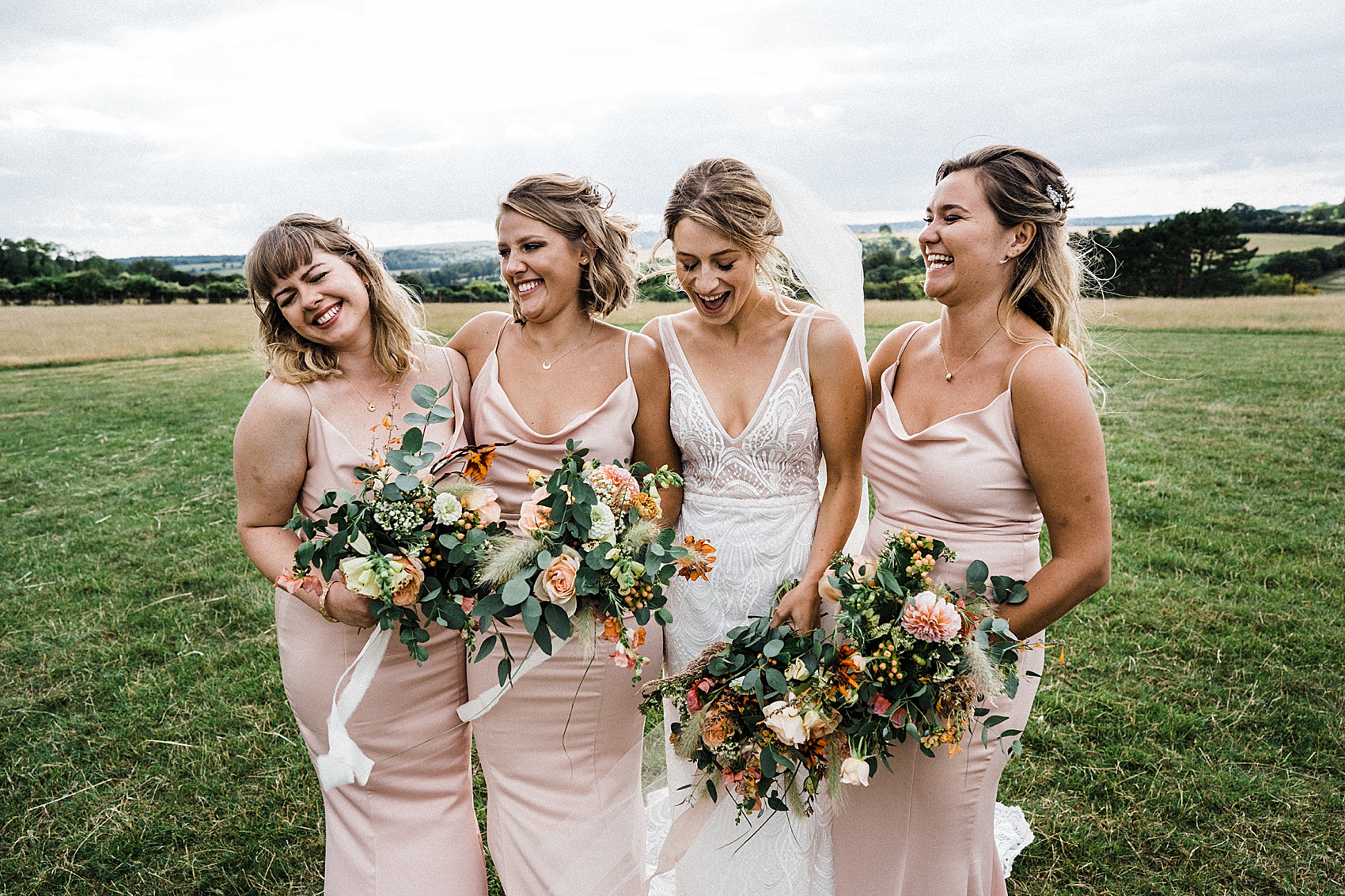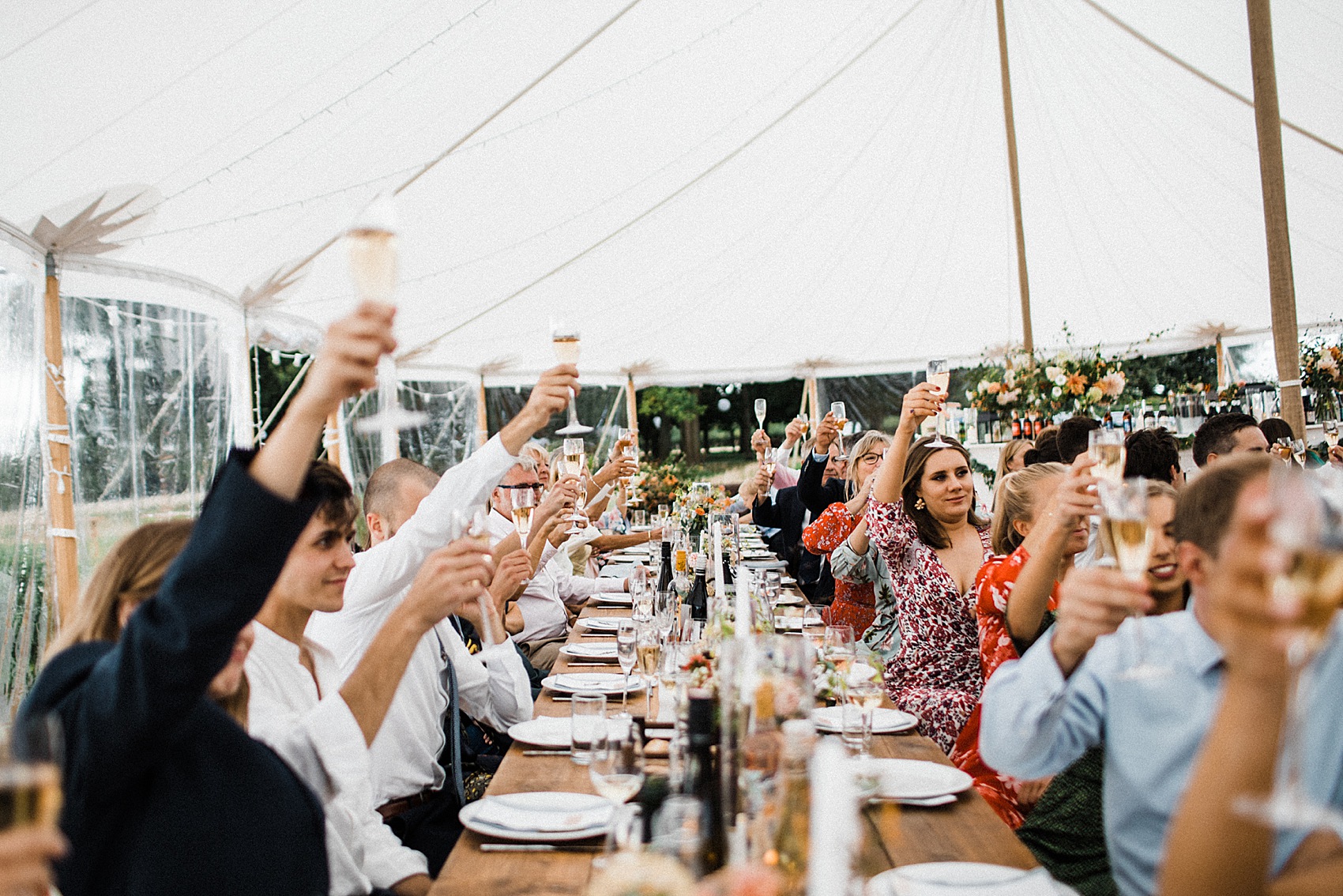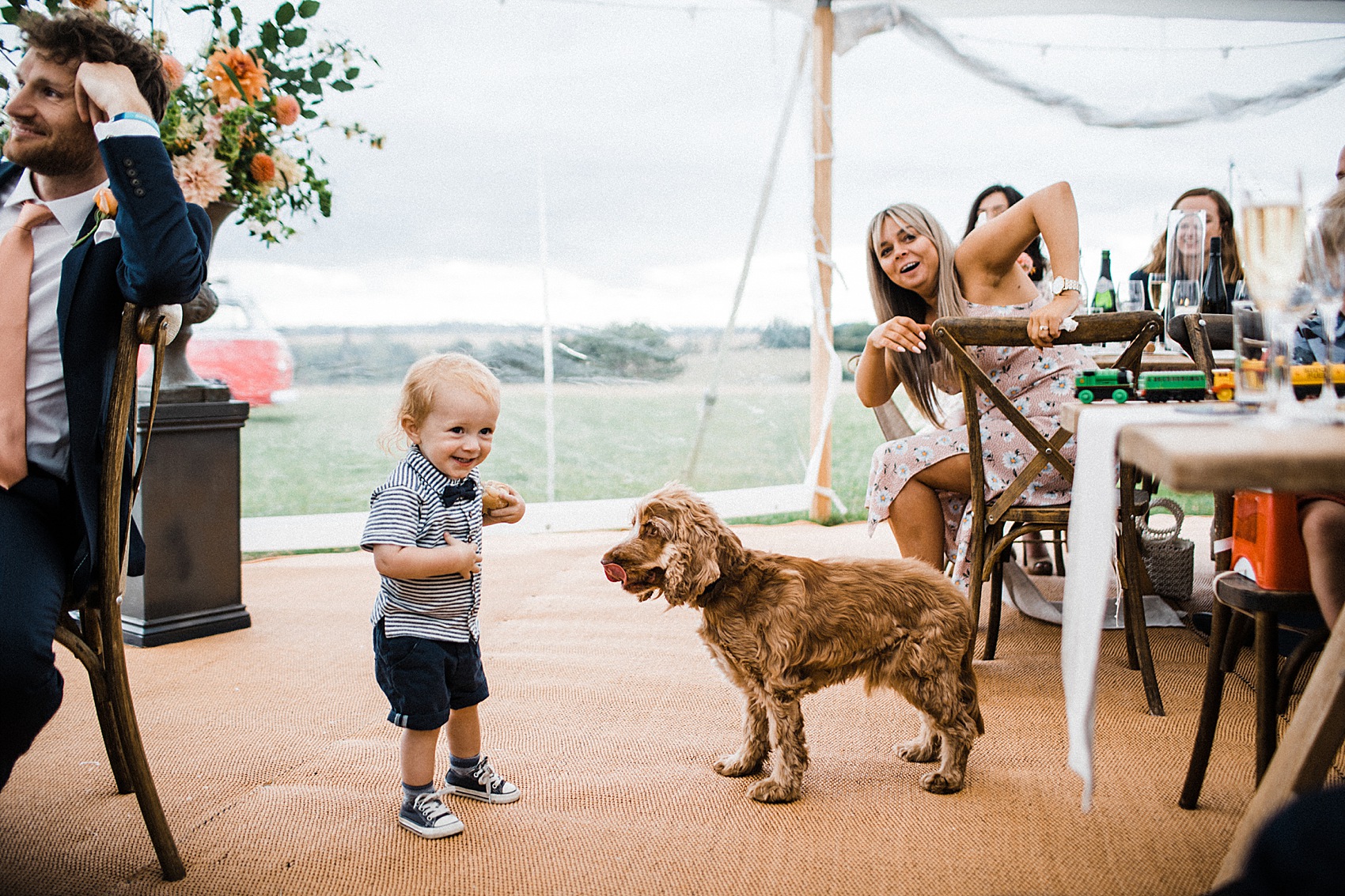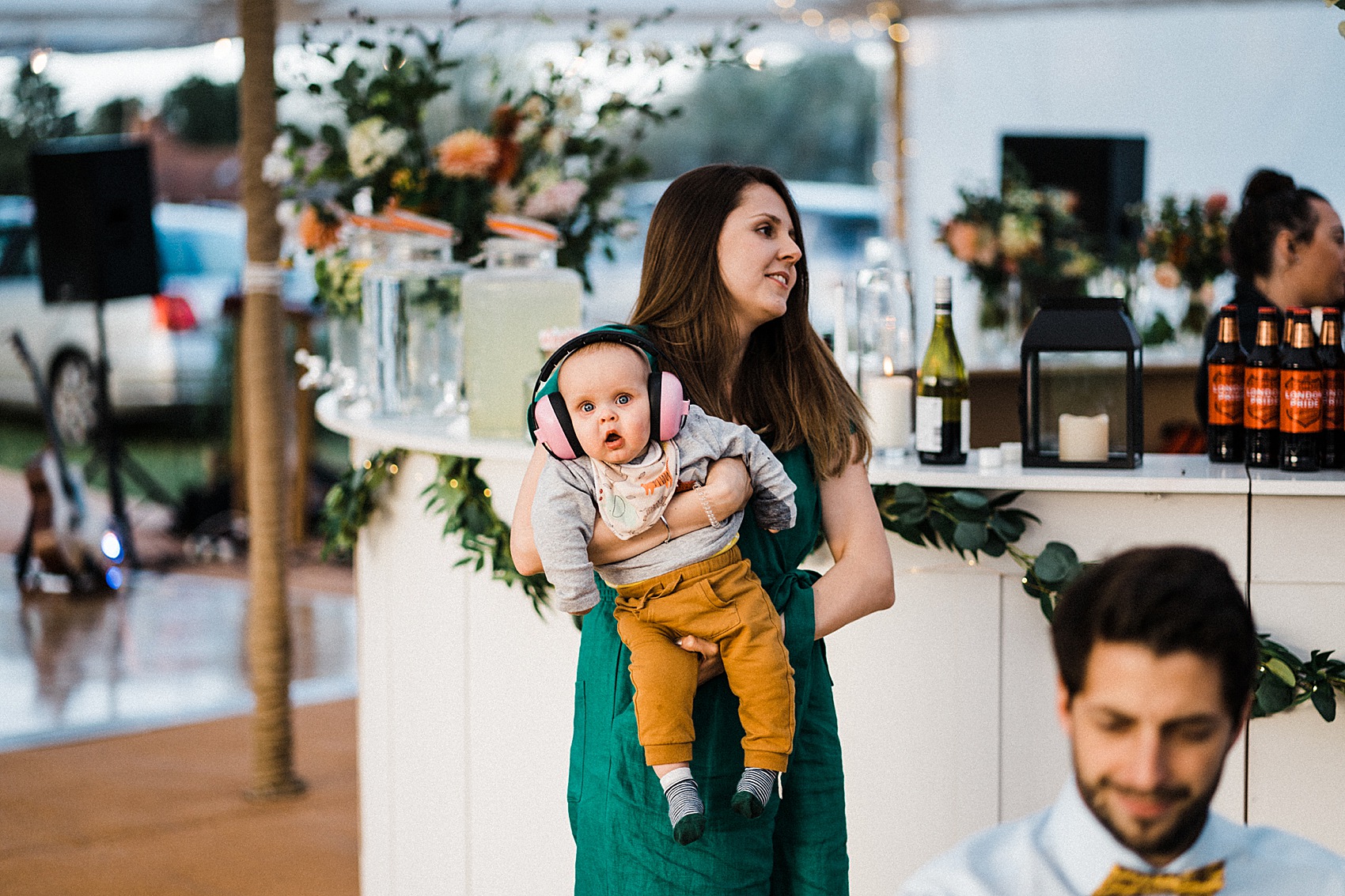 As night fell, the tents were lit with strings of fairy lights and the evening party got started.
"The band was The Roots Acoustic Trio via Alive Network. They were the best band ever and the dance floor was literally packed all night. We didn't have a traditional first dance, we just got everyone onto the dance-floor at the same time. The track was 'You & Me Song' by The Wannadies."
By the way, if you want to find out more about Alive Network and its amazing catalogue of wedding entertainment inspiration, check out their Little Book listing here.
"There are so many favourite parts. If I had to pick just one I'd say the confetti moment. We were so high on just being married, you walk out to all of your favourite people and you know you still have the best day ever ahead."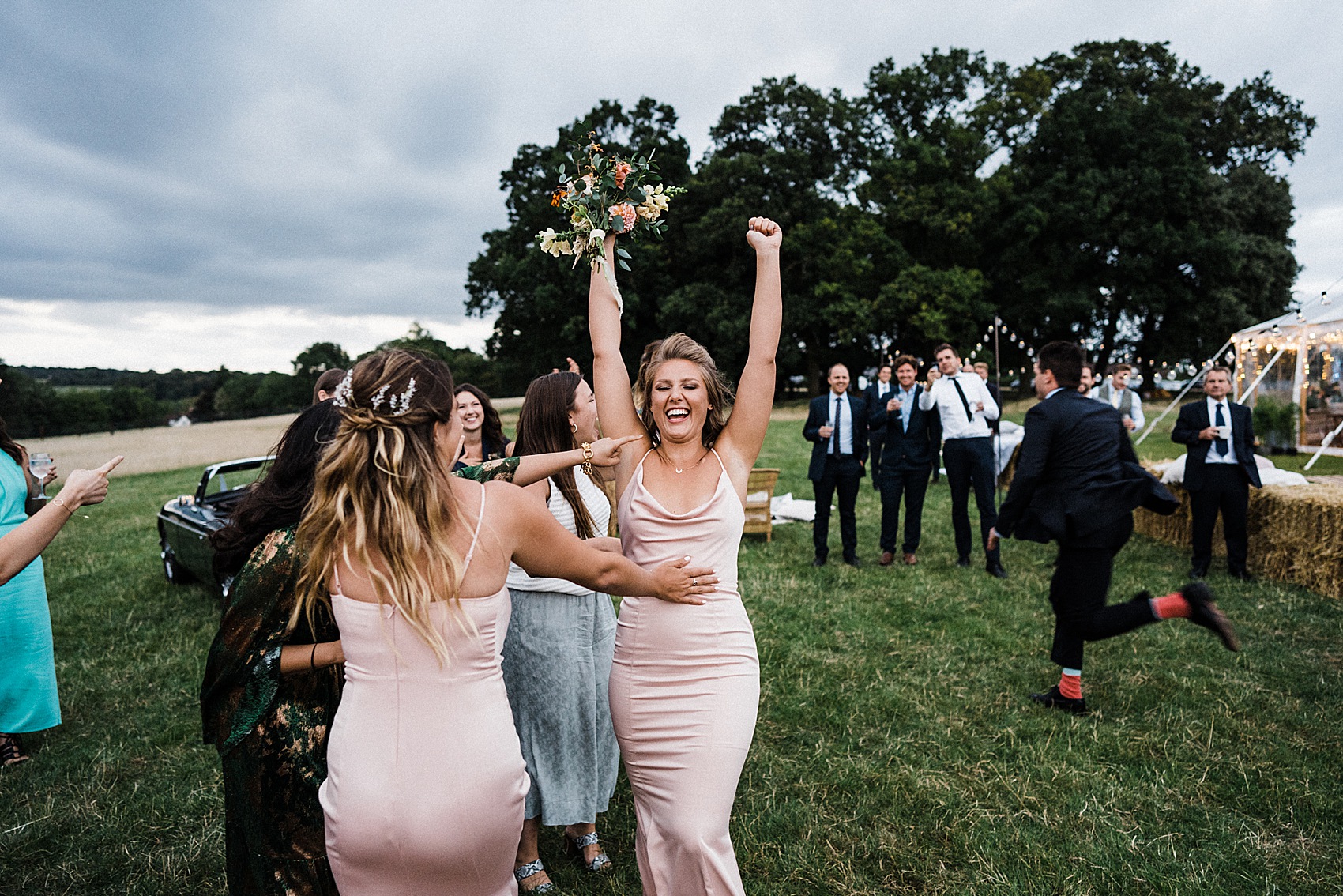 There was also a glorious sunset over the valley which felt pretty special. We had a moment where it was the three best men, the three bridesmaids, James and I as the sun was setting and cheesy as it sounds there was just a lot of love."
"James' fave moments were when he saw me for the first time and when we arrived at the reception in the car and Lucie (our wedding coordinator) had handed us a glass of champagne and then lined everyone up, so we drove through everyone. Then our dog ran after us and everyone panicked because he was going to jump up and scratch the car."
"Our original budget was £25,000 and we (obviously) exceeded this. In the end we spent around £30,000 because a) hiring everything into a field is more expensive than we'd allowed for and b) we got carried away. But there's still not a thing I'd change or not spend the money on."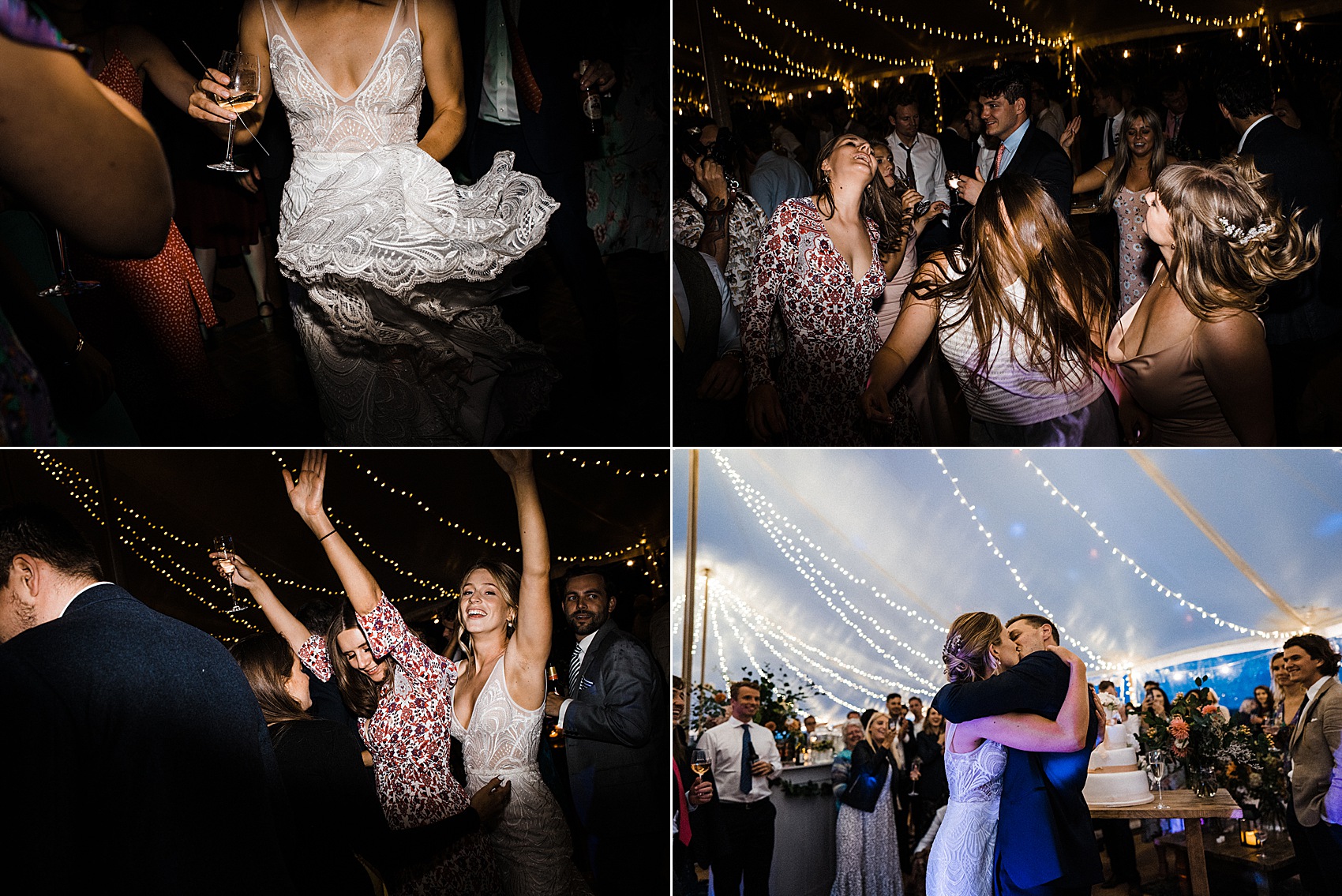 Words of Wedded Wisdom
With experience of her own DIY wedding, Katie has lots of advice for all of you considering something similar.
"It is ultimately one day, so don't sweat the small stuff. You will have all your favourite people in one place celebrating your marriage, and no amount of wedding perfection will top that… and that's coming from someone with an unhealthy obsession with Pinterest. "
"The day goes so fast, and there are so many bits that you won't remember. Take a step back and make sure you savour it as much as you can. DON'T feel bad that you can't talk to everyone. We had friends and family over for a BBQ the next day, which was lovely as we got to properly speak to people, debrief, and be reminded of things we might otherwise have forgotten."
Join our mailing list now to receive occasional newsletters providing vital insight, updates & offers from our Little Book Wedding Directory members.
"This is a funny one because it's not something we'd ever have thought of or necessarily wanted, but actually it turned out so well. One of the guests at our wedding has a sensitivity to radio signals, including those from mobile phones, so we asked people not to bring their phones or keep them switched off if they could. We supplied Polaroid cameras and iPods so people could still take their own photos. Because of the lack of phones, I think everyone was genuinely so in the moment that it made for a really special atmosphere. We've had so many people say to us since that they loved not having their phone there. I'm not sure if that's 'advice' or not, but I'd definitely encourage guests to put their phones away where possible, particularly in the ceremony."
Lovelies, what do you think of this beautiful DIY do? I hope you've enjoyed it as much as I have, and if you'd like even more homespun wedding inspiration we have plenty to satisfy you here.
It's a privilege to share the work of Through The Woods We Ran again, so for more of their work why not head on over here? Finally, I must say a huge thank you to Katie and James for letting us share their special day.
Ele xx