We're off to the windswept Northumberland coast today, for a romantic summer wedding and outdoor ceremony in the grounds of a grand, Regency era country house.
Our lovely couple (one British, one American) added charming and personal DIY touches, taking Glastonbury Festival as their inspiration, as well as incorporating both British and American wedding traditions throughout their day. Meet neuroscientists Christina and Oli, who were married on the 7 July at the beautiful Budle Hall, Budle Bay, near Bamburgh, Northumberland.
Videography by RL Films Co.
"It was a bit of a late decision for us to hire a videographer (mainly influenced by family), but we are so happy we did, and even happier Richard was available at short notice. We were recommended Richard by our photographer, and we couldn't be more thrilled with the result. Our wedding video is one of the things we cherish most, and it was a really nice way to share our wedding with friends and family from overseas who couldn't be with us on the day."
Capturing all the moments of fun and laughter in the glorious sunshine was photographer Nigel John, whose thoughtful, fine art work you can enjoy more of on our pages, right here.
"Nigel was truly amazing. We first came across his work when we stumbled upon a previous wedding he had shot at our venue. We really loved his artistic style, and the fact that none of his shots looked posed or stylised. From the first time we met, we got on really well and we were so at ease working with him throughout the day. We were blown away with his work, and keep getting comments from friends and family on the photos even months after the wedding. We can't recommend him highly enough!"
Images by Nigel John Photography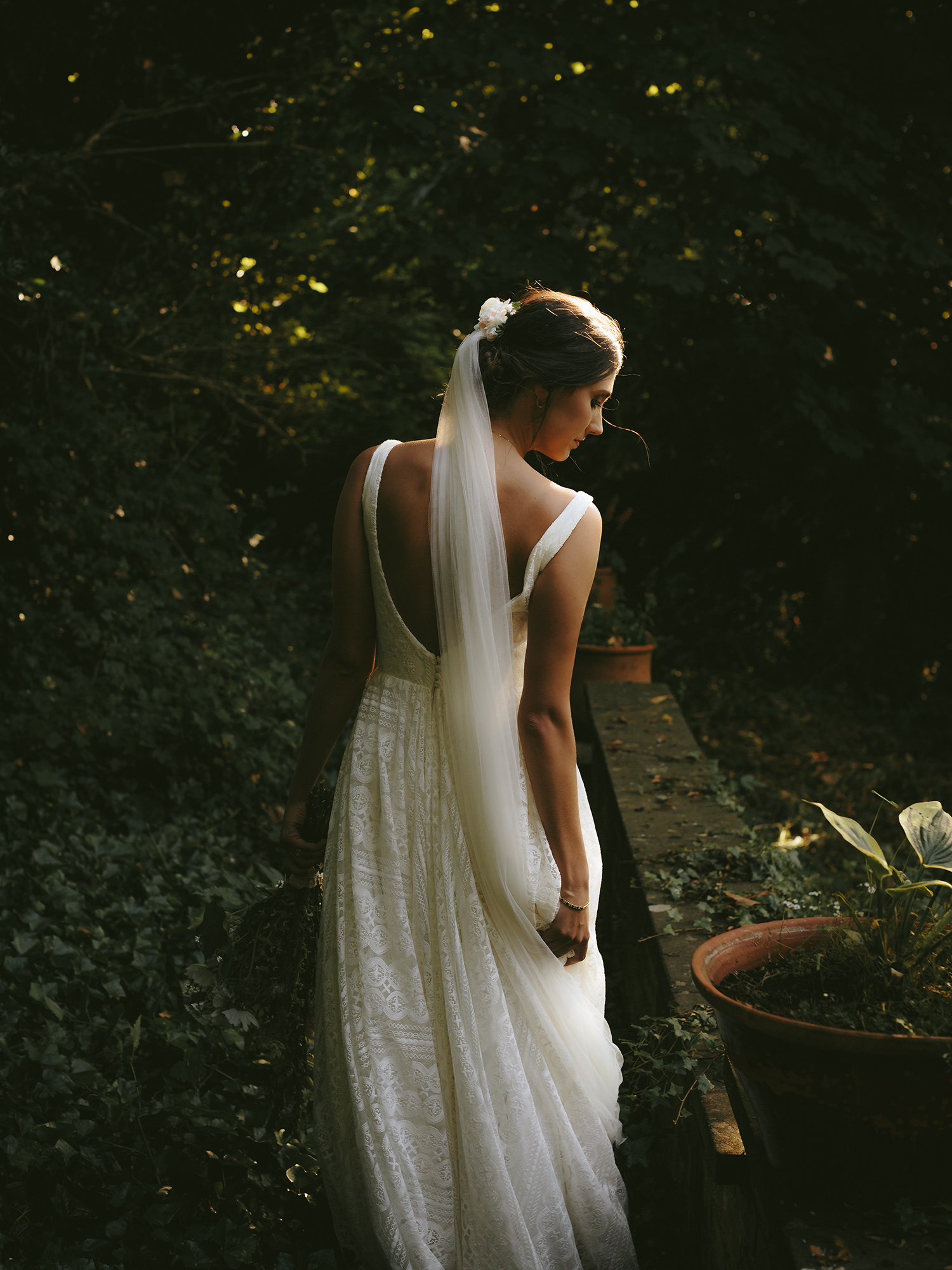 Christina discovered her Truvelle wedding dress (the 'Alix') at East London boutique, Heart Aflutter, and it was such a dreamy choice for a summer wedding. I love the simple lines, scoop neck and low back, and the delicate, patterned lace.
"To be honest, I wasn't the one who picked my dress off the rack. Heart Aflutter was the first shop I visited, but I went through about 7 other dresses thinking I wanted something much simpler before the saleswoman picked out the 'Alix'. Before I tried on the dress, my first thought was 'No way', but when I put it on I was completely surprised."
"We didn't have a specific venue in mind, but we 100% knew we didn't want a traditional wedding venue. Oli is from Durham, and the North East coast holds a special place in his heart from family holidays as a child. It was Oli who actually found Budle Hall by clicking on the Northumberland coast on Google Maps until he found something that might resemble a potential venue."
"We thought that Budle was stunning, and actually discovered they had hosted a small number of weddings before by finding photos on our later-to-be photographer's website! We went to visit in the dead of winter on possibly the worst day of the year weather-wise (it was absolutely torrential rain) and still fell in love. Celia and her family were so lovely and offered the flexibility we were after, so from that point onwards, we knew it was meant to be!"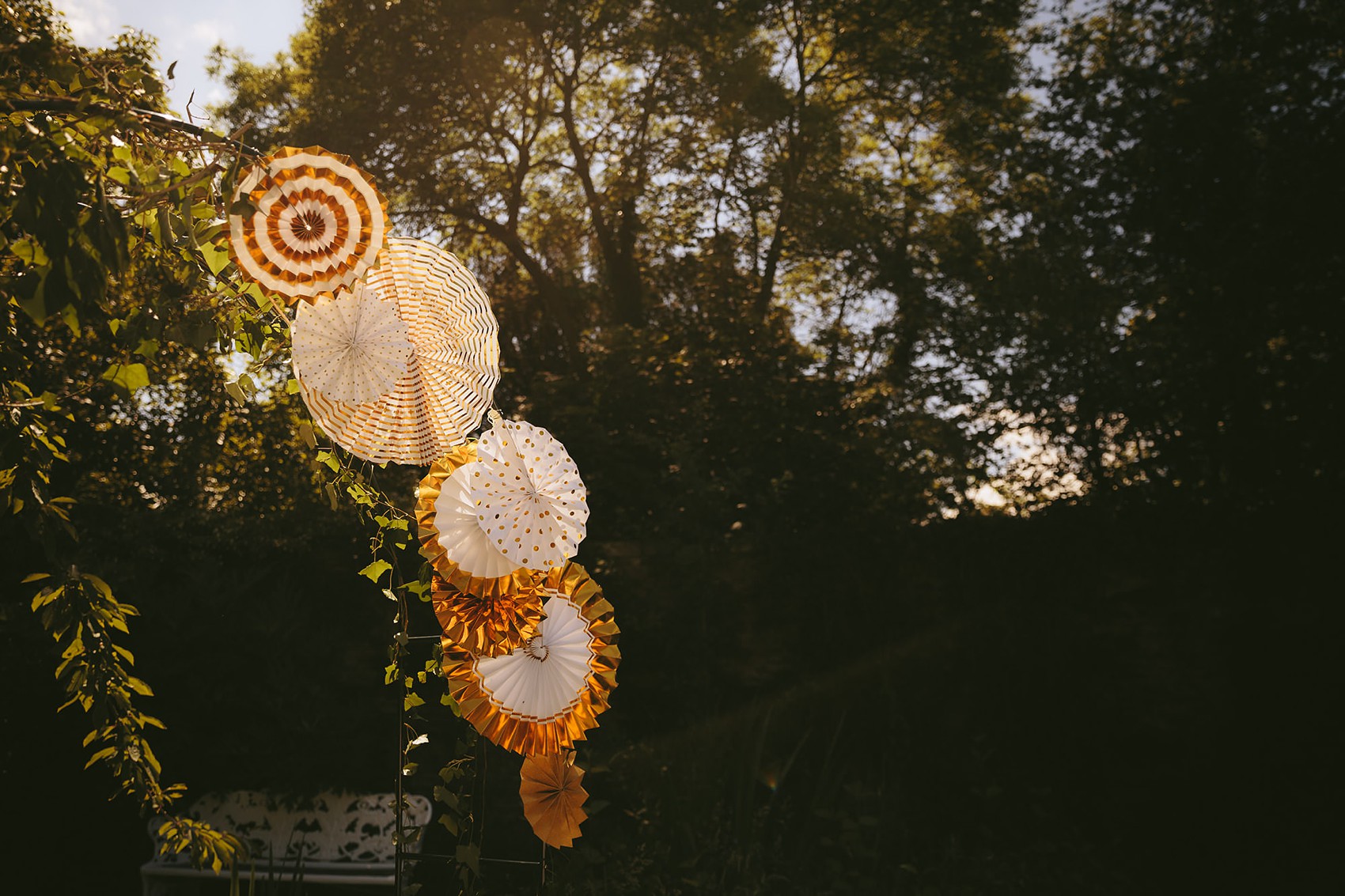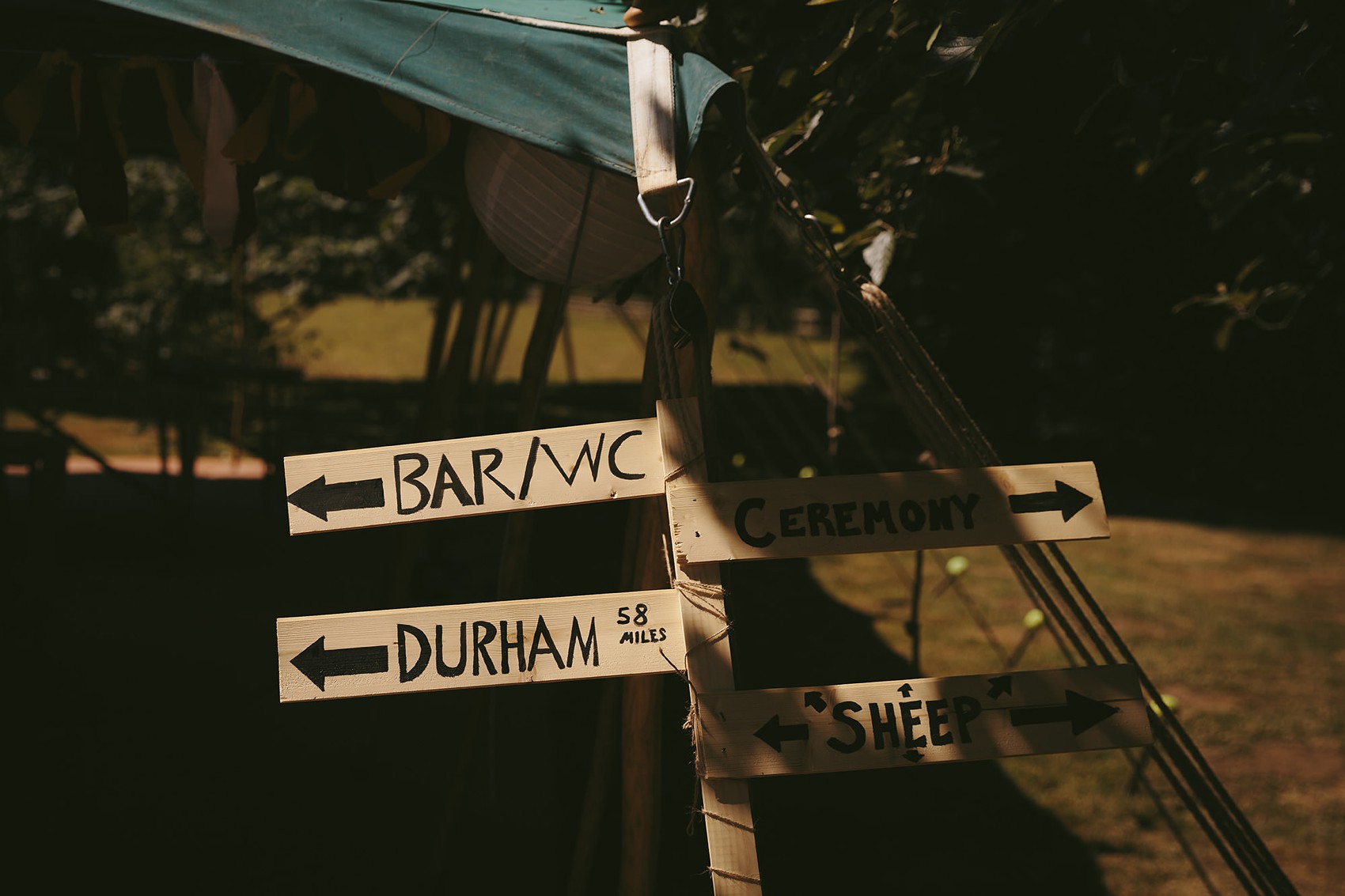 Christina's flawlessly glamorous make-up came courtesy of Gemma from Beau Monde Salon & Spa – a last-minute booking that turned out brilliantly.
"I had actually originally booked make-up through the same services as my hair, but the make-up artist unexpectedly moved to America shortly before the wedding, so I had to scramble to find someone else."
"Luckily Beau Monde – a spa just up the road from our venue – had a cancellation for our date, so Gemma was available, but I didn't have time to get back up to Northumberland for a trial prior to the wedding. I met Gemma two days before, and we talked about what I had in mind. It all worked out perfectly in the end, and she did such a great job."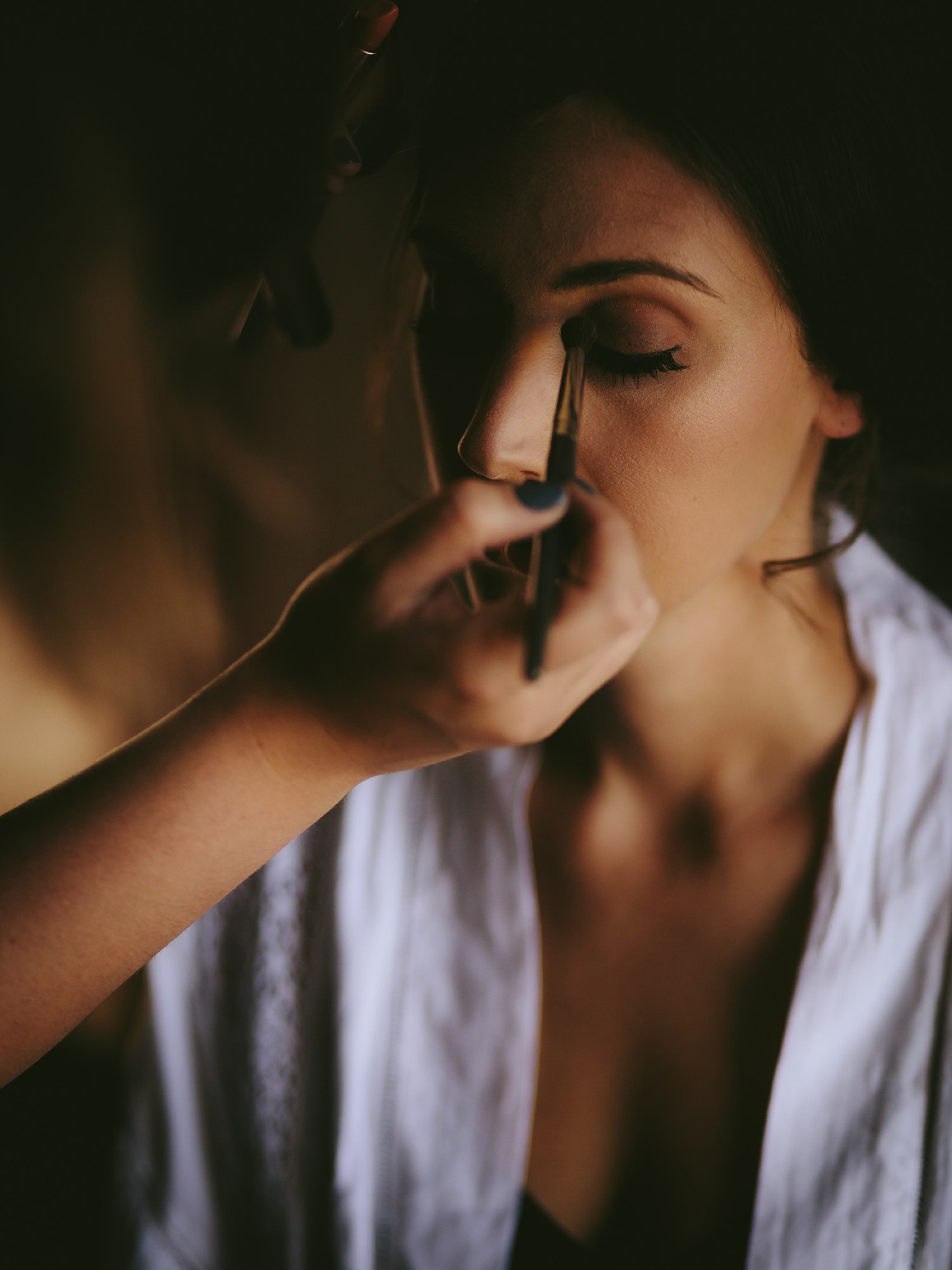 Sadly, Christina's grandmother couldn't be with her on her wedding day, so Christina borrowed a diamond pendant on a gold chain as a way of having her close. Earrings were borrowed from her mum, as well as a diamond and sapphire tennis bracelet, which was Christina's 'Something blue.'
"I've had a bottle of Sarah Jessica Parker's perfume, Lovely, probably for about as long as Oli and I have been together, so I wore it as a nice reminder of this continuity on our wedding day."
"My dress so comfortable and really fit with the outdoor rustic aesthetic we were going for. I went to two  other shops after, but kept coming back to this dress for the comfort and the uniqueness of the lace embroidery. The thing that eventually sold me was the fact that the dress was temporarily reduced as part of the shop's Truvelle trunk show! I had the wonderful Miki from Studio 62 Workroom add a few small buttons to the back of the dress and narrow the straps slightly."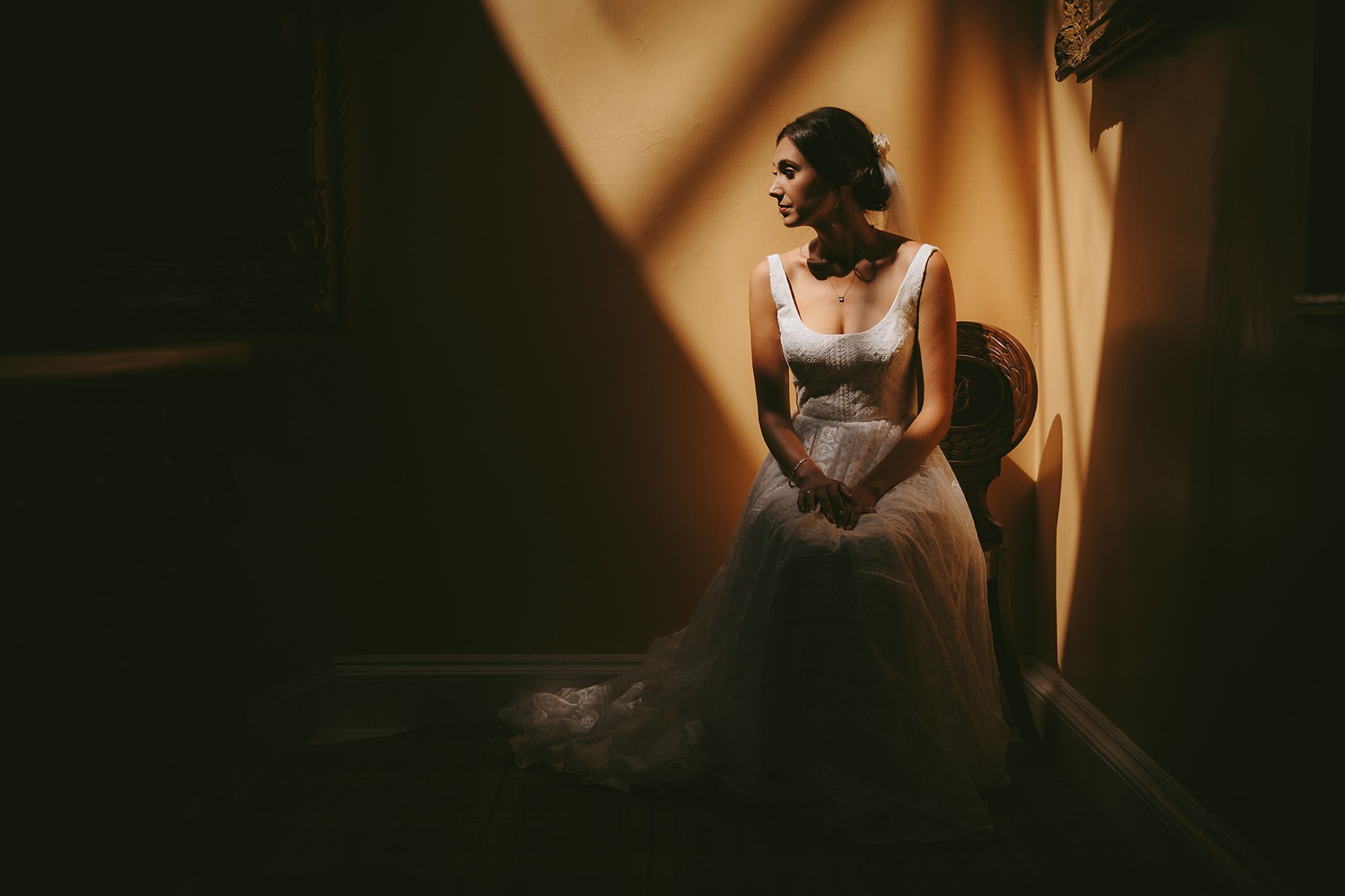 Christina didn't want to spend a lot of money on a wedding veil, so opted to make her own using soft English net, ordered from Etsy (seller details not provided), which she hand stitched onto a comb from Amazon. To this, she added a pretty floral hair clip from ASOS, with her timeless, elegant hairstyle by Lauren, from Wedding Hair & Make-up North East.
"The shoes were definitely my 'Something old'. I wore my trusty gold flat sandals from J. Crew, circa 2009, complete with scratches and scuffs covered up by gold fabric paint."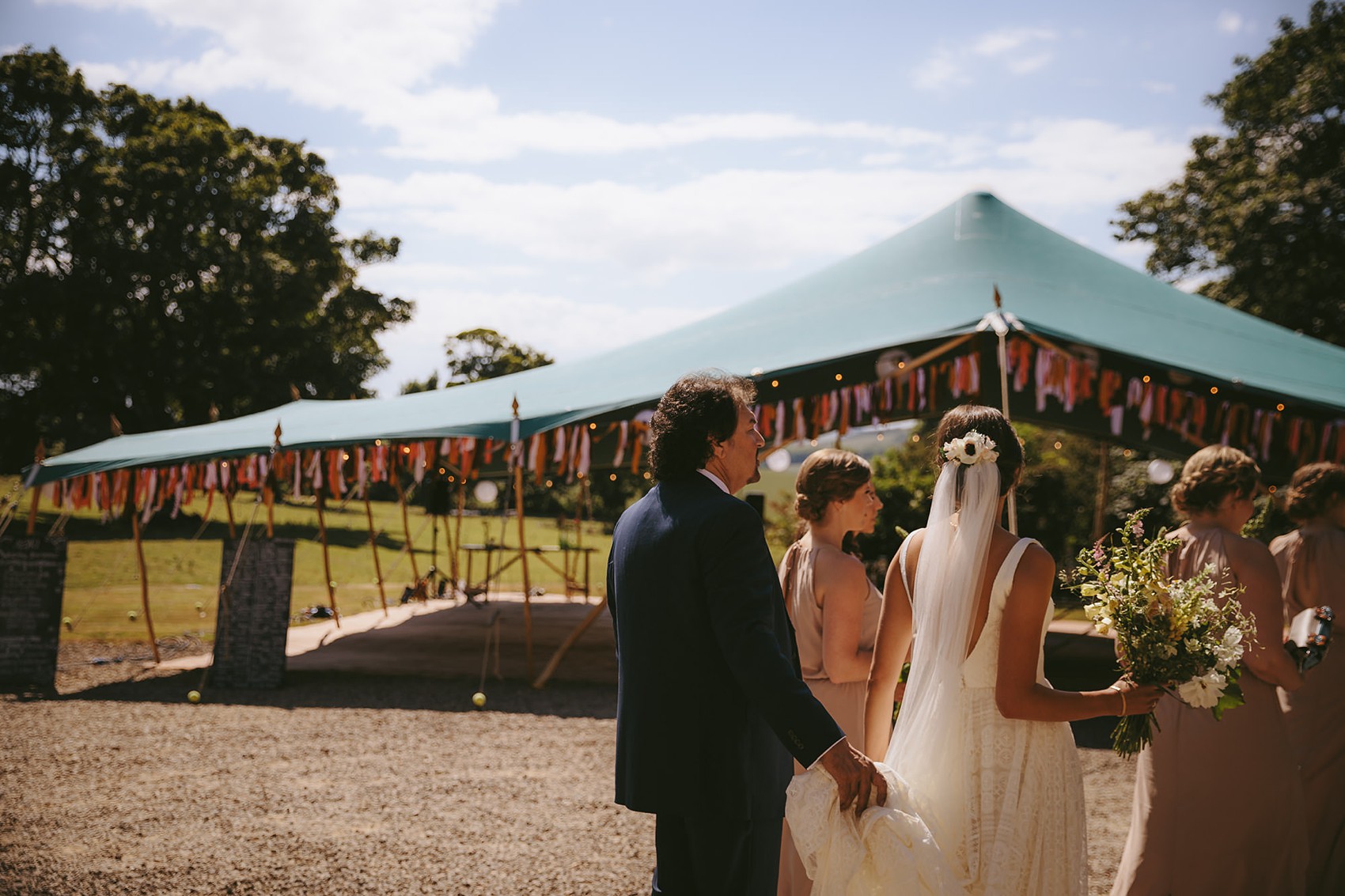 The bridesmaids wore blush pink halterneck maxi dresses from H&M, together with their own shoes, hair accessories and jewellery, along with small wreath stud earrings from Kate Spade, which Christina gifted to them.
The bridesmaids carried tall posies of lovely foxgloves, sweet peas and chamomile daisies, whilst Christina carried a wild and natural bouquet of snapdragons, foxgloves, daisies, summer grasses, and lots more seasonal delights, as she walked down the aisle to meet Oli, accompanied by her dad. Close friend Toby played an acoustic version of First Day Of My Life, by Bright Eyes.
"It was really important to us to have locally-grown flowers, and we were quite keen to arrange them ourselves. We weren't fussed about colours, and wanted a rustic wildflower look, so we ordered 8 buckets of seasonal assorted stems and foliage from Ginger House Garden, and our amazing friend Joanna arranged the bouquets and buttonholes the day before the wedding, left to her own creative devices."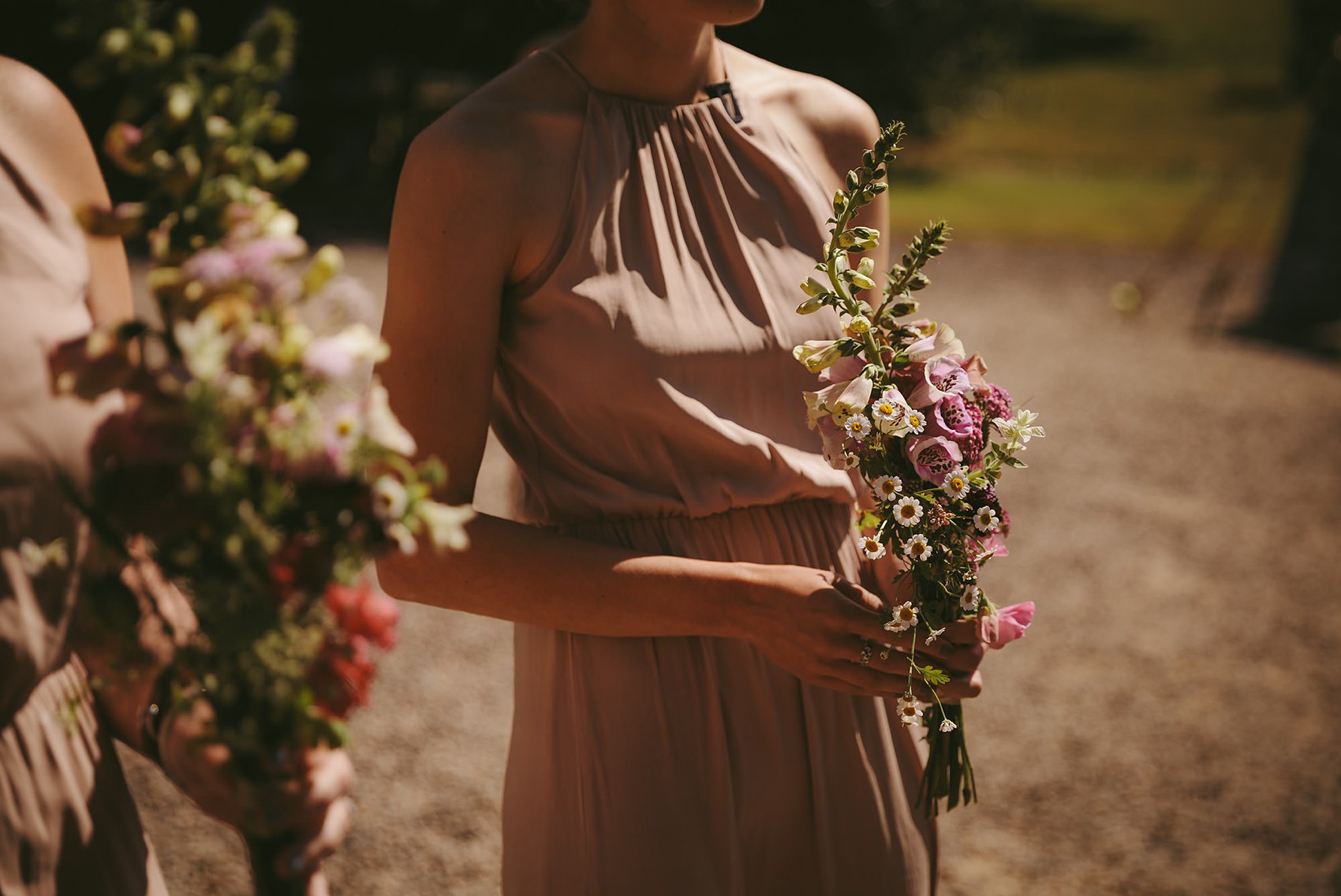 Oli wore a smart navy blue suit from Reiss, which he wore with a white shirt, burgundy tie and mustard yellow pocket square from Slater Menswear, and shoes from Clarks. The groomsmen wore their own suits, and complementary burgundy pocket squares and yellow ties, from Slater Menswear.
"I am American and Oli is British. We are both research neuroscientists and met in the States when we were working in the same lab. After 4 years living in Washington DC, we made the move over to the UK but it wasn't for another 5 years when Oli popped the question. He had apparently been carrying the ring around for a few weeks waiting for the right moment, but eventually planned a weekend away in Bath, and the whole thing was a total surprise to me!"
"I hadn't the slightest clue, even after nearly 9 years together. The proposal itself happened during a very sweaty hike on the hottest day of the summer, and we still laugh about the fact that Oli had to get up onto one knee because we were both lying in the grass from sheer exhaustion. I was so shocked initially, I forgot to say yes! We were engaged in June 2017 and married July 2018."
The couple wrote their own vows to say to one another, which they wrote together the night before the wedding.
"They were meaningful, and turned out just the way we hoped. We really wanted to have our ceremony outdoors, which you can't do under English law (our venue also wasn't licensed for weddings), so we actually got legally married two days before in Alnwick Town Hall. It was a surprisingly nice perk having two celebrations (the civil wedding being a small ceremony of about 20 people, followed by a pub lunch on the beach) but critically, this allowed us the freedom to style our larger ceremony however we wanted since it wouldn't be legally binding."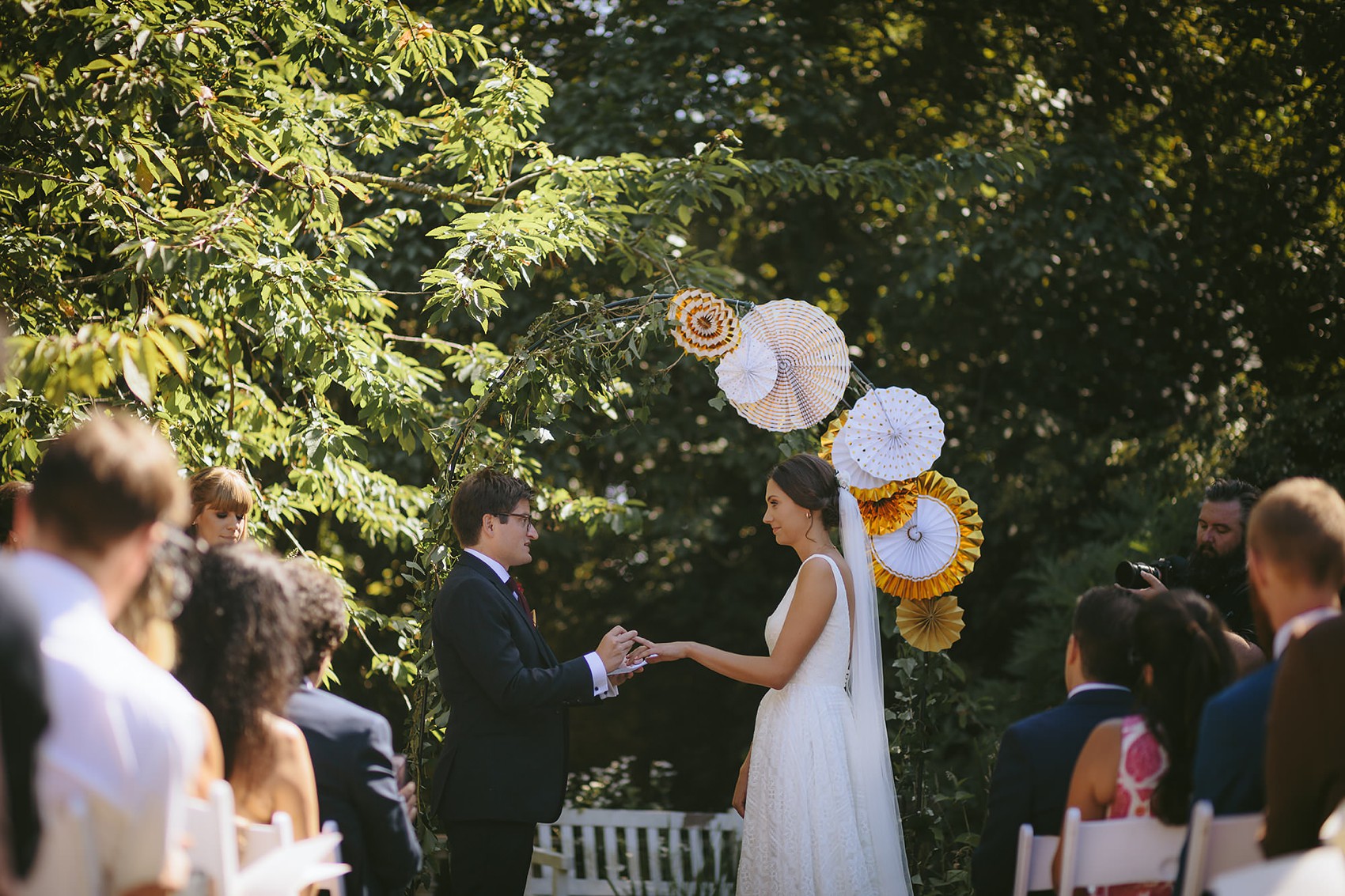 "Rather than having one celebrant, we had multiple people contribute different readings, but we tried to keep the general order in line with a traditional wedding ceremony. The following were the opening words of our ceremony: 'As in life, authority does not stem from one person or institution, but rather from the support of a community of those around us. As such, this wedding ceremony is a celebration with friends, and by friends.'"
The personal, beautifully chosen readings were scattered throughout the ceremony, with Margaret Atwood's poem, Habitation, and the lovely How Falling in Love is Like Owning a Dog, by Taylor Mali.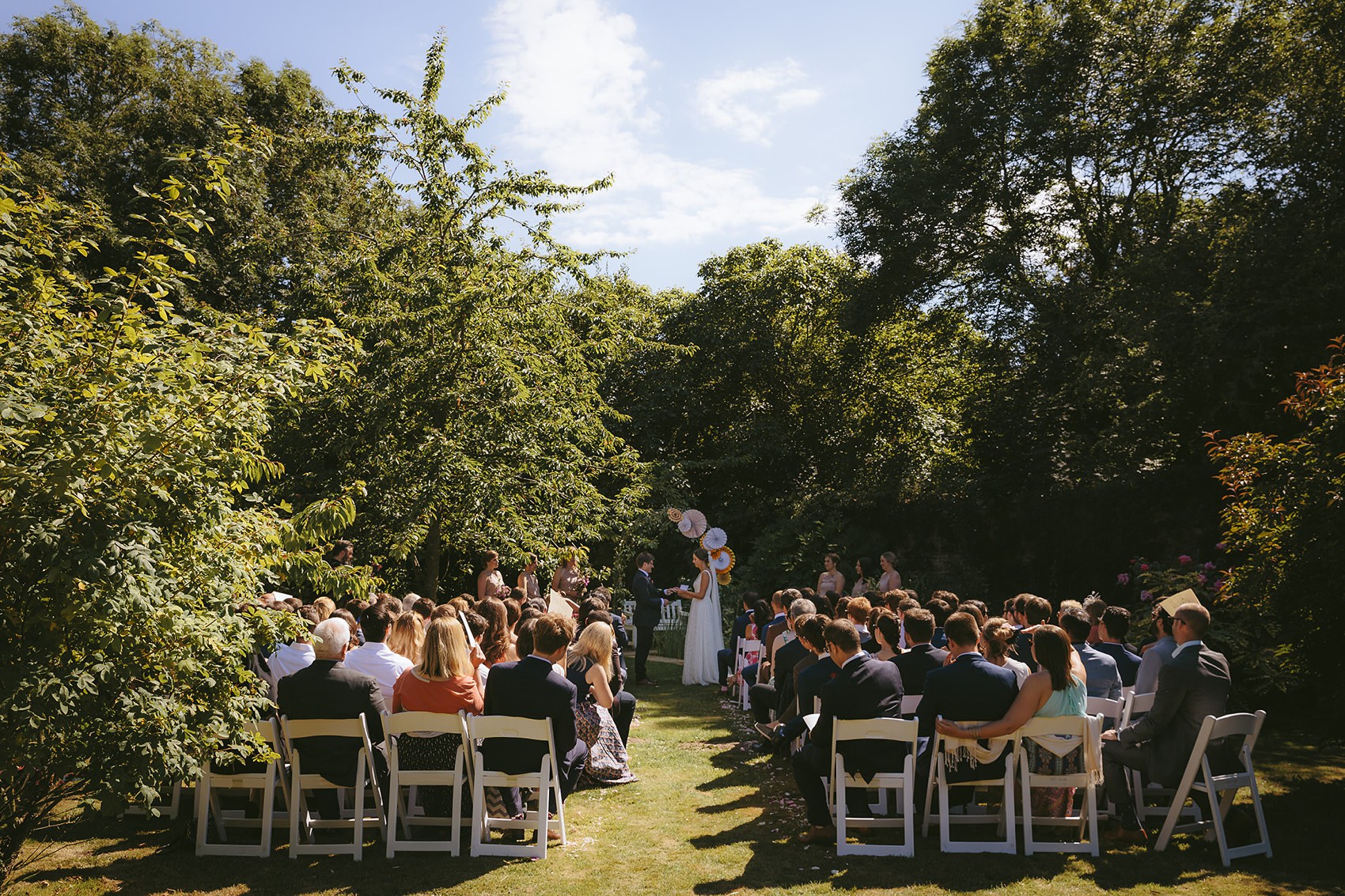 "We are both huge dog lovers, so we chose this poem for its playfulness. It was read by our close friend (and fellow dog-fan) that we have known since we first met each other living in America, so we also tasked her with telling a short anecdote (written by her and kept as a surprise from us until the ceremony – something that was incredibly touching and special) about the early days of our relationship."
The other reading was by Leonardo da Vinci – Theoretical Writings on Architecture, which Christina and Oli chose because of its emphasis on science, and it was read by a work friend they've both known since moving over to London from the USA.
"When choosing the engagement ring, Oli hardly knew where to begin as we hadn't really talked about it, but he knew he wanted something natural looking and ethically sourced. He found Tatiana at We Are Arrow and secretly spent the next 3 months (!) visiting her shipping container workshop in a car park in Hackney to mull over the designs."
"The final result was a lab-made diamond in a white gold setting, cast from a geode. Our wedding bands are from the same place: Mine is a small white gold band with three tiny stones, and Oli's is a rustic, unpolished white gold band."
For their vows and exchanging of rings, the couple chose another beautiful piece of writing by Rainer Maria Rilke – On What it Means to Love, and then finally as a blessing, a wonderful poem by Jane Hirshfield, called A Blessing for Wedding.
"We chose it because we wanted a reading that was non-religious, but still felt like a final 'blessing' of the vows we had exchanged. The poem speaks a lot to nature, which fit perfectly with our outdoor garden ceremony."
Guests were surprised almost immediately post-ceremony by Back Chat Brass, who jumped out of the bushes to serenade everyone in a parade over to their drinks reception – a highlight of the day for Christina and Oli.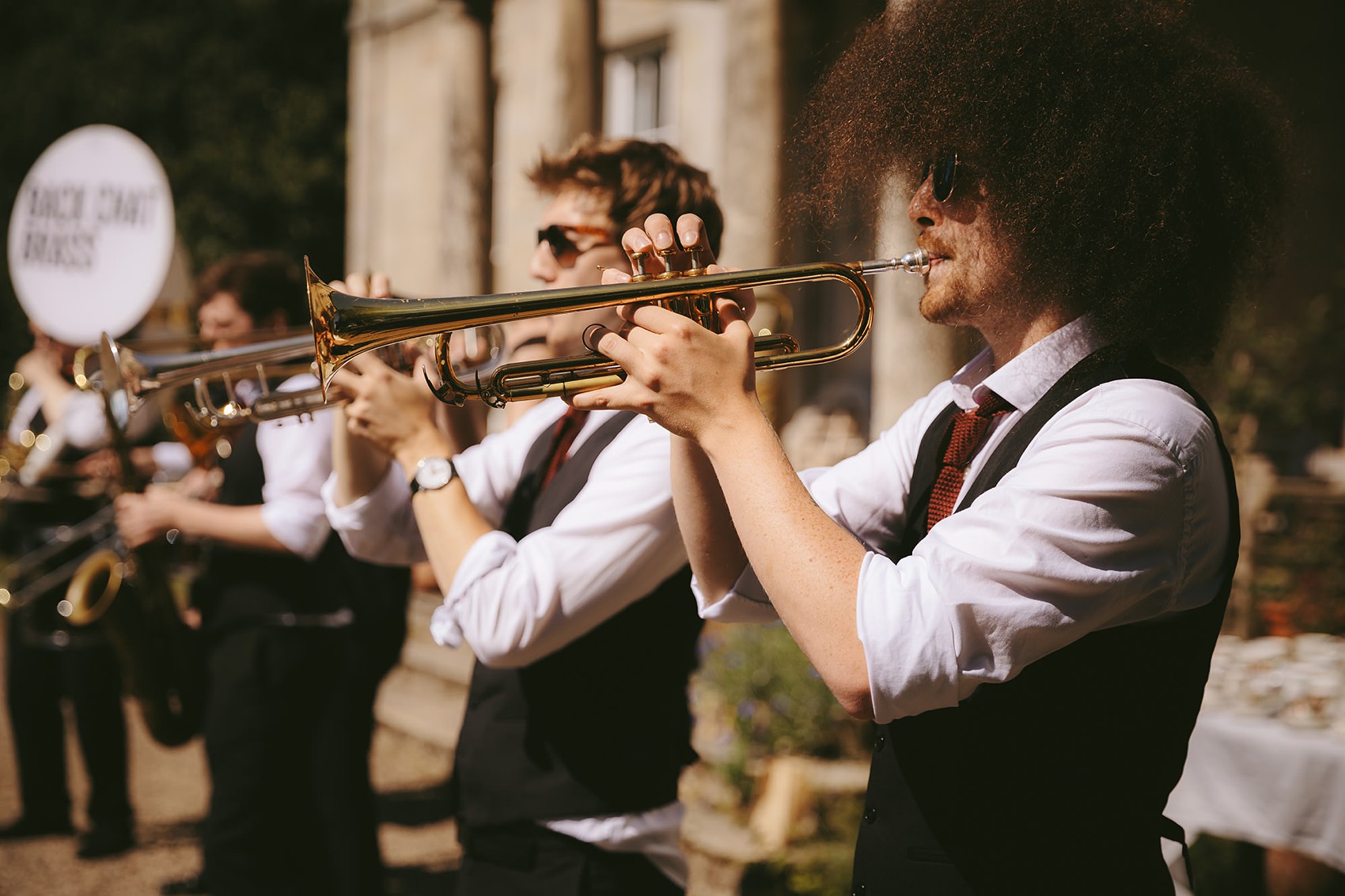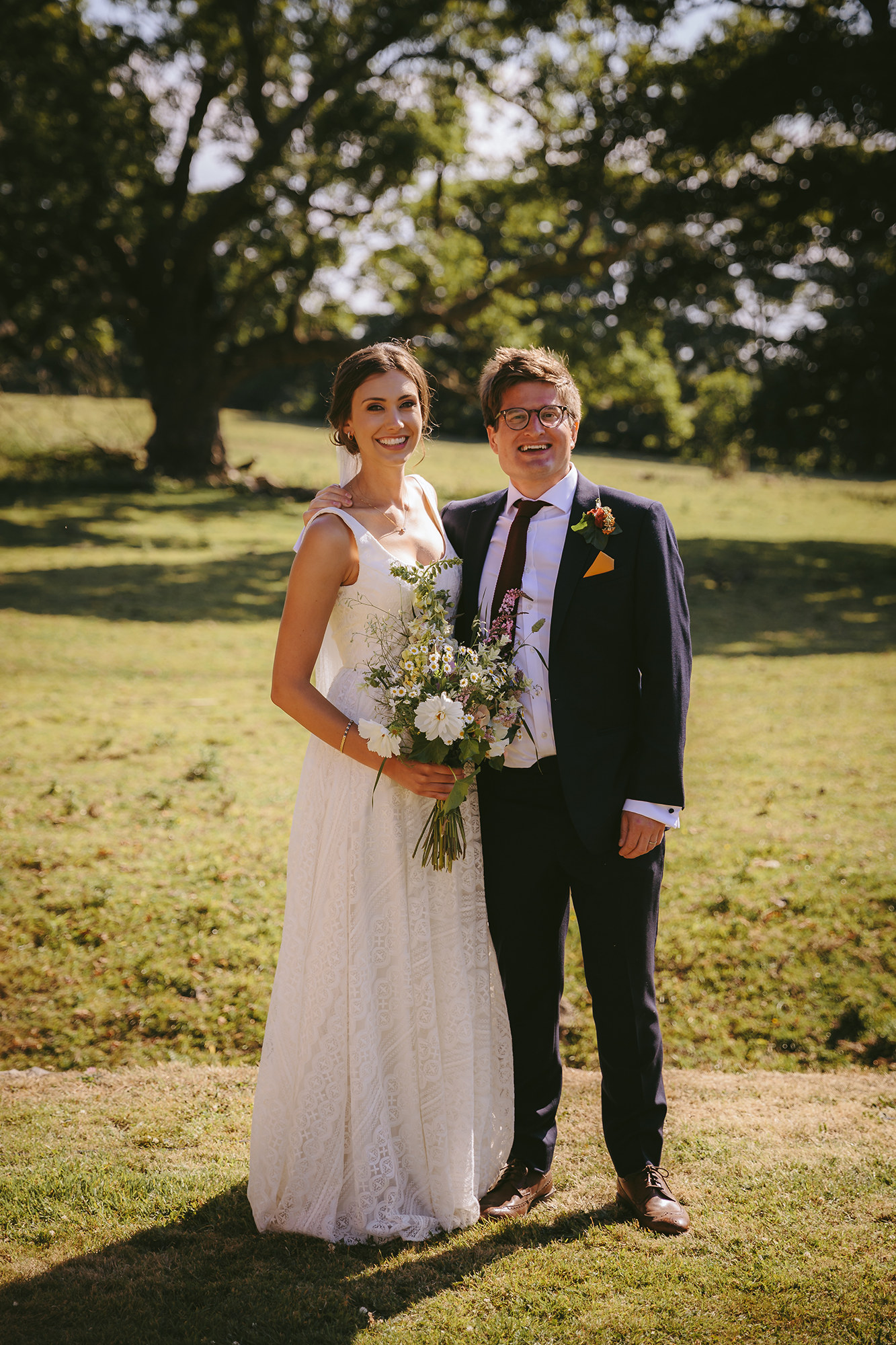 "Dancing like crazy in the hot July sun after the ceremony was definitely a highlight. It meant my hair was a mess before we even sat down to dinner, but it was totally worth it!"
There were delicious canapes of seafood chowder, along with a giant board of local cheeses and homemade bread, served with wines from Majestic, and beers from East London based Redchurch, and Wylam Brewery, from Newcastle.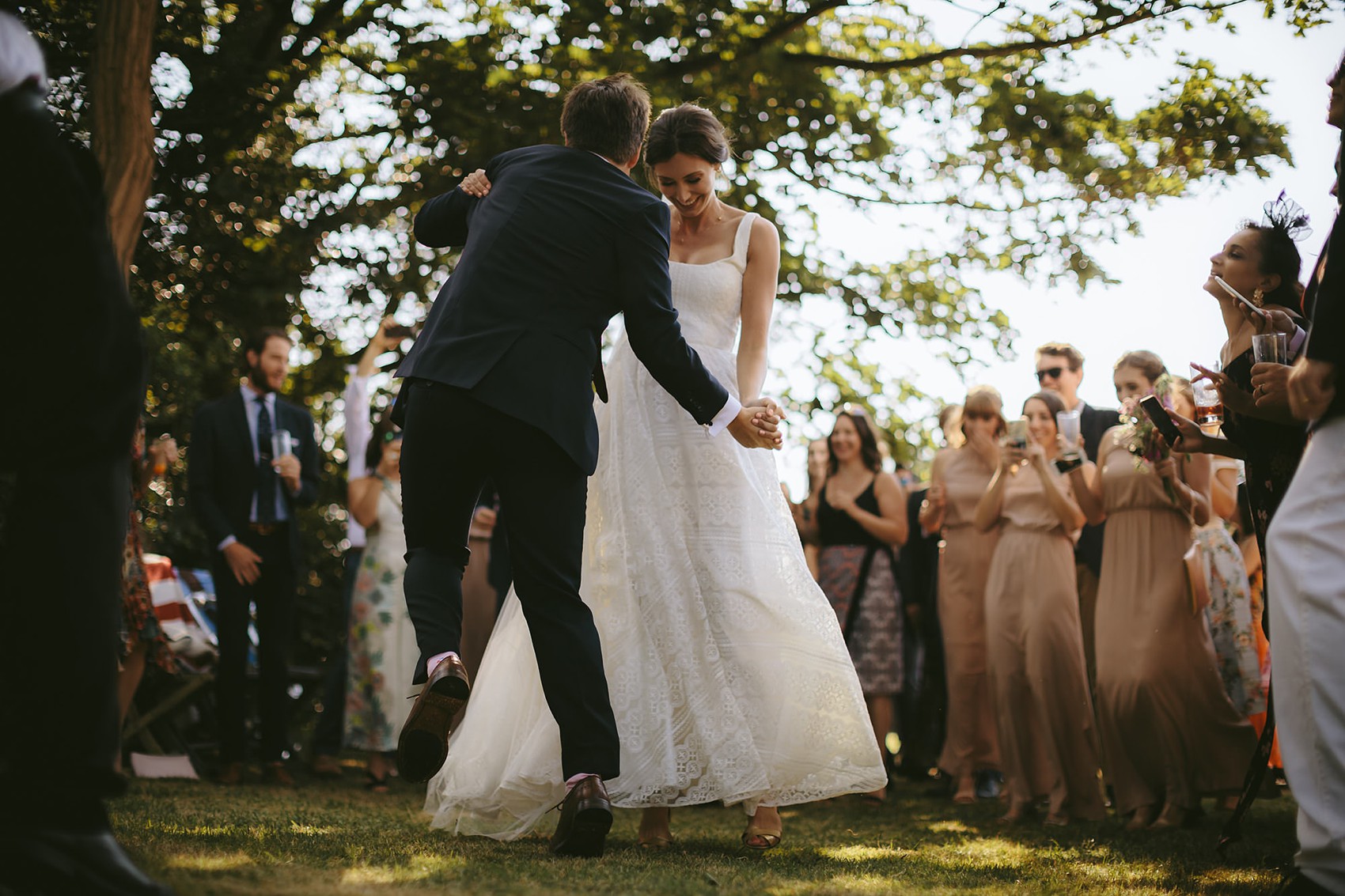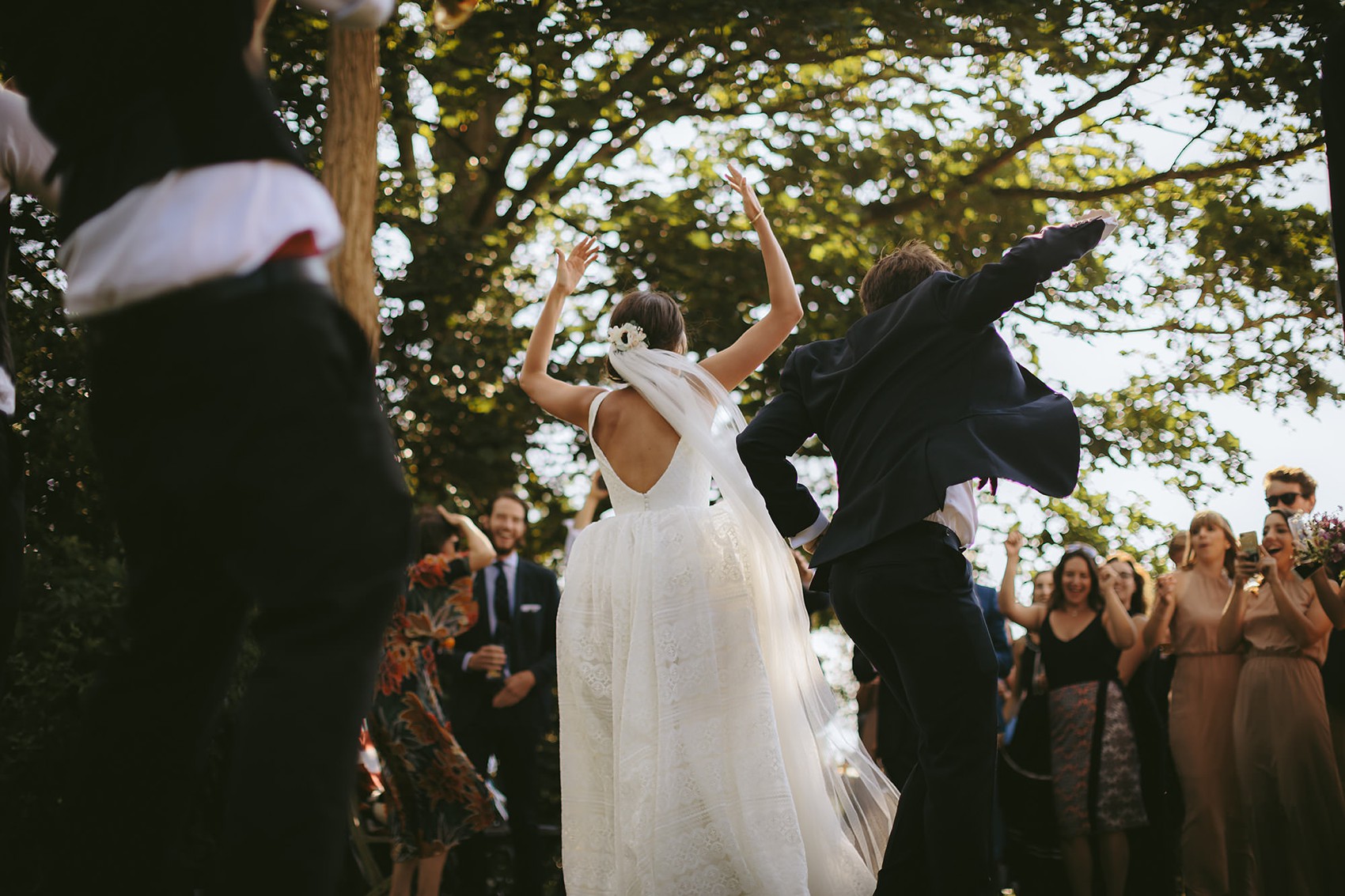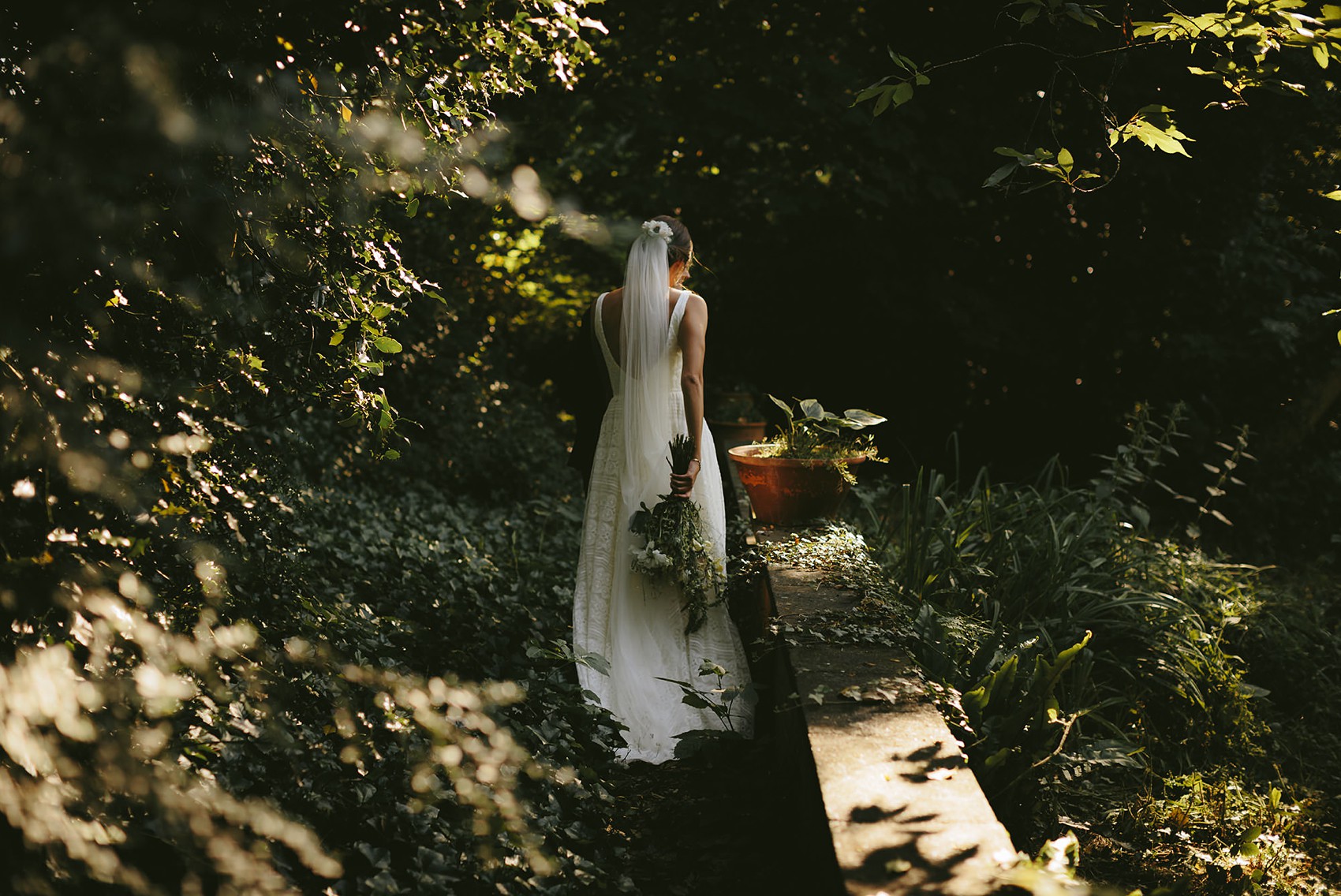 Concealed deep in Budle Hall's gardens was a secret bar, which Christina and Oli asked their friends to set up. The only way to find this hidden gem was to follow a scavenger hunt – what a brilliant idea!
"We knew we would have guests coming from both the UK and America, so we wanted to try to incorporate traditions from both cultures into our wedding day. This included food, ceremony traditions, and decorations. Otherwise, we just wanted the decorations to be as DIY as possible and source as much as we could locally. We have also both been to Glastonbury Festival for many years and wanted to channel that festival vibe in our celebrations."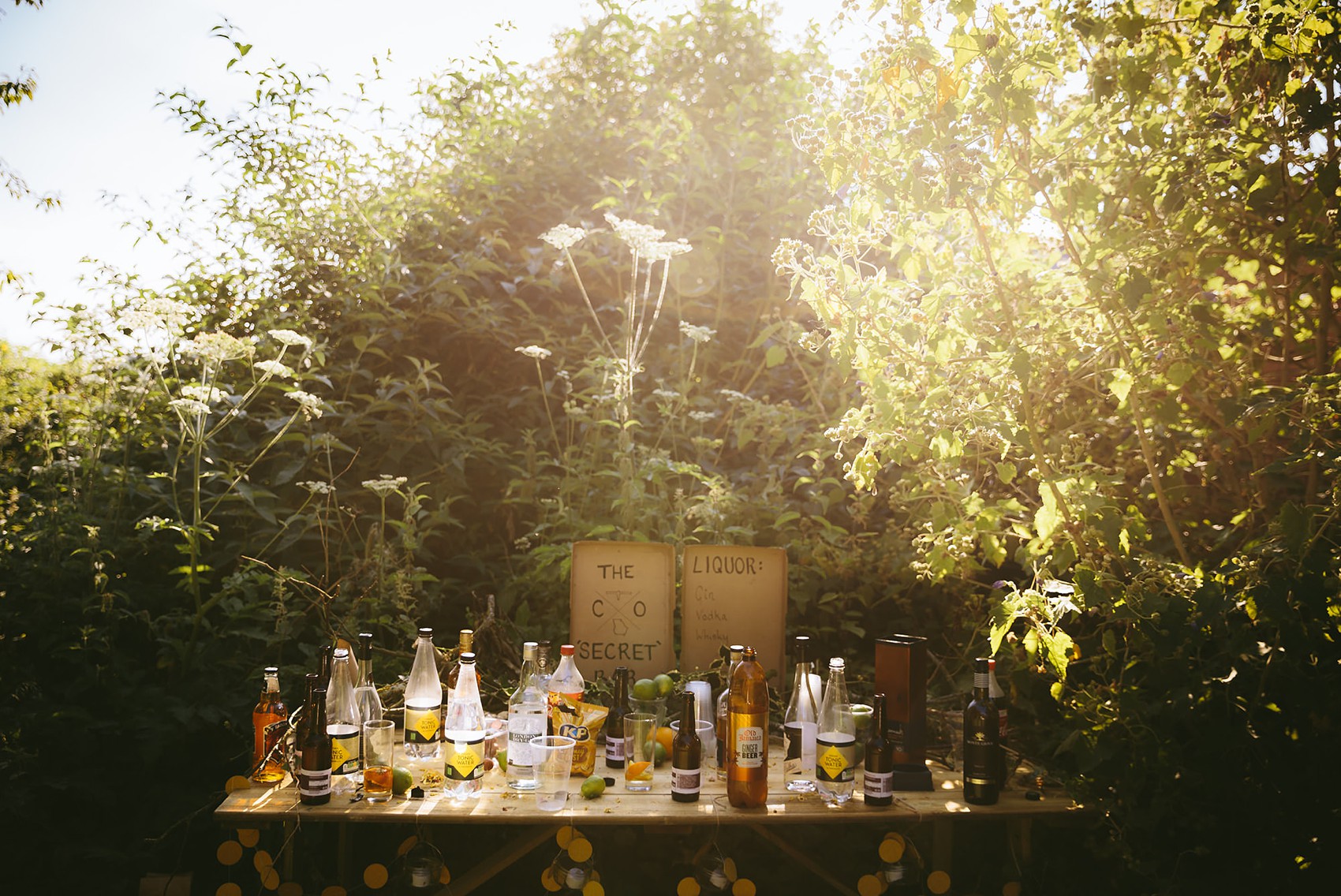 For their reception, Christina and Oli chose a beautiful, blue Berber Tent from Curious Tent Hire, which was filled with rustic tables and chairs from Get Knotted. Table centrepieces were upcycled glass bottles filled with flowers.
"One of the beauties of our venue was that it was also our accommodation, and we had full access to it 3 days before the wedding. On the Friday before the wedding we filled two chalkboards with all of the tasks that needed doing, and invited guests round to help out in exchange for food and drink. Our friends and family were more helpful than we could have dreamed, making lanterns from glass jars, painting signs, arranging centrepieces, hanging bunting, setting up furniture, etc."
"We absolutely could not have pulled it off without them, and everyone commented on how nice it was to be a part of the set-up and meet other guests before the actual wedding. It also extended the time we got to spend with everyone and was really special for us to see our friends and family from so many different places pulling together and being so willing to help."
Dining tables were covered in brown paper, with a marker pen at each place setting to encourage creativity, and the tent was strung with bunting made from shirt material sourced from an East London fabric wholesaler.
"All stationery was made by us. We designed and cut a stamp for our invitations using the laser cutting machines at the Institute of Making. Order of the day booklets were printed on paper from Paperchase using a good old-fashioned laser printer at work. We also cut a stamp with our self-styled wedding logo, (which included the Angel of the North for Oli, and the state of Georgia where Christina is from, along with 'C + O' for our initials) which was used on confetti cones and programnes."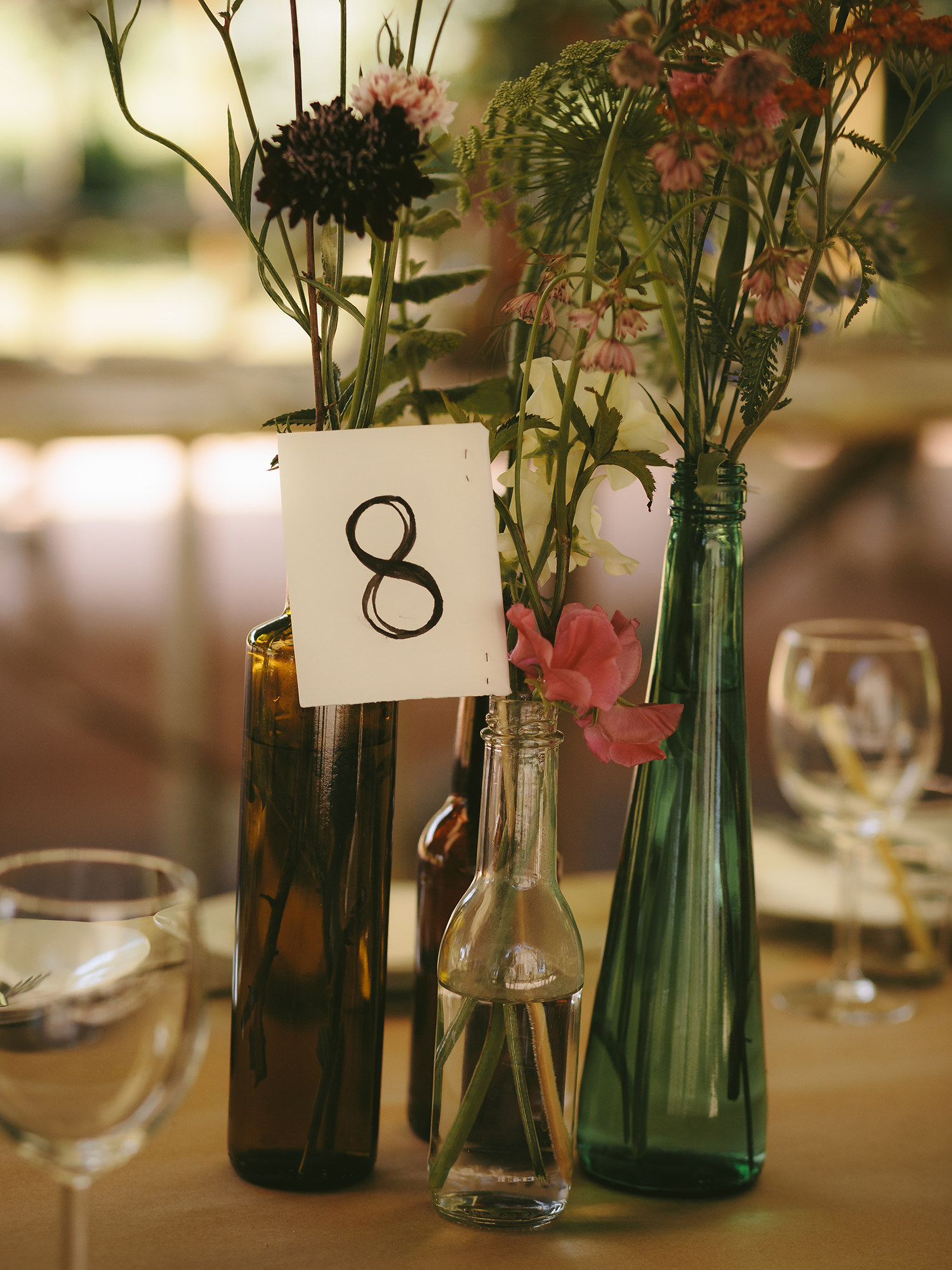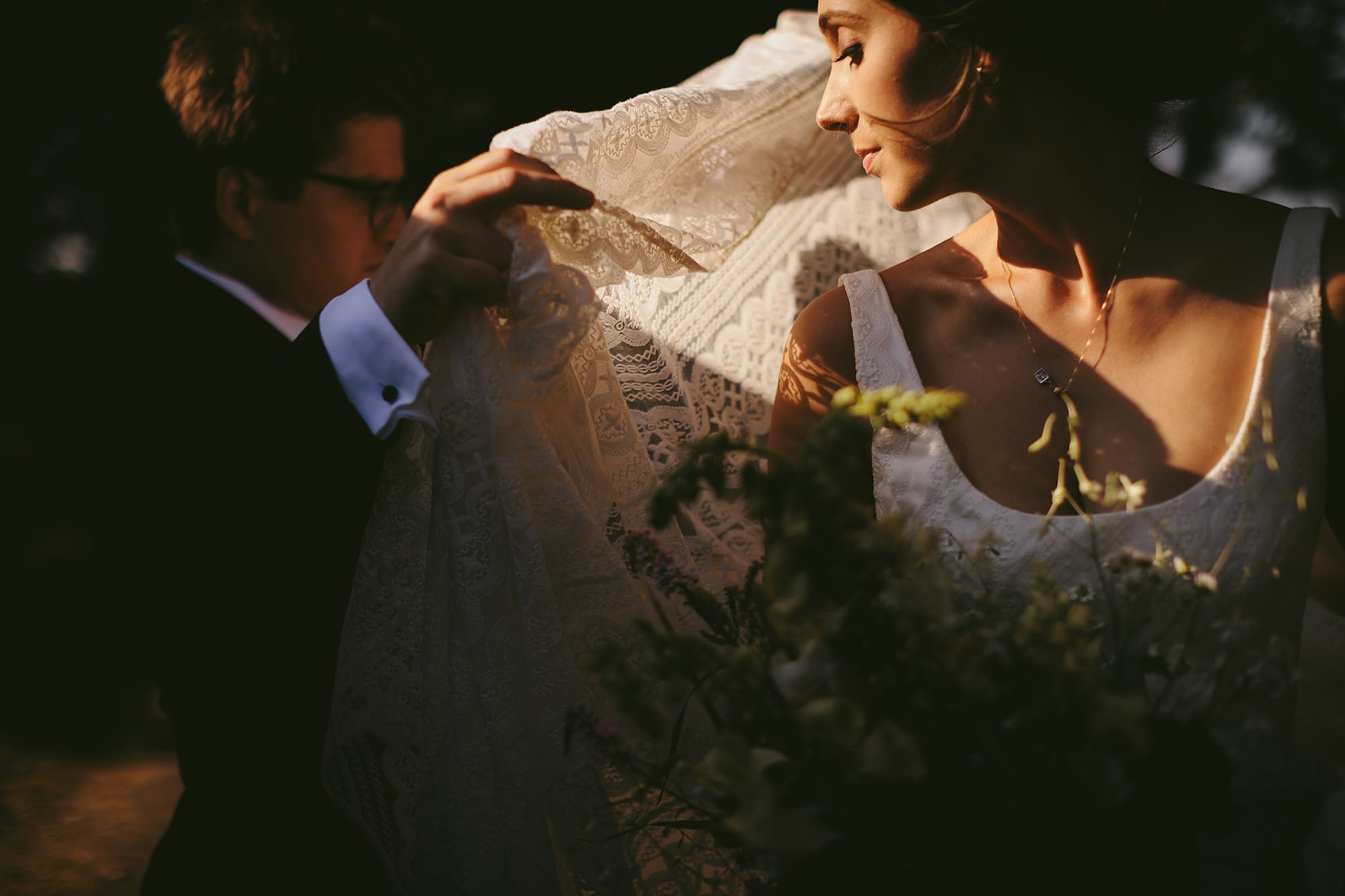 The food menu was written onto homemade a chalkboard by friends Katie and Lizzie, and place settings were wooden coasters engraved with each guest's name, as well as Christina and Oli's initials, made at the Institute of Making.
"Although our venue didn't have any requirements that we use a specific caterer, we were put in touch with the Great Northumberland Bread Company with the preface that they had previously catered at Budle Hall, and knew the quirks of the kitchen in such an old, historic home – a benefit that we appreciate in hindsight! We also loved the fact that they are a family run bakery that sources wonderful local ingredients from Northumberland."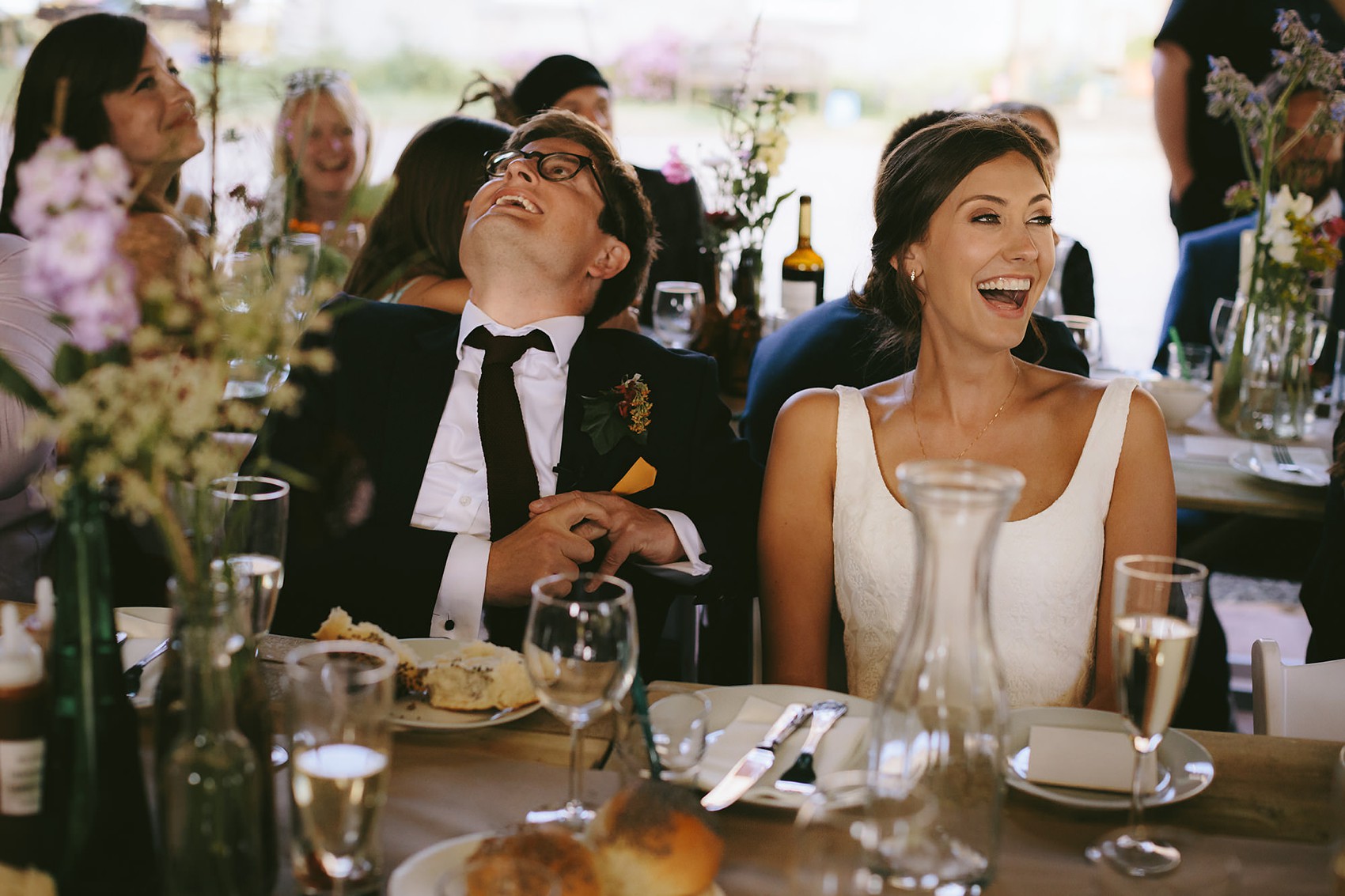 "Matthew and Zoe were an absolute dream to work with. They had us round to their farm for tastings (which felt more like private feasts with old friends), and didn't blink twice when we told them our slightly mad idea of having a southern American-style barbecue as our wedding breakfast. In fact, they were more than up for the challenge! Something that was reflected in Zoe's countless hours researching American BBQ sauce recipes!"
"Once all of our guests sat down to dinner, Oli and I made our entrance by running into the tent together, jumping around to Calvin Harris's Feel So Close. Those few moments alone, just the two of us standing in the doorway waiting to run in together, and looking out at all of our friends and family gathered together was a truly special moment."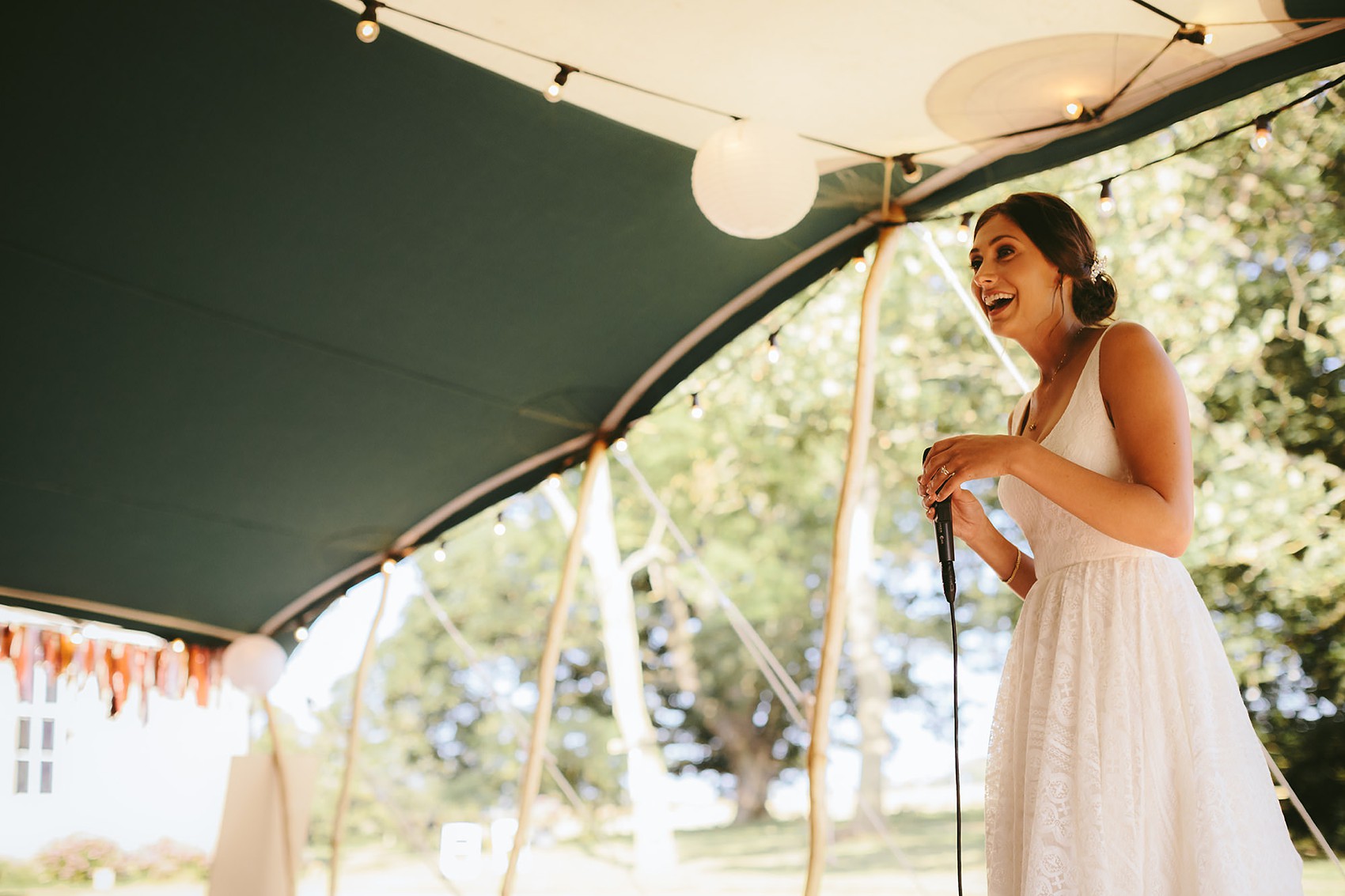 Everyone sat down to pulled pork or jackfruit, grilled langoustines from Budle Bay, (which Budle Hall overlooks) grilled chicken, macaroni cheese, collard greens, slaw, and a tomato and bean salad.
"We had three cakes made by our amazing friend Ben. We had originally only intended on one big cake, but they were all so good we couldn't choose! In keeping with our UK/US theme, we wanted flavours that reflected both countries. After numerous trials and taste-tests, we settled on raspberry and elderflower, strawberry and prosecco, and cookies and cream (with our own 3D-printed brain scans as cake toppers!)."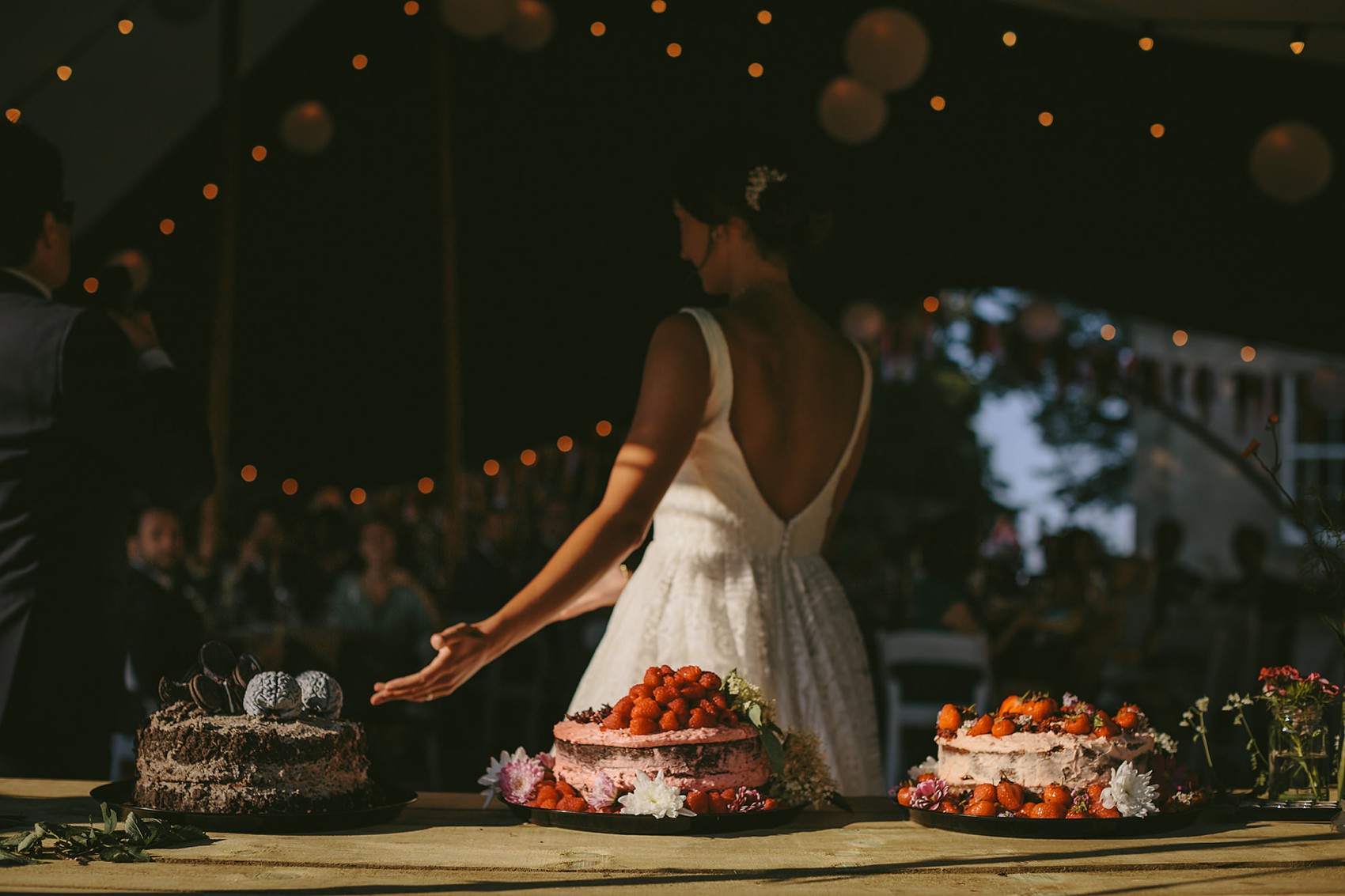 "For cake decoration, Ben channelled the style of our favourite cake bakery in East London, Victoria Yum, using raspberry crumb, gypsophila, cookies, and fresh flowers. Needless to say they were all a huge hit, and we all hope Ben opens a bakery – after he finishes his PhD!"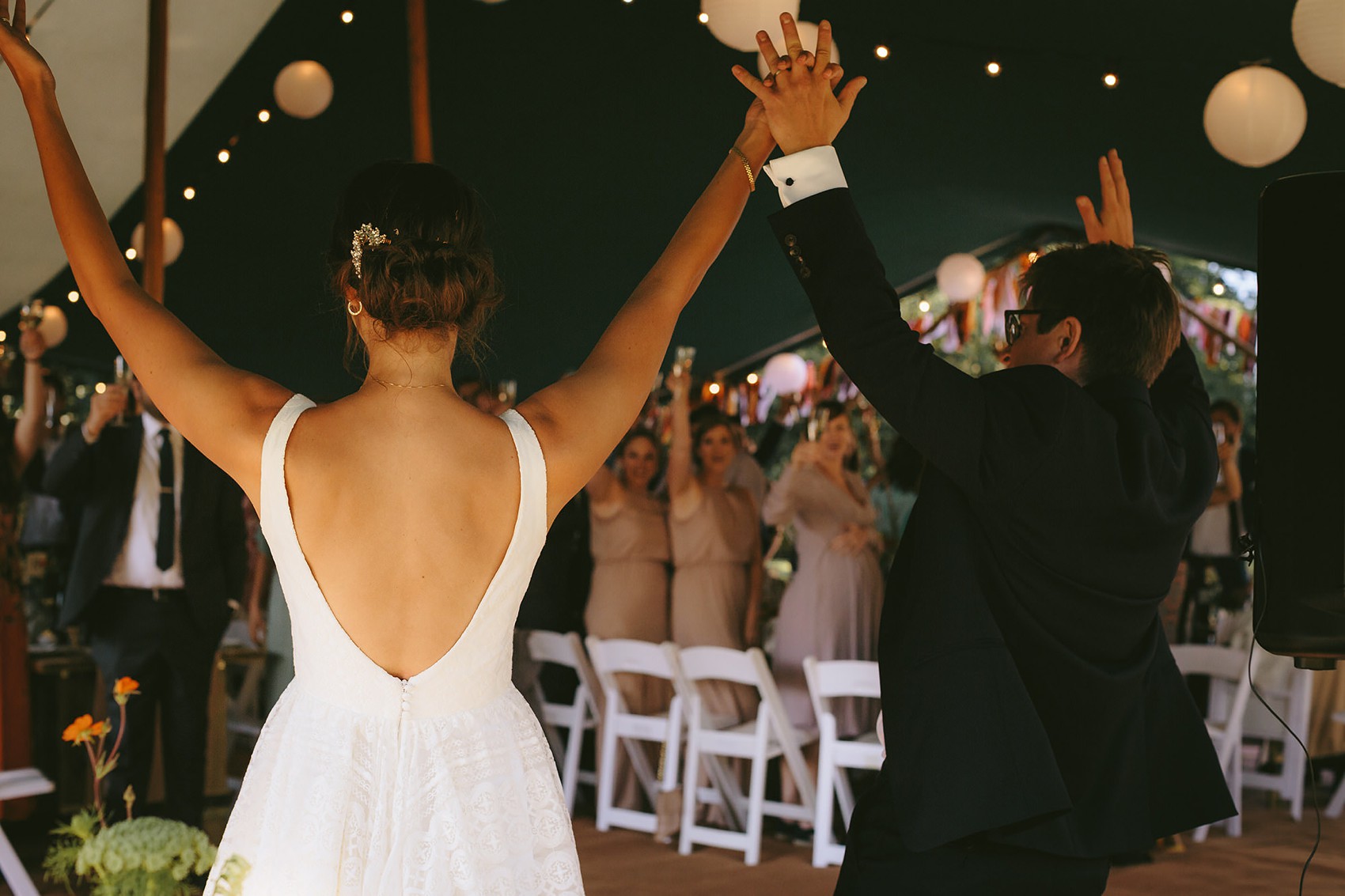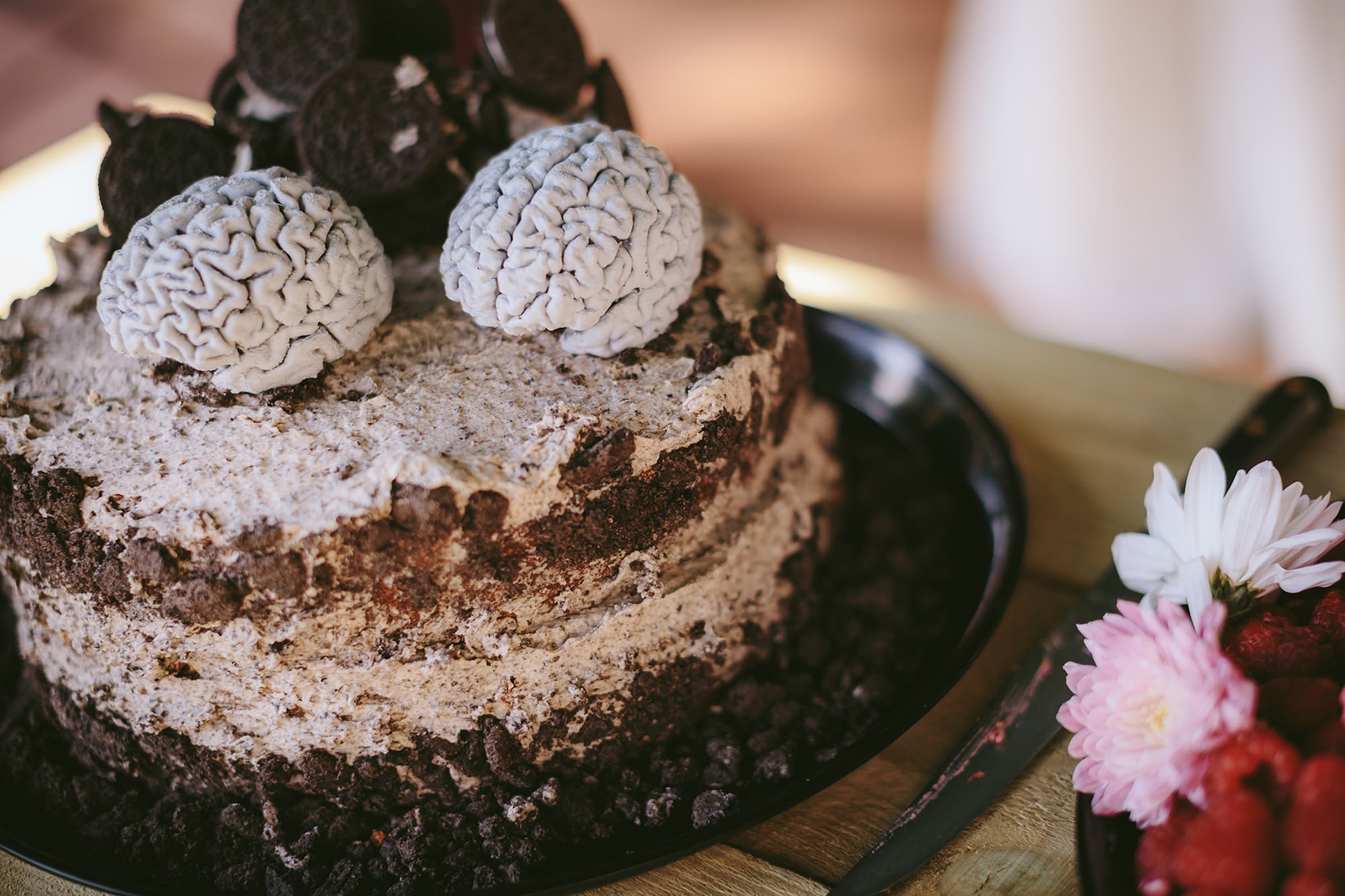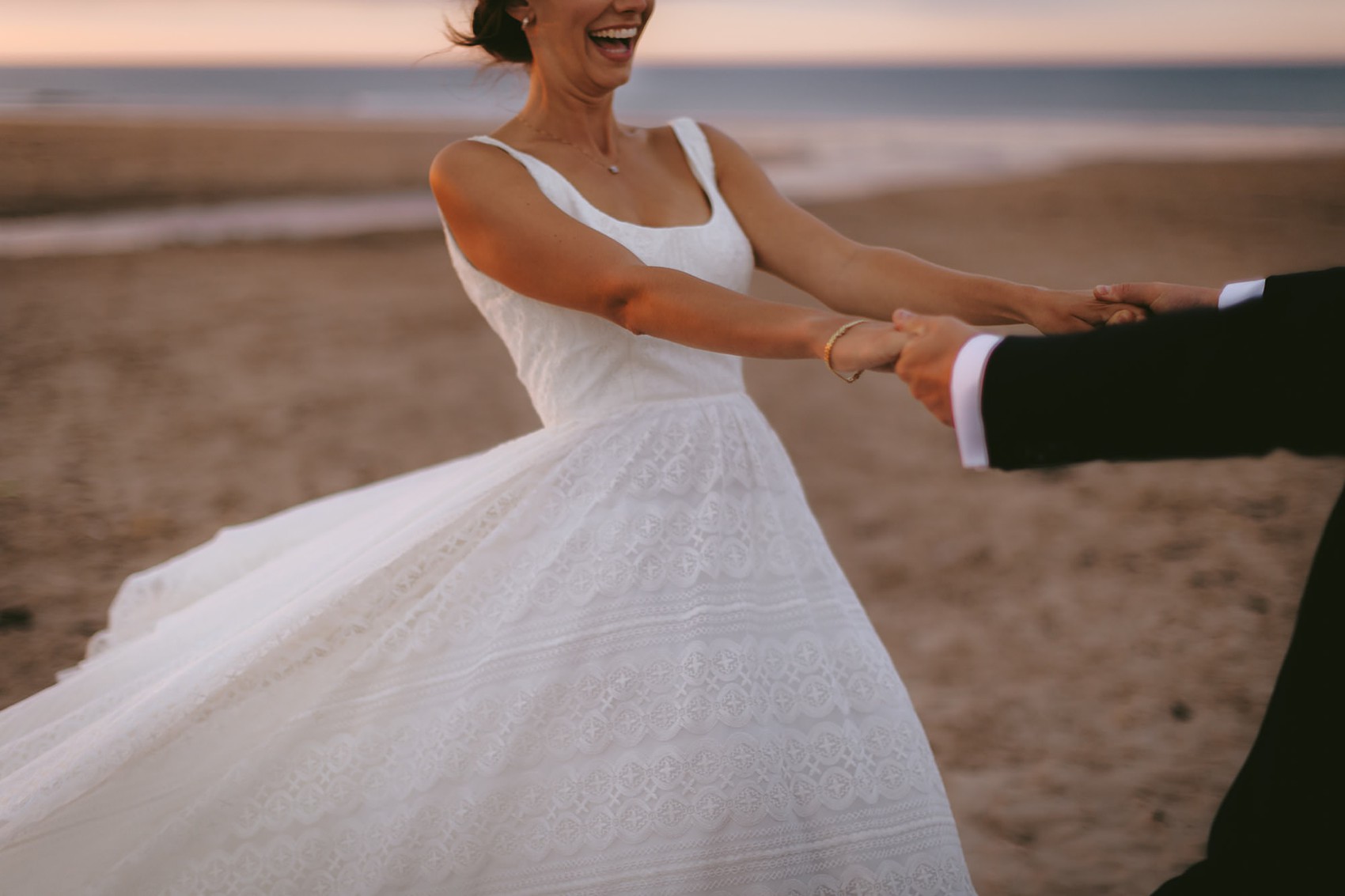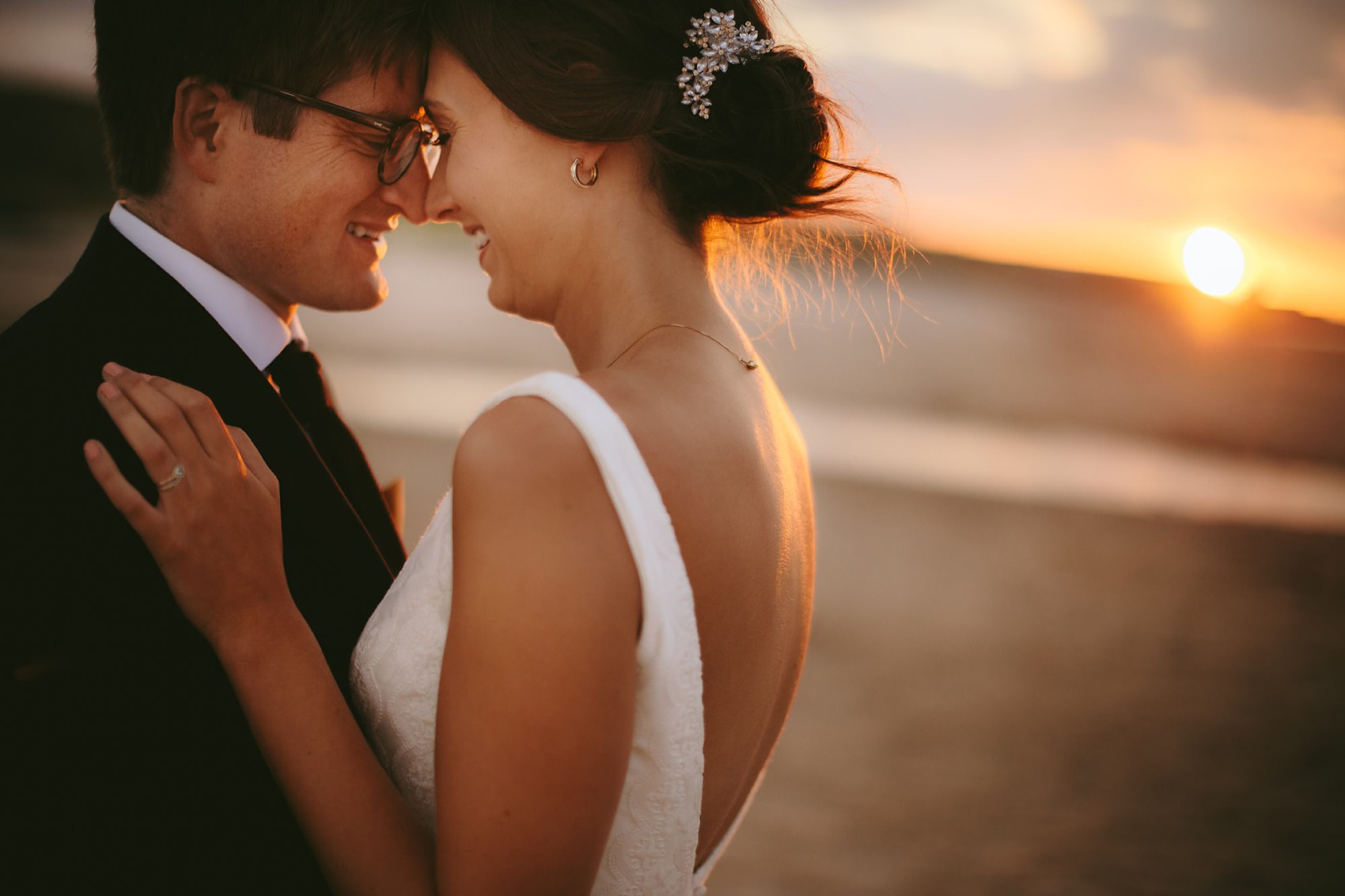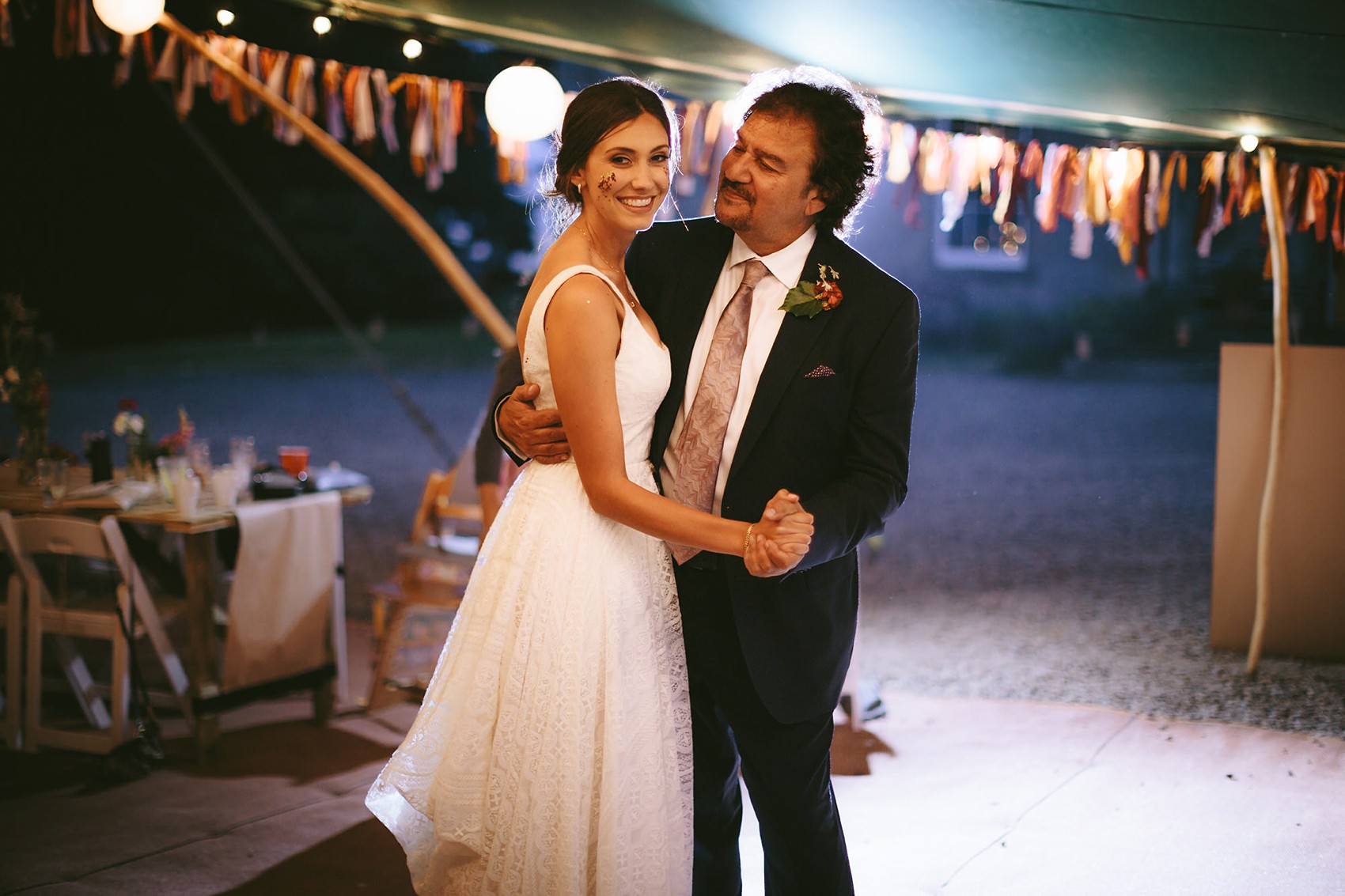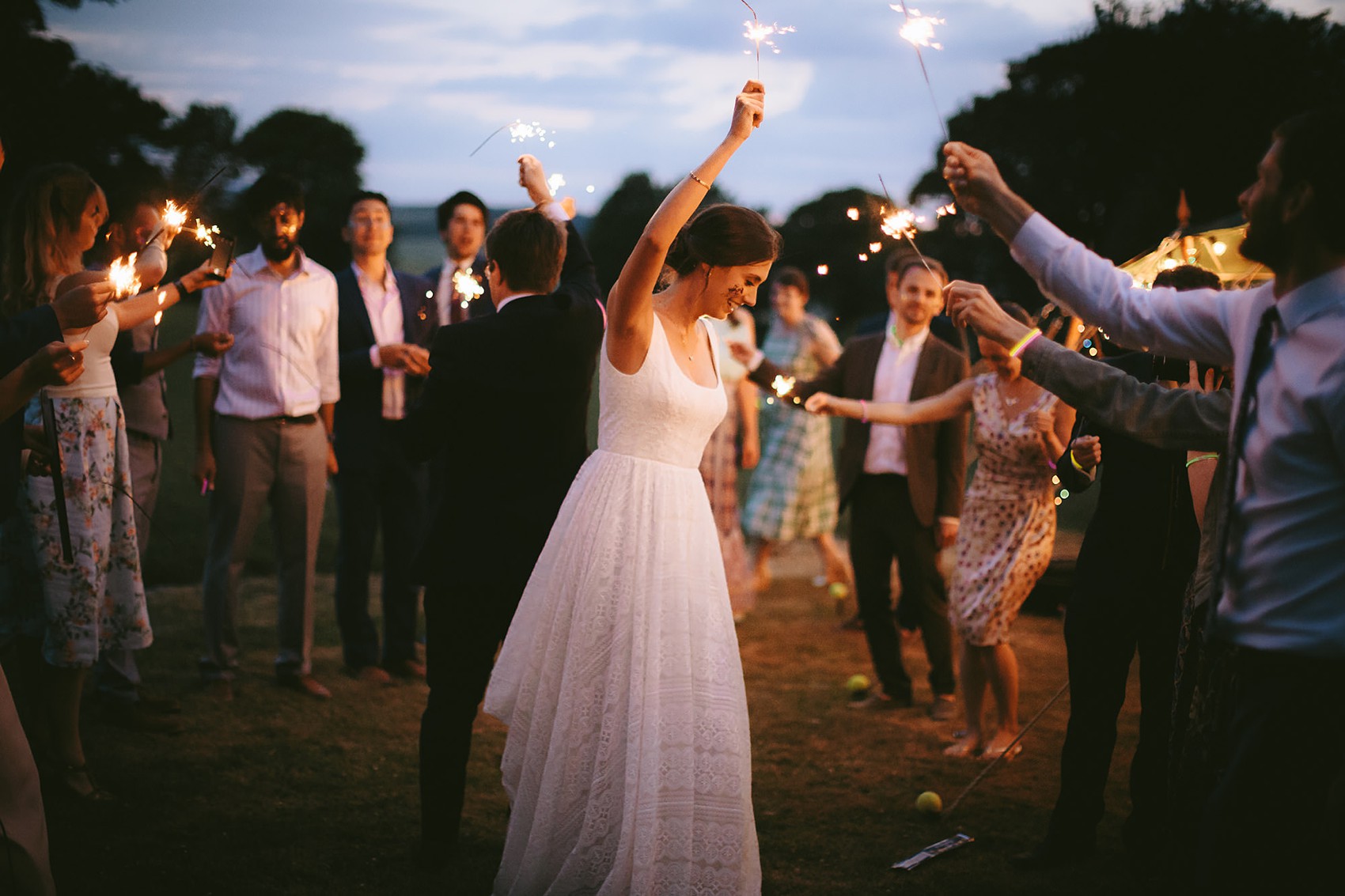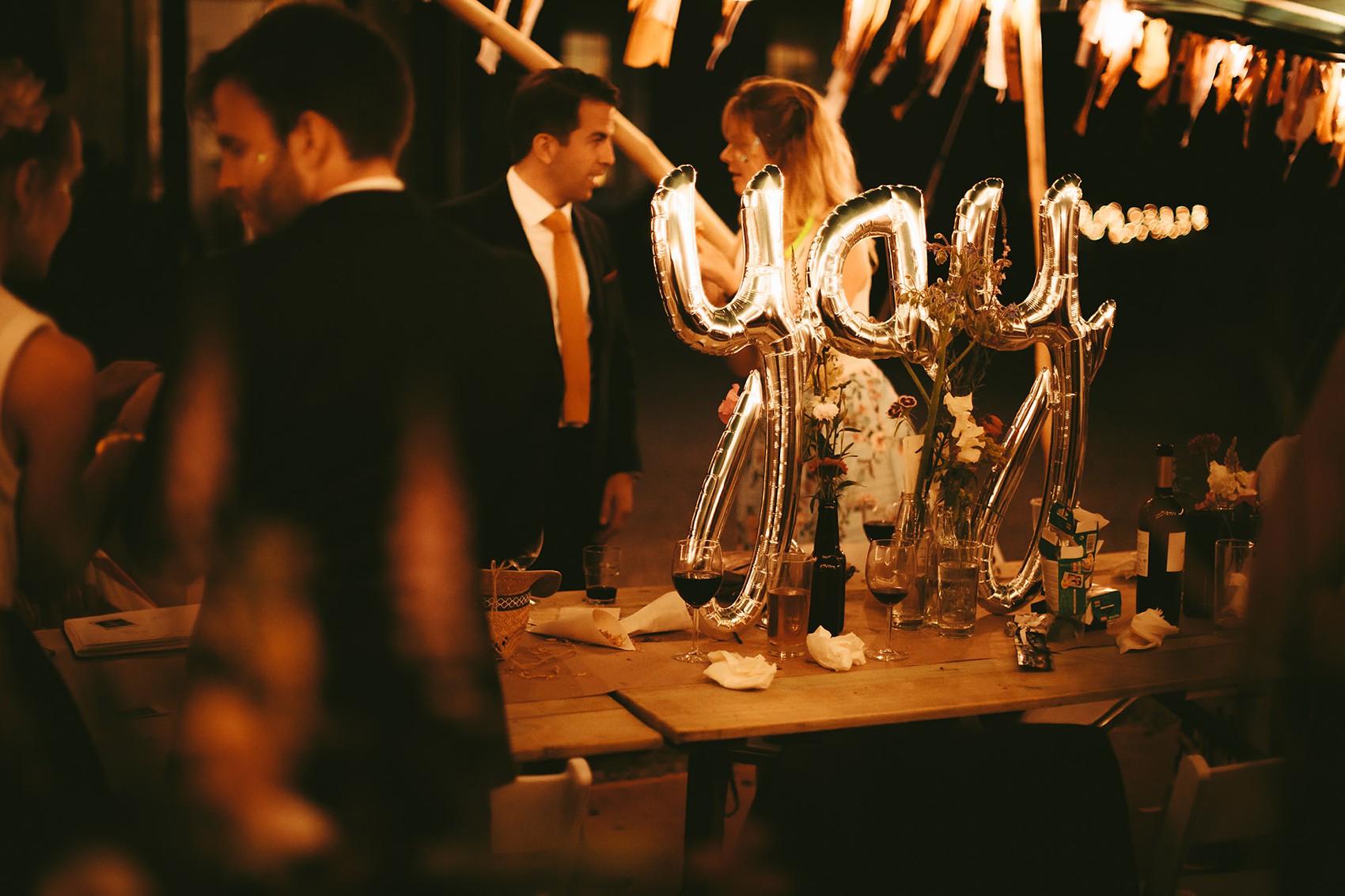 Christina and Oli hadn't intended to have a first dance at all, but their friend and MC over dinner introduced them onto the dancefloor to Beyonce and Jay-Z's Crazy in Love.
"After dinner, we just had a laptop with a well-curated (by us!) playlist. Having the songs and music style we wanted was really important to us, so this let us be in complete control of what was played throughout the evening."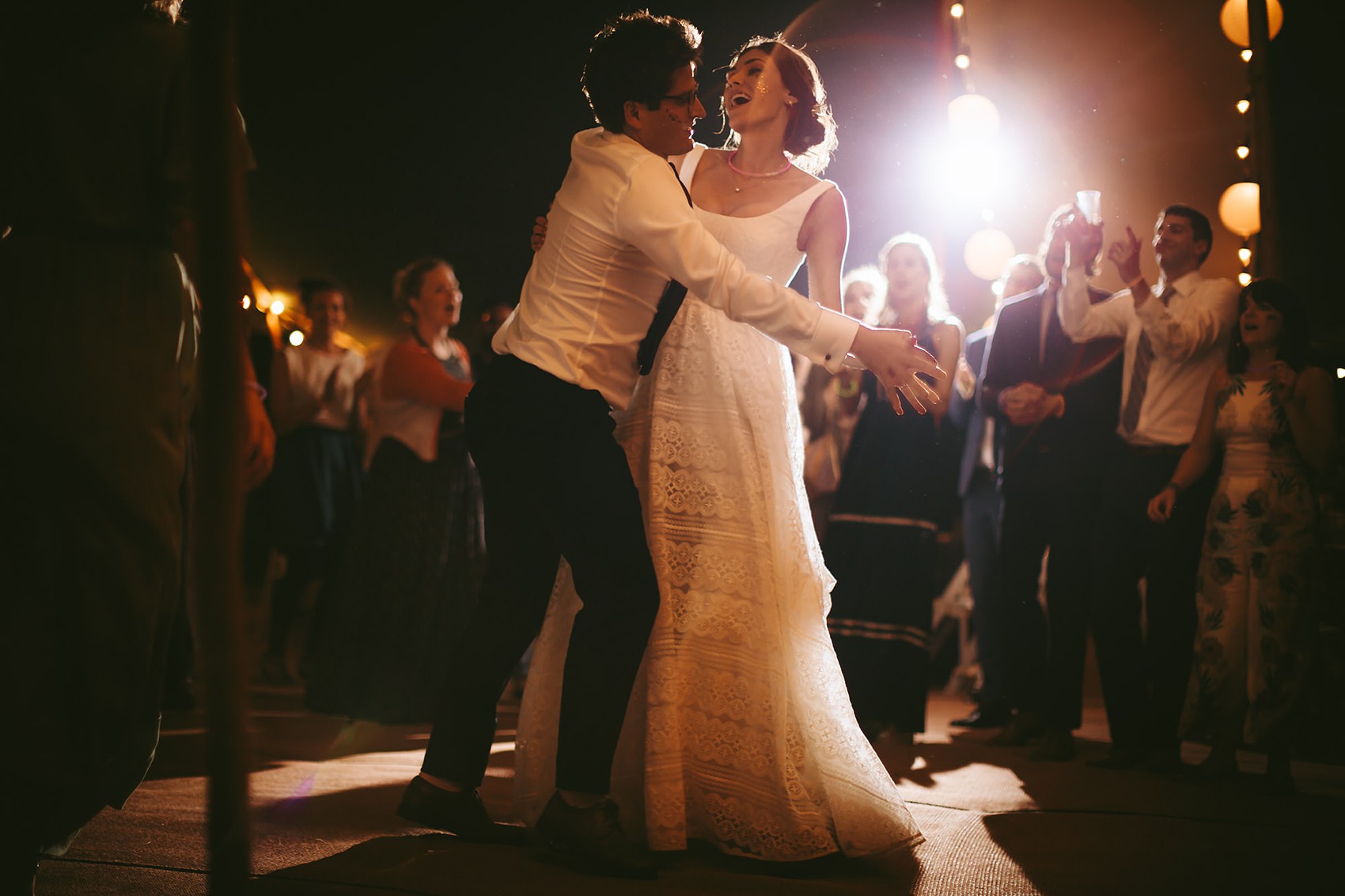 Words of Wedded Wisdom
"Don't be swayed by traditions, and don't let the smaller details get to you. Something that can seem really important and stressful during planning ultimately won't matter on the day, so focus on the big things and everything else will fall into place. No-one will remember what your napkins looked like!"
"Also take time for yourself before the big day and forget about the stress of planning, whether that means a few quiet moments alone or spending extra time with your friends and family. The wedding day goes so quickly, and it's incredibly hard to spend time with all of your guests in such a short time, so steal whatever extra moments you can to be with the ones you love."
"We did this by organising things in the days leading up to our wedding (a boat cruise out to the Farne Islands, evenings in the pub, inviting people round to help set up, getting my nails done with my girlfriends the day before, a yoga class outside on the morning of the wedding), which meant we got to spend quality time with our loved ones who had travelled so far to be with us."
Christina and Oli, many congratulations and huge thanks. It's been so lovely to see how friends and family came together to make this sunny celebration even more memorable. Many thanks to Nigel John for these fantastic images, and to RL Films Co. for such an evocative film.
With love,
Laura