Good morning loves – welcome back to a brand new week, which we hope to make easier for you through sharing beautiful and meaningful wedding inspiration every single day.
Today I'm taking you to a very special Derbyshire wedding venue that we are proud to recommend through our Little Book Wedding Directory.
The West Mill, Darley Abbey in Derbyshire is a magnificent converted industrial mill and, as I hope you will find out from these photos, makes for an exceptional location for any celebration. Let's meet PE teacher Martin and Rebecca, a project co-ordinator for a national charity, who wed after thirteen years together on 30 May 2019. The pair were drawn to the unusual spaces and abundance of light in The West Mill and its industrial feel really appealed to their shared sense of style.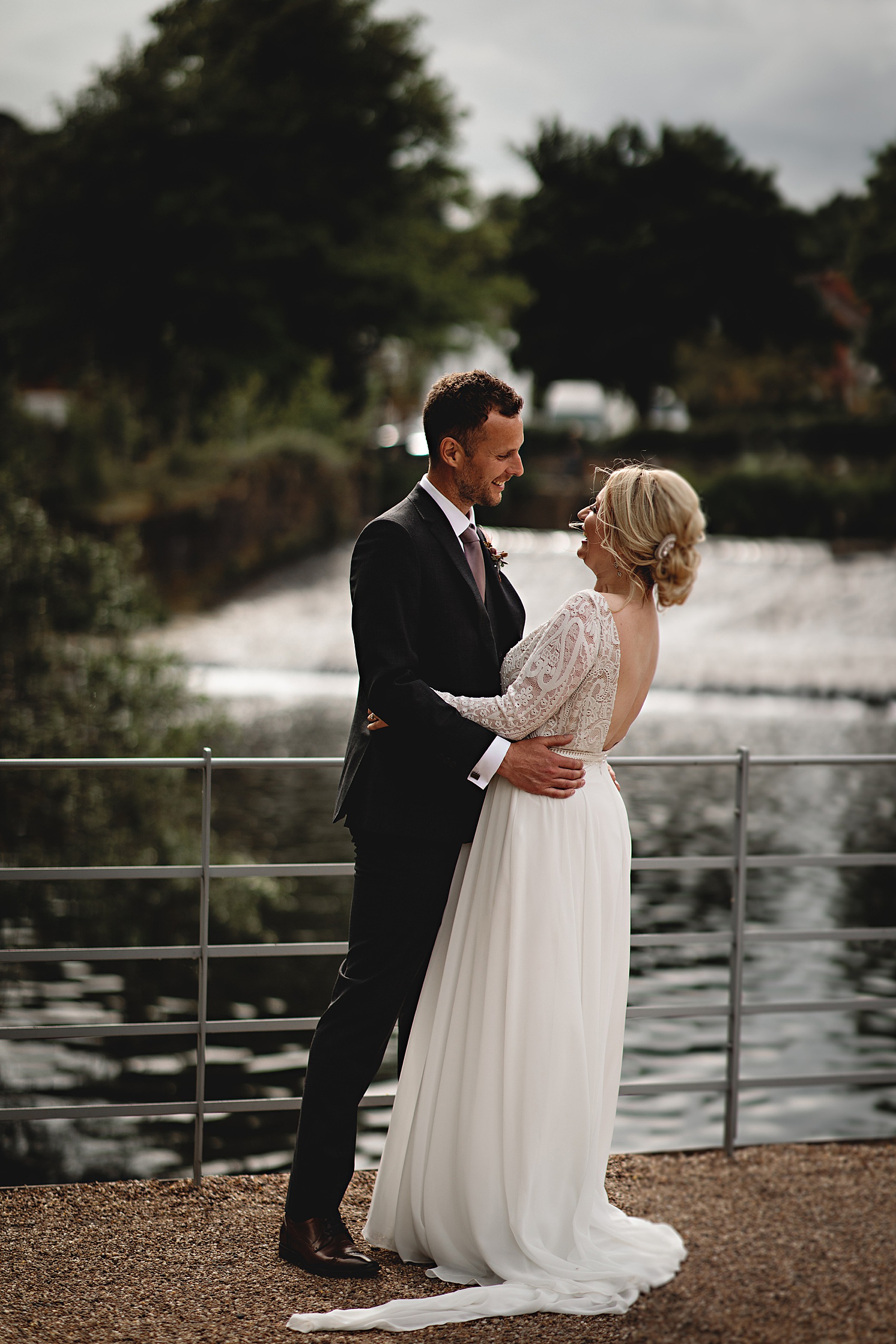 The intimacy of the couple's celebration was caught in these dramatic and atmospheric, reportage photos by HBA Photography, run by married duo Hannah and Ben.
"These guys were always going to be the one non-negotiable! Ben's work is stunning and his creativity gives me goose bumps. We love their approach to photography and they are so friendly, passionate and professional that you can't help but feel at ease. We wanted natural images that captured all the emotion of the day. We had complete trust in Ben to do just that and he produced the most incredible, beautiful images that we will treasure forever."
The couple were engaged for just over eighteen months.
"When we first met, Martin was working as a personal trainer at a gym that I used and we got chatting (it was shortly after that that I started to make better use of my gym membership). We met up on a night out, me with the girls and him with the lads, then we started to date not long after. We've been together so long that I think people eventually stopped asking when it was going to be us. Martin surprised me a few nights away in Manchester for my birthday and it was there that he asked me to marry him! It was a complete surprise – I genuinely had no idea!"
Rebecca decided on the 'Melanie' gown by Israeli designer Flora Bridal. This boho-style gown features an open-backed, lacy bodice with the most exquisite pearl detail around the long-sleeves and waist.
Sadly, Rebecca's mum died ten years ago and it was during the search for her wedding gown that she really missed her.
"I missed her opinion and wanted to share the excitement with her. Phoebe and Rach at 'The Ivory Chapter' (which very sadly closed in 2019), made it such an easy, relaxed and fun process. Phoebe and Rach were so accommodating; they listened to what it was that we wanted in terms of style but it was equally important to them how we felt in our dresses and we felt amazing!"
The bride's Rachel Simpson 'Olivia' shoes were a funky combo of velvet and glitter, and oh, how I do covet them!
"These were the first thing I bought! I fell in love with the colour and textures! I'm not a glitter-y girl but if you can't have a bit of shoe dazzle as a bride then I don't know when! I loved the simplicity of the design but that they made a statement at the same time."
The final touch was Jo Malone's English Pear & Freesia fragrance.
"I love how fresh a scent this is."
The girls' hair was all styled in to messy, relaxed up-dos by Helen Sutcliffe Hairstylist and make-up artist Make Up By Jenni was on hand to create their glowing make-up looks. The flower girl and page boy made charming additions to the bridal party in their adorable grey outfits made by Freya Lillie.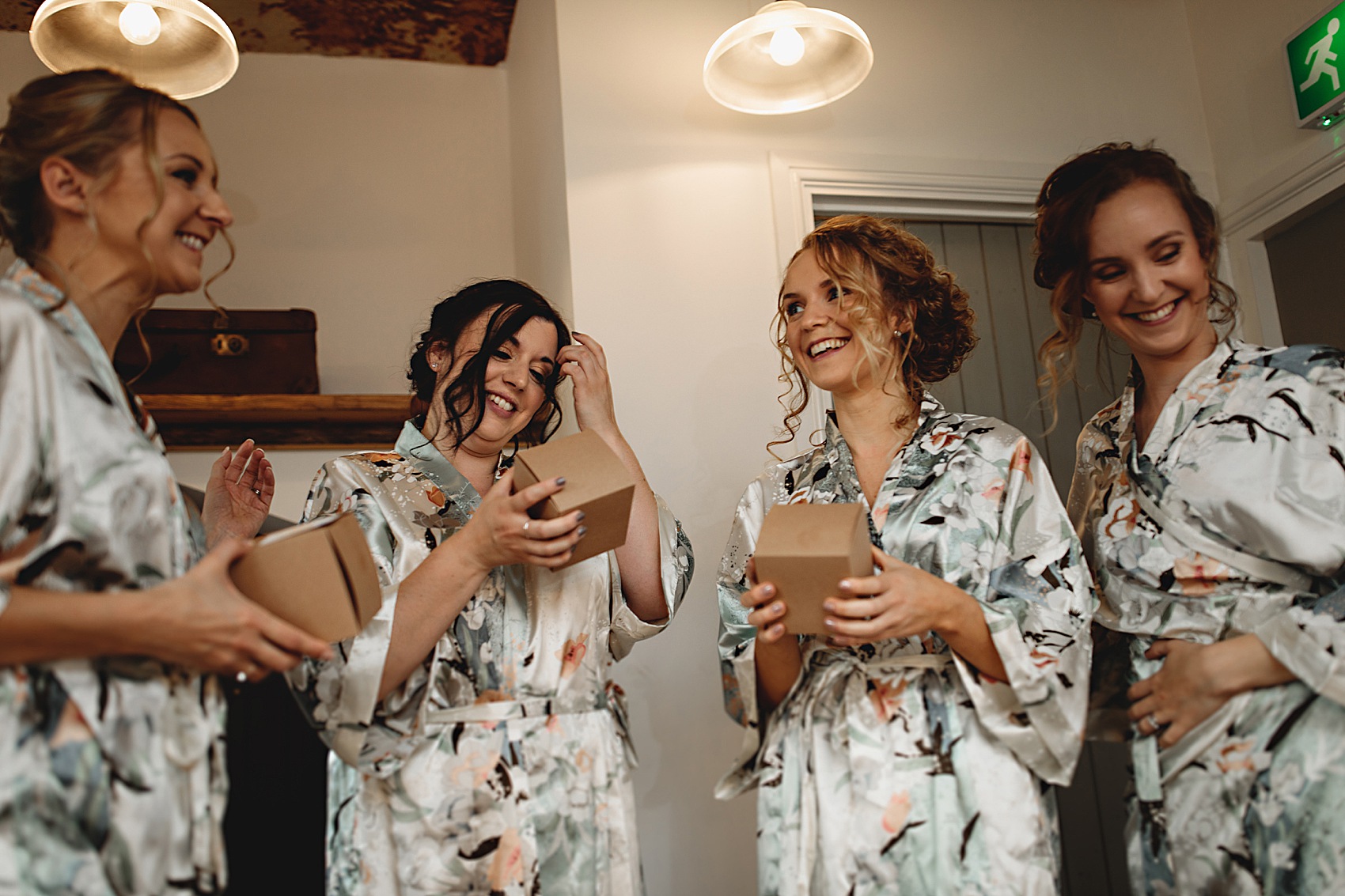 As you can see from these gorgeous photographs, the main styling element for Martin and Rebecca were flowers, and lots of them. I love the couple's and their florist Nadia Di Tullio's penchant for 'flowers less ordinary'.
"Nadia's style is stunning and, following her on Instagram, I loved her statement bridal bouquets. Her style is definitely 'flowers less ordinary'. We knew that we wanted a style that was unstructured and that I wanted lots of greenery."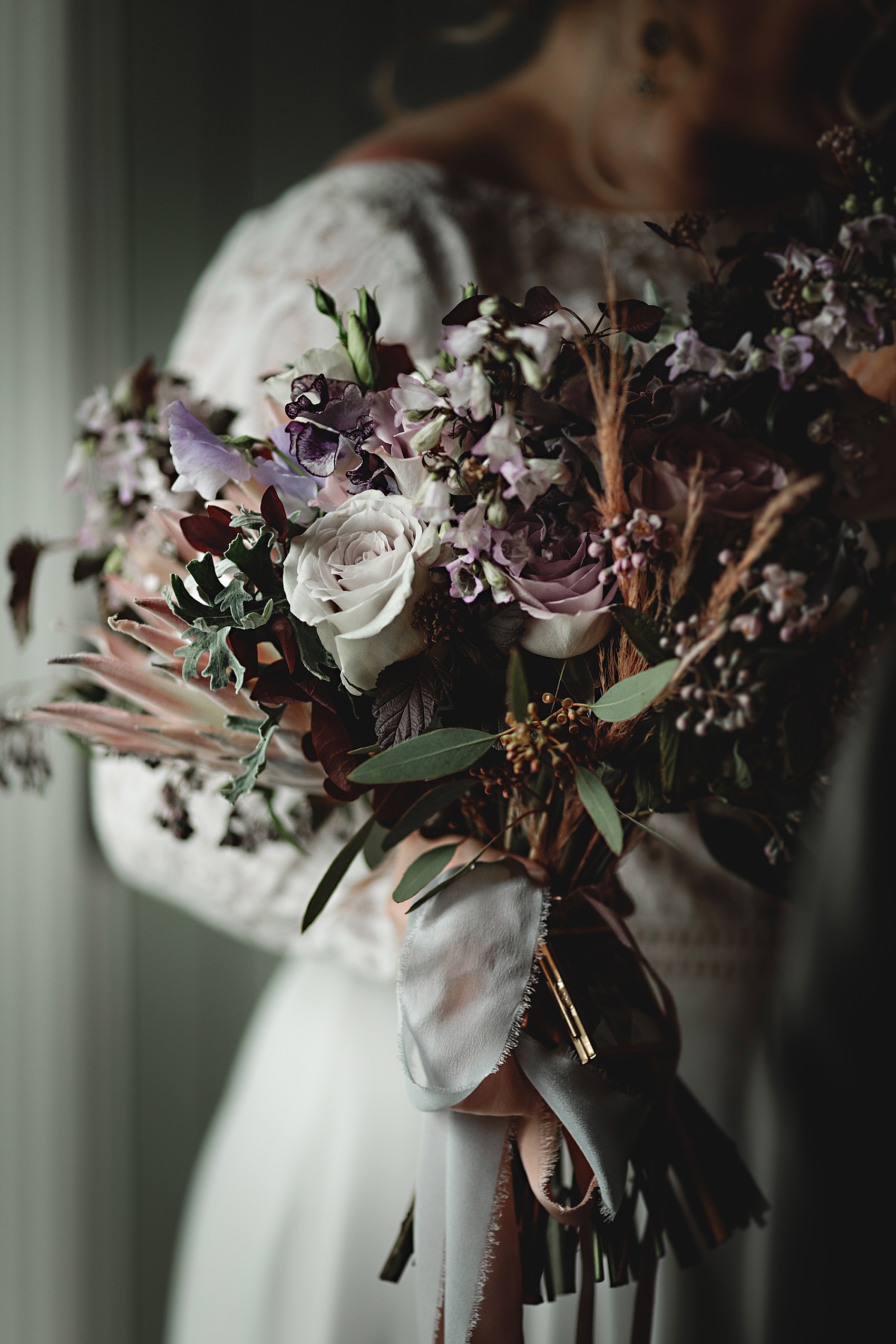 "I was keen that the bouquets were textured but muted and, as succulents and proteas were a favourite of my mum's, it was important to us that these were included. We also included these in other parts of the wedding too."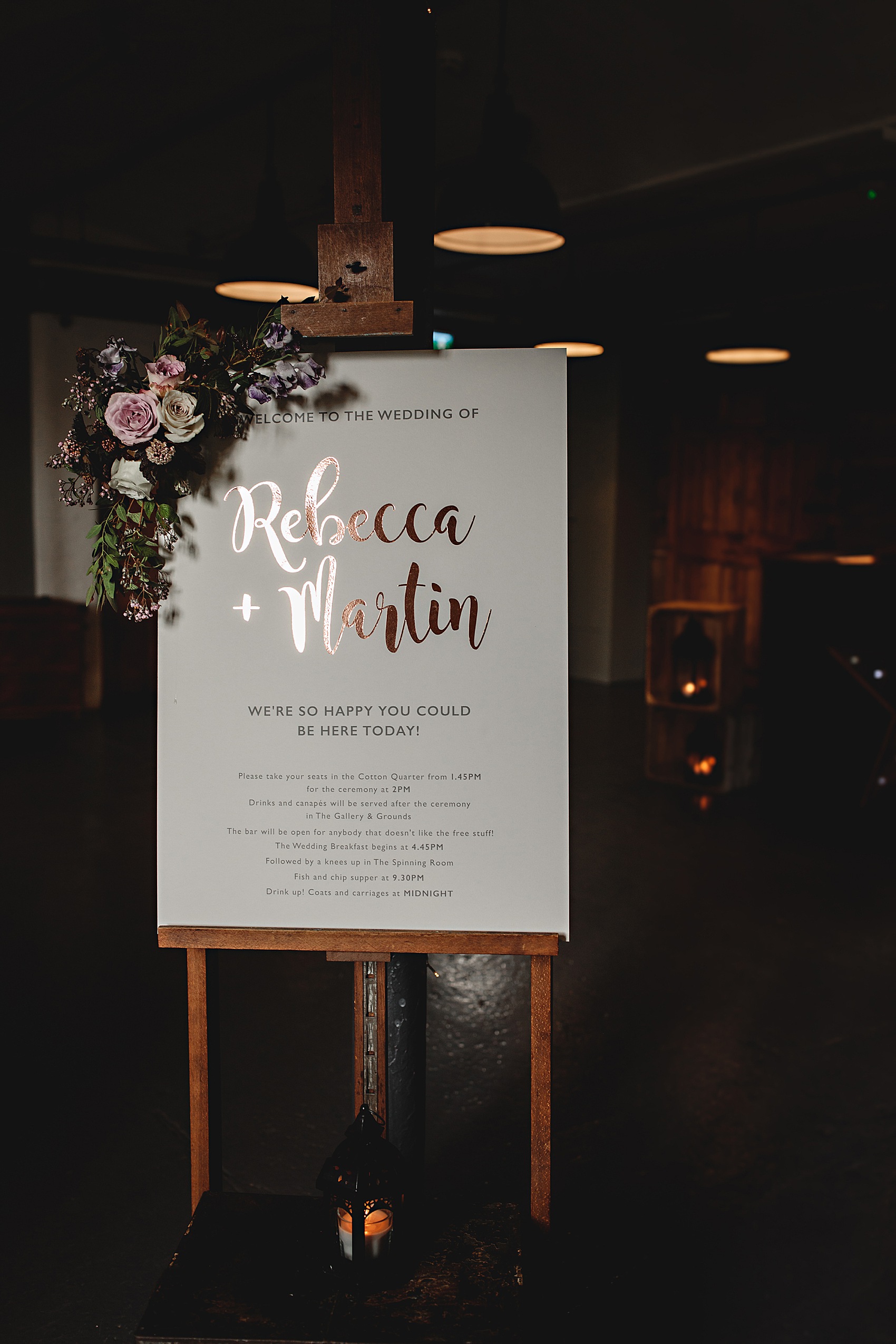 Blending with her Jo Malone fragrance, the bride ordered bespoke tea lights from Ethel & Co..
"We commissioned tea lights (lots of tea lights!) in pear and freesia for the wedding breakfast. It was such a sweet but subtle scent. No one would have known but yes, I did purposefully match the scents."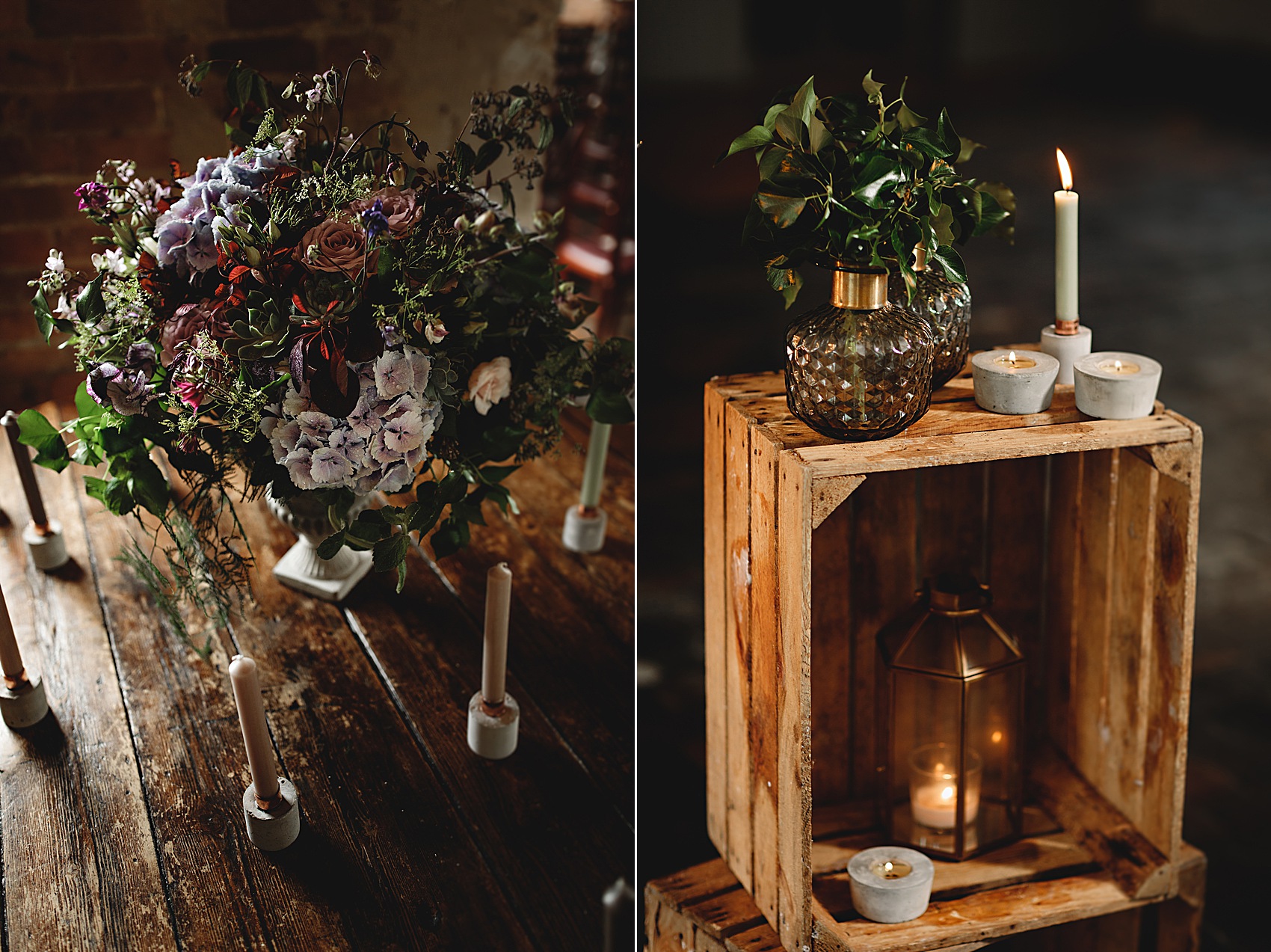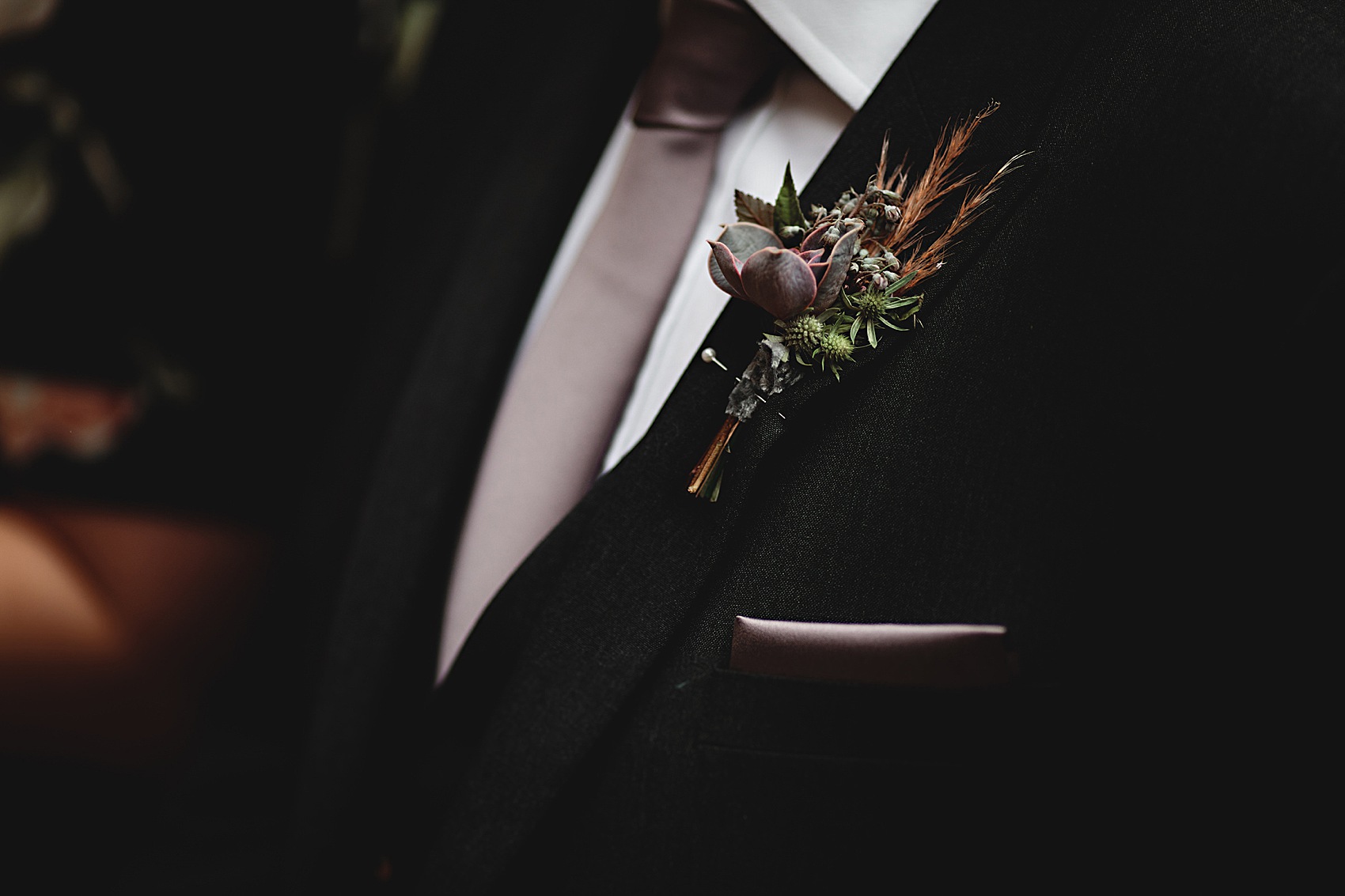 In preparation for his wedding, Martin chose a slick, slim-fitting suit from Ted Baker, worn with a matching waistcoat and a tie and pocket square from Swagger & Swoon in a soft damson hue. His look is modern and sharp, perfect for the clean lines of the venue.
"I gave Martin a TAG Heuer watch as a wedding gift, which he wore on the day."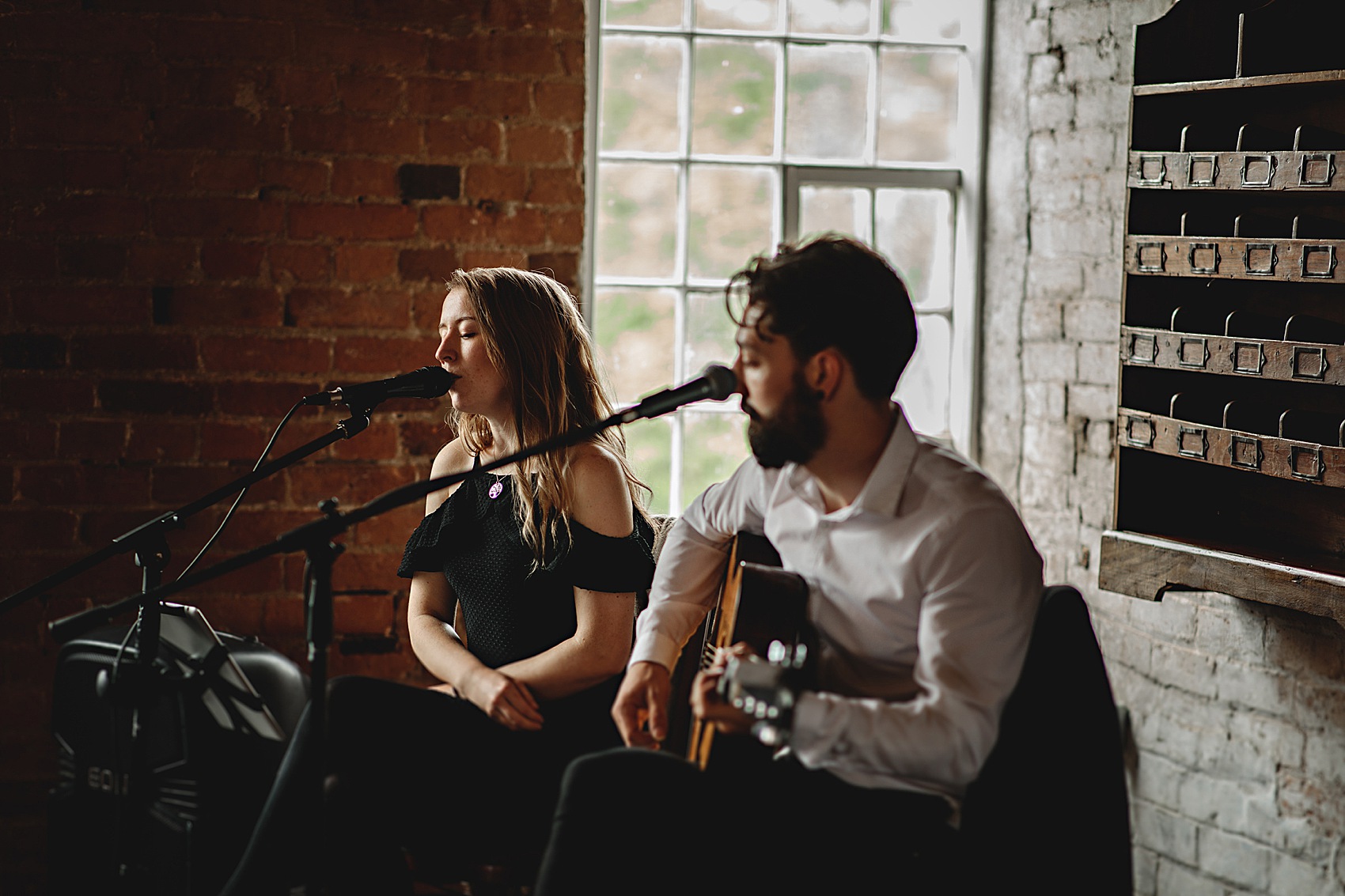 The wedding ceremony was held against the backdrop of a floral banner, and the bride walked in with her father Colin with 'Better Together' by Jack Johnson in the background.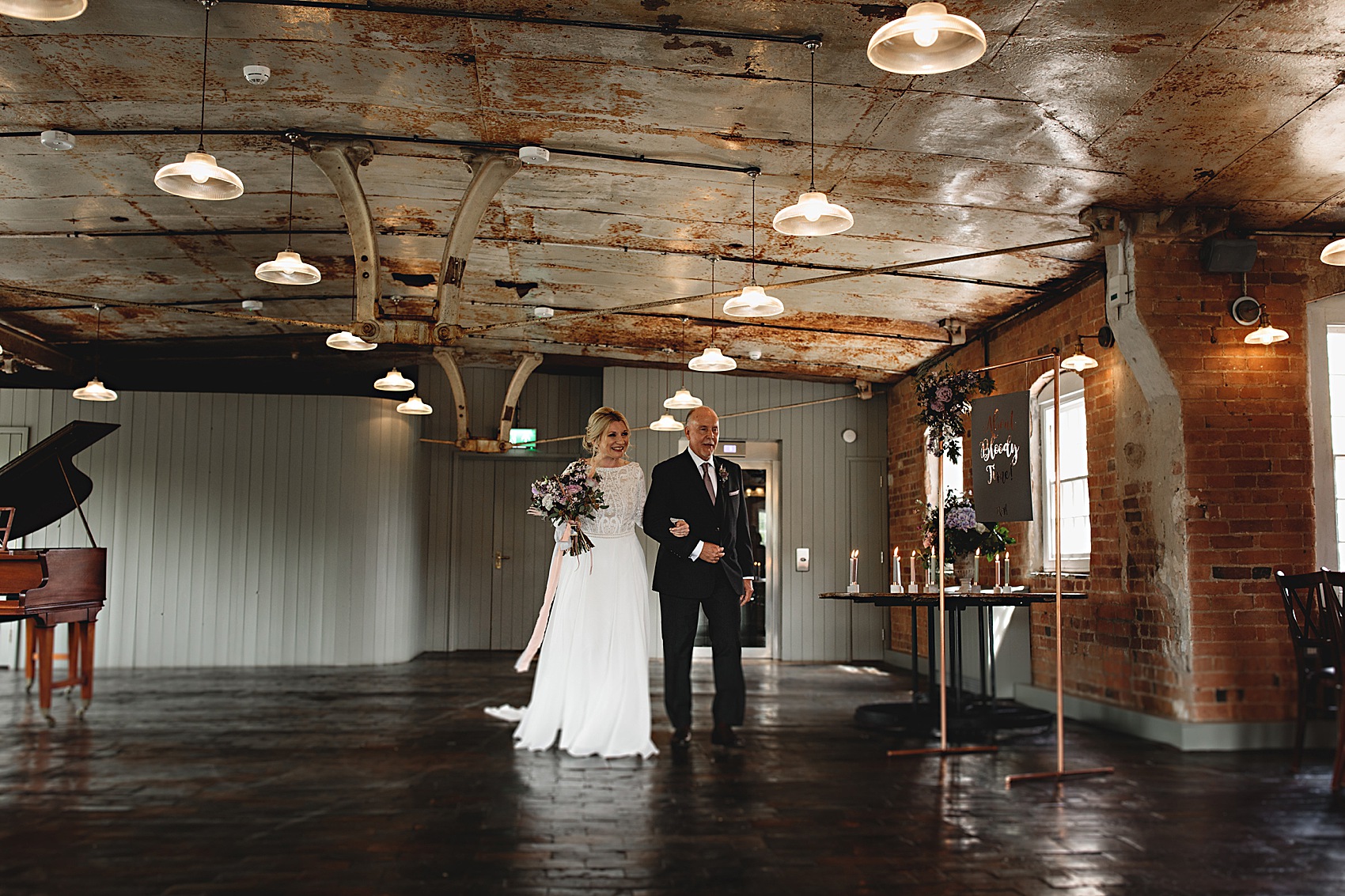 The civil ceremony was led by superintendent registrar L.J. Moore and deputy registrar C. Southgate of Derby Register Office and included a reading from Martin's mum Jennifer.
"We had 'Love is Friendship Set On Fire' by Laura Hendricks. We wanted something untraditional but something that reflected us, our relationship and how we view love."
The wedding bands, and Rebecca's engagement ring, came from Diamonds Factory.
"Martin surprised me with my engagement ring, which he had designed himself. We chose our wedding bands from the same supplier as we both wanted plain bands and for mine I wanted a plain band of the same profile type and width as my engagement ring."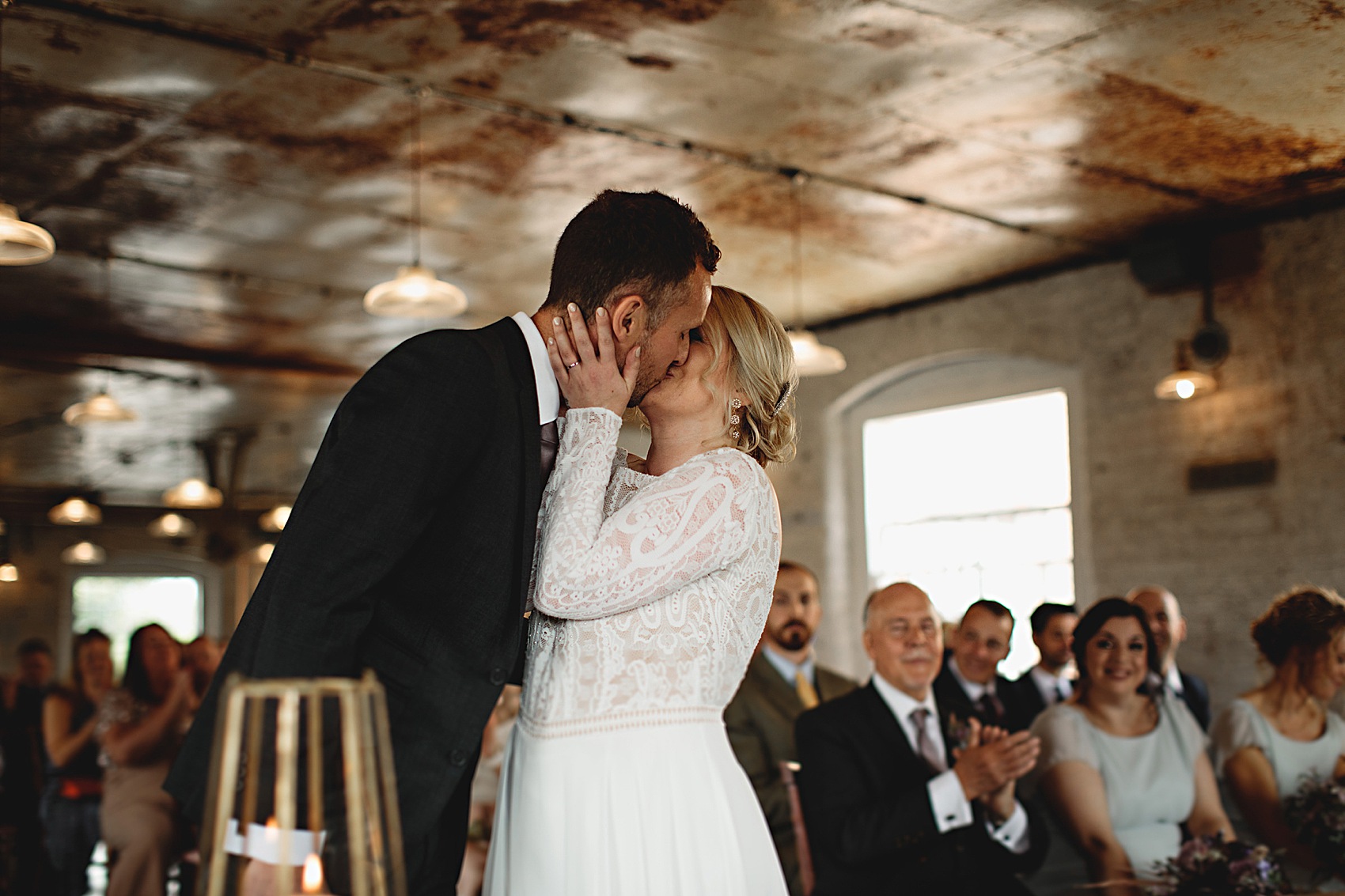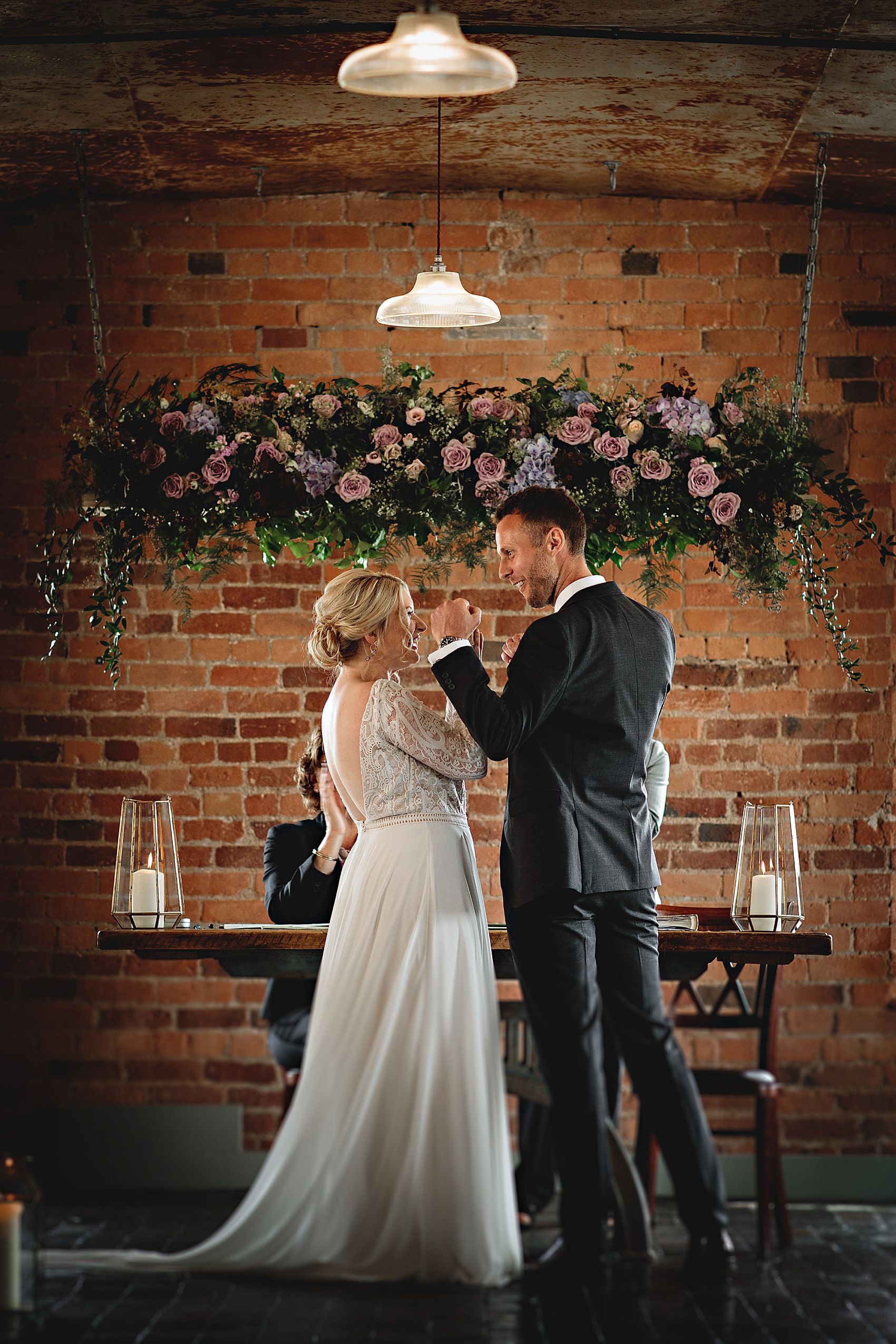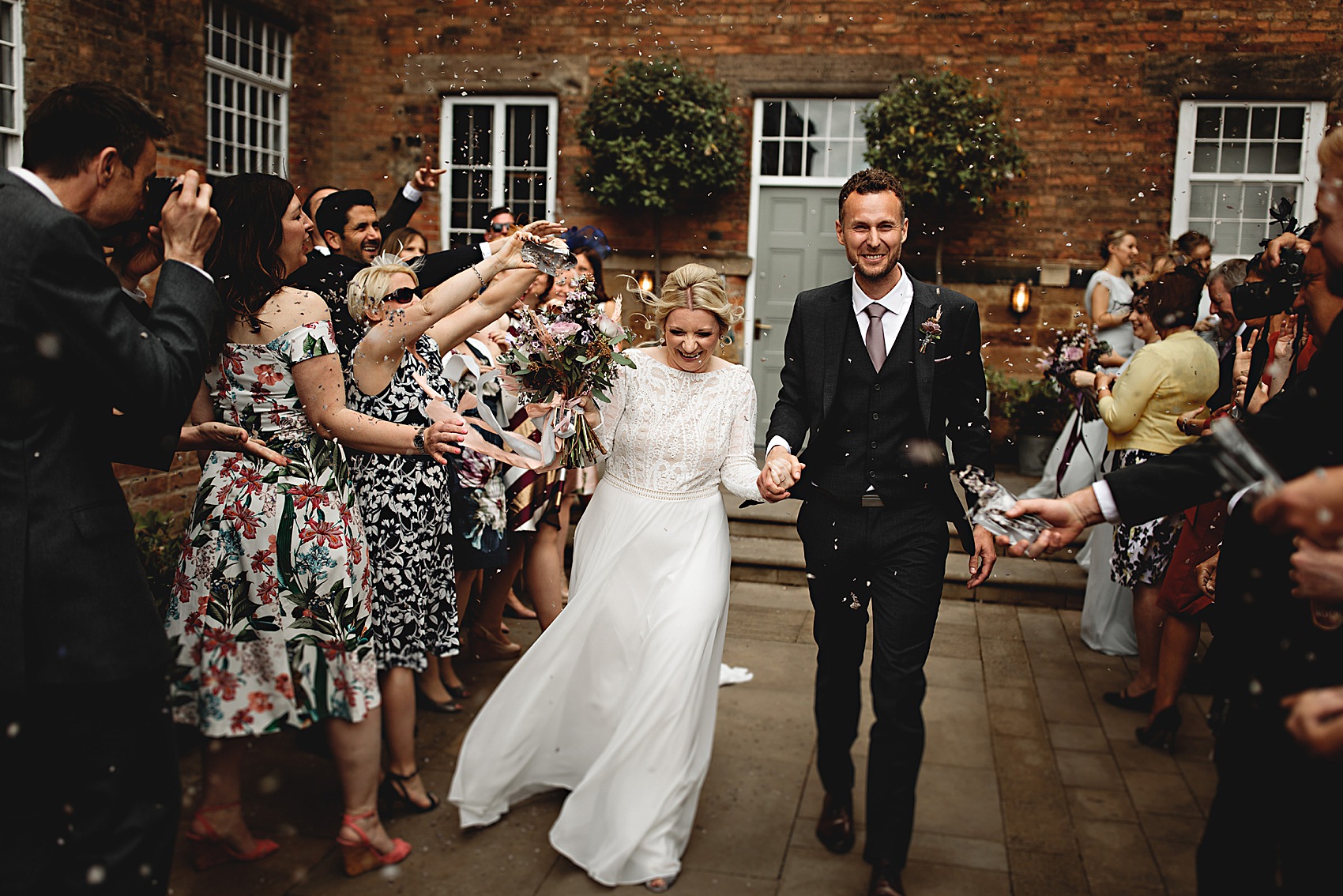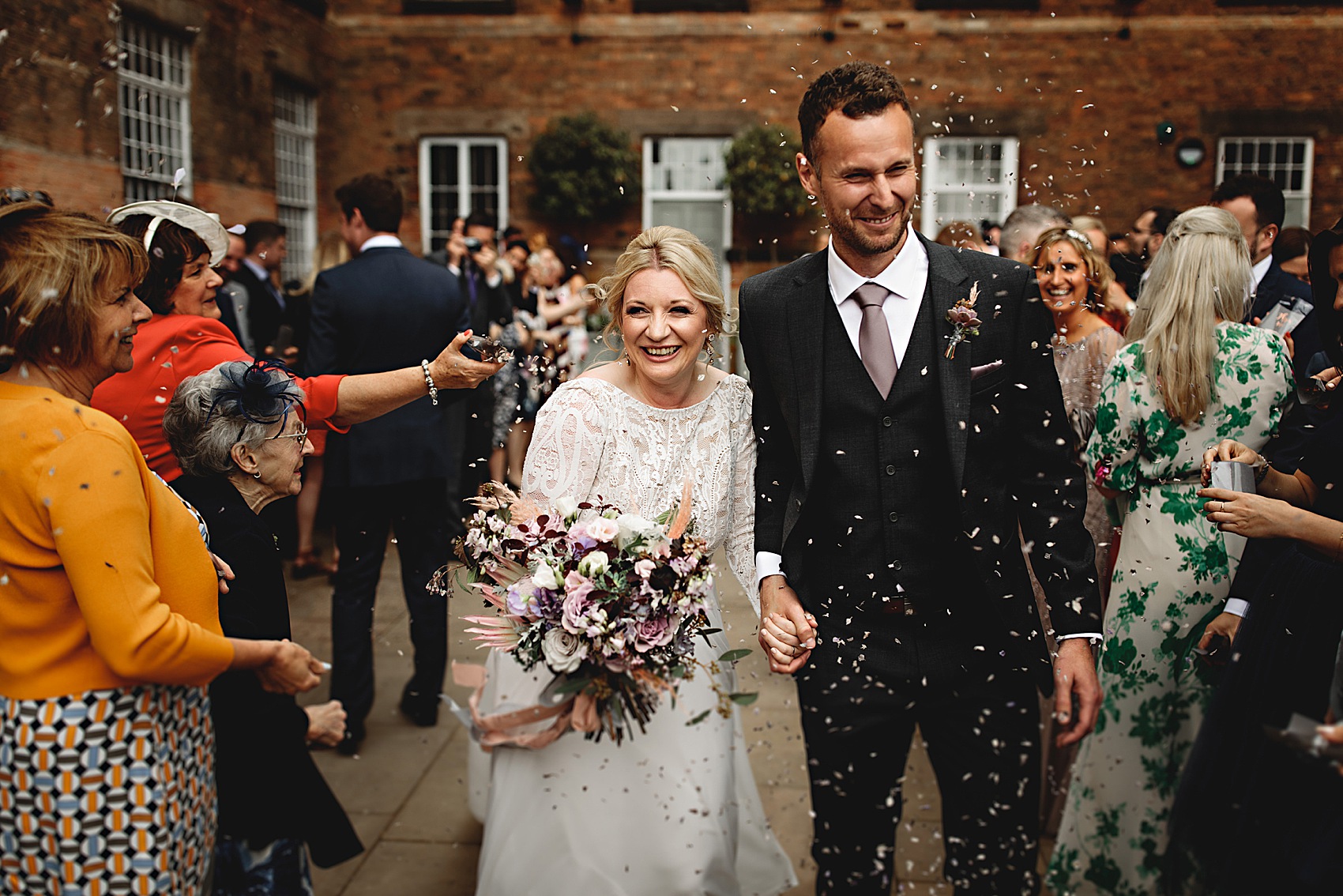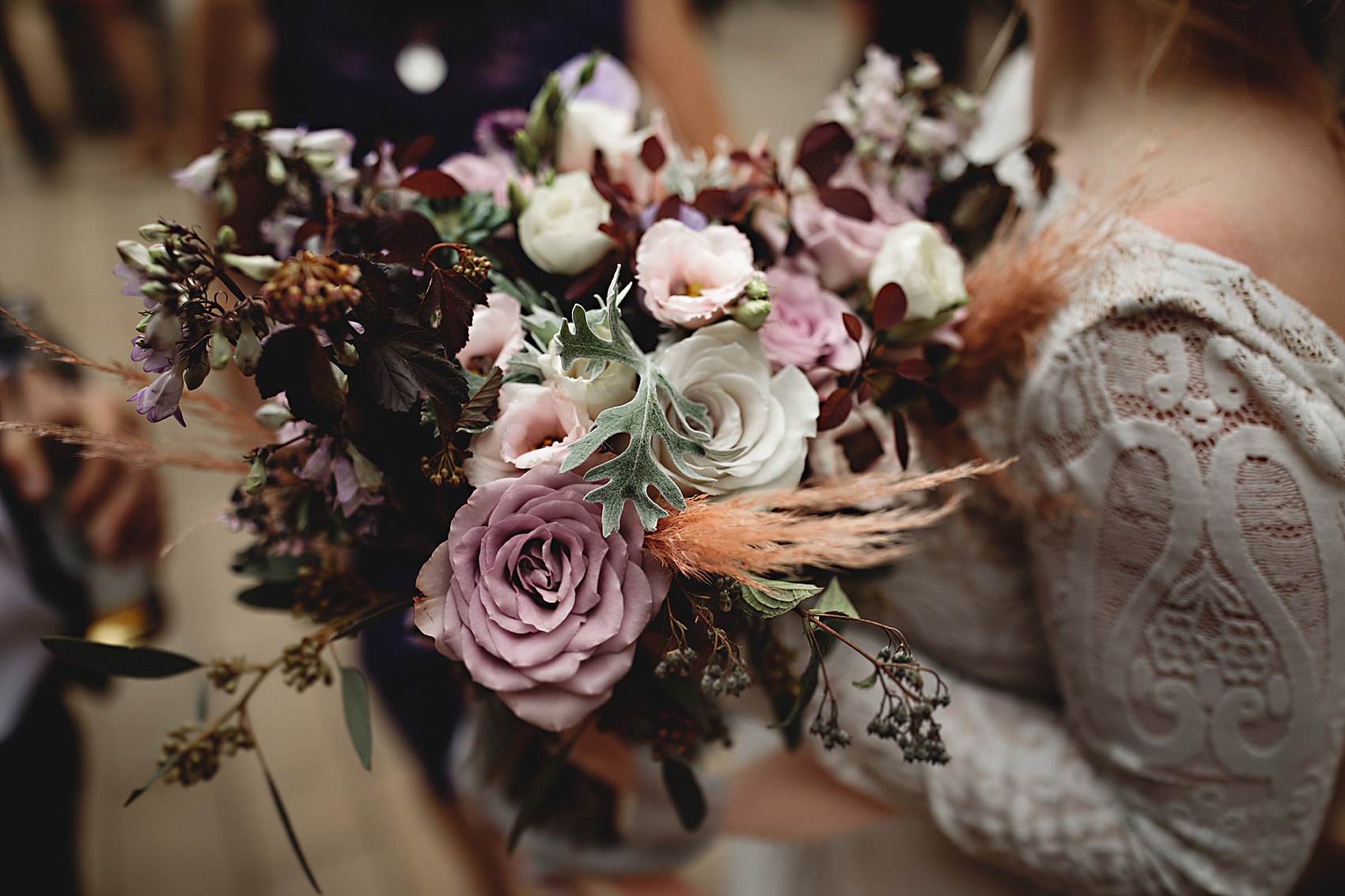 Following the service, the guests and the newly-weds enjoyed the fine May weather with canapés in the courtyard.
"We were grateful for the few moments that we got to ourselves throughout the day just to savour the moment. We enjoyed looking down on our guests enjoying themselves in the courtyard before joining them for the confetti tunnel. It's a lovely feeling knowing that all these people were there simply because the two of us fell in love."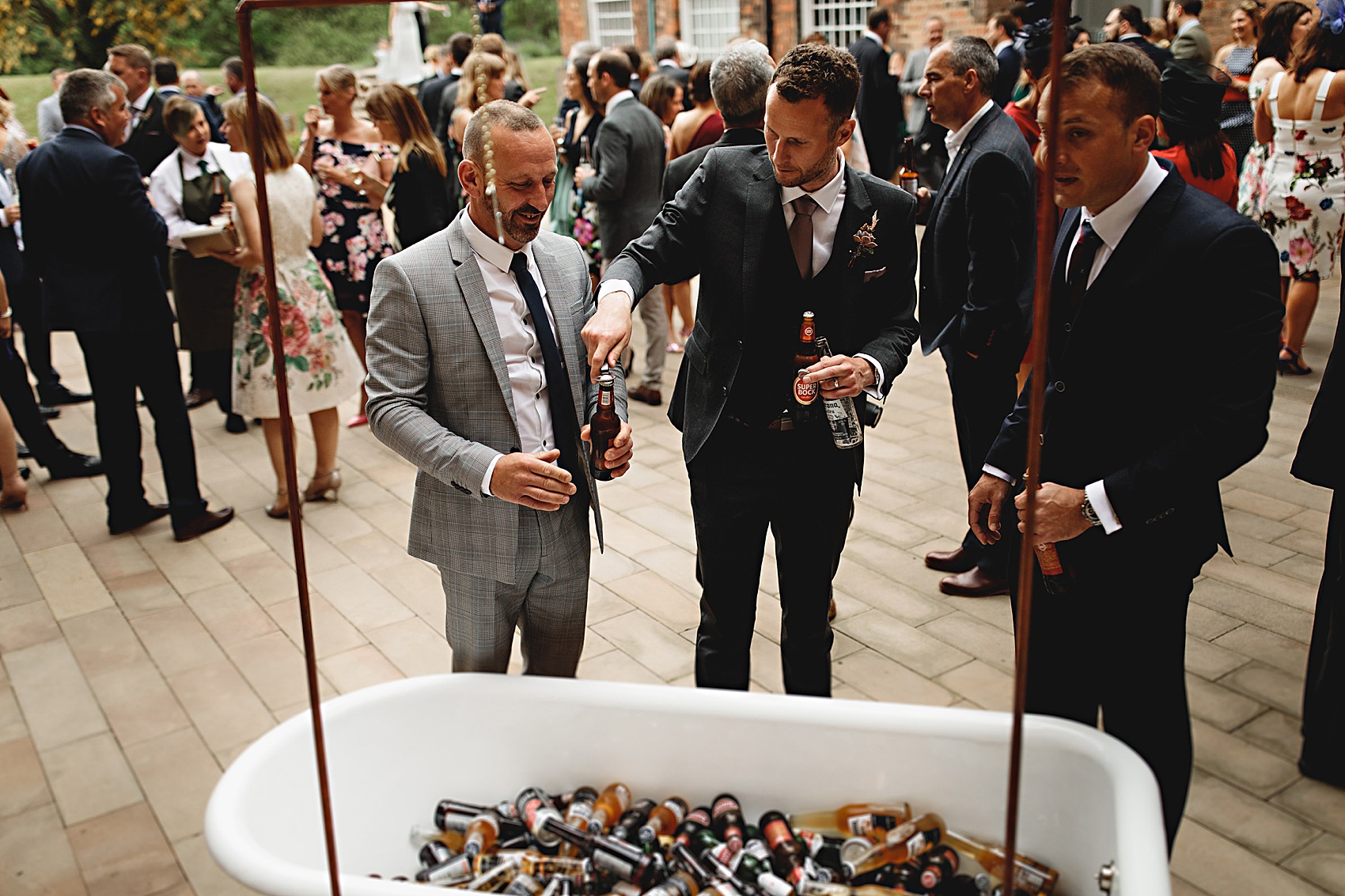 The cute Art Deco-esque, 'Charleston' hair comb slipped in to her messy blonde up-do was from Victoria Fergusson, as were her sparkling mosaic drop earrings of pearls, crystals and seed beads.
"My hair and earrings were both something I spent ages looking for. I knew what I wanted but couldn't find it. I came across Victoria Fergusson by accident on Instagram. I loved the beautiful embellishments and that these were handmade."
Choosing the bridesmaids' Maids to Measure 'Isla' gowns in grey at the same time as her own allowed them to match them so wonderfully. They wore them with Kurt Geiger shoes.
"The bridesmaids' dresses were modern but minimalist which really made the 'unstructured' bouquets 'pop'. The low back and small train were similar to the style of my own dress."
They decided to let the simple and pared-back character of the mill shine, adding in a muted colour palette of copper, greys, olive greens and lots of greenery for a relaxed but contemporary feel with a personal touch.
"We love the industrial style and the feeling of space that the mill gives. The décor paired so easily with our own personal tastes and style. It such an effortlessly cool and relaxed space plus it gave us goose pimples every time. We also loved that the space was split across separate levels for different parts of the day."
The couple had put so much thought into the finer details of the day, getting the perfect balance of letting the mill's own character shine and adding their own personal, stylistic touches.
"I spent a lot of time on the finer detail and styling of the day, which all too often people will say, 'Oh, people won't notice that!' but we actually had so many compliments on the day, and since, about the décor and the detailing so it was worth those sleepless nights."
"We had concrete and copper tea lights and candle holders hired from Copper + Solder. There were grey chiffon table runners, tall brass and glass lanterns, filament bulb holders and bulbs, a glass and metal card box, and glass mirrored terrariums (used to display the macarons) hired from Mad Philomena. The copper frame, copper place name holders, copper menu holders and A-frame were hired from Rose Press and we had a booze bath and copper frame with a 'Drunk in Love' sign plus hire of smoked glass vases from Booze Bath and Beyond."
"It was different. That's why we loved it. Oh, and that light. WOW! We wanted the day to feel relaxed with a laid-back, modern vibe plus, style-wise, I like clean lines and simplicity."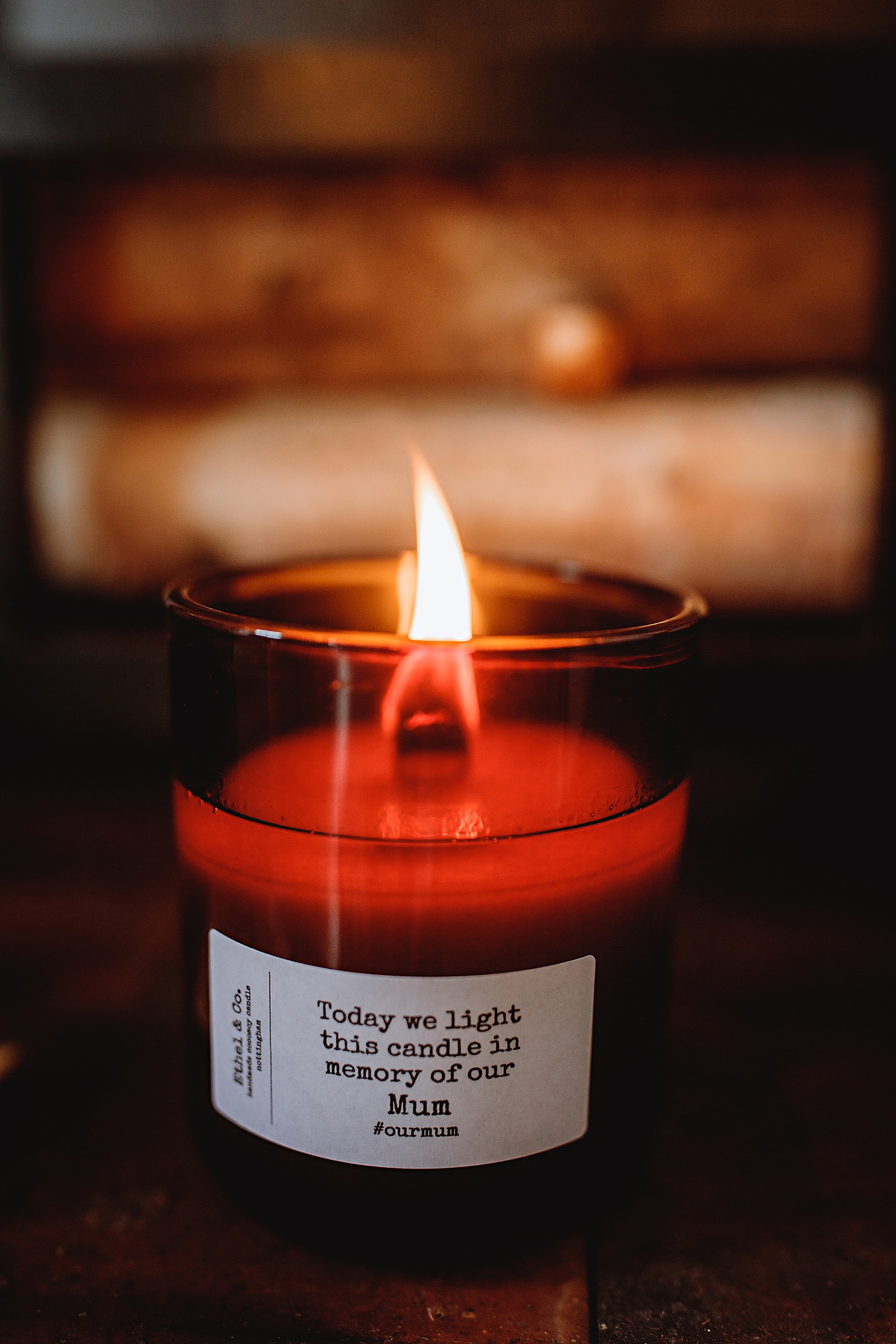 The wedding breakfast was provided by Jenkinsons Caterers and the modern, golden, drip cake was baked by Knot & Bird and displayed on custom-made cake stands from Winning Works.
"We wanted to do something a little different with the cake and so chose to have flavoured sponges. We had the best tasting afternoon and decided eventually on banana sponge with salted caramel and cream cheese frosting as well as a vanilla sponge with passionfruit and vanilla buttercream. They tasted delicious! We also had pistachio and rose favoured macarons with a copper brushstroke-splatter effect."
"I wore a ring that belonged to my mum (it was a gift from my dad). It was one of her favourite pieces of jewellery and Ben of HBA Photography captured it beautifully."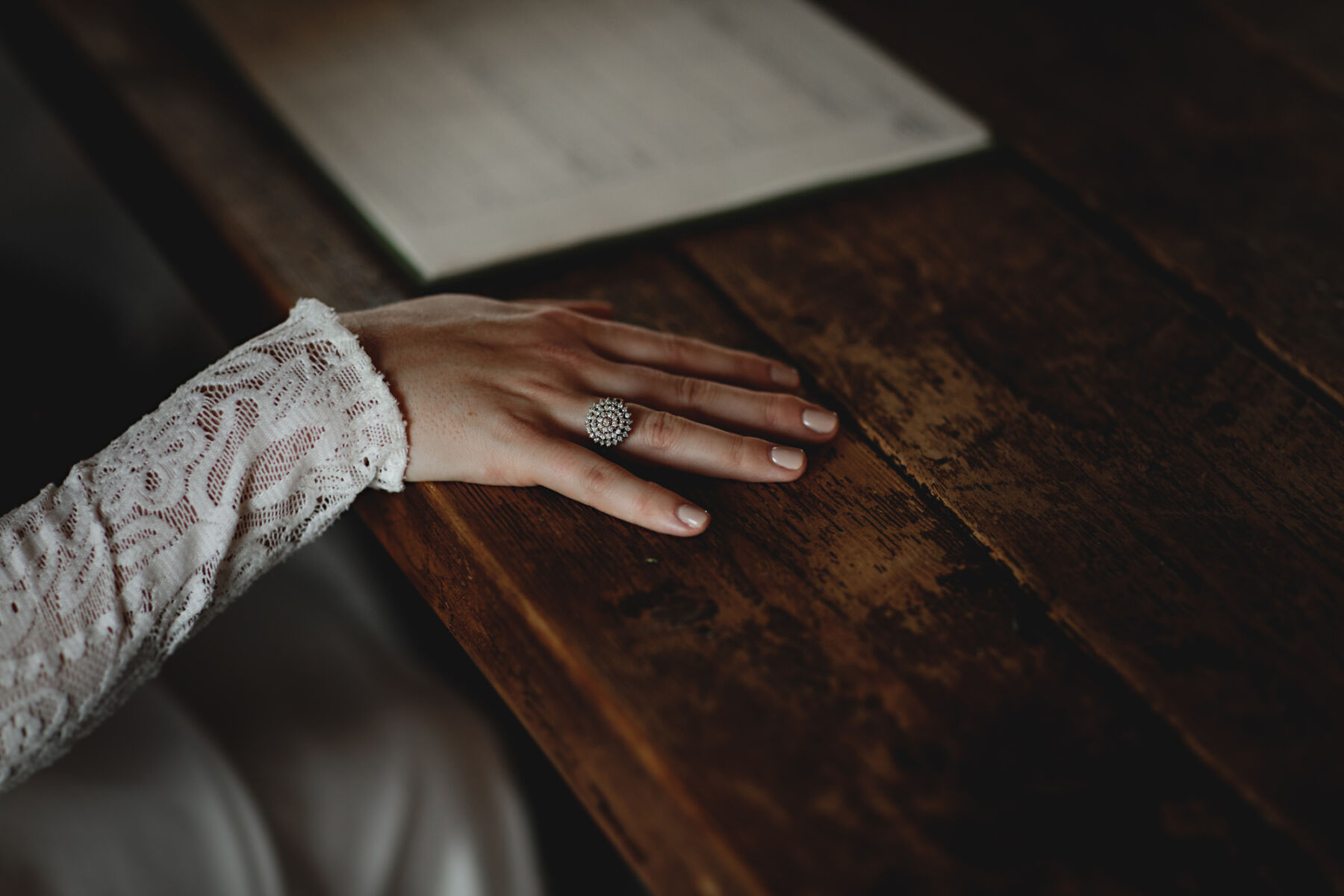 "We wanted to make a feature of the cakes so opted for smaller cakes styled as single and two tiers displayed at varying heights. Philippa incorporated a few tones of grey from our colour scheme into the buttercream complete with macarons and succulents."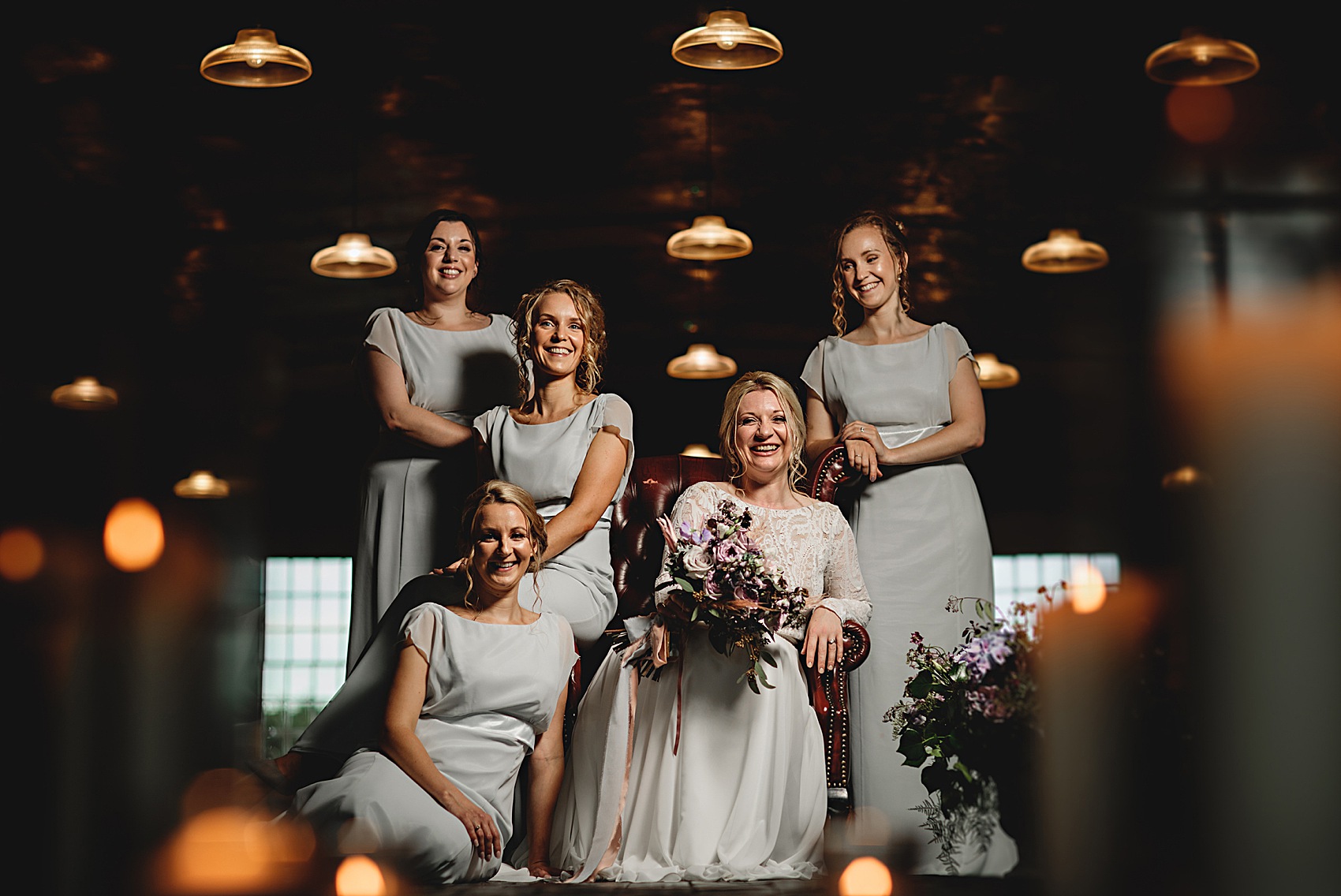 The couple skipped a first dance to get straight in to the dancing, with the soundtrack provided by Rewind via Entertainment Nation.
Words of Wedded Wisdom
"Stick with your original decisions particularly around the style of your day… try not to overthink it and get caught up with current trends and themes. I started to question whether everything was 'too plain' in the later stages and it wasn't at all. Don't make room for doubt, just trust yourselves."
It's been really wonderful to return to The West Mill to see more gorgeously creative days held there, and if you fancy knowing more about this versatile venue please do check out their Little Book Wedding Directory listing.
Thank you, Rebecca and Martin, for letting us share details of your day today and thank you so much Ben and Hannah at HBA Photography for these wonderful images.
Ele xx