You didn't think we could go all this time without sharing some inspirational and wonderful wedding inspo with you, did you?
Our out of office might be on, but blimey no, we can't go that long without hitting up our homepage with something fresh and beautiful! And on that note, may we please introduce you to professional harpist Holly, who married business solutions architect Ollie on 2nd November last year in North Wales. The couple's winter tipi wedding reception, held in the bride's parents garden, was full of gorgeous, considered touches, but more than anything, I love and adore that Holly wore a long sleeved, backless gown by Brit designer Pippa of Bon Bride.
Verity Quirk Photography

+ Follow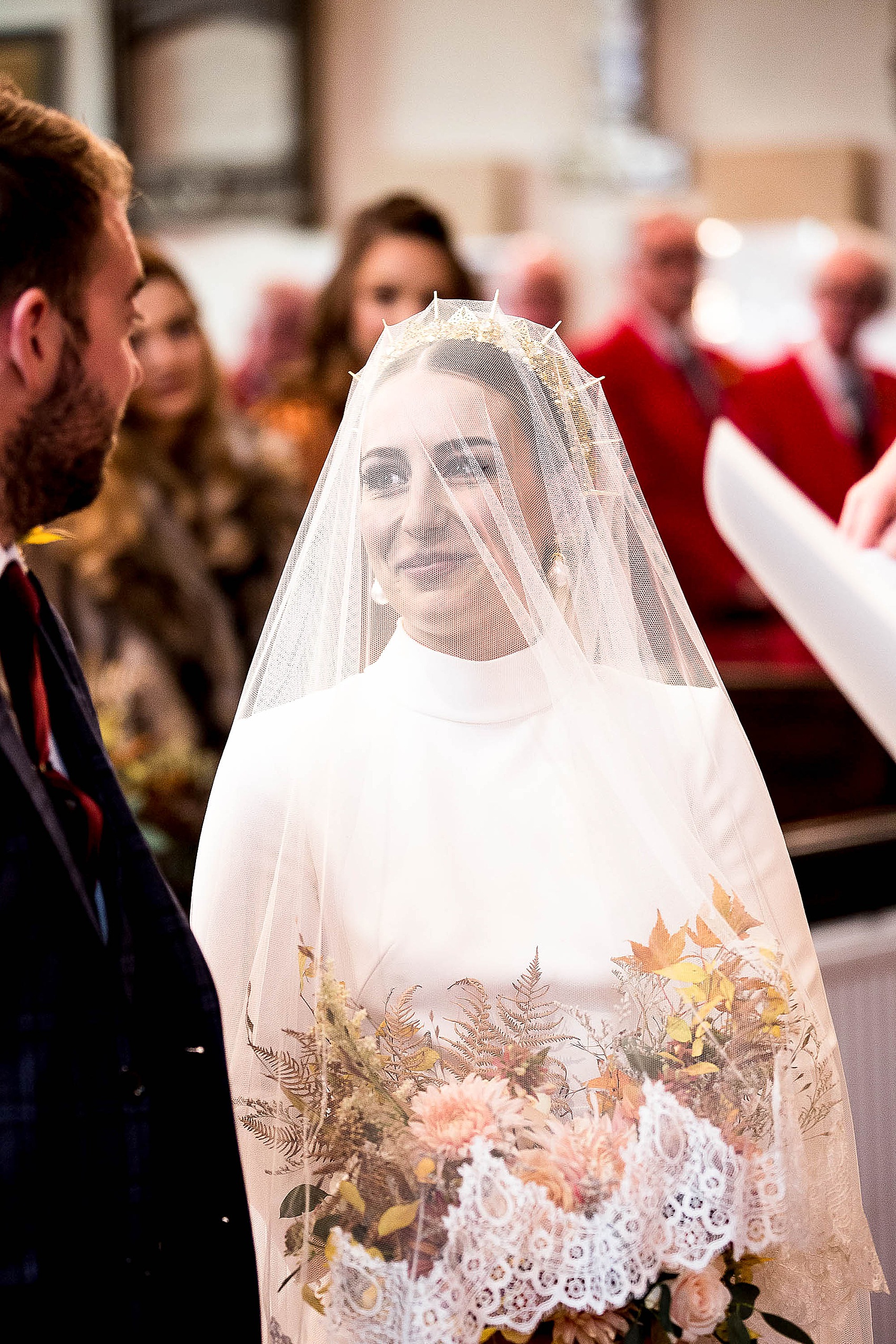 "I actually got my wedding dress inspiration from Love My Dress – after seeing India Sellars wedding. I spent a lot of time on Love My Dress to get inspiration from all the real weddings. I think it was and still is a favourite pastime of mine to get cosy and just look through all the beautiful weddings."
Find & book suppliers we love & recommend, in our Little Book Wedding Directory
"I did a photoshoot in Battersea Park about 10 years ago and Kasia Fortuna did my hair. I think she did my hair in five completely different styles over a three hour session – I have never forgotten her and vowed if I ever got married she would do my hair."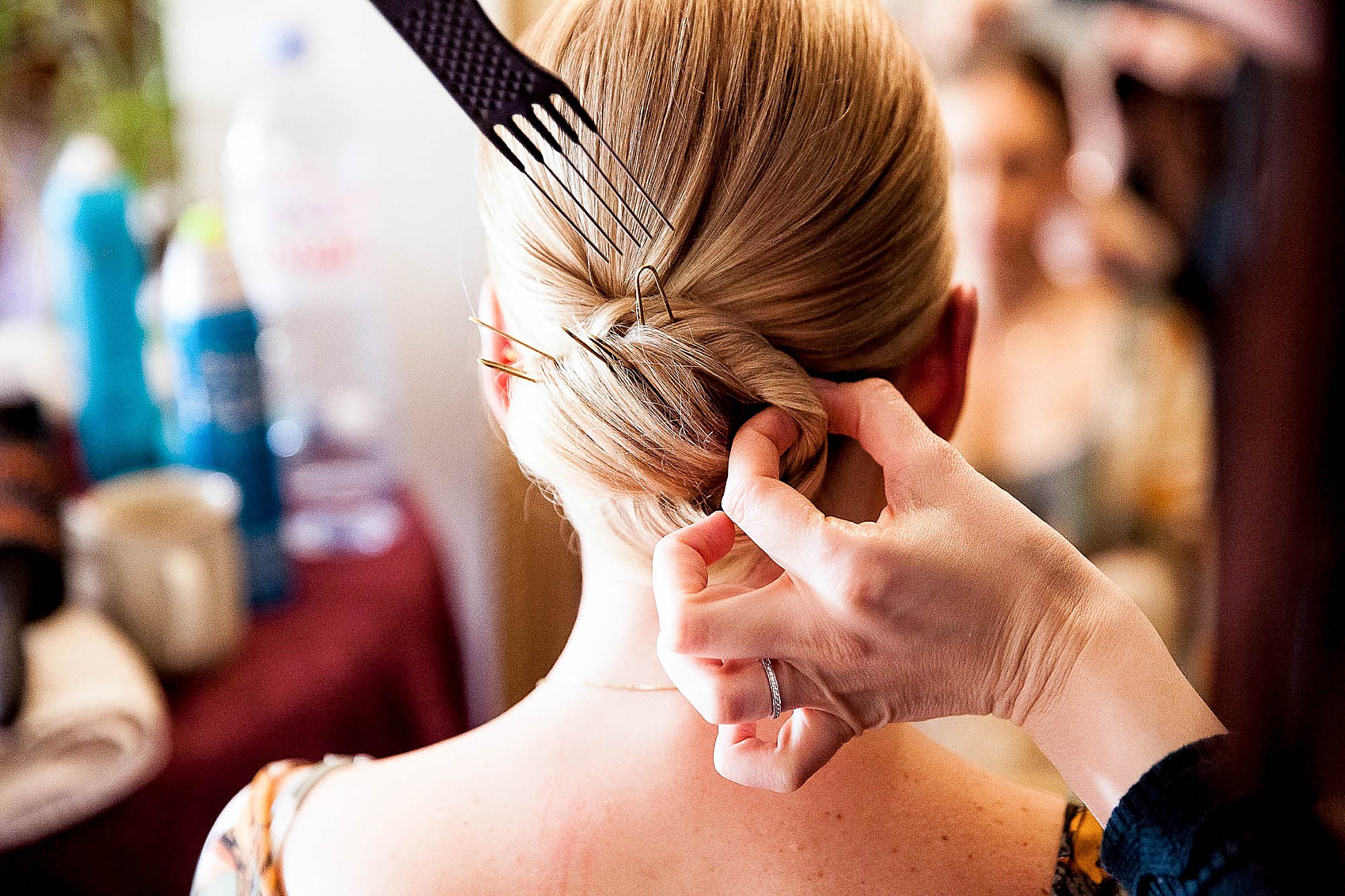 "Sylwia Kunysz who did my makeup was a recommendation from Kasia and they both work at Kristina Gasperas. Both of these ladies are excellent!"
"As someone who wears a lot of ball gowns for my job I had loads of ideas of what I might wear. I wanted something modern and fierce but also classically elegant and Bon Bride was exactly what I was looking for."
"I absolutely loved working with Pippa from Bon Bride. My first appointment was at her house, she has a studio with her collection at the bottom of her garden."
"This in itself was an instant win for me as I was excited to get a dress from such a new and up-and-coming designer. It made me feel like a Queen for the day."
"I would 100% recommend Bon Bride and would say if you are looking for something simple, elegant and stunning then look no further."
"As it was going to be a chilly wedding I had my heart set on a dress with sleeves and a high neck but with potentially an open back. It also tied in with having a very simple modern wedding dress which would be in complete opposition to the wilds of the woods where we would be having our wedding reception."
"I loved the detail of the pearls, so subtle and perfect."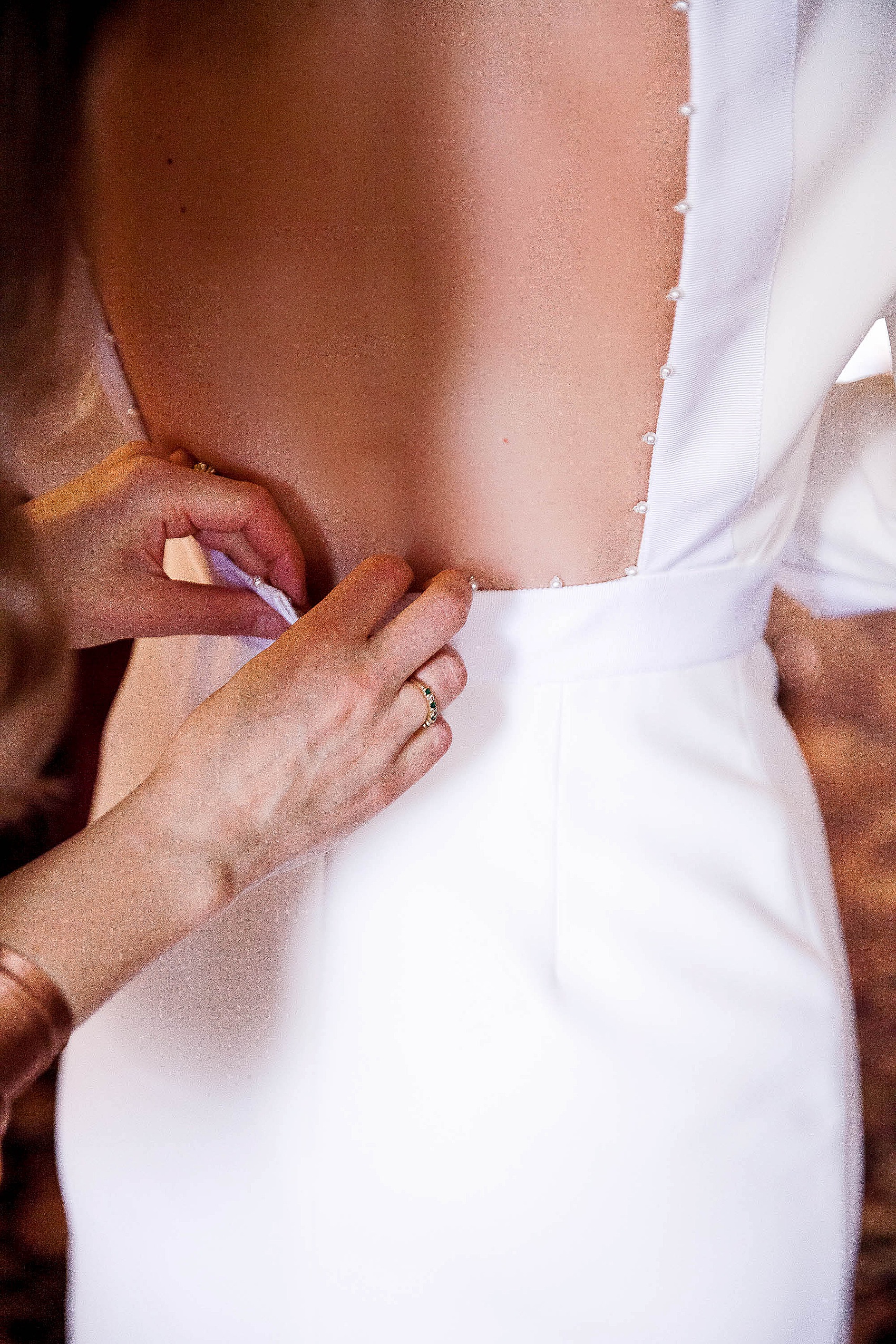 "I had been following Amaroq Designs for a while and had been secretly coveting all their crowns. They were all out of budget though and the one that I loved was out of stock."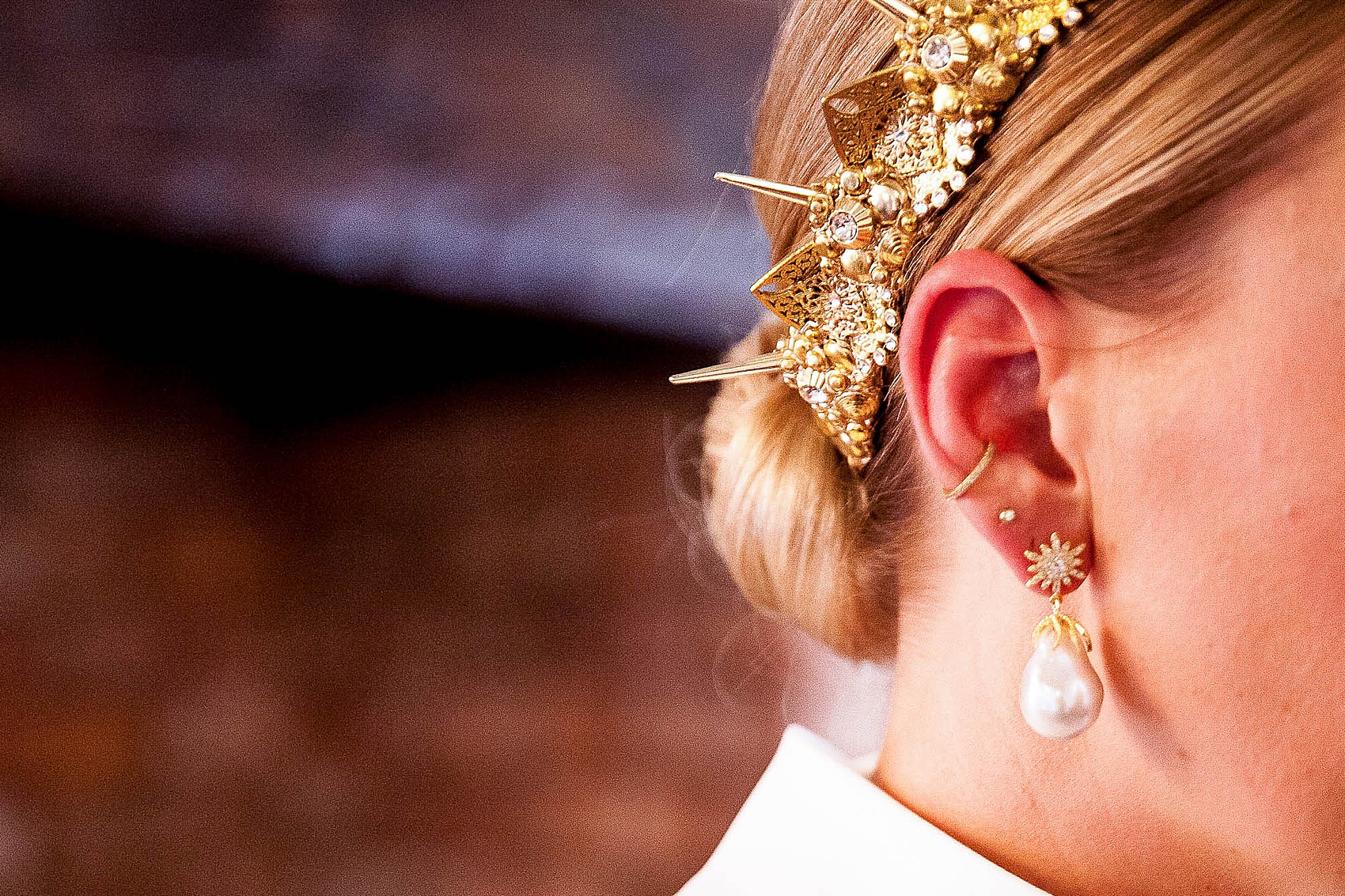 "One early morning I was looking through and it popped back as having one left. I felt this was a sign and bought it right there and then. It arrived three weeks later and I went to pick it up from our local post office."
"I couldn't wait to open it so went and sat in the park and got it out right there and then. People must have thought I was nuts sitting in the park wearing a crown."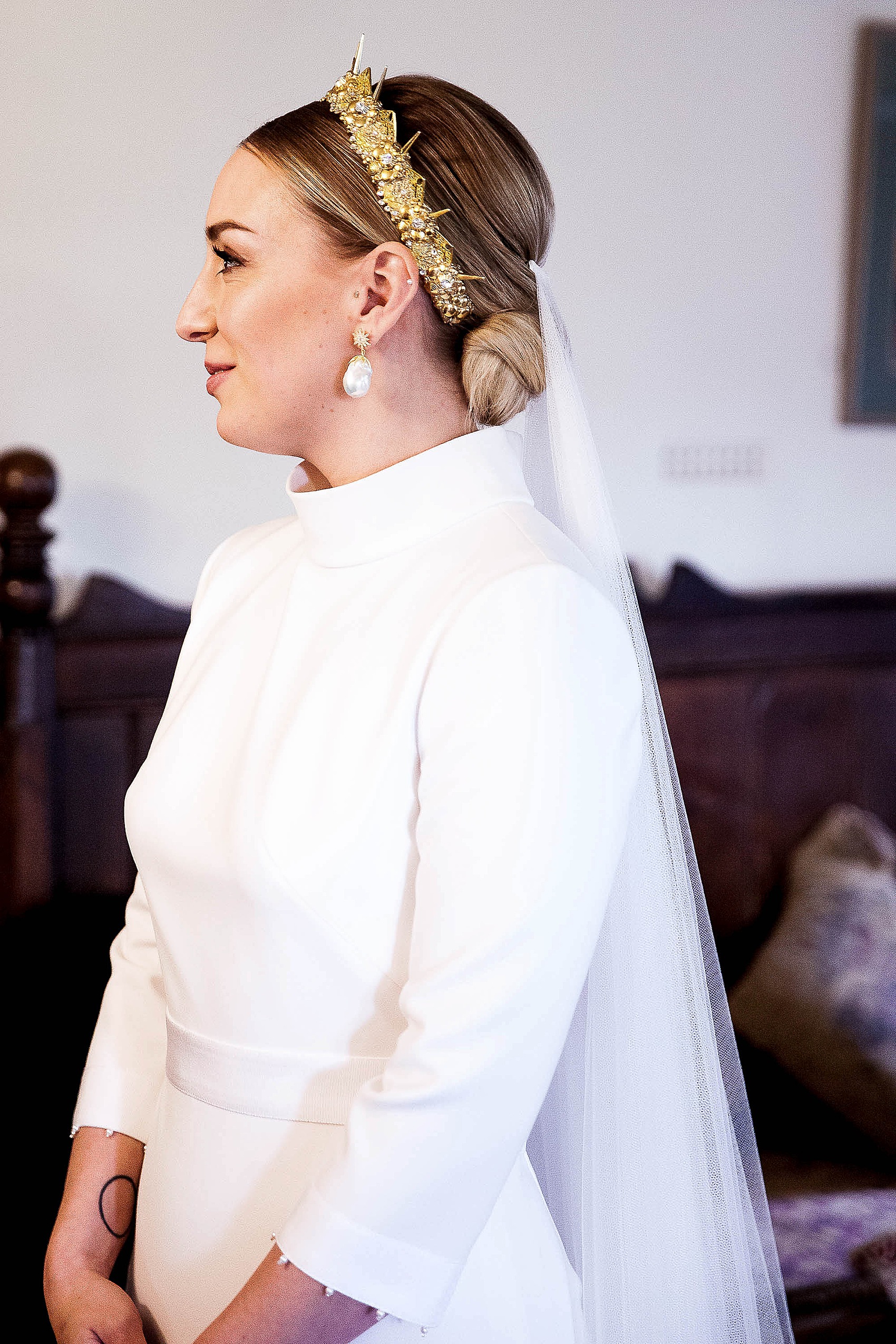 "I wore a pair of gold shoes by Tabitha Simmons. I also wore Tea Noir by Le Labo. Ollie bought it for me two Christmas's ago and I haven't worn anything else since. Ollie wore Diptyque Eau Duelle."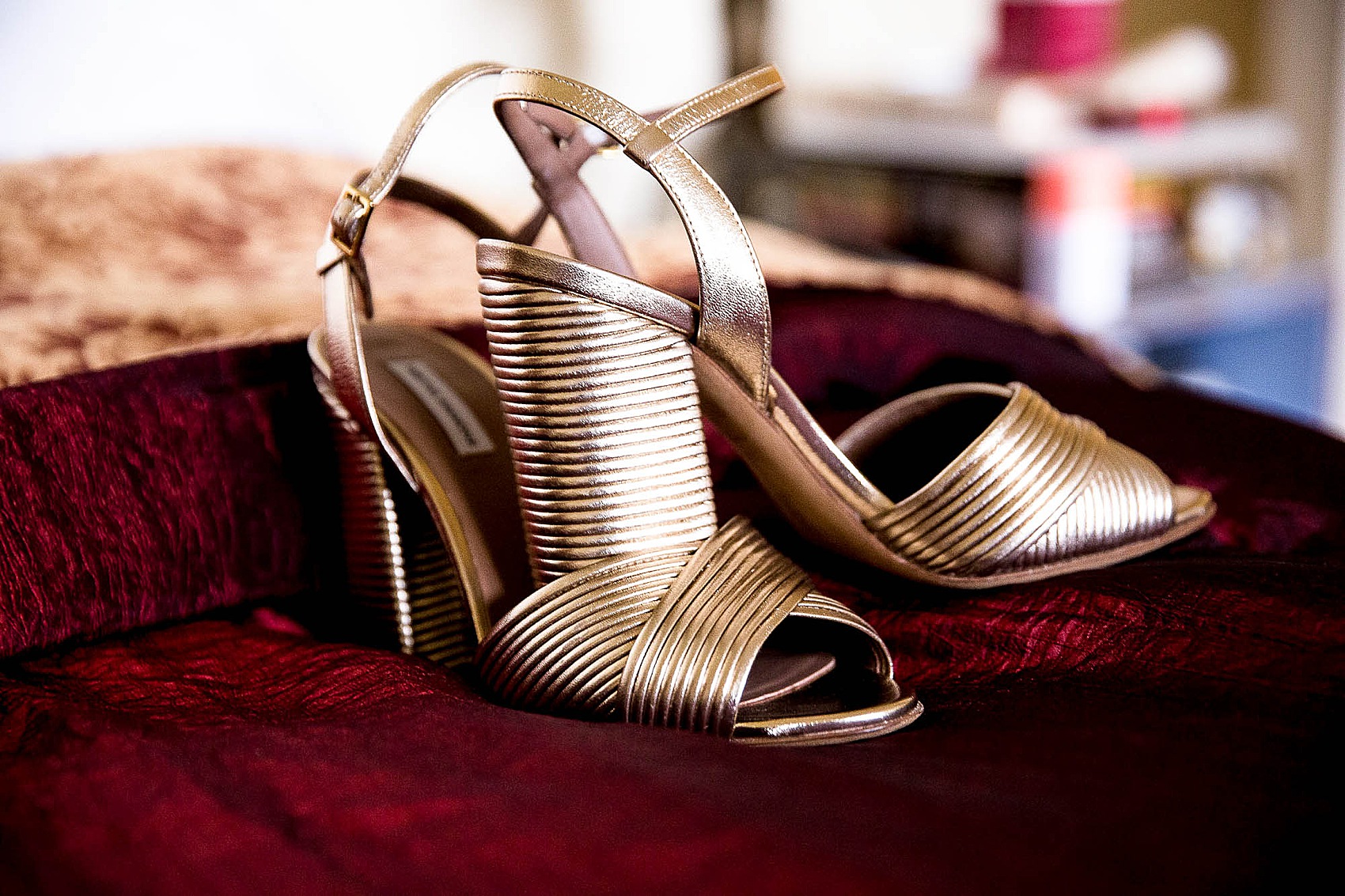 "For me the flowers were super important. I wanted the bouquets to be made up of dried and fresh flowers with lots of foliage."
"I found Carol Siddorn online and immediately fell in love with her style and her ethos of sustainability – she grows most of her flowers on her own land."
"As we also wanted a flower arch for the church, table arrangements and large urns for the church she asked the wonderful Lucy The Flower Hunter to work with her."
"Apart from a brief of using peaches, creams and golds in the bouquets and having a wild and free look I left most of the styling to her as I wanted her to be able to use her creativity. I loved the use of honesty and beech in the bouquets and the dried seed pods."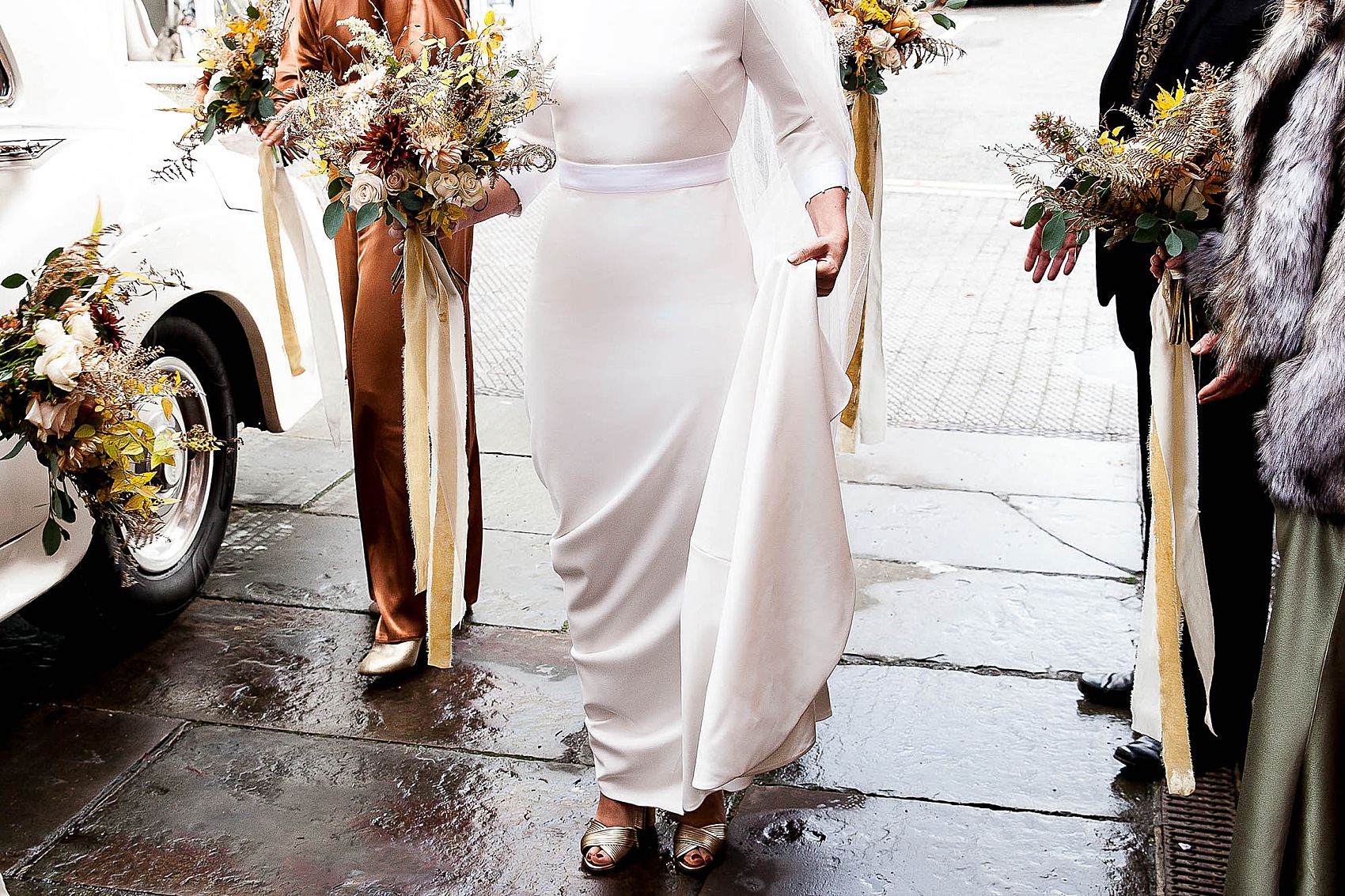 "We wanted to have a wedding styled on both of our backgrounds and upbringings. Although our wedding was set in the countryside in a tipi we wanted it to be modern, elegant and stylish. A juxtaposition to the rustic setting."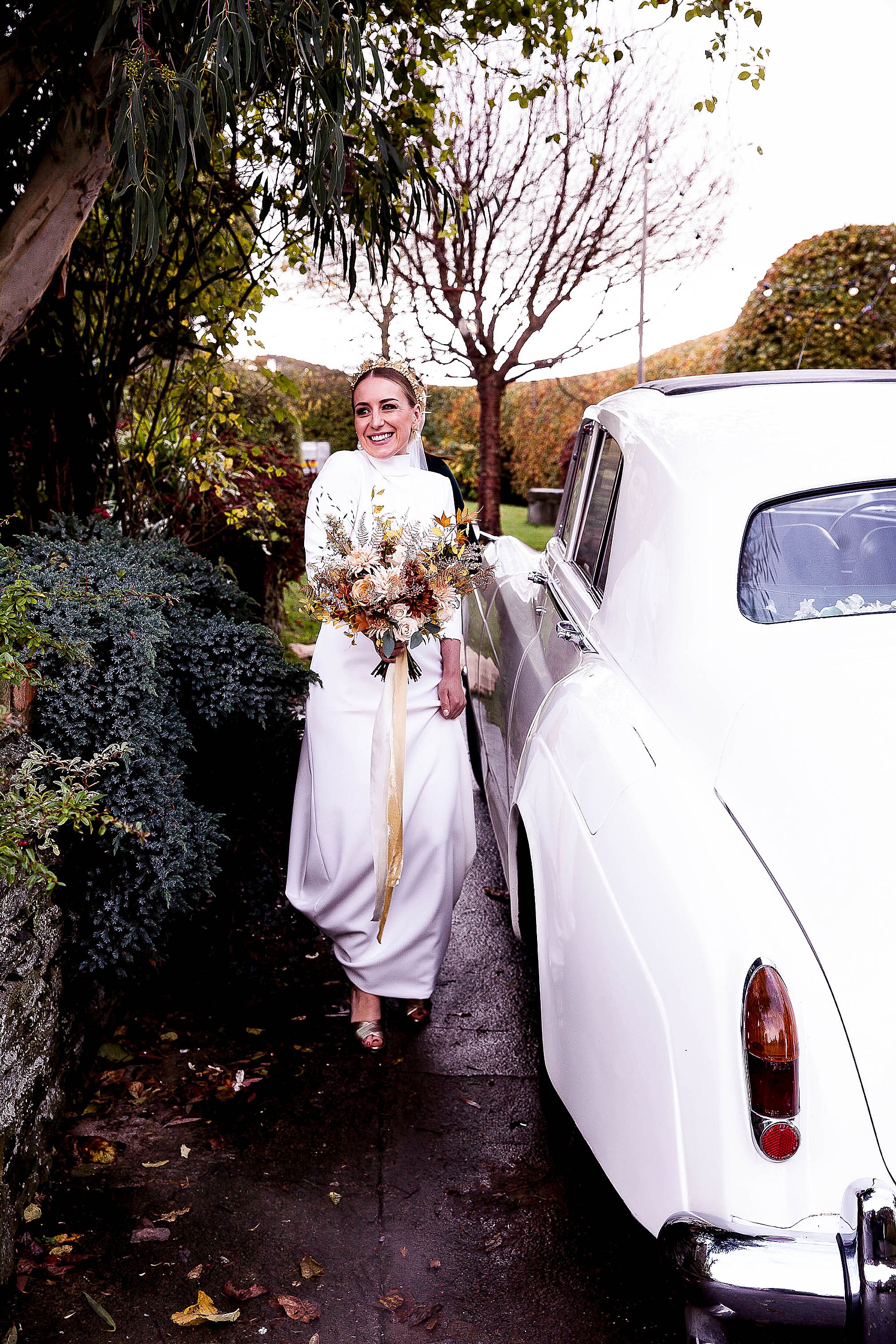 "I had a mantilla veil with a blusher. I have always loved the idea of a bride's face being slightly hidden when she walks up the aisle, only to be fully revealed when she reaches her husband to be. I also love how dramatic a full veil looks."
"I got the veil from The Mantilla Company. They were so helpful and the veil came beautifully wrapped with a personalised note."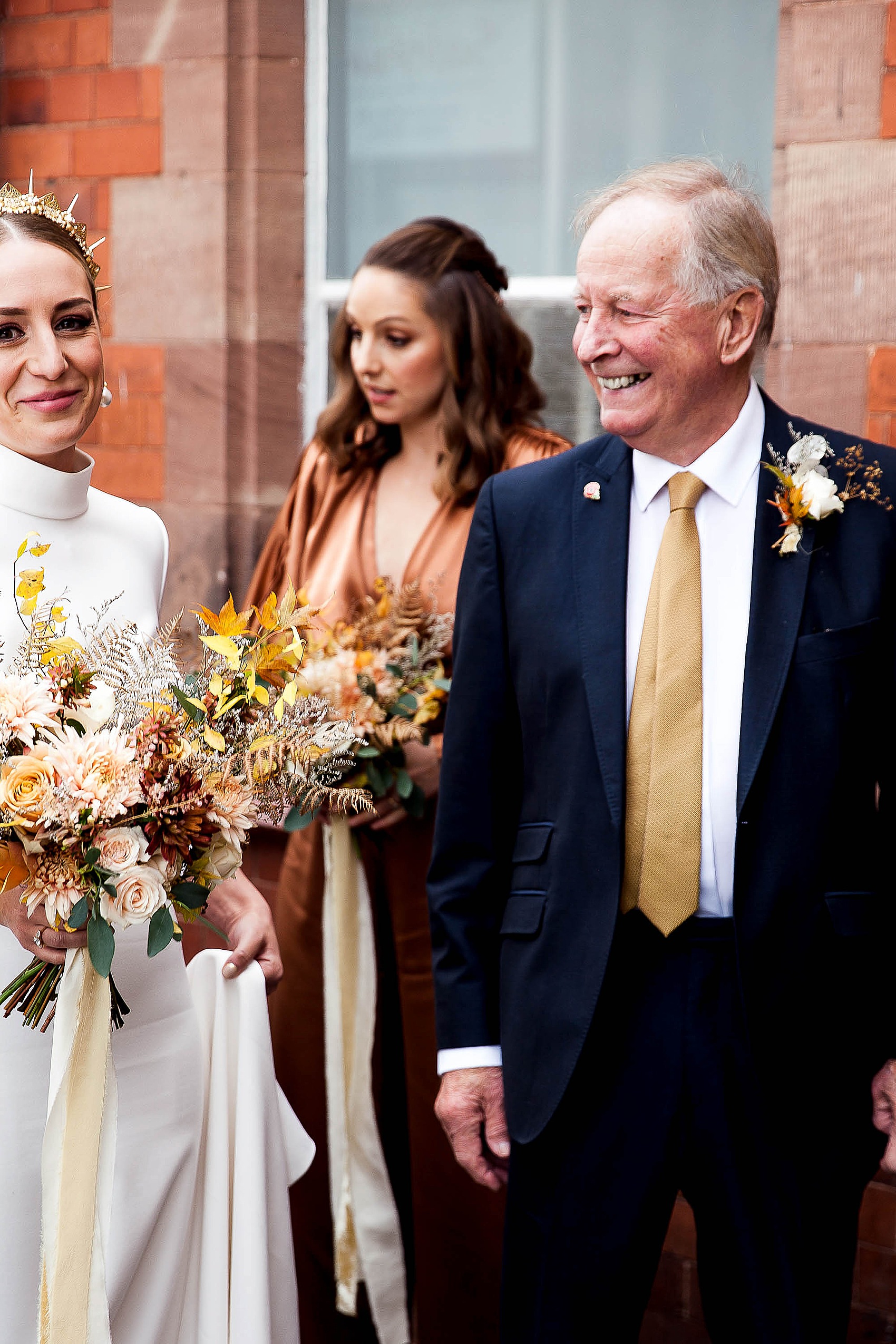 "Ollie actually bought a suit from Paul Smith but in the end he didn't feel it was right. We were having a mooch around Oxford street and found this really cool blue tartan suit in Next. It was perfect, paired with a dark red velvet tie from Topshop and brogues from Bertie."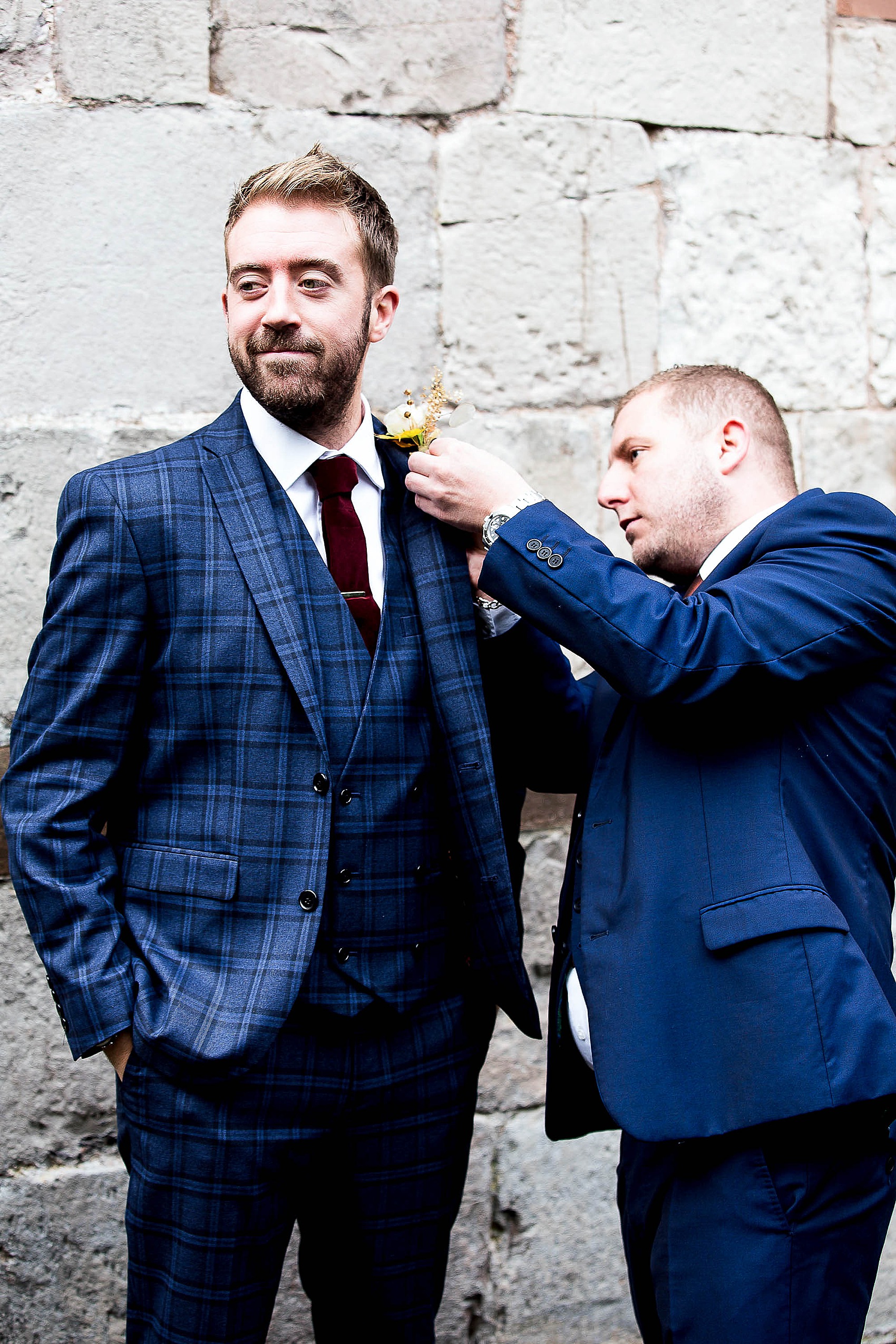 "As a musician, entertainment was something I had to get right. One of my close friends played me in on the harp and then we had Brymbo Welsh Male Voice Choir during the service."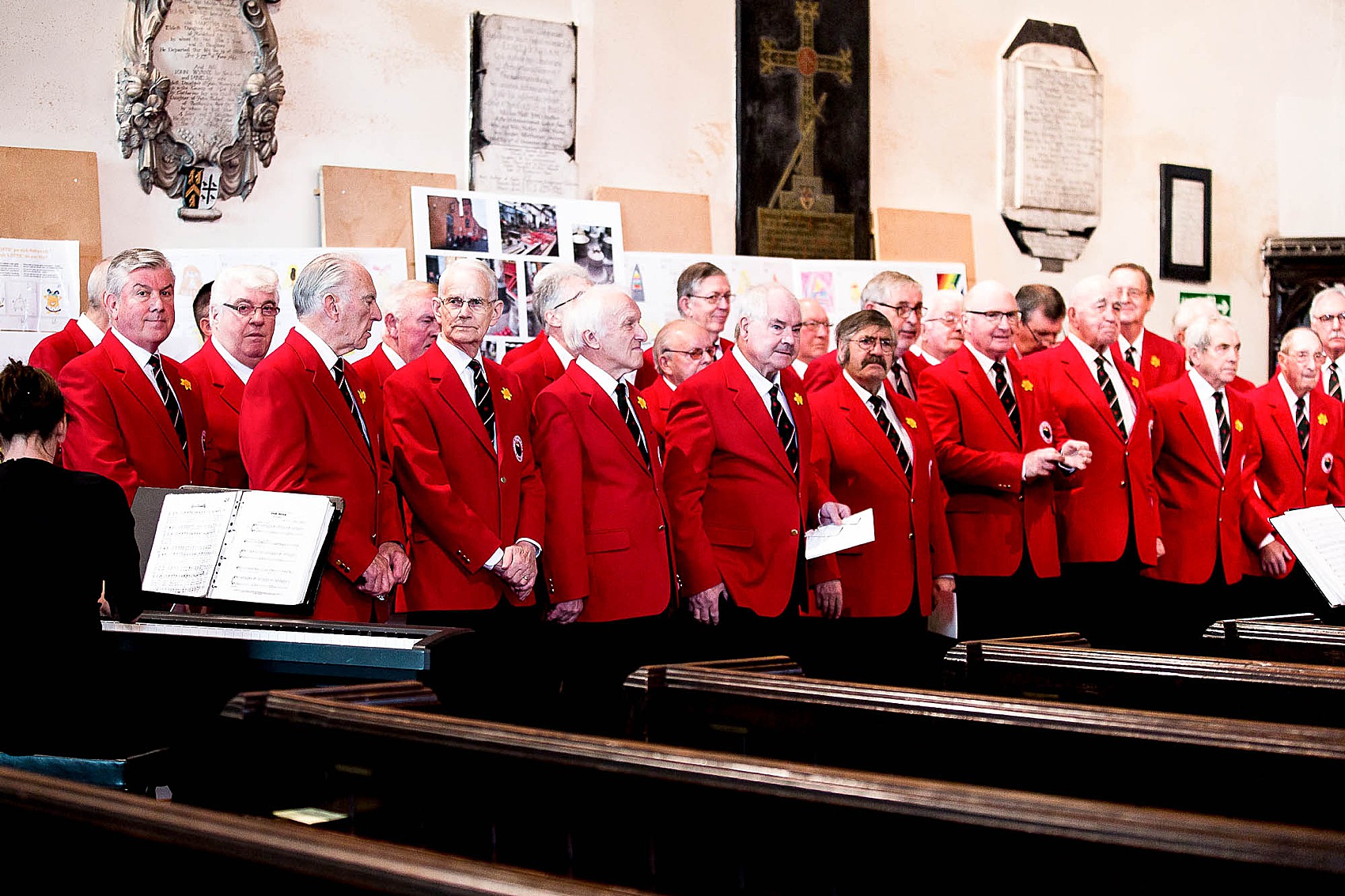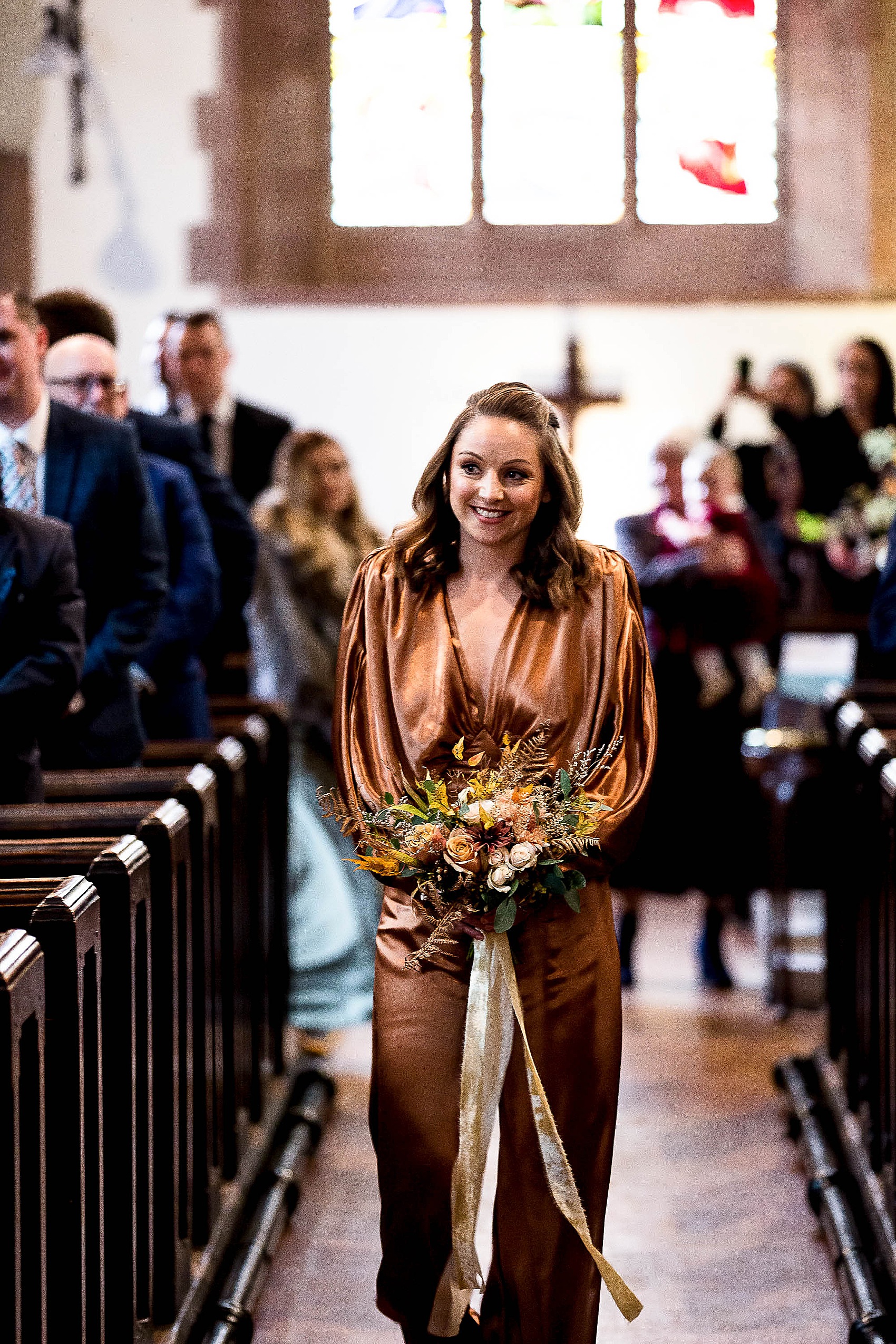 "We married at our local church in Ruthin and my father accompanied me down the aisle. Louisa (my harpist colleague) and I sat in the park one day and chose Dawn by Savourna Stevenson (as my entrance song)."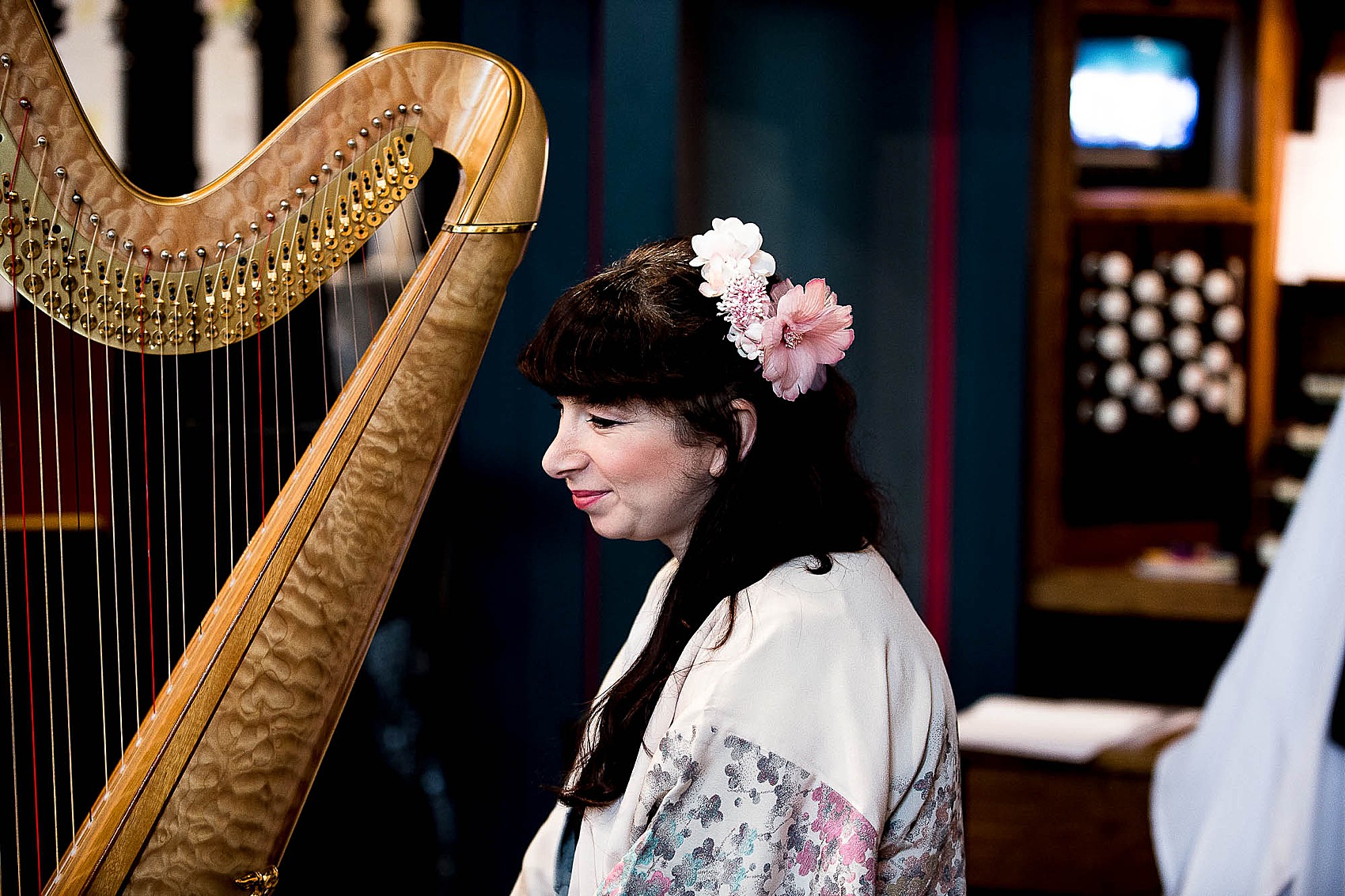 "It hadn't been transcribed so we did it ourselves. The perks of being a musician! Such a beautiful song and so appropriate to be the dawn of a new beginning."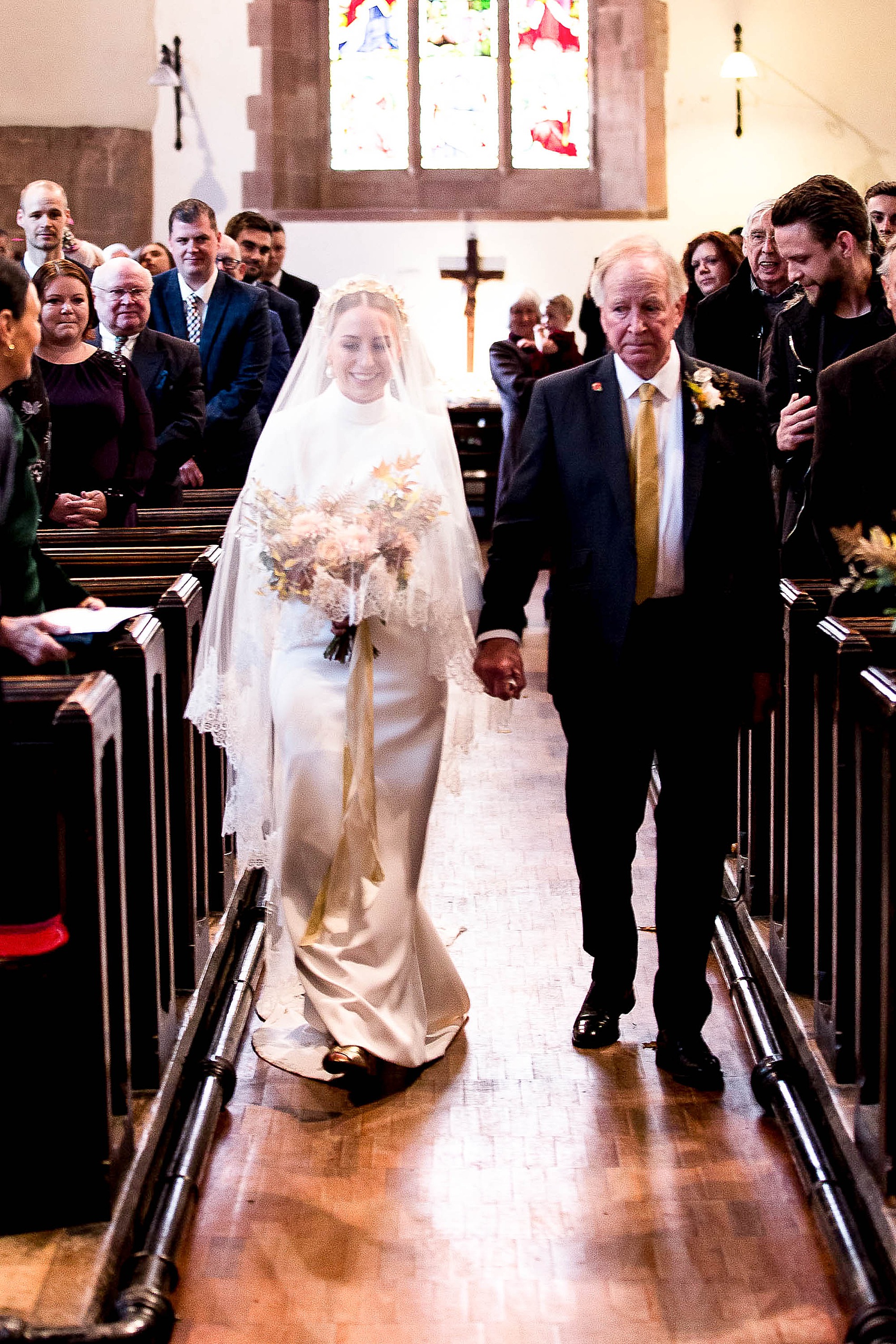 "We had traditional vows, but we left the choice of the readings to our Mums as they both wanted to pick readings from the Bible."
"Ollie and I  were a Tinder date that went right! Ollie is a London boy born and bred and was at the time living in Enfield. He had recently joined Tinder and hadn't got round to shrinking the search radar so it still included most of London otherwise we might not have met as I was living in Hackney."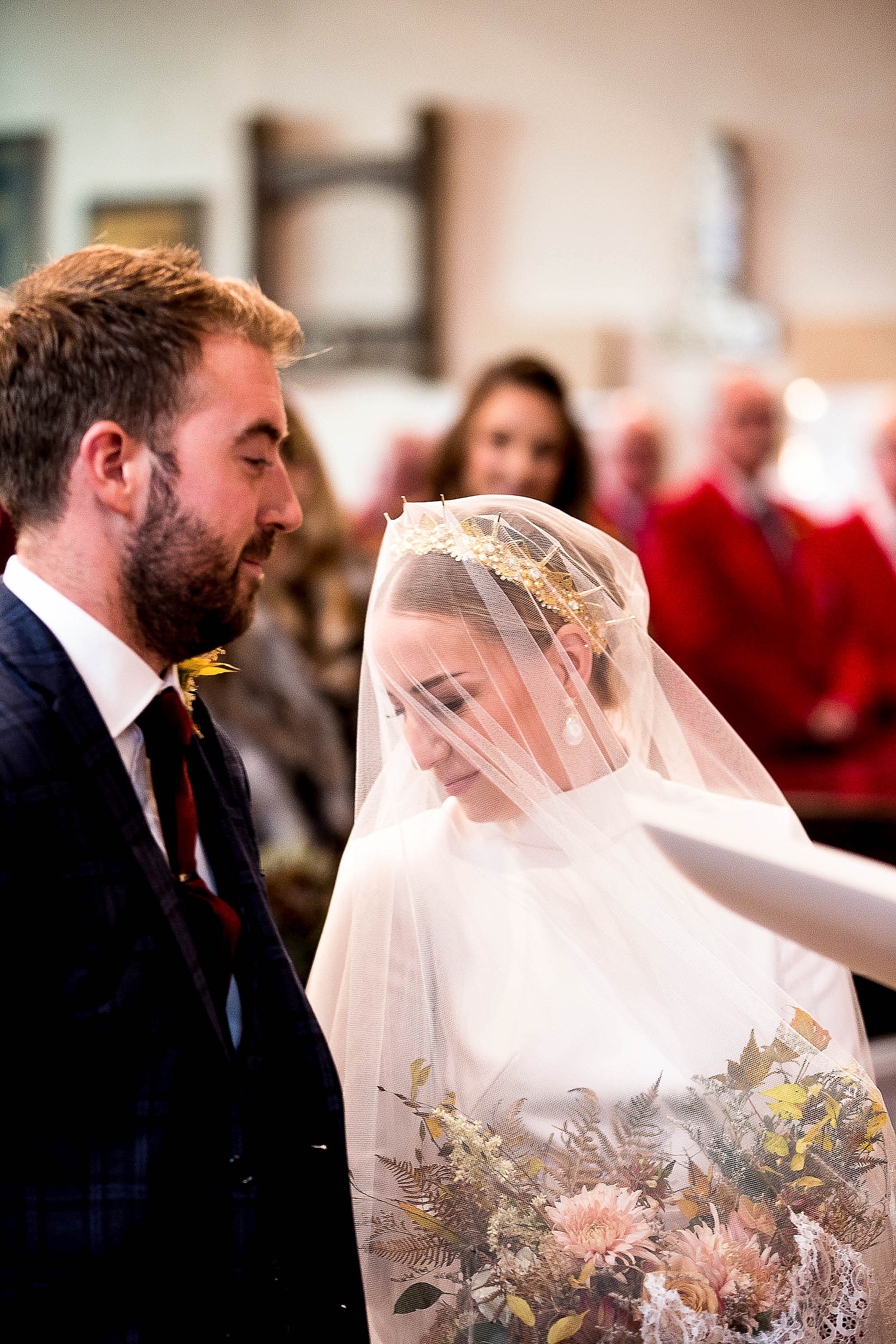 "We met for the first time in a bar in Hoxton called 'Happiness Forgets' – rather ironic haha. We got engaged in October 2018 and we were engaged for a year."
"We had talked about getting married and walking home one beautiful evening after a romantic dinner Ollie got down on one knee in the street – classic."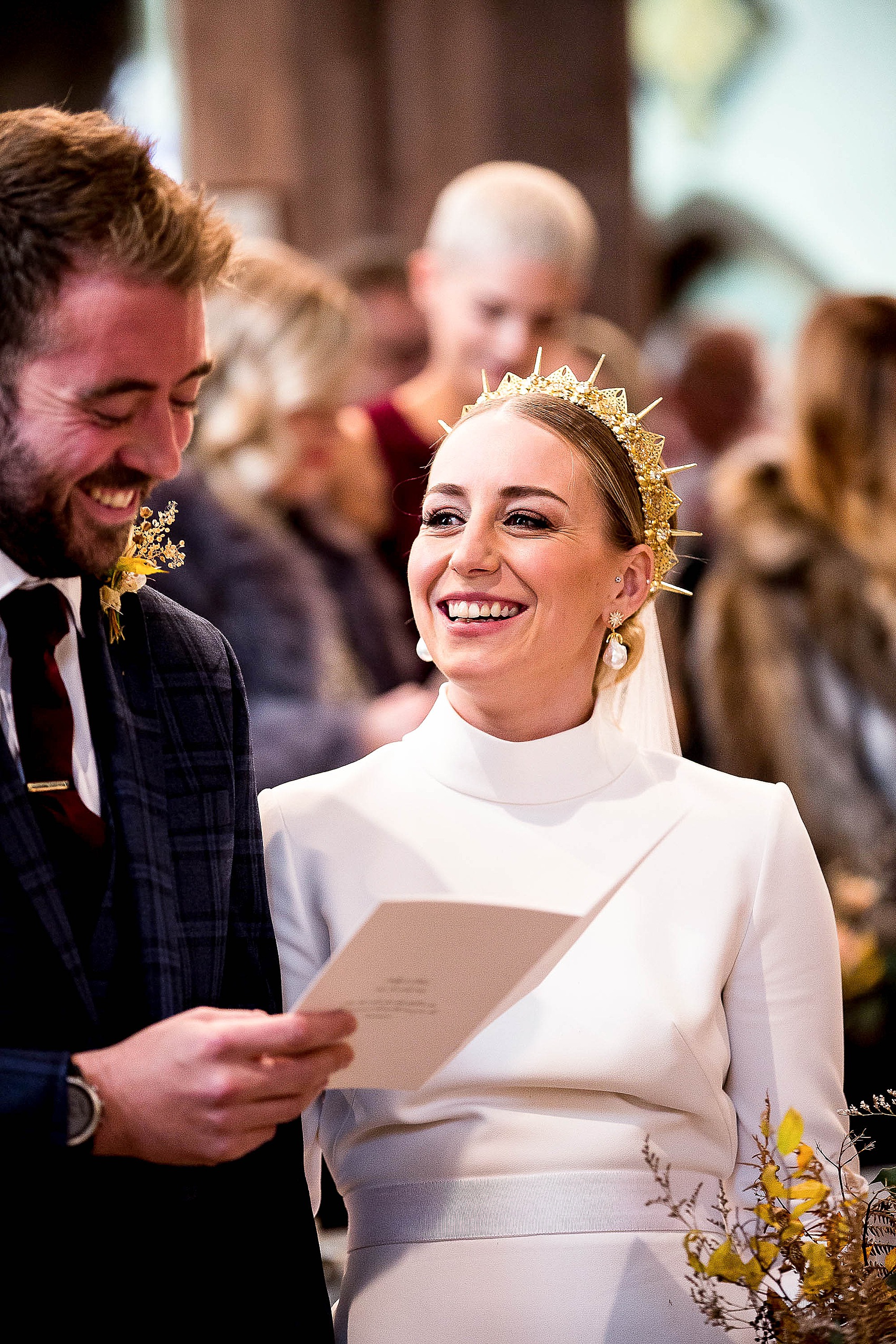 "When we got engaged my parents gave Ollie a heirloom diamond to have put in a ring. After we got engaged we found this amazing designer called Clarice Price Thomas."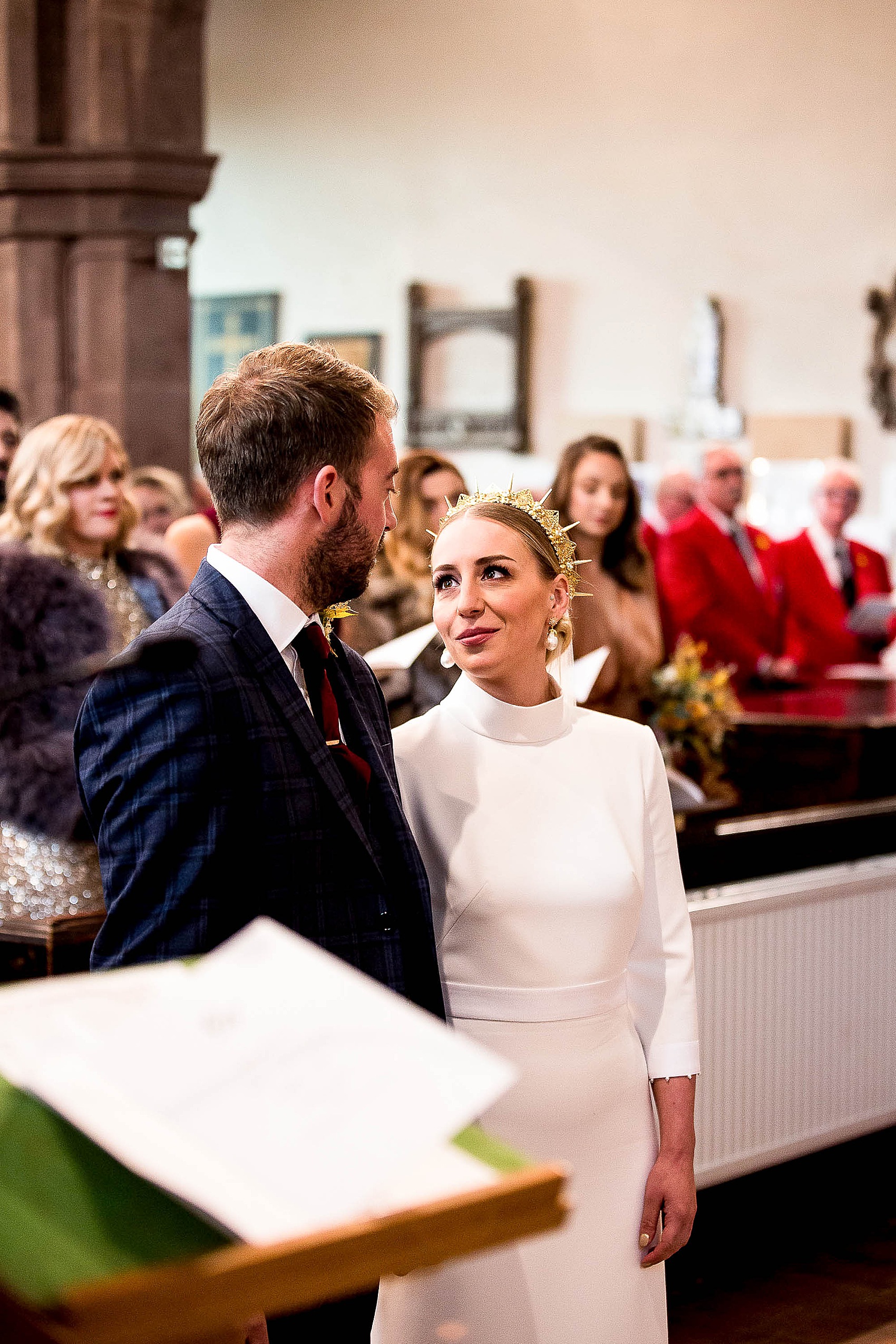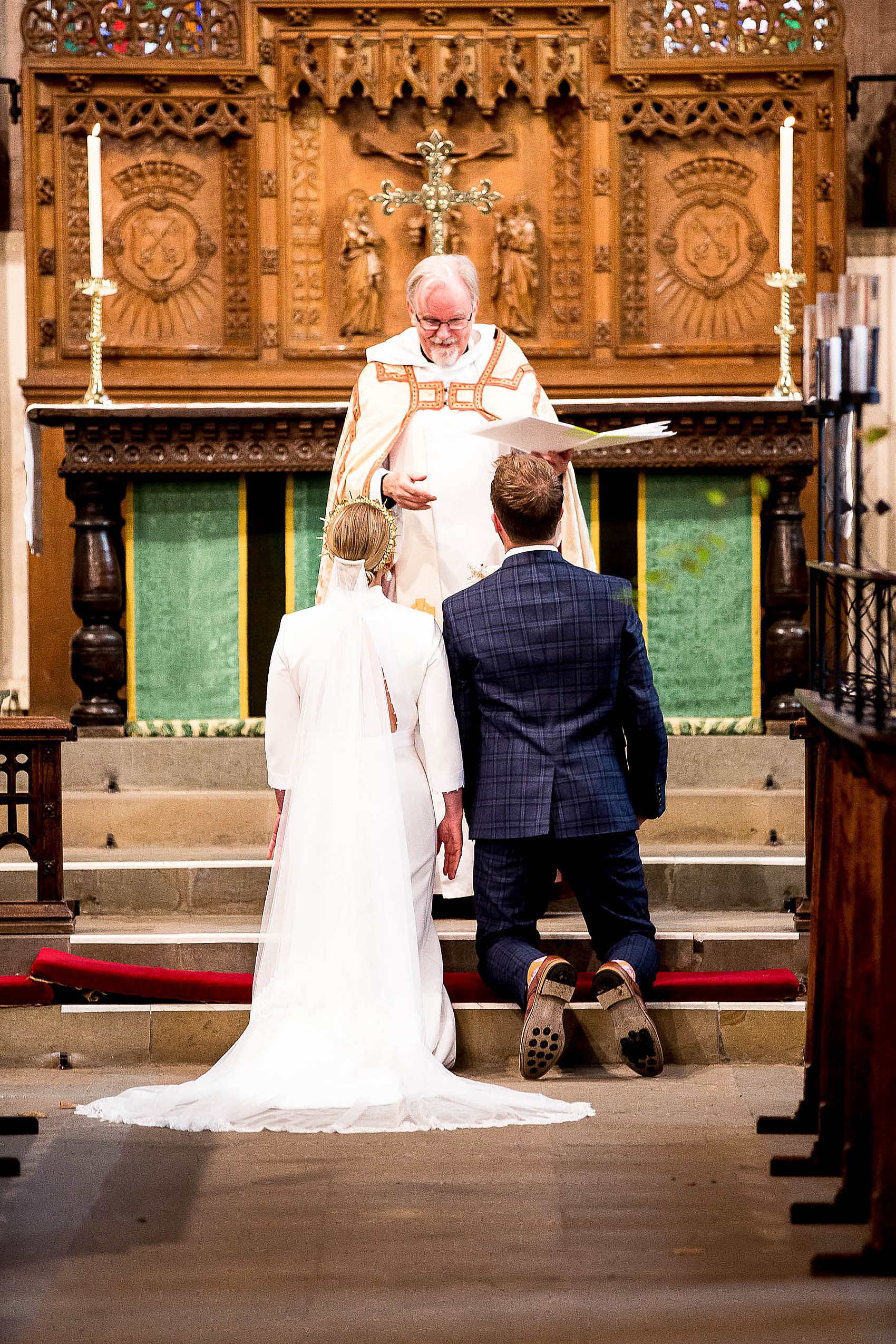 "She had just opened a jewellery shop in Leyton and was doing a bespoke service as well. Everything she makes is divine. She is so incredibly talented and made me the engagement ring of my dreams."
"She also made our wedding rings and will probably be making jewellery for us for the rest of our lives."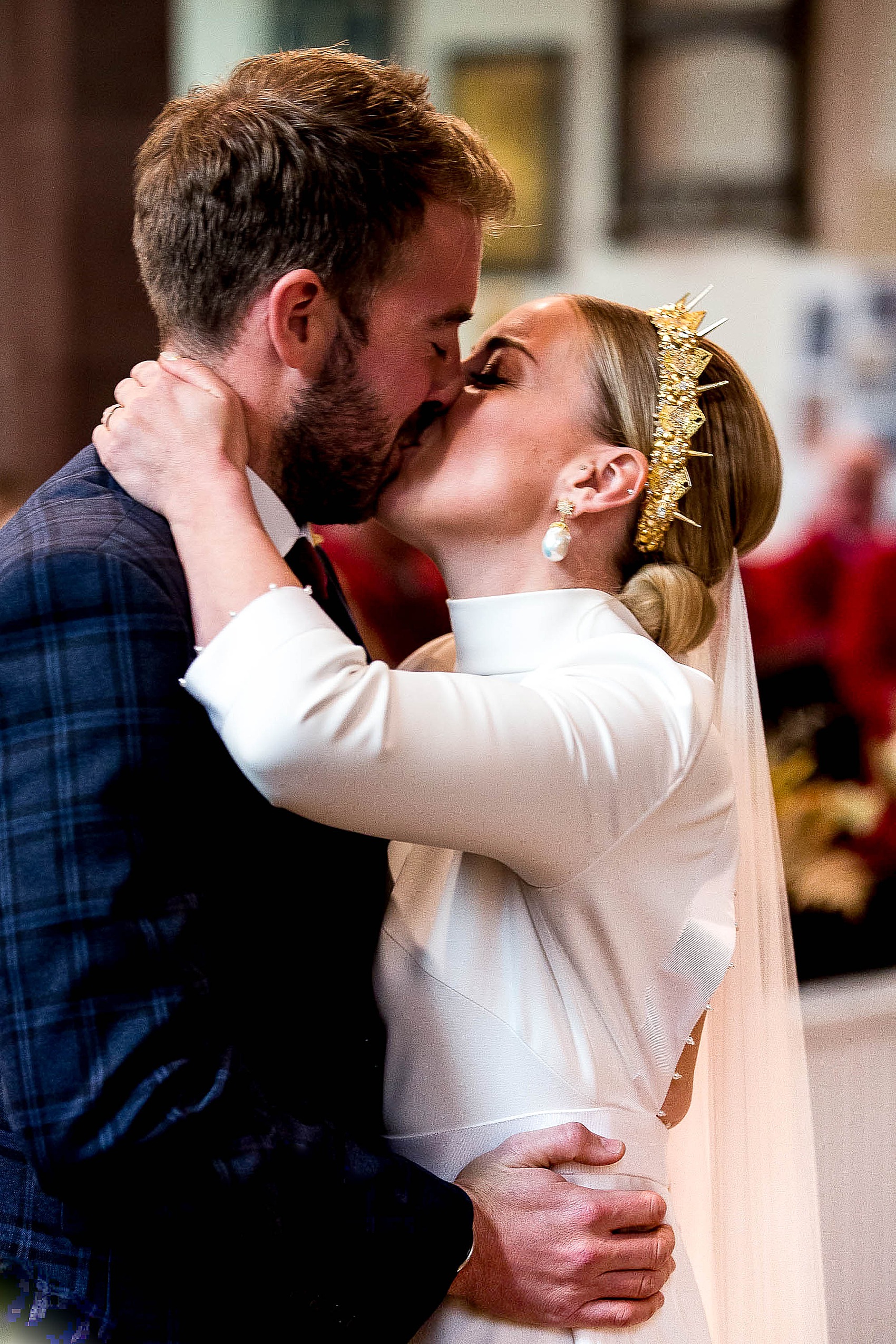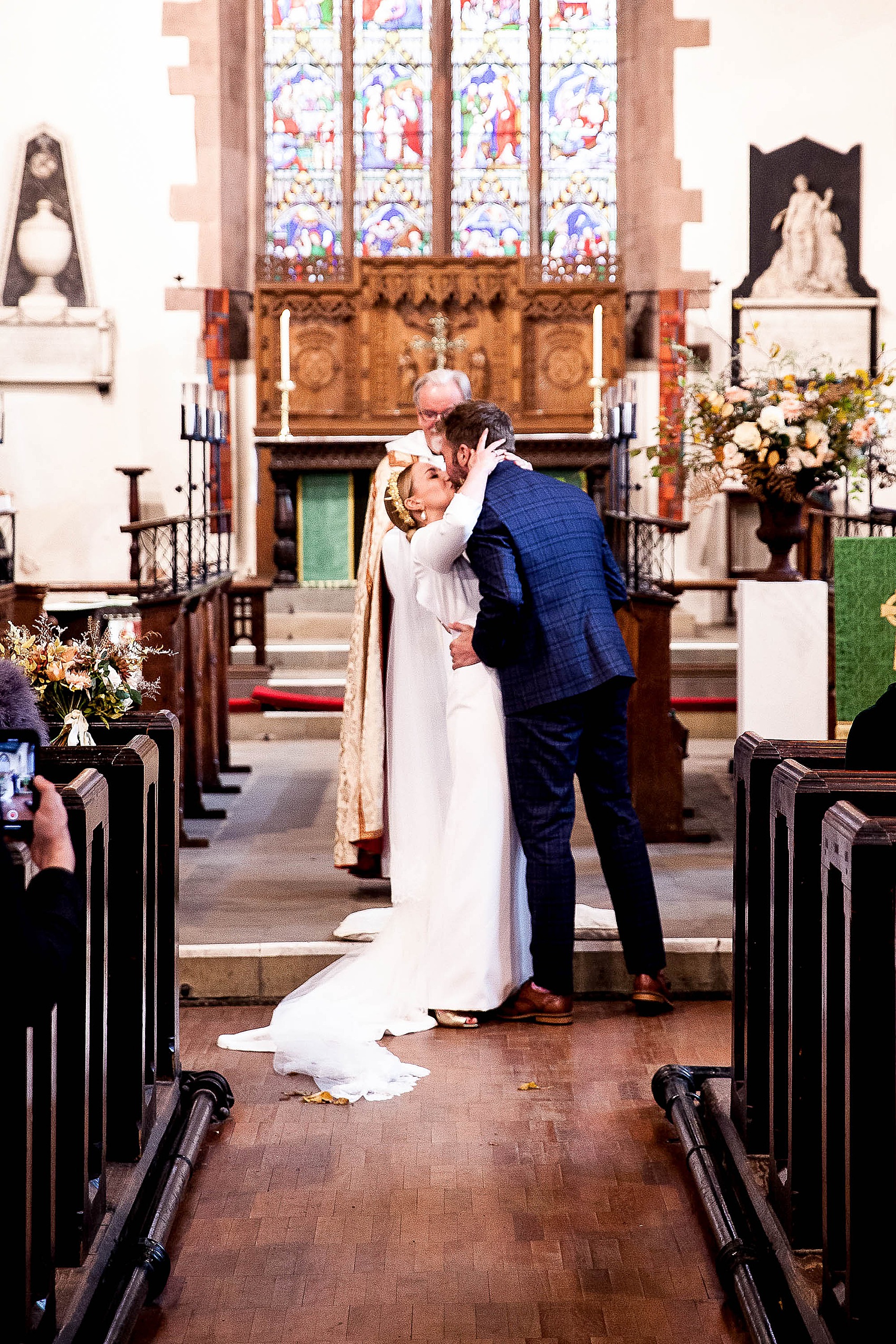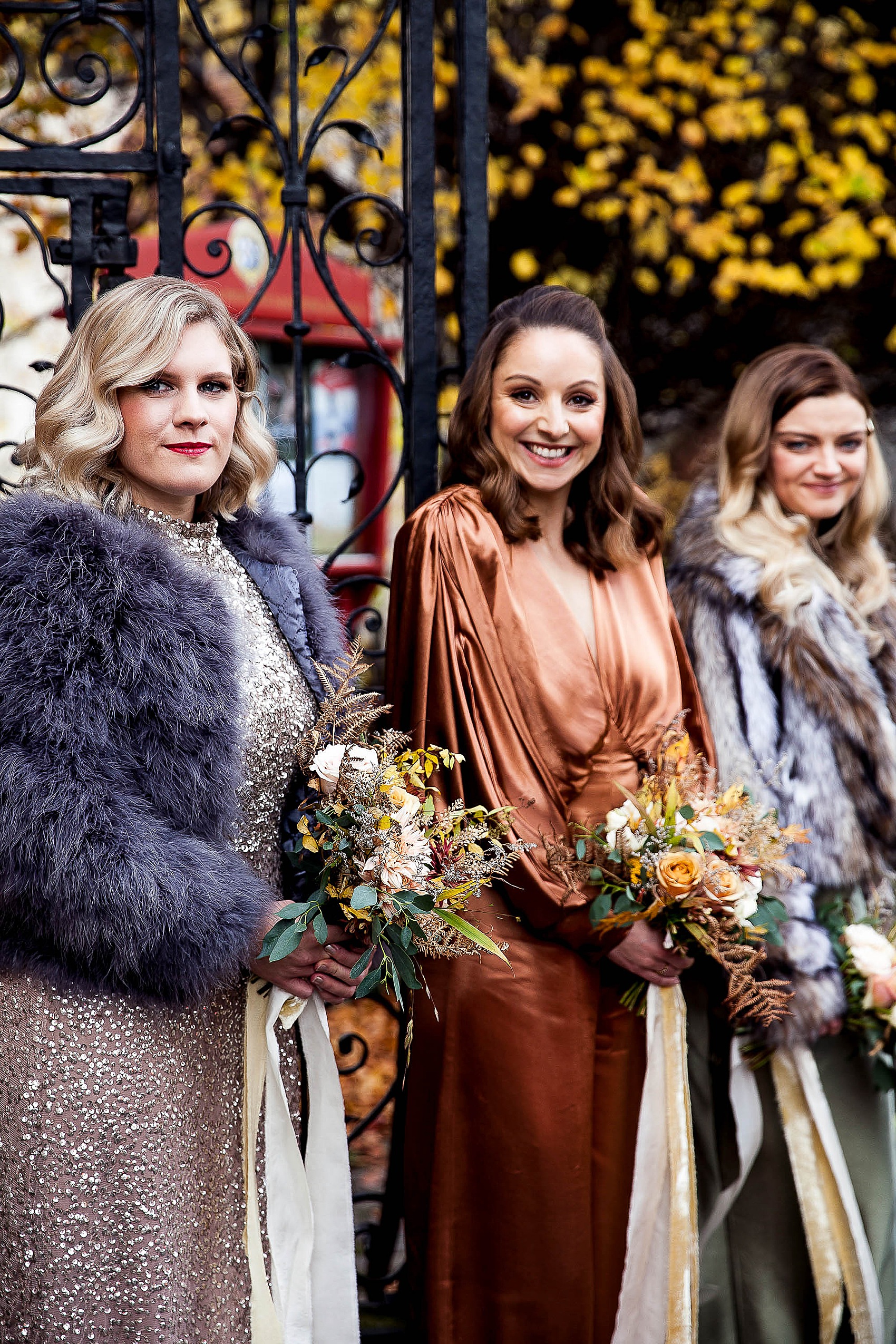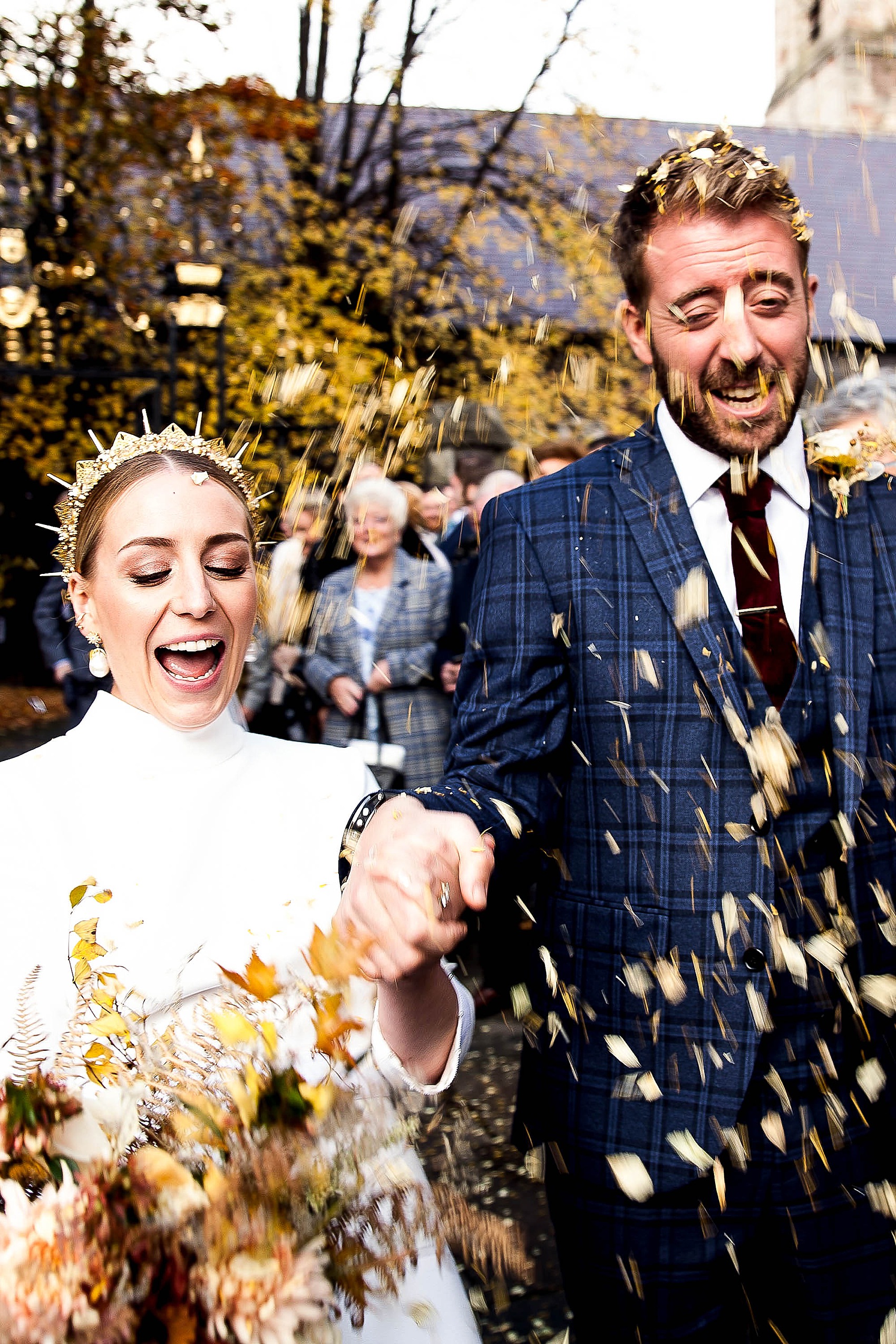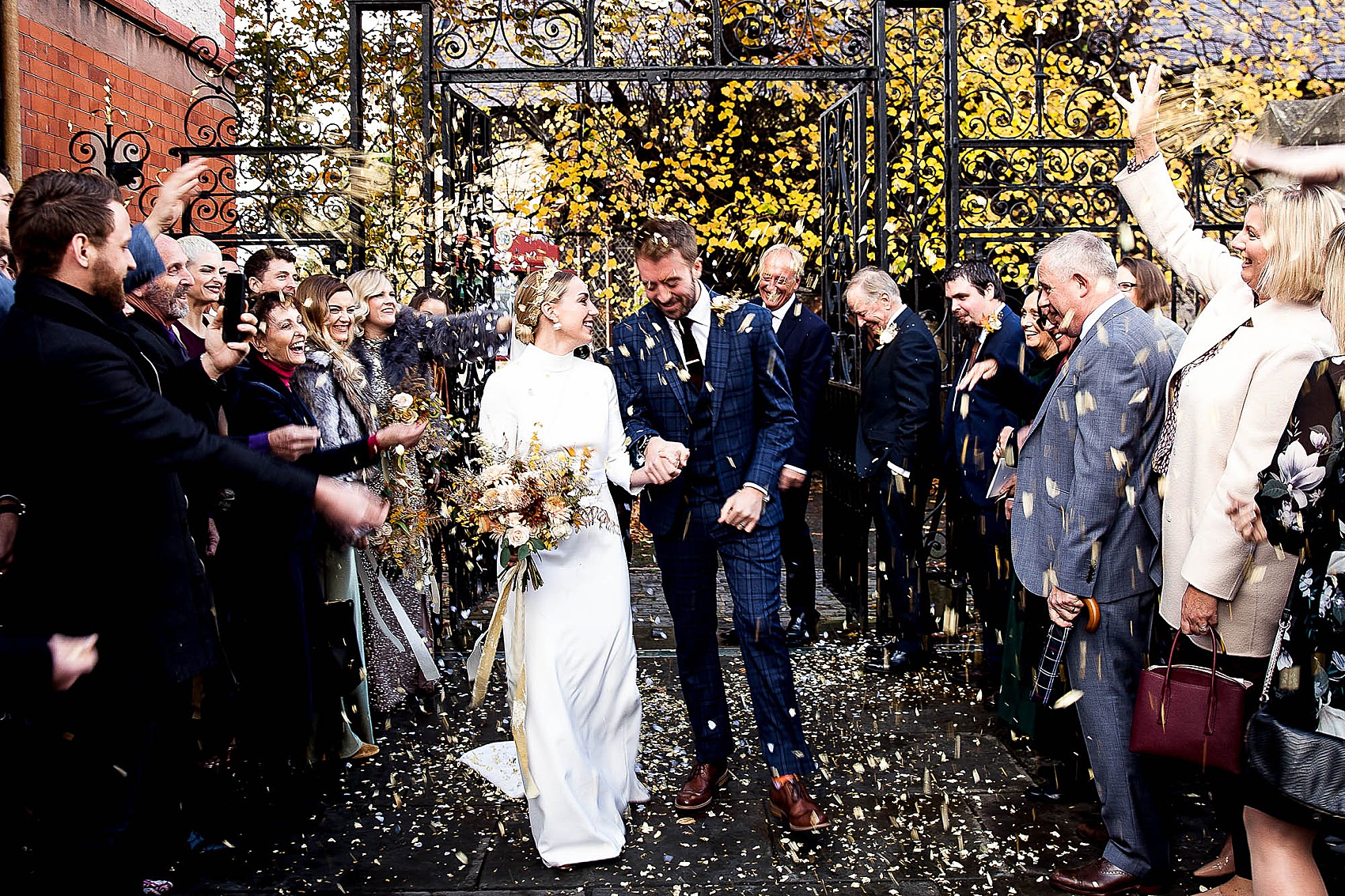 "We chose Verity Quirk as our photographer, as she had already been the photographer at two of my close friends weddings and was an absolute star."
"I was a bridesmaid at one of those weddings and she just made everyone feel at ease. Verity was amazing on the day and the photos are everything we could have wanted and more."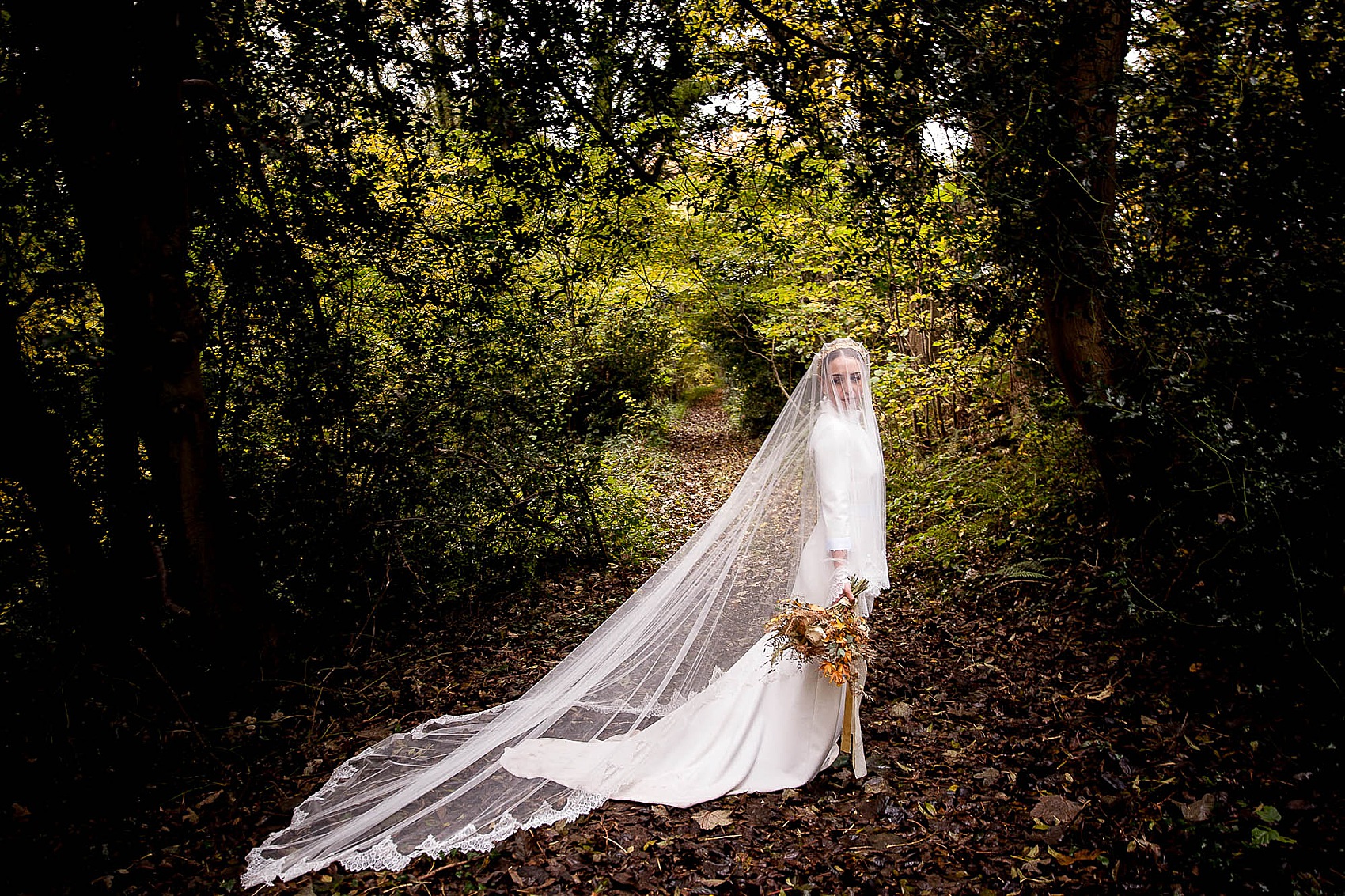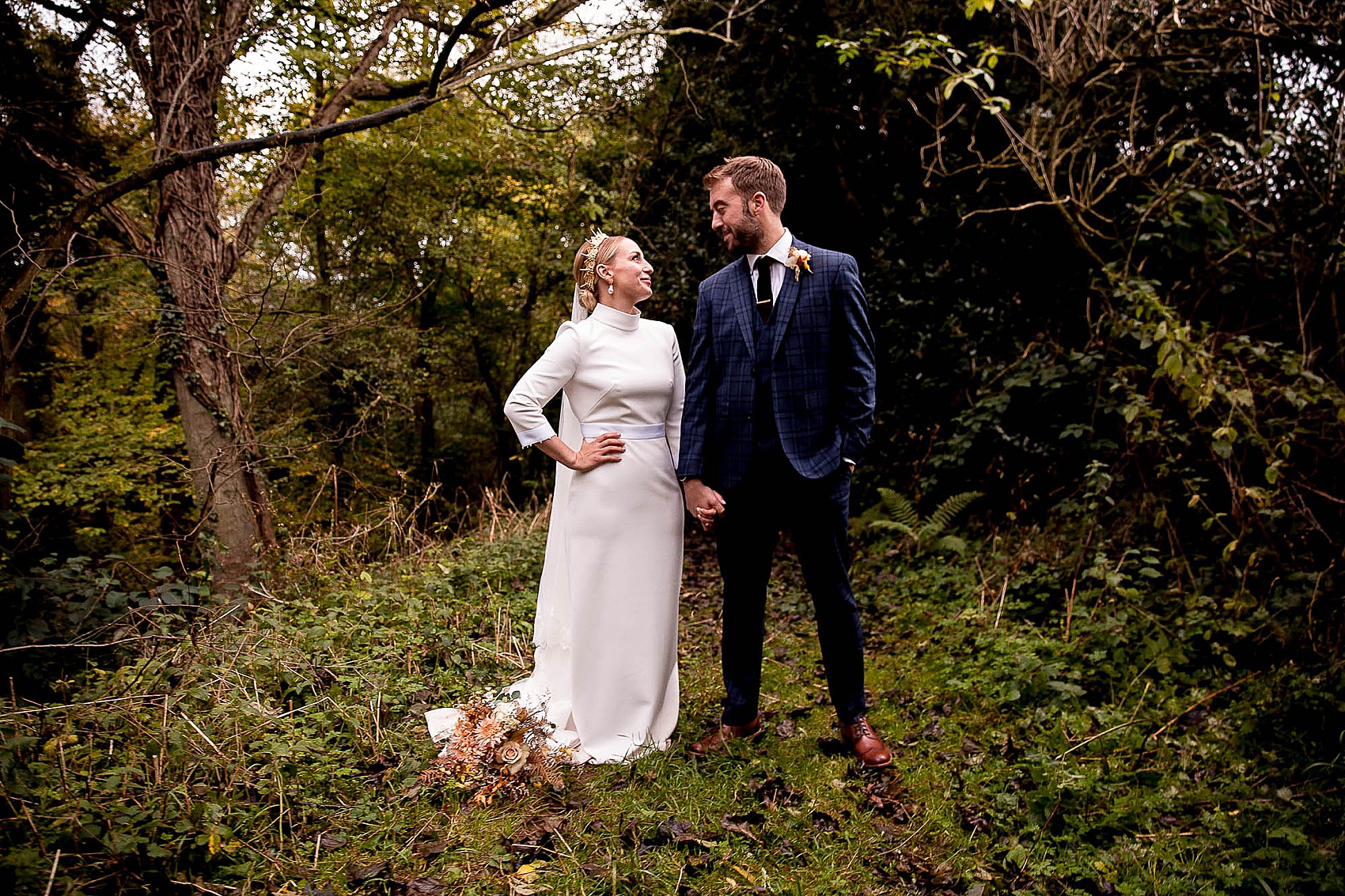 "My bridesmaids are my four best friends which are all best friends with each other. We call ourselves The Hackney Hags and do pretty much everything together."
"Three of us are already married and no one has managed to have us all together in the bridal party due to other family members taking priority."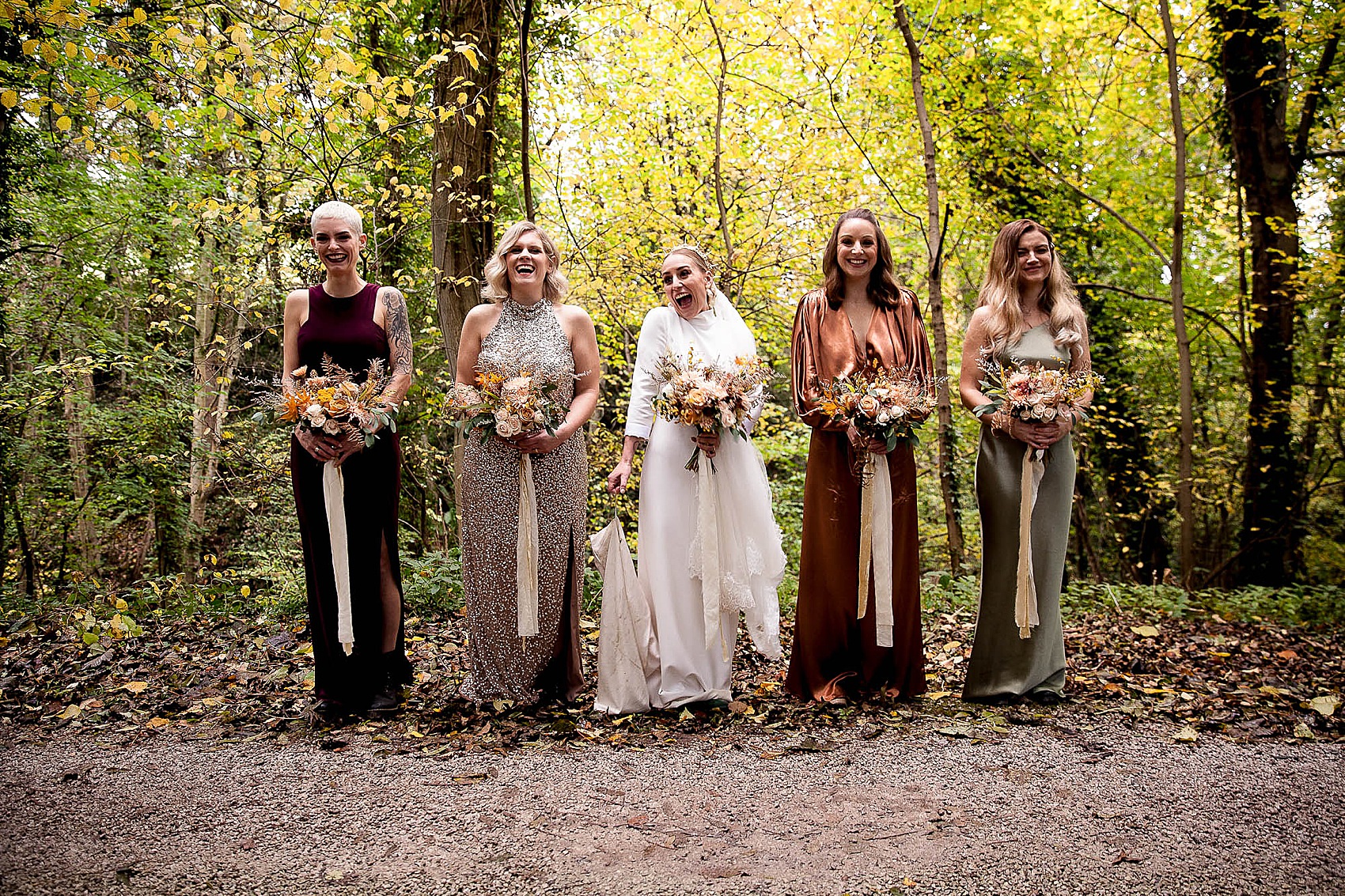 "It was super lovely therefore to be able to have them all as bridesmaids and it was very important to me that they wear a dress which suits them as they are all very different."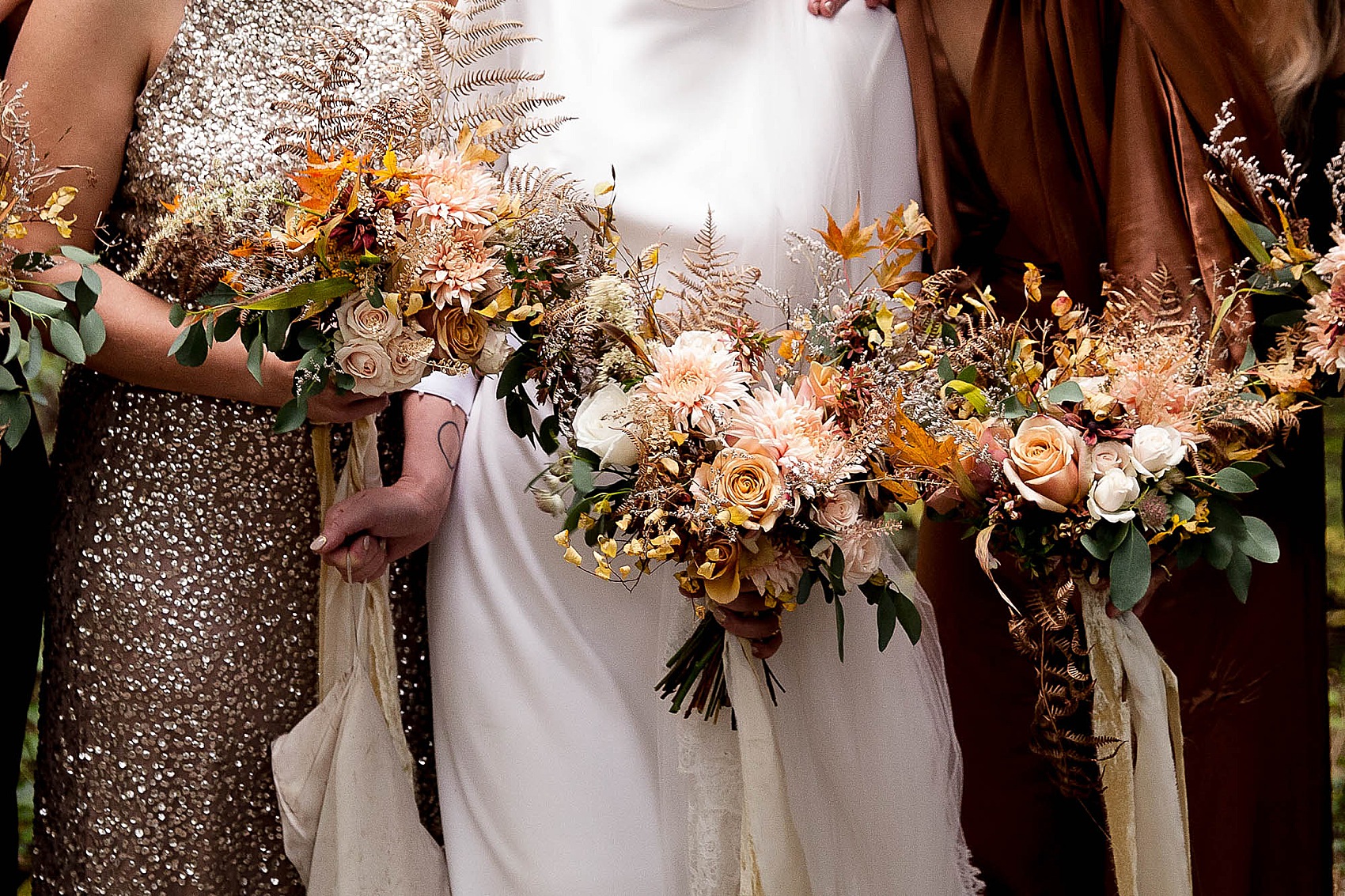 "As the flowers were the pale colours of autumn I wanted their dresses to be the dark colours of autumn using different textures with fur jackets and sparkles."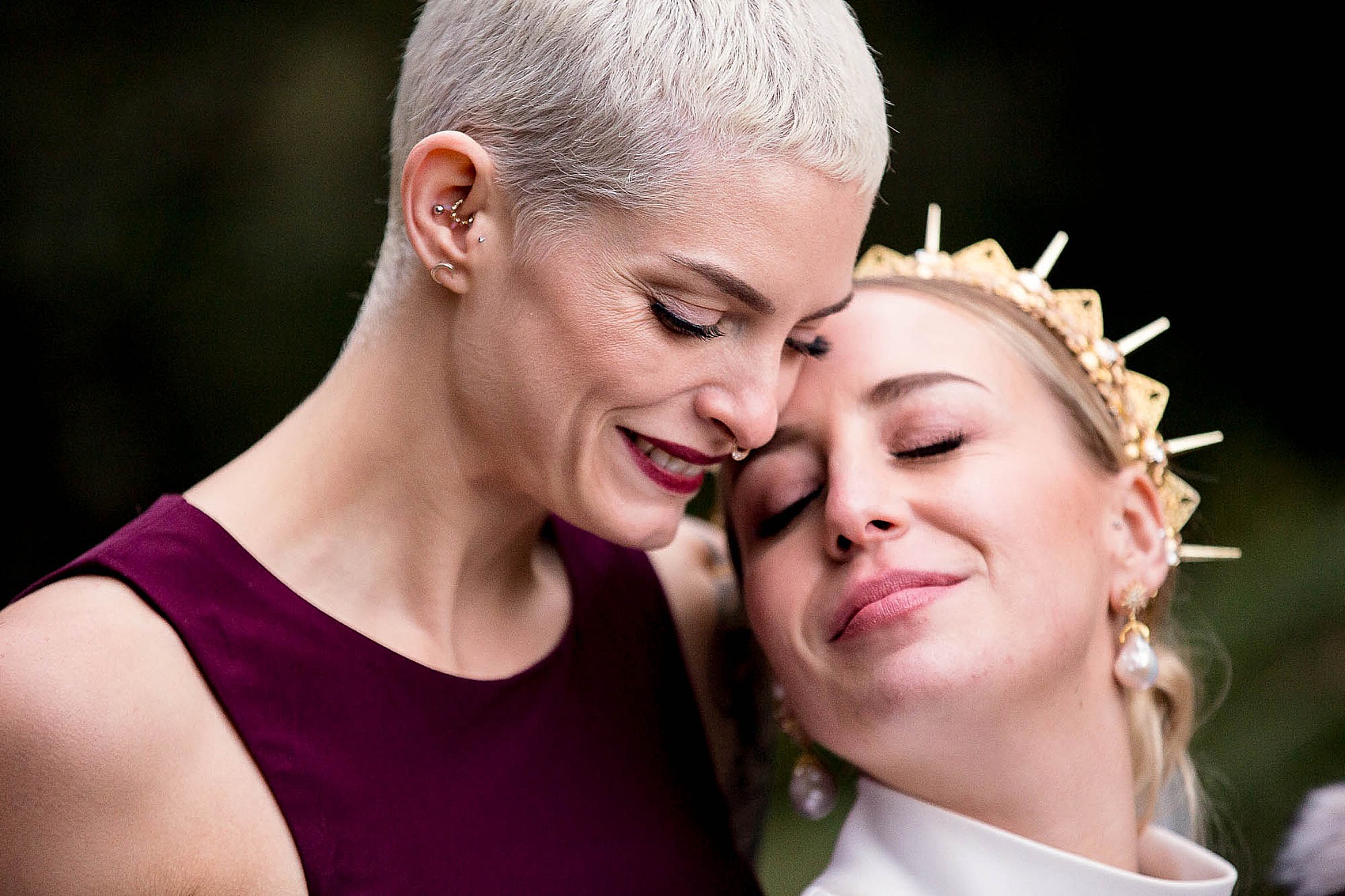 "Bex whom I have known since I was born and is more of a sister than a friend was my maid of honour in gold. Her dress was from Debenhams, Kali was in the burgundy from ASOS as was Ruth in her rust jumpsuit. Fallyn was in the sage dress from Silkfred."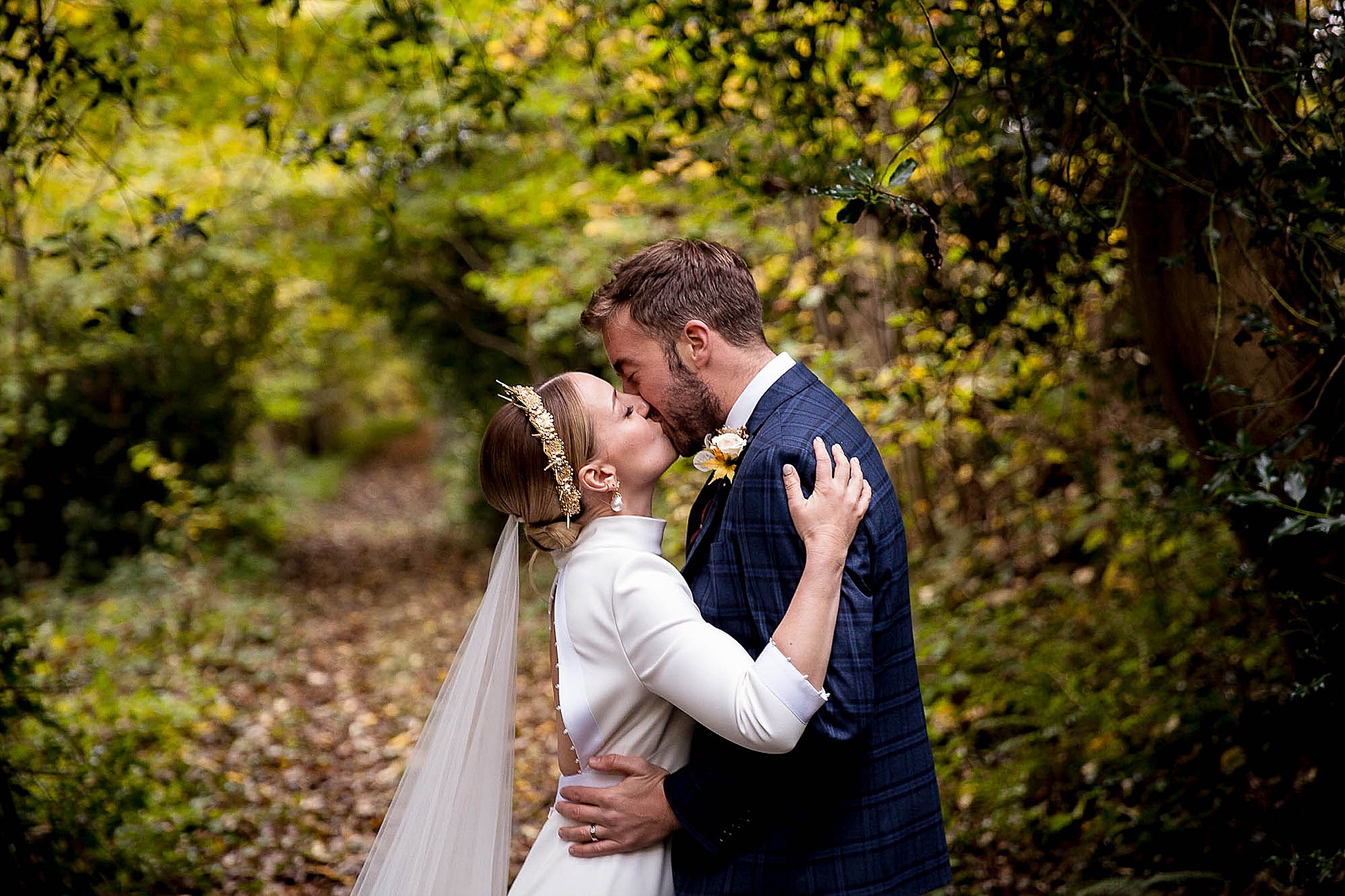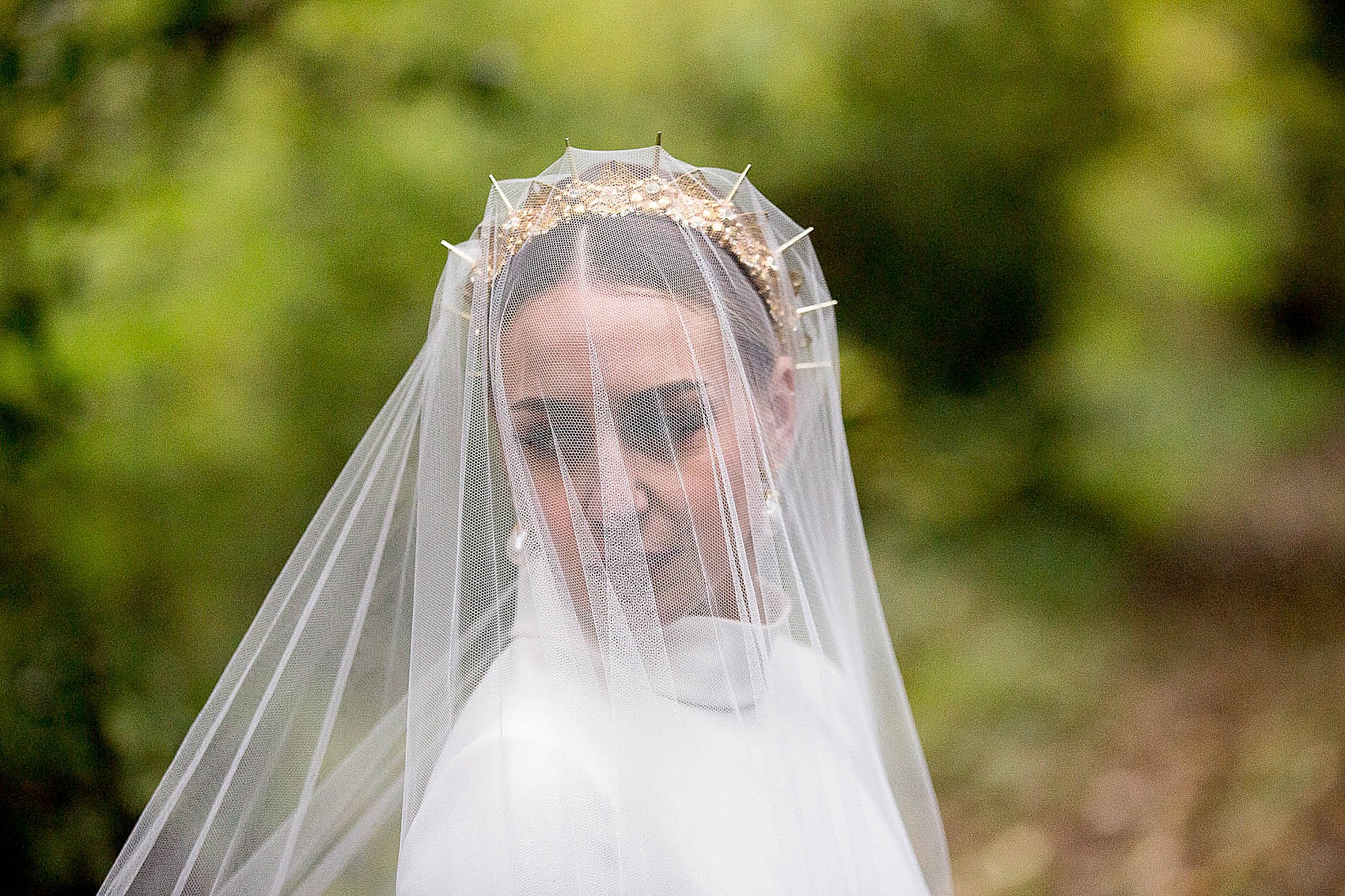 "Our reception was at my parents house in tipis in the front field. I grew up on a small farm in Wales and it's been a dream of mine since I was a little girl to get married there."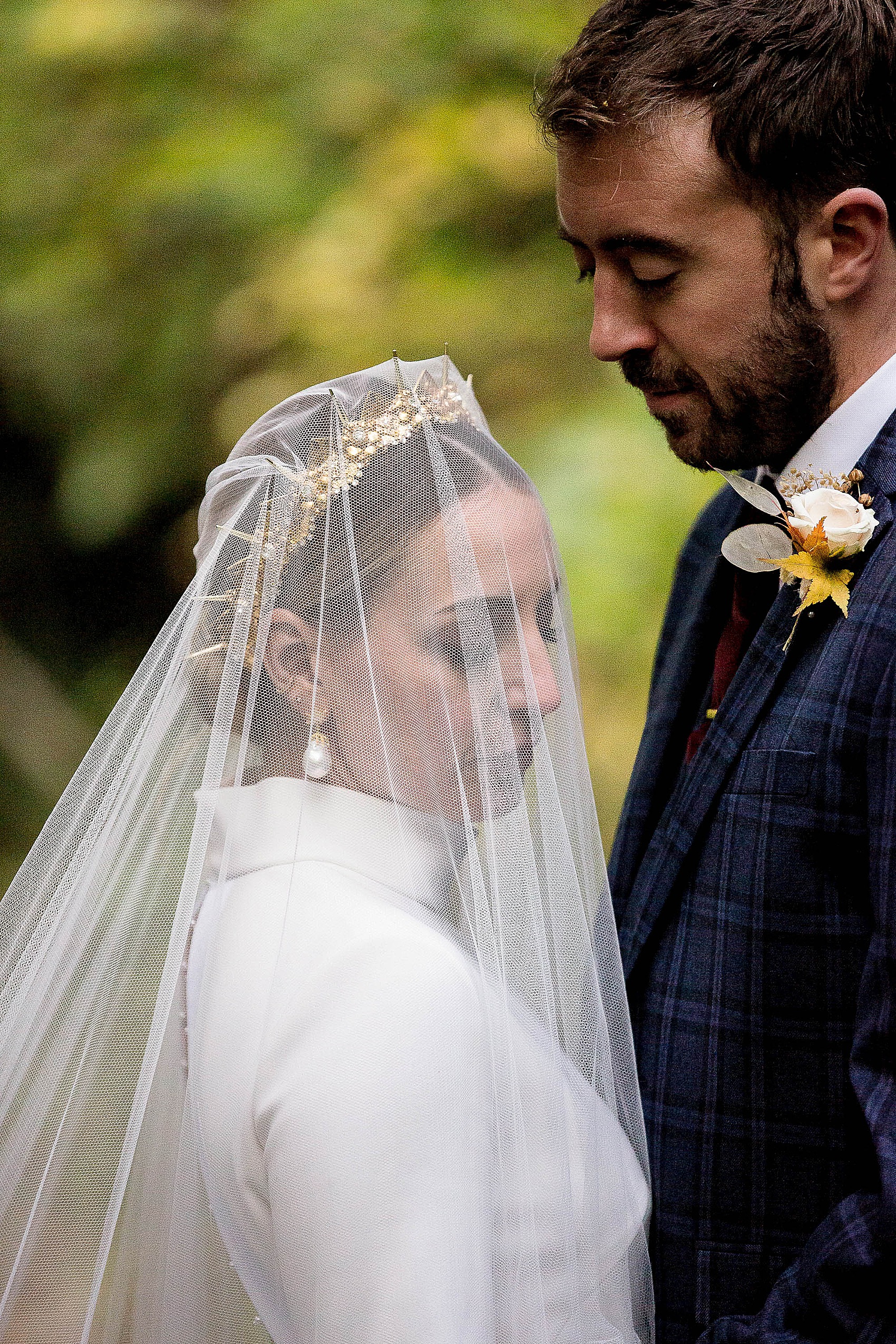 "It's on a hill with views of Snowdon on a clear day, surrounded by ancient woodland and is truly a piece of paradise. Ollie knew how important this was for me and was happy to go along with it."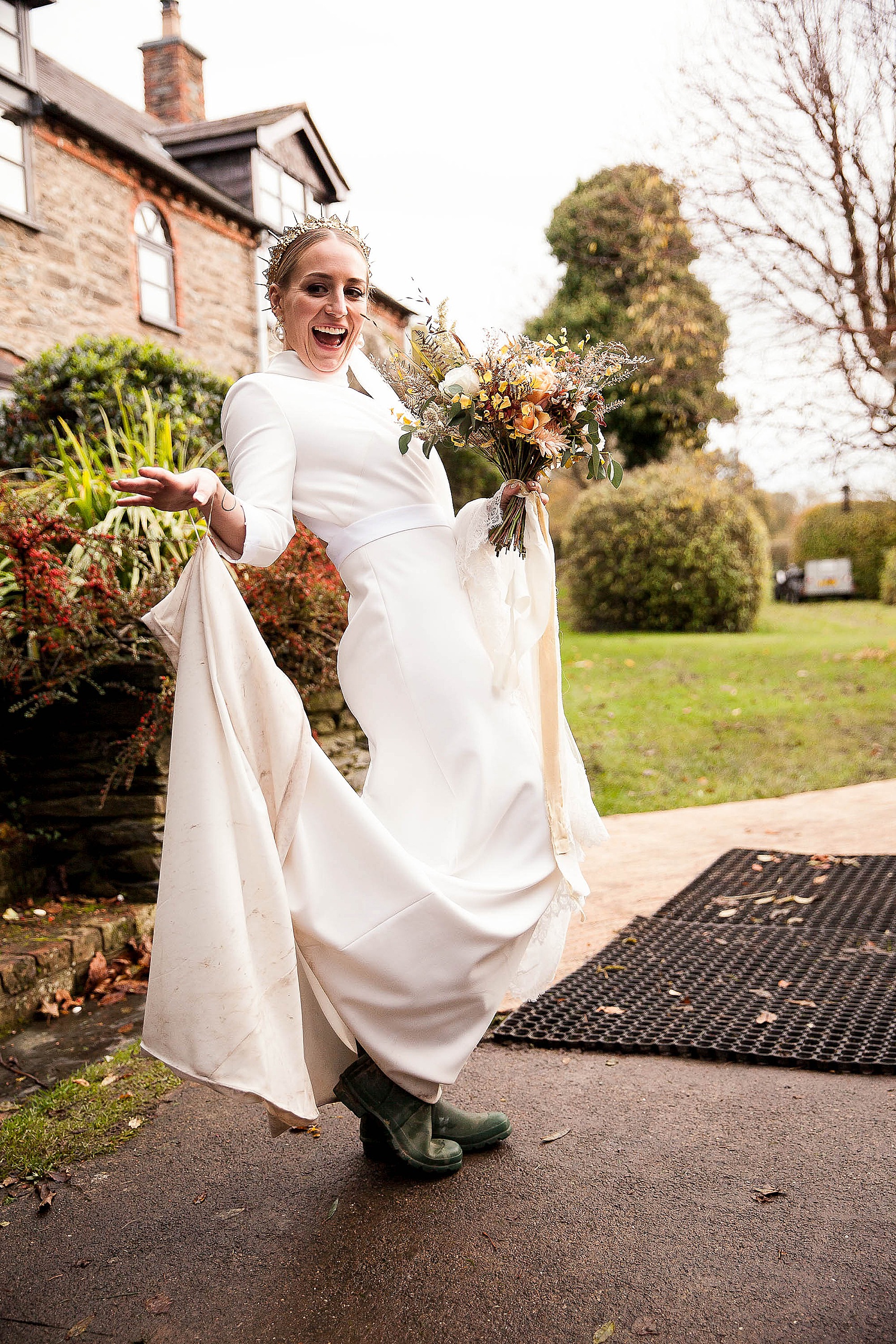 "On the guests arrival to the tipis we had this amazing guitarist, Michael Sebastian, whom we had seen performing improvised dance music at Broadway market in London."
"We went up to him right there and then and asked whether he would be willing to come to Wales to play his music for our reception. He's a fantastic talent and was the perfect vibe for us."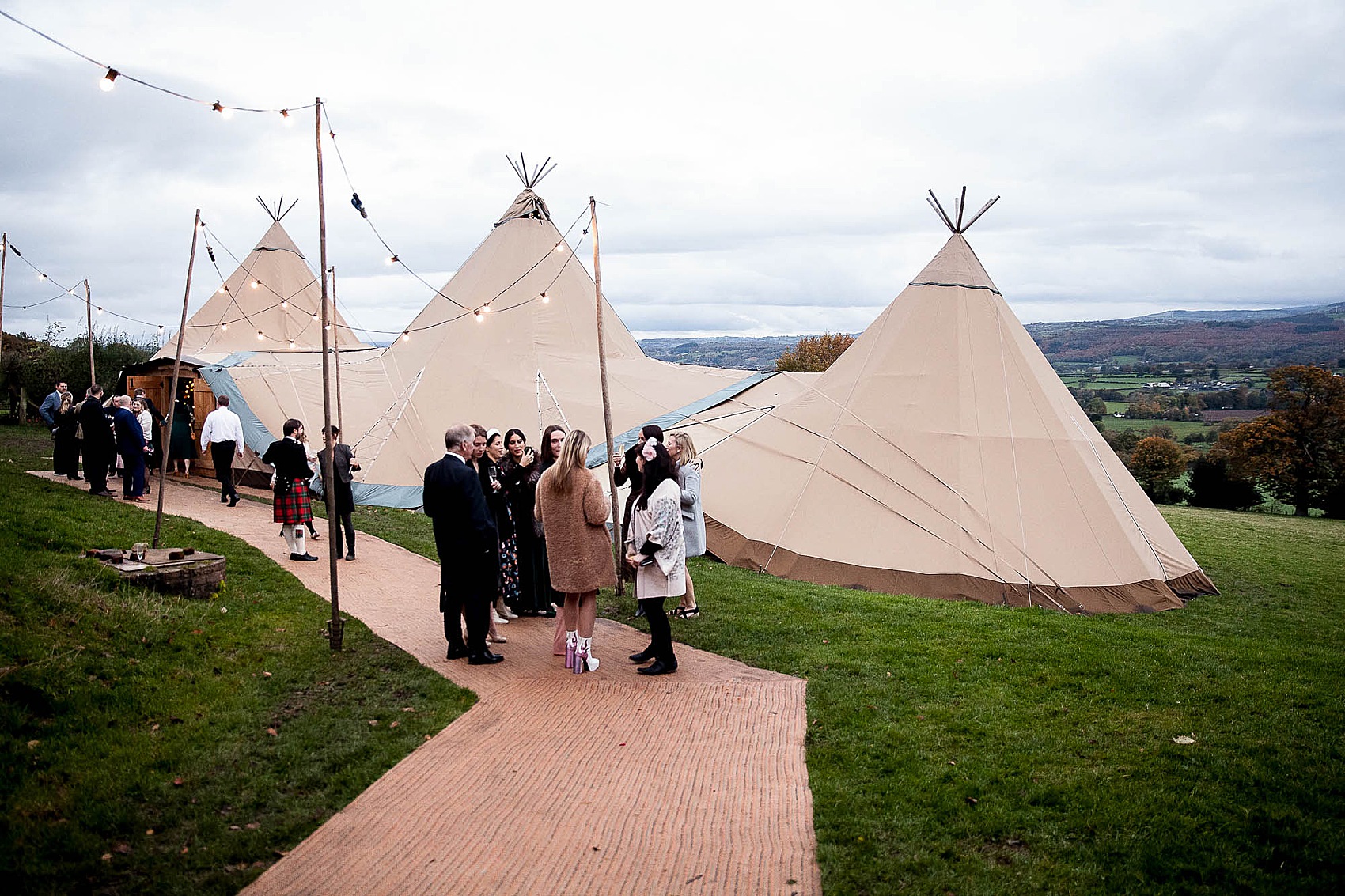 "I spent a lot of time thinking about the decor. I wanted the tipis to feel decadent and cozy at the same time. Incorporating the woodland around them and creating a magical space with loads of fairy lights and a huge fire in the centre."
"The flowers on the tables were both dried and fresh in brass urns sourced from Ebay and I bought loads of tea lights and rented some amazing brass candlestick holders from Shropshire Wedding Hire."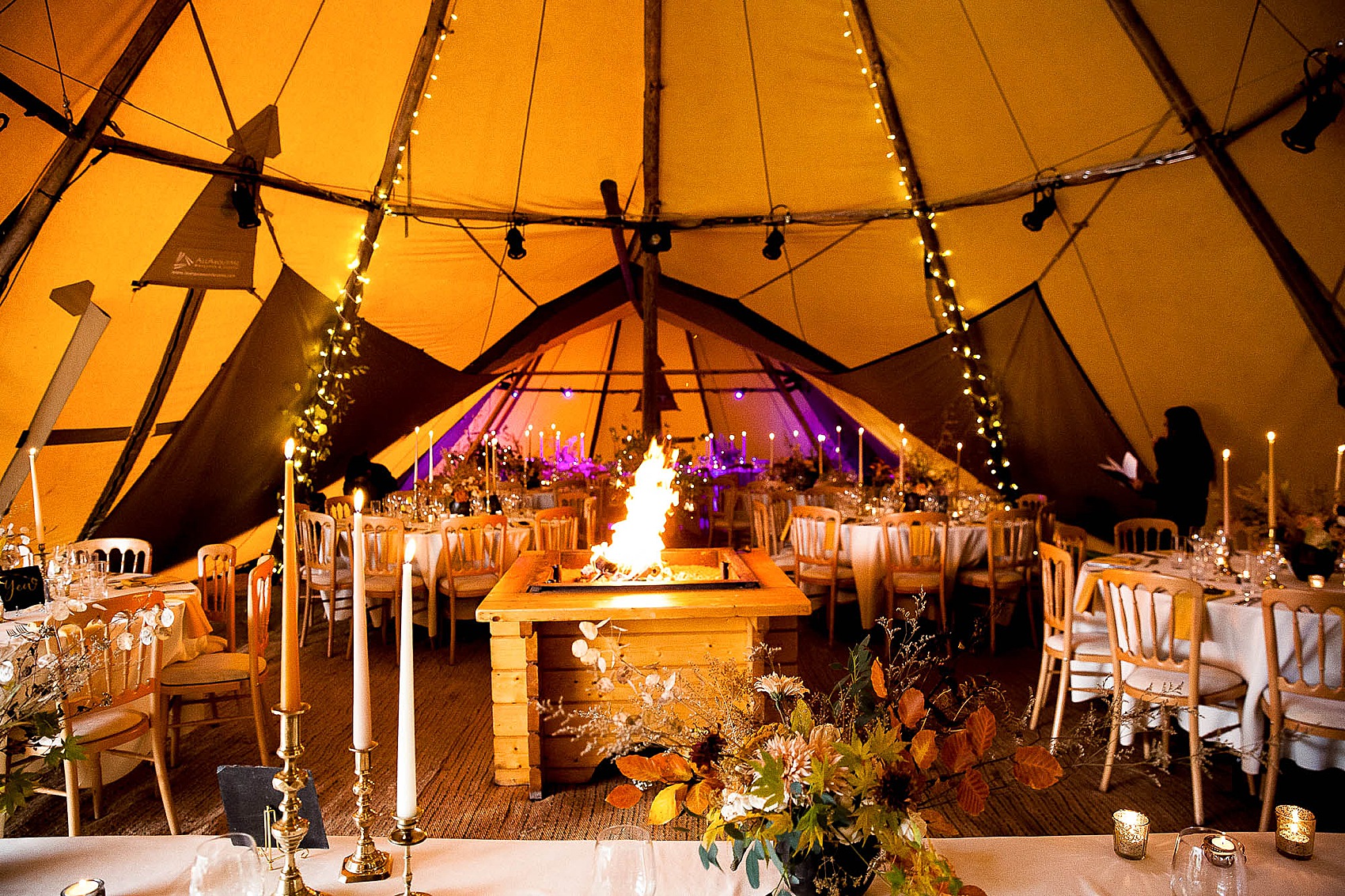 "I spent time choosing tapered candles from Ester and Erik in shades of saffron, peach, faun and taupe to compliment the floral arrangements. I also got my family to wheelbarrow all the potted trees from the garden into the tents and cover them with fairy lights."
"The day before we spent collecting branches of beech and wrapping them around the wooden supports of the tent to make it seem like they were growing."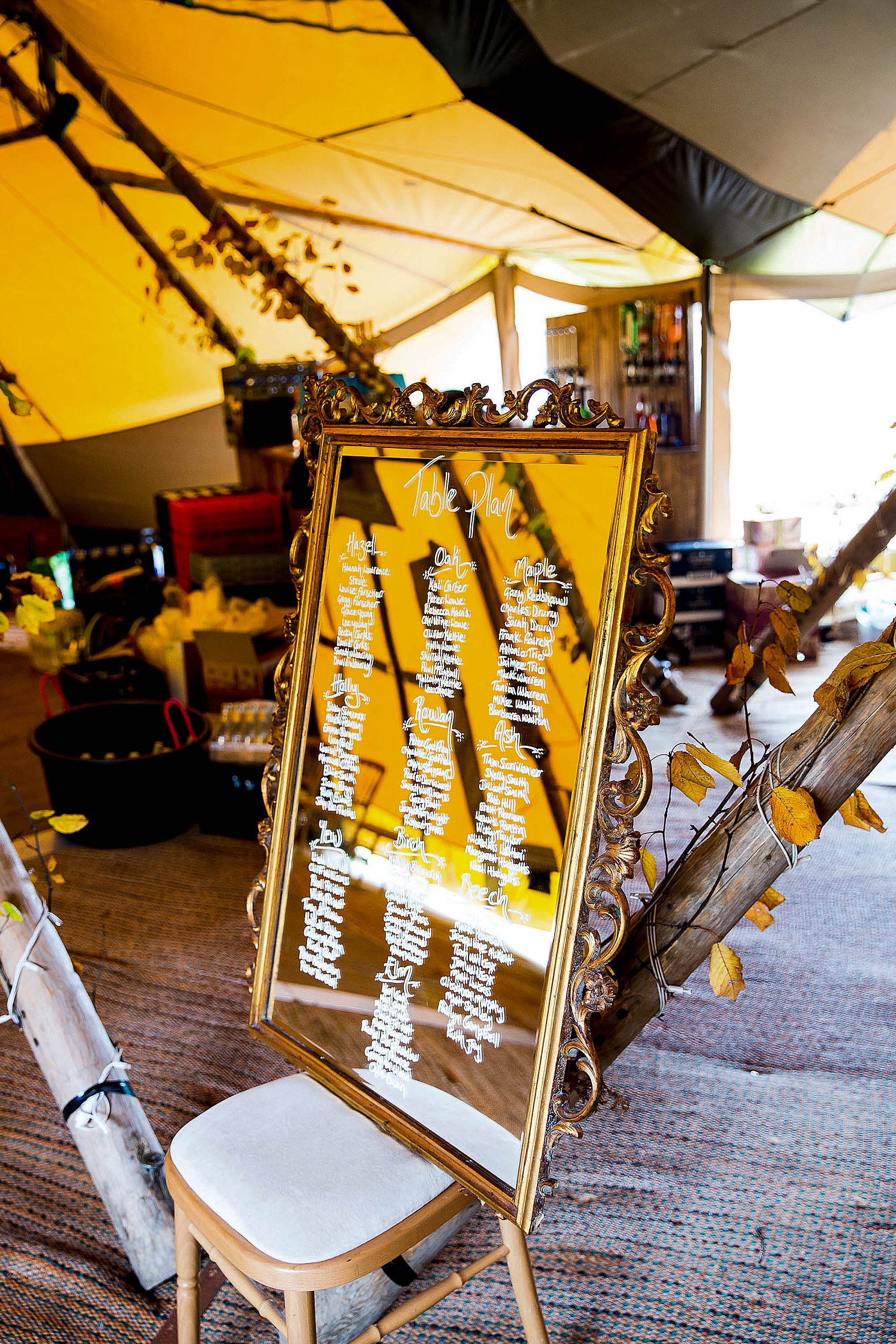 "My mum had a fantastic idea of using welsh slate for the place cards and table names. A family friend cut the slate and I found an amazing calligraphy place in London called Quill London who did a beautiful job in gold."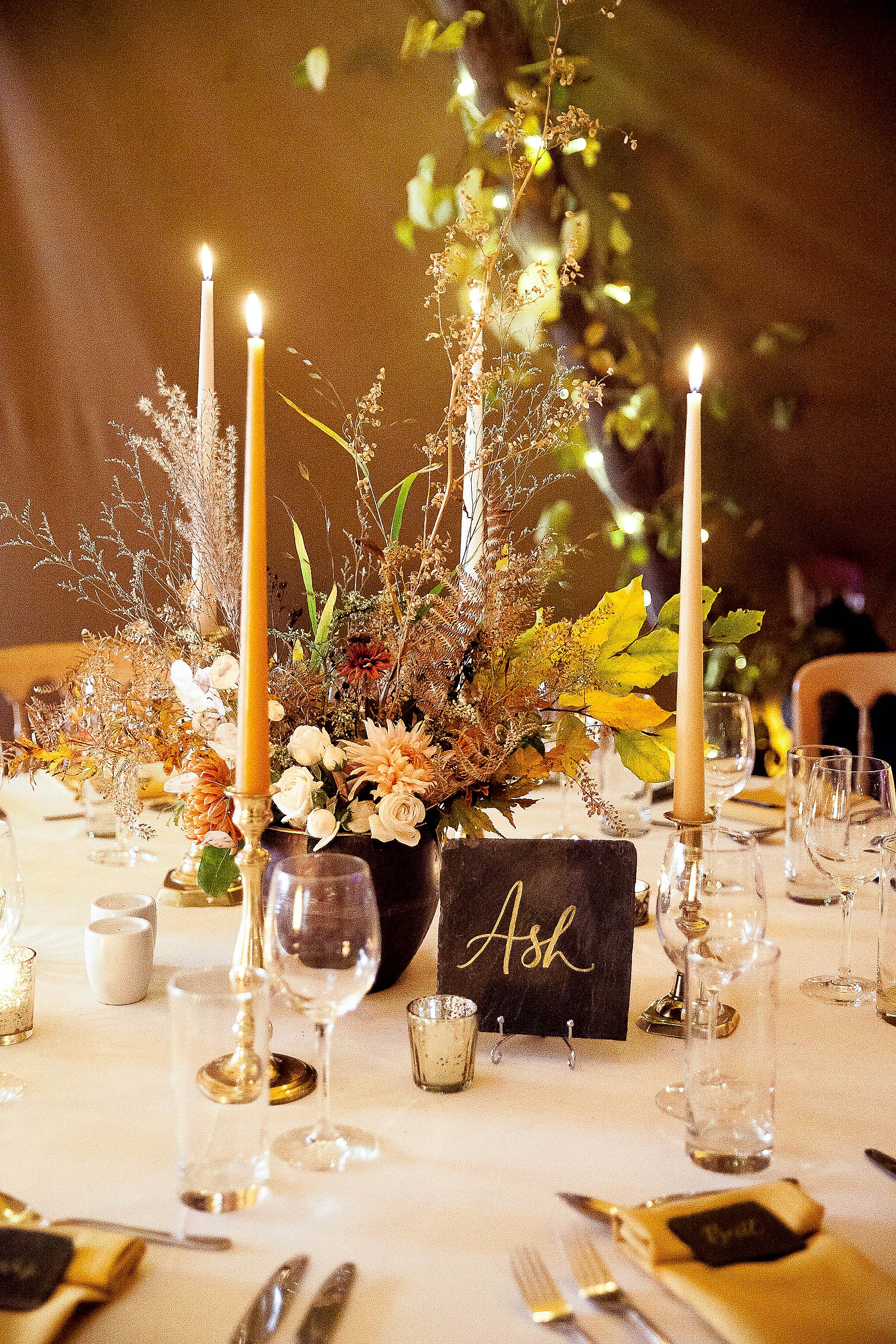 "Now I know people probably say this all the time but the food was so good! We had Outside Food Catering Company supply crab cakes with garlic aioli to start."
"Fillet of beef, beef shin bon bon with parsnip puree, confit beetroot and red wine jus and a choice of either sticky toffee pudding or Caramel Apple Tart. Best wedding food I have ever eaten and I go to a lot of weddings, mostly for work but wow it was tasty."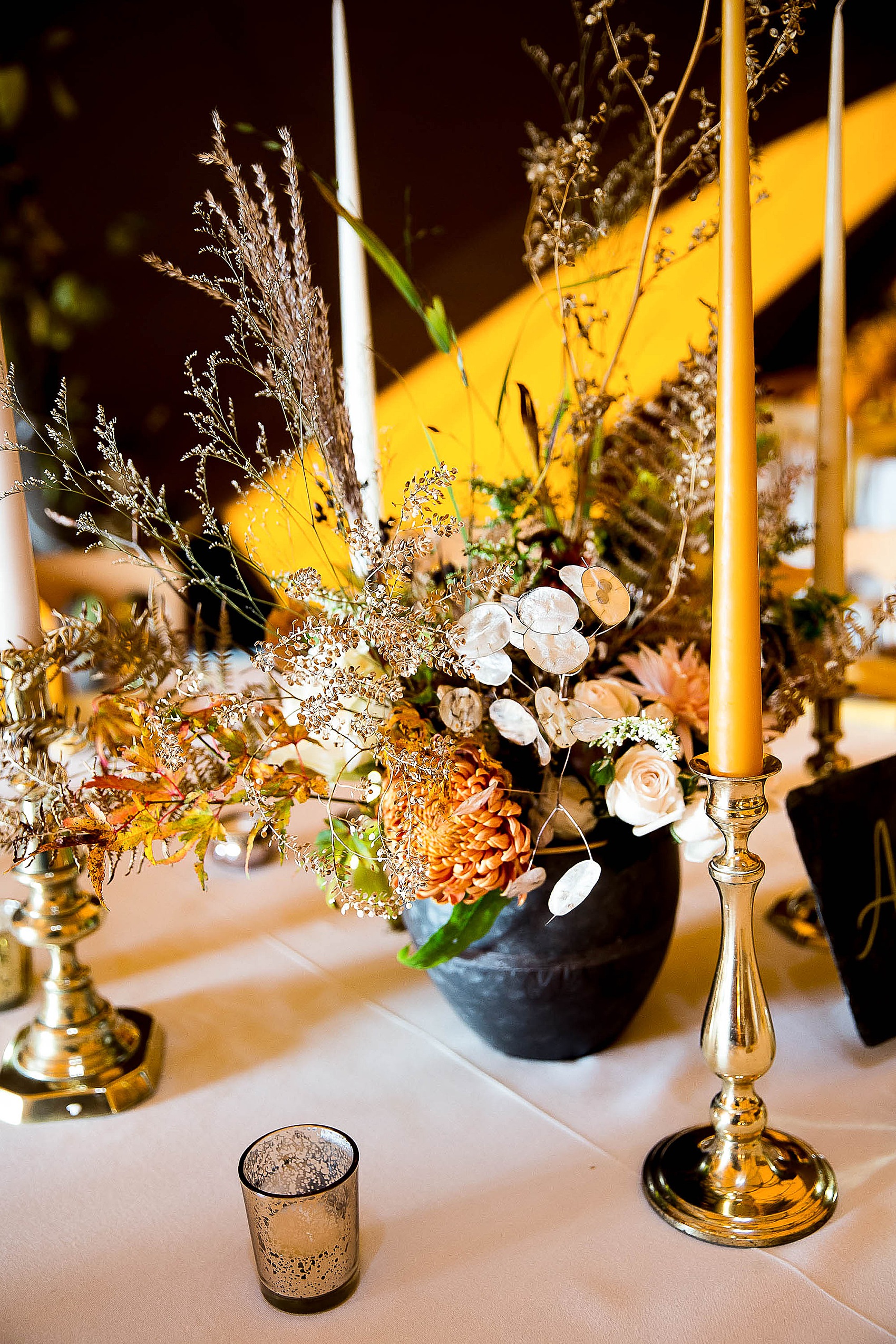 "I had already decided on quite a few of my suppliers through word of mouth but I found our cake, Laura of Yolk Cakes, through Love My Dress. I loved her style of using dried flowers and gold leaf on her cakes."
"I wanted the cakes to tie in with the flowers which is why she used honesty on the cakes to decorate. We opted for a spiced carrot cake base with orange buttercream, a hazelnut cake with praline buttercream and a coffee and walnut cake with salted caramel buttercream."
Find more cake makers in our Little Book Wedding Directory
"We thought this tied in with the woodland/autumnal theme with the nuts in each tier. The cake was gone by the next day, it was so good."
Very sadly, baker Laura has now stopped making wedding cakes but we salute her for creating such a beauty for Holly and Ollie's wedding.
"I did 95% of the styling myself as I had a lot of ideas of what I did want and what I didn't."
"We did realise we would need a coordinator on the day and my makeup artist passed on details for Ness at Togetherness.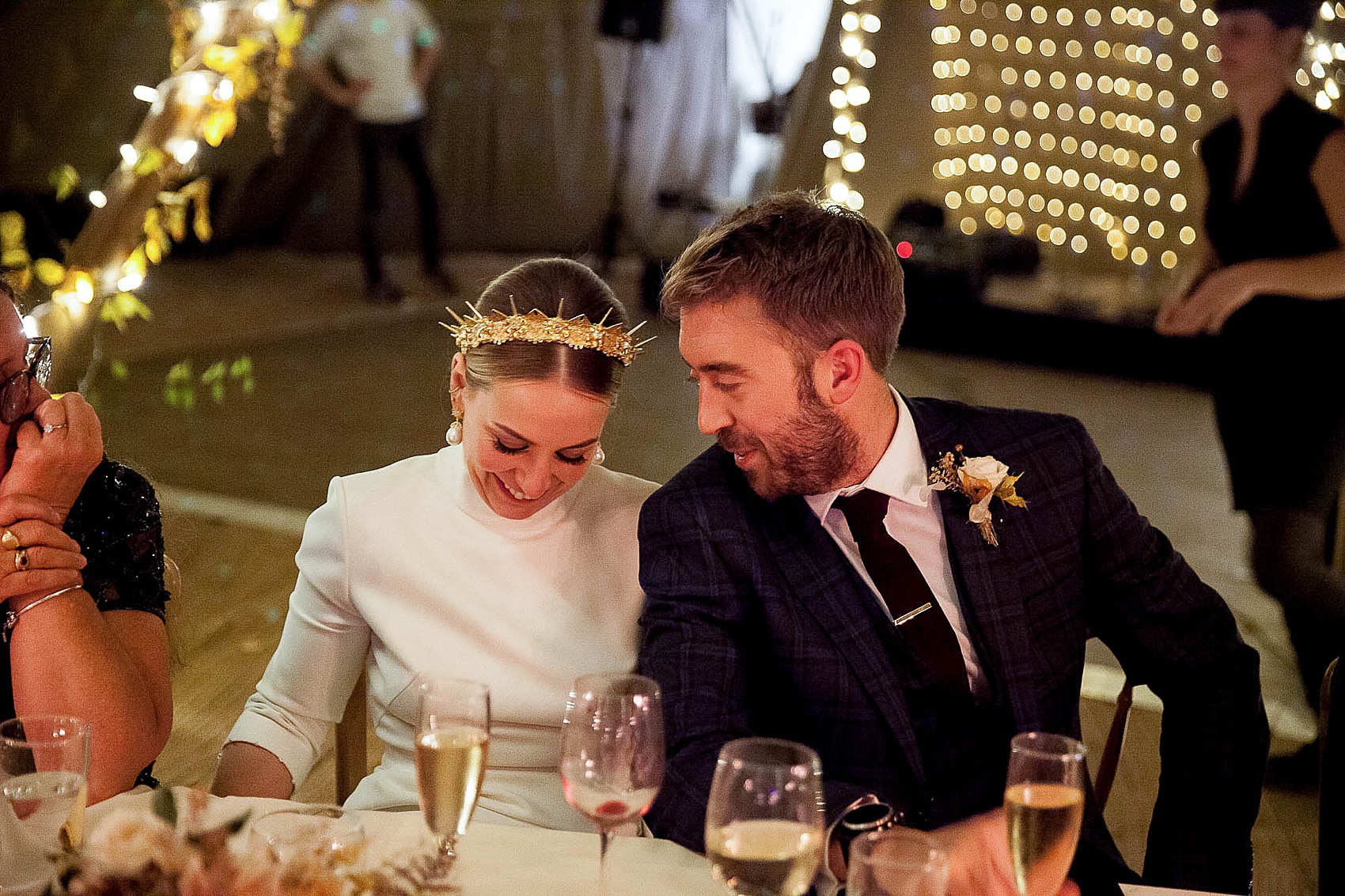 "I think she was probably the best decision we made for the whole wedding. Ness was amazing!"
"There were so many near disasters which didn't happen due to her and she was such an incredible support and soundboard."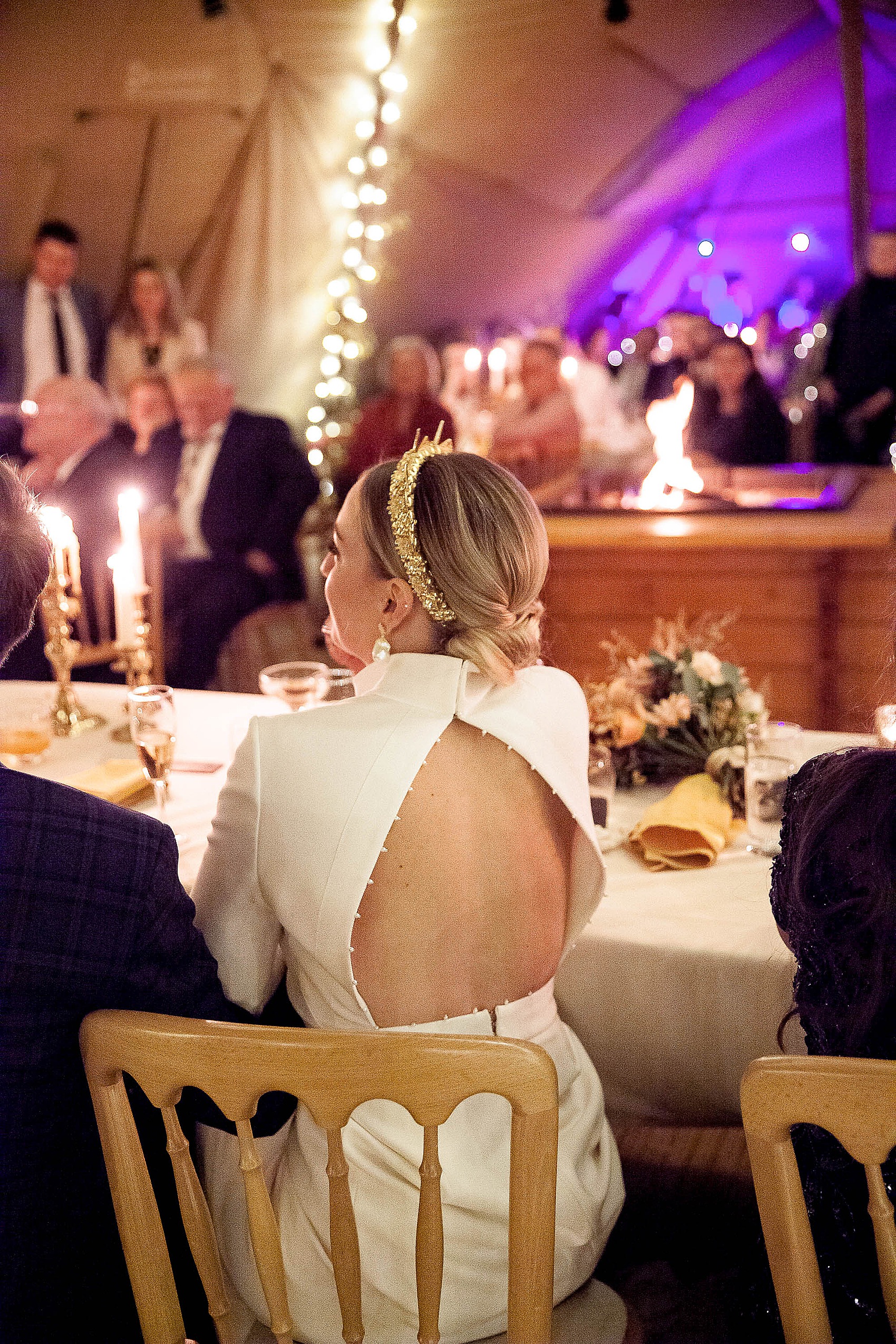 "After dinner we had The Full Beans, a gypsy jazz band putting a new twist on pop classics. Everybody loved them and kept us all on our feet all night."
"Our first dance was to 'My Love', by Lionel Richie. We had been racking our brains for the perfect song for weeks and then Ollie came home from work one day and just put this on."
"I had never heard it before and when the chorus came on I burst into tears, ​'My love, just thinking about you blows my mind​' the lyrics are so beautiful and were perfect for us. Everytime we play it now we have to have a slow dance in our kitchen."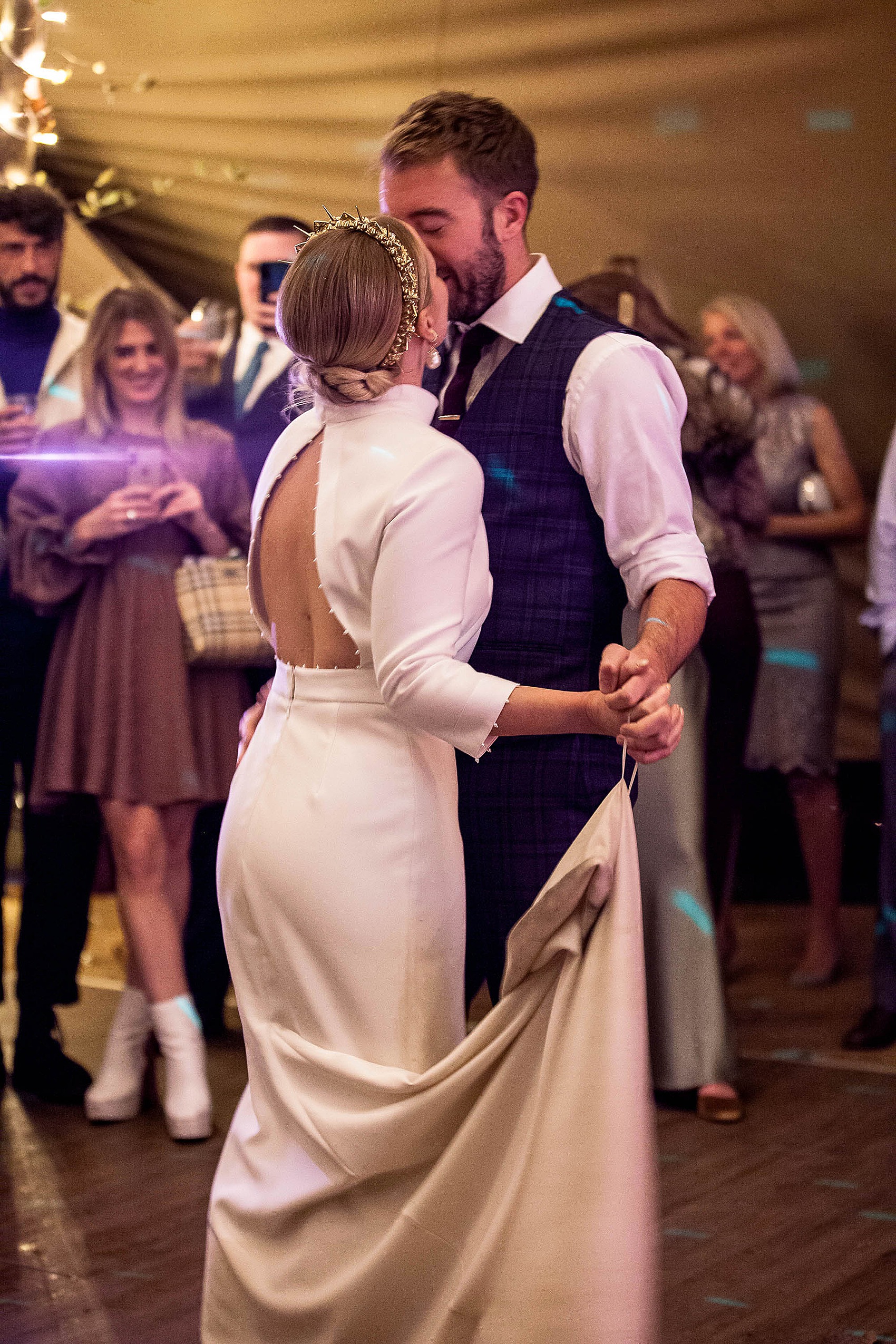 "We loved every minute of our wedding day. There were a few hiccups but it didn't matter in the end, it was just such a happy day. We had a near disaster with an oven on a quad bike haha and a van stuck on the drive so I nearly didn't get to the church on time but we did as much as we could to avoid any major issues."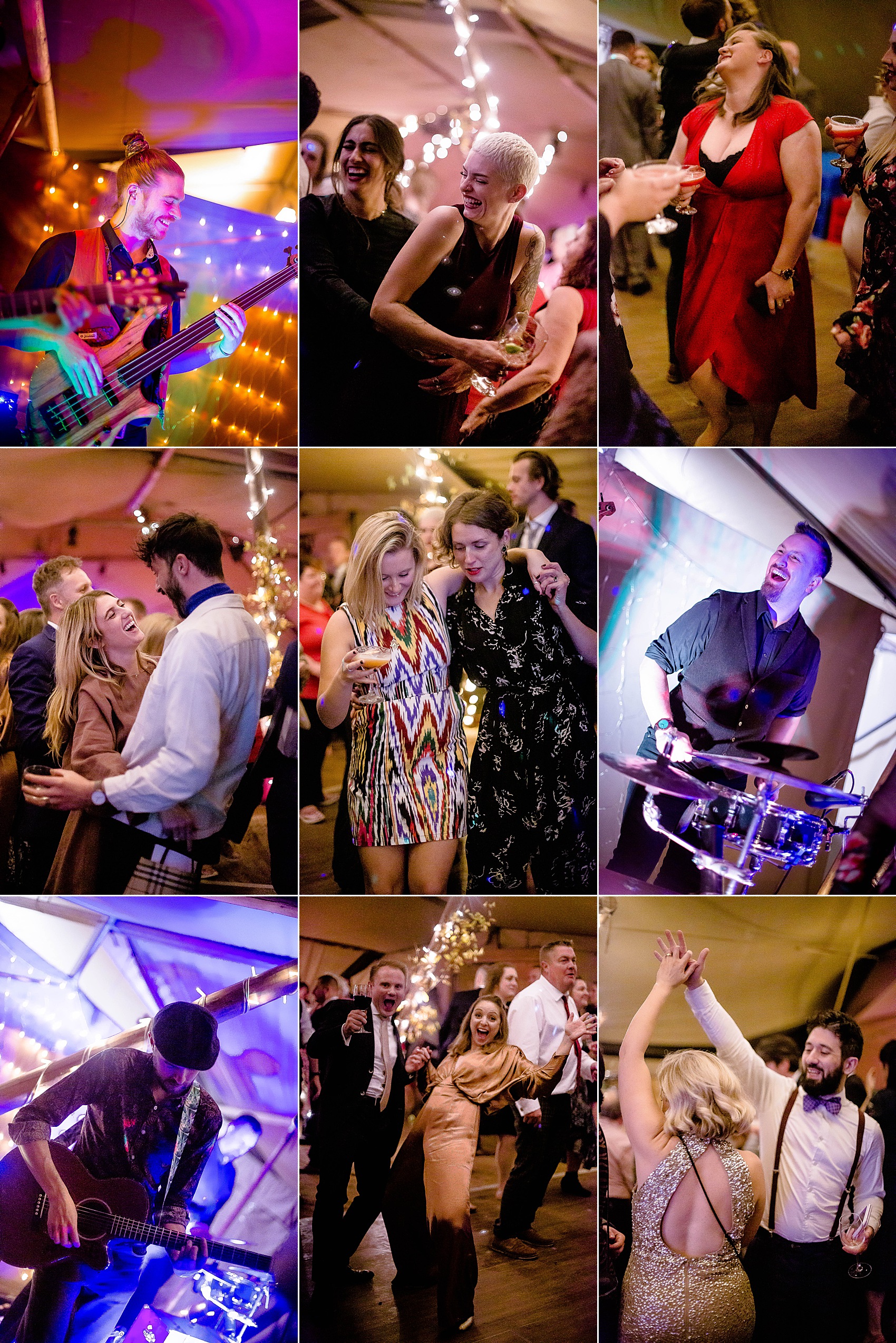 Words of Wedded Wisdom
"Decide what is really important to you on the day. I wasn't fussed about wedding favours so didn't have them but the flowers were massively important so had more of those. If you plan your wedding from scratch have an on the day wedding coordinator. It takes all the stress off you so you can enjoy every minute of the best day ever!"
"I would like to mention our bar. We had Darrens Dazzling Mobile Bar at our wedding and he was just amazing. He had porn star martinis and Old Fashioned's on tap all night."
Stay in the know – join our mailing list.
"Our wedding budget was £30,000 but we did go over by about £5000. I now realise it's pretty expensive to do a wedding right from scratch even in the wilds of North Wales! It's the little things you have to watch out for."
"We can't imagine how tough it has been for people who had their wedding planned for this year. All we can say is that your day will come and having survived through this pandemic together it will make your day even more special for you and for your loved ones. We will need celebrations and happy times after this and what is more happy and uplifting than the joining of two people in love."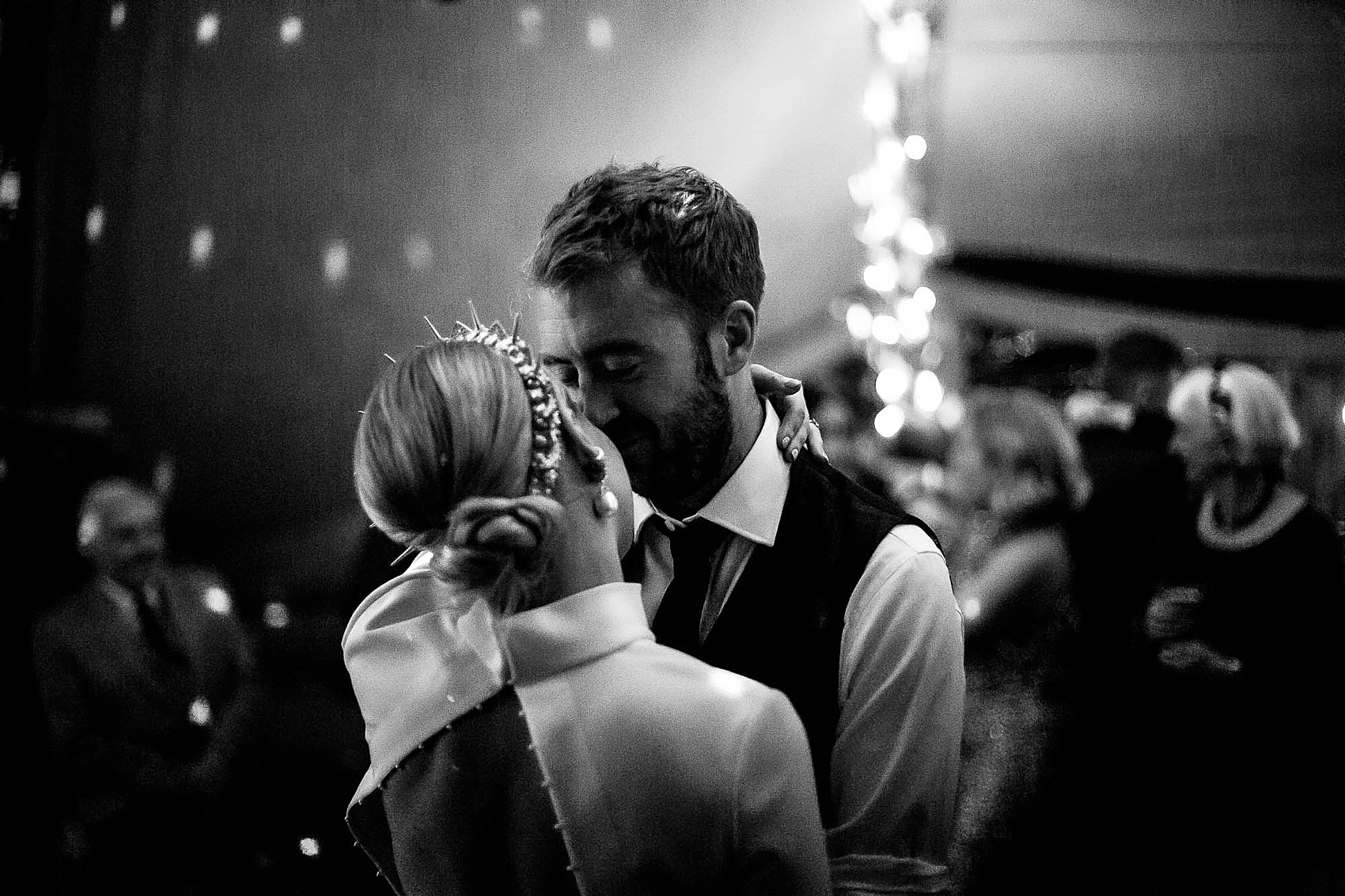 What a ruddy gorgeous day! You can see more brides wearing super cool modern bridal gowns by Pippa of Bon Bride here on Love My Dress and more beautiful Winter weddings here.
This just leaves me to say, a huge congrats on your recent 1st wedding anniversary, Holly and Ollie! I hope you had a lovely day celebrating – thank you so very much for sharing your day with our community.
Love Annabel x