As with so many 2020 wedding couples, our couple had to rethink their original plans following COVID restrictions, opting for a pared-back but gorgeous ceremony this year, and a larger party to look forward to in 2022.
This is the wedding of Kate and Danny. Kate runs her own weddings and events floristry business, Damson & Vine Floral Design, and Danny works as a Business Development Officer, and they were married on the 20 September 2020 at the magnificent and atmospheric Cripps Barn; a restored eighteenth century Cotswold stone barn in Gloucestershire.
Oobaloos Photography

+ Follow
As well as being interested in all things astrological, Kate also describes herself as a 'bit of a magpie', hence her glorious choice of dress from Willowby by Watters, from Along Came Eve Bridal Boutique in Chester.
I love the soft, champagne hued under-bodice and layers of tulle skirt with the sparkling, all over embellishment, long tapered sleeves and waist detailing.
Find wonderful suppliers & venues selected personally by the Love My Dress team, in our Little Book Wedding Directory
"I originally went to try on a different Willowby Watters gown that was covered in stars, but thought it might be too literal, and I absolutely fell in love with mine instead. I just adore the way is shimmered in the sun and caught the light even in the darkest room. The low back was also a huge selling point, as was the train."
"Along Came Eve in Chester were an absolutely superb boutique with so many incredible gowns, and amazing customer service. The whole team were so knowledgeable and helpful from trying on, to fittings and alterations."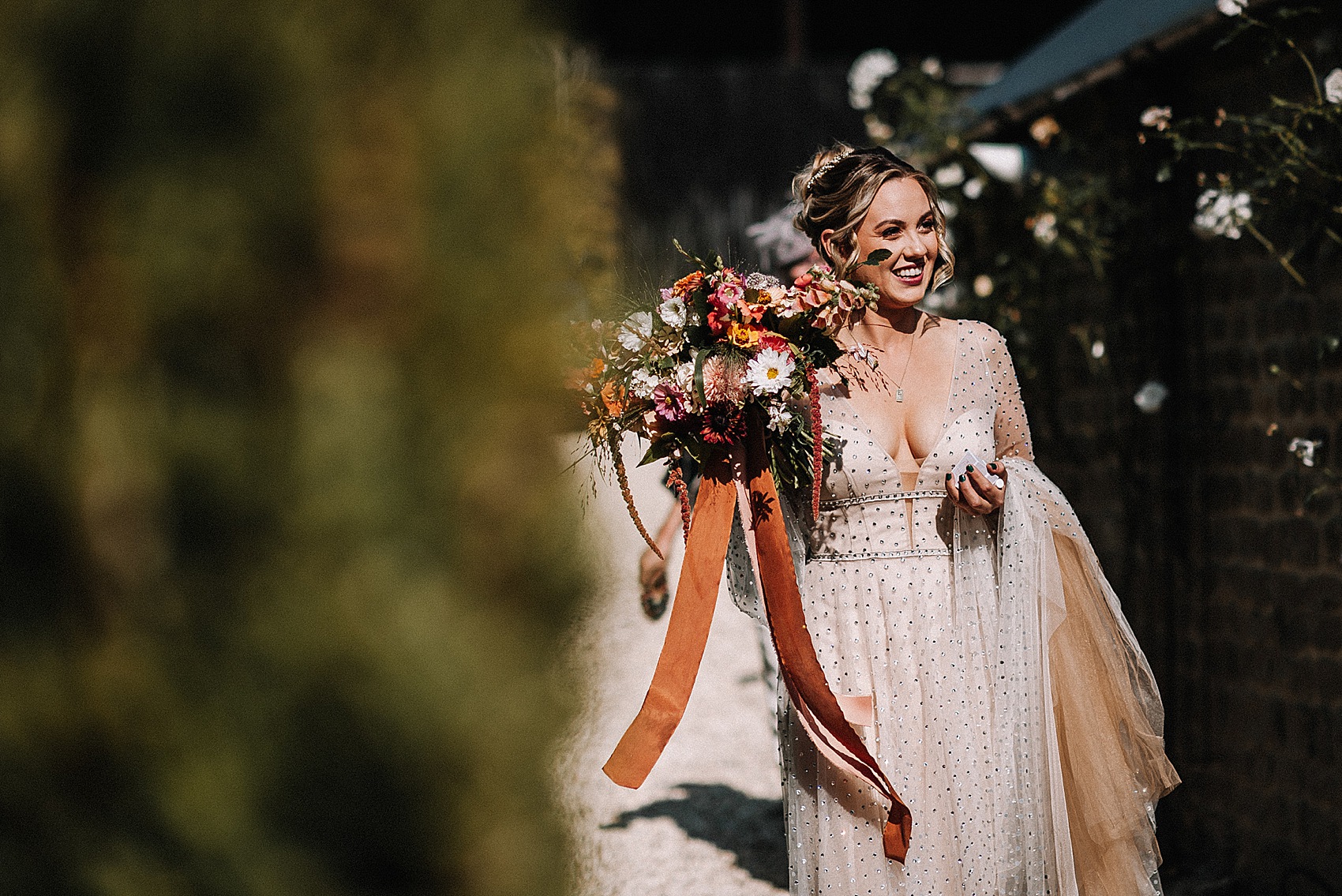 Kate paired her dream of a dress with a starry hair pin from Accessorize, and bargain green velvet shoes from Depop.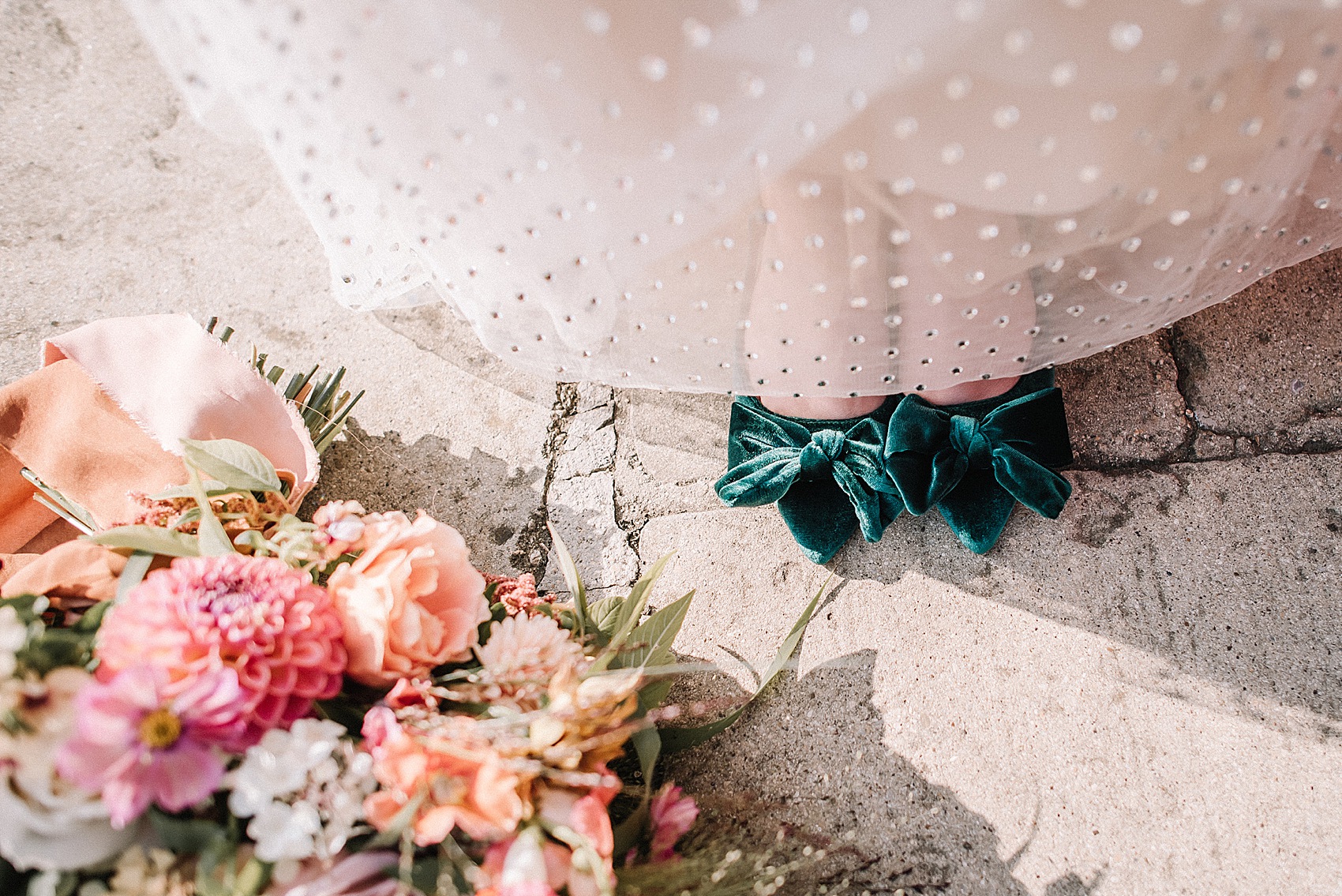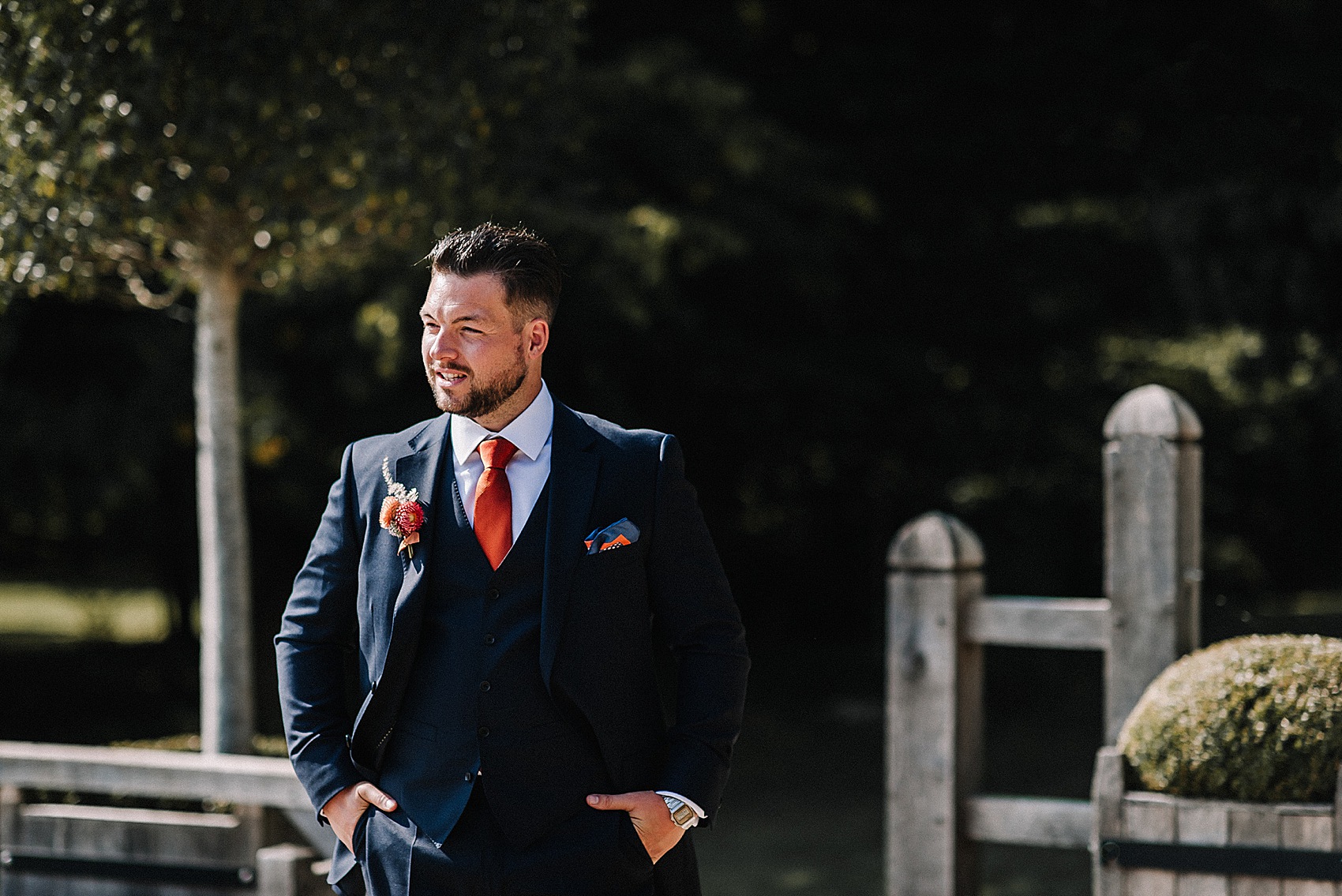 "I hurriedly put together a bridal bouquet (of sorts) and a wild vase arrangement. I loved the colours in my bouquet, and the stunning silk ribbons from The Botanical Dyer and LittleAcornSilks on Etsy."
"Originally, my oldest friend India from Vervain Floral Design was going to be my florist (because sod working on your own wedding day right?!) so she brought us a bucket of gorgeous roses to use for our ceremony day, which was so special."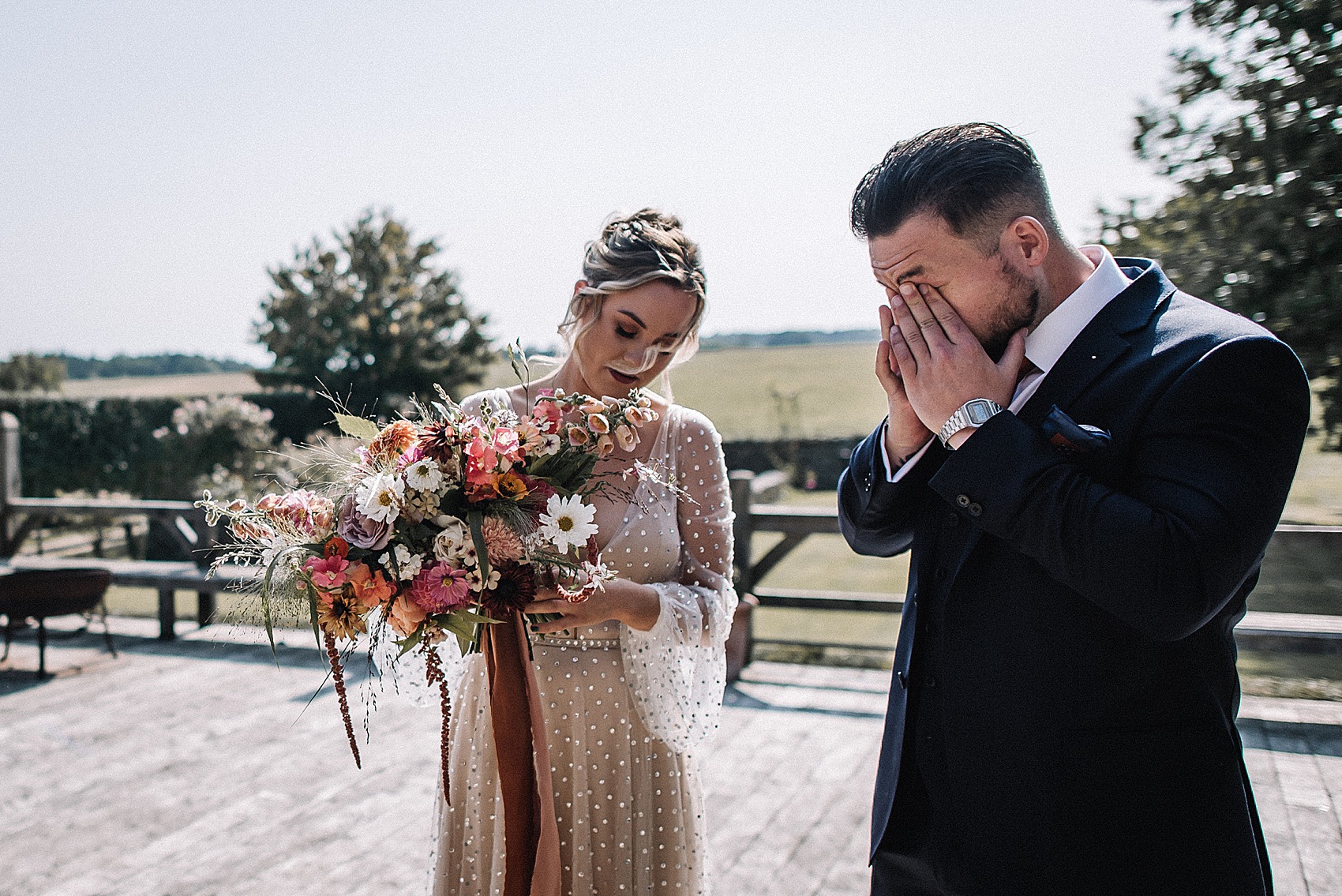 Danny's beautifully tailored midnight blue suit was from Hawes & Curtis, which he wore with a white shirt and autumnal orange tie and patterned pocket square, as well as a buttonhole made by his bride.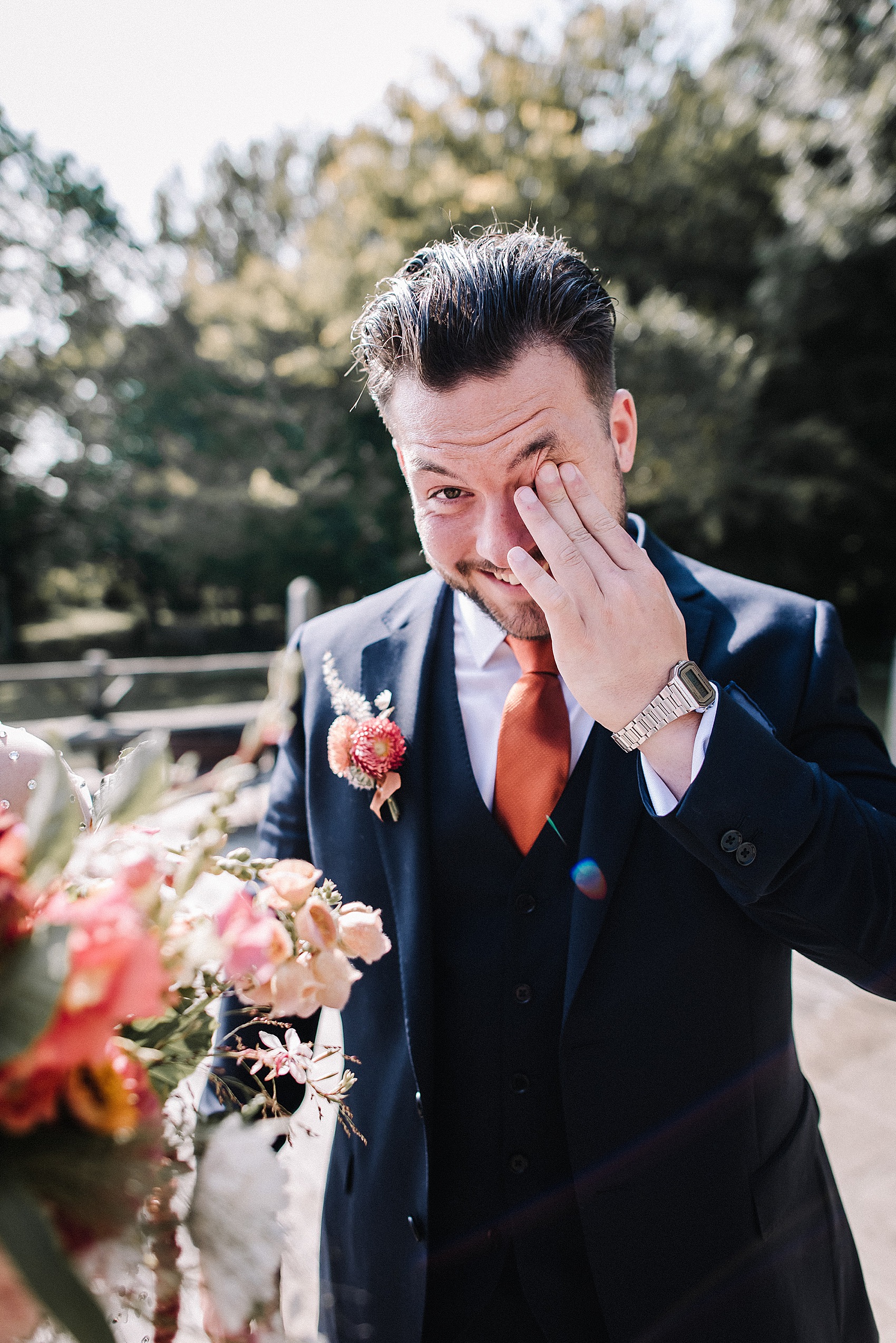 After lockdown began and wedding restrictions were put in place, Kate and Danny first felt, understandably, like they just wanted to cancel everything and take a break from wedding planning.
Join our mailing list now to receive occasional newsletters providing vital insight, updates & offers from our Little Book Wedding Directory members.
"As most couples will understand, financially this would have been pretty rubbish for us as we would have lost out on thousands of pounds in deposits, so we decided to just play it by ear and aim for a split date. It actually worked out so much better than we could have hoped, and the smaller ceremony meant we were both less nervous, which was a plus!"
"We knew we wanted the day to feel relaxed, easy and above all fun! My favourite season is autumn with all its beautiful colours and textures, so we went for richer colours in the suits and bridesmaids dresses (which have yet to make an appearance due to restrictions on numbers)."
" As a wedding florist, I knew the flowers would be important, and all my favourites are later summer/autumn blooms."
"Dan loves being out in the sunshine, so we knew we wanted somewhere with gorgeous outdoor space (keeping everything crossed for a sunny day!)."
"I'm a bit obsessed with astrology so we decided to have a vague celestial vibe too. This is partly why I fell in love with my dress so much, so much sparkle!"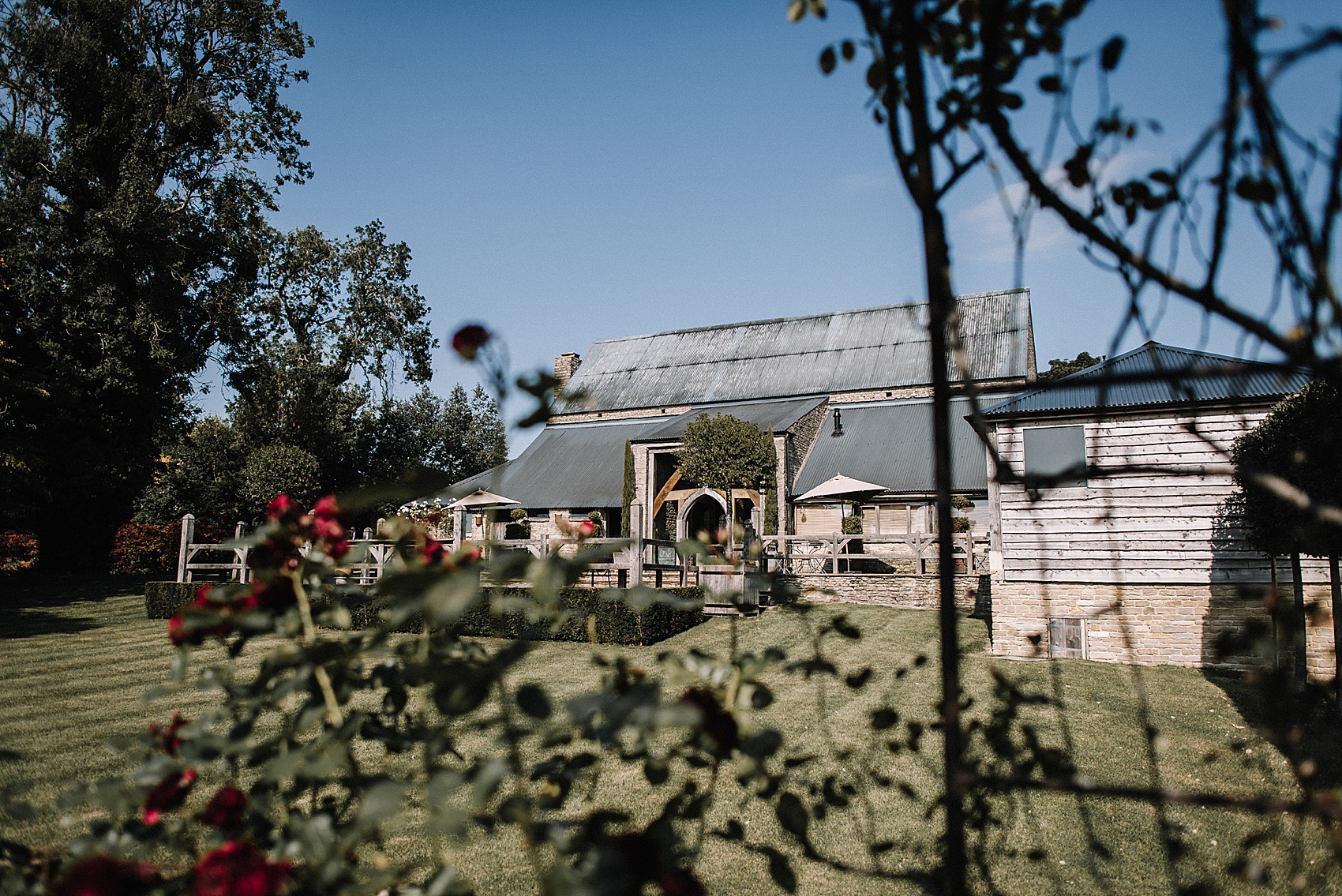 Candles were lit along the fireplace at Cripps Barn, and Kate added the exquisite floral vase arrangement she had made herself. She also grows a lot of her own flowers herself, and picked them on the morning of the wedding, along with those for her bouquet."
"They feel like such a love song to the season; a mixture of burnished autumn colours and late summer vibrance, with roses, dahlias, cosmos, astrantia, and foxgloves, with grasses and greenery for texture.
Kate and Danny chose to walk down the aisle together, which meant they could have a touching first look outside the barn before going in together.
"We met at Brighton University both studying geography in 2008, became a couple in 2010, and got engaged on my 30th birthday in December 2018."
Making their ceremony even more special and significant was the fact that Kate's two sisters were able to join. Having only found out about them last November, they got to meet the rest of the family for the first time – how absolutely wonderful, and so touching.
"At Last by Etta James  was our entrance song. We decided this on the morning of the wedding, and found out later that day it had also been the song my sister had walked down the aisle to before we met; such a lovely coincidence that brought a few more tears."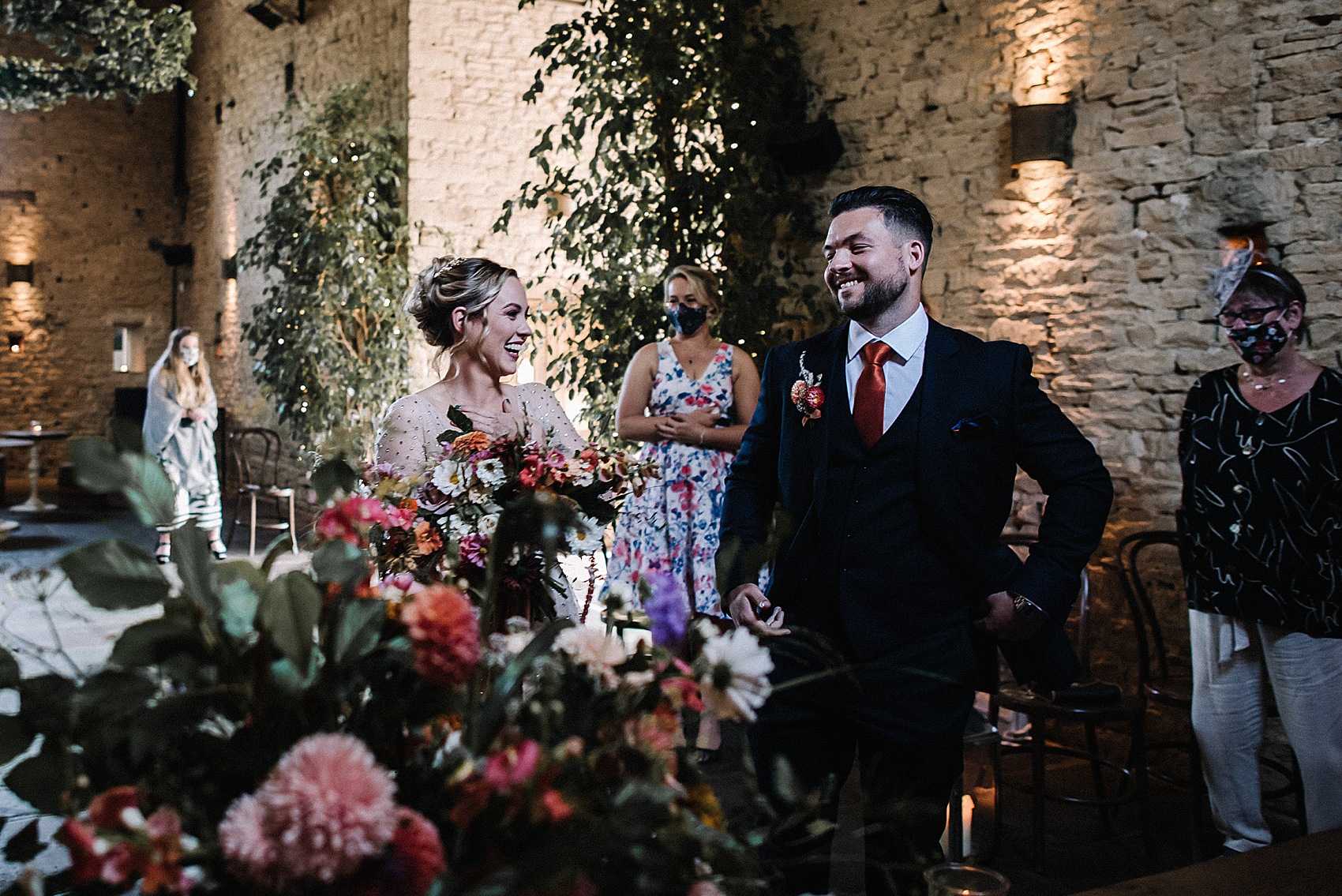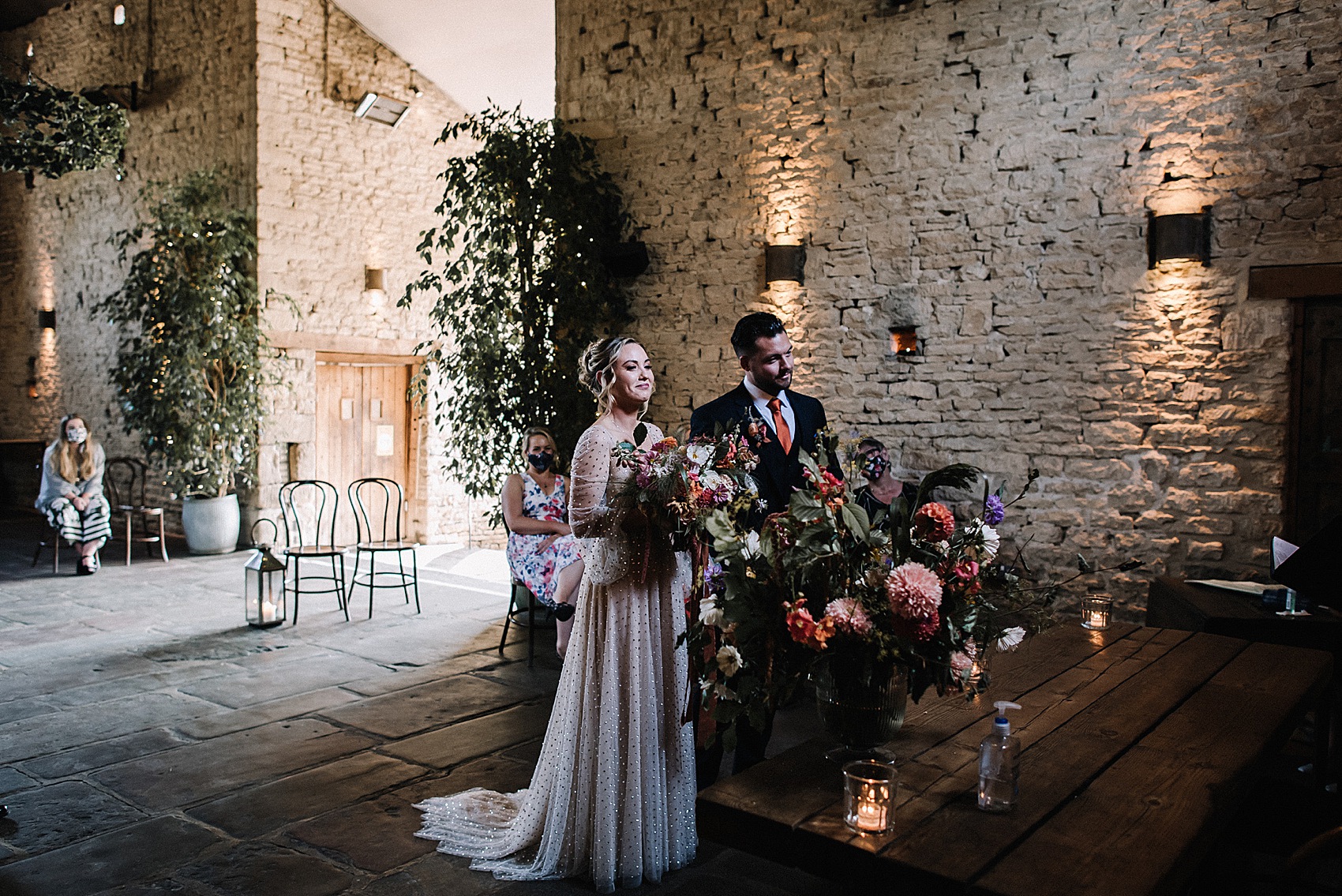 Although the ceremony was indeed short, it was no less meaningful, and as they made their vows, Danny placed a ring by Carrie Elizabeth Jewellery on Kate's hand.
"We had to have a very stripped back ceremony with no readings or music (except for entrance and exit songs) so it was only around 10 minutes long, which was fine by us! Our guests all had to wear masks but they made the most of that!"
The couple were originally going to have a poem called A Garden, by Tash McGill, and although they were unable to include it in their ceremony, they hope to include it in their party in two years' time.
"Our original number of guests was 80, so we decided to split the day, having just a small family ceremony with drinks and canapes this year, then the bigger party element in 2022. Next year is looking so busy for wedding flowers (fingers crossed) so we decided to wait until 2022 to give ourselves time and space to really enjoy planning our party to get it just right."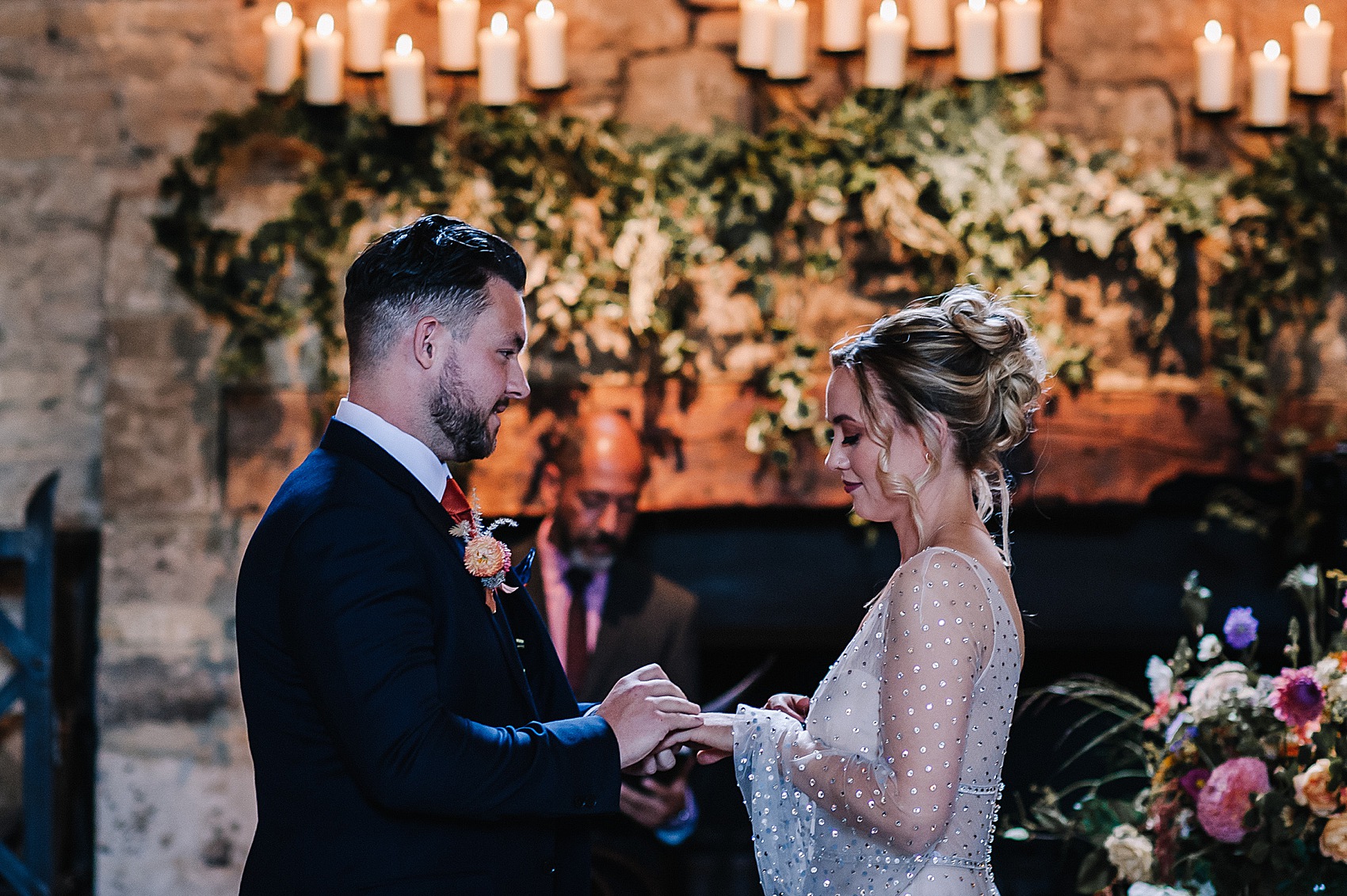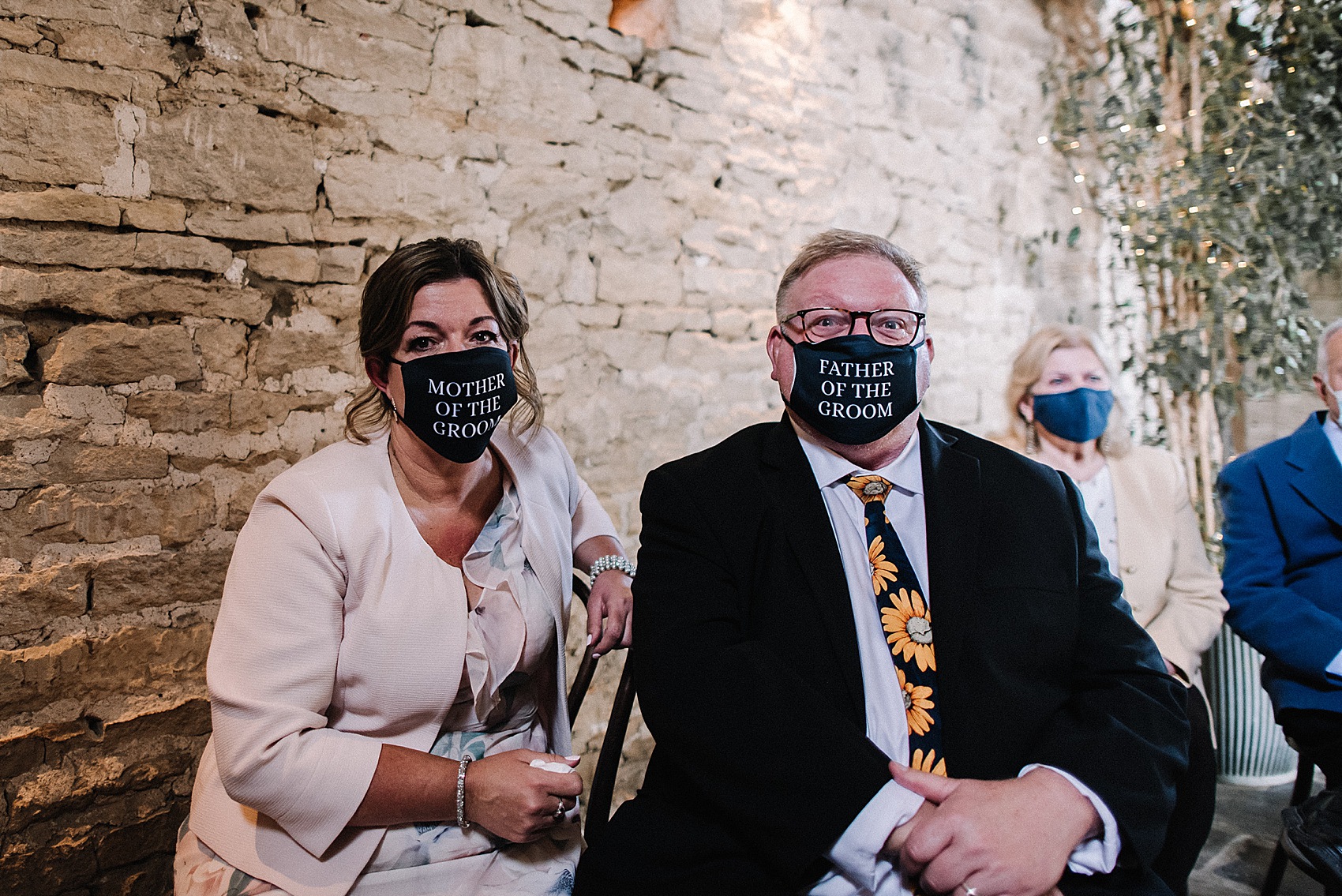 "It's so hard to choose a particular moment as it was all so wonderful, but I think those first moments after the ceremony being with our family and celebrating in the sun with a glass of fizz were just golden."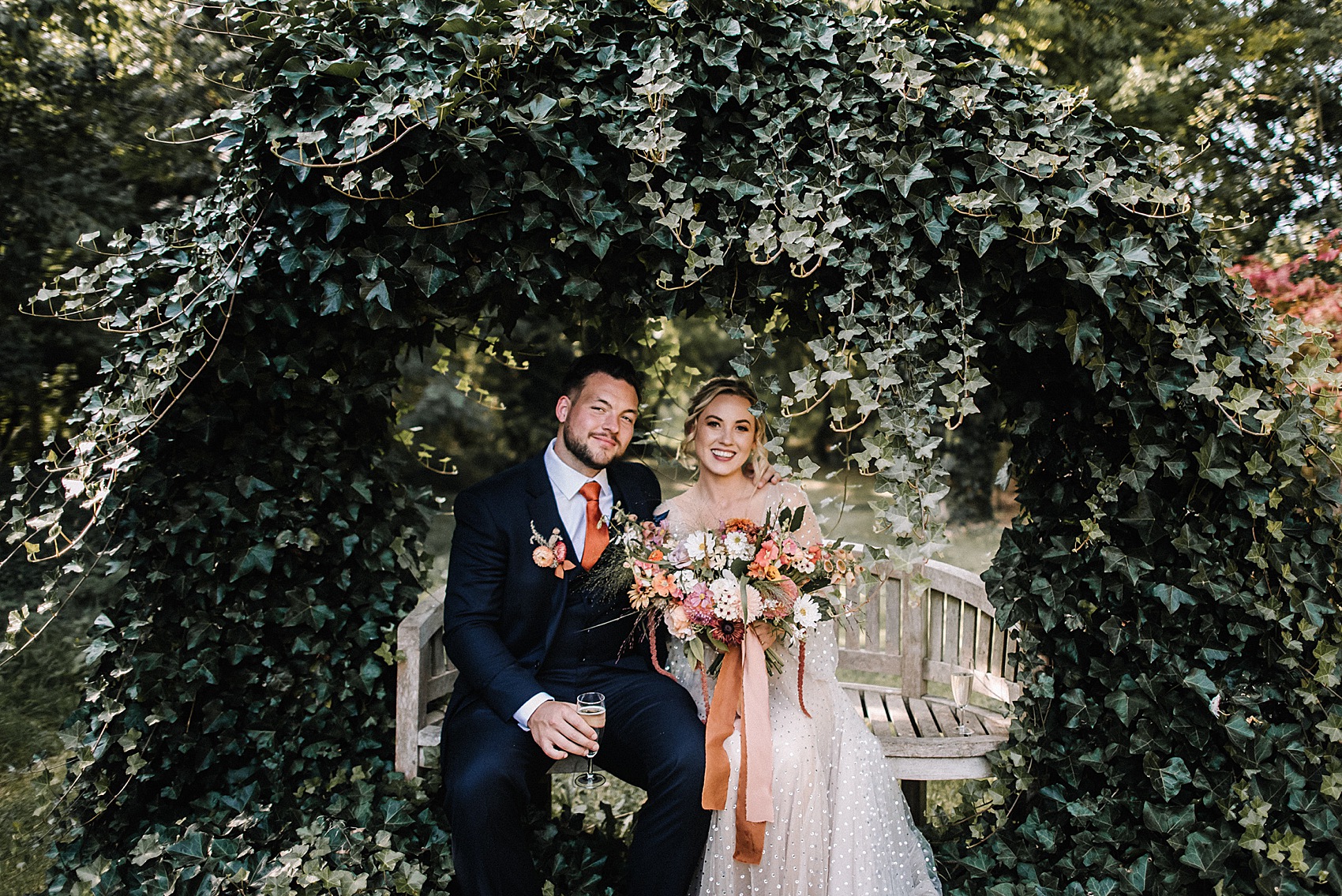 "My hair was by Sarah Russell Hair & Make Up Artist. Sarah did such an amazing job on my hair, and made me feel so much more calm when getting ready in the morning."
"She has been so flexible and understanding throughout COVID, and always there to listen. Another superstar supplier!"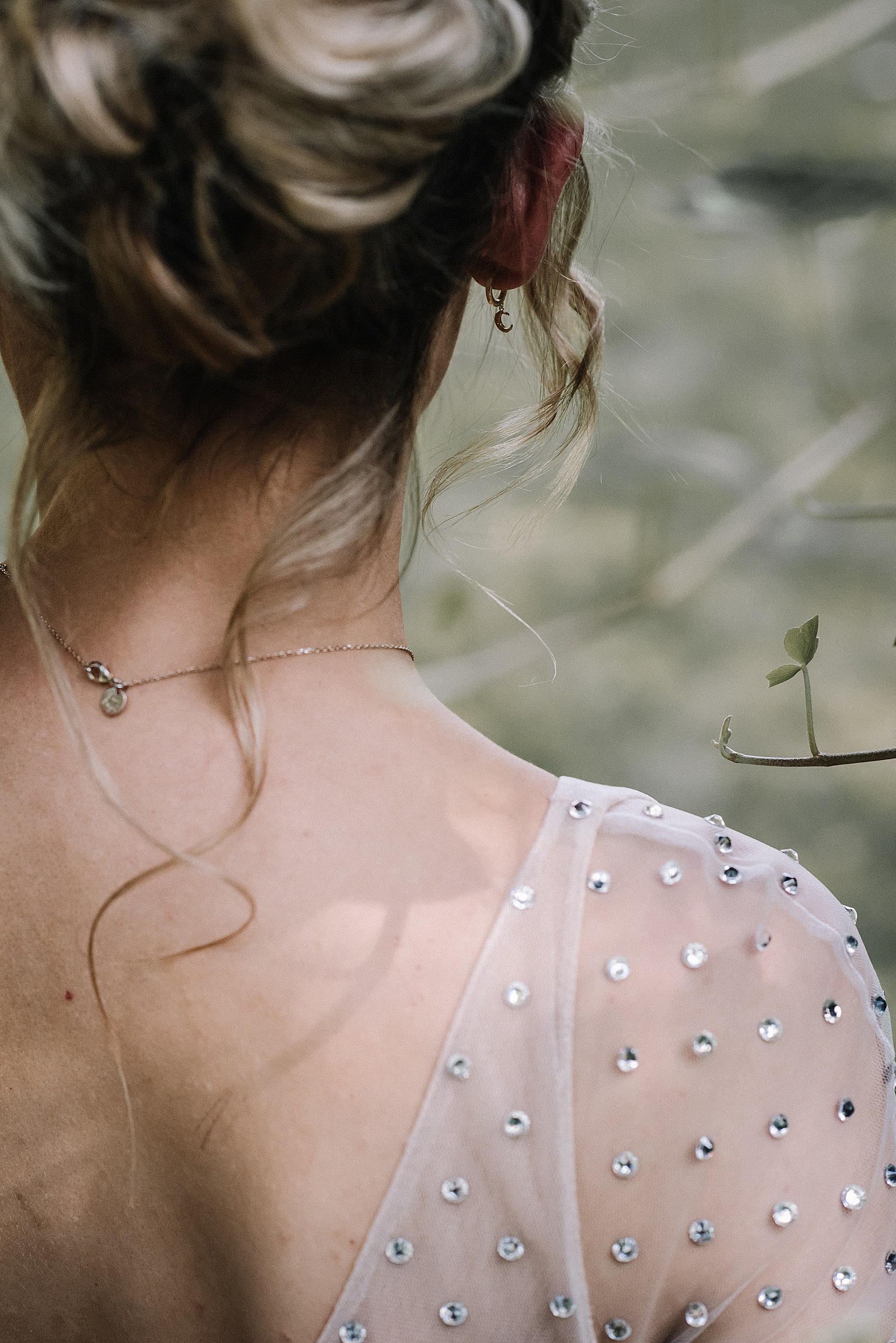 Each and every sweet detail was brilliantly captured by Sheryl from Oobaloos Photography, who really went above and beyond for the ceremony, and for looking ahead to the couple's 2022 party, and how they could commemorate their wedding day.
"Sheryl is an absolute queen! We first connected after working on the same wedding together, and Danny and I both absolutely fell in love with her style. It's so atmospheric yet relaxed in all the right ways, and the way she uses light is like nothing I've ever seen."
"She was such a pro on the day, and had already sussed out some great spots in the garden for photos, making us feel completely at ease in front of the camera (even when Dan nearly dropped me getting THAT spinning dress shot)."
"The video she put together is also amazing and captures the mood of the day perfectly. She very kindly made the video of our day and recorded our ceremony so we can play it for our other guests in 2022."
"She had everything finished by about 7pm the day after our wedding, which is just incredible. An absolute legend in the game!"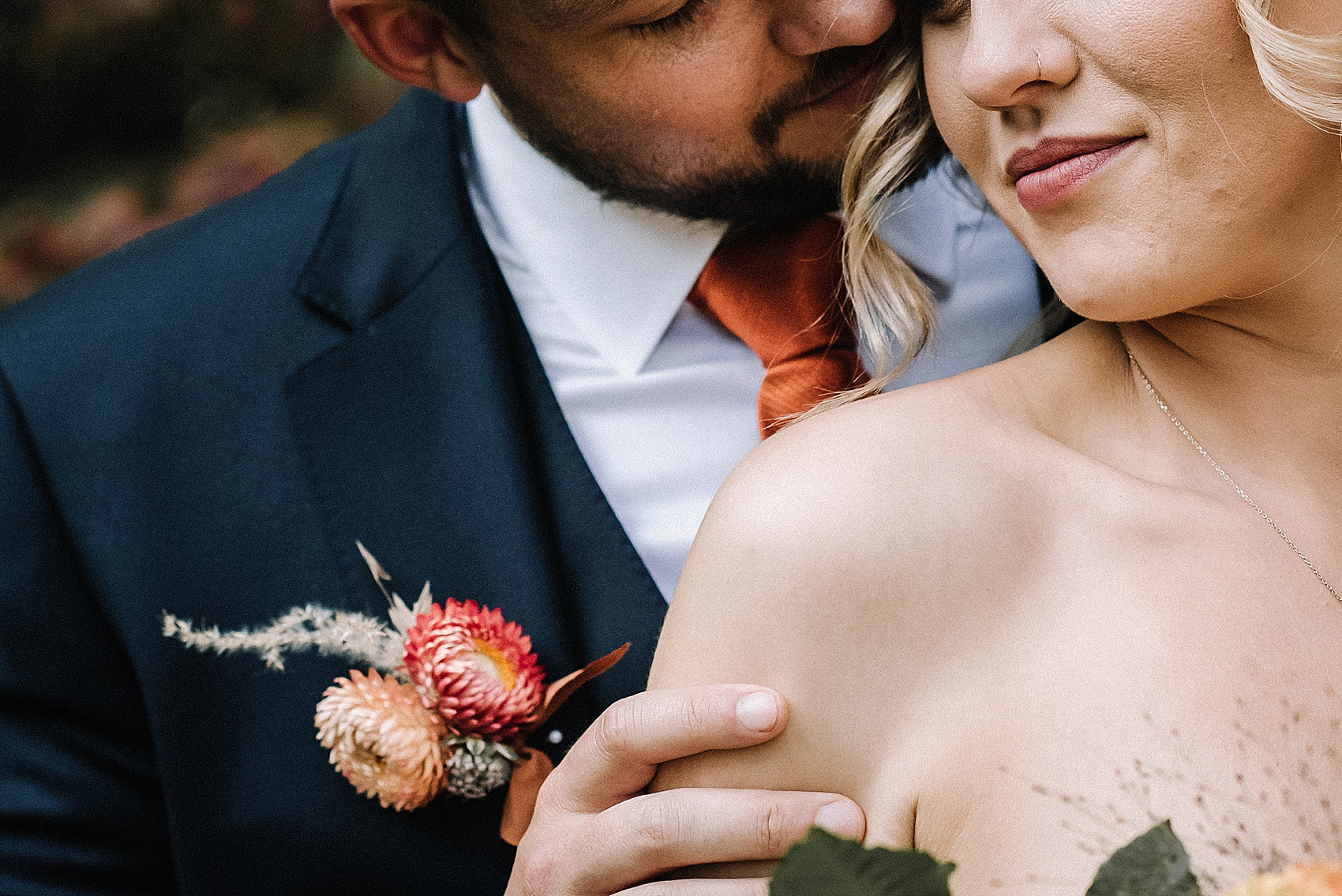 Drinks and canapés from the Cripps & Co. team followed the ceremony, and later on, Kate and Danny were able to relax with their family in the garden of their cottage rental.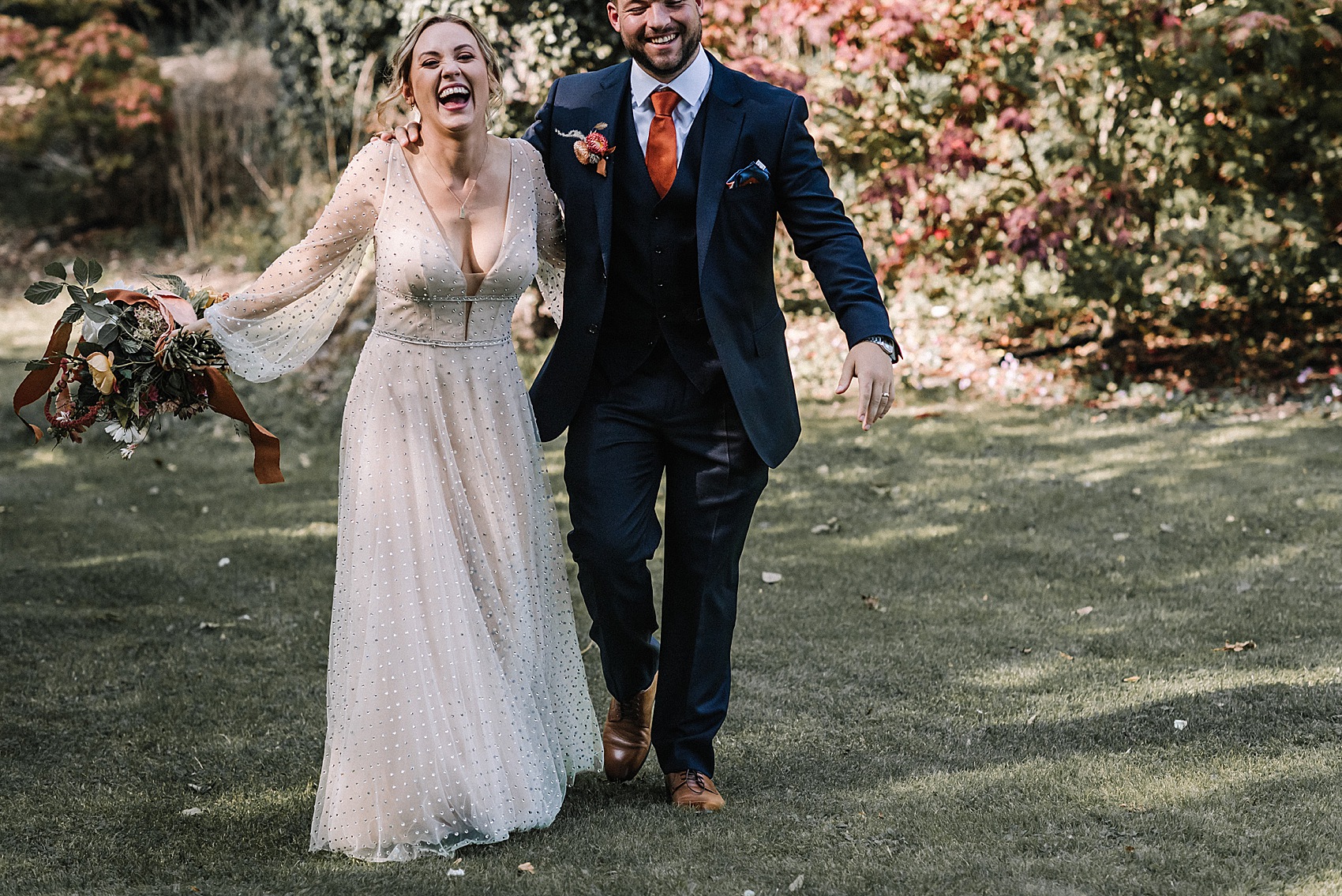 "We got to have an intimate day with our families with lots of laughter and good company, which is all we could ask for. Afterwards there was lots of prosecco and good food, chatting and laughing all evening."
"It was really special and a much needed break from the fairly gloomy reality we are all facing right now."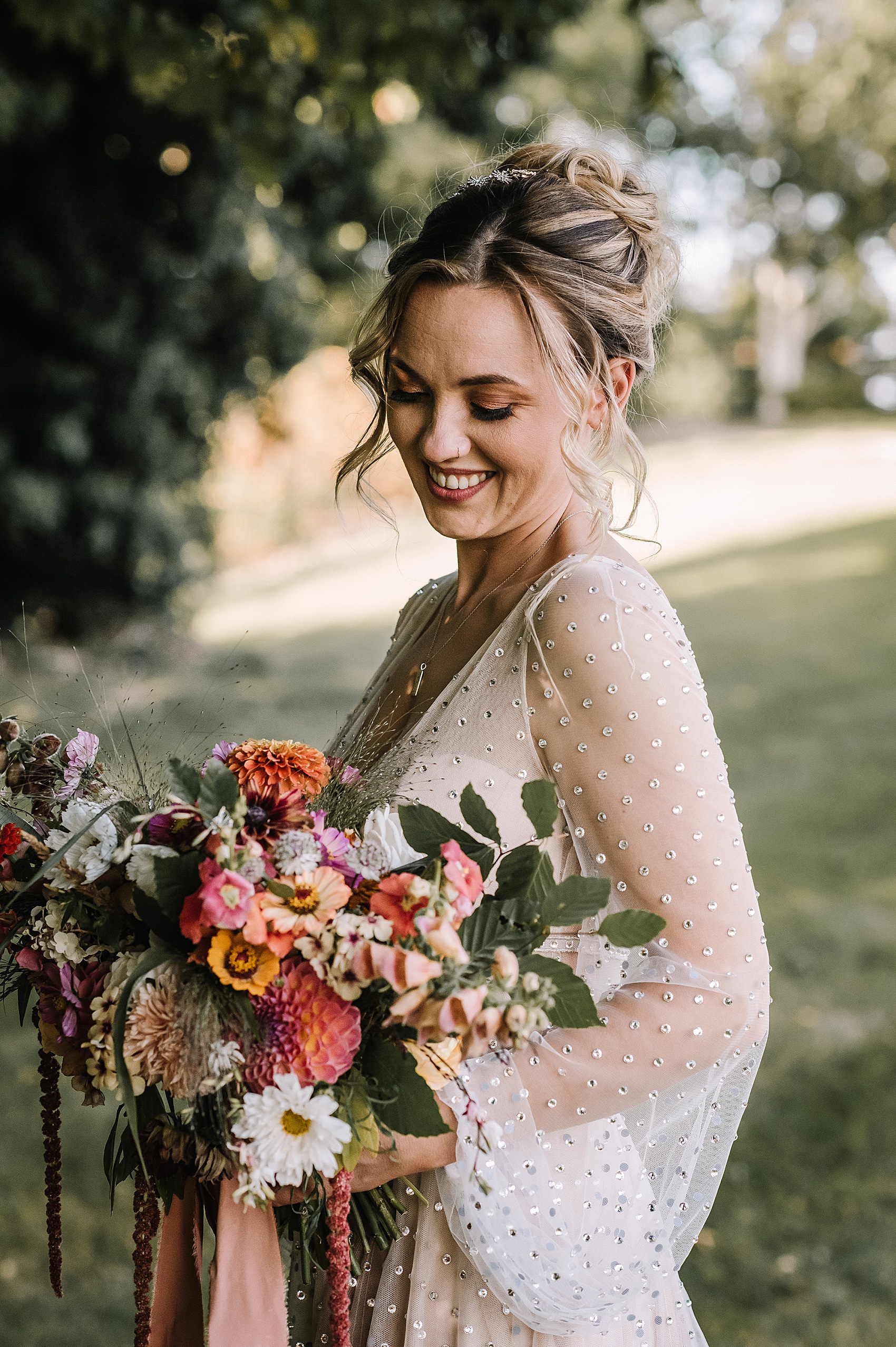 Words of Wedded Wisdom
"This day is about you two. Make it your own and don't feel pressured to do anything that will make you unhappy, stressed or anxious. Not every wedding has to look the same or follow the same formula, so choose things that make you feel happy and celebrated."
"To other couples in similar positions, we would recommend not ruling out splitting your date or working with your suppliers to find a new date. Kindness is everything right now, so please, please bear in mind what your suppliers are going through too, it's been a horrendous year for an industry that just wants to create magic and make us couples happy. Be patient, have faith: your time will come."
Magical, wasn't it? Kate and Danny, thank you for sharing your day, and your thoughts in these difficult times we find ourselves living through currently. Dear readers, I hope if needed that you've been able to draw comfort and support from this.
Before I sign off, there's a huge thank you to be said to Sheryl from Oobaloos Photography for this gorgeous collection of images.
With love,
Laura