Just like that, we're into September, and I don't know about you, but this year seems to be speeding away. We've a few weeks of official summertime left to enjoy, but today we're dipping our toes into autumn, with this elegant country house and marquee wedding.
This is a celebration which beautifully fuses Pakistani, Kashmiri and Scottish traditions in a wonderful and historic venue, with everything coming together for a joyful and touchingly personalised day. This is the wedding of Suzy and Zeeshan, who both work in community pharmacy. They celebrated on the 14 October 2018 at Pollok House, Pollok Country Park, in the Southside of Glasgow; an elegant Georgian mansion looked after by the National Trust for Scotland.
Photography by The Gibsons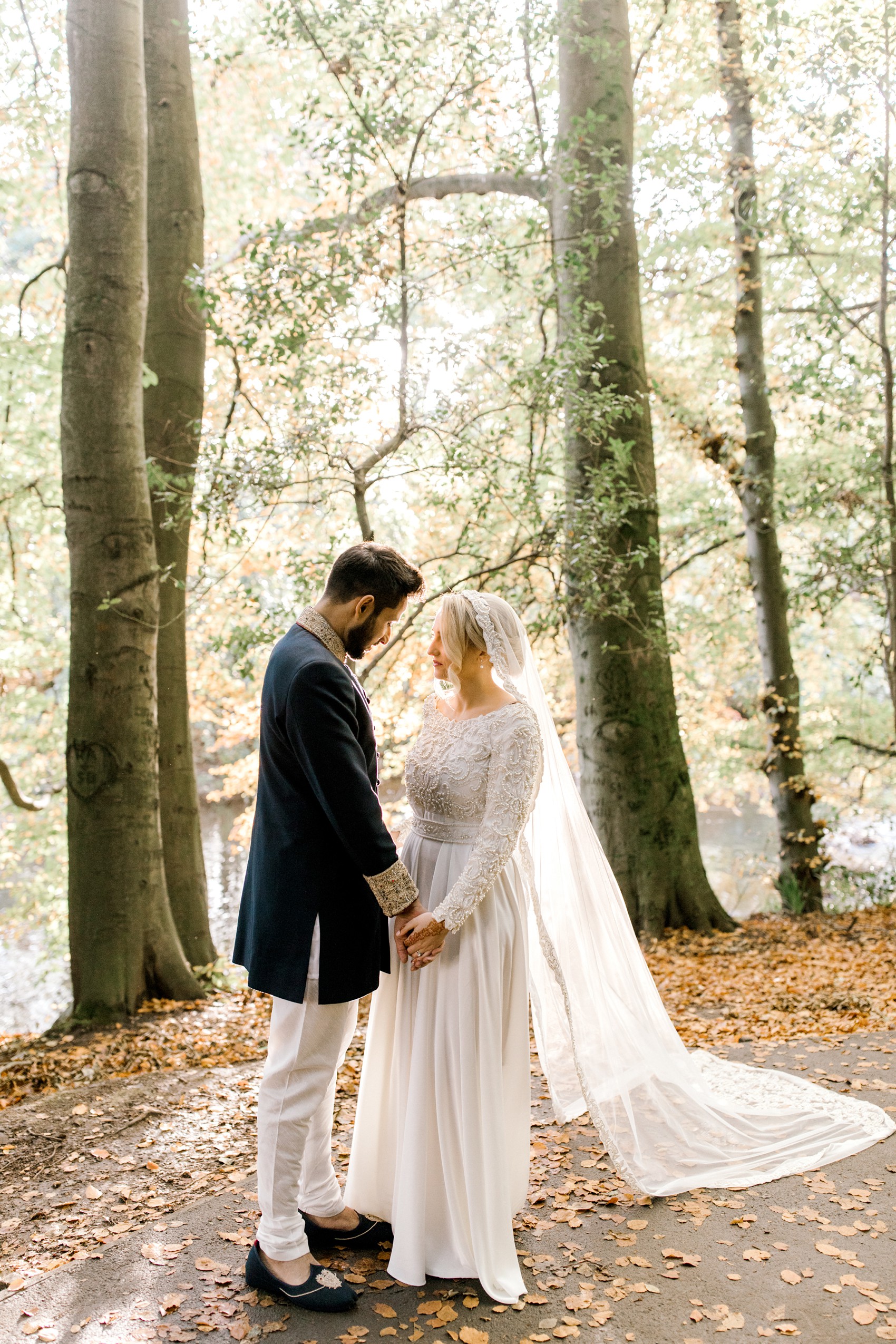 Suzy and Zeeshan chose brilliant Little Book members, The Gibsons, as their photographers, and it's wonderful to be able to share this collection of effortlessly natural, light and bright images with you today.
"We cannot thank The Gibsons enough for what they did for us. From the initial meeting to the final product, and everything in between, The Gibsons were simply outstanding. We couldn't have asked for any more, and we were astounded by the service they provided for us. Not only were they able to give us absolutely beautiful photos, they helped us by recommending a number of wonderful suppliers that we actually ended up using."
"Since we have received our photos, we have had such an amazing response from everybody we know. It's the first thing people say when they've met us since. We could not be happier with the photos, and being able to look back on these shots for the rest of our lives is invaluable to us."
Suzy's bridesmaids wore blush pink pleated maxi dresses by TFNC London, which they wore with shoes from Dune, and hair combs from Debenhams.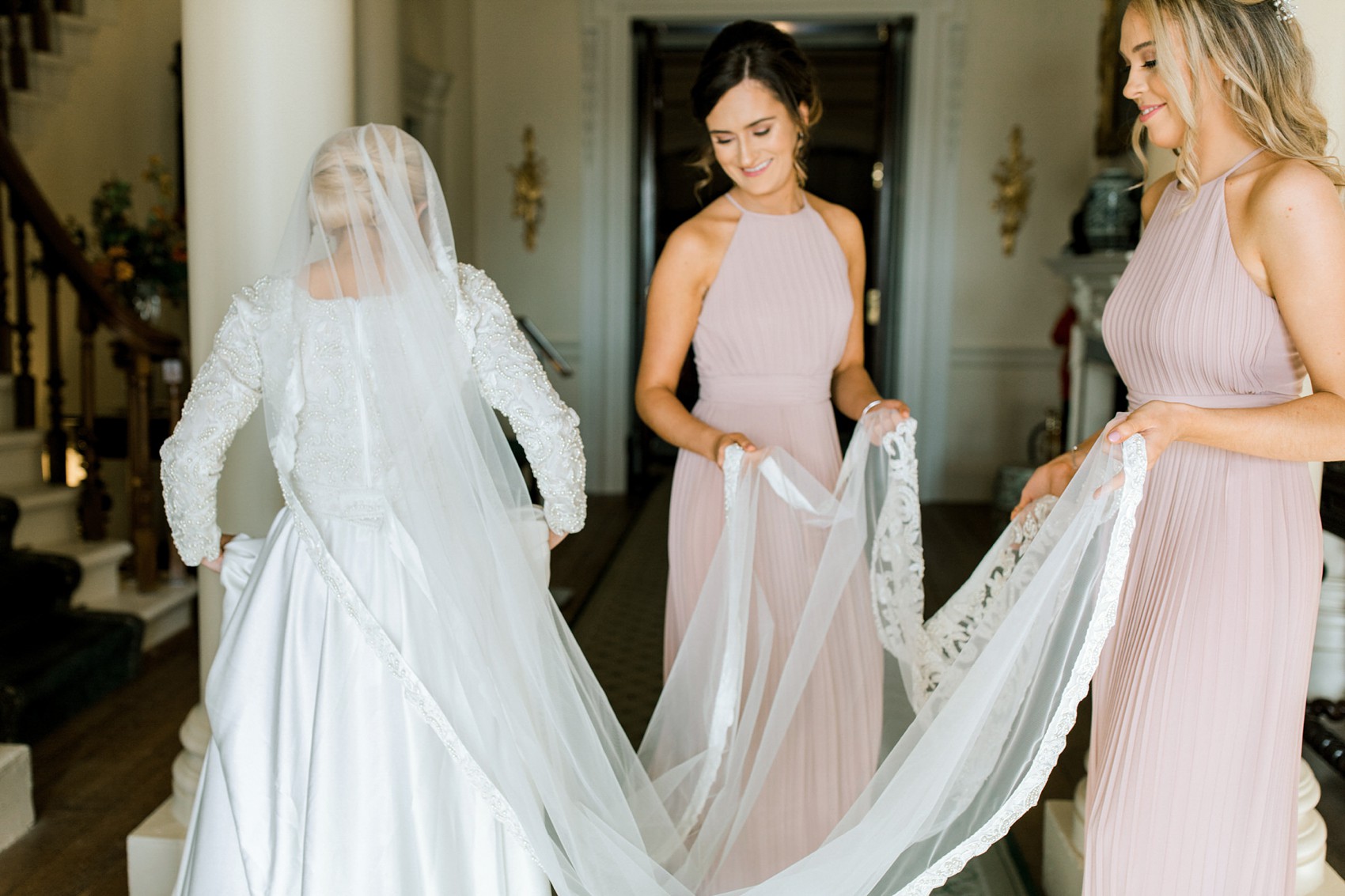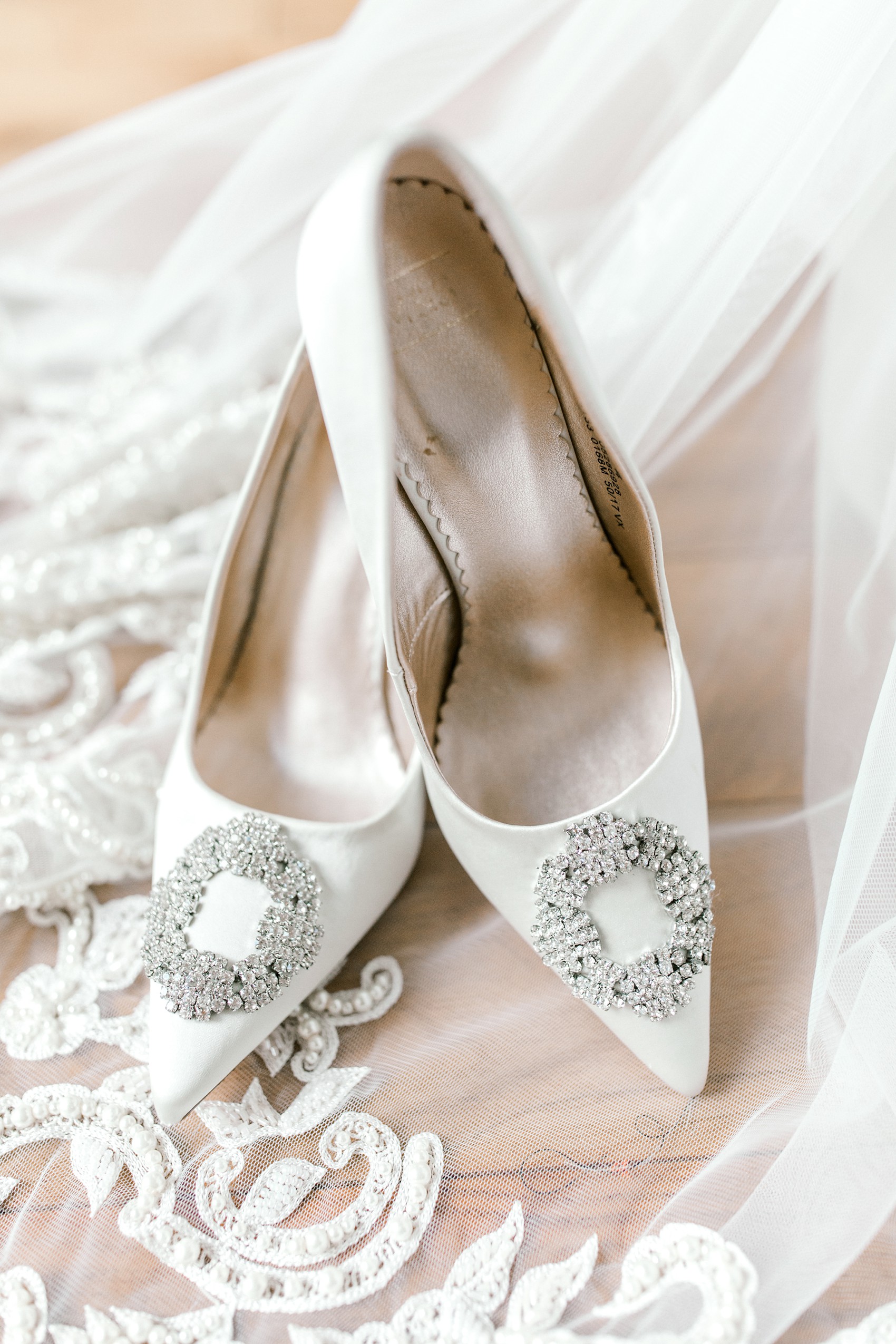 Suzy's radiant and romantic make-up look was created for her by a close friend, and her pretty hair was styled by Lana Cairns from Cameo Bridal Styling.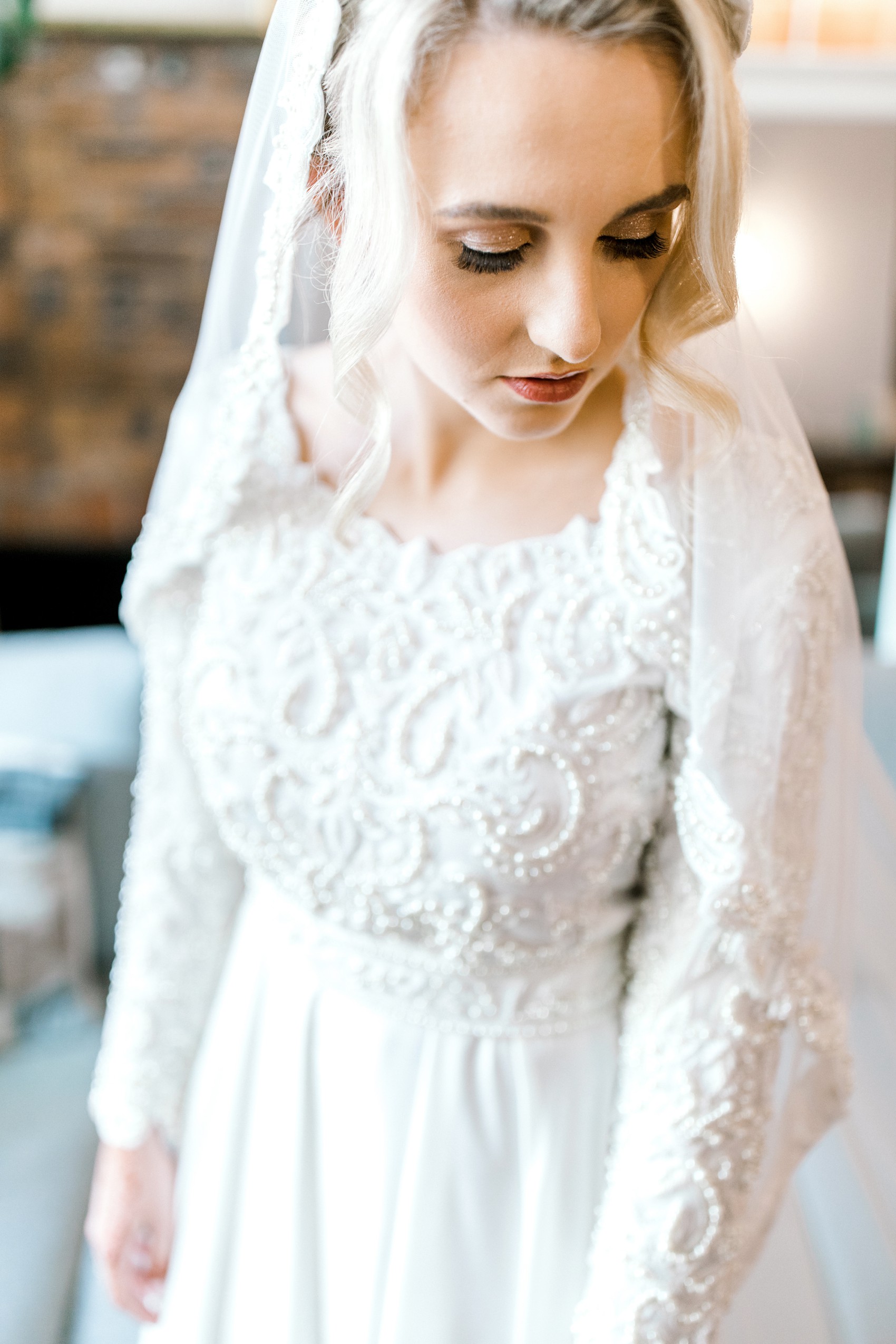 "Lana did an absolutely incredible job on the day with my hair, and my bridesmaid's hair. Most importantly, she was able to attach an extremely heavy veil onto my hair without compromising my hairstyle, and it stayed put all day with absolutely no pain, or any problems whatsoever."
When deciding on a wedding dress, Suzy knew that she wanted to wear a design that was a fusion of a traditional Western, white wedding gown, and the intricate embroidery and embellishment of Asian style dress.
"I approached Majestic By Eliza, who specialise in Asian style dresses, but who have done some Western designs also. I looked at a number of different styles online, including a number of styles from the Love My Dress Instagram account, and took inspiration from different parts of different dresses."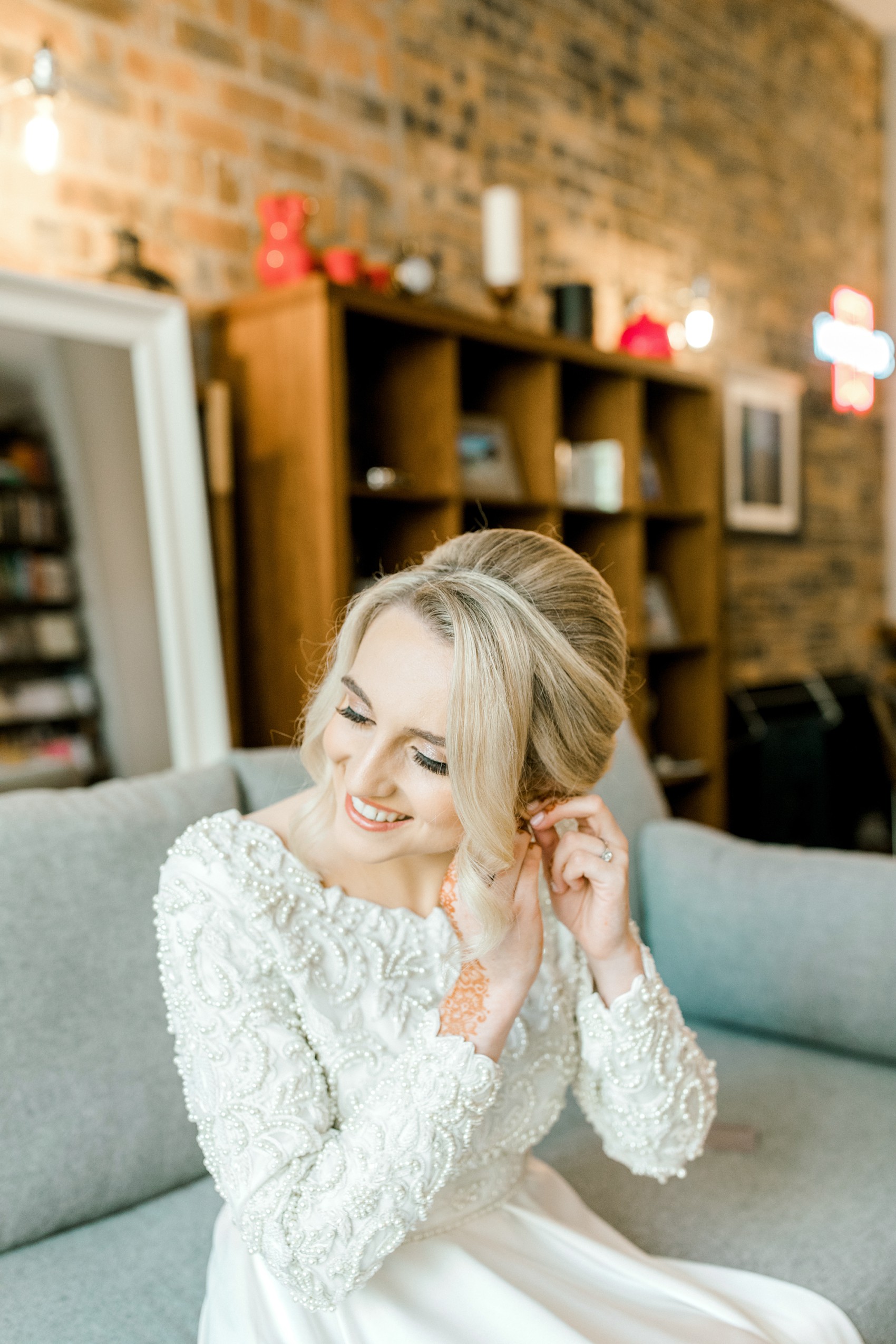 "I was given a sketch of what mine would like, and embroidery and fabric swatches nearer the time, but I still didn't know fully what it would look like, or whether it would even suit my body type, as I didn't try on any other dresses except this one!"
The finished dress was exquisite, with a hand beaded and embroidered long sleeved bodice, falling to a long, flowing skirt with a beautiful puddle train.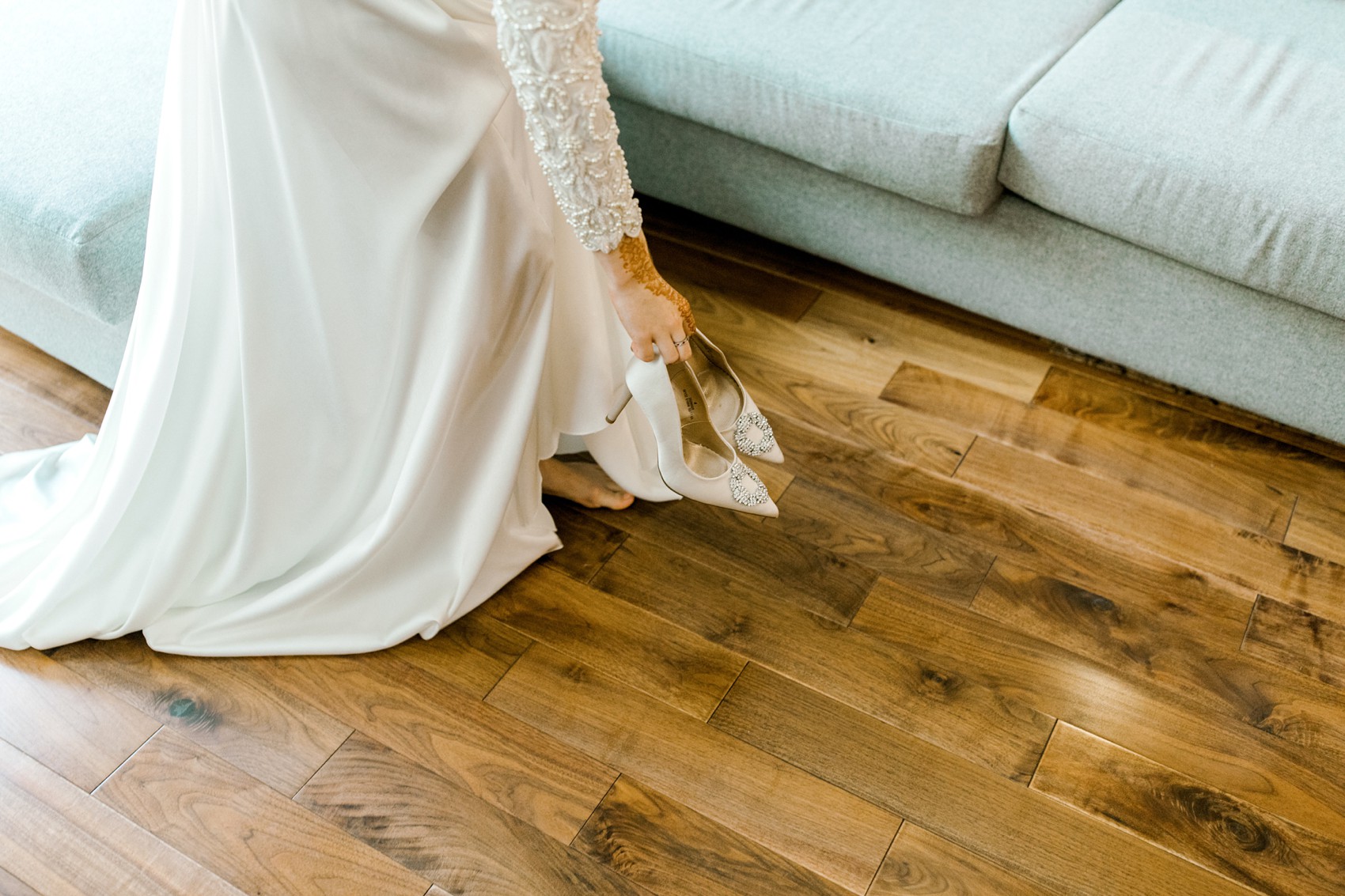 "The dress was made in Pakistan and embroidered completely by hand. It arrived in their branch just four days before the wedding, and that was the first time I laid eyes on it. I loved the detailed embroidery, and the way the material flowed on the bottom part of the dress. People thought I was absolutely crazy taking a risk like that with something so important, but I am so happy I did."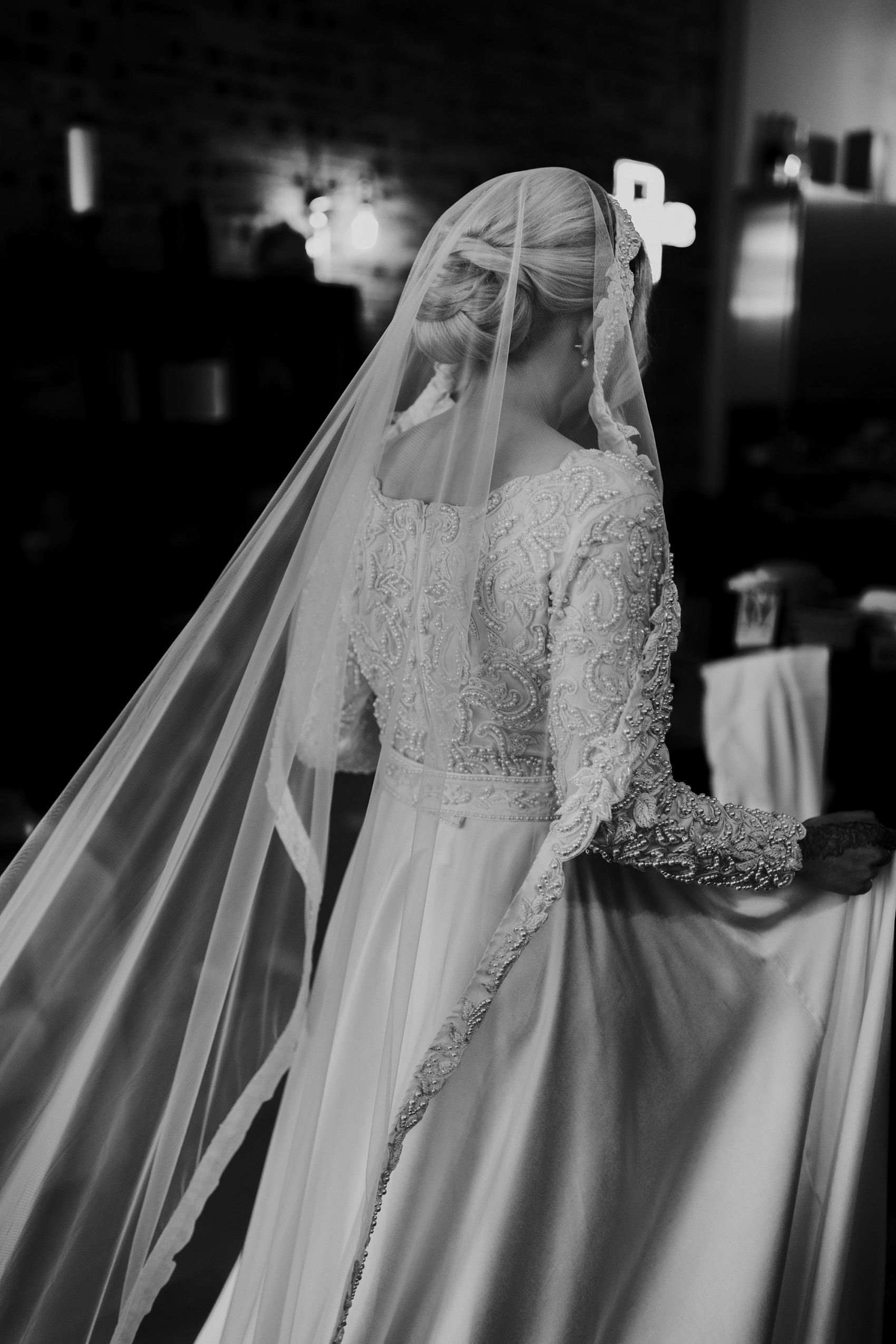 Majestic By Eliza also made a dreamy veil for Suzy, edged with embroidery and embellishment matching her dress, and on her feet, she wore ivory heels with crystal buckles from Marks & Spencer.
"I wore my late grandmother's eternity ring, given to her by my late grandfather. Red is the colour traditionally worn by Asian brides, so I wanted to include that in some way, and the ring contains both diamonds and rubies. I also had traditional Henna art done by my close friend, who also did my make-up. My perfume was 'Ralph', by Ralph Lauren – the first perfume my husband bought for me."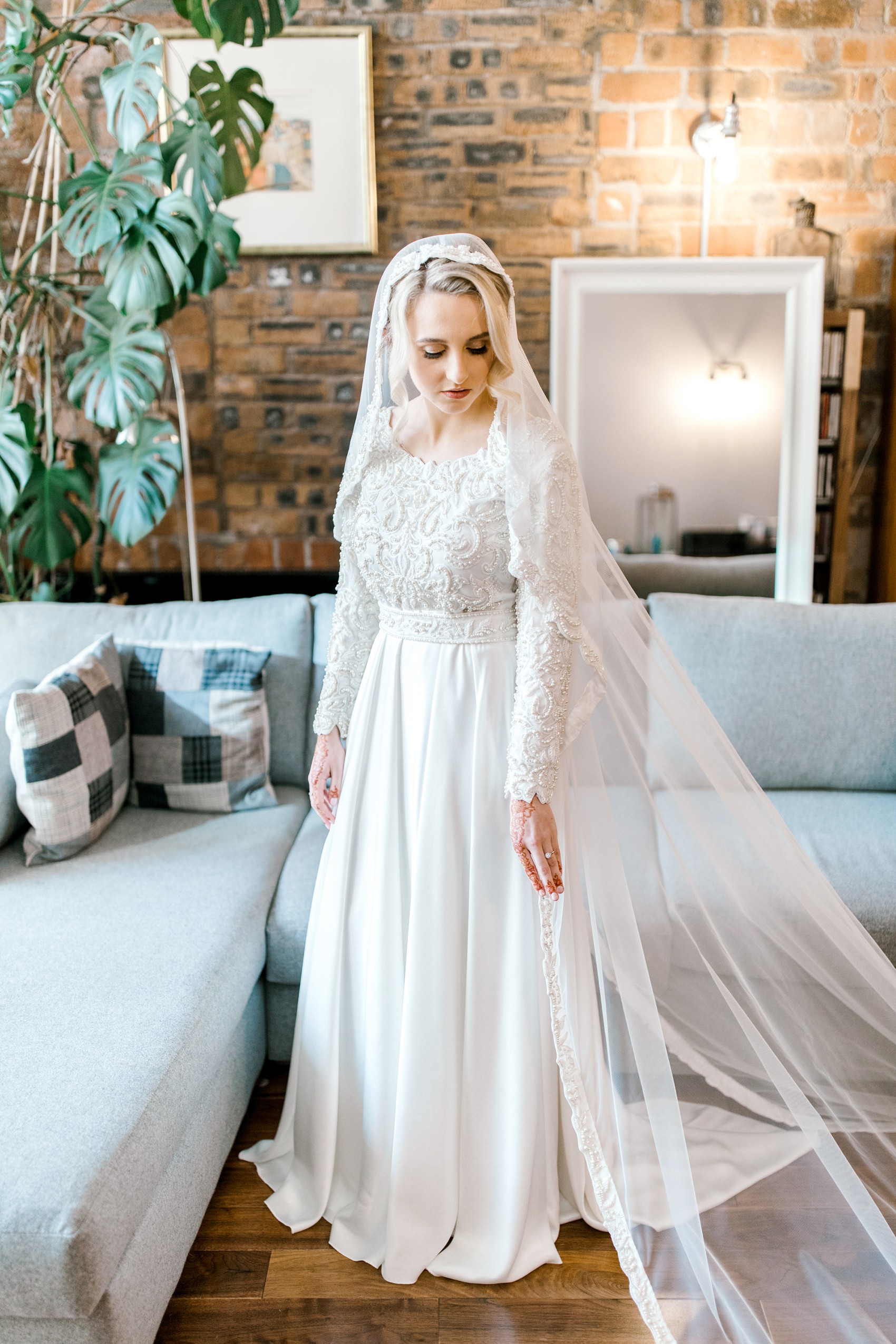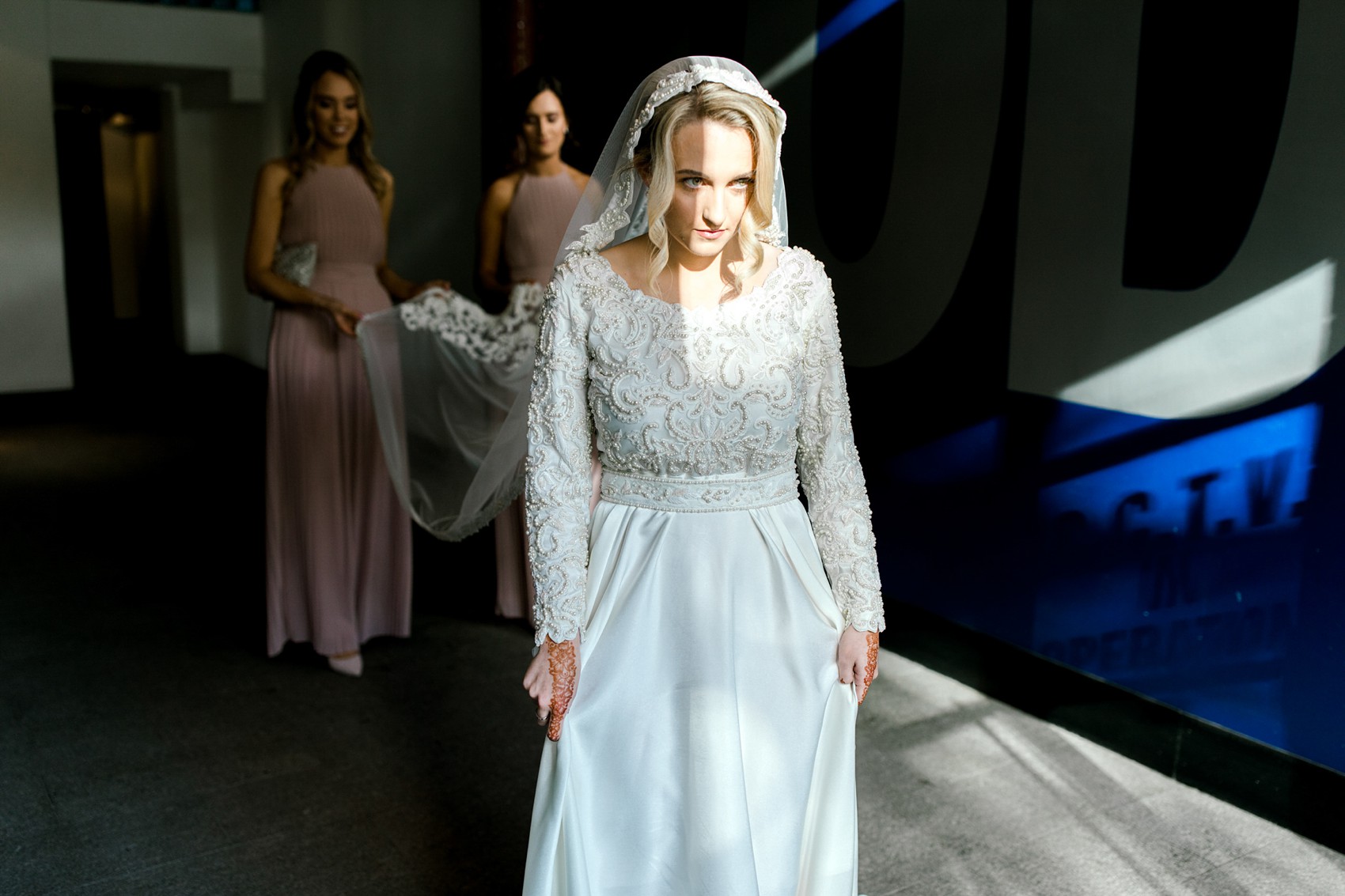 "We chose this venue as we both spent time there growing up, and have a lot of very happy memories there. It was local for most of our guests, but still felt like an escape from the city."
"Most of our guests had never been, and we wanted to share one of our favourite places with them. We wanted the traditional Scottish setting and Pollok House provided it, with the beautiful countryside, gardens, old manor house, and best of all, Highland cows!"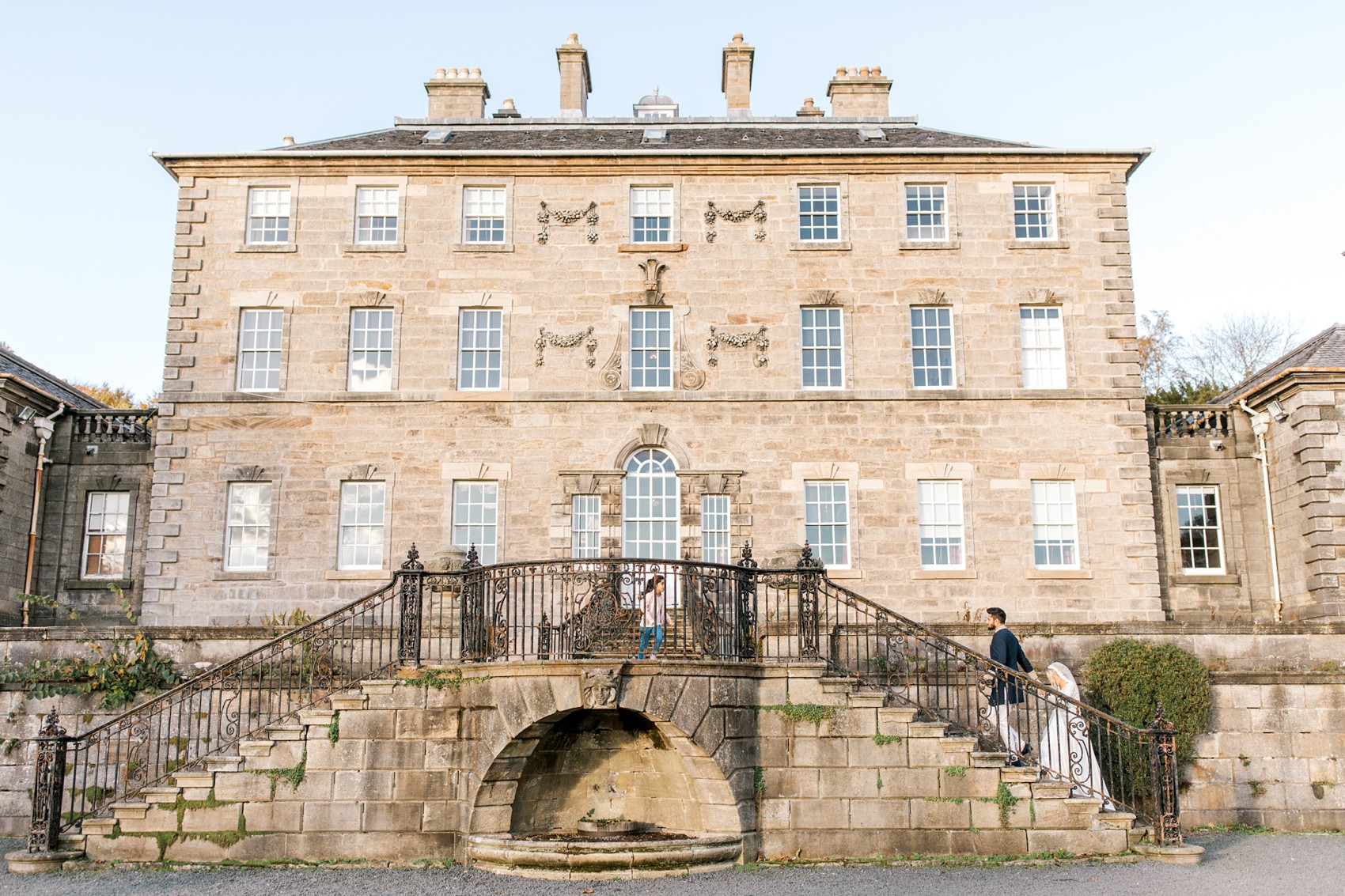 "It was very important to both of us that the day included both the traditions and the style of my husband's Pakistani/Kashmiri heritage, but that it also had a real Scottish, traditional feel to it. It was vital to us to include certain religious traditions."
"Our wedding was unique, as it was neither a fully traditional Asian style wedding, nor was it a traditional Scottish fairytale type wedding. We looked at what was important and special to us, and combined two cultures and customs to make it a day perfect for us."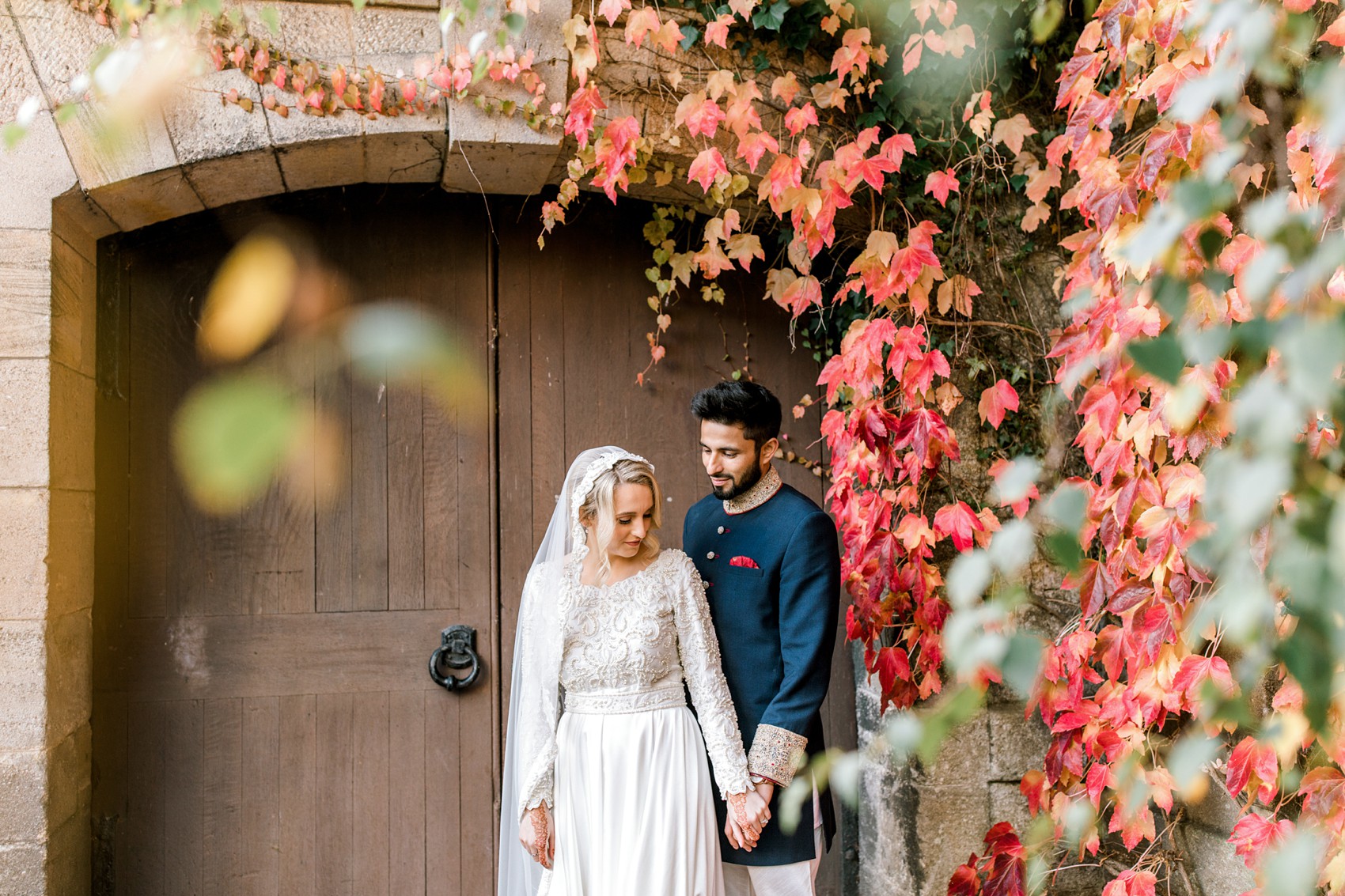 As Suzy and her party made their way to Pollok House courtesy of Waterside Weddings, guests began to gather ahead of Zeeshan's entrance, surrounded by family.
"The mixture of the bagpipes and the dholi drum by VIP Dholies was perfect for our fusion wedding, and the musicians went above and beyond with their attire and performance."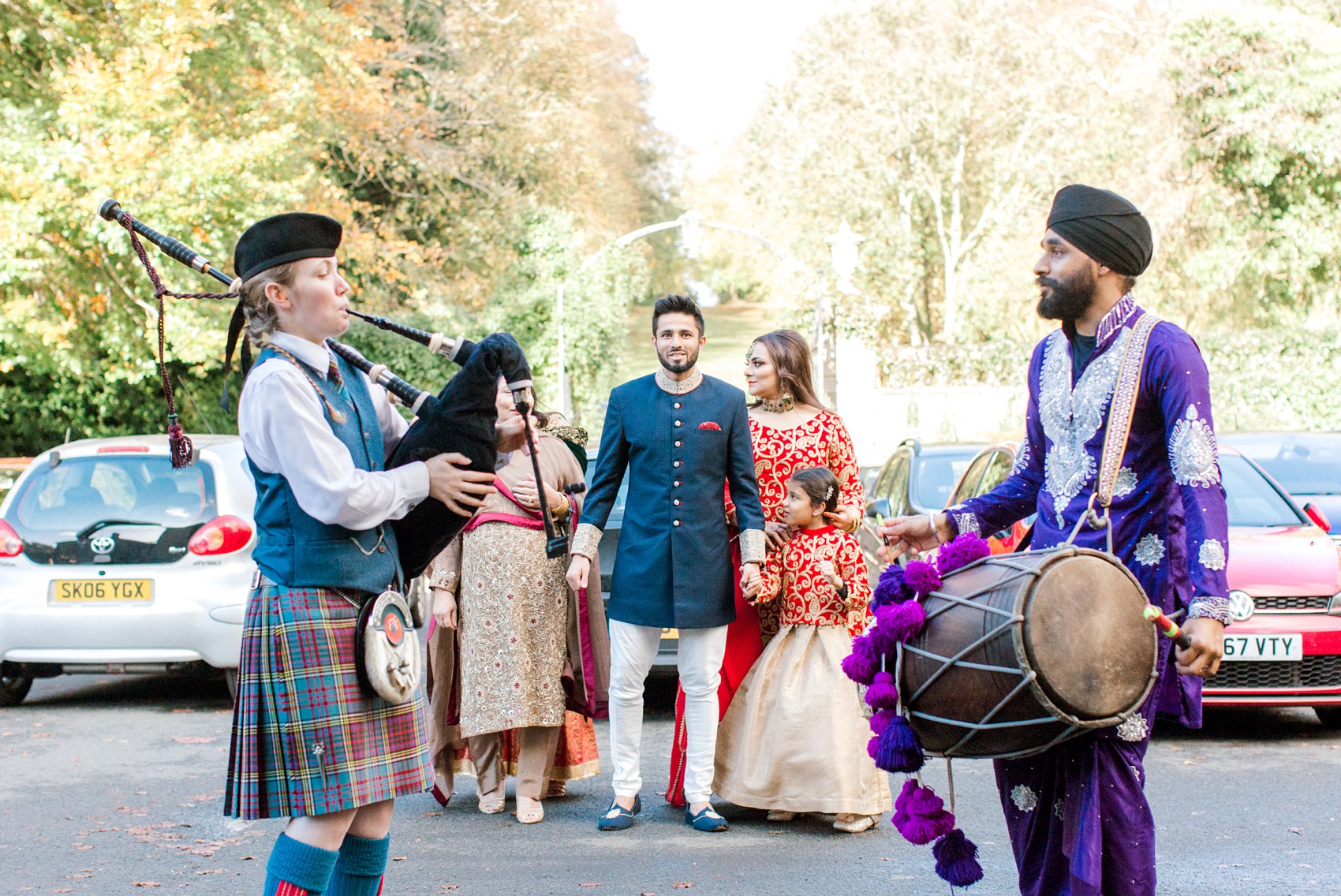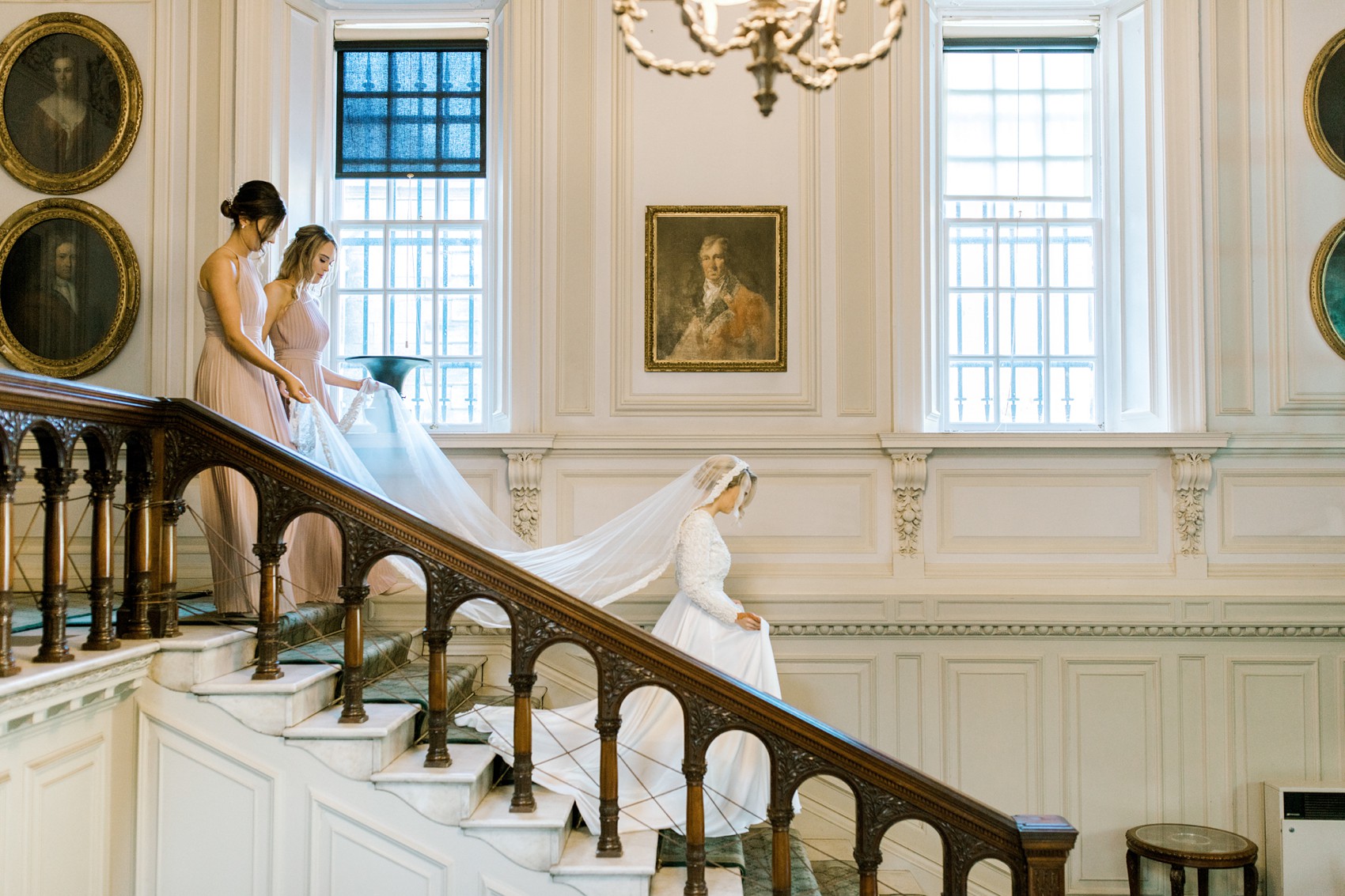 Zeeshan looked fantastic in a custom made suit by Junaid Jamshed, with a navy blue jacket with contrasting red stitching, and gold embroidered collar, cuffs and buttons, paired with cream trousers and shoes to match his jacket.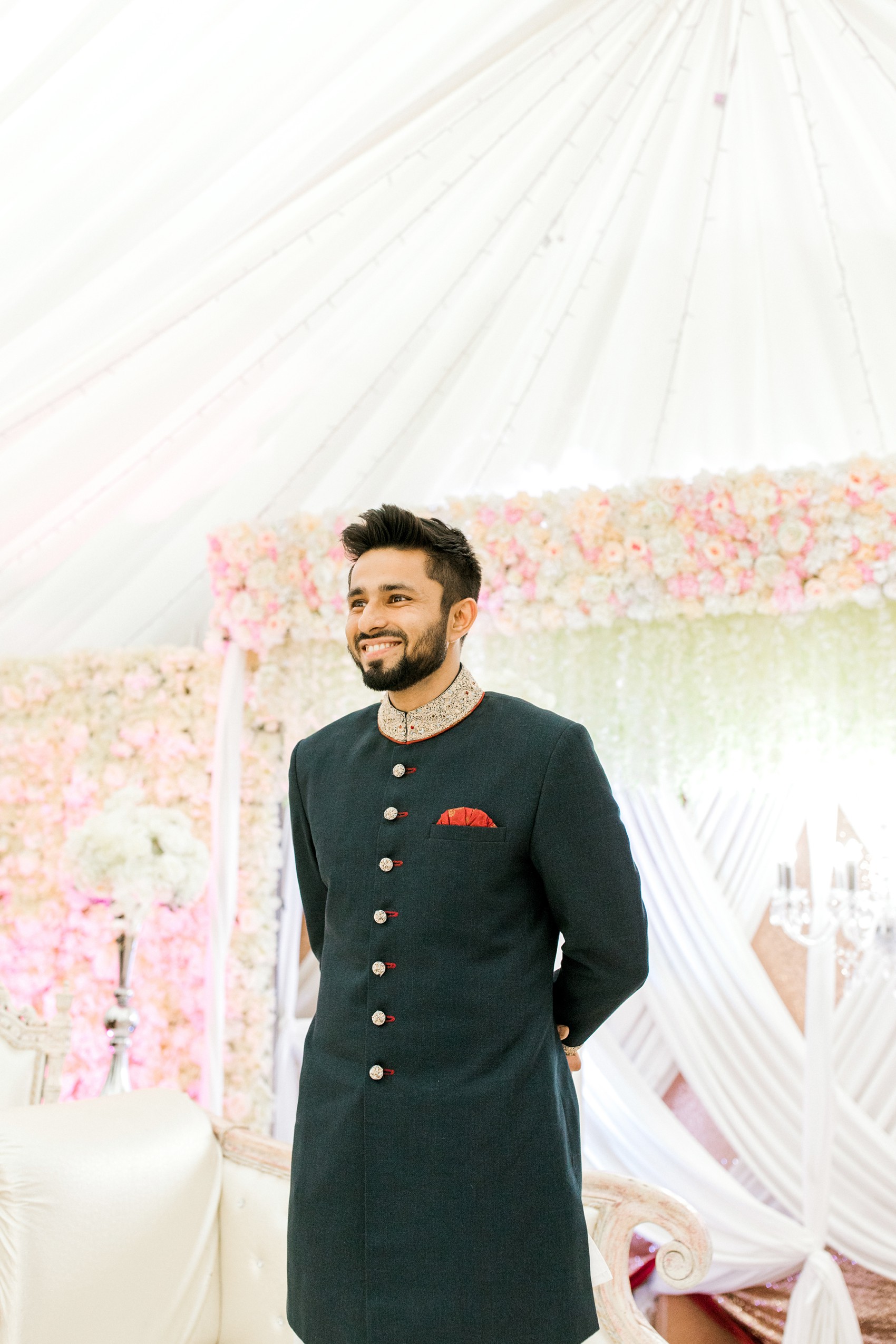 Suzy was accompanied down the aisle by her father, and chose a piece of music by composer Alexandre Desplat, from the soundtrack to Harry Potter and the Deathly Hallows (Part 2), called A New Beginning.
"I'm a massive Harry Potter fan! This song is used in the last scene of the last movie. It has sad tones at the beginning, but becomes a song full of hope for the future, so felt it was perfect for the emotions involved in walking down the aisle, and having my dad accompany me down the aisle."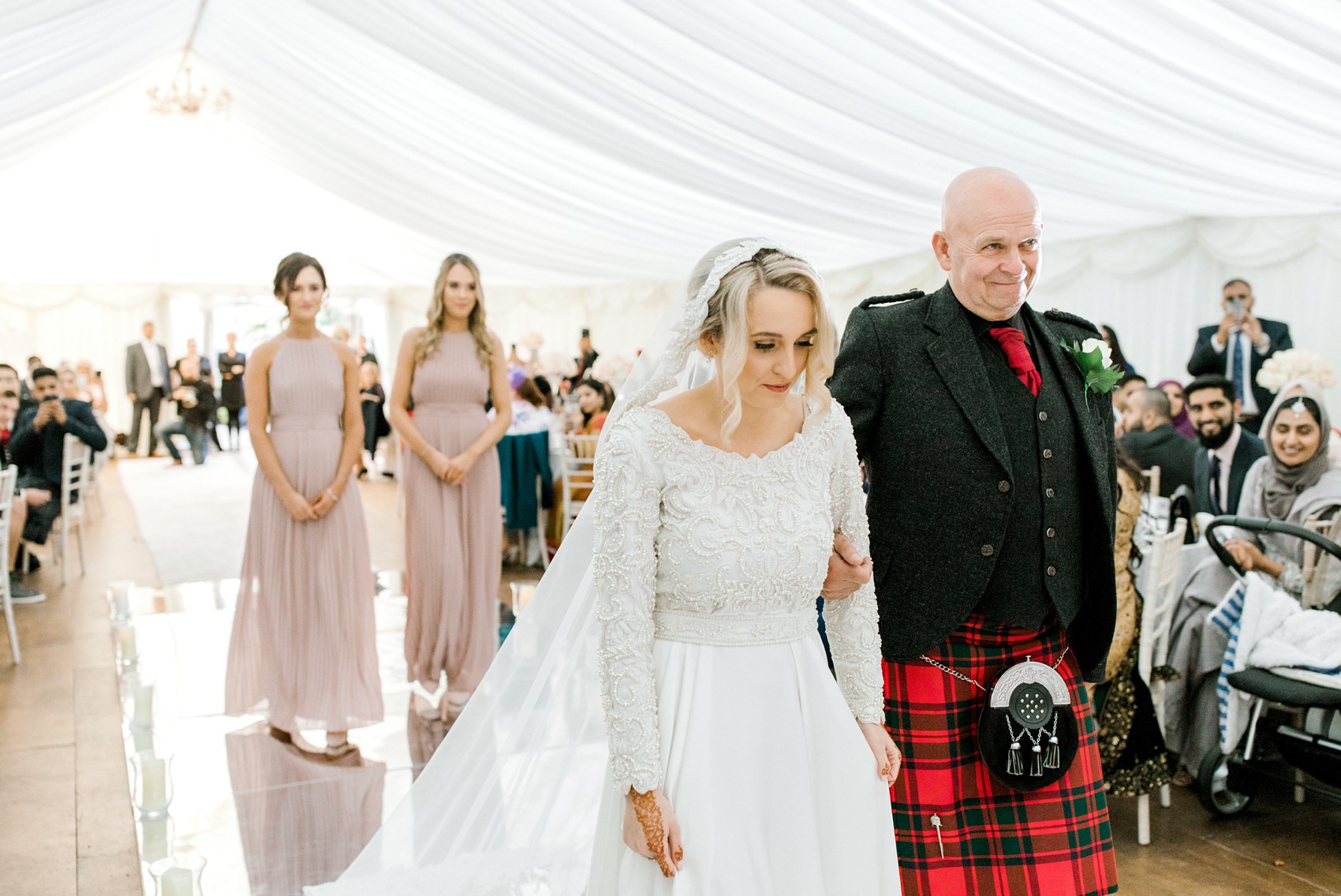 Suzy and Zeeshan had worked for the same company for years, and had mutual friends. They began to work at the same location together, and the rest is history!
"We had a religious ceremony a couple of days before we got legally married, and had an Imam come on the day to bless the marriage and say a prayer."
During the ceremony, the couple also gave each other rings, which they chose at Glasgow jeweller, Robert Horn, who is also a family friend.
"My father made a small speech and the Imam spoke to our guests about marriage, and said a short prayer in Arabic, Urdu and English."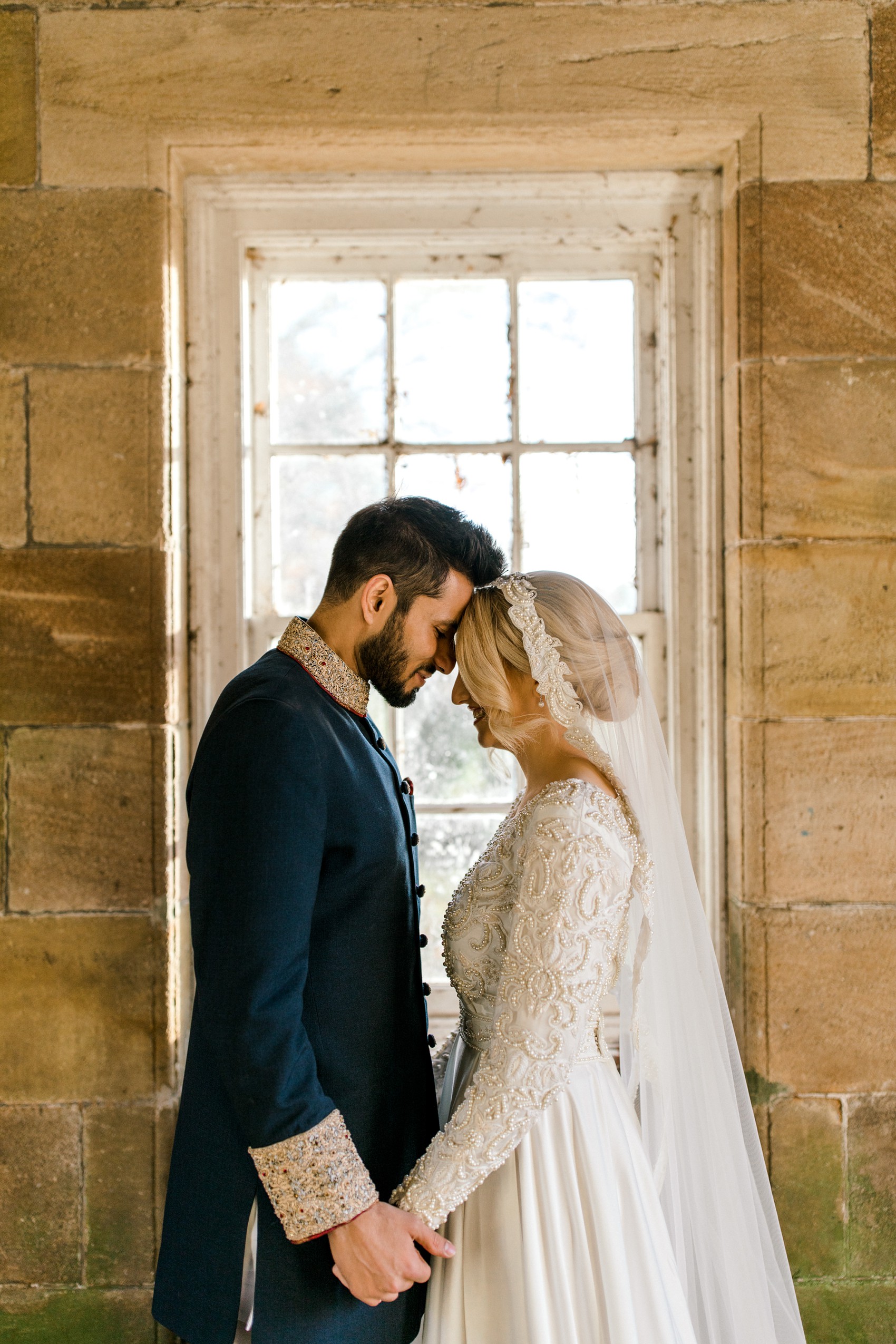 After the ceremony, Suzy and Zeeshan enjoyed some quiet, just-married time together with a walk in the gardens of Pollok House, surrounded by the glorious autumnal colours.
"We had a drinks reception in one of the rooms at Pollok House, then a marquee in the grounds to accommodate the 168 guests. We wanted that Scottish outdoor setting, and the marquee in the grounds allowed us plenty of space, and the freedom to design the inside, which included a decorated stage, more traditional in Asian style weddings. This would be the focal point to the marquee."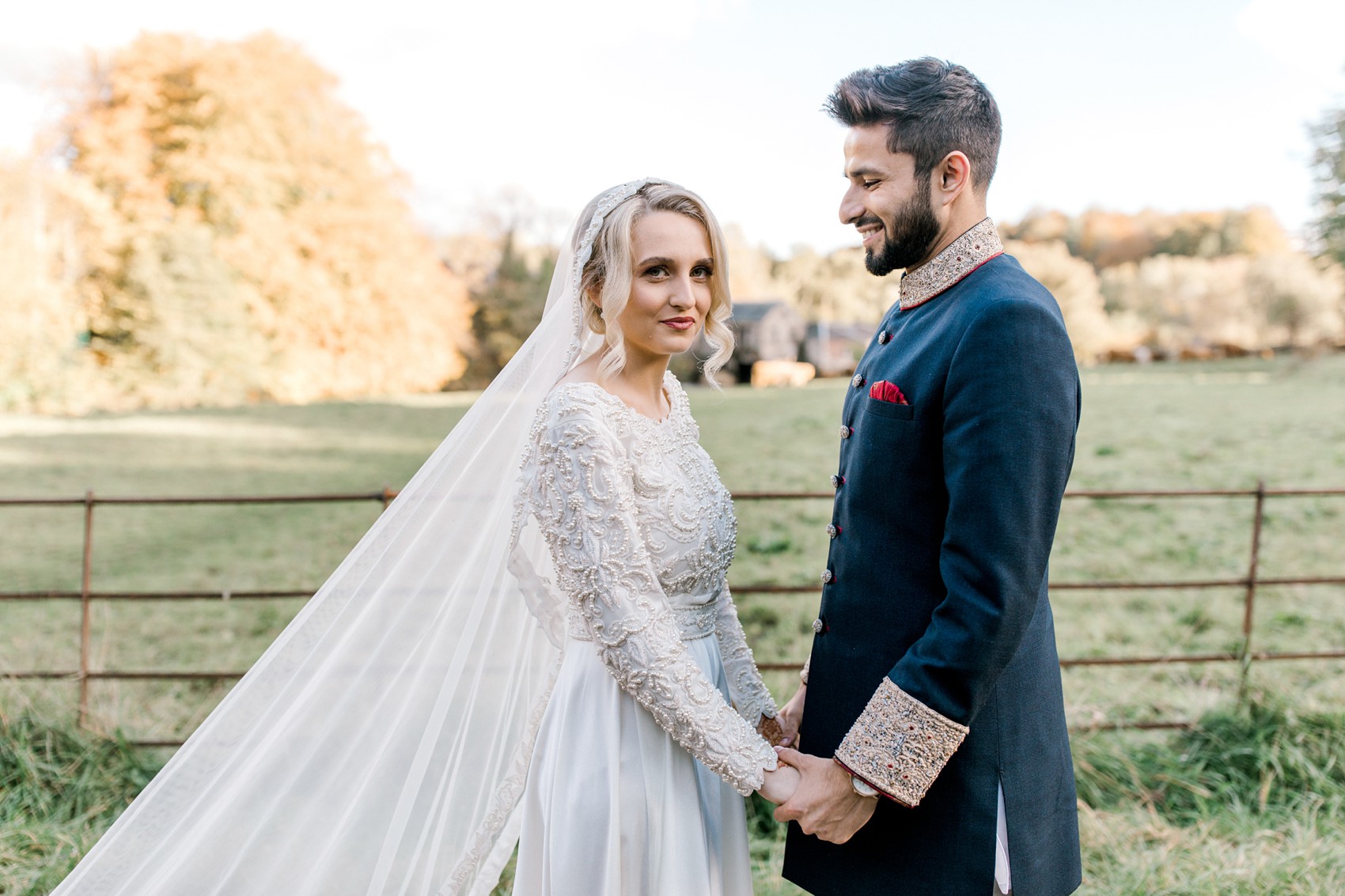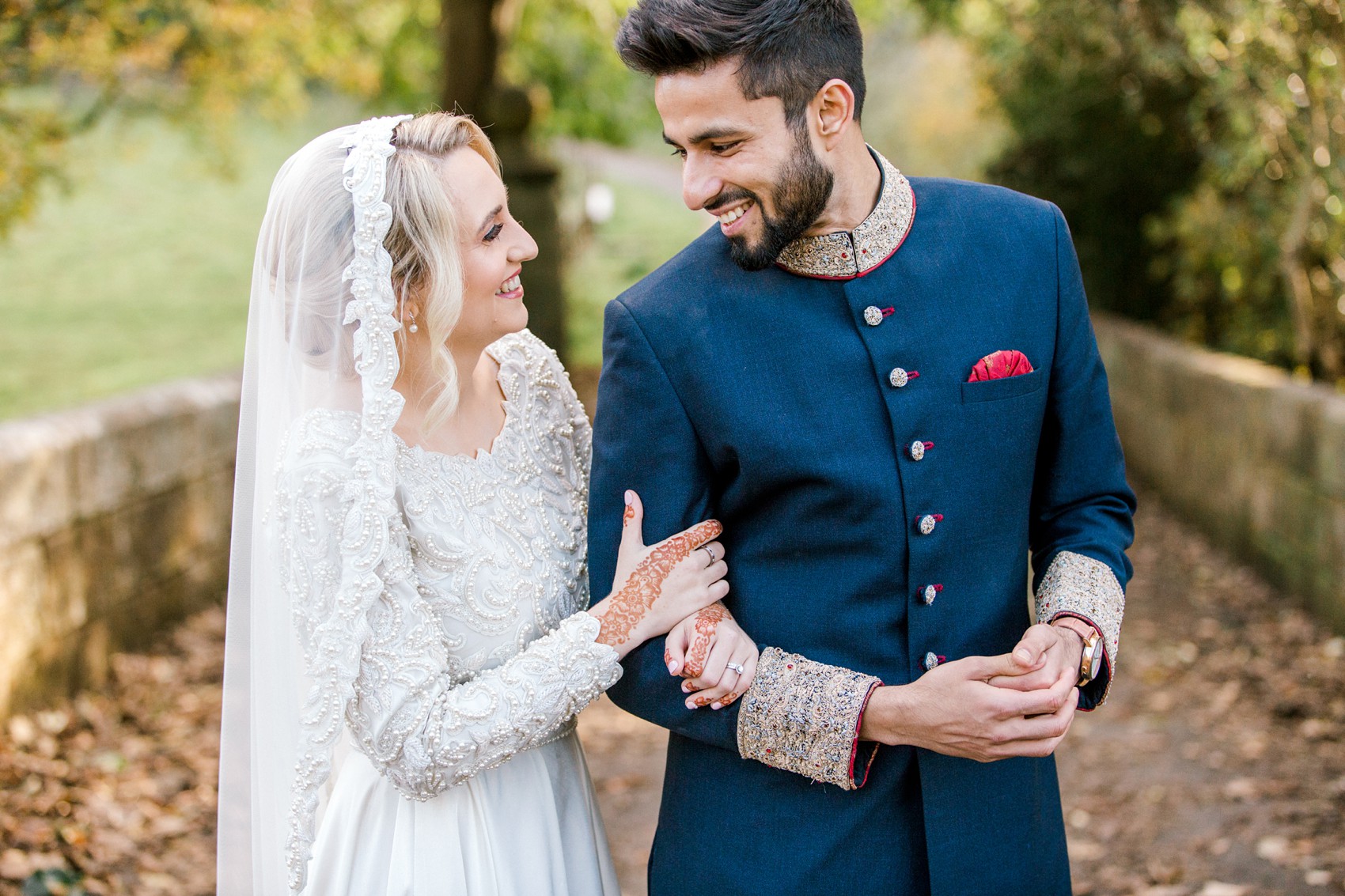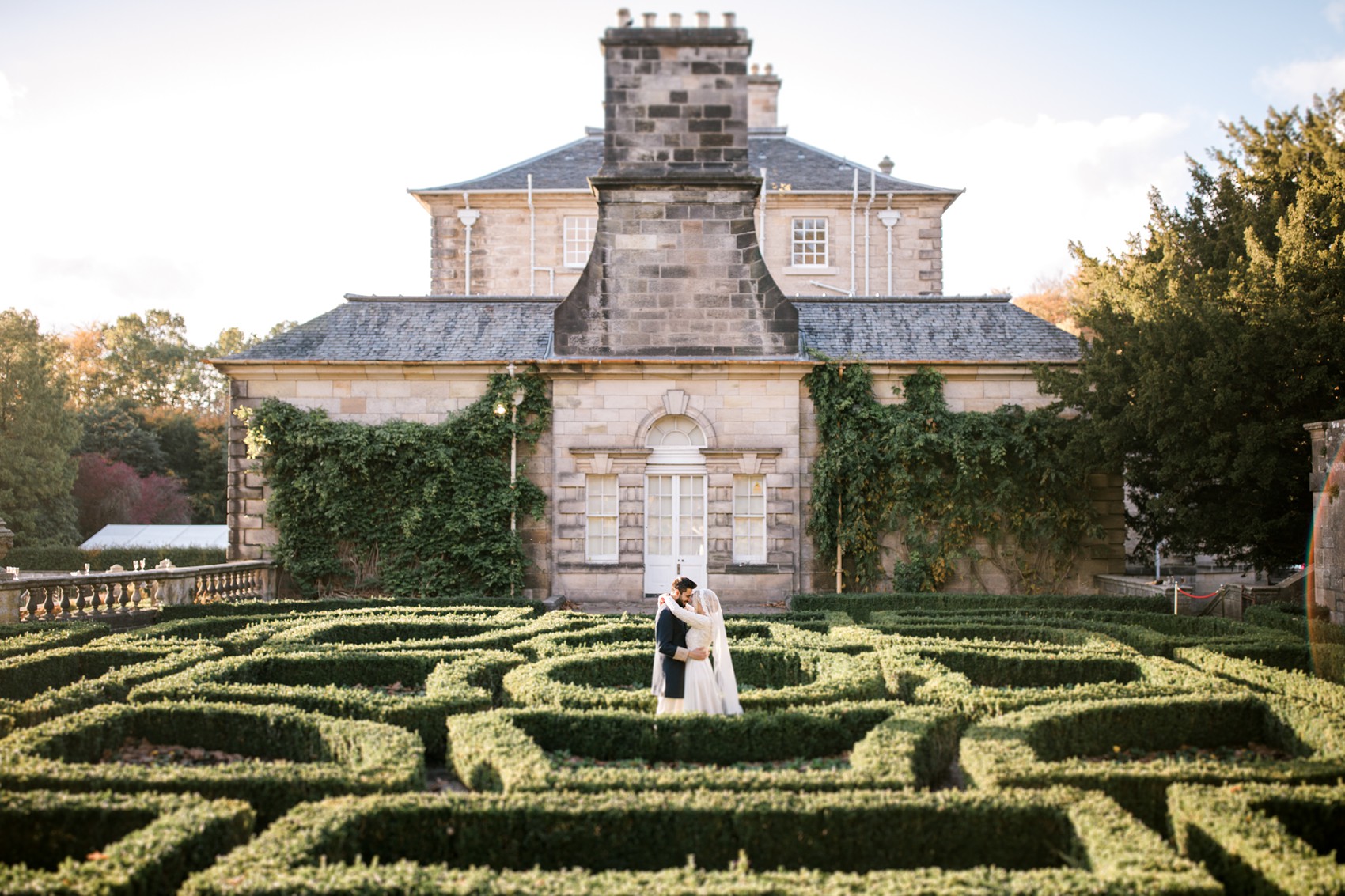 The spectacular marquee was decorated by VIP Group, with romantic, pastel-hued roses and flowers everywhere – in giant Martini glasses as table centrepieces, and adorning and cascading down walls, and across the stage area, too.
"Zeeshan's brother works for this company, and he designed the marquee himself. We gave him an idea of our kind of style and left the rest to him. He did a wonderful job."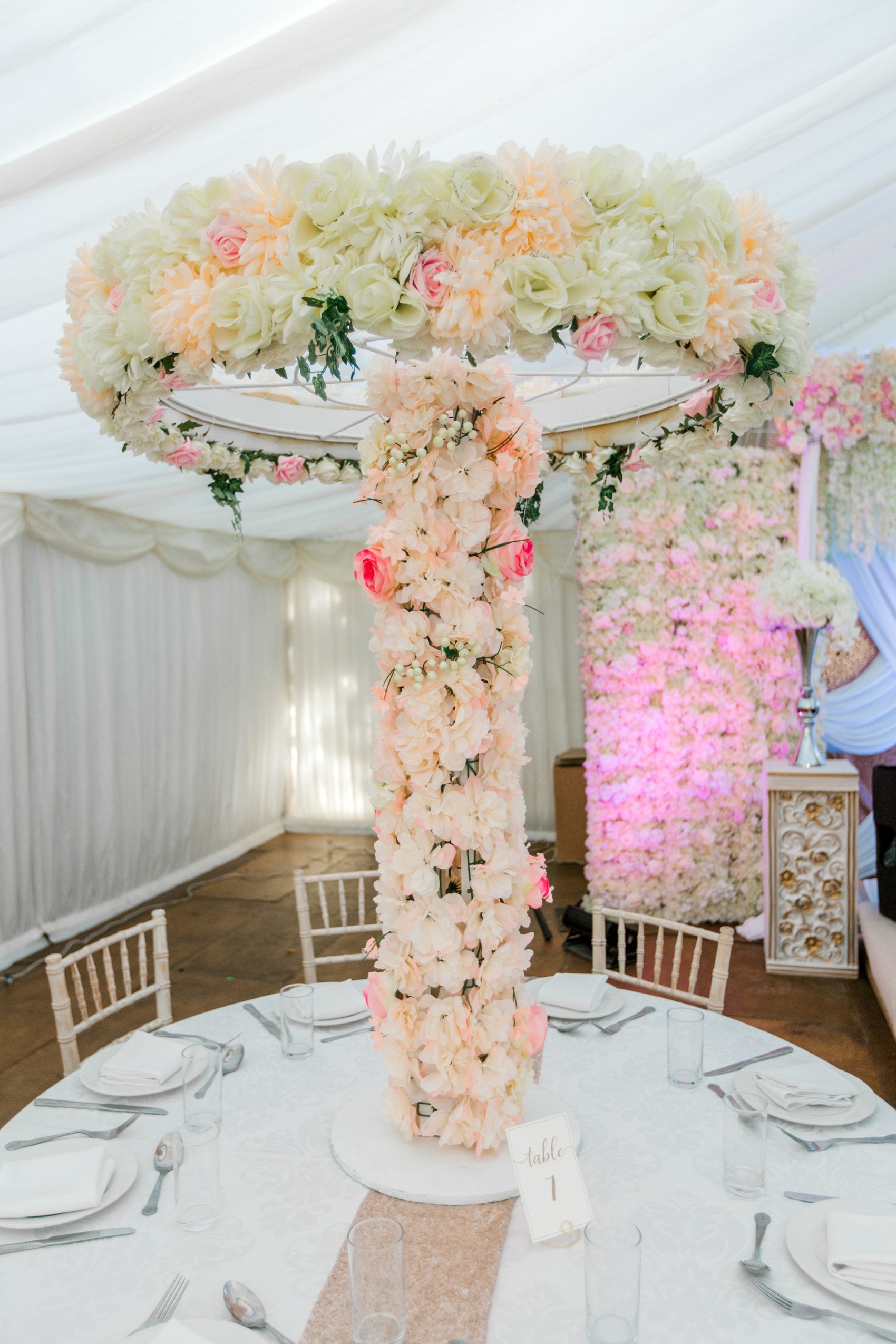 "Stationery was done using a variety of independent companies sourced via Etsy. Templates were purchased and the rest was done by myself (with some help!)."
"Our wedding favours consisted of handmade boxes that had Scottish homemade tablet inside, made by my aunt, and a traditional Pakistani sweet called Barfi, made from very similar ingredients to table, bought from a bakers in the Southside of Glasgow."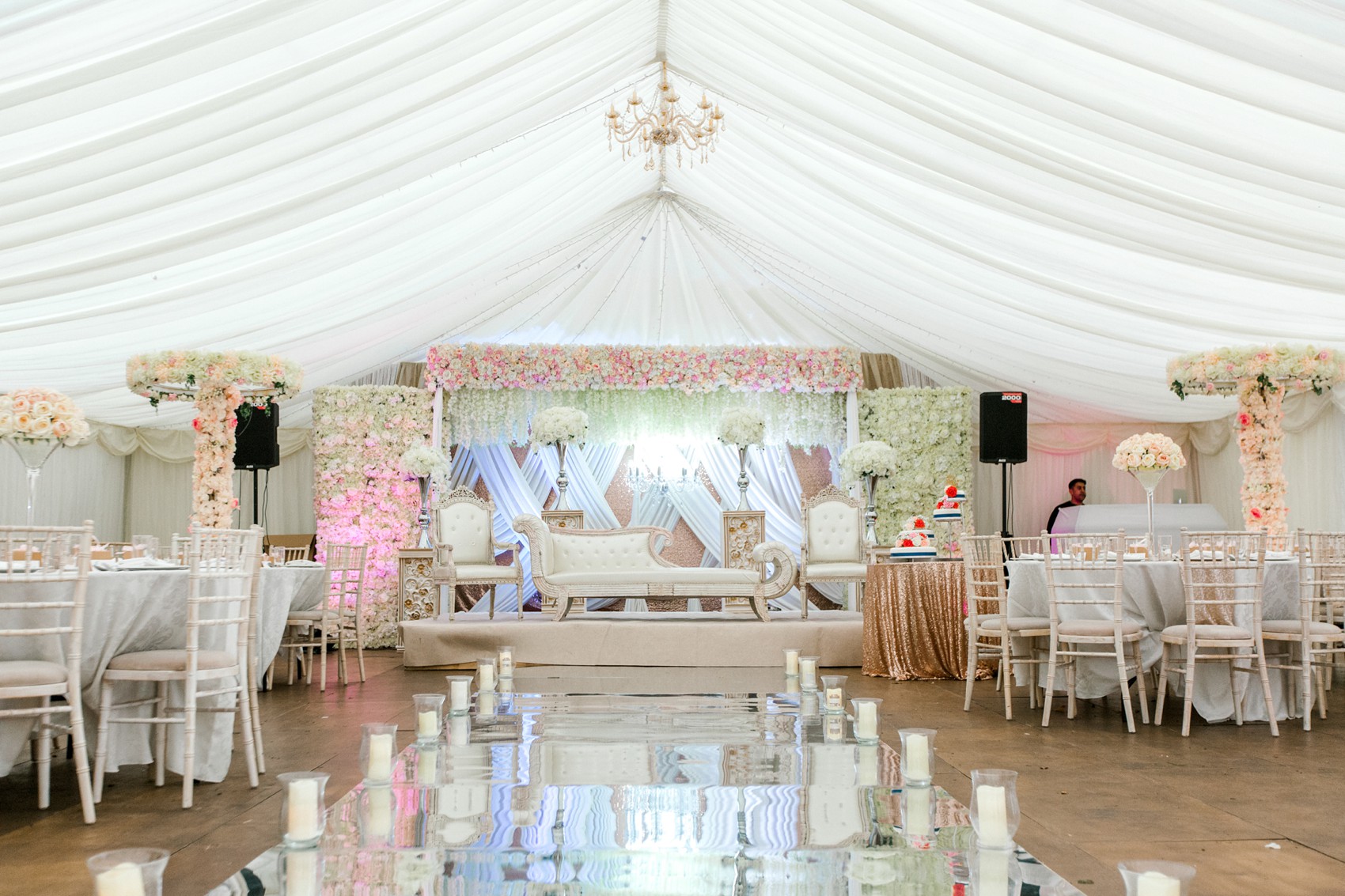 Later on, everyone sat down to dinner courtesy of VIP Group, and the couple's favourite aspect of the day was having everyone they care about together in the same room, enjoying themselves.
"Our cake was from Marks & Spencer, and my sister-in-law hand decorated it. This was a gift to us, so we had no idea what it would be like. It turned out beautifully."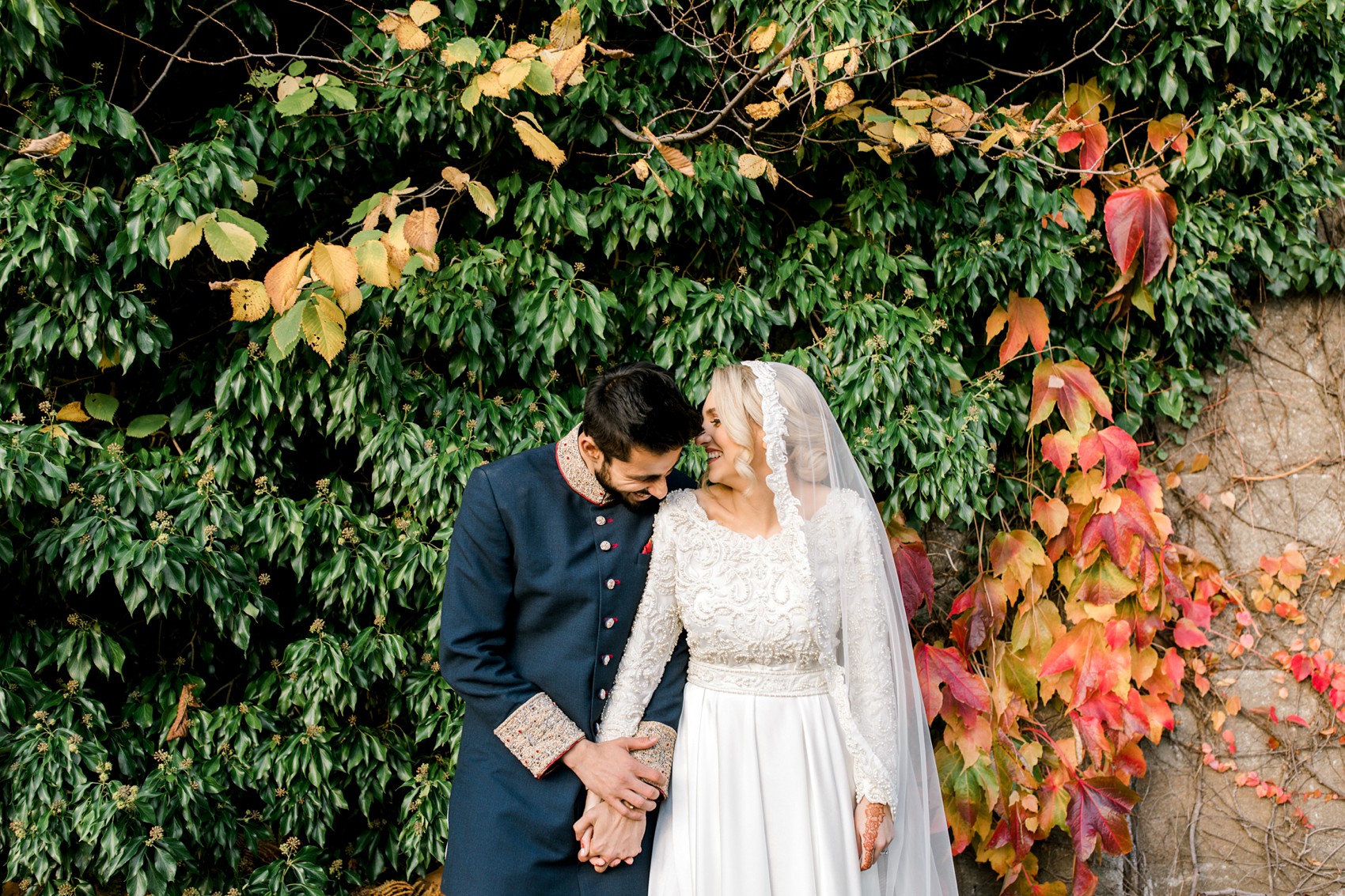 Words of Wedded Wisdom
"My personal situation when it came to my dress was definitely stressful at the time, but as a result something so positive came out of it – being featured on Love My Dress!"
"My advice would be to accept from the beginning that there might be things that will stress you out and go wrong, but focus on what's really important – the love you have for your partner and the love you have for all the people you will share your day with. That is what makes it perfect."
"Your wedding day will always have small hiccups no matter how much you try to avoid it, but we wouldn't go back and change anything. It was perfect to us."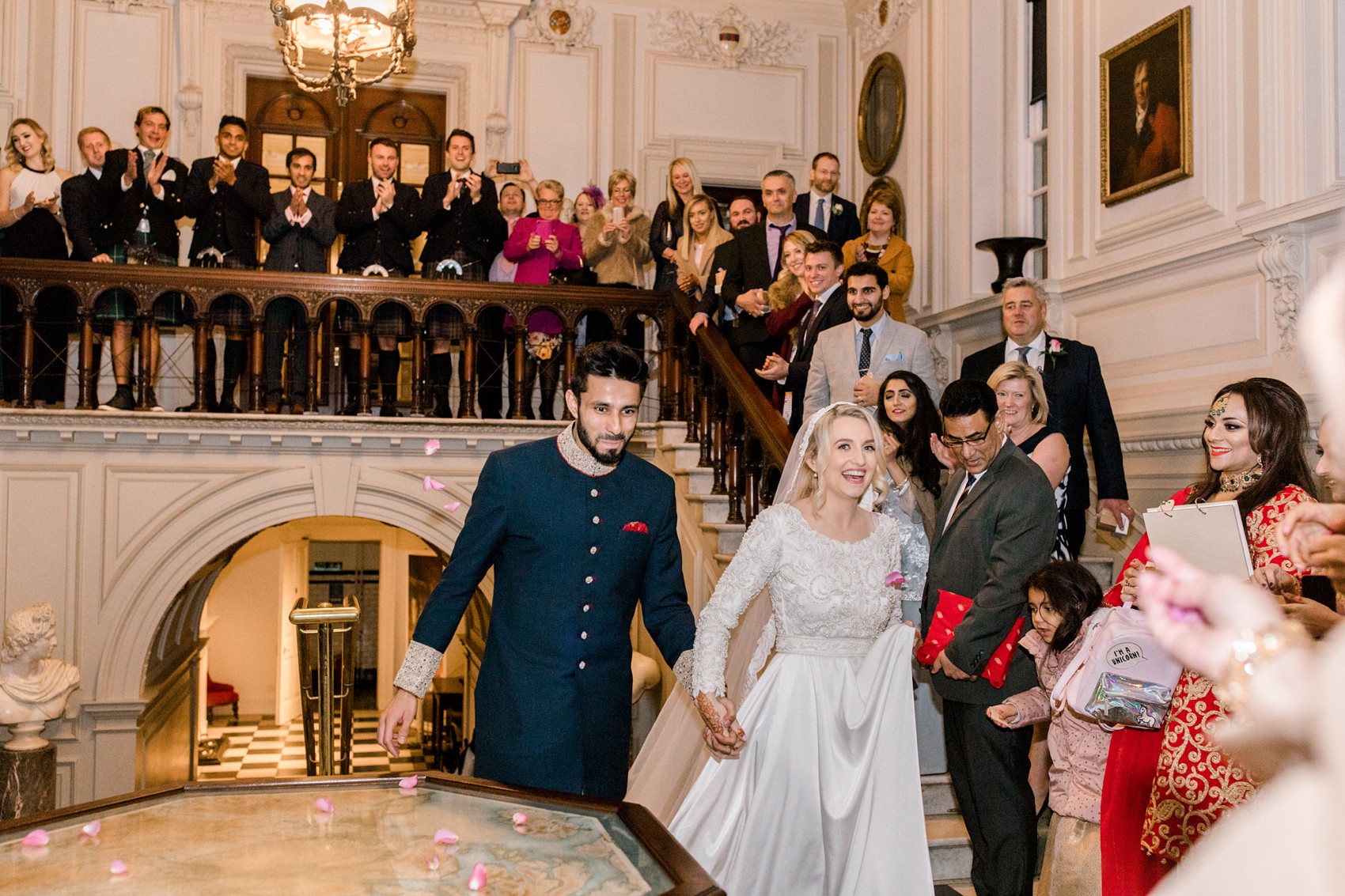 Suzy and Zeeshan, thank you so much for giving us this very special insight into your elegant and romantic celebration. Huge thanks also go to The Gibsons for these wonderful images. You can see more of their super work on our pages here, as well as more fantastic fusion weddings, right here.
Until next time!
Love, Laura