Happy Sunday folks! Did you feel something shifting in the air yesterday?
The first day of Spring brought a wonderful and very much needed sense of lightness for me, and a reason to celebrate too, as it was 12 years yesterday since I got married – an event that would go on to inspire the creation of this very website you are reading today.
Halfpenny London

+ Follow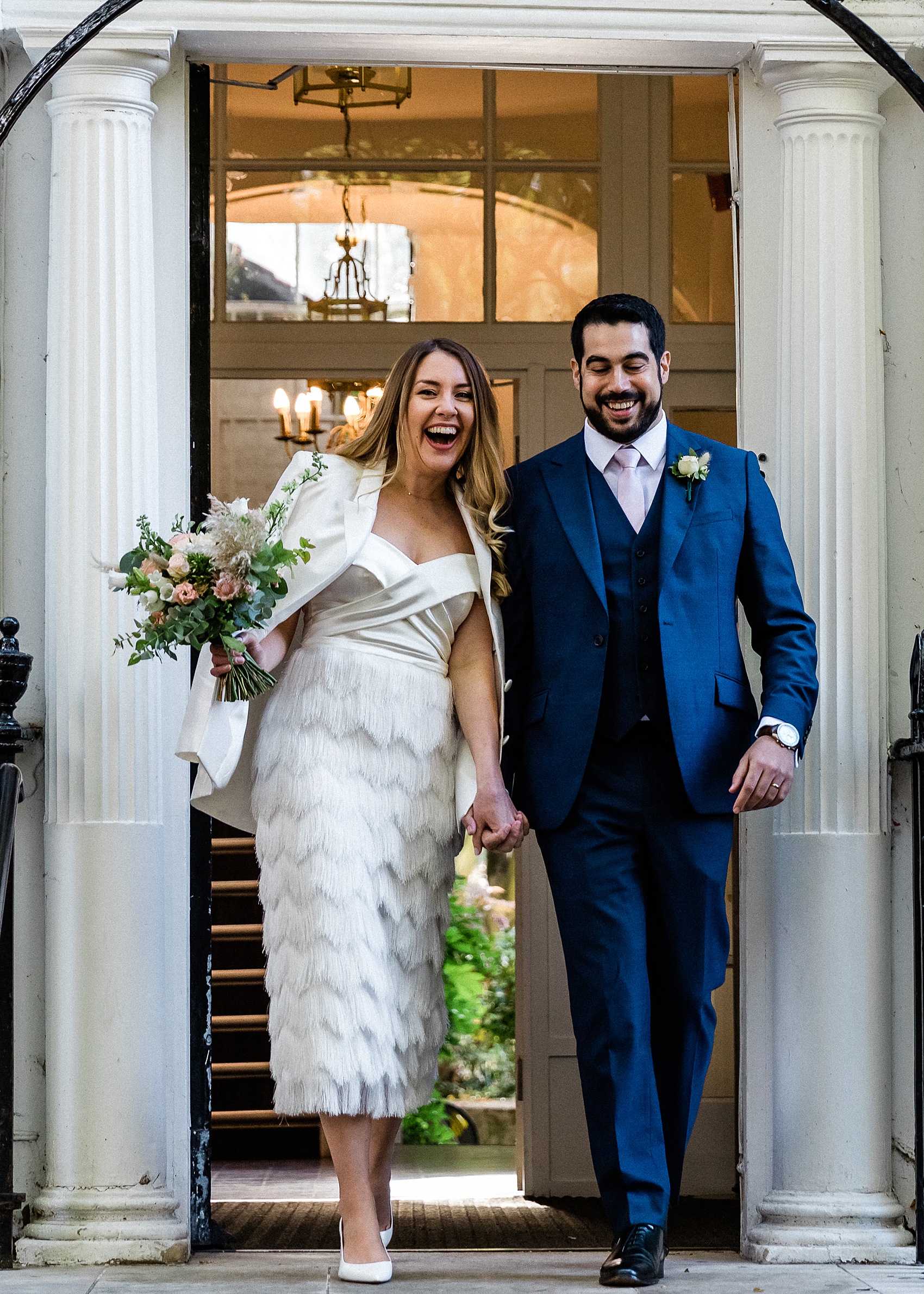 One of the very first brands I 'blogged' about, back in January 2010, was Halfpenny London. I fell in love with designer Kate's world of creativity back then and love it more than ever to this day. It has been quite the journey, growing our businesses together and I am immensely proud to support Kate's business and brand through Love My Dress.
The bride in today's real wedding looked fantastic in a Halfpenny London combo of bridal separates – more on that shortly. I'm thrilled too, that she and her husband chose our other directory member, Heather Shuker, of Eclection Photography, to capture their wedding through photography.
Editor Suzannah, married Strategy Consultant Gus, on 16 October 2020, in Southwark.
"We live between Camberwell and Brixton and have many happy memories here. We knew we wanted to get married locally and Southwark Registry Office has a pretty garden, and is near to one of our favourite pubs!"
Halfpenny London

+ Follow
Suzannah wore a skirt, corset top and blazer, all from the wonderful Halfpenny London.
"I love Halfpenny London. Kate, the designer, is lovely and passionate and endlessly creative. The pieces are unique and fun while always elegant and timeless."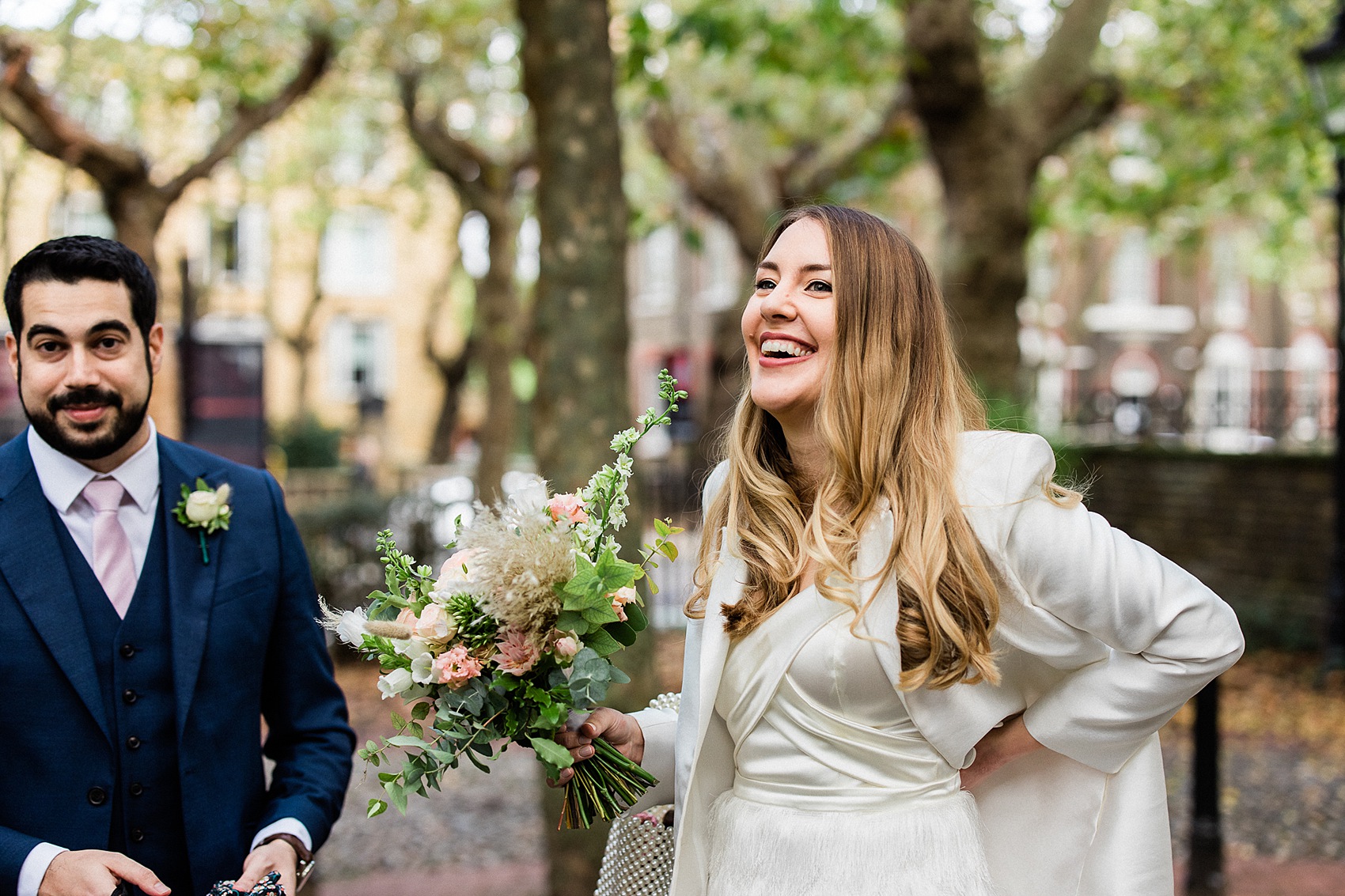 "For a city wedding I knew I wanted a blazer and Halfpenny had the perfect one, teamed with a textured pencil skirt that swished as I moved and a flattering corset top – each piece was very different but worked perfectly."
"Halfpenny do the big show-stopper gowns but they also specialise in really interesting separates."
Visit the Halfpenny London website and explore all the beautiful bridal designs
"An hour playing dress-up in the beautiful boutique with a glass of fizz is a dreamy experience!"
"The girls in the store are lovely and endlessly patient. They are also great when it comes to sizing and are inclusive."
"Because we were having a small, low-key city wedding, I didn't want anything too OTT. If trousers suited me (they just don't for some reason!) I would have gone for a chic trouser suit."
"Instead I opted for amazing separates from Halfpenny London. I love Halfpenny's designs, they somehow manage to be fun, unique and elegant."
"My favourite part of the day was arriving at the registry office and seeing my friends waiting outside. Seeing their gorgeous smiling faces and feeling the love!"
"We were originally supposed to have a small wedding in London followed by a big event in Spain, but we had to cancel because of Covid."
"Instead, we managed to sneak in our small wedding in between national lockdowns. I booked everything about a month before so in some ways it was the most low stress wedding ever. We just went for it."
"We were allowed 8 guests who all wore masks and stood socially distanced for the ceremony in the registry office. It was very quick, the registry offie whizzed through the ceremony and wanted to allow plenty of time between weddings to clean."
"We then had a meal at a private room in the Fentiman Arms with the 10 of us in total."
"It is stressful and somehow feels like it's putting life on hold. But once the wedding day comes, no matter how small or different to how someone has imagined, it's still special. It's the relationship that matters."
And this drama is part of each couples' unique story – I always think it's something interesting to tell the grandkids!"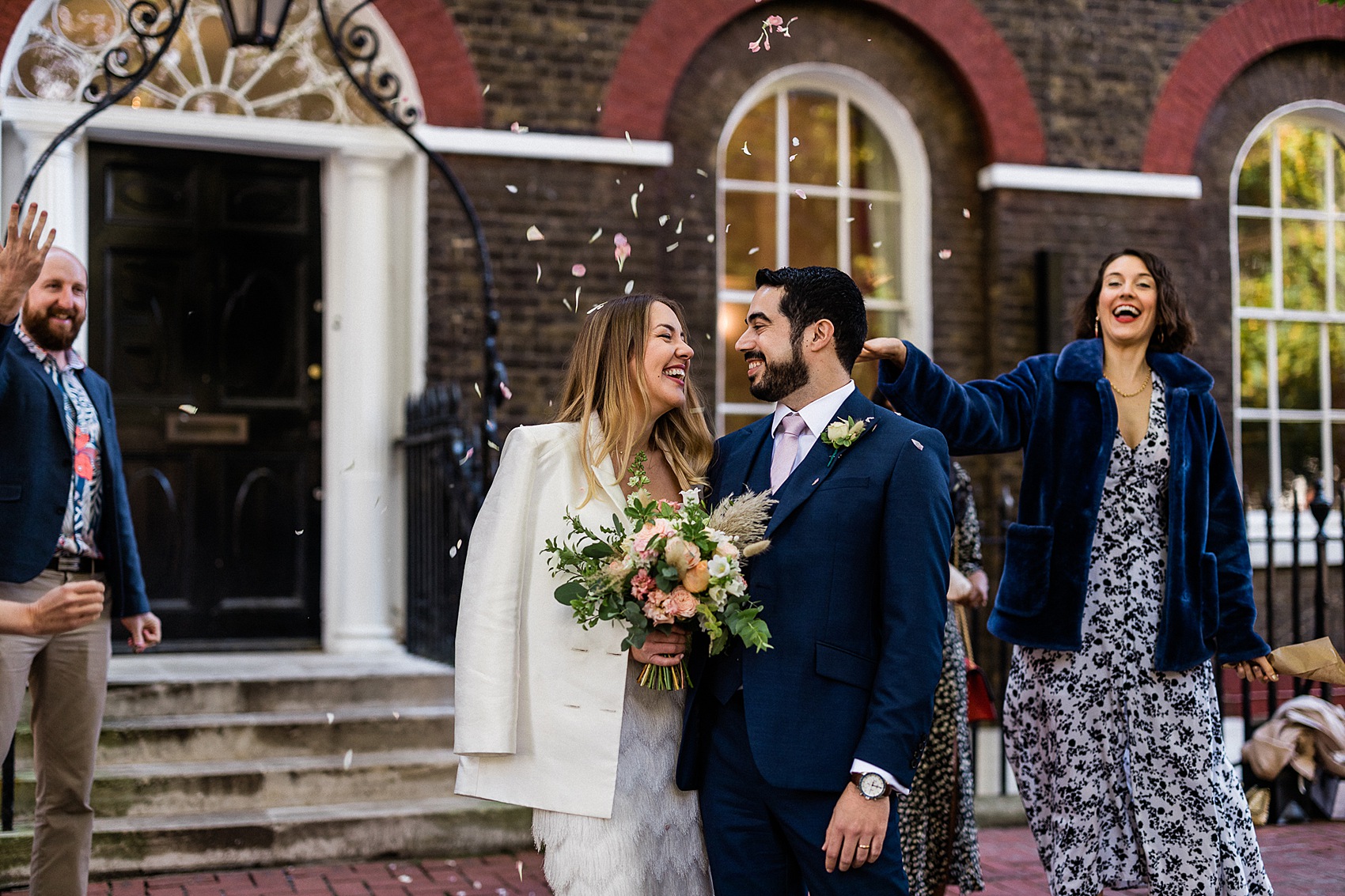 "And there could be opportunities to renew vows in a special way in the years to come or throw big anniversary parties. There are plenty of ways to celebrate!"
"We met on the Inca Trail trek to Machu Picchu rather randomly. I was travelling and he was on holiday and we hit it off instantly."
Stay in the know – join our mailing list.
"Gus was based in the US at the time and I was based in London so we went back and forth for a year, before Gus moved to London."
"Two years later we got engaged on holiday in The Maldives (very lucky!) and were engaged for two years before our wedding (Covid is partly to blame for how long it took us)."
"I had bought some high Sophia Webster shoes but on the day they felt too much. So I ended up wearing a pair of white sling-backs I already had from Zara!"
"After all the stress of cancelling the original wedding, I really didn't sweat the small stuff this time round."
"Lily Kamper designed my engagement ring and my wedding ring. She's a brilliant local jewellery designer in Brixton. She either does bespoke or she has a capsule collection of rings."
"I tweaked one of her original designs – they're so beautiful with an Art Deco twist."
"I kept things very simple. I wore a pair of diamond earrings which my mother-in-law gave me as a wedding present. They're beautiful and antique, they've been in the family for hundreds of years. They were my something old."
"For my something borrowed, I wore a simple diamond necklace belonging to my sister from Tiffany."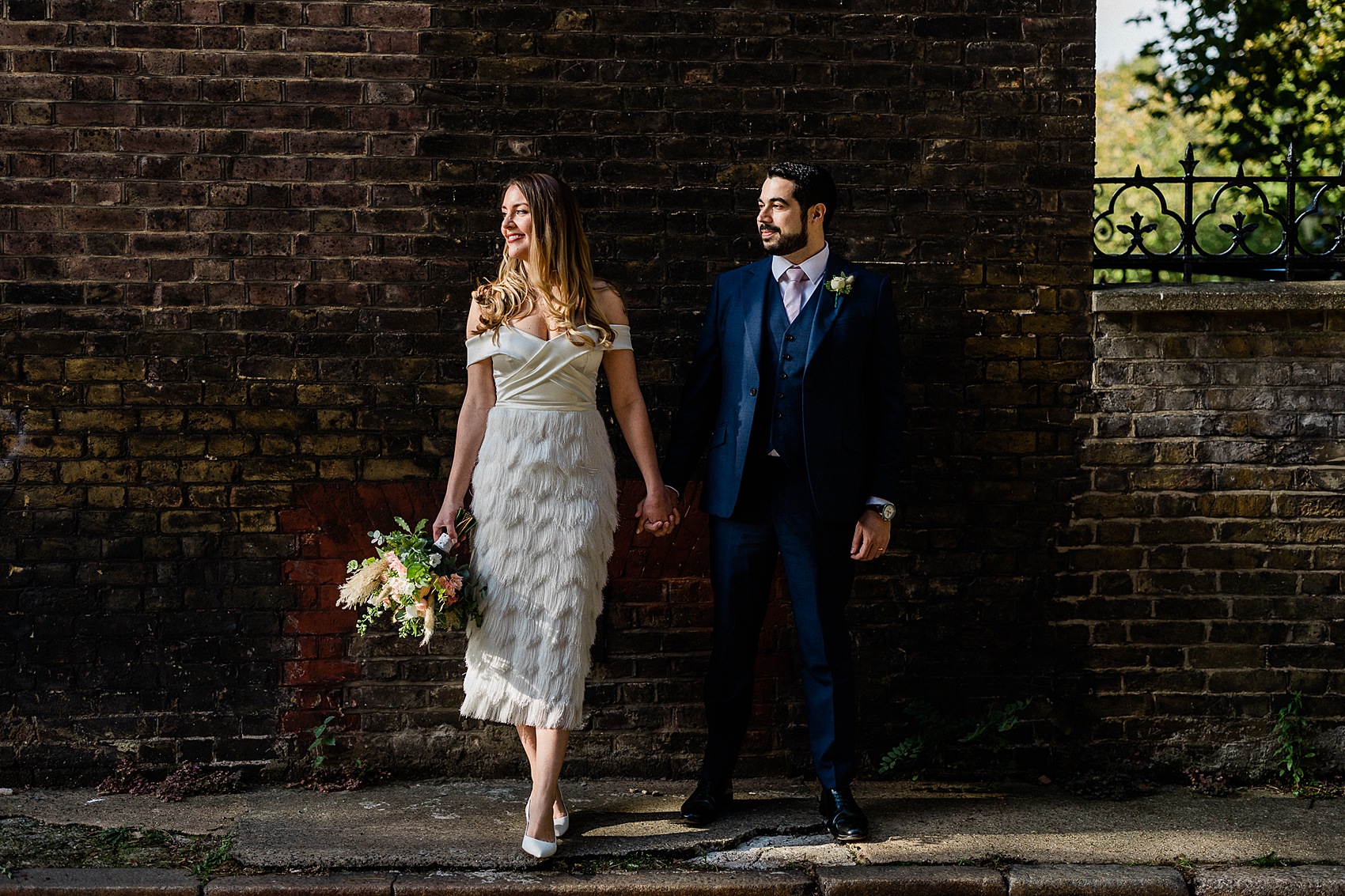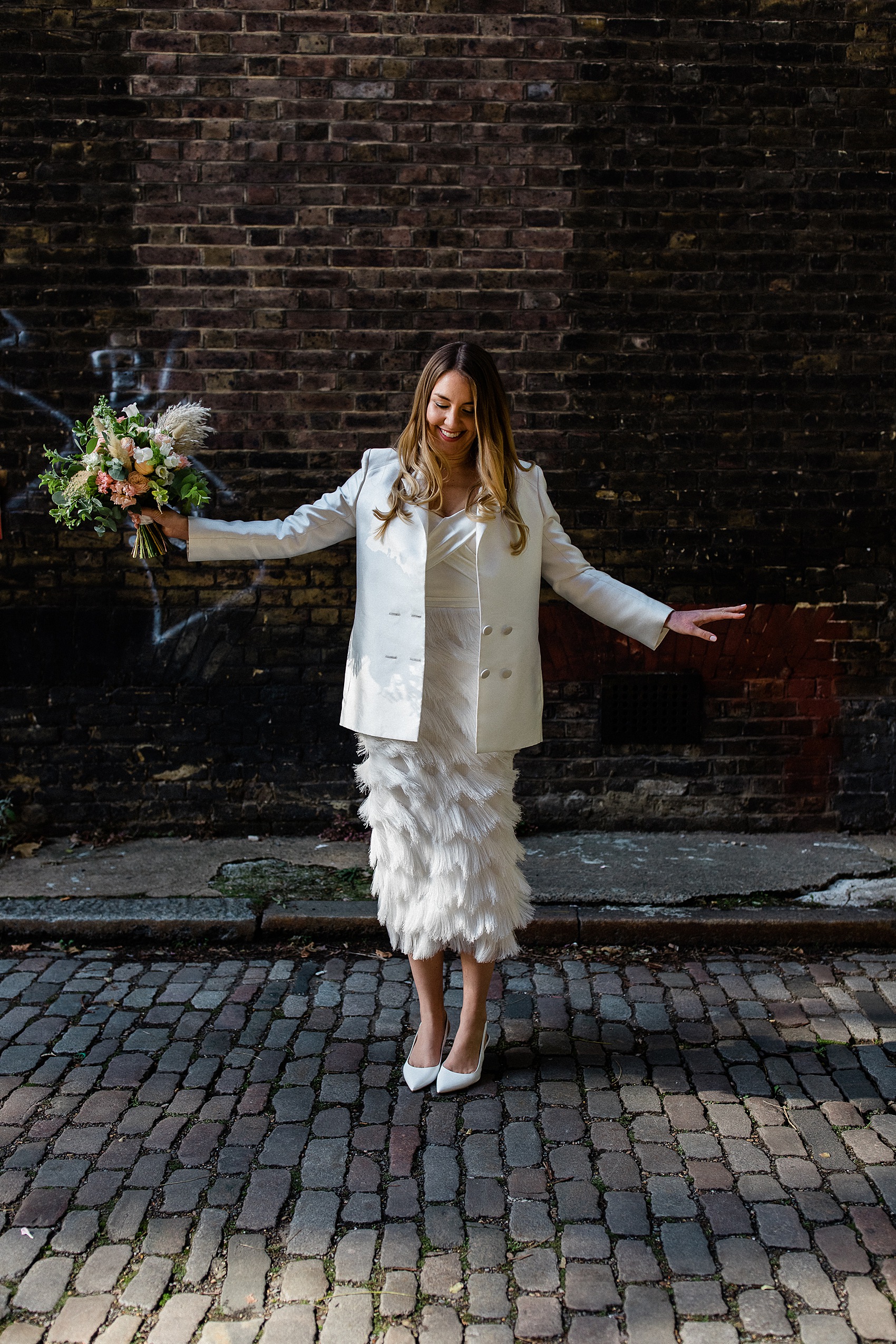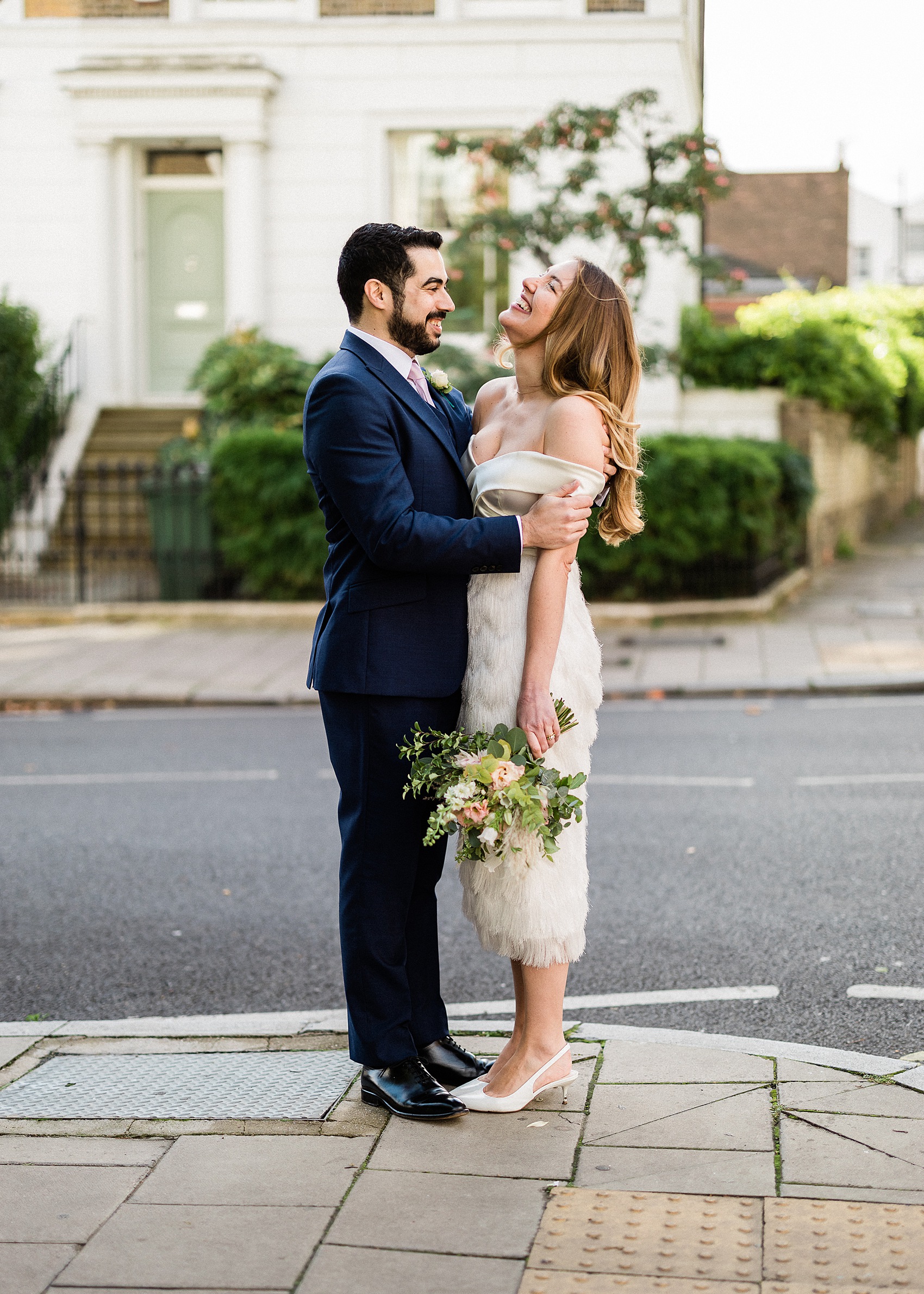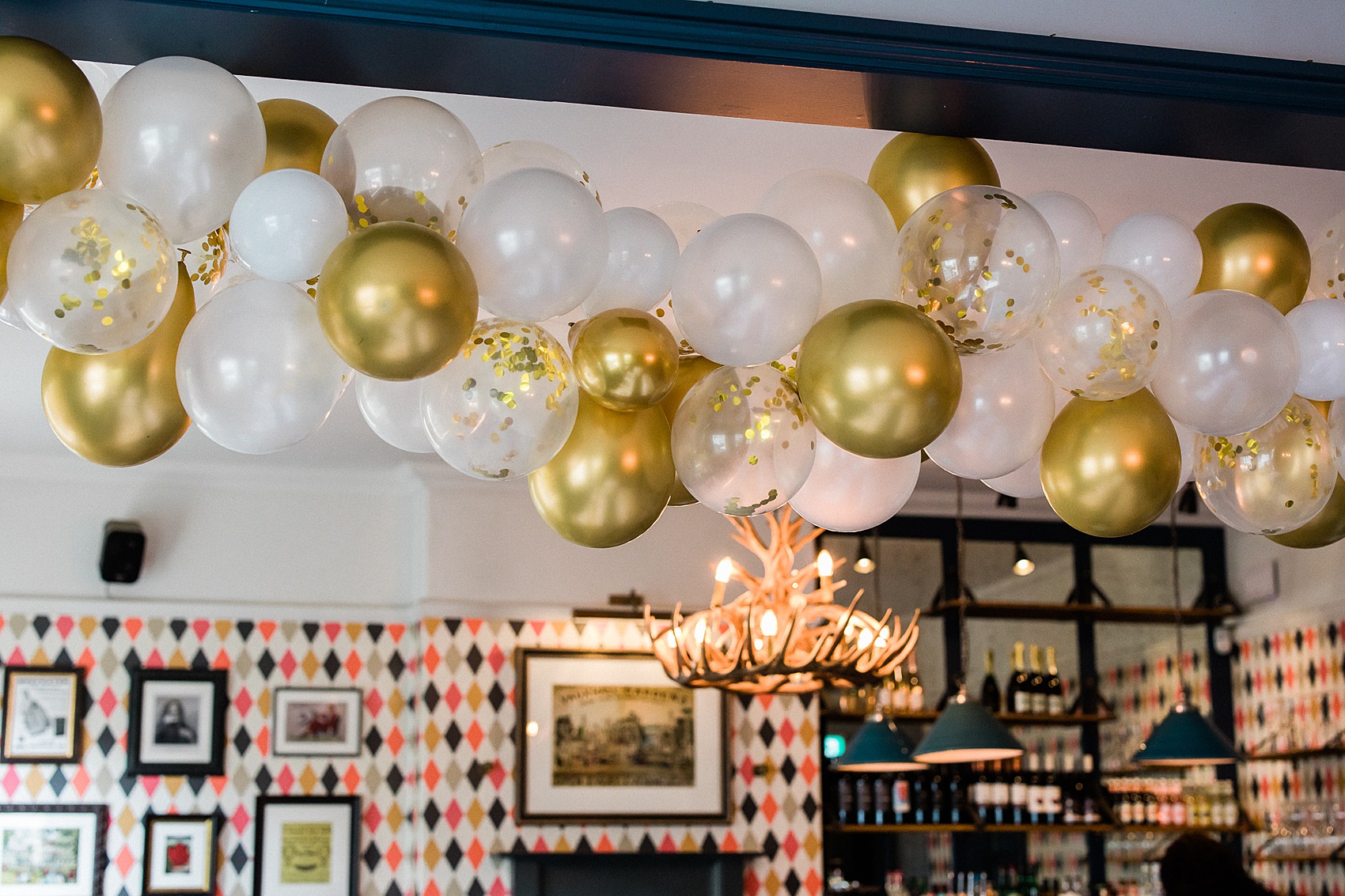 Words of Wedded Wisdom
"It was the most relaxed day, filled with love and the last minute nature of it took the pressure off and made me realise a wedding really doe sn't have to be stressful. I had my favourite people, a gorgeous outfit and a brilliant day at my local pub."