Days like this fill my heart with joy. The sky is blue, the air is fresh and crisp and all around us, daffodils are beginning to flower.
It's easy for me to get lost in a countryside dream, especially when today's wedding sees floral beauty join city slick. We're heading to London's historic The Ned for a celebration which combines low key glamour with soft, fresh blooms.
Please meet Casey, a global communications manager for NET-A-PORTER and Keir, a visual effects artist, who chose London's The Ned for their wedding on 2 June.
Inspired by the elegant 1920's architecture of the building, they styled their wedding along the lines of low key luxury, adding in beautiful, soft blooms in pure white to soften the stone lines and high ceilings of The Ned.
Dress by Halfpenny London

+ Follow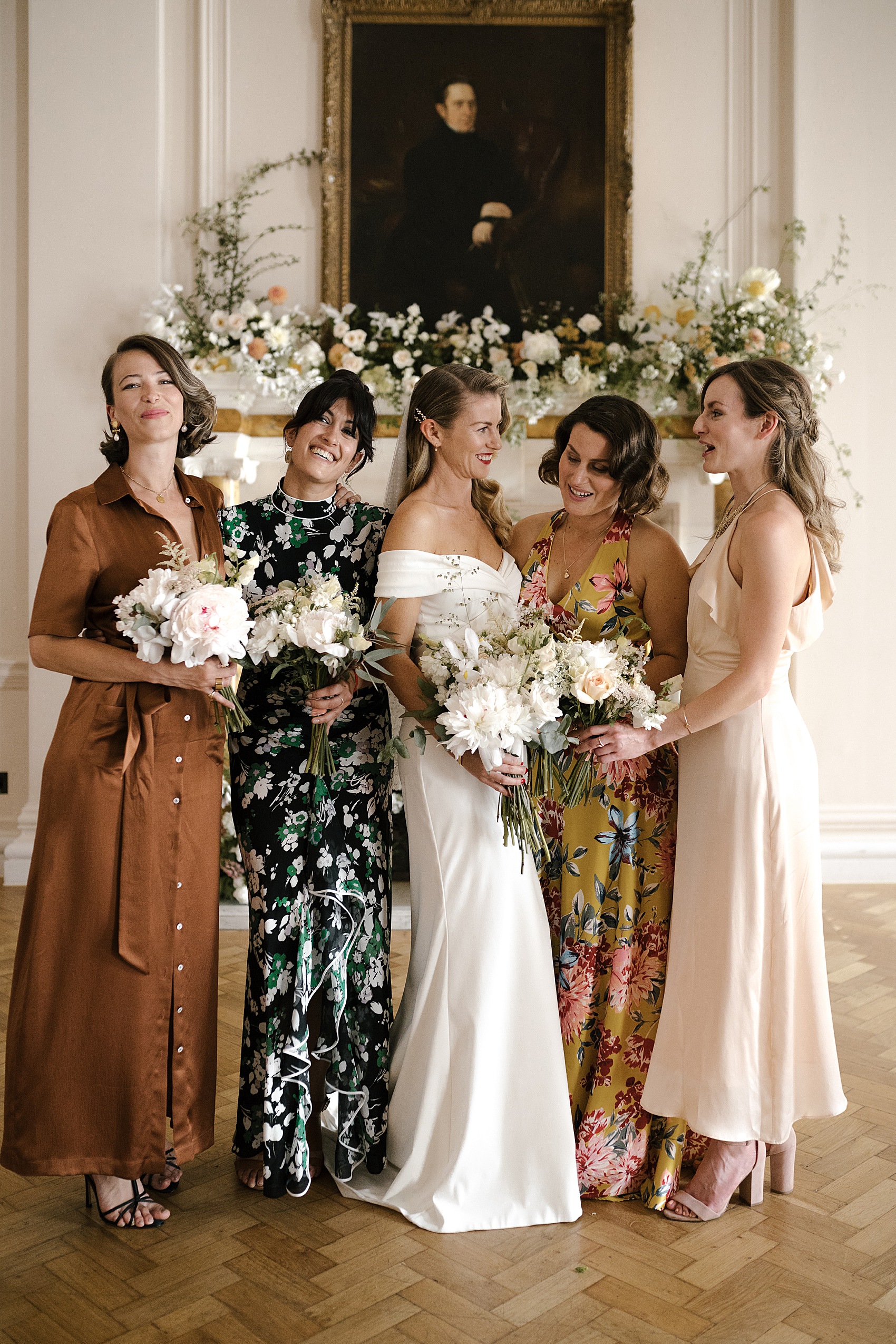 "We went through a few options for the venue. We looked at a few in the South of France as some of my family live there, as well as where I grew up in Guernsey."
"In the end, London as a destination felt much more 'us' as it's the city that we met and were planning to return to live ahead of the wedding."
"The Ned had recently opened and we were blown away with the impressive scale of the building and all the beautiful interior, heritage details."
"As a Grade 1 listed building that was originally a bank, so many of the original 1920s features are still intact, meaning that the venue needed very little in terms of decoration."
"Some of our favourite details include the Tapestry Room where we had our wedding breakfast, the beautiful green marble pillars and the original bank vault door which leads to the private members' club (where we continued the wedding in the early hours)."
They worked with The Ned's events team to plan the day, taking a huge amount of inspiration from its 20s vibe.
"The venue inspired so much of the overall theme. I took the colour palette from the venue and everything flowed from there. We wanted to create a day that felt timeless, low-key luxury, but most of all relaxed so that everyone could be themselves and enjoy it."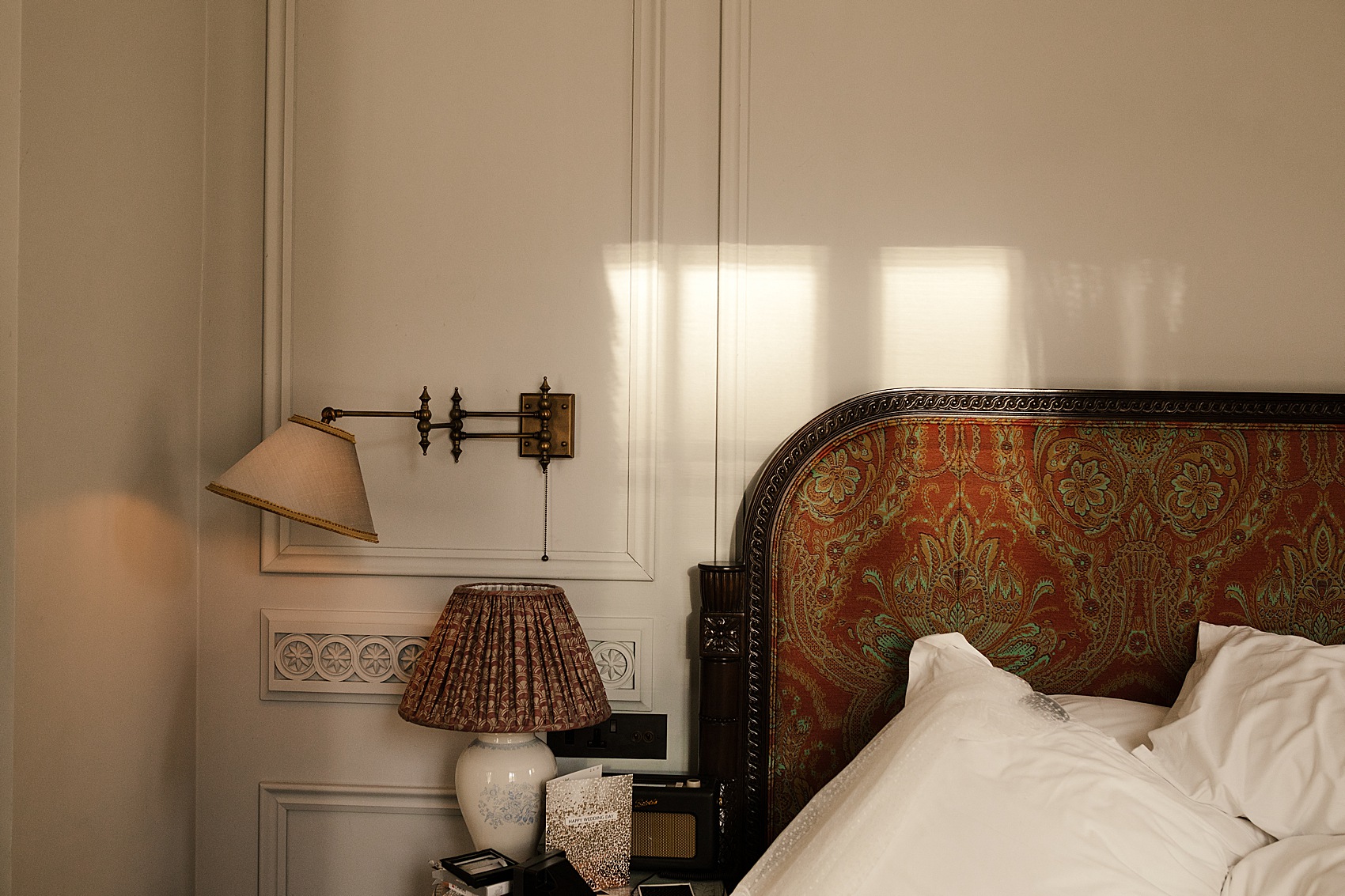 "My friend Poppy France did my makeup, using mostly all-natural products and brands. We chose to do a classic red lip as I always wear a lipstick when I get dressed up. For me, a lip puts the full stop on an outfit."
"I matched the lips to red nails and a clean look for the rest of the makeup. I was also very lucky to have my friend Jules Von Hep do my tan for me, using his amazing tanning brand Isle of Paradise. His organic tanning waters are truly revolutionary and made me GLOW!"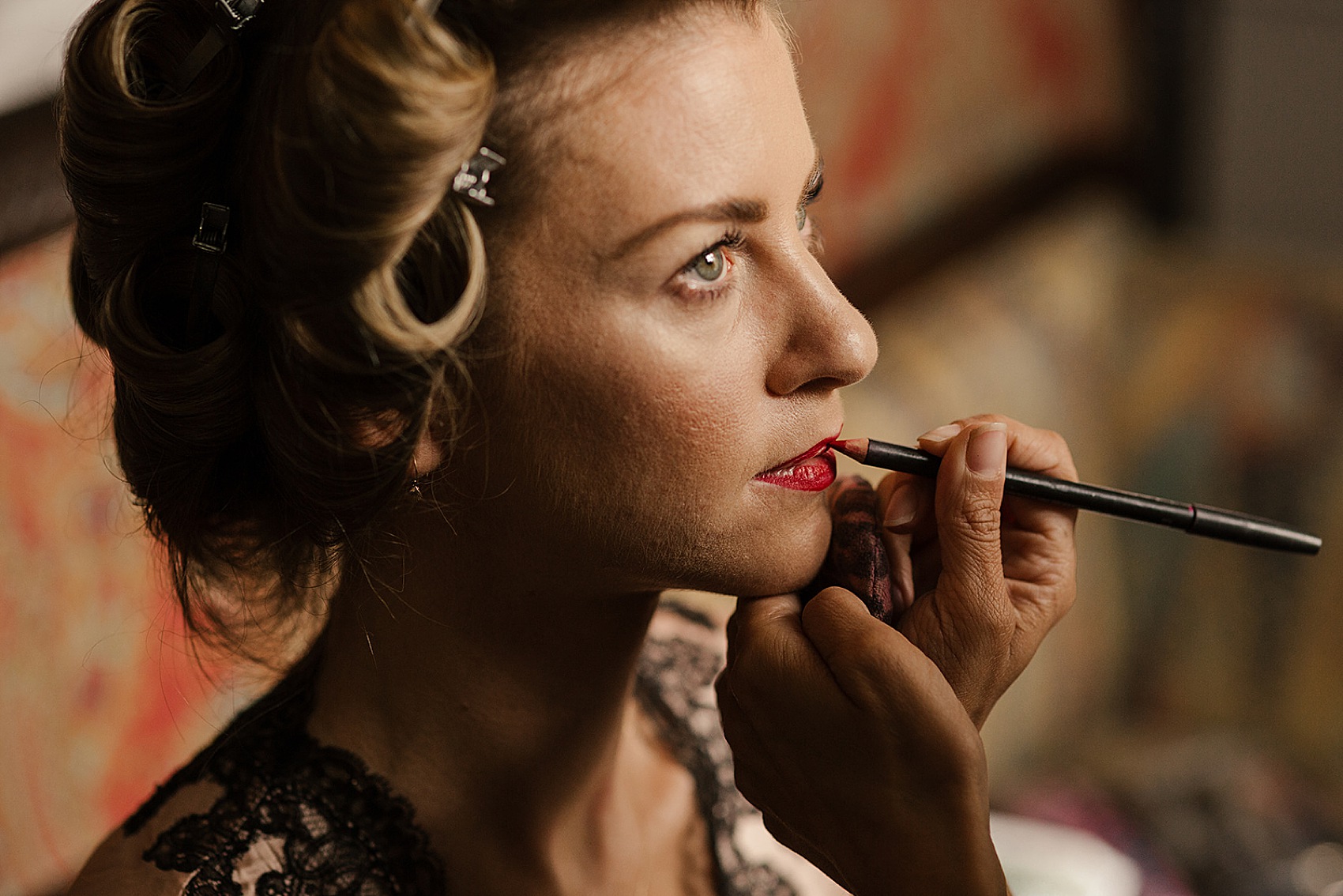 The bride's four friends accompanied her, looking utterly elegant in a variety of colourful gowns.
"I had two maids of honour and two bridesmaids and asked them to choose their own dress based on a colour palette. I wanted them to feel their absolute best. They chose RIXO and Zimmermann from NET-A-PORTER, Marina London and Anthropologie."
Each woman carried a wonderfully wild and natural bouquet of seasonal white and peach flowers and leaves, styled by The Flower Appreciation Society.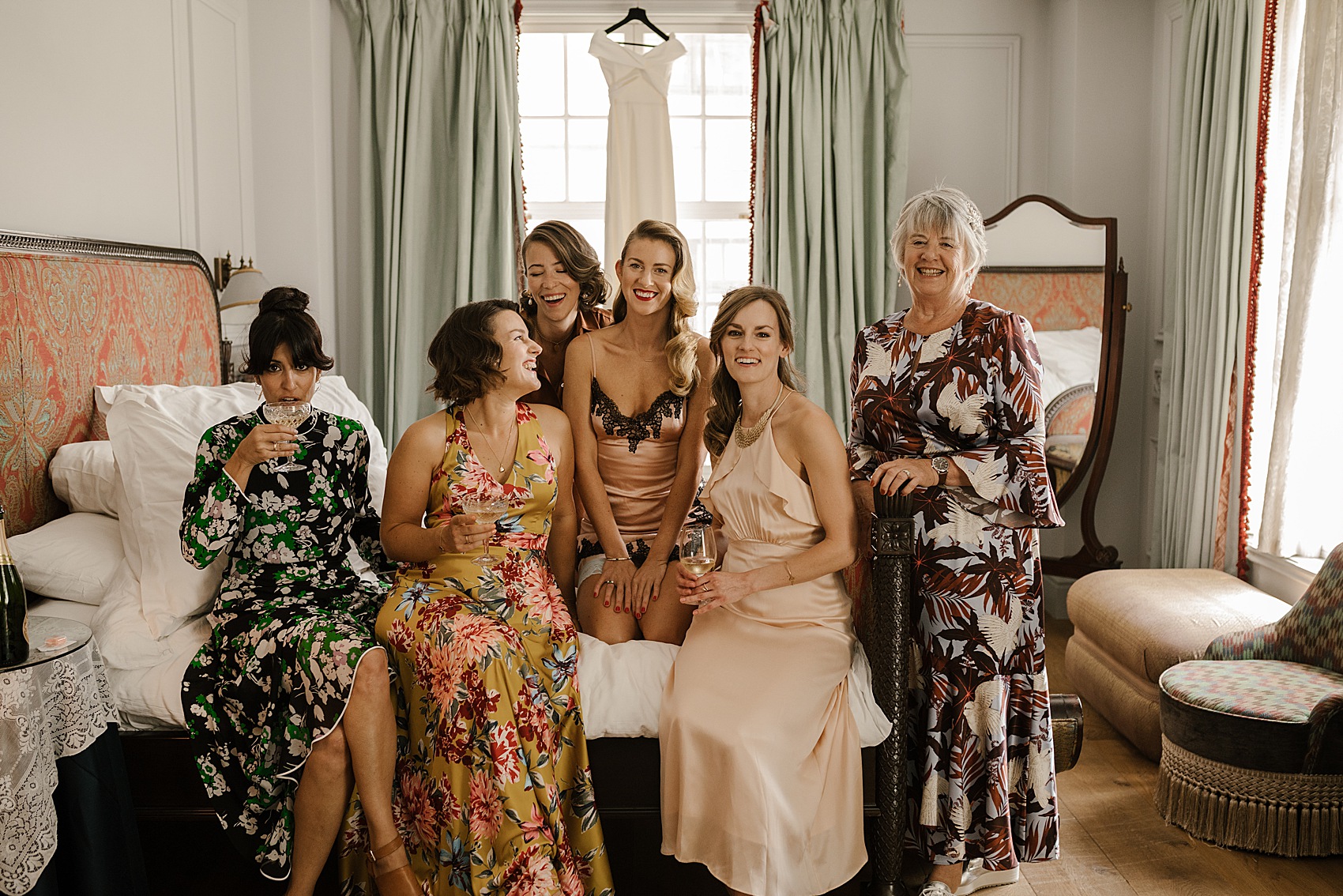 "June is such a great season for fresh British flowers, which is what The Flower Appreciation Society specialise in. I've known Anna and Ellie for a few years and they've helped on a few of my work events. I love how they grow their own in their De Beauvoir florist."
"My brief was whites and peaches with as many peonies as the budget could cover. They created a stunning fireplace feature, along with wildflowers at the edge of the aisle. My bouquet was mostly whites and a bit wild – perfect."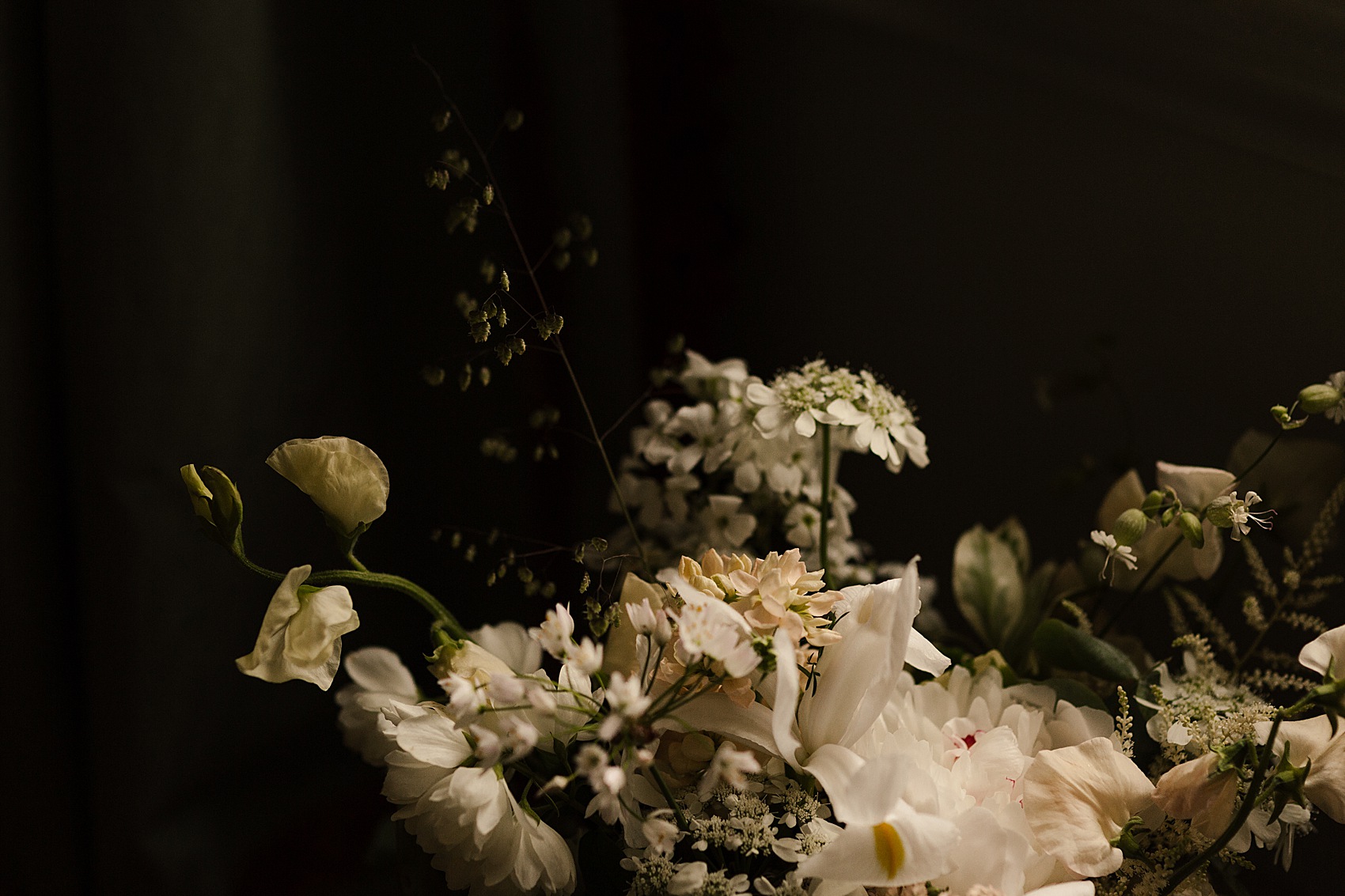 I am so happy to hear that Casey visited Love My Dress regularly throughout the planning stages and, like us, fell in love with Halfpenny London, a designer who we are so, so proud to support. Kate Halfpenny's designs are pure luxury; simple lines, beautifully cut with contemporary details and feminine styling.
"I visited Love My Dress regularly – it was on my weekly research list. We share a love for Kate Halfpenny so I always enjoyed the New York Bridal Week wrap-ups, where I would study the new designs until one day I saw one I couldn't get out of my head. It ended up being the 'one'."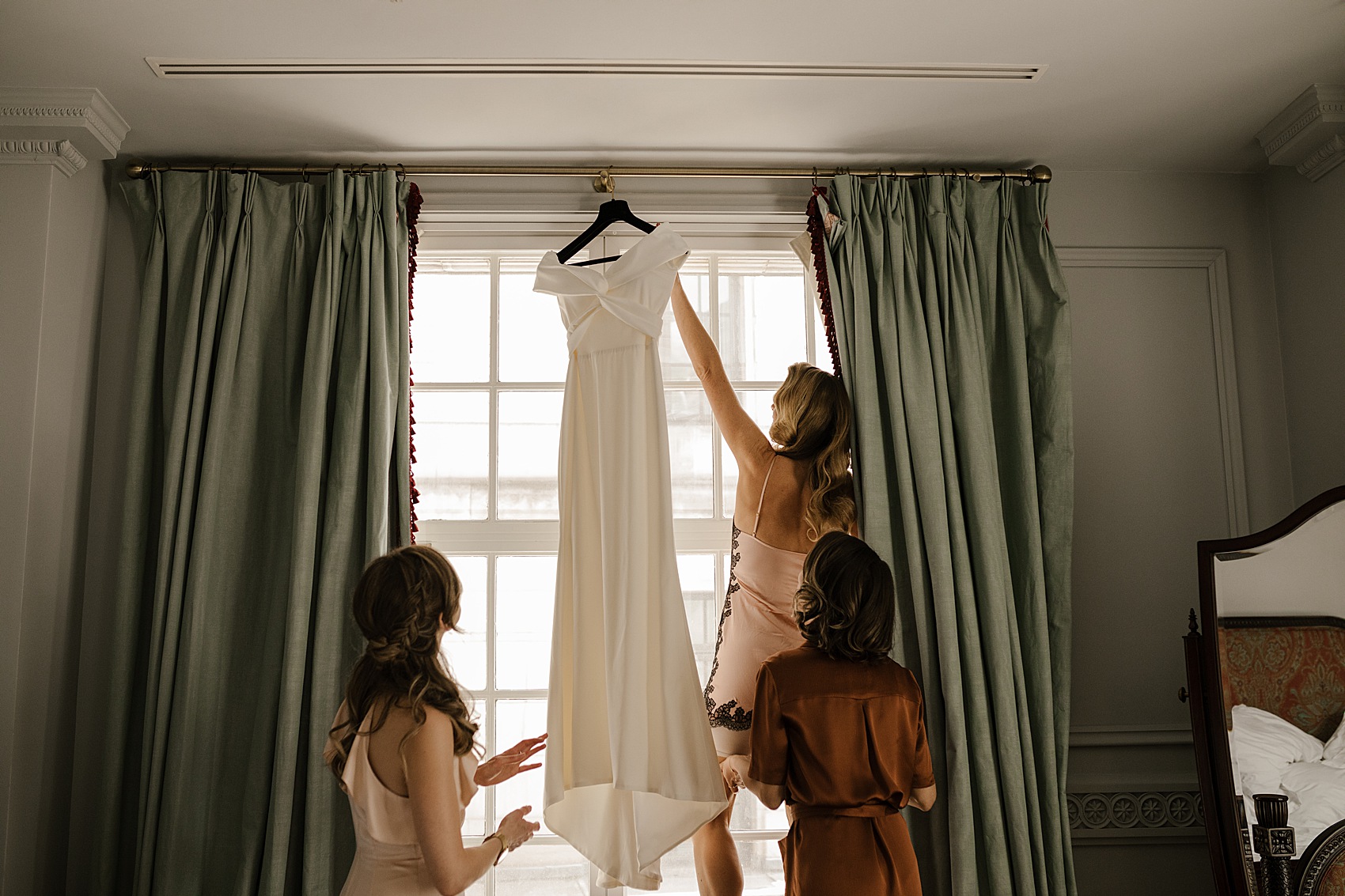 Over to Casey to share how her Halfpenny London gown made her feel, which demonstrates just how fabulous this designer is. To find out more, I'd love for you to visit her Little Book Wedding Directory listing here.
"I chose the 'Daffodil' style from Halfpenny London after a few appointments in Sydney and in London at various bridal boutiques. I had spotted the style from the Halfpenny presentation in New York Bridal Week but it's so hard to tell if something will work just from a picture."
Explore many more beautiful dresses on the Halfpenny London website
"My mum and two of my bridesmaids were there when I tried it on for the first time and I could just tell instantly that it was perfect, mainly because I felt so comfortable and myself in it. The material was a stretch, duchesse, matte satin which meant I could move freely and dance all night."
"It was so special to have my mum and some of my closest friends there for this moment. The whole team at Halfpenny London were a joy, making the experience feel special but completely relaxed."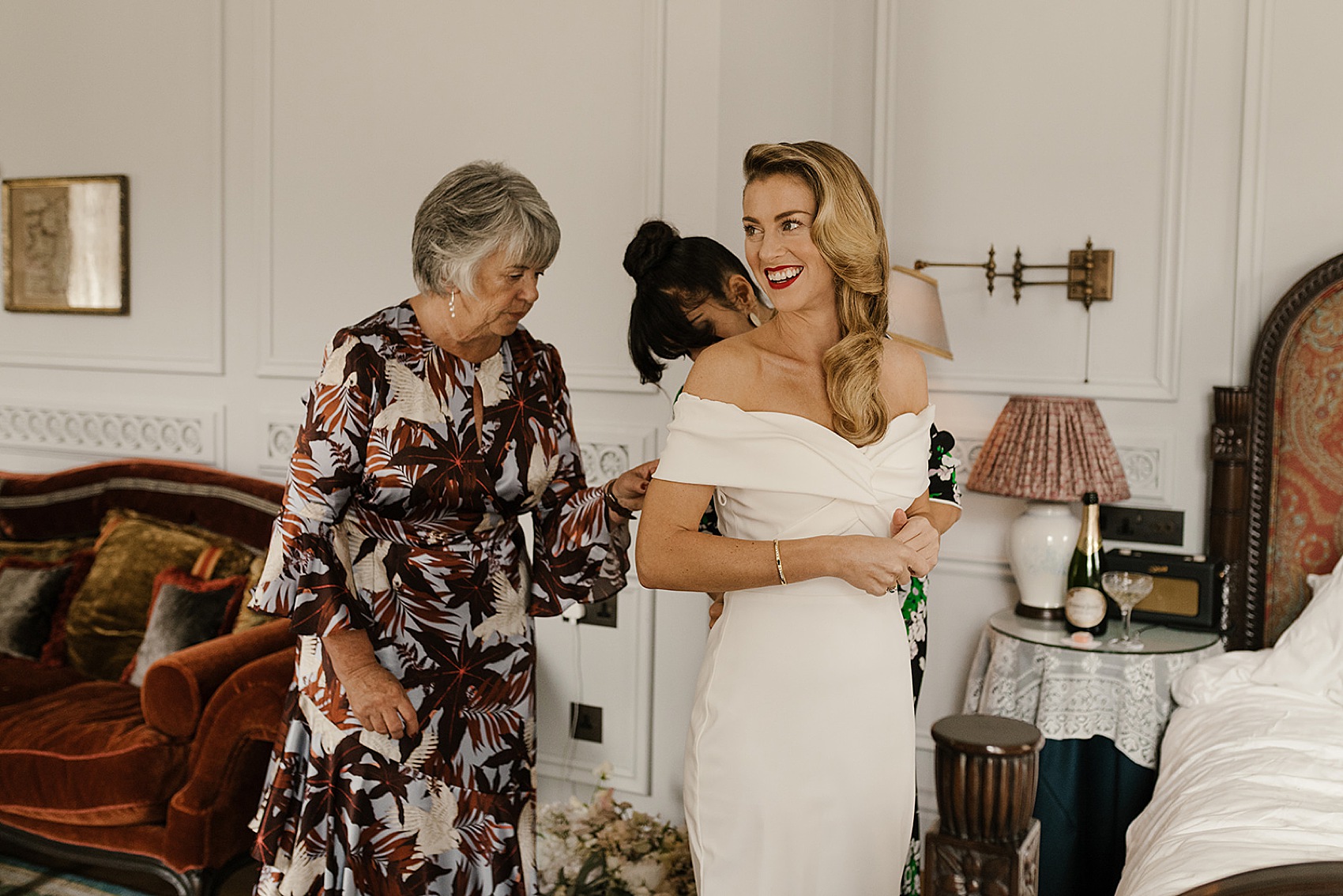 Continuing the 1940s-starlet vibe Casey's hair stylist, Alex Szabo Hair, created a wonderful era-inspired wave.
"I was worried that the final result might look too 'vintage' but I was so pleased with how everything came together on the day. I had two pearl and gold slides from Anthropologie which pinned back my hair."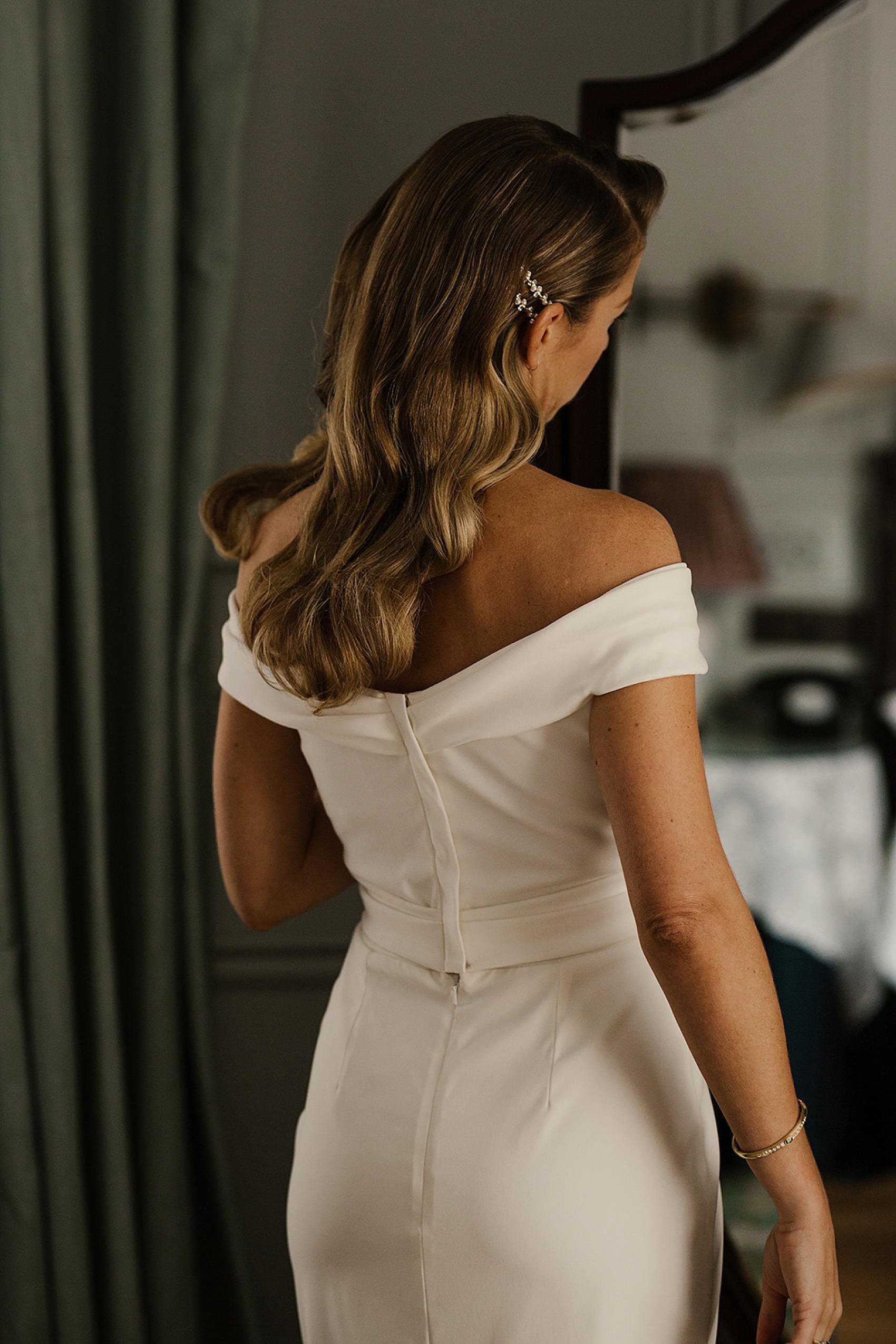 "I knew I wanted to feel timeless and accentuate the best bits of my body. I'm quite petite but curvy so fitted styles are the most flattering for my shape."
"I loved the way the dress accentuated my curves, making me feel like a 1940s Hollywood starlet! As the dress was quite clean, I wanted to add a few pops of colour with a classic red lip and nails."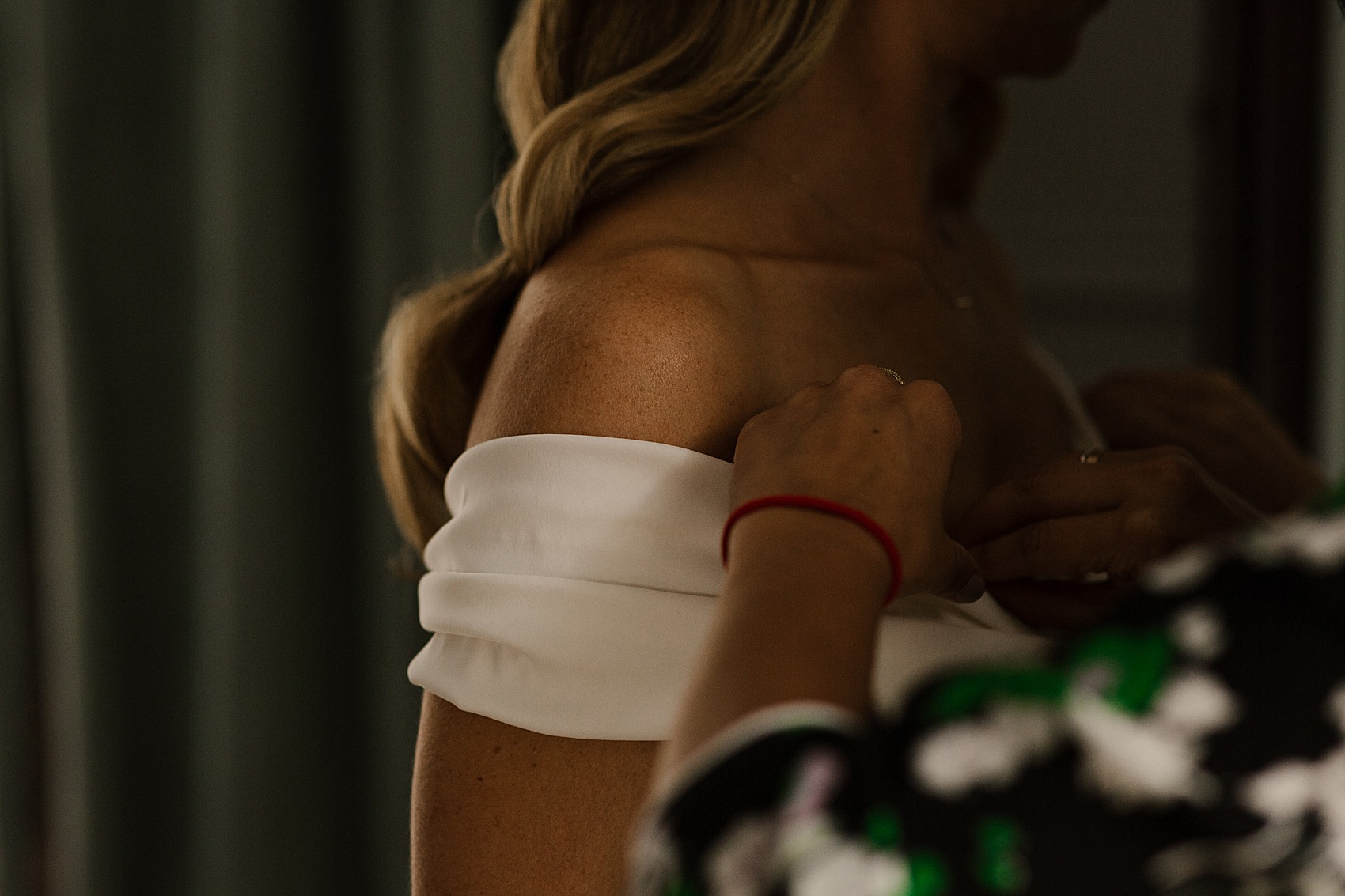 To match her nails and lipstick, Casey selected a fun pair of Aquazzura heels with a red cherry and floral pattern and more florals came from her fragrance, Le Labo Rose 31.
"I loved the classic floral with a masculine edge. It made me feel confident."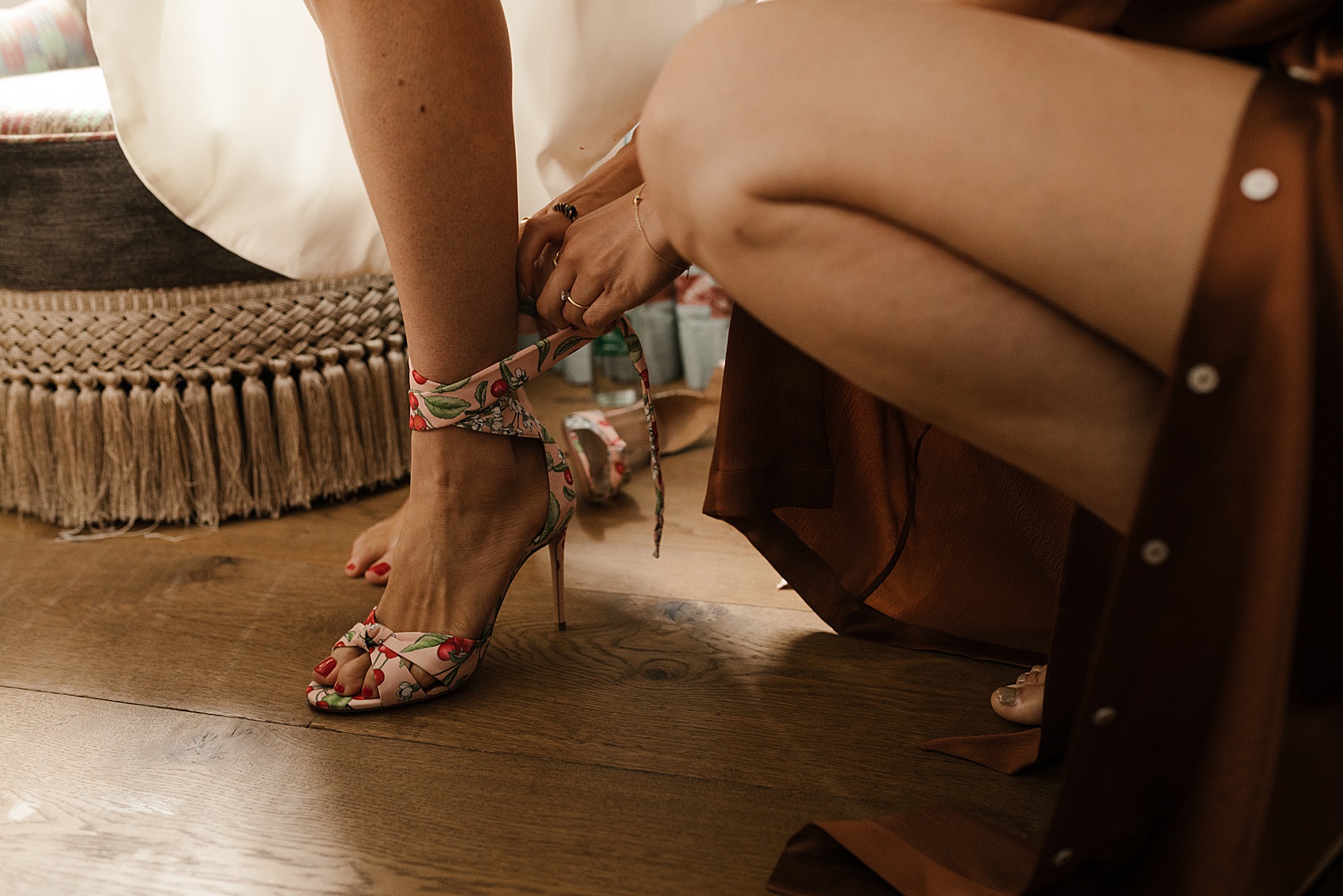 "I have adored my nana's gold diamond and emerald bangle since I was a child. It was a gift from my grandad to her on their 50th wedding anniversary (they were married for nearly 70 years)."
"The morning of the wedding, my nana came to visit my room where we were all getting ready to lend me the bangle for the day."
"However, to my surprise and delight, she said it was a gift. It was such a special moment which I'll treasure forever. The bangle matches my engagement ring perfectly and now I have something from my grandmother and from Keir's."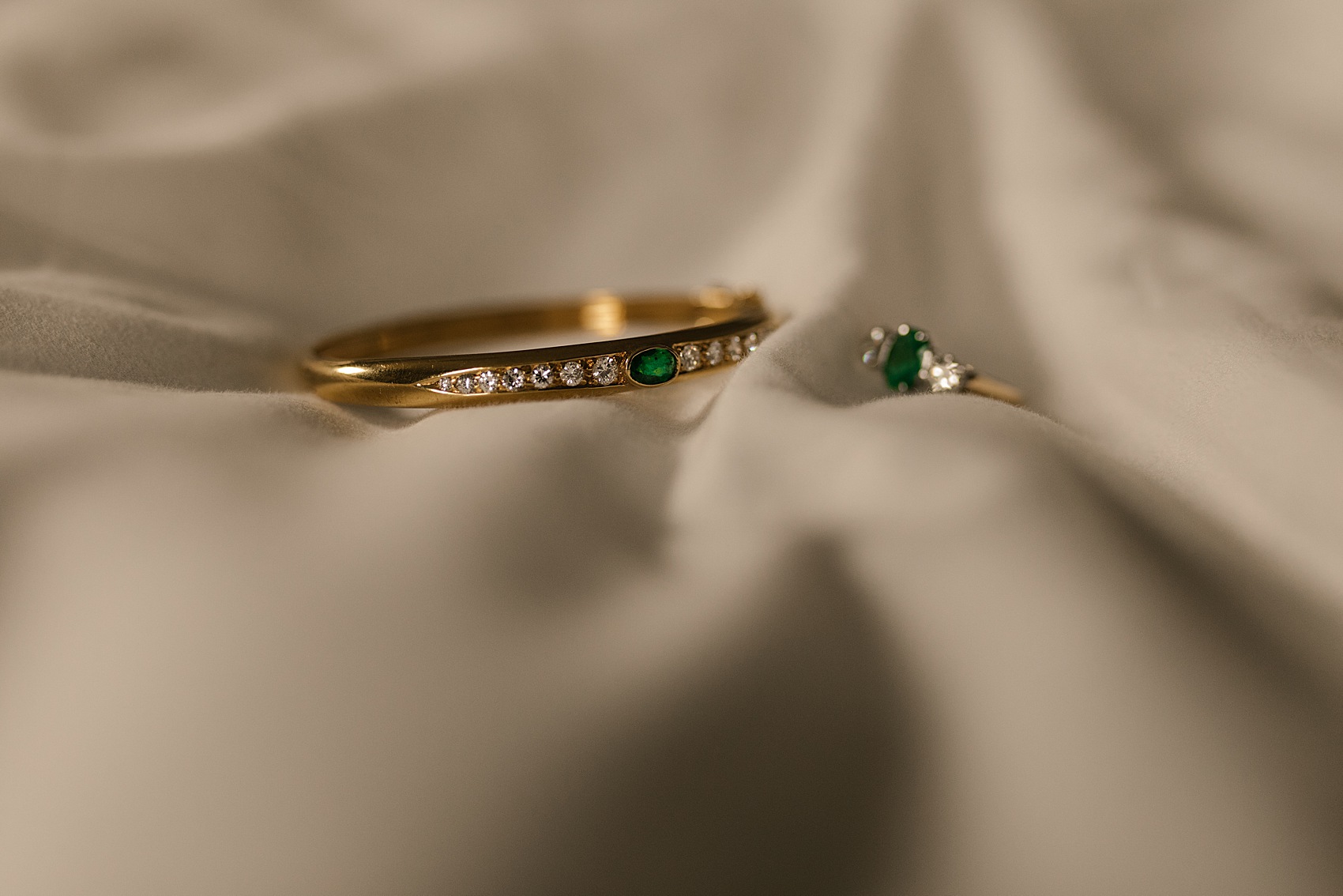 The couple were engaged in Tasmania, Australia, where they were on a long weekend break from their home (at that time) in Sydney.
"Keir had secretly booked a cute beach house near The Bay of Fires as a surprise. The Bay of Fires was stunning. Imagine sweeping white sands and turquoise ocean with amazing bright orange lichen on the rocks."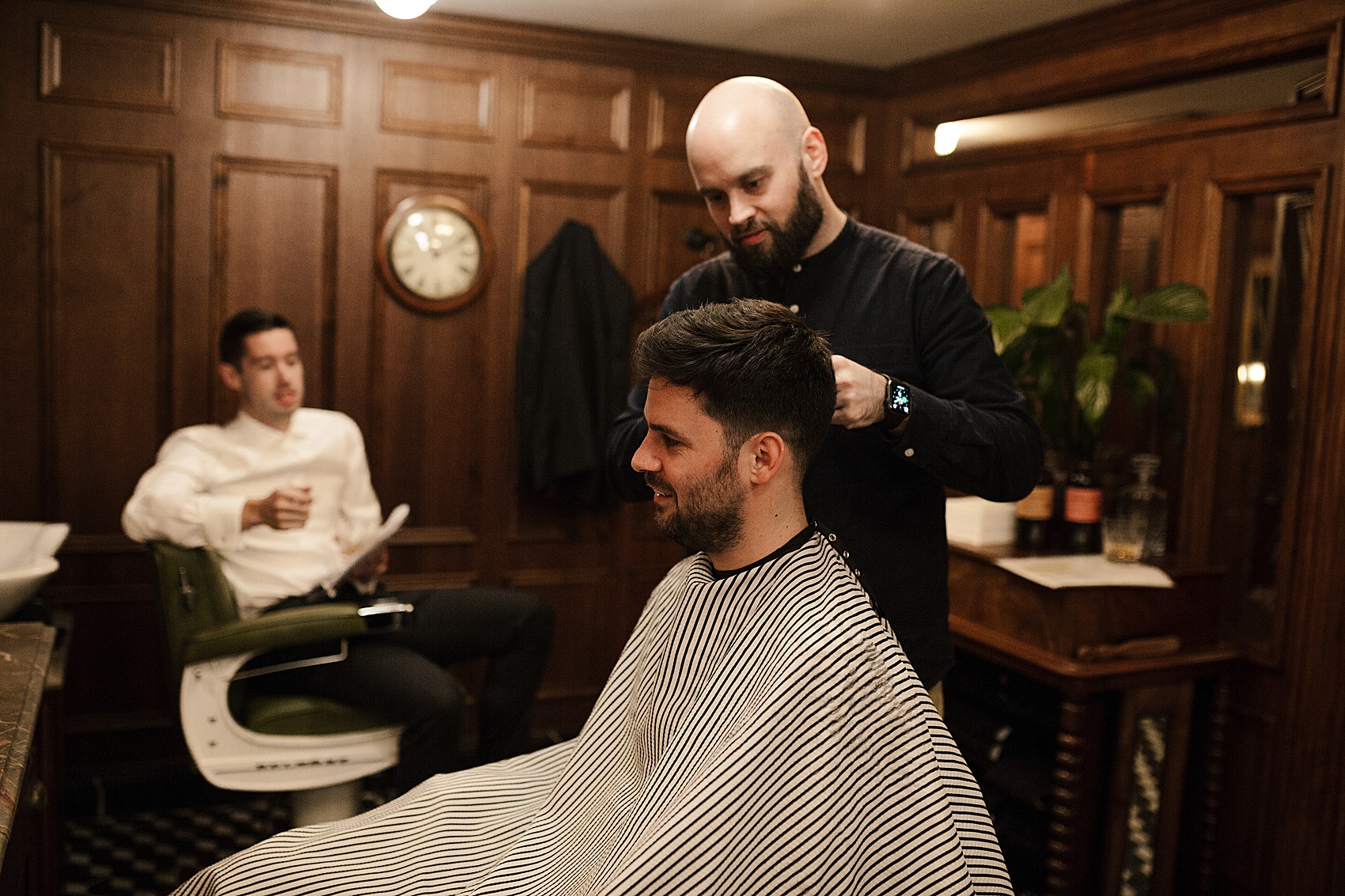 "We had it all to ourselves and sat together on a rock where he proposed with his grandmother's emerald and diamond engagement ring. I have always loved emeralds, so I couldn't believe my luck." 

Keir chose his wedding suit in collaboration with the bride, opting for a navy Paul Smith suit, bold, floral tie from Burberry and Church's shoes.
"He consulted with me on everything which was so much fun as I could see the whole wedding party come together. I also love how he opted for classic British luxury as it really complemented the feel of the wedding and the venue."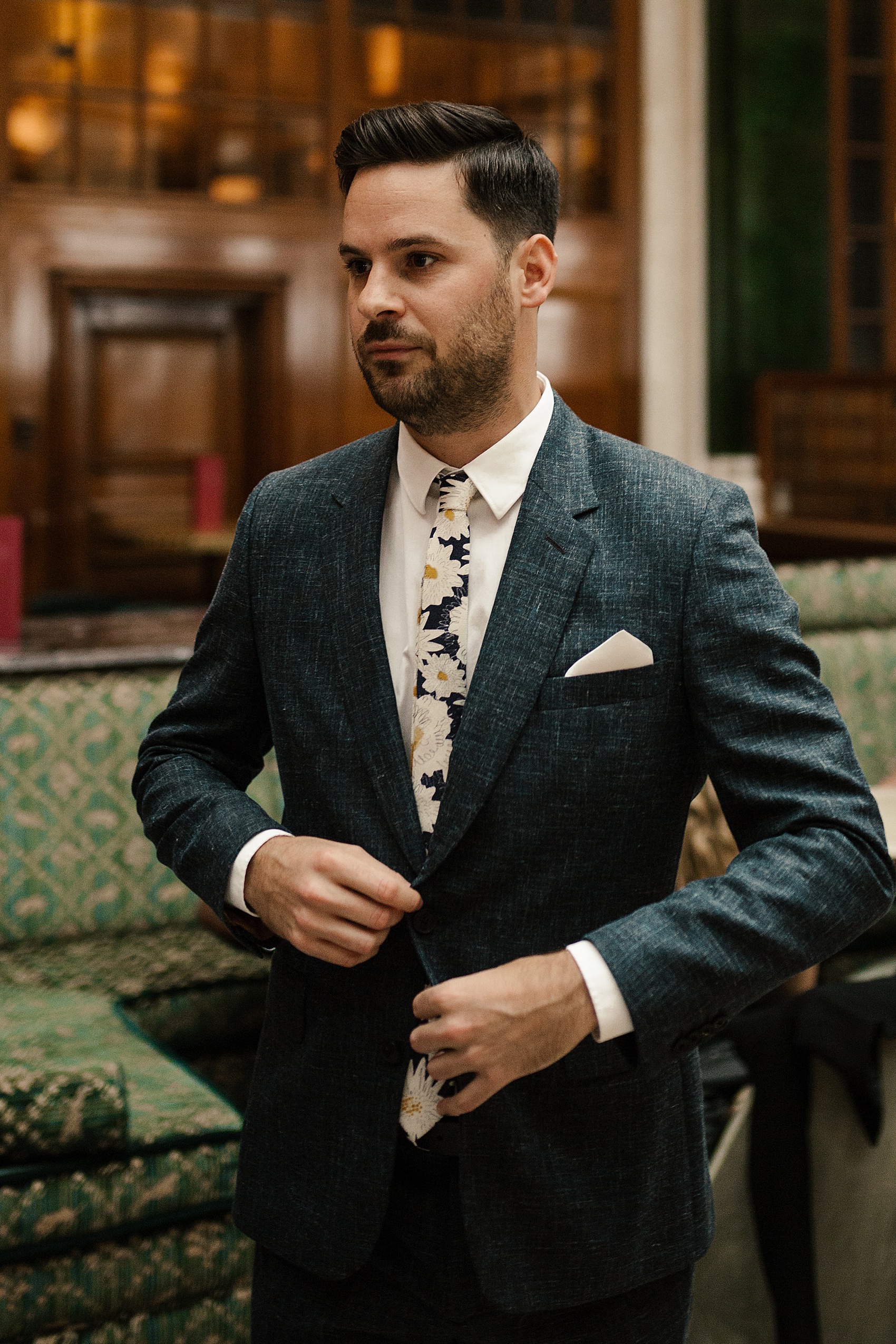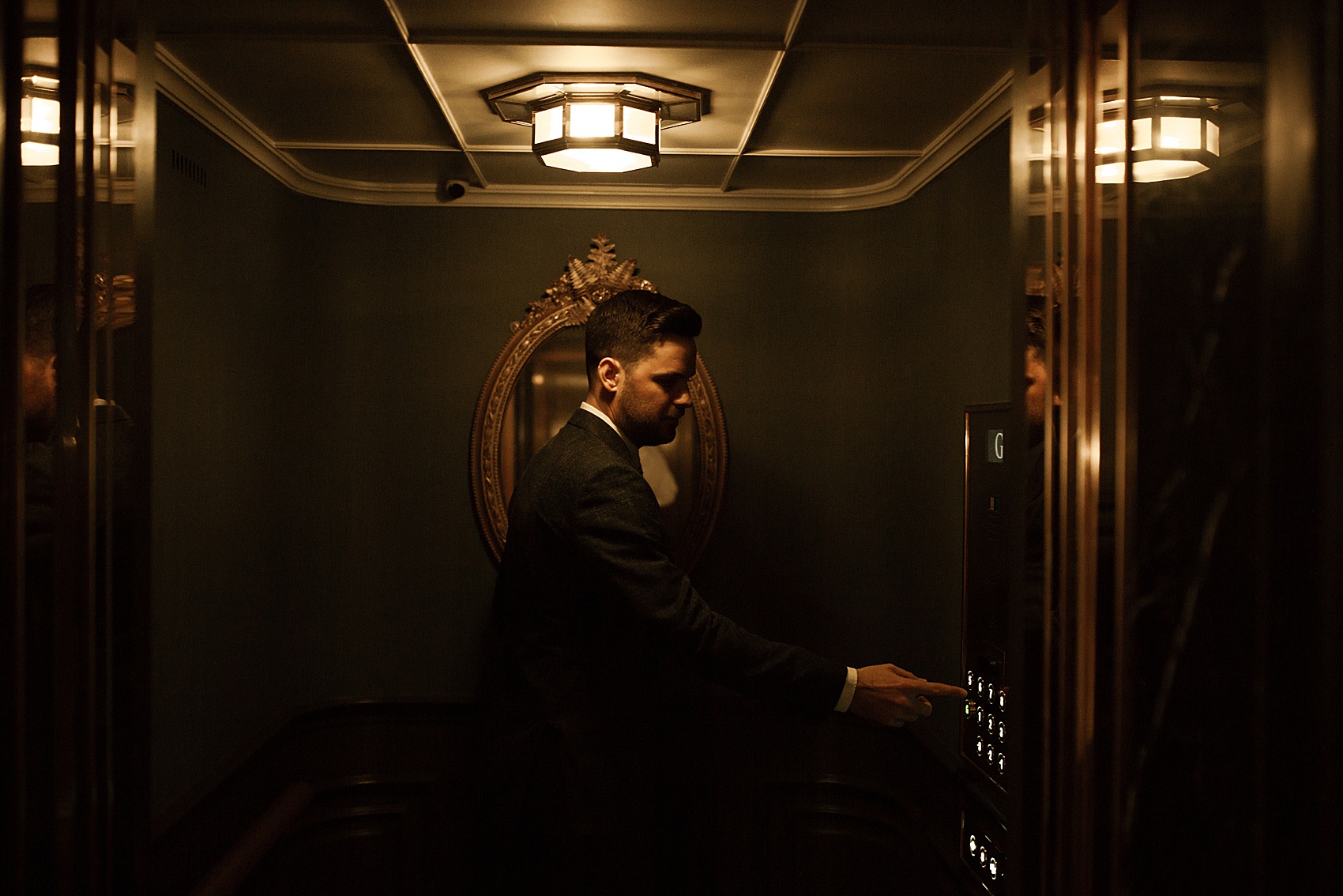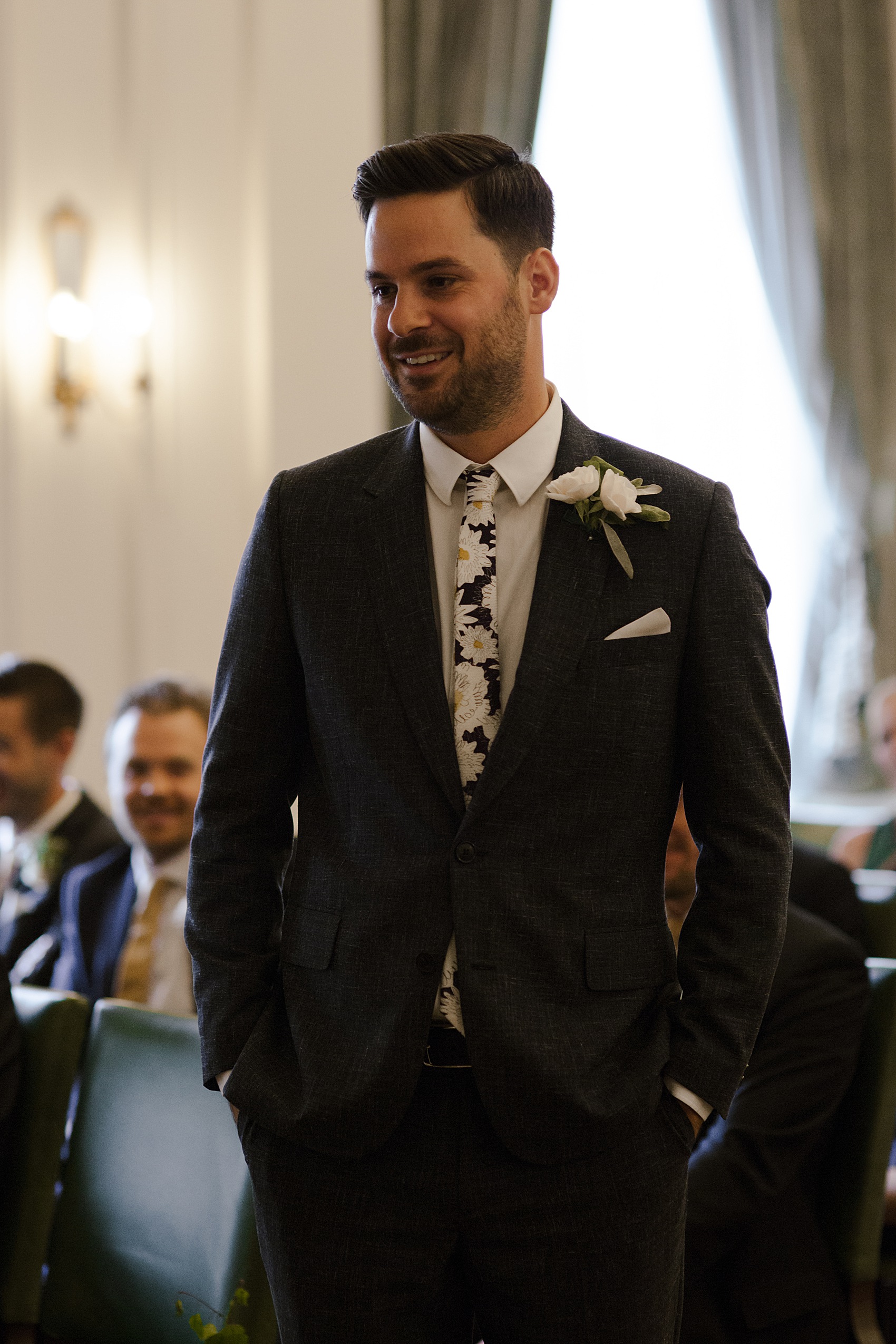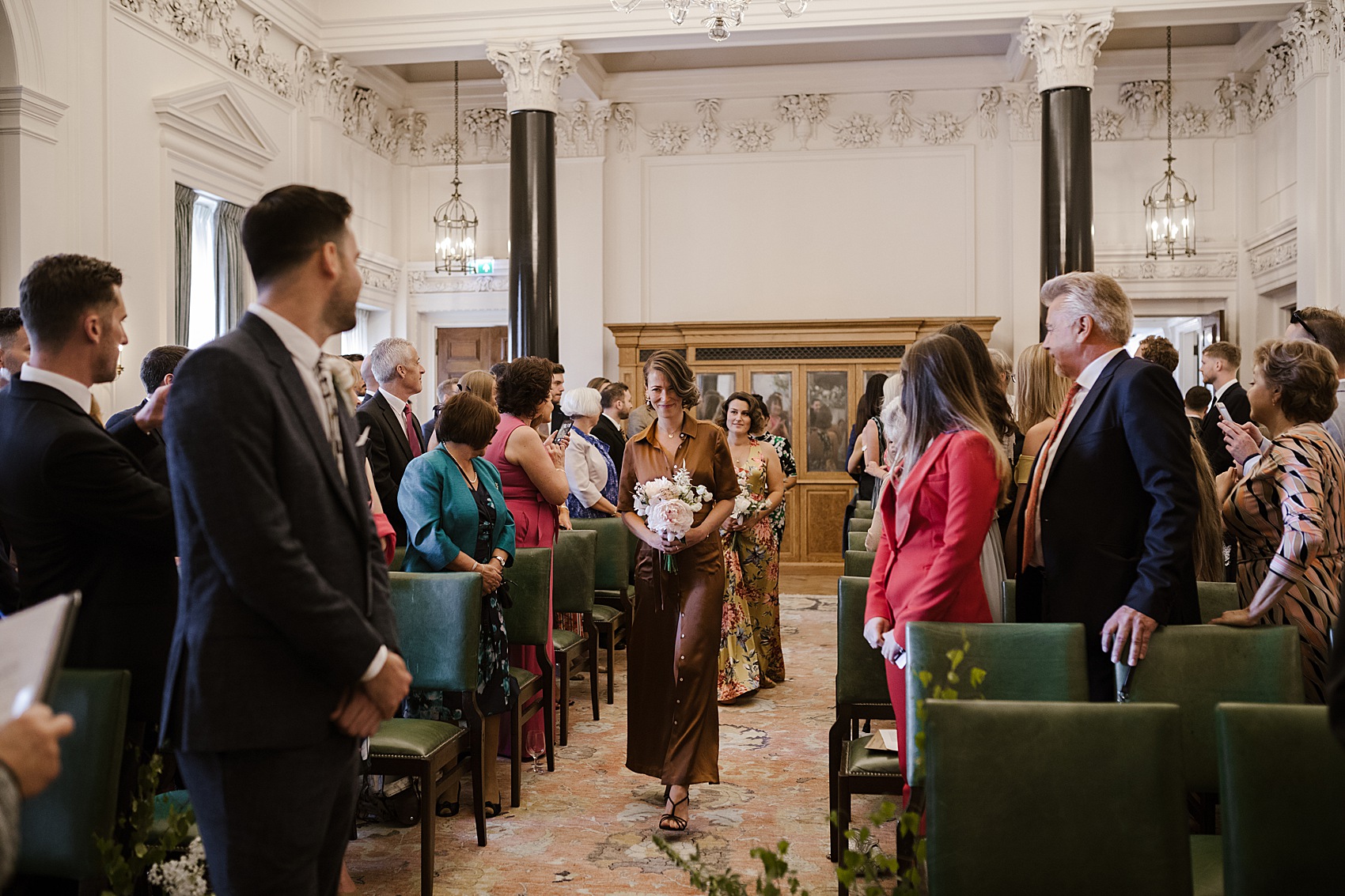 The ceremony was held in one of the Ned's elegant rooms, and, perfect for the June day, the bride walked down the aisle to Nina Simone's version of 'Here Comes The Sun'.
"My mother walked me down the aisle. We have an incredibly close relationship so this was really significant for me. We were worried that we'd be crying the whole time but luckily we managed to get the tears out of the way in the morning and just giggled all the way down the aisle!"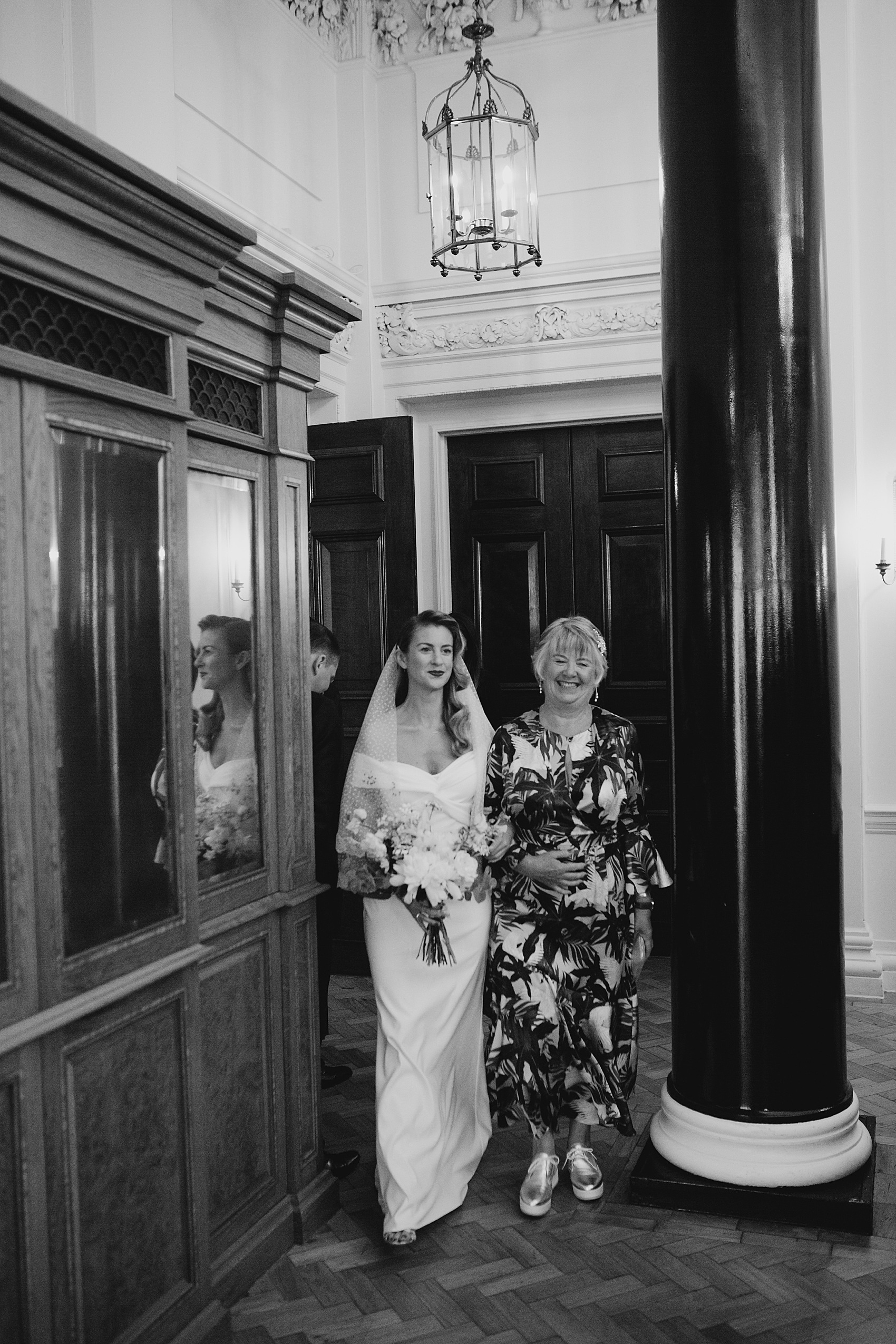 Casey was very lucky to have a close friend from Australia make her waist-length veil, using a beautiful polka dot silk tulle with a scallop lace edge.
"It was especially meaningful as she was unable to be there on the day and it was lovely to have her represented in some way. It only arrived the day before the wedding."
"We had a very last minute YouTube tutorial the morning of the wedding on how to attach a veil to a comb but luckily and to my relief, this was done without any stress thanks to my bridesmaid Lacyn."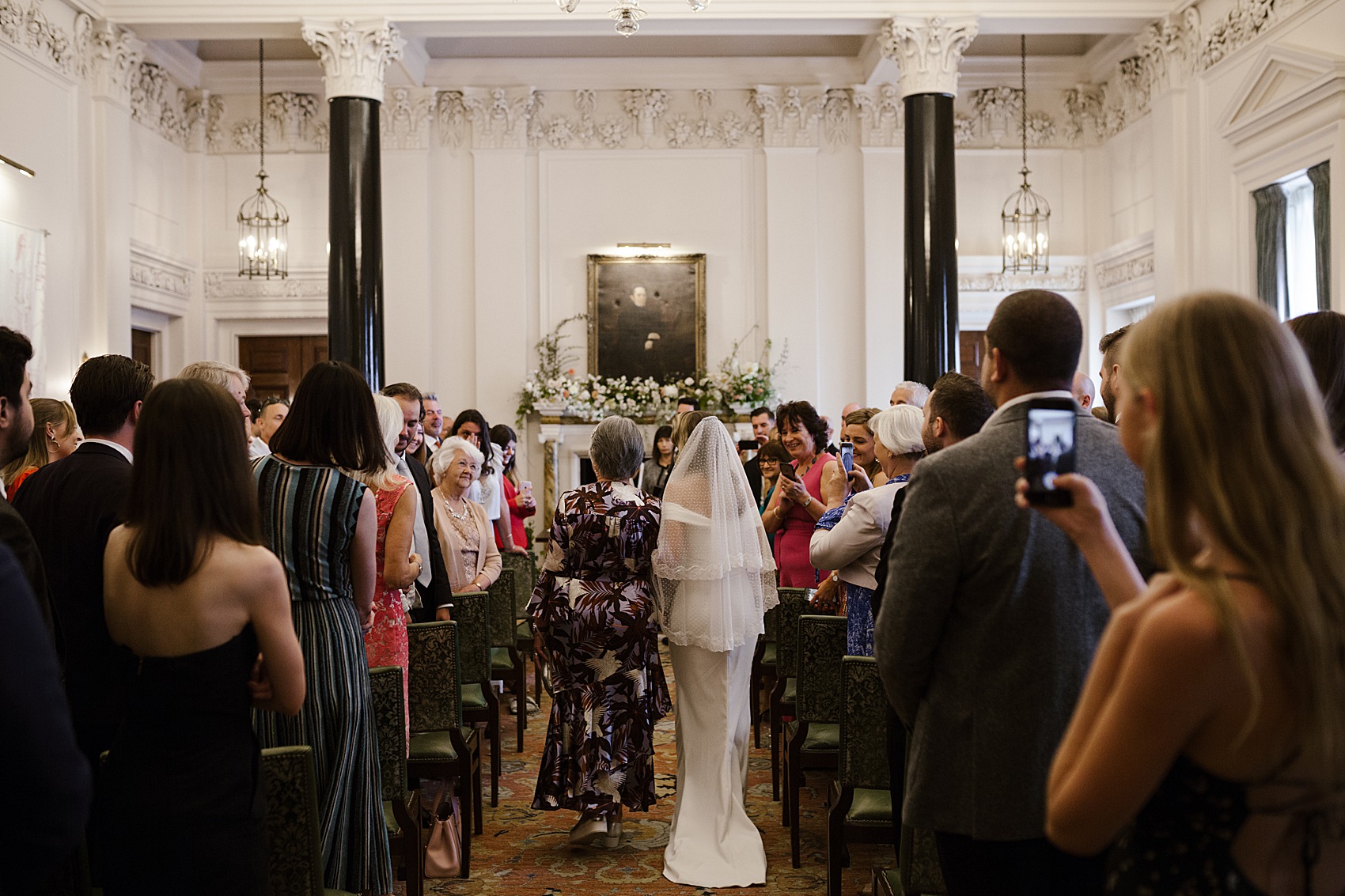 Casey and Keir married in an intimate ceremony and exchanged bespoke wedding bands made by SJO Bespoke. After becoming man and wife, they stole away for some precious time together before their dinner party began.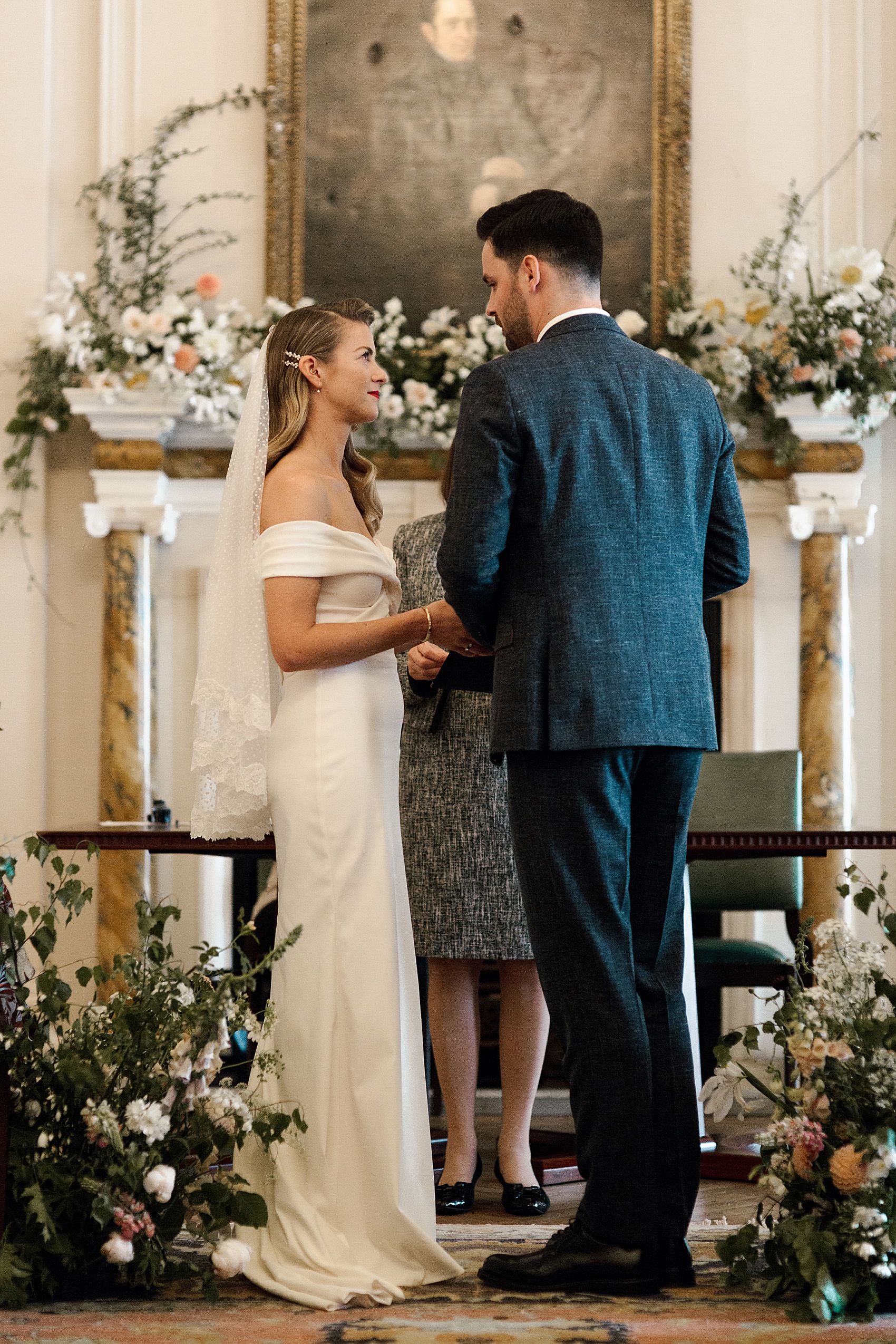 "One of the most memorable moments was straight after the ceremony where Keir and I had fifteen minutes with each other walking around The Royal Exchange outside The Ned."
"I really savoured those few minutes together, as the whole day after that was filled with catching up and chatting to all our guests."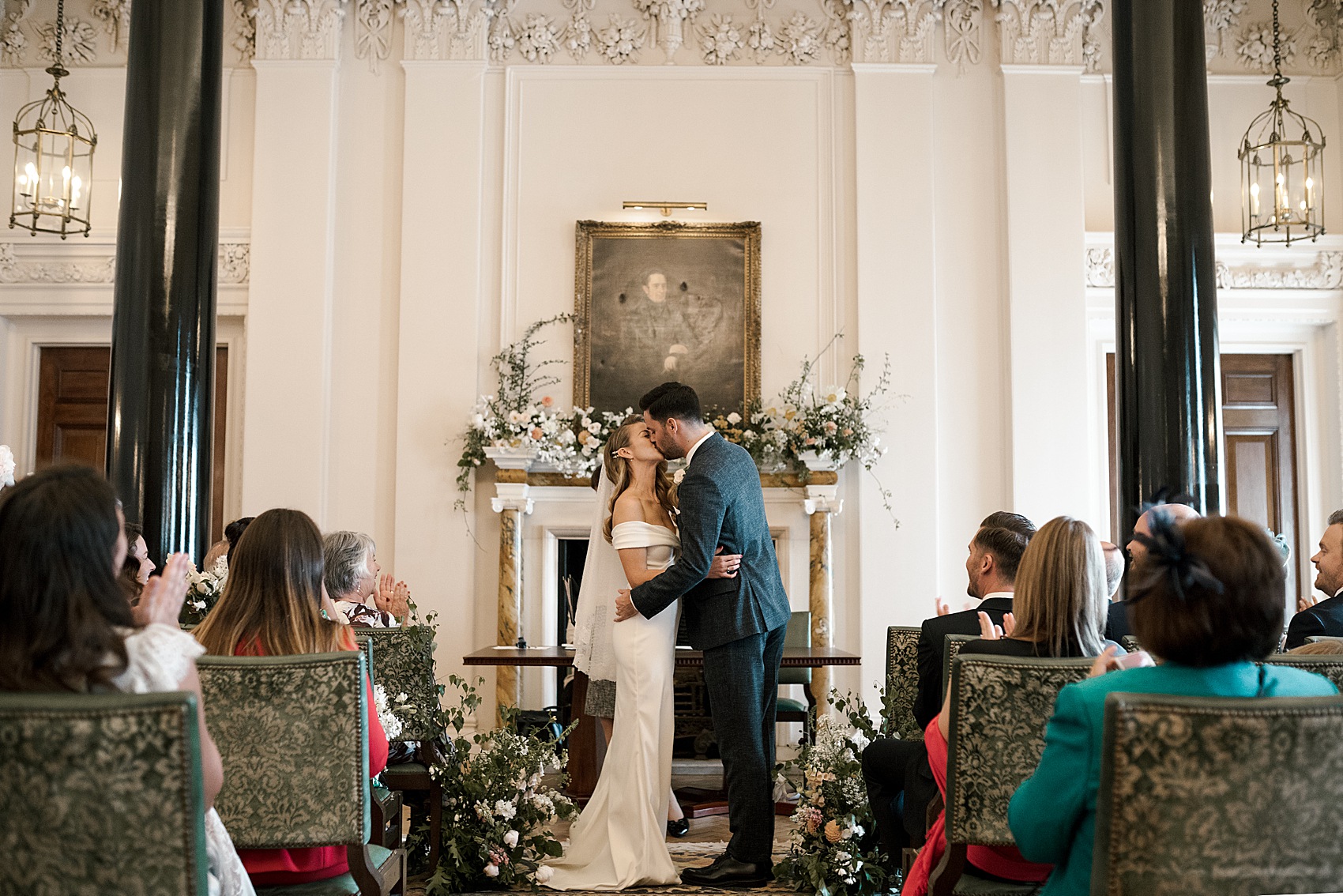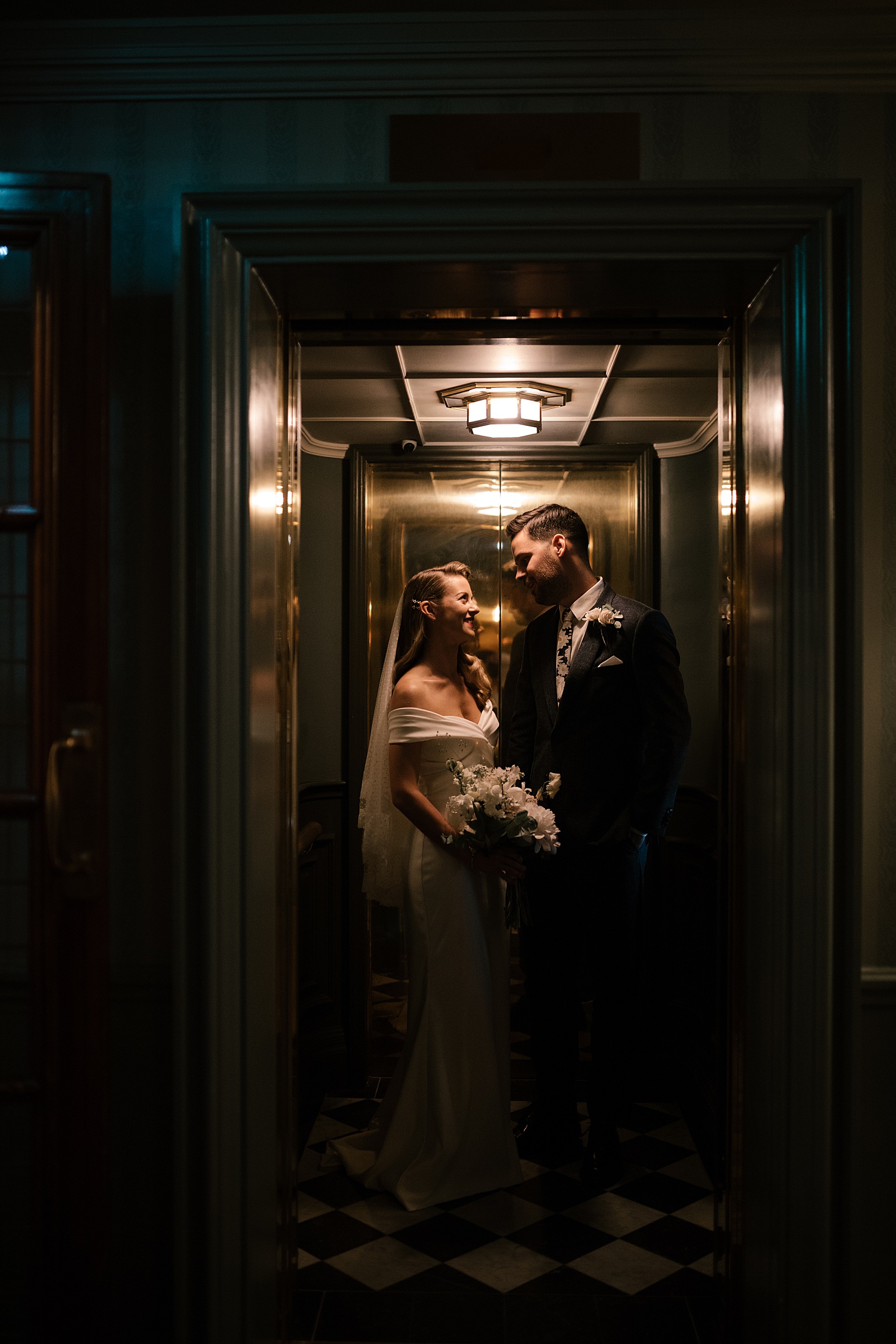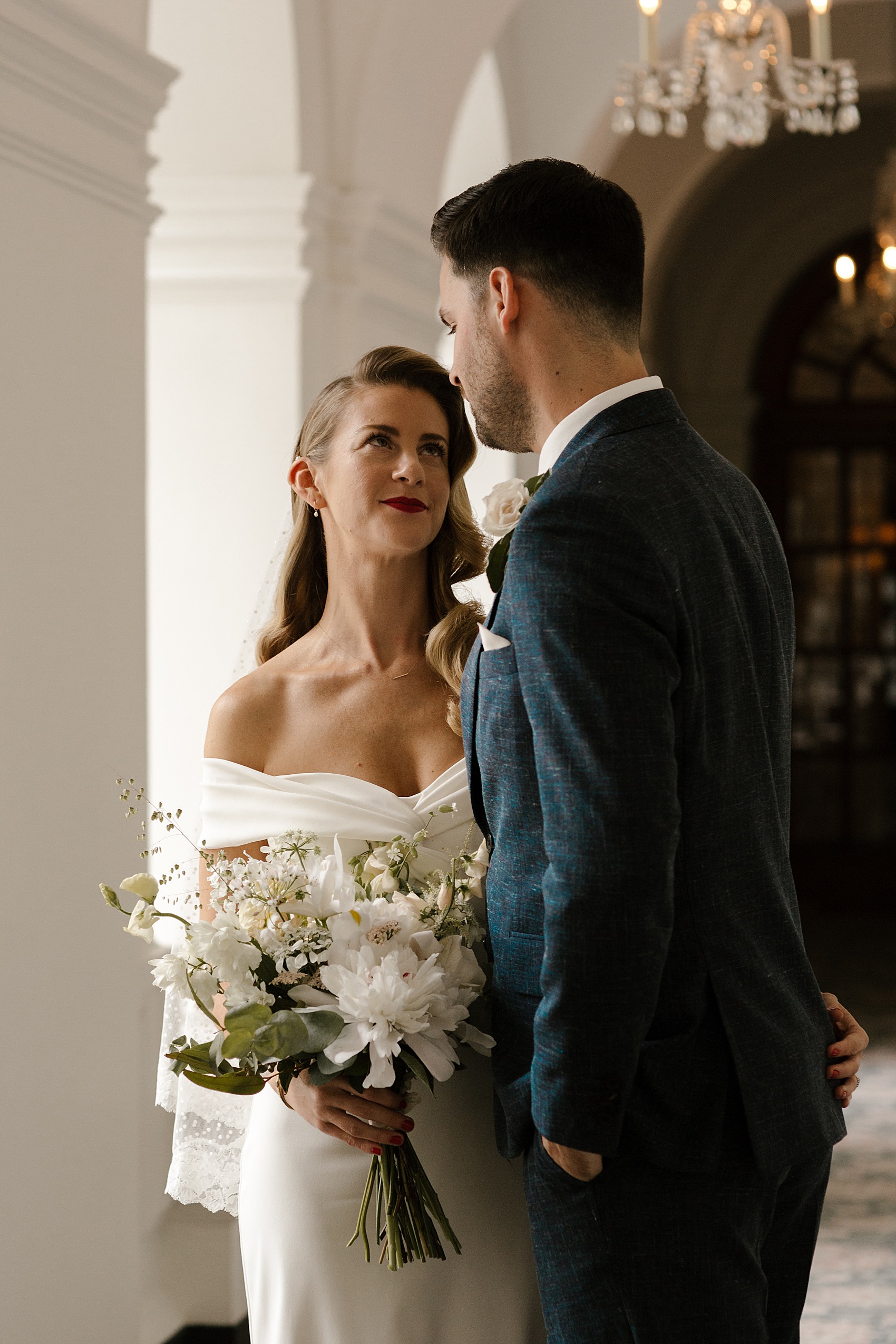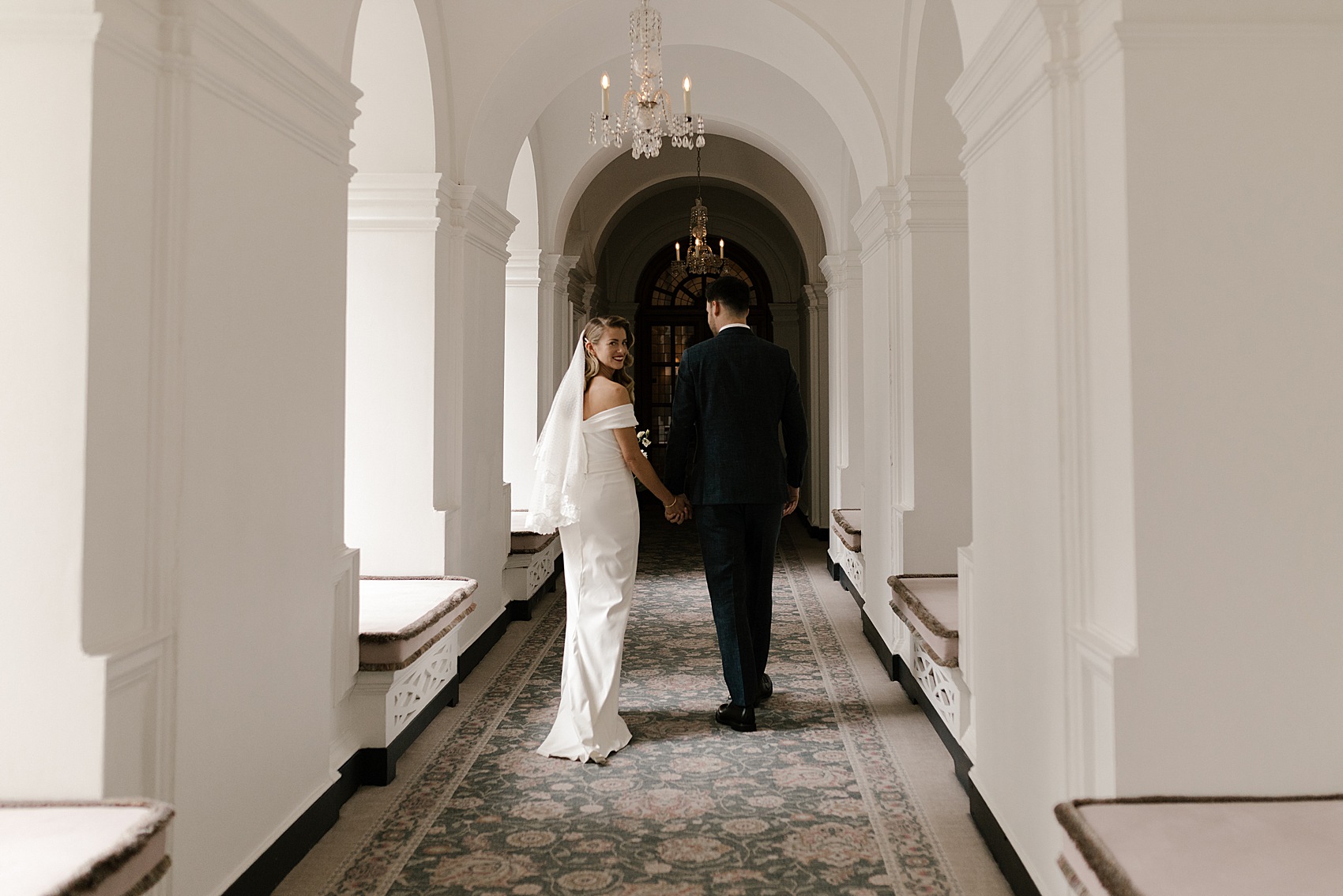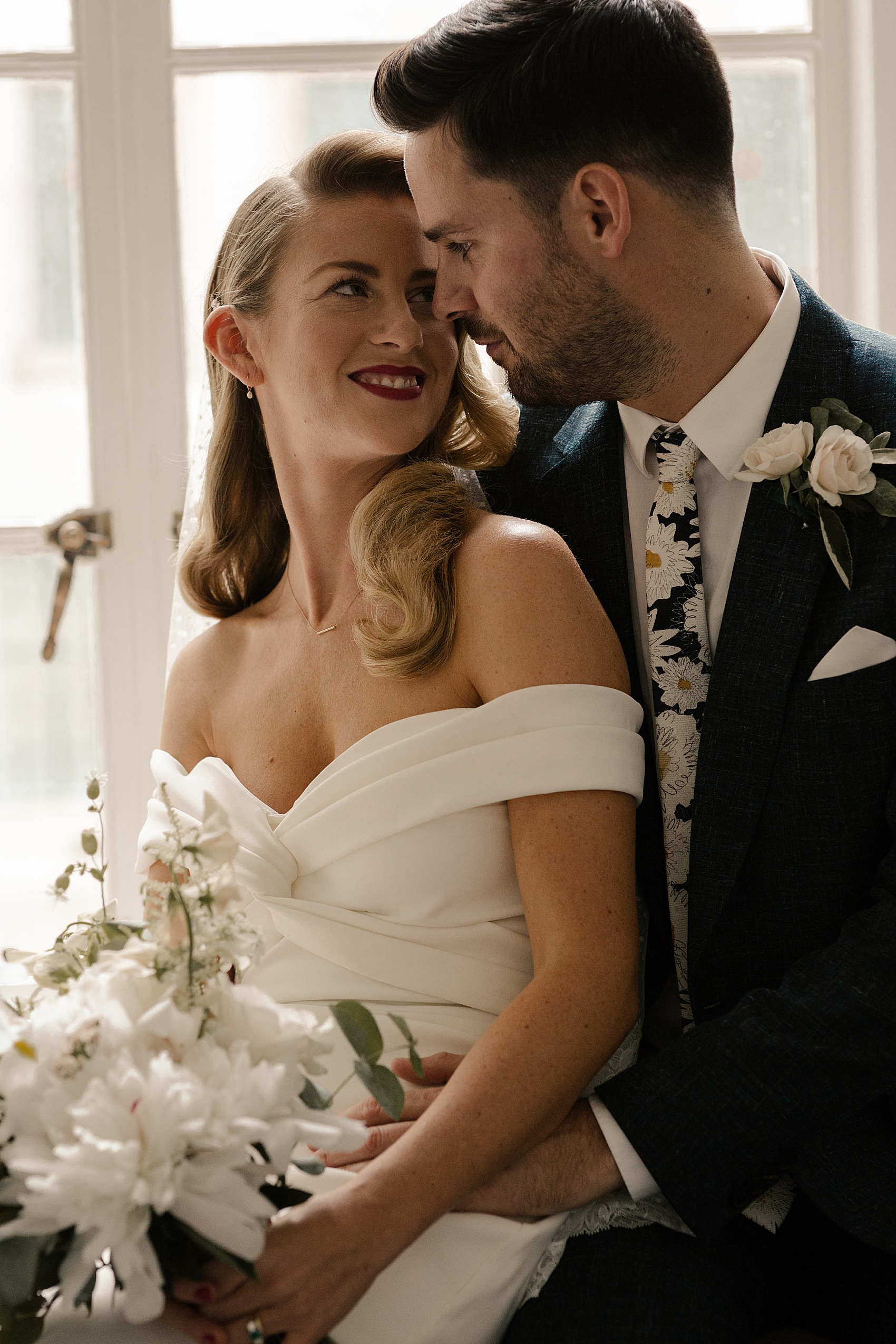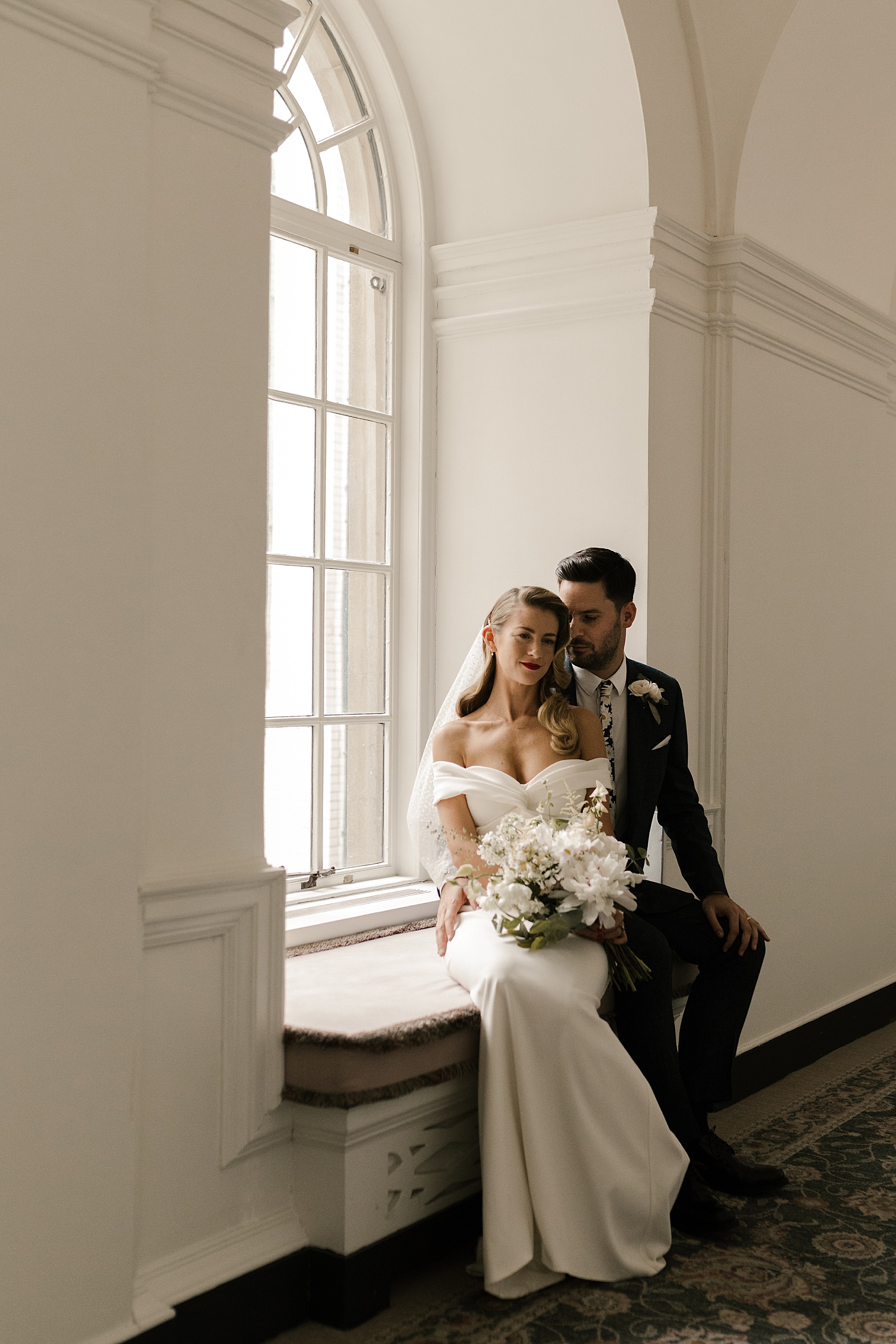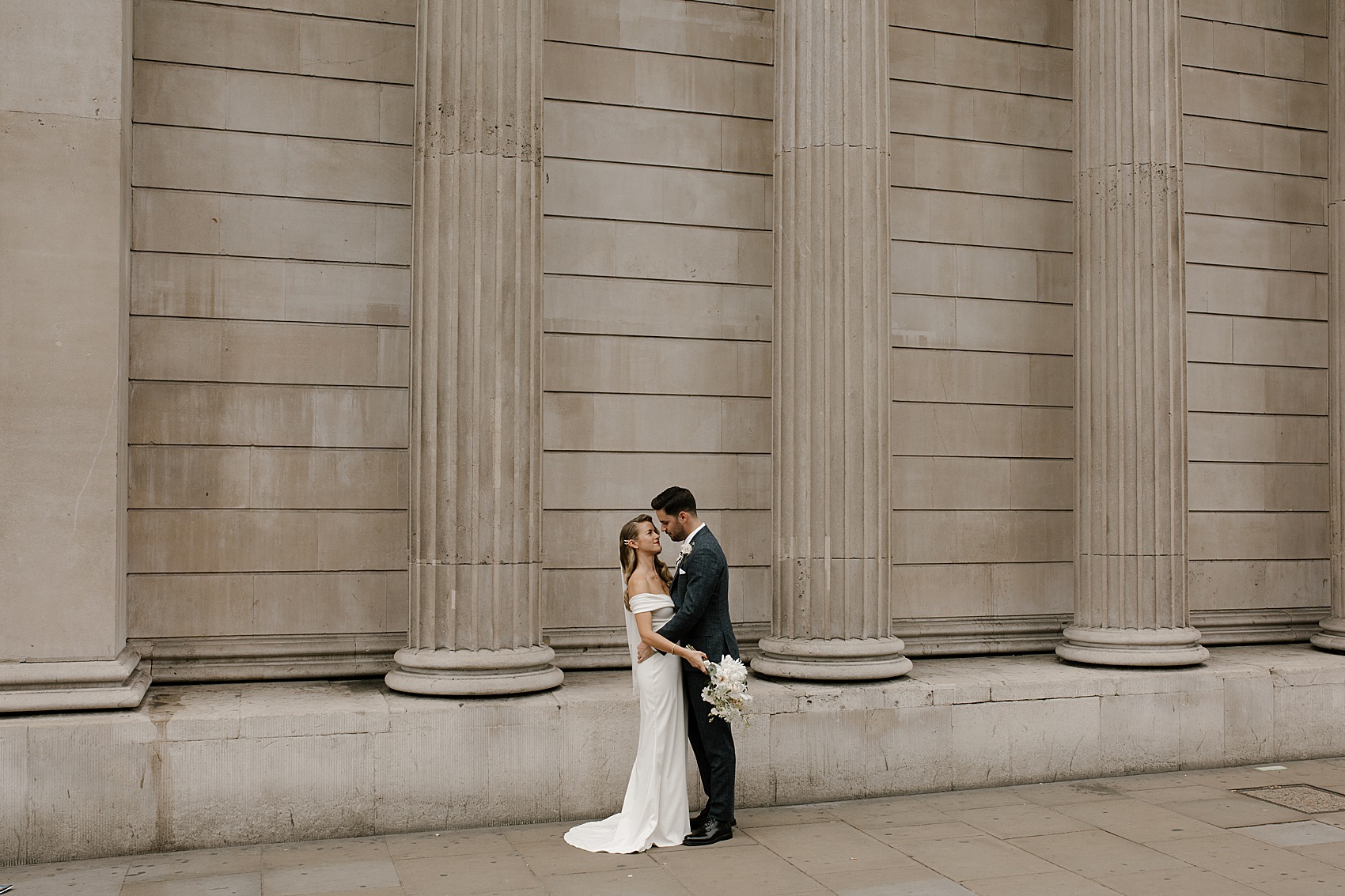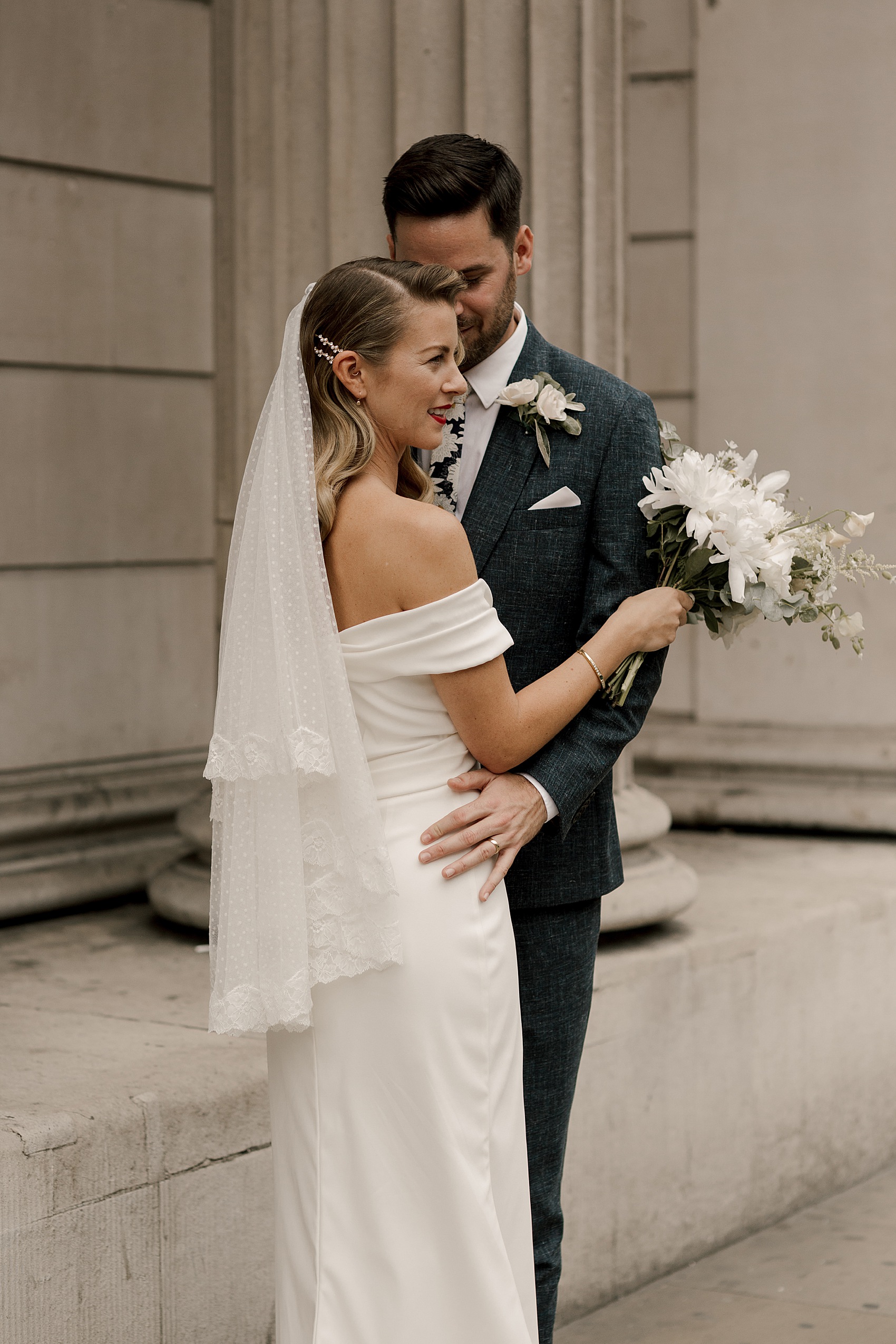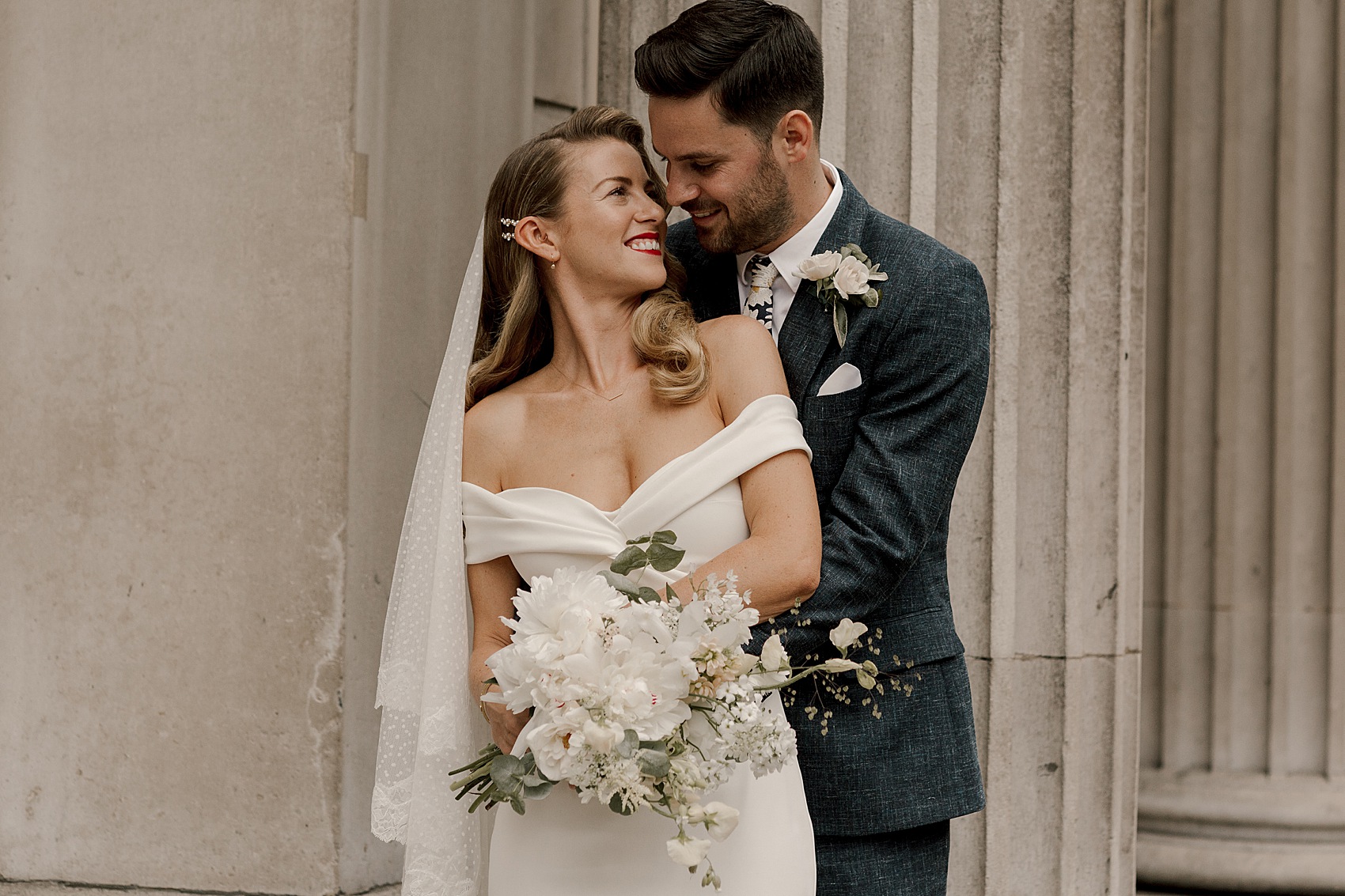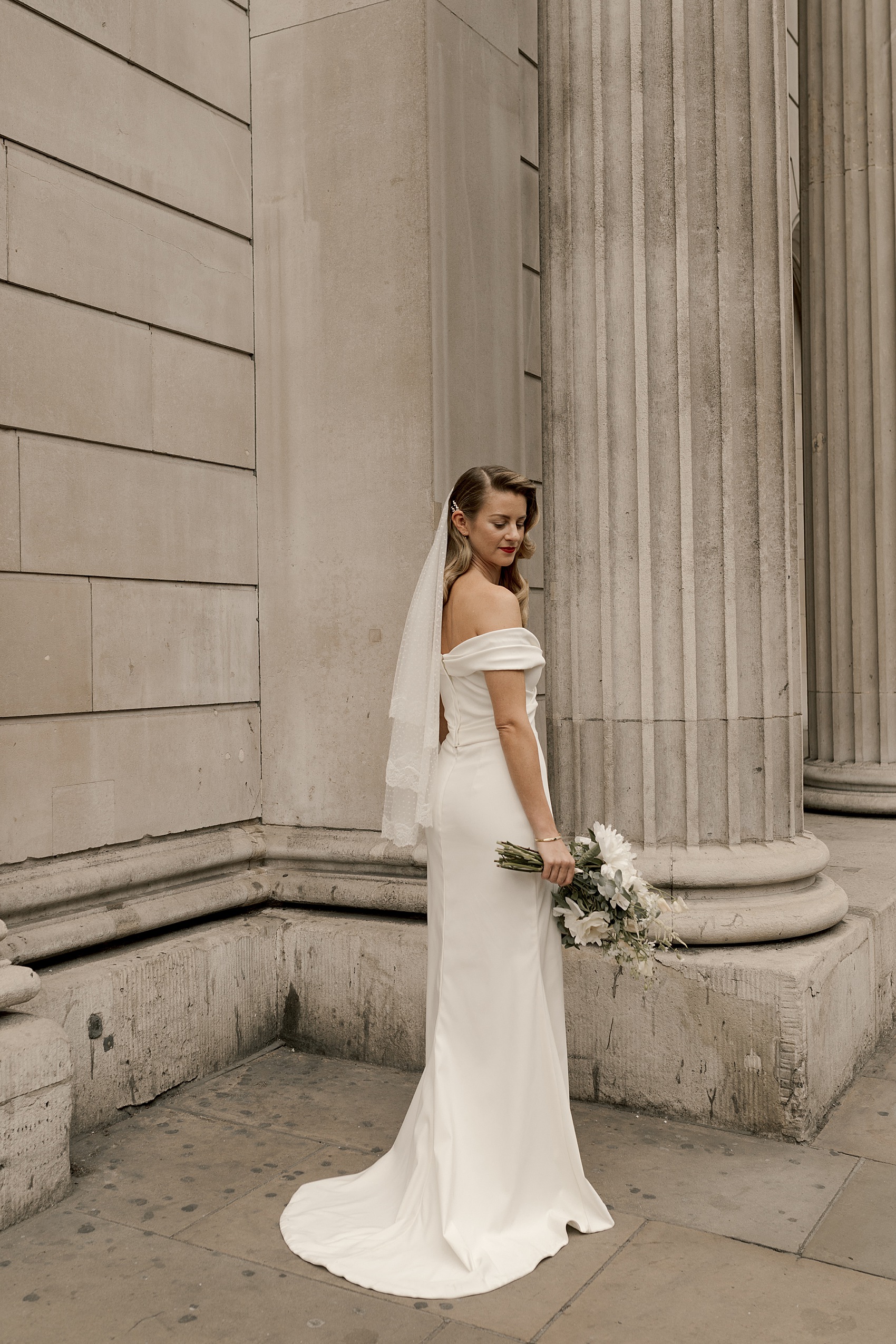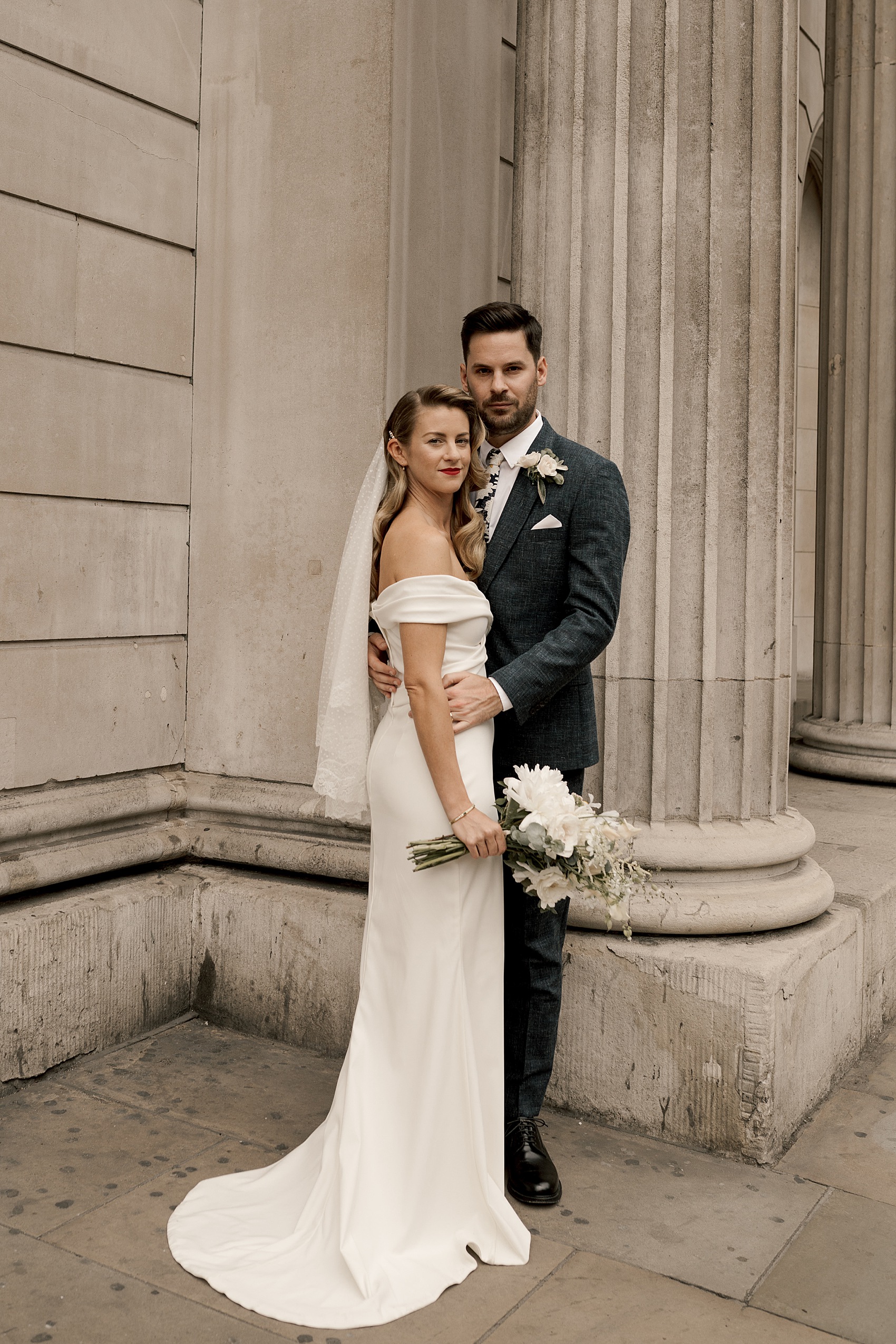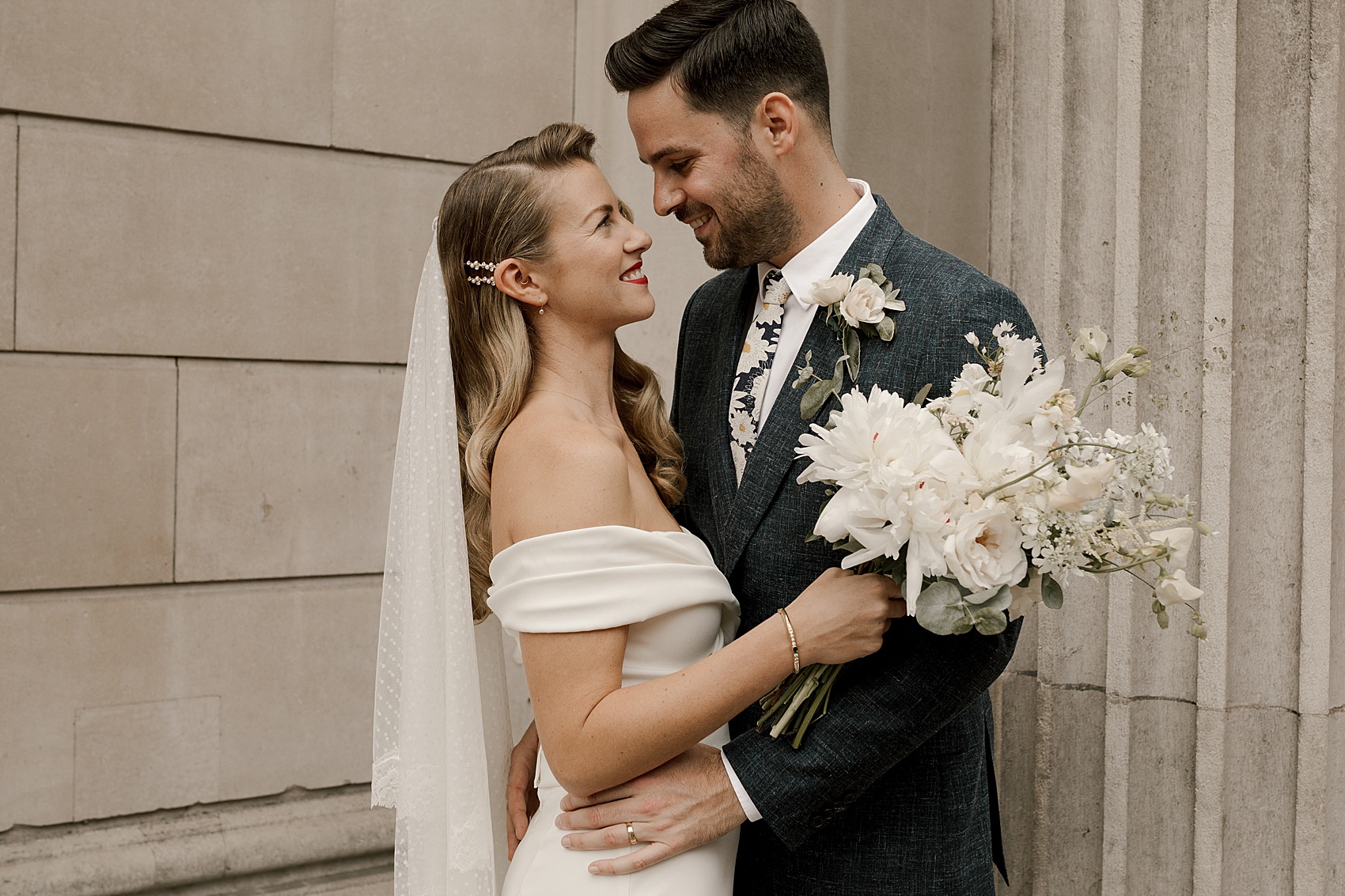 All of these details, and so much joy and love, were caught by Jessica Williams Photography in her signature fine art, atmospheric style. I really love the timeless feel of these images, which also have a modern edge, and those sunset shots up on the terrace are breath-taking.
"We were recommended Jessica and loved her style – it's classic, relaxed and candid. We met Jessica and instantly felt comfortable, which for us was the most important thing. She also creates the most beautiful leather-bound albums which I would highly recommend investing in."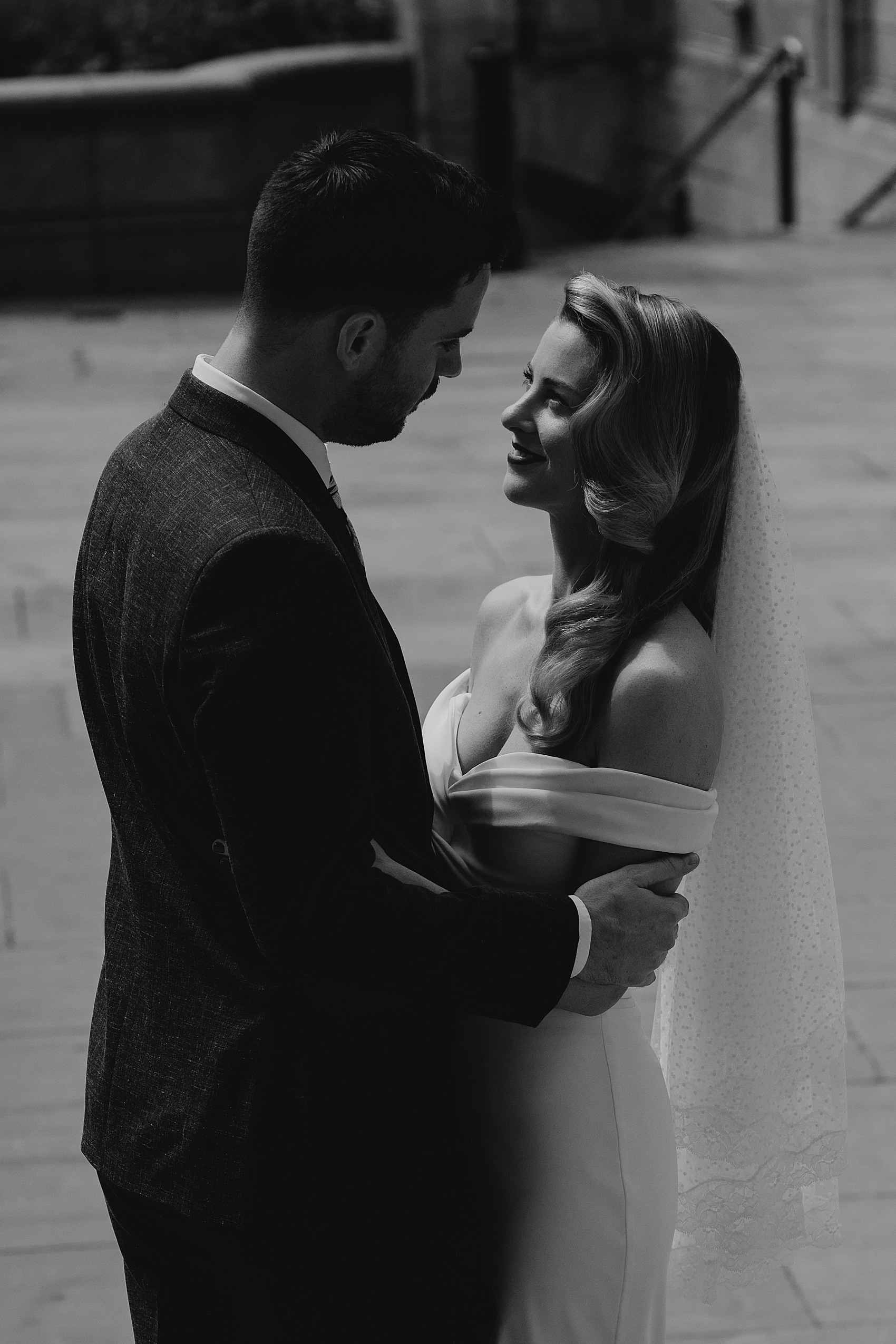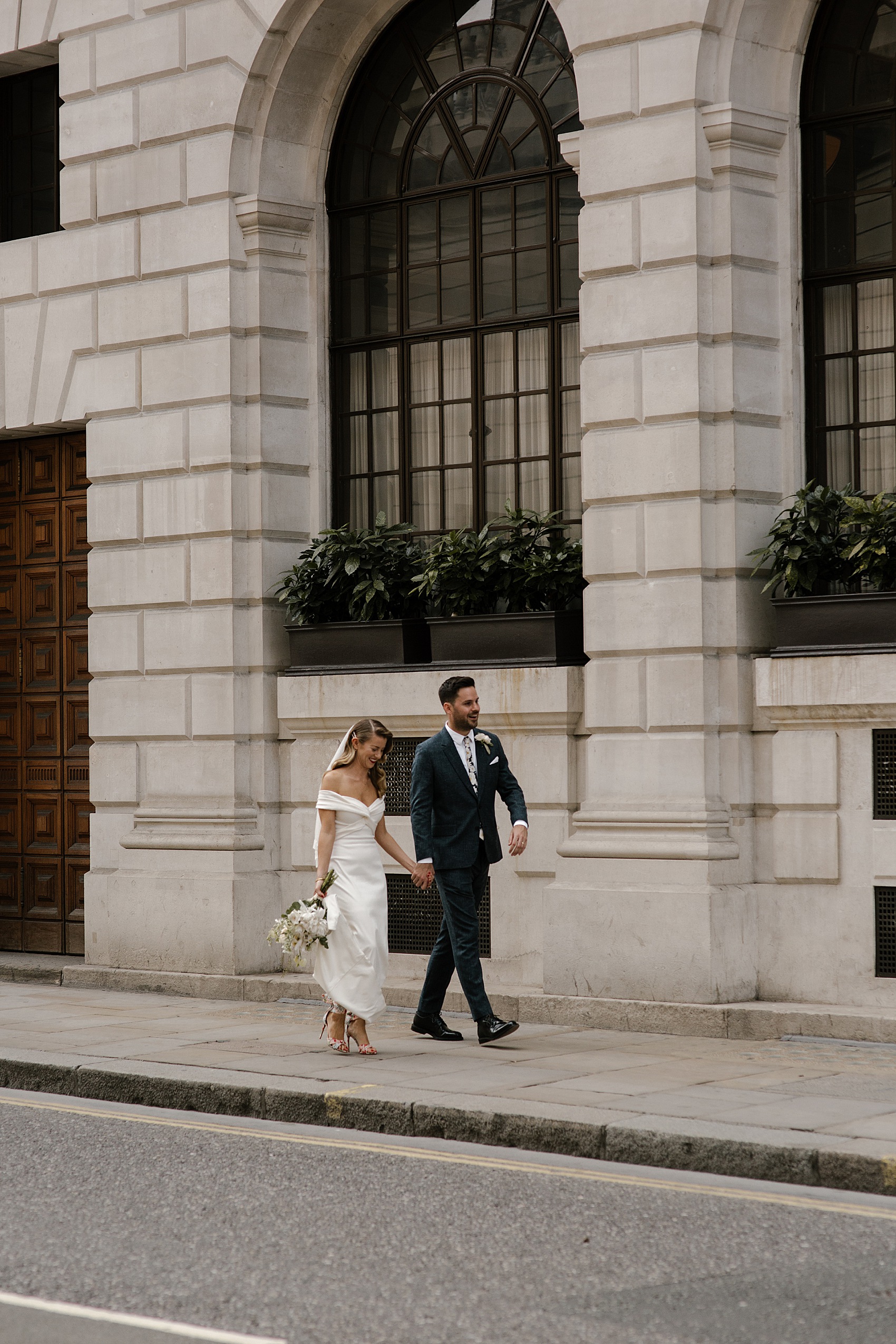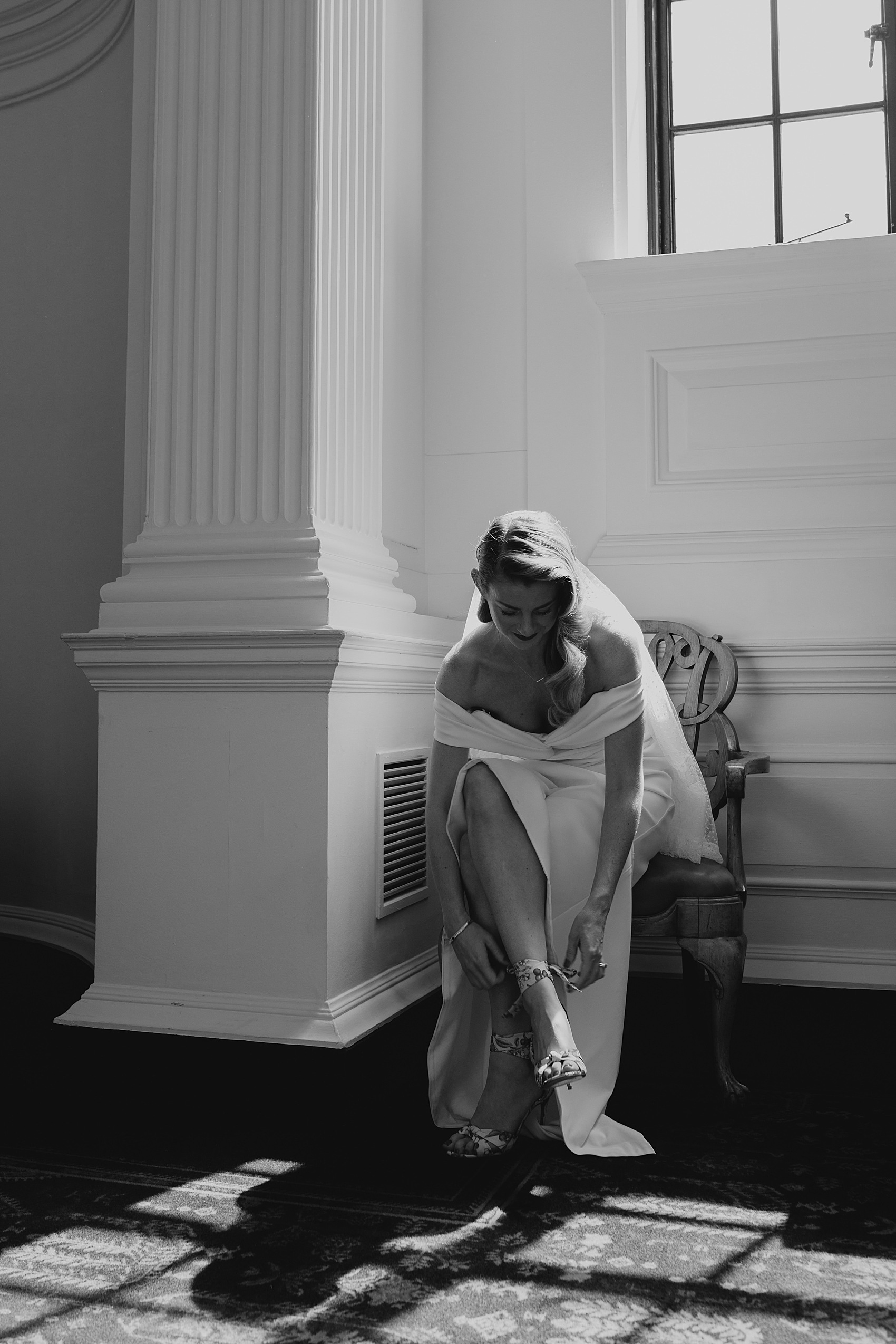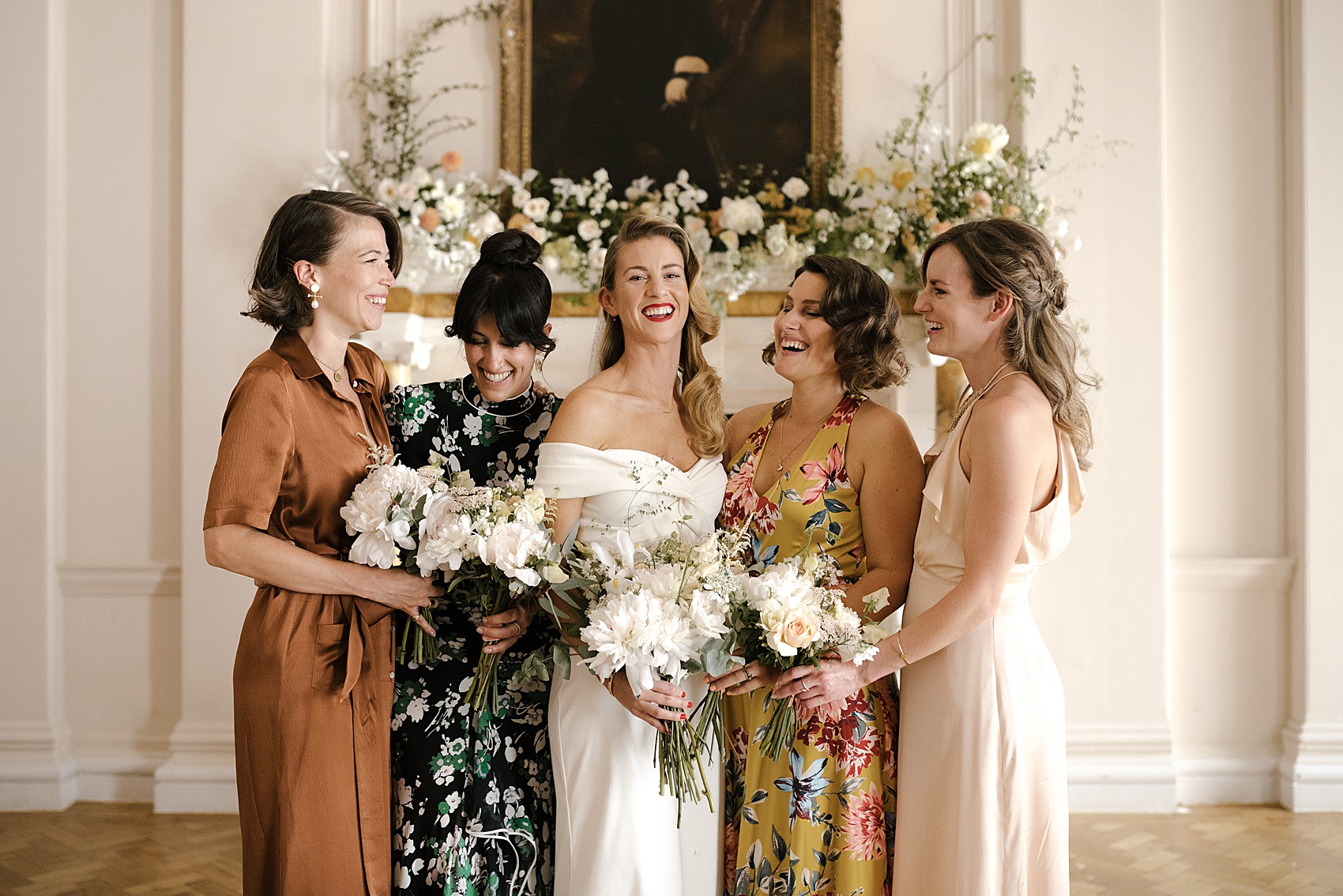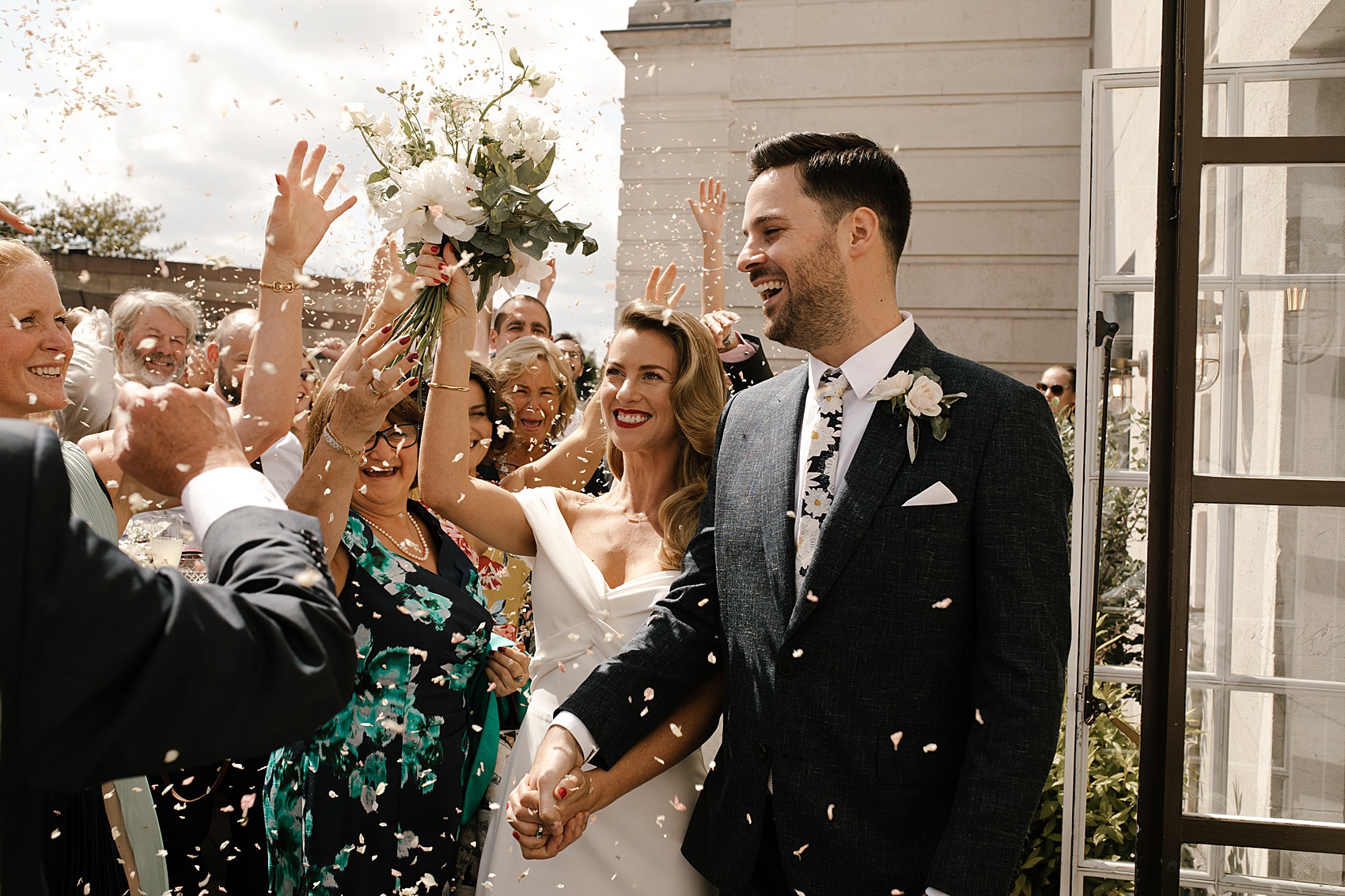 To set the tone, one of the couple's friends designed their stationery suite.
"One of maids of honour, Alice Loveday, is a gifted animator and illustrator so we asked her to design our wedding stationery."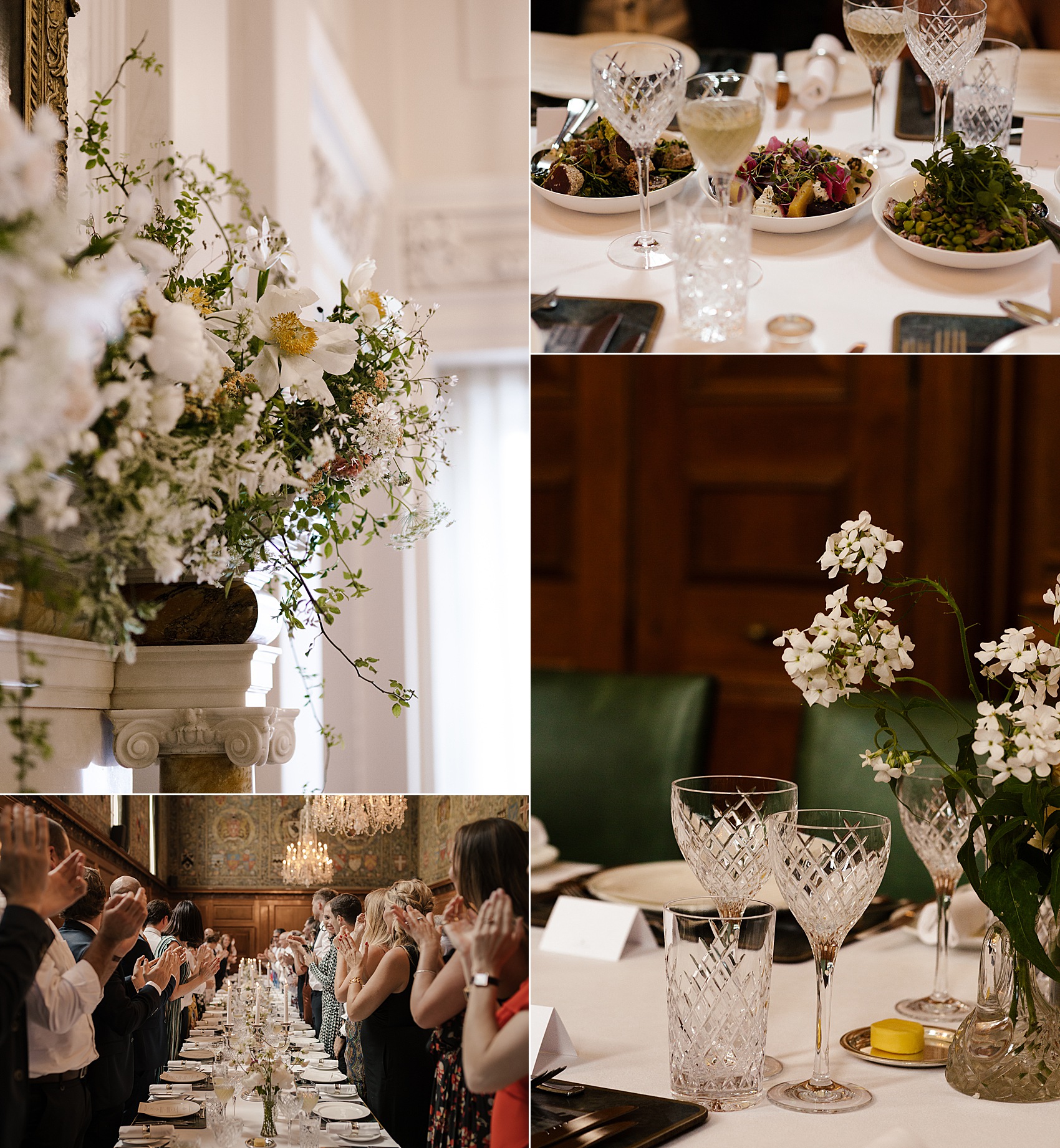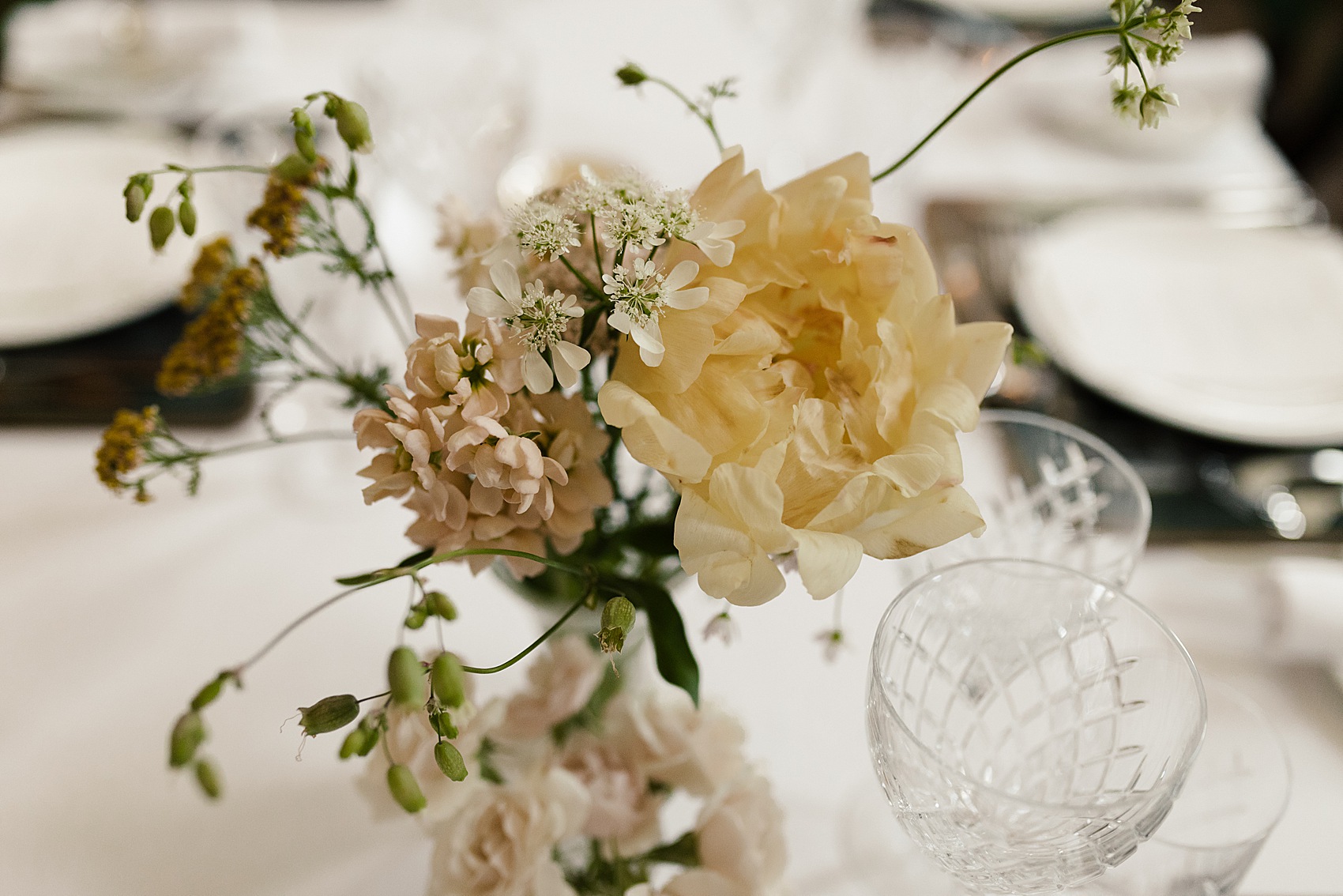 The wedding breakfast was spread along long tables, beautiful laid with crystal-wear, candelabras and more pure, white flowers.
"We had family-style food from The Ned which was truly amazing. I've since had so many people comment how it was the best wedding food they've ever had. I wholeheartedly agree!"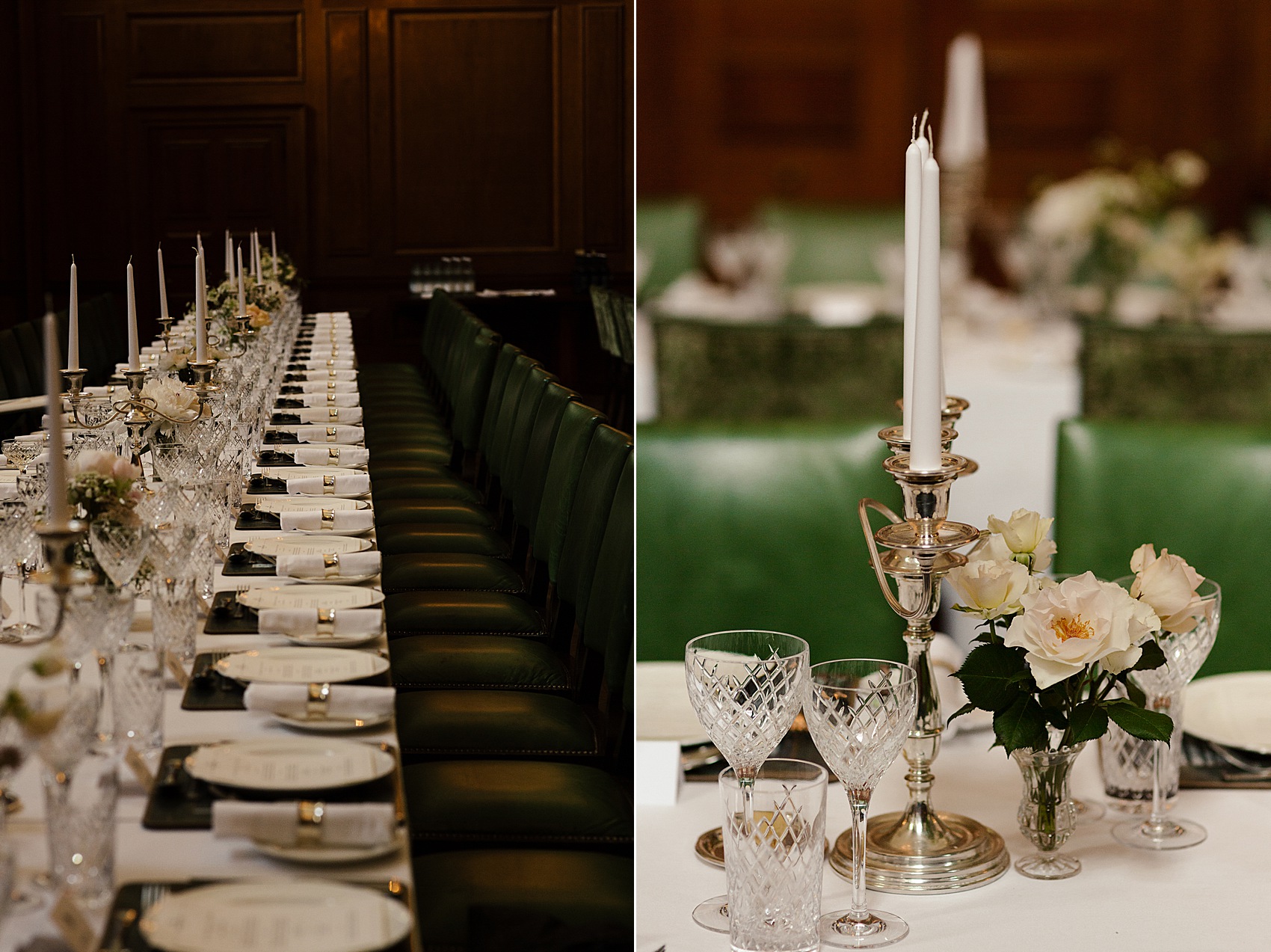 After dinner, it was time for live music and Casey and Keir chose Yaaba Funk, an eight-piece Afrofusion band who got everyone on the dance floor with the first dance, an afrobeat song.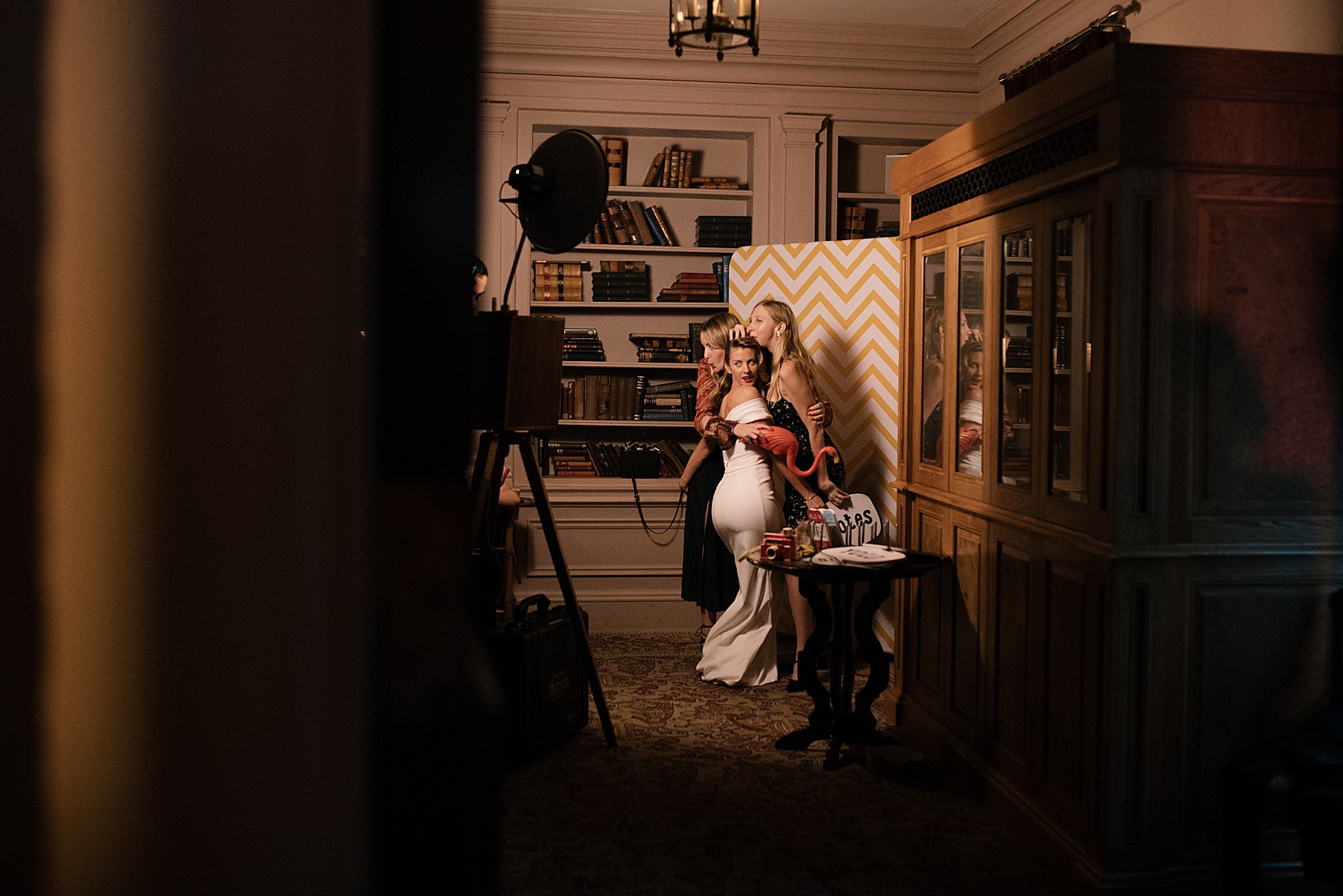 "We wanted something that people would dance to – these guys were the best."
"Our friends Hesseltime and Love Glove then got on the decks and played back to back disco and dance floor classics."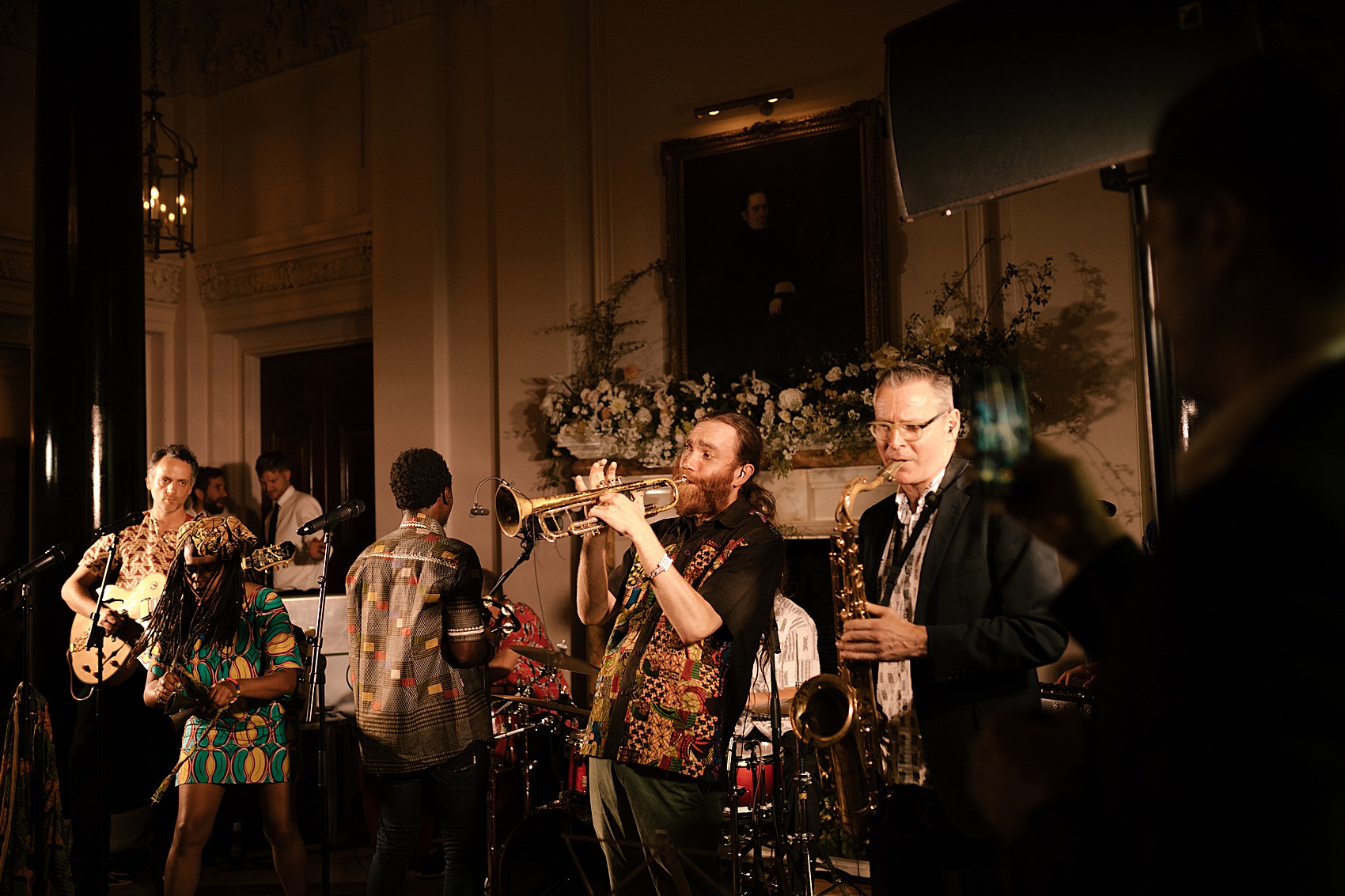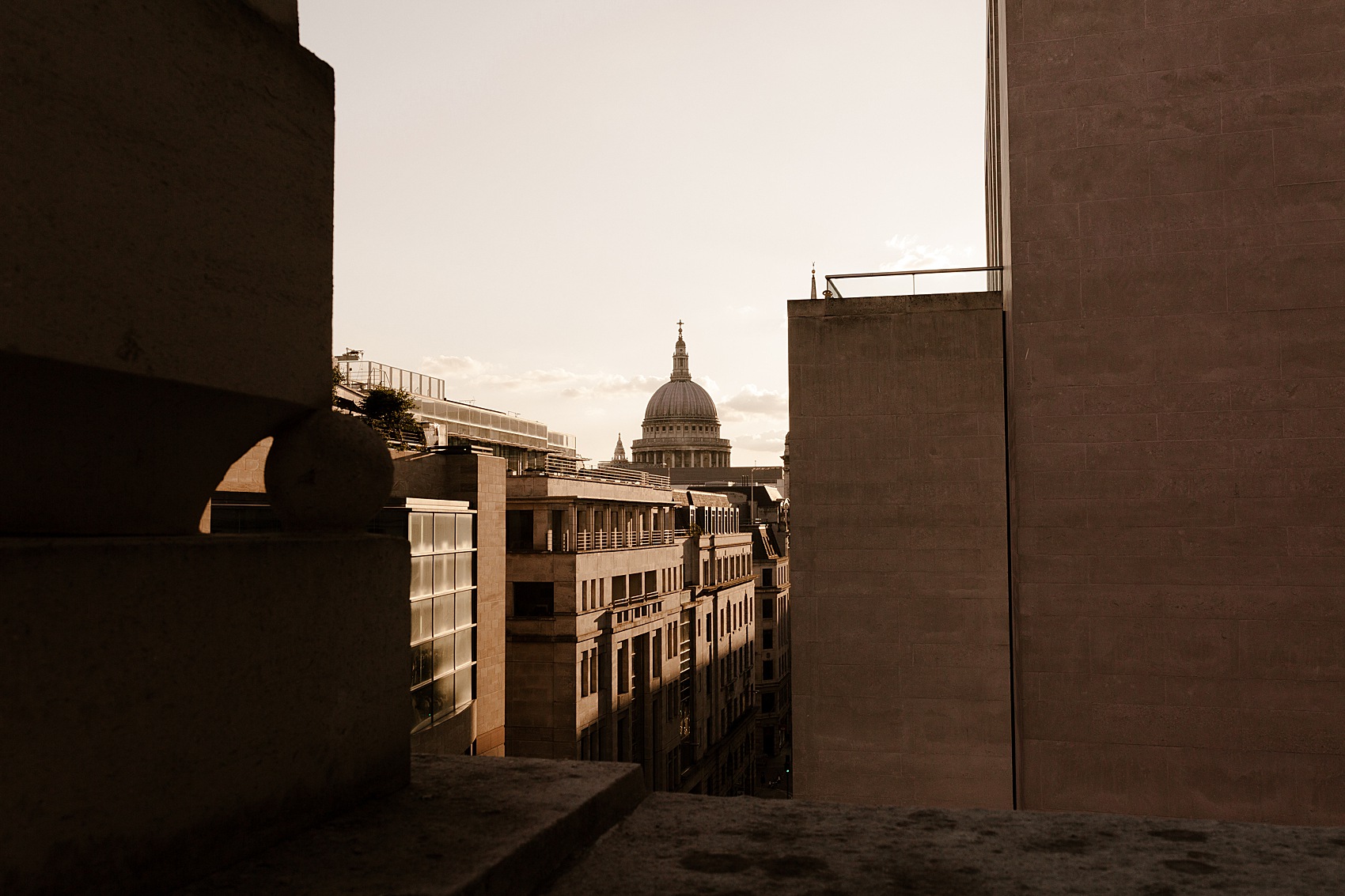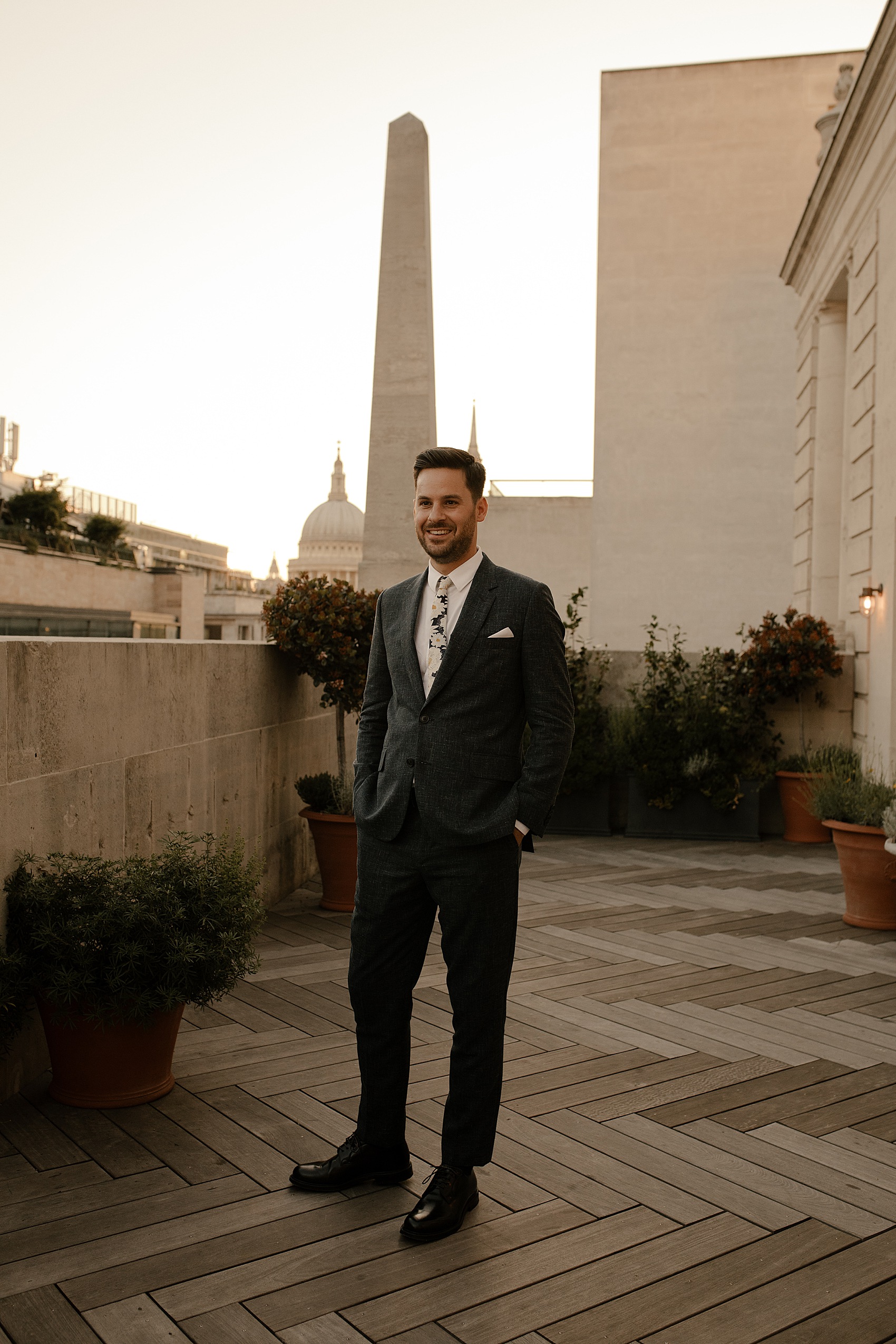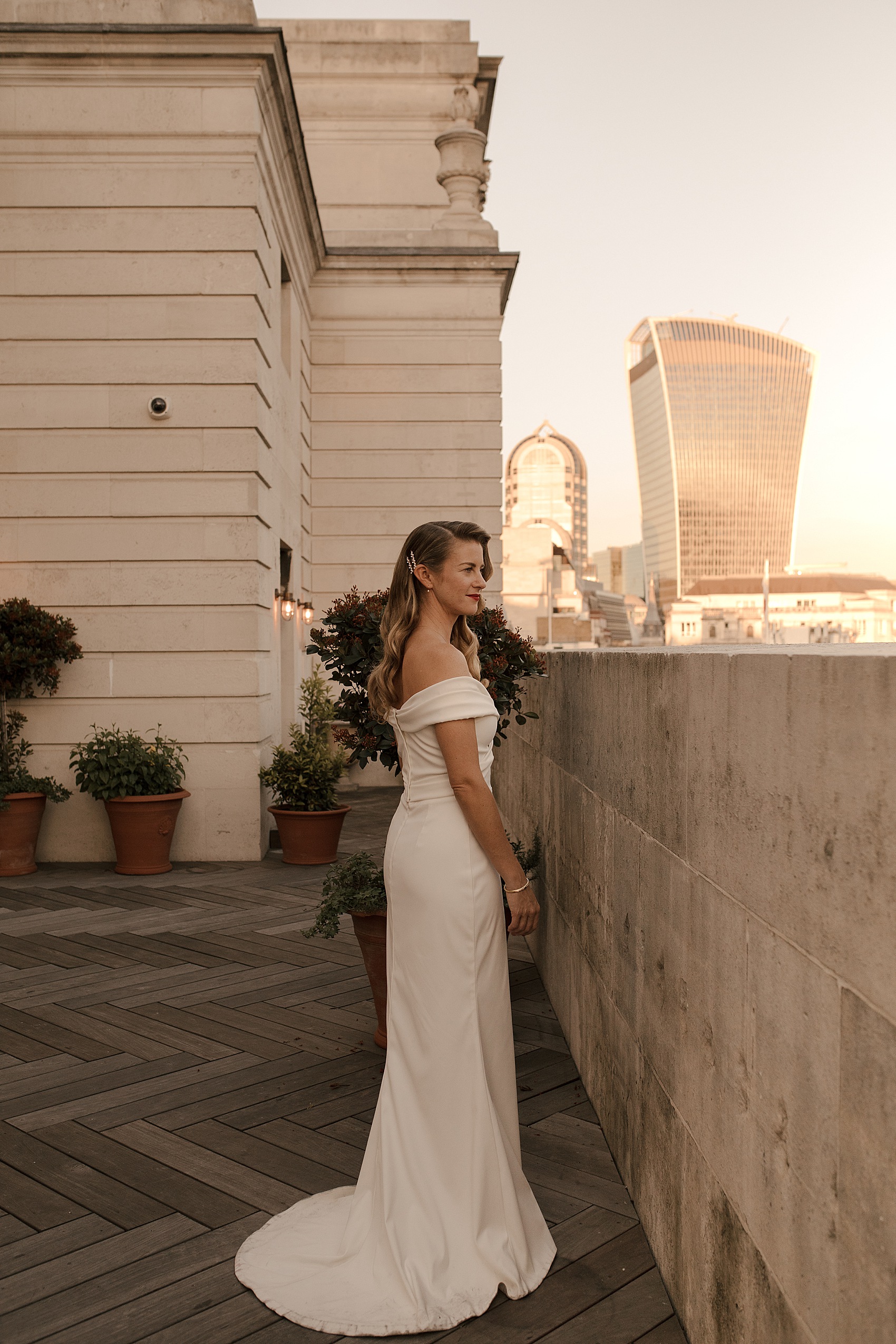 Words of Wedded Wisdom
"It's so easy to get swept up in a million different trends which can sometimes feel overwhelming. We wanted it to be a true representation of 'us' as a couple, so we sat down at the start of planning and wrote down the five most important aspects for our day. This helped us stay focussed throughout on what was important to us."
Explore many more beautiful dresses on the Halfpenny London website
"For instance, we decided we didn't want a cake or need a printed seating plan (as everyone could find their seats with the help of the ushers and bridesmaids). The biggest lesson I learnt was that we didn't have to do what was expected, if wasn't important to us."
Casey, your gown is everything. So beautiful, so elegant and just so right for your City wedding venue. To you and Keir, many thanks for sharing your day with us, and thank you too to Jessica Williams Photography.
Lovelies, would you like to see more Halfpenny London brides? If so, please enjoy this selection of Love My Dress features.
Ele xx