We invite you to grab a coffee, pull up a chair and get to know the wonderful Sian Cornish a little better today.
Sian is founder of Lancaster & Cornish – a well established small business producing hand-dyed silk products (pretty ribbons for bouquet, silk table runners, napkins etc). This week, Sian launches a brand new and beautifully handmade collection of hand-dyed silk hair ties for bridal and beyond – each created using ethical silk and natural, plant based dyes.
The finished products are just exquisite, and you, my friends, are the first to know about this!
Lancaster & Cornish began eight years ago as an ethical fabric retailer with Sian promoting organic cottons and eco fabrics. Over the last five years, the business has evolved into its current form, which is also a nod to Sian's own background.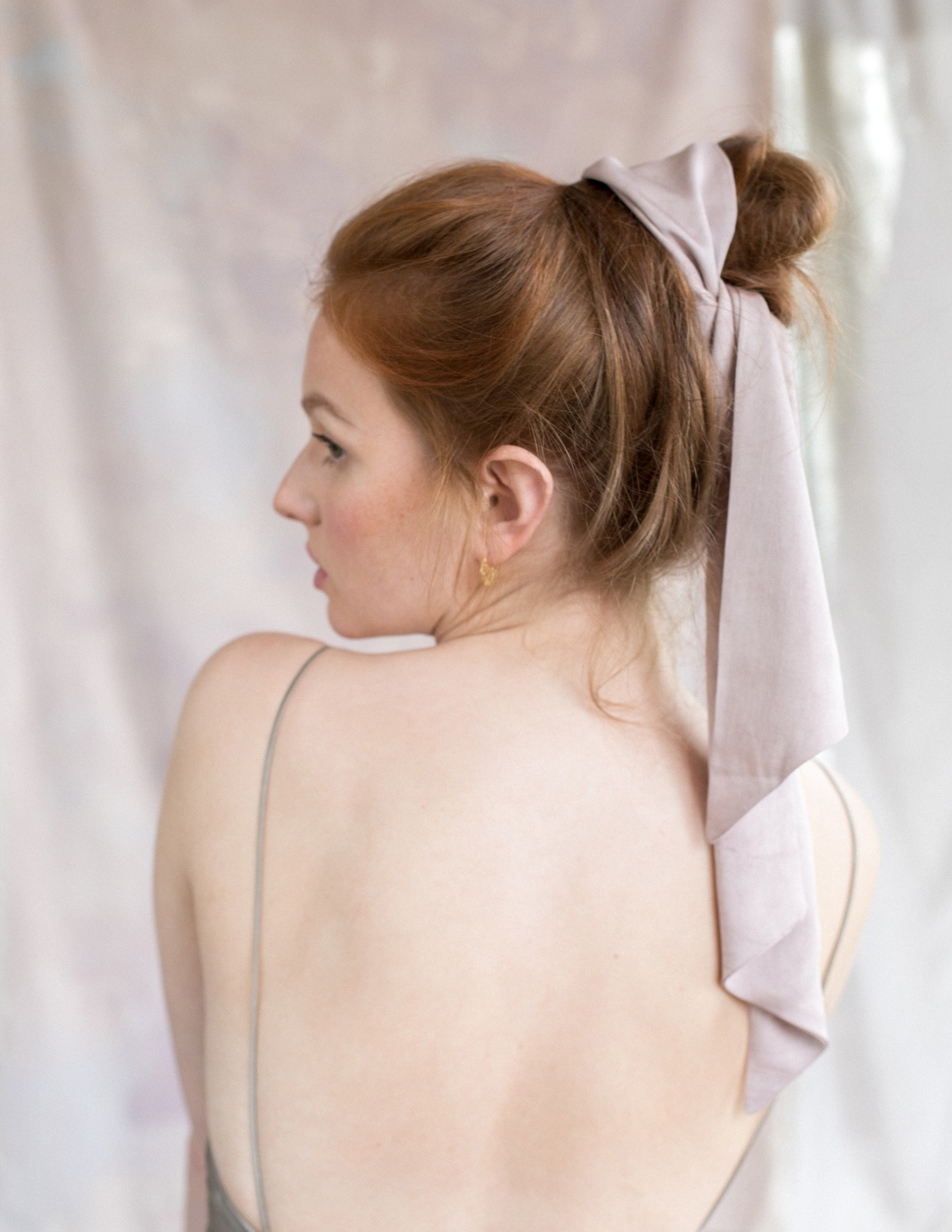 "I always tell people that Lancaster and Cornish is both me, my past and my present inter-twined. I have a family history in the textiles industry and my great-grandparents were cotton weavers in Manchester. When I founded Lancaster & Cornish, I wanted to create a strong brand, with my family heritage and future family needs at its heart alongside ethical and environmental sustainability as a founding principle."
Use code LMD20 at checkout to receive a 20% saving on all orders with Lancaster & Cornish
Sian has just launched a new collection of silk hair ties and my goodness, they are just sublime. The Lancaster & Cornish signature style is all about timeless elegance and these ties continue that tradition. They're also wonderfully wearable, whatever your hair style and you can be sure you'll wear your tie again once you're wed in a myriad of different ways.
"The new silk hair ties came as a natural extension to my ribbon work. Brides and stylists had started using ribbons in their hair and I really wanted to take that idea and create something beautifully simple, versatile and perfect for the modern bride."
"The colours are soft and beautiful and will coordinate with many different schemes – Chalk White for an elegant contemporary look or a soft Tulip Tree peach for a more bohemian bride for example. I love them all but if I had to choose a favourite, it would be the long silk hair tie, Rosalind, named after Rosalind Franklin, a brilliant British scientist who worked to understand the structure of DNA."
We all know that large scale chemical dyeing is super harmful to the environment and Sian has made a conscious decision to use plants, many of which she forages herself, to create these delightful colours.
Use code LMD20 at checkout to receive a 20% saving on all orders with Lancaster & Cornish
The dyeing process starts by preparing the fabric to ready it for dyeing and then the magic starts. In her workspace, surrounded by gorse, camellias, madder powder and steel bowls, Sian works through all the stages of the dyeing process.
"I prepare a dye bath, which might be made from foraged and gathered petals, or other flora, or a pre-pared natural dye from an ethical source. It's a bit like making a pot of tea – the plant matter will be left to impart its colour into the 'bath' of hot water. After the fabrics are dry (something that can be a challenge in winter!), the final stage involves a lot of ironing and careful folding before orders are wrapped in tissue paper and sent with love to customers all over the world."
Sian says that she's noticed a definite increase in the number of brides who are really interested in the ethical nature of her products and there's no doubt that the slow fashion movement has certainly helped in raising awareness. And, if you're a vegan bride, you can order Cornish & Lancaster's bamboo silk, which is 100% bamboo, and all plant dyed.
Not only do I love Sian's stunning products and her business ethos, I also stand and applaud that fact that she also puts her family first.
"My daughters are interested in the business and are seeing, first-hand, the challenges of running a small creative business. However, alongside that, I hope that I'm promoting a strong role model – a mother who works and isn't perfect but is always trying her best."
Sian is, quite simply, a good 'un. She's a talented, committed artisan who's growing a business and a family with passion and principles. She's also someone in love with her work who takes pride in providing an intimate and ethical service to clients and frankly, it all feels rather special. I also will always have a soft spot for someone with more than a little romance in their soul so I'll leave you with these words from Sian and I hope they make you smile:
"My fabrics have a tale to tell of their own, each one created with love and care, so I really hope that they add to the narrative that my brides and clients are creating, the invisible thread woven into their own story."
Use code LMD20 at checkout to receive a 20% saving on all orders with Lancaster & Cornish
If you've fallen for Lancaster & Cornish too, we're thrilled to offer you a 20% discount on products – simply enter code LMD20 as you checkout.
To find out more about Lancaster & Cornish and to shop the collection, simply visit the website.