Oh, I so hope that you just love today's feature. It's such a joy to welcome British bridesmaid brand Maids to Measure to Love My Dress as we introduce their gorgeous new Pretty in Print collection.
We always adore inviting old friends back to Love My Dress so that we can share their latest news and celebrate their achievements. So, without further ado, let's hear more from this altogether brilliant brand as there's a lot to tell.
Maids To Measure

+ Follow
If you're currently planning your wedding and 'bridesmaid dresses' is staring at you from your to do list, we urge you to check out Maids to Measure. This award-winning label was founded by sisters India and Sinclair Sellars who were rather frustrated at not going able to find great quality, affordable dresses for their own maids.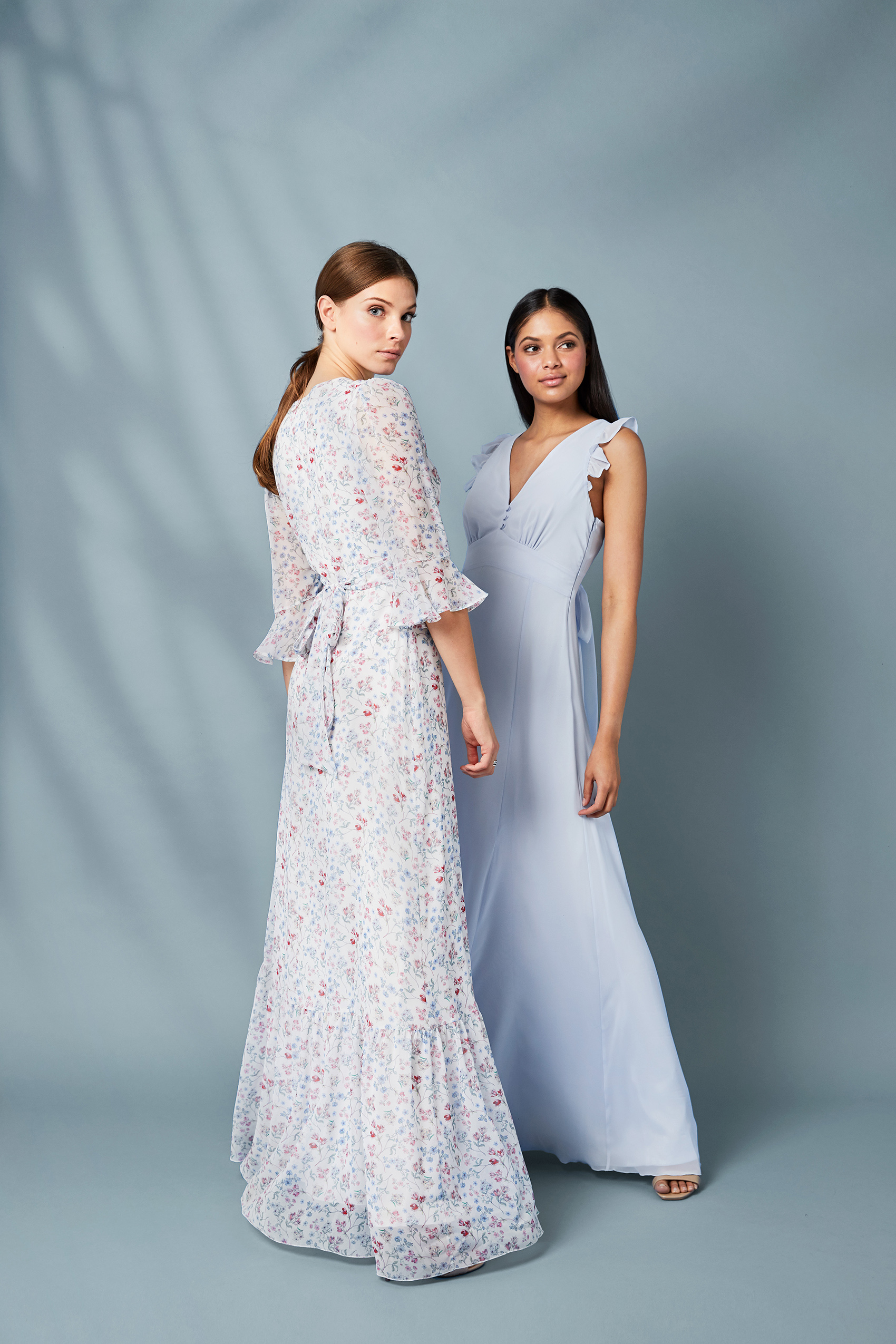 Maids to Measure was created to offer brides endless options and super flattering styles that work with weddings of all kinds. They mix classic styles with modern touches and there are just so many colour options available too.
So much thought goes into the design and the detail – Maids to Measure dresses are double lined with extra length to make sure that they work for everyone. If you've despaired about the choice you've seen or started to panic that you'll never find the perfect dresses for your bridesmaids, Maids to Measure is here to soothe.
2020 has started with a bang for Maids to Measure. They have a great new website, new accessories such as headbands and jewellery plus Pretty in Print, the absolutely heavenly new collection that adds dresses featuring, as you might have guessed from the title, the prettiest prints around.
Explore the full Maids to Measure collection of bridesmaids dresses
"We make our own dresses so we can always move with what brides are asking us for," explains Sinclair. "We've integrated print into all our key classic colours so they can be worn as they are or as part of a mix-and-match style. We've found that brides have picked a print dress for their maid of honour and have then chosen complementary hues for their other maids."
"This year, puff sleeves and frills seem to be real winners. Girls like to have a little coverage when they're bridesmaids so our dresses offer the perfect mix of fashion, whilst being ideal for all types of weddings."
Sinclair is absolutely right – whatever style of wedding you're planning, you'll find dresses to suit in the Maids to Measure collection. The Mathilda dress comes in two prints and a variety of colour options and I love the cute puff sleeves and flattering cinched waist.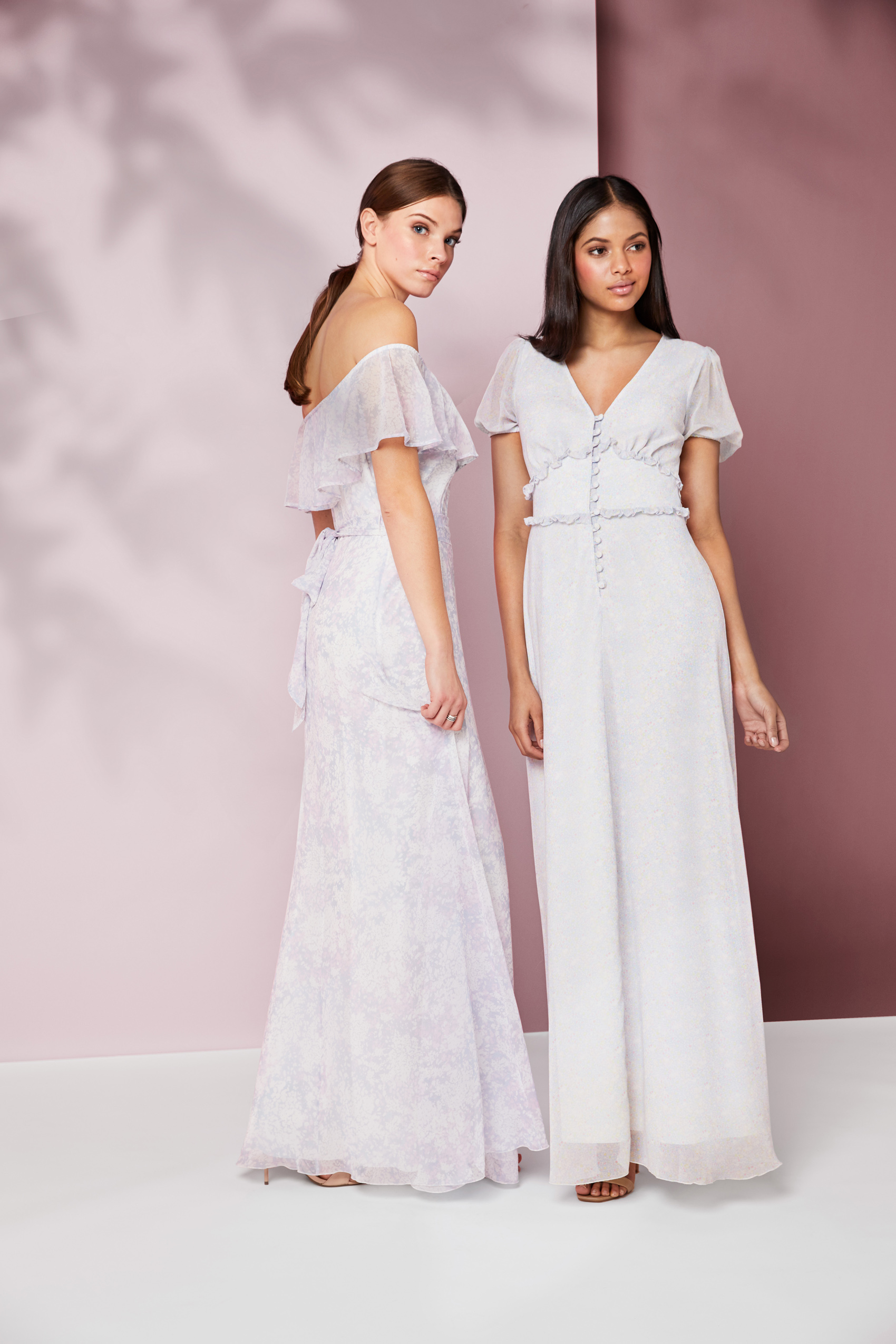 If you're jetting overseas, Sienna is another firm favourite and this style, with its Bardot neckline is perfect for destination celebrations. For something a little more daring, take a look at Tabitha – this would be an absolute winner for city or black-tie weddings.
"When it comes to choosing the dress, bridesmaids know what suits them so I think letting your girls pick their own dresses so they feel great is always the best idea. I feel it makes sense for the bride to pick her colour and theme and then the bridesmaids can choose the style and cut they are confident in."
For the ultimate bridesmaid experience, Maids to Measure offer a fantastic personal stylist appointment for you and your bridal party. For an indulgent hour, you have the Chelsea boutique all to yourself so that you can try on dresses and complete your look with accessories from the Maids to Measure collection.
Explore the full Maids to Measure collection of bridesmaids dresses
"We love letting brides and maids have some time together so we close the boutique and you can play around with the dresses and all our new accessories. We really wanted to be able to complete the girls' outfits rather than them having to worry about finding wraps, cover-ups and hair accessories to suit the dresses when it was easy for us to provide these and you can be sure they'll be the perfect match!"
With the new collection and all these fabulous accessories not to mention Maids to Measure's superb quality and service, you really don't need to look anywhere else to make sure that your bridesmaids look and feel amazing on your big day.
To find out more, simply click on over to the new Maids to Measure website.