On one of the most beautiful days of the year, it feels fitting to be sharing an editorial bursting with summer hues.
These glorious images were sent in by our Little Book Wedding Directory member, Joanne Fleming, who has been all over the news and wedding media this week, after it was revealed that she created the wedding dress for this youtube star. But it was our lovely friend Elizabeth of Elizabeth's Cake Emporium who conceived of these beautiful images and set out to bring them to life, having been inspired by one of the great master artists of the modernist movement. I adore these images, they ooze opulence and elegance and I Elizabeth, it has been far too long since I feasted on one of your glorious cakes! Enjoy folks…
Photography by Roberta Facchini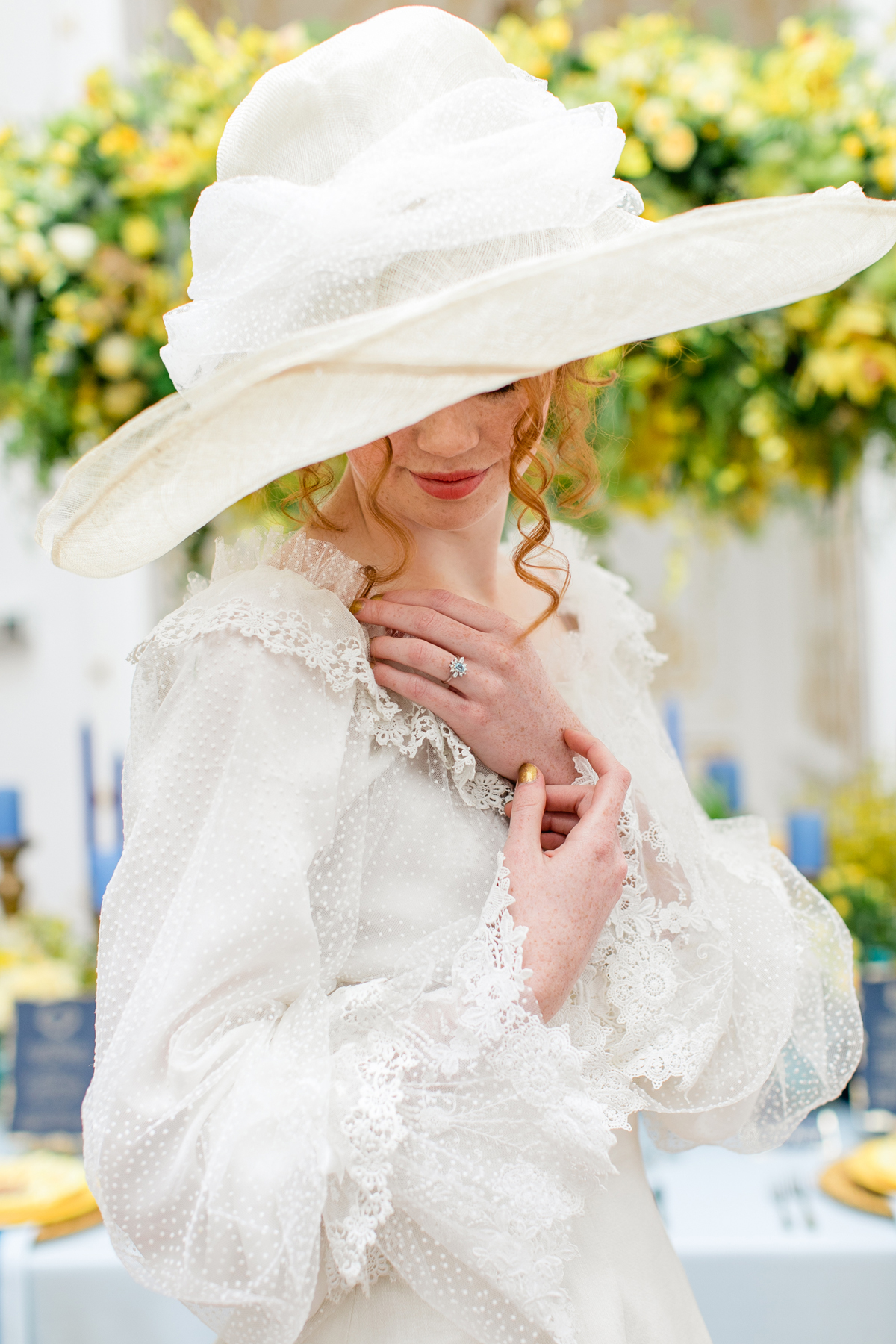 The Concept
Vincent van Gogh is undoubtedly one of the best known painters in the world. A pioneer of modernism, this innovator and master of colour's impressive oeuvre continues to inspire many artists today.
Although Vincent's difficulties with mental and emotional issues are well known and documented, Elizabeth wanted to celebrate the sheer exuberance and lust for life that manifests in so many of his paintings….the rich ochre yellows and vibrant blues lighting up the space around them.
These colours dominate many of his best loved paintings, produced in the latter part of his life which was spent in large part in Arles in the South of France.
Inspired by and in honour of the recent major Van Gogh exhibition at the Tate which brought together over 50 works by this incredible artist, and to celebrate his dedication to his art, I came up with the concept of a happy, joyful styled shoot based on Vincent's visions infused with vibrant colour….his 'lucid dreams'.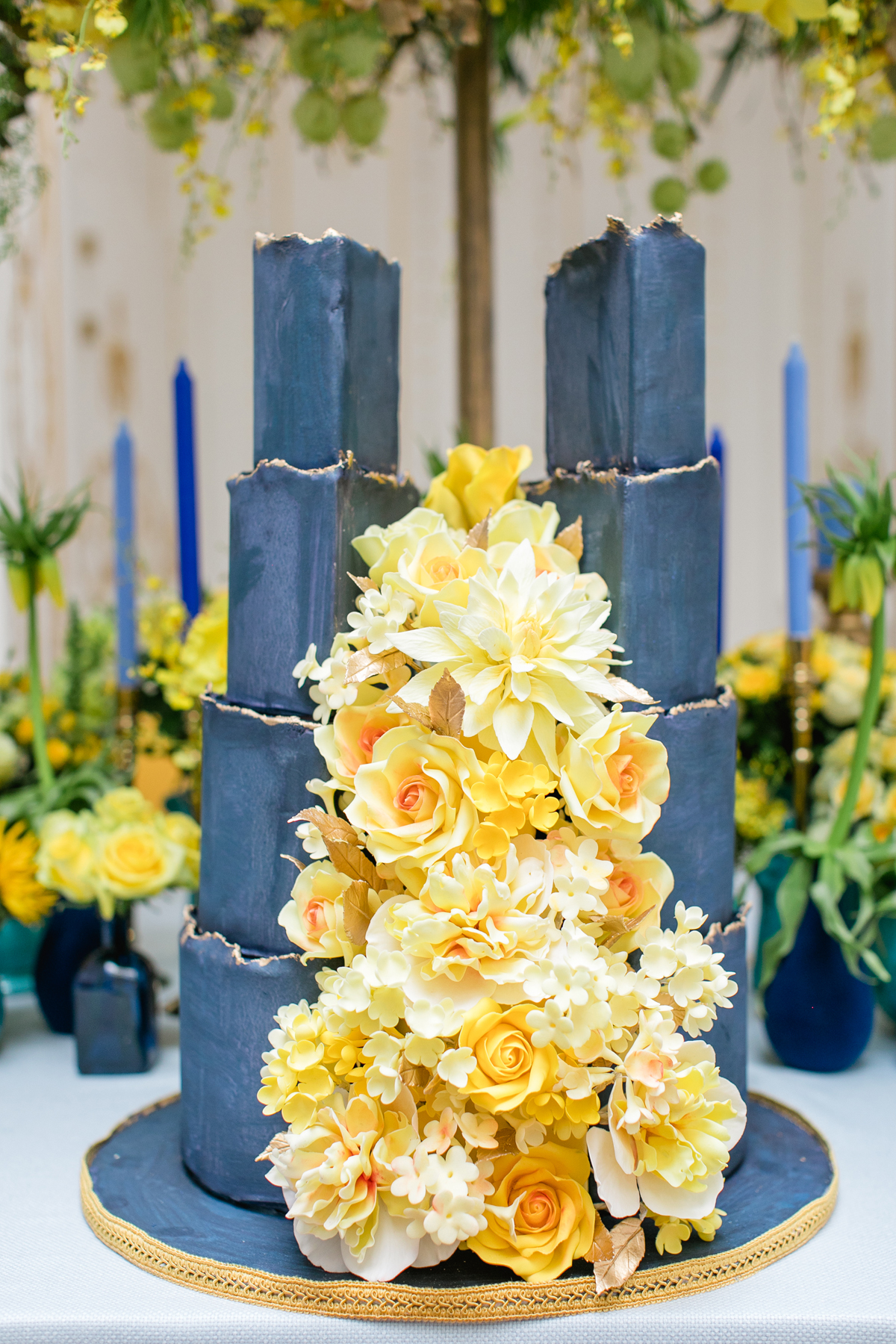 The Venue
Number 10 and No. 11 Carlton House Terrace currently house the British Academy. The premises, built in 1831 to designs by John Nash, are steeped in history. The building was previously occupied by four-times Prime Minister William Gladstone, and was a First World War Hospital for Wounded Officers.
The atrium with its very high ceilings and beautiful light was the perfect setting for this shoot. Whilst the white alcove with the yellow gold baroque detailing provided exquisite framing for a number of the shots, we took the presence of the abstract paintings by John Golding on the walls in the shoot colours as a sign that our Van Gogh's lucid dreams shoot would be best presented at the venue!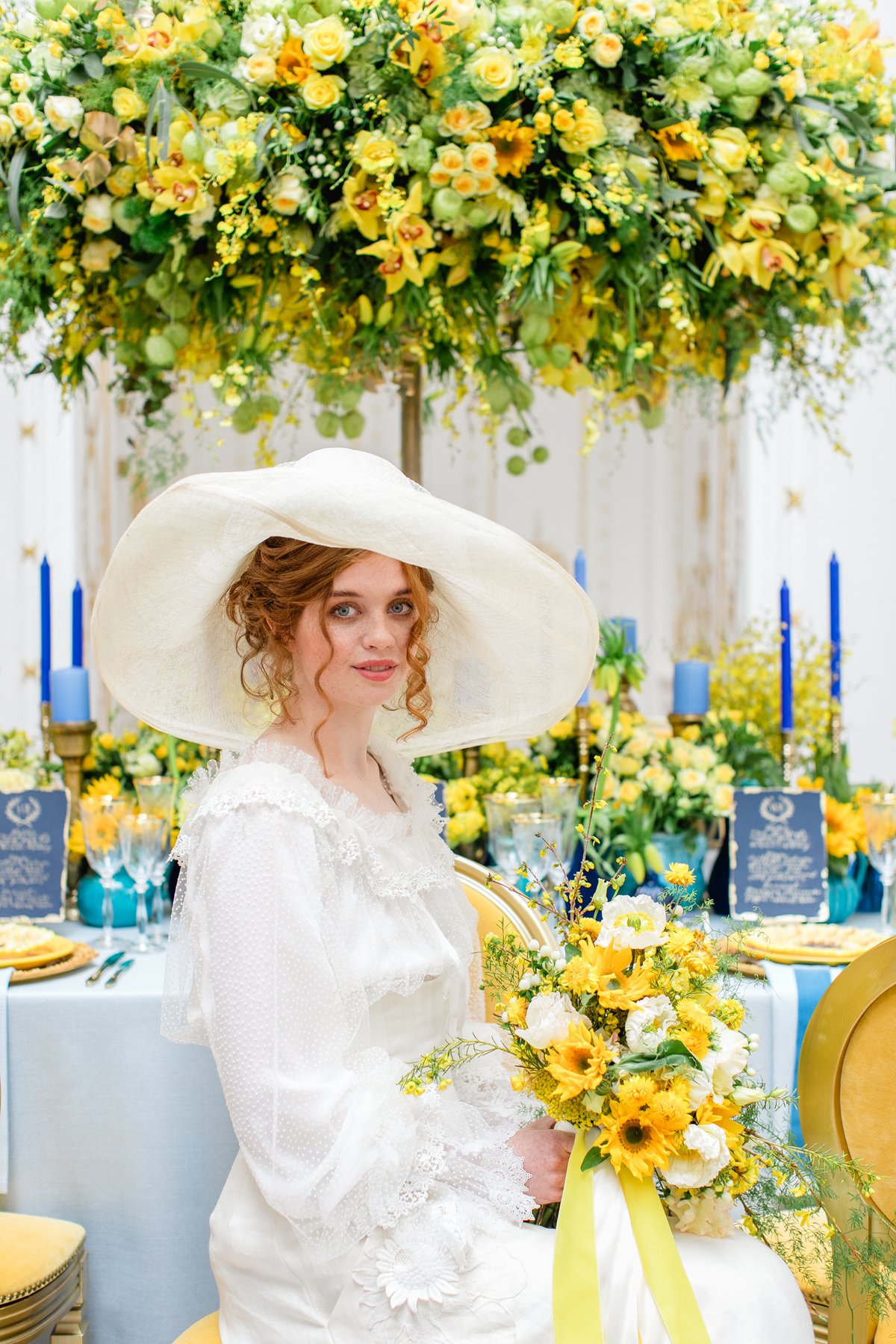 Decor & Details
For this shoot, we tried to capture in 3D form, the textures and vivid tones found in several of Van Gogh's paintings including 'Cafe Terrace at Night', 'Irises', 'Chair',  'Girl in White' and, of course, 'Starry Night'. We also referenced his fondness for absinthe and his pipe.  The tablescape created by WildAbout featured their signature tall and elegant floral design.
The outstanding overhanging flower canopy ran across the length of the table and featured different hues of yellow flowers from the deepest ochre Van Gogh was famous for, to the palest creamiest yellow.
The flowers used included sunflowers, roses, oncidium, dancing lady orchids, cymbidium orchids, craspedia, fritillaria, tulips and assorted greenery.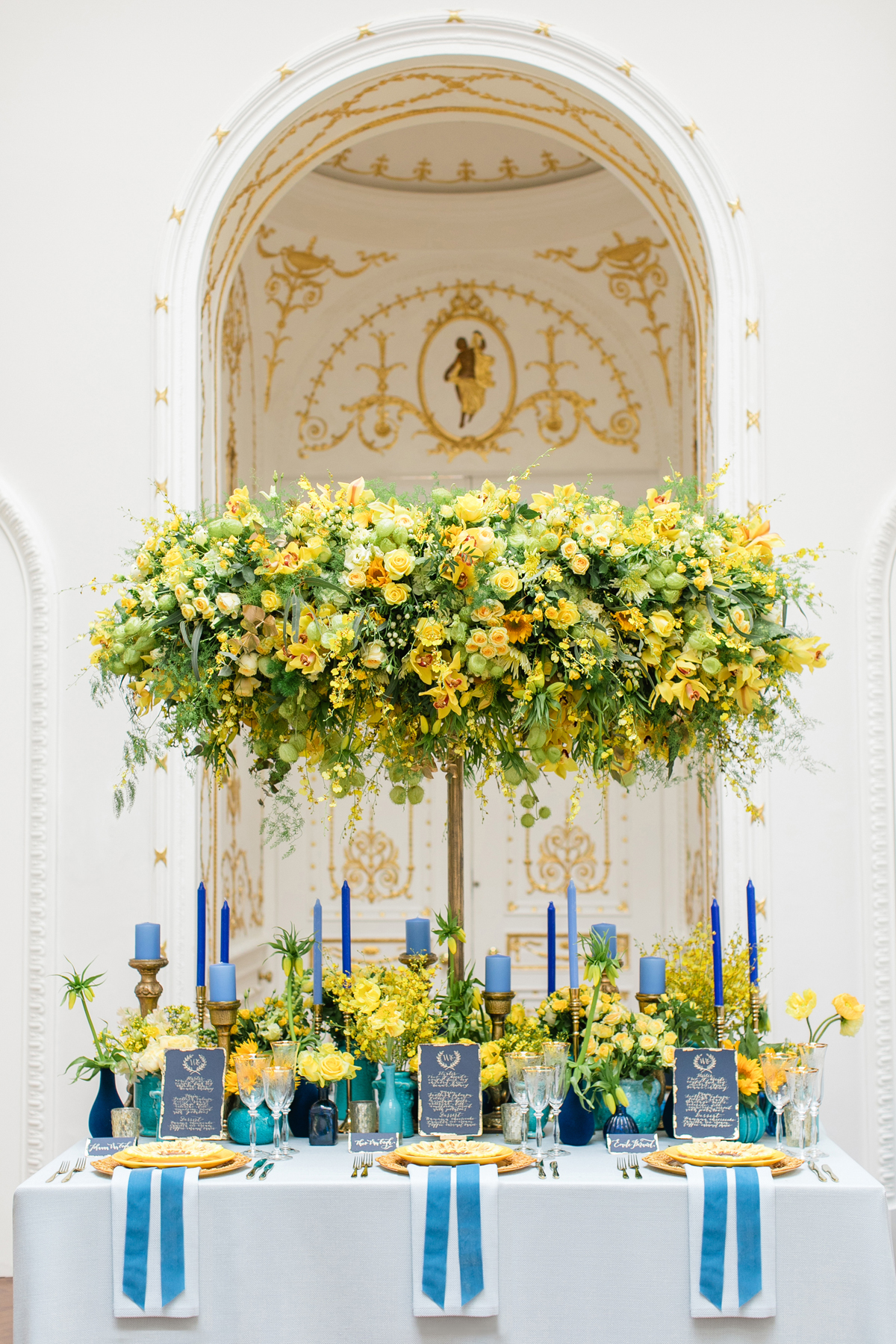 The texture and tone theme continued with WildAbout using textured vases in glass, crackle glaze ceramic, and velvet, all in different hues of blue, including midnight blue, navy, teal and cerulean.  The vases housed clever groupings of more gorgeous yellow flowers. The gold candlesticks were topped with candles in royal blue and cornflower blue.
Each place setting featured ornate gold charger plates which were topped with yellow plates sourced from Italy and hand carved sunflower ceramic plates. The charger plates, etched gold rimmed crystal and gold cutlery were from Classic Crockery.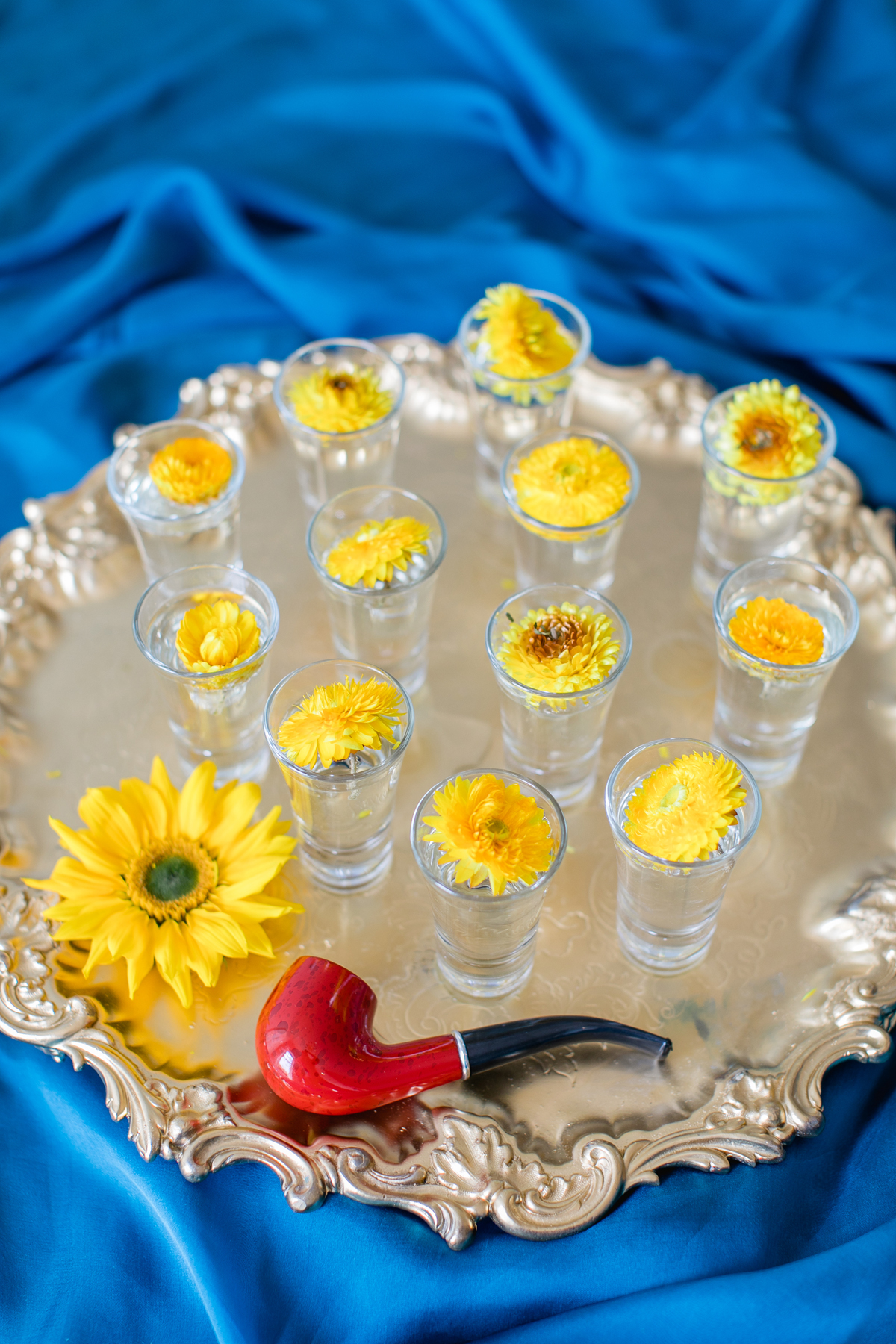 Ananya Cards created beautiful deep blue stationery edged in gold which featured a specially created monogram and the most elegant calligraphy. The menus were placed on mini easels, as a nod to the artist.  The table linen was from Just 4 Linen and gold edged yellow velvet chairs completed the look.
Wild About also created three bouquets for the shoot. Two were  yellow and the third made up entirely of Irises.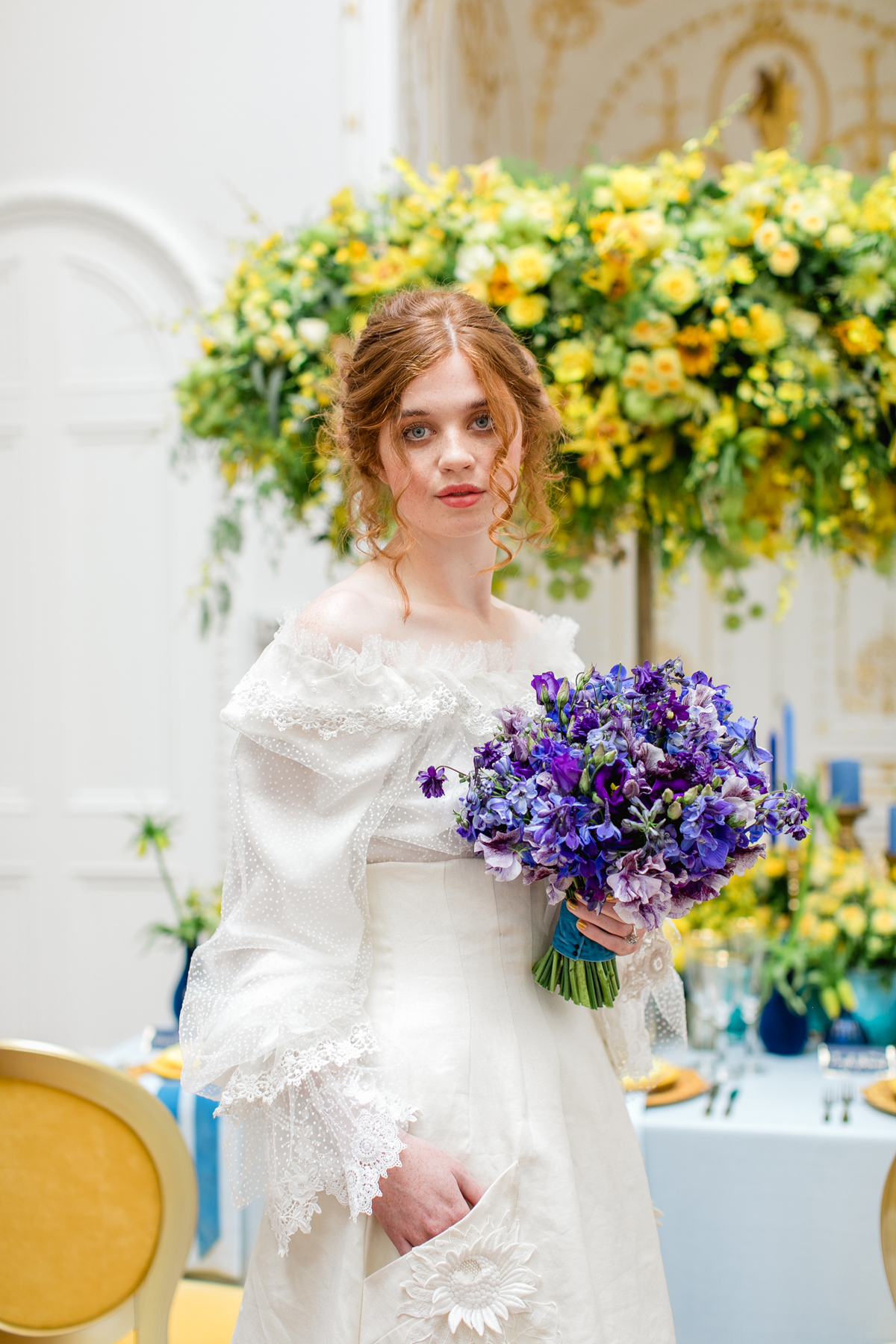 The Dresses
Reminiscent of Van Gogh's Girl in White, for the first look, our model wore a high waisted skirt with boned foundation and deep pockets made in heavy ivory French linen and paired with a silk chiffon and swiss-dot tulle peasant bodice for an informal bridal look. The skirt pockets were highlighted with a pair of Victorian embroidered sunflowers from Joanne's collection of vintage trims, and the luxuriously ruffled sleeve cuffs were made from lengths of unused old stock antique lace.
The look was finished with a pair of Harriet Wilde's classic block heel 'Lana' shoes in bridal ivory, and a wide brimmed picture hat from Jo's personal collection which is trimmed with the same Swiss-dot tulle as the blouse.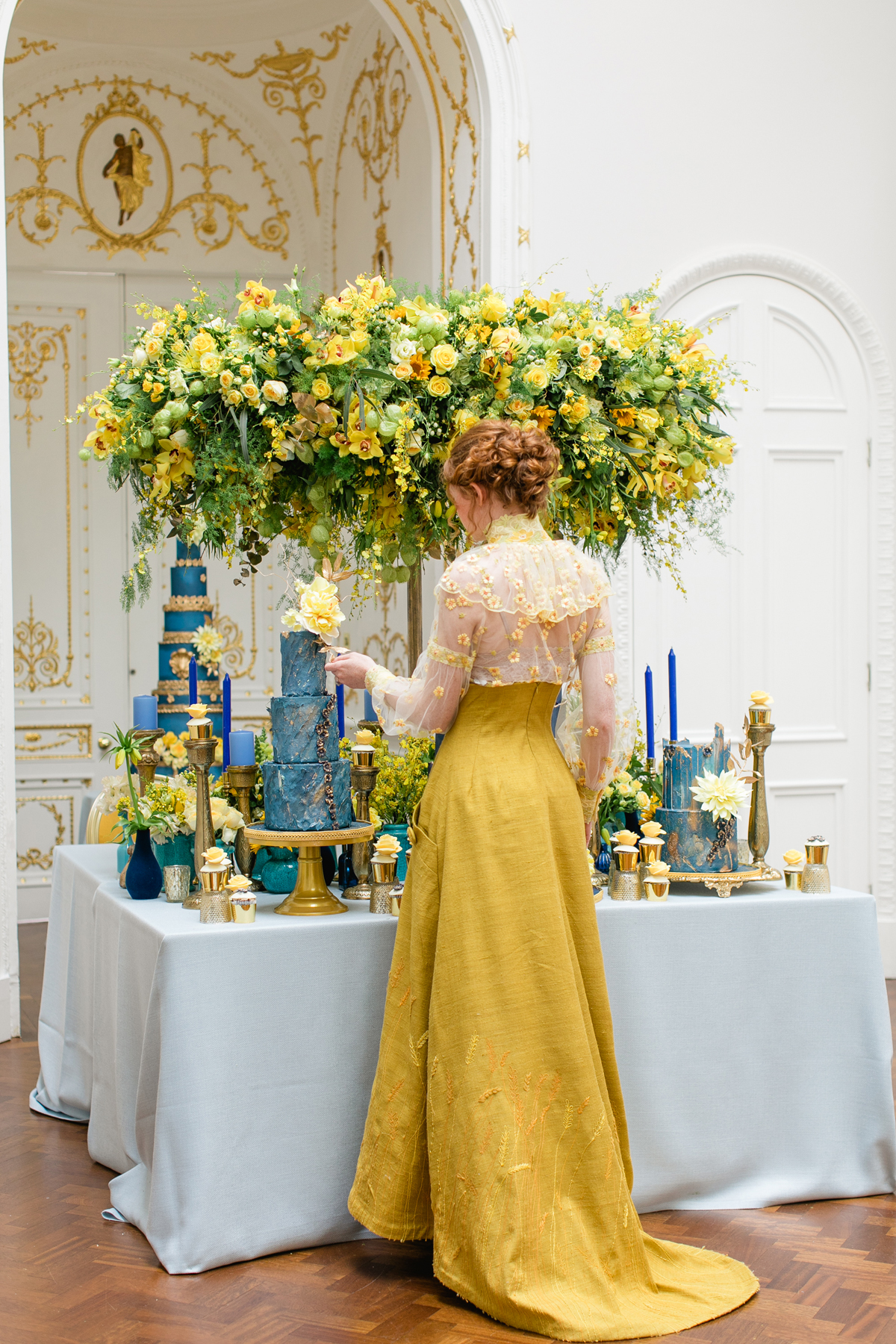 For the second look Jo wanted to conjure those iconic Van Gogh paintings of yellow ochre wheat fields and Provençal sunflowers. The corset waist skirt was constructed in slubby silk tussah for a homespun rustic look, and  embroidered with knee high stalks and ears of wheat. The high ruffle-necked blouse was made from tulle embroidered with little sunflowers hand tinted in shades of golden yellow and burnt sienna.
Again, Jo used a length of antique Victorian lace, hand painted to match, for the collar and cuffs, to provide that connection to the past. A wonderful flower trimmed yellow straw hat by inspirational milliners Lomax and Skinner references the straw hats Van Gogh depicted in several of his paintings.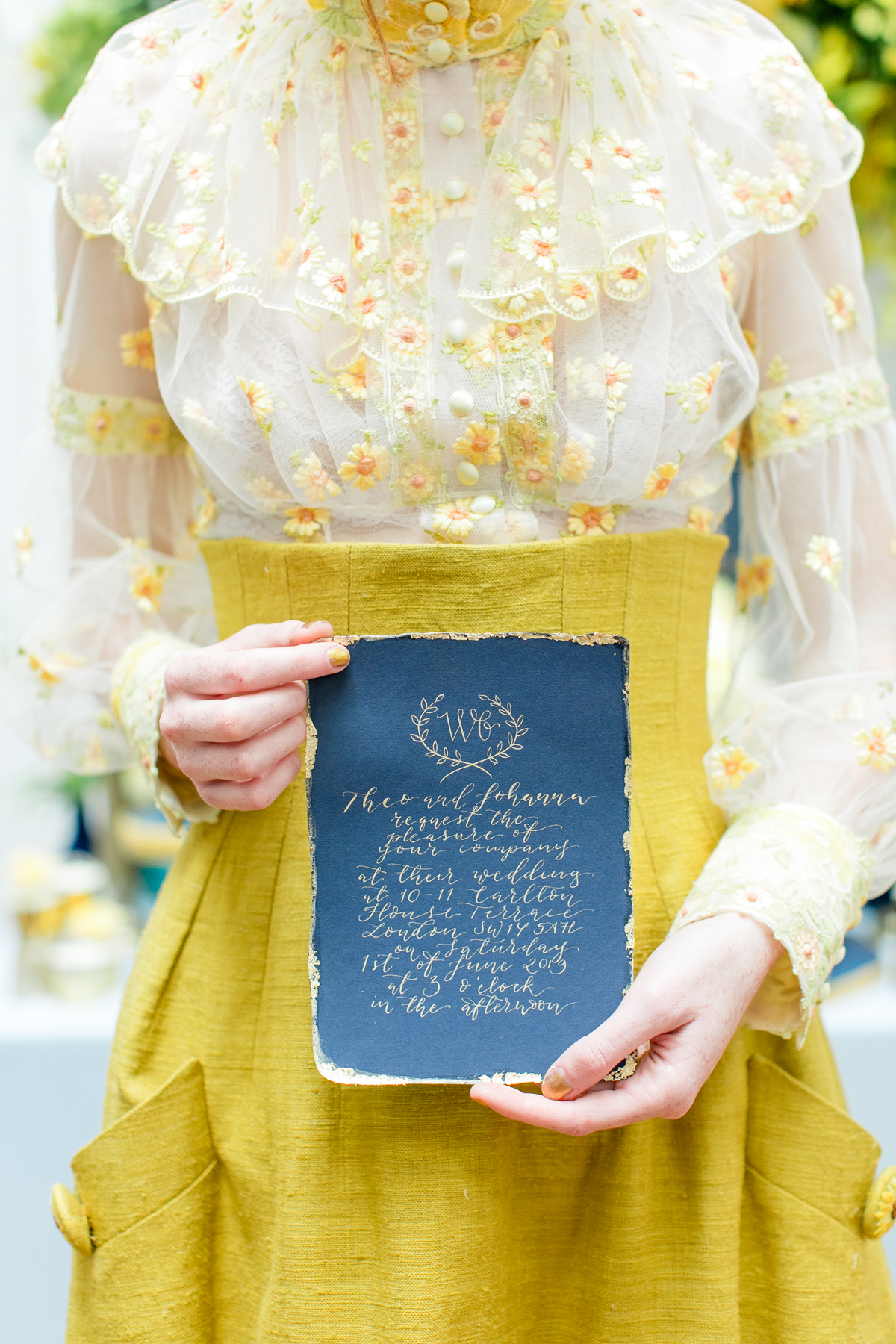 For the third look, Jo created a more sophisticated look inspired by that glorious yellow ochre shade that glows from so many of Vincent's paintings of the South of France. Supple shimmering silk satin skims and flows around the body, catching and reflecting the light.
A huge stylised sunflower is the only embellishment on this gown, which is paired with Harriet Wilde's fabulous 'Arabella' shoes in midnight blue velvet….. the combination of golden yellow and rich blue evoking the jewel tones of  'Starry Night over the Rhone' and 'Café Terrace at Night'. A Lomax and Skinner curled feather headdress adds a little Moulin Rouge showgirl glamour to the look.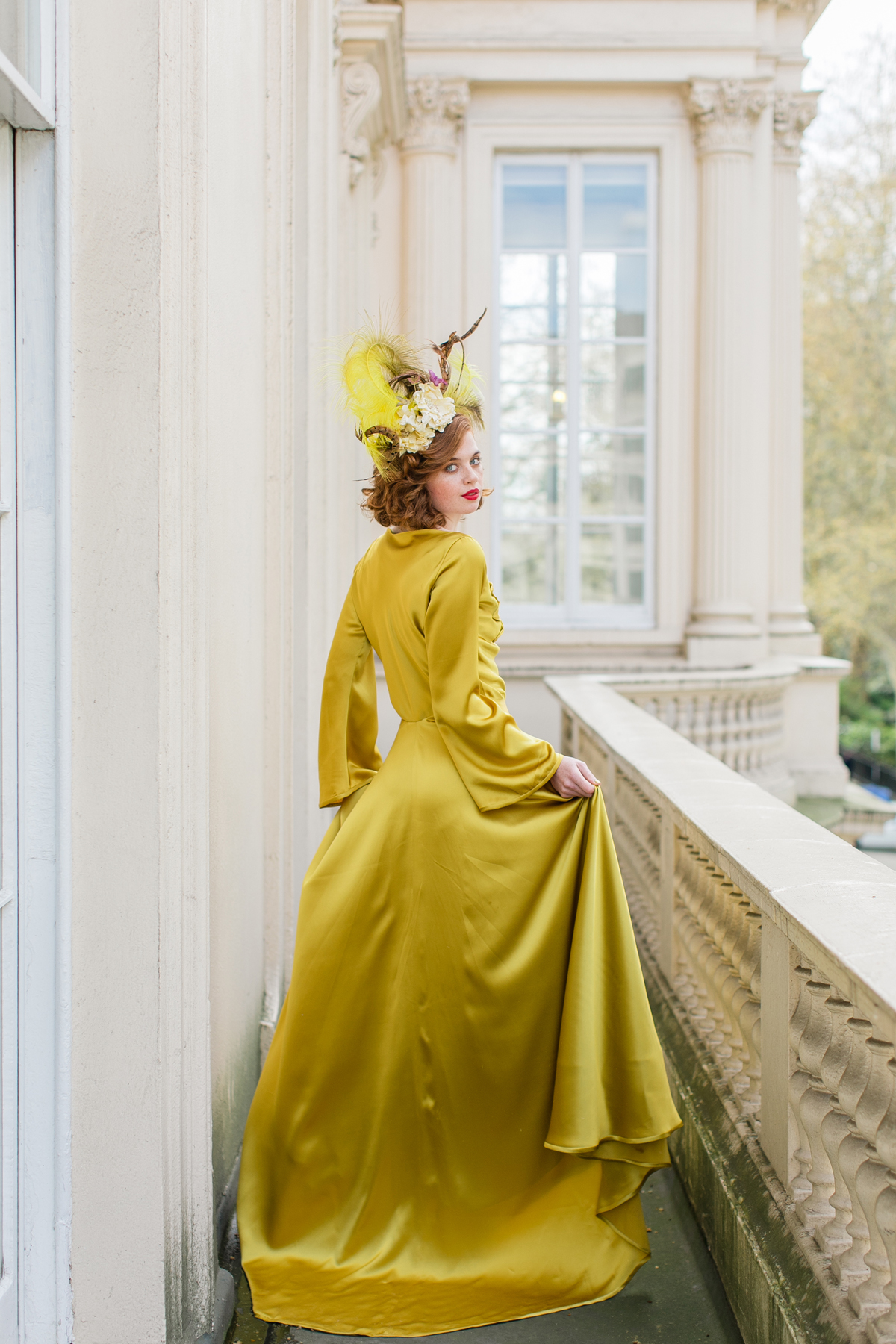 Beauty
The hair and make up for this shoot was by the amazing duo of Sylwia Kunysz and Stacie Goodwin. For the first Girl in White look, we used a soft and natural palette on the face, the hair in a soft tousled up do with some loose tendrils framing the face, working with the models own natural curls to create a relaxed look.
It was good way to pay homage to the painting, giving it a modern twist. For the second look, the hair was soft and loose, the team creating a 1930s inspired look with bold lip to complement the gorgeous silk dress.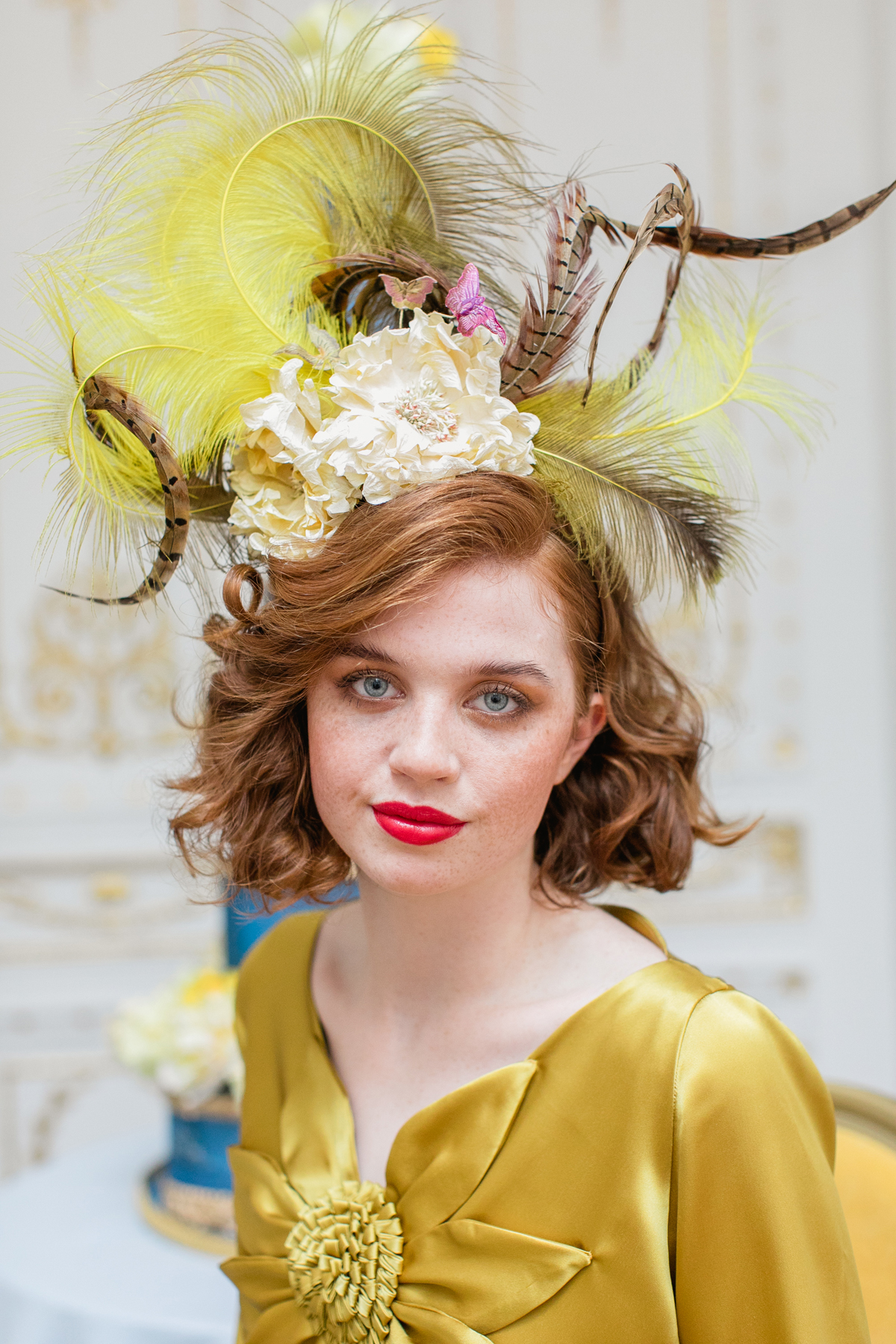 The Cakes
For this shoot, Elizabeth created four luxury wedding cakes, cupcakes, cookies and mini chocolate magnums. The main cake was a 7 tiered Van Gogh mottled deep blue baroque confection. The baroque detailing gave the cake grandeur and the yellow sugar flowers adorning the cake were in different shades of yellow. The handcrafted sugar flowers included tulips, roses, dahlias, peonies and gold leaves. The second cake was a blue gravity defying split cake  with hundreds of yellow sugar flowers seemingly cascading out of the centre.
This cake was created to reflect the prolific art that poured out of  Van Gogh despite the darkness that often over took him. The other cakes were distressed and decorated with bas relief, gold leaf, wafer paper and crackled effect and symbolised the fact that art is often never perfect!
Photography
We were honoured to have one of the most sought after luxury fine art photographers in the UK, Roberta Facchini capture this shoot in all its glory. Roberta's Italian background means she is very familiar with that gorgeous southern European Mediterranean quality of light and her masterful ability with colour was used to great effect to capture this tribute to Vincent's lucid dreams.