It's Friday! And finally time for us to tell you all about SISTER, the brand new and beautiful collection of bridesmaids dresses by the brilliant Halfpenny London.
Halfpenny London, founded by designer Kate Halfpenny, feels like part of the DNA of Love My Dress; Kate was one of the very first designers I wrote about way back in January 2010, when I first set out on this crazy wonderful career switch and journey into the wedding world, and she has consistently and genuinely shown me and my business so much love and support along the way.
Halfpenny London SISTER

+ Follow
I've watched Kate push out and innovate year after year, so when she felt it was time to create gowns for the bride's best ladies, she wasn't just going to create any old regular fancy frock – these stylish, modern and flattering designs have been made to be worn again and again after the wedding – the perfect wardrobe addition for those of you looking for something a little special. And the best part is they have been created to flatter all female forms and provide a piece of affordable luxury from one of the best, couture teams in the UK today.
As of today, all designs in the new SISTER collection are available to pre-order from the Halfpenny London website. Enjoy shopping ladies!
The SISTER collection will be available exclusively online from February at halfpennnylondon.com. There are 7 looks in all (not including the genius detachable sleeves for those a little conscious about baring their arms), in sizes 6 – 22, and priced between £95 and £295 .
Dresses are currently available in the colours navy, dirty pink and pewter – with more cool hues on the way.
The Sister collection has something for everyone – from my signature separates to dresses and even a jumpsuit. They've all been designed to be worn on the wedding day, then incorporated into your wardrobe afterwards to wear again and again, styled in your own unique way. Kate Halfpenny
We got chatting with Kate earlier this week to find out all about SISTER and what inspired her to take this step into designing not just for the bride.
I love the word Sister. It could mean family but it could also mean your best friend or your wing woman. Kate Halfpenny
"Every bride who walks through our door is completely unique and our differences should be celebrated. I wanted to carry my mission statement of 'being the bride you want to be' through to the wedding party by creating an edit of ultra-flattering, interchangeable pieces which look fabulous together and also allows every bridesmaid to feel incredible on the big day and beyond."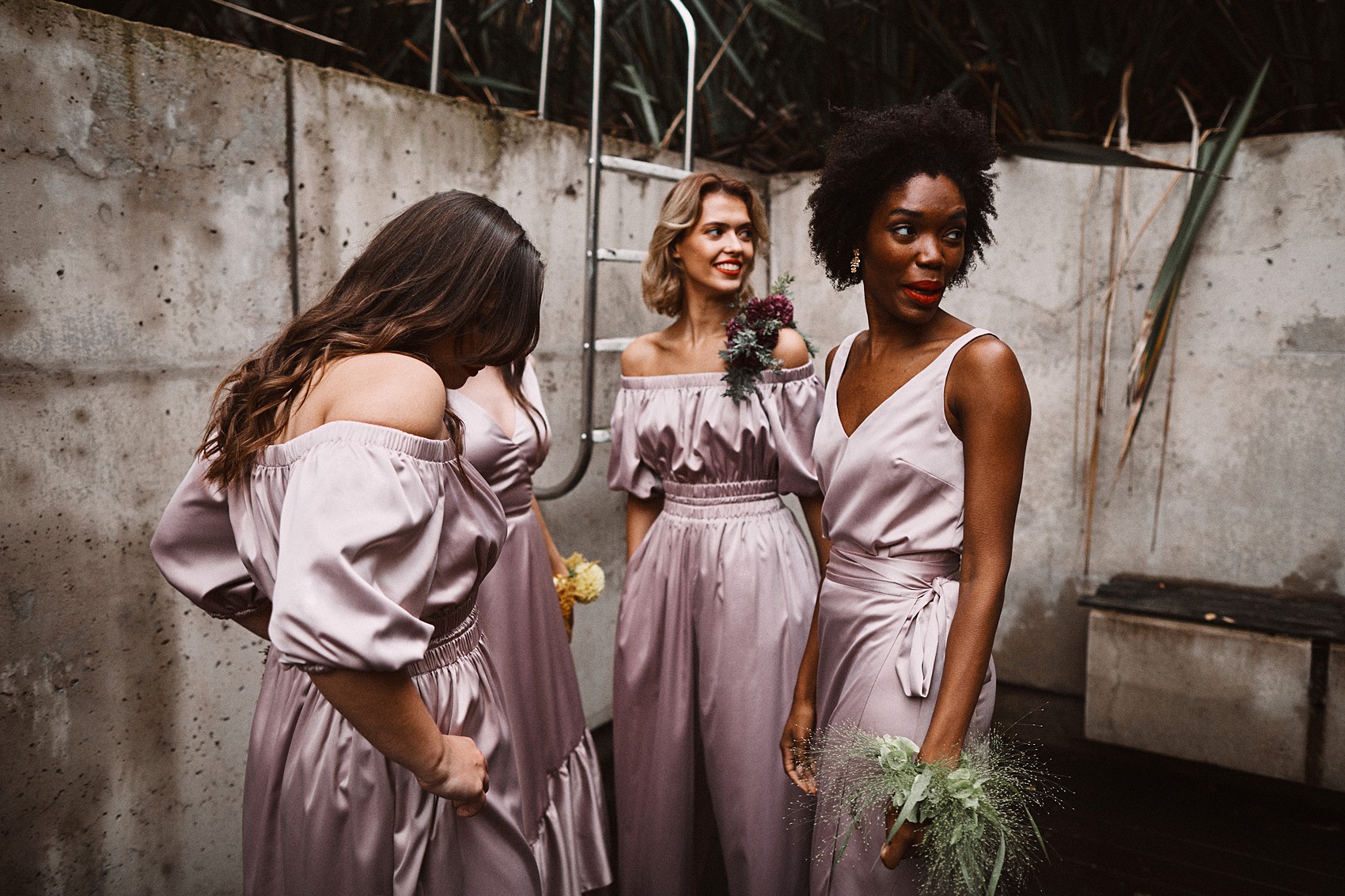 Tell us what inspired you to create the SISTER collection?
"I simply love bringing out the very best in a woman and my bridal collection is always designed with individuality and interchangeability in mind so I wanted to extend that to the bridal party too.  Sister is a collection of separates, dresses and a jumpsuit designed to flatter every body shape.  "Be the bride you want to be" is our mantra so why should it be any different for bridesmaids?"
All designs from SISTER are now available to pre-order – click here.
Were you inspired by any particular muse in creating this collection?
"I don't have a particular muse, no, but I'm constantly inspired by my brides, my team and the wonderful women around me.  I look at us all and we're so different, with different shapes and styles and I began to think about what we'd all wear if we were all bridesmaids.
There's something for everyone including some styles with detachable sleeves."
How would you describe the SISTER aesthetic and vibe?
"It's bridesmaids but not as you know it!  The pieces are cool, modern, lots of fun with a fashion sensibility, in true Halfpenny London style.
The SISTER collection is designed for you to re-wear, re-love and re-imagine into your day to day wardrobe."
Wear it…
To that glamorous party
To that night out out
To that super hot date
To that friend's cocktails
To that new restaurant
To that club
To that wedding
To that super special wedding
To that super special wedding with your sisters
To that super special wedding for your sister
We know how important size inclusivity is to you – how has this played a role in the creation of SISTER?
"Inclusivity has played a huge role in the design and creation of this collection.  No two of my friends are the same, or want to wear the same thing so I felt very passionately about giving that choice without compromising on style."
"The Sister collection is available in sizes 6-22 as standard and lots of the styles have some wiggle room either side of that."
Speaking as someone who had a huge number of bridesmaids at my wedding, I know from experience that dressing a group of fabulous, diverse women in a way where they feel amazing, yet look like a cohesive wedding party is a challenge! Luckily, that's what myself and my team do every single day. Kate Halfpenny
"I'm also a huge fan of the detachable sleeves, I don't personally like to show my arms so I wanted to make sure the opportunity was there for all the bridesmaids to wear the same outfit – if they so desire – and each one can choose the exact coverage they prefer.  I know, for me, that would be a game changer."

What will brides and their maids love about SISTER?
"I think the interchangeability and the choice is key.  No one wants to wear something they don't like!
The pieces can be styled in so many different ways and will look fabulous on the big day, all together, and then will be worn again and again afterwards."
I LOVE the fact that you have created these designs to be worn again – tell us more about this
"SISTER dresses are not typical bridesmaids dresses in any way – they're cool and so chic and not designed to be worn just once. They can easily be incorporated into your everyday wardrobe and that's something I feel very passionate about, particularly at a time when we should be considering the impact of our consumer choices on the environment."
All designs from SISTER are now available to pre-order – click here.
We try to design with a conscience at Halfpenny London and that goes for everything from the fabrics we choose to down to the packaging. We're trying as a business to be conscious every step of the way.  There's a long way to go but we're taking constant steps to be kinder to the environment."
Do you have a favourite piece in the collection?
"I'm so in love with the colour block styles and the fox dress (pictured below) is just gorgeous on everyone who wears it."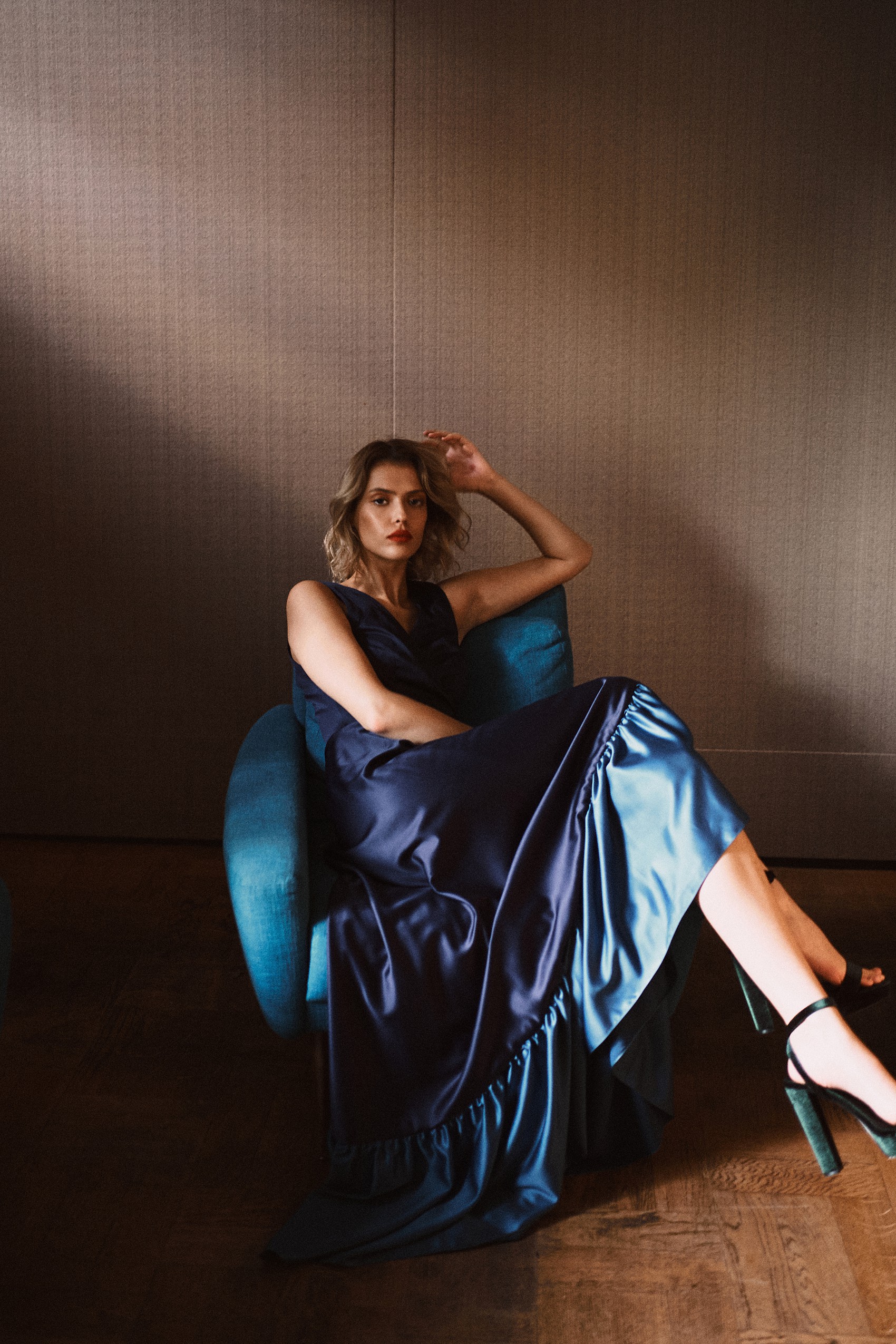 The SISTER collection is available exclusively online at halfpennylondon.com from February. There are 7 looks in all priced between £95 and £295 with detachable sleeves also available at £50.
Discover more by visiting halfpennylondon.com.
Halfpenny London SISTER

+ Follow