The bridal fashion landscape is changing, that is for sure. The pandemic has disrupted the status quo and women are considering their fashion choices differently in the run up to their wedding.
I have thoughts on this that I'm going to share in a separate article soon. Today, I'm keen to celebrate a bridal fashion style/choice that played a huge part in the birth and early growth of Love My Dress; vintage, upcycled and retro.
Anna Rose Heaton

+ Follow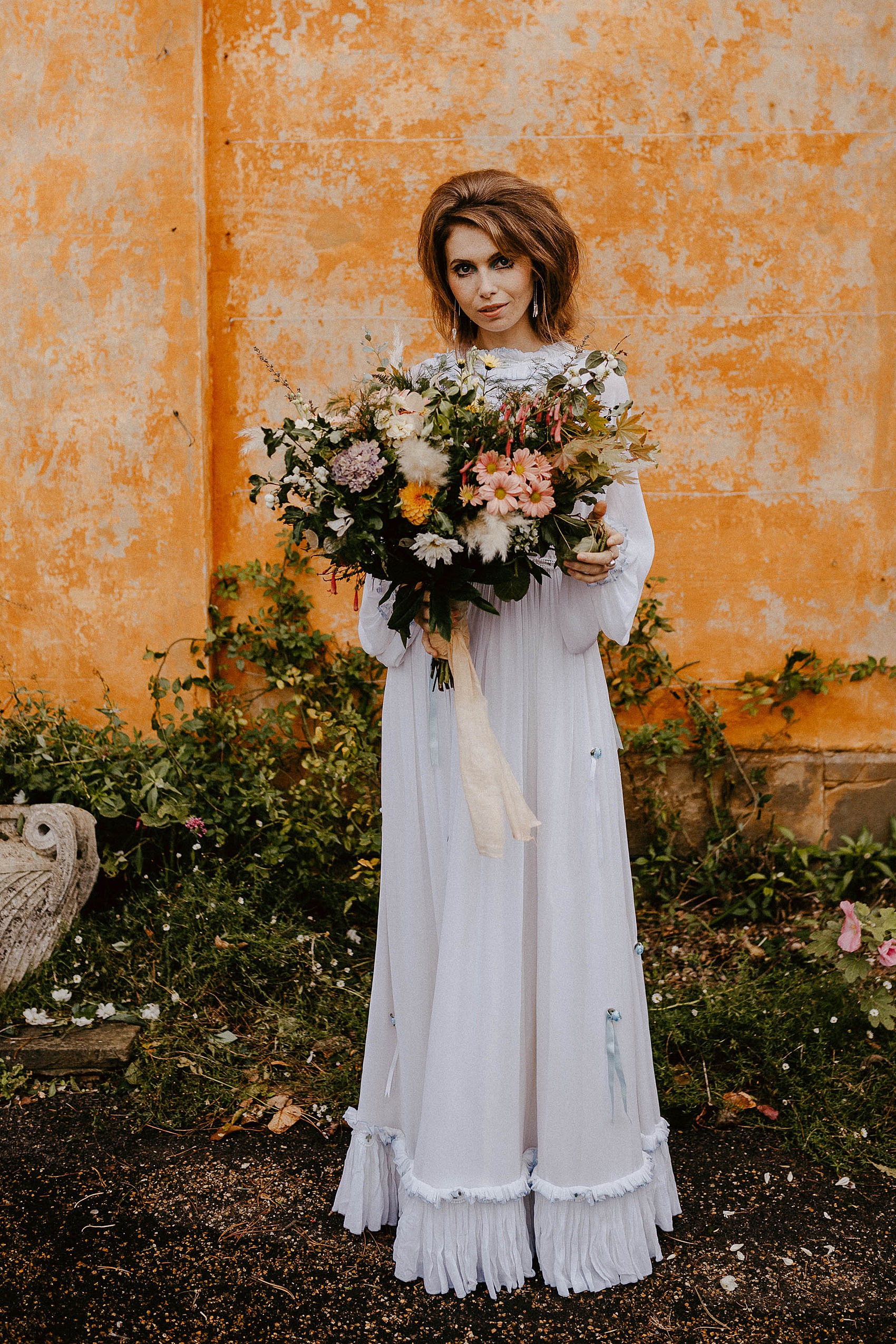 This editorial concept was the vision of photographer Anna Rose Heaton and her colleague Julia from Curious Magpie. Anna-Roses's words follow…
"This shoot was created for couples who want something alternative for their new wedding day. If you've had to change your weddings plans, then perhaps you no longer want to wear the traditional wedding attire for your stripped back ceremony."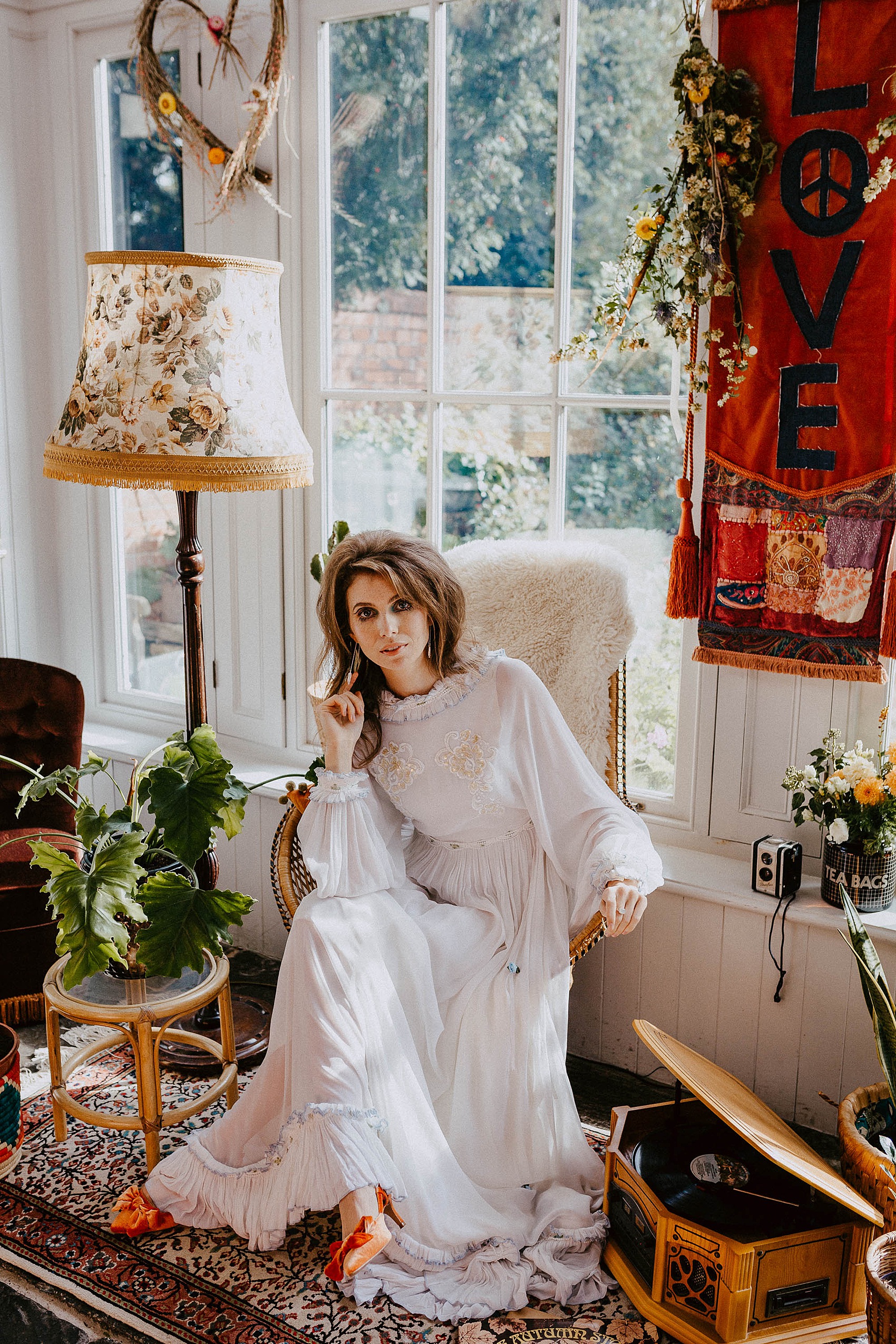 "The dresses in this shoot were all sourced in local charity shops and tick comfort, style and sustainability off the list. Sourcing a 'one of a kind' dress means, not only can you can wear something you feel absolutely fabulous in, but without spending an absolute fortune – you can even wear it again."
"Not only that, but it supports charities during these challenging times and you can guarantee no one else will be in the same dress os you this year."
"As wedding suppliers, we totally get that scaling back your wedding plans can feel disheartening. But remember that every cloud has a silver lining."
"You'll have more time to spend on planning the smaller details of your day, and more time to find the perfect suppliers who can create your intimate wedding day vision and make it a reality."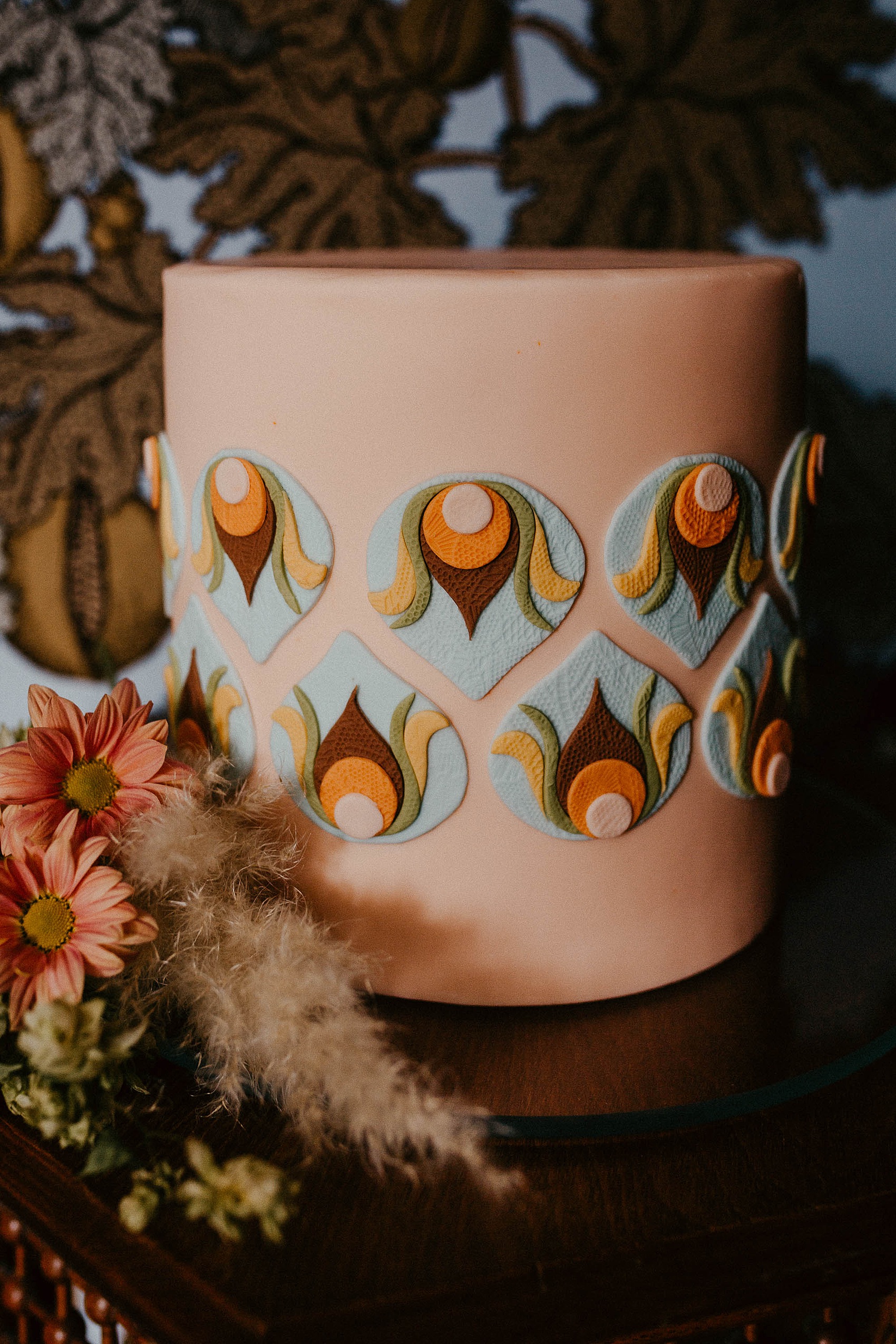 Sustainable Weddings Advice From Anna Rose Heaton
Here is a little list of sustainable factors you can consider while planning your wedding or micro wedding.
Find a florist that works with or grows beautiful seasonal blooms
Supporting local businesses – if you find a photographer and videographer, florist, baker, stylist, caterer who is local then this will help reduce their travel emissions and also make things easier during the pandemic if any travel restrictions are in place
'Something Old & Something Borrowed' – Sourcing second hand pieces like your dress, shoes & accessories is a great way to add unique touches to your special day but also helps reduce waste
Working with an awesome stylist to get the exact theme you want, means you won't waste money buying things that you might not use and might be thrown away after. Remember your wedding stylist will have an epic box of tricks that they can reuse & recycle
Finding a unique jeweller that uses recycled materials is another way you can find one off pieces that are ethically hand produced
"Myself and Julia thrifted both pre-loved dresses from local charity shops. We had two key looks both inspired by the 60's & 70's."
"The first look was a floaty & dreamy long sleeved number with baby blue trim detailing and a low slung back. The second look was even more alternative with a great shape and the embroidered detail on the front was so eye-catching."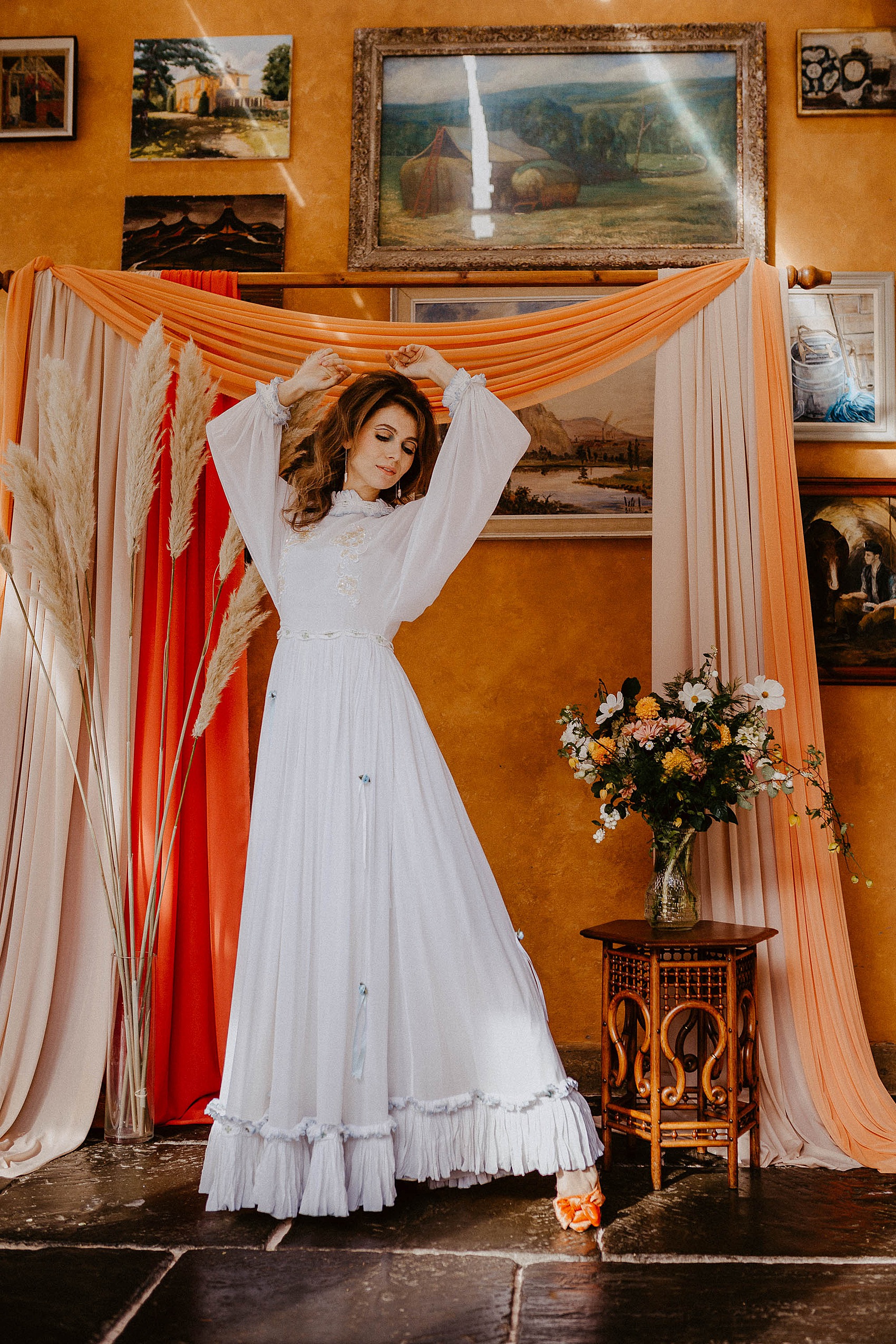 "The second dress is made out of crimplene, which was big in the 60's, as it doesn't crease."
"The high neck line and awesome sleeves was something else that really stood out to me and it's a great length for showing off your shoes too."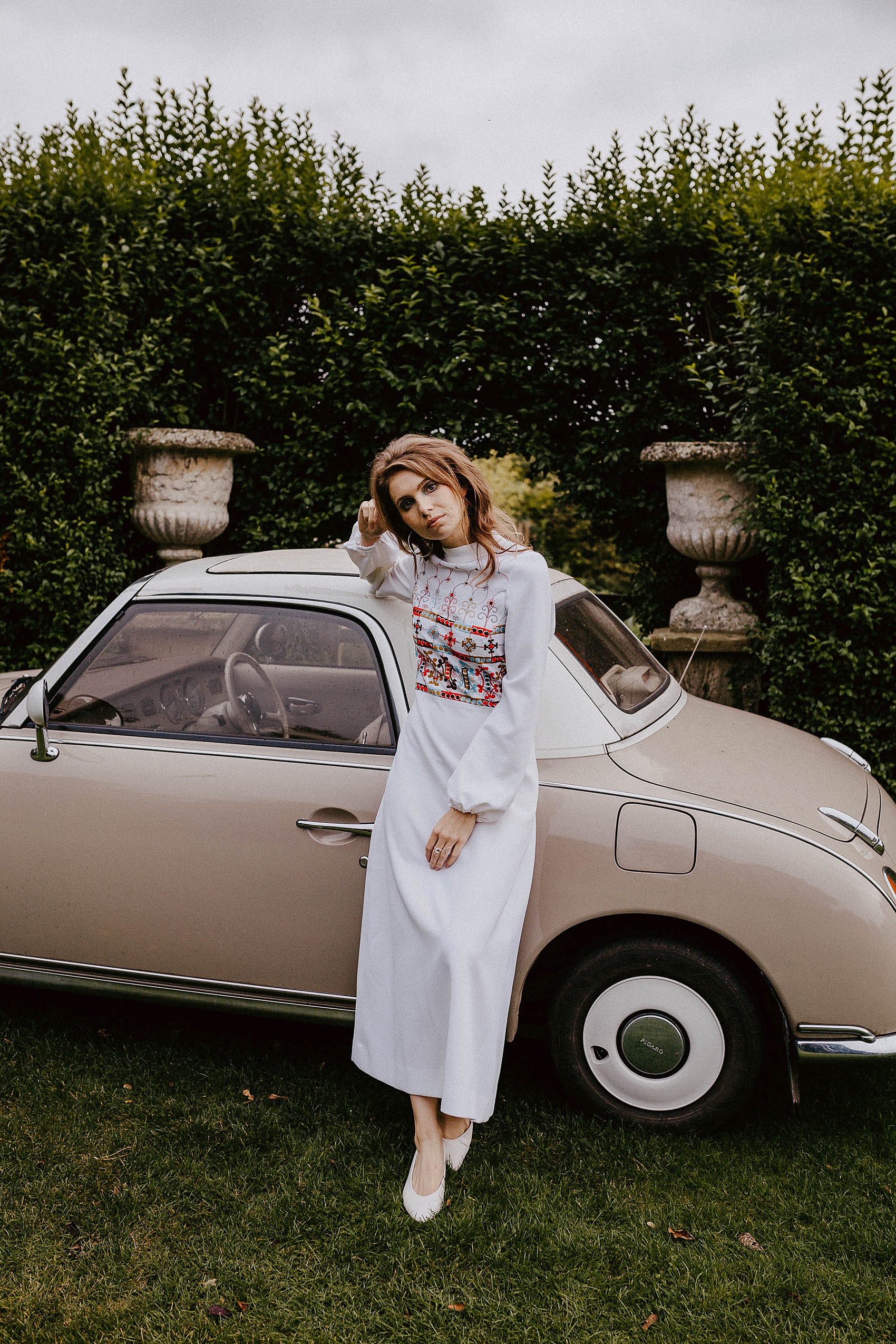 "Both outfits had a bit of blue detailing on them which is something that inspired the make up look, to tie both looks together"
"We wanted big retro 70's hair, coupled with a structured 'twiggy' inspired eye with that colour pop of blue."x
"Personally, I've been so inspired by this styled shoot and enjoyed the styling process and preloved bridal fashion so much, that I've since teamed up with my Granny to work on a passion project to give us both something positive to focus on during this second lockdown and while my photography bookings are postponed."
"We are currently upcycling pre-loved and vintage wedding dresses to create a small capsule bridal collection, ideal for a modern bride looking for something sustainable, beautiful and bespoke to wear on their special day."
"I never thought I would go into business with my Granny – so it's a lovely positive thing to have come out of the pandemic!"
"My Granny is a sewing wizard and is really enjoying have a project to work on while living alone. We launched our Anna Rae Bridal collection last month and you can find details here."