When I was asked to write about today's wonderful, intimate family celebration, I was conscious of the huge honour it was; to share this wedding day with you, and also the circumstances that led to the couple's day being the way that it was, organised in a matter of weeks following the cancer diagnosis of Jez, our groom.
Wherever possible, I've shared the beautifully written words of bride Jessi, because they  should be read in full. This is a deeply personal and emotional story, filled with heartbreak, but at its core, great courage, and abiding, soulful love.
This is the wedding of Jessi and Jez. Jessi is a Marketing Assistant, and Jez is a Teaching Assistant, and the couple were married on their seven year of meeting anniversary – the 16th November 2019, at the Council House in Great Malvern, followed by lunch at their favourite Italian restaurant, The Olive Tree in Ledbury.
Film by Ginger Alice
"We got married on the 16th November, six months earlier than we had originally planned! I wish I had a nice reason as to why we got married sooner than expected, but sadly that's not the case. My husband's cancer has returned."
"Jez was first diagnosed with a Synovial Sarcoma (a rare soft tissue cancer) three years ago, after noticing a lump on his hand. Following radiotherapy, an operation to remove the tumour and a year of recovery, we were told he was cancer free."
"We started piecing our lives back together, got engaged, finished university, landed our dream jobs and bought a house. We were moving on, happily planning our May 2020 wedding and life was looking good."
"In September 2019, during his regular three month check up, we were told that Jez's cancer had come back, and had metastisized to his lung, spine, sternum and shoulder bone. There are no words to describe how it felt to hear the oncologist tell us Jez's cancer is back, and it's incurable. I'm beyond heartbroken."
"As we left the hospital, we both said we didn't want to wait any longer to get married, so we booked the earliest date available at our local registry office, which also happened to be the date of our seven  year anniversary. We both agreed we wanted just our parents and siblings there, and we would still have a celebration next year at the venue we had booked, but instead of May, we have brought it forward to Valentine's Day."
"We just wanted to get married sooner rather than later, and do it on our own terms whilst Jez is still fit and well enough to do so."
Jessi's lovely, long-sleeved lace dress with beautiful scalloped edge detailing was an ASOS find, which was then altered by her cousin, who is a seamstress.
"The dress that I had ordered for our original wedding date (May 2020) wouldn't have arrived in time for the November date, and I didn't want to spend a lot of money on a second dress, so thought I would look at what was available on the high street."
"I was absolutely delighted to find this dress from ASOS for £120! It was so comfy and I felt beautiful in it. The lace is really soft, and I was really impressed with the quality."
"I would recommend any bride trying a dress from the high street, as I was pleasantly surprised. ASOS in particular sent the wedding dress in a lovely dress box, and their customer service is great."
"Long before we got engaged, I had already envisioned what I wanted my dress to look like. I wanted long sleeves and lace. I wanted to feel like myself and to not feel consumed by lots of material! I loved the lace the most, and how it gave the illusion of being a two-piece."
Keri and Michelle from Rebel Rock Hair & Make-up styled Jessi's hair into gorgeous waves, and created a perfectly autumnal make-up look, which included shimmering copper eyeshadow.
"Keri and Michelle are the absolute best! I booked them shortly after getting engaged, as I have followed them on Instagram for a long time, and I already get my hair done at their salon."
"Once I had emailed Keri explaining our situation about changing our dates from May to February, she and Michelle came up with the idea of using my hair and make-up trial for our November wedding."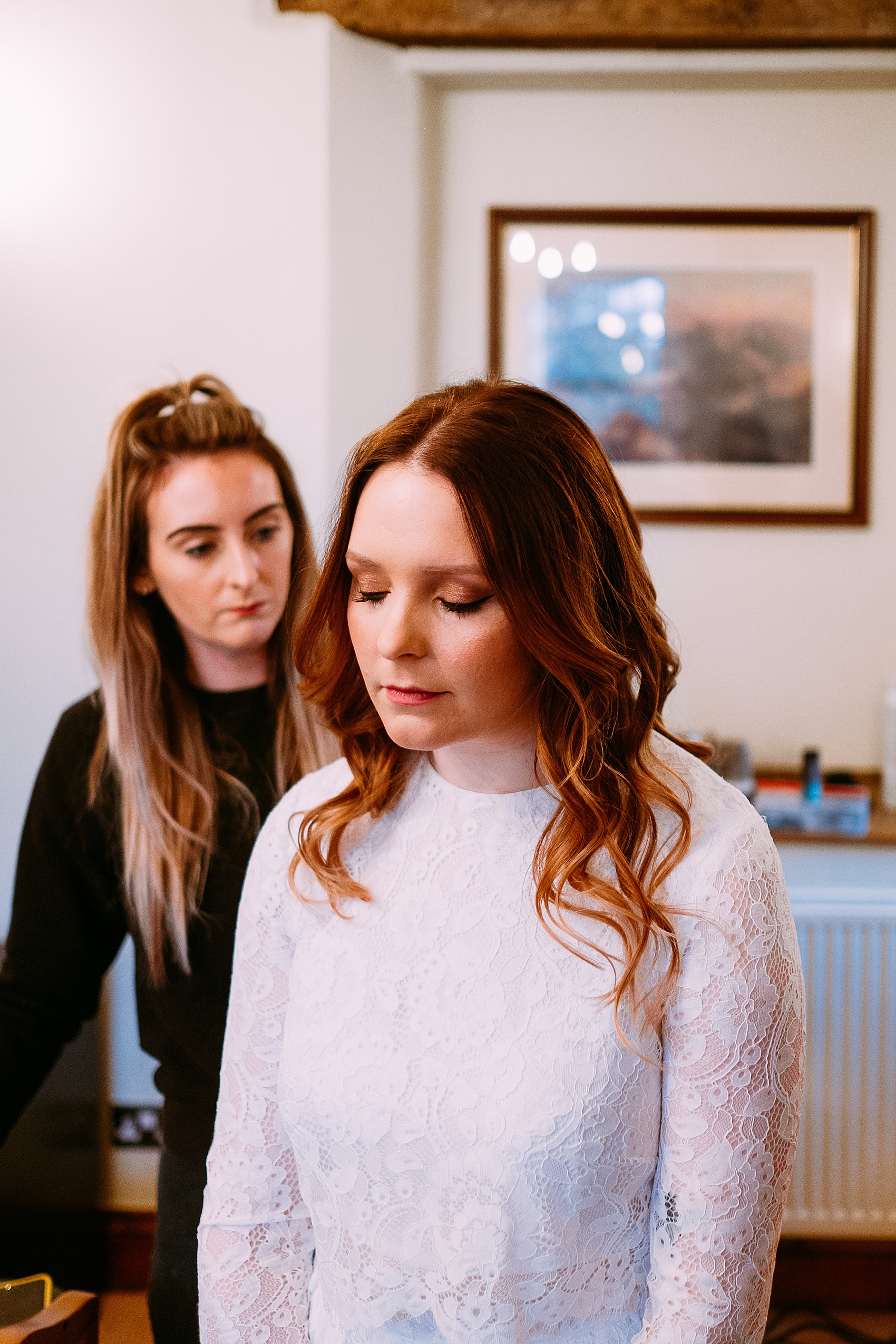 "I had just planned on doing my own hair and make-up, as I thought it would be to short notice for them, and that as it was an early ceremony time (10am!) it wouldn't be convenient."
"I was so grateful to them for coming up with this idea, as it meant I could actually feel like a bride on the day and wouldn't have to worry about potentially having a bad hair day!"
To finish off her outfit, Jessi wore a crown of dried flowers in gently muted shades of purple, lilac and pink, made by the Artisan Dried Flower Co., and chosen through their Etsy shop, and also carried a sweet posy of dried blooms  – delicate gypsophila, and sweetly scented lavender.
"I love it so much, and I'm going to wear it again in February. I felt like a woodland fairy in the best way!"
"All of our flowers were dried. I've always preferred them to fresh, and they are so cost effective, plus they smell amazing! I also love that I can keep them all."
"I wore my favourite perfume, Coco Chanel Mademoiselle. It's also Jez's favourite, he always says it reminds him of when we first started dating."
Jessi's dad repairs, restores and collects classic cars, and it was a special moment for them both as he drove her to the registry office in a white Ford Escort Twin Cam.
"Dad kept me calm when I was feeling nervous. It was such a special car journey, and one I will remember forever. He then drove Jez and I to the restaurant after the ceremony."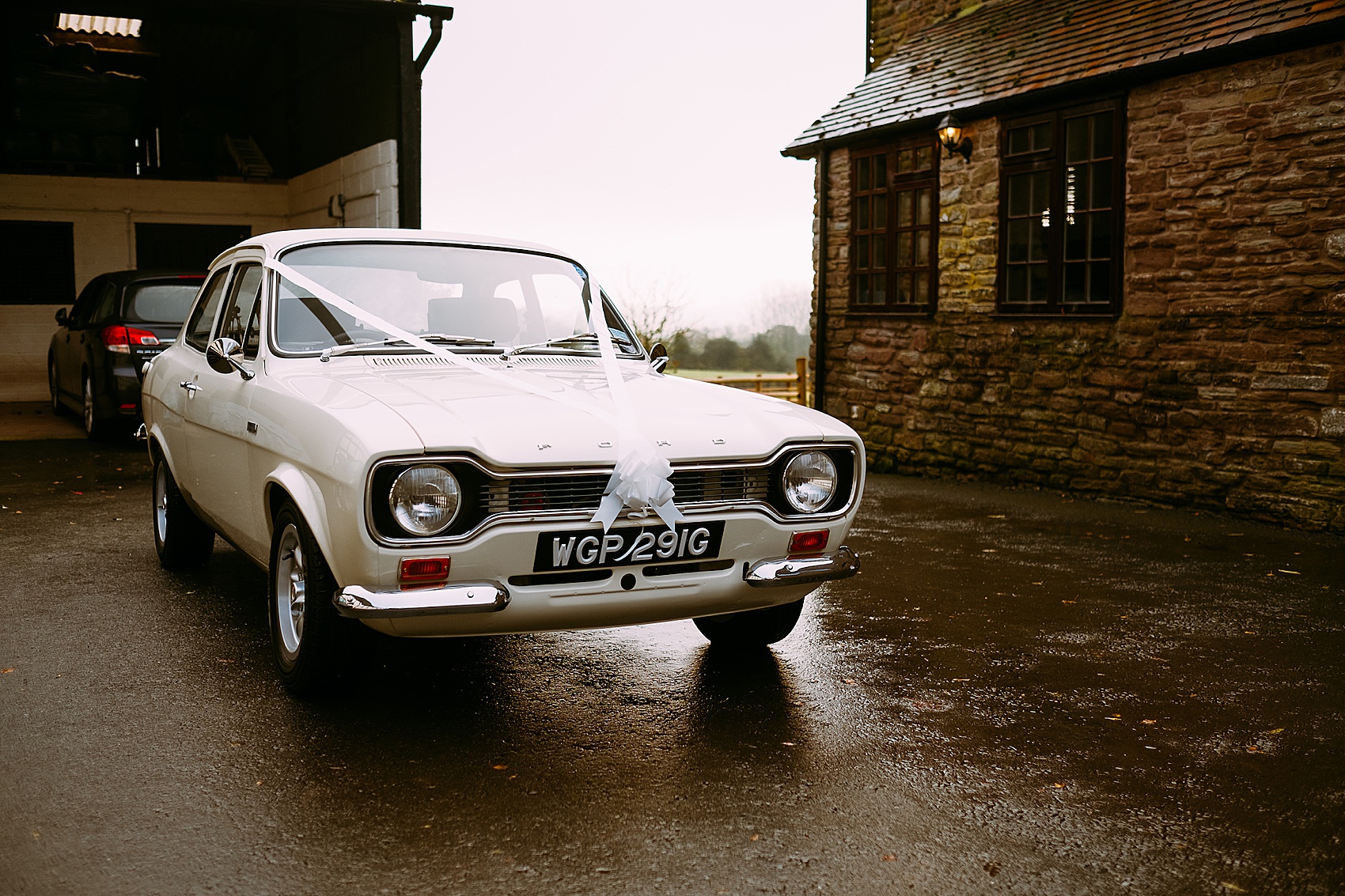 The bride carried a cute, modern and monogrammed clutch bag by Studio Lowen.
"Lisa is incredibly talented; her purses are made from recyclable leather, and are each hand painted. I had my new initials monogrammed on it that I absolutely love."
Over at the Council House, Jez awaited the arrival of his bride, wearing a handsome French Connection suit, to which he added a sage green herringbone waistcoat from Moss Bros., along with shoes, also from Moss Bros., and a dried flower buttonhole by the Artisan Dried Flower Co.
Help towards Jez's non-NHS funded cancer treatment + donate via Go Fund Me – THANK YOU SO MUCH
"I bought Jez a handmade William Morris print tie from LittleGreyhound on Etsy. The print is my favourite, 'Strawberry Thief', and it really pulled his outfit together. The colours in the tie looked so beautiful against his burgundy suit."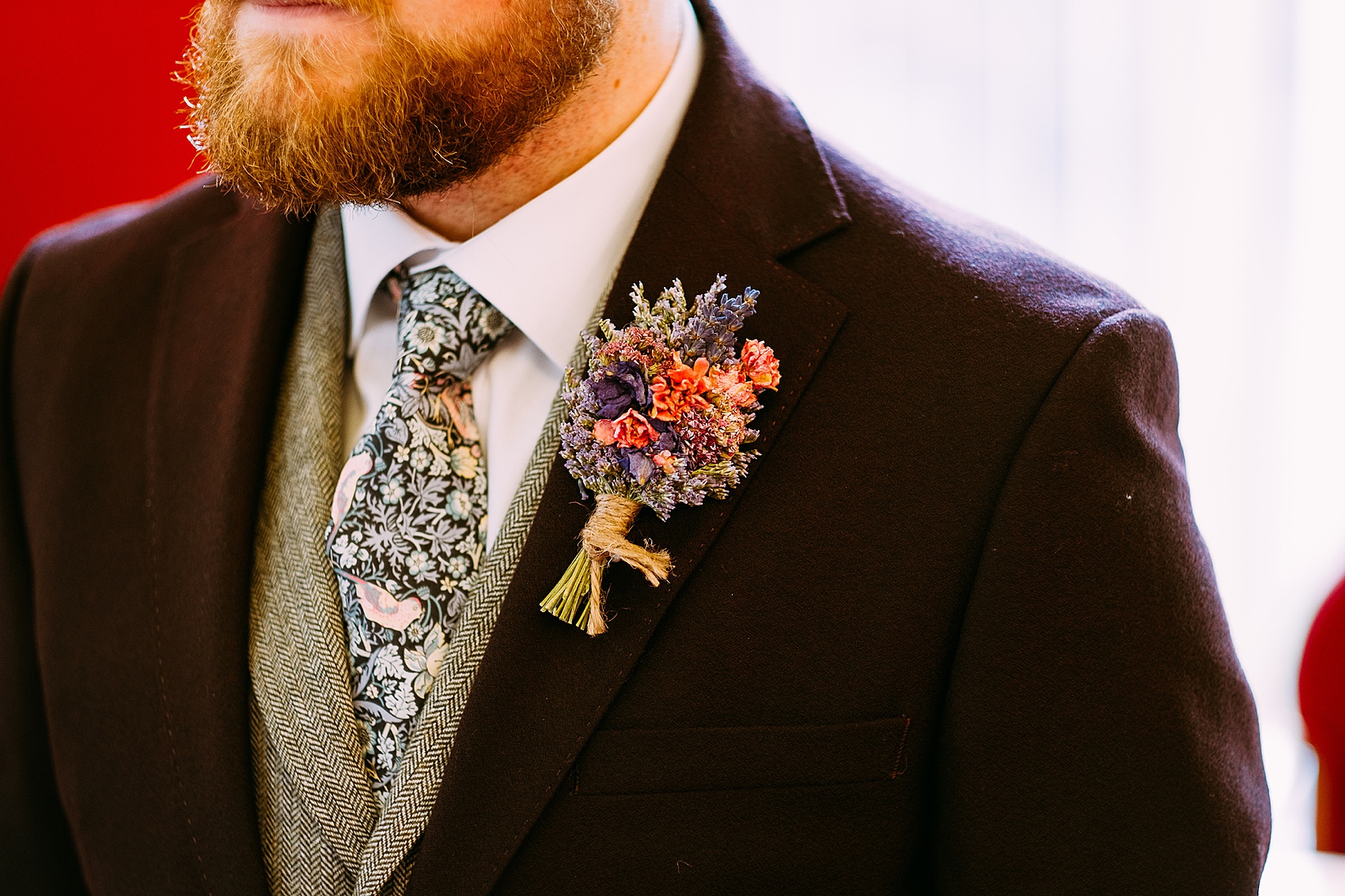 Jessi walked down the aisle together with her dad to Bon Iver's song, Holocene.
"Jez and I grew up in the same town and went to the same school, but we didn't know each other during that time. We met a few years later, when I was 19 and Jez was 18, by sheer accident on a night out."
"A mutual friend of ours double booked herself and forgot she had arranged a night out with the both of us. We spent the whole night together chatting and have been inseparable ever since!"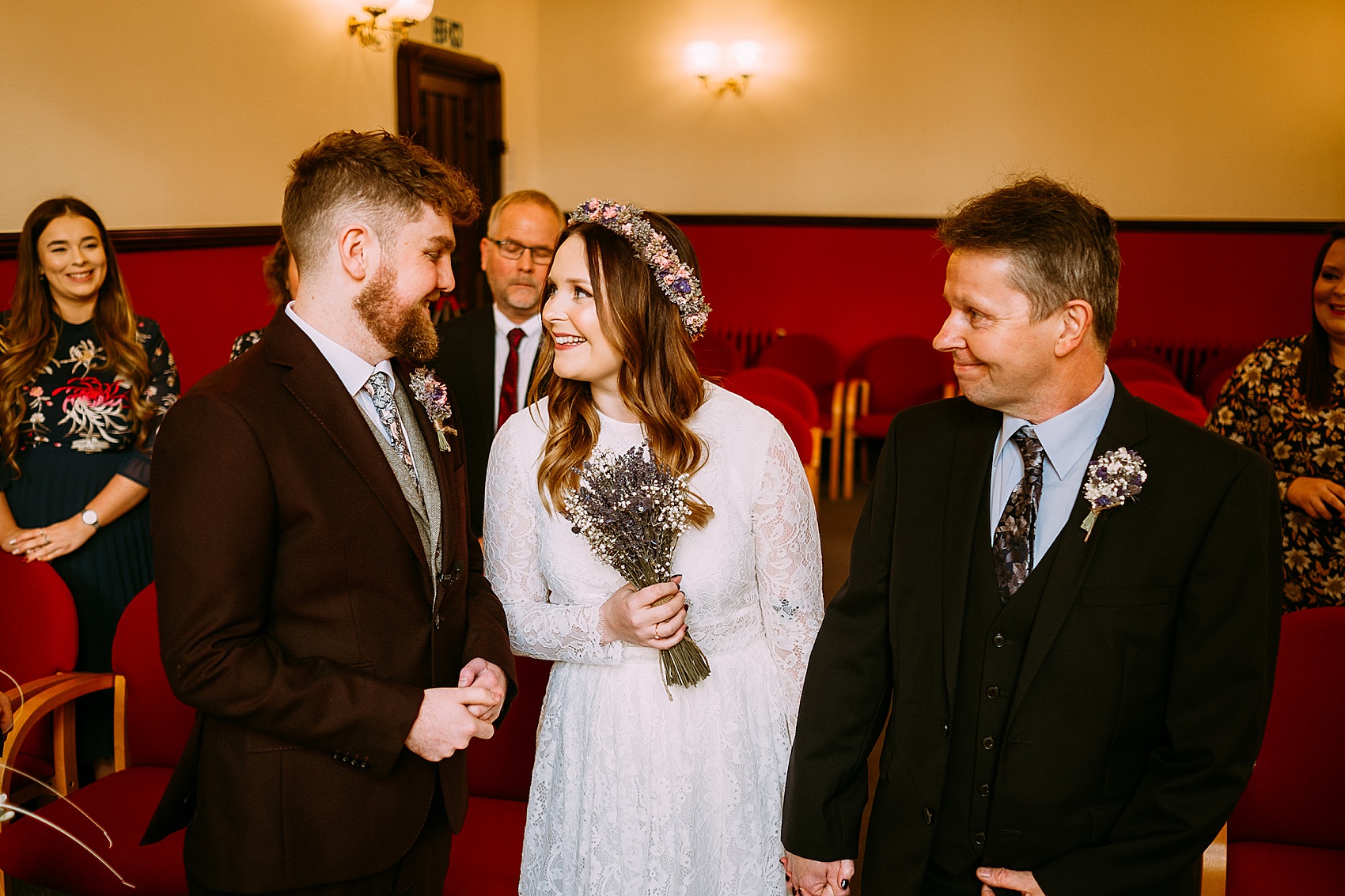 "We got engaged in March 2018. Jez had made me my favourite meal, which was the first thing he learned how to cook when we first started dating. He even borrowed a cook book from our friend's mum as he really wanted to impress me! After we had eaten, he got down on one knee."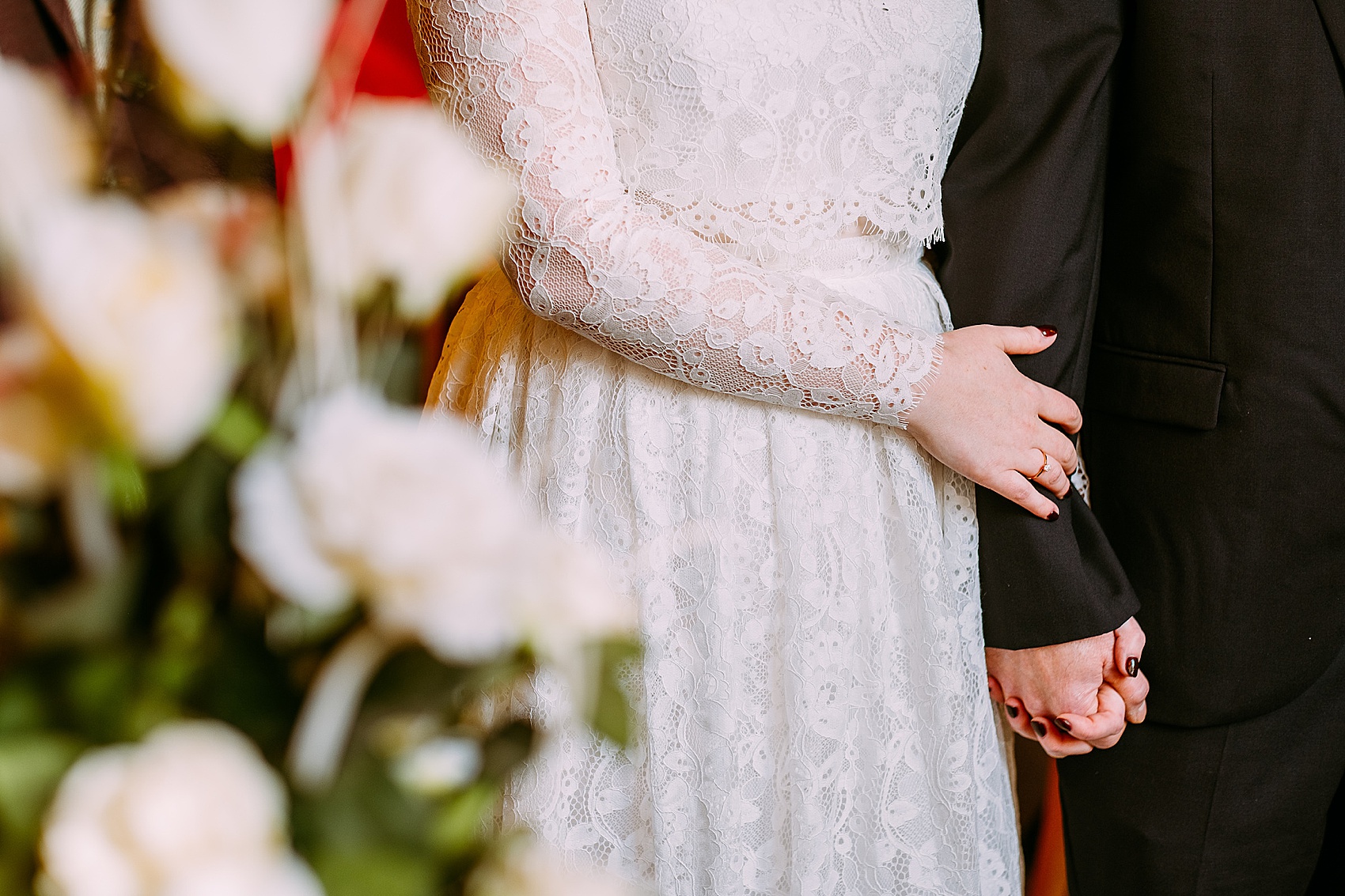 "I didn't see it coming at all, and I'm so glad he proposed at home as I don't like being centre of attention. To me it was perfect, as it was a special moment between the two of us. I was so emotional, I couldn't stop crying."
Supported by their loved ones, Jessi and Jez made their vows and gave each other rings, which they had made together with Victoria at The Quarterworkshop, and whom I'm delighted to say is part of our Little Book directory – which is exactly where Jessi discovered her!
"We both had an amazing day making each other's rings. Jez took to it like a duck to water, and I just about pulled it off! It really was so special, and I'm so glad we did it."
"Every time I look at my ring I think back to that day and how much fun we had. Victoria also took lots of pictures of us making them, which she sent to us afterwards."
"I think it's such a lovely touch as we have those memories forever. Victoria also had our rings engraved with our initials on the inside, which was so extremely kind of her. I think every couple should make each other's wedding rings!"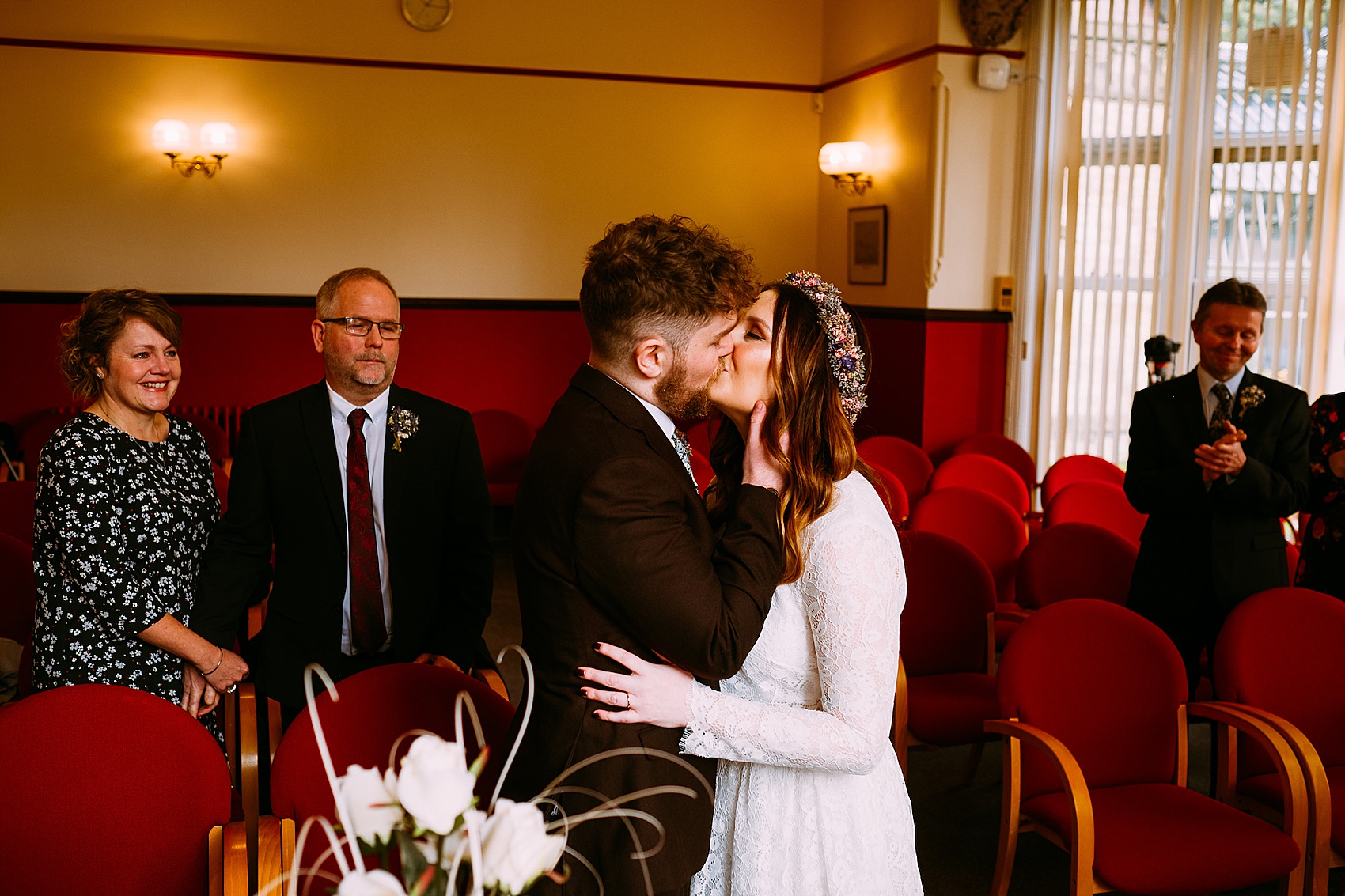 Lovely Jessi is a member of our private Facebook group, which is where we first found out about her and Jez's story, and she is an avid reader of our features, too.
I've only ever followed the Love My Dress wedding blog. I have been following it for many years! I love everything it stands for; for me Love My Dress represents all brides. I have been really inspired by many of the weddings featured for my own wedding, and I think the Little Book directory is such a great idea. I love that you include couples of all shapes and sizes, ethnicities and religions. It's the only blog I think I can relate to, and genuinely feel excited about when I see a new post is live. Bride Jessi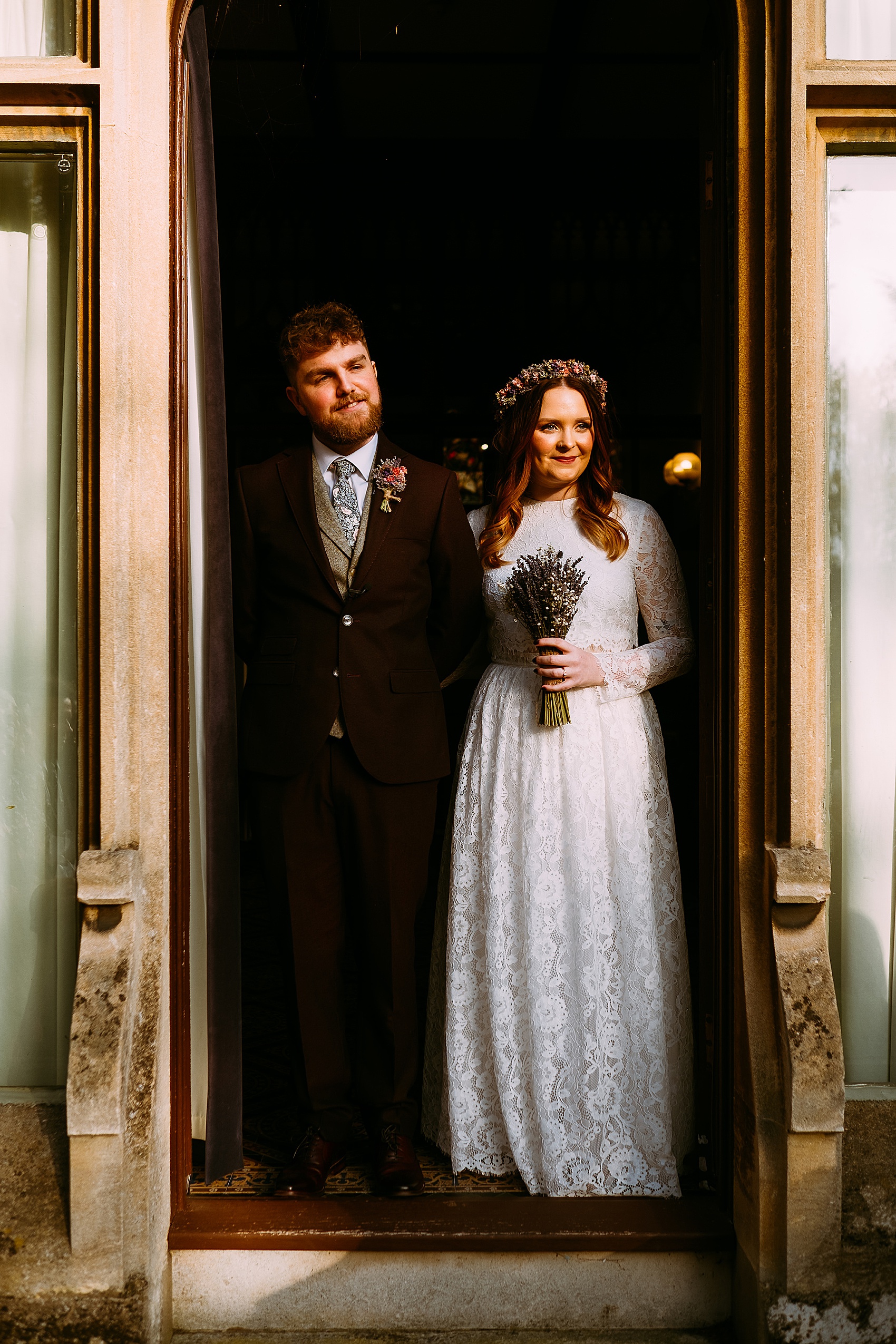 Here, Jessi very kindly shares a few more words about Jez's diagnosis and prognosis, and as with all of her words throughout this feature, I am humbled and awestruck by their strength.
"Our lives have been turned upside down, again. We are left with uncertainty as to what is going to happen in the next few months. The doctors don't want to start treatment just yet, as they want to monitor Jez's lesions for a while and 'see what happens'."
"I, however, have been researching alternative treatments and we've been fundraising via Go Fund Me for help towards private treatments, such as SABR radiotherapy and full extract cannabis oils."
Help towards Jez's non-NHS funded cancer treatment + donate via Go Fund Me – THANK YOU SO MUCH
"I know this is controversial to some, but I'm sure if anyone was in our position they would be doing the same! I can't just sit back and do nothing, I have to do something, anything, to try and help and give us more time together."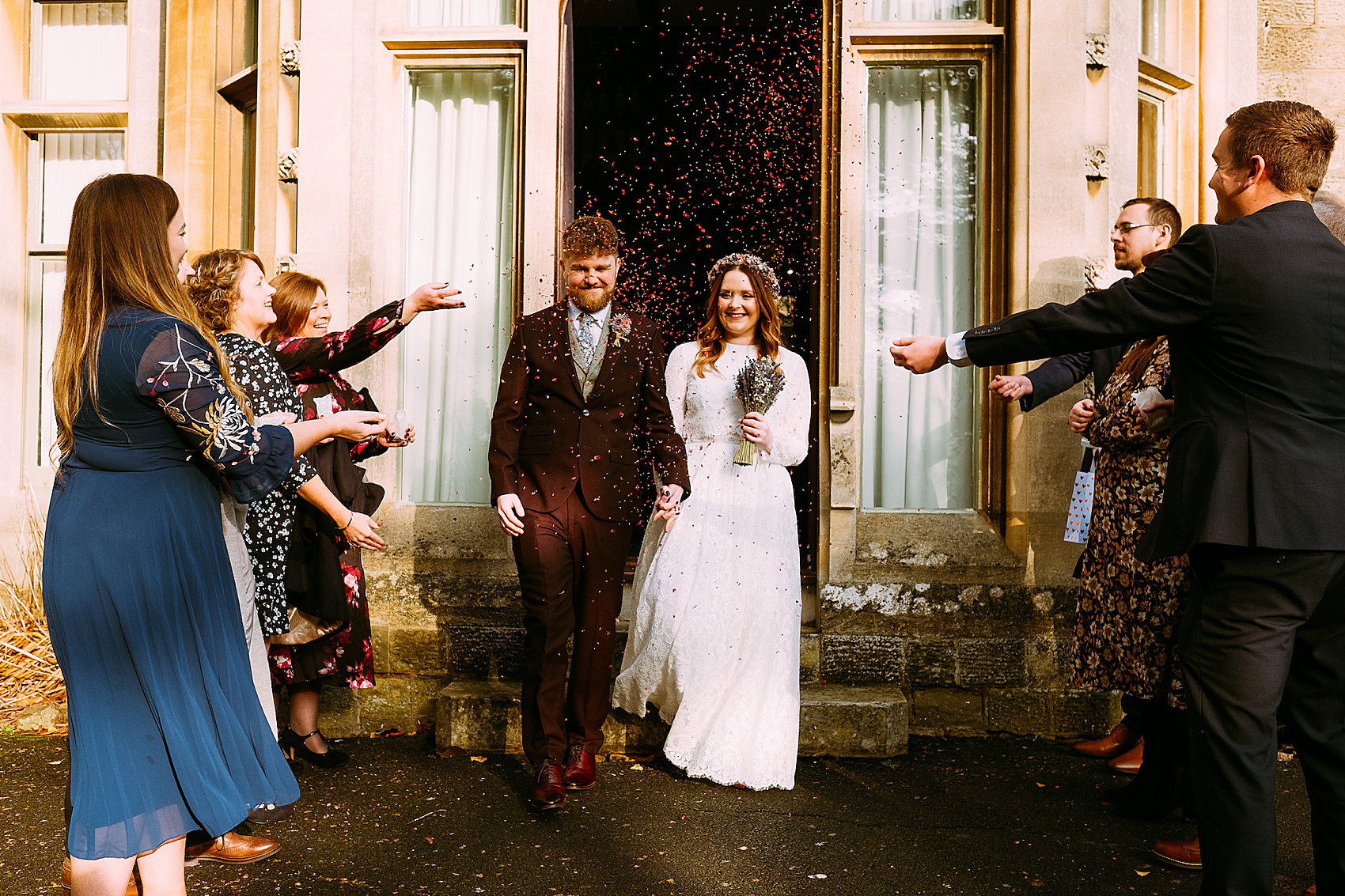 "The not knowing is crippling me; I'm overcome most days with nothing but anxiety and sadness. It's so isolating as all our friends are going about their normal lives, starting families and planning a future. But despite all of this, our wedding day was full of love and joy."
"We were worried that we wouldn't make it to the registry office, as 2 days before the floods had caused most of the roads to close. I also came down with laryngitis the day before and completely lost my voice, but I was just about able to say my vows!"
"I'm glad we got to have a small, intimate wedding with just our nearest and dearest, but I'm really looking forward to doing it all over again and celebrating with all our friends and family in February."
It was really important to Jessi and Jez that their day was documented through both film and photography, so they could look back on their day whenever they wanted, and they were delighted with the work of videographer Ginger Alice.
"I found Alice through Instagram shortly after we got engaged. I watched several of her videos and cried through all of them! We both love her cinematic style; her work is so delicate and romantic."
"Alice also filmed our day free of charge, and travelled to us all the way from Chester. She is so lovely and talented, and she and Colin, our photographer, worked so well together."
"Alice already feels like a friend that we've known for years, we can't wait to see the video for our second wedding day! We are so incredibly grateful to Alice and Colin for providing their services free of charge for us. They have given us memories that we will treasure forever. During an extremely upsetting and stressful time, they both gave us a bit of positivity."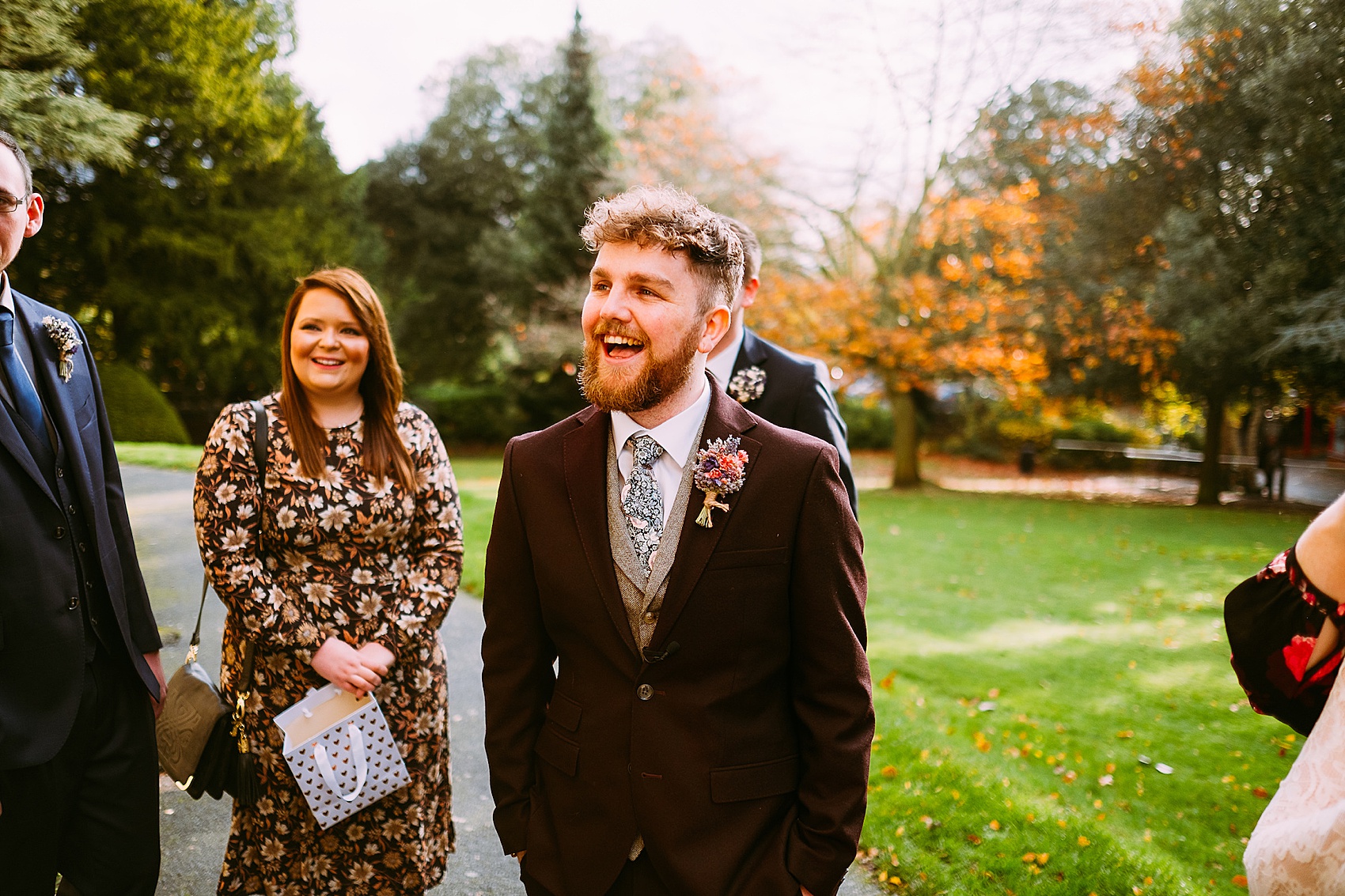 The beautiful intimacy of the couple's day was superbly and sensitively captured by photographer Colin Nicholls, whose evocative images convey all of the love and emotion felt.
"We knew as soon as we saw Colin's portfolio that he was the photographer for us. We love his candid and documentary style photography, and it was important to us that the photos were honest and cheese free."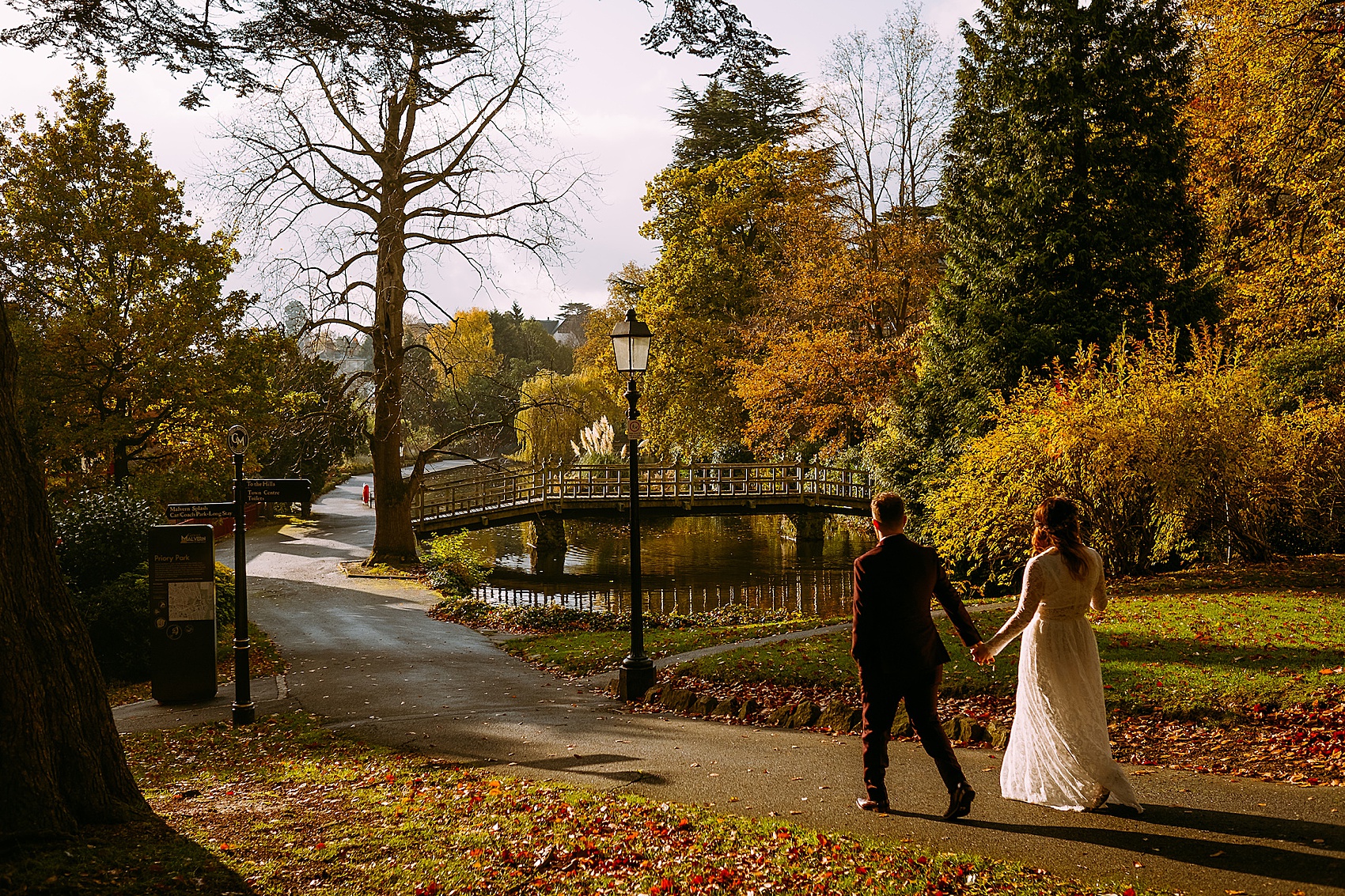 "We didn't even bother looking at other photographers, because as soon as we met him we hit it off straight away, and we both knew he would capture our day perfectly, so we booked him for our May 2020 wedding."
"Colin is the sweetest, kindest person ever – he felt like part of the family on the day! When I emailed Col about our situation, he offered to photograph our day for free, which is just so incredibly kind and generous. We were so overwhelmed by his gesture, and we couldn't be more pleased with our photos."
"For us there are a couple of favourite parts of the day: The Council House is set amongst the beautiful Priory Park, and after the ceremony we headed there to have our photos taken."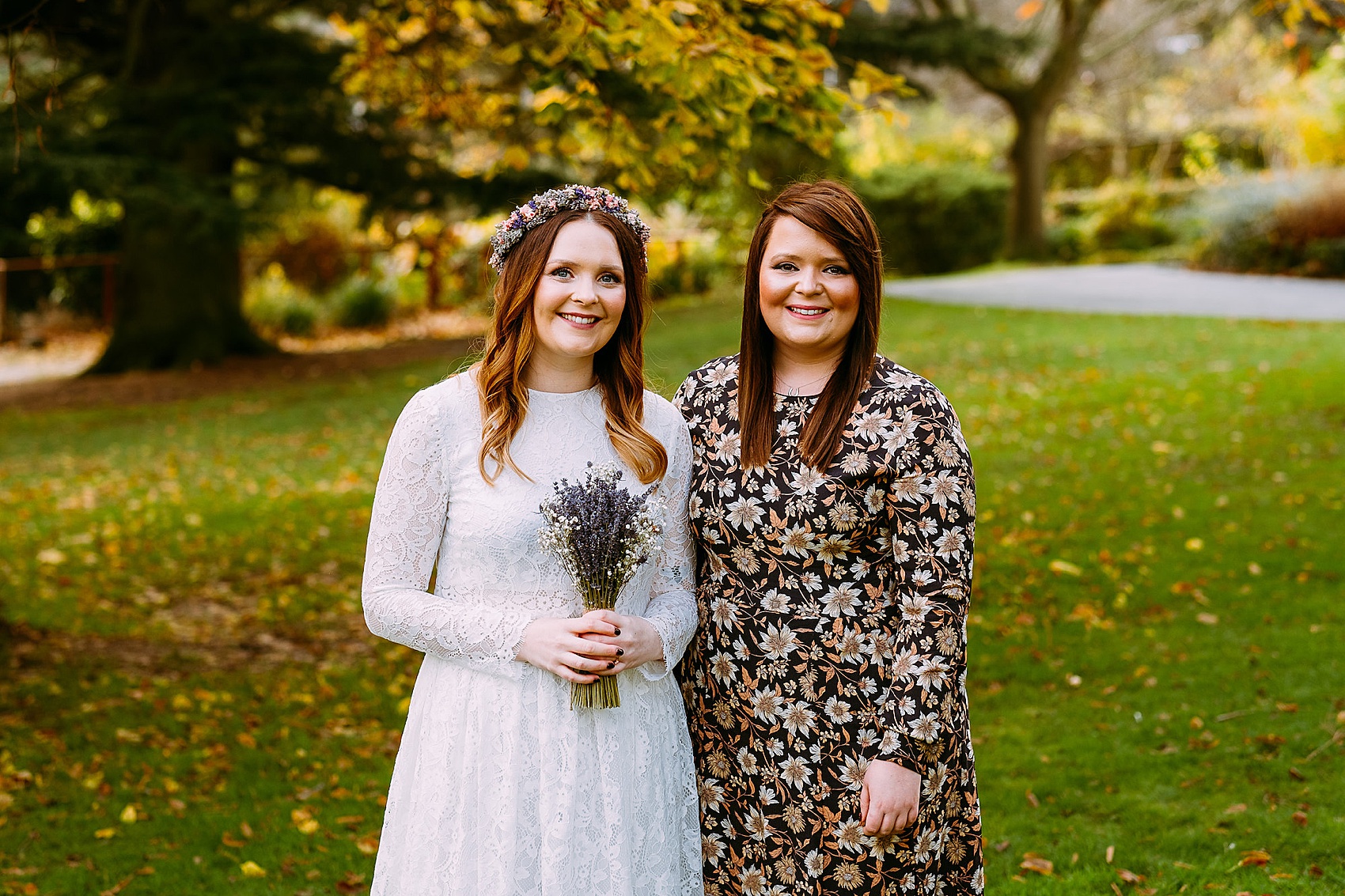 "The sun was shining and the autumn leaves were just so beautiful. It was the perfect autumn day, but two days before we had nothing but torrential rain and floods!"
After this idyllic, golden stroll, the newly married couple and their guests went to the cafe of the Malvern Theatres for a cup of warming tea ahead of their lunch.
At The Olive Tree, the dining table was decorated with stems of dried lavender, which Jessi sourced from Daisyshop, and placed inside up-cycled beer bottles. Doubling as favours and place settings were laser cut wooden names from Hopwood Laser Designs
"When we decided to change our wedding plans and get married as soon as possible (but with just immediate family) we still wanted it to be a celebration, so we couldn't think of anywhere better to go for lunch afterwards than our favourite Italian restaurant, The Olive Tree in Ledbury."
"They took care of everything for us. I dropped off the few decorations I had the day before, and they set everything up for us. The food is so delicious and the service is exceptional."
Words of Wedded Wisdom
"Enjoy every day and moment with your other half, as life is far too short and can change in an instant. I also want to add that you don't need to spend a fortune on a wedding."
Help towards Jez's non-NHS funded cancer treatment + donate via Go Fund Me – THANK YOU SO MUCH
"It can be done on a very small budget, and all that matters is marrying the person you love, in front of the people you love."
Jessi and Jez, I'm not sure where to begin, but thank you from the bottom of my heart. I've been so incredibly moved; moved to tears even, as I've written this piece. Your deep love for each other shines in these images, your grace and courage emanate from every word, as well as your determination to live your life together fully. I sincerely wish you all the very best for the future, as well as for your wedding celebrations next month, too.
Finally, many, many thanks to Ginger Alice and Colin Nicholls for the exquisite way in which they've captured Jessi and Jez's day.
With lots of love,
Laura