Oooh, we have something so special for you on this chilly February day! Not only are we introducing you to The Quarterworkshop, a truly fabulous studio where you can craft your own beautiful wedding rings, but we're also giving you the chance to win a wedding ring making experience for two.
Yes indeed, you could be making your own wedding rings with The Quarterworkshop's expert assistance and on a day like today, that's surely a cheery thought. Wedding rings are more than a symbolic piece of jewellery. Your wedding ring reminds you that you're loved, that you've made heartfelt promises to someone else and that someone you love has done the same.
If you thought looking down at your hand and catching sight of your engagement ring was special, wait until you see your wedding ring sitting there. Now, imagine that the ring you wear is one that you've made together. That takes things to another level.
And that's exactly what you can do at The Quarterworkshop. Located in a beautiful, historic factory in Birmingham's Jewellery Quarter, The Quarterworkshop is a gold- and silversmithing studio that specialises in jewellery making events with a big focus on wedding rings. We spoke to The Quarterworkshop's founder, jeweller and silversmith Victoria Delany, to find out more.
"I fully intended to study interior design at art school but after trying a bit of blacksmithing in my foundation year, I changed direction and opted for Designed Metalwork and Jewellery for my degree course. Since then, I've completed a Masters from the Royal College of Art in goldsmithing, silversmithing and metalwork design."
"From the first time I tried working with metal, I was drawn to it. It's strong yet beautiful, it's pliable but it holds it shape, it can be heated until it's red hot and then fused together. It's durable and lasts for a lifetime or more but still has a softness which will pick up little marks from life along the way." 
"A wedding ring is an object which can hold such significance and meaning, which has a value beyond its material worth and, in the world of mass production and endless choice, making such a precious and meaningful item of jewellery, such as a wedding band, is something I'm proud to help with."
And the whole experience of making your wedding rings at The Quarterworkshop sounds absolutely fantastic. Through the hidden courtyard and climb the wooden stairs in this ridiculously gorgeous building and you'll find two light-filled studios.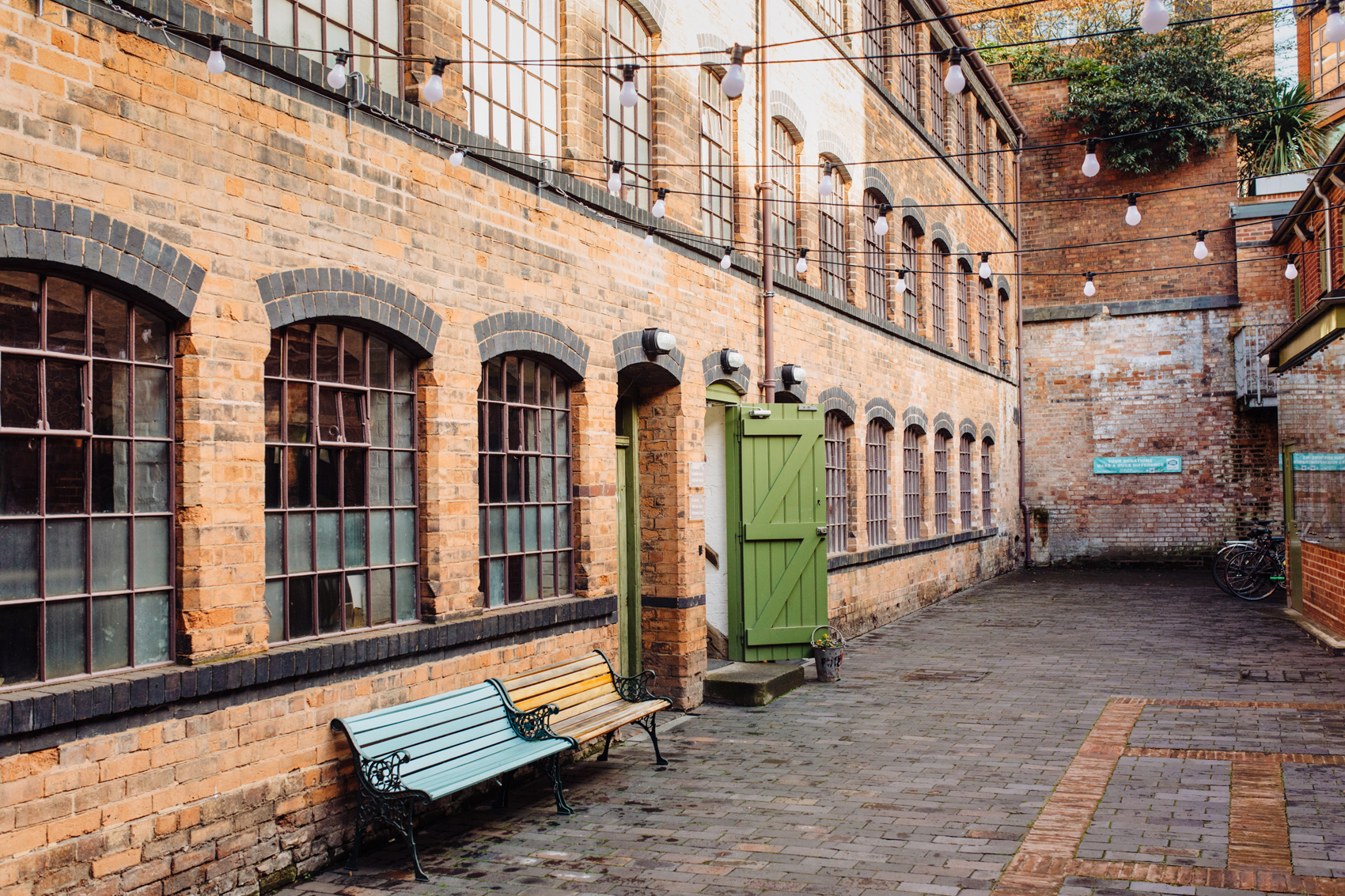 Stepping into the workshop feels as if you're hidden away into another little world for a while. The space itself is beautiful and welcoming – it's warm and cosy, there's music and you'll always be met with a big selection of teas, coffees and all-important biscuits.
Your materials will be waiting for you on the bench when you arrive and you'll then work through the making process together with Victoria demonstrating each step and giving you time to practice before you make your 'real' wedding ring. All the precious metals used at The Quarterworkshop are 100% recycled and sourced locally from the Jewellery Quarter and you'll also have the option of working in Fairtrade gold.
You'll heat the metal, form and shape your ring and then work on sizing and soldering before filing, sanding and polishing your rings to perfection. There's also the option to apply different finishes or decorative finishes and textures and The Quarterworkshop can even help you make shaped bands to sit next to an engagement ring or hand-engrave your rings with your choice of message.
When the experience comes to an end, you can take your rings home with you at the end of the workshop if you like, although most couples choose to leave their rings so that they can be hallmarked before being delivered back to you, beautifully boxed.
"I think, above all else, couples want to wear rings that are full of meaning. They want rings that they feel a strong connection to and rings that reflect their personalities and tell a little bit of their story."
"A ring making workshop is the chance to do something together, just for you, before your wedding. Many of our couples change their vows to say 'I made you this ring' on their wedding day' and we're also so happy to have helped make rings which are truly personal, unique and filled with meaning and soul."
Win a ring making experience with The Quarterworkshop
The Quarterworkshop are giving you the chance to win a wedding ring making experience for two, worth £450. You'll have exclusive use of the studio, tuition, drinks and light refreshments and hallmarking of the finished rings along with ring boxes and professional photography by Faye Green.
To be in with a chance of winning, please follow @thequarterworkshop on Instagram, and then tag yourself in the comments section of the image below on our own Instagram feed.  You can also tag friends or anyone else who you think might like to make their own rings.
If you'd like to find out more about The Quarterworkshop, take a look at their website, which also lists their upcoming jewellery classes. They'll also be exhibiting at Most Curious Wedding Fair Manchester on 29th February and they'd love to meet if you're keen to chat wedding rings.
Good luck and here's to the joy of wearing a wedding ring!
Terms & Conditions
This competition will open on the morning of Saturday 15th February and close at midnight on 1st March 2020. The winner will be announced the week commencing Monday 2nd March 2020.
There is no material cost if you choose to work in silver. However, you will need to pay if you choose to work in another material. Options and prices can be found here.
The winning couple will need to be able to travel to The Quarterworkshop in Birmingham for the day and you should be able to attend on a weekday if required.
The workshop should be arranged within 12 months of winning the prize.
Prizes are not transferable or eligible for exchange or refund.
Testimonials
"I cannot recommend Victoria and her workshops enough. My partner and I did a make your own wedding rings day, and it was one of the most romantic things we have ever done. Thank you, Victoria, for creating the beautiful space in which such special memories were made. This is a once in a lifetime opportunity that I am telling everyone I know to do!"
"We had a wonderful day making our wedding rings with you. It has truly been a highlight to the run up of our wedding. You were very helpful and friendly; the teas and cakes were a lovely little touch and we felt relaxed and comfortable to enjoy the experience. Making our own wedding rings has made them all the more priceless to us and we would recommend the day to anyone wanting to add a personal touch to the rings."
"We made our wedding rings at The Quarterworkshop and it was amazing! Start to finish the day was a day to remember and we loved the whole experience. We were guided by our tutor who helped us to make our rings, she was a very attentive and knowledgeable tutor. We didn't realise that we would actually get to make a pair of practice rings which we could take home on the day, we haven't taken them off since as we're eager to be husband and wife and are proud of each other's work I couldn't recommend this anymore, if you're getting married this is a brilliant way to make memories and create your rings."
"We had a wonderful day in the workshop making our rings. From start to finish the experience was fantastic and our tutors help and guidance was brilliant. It was a wonderful way to spend some time together as a couple creating memories that we won't ever forget- thank you so much!"
"What to say about The Quarter Workshop? Well basically if you haven't heard of it you should have done especially if you're getting married! From start to finish, Victoria was helpful and patient with both myself and Elizabeth (who I can happily now call my wife!) and provided absolutely everything we needed to make our own wedding rings. From the endless cups of tea and cake, to the lovely background music, to the little nice touch of a glass of champagne after the session, the whole experience was wonderful and to be able to say we made our own rings which we will wear for life is a great feeling. We cannot thank Victoria enough for her help and have recommended her to all our friends."
"Taking part in a workshop to make our own wedding rings truly was the most magical day! My fiancée and I were blown away by the whole experience. Victoria's fantastic manner – calm, helpful and charming – really made us feel at ease. It was a fascinating process and I feel privileged to have had the opportunity to make our own wedding rings. We can't recommend this enough, a truly brilliant day and by far the most exciting part of planning our wedding so far. Thank you."