The weather today has been unreal; 27 degrees here in North Yorkshire. It's been scorchio! This summer has been my absolute favourite ever, sunshine, rain and all. But those warm sunny days have been magic.
We received this glorious little editorial not so long ago and whilst we're scheduling content through to January now, I knew I had to squeeze this one in during the warmer months, and today couldn't be more perfect. The very lovely Katie of The Vintage House That Could is behind the shoot concept, design and styling – which is glorious, as is everything that Katie turns her hand to.
But I especially adore the ethical and sustainable wedding suggestions that play a role in this shoot; using vintage and refashioning pre-worn gowns is explored beautifully through the work of A Lovers Thread.  I hope all you conscious brides love these image and ideas as much as I do. Katie's words are below.
Photography by Becky Trantor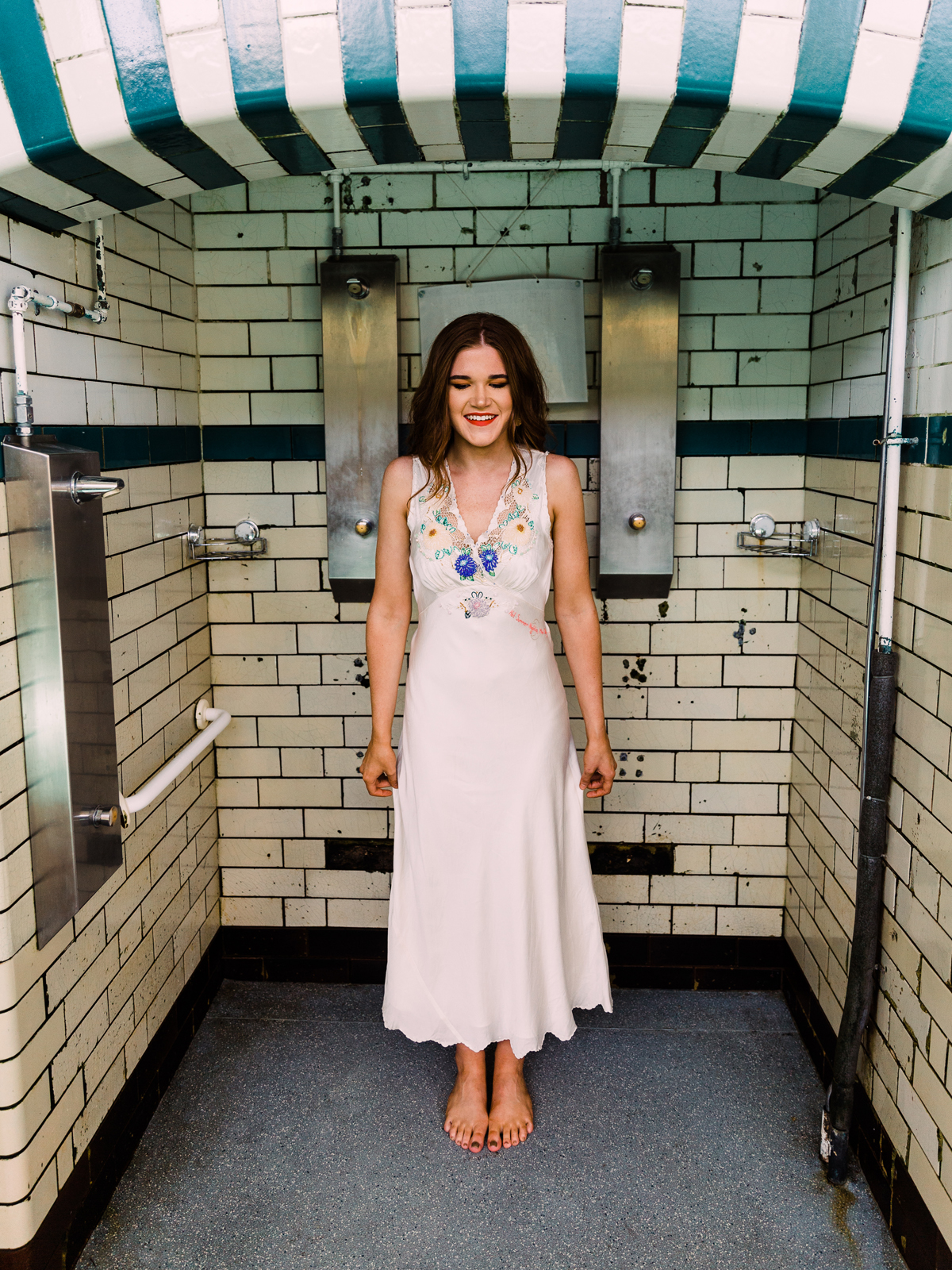 "The relationships that I forge with my couples is probably one of the most important aspects of my job, and luckily for me many of those relationships turn into lasting friendships. When I worked with Sophie & Joe last year for their wedding at The Town Hall Hotel ."
"I was struck by Sophie's passion for not only her wedding, but also the love that she gained from creating her dress and making something truly unique. Sophie took a vintage dress and completely reimagined it into her own stunning gown by embellishing and retailoring it. It was simply full of love."
"We kept in touch after the wedding and Sophie picked my brains about business and told me all about her exciting plans for starting her own brand, A Lovers Thread, a dream that is now turning into a reality. Something that I could completely connect with after doing the same myself."
"When I was deciding on shoots for this year with my trusty shoot partner, Becky Trantor I was certain that I wanted to plan something in an old swimming pool, I love the colours, the architecture and all the details that you get in these old buildings. When we discovered Grade II listed Moseley Road Baths we were almost jumping for joy at the prospect of gathering together a group of trusted suppliers to bring the vision to life."
"Straight away I contacted Sophie and asked if she would like to design a dress based around the feel of A 1930s summer wedding and she didn't disappoint."
"Using the tiles as inspiration, song lyrics and incorporating things like vintage swimming caps! Sophie came up with an amazing mood board and captured everything that I had in my head. This enabled me to get other suppliers on board and bring everything together.
"I wanted the brightness of the florals to really sing against some of the untouched areas of the pool. We were lucky enough to be able to use the actual pool too. Moseley Road is still in use but the main Gala pool is undergoing full refurbishment at the moment with a view to using as an event space."
"It's simply a stunning piece of living history with the original slipper baths where ladies would have just gone in to bathe, separate ladies and gents entrances and even through some of the cobwebs you can see the workmanship that went into building it."
"It's amazing that with a Lottery grant people will be able to continue using it and it can still be a part of the community. I wanted to show off the beauty of Sophie's creation alongside this."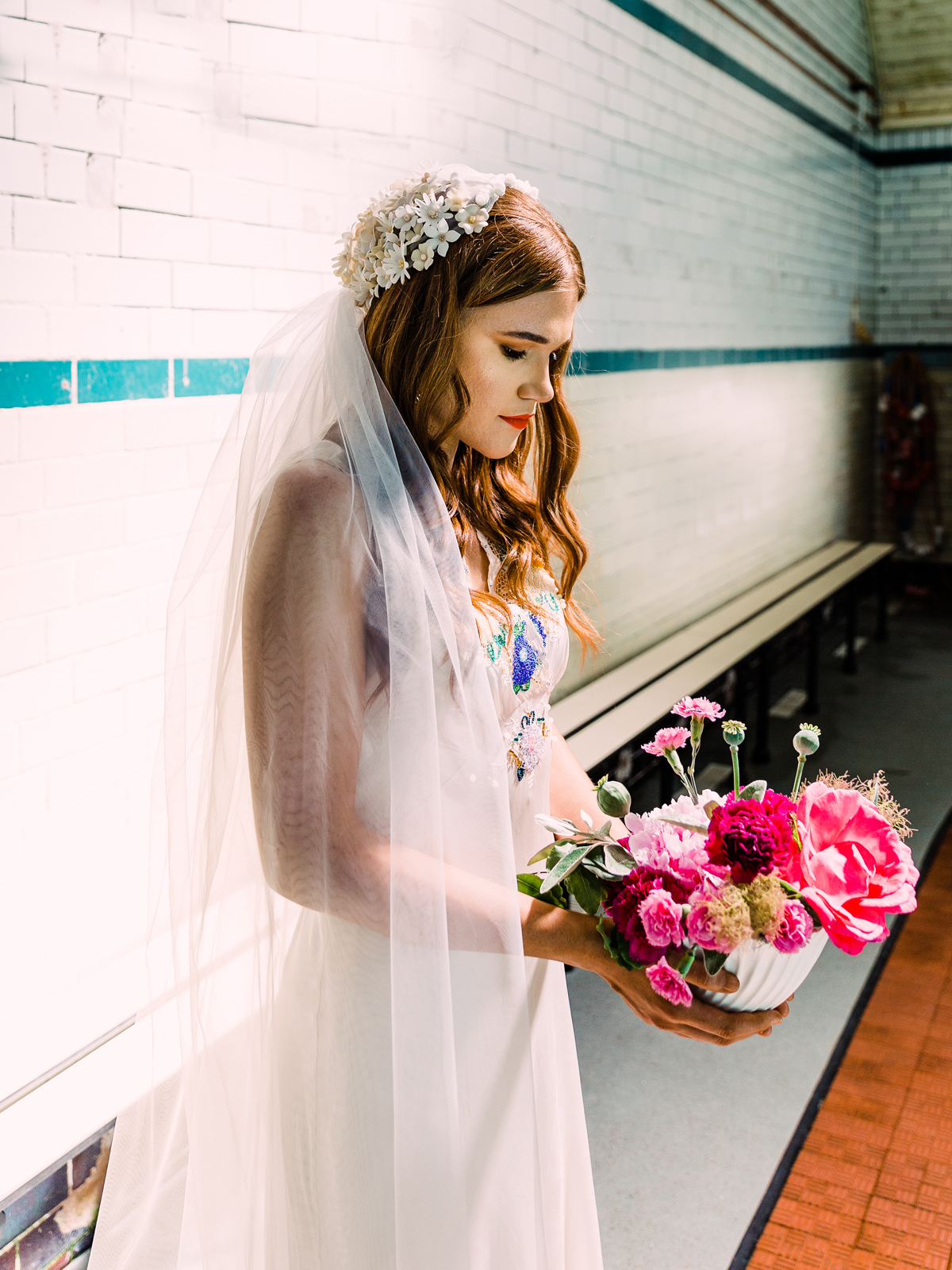 "I brought in the fabulous Hayley from The Bake Pod who again after seeing a few of the snaps I took of the pool created the most perfect cake design, emulating the colour and feel of the interior and echoing some of the deco details."
"While the baths were originally built in 1907 and so are Edwardian in design it was used throughout the years and during the 30s and 40s the pool would have been boarded over and used for tea dances! As soon as I heard that I knew I wanted to make the shoot feel part of that era."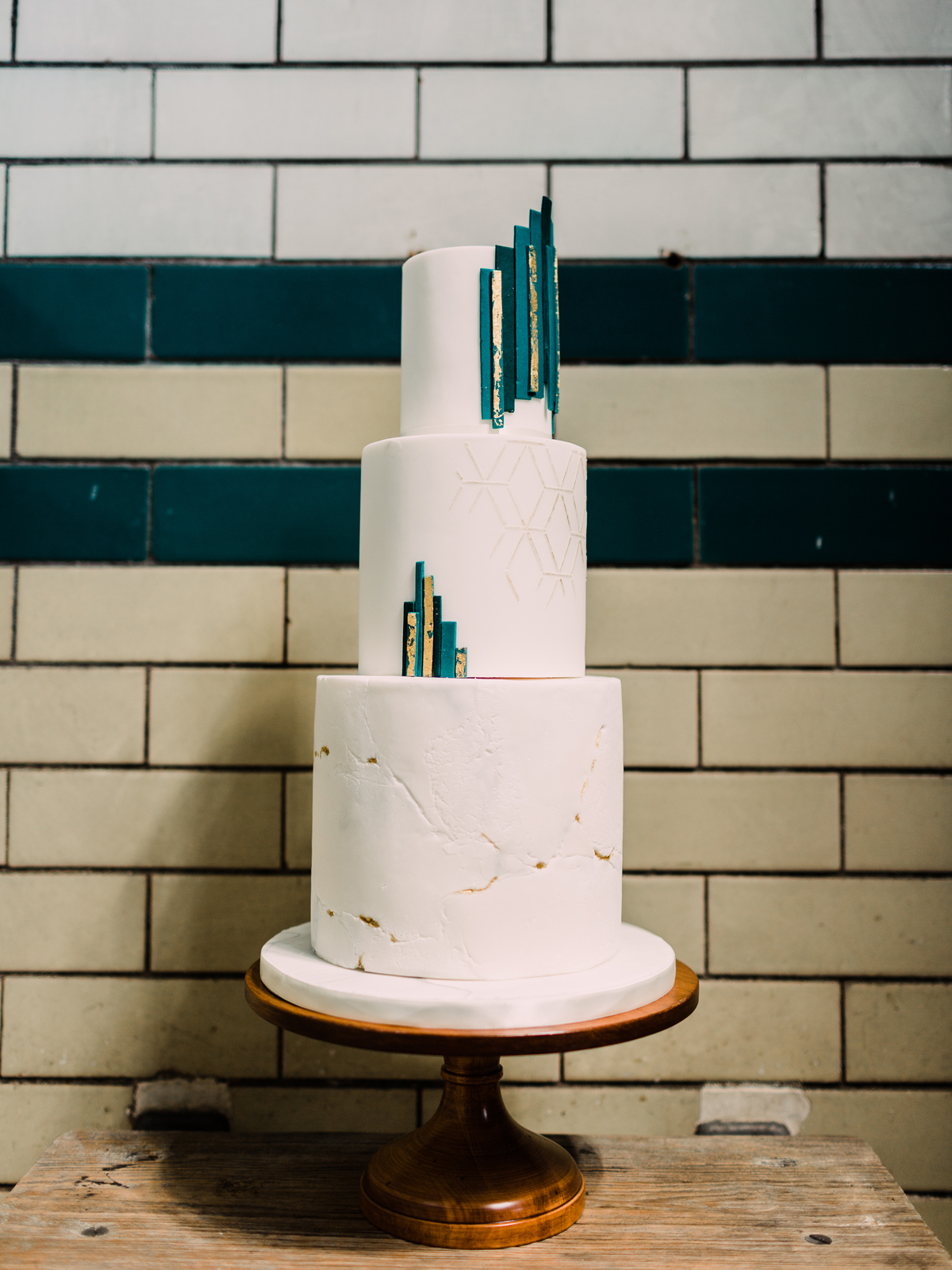 "Nat's Paper Studio created stationery with colours and styles that suited the theme and as I was using bright pink flowers this was incorporated into the suite with Modern Deco accents."
"The vintage style Rachel Simpson Shoes shoes matched perfectly with the minty green and touches of gold that I used on the table scape. I went bold on the table runner using more of an Art Nouveau pattern, geometric shapes from the plates and vases and vintage vessels for the flowers. I created mini tile place names to echo the tiles that are everywhere on the walls."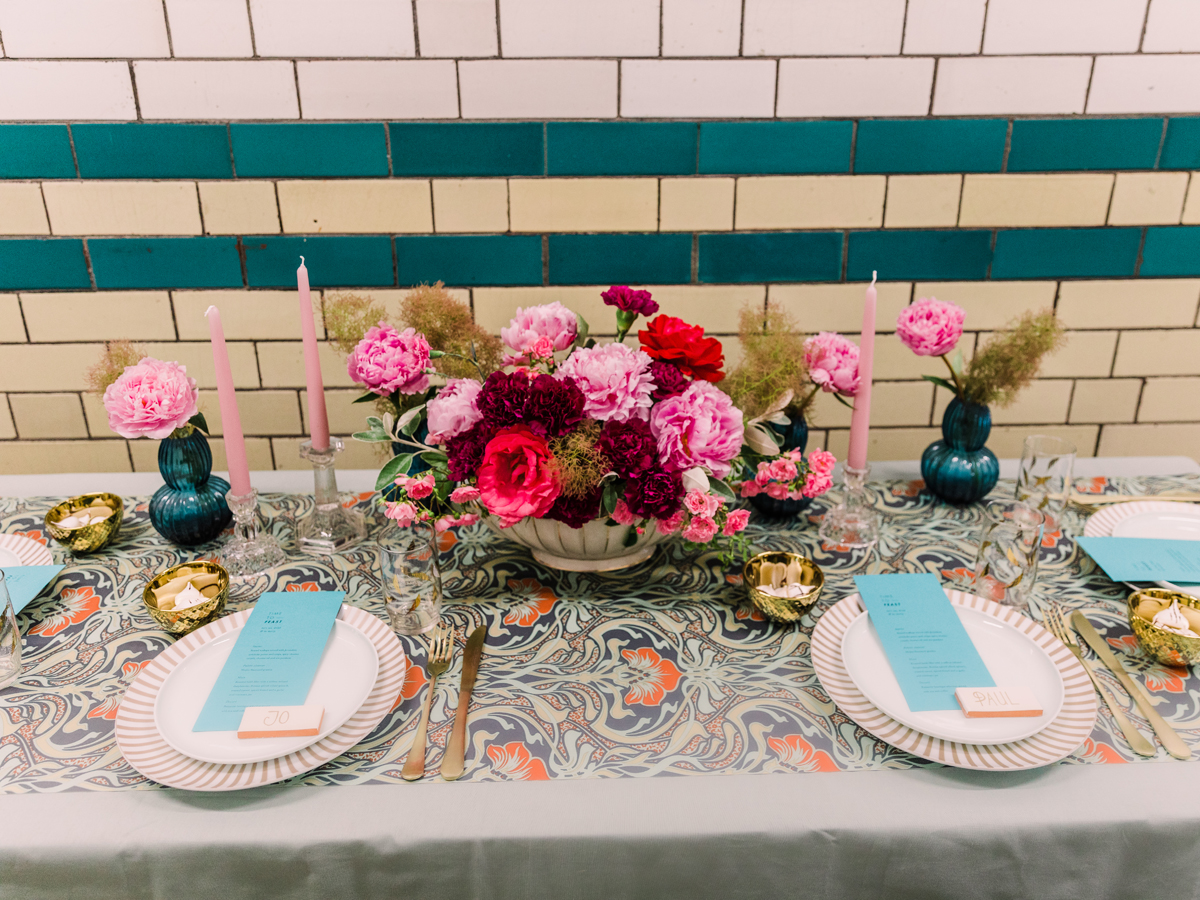 "I created the bouquet within a vintage shell vase using blousy vintage garden roses, old-fashioned carnations and fluffy peonies. The same flowers filled the table."
"Hair and make up was glamorous with red lips and Ellie's red hair curled but let loose around her shoulders, oh and the veil! The most amazing swimming cap inspired veil with silk tulle and hand made individual flowers, embellished by Sophie covering her head."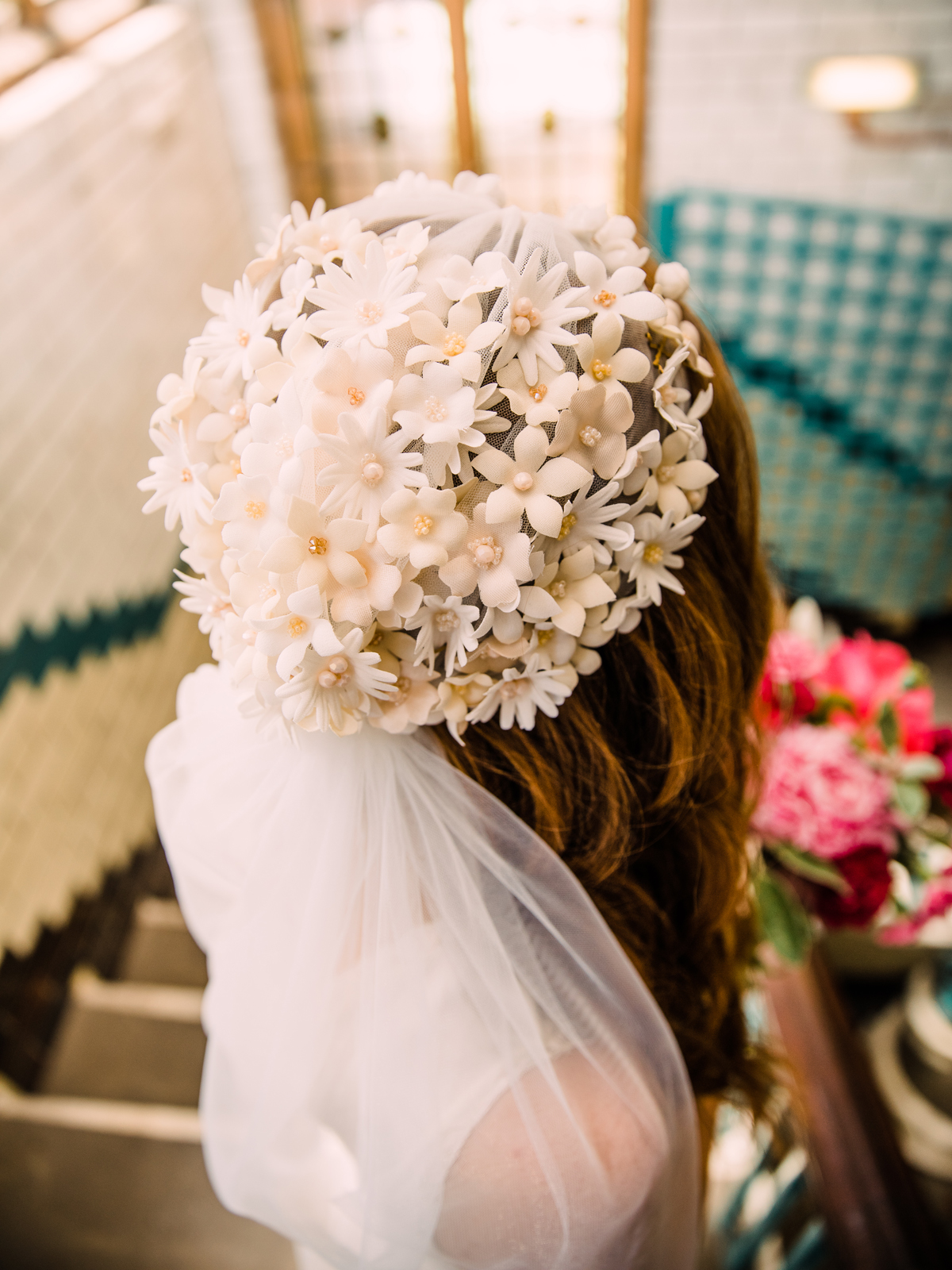 "Becky has produced the most beautiful set of images from the day. The light from the stained glass windows falls on the dress and Ellie's face perfectly and every shot takes you back in time."
"The poolside shots are breathtaking with the silhouette of Ellie central to the image and the vivid colours from the exquisite beading on the dress reflecting the turquoise water."
"Sophie has painstakingly spent hours transforming what was already a beautiful vintage slip dress with beading and embroidery into something that you can't take your eyes off."
"I am immensely proud of the team that came together on that day and I can't wait to see where Sophie's skill and passion will take her. I am very glad that she found me that day at a wedding fair back in 2017!"